Planning to visit the famous Louvre Museum in Paris and wondering what to expect? When to go, what to see, and how to make sure you don't miss any of the 'musts'? Or maybe you are more worried about the practical aspects of the visit, such as how to skip the lines, which entrance to take, or what you can bring inside?
This guide should answer all your questions and help you plan a truly memorable experience when visiting the Louvre. Find out!
The Louvre Museum in Paris, France, is one of the most famous and largest museums in the world, housing a vast collection of art and artefacts that span over 9,000 years of history. Louvre is also the world's most visited museum, attracting millions of visitors every year.
As you can imagine, visiting the Louvre can be overwhelming, especially if this is your first time in Paris, your time is limited, and you want to make the most out of your visit.
So here are some of our top tips and tricks for a better experience and to make sure that you get the most out of your visit to the Louvre Museum. At the bottom of the article, you can also find some frequently asked questions about visiting the Louvre. Take a look!
READ ALSO: Tips for Visiting Paris (First-Timer's Guide)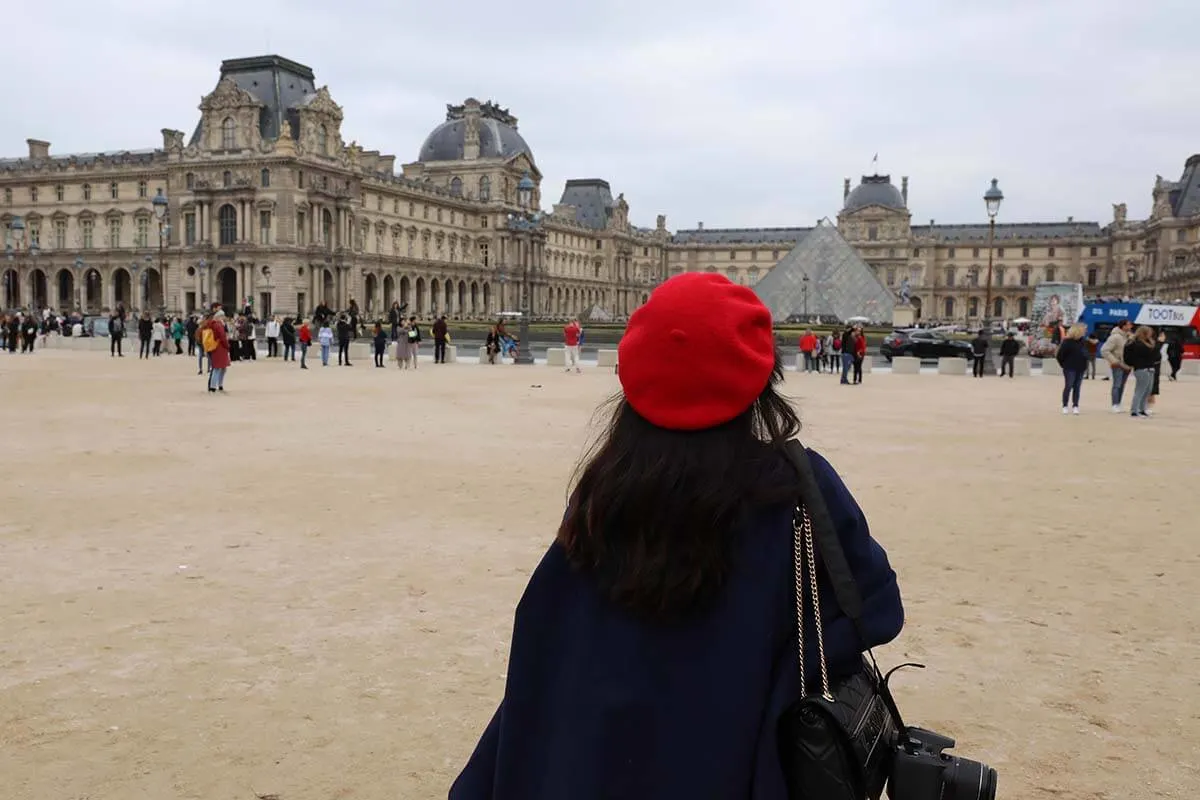 Good to know: This guide is written with the help of Steven from Art History Co. Passionate about famous paintings from art history, he visited the Louvre many times. Based on his recommendations and our personal experience, in this article, we bundled all our top tips and the most important info for your first visit to the Louvre Museum in Paris.
Here are some of our top tips for visiting the Louvre:
1. Plan ahead
As already mentioned, Louvre is the most visited museum in the world. Just before the pandemic, they welcomed almost 10 million visitors a year. The moment restrictions started to ease, tourist numbers skyrocketed again…
This led to Louvre capping the number of daily visitors, with timed-entry slots, and it seems that this practice is here to stay. The lines at the Louvre have always been notoriously long, but these days, you are no longer guaranteed to get in even if you decide to wait it out.
So if you want to visit the Louvre Museum, you'll have to plan – and book your tickets – ahead. You can find more information about the tickets and tours below.
Good to know: The Louvre is open daily except on Tuesdays. On Fridays, the museum is open until 9.45 PM. The museum is closed on Christmas Day, January 1, and May 1, and remains open on all other public holidays unless they fall on a Tuesday.
2. Decide if you'll go on your own or with a tour
Before you rush to book your tickets for the Louvre, you should consider whether you want to try to tackle the museum on your own or would rather go with a local guide.
There are advantages and disadvantages to both approaches. Here are a few things to consider.
If you have at least half a day (4-5 hours) and are prepared to do your own research, then consider going on your own. The main advantage of going on your own is that you can decide which works you want to see (you'll need to find them though – more info below) or how long you want to stay admiring them. Needless to say, this is cheaper than going with a guide.
Here, you can reserve a timed-entry ticket if you decide to visit on your own. Without a guide, you may want to opt for a ticket that includes an audio guide. If you go on your own, be sure to read all our practical tips for visiting the Louvre museum further below!
If you are short on time (2-3 hours) and want to see all the famous artworks at the Louvre in just a couple of hours, consider going on a guided tour. Going with a local guide will save lots of time, research, and stress. Not only will you not have to worry about the tickets, which entrance to take, or where to go, but you'll also be sure to see all the most important masterpieces that Louvre is famous for. And if you like to (and depending on the hour of your tour), you can decide to stay inside the museum after the tour and explore a bit more on your own.
Here, you can find a big selection of tours. You can opt for group tours, small-group tours, or private tours. There are tours that go early in the morning and others that try to avoid the biggest crowds by visiting just before closing time.
TIP: We have been to the Louvre several times over the years, and just once without a guide (and it was overwhelming!). Recently, we visited the Louvre with this small-group 'Closing time at the Louvre' tour and it was a great experience. We didn't have to worry about any practicalities, saw a lot more than ever before, and learned so much info and interesting facts about the museum and the art. Recommended.
You can find additional information about tickets and tours below. But first – one more thing to consider before you book your tickets.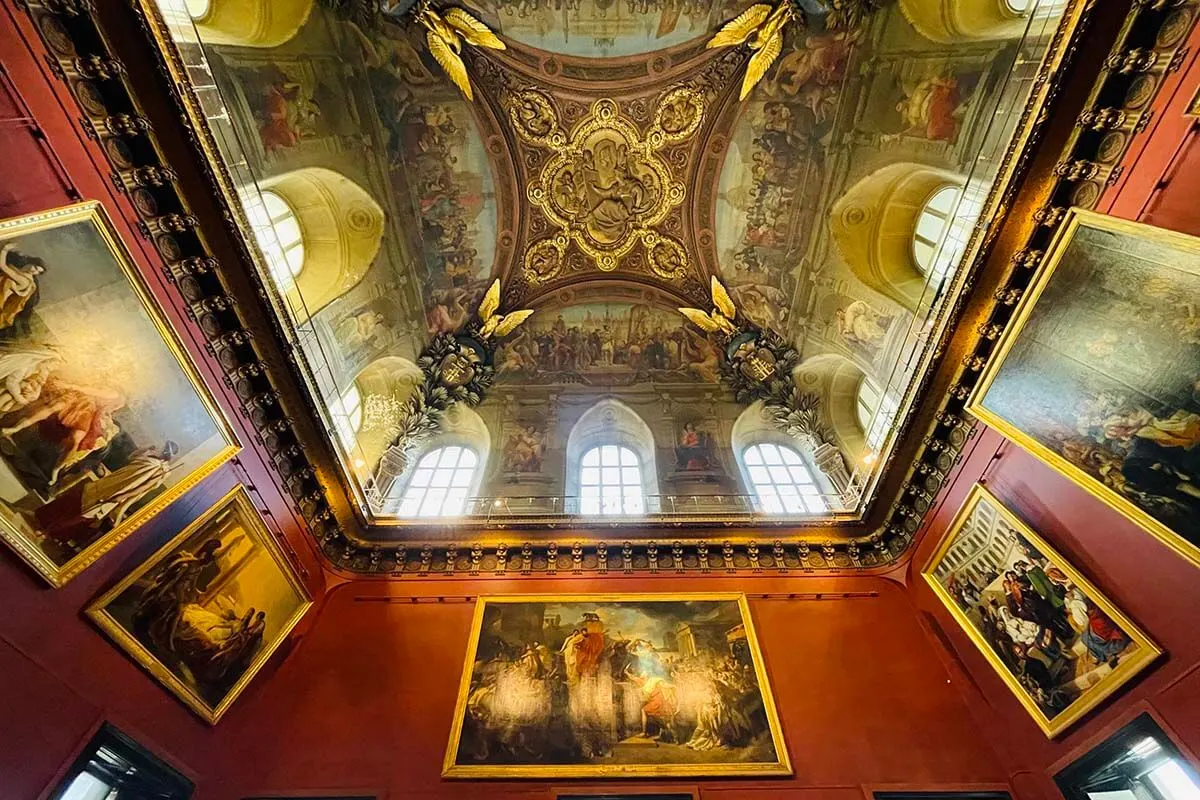 3. Avoid peak times
It goes without saying that your experience visiting Louvre will highly depend on when you visit. If you come here on a Monday in February it will be incomparably quieter than on a Saturday before Easter… But the Louvre is always busy.
As a minimum, try to avoid the weekends (even more so the first Sundays of the month when most Parisian museums including the Louvre are free), public holidays, and French school holidays. It's busy. Really, really busy. The museum is also at its busiest in the middle of the day (+- 10 am to 3 pm).
One of the best days to visit is Thursday. Mondays and Fridays are also good, also because the museum is open until late on Friday evenings.
The best times to visit the Louvre are either very first thing in the morning (but only if you manage to get in the moment it opens and quickly run to the most popular rooms (Mona Lisa)) or late in the afternoon, a few hours before the museum closes.
Good to know: The last entry to the museum is 1 hour before the closing time, but you really should come at least 2-3 hours before that if you want to see some of the main pieces of art. They start clearing all the rooms over half an hour before the closing time.
For example, the earlier-mentioned 'Closing time tour' that we did, brings you to Mona Lisa at its quietest – just before the rooms get cleared. The tour starts 3 hours before the closing time, so you have enough time to see the other pieces of art first.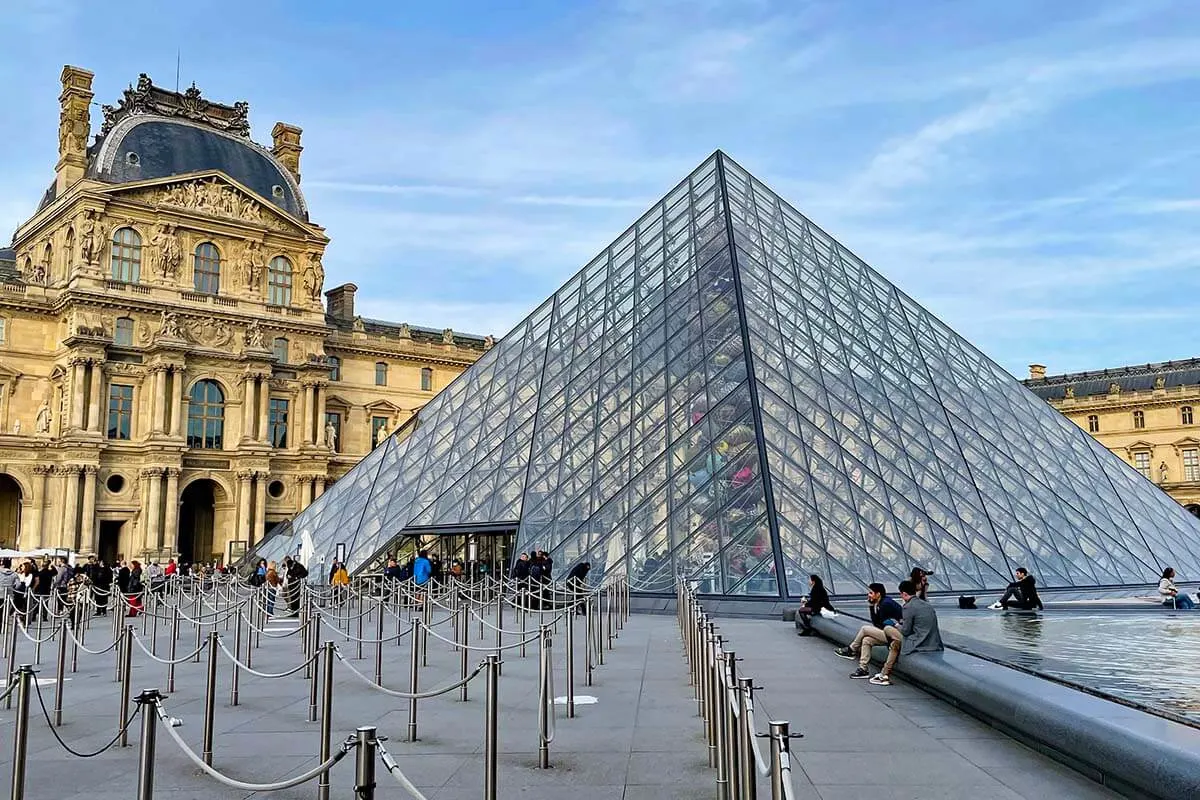 4. Book your tickets in advance
We cannot stress this enough – if you want to be sure to visit the Louvre, you really have to book your tickets in advance. If the maximum capacity isn't reached, they might allow walk-ins, but you cannot count on it. Not even to mention that you'll waste a lot of time waiting in line.
You don't have to book months in advance, but we recommend reserving the tickets at least 2-3 weeks before your travel date. Usually, they are released about 6-8 weeks in advance, and if you want to have a specific time slot, it's best not to wait too long (even more so if visiting during the peak season).
Good to know: Children under 18 can visit the Louvre Museum free of charge. EU residents under 26 years old are also free (but don't forget your ID!). You will still need to reserve a timed ticket in advance even if entry is free for you.
TIP: You don't have to print out the ticket as the email you receive will have a link to a barcode which they will scan on entry. However, note that the mobile reception isn't fantastic inside, so after you make your purchase, simply screenshot the barcode on your phone for easy access.
Note about the Louvre tickets. You can buy them on the official website of the museum, and also on reputable websites that are official resellers, such as Tiqets or GetYourGuide.
The official website has somewhat cheaper rates and also the very first time slots of the day. Official resellers add a small administrative fee. However, we normally book all our Paris tickets via Tiqets or GetYourGuide. It's just so much easier than having to create separate accounts and deal with different systems of each museum/attraction separately. Also, often you can even save more money by getting combination tickets they offer (see below).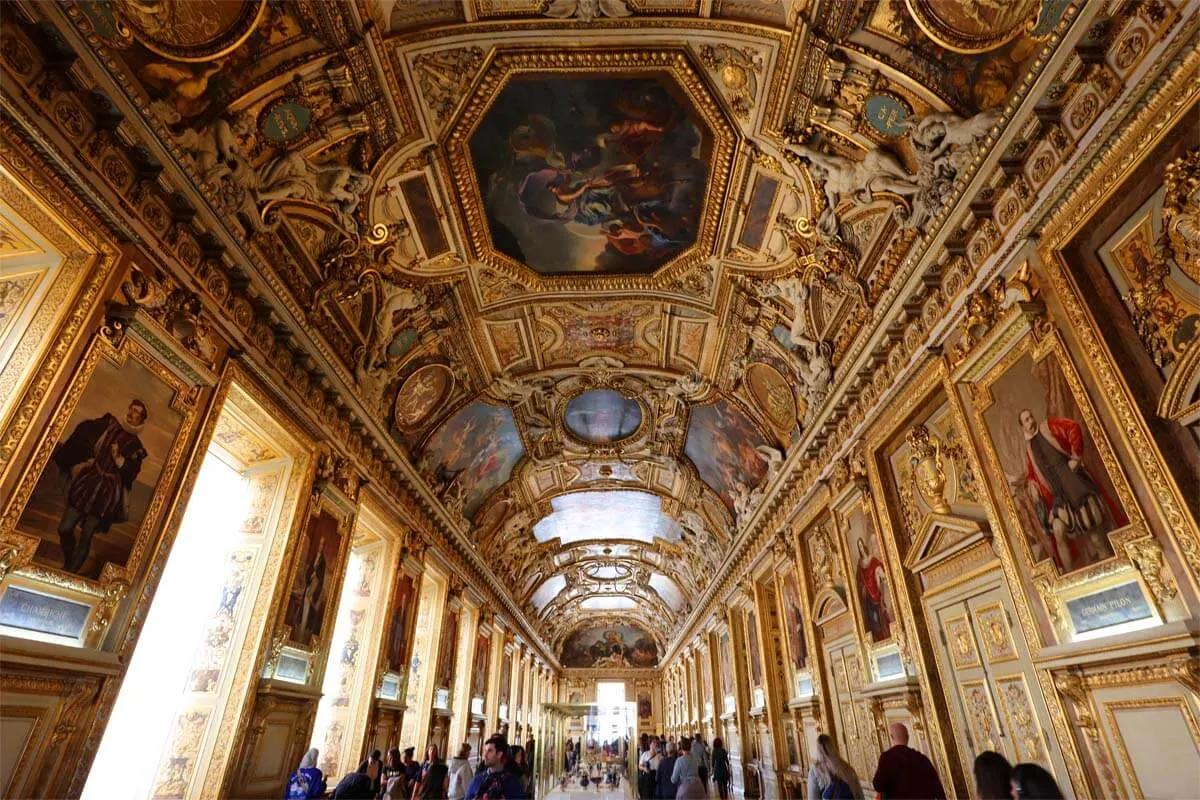 5. Save money by getting ticket bundles
If you are planning to visit several sites and attractions in Paris, you can sometimes get better deals on bundles.
Here are some of the most popular ticket bundles that include the Louvre tickets:
Good to know: Paris Museum Pass now includes the Louvre tickets. However, you will still need to reserve a specific timeslot yourself and that can be a hassle if you don't think of it in time.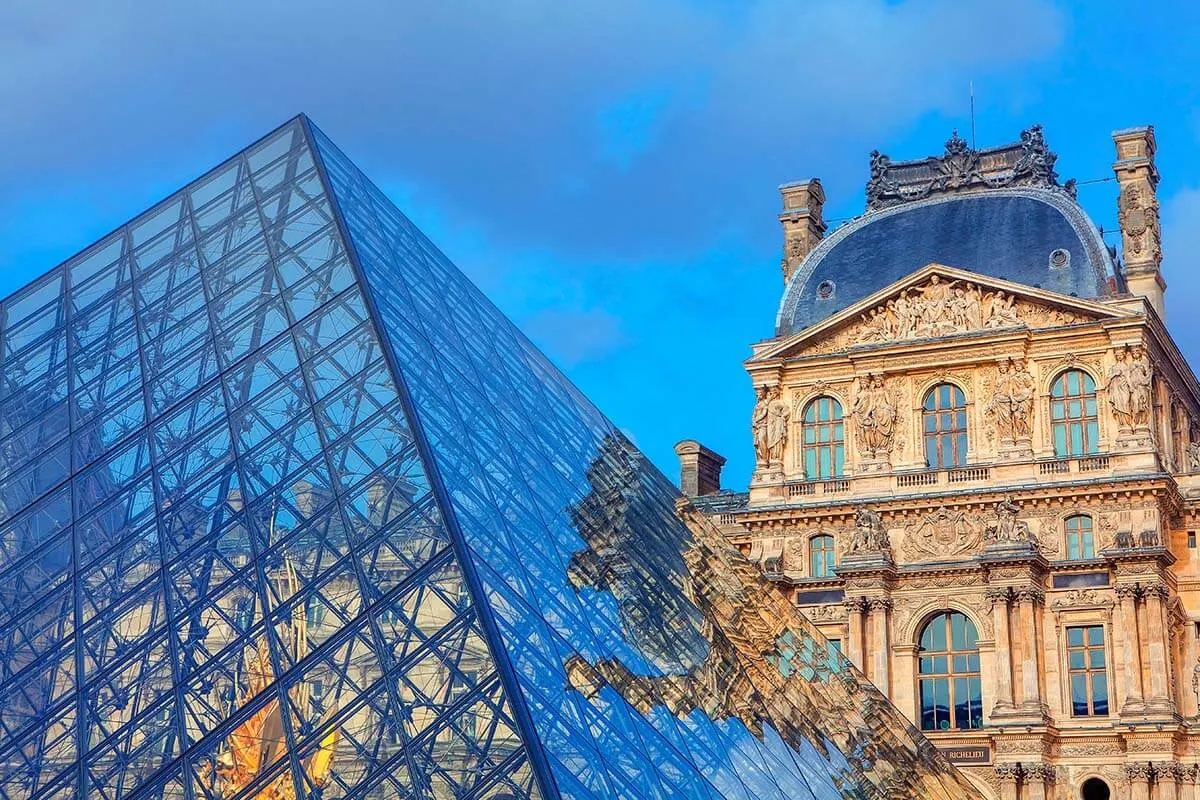 6. Skip the lines by avoiding the main entrance
While the famous Louvre Pyramid is iconic, equally iconic is the sight of the long lines waiting to get in. Not many tourists know that there are several other entrances. One of the best entrances for individual visitors to the Louvre is the underground entrance at Carrousel du Louvre shopping mall. It can be accessed directly from the metro station. It's incomparably quieter here than at the main entrance at the Louvre Pyramid!
If you are arriving by metro, simply follow the directions to the museum through the shopping mall without heading upstairs. If you are coming on foot, locate the Triumphal Arch on the eastern end of the Tuileries Garden. Facing the Louvre on both sides of the Arch, you'll see stairs going down (see the exact location on the map).
Not only is this entrance undercover (great if it's raining), but it's also air-conditioned (a life-saver when it's hot). The line here is usually incomparably shorter than at the main entrance; just make sure you are in the general admission line.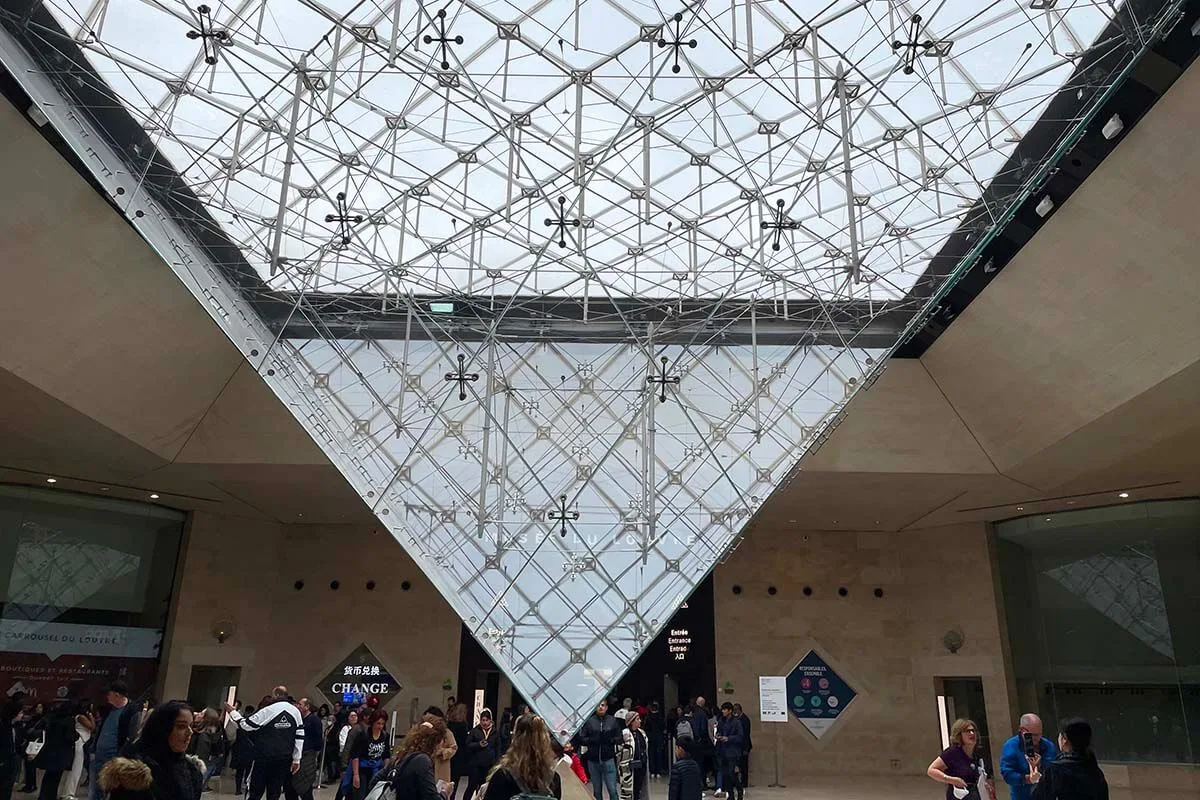 7. Prepare for an airport-style security check
Security check at the Louvre is similar to an airport, so prepare in the same way. Except that here you can bring a bottle of water.
First, don't bring anything you don't absolutely need. No sprays or sharp objects, so leave your nail cutters, Swiss knives, and hairsprays at the hotel. Also, no big bags are allowed inside the Louvre. The maximum size is 55 x 35 x 20 cm (21 x 14 x 8 inches).
By the way, this is not only important when visiting the Louvre, but everywhere in Paris. All the main tourist attractions have similar security checks, so carry as little as possible in order to save time and hassle everywhere you go.
As you wait, take all items from your pockets and place them into a handbag or backpack to make your entrance smooth. Be patient as you will see many wonderfully confused and unprepared visitors in front of you going through security as they have never done it before.
Good to know: While the entry tickets are timed, there is actually quite a good 'grace period'. So if you are half an hour early they will still allow you to enter, and the same goes if you are late. I wouldn't stretch it too far though. Try to arrive at the security check at least 30 minutes before your time slot. This is if you use the entrance that we recommend; if you use the main entrance, you will need much more time.
TIP: While waiting in line, connect your mobile phone to the Wifi. It's free and fast whereas the mobile signal is patchy inside the museum.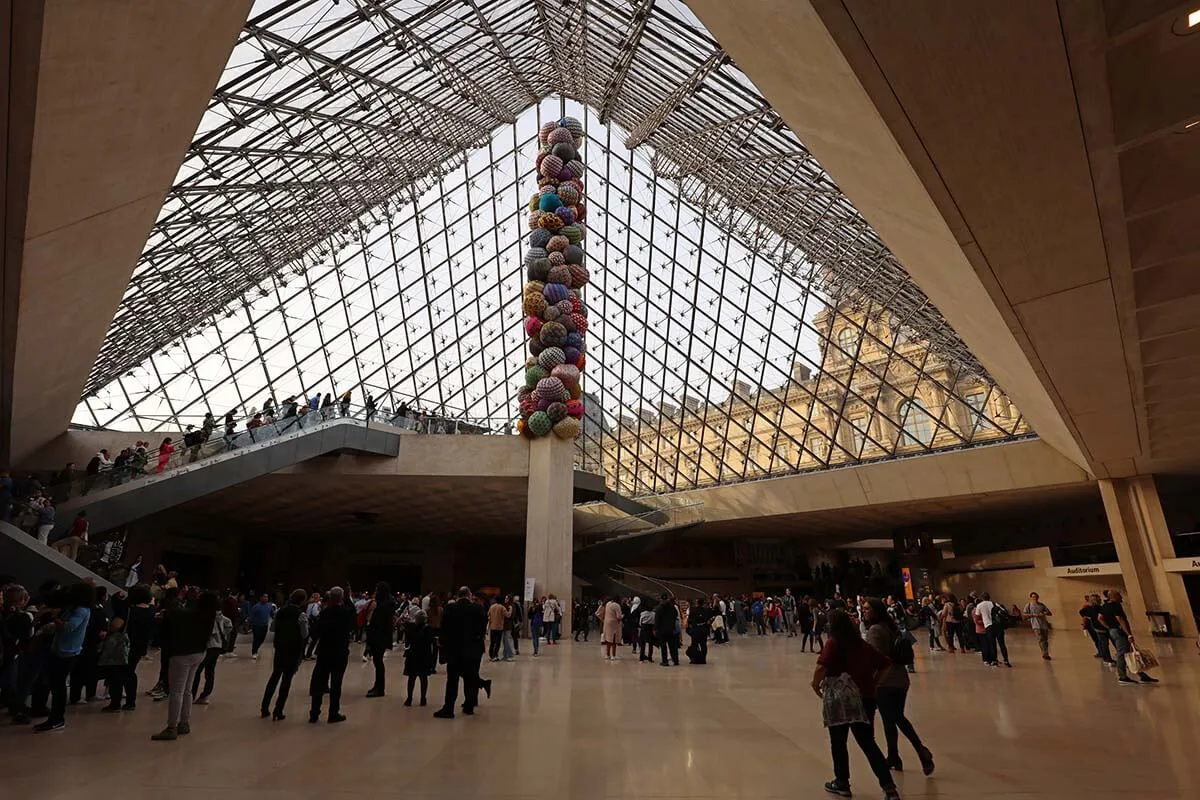 8. Don't overpack, but know that you can bring whatever you need
If you are sightseeing the whole day, you'll likely have some things with you that you don't absolutely need at the museum, but want to have with you for other reasons. Don't stress about it.
You can bring what you need and small backpacks are allowed at the Louvre (see the maximum dimensions in the above section). However, keep in mind that backpacks and large bags might not be allowed in the galleries.
Good to know: If you have a heavy jacket or a backpack, you can simply store it in the free self-service lockers. You can find more info about lockers below.
Here are some tips for what you may want to bring with you:
A sweater, a jacket, or a scarf (depending on the season). While the busy areas of the museum are generally quite warm, it can be much cooler in some galleries than in others.
Headphones. If you are planning on getting an audio guide (which we highly recommend if visiting without a guide), consider bringing your own headphones with a standard jack. The headphones that come with the audio guides are quite clunky and uncomfortable and you will have a much better time with smaller headphones. If you have wired noise-canceling headphones, you may want to bring them as the museum is loud. But I wouldn't buy new headphones just for this.
Small snacks/lunch. If you are planning on spending more time at the Louvre, you can bring some snacks or your own lunch if you wish. The food at the Louvre isn't that expensive, however, on the busier days at lunchtime it can sometimes be hard to find a seat to sit down! Please note that you are not allowed to eat or drink in the exhibition rooms.
Camera/phone. If you are taking pictures with your phone, you may also want to pack a power bank (and a long cable)! Please note that you are not allowed to use selfie sticks or flash. In general, you can take pictures everywhere, but some temporary exhibitions may not allow photography.
Credit cards. You don't need to bring any cash.
Face masks. At the moment of writing, face masks are not mandatory. However, some rooms can be extremely crowded and full of tourists. So if you feel uncomfortable with that, it can be a good idea to have a face mask on hand.
ID. You will need this for reduced entry if under 18 or 26 as an EU resident. Any national card is accepted, you don't need a passport. You will also need an ID if you want to rent an audio guide or borrow any kind of equipment (they have baby carriers, pushchairs, walking sticks, folding stools, wheelchairs, etc.).
TIP: Check the official site for more information about all the available amenities. The Louvre also offers free Wi-Fi and phone chargers.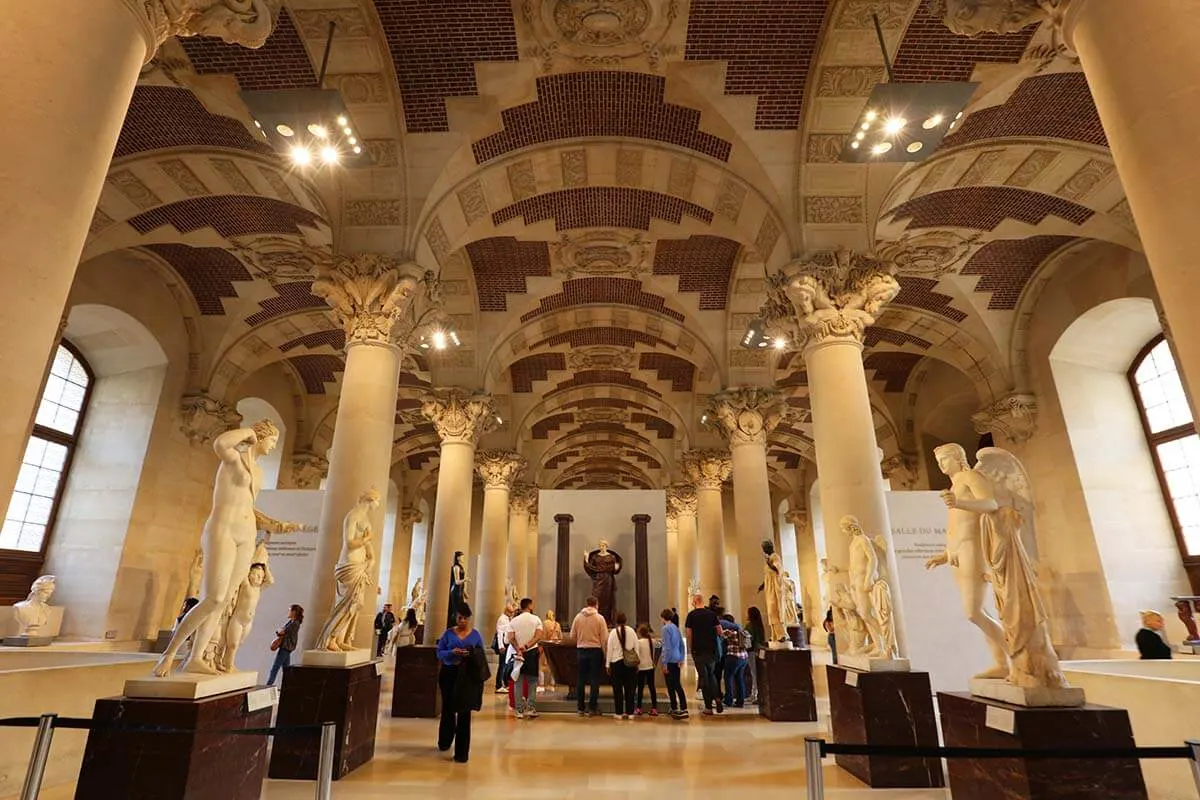 9. Pick up a map
Once you are through security, the natural instinct is to head straight for the paintings. A few more minutes to prepare will go a long way!
First, pick up a map. While the staff are very good (they all speak English and French) and there are signs everywhere, you will really need a map when visiting the Louvre on your own. Paper maps are available in the lobby as you first get into the Louvre and will come in very handy as the museum is massive.
There is also a visual map on the audio guide screen with geo-tracking. But it's actually quite difficult to use. So we really recommend that you pick up a traditional paper map.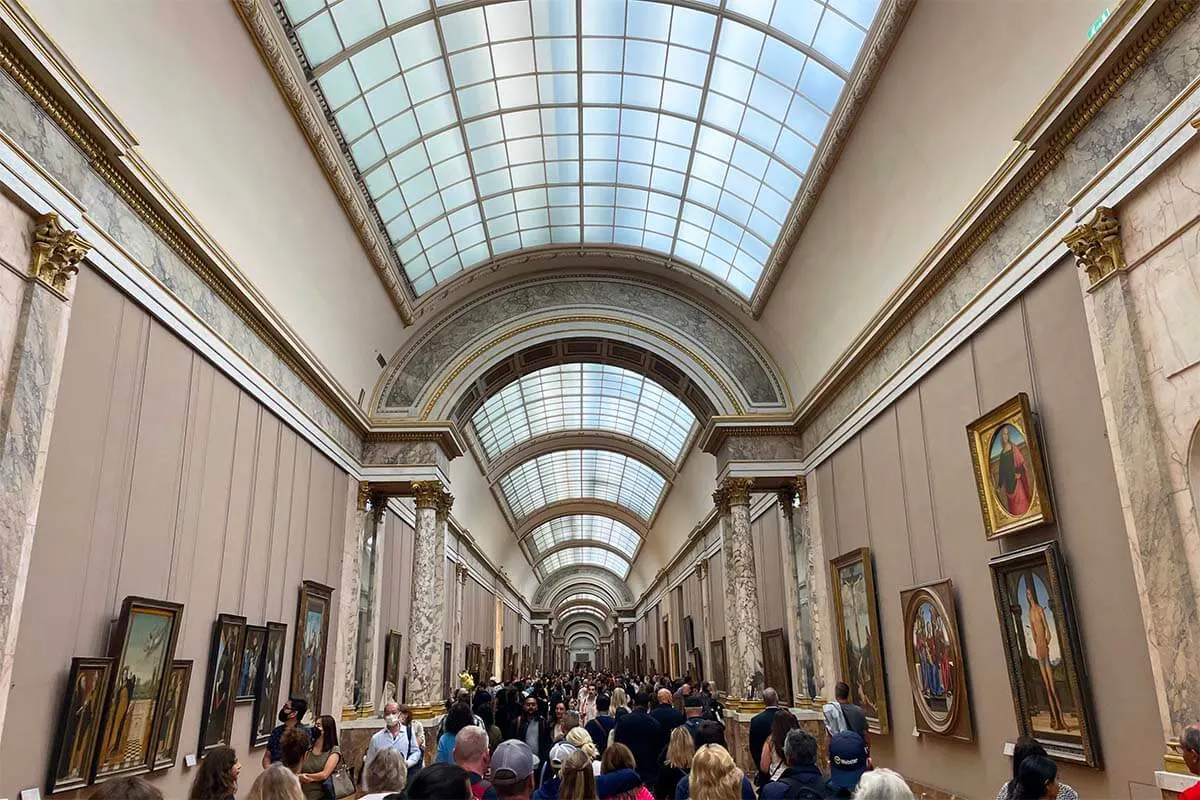 10. Get an audio guide
If you want to learn at least a bit of background information about the works of art that interest you, make sure to get an audio guide. (Obviously, you won't need this if going with a guided tour.) It can be a bit confusing at first, but once you know how to use it, it's really helpful.
There are well-labelled kiosks upon entry where you can buy an audio guide (or skip this step and get a ticket with an audio guide already included). The machine prints a receipt with which you can pick up your audio guide from the service desk next to it.
On busy days, you will see lots of tourists trying to buy audio guides from the desk directly, this can sometimes create unnecessary queuing. Just hold up your receipt and somebody will swap it for an audio guide. Remember to have your ID card ready.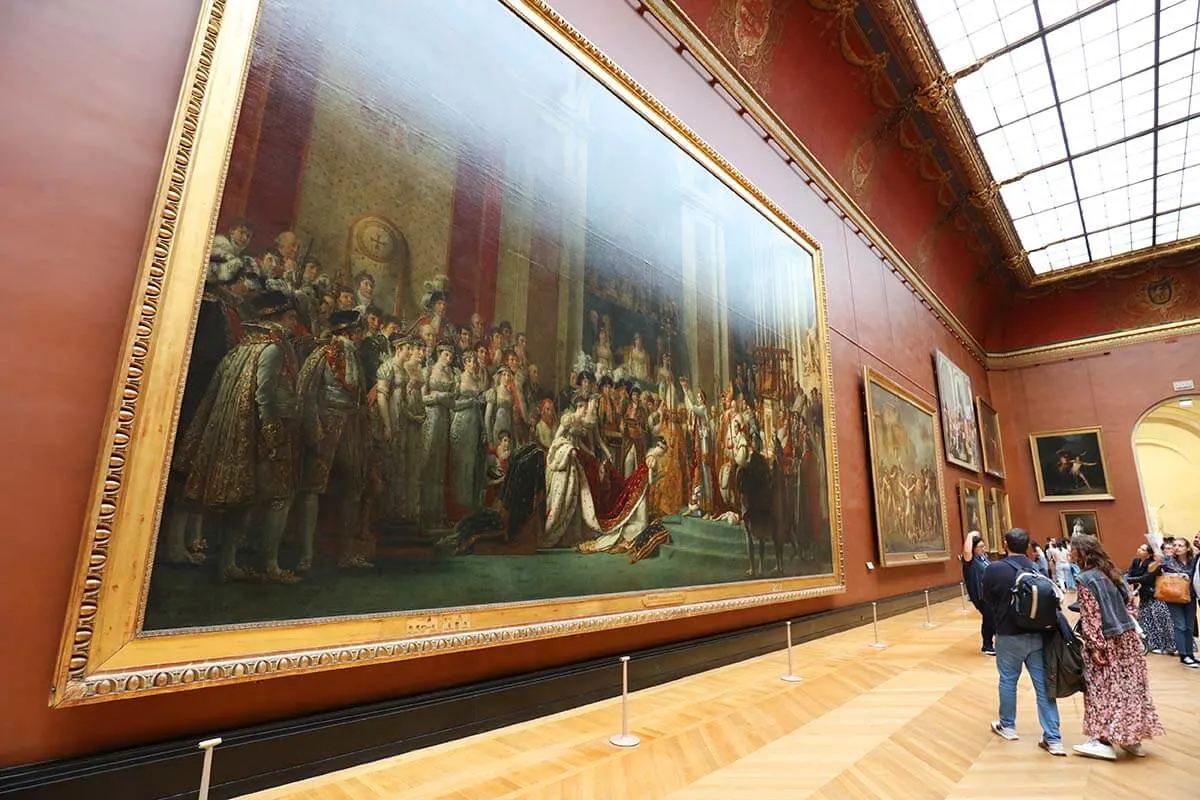 11. Use the lockers
You're in, you have a map, an audio guide, and are good to go. One final stop. Head downstairs to the lockers and drop off everything you don't absolutely need. This will make your visit so much more enjoyable!
You will see lots of people around and a lot of unavailable lockers. Head right to the back of the room and there are always plenty of available ones, even on busy days.
There are lockers of all sizes. They are FREE and easy to use and you'll find the instructions on the lockers. Just don't forget the code that you choose! Lockers are free and secure. Btw, they have glass doors, so you will still recognize your locker even if you forget which one it was. However, it makes it easier to simply snap a photo of the locker number on your phone.
Make sure you take everything with you when you leave. After you leave, you cannot re-enter the museum.
Good to know: There are bathrooms next to the lockers. They are typically the cleanest and the least busy of them all.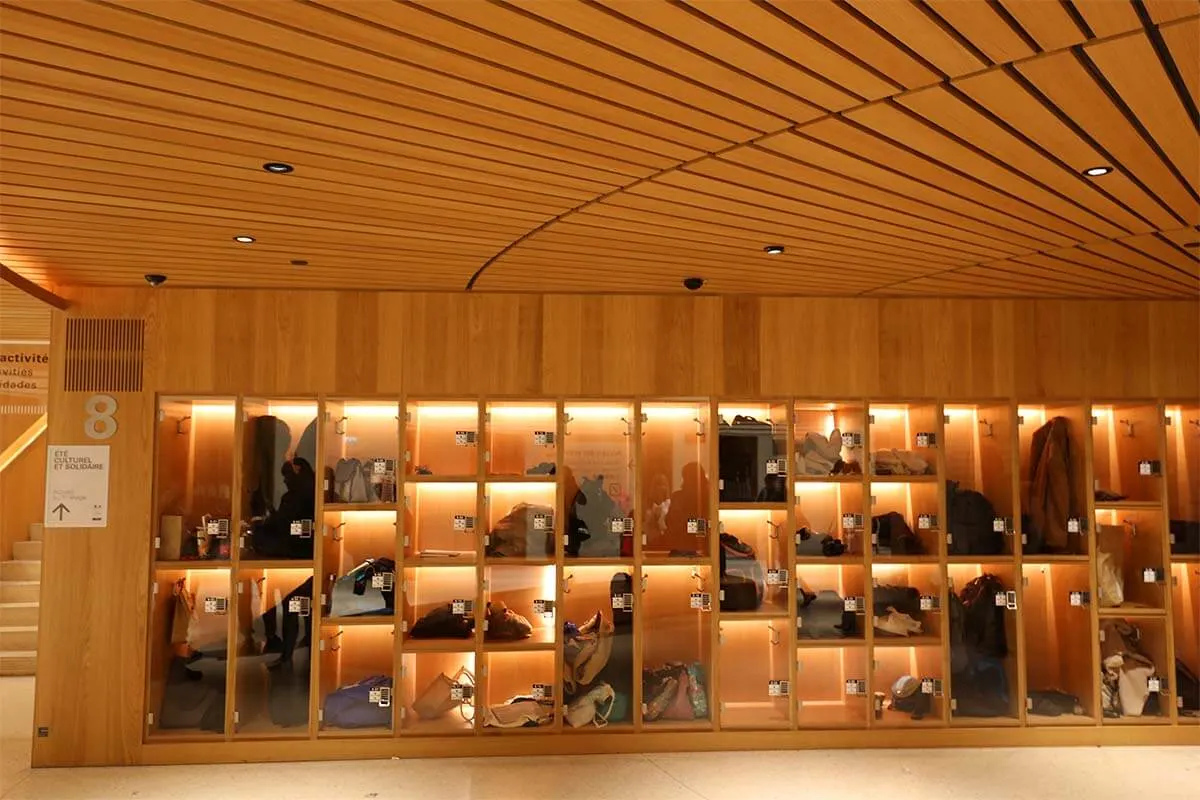 12. Be prepared to push in
Regardless of what day you visit, or even the season, the Louvre will be busy. The main halls and galleries will be full of people and it will be loud. There will be large tour groups where the guides will push in (they are trying to do their job).
You have to realize that not everybody at the Louvre will speak English or French, and that people come from different cultural backgrounds. A simple 'excuse me' or 'do you mind' can go a long way, but it can also lead to a confused stare or even get people upset.
Good to know: The famous works will have a large gathering of people around them and if you want to get to the front for a closer look, you won't have much luck waiting for your chance. Push in, do what you need to, and get out. Just don't expect to be able to stand in the center of a world-famous painting for several minutes without disturbance.
If you want to try and get a selfie or even just a picture in front of famous works, don't expect it to be perfect. There will always be people around you.
Also, remember that there are plenty of other paintings in the Louvre which are just as good and substantially less busy than the famous Mona Lisa. In fact, there are a couple of amazing Leonardo da Vinci paintings that you can see without the crowds (and take a selfie with them if you like).
Talking about famous masterpieces, read on for more tips!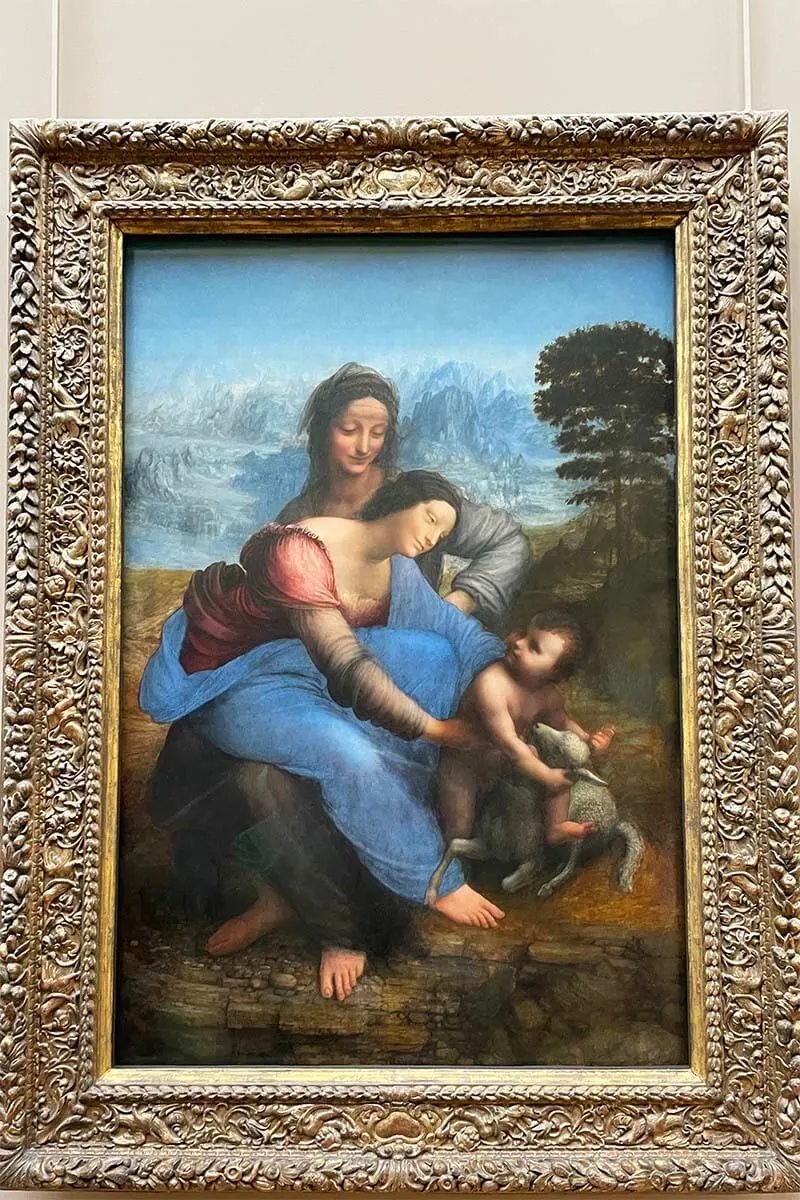 13. Research what you want to see
With almost half a million pieces of art, the collection of the Louvre is massive. At any given time, there are about 35,000 artworks displayed in more than 400 rooms of the museum. You would need several weeks or even months if you want to properly see everything…
So don't expect to see 'everything' in a day, let alone in a couple of hours. Do some research, decide what you absolutely want to see, and take a look at the map to plan your visit.
Some of the most famous pieces of art at the Louvre are:
Mona Lisa (La Gioconda) by Leonardo da Vinci.
Venus de Milo by Alexandros of Antioch.
Winged Victory of Samothrace.
The Raft of the Medusa by Théodore Géricault.
Slaves by Michelangelo.
Great Sphinx of Tanis.
The Coronation of Napoleon by Jacques-Louis David.
The Wedding Feast at Cana by Paolo Veronese.
Liberty Leading the People by Eugène Delacroix.
Death of the Virgin by Caravaggio.
TIP: Most first-time visitors head to the Denon wing of the Louvre. It's here that you will find some of the most famous masterpieces such as the Mona Lisa and many others listed below. See below for more info.
Good to know: You can use the interactive map on the website of the museum to help you plan (although it helps to know the room numbers before you start). On the website, you can also find several suggested itineraries for a first visit. Just remember that it all looks so much simpler on paper than in reality. The museum is huge, it's busy everywhere, and it's not simple to stick to a plan, even if you are extremely well prepared. This is the reason why we personally much rather go with a guide…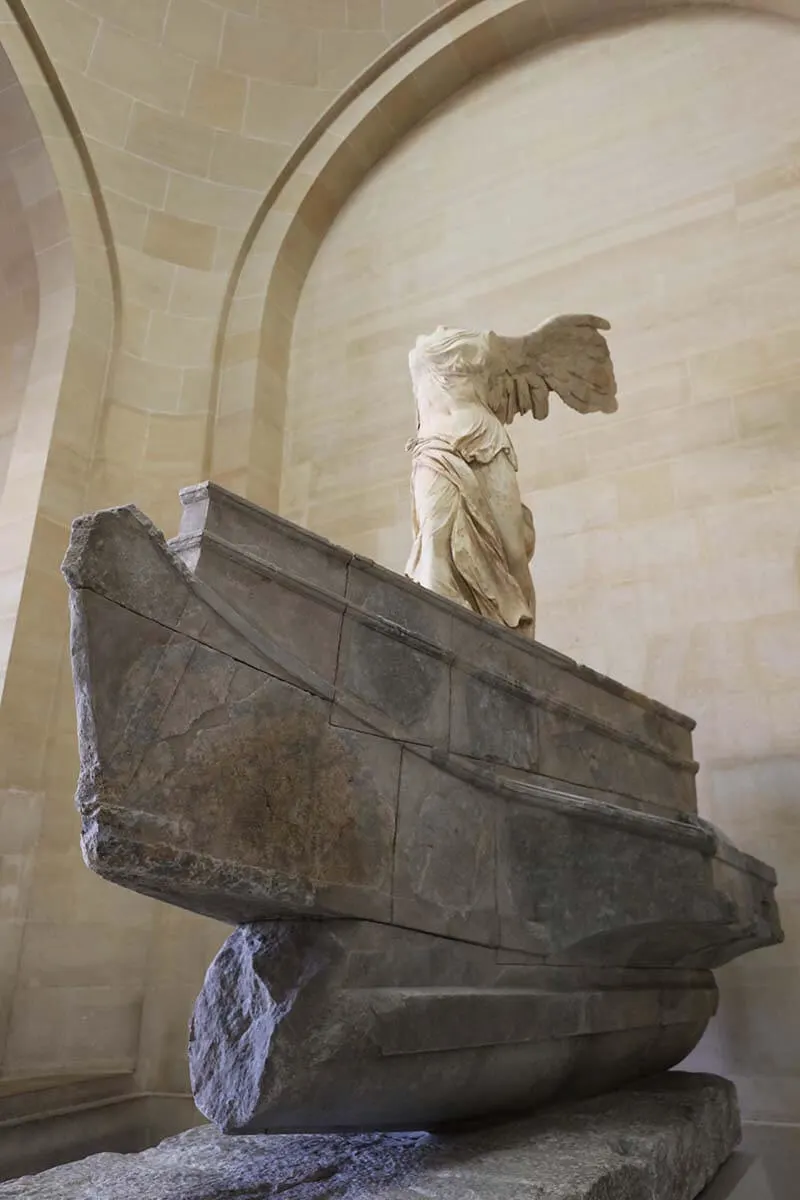 14. Know where to find the most famous works
The Louvre is made of three areas, called Richelieu, Sully and Denon wings. They can all be accessed from the lobby and are very clearly labelled. Consider them as individual museums or buildings; you can't connect from one to another without coming back to the center of the museum.
Know what you are looking for in each wing. Below is some information about the famous paintings and sculptures you won't want to miss in each wing:
Denon Wing
The Denon Wing is made up of mostly Spanish and Italian paintings, along with the famous 19th-century Neoclassical paintings from France.
It's here that you will find the most famous Louvre painting of them all – the Mona Lisa. It's located in Room 711 and there are signs everywhere in the museum with a picture of the painting and an arrow pointing you towards it. If you go straight to the painting, it's about a 3-4 minute walk from the entrance to the Denon wing.
Be prepared for big crowds here. There can be a line to get in and two lines to get closer to the painting – one to the left and one to the right. Just join it, it likely won't get any better. Use this time to flick through the map and familiarize yourself with the Louvre and check out the other paintings around you. The line usually moves pretty quickly, but on busy days you may be waiting around 30 minutes. It's often quieter first thing in the morning and at the end of the day.
In addition, make sure to check out the other paintings in the room. Don't miss the famous Paolo Veronese painting The Wedding at Cana which is incredible and often overlooked due to its proximity to the Mona Lisa.
TIP: Just nearby, in the hall of the Grande Galerie, there are also other da Vinci paintings: Saint John the Baptist, Virgin of the Rocks, La Belle Ferronnière, and The Virgin and Child with Saint Anne. These are usually very quiet and overlooked by most visitors.
Rooms 700-702 of the Denon Wing also contain most of the famous French Neo-Classic paintings such as Eugène Delacroix's Liberty Leading the People, Théodore Géricault's The Raft of the Medusa, and both The Coronation of Napoleon and Oath of the Horatii by Jacques-Louis David among many others. These rooms are very close to the Mona Lisa painting and can also get extremely busy as most tour groups come here as well.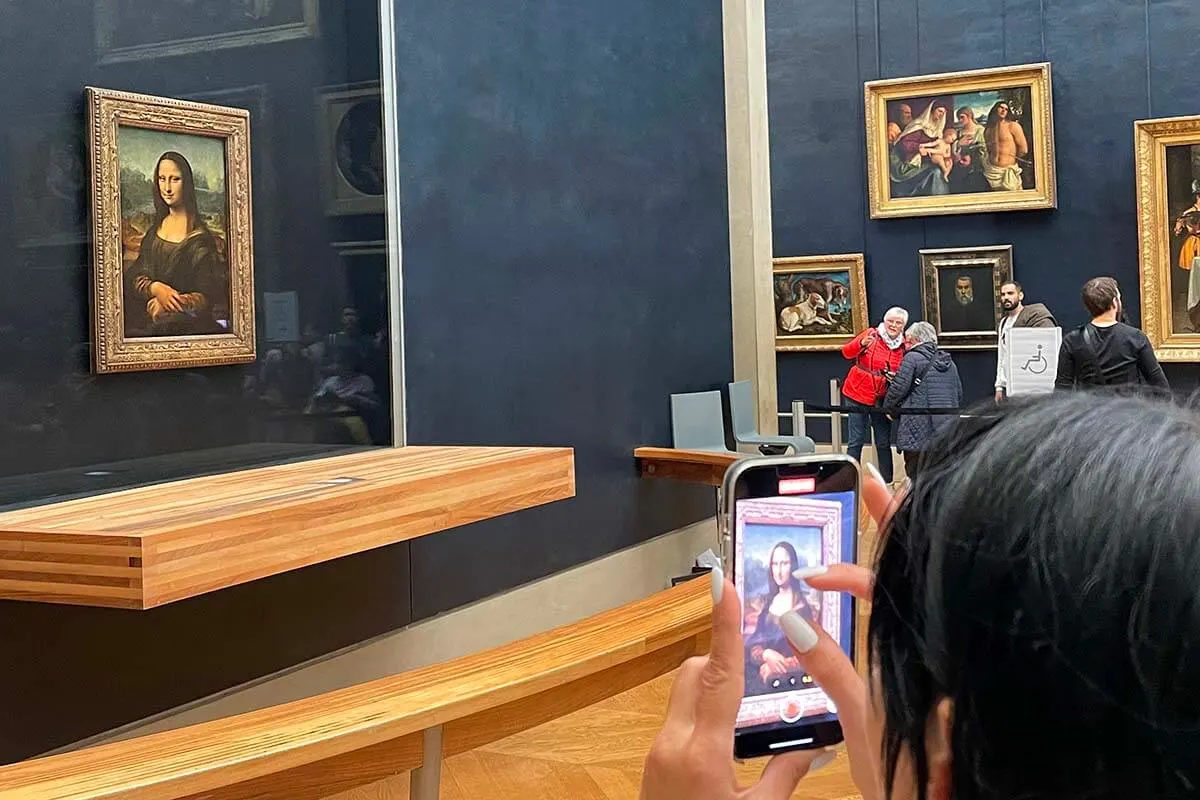 Richelieu Wing
The Richelieu wing houses many of the older northern paintings in the Louvre, from the 14th century right through to the 17th century. The paintings here are mostly of German, Flemish and Dutch origin.
There are two masterworks in Room 38 by Dutch artist Johannes Vermeer which are quite small in size and often overlooked, The Lacemaker and The Astronomer.
The famous Bathsheba at Her Bath by Rembrandt is right around the corner in Room 844, along with many of his other paintings.
The Richelieu wing also contains a room filled wall to wall with enormous Peter Paul Rubens paintings depicting the life of the Queen of France Marie de' Medici. It's a quiet corner in the Louvre so doesn't get many visitors. You can find it in Room 801. It's a wonderful place to sit down and relax as there are many seats in the middle of the room so you can take a load off and immerse yourself in the paintings.
TIP: One of the most impressive sculpture halls of the Louvre Museum – Cour Marly – can also be found in the Richelieu Wing (Room 102). It's located right under one of the glass pyramids and can be seen from several levels.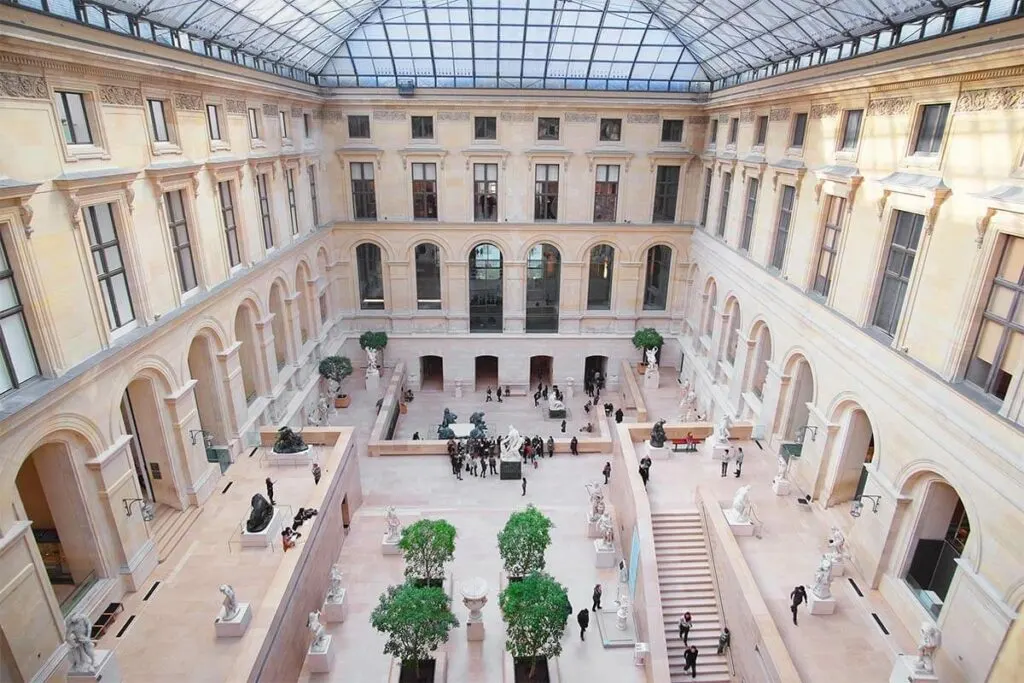 Sully Wing
The Sully wing of the Louvre contains the famous ancient Greek, Egyptian and Roman art. It's very well laid out so you can walk through it naturally without missing anything, however, be sure to see the main highlights:
Great Sphinx of Tanis is in Room 324, a granite sculpture from the 26th century BC.
The Venus de Milo is arguably the most famous statue in the world. This ancient Greek marble sculpture from the Hellenistic period is larger than life at 7 feet tall and stands in Room 345.
The Seated Scribe is an often overlooked tiny limestone statue in Room 635.
Don't miss the original fortress in the basement, a part of the old Louvre Castle wall.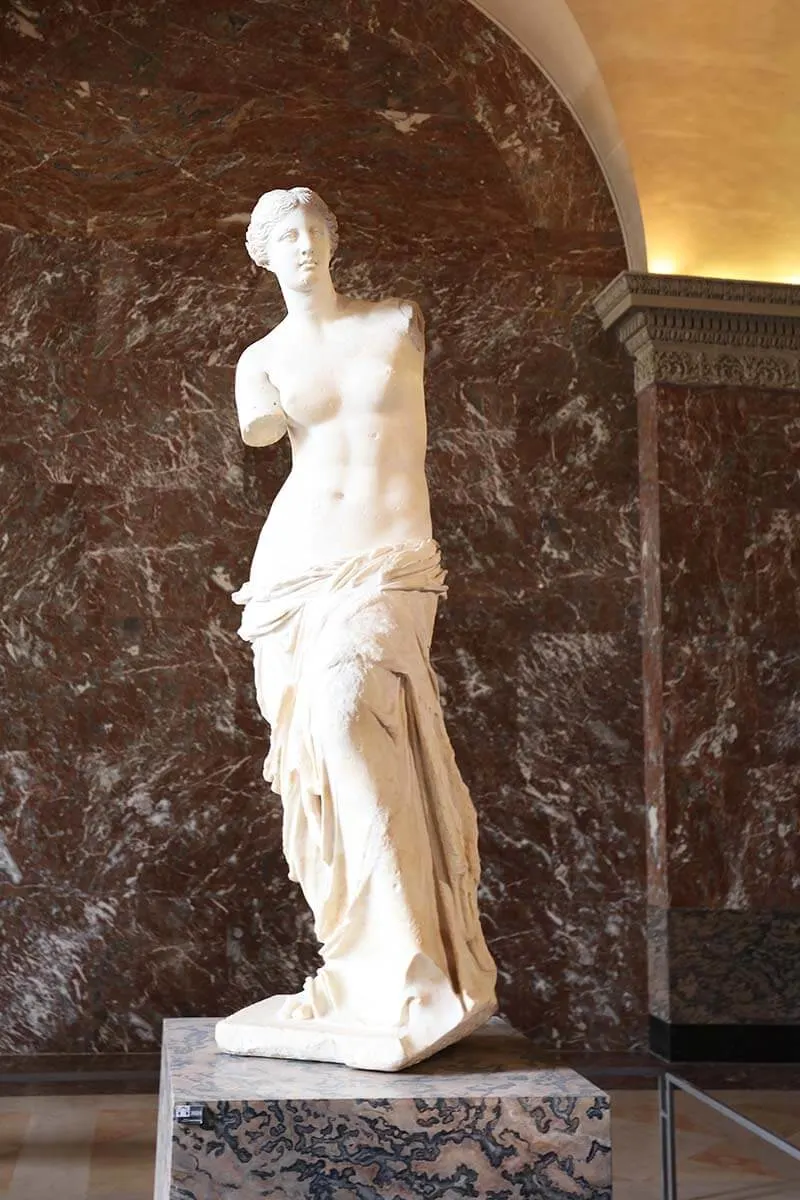 15. Check out the Louvre Pyramids
When you are finished with your visit, don't forget to head back to the locker and collect your bag. Return your audio guide if you hired one, and collect your ID.
Also, before you head out to the door, head downstairs and have a look at the bottom of the Louvre Pyramid.
Take the escalator and exit through the main door. Then, take some time to walk around the main square of the Louvre and admire its famous glass pyramids. Yes, there is more than one. In addition to the main large pyramid, there are three smaller pyramids and nice fountains.
You can take some beautiful pictures here. But for that, you may need to come back later at night (or visit very early in the morning) when the light is better and there are fewer people.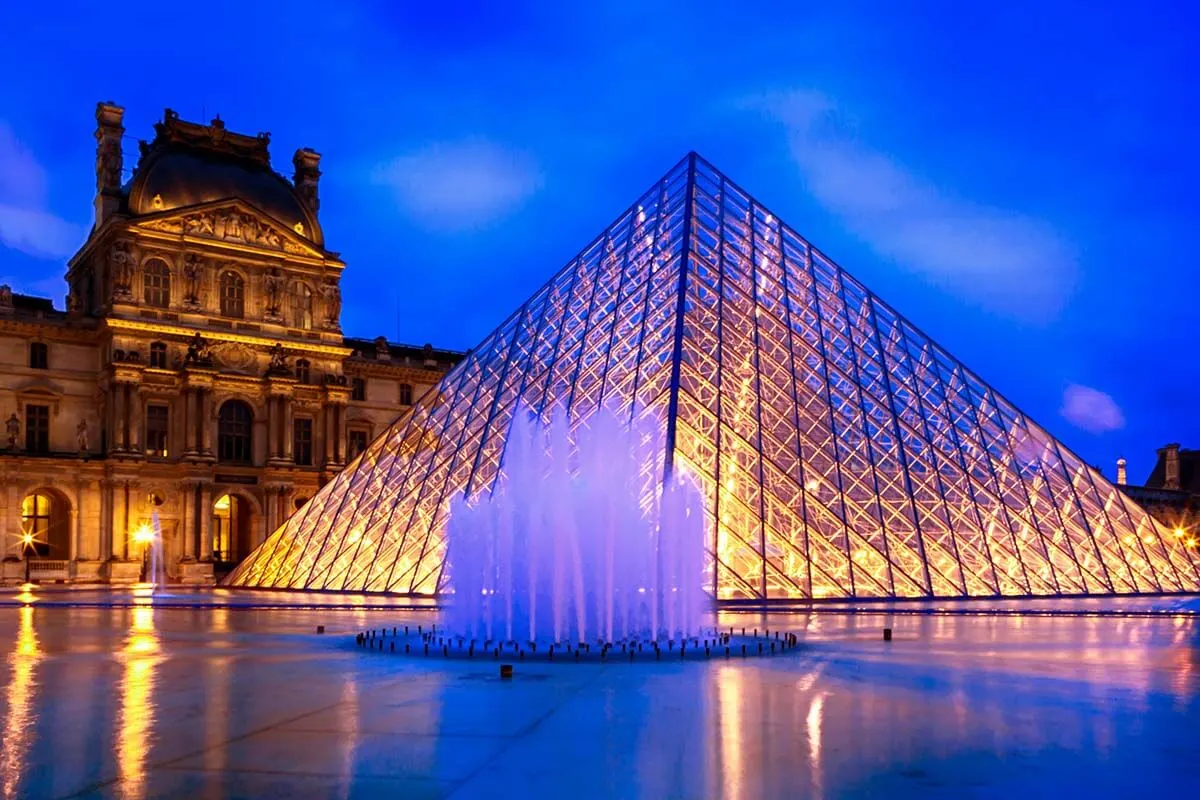 Louvre Museum FAQ
How much time do you need for the Louvre Museum?
The Louvre Museum is so big that you could spend a week and still not see everything inside… That being said, most visitors typically spend 2-3 hours at the Louvre. If you plan well (or go with a local guide), you can quickly see 'the musts' in about 2 hours.
Can you get the Louvre Museum tickets on the spot?
While it's possible to get Louvre Museum tickets on the spot, only a very limited number of tickets are available for purchase at the entrance (and only during off-peak times). So if you want to be sure to visit the museum, you really should book timed-entry tickets in advance.
Can you leave the Louvre and come back?
Louvre Museum tickets are timed and valid for one entry. So you cannot use the same ticket to come back to the museum. Once you leave the Louvre, you will not be able to enter with the same ticket again.
Are backpacks allowed at the Louvre Museum?
Yes, small backpacks are allowed at the Louvre. The maximum size of the bags you can take inside is 55 x 35 x 20 cm (21 x 14 x 8 inches). However, bigger bags and backpacks may not be allowed inside some galleries, so you will have to use (free) lockers to stow your bags during your visit.
What are the Louvre must-sees?
The three most important works that you really have to see at the Louvre are the Mona Lisa by Leonardo da Vinci, Venus de Milo by Alexandros of Antioch, and the Winged Victory of Samothrace.
Is the Louvre Museum worth it?
The Louvre Museum in Paris is one of the most famous museums in the world. So yes, of course, it's worth a visit and you will probably not want to miss it on your first visit to the city. That being said, if your time in Paris is limited, we recommend planning not more than 2-3 hours for the Louvre, to quickly see the main sights. And if you decide not to visit inside, be sure to at least see the exterior of the building, the pyramids, and the park.
So, these are some of our top tips for your first visit to the Louvre Museum in Paris. We hope that it gives you a good idea of what to expect and helps you plan an unforgettable visit.
Yes, the Louvre is crowded, and yes, some artworks are so overhyped that it's difficult to appreciate how truly remarkable they are. But no visit to Paris would be complete without catching a glimpse of some of the most important paintings and sculptures in the world.
So whatever you do, don't miss it!
More tips for visiting France:
Must-try!
Paris:
Alsace:
Normandy:
If you found this post useful, don't forget to bookmark it and share it with your friends. Are you on Pinterest? Pin these images!