Planning a trip to France and looking for some typical French foods to try during your visit? In this guide, we feature a selection of the best French foods – the very best traditional dishes, quick meals, and regional specialties to try in France.
For each dish, include a photo so that you know what to expect. You'll also find some tips on how they are typically served and where to try them.
If you're heading to France, prepare your taste buds to be delighted. French food is delicious and flavorful, and there are a lot of unique dishes you can try in France.
In this post, we cover a whole range of the most popular traditional French foods including bread products, desserts, dairy products, main dishes, delicacies, and more.
All of these foods are some of the most classic and beloved dishes in France, and definitely deserve a spot on your food bucket list when you visit the country. Find out!
This guide is written in collaboration with fellow travel writer Stephanie from The Unknown Enthusiast travel blog. Passionate about France, she's been to the country numerous times and also lived in Paris for a while. Together with our personal experience (we live nearby and visit France quite often) and her tips, we created this first-timer's guide to some of the best French foods that will make every trip more memorable.
Good to know: Our list of the best traditional French food starts with the most famous main dishes and light meals that you would typically eat for dinner or lunch. The most popular pastries, cheeses, and French desserts are listed further below, at the end of the article.
And yes, you will get hungry when reading this… Don't say we didn't warn you!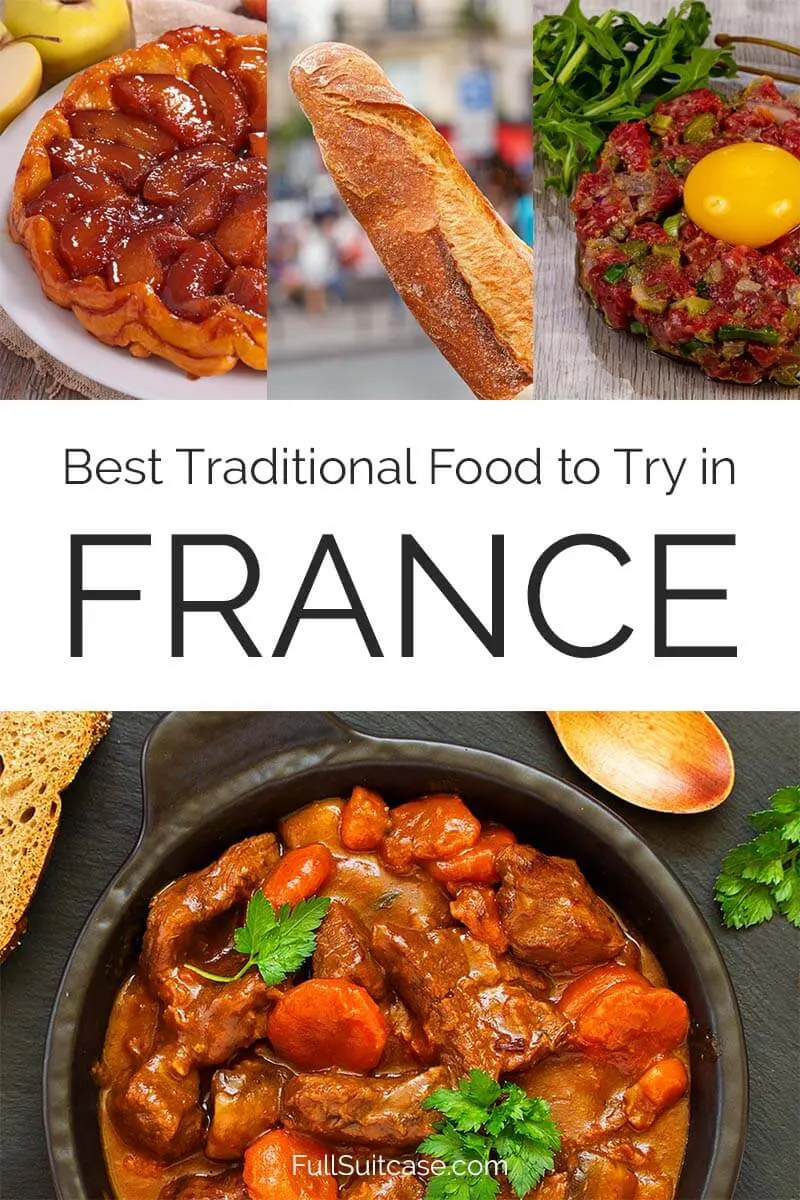 Let's start with some of the most popular appetizers and main dishes in France. These dishes are very common all over the country and are definitely considered traditional French foods. You can find them at most bistros and restaurants, and sometimes at cafes as well.
Some of them are only served as a main course or an appetizer, but many French specialties can actually be both – a starter or a main dish – depending on the size of the portion and what you pair it with.
Here is some of the best French food to try in France:
1. Steak Tartare
Let's start with one of the most unique French dishes that many newcomers feel a little hesitant and even frown upon – steak tartare, aka tartare de bœuf.
Steak tartare is essentially raw minced meat. But there's more to this peculiar dish than looks at first sight, and if it's made well, it can be absolutely delicious!
A good steak tartare is made up of a dish of high-quality chopped or ground beef steak. The meat is mixed with seasonings such as capers, onions, parsley, and Worcestershire sauce. Sometimes, it's served topped with a raw egg.
While it may seem unsafe to eat, if fresh and prepared correctly, this dish is both safe and very tasty. It's usually served as an appetizer but is also a popular main course, served with fries.
Steak tartare is a beloved dish in France and you will find it in restaurants all over the country. Actually, it's so popular that you will find it in the neighboring countries too. We live in Belgium and it's very common here too.
Good to know: Do not confuse steak tartare (served cold) with steak haché (served warm). The latter is slightly grilled and is a sort of French hamburger. However – as it's very common in France – the meat is grilled very shortly and the inside of steak haché is usually quite raw.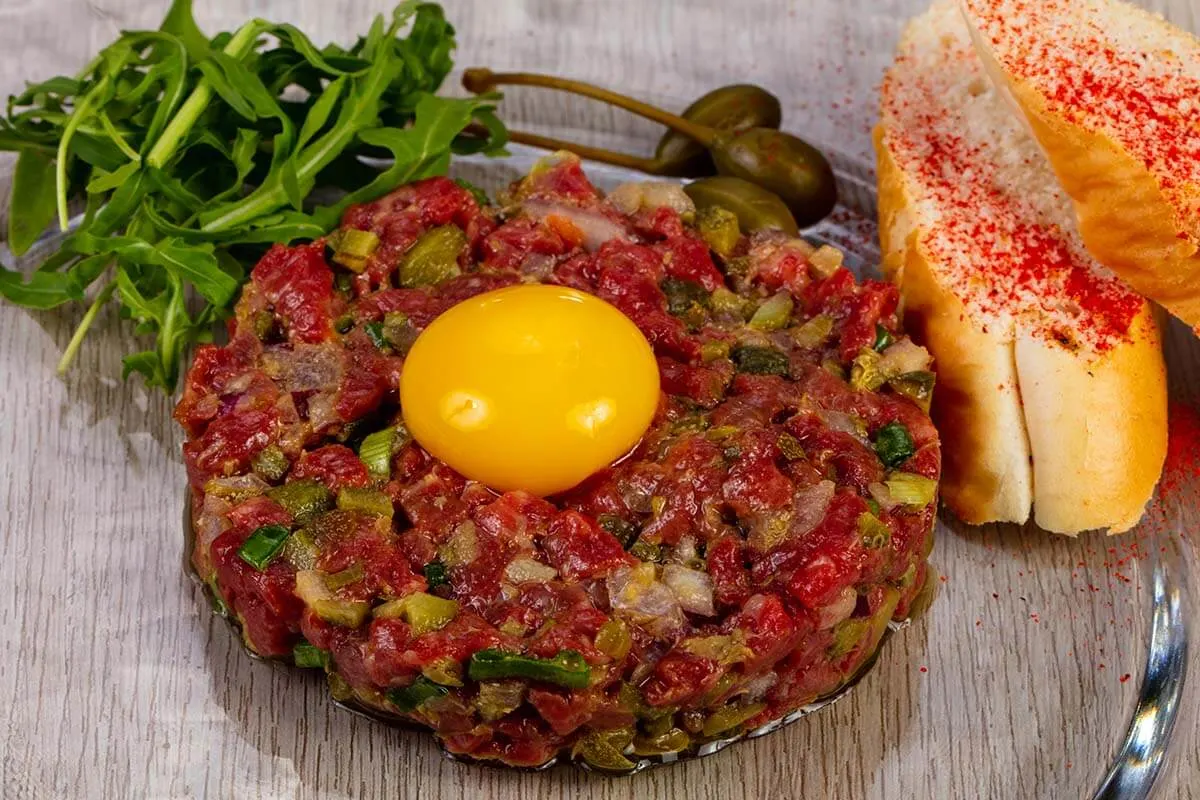 2. Ratatouille
Made well-known by the Pixar movie of the same name, ratatouille is a traditional vegetable stew from the Provence in the south of France. This French classic has been around since the 18th century and you should be able to find it in most traditional restaurants all over the country.
Ratatouille is composed primarily of eggplant, zucchini, yellow squash, onions, and bell peppers, and simmered in a tomato sauce. Usually, the vegetables are sauteed in a pan with some oil, but it can sometimes be made in the oven as well.
This is a favorite summer dish, as it uses so much fresh summer produce. It's generally served with crusty bread, but can also be served with rice, potatoes, or meats, especially lamb.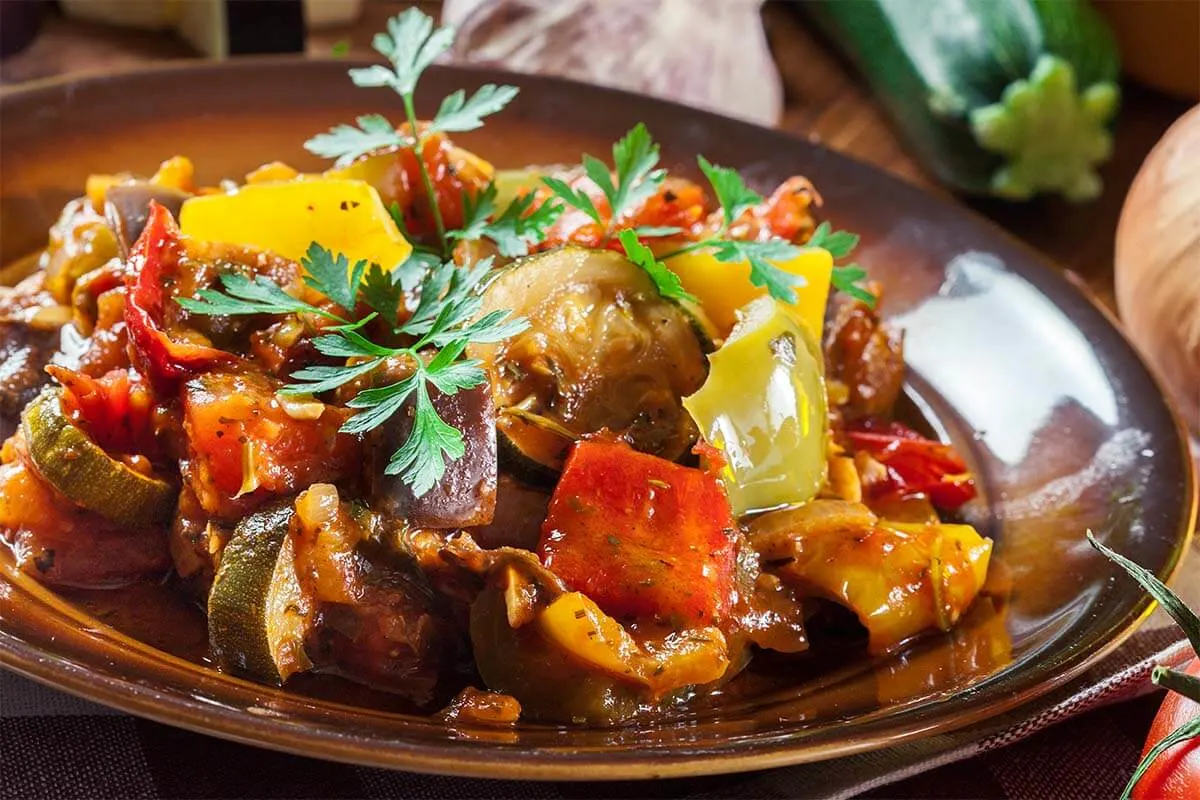 3. Beef Bourguignon
The cozy, comforting dish of Boeuf Bourguignon is another beloved French food that you will find in most local restaurants.
This beef stew is elevated by braising chunks of beef in a thick red wine sauce (preferably using Burgundy wine) with herbs and bacon, with mushrooms, pearl onions, and carrots being sauteed and added to the stew.
Unsurprisingly, this dish comes from the Burgundy region, famous for its wines. The origins of Boeuf Bourguignon go back to the second half of the 19th century (so rather 'young' as far as traditional dishes go), but it has quickly become one of the most renowned and famous dishes in all of France. You will find it in many restaurants across the country.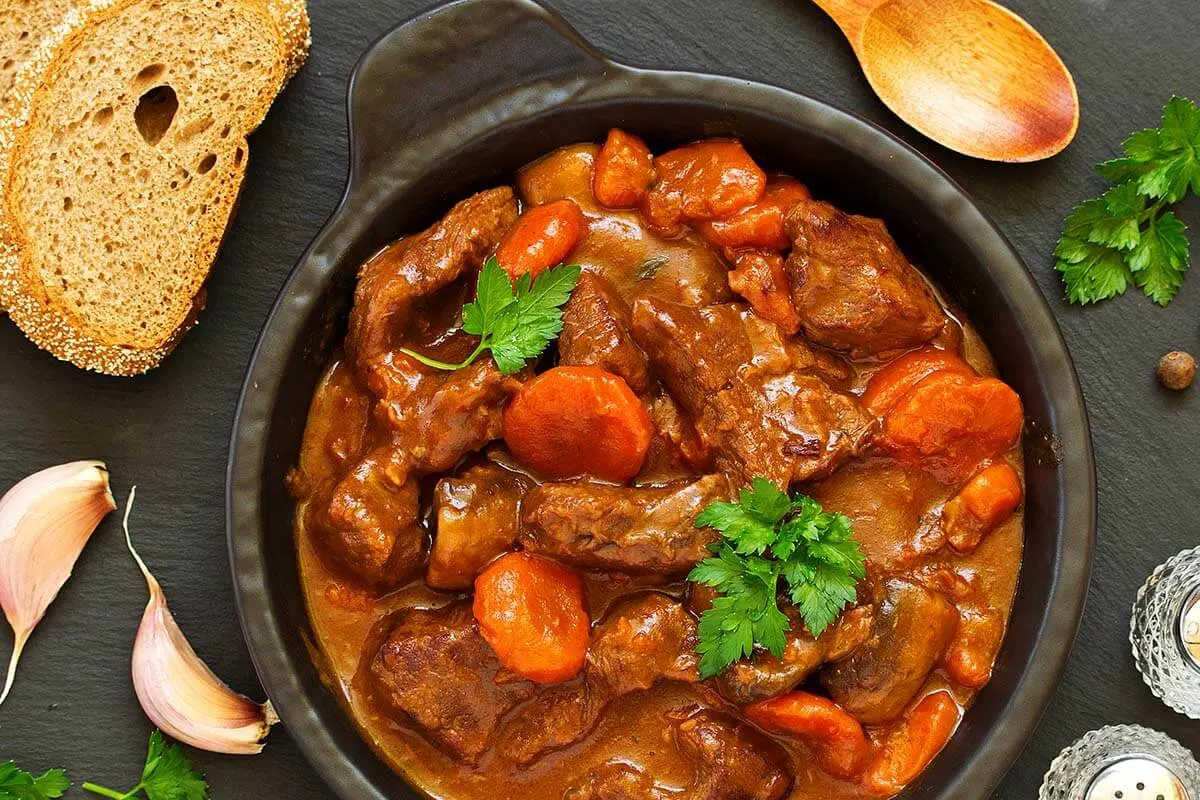 4. Coq au Vin
Coq au Vin is the sister dish to boeuf bourguignon, except in coq au vin, the primary ingredient is chicken, not beef. The literal translation of the name means 'rooster in wine'.
Chicken is stewed in a thick sauce of red wine, onions, and bacon, to create a flavorful dish that you'll find in restaurants around the country.
This could be one of the oldest dishes in France, with some legends tracing its origins to the days of the Gallic Empire or even earlier.
It remains a very popular main dish today, one that you can try in most restaurants all over France.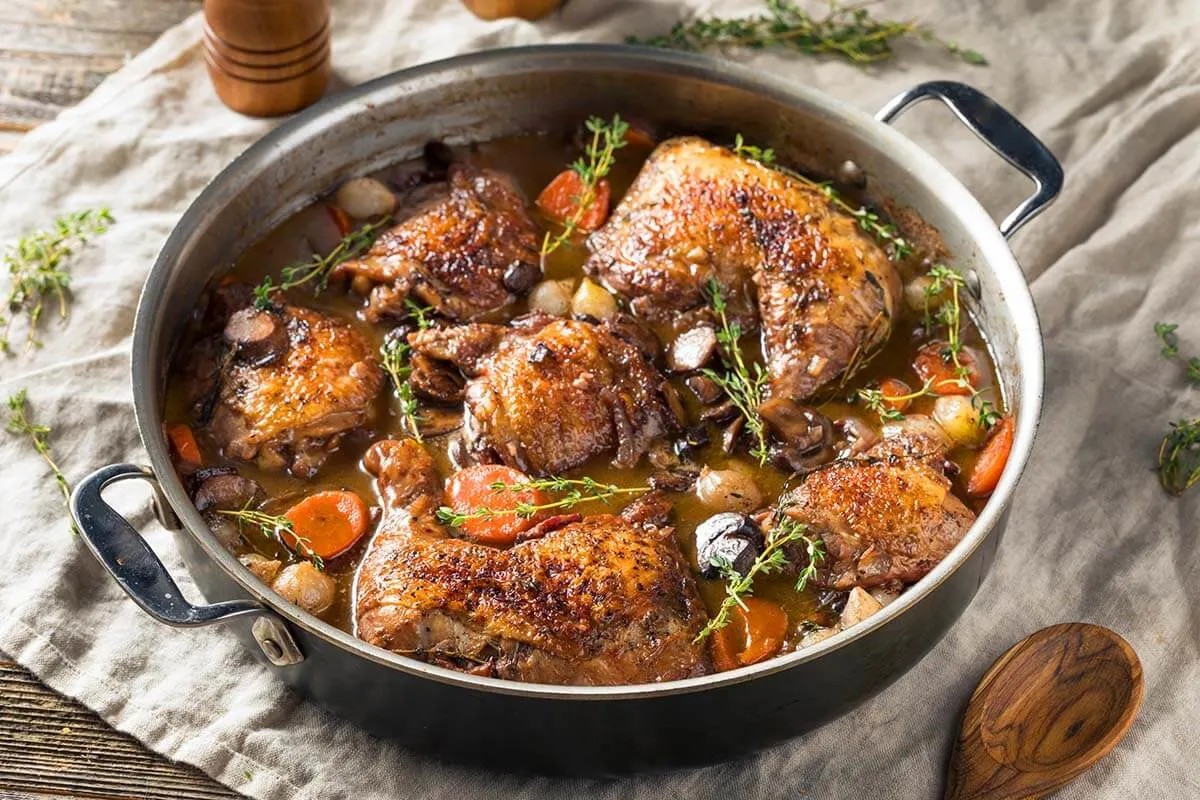 5. French Onion Soup
Soupe à l'oignon (aka soupe à l'oignon gratinée) is one of the most popular traditional soups to try in Paris.
French onion soup is a beef broth with caramelized onions served with a large piece of bread topped with melted cheese (the bread and the cheese are floating in the soup).
There are several legends as to who invented the modern-day recipe of French onion soup or when it was invented. Most versions of the story involve King Louis XV in one way or another. So this simple meal is worthy of a king! But the origins of a hearty warm soup prepared with cheap and widely available onions go back to Roman times.
Despite being a simple ancient dish, it's quite popular again. It's a popular stand-alone meal for lunch, but can also be served as an appetizer. Just don't underestimate how filling it is! The best onion soup we had in France was on this amazing food tour in Paris; it was absolutely delicious.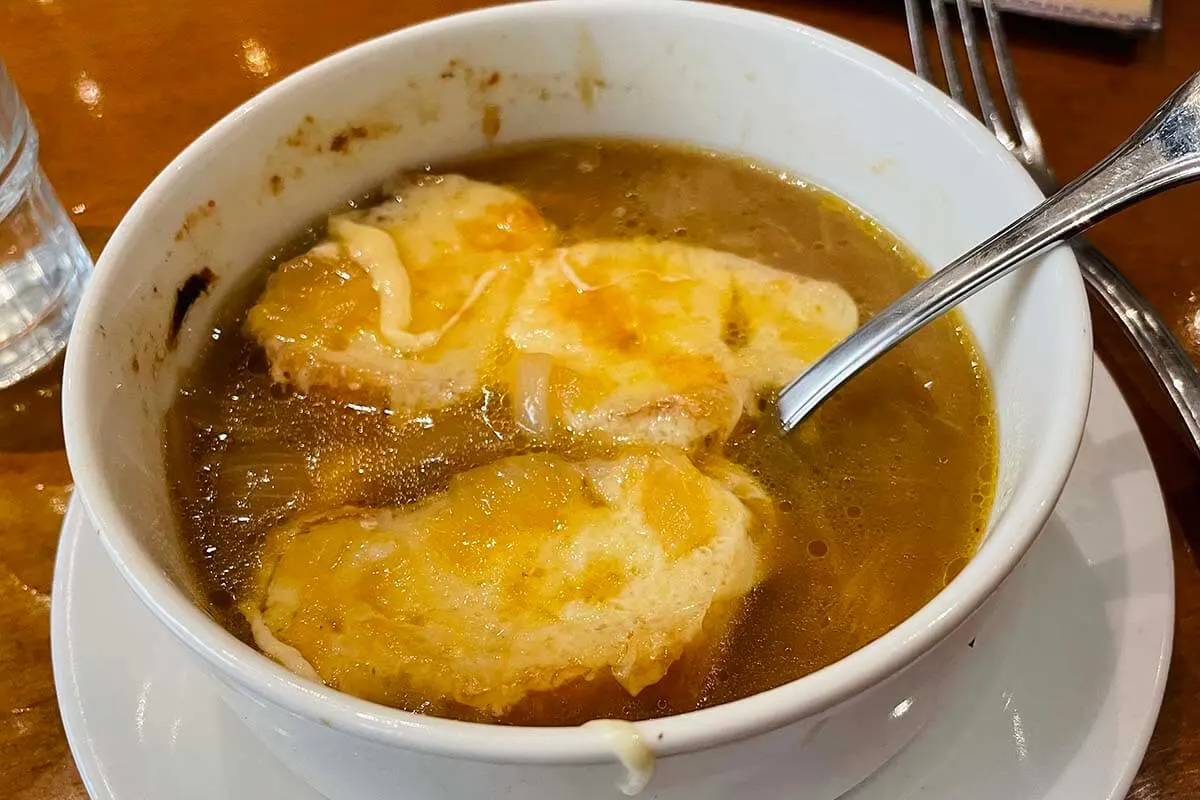 6. Duck Confit
Duck confit (aka confit de canard) is made by marinating duck overnight, and then cooking it submerged in duck fat. The result is tender, succulent, flavorful duck meat. It's usually served with vegetables and potatoes.
The process of slow cooking and storing food in fat dates back to many centuries ago, when there were no refrigerators and so people had to find creative ways to store their food for longer periods of time.
Duck is a very common protein choice in France, and you will see it on the menu of just about every traditional restaurant. This is another must-try in France, although probably not for everyone's taste.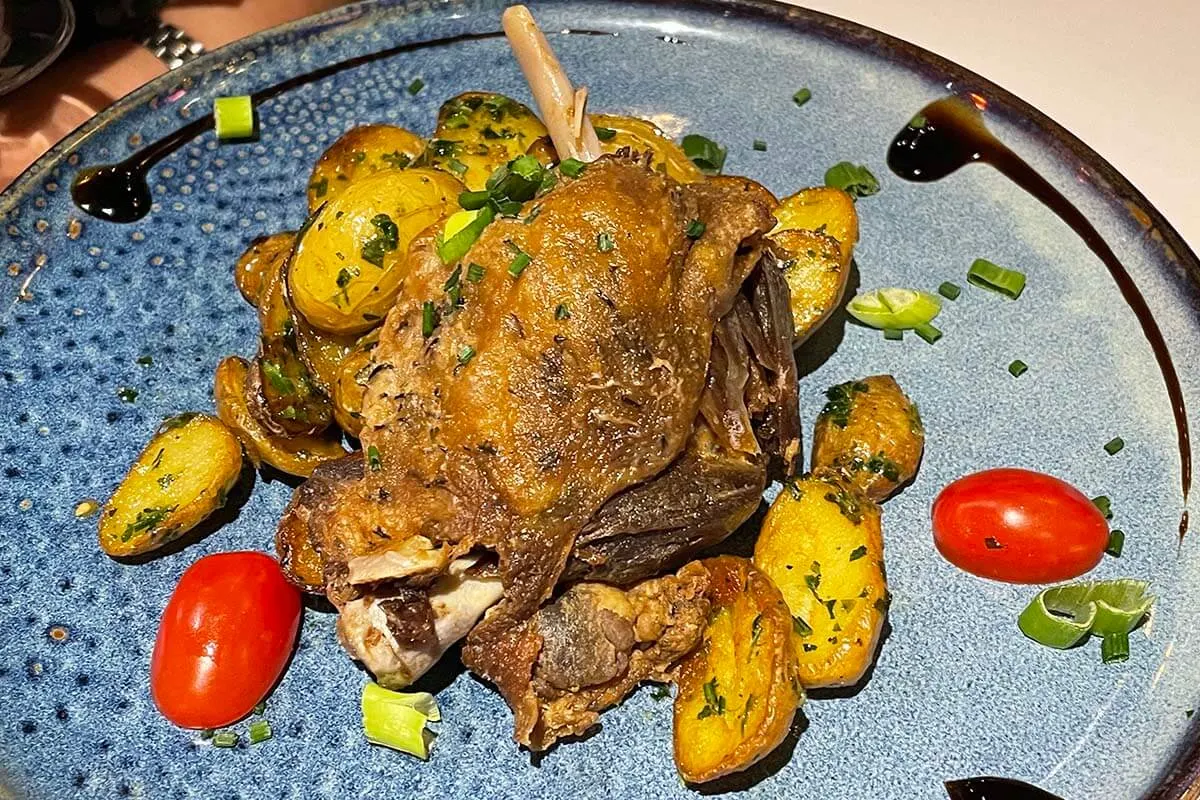 7. Gratin Dauphinois
Potatoes au gratin is another French classic that you probably already tried before. But there is no better place to taste the traditional gratin dauphinois than France itself, of course! By the way, you will find this dish under different names, e.g. gratin de pommes à la dauphinoise, pommes de terre dauphinoise, or pommes à la dauphinoise.
Gratin dauphinoise is made of sliced potatoes and cream and is baked in the oven. This popular side dish has its origins in the Dauphiné region in south-eastern France.
Many traditional meat dishes in France are accompanied by gratin dauphinoise, so it's usually quite easy to try it in local restaurants.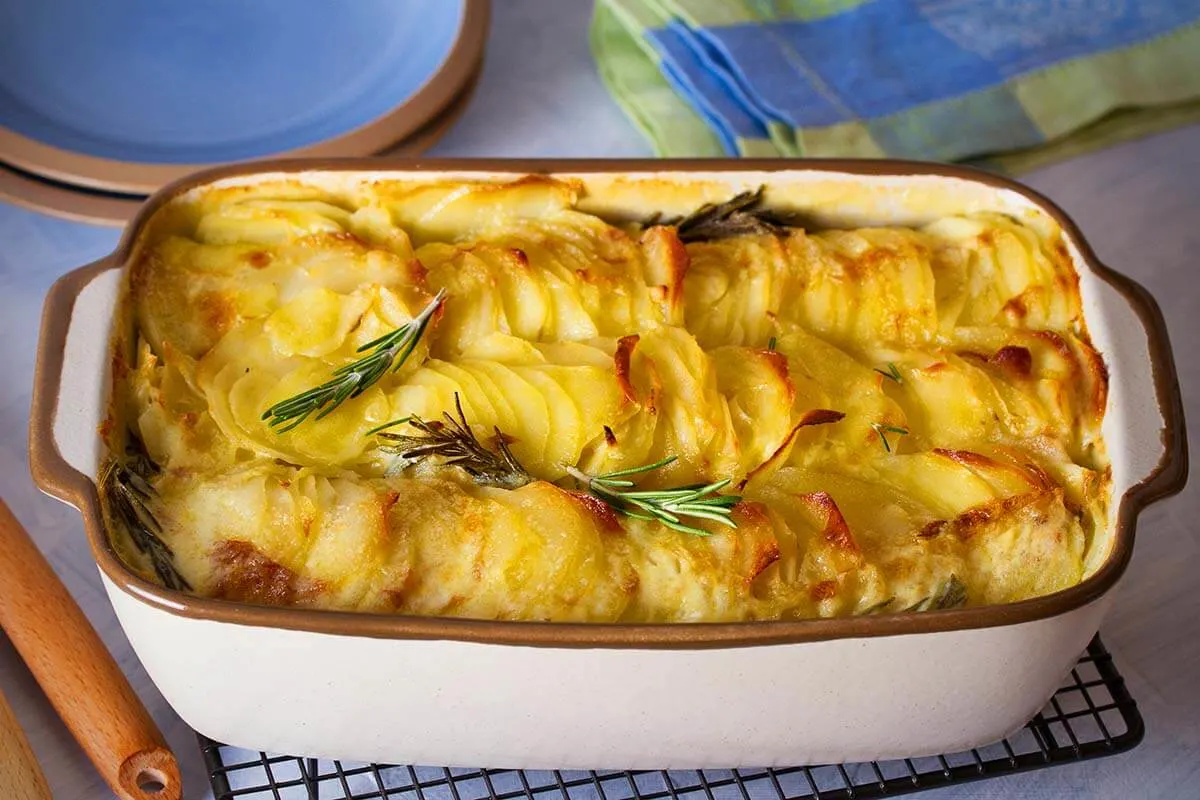 8. Steak au Poivre
French pepper steak (steak au poivre) consists of a peppercorn-crusted steak (usually filet mignon) with a creamy pepper sauce. This sauce is typically made of cream, cognac, and black pepper. Sometimes, green pepper is used instead.
Pepper on the meat, pepper in the sauce… you can guess it – it's a very peppery dish!
This dish probably originated in the 19th century in the Normandy region, but numerous Parisian chefs claimed the invention of the dish in the 1950s-60s. Either way, it's a French classic that you will find in many restaurants.
Peppered steak is usually served with French fries, but you can also eat it with all sorts of potatoes. Some restaurants will also serve vegetables with the steak, but it's not very common. Sometimes, small quantities of greens are added, more for decoration.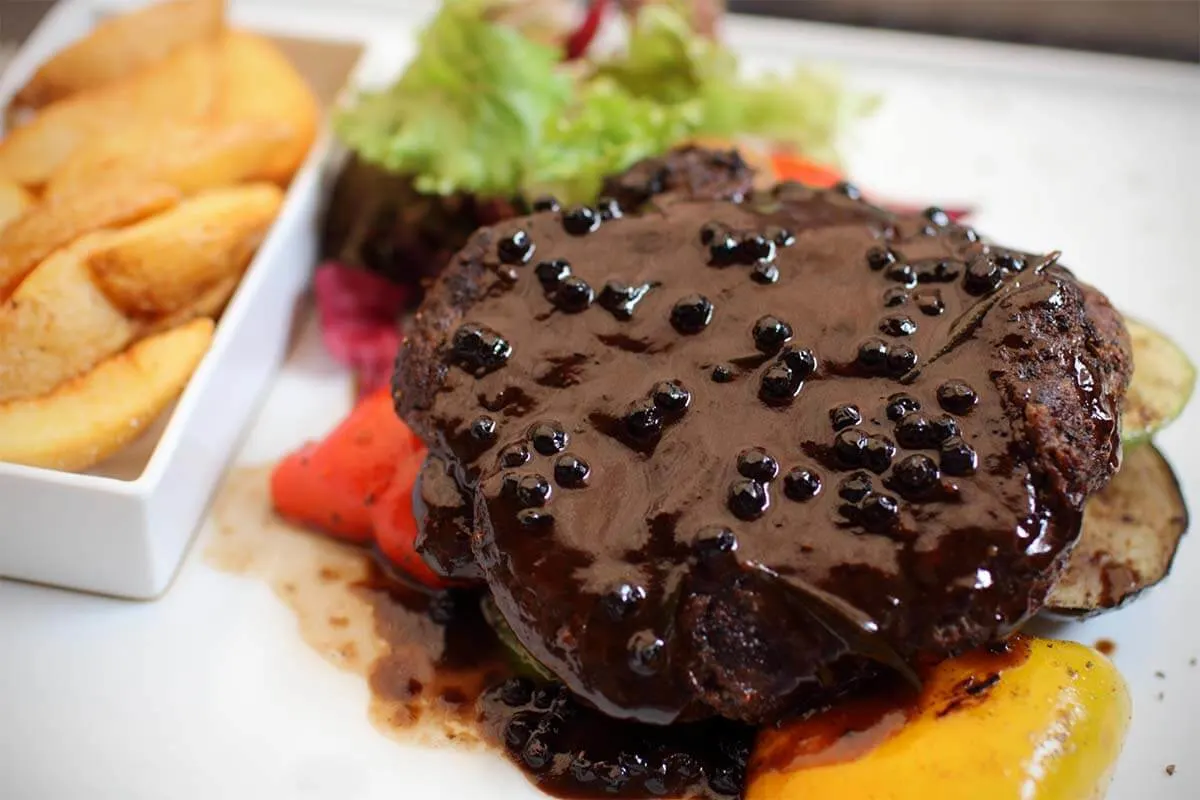 9. Frog Legs
Known as cuisses de grenouille in French, frog legs are considered a national delicacy, but the taste is similar to chicken wings.
This unique French dish is most common in the eastern part of the country but is found all over. Frog legs can be prepared in many different forms, including grilling, frying, deep frying, baking, and sauteing them.
Being a special treat, frog legs are not generally available on just any old restaurant menu. So you'll need to search them out or go to a more upscale restaurant if you want to give them a try.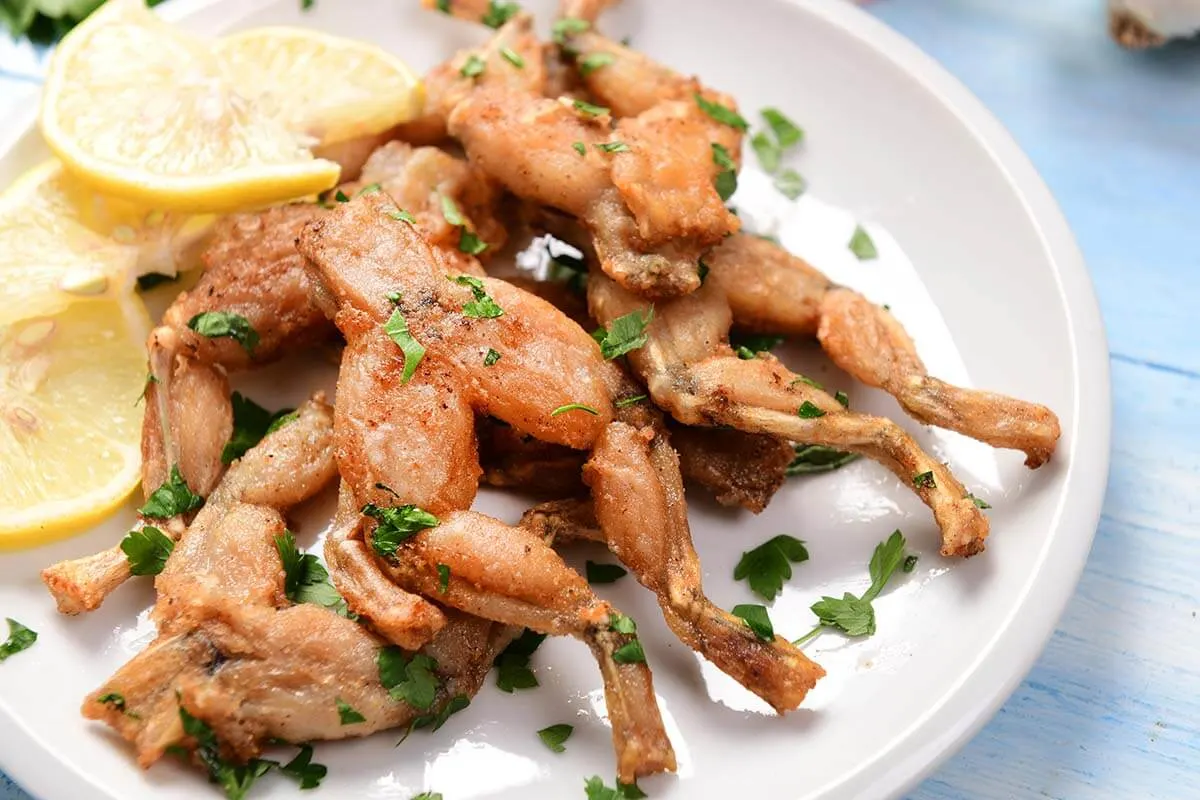 10. Tête de Veau
Tête de veau is a traditional French dish made of a calf's head. In the past mostly a poor men's meal, this was the favorite dish of former French president Jacques Chirac. He loved it so much that he sometimes had it prepared for him also when he traveled abroad, leading to some frowns from the foreigners.
Tête de veau is prepared by slowly cooking it in a broth with vegetables. It's usually served with gribiche sauce and hard-boiled eggs, and sometimes potatoes.
It remains popular today and you will find tête de veau in many traditional restaurants all over the country.
Interesting fact: This traditional French dish even has its own day, January 21, to commemorate the beheading of King Louis XVI in 1793. Although, at that time, the head of a pig was used instead of a calf.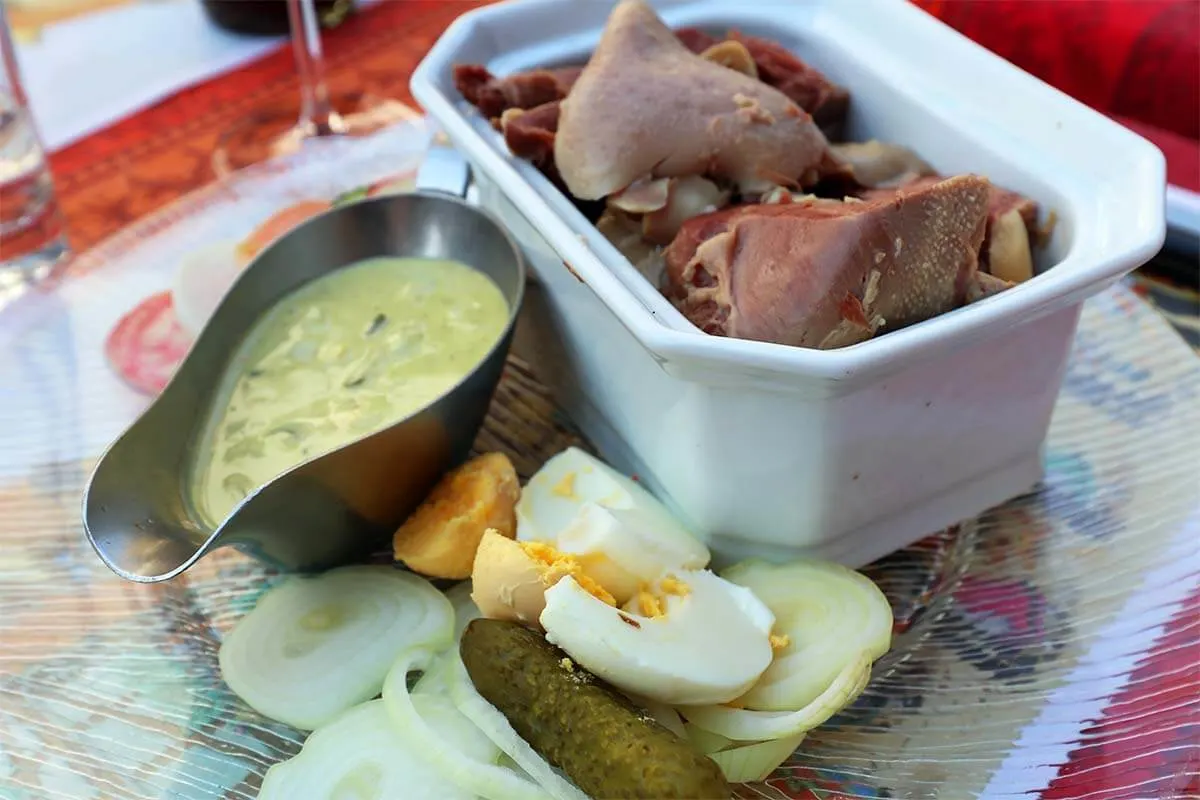 11. Pot-au-feu
Pot-au-feu is a traditional French stew. It's slow-cooked with lots of vegetables such as carrots, leeks, turnips, and meat, usually beef. Other types of meat can also be used.
This dish can be served in two courses – first the broth and then the vegetables with meat. It's traditionally served with bread.
Pot-au-feu has many regional variations and is popular all over France, especially on occasions when a large family gathers. But you will find it in many restaurants as well.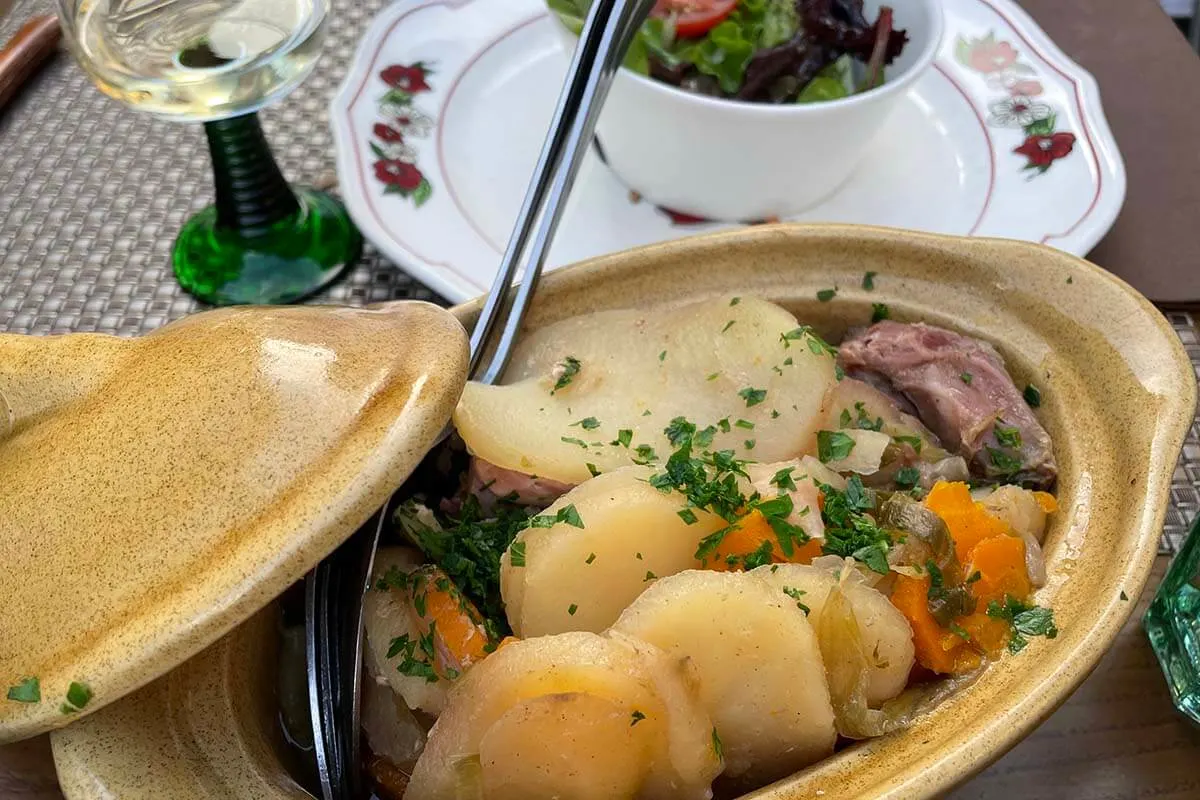 Below, are some lighter French meals that are usually served as an appetizer or a quick lunch:
12. Escargots
Escargots are one of the most 'stereotypical' French dishes. If you asked most foreigners what constituted French cuisine, French snails would likely be near the top of their list.
Escargots, or snails, is a very common starter dish in France. They are usually served in garlic butter with parsley (Escargots au beurre persillé) and on a special serving platter with rounded indents for each of the snail shells. Escargots are typically served with French bread.
You will find escargots in bistros and restaurants all over France. Usually, one serving consists of 6-10 snails, so it can be a good appetizer to share with your friends in case you are not sure if you will like it enough to eat the whole plate (it's delicious, btw!).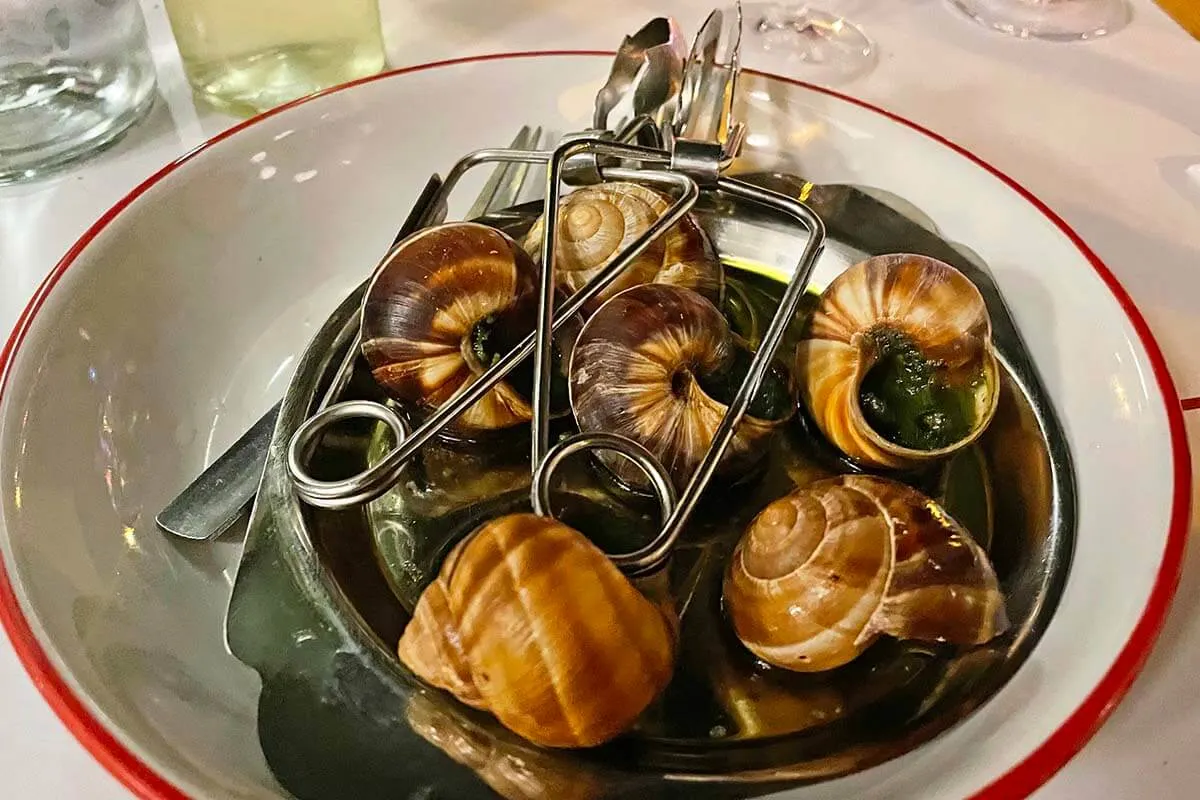 13. Croque Monsieur
A croque monsieur is the French equivalent of an elevated ham and cheese sandwich. Slices of ham and gruyere cheese are put between two pieces of white bread, which is then covered in bechamel sauce and baked until the cheese is melted and the top of the sandwich is toasty.
A slight variation of the croque monsieur ('Mister's crunch') is croque madame ('Madam's crunch') where a fried egg is put on top of the toasted sandwich.
These warm sandwiches are very popular for lunch, often served with salad and sometimes also with French fries.
You can find ready-to-eat croque monsieur sandwiches on street carts and in boulangeries, but they taste incomparably better when prepared fresh. This is a popular meal for a quick lunch and you will see it on the menus of most cafes all over France.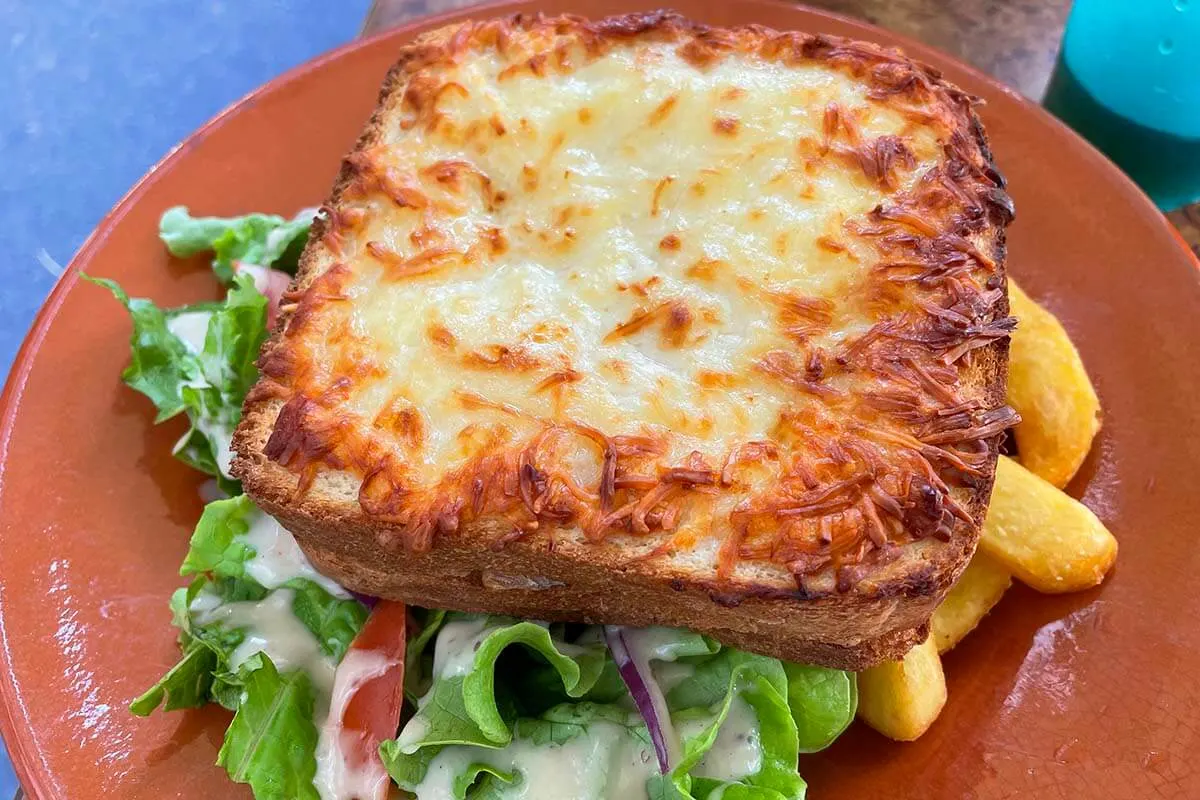 14. Quiche
Quiche is a savory French egg tart normally eaten for breakfast, but often also as a light lunch.
The egg and additional ingredients (depending on the type of quiche) are baked in a pie or tart pan, and then cut into wedges to serve. Often there is a crust, though sometimes the quiche is crustless.
The most famous type of quiche is Quiche Lorraine, which has a pie crust and a filling made of eggs, bacon or ham, gruyere cheese, and cream. In the past, mostly known in the Lorraine region, nowadays, it's one of the most popular types of quiche found all over France.
You can find all kinds of quiches at boulangeries or at cafes around France. Other popular types include quiche au chèvre (with goat cheese), quiche poireaux (with leek), and quiche au saumon (with salmon).
15. Crêpes
Crêpes are French pancakes, often served with various fillings. They can be savory (crepes salées) or sweet (crepes sucrées) and are a beloved dish for breakfast, lunch, or an afternoon snack.
Crepes are similar to pancakes as we know them in other countries but are very, very thin and very large. They are usually served folded into a triangle.
Crêpe nature is a plain pancake, but you can add all kinds of toppings or fillings from sugar to jam, chocolate spread, or fruit. Savory crepes can be filled with meats, eggs, cheese, or vegetables.
You can find crepes in restaurants, but often, there are also street stands where you can get a pancake on the go. When you visit Paris, you will see pancake stands in many popular areas, e.g. near the Eiffel Tower. So you won't have to look far in order to taste this sweet or savory treat in France.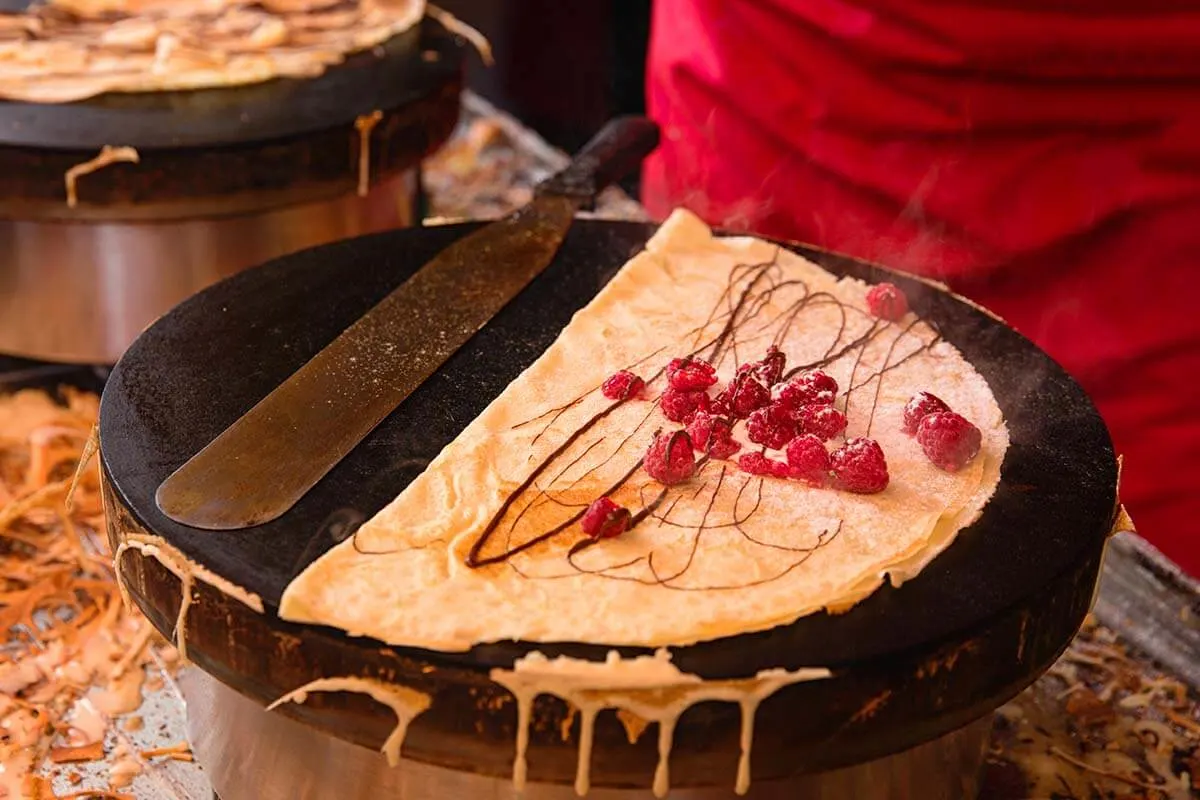 16. Foie Gras
Foie gras is a goose or duck liver and has been a popular delicacy in French cuisine for centuries. The techniques used to obtain the best quality liver fat are quite controversial, but there are now also more ethical methods to produce it.
But foie gras remains a traditional specialty popular all over France. So no list of French foods would be complete without mentioning it. Whether you want to try it or not, we'll leave it up to you…
Foie gras is a gourmet meal that is usually eaten in rather small quantities, usually as an appetizer served with bread. It's sometimes grilled and paired with fruit such as prunes or figs.
You will find foie gras in restaurants and grocery stores all over France.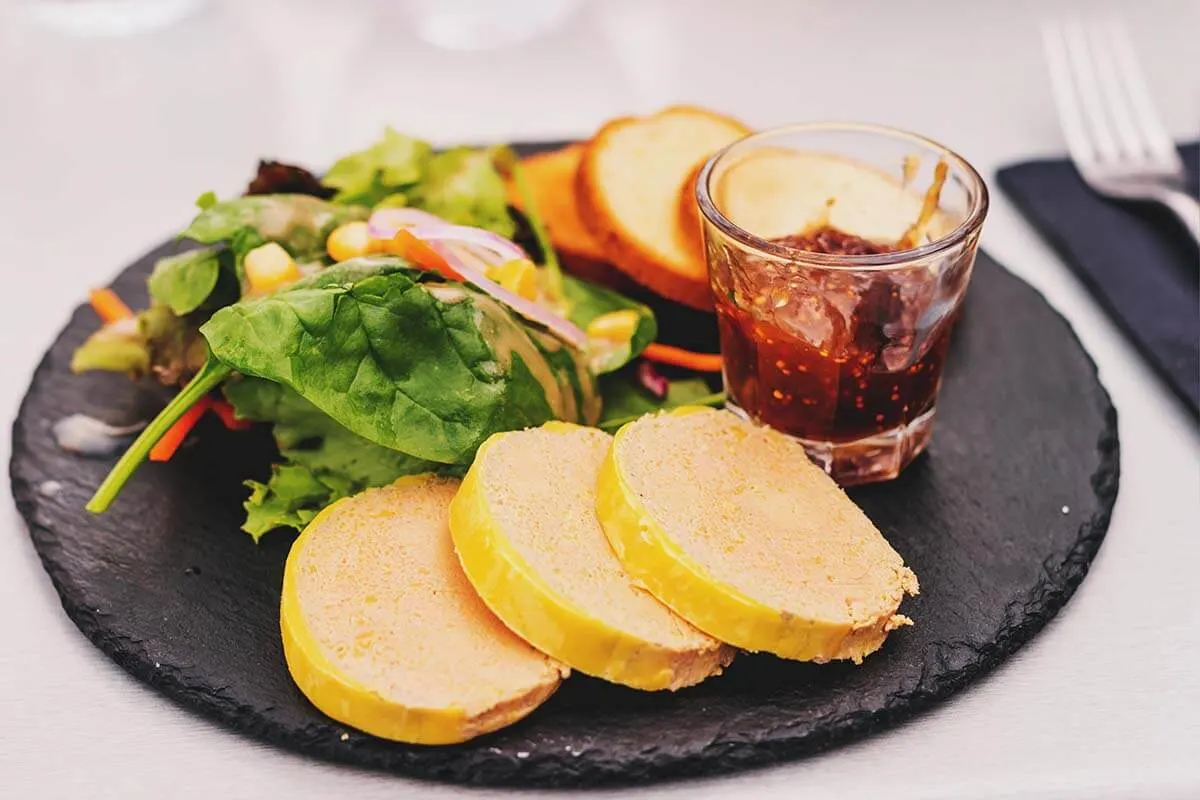 17. Camembert Roti
Camembert Roti is a roasted Camembert cheese. Usually roasted in the oven, it's also something that can be done on a bbq. It's a popular appetizer in France.
A popular way to prepare the cheese is by adding honey, and you will often see camembert roti au miel on the menu of French restaurants. Some variations include adding additional ingredients such as apples, almonds, or similar.
Oven-roasted Camembert is served with bread. You can just dip the bread in the melted cheese and enjoy.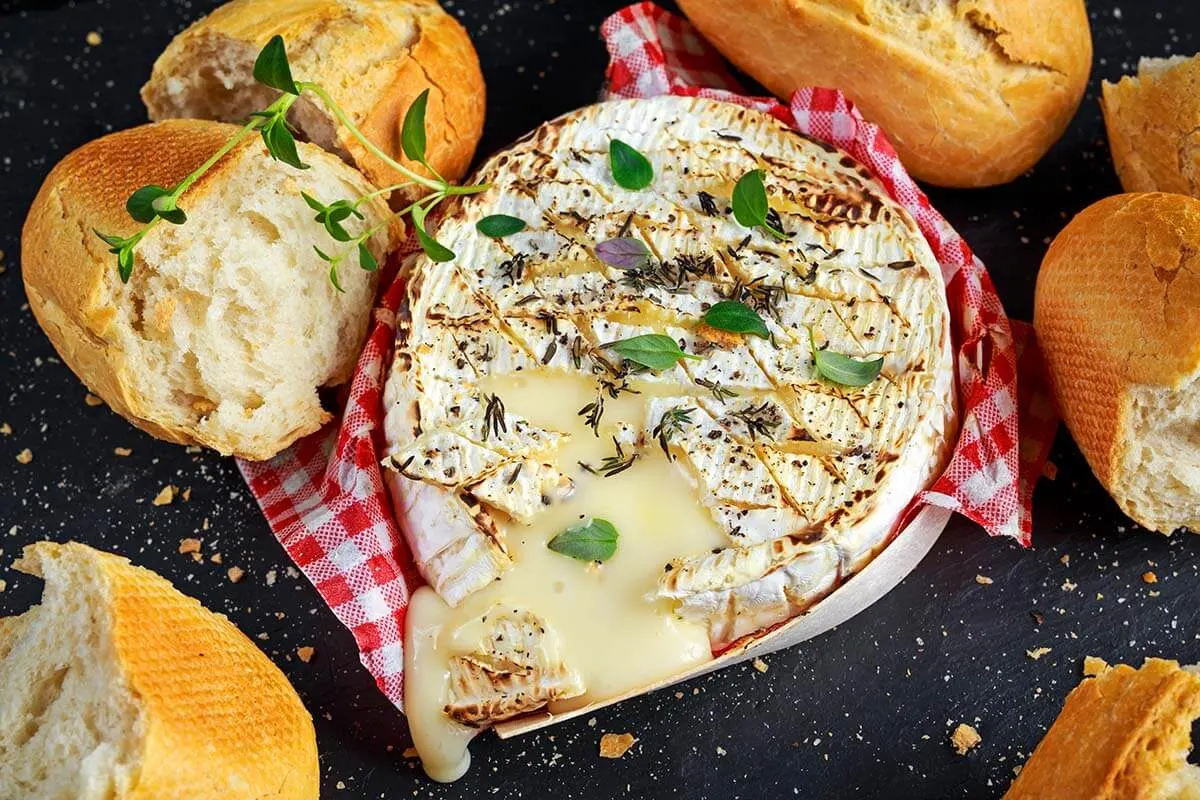 18. French Chestnuts
Chataîgnes, the edible French chestnuts, also deserve a place on any list of French foods.
For starters, you will see roasted chestnuts (marrons chauds) for sale all over Paris and also in many other cities all over France. It's a popular street food that you should definitely try! It's also something that you will encounter at Christmas markets in the winter.
But there are many more traditional dishes that can be prepared with French chestnuts, and they are especially popular in the Limousin region in central France. In the past, chestnuts were the main ingredient of most traditional dishes in this region.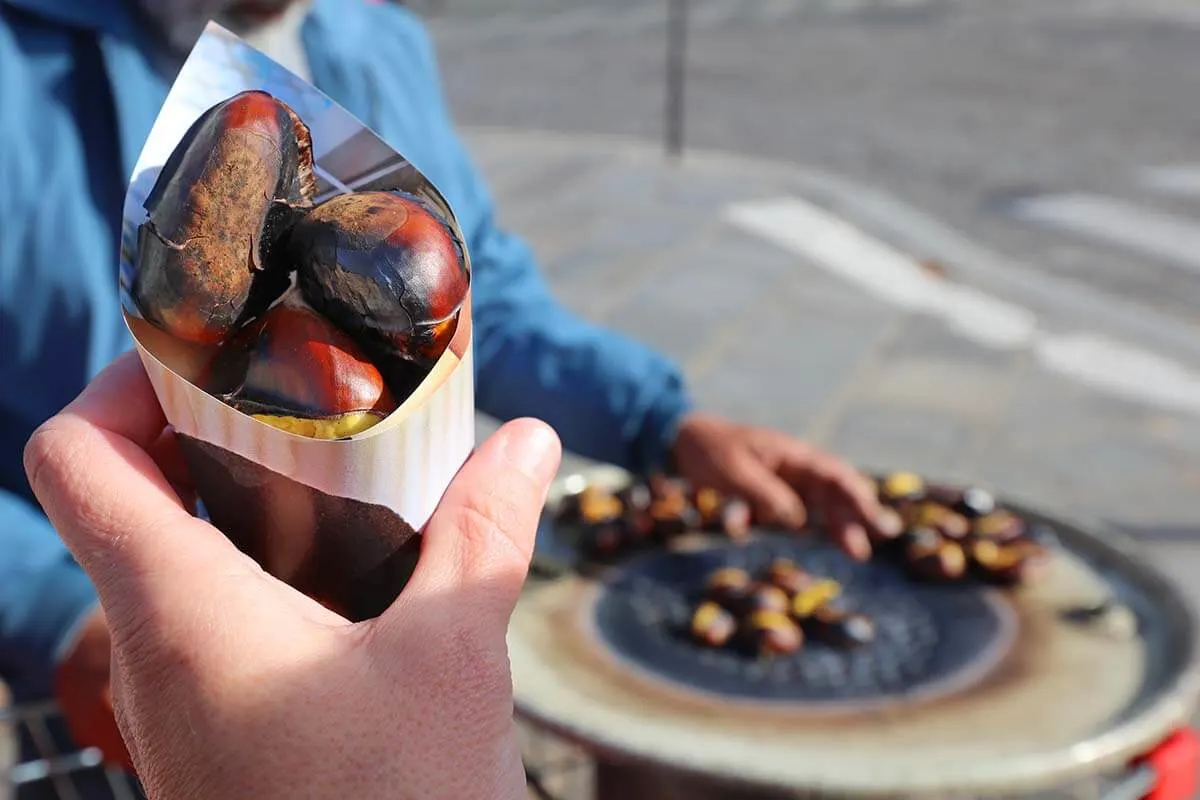 We already mentioned some regional French dishes that have become so popular that you will find them all over the country. In addition, let's take a look at several regional specialties that you really should try if visiting these areas. While you may be able to find them in other areas around France as well, they are best tried in that specific region. Take a look!
Here are some regional foods to try in France:
19. Tarte Flambée (Flammekueche)
Tarte Flambée or Flammekueche is a traditional specialty of the region of Alsace (thus two names – the German and the French version).
You could compare flammkuchen with pizza since they are made of flat dough, covered with various toppings, and baked in the oven. But the ingredients are very different! Traditionally, flammekuechen is made with fresh cream, thin-sliced onions, and small pieces of bacon. In addition to these base ingredients, you can find all kinds of other toppings.
Traditionally, tarte flambée has an oval shape. But nowadays, you will find round(er) versions as well.
You will be able to try this specialty everywhere in the Alsace wine region. This dish is also very popular in the neighboring regions of Germany and also Switzerland.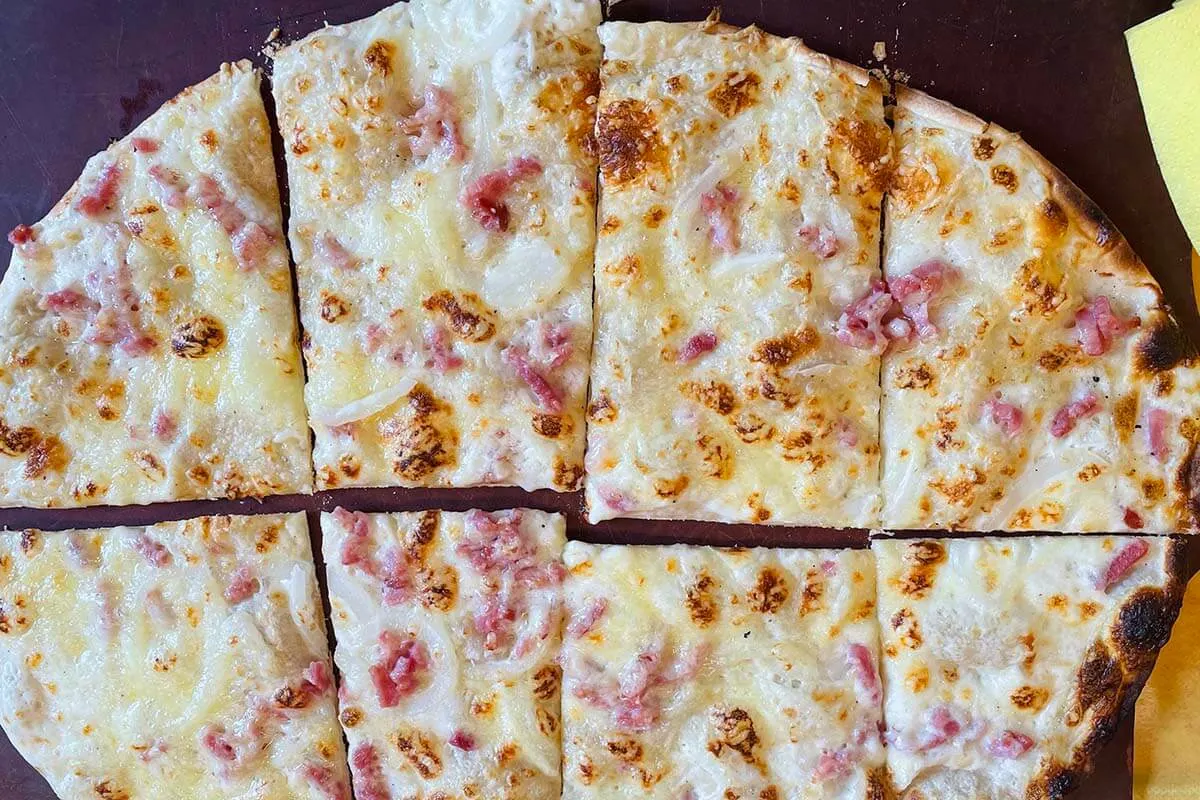 20. Salade Niçoise
Salade Nicoise originated from Nice, the well-known city on the French Riviera. This Mediterranean salad is made with green beans, red potatoes, fresh tuna, hard-boiled eggs, and tomatoes, though it can include other vegetables as well.
It is traditionally topped with olive oil, though it can be topped with an olive oil vinaigrette.
Salade Niçoise is a light, fresh, yet quite rich and filling dish. It's usually enjoyed for lunch and is a popular summer classic in the south of France.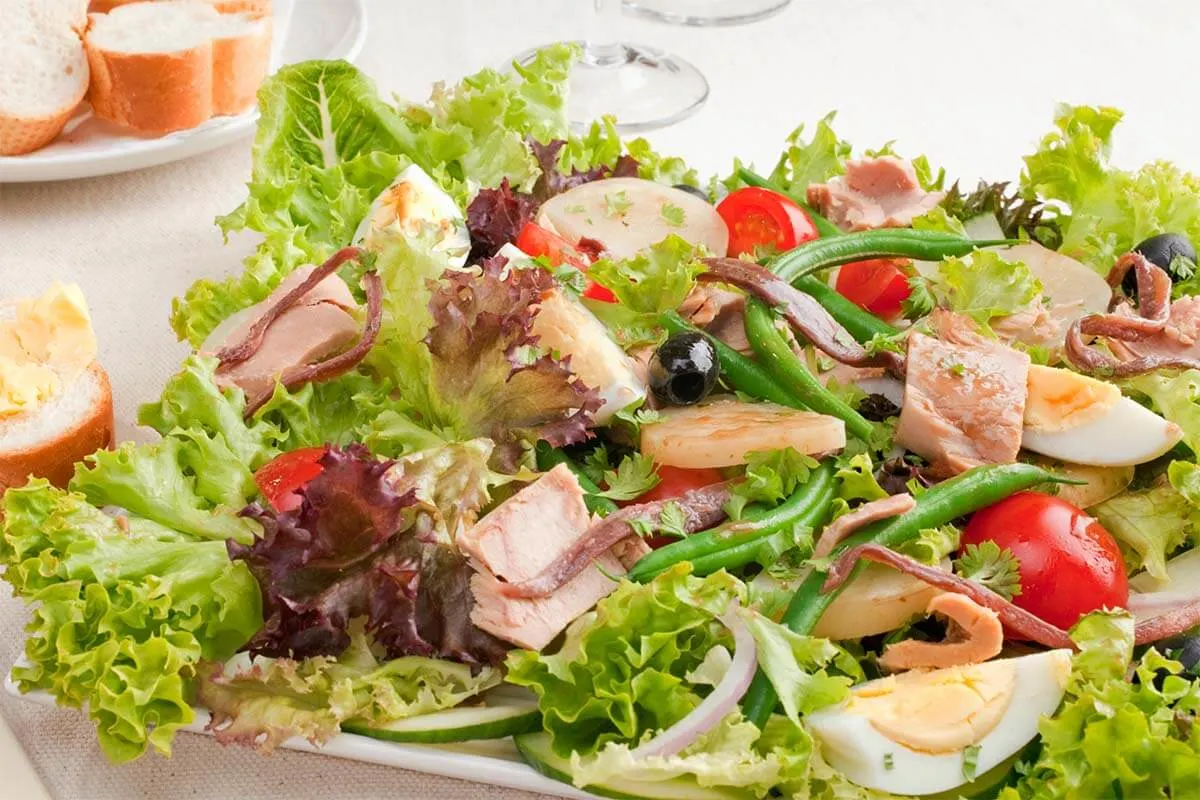 21. Bouillabaisse
Bouillabaisse is the traditional dish of Marseilles, although it can also be found in coastal areas in the south of France.
Bouillabaisse is a fish soup that includes multiple types of fish and seafood. It is simmered in a fish-based broth with tomatoes and aromatics.
As this dish is generally found in the Provence region, it's definitely one you need to sample if you are visiting the Mediterranean coast in France!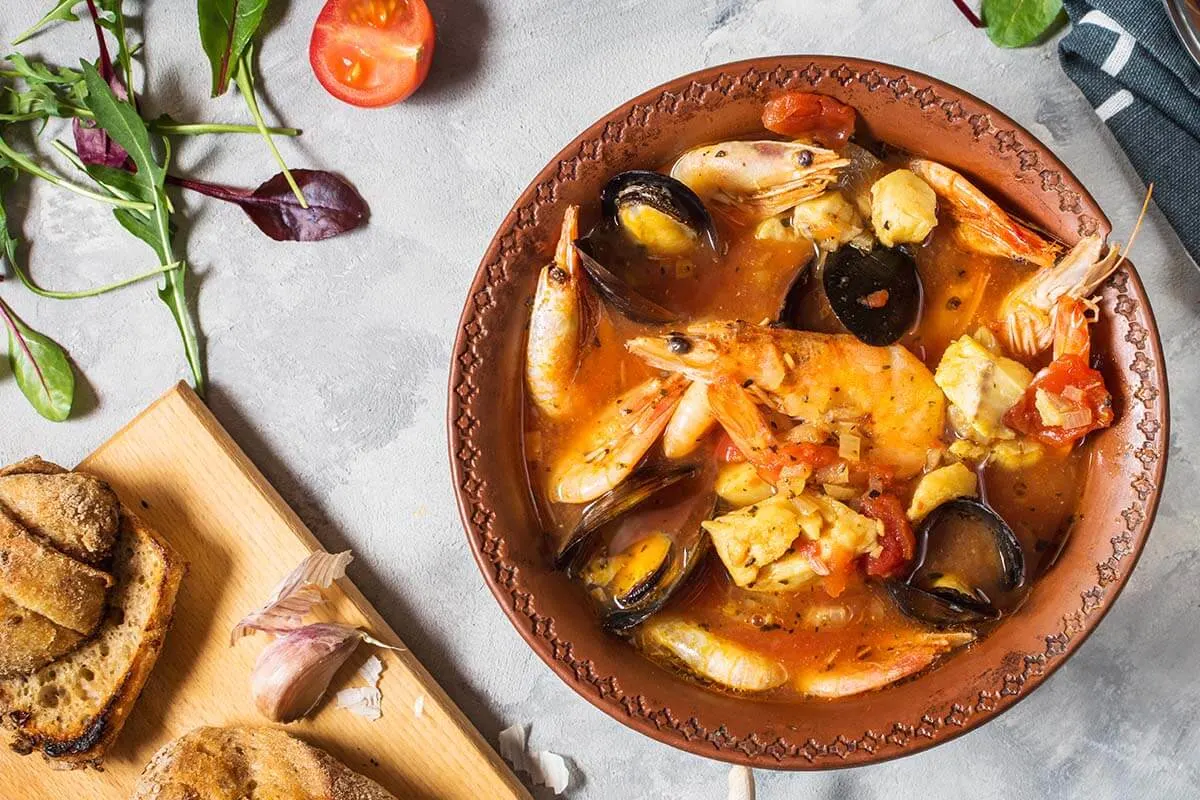 22. Galettes
Galettes are pancakes from the Normandy and Brittany regions of northern France. They are quite similar to crepes, except that the galettes are made with buckwheat flour.
While there are sweet versions too, usually galettes are served with savory fillings, including meats, potatoes, chorizo, cream, egg, cheese, veggies, and more. Sometimes, they are served with salad.
In the past, galettes were most common in those northern regions, but today there are quite a lot of restaurants in Paris where you can enjoy this delicious regional dish as well.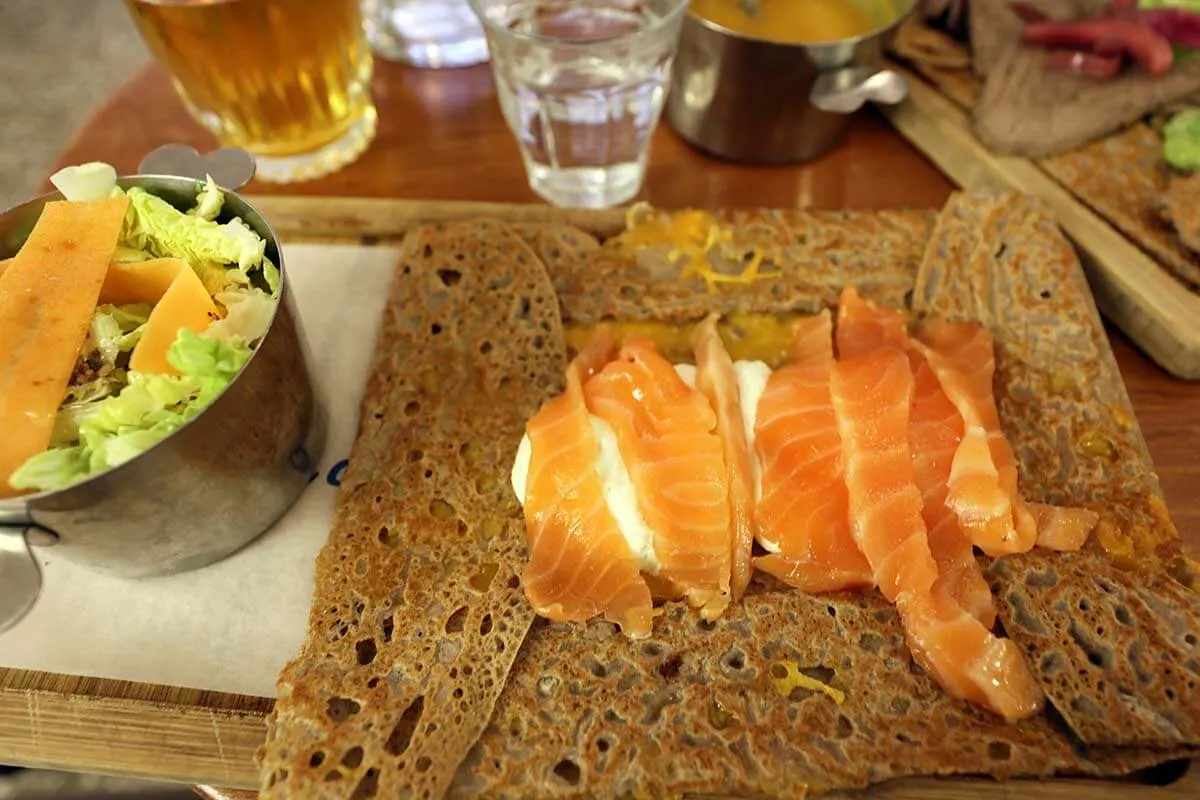 23. Raclette
Raclette is a traditional dish from the Alps, that has Swiss origins but is wholeheartedly embraced in France as well. So if you are visiting the French Alps, you will see it on the menus of many local restaurants.
The word "raclette" comes from the verb "to scrape". Raclette is made by melting raclette cheese and then scraping it onto a plate over boiled potatoes, and a variety of other vegetables, cured meats, and crusty bread.
You can't really compare it to cheese fondue – not in taste and not in how it's prepared. Raclette is distinct in that either a single slice of cheese is melted at a time and then scraped onto the plate, or, more traditionally, a massive wheel of cheese is cut in half, the open cheese face is melted, and the melted part is scraped onto the plate. It's a very delicious winter dish!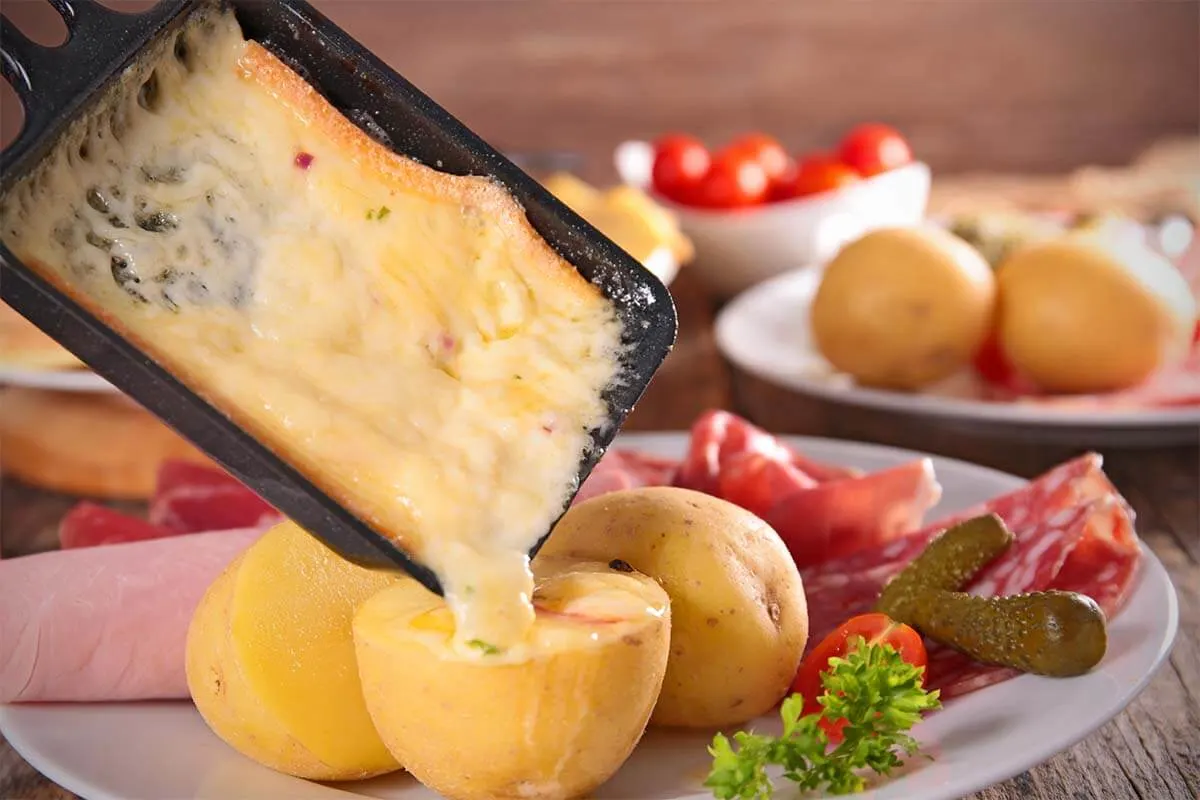 24. Choucroute Alsacienne
While its origins might be German, choucroute is a very popular dish in the Alsace region in France. It's also called choucroute garnie or choucroute d'Alsace.
This is a main dish of sauerkraut served with a variety of sausages, smoked and cooked meats, and often also with boiled potatoes. It's quite a heavy, filling meal that is usually eaten for dinner.
To us, it's synonymous with a vacation in the Alsace as no trip to the region is imaginable without having a choucroute dish at least once. You will find it served at all traditional restaurants in the wide area around Strasbourg or Colmar.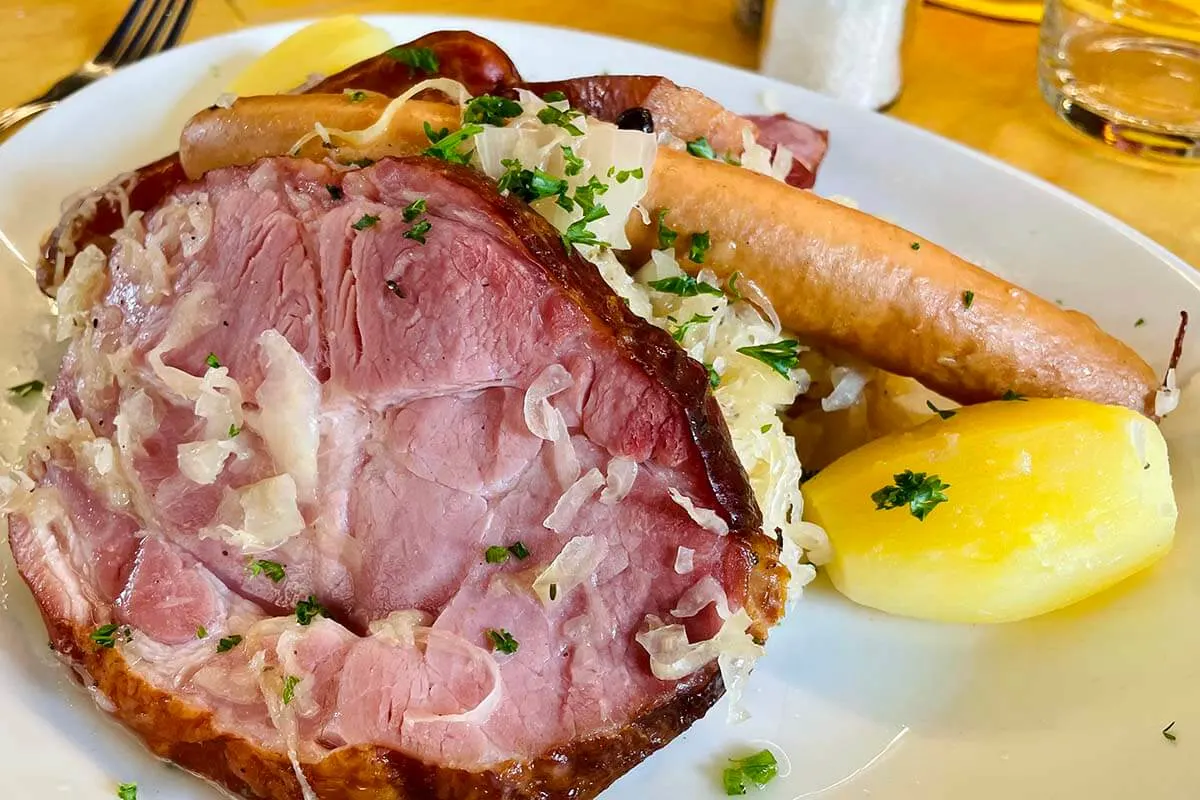 Now, let's take a look at some typical French foods to try from French bakeries, boulangeries. In many ways, boulangeries are the heartbeat of France, and this name can only be used if they bake their bread on-premises. There is a boulangerie on nearly every street, the aroma of freshly baked bread, pastries, and desserts wafting out to the sidewalk.
Most French people stop by a boulangerie practically every day, to pick up a fresh baguette to go with a meal. It might be the French stereotype – people walking or biking on the streets with a baguette in their hands, but it's totally true. You will see this everywhere in France, especially in the mornings.
These are some French foods you definitely need to try from boulangeries:
25. French Baguette
It would be unthinkable not to try a traditional French baguette when visiting France. It's the most quintessential of all French foods!
A quality French baguette is long and skinny, with a crackly exterior and a soft interior. You should be able to press your thumb into the crust of a baguette and hear the crackle. Baguettes are usually eaten with cheese, but butter is sometimes used too.
While you can buy baguettes from grocery stores, these are not always the greatest quality. Ideally, you try a fresh baguette from a local bakery. It is best enjoyed soon after buying it!
A great easy, casual, yet delightful lunch to enjoy in Paris (or any French city, really), is to grab a baguette from a boulangerie and some cheese and fruit from the grocery store, and then have a little picnic in one of the beautiful gardens of Paris. The French would bring a bottle of wine too!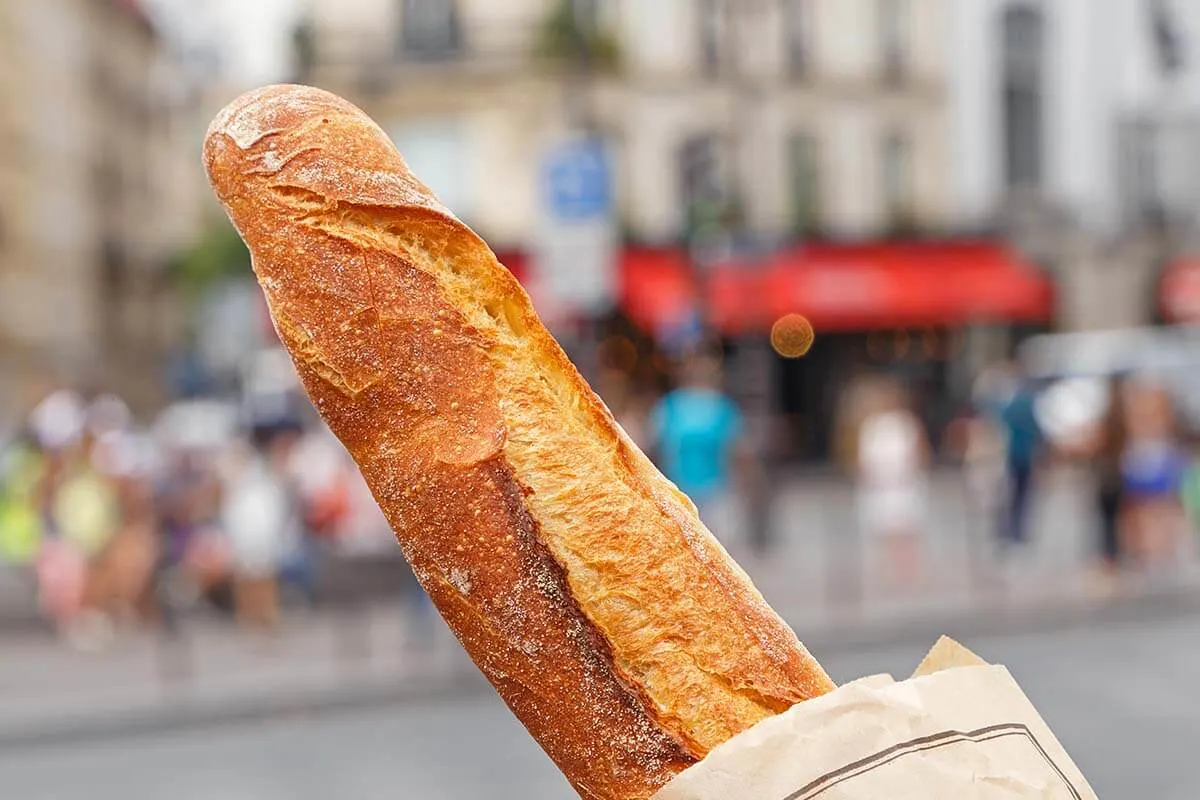 26. Croissant
Buttery and flaky, a croissant is the OG of French pastries. And while you think you may know exactly what a croissant is like, the French croissant takes that to higher levels, incomparable to croissants elsewhere (except maybe for Belgium and some parts of Switzerland, which also know what a good croissant should taste like).
The best French croissants are perfectly flaky, with just a hint of crispiness. You can eat them plain or add some butter or jam.
A cup of coffee and a croissant is a typical French breakfast, so you can indulge in this delicious treat every morning when visiting France.
Another version of a French breakfast pastry is croissant aux amandes. This croissant has almond filling and sliced almonds inside and on top of it.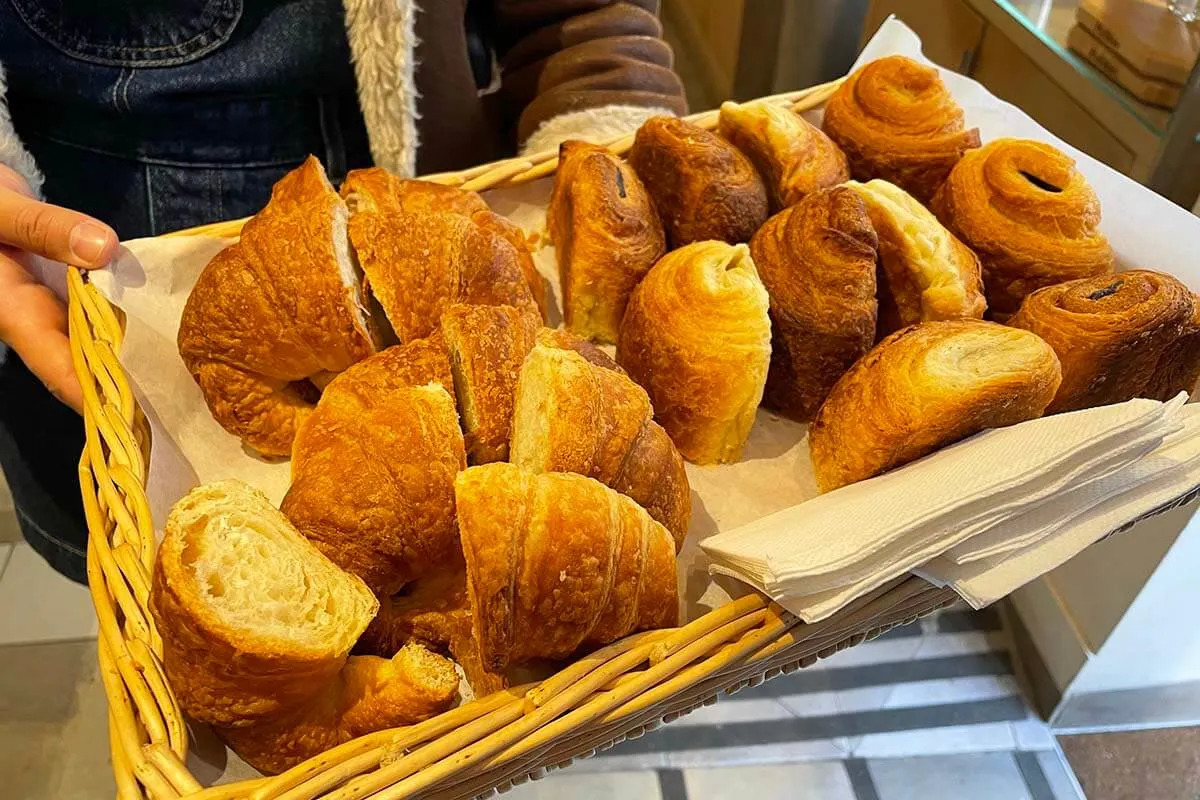 27. Pain au Chocolat
Somewhat similar to a croissant in structure, pain au chocolat is another French favorite.
It's made from the same type of layered pastry dough as croissants, but it's shaped into a rectangle and has chocolate inside. Pain au chocolat is an incredibly popular breakfast pastry in France!
Interesting to know: There is somewhat of a rivalry between different regions in France regarding what this pastry should be called. While it's known as pain au chocolat in the biggest part of the country, you will have to ask for chocolatine if traveling in southwestern France. In some places in the north, it's also called petit pain au chocolat, and in the east – croissant au chocolat.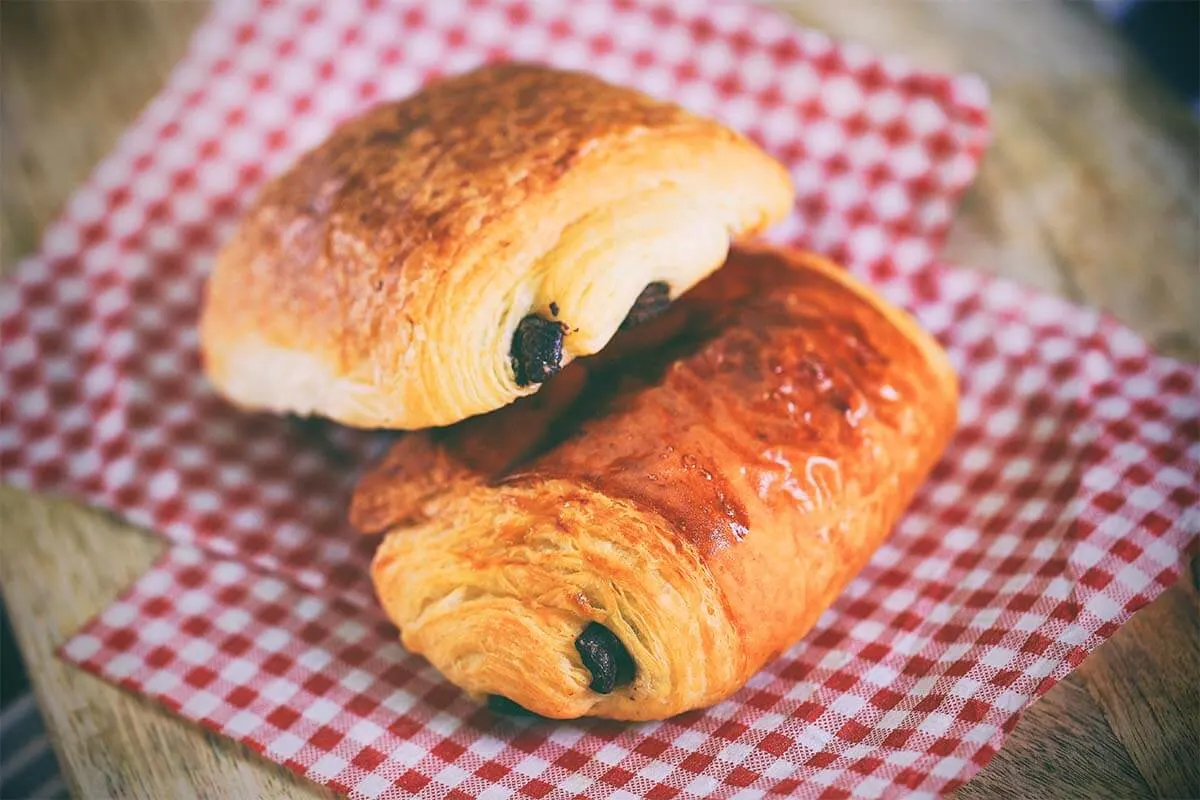 28. Éclair
Éclair, also known as 'pain à la Duchesse' (Duchess bread), is a very popular traditional pastry that you will find in bakeries and supermarkets all over France.
It's a hollow oblong-shaped pastry made of choux dough, filled with cream, and topped with flavored icing. The traditional éclair has a sweet yellow cream on the inside and chocolate frosting on the outside. But there are countless different types of eclairs, with all kinds of different fillings and toppings.
This popular French pastry originated in the mid-19th century in Lyon, a city in the south of France. Its name means 'flash of lighting' and it could refer to the light filling you find inside after taking the first bite of this divine treat.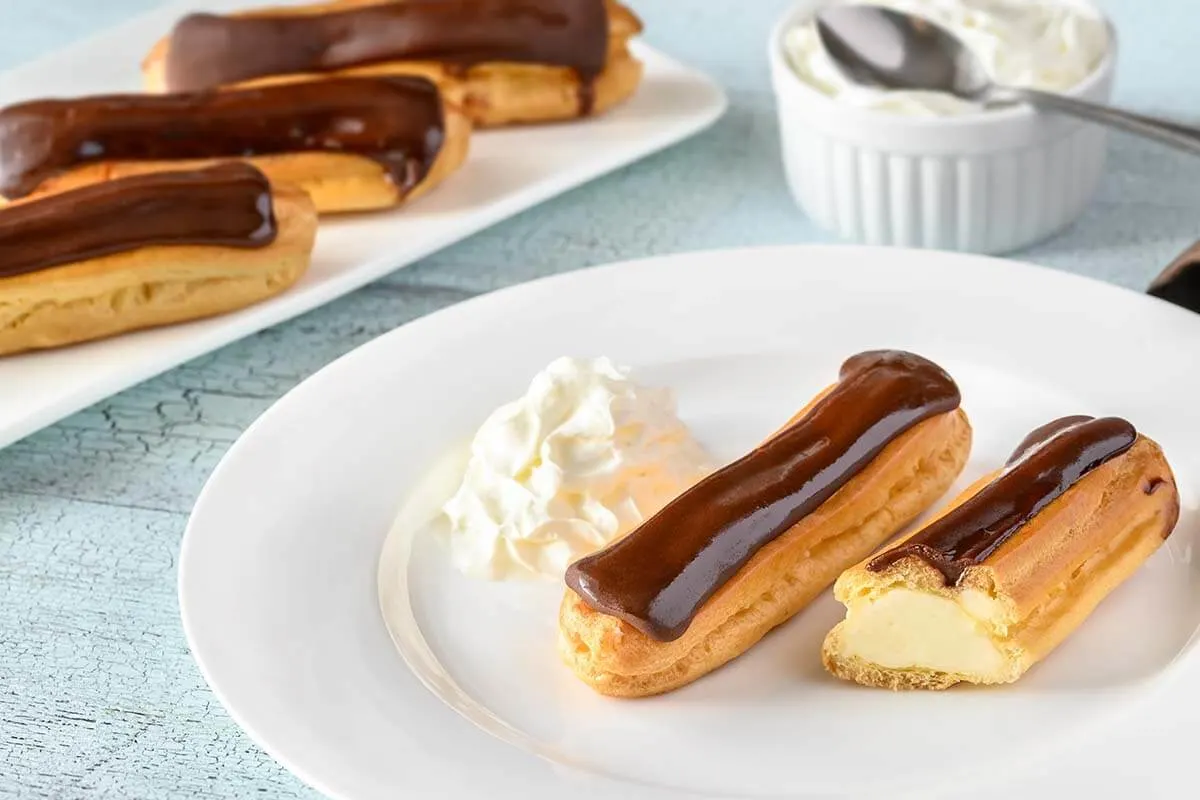 The main dairy products you need to try in France are cheese and butter. These are the most simple elements of French cuisine, but oh so delicious!
France is very famous for producing many varieties of quality cheese, and you can find these in fromageries (cheese shops) or at grocery stores. Many restaurants also serve a cheese plate for dessert after dinner.
Here are some of the most popular cheeses to try in France:
29. Brie
Brie is probably the most classic French cheese that you really have to try when in France. It's a soft creamy cheese made of cow's milk. Brie has a soft white crust which is normally eaten as well.
In the 19th century named 'the king of cheeses', Brie is one of the most popular cheeses in the country. You will find it in all shops.
Brie de Meaux is the 'original' Brie cheese that comes from the town of Meaux, in the Brie region. It's been produced here since – at least – the 7th century.
Good to know: Brie is a very popular cheese used to make all kinds of baguette sandwiches for lunch. So – in addition to being able to buy it in shops – you should be able to try this cheese at local cafes as well.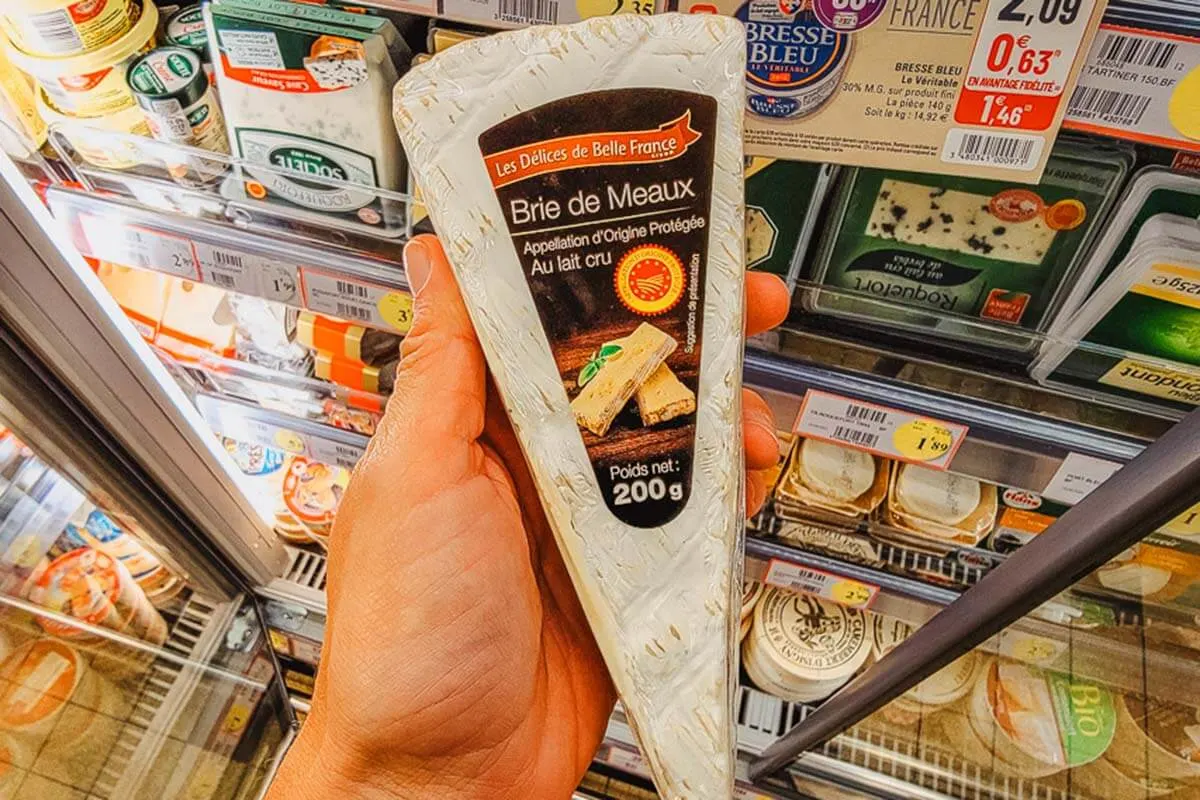 30. Camembert
Camembert is another typical French cheese that you just have to try! We already mentioned the oven-roasted camembert which is a popular appetizer, but normally, this cheese is just eaten cold.
Camembert looks somewhat similar to Brie in that it is a soft, creamy cheese with a white crust. However, camembert is made of raw cow's milk and has a much stronger flavor. Plus – let's be honest – it smells very strong.
Camembert cheese originated in the Normandy region in northern France, in the 18th century. It's now one of the most popular cheeses all over the country, but only the cheeses that are made using the ancestral recipe and fulfill all kinds of strict requirements can hold the quality label of 'Camembert de Normandie AOP'.
Good to know: Camembert is normally sold in a round wooden box. If you would like to bring some original French Camembert cheese back home, see if you can find a shop where they can vacuum seal it for you. Otherwise, people will throw you off the plane :).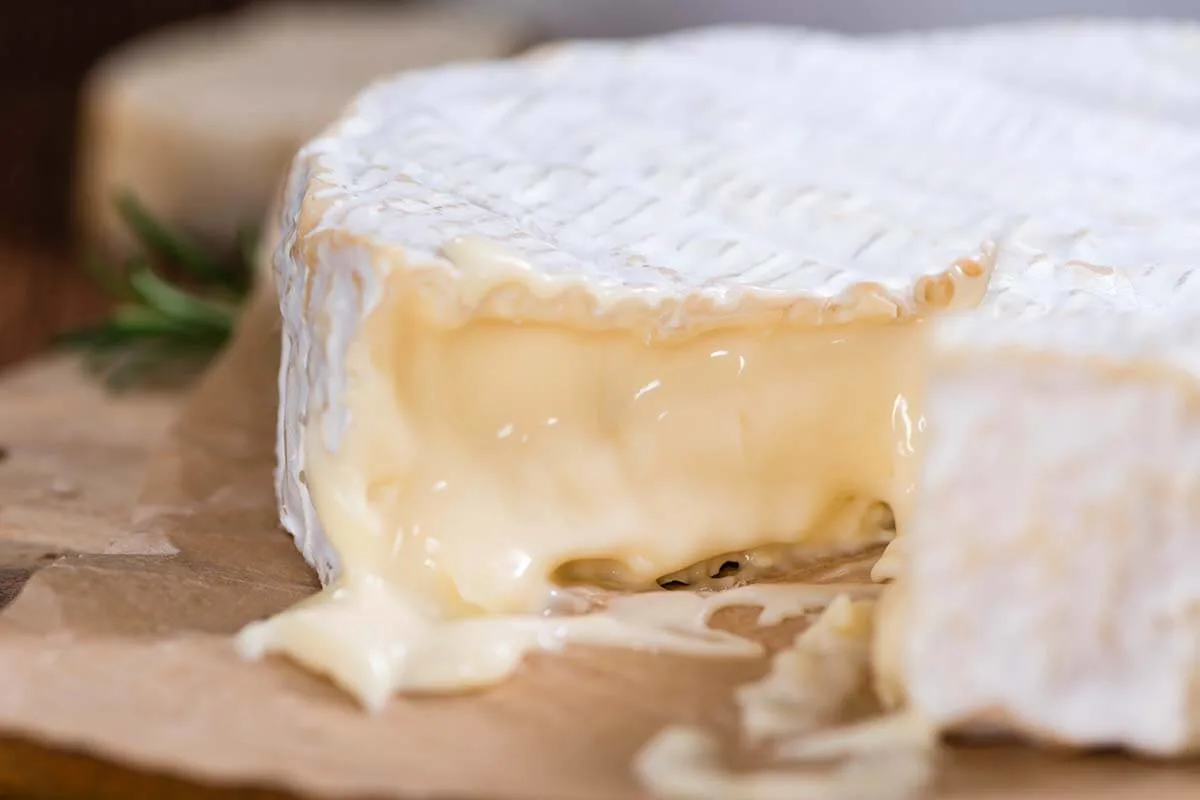 31. Comté
Comté (pronounced con-tay) is another favorite type of French cheese that you really should try. It's very different from the previous two and is a hard, nutty, and salty cheese. It has a mild to medium flavor and is absolutely delicious.
The origins of Comté go back to the 13th century to a small village called Deservilliers in the French Alps. Just as with many regional products in France, the name is protected and regulated by very strict requirements. Some of the rules describe not just the size and the weight of the cheese, but also what kind of breed the cows must have, where they can graze, or how farmers have to interact with them…
No wonder Comté is considered one of the best cheeses in the world. You can find it in grocery stores all over France, but for the best quality cheese, head to the specialized fromageries.
To round up our selection of French foods, here are some of the most popular traditional French desserts that you should definitely try in France:
32. Macarons
Macarons are perhaps the fanciest and most sought-after French dessert. These delicate sandwich cookies are made with almond flour and meringue and are filled with cream or ganache on the inside. They have a crispy shell and a delicate filling.
Macarons come in all sorts of flavors and colors! Some favorites include raspberry, pistachio, lemon, rose, lavender, and chocolate.
Be prepared though, as these little cookies, just a bite or two, are quite expensive – usually around 2-3 euros per piece, even pricier at the fancier cafes. There are many different shops and patisseries selling macarons, and one of the most romantic things to do in Paris is hopping between macaron shops, looking for your own personal favorite flavor.
You will find macarons everywhere in France. For the best quality, skip the ones at the supermarkets and try specialized cafes, patisseries, or chocolateries.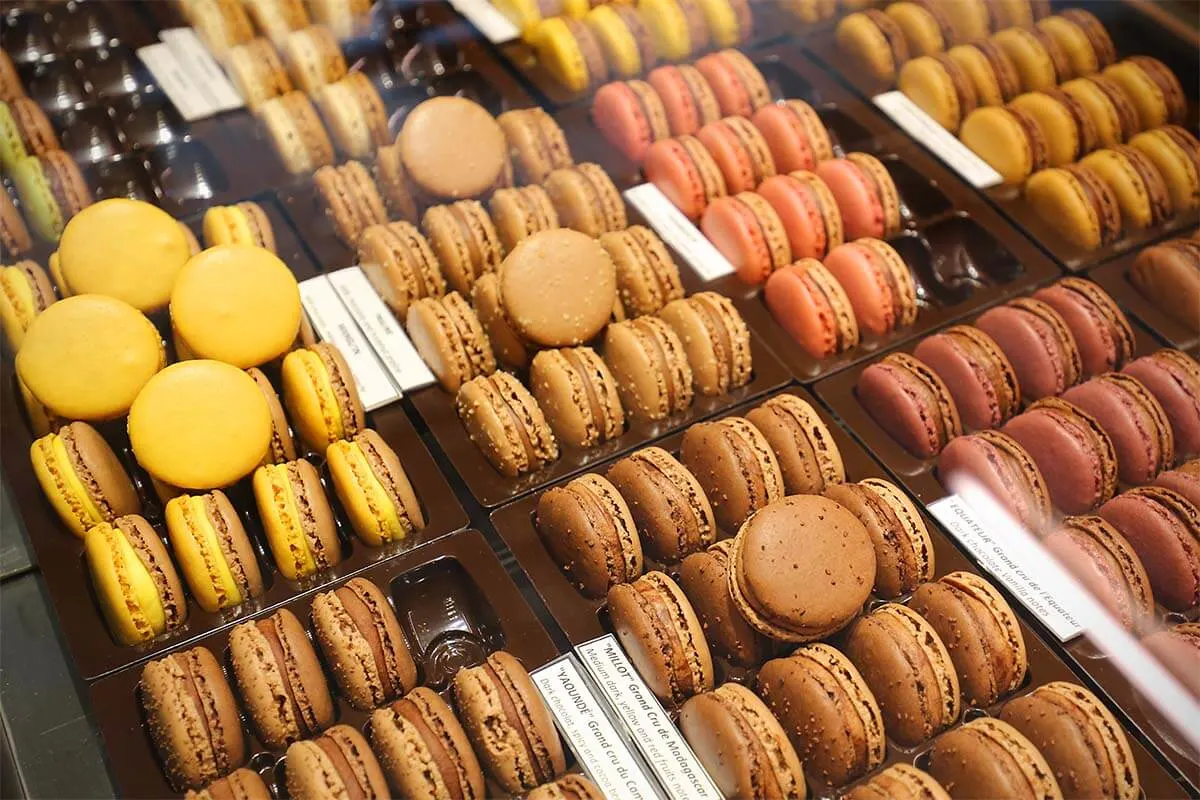 33. Tarte Tatin
The Tarte Tatin is a caramelized fruit cake and a favorite dessert all over France. The fruit – usually apples – is caramelized in butter and sugar before the tart is baked.
Its origins go back to the end of the 19th century when the pastry was invented by accident by the Tatin sisters who were running a small hotel. There are a few versions of the legend of how exactly they screwed up the apple cake they were planning to bake, but the unusual dish was received by the hotel guests so well that a new pastry was born.
Tarte Tatin became a signature dish of the hotel and soon the recipe spread all over France (and the rest of the world followed).
Nowadays, you can find all kinds of variations of this popular dessert in restaurants all over France and neighboring countries.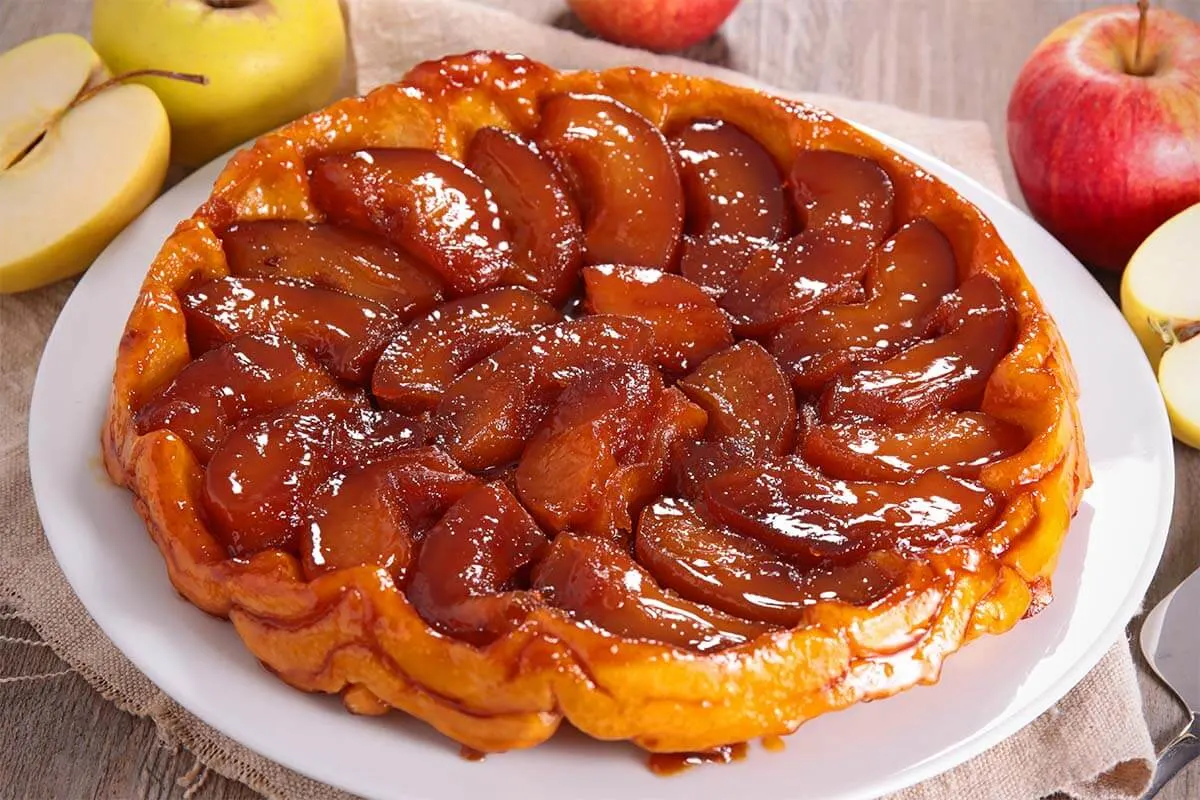 34. Crème Brûlée
Crème brûlée (burnt cream), also known as Trinity cream or crema catalana is a popular dessert whose origin is claimed by France, Spain, and the UK.
But its name is French and it was first mentioned in a 17th-century cookbook by a King's cook at the Palace of Versailles. So it definitely deserves a place on this list of the best French desserts.
This dessert is made of a sweet custard base topped with caramelized sugar. Each serving comes in its own little dish, and in some restaurants, they burn the sugar in front of you, when they bring it to the table.
This is a very popular dessert in France (and neighboring countries too), so you will have no difficulties finding a place to try it.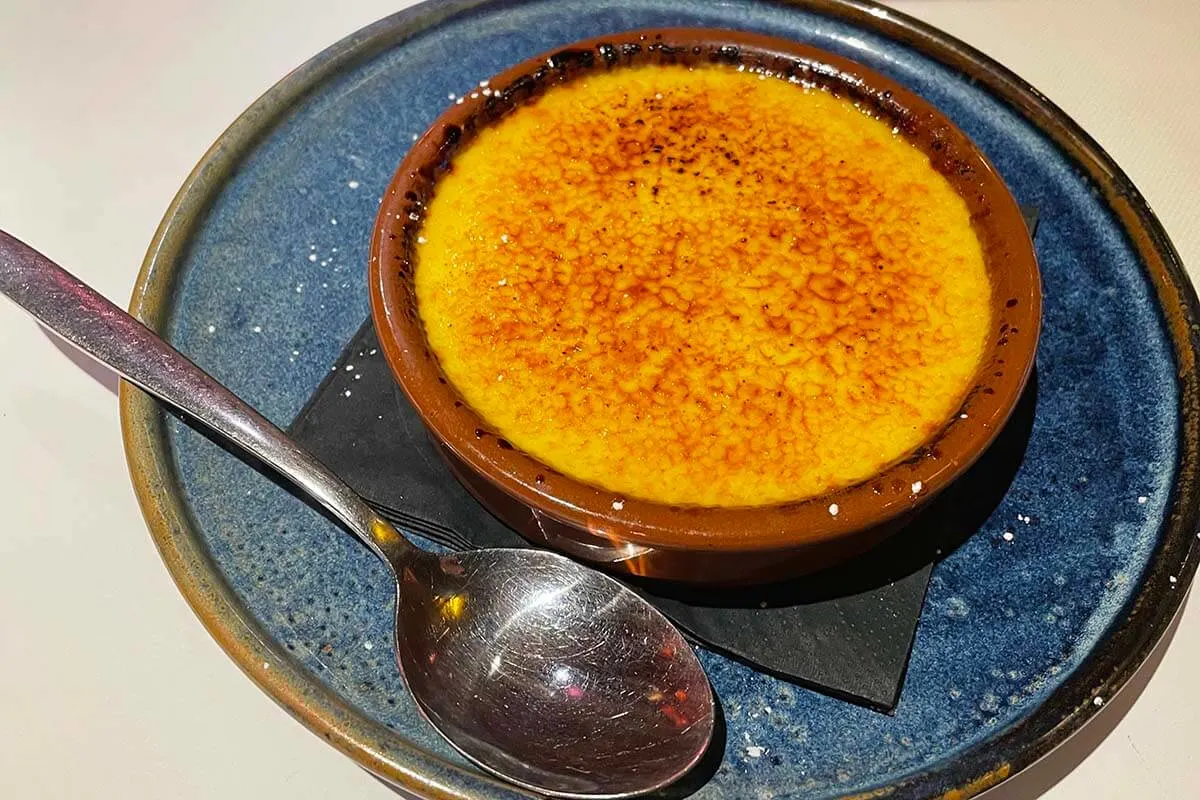 35. Profiteroles
Profiteroles, aka choux à la crème, are French cream puffs. These are small balls made of pastry dough known as choux and filled with sweet cream (this can be whipped cream, ice cream, and sometimes also custard). Profiteroles are usually served with chocolate- or caramel sauce.
The origins of profiteroles date from the 16th century when an Italian Medici family's cook introduced these sweet delicacies to the French royal court. So both – Italy and France – have a claim on this dessert. But it's a French classic that you will find all over the country.
You can buy profiteroles in supermarkets and at some bakeries. But they are best eaten with a warm chocolate sauce, so for that, it's best to try them at local restaurants.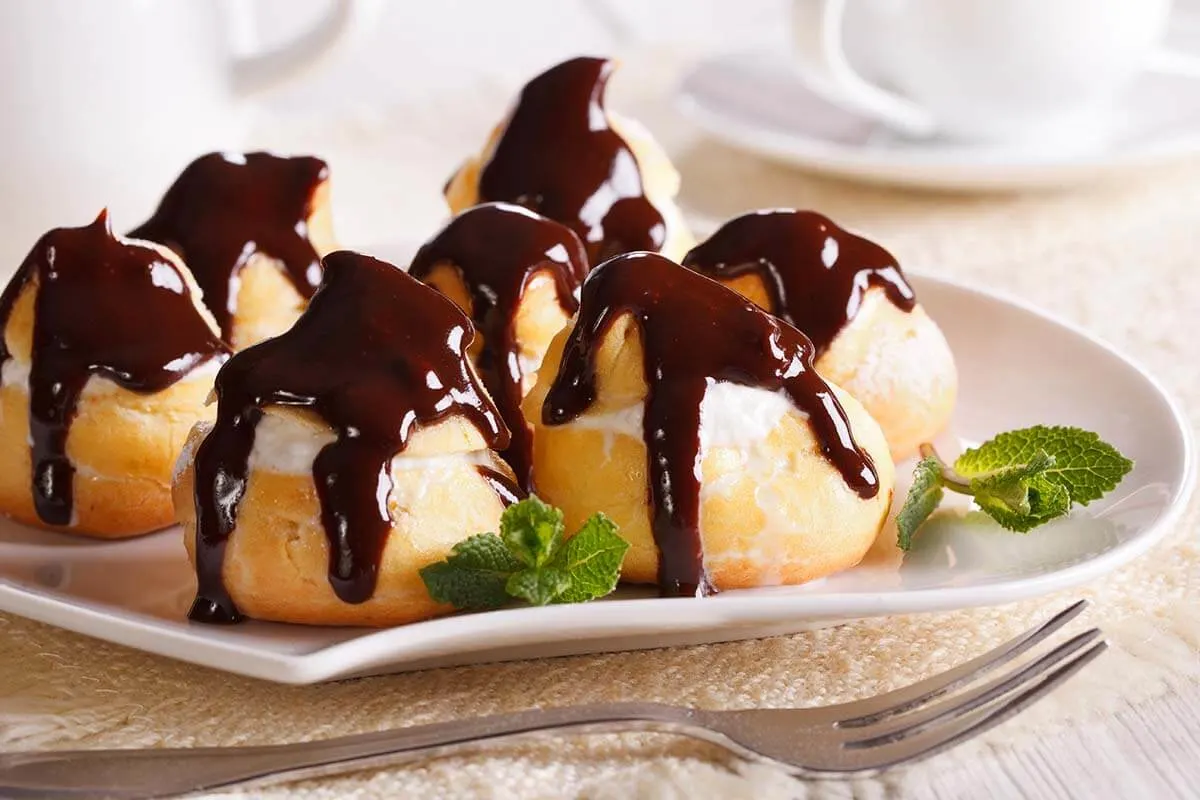 36. Canelé
Canelé is a pastry in the shape of a small cylinder with a hole at the top. This soft pastry cake is made with vanilla and rum and has a thick caramelized crust.
The word canelé means 'waved' or 'fluted'. This dessert comes from the Bordeaux region, with its origins dating 300-600 years back in time. You will often find it under the name 'Canelés bordelais' or 'Canelé de Bordeaux'.
While it's a regional specialty, you can find delicious canelé pastries in bakeries all over the country, also in Paris.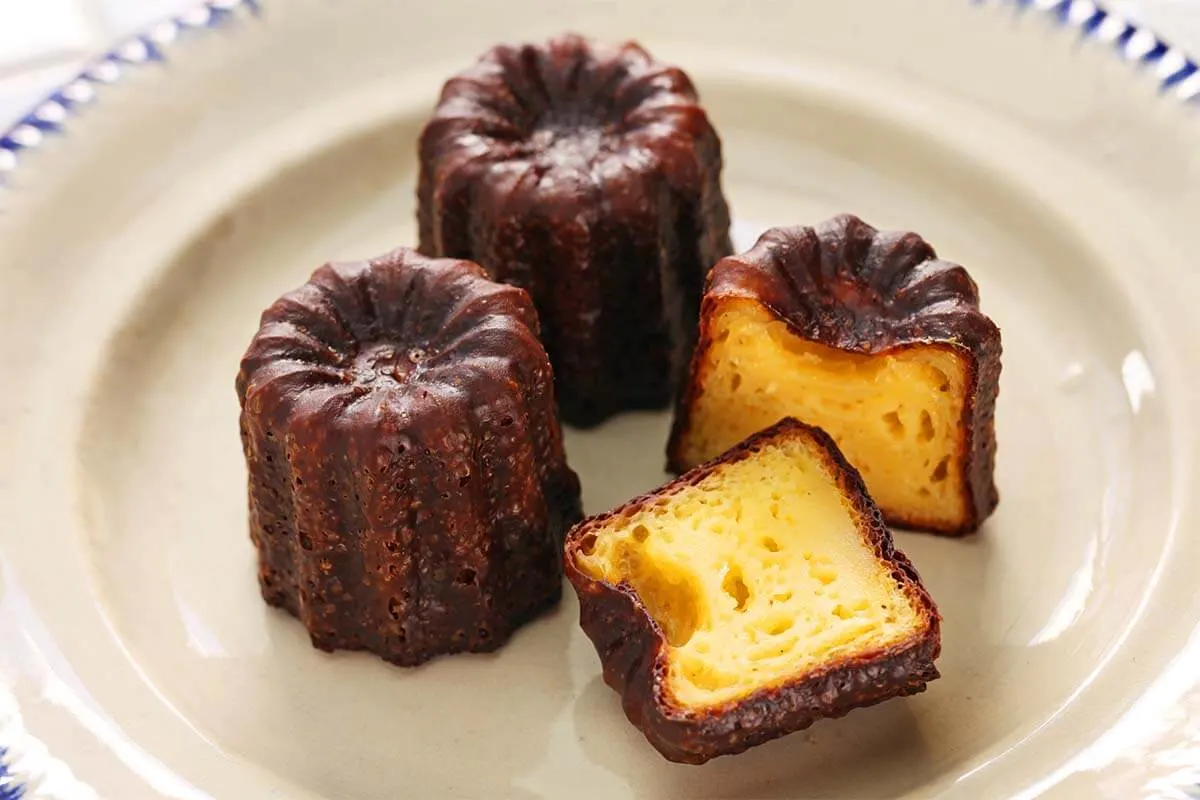 37. Moelleux au chocolat
Moelleux au chocolat is a French chocolate cake with a hard crust on the inside and soft chocolate fondant on the inside. It's typically served hot and when you cut the cake open, warm chocolate filling runs out on the plate.
The literal translation means 'soft cake' and in English, it is known as chocolate fondant or chocolate lava cake. Moelleux au chocolat is not baked as one large cake, but as small individually-sized cakes.
The origins of this French dessert are not very clear. But the recipe as we know it today is probably just a few decades old. Either way, it quickly gained in popularity and is now one of the most popular desserts that you will find on the menu of most restaurants in France.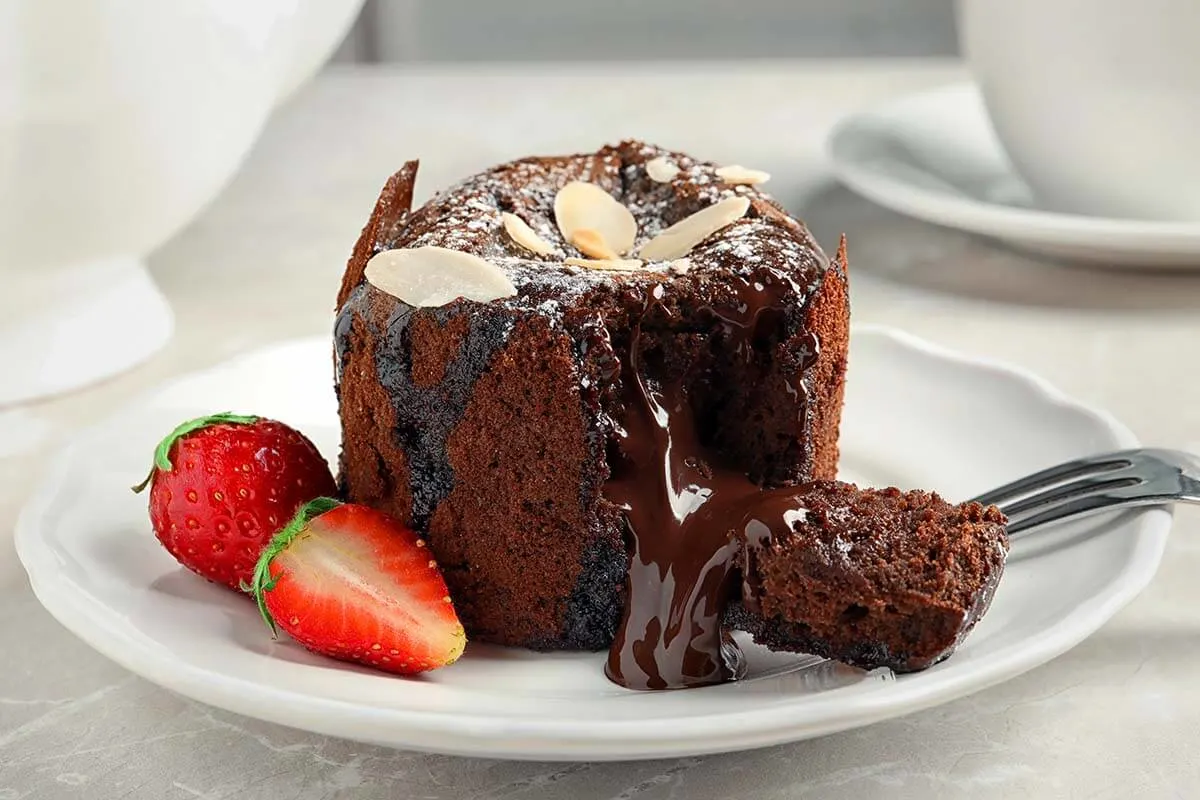 So, this is our list of the very best French dishes, foods, and desserts. I hope that this will inspire you to try some traditional food when visiting France, beyond the most popular options.
France has an incredible culture and you will have a great time sightseeing, admiring the architecture, and visiting the world-class museums. But what will really bring your trip to life is the gastronomical experiences you can have as you sample your way through the delicious and varied cuisine that France has to offer.
French cuisine is designed to be savored, a lingering meal with friends or loved ones, so be on the lookout for these delicious foods as you are traveling in France. See below for some travel inspiration!
Some travel inspiration for France:
If you found this post useful, don't forget to bookmark it and share it with your friends. Are you on Pinterest? Pin these images!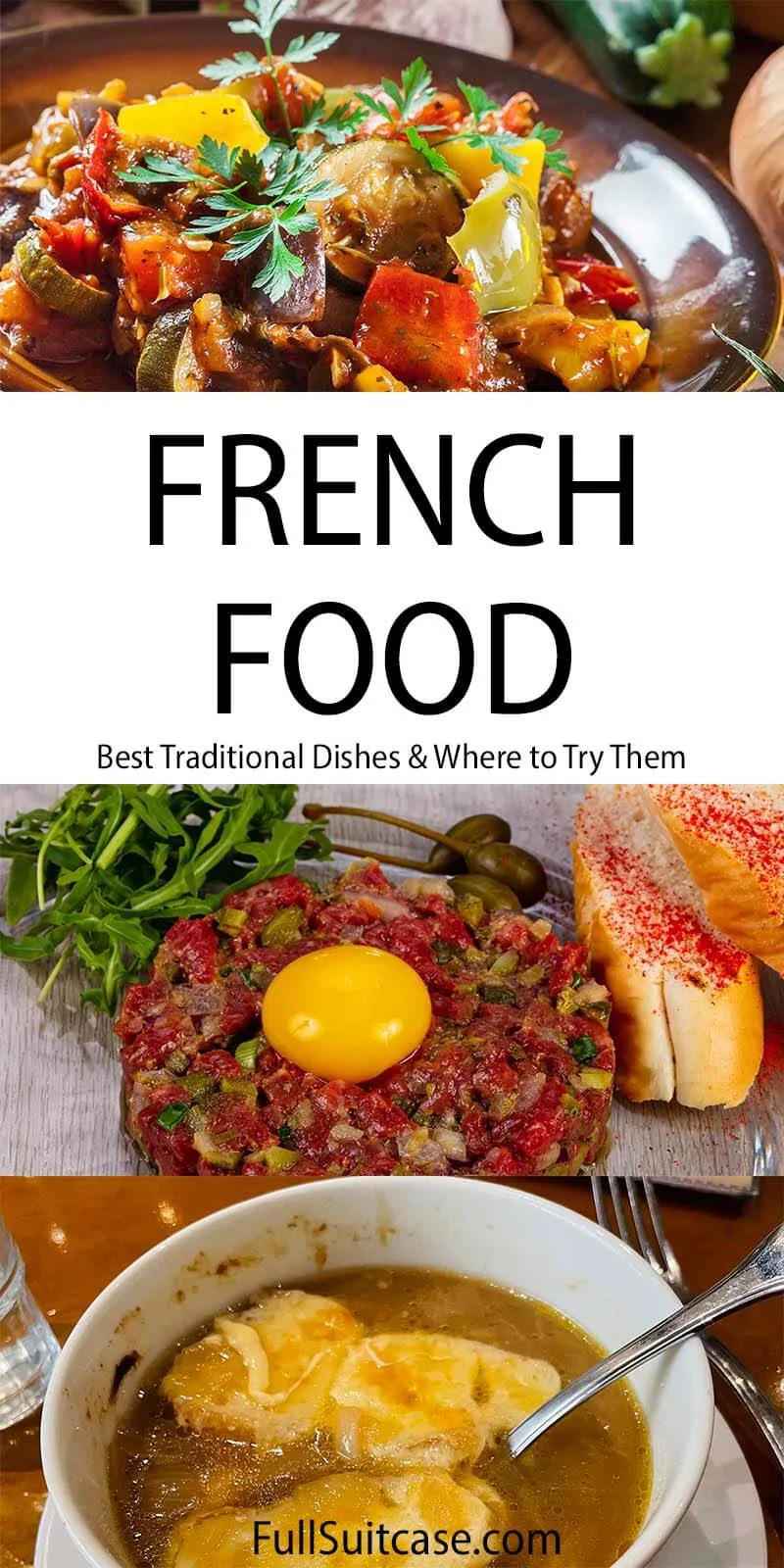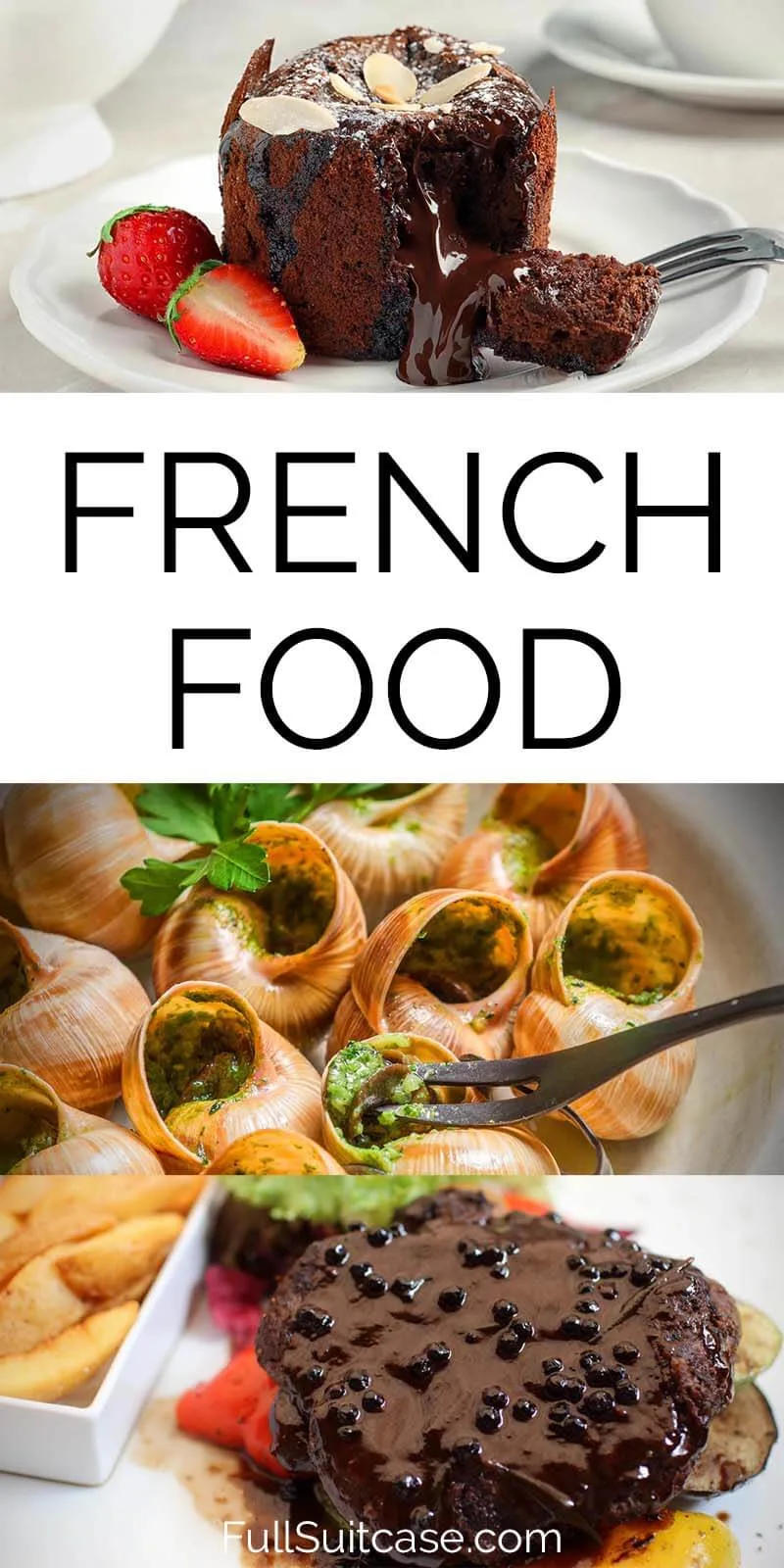 Photos: personal collection, Stephanie/TheUnknownEnthusiast, and Depositphotos.com.