Are you thinking of visiting Paris in October and wondering how the weather is, how busy it is, and whether fall is a good time to go to Paris, France?
In this article, you can read all about what it's really like in Paris in October, what to expect, and find our top tips for your visit. Take a look!
Good to know: We've been to Paris many times and recently also visited Paris at the beginning of October. All the info in this article is based on our first-hand experience and observations on what it's like to visit Paris in the fall. Of course, every visit will be different, but this should give you a good idea of what to expect.
Top Experiences in Paris: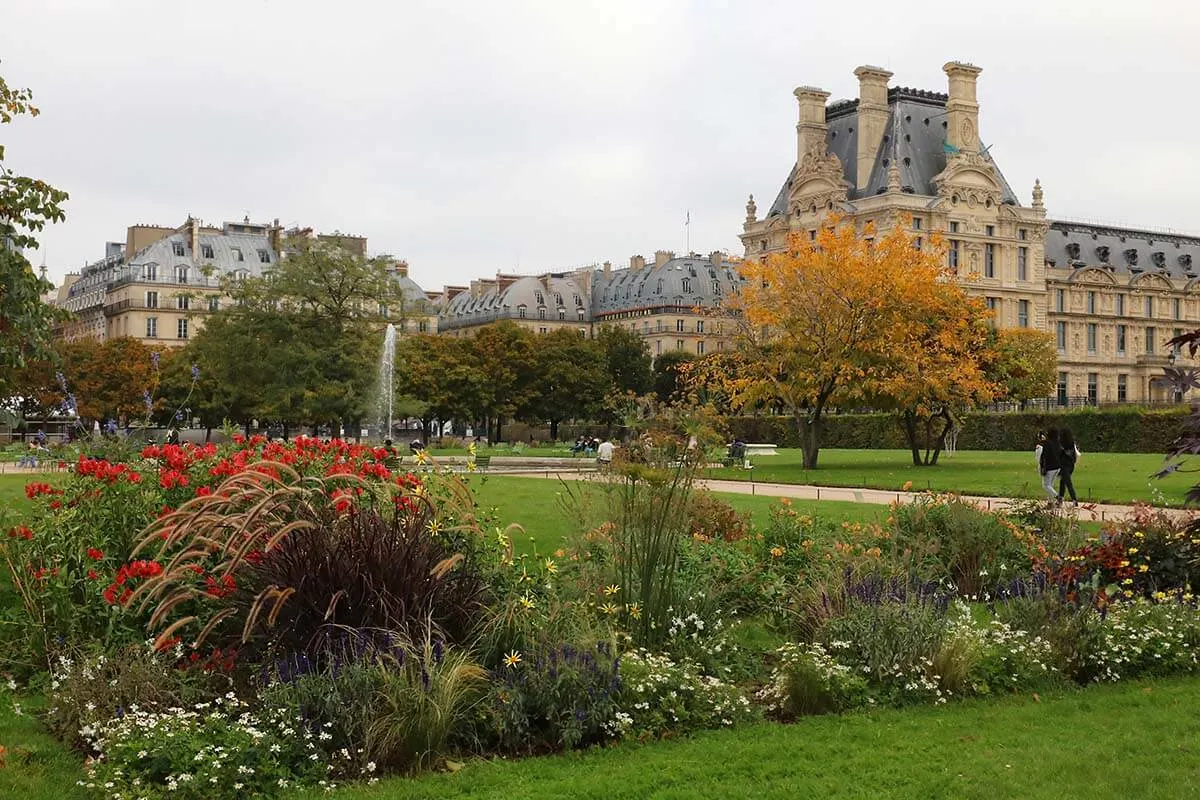 Is October a good month to visit Paris?
Yes, October is a very good month to visit Paris. With mild weather and somewhat fewer crowds, October is actually one of the best times of the year to visit the City of Light.
The main disadvantage of visiting Paris in October is that you might experience a bit more rain. But this is something you really can never plan for, in any season. It's also very unlikely that it will rain non-stop every day of your visit. And with a bit of luck, you'll have beautiful sunny days with temperatures of 15-20°C (60-70 F) and not a drop of rain at all.
With the changing climate, it seems to be getting warmer and drier every year too. And with so many places to see and things to do inside, don't let the chance of some rain stop you from planning an autumn visit to Paris. Because there are quite some advantages too!
Cooler weather and fewer crowds in Paris in October make sightseeing much more enjoyable. Because the days are shorter and the sun is lower, the light for photography is beautiful and you don't have to stay up late in order to see some beautifully-lit landmarks or amazing sunsets from the nicest viewpoints in Paris. The colorful autumn foliage adds a nice touch as well.
While not exactly the low season, Paris sees way fewer tourists in October than in the summer months. So the prices of flights (or trains) and accommodations are somewhat lower. But don't count on very cheap last-minute deals and book in advance! My research shows that train tickets and hotels only got more expensive as our travel dates got closer.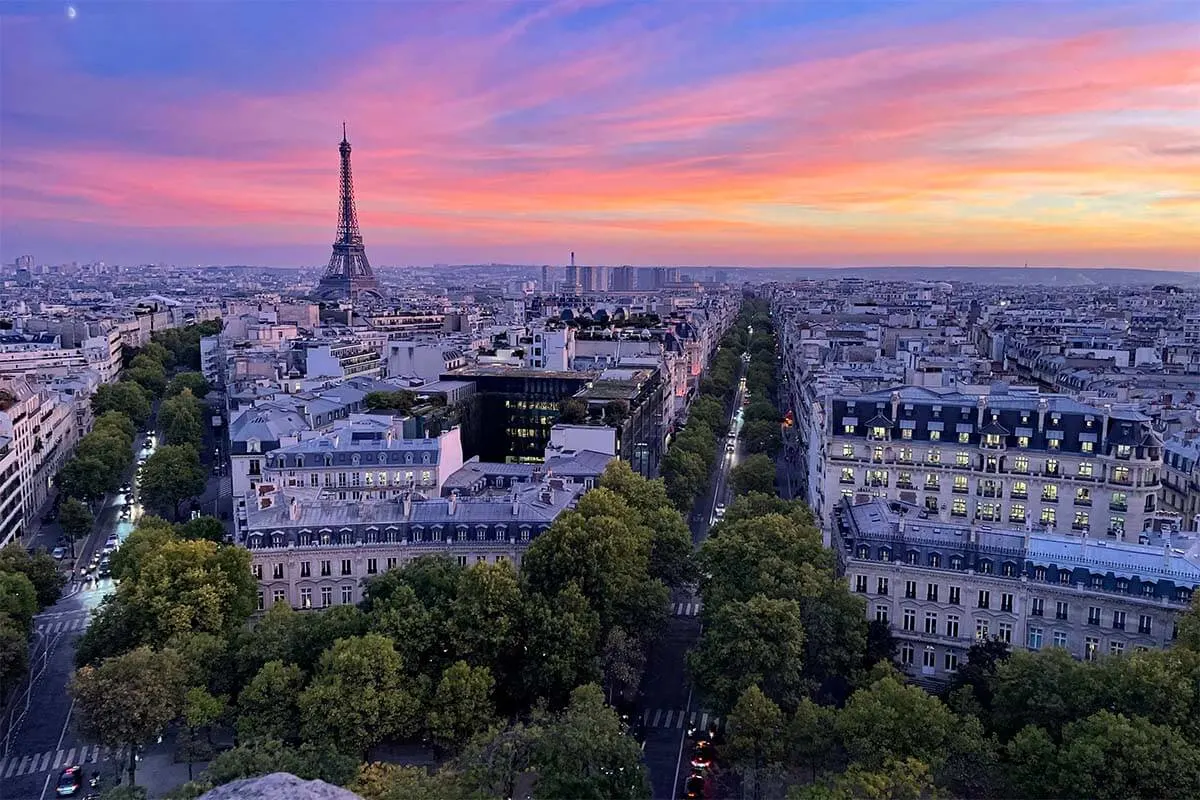 How is the weather in Paris in October?
The weather in Paris in October is usually quite mild, and you can always expect some rain. The average temperatures in October are between 9 and 16°C (50-60 F) and it rains on 8 days. But as you probably know, 'average' doesn't really say much.
Just an example. A week before our trip – at the end of September – it was raining almost every day in Paris with daytime temperatures of just 12-16 °C (54-60 F). The first week of October was sunny with temperatures of 17-23°C (62-74 F). Yet another week later – around mid-October, it was just as warm, but with some chance of rain every day.
That's quite a big difference – 12°C (54 F) or 23°C (74 F) – in a matter of just a few days. And this is something you really have to prepare for if visiting Paris in October! You can find more info about what to wear and what to pack further below.
Good to know: Don't get discouraged by the weather forecast showing rain the entire week. When you look closer, you often see that the chance of rain is 50-60% or even less, which often means that you won't see any rain at all, or just very shortly.
Temperature-wise, there is normally a big difference between visiting Paris in the first week of October or at the end of the month. While you can be comfortable with a sweater during the day at the beginning of the month, you'll definitely need a warmer jacket towards the end of October. Also, keep in mind that mornings and evenings can be quite chilly.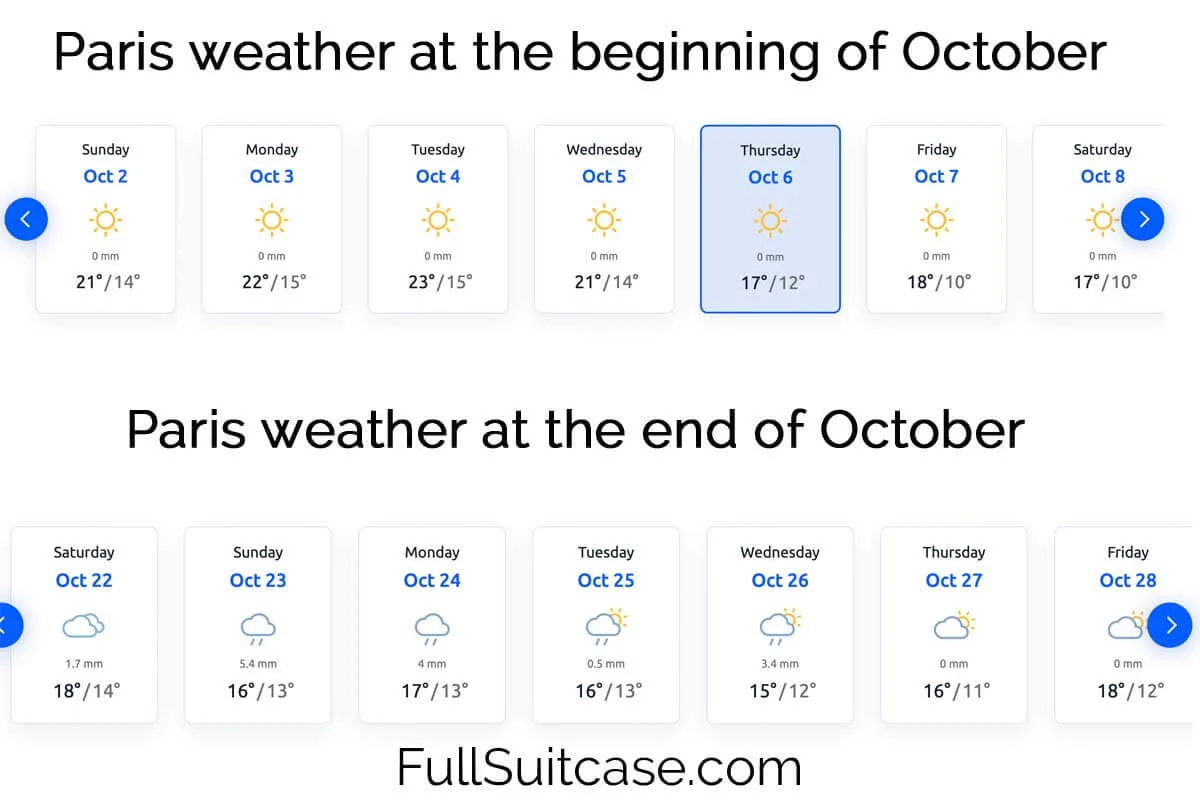 What to wear in Paris in October
It's quite easy to pack for Paris in October. In fact, we found that it was very similar to visiting Rome in November. So if you are planning an autumn trip to European cities, packing should be really simple.
Jeans/long pants, t-shirts and long-sleeved shirts, a sweater or two, and a light jacket are all you really need.
I also recommend packing a light scarf for Paris in the fall since the city is often quite windy. I used mine all the time, even when it was too warm for a jacket.
Ideally, you pack in such a way that you can layer up and down. Even if it's warm during the day, it's usually a bit cold in the morning and in the evening.
Comfortable shoes are a must too, and ideally, they can withstand some rain. Also, don't forget sunglasses because the autumn sun is lower and shines right into your eyes.
You may also want to pack a small umbrella (ideally, a light travel model that will fit in a small purse). Many landmarks in Paris don't allow big umbrellas or backpacks inside, so try to carry as little as possible.
Our experience: Most of the time, I was wearing long pants and a blazer with a light blouse underneath. I always had a light scarf with me and wore it a lot. Sometimes – especially in the morning or in the evening – I also wore a jacket. Most other tourists we met were carrying sweaters and jackets too, because usually you leave your hotel in the morning and only return late in the evening, so you have to be ready for all kinds of temperatures.
TIP: A lighter jacket (like a lightweight puffer jacket that you can easily fold away) could be useful in this season, especially if you are visiting multiple places in Europe on the same trip and want to pack light.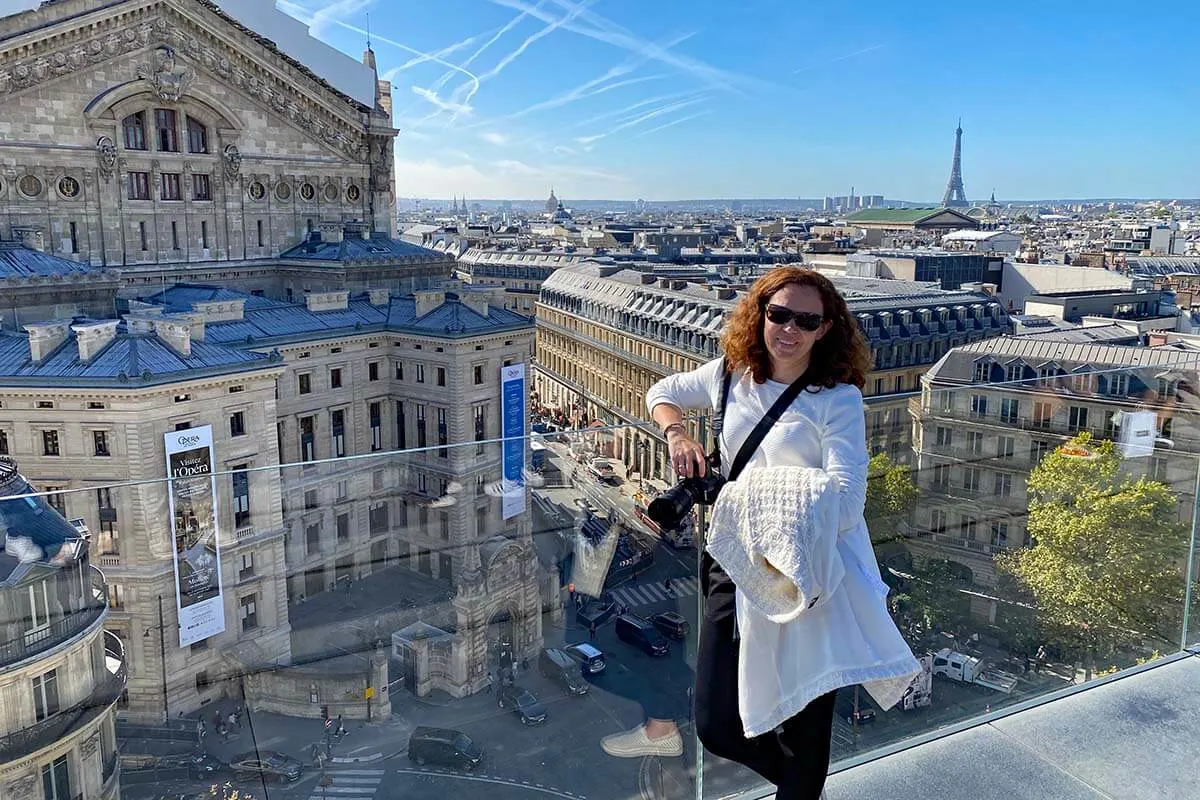 How long are the days in Paris in October?
When it comes to daylight hours, there's quite some difference between visiting Paris at the beginning of October and towards the end. You have about 11.5 hours of daylight in the first week of October vs. about 10 hours at the end of the month.
Still, even with 10 hours of daylight, you can really see and do a lot every day. And since Paris is very lively and beautifully lit at night too, somewhat shorter days will have little impact on what you can see and do.
In October, the sunrise in Paris is at around 8 – 8.30 am, and the sunset – is around 6.30 – 7.30 pm.
Good to know: Europe switches to winter hour on the last Sunday of October. The clock is then turned one hour back, meaning that it gets dark earlier (around 5.30 pm instead of 6.30 pm). So if you are in Paris at the very end of October, keep this in mind, especially if planning to be somewhere around sunset.
Somewhat shorter days in October are also compensated by shorter waiting lines at the main sights. Still, even with pre-booked skip-the-line tickets, we had to wait in lines more than I expected. This is mostly due to the fact that there are airport-style security checks at almost all the main landmarks in Paris. On the other hand, there are way fewer tourists and so these lines are also much shorter in October than in the peak season.
This brings us to the next point… How busy is it?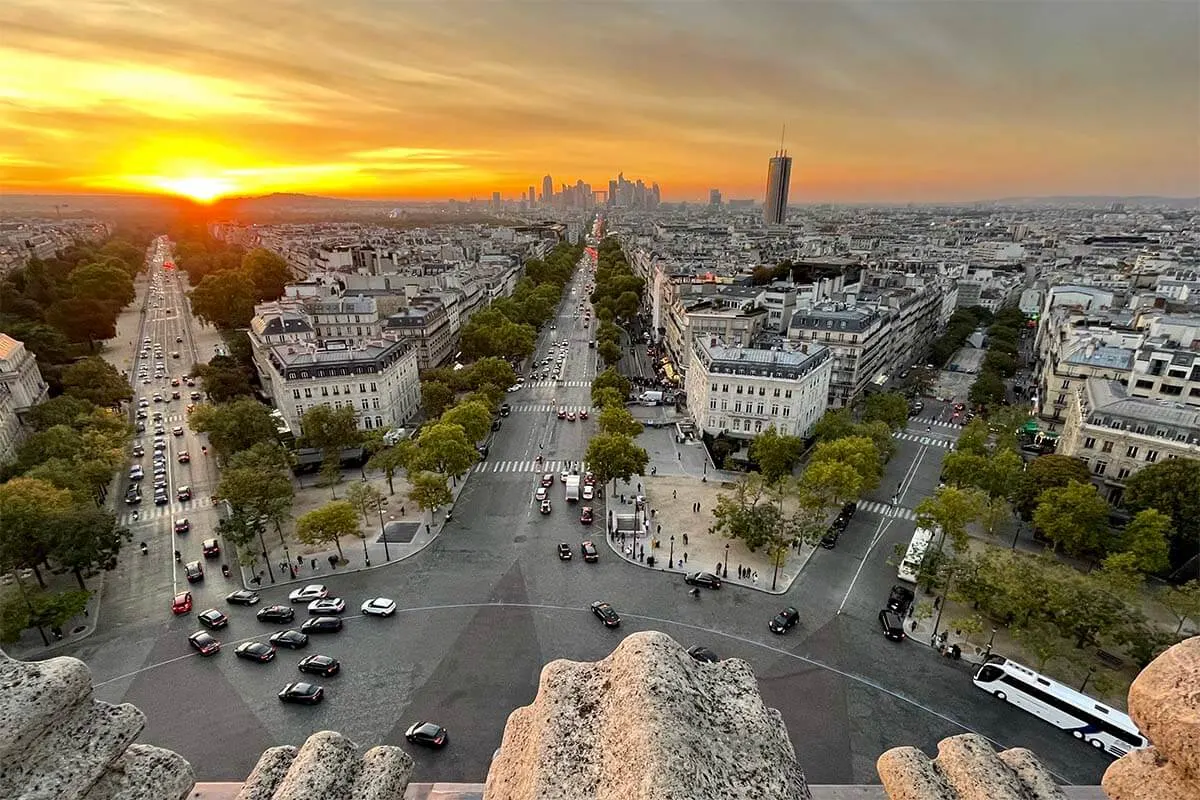 Is Paris busy in October?
In the past, September was the shoulder season, and October – a much quieter month to visit Paris. Nowadays, September is still the high season and October is just starting to quiet down a bit.
That being said, since Paris is so big and there are so many landmarks scattered all around the city, it never feels crowded in October. You really can't compare the crowds in Paris to the cities like e.g. Rome, where most landmarks are located in the historic old town and all the pedestrian streets are packed with tourists.
However, it is still quite busy at/inside the most popular sites in Paris in October. You can also expect to see quite some school groups at the museums on workdays.
It does get a bit quieter in the second half of the month, but keep in mind that many European countries have a week of school holidays somewhere around mid-October and others in the first week of November. So the main landmarks in Paris remain rather busy until the second week of November.
TIP: The best way to avoid crowds is to prebook your tickets and visit the most popular museums/ landmarks either first thing in the morning or a few hours before the closing time. More information about tickets/tours – below. Also, if you turn just a bit off the main tourist streets, you'll often not see any tourists at all. And that's really a big difference compared to the summer months.
We were surprised to see that the Montmartre neighborhood was really busy. In fact, it was one of the liveliest areas we visited in Paris in October. However, the crowds were concentrated around the Sacre-Coeur Basilica and Place du Tertre. The moment we walked just one block away in either direction, there was hardly anyone around…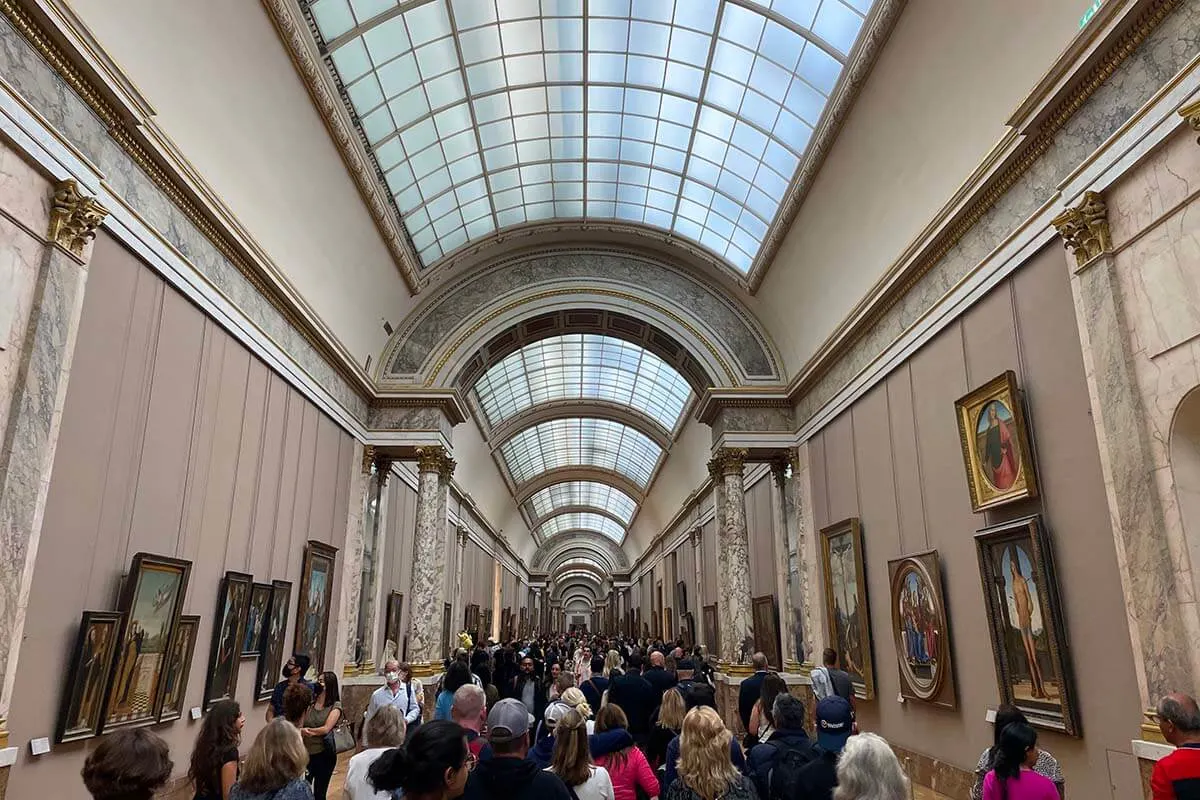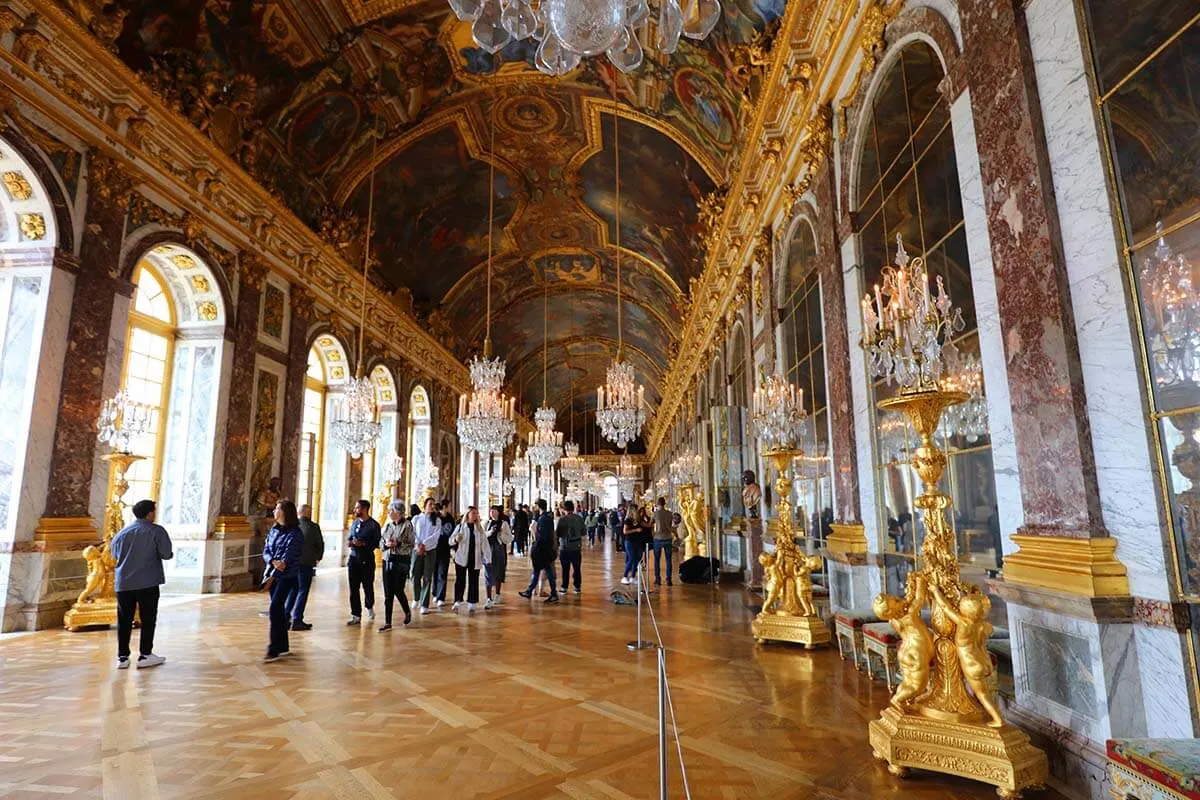 Do you need to pre-book tours and activities when visiting Paris in October?
Yes and no – depending on which tickets and which tours. But based on our experience, I highly recommend prebooking tickets for all the main landmarks in Paris.
TIP: If you absolutely want to visit a place or want to be sure that you can visit at a specific time without wasting hours in lines, I'd definitely reserve upfront.
We booked most of our tickets and tours for Paris via GetYourGuide. They have a very flexible cancelation policy, allowing you to cancel almost any tour up to 24 hours before it starts. So you have nothing to lose and it saves a lot of stress. It's also so much easier than booking tickets directly with the official sites in Paris. Many of them ask you to create an account first, and often, they don't offer free cancelation.
Booking in advance also avoids unpleasant surprises. You can immediately see if one or the other landmark is closed on a specific day, or if a tour is booked up already.
Our experience: We booked everything that we absolutely wanted to do in advance and we were really glad we did. The only place we didn't pre-book was the Pantheon, and we wasted more than 45 minutes waiting for tickets. In the meantime, people with online reservations could just walk in without any wait.
I booked most of our tickets and tours 3 weeks before our trip. For most places, there was plenty of availability. However, the tickets for the Moulin Rouge show were almost all sold out already for the entire week of our trip. By the time we had our itinerary set and were ready to book, all the tickets for the early shows were gone. So we ended up with the late show (11.30 pm) rather than at 9 pm. It was still a great experience and it worked out very well in the end, but a few days later, even the late shows were sold out.
Another thing we wanted to do was this Catacombs tour that takes you to some areas that aren't open to the general public. It was also sold out during the entire duration of our stay. So we got regular Catacombs tickets instead. When we arrived at the site, we saw signs saying that all the tickets for that day were sold out. So if we hadn't pre-booked, we wouldn't have been able to visit at all.
So yes, even though it's not that busy in Paris in October, it really pays to book in advance.
TIP: Paris Museum Pass is also a good option if you are planning on visiting many museums/landmarks during your stay. Just like online tickets, it gives you skip-the-line entrance. The only thing to keep in mind is that you have to pick it up at a specific location and you also have to reserve timed entry for some of the most popular sites such as the Louvre, etc.
READ ALSO: Tips for Visiting the Louvre Museum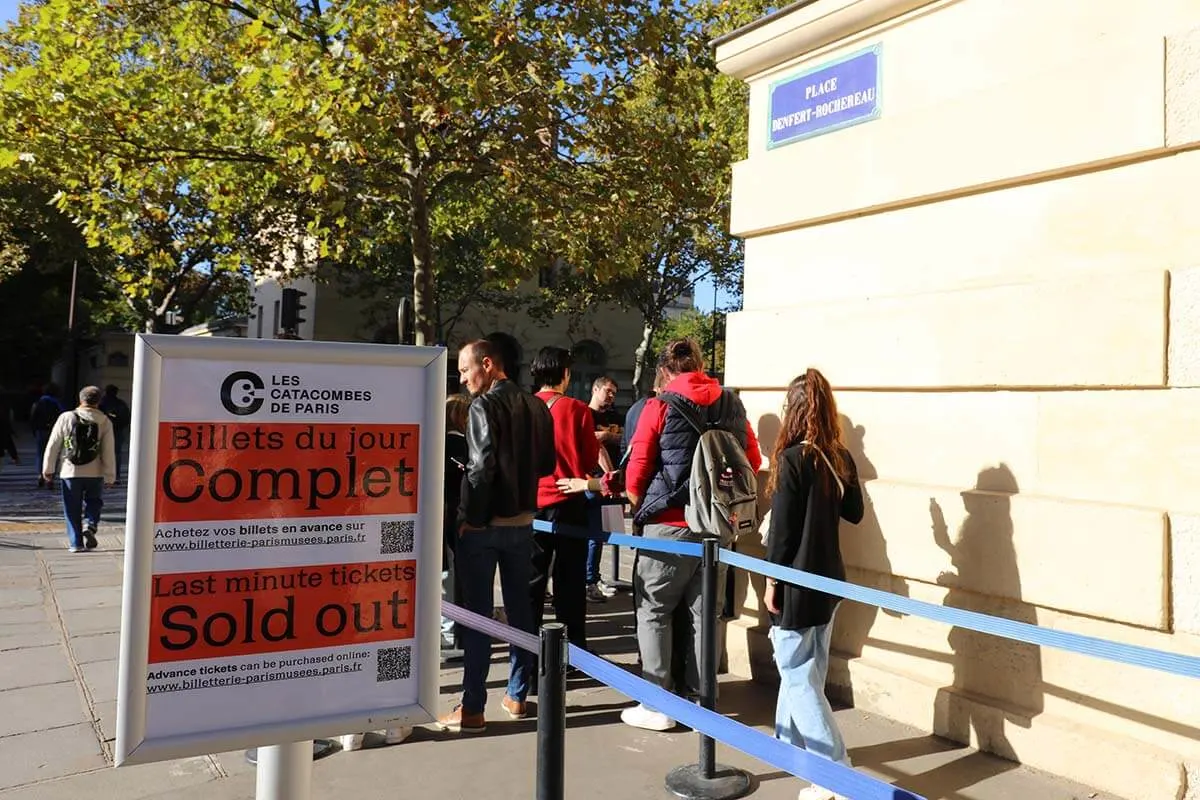 What to do in Paris in October
If you are wondering what to see and do in Paris in October, my answer is quite simple – pretty much EVERYTHING! Visiting Paris in October allows you to explore the city to the fullest. The only thing you have to take into account is that many museums/ landmarks close earlier.
It's quite natural to worry about the weather and especially if rain is on the forecast for every single day of your visit. But there is so much to see and do in indoors in Paris that it's really not a big deal if it rains on some days.
There was not one place or experience that we couldn't do in October. Even the fountain shows in Versailles are still running until the end of October, albeit only on weekends (but this is the case in the summer season as well, except that they also run on one weekday too).
There are also still many flowers in the city parks and in the Gardens of Versailles and the Gardens of Monet's House in Giverny too. And the fall colors make it all even more special.
Good to know: Most tours outside the city are running in October as well. As already mentioned, you can visit Versailles, and Disneyland Paris is also open the whole year round. Other popular day trips are still running in October as well – such as the tours to Monet's house and gardens in Giverny or to the D-Day Landing Beaches of Normandy (often in combination with Mont St Michel Abbey).
Just keep in mind that in October, most tours have fewer departures and run just a few days a week. So be sure to check the ones that interest you the most before finalizing your sightseeing itinerary.
READ ALSO: Paris 4 Days Itinerary (all the musts + a few local areas and hidden gems) & Paris in One Day (how to see all the top sights in a day)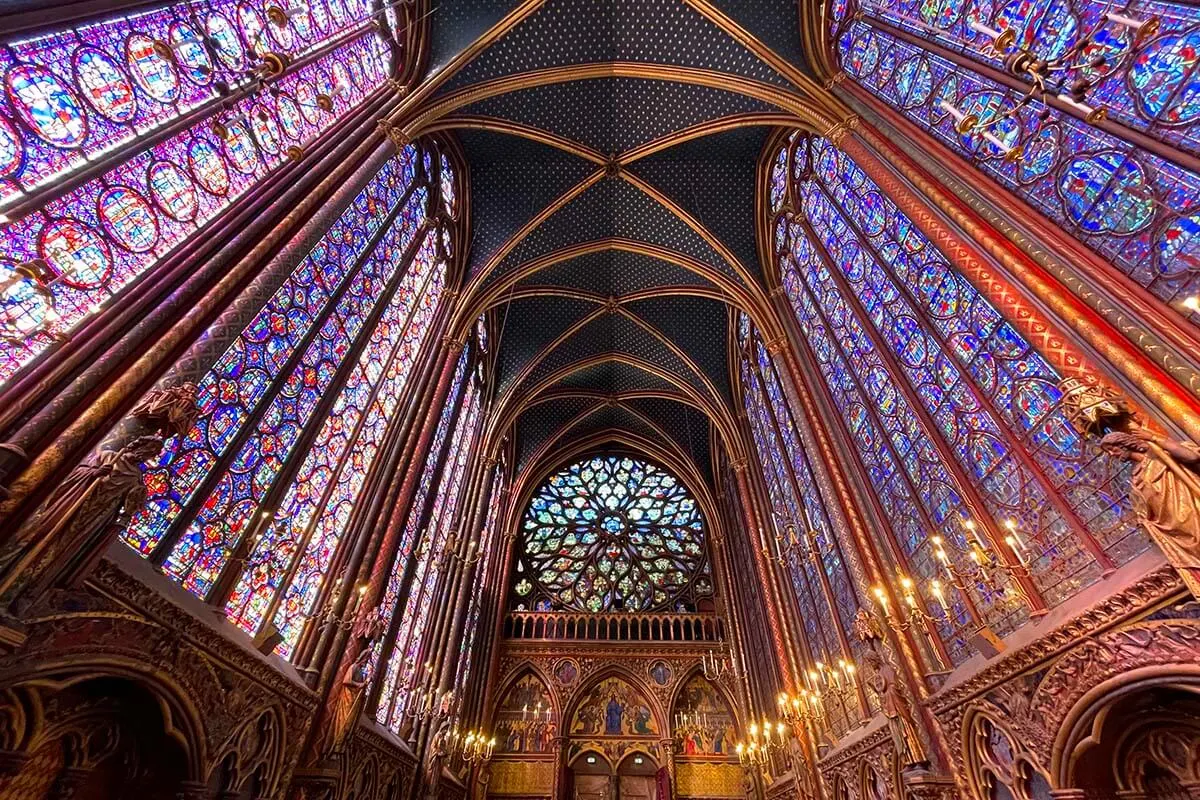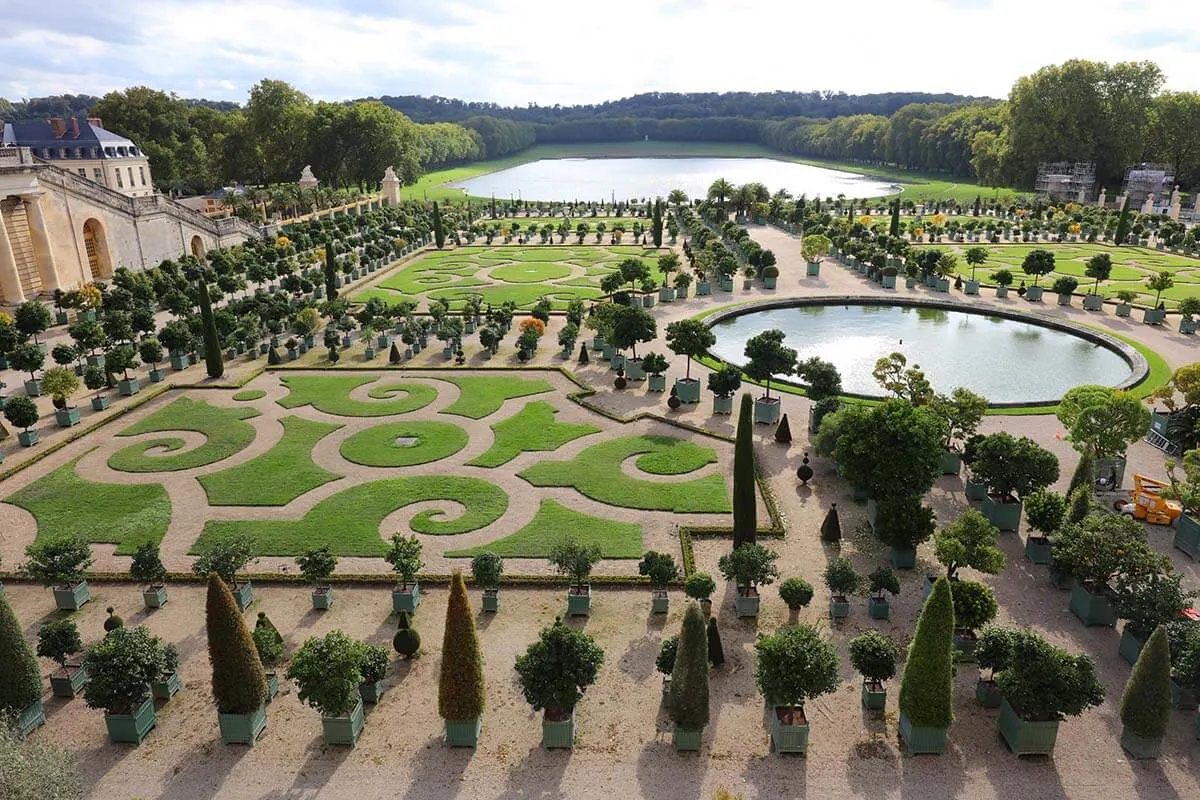 Dining and restaurants
You should still be able to dine/have lunch outdoors when visiting Paris in October if you like.
The major issue with restaurants in Paris is the waiting times to get in. This is not the case everywhere, but we saw so many restaurants and cafés where the lines were so big that people were queueing 1-2 blocks from the restaurant. No kidding.
If you don't care where you eat, then normally, you can just find something on the go. But if you want to have breakfast, lunch, afternoon tea, or dinner at a specific place, you absolutely should try to book in advance. Yes, even some breakfast restaurants had long queues on workdays in October.
Our experience: We made reservations for dinners and it was a really wise decision. Some of the restaurants we went to were apparently very trendy and popular, with incredibly long queues. But with a reservation, it never took us more than 5 minutes to be seated.
Some of our favorite restaurants were Bouillon Pigalle close to Moulin Rouge (an amazing price-quality ratio) and several Italian restaurants of the Big Mamma Group. Just a note – these are all trendy restaurants that are popular with the locals (especially young people), and not with tourists. We loved mingling with the locals and – despite the big age difference – had some fun conversations with some people at the neighboring tables (they do set you very close to each other in Paris!).
We didn't reserve anything for lunch, and that wasn't a problem. However, we were not planning to have lunch at any of the overly popular tourist places. If you want to go to Ladurée on Champs-Élysées, or Angelina on de Rue Rivoli, then try to reserve in advance or prepare to wait for at least half an hour. One of our favorite restaurants for lunch was La Crème de Paris which specializes in crêpes and waffles, right next to our hotel.
We booked a hotel that included breakfast, and it was a good decision too. The breakfast at our hotel was excellent and it saved us lots of time (and money too).
READ ALSO: Traditional Dishes to Try in France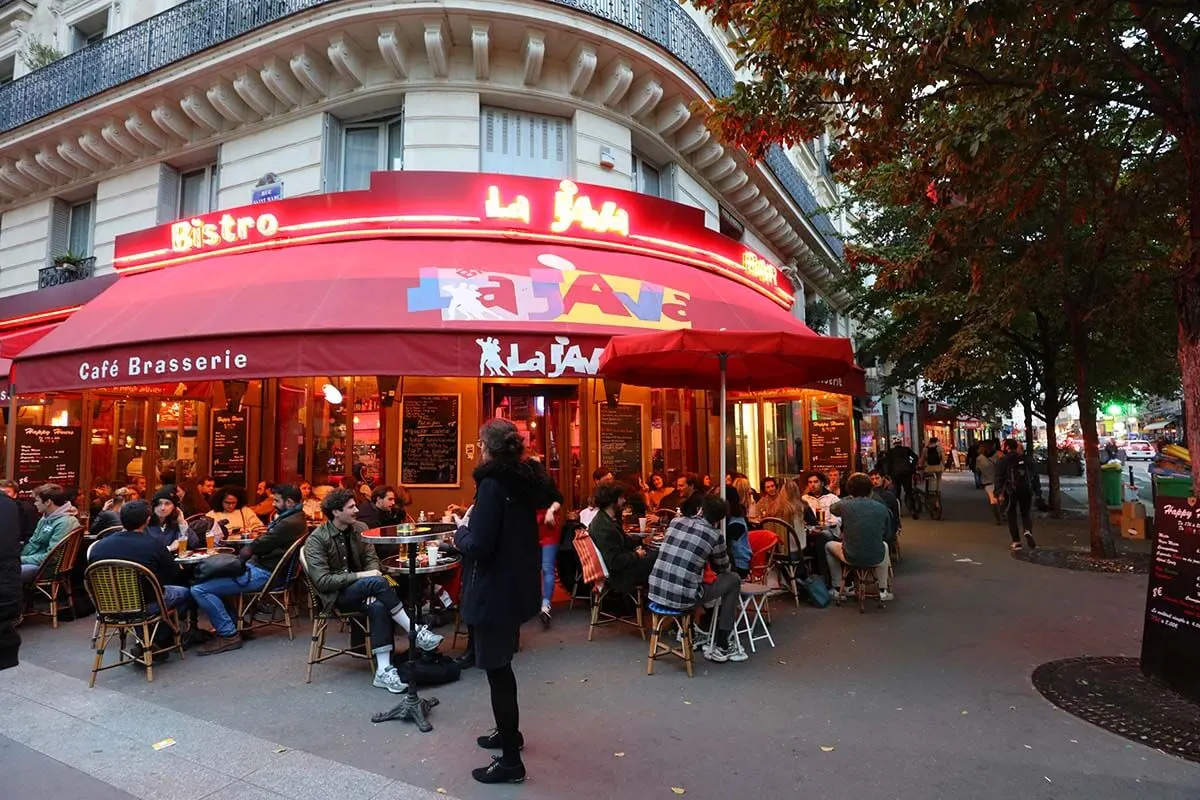 Festive decorations & theme parks
While it's a bit too early for Christmas decorations at the beginning of October, some department stores already start preparing for the holiday season. If you visit Paris towards the end of the month, you'll see more Christmas decorations and beautiful lights too.
Some places – especially theme parks like Disneyland or Parc Asterix – also have beautiful (and spooky) decorations for Halloween. Just keep in mind that these parks get really busy a few days around Halloween, also because of the school holidays and public holidays on November 1.
Our experience: We visited Parc Asterix and Paris with kids at the end of October a few times, and while the city wasn't that busy, the park was always crowded. It's a locals' favorite and if you are looking for a theme park to visit in Paris with teens, I think it's a better choice than Disneyland. Our kids absolutely love the thrilling rides at Parc Asterix.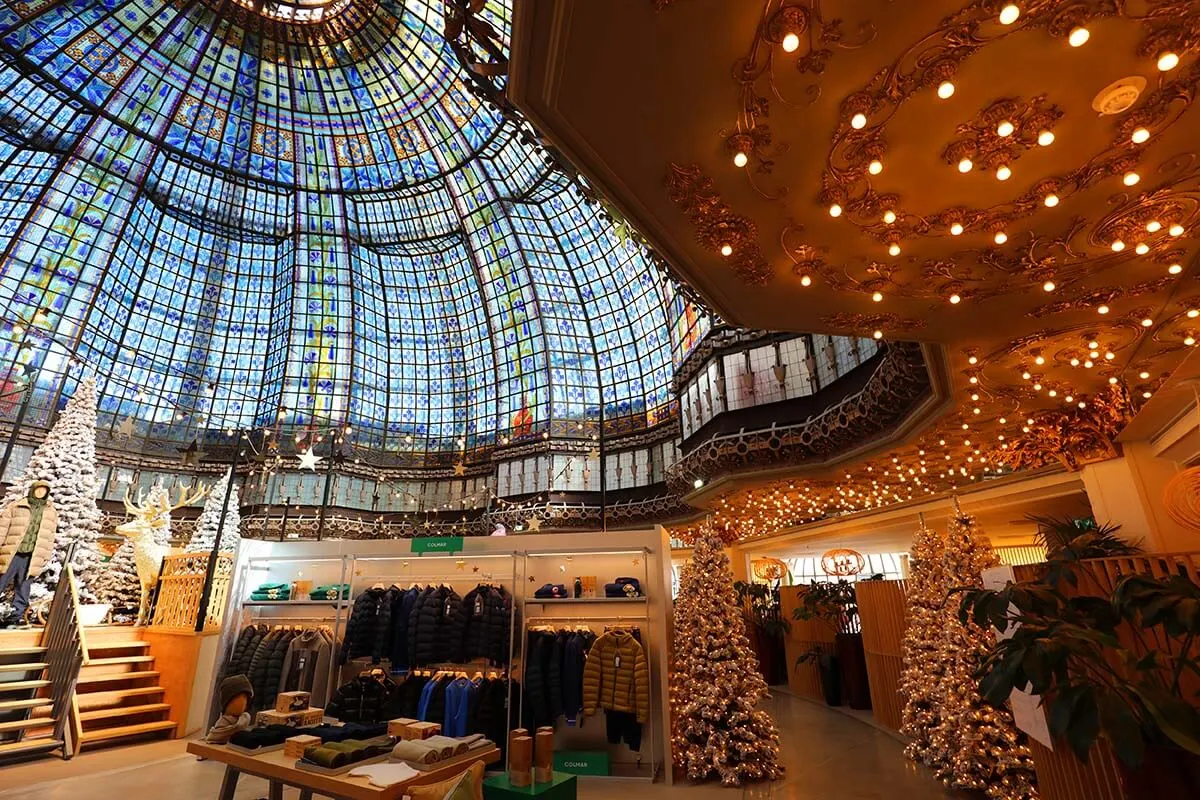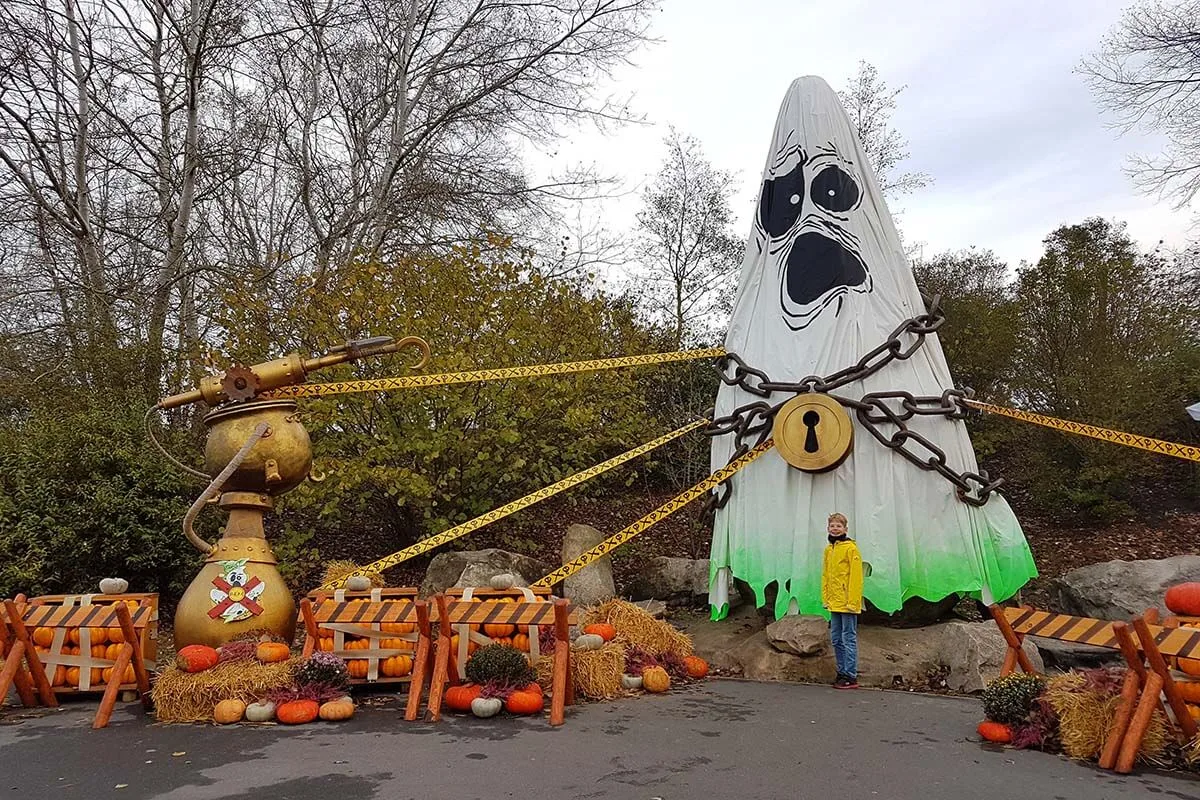 Fall colors
The best time for fall colors and colorful leaves in Paris is in the first half of October and around the middle of the month.
Towards the end of the month, many trees will have lost their leaves already. In fact, many chestnuts were already brown and losing their leaves in the first week of October.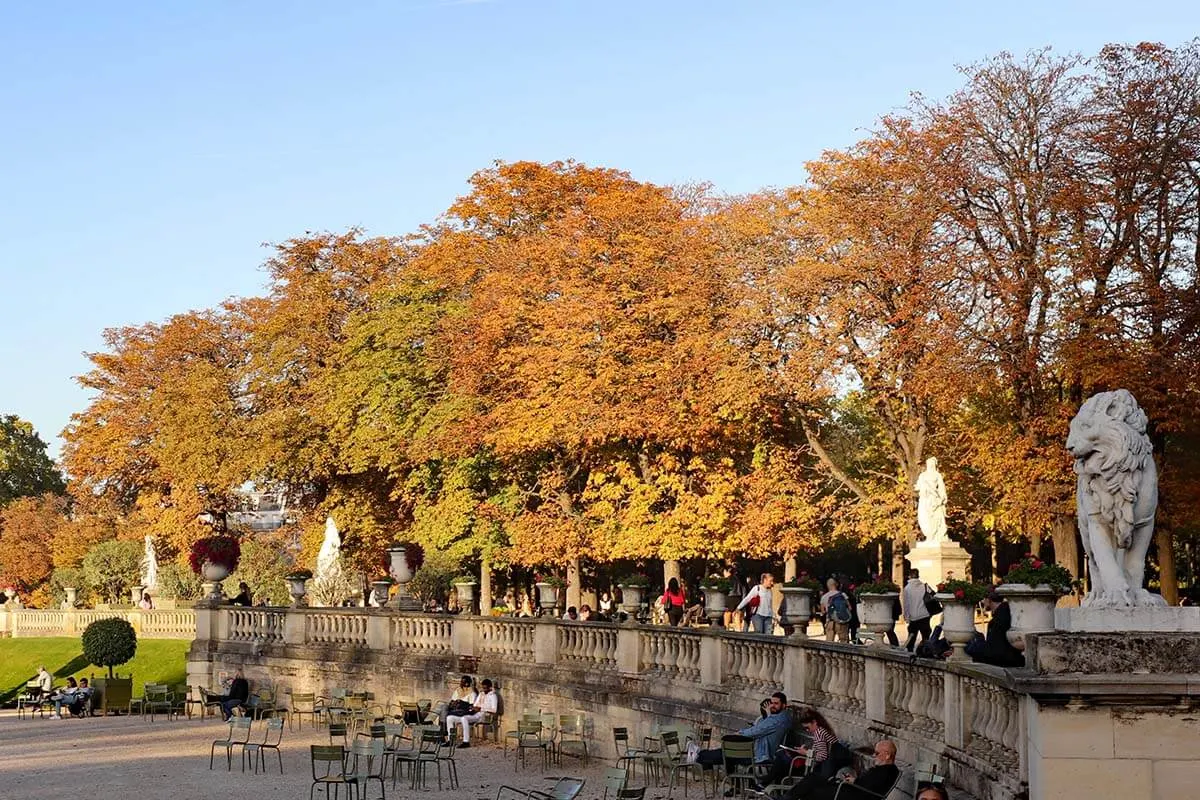 So, this is our experience and tips for visiting Paris in October. I hope that it gives you a better idea of what to expect.
I really think that there is no wrong time to visit Paris, but from all the times we have visited the city, I found our recent October visit one of the most pleasant. The fall colors and mild weather made sightseeing really enjoyable and we saw and did much more than on any other trip in the warmer months.
PRO TIP: If I can just give you one piece of advice for Paris is to plan well ahead and book tickets/passes/activities in advance. It will save you a lot of unnecessary stress! Here you can find our top tips for visiting Paris – it's a first-timer's guide with lots of useful info to help you plan a more memorable trip.
Enjoy your trip!
READ ALSO: Tips for Planning a Trip To Europe
If you found this post helpful, don't forget to bookmark it and share it with your friends. Are you on Pinterest? Pin this image!