Are you visiting Paris, France for the first time and wondering what to expect? Planning a trip to Paris might be overwhelming, especially if you only have a few days and want to make the most of it.
There are so many questions… How much time do you need in Paris? What to see and how to plan your time? Do you need to book anything/everything in advance? When to visit and how to avoid the biggest crowds? Where to stay? …
In this guide, you'll find answers to these and other questions that you will want to know when traveling to Paris for the first time.
From when to visit, for how long, and where to stay, to some essential travel tips that will save you time and money. I hope that our experience-based tips will not only help you plan your trip to Paris but will also help to avoid disappointment and have a more memorable travel experience.
Take a look!
Top Experiences in Paris: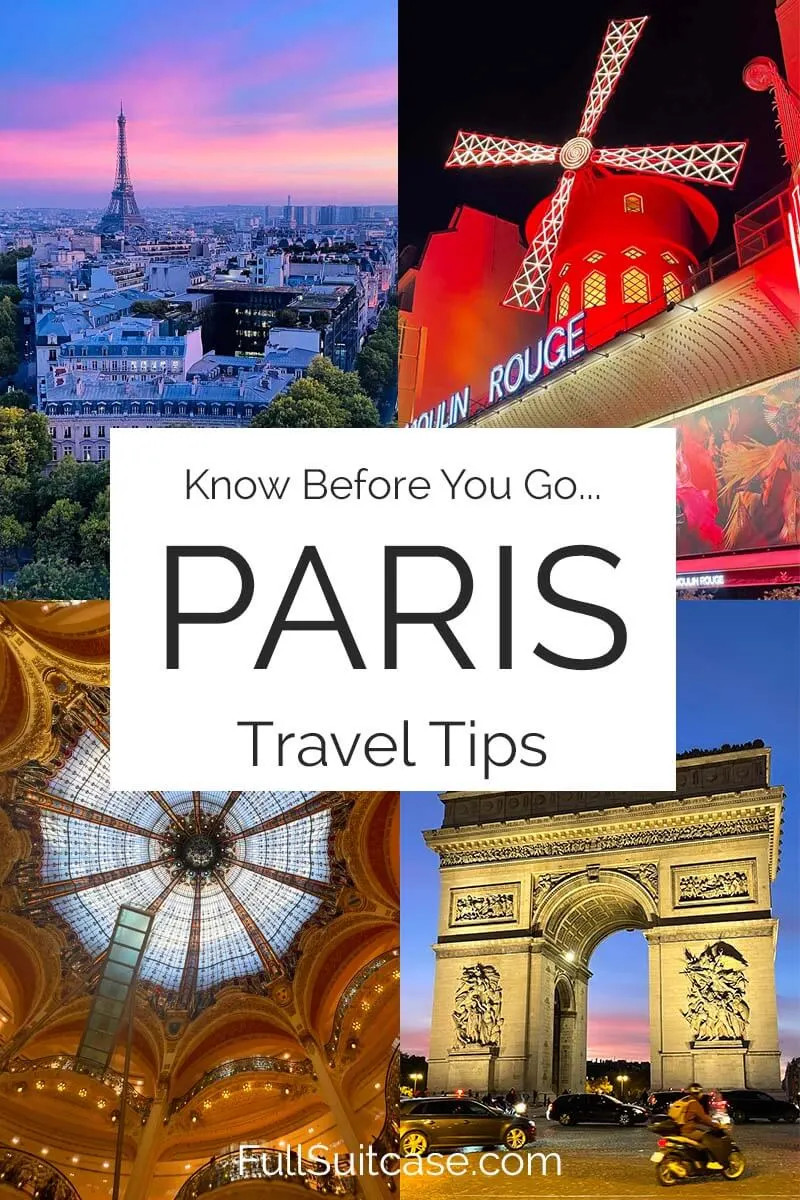 These are our travel tips for visiting Paris:
1. Prepare your itinerary & book timed-entry tickets
One of the most important tips I can give you when planning a visit to Paris is to do your homework and prepare (an approximate) itinerary in advance. Unless you have more than a week in the city, planning in advance is really the only way to make sure that you see everything you want to.
Doing at least some research will also allow you to make the most of your time in Paris and save the unnecessary stress and queuing.
For example, while many of the popular landmarks are open daily, some others have at least one closing day per week. Furthermore, many places work with timed-entry tickets or simply skip-the-line tickets and they always get priority over the regular queue.
Some other sites cap the number of daily visitors and there's a good chance that you won't be able to visit if you didn't book in advance (a good example is Paris Catacombs). The same counts for the most popular cabaret shows (such as Moulin Rouge) which often sell out weeks in advance.
So do your research in advance and be sure to book tickets for those landmarks and experiences that you absolutely don't want to miss. In addition, you may also consider getting the Paris Museum Pass – see below.
TIP: Indicate the places that you want to see on a map and try to see how you can group some of the landmarks and visit them on the same day. That way you save time and also avoid unnecessary commutes.
Good to know: We highly recommend booking tickets/tours for Paris via GetYourGuide. This reputable website is now the best one-stop-shop for all tickets and tours and we use it on all our trips (not just in Europe). It's so much simpler than having to create multiple accounts on different websites (some Paris landmarks really make it unnecessarily complicated for tourists), and you have free cancelation on almost all tickets.
We also love insider tours by TakeWalks. They always explore deeper and offer something unique (we have been on their tours in Paris, but also in several other places in Italian cities, Barcelona, etc. and they are always excellent).
Also, on our recent trip to Paris, we saw that some major attractions had signs indicating they will not accept tickets bought via Viator (and people were indeed forced to buy new tickets and try to get a refund from Viator). I don't know what Viator has done to upset Parisian attractions, but it's just one more reason to opt for GetYourGuide.
READ ALSO: Paris in 4 Days (itinerary with all the musts & more) & Paris in 1 Day (must-sees)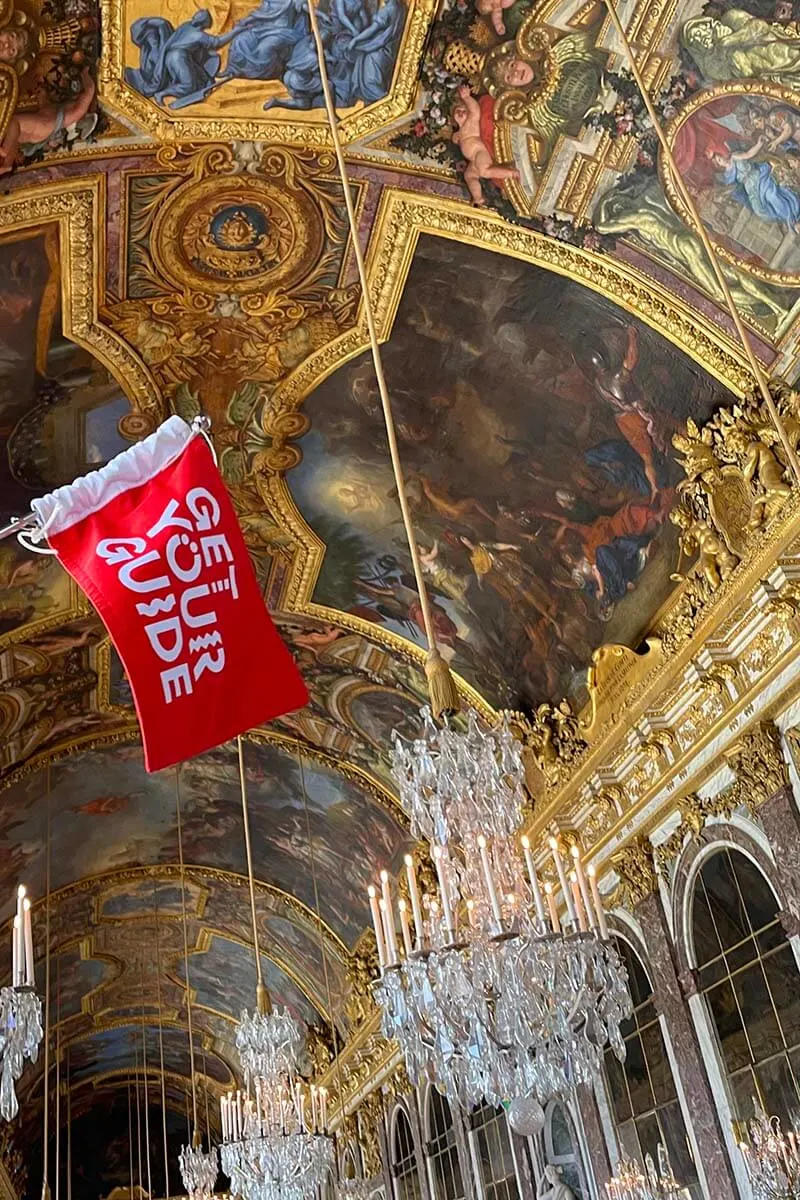 2. Consider getting the Paris Museum Pass
A good way to save some money when visiting some of the best-known museums and landmarks in Paris is to buy a multi-day Paris Museum Pass.
Not only it includes free entry to many of the most popular tourist attractions in Paris, but it also grants you skip-the-line entrance to most of them.
Just as with all city passes, Paris Museum Pass makes the most sense if you get it for a longer duration. If you are staying in Paris for 6 days, it's a great investment that will pay off in no time. But even if you get it for 2-4 days, it can really pay off, depending on how you plan your itinerary.
A few things to keep in mind. You'll have to pick up your pass and its duration starts to count on the day when you use it (so its validity is per calendar day and not per 24hrs). And you will still have to reserve timed entry at some places like the Louvre, Sainte-Chapelle, etc.
Good to know: Public museums in Paris offer FREE entrance for kids under 18 years old, and for EU citizens under 26 years old. For attractions that work with timed entry, you will still have to book a (free) timed ticket.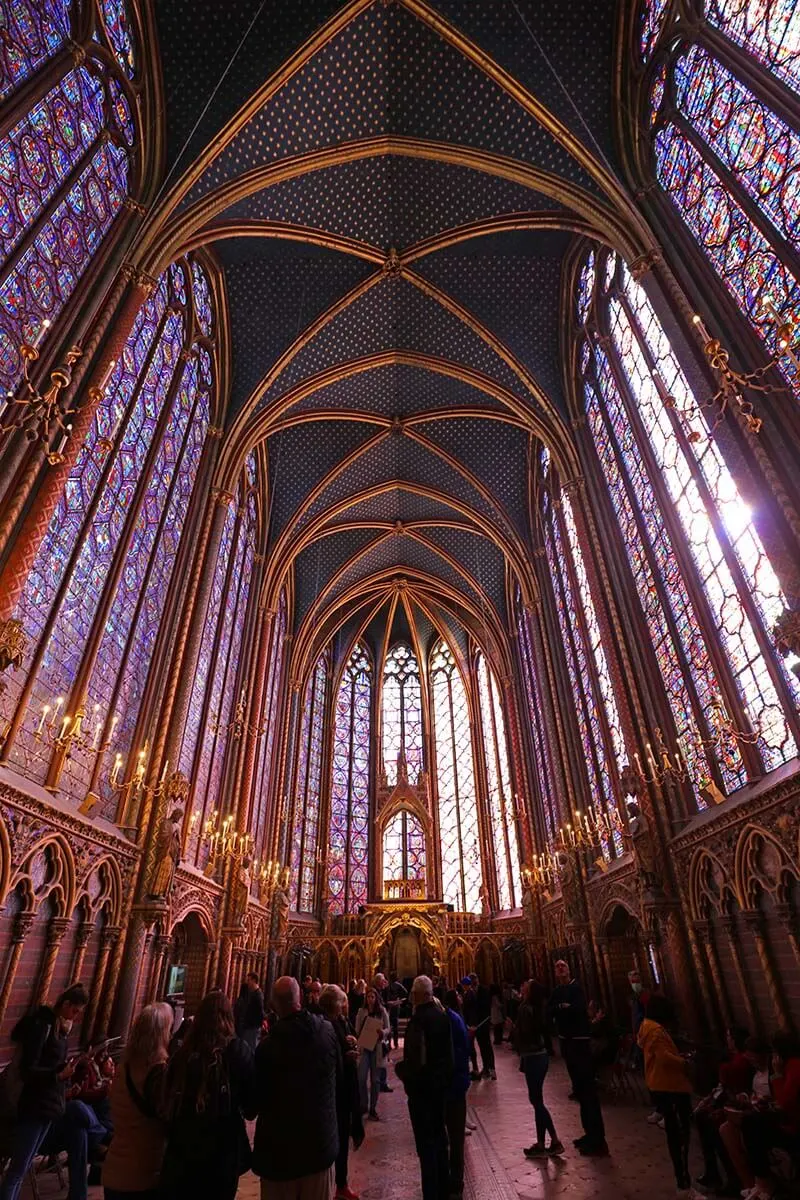 3. Avoid weekends and school holidays
Paris is one of the most-visited cities in Europe, so there will always be tourists around. However, there is a huge difference between visiting Paris on a weekend in June or on a weekday in February…
Of course, it's not always possible to adjust your travel itinerary completely. But if you can plan your trip outside the school holidays and long weekends, you will have a much better experience. As a minimum, try to avoid the weekends around the most popular holidays.
The summer months are very busy in Paris, and it's also hot – not ideal for sightseeing. In the spring, the end of April, and particularly May-June can be very busy. Many European countries have school holidays and city trips like Paris are very popular at this time of the year. Some of the busiest times in the spring are the long weekends around Easter, Labor Day (May 1), Ascension Day, and Whit Sunday (Pentecost).
When to visit? Paris is always a good idea, so any time is better than none. That being said, for milder temperatures and fewer crowds, visit Paris in October or in March-beginning of April (just not at Easter). October is particularly nice with autumn foliage and not too many people around.
TIP: If you can't change your plans, see if you can adjust your schedule. For example, visit quieter places and local neighborhoods on the busiest days/times and visit the most popular sights when it's quieter.
READ ALSO: What It's Like to Visit Paris in October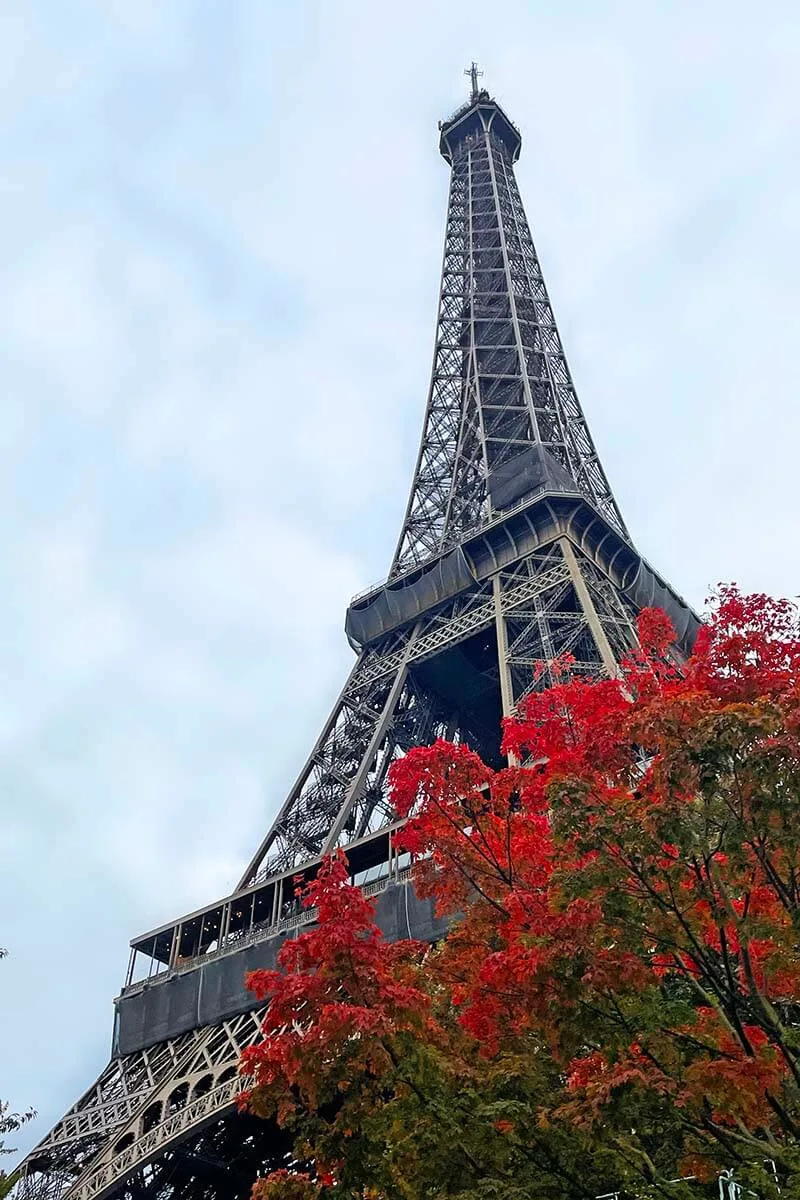 4. Stay in a very central neighborhood
Paris has lots of landmarks and they are located all over the city. So there is not one perfect place to stay for sightseeing. No matter where you stay, you'll always have to use the metro and you will be walking a lot.
Still, if you want to experience Paris to the fullest, try to stay in a neighborhood that is somewhat more centrally located so that you can walk to some of the most popular sights in 15-20 minutes. That way, you won't have to take a metro every time and will discover some hidden gems in your area.
Also, make sure that there is a metro station nearby so that you don't have to walk more than 5 minutes to reach a metro.
Where to stay when visiting Paris? Depending on personal experiences and expectations, everyone might have a different opinion about this. Each neighborhood has some advantages and disadvantages. After many trips to Paris and having stayed in very different areas on each of them, my personal favorite is the (wide) area around the Opera.
Many of the 'must-sees' are located within a short walking distance from here (15-20 minutes to many sights), there are good metro connections, the main railway stations are not too far away, and there are lots of restaurants for all budgets. Most businesses in this area seem to cater to locals and tourists alike, so the price/quality ratio is excellent and the service is very good. The most famous department stores of Paris are also located here, and the area also boasts many entertainment venues.
Where we stayed in this area: We stayed at Hotel Prelude Opera, a very nice and recently renovated 4* hotel. If you are looking for good-value accommodation in a central area that is perfect for sightseeing, shopping, and dining, it's a great choice.
My second choice would be the Latin Quarter, the area between Ile de La Cite and Luxembourg Gardens. Hotel Odeon is a nice mid-budget option here and there are many, many more.
We also really enjoyed our stay close to the Champs-Elysées years ago, but hotels and restaurants in this part of Paris are much more expensive. Plus, it's a bit outside the main central area so you'll have to take a metro much more often. But if you are looking for a more exclusive or romantic place to stay in Paris, this is the place to be. In that case, check out Lord Byron and other hotels just off Champs-Elysées (it's quieter than on the main boulevard).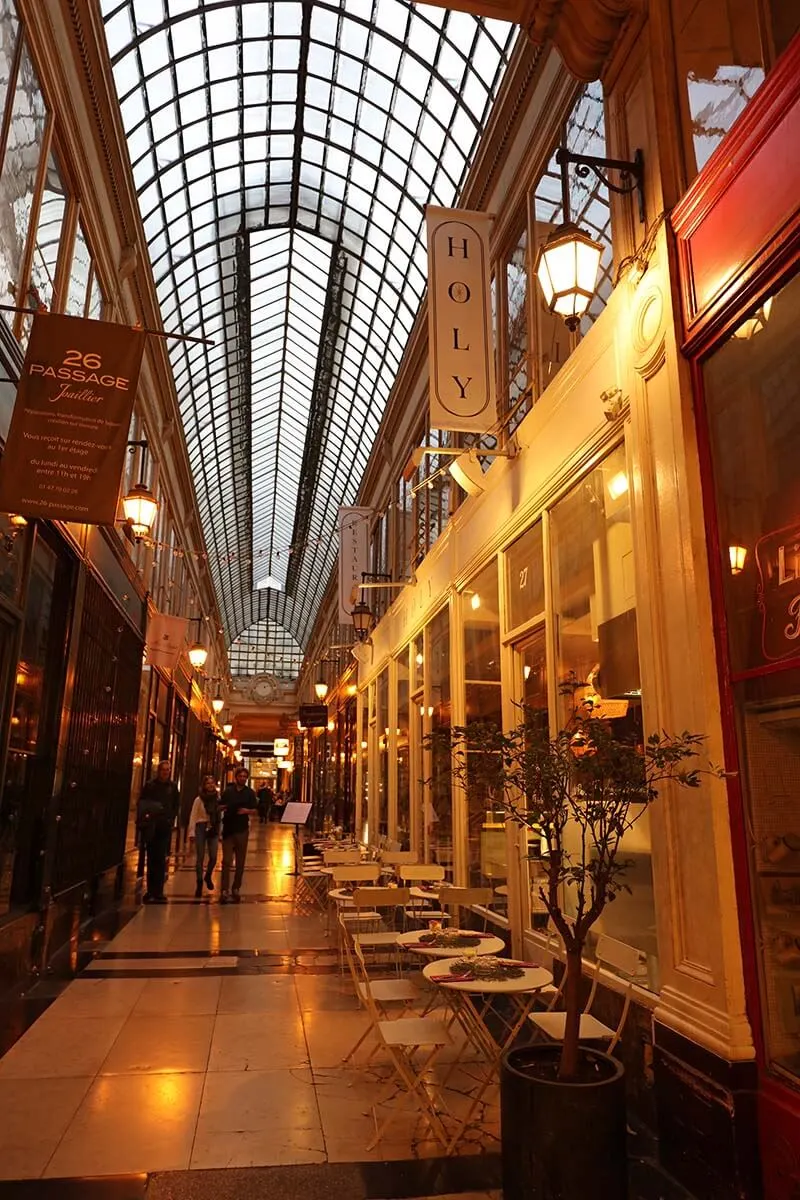 5. Use the metro
Paris is a huge city that supposedly has the biggest number of landmarks compared to any other city in the world. All these landmarks are scattered all over Paris, which means that the distances between them can be quite big.
Of course, you will see more of the city if you walk, so don't take the metro every time. But for the bigger distances, it definitely pays off to take the metro. It's the cheapest and fastest way to travel around Paris.
And yes, they do have taxis, Uber, and Bolt, and sometimes it makes sense to use them too, especially if you are with 2-4 people. But if it's rush hour and you have to cover a bigger distance in a hurry, the metro is the way to go.
Good to know: Some metro stations in Paris are very small and you can be in and out in a few minutes. But many others are huge, with kilometers of underground tunnels connecting the various lines. So if your destination is less than 3 metro stops away, it's usually faster to walk than take a metro.
TIP: There are many different Paris metro tickets. We found that the multi-day tickets were not worth it. But you can get multiple tickets and it's cheaper than paying for each trip separately. We got 10 tickets at once and it was quite a bit cheaper than buying them individually.
Our experience: In 5 days in Paris with two of us, we used just 16 metro tickets (8 rides). It was multiple times cheaper to just get single-ride tickets than buying a 5-day pass. It really pays to group the landmarks you plan to see per location so that you can minimize the travel times. It saves you lots of time too.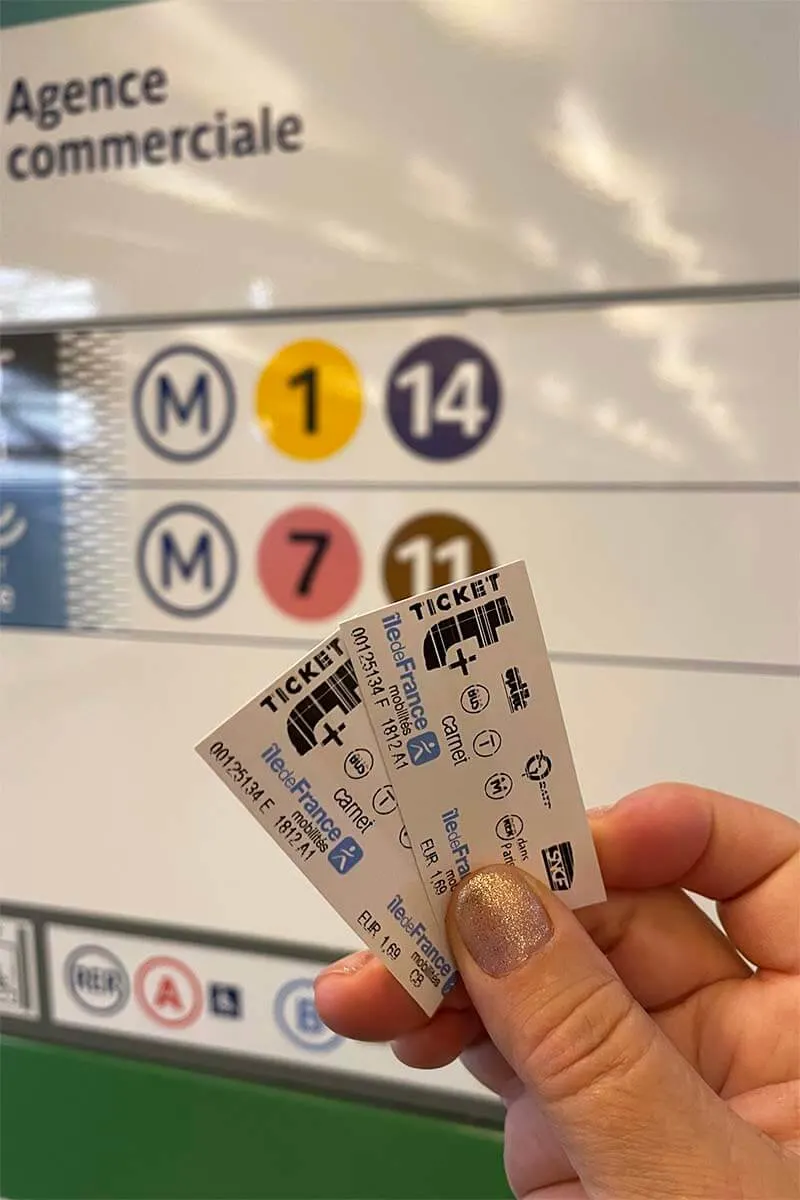 6. Prepare for airport-style security checks everywhere
Nowadays, pretty much every popular landmark in Paris has an airport-style security check at the entrance. Some of them are stricter than others, but it's best to be prepared for that.
A few tips to make it a seamless experience:
Carry as little as possible.
Leave all the sharp items in your hotel room (so no pocket knives or small nail scissors).
Empty your pockets before you get checked so that you aren't holding up the line.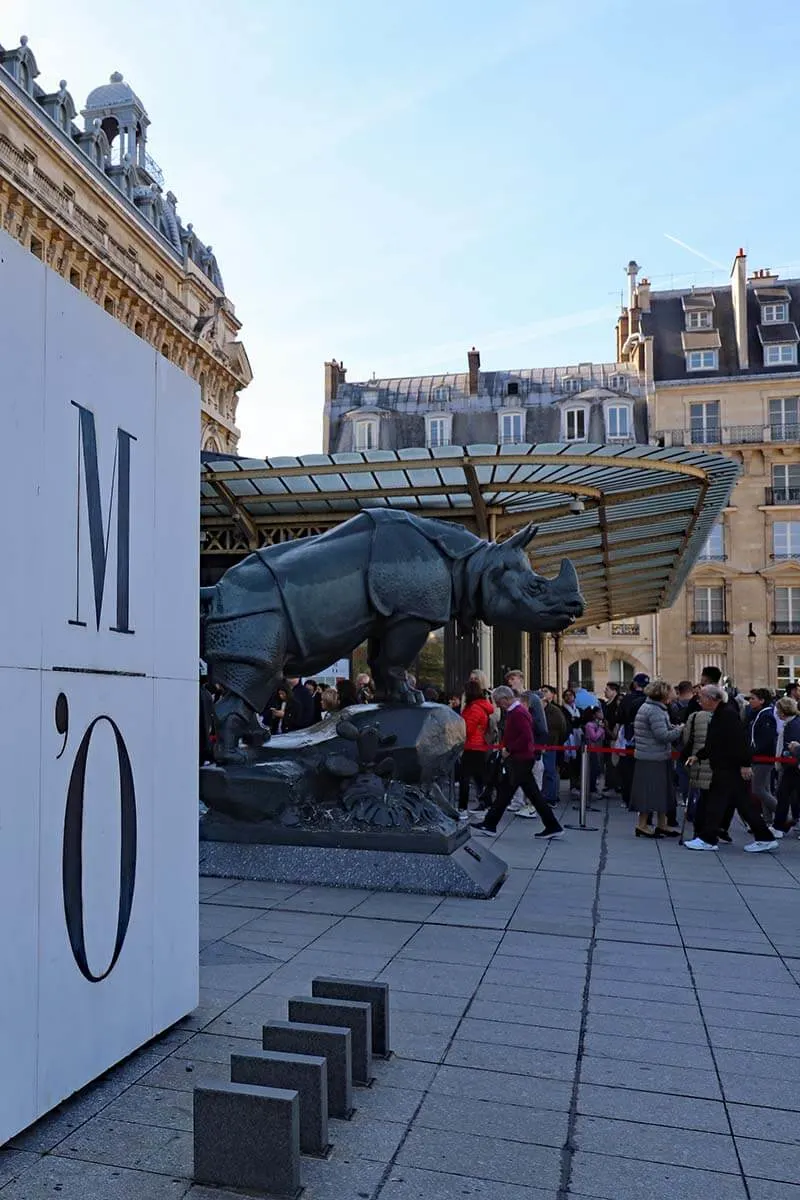 7. Beware of scams and pickpockets
Just like in any other big city, you should always be alert for pickpockets. But Paris is also known for lots of common tourist scams.
Be very careful when someone distracts your attention in any way and always keep your belongings on you! So not on the ground (bag/purse) or on the table (smartphone), etc. For that, it's best to carry as little as possible and hold your bag in such a way that you don't have to put it down for any reason.
A backpack looks ideal, but for various reasons, it's really not always the best idea to carry one – see below.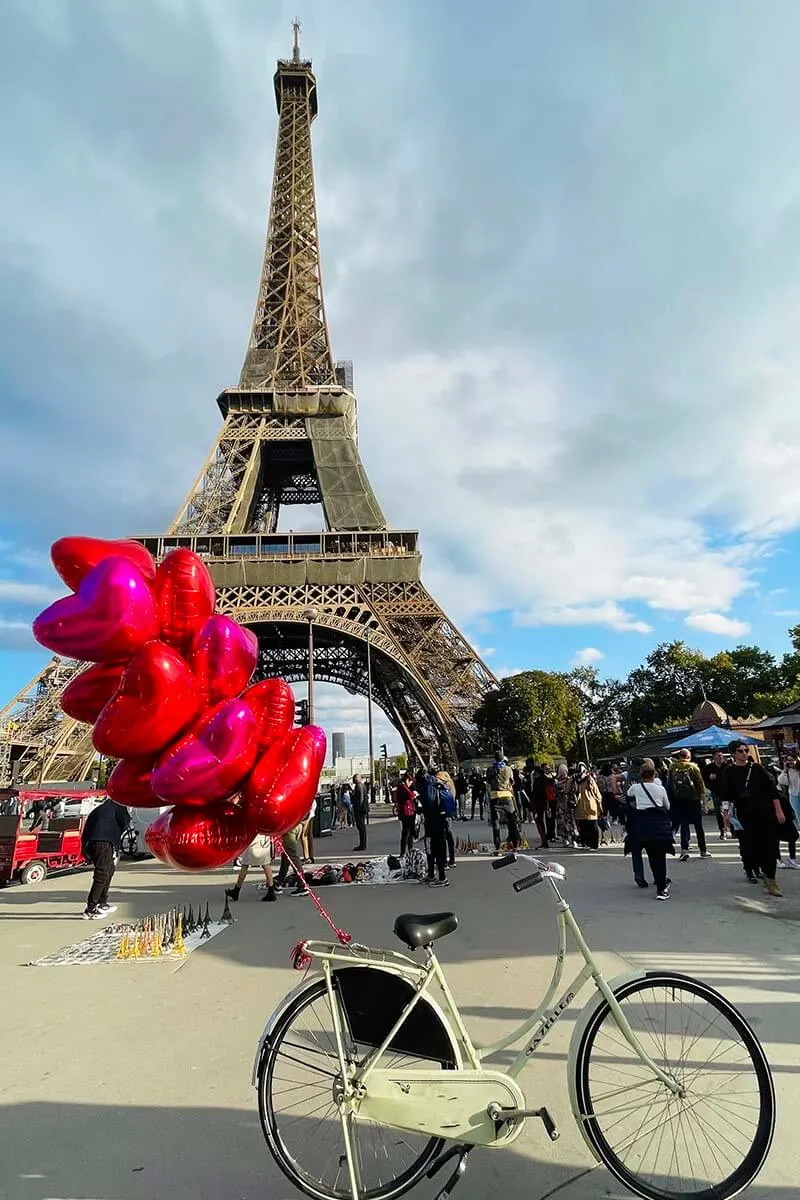 8. Don't take a (big) backpack
While a backpack seems very convenient and has lots of advantages, it's not an ideal bag for sightseeing in Paris. This has several reasons.
First, many landmarks and museums do not allow (bigger) backpacks inside. Some places do provide lockers though. Even if your backpack is rather small, there is always a bigger chance that they won't let you take it inside compared to a purse or a cross-body bag.
Second, a backpack is also an easy target for pickpockets and scammers. And third, some places you visit (like towers with spiral staircases) can be quite narrow and a backpack might make it a bit more inconvenient.
If you want to pack a backpack, be sure that it's really small. In busy places, carry it in front of you rather than on your back.
TIP: We recommend small (anti-theft) cross-body bags instead.
Good to know: It's not just bigger backpacks that aren't allowed in some places. You should also try to avoid carrying large umbrellas or other bulky items with you.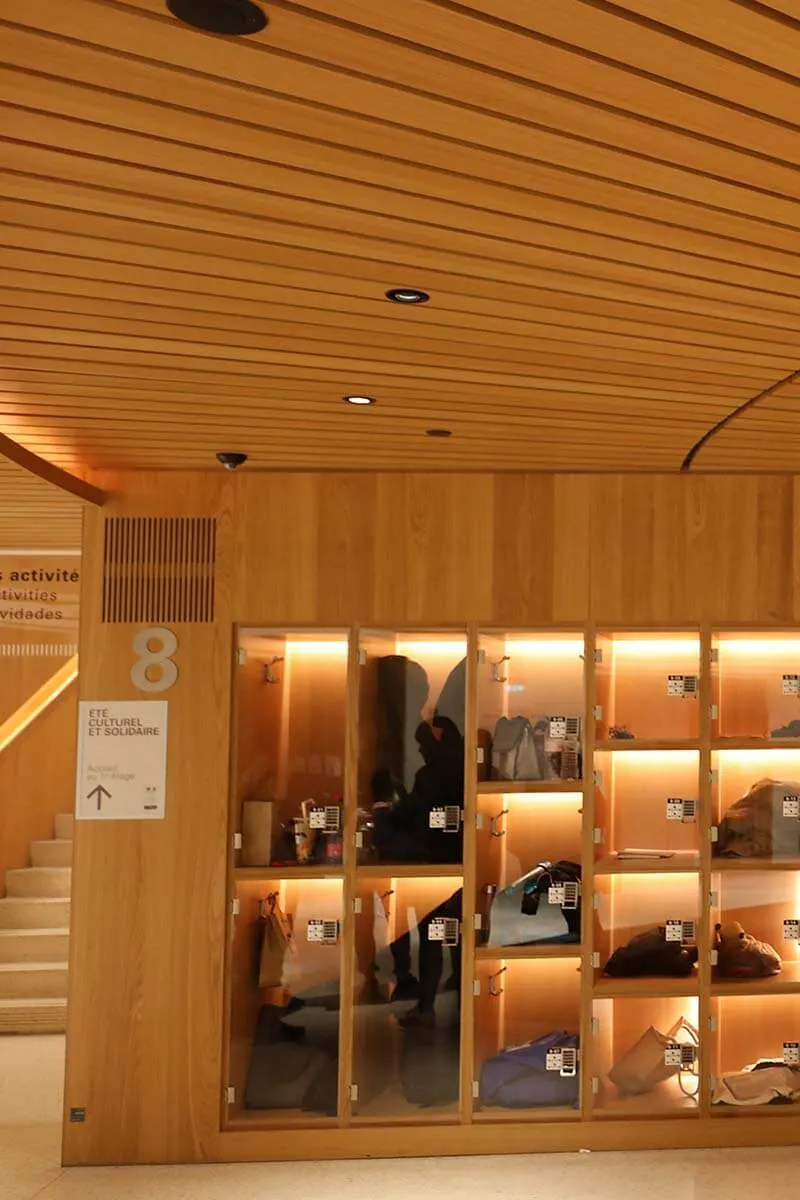 9. Stay longer
There is SO MUCH to see and do in Paris! So when planning your Paris itinerary, foresee some extra time if you can!
Of course, you can just visit Paris for 1-2 days, but you will only have time for the most famous places that everyone goes to. Even if you just add a day or two extra, you will be able to explore somewhat deeper (and it's totally worth it!).
To cover all the musts and get just a tiny bit off the beaten path, you really need at least 4 full days in Paris (and you'll have to plan well!).
With that time, in addition to main sights like the Eiffel Tower, the Louvre, or Champs-Elysées, try to visit at least a few of the following landmarks: Paris Pantheon, Palais Garnier (Paris Opera), Paris Catacombs, or Les Invalides. All of these, except for the Catacombs, are included with the Paris Museum Pass.
While not unknown, these places are much quieter than the main sights, and each is special in its own way. A visit here will give you a better appreciation of how diverse Paris is and how much it has to offer. If anything, it will inspire you to stay even longer and explore further.
And if you do indeed stay longer and have more time to explore deeper, we have some more recommendations for you further below!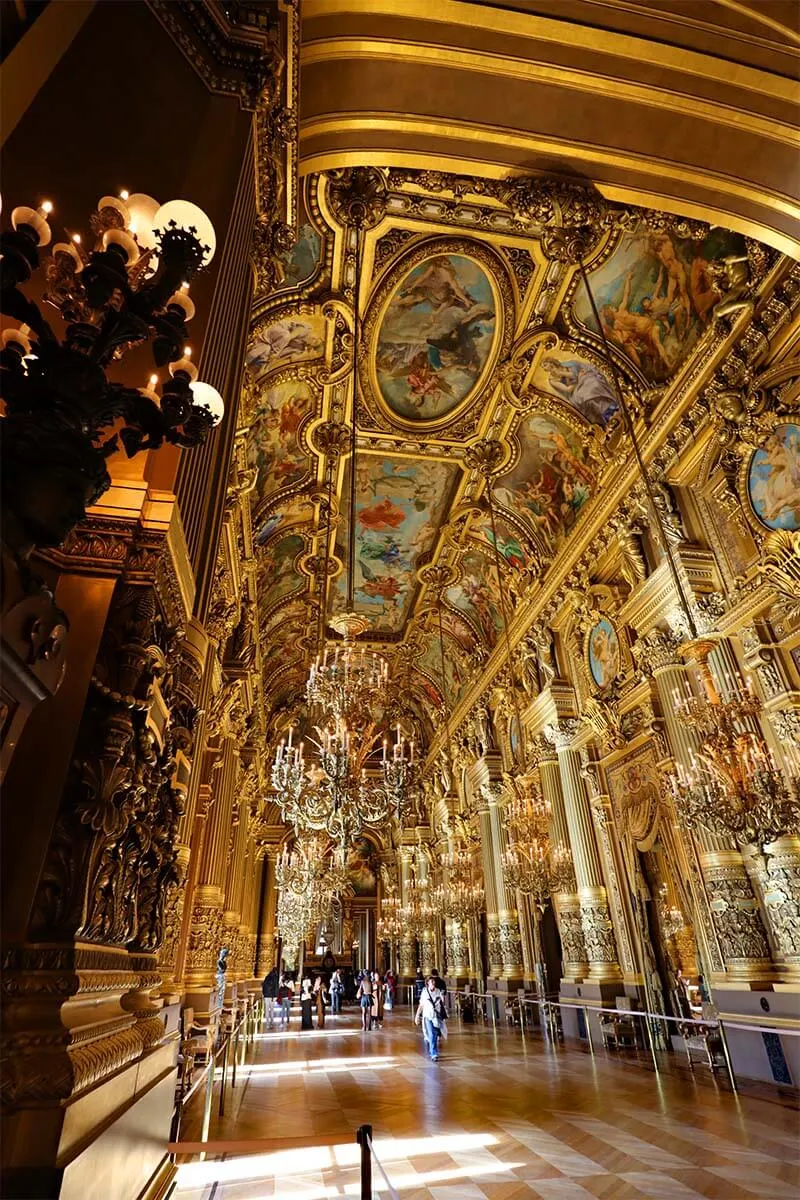 10. Take a walking tour of some local neighborhoods
While Paris has countless interesting landmarks, the best way to get the feeling of what makes this fascinating city tick is to get a bit off the beaten path and explore deeper. And there is no better way to do this than taking a tour with a local guide.
Where to go and what kind of tour to choose, depends highly on your preferences, your budget, and mostly on how much time you have. There are so many amazing tours through some of the nicest neighborhoods of Paris, of all durations, and for all budgets, so you should always be able to find something that suits you.
TIP: If you are short on time, check out bike tours (e-bike tours are ideal). They cover a lot of ground in just a few hours.
If you are on a lower budget or have just an hour or two, check out these highly-rated Paris iconic neighborhoods tours with local guides.
Alternatively, there are lots of really nice self-guided audio tours which are a great way to explore on your own. For example, we did this self-guided tour of the Montmartre area. Despite having been to the neighborhood many times before, we discovered quite a few interesting places and learned the stories behind them.
TIP: If you have more time and are looking for a more in-depth experience, then consider food tours (e.g. food tours in the Montmartre area, the Latin Quarter, Saint-Germain-de-Prés, or Le Marais). Not only do they take you to some local neighborhoods that most tourists never see, but you also get to know the city through its food. We did this amazing food-tasting tour in Le Marais and it was the best tour we did in Paris recently (and we did quite a few :)).
READ ALSO: Best Things to Do in Montmartre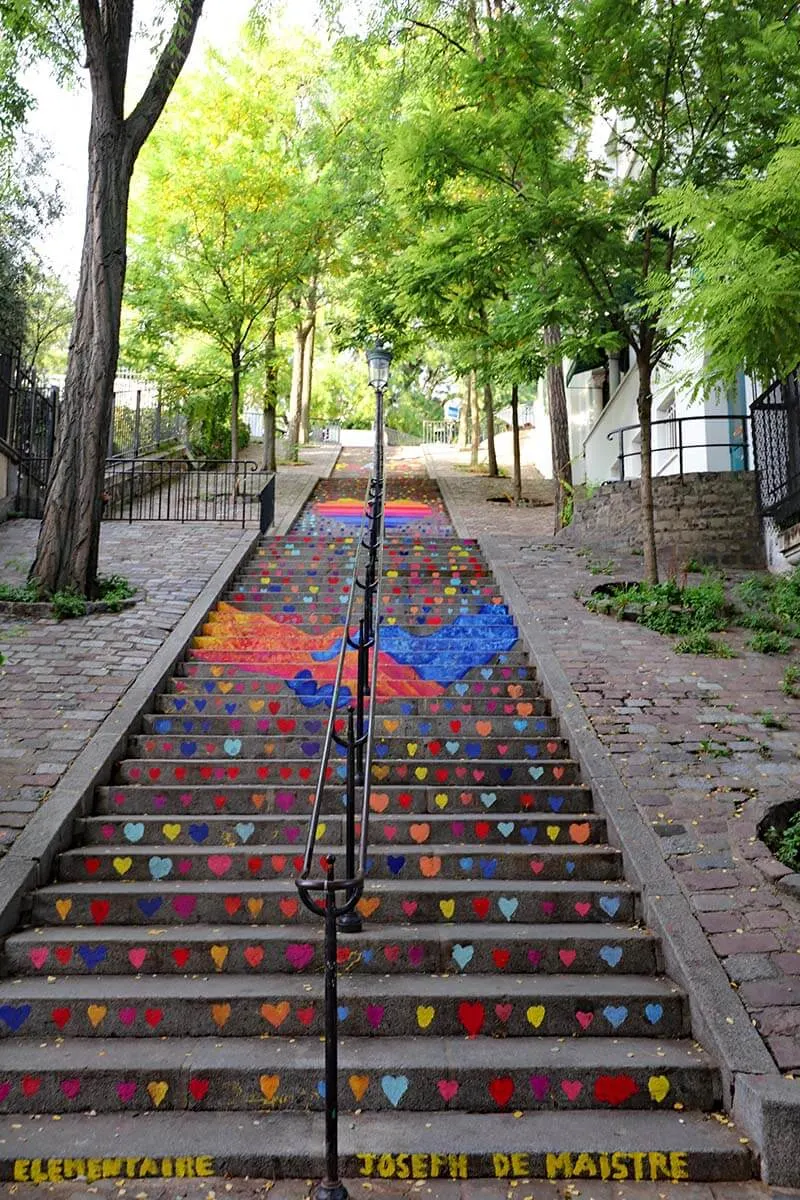 11. Book accommodations and restaurants in advance
There are thousands of accommodation options in Paris, so no matter when you visit, you should always be able to find something suitable. Still, if you are looking for the best value/location, then it's best to book in advance.
If you take a refundable rate, you can always check if there is something better available last minute right before your trip, but you really can't count on that. However, quite often, non-refundable rates will give you a big discount which can be hard to beat.
The same counts for restaurants in Paris (only here you can – usually – book a day or two before). Some places are so trendy and popular with the locals that the queues are really long. Whereas many other restaurants are quite empty and walk-ins are possible.
Good to know: Sometimes if you are trying to reserve last minute, a popular restaurant might not take reservations anymore. But that doesn't mean you can't dine there. Usually, it just means that you will have to wait longer to be seated. Every restaurant where we booked also allowed walk-ins, but it sure felt good to skip the line.
As a general rule, I'd say that if you want to be sure to dine at a specific restaurant without wasting an hour in line, then reserve in advance. You'll have plenty of better things to do with your time in Paris, so do some research in advance and save yourself the wait!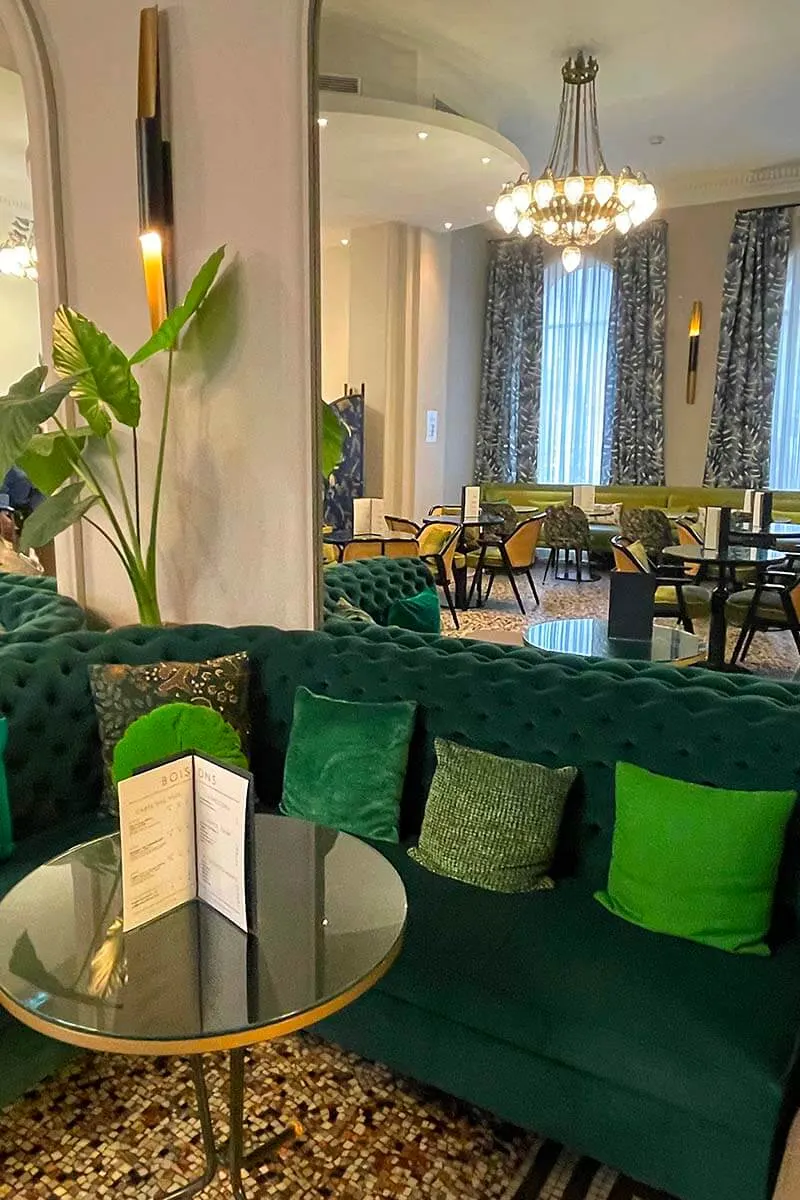 12. Visit top sights early in the morning or before closing time
As you probably already know, the main landmarks in cities like Paris are always at their busiest during the day (+- 10 am to 3-4 pm).
So if you can, try to visit the most popular landmarks first thing in the morning or just before they close. Depending on the place, it can be half an hour before the closing time or 2-3 hours to allow you plenty of time to see everything you want to see.
Of course, you can't be everywhere at the quietest time (unless you have a few weeks). But try to plan your itinerary in such a way that you make the most of your time.
For example, we visited the Louvre Museum on a 'closing-time' tour and it was indeed quieter (the Louvre is never quiet). The same with Versailles Palace, which we visited in the afternoon. We went to Museum d'Orsay first thing in the morning and it was incomparably quieter during the first hour. Some museums in Paris have one night per week when they stay open late; it's usually much less busy at that time.
READ ALSO: Tips & Tricks for Visiting the Louvre Museum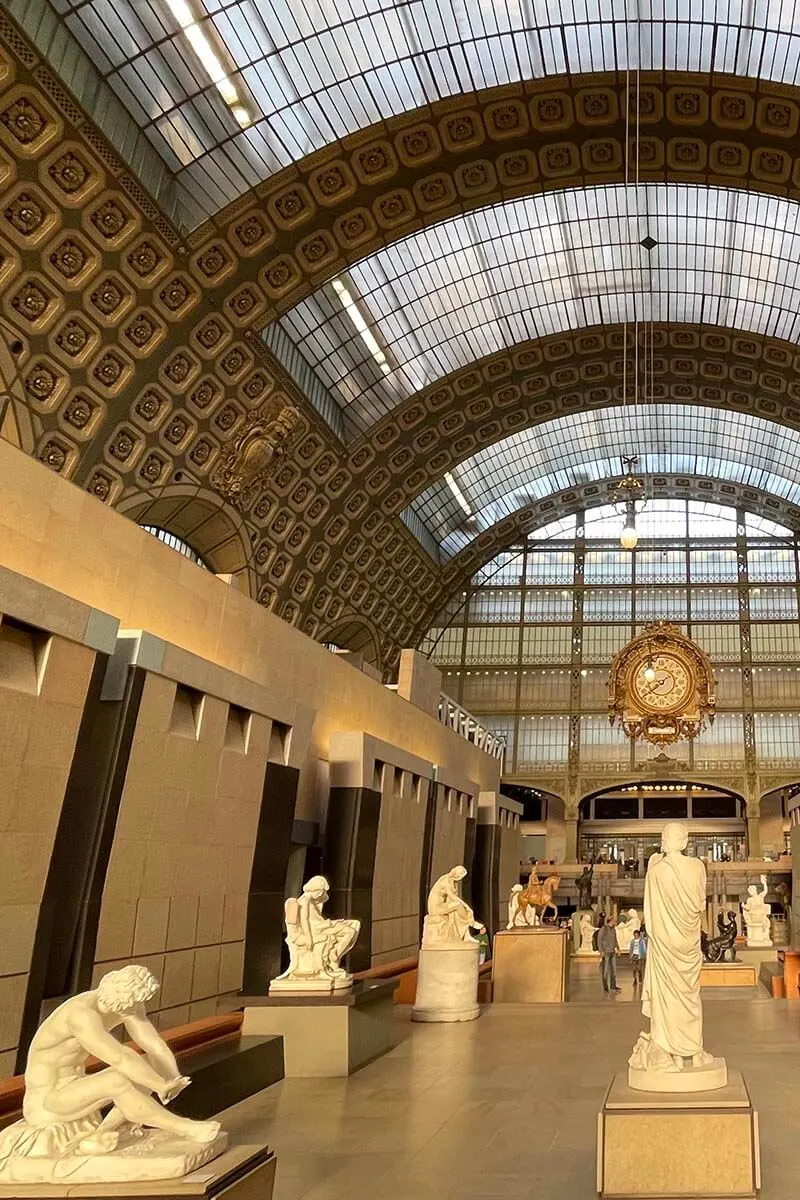 13. Visit the best viewpoints around sunset
It's not just the crowds (or lack thereof) that can contribute to the overall experience, but also the light. I don't need to explain that everything looks so much prettier in the perfect light.
And while you can't influence nature and you can never know in advance what you get, you can increase your chances for some spectacular views by being at the right places at the most optimal times.
So if you are planning on visiting some of the nicest viewpoints in Paris, see if you can time your visit and be there about 30-45 minutes before sunset. If you are lucky and the sky is beautiful, it will make your visit so much more special. And if it turns out that there isn't much of a nice sunset after all, you still didn't lose anything.
READ ALSO: Travel Photography: Our Top Tips for Better Travel Photos.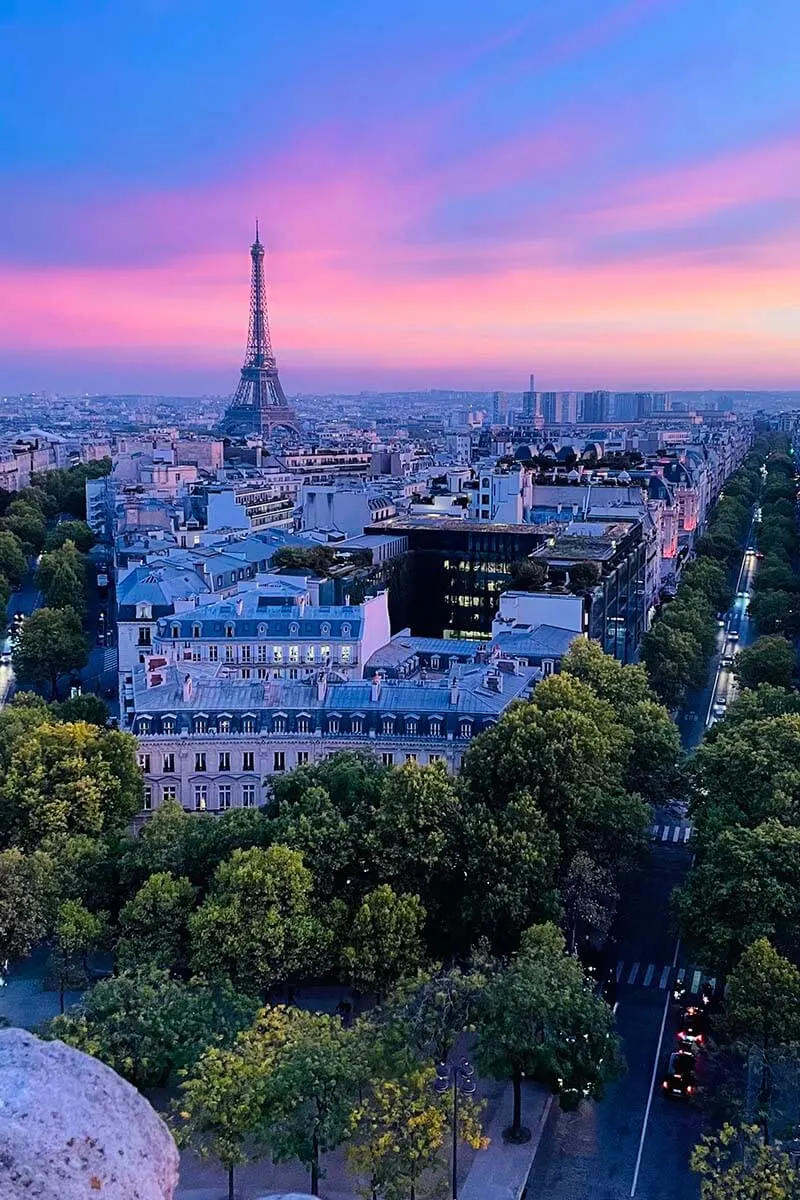 14. Dress in layers
Paris is not just the City of Light, but it's also a very windy city. There are lots of open spaces and wide boulevards, and also many towers to climb and viewpoints that you'll want to see.
So prepare for it to be windy and dress accordingly. Depending on the season, a (light) scarf can be a good idea.
Also, wear several layers so that you can enjoy the experience without having to worry about feeling too cold or too warm.
Even in the summer, you may want to take a light sweater with you since it can be much colder inside the museums (A/C) and in the crypts of the Pantheon or underground tunnels in Paris Catacombs, etc. It is often quite windy on top of the Eiffel Tower and sometimes also on the Seine river cruises.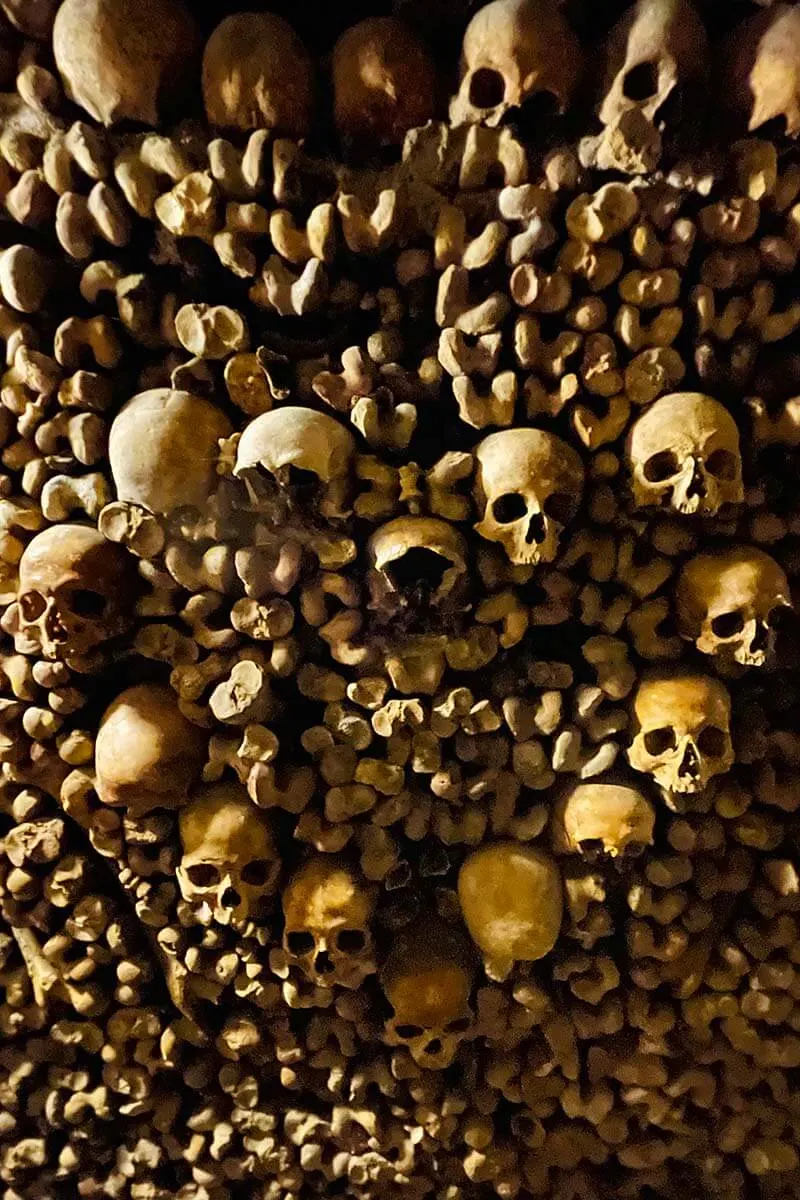 15. See a cabaret show
If there is one typically Parisian experience that you really should consider, it's a cabaret show. Just like a gondola ride in Venice or a flamenco show in Spain, a cabaret show is something that you really have to experience when visiting Paris.
There are many different cabarets in Paris, each unique in its own way. No matter which one you choose, it's an experience that I highly recommend. After all, how often are you going to be in Paris? Give it a try.
The most famous of them all is the iconic Moulin Rouge, located at the foot of Montmartre hill. It's also the most expensive of all cabaret shows in Paris. But it's totally worth the money! And if you compare it with e.g. shows on Broadway in New York or the best shows in Las Vegas, it's actually an amazing value for the money.
Crazy Horse is another popular option, although a bit more 'daring' and there's a bit more nudity. This is something you'll see in all the shows to a certain extent, but it's not vulgar in any way. We even saw teenagers at the Moulin Rouge.
Paradis Latin is another great cancan show and the tickets here are quite a bit cheaper. This is the oldest cabaret in Paris and their shows are excellent.
Good to know: For all the cabaret shows in Paris, a few rules apply. For example, they do not allow you to take pictures of the show and they also recommend smart dress (so no shorts, sandals, sporty sneakers, etc.). Also, almost all shows have a possibility to book a show + dinner; the food is usually prepared by the best chefs and is excellent. Dinner is served before the show, and some cabarets also foresee a small pre-program.
PRO TIP: No matter which cabaret show you choose (or a few of them), book in advance! Often, the tickets sell out a few weeks in advance, especially for the early evening shows (around 9 pm). This is especially the case at the Moulin Rouge, which is by far the best-known and most popular not just among international tourists, but also locals, business travelers, etc.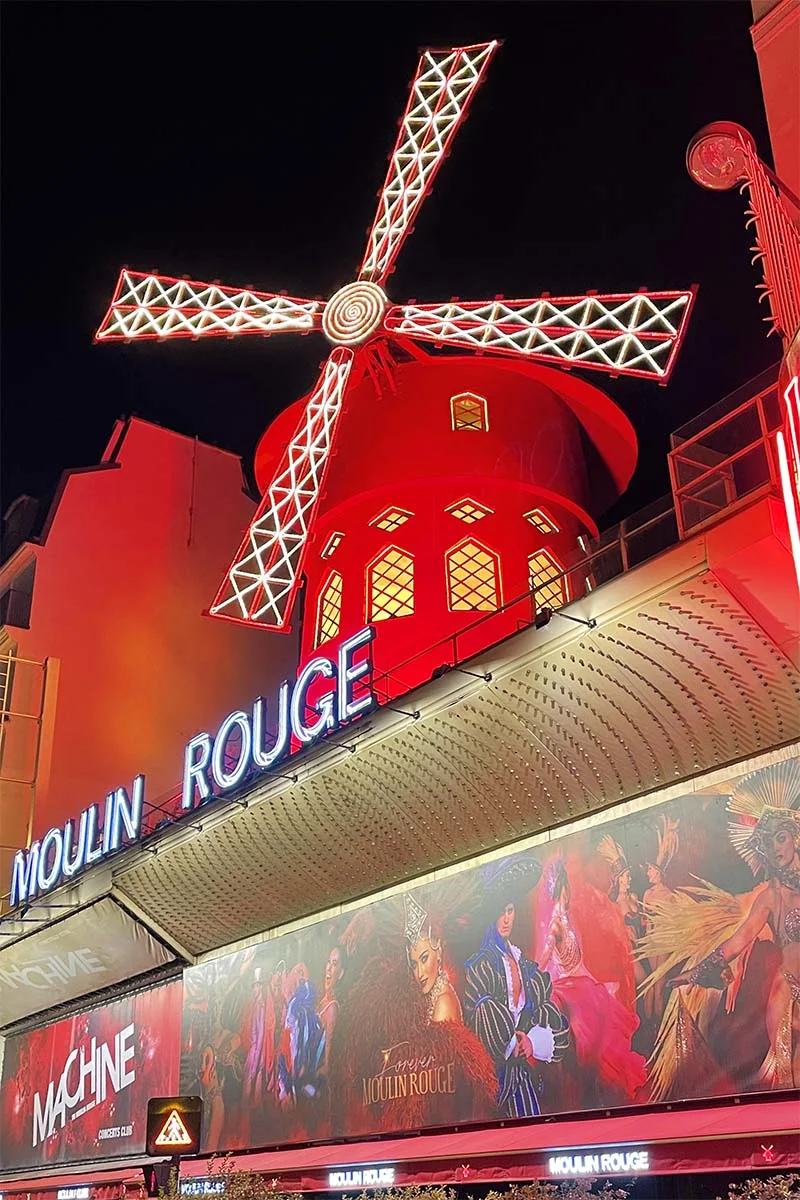 16. Wear comfortable shoes
No matter how well you plan your visit and sightseeing itinerary, you will be walking a lot in Paris. And I really mean a lot.
The city is spread out and the distances are big. On the other hand, there is so much to see that there are often many landmarks located 10-20 minutes' walk from each other. This usually means that it doesn't make sense to look for a metro or a taxi, and it's simpler to walk…
But before you know it, you walk 10 minutes here and 15 minutes there, and by the end of the day, you realize you did 25,000 steps.
So be sure to wear comfortable shoes!!!
Nowadays, many people (especially younger generations) wear sneakers in Paris. So it's simpler not to 'look like a tourist' and still be comfortable. But if you pay attention, you will notice that locals usually wear fancier (designer) fashion sneakers.
So if you want to 'blend in' a bit more, leave those tennis shoes (and long white socks!) at home and pack the nicest comfortable shoes you have. Or don't pay attention to what others might think (people really have better things to do than worry about how you look ;)) and just pack what feels best.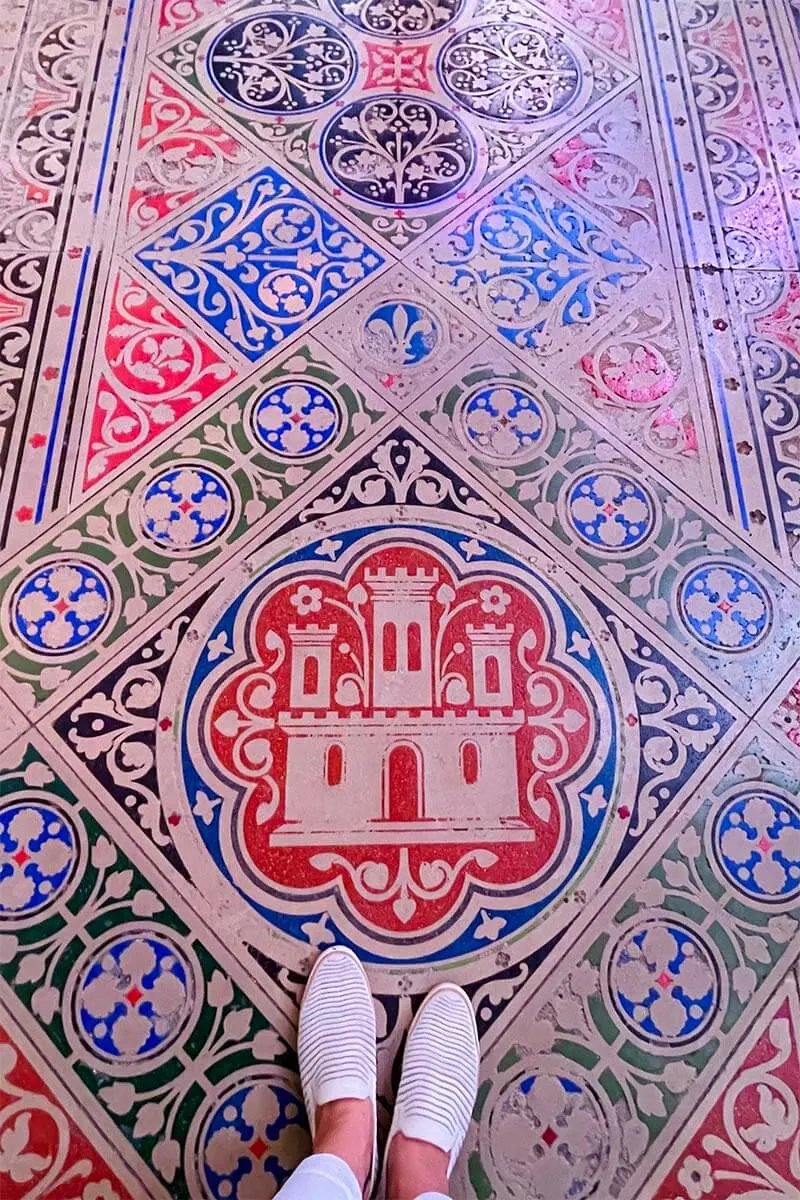 17. Wait before buying souvenirs
Just like any big city, Paris is filled with shops and street vendors selling all kinds of souvenirs. And while many souvenirs are exactly the same, the prices can differ quite a lot depending on where you buy them.
So if you want to get some souvenirs, you may want to look around first instead of buying them in the first place you see.
Just an example. We saw so many tourists wearing 'Parisian' berets they clearly bought in Paris. Indeed, you can buy them on every corner. But while some places sell 4 beret hats for 10 euros, others ask 10 euros for 1…
Whether you should buy a beret to start with, that's another question. There's nothing that says "I'm a tourist" more than a beret hat 😊. But it makes for some fun photos. And if it adds to your overall experience and makes your Paris trip more enjoyable for you, who cares what others think anyway… You only live once!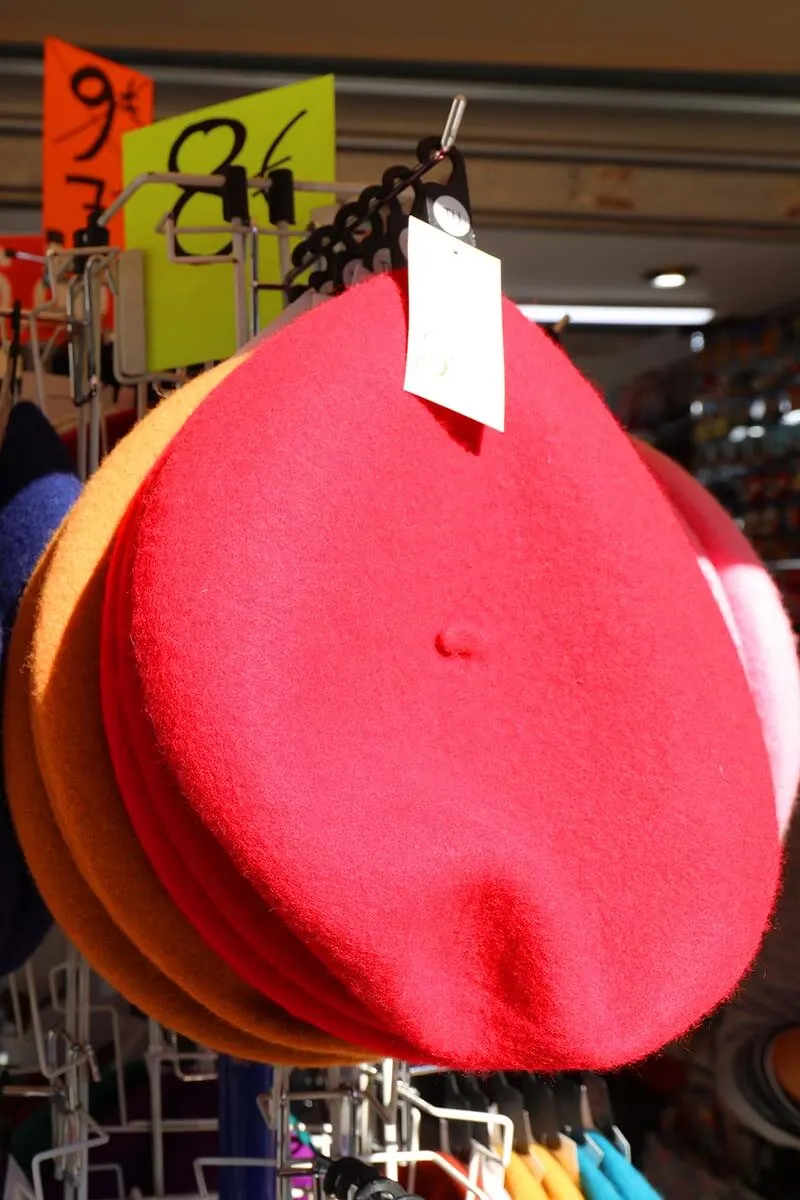 18. Try local food
There is no better way to experience a destination than through its food and drinks. Paris is no exception.
So when planning your Paris itinerary, try to do some research on where to eat. Unless you have plenty of time and are willing to go out of your way for a specific place, I'd just simply try to find some good options that fit with your sightseeing plan.
This is what we normally do. We make an approximate itinerary, see where we will be around lunch or dinner, and then look for some nice restaurants nearby using Google Maps. Sometimes you find some really great local spots that way. In any case, doing even some minimal research, helps you avoid tourist traps. Plus, you can read customer reviews, check menus and prices, and also reserve in advance where necessary (it's often recommended in Paris, especially for dinner).
Another advantage of doing some research in advance is that you can look for a different type of restaurant for every meal. So let's say, you want to try Parisian macarons at a famous tearoom for lunch one day and some French crepes or quiche on another occasion. The same for dinner – you may want to look for a traditional Parisian brasserie where you can try some escargots (snails) or cuisses de grenouille (frog legs) one evening and head to a trendy Italian or Korean restaurant another night.
While in the past, locals could be quite snobbish about French haute cuisine, nowadays, Parisian food is influenced by tastes and ingredients from all over the world. And while you should definitely try some traditional French food on a few occasions, it's just as nice to discover different cuisines with a French touch.
TIP: In addition to looking for different types of restaurants for every meal, consider taking a food tour as well. It's a great way to try so many different things in just a few hours. And you get to know some neighborhoods and local foods that you'd likely never see/try otherwise.
There are quite a few options when it comes to food tours in Paris. If you only have 1-2 days in the city, it's probably difficult to find time for such a tour. But if you have at least 3-4 days in Paris, then you should be able to find some time for a local food tour. We now try to do at least one food tour in every city we visit and we absolutely love them. It's such a great way to get to know a new place just a bit deeper! On our most recent visit to Paris, we did this food tour of Le Marais neighborhood.
READ ALSO: Best Traditional French Dishes to Try in France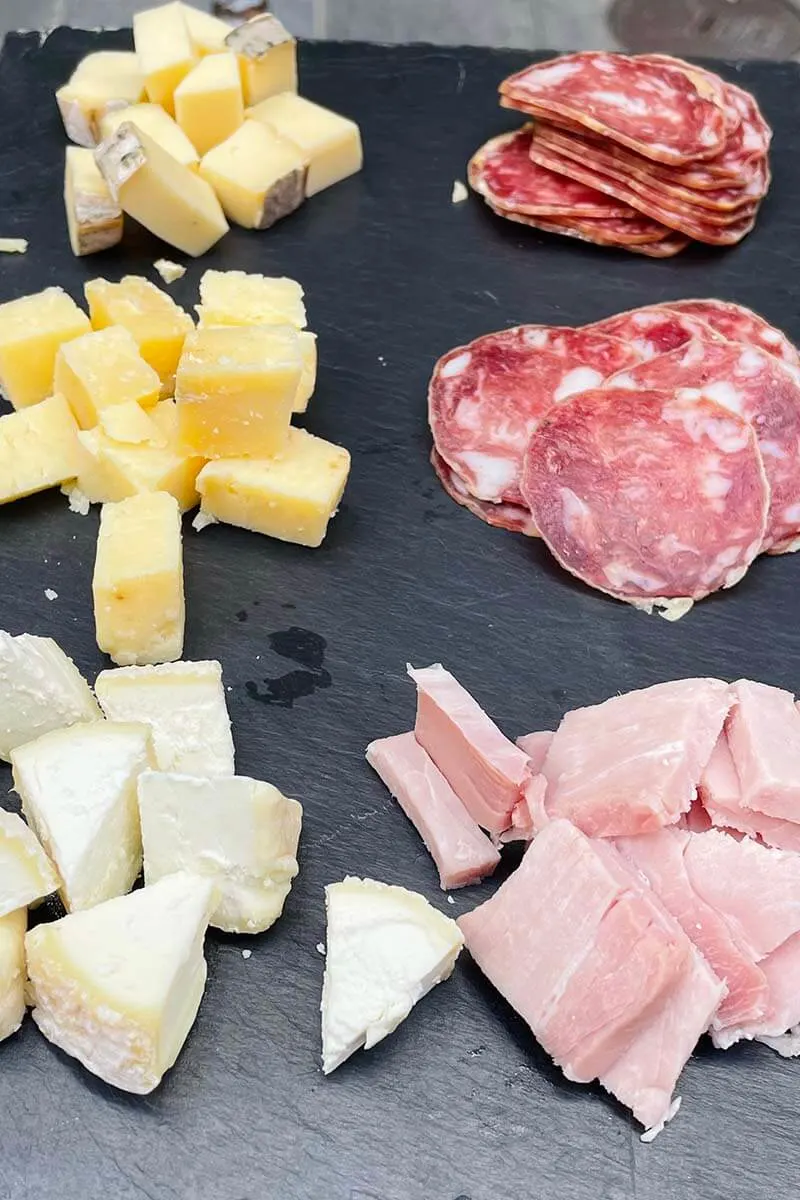 19. Use mobile data & Wi-Fi
There will be countless situations when you will need your smartphone when visiting Paris. So be sure that you have access to the mobile network (and that it won't cost you a fortune). An eSIM Mobile Data Plan might be a good solution if you are visiting from outside of the EU.
A few examples. As already mentioned before, it's best to pre-book tickets for most attractions when visiting Paris. If you don't want to or can't print those tickets, you will need to quickly access them on the go.
Also, quite a few of the trendier restaurants in Paris now have a system where you scan a QR code on your table not just for the menu, but also to pay your bill. You see exactly what you ordered, how much you have to pay, can choose to tip extra if you like to, and then insert your credit card data and pay. Often, waiters won't even come to your table anymore and you can just leave whenever you are ready.
It's all simple enough with European SIM cards since there are no roaming fees in the EU. But if you are traveling to Paris from outside of Europe, see if you can find an affordable way to stay connected.
Good to know: Most museums and restaurants in Paris offer free Wi-Fi. So often, you will be able to connect to a public network. But this might not always be the case everywhere. So plan in advance! For example, if you are not sure that you will have Internet, you could take screenshots of the tickets you booked, just in case.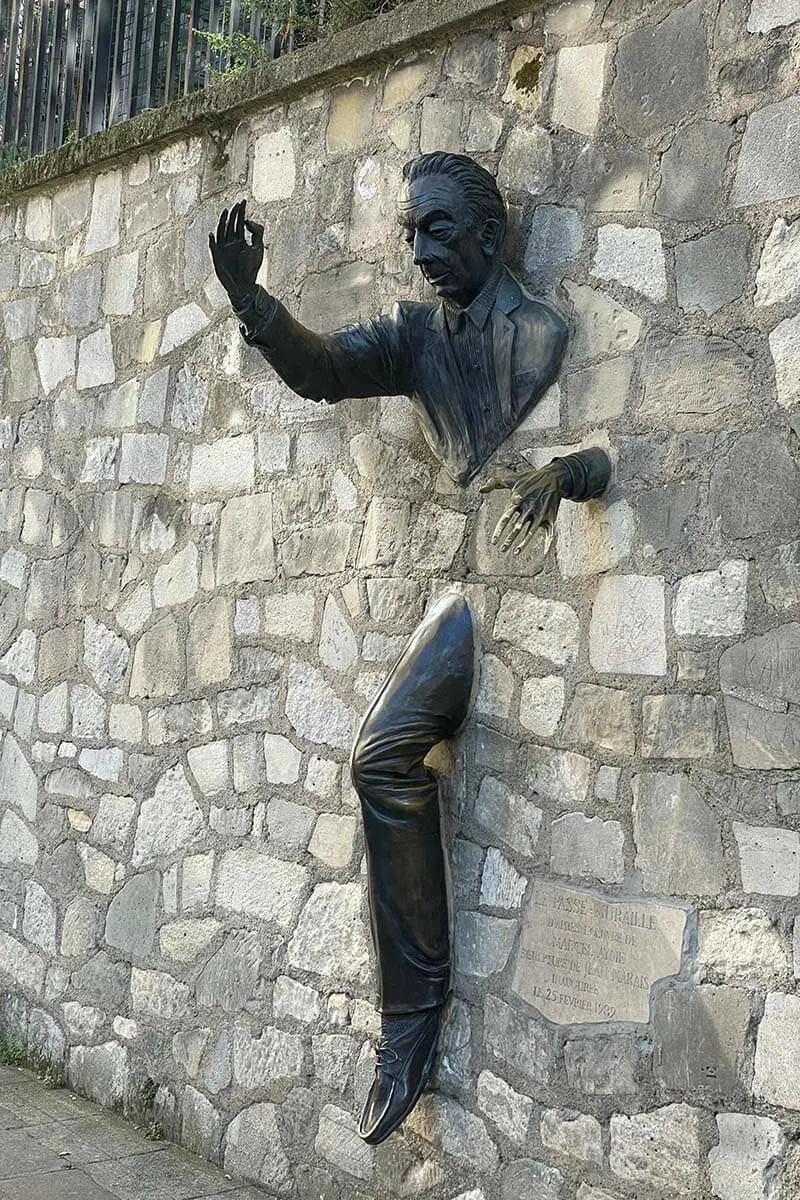 20. Pay in Euros & be sure that your credit card has a PIN
If you travel internationally, you probably already know the most common legal scam there is – banks/ATMs charging you ridiculous exchange rates.
It usually works like this. You use an ATM to take some cash or use your credit card to pay for a product or service. To 'make things easier' for you, they present you with the choice to do the transaction in your own currency. Never do this! Be sure that you always do all your credit card transactions in the currency of the country where you travel – in the case of Paris, in euros.
When you choose to pay in euros, the exchange rate will be calculated by your bank. It will always be much better than the exchange rate that you are given by the 'helpful' ATMs abroad. I once lost about 20% in the exchange rate in London, so learned the hard way (luckily, the amounts were small).
Also, try to avoid using ATMs with 'Euronet' sign on them – their fees are absolutely outrageous. The best ATMs are the ones that are attached to local bank offices.
Good to know: Many European countries now only use credit cards with a pin, and it's been like this for years already. I can't even remember the last time we had to sign to confirm a credit card transaction. Most of the time, you will still be able to pay with your pinless credit card in Paris, but there might be situations when you will really need a pin (e.g. when purchasing metro or train tickets from a machine). So ideally, you get a credit card with a pin if you are planning a trip to Europe.
TIP: If you live in the U.S. and don't have the right credit card, check out this selection of the best credit cards for travel. I recommend choosing a card with no foreign transaction fees.
In many places, you will be able to use your smartphone or your smartwatch for payments as well.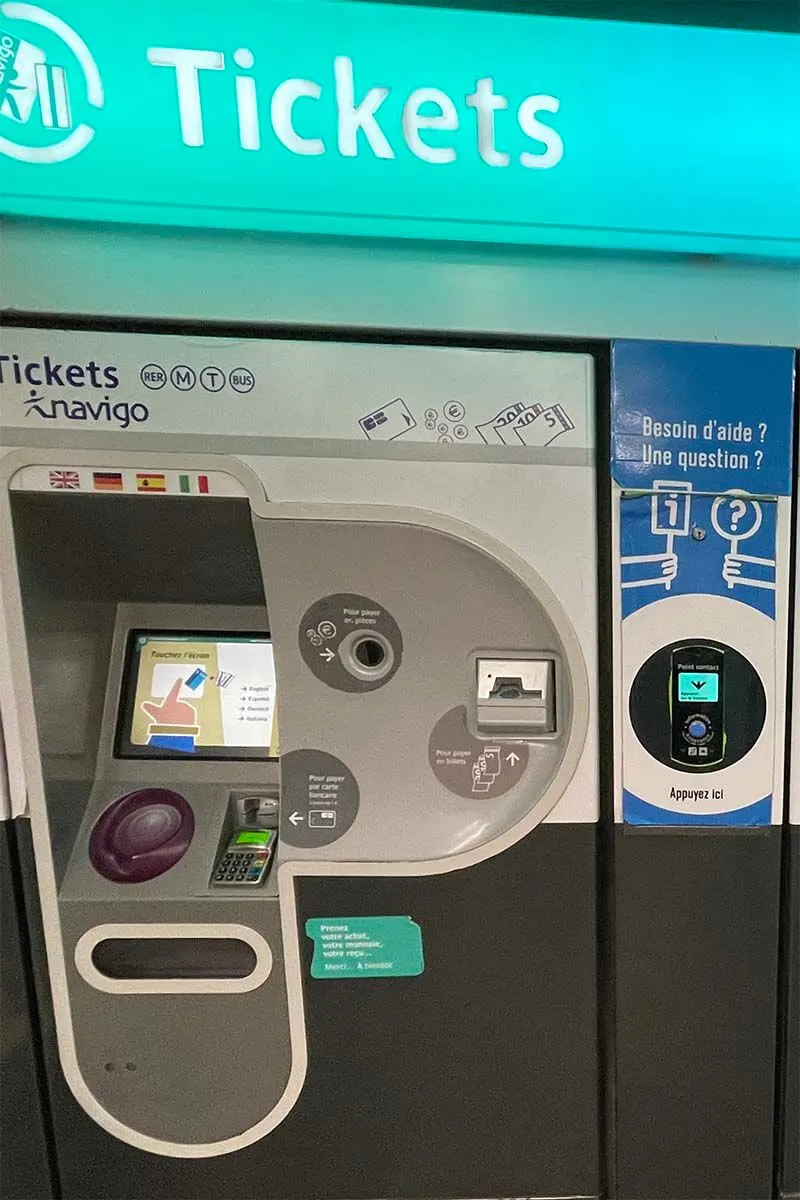 21. Know that tips are not expected (but appreciated)
To tip or not to top, that's the question…
In general, we do not tip in Europe, and in the past, it was common to just round up the bill. But I notice that tipping is becoming more and more common (and expected) in many European countries. Still, it's not comparable to the U.S. in terms of who and how much you tip.
At the restaurants in Paris, we usually tip 5-10%. The same for taxi drivers. Or just round up the bill if paying cash. Anything above 10% is considered very generous and is really not expected. But if the service was exceptional, people will definitely appreciate it.
We also tip tour guides, but only the ones that do an exceptional job. Also here, it depends on you if and how much you tip. If we tip, it's usually 5-10 euros per person depending on the duration of the tour.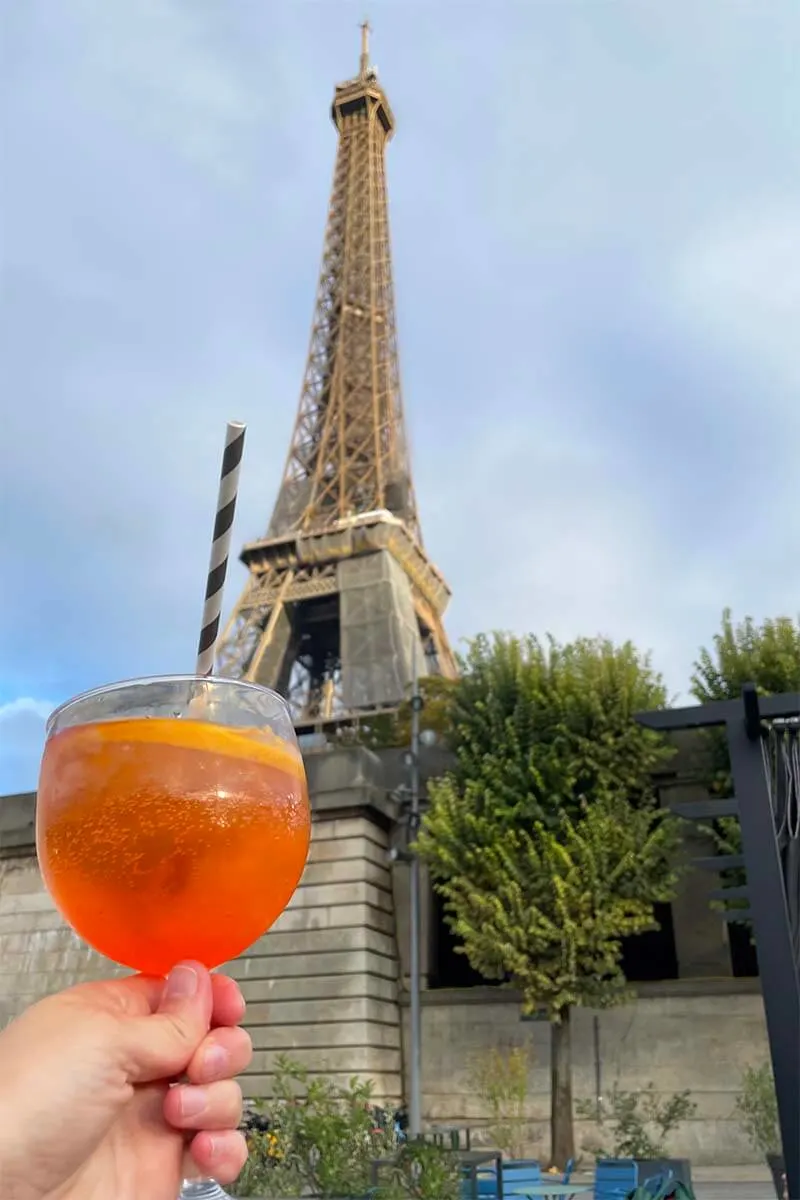 22. Learn a few words in French
A smile goes a long way, so don't worry if you don't speak French – you will be able to get along in Paris just fine. In fact, I was surprised on our recent trip by how much has changed in Paris in terms of people speaking English (and the attitude towards tourists)! The city has become so much friendlier too!
While 5-10 years ago, English-speaking staff was more an exception than a rule, nowadays, most people working in the hospitality sector in Paris speak (at least some) English. This is especially the case among the younger generations, but the change is really noticeable.
That being said, locals will certainly appreciate it if you do your best to speak at least a few words in French. Even if you can learn just a few basic words, it will be appreciated. Here are a couple of useful words and phrases in French:
Bonjour = hello (good day).
Bonsoir = good evening.
Merci = thank you.
Au revoir = good-bye.
Oui/ non – yes/no.
Femme/homme = woman/man.
Excusez-moi = excuse me.
Parlez-vous Anglais? = Do you speak English?
Je ne comprends pas = I do not understand.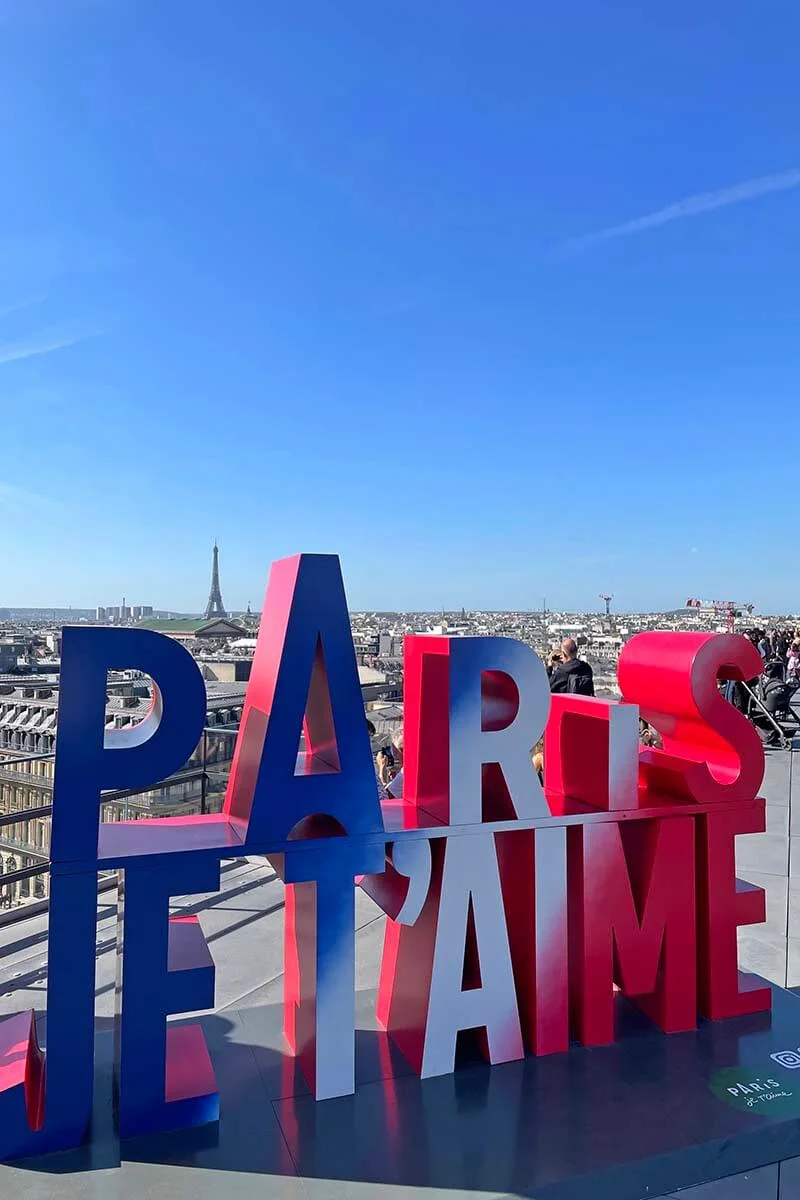 23. Get outside the city (center)
In addition to all the amazing places in Paris, there is so much to see around the city too. So if you can, try to visit a few places outside of Paris.
The most popular (half) day trip is, of course, the famous Versailles Palace and its vast gardens. Most people come to Versailles for a few hours (with a tour with or without transportation or on their own), but there is so much to see that you could even plan an entire day for this town alone. We visited Versailles by train and then booked this guided tour for the Palace and the gardens. I highly recommend visiting the palace with a guide!
Another popular choice is a visit to Giverny, best known for the house and the gardens of Monet. Also here, you can visit by train from Paris (and potentially rent a bike at the station to explore further), or come on a tour. There are also tours that visit both – Versailles and Giverny – in one day.
Other popular options further away include a visit to Mont Saint-Michel and/or D-Day beaches in Normandy. If you want to visit these places from Paris for just a day, then definitely opt for a day tour! Day tours to the castles of the Loire Valley are also possible (and can be worth it if you have no time to plan a road trip and visit all these places on your own).
With kids, the obvious choice is to spend a day at Disneyland Paris, but with teenagers, you may want to consider Parc Asterix instead.
Also in the city, there are some interesting areas that are just a bit outside of the typical tourist routes, such as La Défence business district or Père Lachaise Cemetery where many famous people are buried.
Even if you just get a bit outside of the city center or take one or two day trips, it will make your visit to Paris so much more memorable!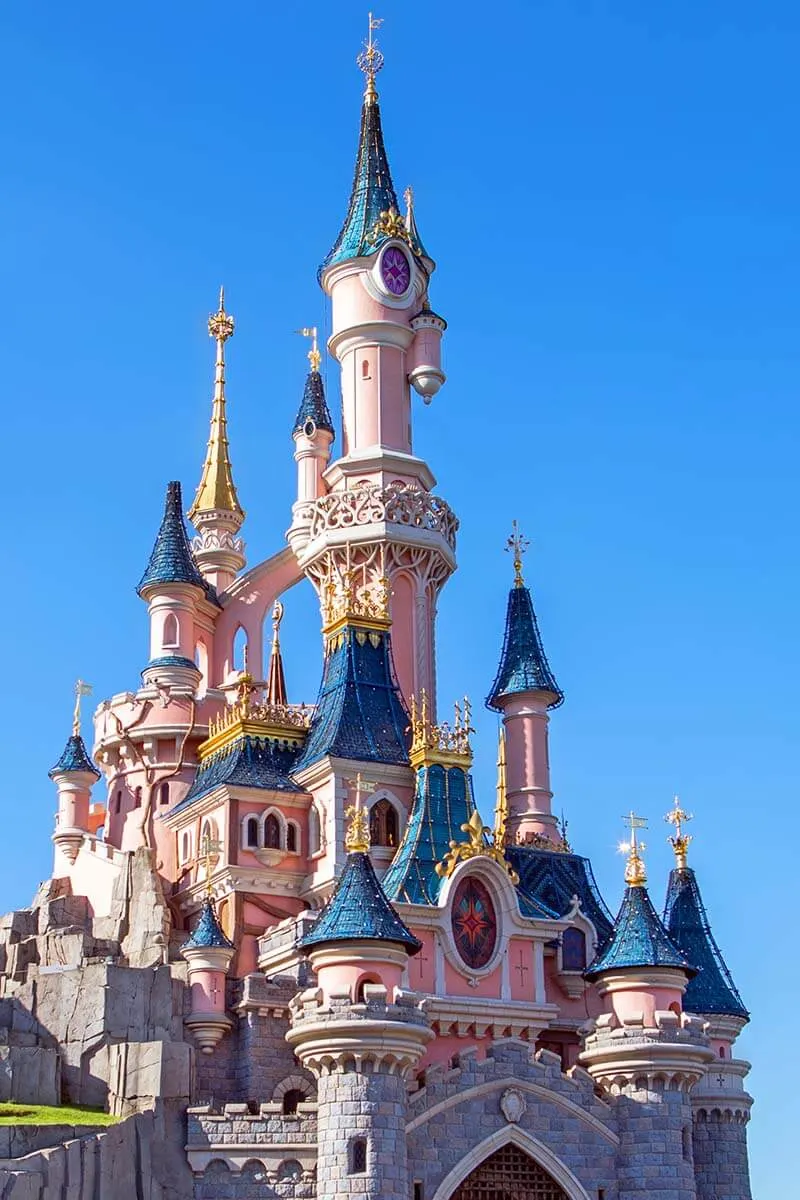 So, these are some of the most useful tips and tricks for Paris that you may want to know when traveling to the city for the first time.
Have a great trip to Paris!
TIP: You may also like to read our similar guides with tips for some of the most popular cities in Europe:
READ ALSO: Traveling to Europe: How to Plan a Trip + Top Tips
If you found this post helpful, don't forget to bookmark it and share it with your friends. Are you on Pinterest? Pin this image!