Traveling to Krakow, Poland, for the first time and looking for useful travel tips and practical information?
When to visit? Where to stay? What are the tipping rules in Poland? How to save time and money and experience Krakow and surroundings to the fullest?...
This article with Krakow tips and tricks should answer all your questions. Read on!
To help you plan your first trip, we selected some of the best tips for visiting Krakow for the first time. This no-nonsense practical guide will not only help you plan your city break, but will also show you how to make the best of your trip, time, and budget. Find out!
This guide with tips for visiting Krakow is written by our writer Christine who recently spent some time in Krakow. In her previous article, she shared her best tips for a long weekend in Krakow. In this post, you can find her experience-based Krakow tips that will help you make the most of your trip to this vibrant city, including the best areas to stay, some local habits, how to get around, how to save money, and much more! Find out!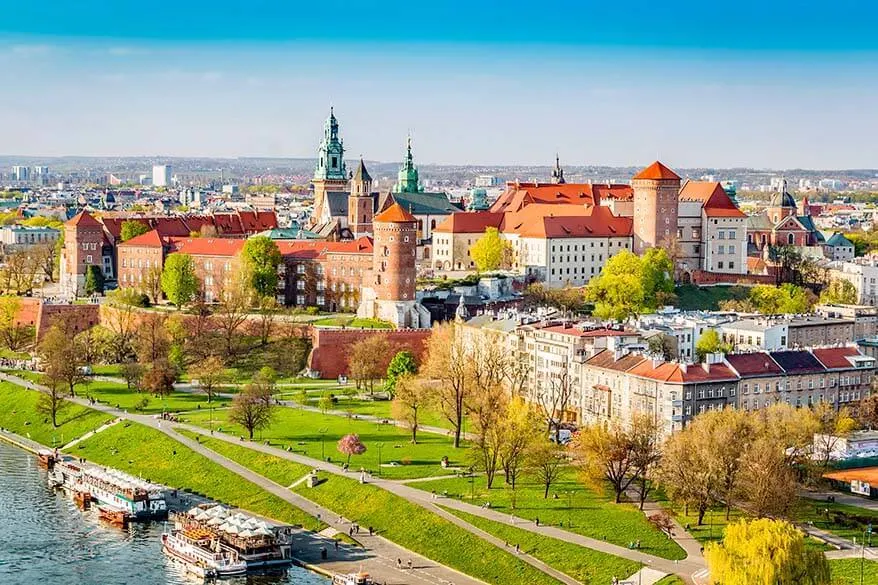 1. Stay in the Center of Krakow
Without a doubt, the best place to stay in Krakow is the Old Town, in the heart of the city.
While in many parts of the world this might be a very expensive option, the cost of accommodation in Krakow is still reasonable enough to make a city-center stay very affordable. This is particularly true if you opt for a privately owned apartment.
But also hotel prices are very reasonable compared to Western Europe. So if you ever wanted to stay at a really nice hotel but couldn't justify it, this might just be your chance. Check out Hotel Unicus Palace – a wonderful place to stay in the heart of the city.
Staying in the Old Town means that you'll have all of Krakow's main attractions right on your doorstep. But thanks to the unique construction of its large, old buildings, you won't get any of the noise typically associated with staying in the city center.
If you're lucky, you might find an apartment or a hotel close enough to St Mary's Basilica to be able to hear the bugler perform the hourly hejnał mariacki (bugle call) – a sound that will forever remind you of your stay in beautiful Krakow!
TIP: If you're looking for somewhere a little less crowded, but still very central and perfect for sightseeing, consider staying in Kazimierz. It's a quaint and beautiful Jewish Quarter located just a 10 to 15-minute walk from Krakow's Old Town. Accommodation here is cheaper and you can find some amazing value for your money. Take a look at PURO Kraków Kazimierz or Metropolitan Boutique Hotel, to mention just a few.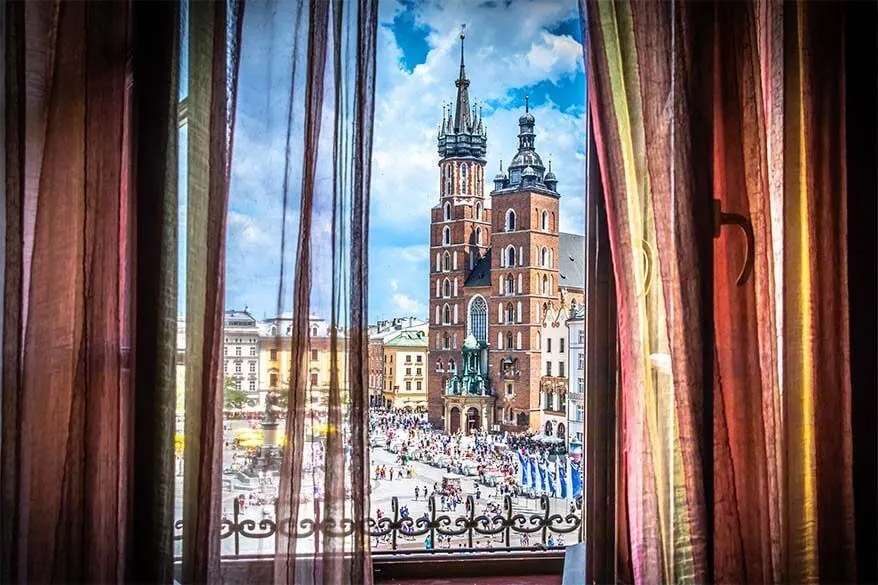 2. Avoid Peak Season If You Can
The most popular time to visit Krakow is from June to August when the temperatures are high, the parks are green and the banks of the Vistula come alive with barbecues and picnics.
Of course, the popularity of the peak season comes at a price – the city is busy, queues are long, and the prices for accommodation and some attractions are higher. It can also get too warm to enjoy the city… So consider if visiting at a different time of year would suit you better.
April to May and September to October are lovely times to visit Krakow. The temperatures are mild (although it can be quite chilly in the evenings) and the city is a lot less crowded. Accommodation prices are lower and you don't have to queue everywhere. Krakow is a great destination for a spring break in Europe!
Winter is the least popular season, but having visited at this time of the year, I can say that it surely has its charm. The Christmas-card perfection of the frosty city, the festive Christmas markets, and the cozy restaurants mean that this is a season that shouldn't be overlooked! Most attractions are still open, but both queues and prices tend to be far lower.
TIP: Take a walk in the city early in the morning or late at night. It's magical without the crowds.
READ ALSO: Best Time to Visit Europe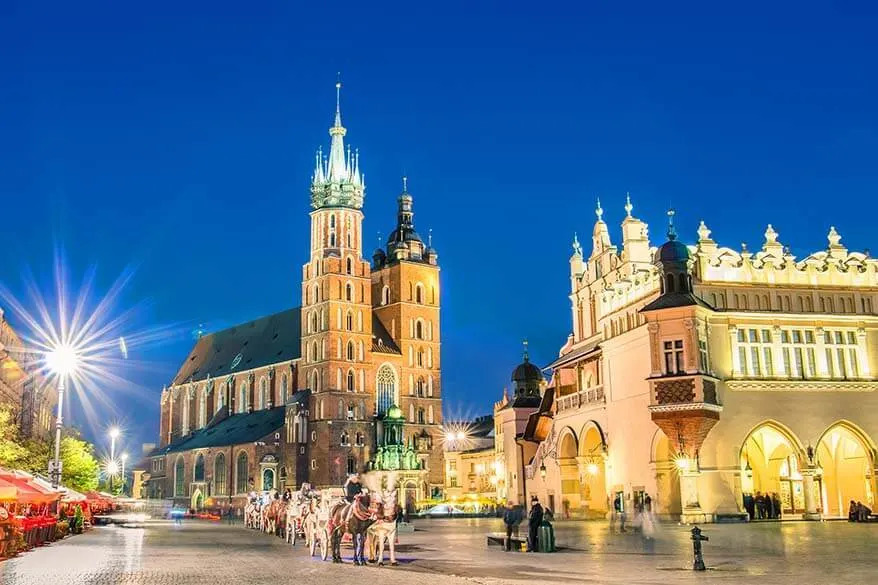 3. Book in Advance
Krakow may be a small city, but it is very busy in peak season and its popularity is growing all the time. Hotels in the city center are often fully booked in peak season and the best price-quality deals are always gone first. So if you have a specific hotel in mind you need to book well ahead of your visit.
If you waited too long to book the hotel of your choice, try looking for an apartment instead. These tend to have more availability than hotels at busy times.
Tickets to popular tours and attractions are also worth booking in advance, mainly to avoid long queues. This is particularly true for the Wieliczka Salt Mine, where the ticket hall becomes incredibly crowded during peak season, and for Auschwitz, where booking in advance is essential (or you won't be able to visit at all).
Both these places are located outside the city, so if you are planning to go on an organized tour from Krakow, you best book the tours in advance too! Here's the best-rated tour to the salt mine and here – to the concentration camps.
Wawel Royal Castel, home to Polish kings and queens and considered Poland's most important collection of buildings, is not to be missed in Krakow. You can view the magnificent exterior and walk around for free (or join this great-value guided tour and learn more about the place).
However, if you want to view the Castle's impressive art collection or visit the splendid Royal Apartments, then you should buy the tickets in advance. Entry to the interior of the Castle is strictly timed, so you may find yourself waiting for several hours during busy times if you haven't booked ahead (or not be able to visit at all).
Also Oskar Schindler Factory is a popular place and – if you absolutely want to visit – it's best to reserve your visit in advance.
Some other landmarks and museums in Krakow require advance booking as well. Please check our 3 days in Krakow article for more details.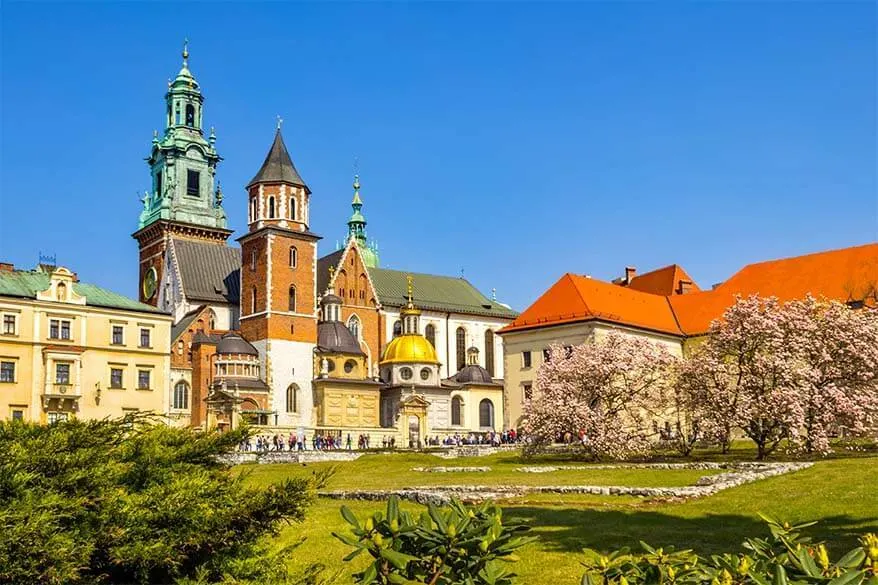 4. Take Advantage of Free Activities and Free Days
There are many ways to experience Krakow on a low budget, while still being able to see everything that you want to see!
The Church of SS Peter & Paul, the grounds of Wawel Castle, the impressive Market Square and the historic architecture of St. Florian's Gate can all be enjoyed at no charge. So too can Kazimierz, which boasts the oldest synagogue in Krakow (also free to visit). Plus, of course, there's the beautiful Planty Park – lush and green in the summer and the perfect place for a stroll.
There are a variety of free walking tours available, usually starting from Market Square, although it is customary (and polite) to leave a tip at the end.
Auschwitz is free to visit as an independent traveler, although it's important to note that you still need to book your free ticket. Please see our article about visiting Auschwitz for more information.
Many attractions that charge for tickets also offer FREE entrance on certain days of the week. So always check before you buy, but please note that you may still need to book a free ticket! Attractions offering free days include Schindler's Factory, the National Museum, Wawel Castle, St Francis Basilica, the Cloth Hall, and Rynek Underground.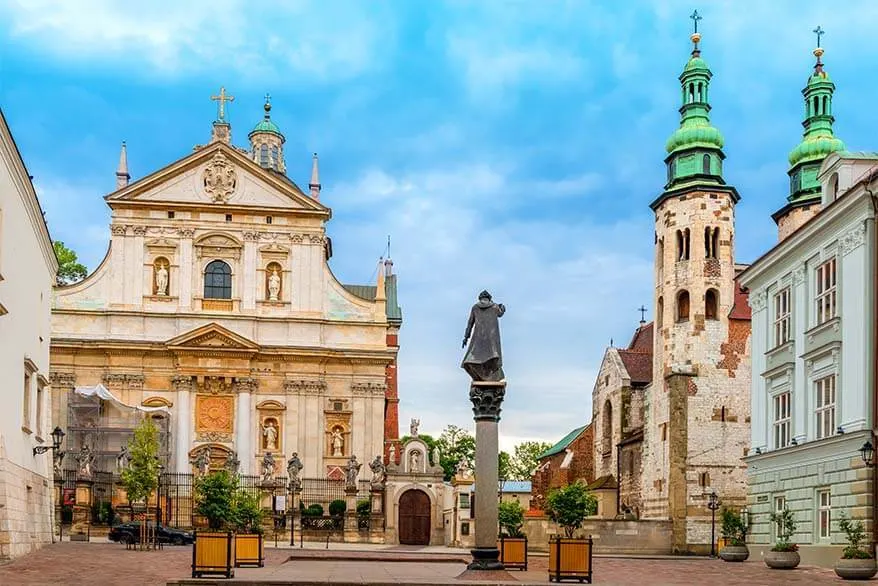 5. Save Money with the Krakow Card
The Krakow City Pass Krakow Card can be a worthwhile investment if you plan to fit a lot of sightseeing into your stay, but your visit doesn't coincide with any of the 'free days' suggested above.
This includes entry to more than 40 attractions and museums and free public transport. Here are just a few examples of what's included: Oskar Schindler's Factory, Main Market Underground Museum, Pharmacy "Under Eagle", Town Hall Tower, St. Mary's Church, The Barbican
The Old Synagogue, City Defense Walls, Former Gestapo Headquarters at Pomorska Street, The Old Synagogue, The National Museum, and many more.
This card is only worth it though if you are actually staying in the city itself for 2 or 3 days (so not counting the day trips that most people do from Krakow).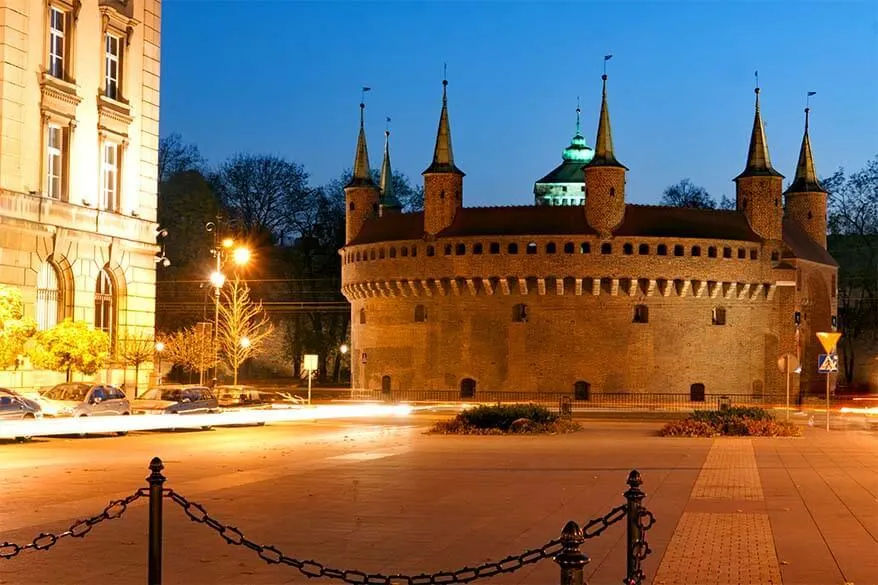 6. Learn a Few Words in Polish
Locals really appreciate it if you try to speak a few words in Polish. Just a 'hello' or a 'thank you' can get you a long way. Here are a few Polish words you may want to know:
Dzień dobry = hello – good morning / good afternoon
Dobry wieczór = good evening
Do widzenia = good bye
Proszę = please
Dziękuję = thank you
Przepraszam = Excuse me/ sorry
Nie rozumiem = I don't understand
Tak = yes
Nie = no
Na zdrowie! = Cheers!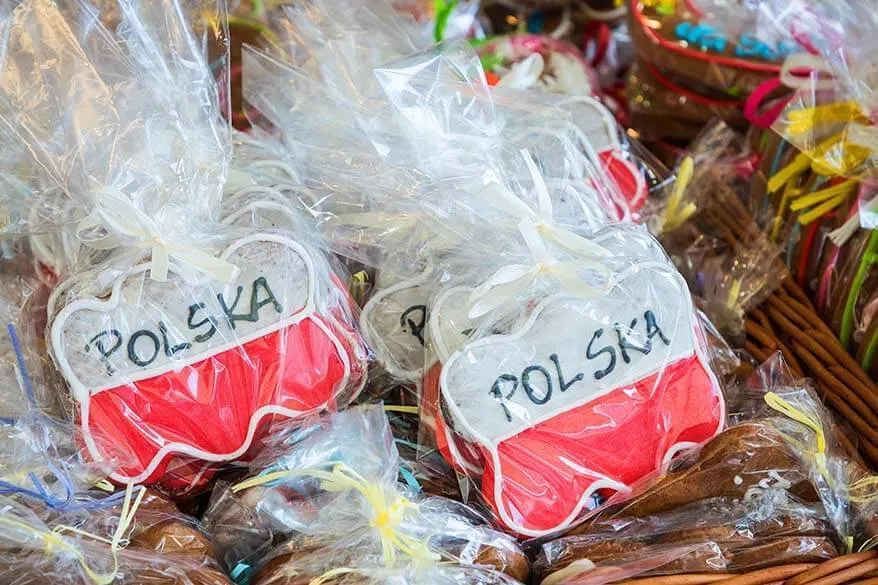 7. Be Smart When Exchanging Money
Even though Poland is part of the EU, it is not a member of the Eurozone, so the Euro is not accepted there. Poland uses the zloty, which you will often see abbreviated to PLN. 1 zloty is made up of 100 groszy (the equivalent of pennies or cents).
There are many currency exchange offices (Kantor) throughout Krakow, but the rates they offer can vary widely, with the worst rates usually offered in the city center. It is worth comparing the rates between offices before exchanging your cash, or – better – just withdraw cash from an ATM.
During our visit, we calculated that it was much cheaper for us to withdraw cash from the ATM using our foreign bank card than to exchange cash. It is usually cheaper to make one large withdrawal than several smaller ones.
All major debit and credit cards are widely accepted in Krakow, but – as everywhere in Europe – it's best to use VISA or MasterCard with a chip and a 4-digit pin. American Express or Diners Club cards aren't ideal for traveling in Europe. Many banks charge a foreign currency fee per transaction, so if you don't yet have a card with no foreign transaction fees, it might be smart to get one.
PRO TIP: When withdrawing money from an ATM or when paying for purchases, you'll always be asked to choose the currency for the transaction. Always choose the LOCAL CURRENCY (so in Krakow, Polish zloty) and let your bank do the exchange. This is a known trick that can cost you 3-15% extra if you accept the suggested conversion rate and choose to pay in your own currency. This is something to remember for all your international trips!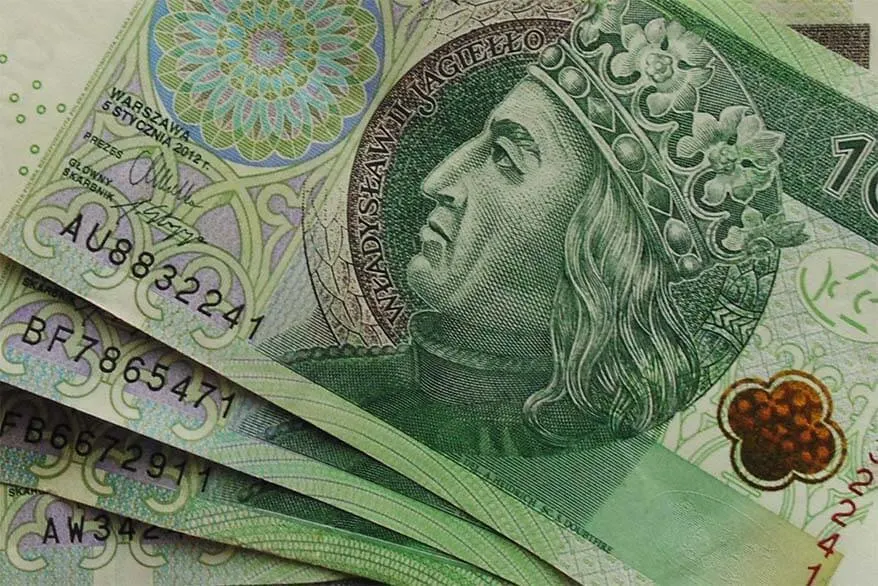 8. Enjoy Krakow on Foot
One of the most wonderful things about Krakow is that it's compact, so it's possible to get around very comfortably on foot and see most of the attractions. Not only does it save money, but it gives you a true feel of the sights and sounds of day-to-day life in the city.
Negotiating Krakow is very simple. The center of the city is made up of the Old Town and Wawel Hill, home to the historic Wawel Castle. The Vistula River borders the city on one side and Planty Park borders the other.
TIP: If you want to see the highlights of the Old Town and familiarize yourself with the city, you can also opt for this highly-rated walking tour with a local. Try to do this at the beginning of your visit, so that you can take advantage of the local tips and recommendations during the rest of your stay!
TIP: If you're visiting Krakow in winter, bring waterproof shoes! The snow is not always removed from the pavements, so they can become quite 'slushy' and muddy!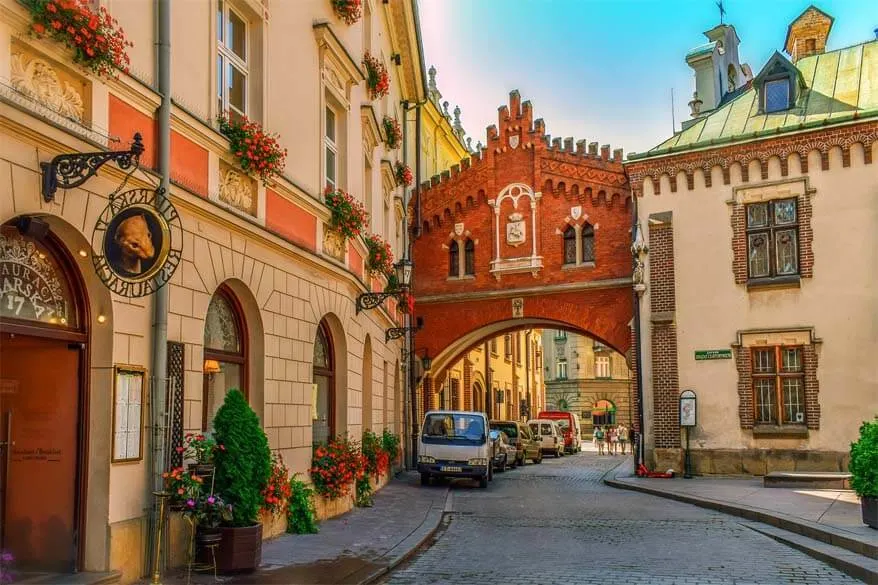 9. Live Like a Local and Use Public Transport
Krakow's bus and tram system is cheap and efficient and a great way to get around the city. Although you might want to avoid rush hours (7 am-9 am and 3 pm-5 pm) when traffic often comes to a standstill!
Buy your tickets before you board, either from a ticket machine at a bus or tram stop, or from a kiosk. On some trams and buses, you can buy tickets from a machine onboard – those selling them have an 'A' sign over the door. It is possible to buy your ticket from the driver, but you need to have exactly the right change. You can't try to pay with a higher amount than the ticket price – the driver is not allowed to accept it.
There are many ticket inspectors on the routes and – sadly – tourists often end up receiving hefty fines because they are not sure what they need to do. To avoid a fine, make sure you buy a ticket in advance or as soon as you get on the bus (if you haven't been able to buy one beforehand) and that you validate it. To do this, you need to punch it in the validation machine. You only need to do this once – not every time you change a bus or tram. If your ticket is within its time period, it can be used for multiple rides.
TIP: If you get the Krakow Card, you can travel on buses and trams without having to worry about the tickets.
TIP: Download the popular Jakdojade app, designed to help you plan your journeys on public transport throughout Poland.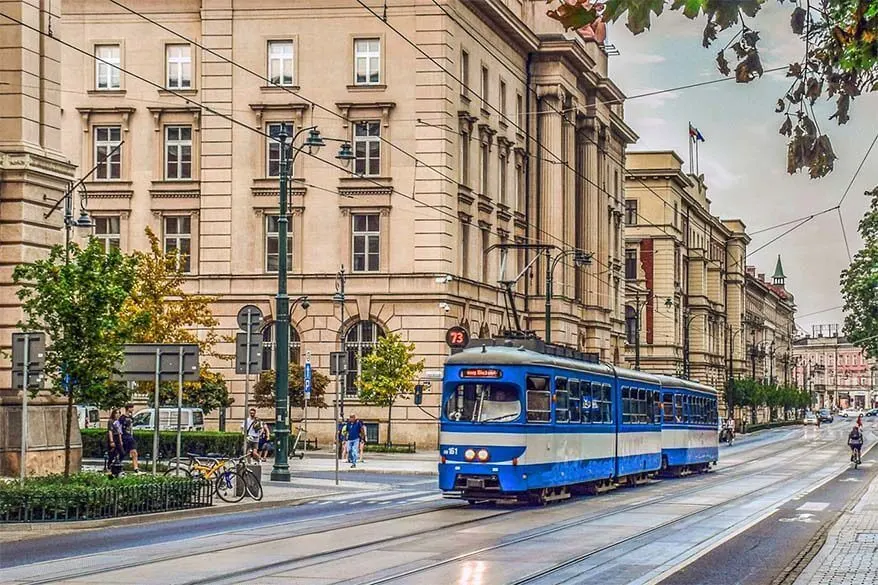 10. Save Money on Airport Transfers & More
If you plan to travel by taxi to and from the airport, book your airport transfer online – it's cheaper than hailing a taxi from the rank. Always check the price before you travel. While it's rare, tourists do occasionally fall prey to unscrupulous drivers who charge more than the going rate. Prices should be on display inside the taxi, on the passenger door or window.
Or consider other taxi alternatives such as iCar (local taxi service) or Uber, which operates around Krakow but is not available in the Old Town.
A fun and cost-effective way to get around is to use an electric scooter or bike. You can rent scooters and there are various locations around the city at which you can rent bikes. Sadly, however, Krakow's popular bike-sharing service Wavelo was discontinued at the end of 2019.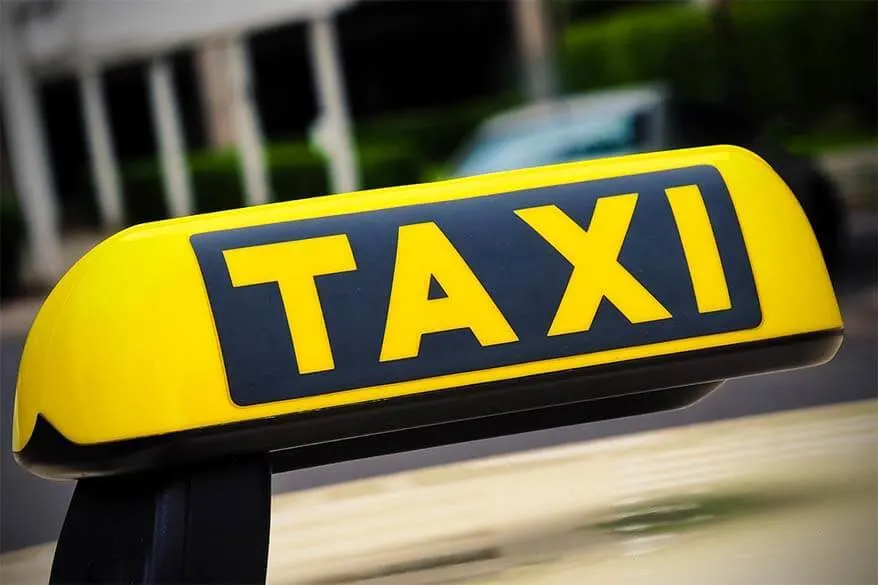 11. Think Twice Before Hiring a Car
While renting a car gives you freedom, I wouldn't recommend doing it for a visit to Krakow. Parking is hard to find and costly and the traffic can be very heavy. Some of the rules of the road can be very confusing, particularly with regard to 'driving zones' that even the locals find hard to understand.
If you decide to drive, be very careful to keep to posted speed limits. Speed restrictions are strictly enforced.
I'd only recommend renting a car in Krakow if you are staying in the area for longer than 3 days and are planning to explore the wide surroundings beyond the city. The most popular day trips to Auschwitz, Wieliczka Salt Mine, and Zakopane can easily be done with tours or private drivers.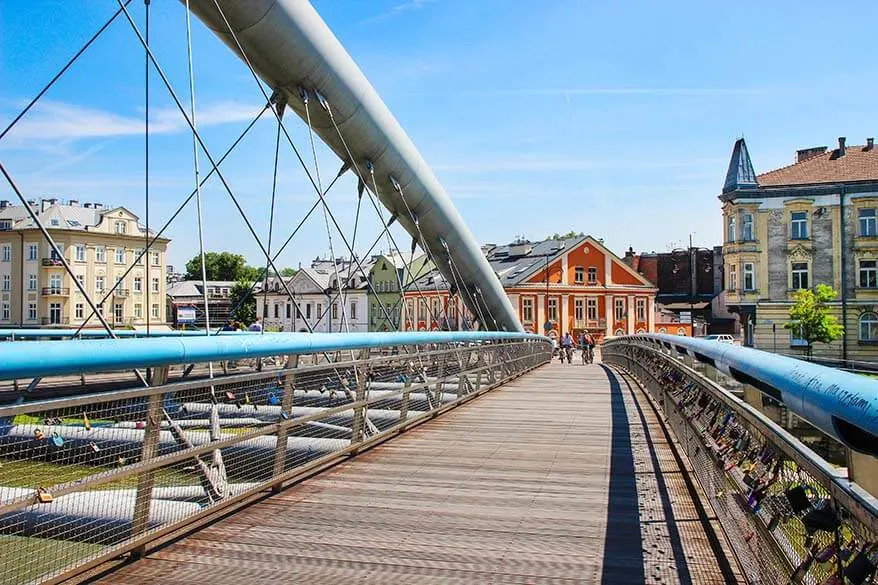 12. Experience Polish Cuisine & Street Food
The Poles are rightly proud of their cuisine and you'll find traditional food available at every turn. Be sure to try pierogis – plump little dumplings filled with a variety of ingredients, then baked or fried. You should also sample zurek – sour rye soup – and the classic borscht, a soup made from beetroot.
The food in Krakow extends far beyond traditional fare. Foodies will love the variety of high quality, gourmet meals on offer at restaurants throughout the city. Prices are very low and it's possible to dine out very well in Poland for less than $40 a day!
If you're traveling on a budget, then you can save money by taking advantage of Krakow's delicious street food. You'll find Polish bagels known as obwarzanki for sale on just about every corner. And as popular as these bagels are, I don't think you can beat a loaf of regular Polish bread, fresh from the bakery! Be sure to also sample zapiekanka – Poland's delicious and filling version of pizza!
TIP: Although it's tempting to dine at restaurants in Market Square, I recommend doing a little exploring. Restaurants away from the main square are often cheaper and the standard of the food is often higher. Many lovely restaurants and cafes are almost hidden in the inner courtyards of the buildings, so don't be afraid to stray from the beaten track.
Or you can also join a food tour and discover some of the best places and delicacies with a local guide. Also here, if you take a tour at the beginning of your trip, you can then take advantage of what you learned during the rest of your stay.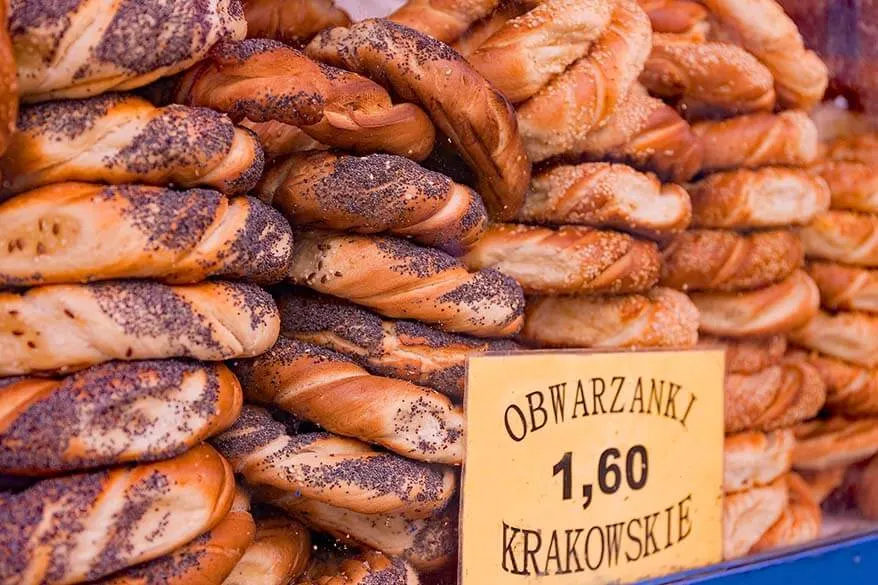 13. Tipping Etiquette
At restaurants in Poland, it's customary to tip 10% if you find the service to be satisfactory. If the service is excellent, you can tip a bit more.
If you pay by credit card, it's best to leave tips in cash. If you pay in cash and expect to get some change, don't say 'thank you' when handing the money or it might be misunderstood that you're ok with your waiter keeping the change. So wait to say 'thanks' till you have settled the money matters.
It's not customary to tip at cafés or bars, but you can round up the bill. You can round up your taxi bill as well.
It's customary to tip your tour guide at 10-15%, but only if you thoroughly enjoyed the service.
Tips are not expected by the hotel personnel or other similar services.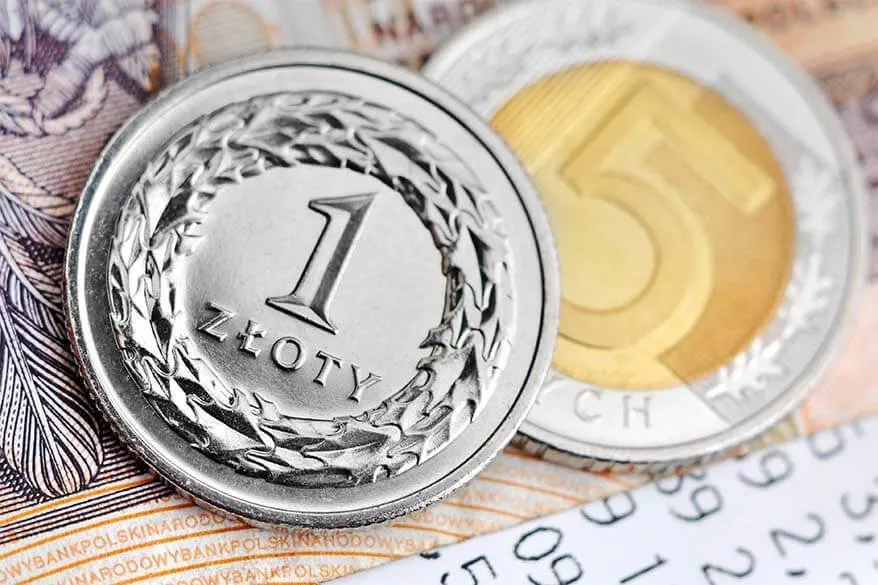 14. Don't Drink in Public
You should know that it's illegal to drink alcohol in public places in Poland. So make sure to not drink alcohol in public areas, including parks.
This also counts for celebrations like New Year or similar. There are no exceptions.
Outdoor cafés and restaurant terraces are, of course, ok.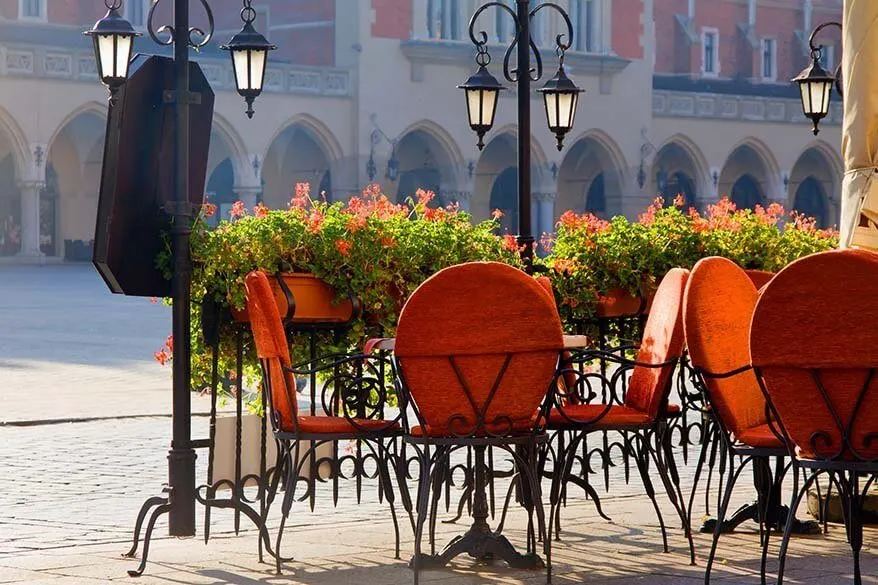 15. Don't Forget Little Important Details
Some restrooms display symbols on the doors instead of words, which can be confusing! A restroom with a triangle is for men – a restroom with a circle is for women.
Krakow is filled with cobbled streets and many hotels, restaurants and other buildings have no lifts. This is something to keep in mind if you are a disabled traveler or if traveling with young kids in a stroller. Make sure to also wear comfortable shoes as you'll be walking a lot!
The Polish electricity supply is 230V, 50Hz AC and the plug sockets type C/E just as in the rest of continental Europe. Visitors from the US and the UK will need to use an adapter. While these are available at shops and hotels in Krakow, the cheaper option is to buy one at home before you leave. Here you can get the UK to Europe travel adapter and here – the USA to Europe travel adapter.
Krakow's tap water is safe to drink, so there is no need to buy bottled water. If you are traveling in summer, you may want to bring a reusable water bottle.
Try to buy your souvenirs away from the main Market Square. You will often find the same goods on sale elsewhere but at a cheaper price.
Krakow often makes the list of the world's top 20 safe destinations. Nevertheless, use the same safety precautions that you would use anywhere when traveling.
Local pharmacies may not sell medications that you are used to using, so stock up before you travel.
Krakow can be very cold in the winter and very hot in the summer, so be prepared with the right clothes. Bear in mind that it can also be very chilly in spring.
So these are our top tips and tricks for visiting Krakow that should help you experience the very best this city has to offer. If you found this guide useful, make sure to also check our other articles – see below.
READ ALSO: Best Things to Do in Krakow
More tips for your trip to Krakow:
If you found this post helpful, don't forget to bookmark it and share it with your friends. Are you on Pinterest? Pin this image!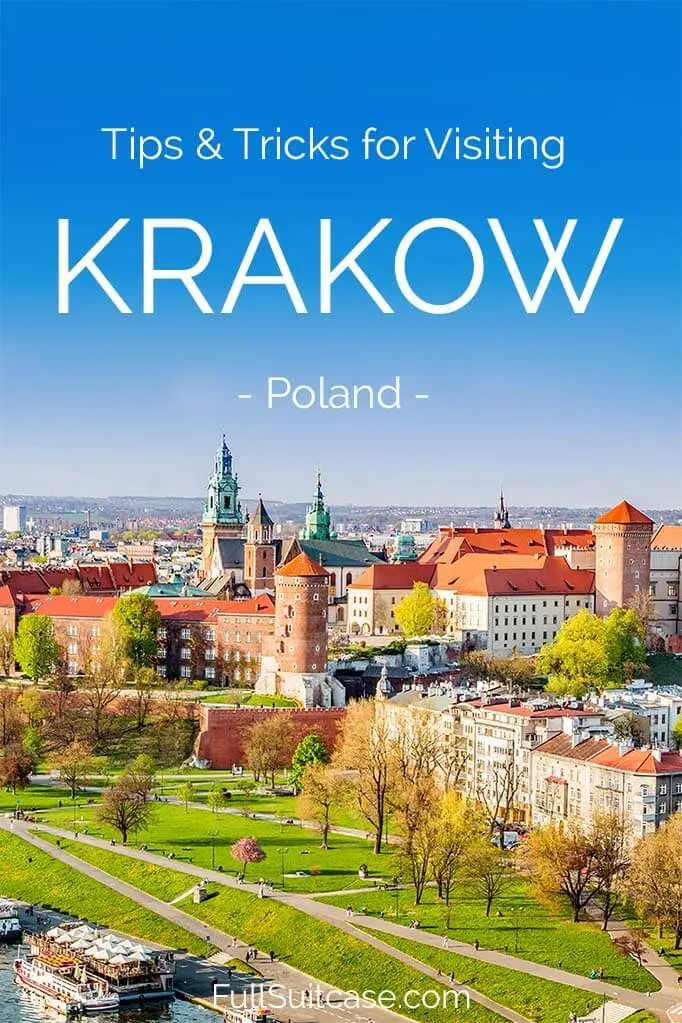 More travel inspiration for the nicest cities all over Europe:
If you are visiting other European cities and are looking for in-depth information for your trip, take a look at some of our city guides: