Traveling to Edinburgh in Scotland for the first time and not sure where to start? Planning a trip to Edinburgh might be overwhelming indeed and especially so if this is your first time in the city!
With its rich, fascinating history, culture, and ancient architecture coupled with its modern arts scene and world-famous festivals, Edinburgh is a city with something for everyone.
But if you're visiting Edinburgh for the first time, there are so many options that deciding where to stay and what to do can be difficult… When to visit Edinburgh? What are the best places to stay? How to save time and money and still see the best that the city has to offer?
So to help you plan your first trip to Edinburgh, we selected some of the best tips for visiting Edinburgh. This practical guide will help you get the very most from your stay, with advice on getting around the city, how to save money, the best time to visit, and lots more! Take a look!
1. Book in advance
When it comes to visiting Edinburgh, planning is key! This Scottish capital is one of the UK's most beautiful cities and attracts more than 3 million visitors per year. For a relatively small city, that's a lot of people!
The result, of course, is crowds – particularly in the summer – and long lines to visit Edinburgh's main attractions.
For this reason, it's essential to plan ahead. This includes booking your accommodation, your tickets to attractions, and – if you want to dine at a specific restaurant – even making reservations for dinner. Some of Edinburgh's best restaurants are highly popular and can be booked for weeks in advance.
Another advantage of booking online ahead of time is that it drastically cuts down on queuing! It's not uncommon to wait in line for well in excess of an hour to buy tickets for Edinburgh Castle, for example.
TIP: If you feel overwhelmed, join a guided tour that includes skip-the-line tickets for the castle. And if you don't feel like joining the masses at Edinburgh Castle, a great alternative is to visit Holyrood Palace instead. Not only is it quieter, but some people even argue that it's even more interesting, with State apartments, a Throne Room, the Great Gallery, and its beautiful Palace Gardens to explore!
Holyrood Palace – which had connections with Bonnie Prince Charlie and Mary Queen of Scots – is today used by the Queen when she has official engagements in Scotland. The palace is also open to visitors the whole year round.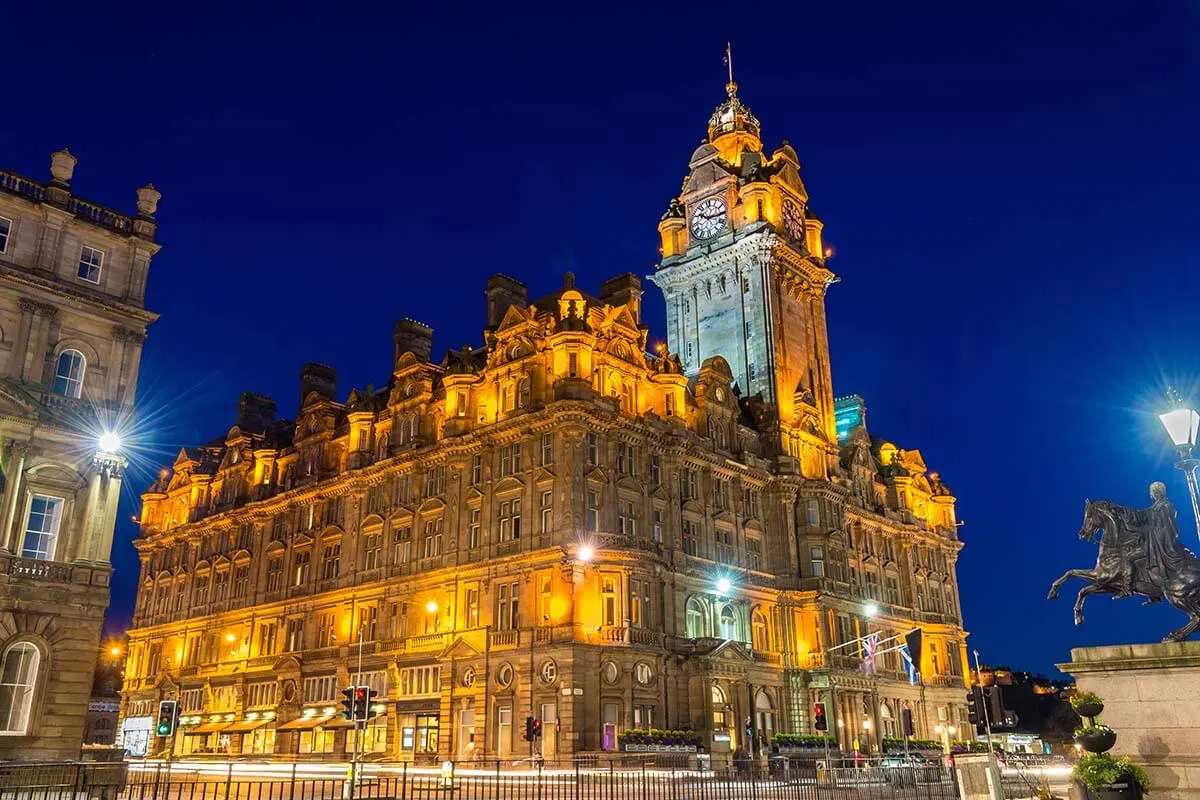 2. Stay close to Waverly
If you want to make the most of your trip to Edinburgh, stay in the city center! Any accommodation within walking distance of Waverley railway station will be in the heart of the city, with all the main sights and attractions right on your doorstep!
Here are some of the most popular and best-rated centrally-located Edinburgh hotels:
£££££+ The Balmoral – one of the most luxurious 5* hotels in Edinburgh.
£££££ The Scotsman – luxury 4* hotel in the Old Town.
££££ Hilton Edinburgh Carlton – a more affordable luxury.
£££ Old Waverley Hotel – a very popular 3* hotel.
££+ Fraser Suites Edinburgh – a beautiful mid-budget hotel in the Old Town.
In addition to the major hotels, you will find many B&Bs sprinkled throughout the city. Staying in a bed and breakfast will often give you the opportunity to get to know a local family as well. You'll find the Scots extremely friendly and more than happy to share information about the city of which they're so rightly proud.
The best budget hotels include the Stay Central Hotel, Motel One – Royal, and Motel One – Princes.
If you're on an even lower budget, there are some great options in Edinburgh too. For hostels, try the High Street Hostel or the Castle Rock Hostel.
TIP: Using the map below, you can also compare hotels, apartments, and privately-rented accommodations in Edinburgh. Simply insert your travel dates and group size, and you'll see the best deals for your stay. Check it out!
3. Explore Edinburgh on foot
One of the most wonderful things about visiting Edinburgh – particularly if you only have time for a brief visit – is its small size. It's easy to explore the nicest areas of the city center on foot.
In fact, walking is absolutely the best way to see the Old Town, with all its little secret courtyards, mysterious staircases, and tiny side streets concealing vintage shops and independent boutiques.
All the main attractions are within walking distance of each other. Only the Botanic Gardens are located outside the main part of the city and the Royal Yacht Britannia. For these places, you could either take a hop-on hop-off bus or rent a bike.
Cycling is a really good option for places that are located a bit further away. In the past, Edinburgh had a convenient cycle-sharing system, but it has now stopped due to vandalism. So if you want to explore the highlights of the city by bike, you can look for a cycle hire or opt for a bike tour.
If you decide to take public transport, be sure to have the correct money for your fare – change will not be given on the bus. Alternatively, pay using a contactless card or smartphone, or buy unlimited adult, child, or family travel tickets using the Transport for Edinburgh bus app. This app also provides a real-time schedule and useful route maps. It's also a good idea to let your driver know your destination as you board and sit close by, so that you can check if you are close to your stop. Most stops are not announced and it's very easy to miss your destination!
Good to know: Edinburgh's traffic is heavy, so it can often take longer to reach a destination by bus or taxi than it would on foot. Not to mention the fact that taxis – and even Ubers – are expensive.
We don't recommend hiring a car either. Many of the best areas are inaccessible by car and parking is hard to find and expensive. If you hire a car, do it only for the days when you are exploring outside of the city. Remember that they drive on the left in the UK and the majority of cars in Scotland use manual transmission, with the gear shift located on the left.
TIP: For the airport transfer to the city, you can take this convenient (and cheap) bus.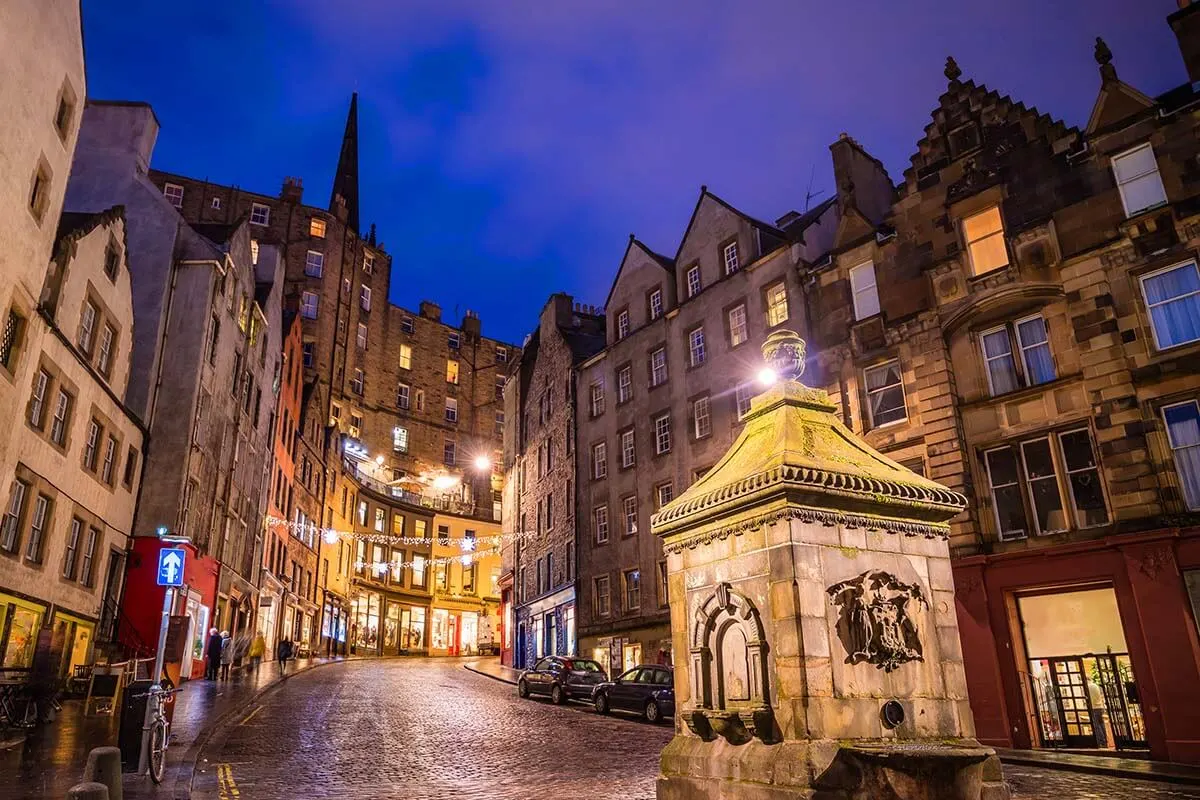 4. Enjoy Edinburgh's FREE attractions
Edinburgh has a lot of amazing free attractions. There are some really nice things to do at absolutely no cost whatsoever (although donations are always welcome).
The National Museum of Scotland is not to be missed, with exhibits that celebrate the natural world, art and design, science and technology, world cultures, and Scottish history. It's one of the musts in Edinburgh!
There are also free guided tours of the Scottish Parliament.
Other free attractions include the Museum of Edinburgh, the Peoples' Story Museum, the Museum of Childhood, the Writers' Museum, and the stunning Botanic Gardens and the Princes Street Gardens.
There are many free walking tours available, which give you a fantastic opportunity to learn more about the city from someone who knows it well! We recommend taking a walking tour at the start of your visit. That way you can go back and explore the things that interest you most later on. Although the tours are free, it is customary to tip your guide.
You might also want to take a stroll through some of Edinburgh's fascinating graveyards (kirkyards), where you'll find interesting monuments and burial sites. These include a statue of Abraham Lincoln in the Old Calton Burial Ground, the grave of Adam Smith in the Canongate Kirkyard, and a memorial for Robert Louis Stevenson in Princes Street Gardens.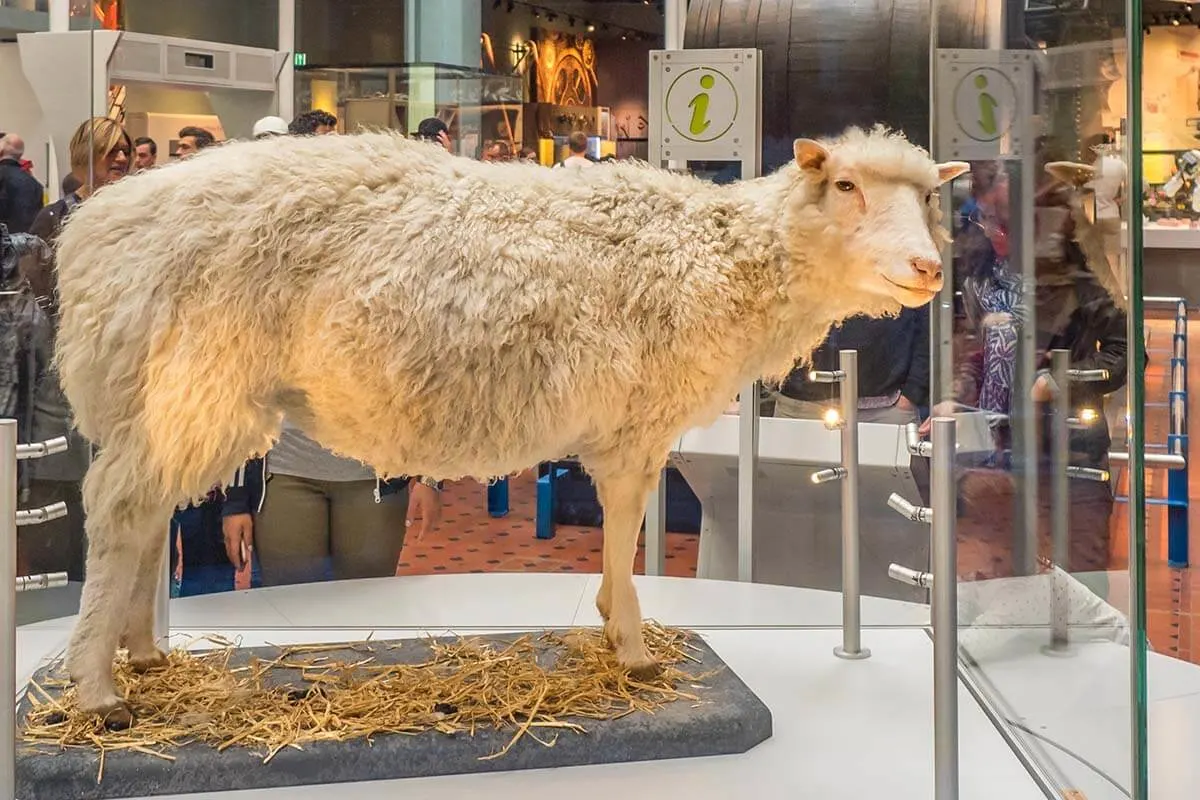 5. Save money with the Royal Edinburgh Ticket
Once you've exhausted all the free attractions, another good way to save money is to purchase an Edinburgh Royal Ticket.
This ticket includes top-3 of Edinburgh's Royal sights (Edinburgh Castle, Royal Yacht Britannia, and Holyroodhouse) and unlimited travel on a hop-on-hop-off bus. It's valid for 48 hours and – if you are planning on visiting all these attractions – offers really good value.
6. View the city from above
Some of the best views of Edinburgh are those from a higher ground, where you can enjoy a sweeping panorama encompassing both a modern cityscape and a historic skyline.
Some of the most popular spots that offer an excellent vantage point include Calton Hill, the top of the Scott Monument, and the rooftop terrace of the National Museum. Or you can also book a rooftop tour of St Giles Cathedral.
Alternatively, go to the top of the Camera Obscura attraction, where you'll find telescopes for an even closer view out to the horizon.
If you feel like hiking, the views from Arthur's Seat are incredible. From here, you can see the Firth of Forth estuary, Edinburgh Castle, and Holyrood Palace. Whilst not overly strenuous, this is a 2-hour hike up the remnants of an extinct volcano and requires a reasonable level of fitness (and plenty of water!). But the reward when you get to the top is definitely worth the effort!
TIP: Edinburgh's sunsets are gorgeous! If possible, try to get to a high point during the golden hour in order to take some truly stunning photographs.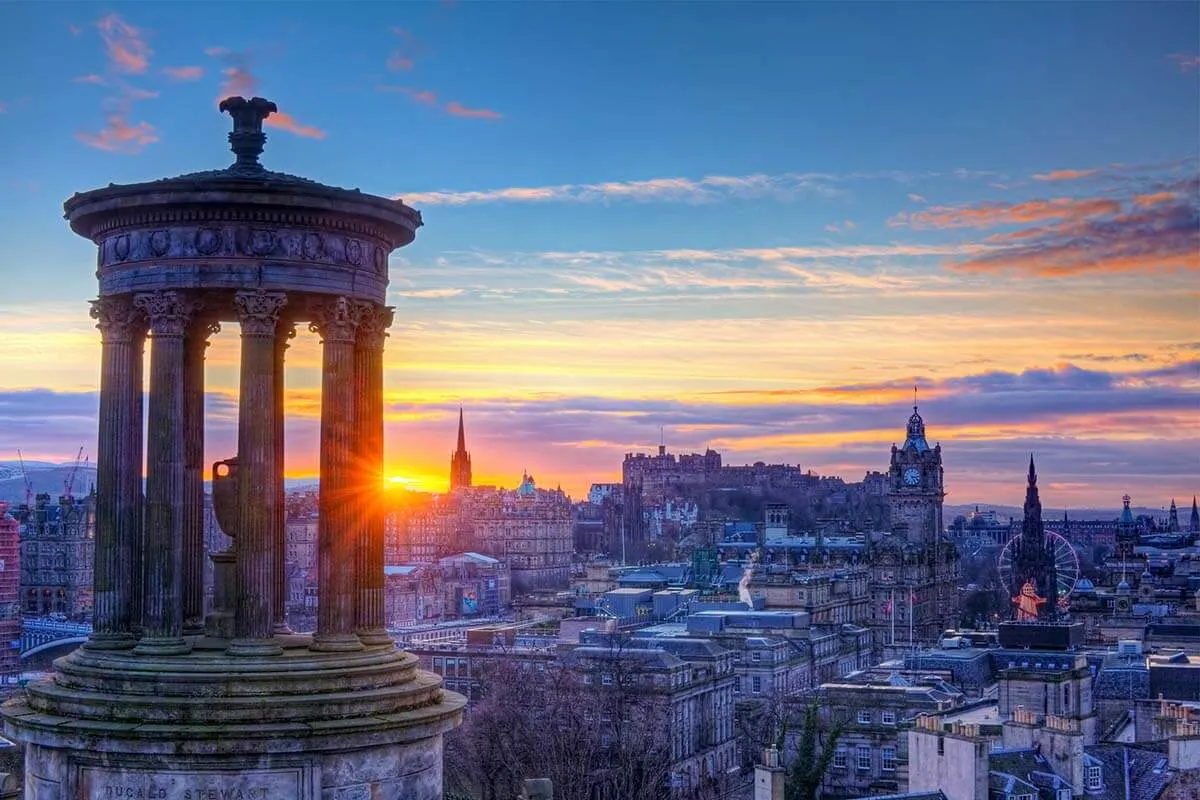 7. Dress for Edinburgh's weather!
Edinburgh is a curious place where it's almost possible to experience all four seasons in one day! The rule of thumb is to expect the unexpected and dress accordingly.
Ideally, you should dress in layers. Sometimes, you may leave your hotel on a sunny morning in just a T-shirt, only to find the temperatures plummeting as soon as the sun disappears an hour later!
And the city is, of course, notorious for its rain which comes down often… and heavily!
Waterproof clothing is a must, but umbrellas aren't always the best solution. Not only will negotiating Edinburgh's crowded streets with an umbrella make you unpopular with other pedestrians, but the wind will likely turn it inside out within minutes! On the other hand, when it pours and you have nowhere to hide, it can be a lifesaver!
Make sure you wear comfortable, waterproof footwear. You will be doing lots of exploring on foot and many of the streets and walkways in the Old Town are cobbled. You might even want to consider lightweight walking boots which will give extra support to your ankles when walking on uneven surfaces.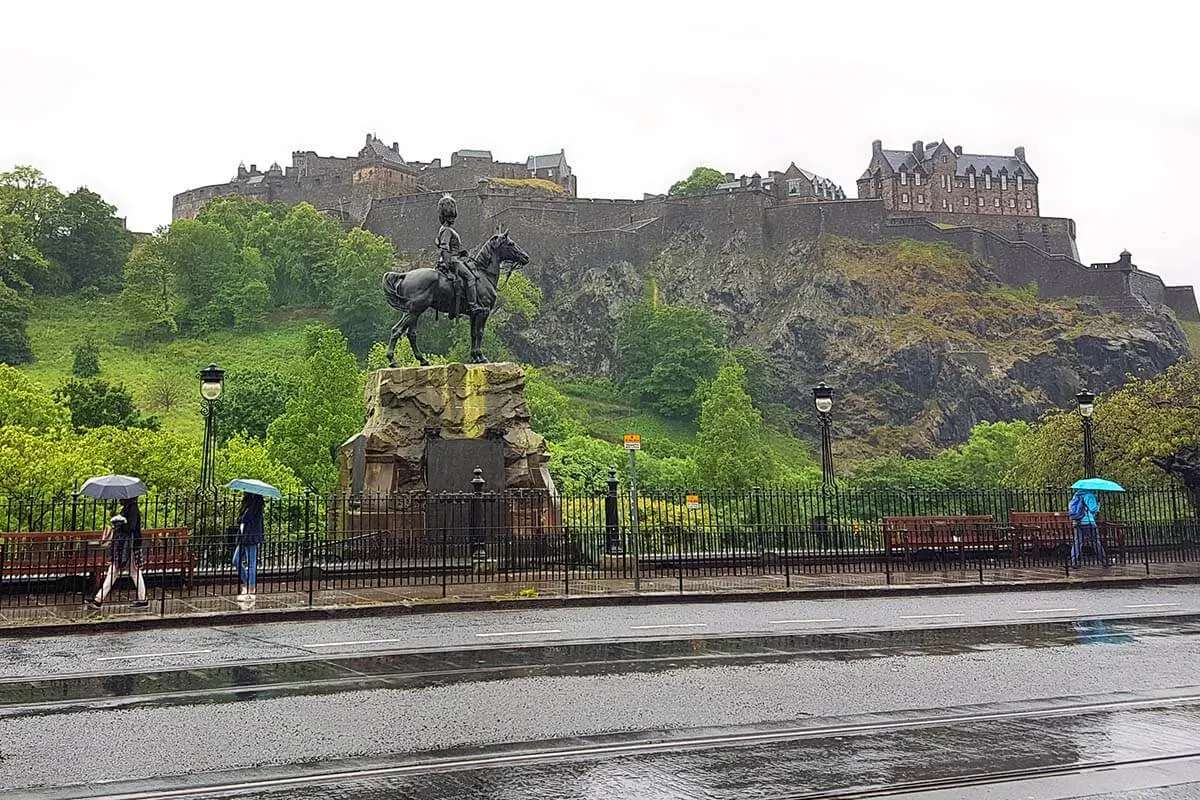 8. Visit in May-June or September-early October
Late spring and early fall is a great time to visit Edinburgh. The weather is (generally) relatively warm and it is light until around 9 to 10 pm, giving you extra time to enjoy the sights. I say generally because we once visited in June and it was quite cold and pouring all the time. You just really never know in Edinburgh.
Another good thing about visiting in the shoulder season is that it's far less busy than in the peak months of July and August. Accommodation is also (usually) more affordable. I say usually because all the affordable hotels were booked when we visited in June (yes, that same cold and wet visit I talked about above :)) and it was practically impossible to find anything decent under £350 for 2 people per night.
Good to know: October can be particularly beautiful, with the striking colors of the autumnal foliage. But do bear in mind that many seasonal businesses and accommodation providers close around the middle of the month.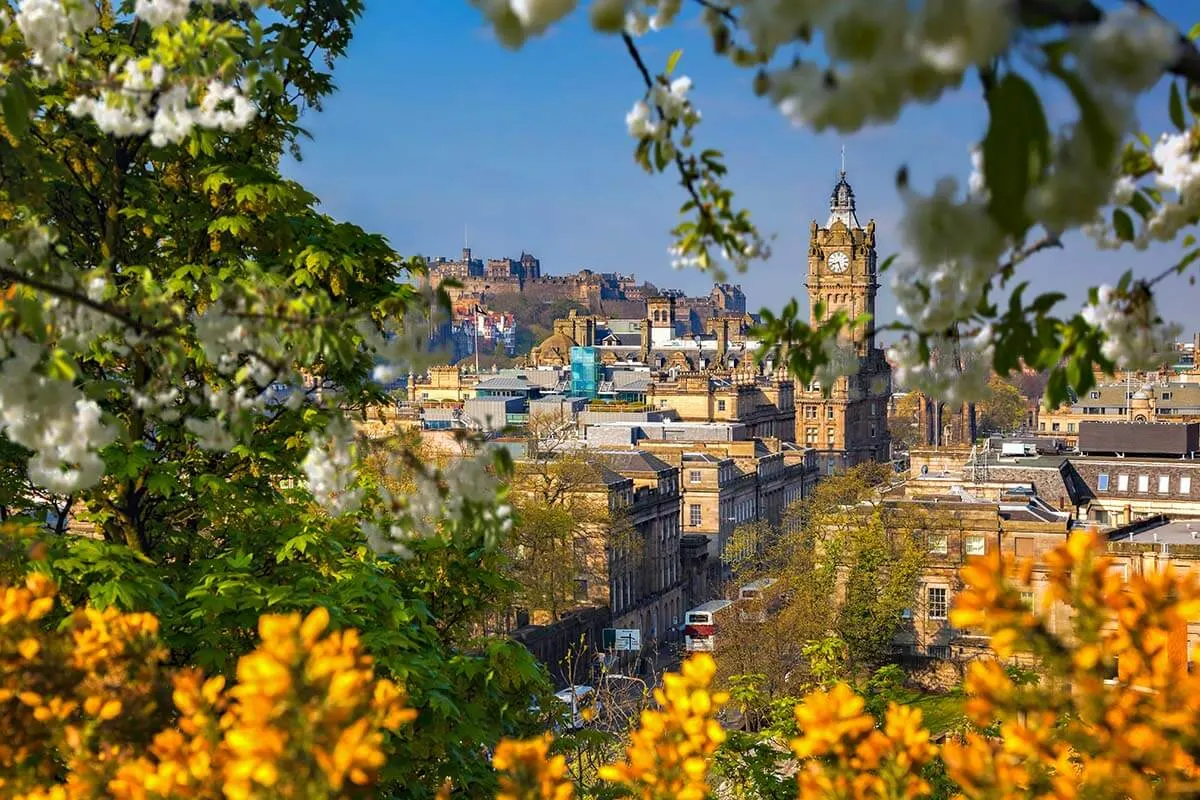 9. Avoid festival season (unless you want to visit a festival, of course!)
The population of Edinburgh virtually doubles in August, when the Edinburgh International Festival, Edinburgh Fringe Festival, and Edinburgh Military Tattoo all take place. Celebrating a mixture of music, theatre, comedy, and dance, these events are globally famous and attract visitors from all over the world.
They are also incredibly cool and well worth a visit should you be willing to face the crowds. As an extra bonus, the weather in August should be the best of the year, with pleasant temperatures and (usually) less rain.
However, the streets are packed with people, accommodation is hard to find, restaurant reservations are like gold dust, and the price of EVERYTHING goes up. So unless you plan to attend the festivals or related events, we would strongly recommend avoiding the city center throughout the entire month of August.
You can, however, take advantage of August's better weather by staying outside the more popular areas. Stockbridge – with its quaint cafes and trendy pubs – is within walking distance of the city center, as is Leith, the vibrant port district with its waterfront seafood bistros. Both are also well connected to the center of Edinburgh by bus.
Another busy time for Edinburgh is Hogmanay – Scotland's famous celebration of the New Year. It's one of the world's largest New Year's parties in the world. Tens of thousands of people pack the streets to enjoy live music, torch-lit processions, and fireworks. Unless you plan to take part in the festivities, it's not an ideal time to visit Edinburgh!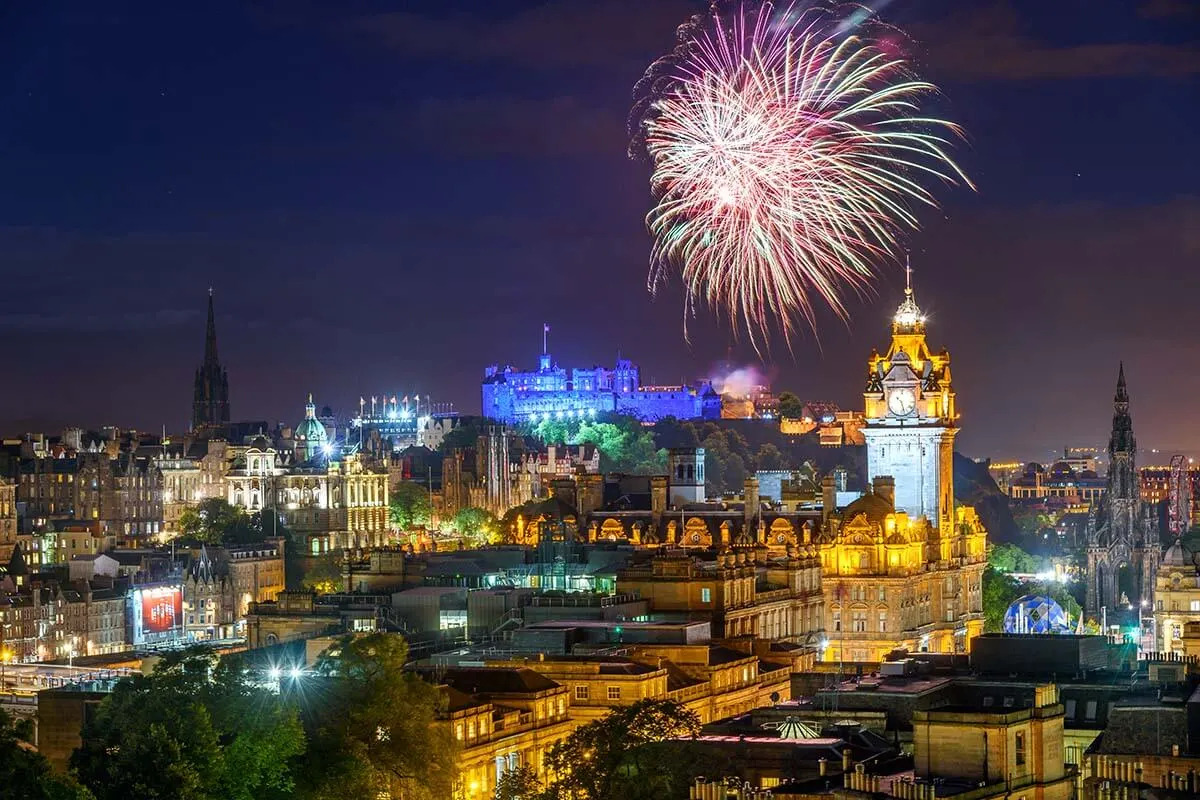 10. Try local food
No visit to Scotland would be complete without a taste of its national dish – haggis.
Traditionally made with a mixture of sheep offal (heart, liver, and lungs), onions, spices, oats, and fat – all stuffed into a sheep's stomach – it is served with 'neeps and tatties' (mashed turnips and mashed potatoes). You can find it on menus across the city, although modern-day recipes are rarely traditional (and the sheep's stomach is often omitted!). Nevertheless, this is a tasty dish and perfect for giving you a warm glow to face the Edinburgh chill!
Other traditional foods to look out for are stovies (a potato dish), black pudding, and Scottish salmon. Cullen skink, a delicious soup made with smoked haddock, potatoes, and onions is also a must-try!
A less well-known Scottish delicacy is the battered sausage – a regular sausage deep-fried in crispy batter! Head over to the City Restaurant on Nicholson Street for the best-battered sausage in town. They also serve excellent fish & chips and you can also try another one of the region's specialties – deep-fried, battered Mars Bar!
TIP: Save money by dining at pubs rather than restaurants. Many pubs sell exceptionally good food, often providing a more authentic taste of Scottish culture than many restaurants. And at a far lower cost!
If you forget to book a table for dinner, it's still worth a visit to see if the restaurant can accommodate you. Some restaurants set aside tables specifically for walk-ins (the most notable is Dishoom, the famous Indian restaurant that originated in London) and you may also find some that will take your number and be happy to give you a call when a table becomes free.
READ ALSO: Best Traditional Dishes to Try in the UK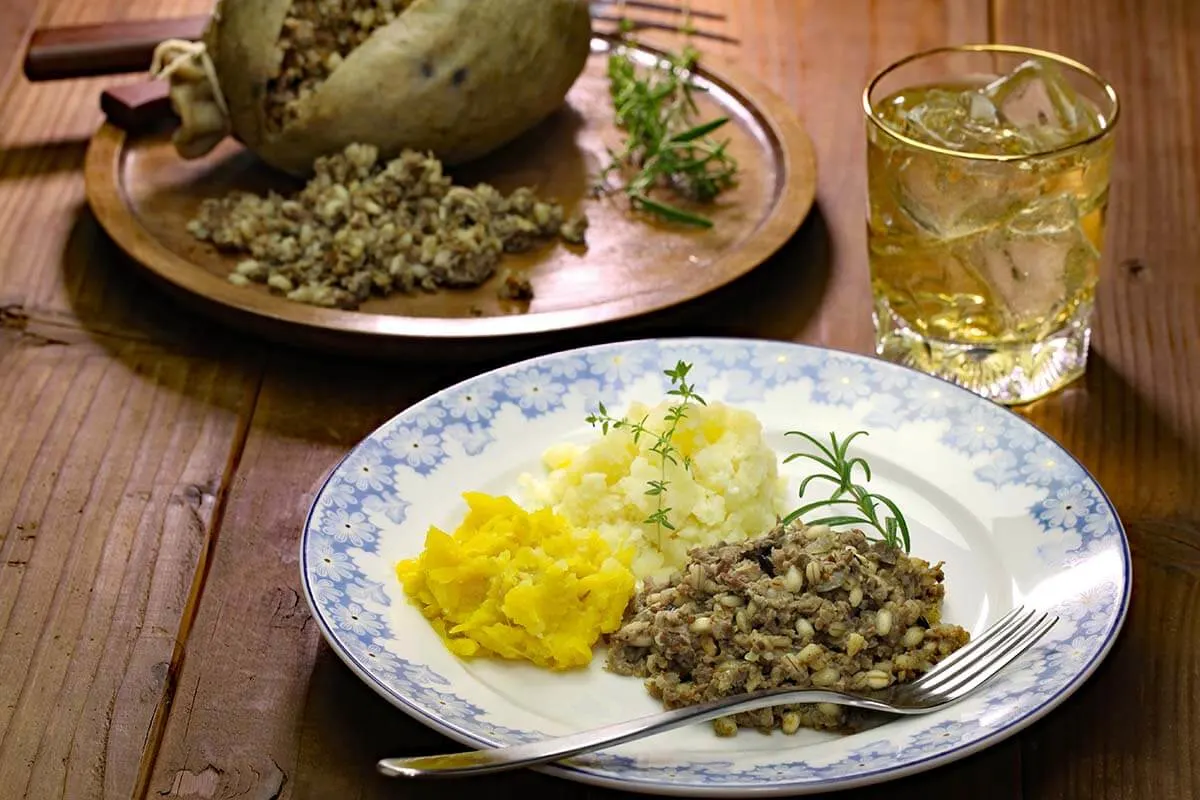 11. Try Scotch whisky
Not all Scottish delicacies are the edible kind – the country has two famous drinks too!
The first, of course, is Scotch whisky, for which the country is known across the world. You can learn more about its history and how it's made at The Scotch Whisky Experience, which also includes a tasting session. Alternatively, try one of Edinburgh's many pubs on a quiet afternoon and ask for recommendations. Most bartenders are happy to chat with you about their favorite whiskies and share a little of their history!
But there's another Scottish beverage that you may not be quite as familiar with, and that's Irn Bru. This carbonated soft drink contains caffeine, sugar, and 32 secret flavors. It was invented at the start of the 20th century as a replacement for beer for Glaswegian Steel Workers.
It was originally called 'Iron Brew' and became famous across the UK following an ad campaign that used the slogan 'Made in Scotland, from girders'. Its name changed to Irn Bru after advertising watchdogs decided it couldn't be called Iron Brew because it wasn't actually brewed from iron! Nevertheless, it remains an important part of Scottish culture and is offered to children as an alternative to whisky on tours of distilleries!
TIP: If you are a whisky enthusiast, take a look at this 3-day tour leaving from Edinburgh. My husband did it a few years ago and is still talking about it as one of the best experiences ever.
READ ALSO: Scotland Whisky Tour from Edinburgh
12. Be souvenir savvy!
The most popular area for souvenir shopping is the Royal Mile, which runs from Edinburgh Castle down to Holyrood Palace and the Scottish Parliament. But the shops here are expensive. And whilst you may think you are buying genuine Scottish tartan and locally made arts and crafts, chances are you are actually taking home imported goods, mass-produced for the tourist market.
There are a couple of notable exceptions. Ragamuffin – a store situated on a corner around halfway along the Royal Mile – sells the finest quality Scottish knitwear. It's the perfect place to buy a lasting memento of your Edinburgh visit. And for fine, authentic Scottish whisky, visit Cadenhead's Whisky Shop. This is Scotland's oldest independent bottler and is located just a couple of minutes further along the Royal Mile as you approach the Castle.
Alternatively, break away from the Royal Mile and check out the independent boutiques and galleries at The Arches, which can be accessed from East Market Street. You can also find cheap but high-quality woolen items and kilts at Armstrongs Vintage, a second-hand shop in the Grassmarket.
If you are visiting Edinburgh on a Sunday morning, check out Stockbridge Market. Located next to the bridge over the Water of Leith – just a 20-minute walk from Edinburgh Castle – this market sells a variety of locally made items including jewelry and hand-made soap. It's open from 10 am to 4 pm.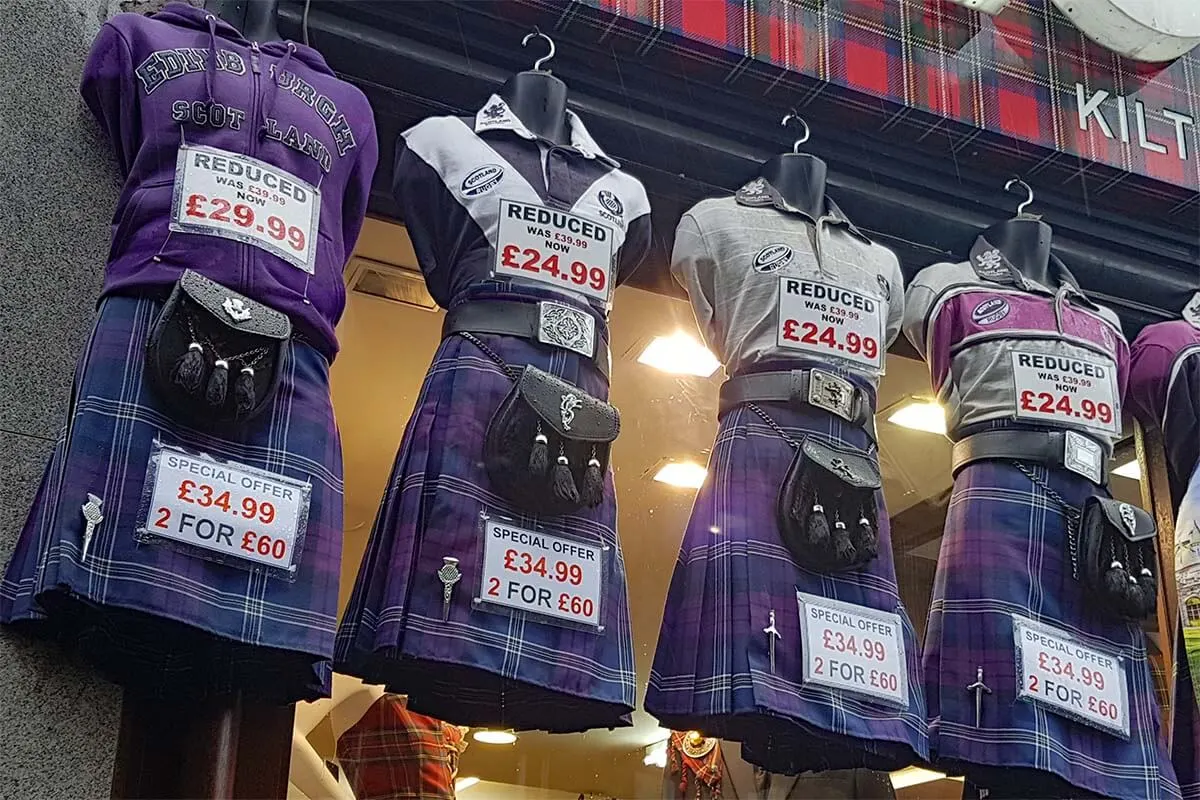 13. Be smart when exchanging your money
If you need to use an ATM during your stay, opt to be charged in local currency and do not allow the machine to convert the charge to your home currency. This is because it allows the ATM provider or bank to set the exchange rate, pushing up your fees considerably.
Keep this in mind when paying by credit card as well. Every time you pay, you'll be presented two choices – pay in your currency or in pounds sterling. Always – ALWAYS – choose to pay in pound sterling. This is one of those common – and sadly, legal – scams that can cost you a lot of money. I once lost about 16% in currency exchange at an ATM in London by choosing my own currency. Lesson learned.
Good to know: Scottish banknotes are quite distinctive and feature Scottish heroes such as poet Robert Burns and famous writer Sir Walter Scott. But don't be surprised to be given English money during your stay in Edinburgh. Scottish and English money may look different, but they all represent the same currency, which is pounds sterling. You can use either note in both England and Scotland.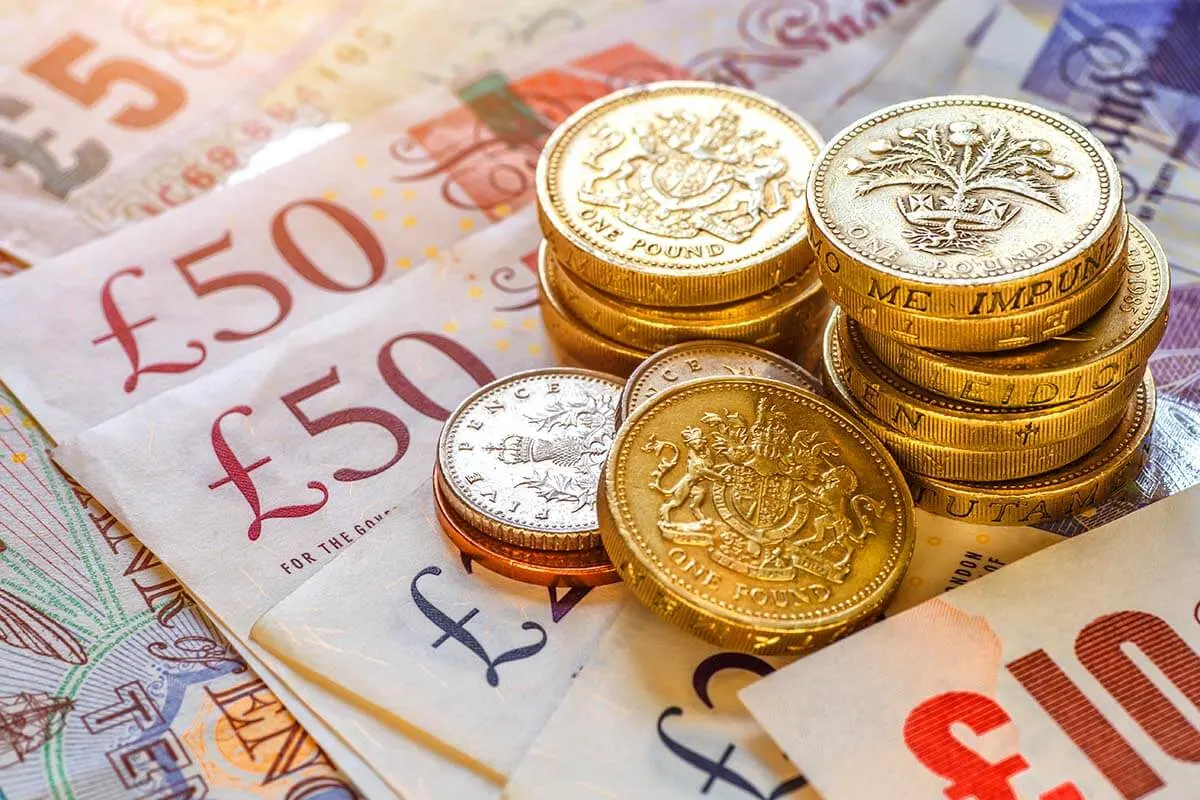 14. Be prepared for men in skirts (or kilts, to be precise)!
Originating from the plaid cloaks historically worn in highland Scotland, the modern kilt dates back to the 19th century. Also today, the kilt is sometimes worn by Scottish men.
Accompanied by a frilled shirt and pouch called a 'sporran' that hangs in front to replace pockets, kilts are thick pleated skirts made of wool. They usually have a tartan pattern, which traditionally represented a particular 'clan' or family.
These days, Scottish kilts are mainly worn for special occasions like weddings, or by busking bagpipers near the Castle. But if you'd like to take home an authentic kilt as a very special memento of your stay, head to Gordon Nicolson Kiltmakers near the Royal Mile. They'll even show you how to wear it properly!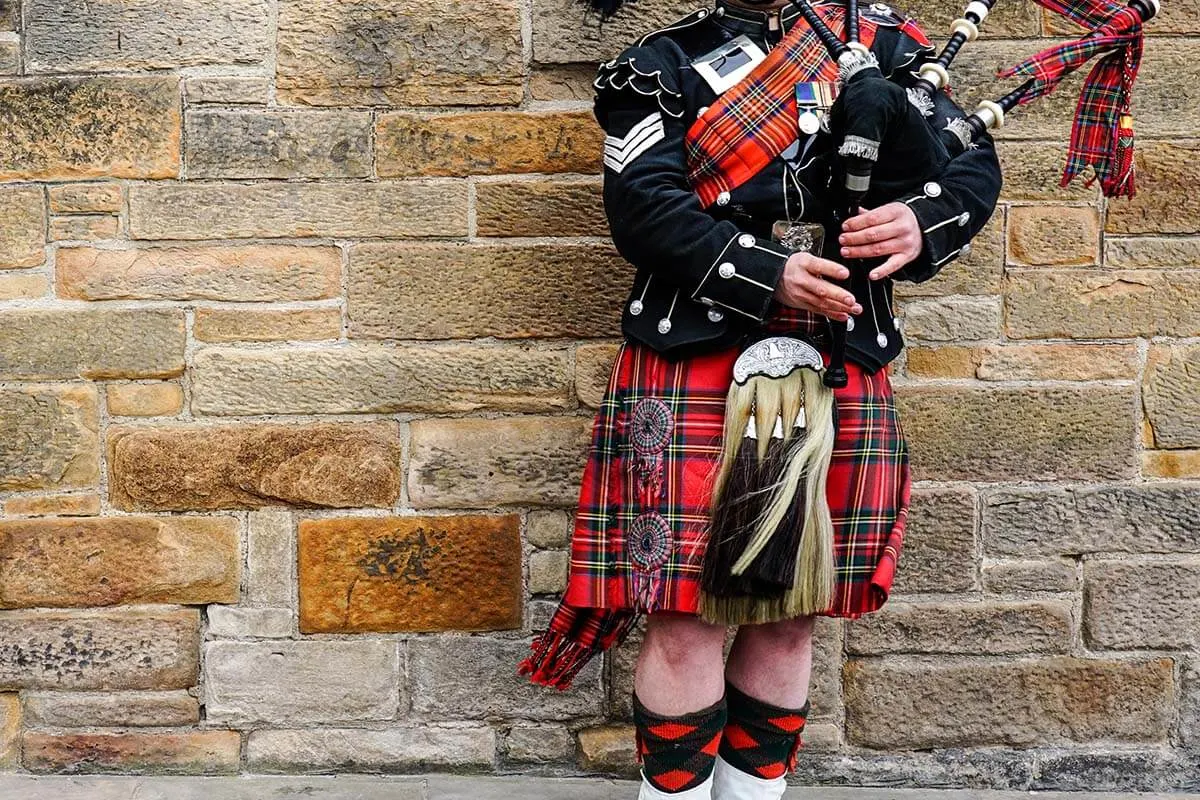 15. Explore the areas outside the city
Whilst Edinburgh offers plenty to do, there are also a couple of attractions a short distance from the city that are well worth a visit as well. In addition, there are lots of spectacular places in Scotland that you can visit as a day trip from Edinburgh.
TIP: This highly-rated Loch Ness, Glencoe & the Scottish Highlands Tour is the most popular day tour from Edinburgh and is well worth your time! There are also some really nice multi-day tours that allow you to see more of Scotland without having to plan much.
Just near Edinburgh are the 3 bridges of Firth of Forth: the Forth Road Bridge, The Forth Bridge, and the new Queensferry Crossing. There are various boat cruises that allow you to enjoy magnificent views of Edinburgh and Fife's coastlines and the iconic bridges.
Alternatively, visit Rosslyn Chapel, just 7 miles south of the city. Founded in 1446, this chapel was made famous by Dan Brown's Da Vinci Code, which explored its mysteries. The building is filled with strange geometric patterns which many insist are otherworldly – or alien – in design. Bizarre carvings are everywhere, believed to be symbolic in nature and giving rise to various myths and legends. The building itself is surrounded by gorgeous scenery, making this a great and quirky place to visit away from the bustle of the capital's center. There are also quite a few tours that visit here.
Gilmerton Cove is another interesting place near Edinburgh. It's a very unique, 300-year-old subterranean attraction consisting of 7 underground rooms, a well, a fireplace, a blacksmith's forge, tunnels, and even a chapel. The rooms feature furniture hewn from rocks. And the strange thing is that no one has any idea who created them, or why! You can travel by Lothian bus from Edinburgh city center to Gilmerton Cove.
16. Learn some local words
In addition to the very strong Scottish accent, some of the local terminology may leave you scratching your head!
Here are a few great words to learn when visiting Edinburgh:
Haar = the chilly fog that sometimes blankets the city.
Scran = food.
Loch = lake.
Law = hill.
Burn = stream.
Greet = cry (not say hello!).
Kirk = church (which is why you will see kirkyards rather than churchyards throughout the city).
Dram = a shot of whisky (or other spirit).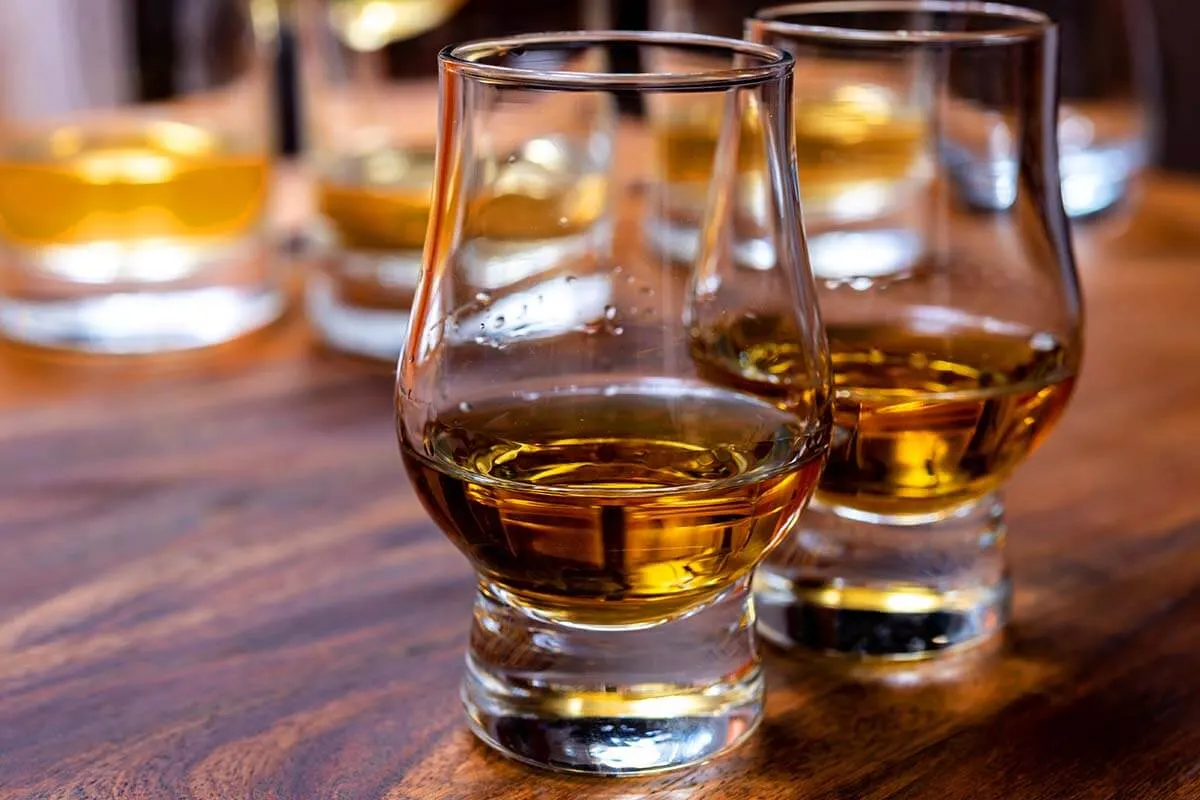 17. Bonus tips
If you want to hear the sound of real bagpipes, head to the Royal Mile, particularly the end nearest the Castle. There will invariably be a busker or two in full Scottish dress entertaining the crowds. They are usually happy to pose for photos too (just remember to put a donation in the bucket or hat).
Visiting Edinburgh Castle? Get there early and head straight to the Honours of Scotland (the crown jewels) before visiting anything else. They are the most popular part of the Castle and the queues to see them become very long throughout the day.
Don't offend the locals by suggesting that Scotland is part of England – they are two distinct countries. Both are, however, part of the United Kingdom, which also encompasses Wales and Northern Ireland.
Looking for a fun night out in true Scottish style? Then find yourself a ceilidh (pronounced kay-lee)! Traditionally a highland Gaelic form of entertainment, a ceilidh is basically an evening of fiddle music, dancing, singing and storytelling. There are opportunities to experience them all over Edinburgh. Here you can check the calendar to find out if there's one taking place during your stay.
Don't waste your data – you will come across public access wifi throughout the city, with no restrictions on time. Just look for 'EdiFreeWifi' in your available networks and log in using either Facebook or by providing basic details.
Whilst many hotels and attractions of Edinburgh are well equipped to accommodate wheelchairs, the cobbled streets, narrow roads, inclines, and winding staircases of the Old Town would make a visit challenging for someone with limited mobility. See here for more information about accessibility in the city.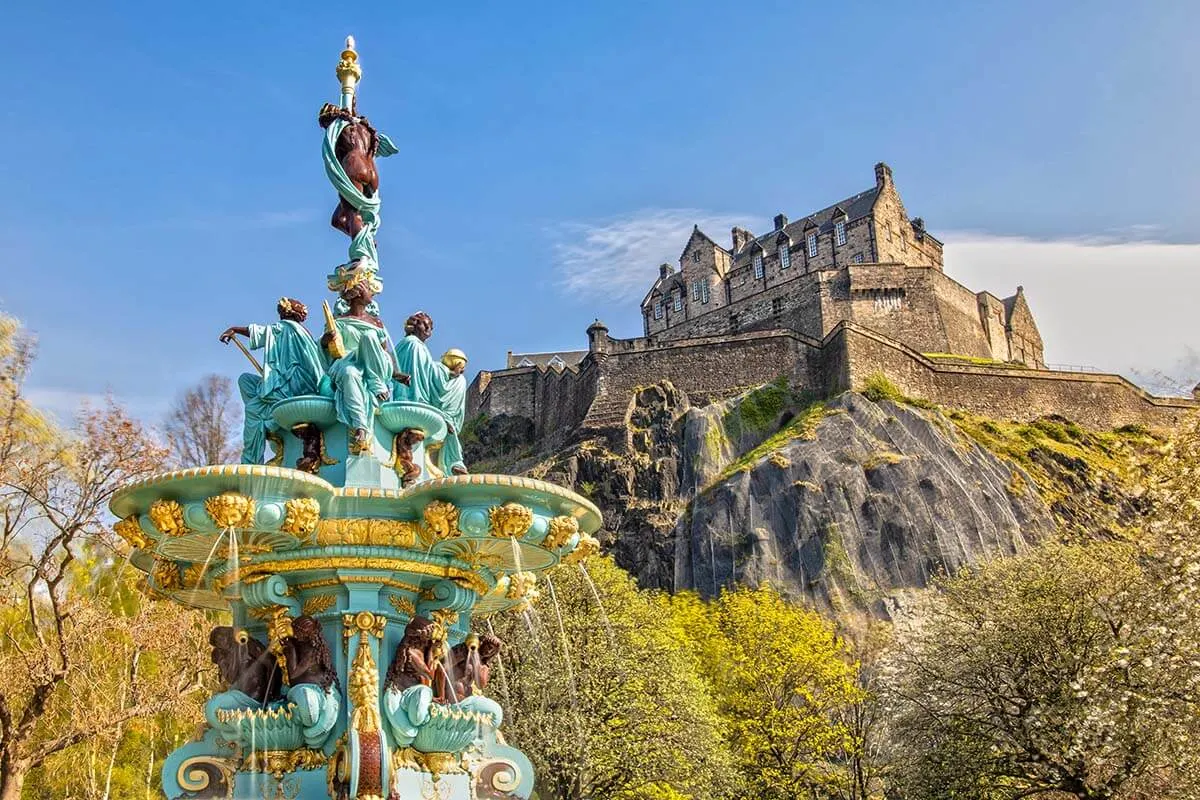 So, these are some of the most important practical tips you should know when traveling to Edinburgh for the first time.
TIP: If you are wondering what to see and do in the city or how to plan a short first visit to Edinburgh, take a look at our detailed guides via the links below:
More travel inspiration for the UK:
London travel inspiration:
If you found this post useful, don't forget to bookmark it and share it with your friends. Are you on Pinterest? Pin this image!