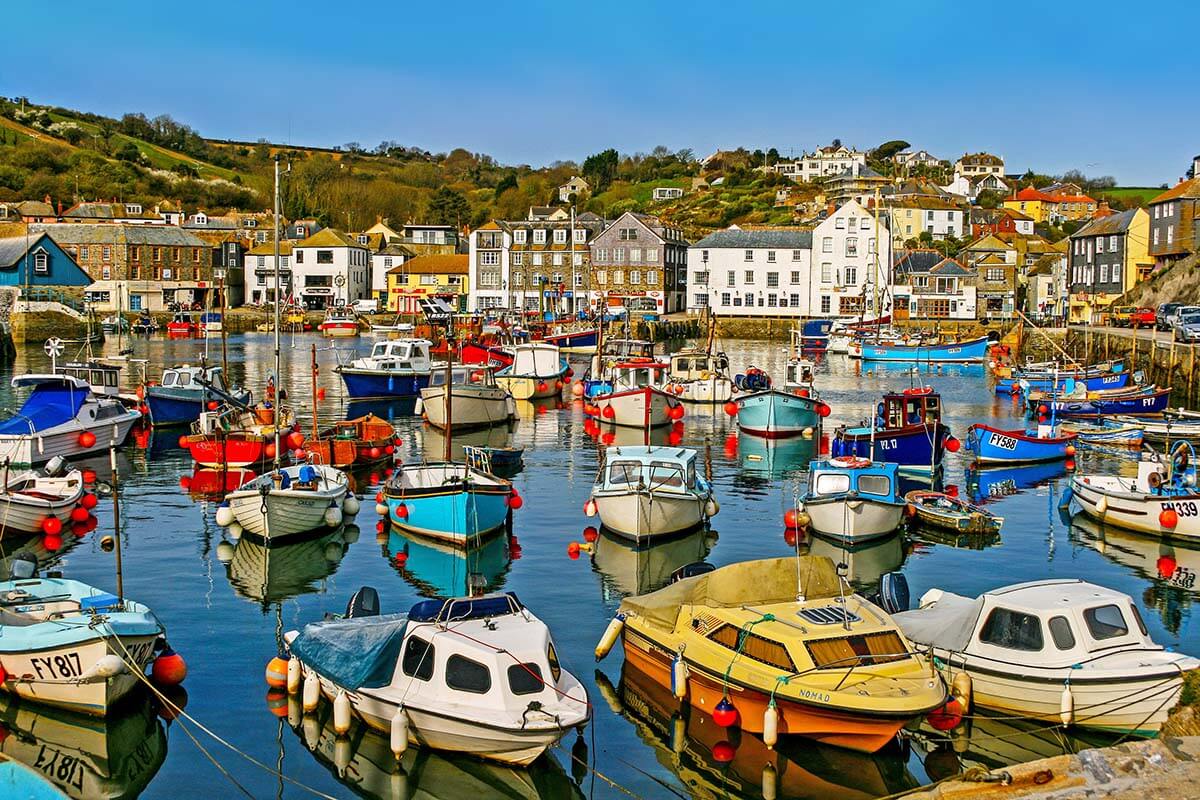 Planning a trip to Cornwall, UK, and wondering where to stay in Cornwall? This guide lists some of the best towns to stay in Cornwall, what to expect, what to see nearby, and why choose one place over another. In addition, for each town, we feature some of the best hotels for all budgets and some tips for the best places to eat and drink. Find out!
Cornwall is one of the most beautiful regions of southern England. With stunning coastlines and beautiful landscapes, quirky towns and fishermen's villages, but also rich history, countless sights and attractions, it's a wonderful vacation destination for all types of travelers.
The best place to stay in Cornwall depends a bit on what kind of vacation you are looking for and the places you want to visit. On the other hand, the region isn't huge, so you can pick a town that appeals to you the most and make day trips to see the main landmarks and attractions in Cornwall. Take a look below for the best suggestions by our writer Christine, a UK local who has vacationed in Cornwall several times. Find out!
Good to know: For each town, we included some hotel recommendations for all budgets – from low budget to luxury, indicating price range from £ to ££££.
However, this is just an indication, based on the extensive research we did. Some luxury accommodations can be very affordable when booking last minute or in the low season, whereas budget accommodations can be quite expensive in the peak season as well. It can happen that a £££ hotel is cheaper for your travel dates than one indicated with ££.
A lot also depends on your group size, the available rooms, whether they have a sea view, etc. So use our price ratings just as an indication and be sure to check the exact prices for your travel dates in order to be able to find the best accommodation for your stay!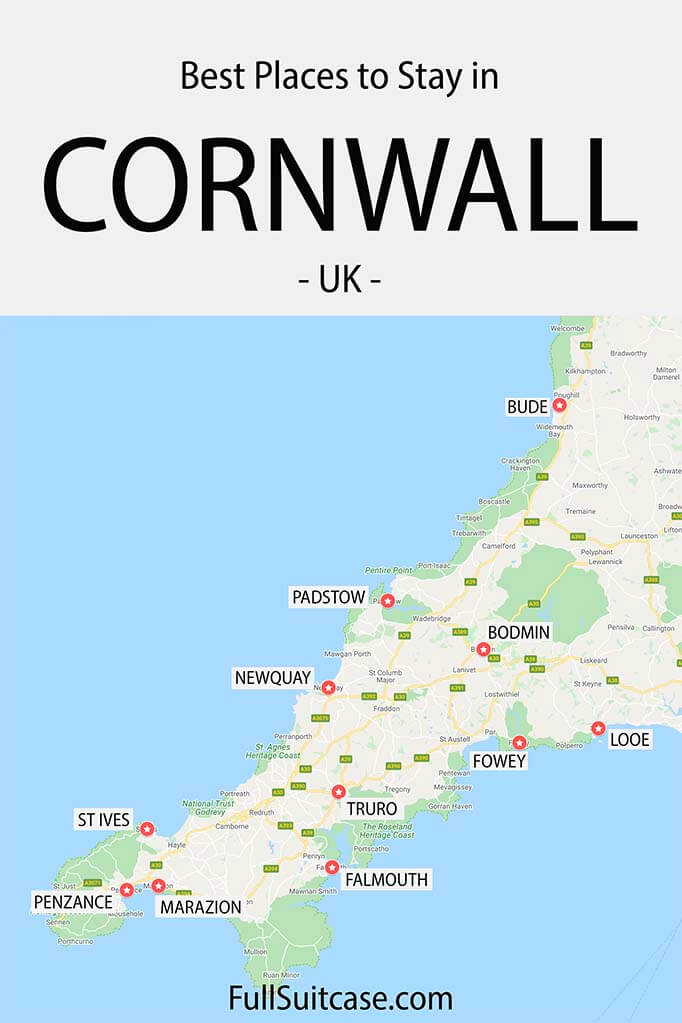 Here's an overview of the best towns to stay in Cornwall. Click on the name to read more about each town or simply scroll down for more details and hotel suggestions for each place.
These are the best places to stay in Cornwall:
St Ives
Stay here for coastal landscapes, a nice vibe, art, beaches, and great sightseeing possibilities. One of the most popular places to stay in Cornwall.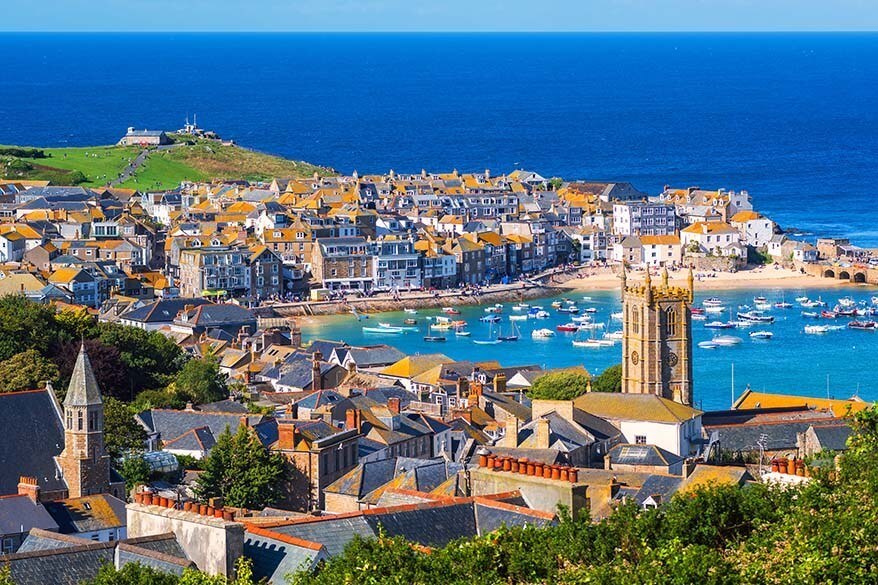 If you are visiting Cornwall for the first time and want to experience the very best that this region has to offer, St Ives is probably the best place to stay in Cornwall! It's located in a beautiful area and offers a good mix of everything that makes the county so wonderful! Furthermore, it's well-positioned for visiting most of the main landmarks and sights in Cornwall. Some places that you'll likely want to see are about 1-1.5 hours drive from St Ives, but most others are closer than that.
Located on a narrow peninsula in the Celtic sea, St Ives has world-class beaches, four of which are within easy walking distance of the town. Porthgwidden is small, sheltered and the most popular with young families, whilst Porthmeor is the perfect place to watch the surfing (or to jump on a board yourself!). Just a short drive from town, there's a long stretch of sandy beaches from Hayle Beach all the way to Gwithian Beach.
St Ives' fishing harbor is quite beautiful too, especially when viewed from the water. Be sure to take a boat trip to nearby Seal Island, where you can see Grey Atlantic seals in their natural habitat. The scenic drive to the nearby Land's End and the coastal walks there are also a must!
But St. Ives isn't just about its beaches and pretty cottages – it has a lively art scene too! Home at one time or another to some of the finest sculptors and artists in the world, the town is dotted with galleries and studios. You can visit the Barbara Hepworth Museum to enjoy her amazing artwork, or head down to the seafront to visit Cornwall's very own Tate Gallery.
Where to stay in St Ives
Here are some of the best St Ives hotels for every budget:
TIP: St Ives accommodation is very sough-after, so be sure to book as soon as you know your travel dates. Here you can find a complete overview of all the best St Ives accommodation options, including hotels, apartments, B&Bs, and holiday homes. Keep in mind that some accommodations and holiday homes have a minimum stay requirement of 2-3 nights, some even longer, especially in the high season. So they'll show up as unavailable if your stay is shorter than that.
Where to eat and drink: St Ives is home to one of Cornwall's oldest pubs, the Sloop Inn. Dating from the early 14th century, with its traditional, low ceilings and Cornish ales, it's easy to imagine fishermen and smugglers enjoying a pint there in days gone by!
The town also has a reputation for the best seafood in the UK and there are many great restaurants where you can enjoy fresh seafood at reasonable prices. Check out The Seafood Cafe where you can select your meal from the display of catch of the day and have it cooked to your liking. Other excellent choices include The Mermaid, One Fish Street, Porthminster Kitchen, and more.
Penzance
Good location for sightseeing and bigger choice of mid-budget accommodations than in St Ives.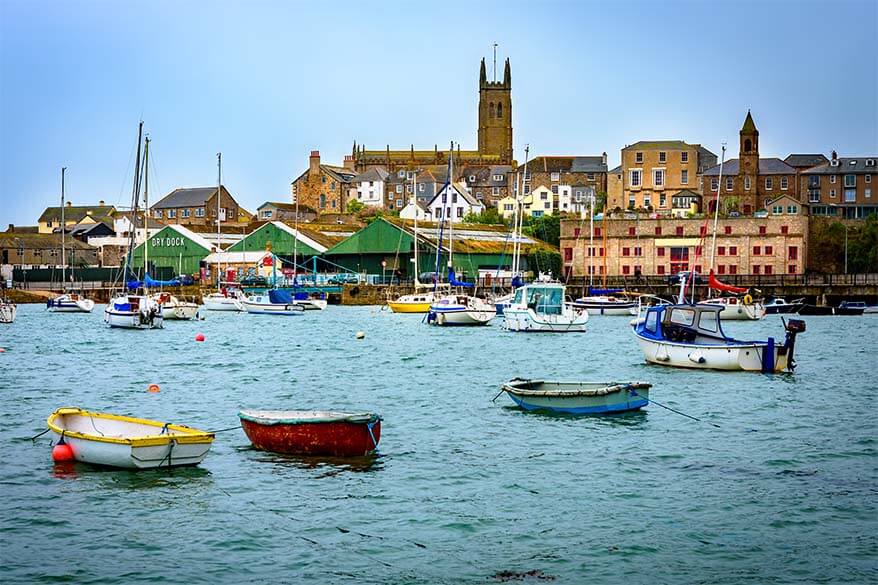 The most westerly bigger town in Cornwall, Penzance offers a nice mixture of coastal views and historic buildings. It has Cornwall's only Victorian promenade and its most historic thoroughfare, Chapel Street. The town is home to the famous Egyptian House, a Grade I listed building with distinctive Egyptian architecture.
You can take a swim at the iconic Jubilee Pool – the largest art deco sea-water lido in the UK. An easy 3-mile coastal walk to the lovely nearby town of Marazion is also a must-do. There you'll find the popular St Michael's Mount – a little island with its own 12th-century castle. It's world-famous for the cobblestoned pathway to the island which is accessible by foot during low tide.
Penzance is also just 3 miles away from the beautiful village of Mousehole, filled with pretty cottages and boasting a small, sheltered beach that is perfect for young families. Penzance is packed with excellent shops and galleries, or you can get away from the hustle and bustle and enjoy one of its two incredible gardens. The small, sheltered Trenwainton Gardens are looked after by the National Trust, whilst Morab Gardens cover 3 1/2 acres and are bursting with tropical vegetation.
Where to Stay in Penzance
Here are some of the best Penzance hotels for every budget:
Here you can find the best deals for Penzance hotels, B&Bs, and short-term rental accommodation.
Where to eat and drink: For Cornish breakfast head to Alverne Restaurant & Lounge, which is also a great choice for lunch and dinner. For the best fish & chips, check out Fraser's Fish & Chips, just next to the Queen's Hotel. Mackerel Sky Seafood Bar is located between Penzance and Mousehole and is one of the most popular choices for seafood. In addition to local specialties, you'll also find lots of Asian restaurants in Penzance.
Marazion
Best views of Saint Michael's Mount, great location for coastal walks, but not very lively in the evenings. Perfect for a luxurious romantic getaway.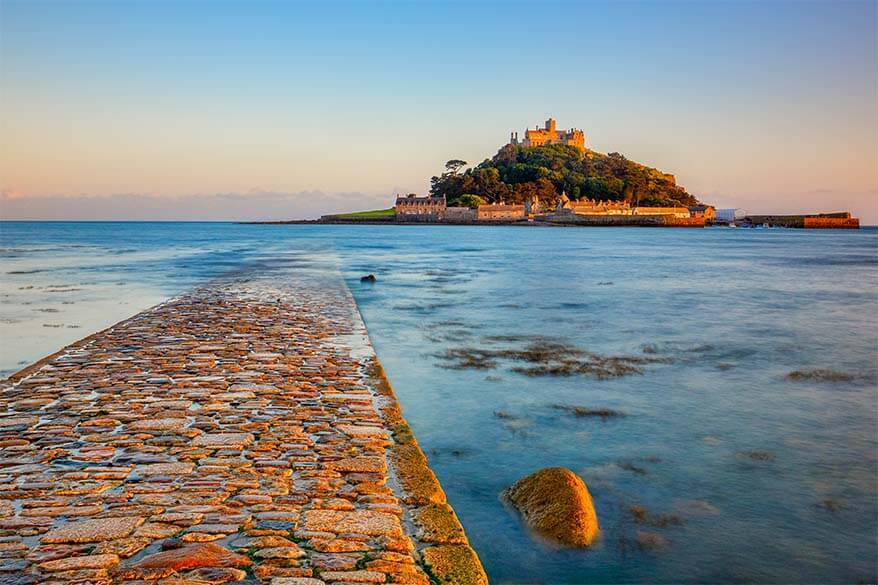 Marazion is a small town, best known as the gateway to the famous Saint Michael's Mount. If you are looking for amazing views and easy access to this popular Cornish landmark at any time of the day, then there's definitely no better place to stay than Marazion. Furthermore, the location is great for beaches and long walks by the sea. Perfect for a romantic weekend!
The town is also close to the main roads allowing easy access to all the other areas in Cornwall. So you can also easily stay here for exploring the area. However, since there's not that much to do in Marazion in the evenings, you may prefer a livelier place with more restaurants and pubs, definitely if you are staying in Cornwall longer than a few days.
Where to Stay in Marazion
Here are some of the best Marazion hotels for different budgets:
Where to eat and drink: The restaurant at the Godolphin Hotel is great and the views are the best you can wish for!
Newquay
Best for beaches and active holidays with a big choice of fun activities. Great vacation destination for families and perfect for a romantic stay as well.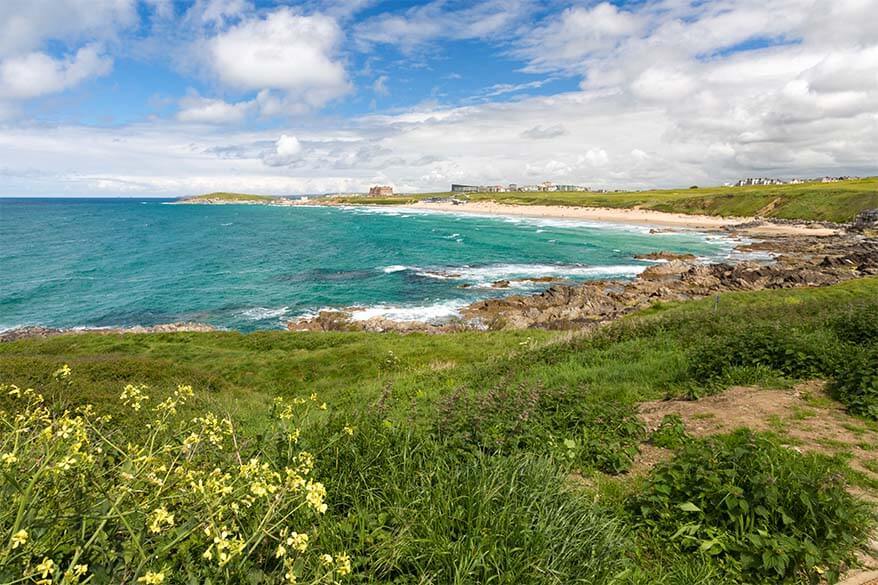 Newquay on the Atlantic coast in the northern part of Cornwall has some of the best beaches in the county. So if you are looking for a relaxing summer vacation in a beautiful seaside town, Newquay might be one of the very best places to stay in Cornwall!
With nice beaches, good surf, lots to see and do nearby, and a lively nightlife, Newquay has something for all types of travelers. Furthermore, since distances aren't big in Cornwall, you can easily visit all the main tourist attractions in the region as a day trip from Newquay as well. It's about 25-30 miles from places like Tintagel Castle, St Ives, or Falmouth. Cornwall Airport is also located nearby.
Newquay is best known for its 800 yards long Fistral Beach. A mecca for surfers, the beach is the ideal spot to catch the awesome rolling waves, funneled into it by the two opposing headlands. There are lots of places to rent equipment – and if you've never tried surfing before, you can book yourself a few lessons and give it a go. Sometimes it's fun to simply sit and watch, particularly during some of the competitions that draw surfers from all over the world!
There are quieter, sheltered family beaches too, the main ones being Great Western, Lusty Glaze, Tolcarne, and Towan (which also has an aquarium on its promenade). There are also plenty of family attractions in the town. These include Holywell Bay Fun Park, Pirate's Quest, and Jungle Jack's, plus the excellent Newquay Zoo, set in sub-tropical lakeside gardens. If the weather is bad, you can visit the Blue Reef Aquarium or spend a day at the indoor pool of the Oasis Fun Pools.
For something a little more sedate, you can enjoy walks along the coastal paths or a visit to Trerice, a beautiful Elizabethan manor house managed by the National Trust. Alternatively, hop aboard the Lappa Valley Steam Railway, which winds its way along one of Cornwall's oldest sections of rail. In other words, you won't get bored here!
Where to Stay in Newquay
There is a big choice of accommodations in Newquay for all budgets and every type of traveler. You can find an overview and the best deals here. Alternatively, check out a small selection of our hand-picked hotels for all budgets below.
Here are some of the best Newquay hotels for all budgets:
Where to eat and drink: There is a big choice of restaurants and pubs in Newquay; here are just a few suggestions. The above-mentioned Lewinnick Lodge is a 'must-visit' restaurant, perched on a cliff edge overlooking Fistral Beach Bay. It has outdoor decking to better enjoy the views in summer and is a cozy spot from which to watch the wild surf in winter. The finest Cornish ales are served at the Red Lion, a traditional pub overlooking the harbor offering live music and a warm atmosphere.
Falmouth
Lively town, good location for sightseeing as well as beaches. Also a popular place for a longer vacation in Cornwall.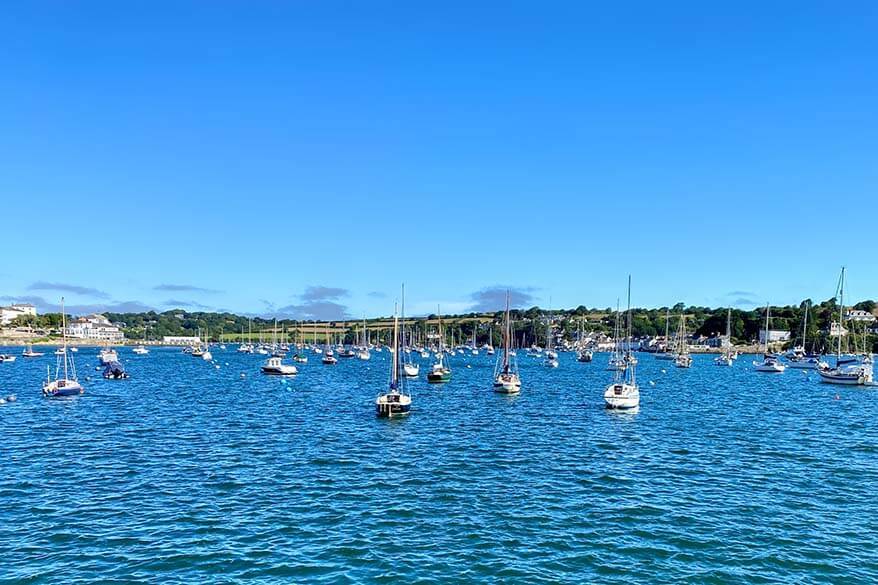 Voted Britain's best coastal town, Falmouth in southern Cornwall is a great spot for a family vacation. It's a bigger town, so there are lots of good pubs and restaurants and some indoor activities and museums in case of bad weather. Furthermore, it's quite centrally located, has a train station, and can serve as an excellent base for exploring all that Cornwall has to offer.
Falmouth is also a great place to stay if you want to explore Cornwall by boat. Tours include a cruise along the River Fal, a ferry to St Mawes, or a journey up the Fal Estuary all the way to the city of Truro.
Easy to explore on foot, the town is divided into two areas. On one side is the busy working harbor – the perfect place for boat-watching and home to the excellent National Maritime Museum, with 12 galleries of exhibits and lots of activities for children. On the other side of town are two clean and sandy beaches. Gyllngvase beach is closest to town and is considered one of the best ones here.
History lovers will be fascinated by Pendennis Castle, which sits on the grassy headland dividing the town and was built by King Henry VIII. Don't miss Trebah Garden just a few miles away, and you can also easily visit the picturesque Helford from here.
Where to Stay in Falmouth
There are lots of accommodation options for all budgets in Falmouth. Here are just a few of the most popular hotels in Falmouth:
Where to eat and drink: There are many excellent restaurants and pubs in Falmouth, you won't have any trouble finding a good meal! Most restaurants can be found next to the harbor and many of them have great views too. Star and Garter is a great place for Sunday roast, The Wheel House – for seafood, and The Shed is a very popular restaurant for all kinds of simple food including tapas, pizzas, hamburgers, fish & chips, excellent cocktails, and also typical English breakfast.
Fowey
Charming town by the river AND the coast. Perfect for history lovers and long coastal walks.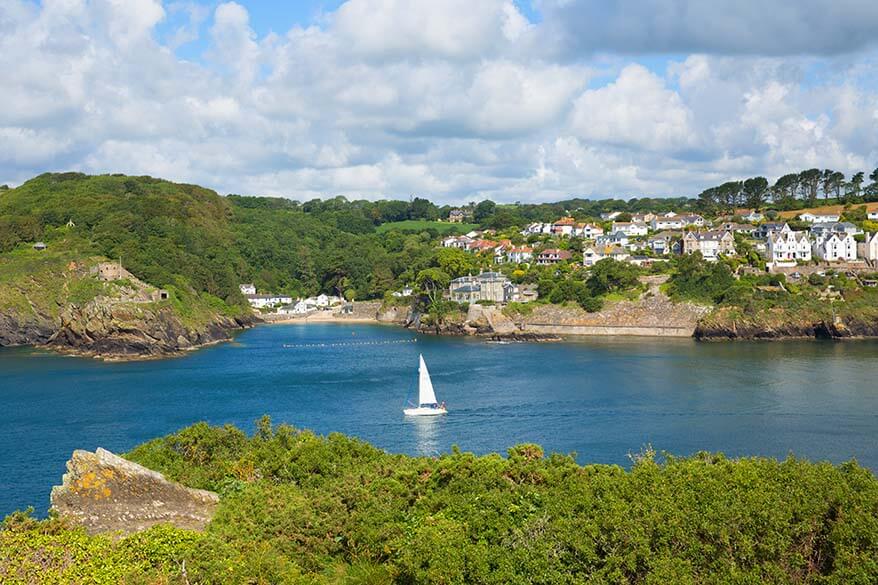 Fowey (pronounced Foy) is a small but busy port located in an Area of Outstanding Natural Beauty at the mouth of the River Fowey in south Cornwall. It is the perfect place for a peaceful vacation where you can not only enjoy the area's natural attractions, but also its interesting history.
Fowey has several claims to fame – it was the home of novelist Daphne Du Maurier and one of the places from which the D-Day invasions were launched during WWII.
Its architecture is a mixture of medieval and Georgian and its hilly, winding streets contain plenty of ancient alleys to explore. It has two castles – the single tower of St Catherine's Castle (built by Henry VIII in 1540 to protect Fowey from invasion by the French) and the more impressive, circular Restormel Castle, which dates back to the 13th century.
Readymoney Cove is Fowey's only beach that is accessible during both low and high tides, so it is very busy during the summer. But there are plenty of coastal walks to get away from the crowds, including the South West Coast walk to Lantic Bay and the 4-mile Hall Walk Trail, which takes a circular route and includes 2 ferries (so don't forget to take some money with you).
Be sure to take one of the frequent ferries across to Polruan, a charming village with cottages dotting the hillside. The panoramic views from the top of the hill there are simply jaw-dropping!
Where to stay in Fowey
Fowey has quite a few really nice hotels, offering very similar value at a similar price. There are not many good options for those on the lowest budget, but plenty of accommodations on mid- and upper- budget.
Here are some of the best Fowey hotels for every budget:
Where to eat and drink: Once a refuge for seamen, the white-washed Victorian Old Quay House is an excellent hotel with a really nice restaurant. Set right on the water, it has wide bay windows to enjoy the views. For a fine ale at the end of a hard day's walking, visit the Grade II listed Ship Inn. Built by the adventurer John Rashleigh in 1570, this quirky pub is filled with relics from his life.
Padstow
Great for food, beaches, marine wildlife, and active holidays.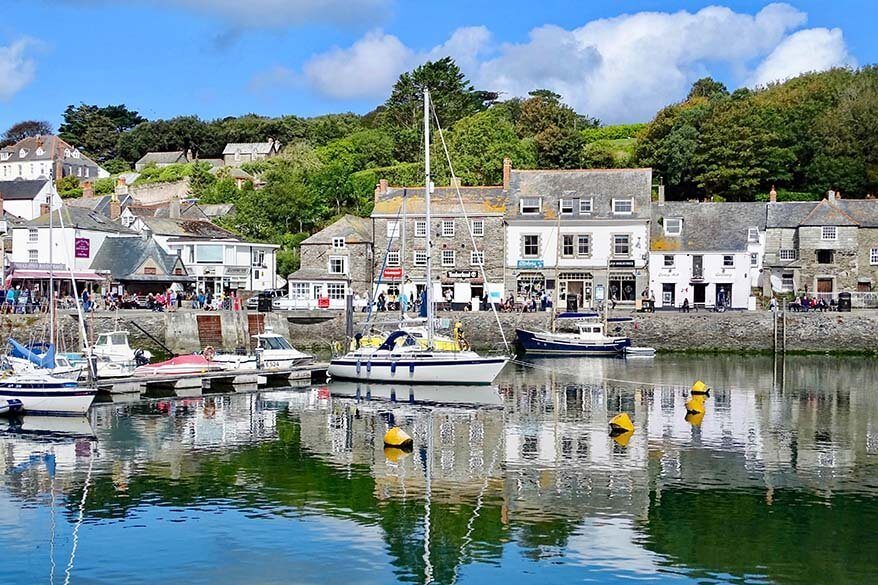 With so much good local produce and fresh fish available, Cornwall is wonderful for foodies! But for true culinary aficionados, Padstow may be the very best town of all! This is the place where celebrity chef Rick Stein opened his Seafood Restaurant in 1975 and has gone on to open several other eateries since. There's also a restaurant here owned by TV chef Paul Ainsworth!
But there's a lot more to Padstow besides amazing food. The chief attraction is the attractive, bustling harbor, filled with a mixture of working fishing boats and pleasure boats. A boat tour is a great way to view the local marine wildlife, including puffins, dolphins, seals, and even sharks!
The Black Tor Ferry will take you to the nearby island of Rock, where you can enjoy a round of golf or try your hand at a new watersport. Sometimes referred to as Britain's Saint-Tropez, it is popular with the rich and famous and a favorite holiday spot of the royals.
You can join the Camel Trail in Padstow, or walk along the coastal path from the harbor to find its beautiful family beaches – Tregirls, St George's Cove, and Hawker's Cove. Padstow is overlooked by Prideaux Place, a beautiful Elizabethan country house that offers tours of the house itself (including a teddy bear collection!), plus its gardens and deer park.
Where to stay in Padstow
There are just a few hotels in Padstow town and many holiday homes, B&Bs, and other types of accommodations in the area. Here you can find the complete overview.
These are the best hotels in Padstow town itself:
Where to eat and drink: Enjoy a full meal at Rick Stein's The Seafood Restaurant or grab an iconic fish and chip dinner from Stein's Fish and Chips. Alternatively, try Paul Ainsworth's restaurant Number 6 – one of the best restaurants in town. For a pint of real ale with excellent harbor views, call in at the Shipwrights Pub, a traditional brick pub originally built to serve Padstow's fishermen and tradespeople.
Truro
Great for culture, shopping, and dining. With good transport connections and centrally located for sightseeing all over Cornwall.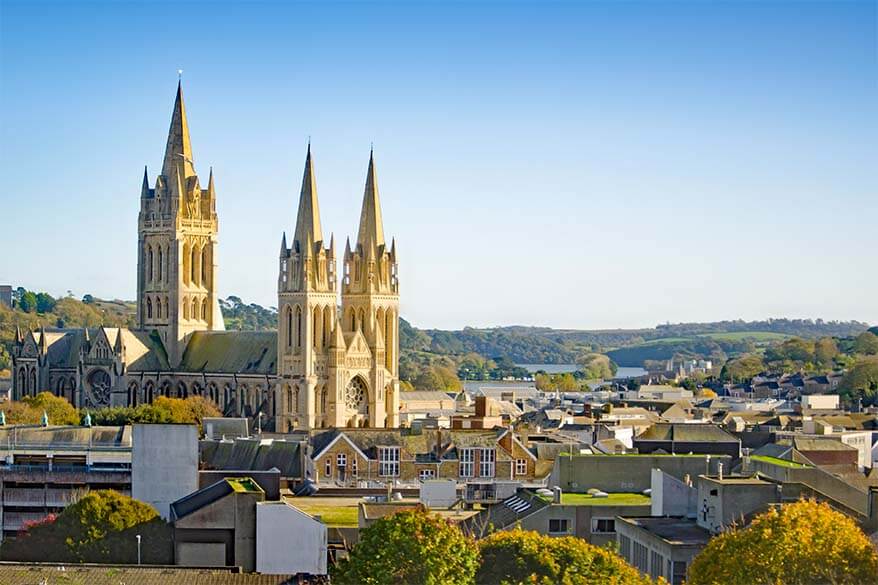 Cornwall's only city, Truro is a great place to stay for those who like to be in a bigger town with cultural attractions, shopping, and plenty of restaurants. Don't miss its stunning Gothic cathedral, with a distinctive green spire that dominates its skyline. Also, since the city is located roughly in the center of Cornwall and has excellent transport links, it's a great base from which to explore the rest of the county.
Truro is home to the Royal Cornwall Museum, which holds thousands of historical exhibits from Cornwall and across the world. Shopping opportunities abound – a mixture of main high street chains and independent little boutiques.
Once a busy working port, Truro's harbor is now used for pleasure cruises and you can take a boat along the tributaries of the River Fal to visit Falmouth. Truro is also within easy reach of the beautiful Roseland Peninsula. Ideal for families, this is a lovely area of quiet beaches, quaint villages, and stunning coastal and river scenery (although you may prefer to stay there and not in the city for this area).
Where to stay in Truro
Depending on how you travel (by car or public transport) and what you are planning to see and do, you may want to stay in the city center or on the outskirts. Also, there are quite a few accommodation options in and near Truro, but there are just very few hotels here.
Here are some of the best hotels in Truro:
Where to eat and drink: There is no shortage of excellent eateries in Truro, but Charlotte's Teahouse is well worth a visit. Oozing Victorian charm, this traditional tea house serves magnificent afternoon teas in the ancient Coinagehall building, overlooking Boscawen Street. For excellent ale in a traditional setting, do as the locals do and visit The Rising Sun Pub on Mitchell Hill, in a quiet, historical quarter of the city. This family-friendly venue does fantastic meals too!
Looe
One of locals' favorite areas for a holiday in Cornwall.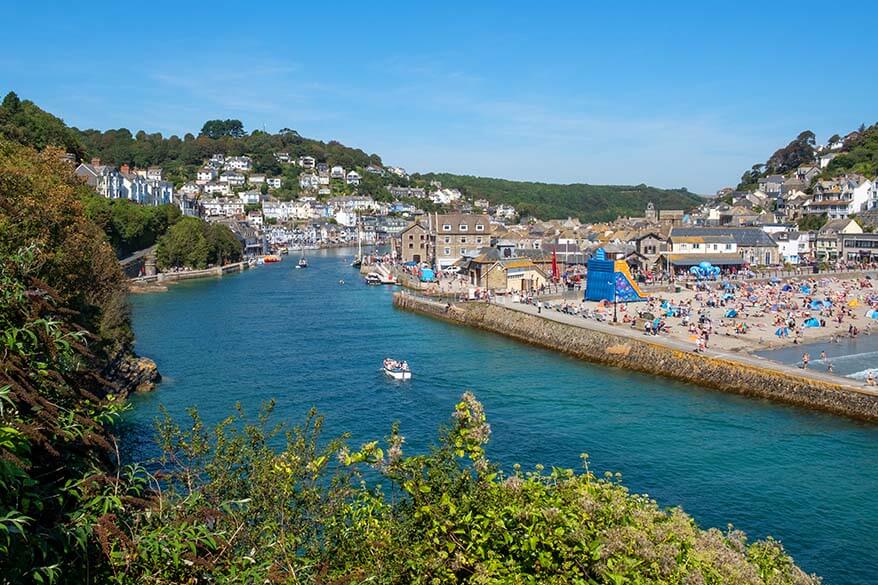 The pretty town of Looe on Cornwall's southern coast is ideal for a family vacation in Cornwall. Divided into two by the River Looe, it has a quaint little harbor and small, safe beaches. Families particularly love Millendreath Beach, located in a sheltered cove and with plenty of rock pools to explore!
There are many opportunities in Looe to get up close and personal with animals, either at the Porfell Wildlife Park and Sanctuary or at the Monkey Sanctuary in St Martin. The town also has two good museums. The Old Sardine Factory Heritage Centre is where you can learn about Looe's fishing history, whilst the Old Guildhall Museum and Gaol is full of local photographs and letters discussing everything from family history to smuggling!
Be sure to book a boat trip to Looe Island. An official tour is the only way to visit this marine nature reserve, where you can see all sorts of wildlife in their woodland, coastal and marine habitats.
Where to stay in Looe
There are just a few hotels in Looe town itself and quite a big choice of accommodations nearby. Here are some of the best hotels in Looe and very close to town:
Where to eat and drink: For the best seafood in town, pay a visit to the Coddy Shack, Looe's only fully licensed fish and chip restaurant and take-away. Be sure to stop for a pint at the Jolly Sailor Inn in Princes Square – one of the oldest pubs in the UK and featuring a beam from HMS Indefatigable (a ship from the 1805 Battle of Trafalgar) in its main bar!
TIP: If you are looking for an even quieter place to stay, check out the nearby village of Polperro or choose one of the accommodations between Looe and Polperro. In Polperro, parking can be problematic, so be sure your accommodation has parking if you decide to stay in the village.
Bude
Perfect for a quiet, low-key vacation along Cornwall's northwest coast.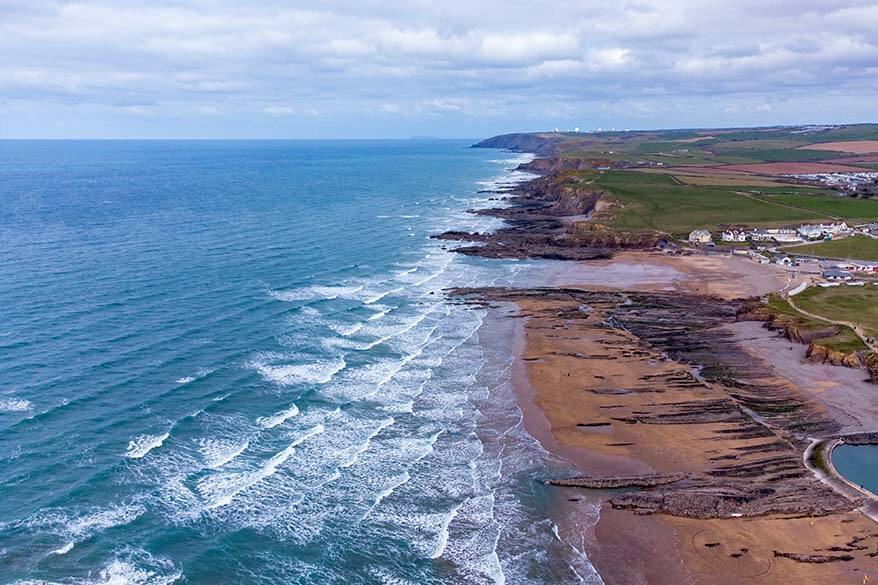 Bude on the Atlantic coast in northern Cornwall is the ideal place to stay if you are looking for a quiet, family break with plenty of natural attractions to enjoy. It is located in a remote area along a wild and windswept coastline, right beside the county border with Devon. This isolated location means that Bude has not been developed very much and isn't as commercialized as many of Cornwall's other popular towns.
It has miles of stunning beaches, the most popular of which is Summerleaze. Perfect for young children, Summerleaze has the very safe Bude Sea Pool, part man-made, part natural, and an impressive 300 feet long. It is the ideal place for little ones to swim when the surf is choppy. A fun thing to do is hire a pretty, vintage-style beach hut for the day, creating your own little coastal hideaway!
Bude gives you easy access to the South West Coastal Path and the 10-mile circular Planekeeper's Path, which follows the Bude Canal route all the way to Hobbacott, then back through leafy lanes and country footpaths. Alternatively, you can hire a rowboat and see the canal that way!
Bude is famous for its unusual rock formations and there are geological tours available to learn more about them. It also has a museum, located in the Victorian castellated mansion known as Bude Castle. Because of its location, Bude is an ideal spot to stay if you want to explore part of Devon too.
Where to stay in Bude
Here are some of the best hotels in Bude:
Here you can find an overview of all accommodations in and around Bude.
Where to eat and drink: One of the most popular places to eat AND drink near Bude is the Tree Inn in Stratton. One of the most historic inns in Cornwall, it dates all the way back to the 13th century and you can see roof beams built from ships wrecked along the coast. The Tree Inn is especially popular for its delicious Sunday carvery!
Bodmin
Central inland location, lower budget.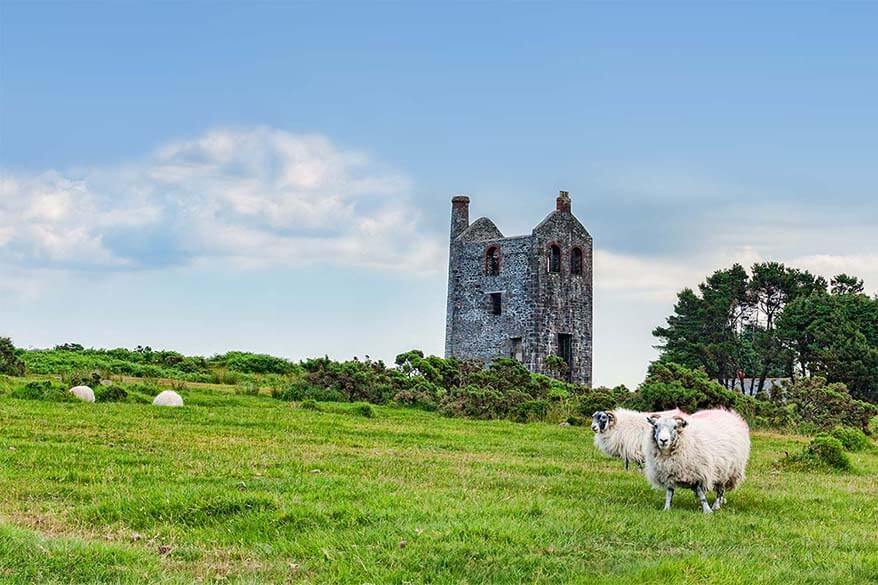 Several miles inland, Bodmin is the ideal destination if you are interested in history. As a former county town, it is packed with fascinating places to visit and learn more about Cornwall's past. The most popular are the courtrooms and Bodmin Jail, with its grim history of public hangings and a wealth of information about crime and punishment in Cornwall's past.
There are two museums in Bodmin – the Town Museum and Cornwall's Regimental Museum, plus St Petroc's, the town's 15th-century church. You can board a steam train at the Great Western Railway station at Bodmin Central, or explore the beautiful grounds of the town's two stately homes – Pencarrow and Lanhydrock.
Bodmin has much to offer in the way of natural beauty too. To the east of the town is the wild and remote Bodmin Moor, with a breathtaking landscape of lofty granite boulders, ancient trees, and mysterious stone circles. The area is the start of the Camel Trail – a relatively flat 28 miles of cycling track between Padstow and Badmin – and includes miles of walking trails that are ideal for the whole family to enjoy.
Where to stay in and near Bodmin
There are very few hotels in Bodmin itself and a lot more in the surrounding countryside. Since there is such a big variety of places scattered all around the area, it's not easy to make a selection as you can't easily compare the location.
You can find the best deals for accommodations in this area here and a few hotels with nice restaurants featured below.
Where to eat and drink: It would be unthinkable to visit the Bodmin area without enjoying a pint of ale at the Jamaica Inn, immortalized in Daphne Du Maurier's book of the same name. This is also a very popular (and great value) place to stay in Bodmin Moor – check it out. For an exceptional meal, visit The Old Inn & Restaurant situated in the moorland village of St Breward – between Bodmin and Tintagel. Dating back to the 11th century, it originally provided shelter for the monks who built the nearby church.
So, this is our guide to some of the very best places to stay in Cornwall, UK. While it's not always an easy choice, I hope that this article gives you a better idea of what to expect and helps you find the best place to stay for your sightseeing trip or a longer holiday in Cornwall.
TIP: For more information on what to see and do in this beautiful corner of England, please see our guide to the very Cornwall landmarks, sights, and attractions via the link below. Check it out!
LEARN MORE: Best Places to See in Cornwall
More travel tips and inspiration for the UK:
If you found this post useful, don't forget to bookmark it and share it with your friends. Are you on Pinterest? Pin this image!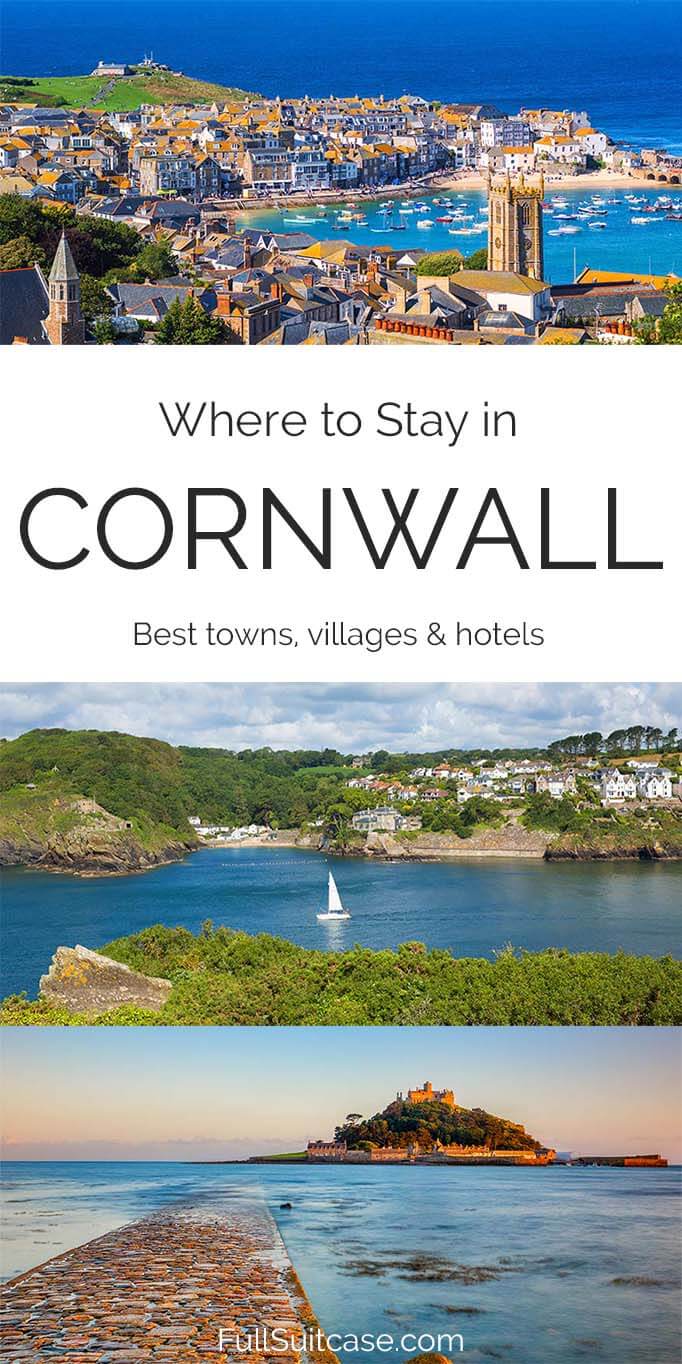 Images: Depositphotos.com and Unslpash.com