Looking for the best things to do in London and feeling overwhelmed? Deciding which of the most popular London attractions to see is indeed not easy, especially if you are visiting for the first time and your time in the city is limited…
So to help you figure out where to go and what to see in London, in this guide we share only the VERY BEST sights and TOP tourist attractions in London that are worth your time the most. For each attraction, we also include our top tips and tricks for your visit. And finally, we also created a map of London attractions that should help you plan your sightseeing itinerary. Find out!
London is not just one of the most beautiful UK cities, but it's also one of the most beautiful and most unique cities in the world. With centuries-old history, royal heritage, a mix of ancient and modern architecture, world-class museums, shopping, and entertainment, it has so much to offer to all types of visitors.
However, with so much to see and do in London, it's often overwhelming for the first-time visitor to even know where to start. So if you are wondering what are the absolute best things to do in London for tourists, this guide will give you a good overview of the best London attractions.
In this London sightseeing guide, we only list top tourist attractions, best places to see, and absolute-best things to do in London that are considered a must-see and are worth your time the most.
Good to know: In order to help you plan your trip, we also created a map of all the top places in London. You can find it at the bottom of this article. In addition, for every sight, we include some practical tips that will help you make the most of your visit. Take a look!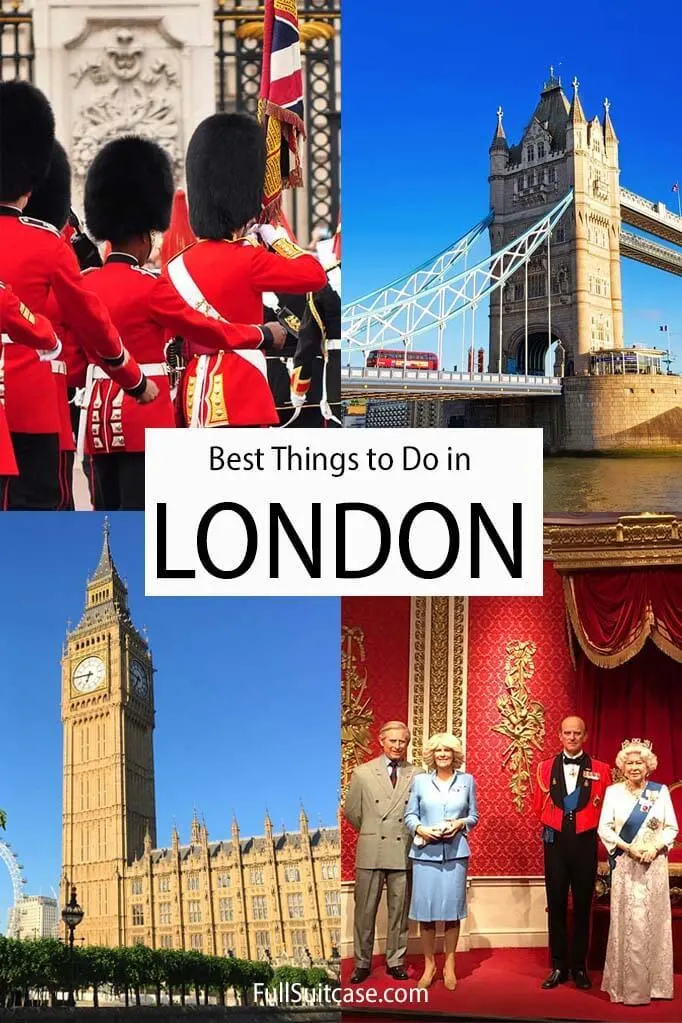 These are the main landmarks, best sights, and top tourist attractions in London:
1. Big Ben & The Houses of Parliament
The most iconic landmarks of London, the Palace of Westminster and Big Ben Tower, are now known as the Houses of Parliament and Elizabeth Tower. No matter how you call it, this is one of the must-see places in London!
The Houses of Parliament have been used for political meetings since the Norman conquest in 1066. Today, they are the center of the British government, where the House of Commons (elected MPs) and the House of Lords assemble.
The oldest part of the Houses of Parliament in existence is Westminster Hall, which was built in 1097. There are tours available where you can view the magnificent architecture of the stunning Neo-Gothic building and learn more about Parliament's fascinating history.
Perhaps the most famous part of the Houses of Parliament is Elizabeth Tower – commonly known as Big Ben. Completed in 1869, this is the most recognizable clock in the world. The name 'Big Ben' actually refers to the clock's 13th – and largest – bell. This bell, weighing 13,76 tons (30,000 lbs) tolls on the hour, every hour.
The clock tower itself is 96 m (105 yards) tall and has 399 steps inside, leading all the way up to the 'Ayrton Light' at the top. Sadly, you can't take a look inside the tower, but Big Ben is impressive enough when viewed from the outside.
TIP: For the very best photo angle, head to either the southern sidewalk of the Westminster Bridge or to the other side of the river. Look out for a light illuminated at the top of all four clock faces – that indicates that the Parliament is in session. The clock faces are always illuminated at night when they look particularly spectacular.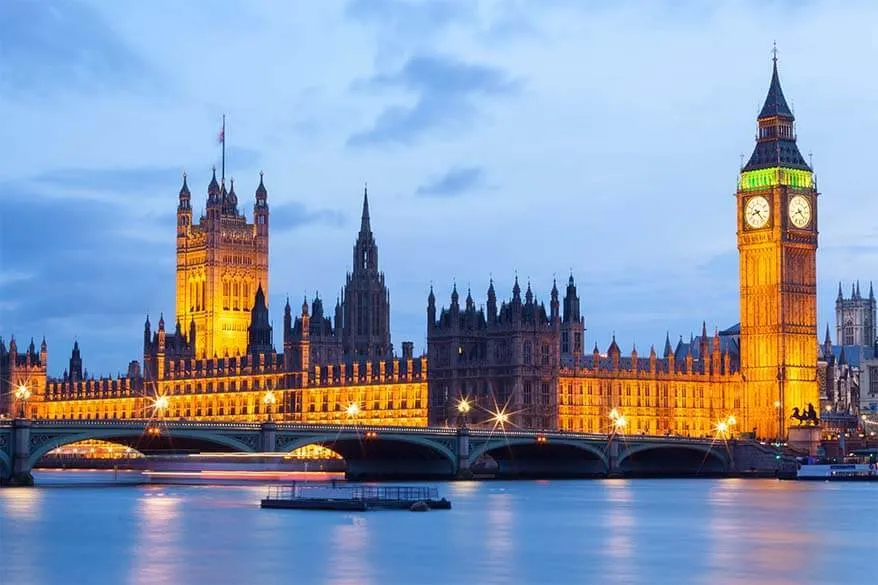 2. London Eye
No trip to London would be complete without a visit to the London Eye, the UK's most popular paid tourist attraction. It is also the highest observation wheel in Europe, offering easy access to some of the best views in London.
This mighty structure – first known as the Millennium Wheel – was installed on the South Bank of the River Thames to mark the start of a new century. It was officially opened just before New Year 2000. It was later known as Coca-Cola London Eye and is now called lastminute.com London Eye.
London Eye is 135 m (443 ft) tall and has a diameter of 120 m (394 ft). But despite its giant size, it was initially only meant to be a temporary attraction. More than 20 years later, the London Eye is still turning and is more popular than ever!
The Eye has 32 fully enclosed glass capsules or 'pods' that are in constant motion, although they move very slowly and you have plenty of time to safely get on and off. A ticket buys you a ride on one complete revolution of the wheel, which takes around 30 minutes.
The views across the capital are stunning, taking in many of the popular sights of London, including some of the best views of Big Ben and the Houses of Parliament. Even on a cloudy day, you can still get some breathtaking shots!
PRO TIP: London Eye is extremely popular and waiting times can be very long. For the best experience, get your tickets online in advance. It's cheaper if booked at least a day upfront AND it will save you time not having to queue at the ticket office (you'll still have to queue at the London Eye itself unless you get fast-track tickets – see below).
To save time for that too, consider fast-track tickets that give you immediate access. On a busy day, this can easily save you 2-3 hours. It's totally worth it, especially if you are only in London for a few days and want to see as many of the popular sights as possible.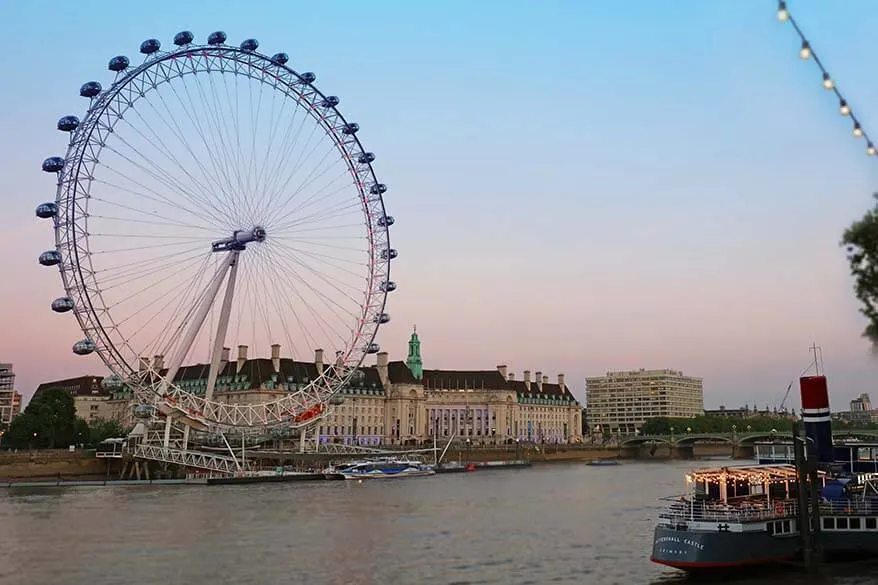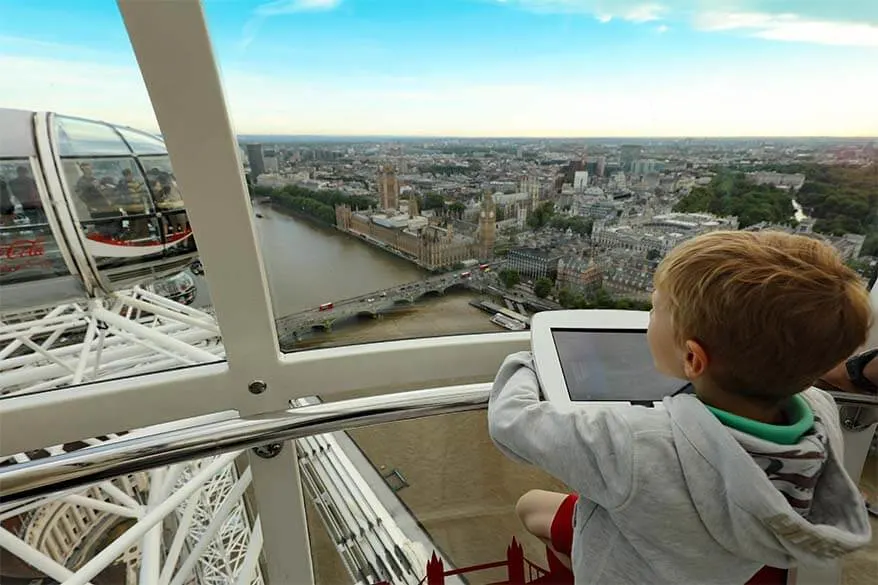 3. Buckingham Palace
Your London bucket list wouldn't be complete without seeing one of its most important places – Buckingham Palace. Built in 1703, this is one of only a few working royal palaces in the world. It has been the London home of the British Royal family since 1837.
When Queen Elizabeth II lived here, you could tell whether or not she was at home by taking a look at the flag flying above the Palace. If she was in residence, then the Royal Standard was raised. When she was away, you saw the Union flag flying instead.
When the royals are on yearly holidays (usually from the last week of July to the end of September/first week of October), you can visit the inside of Buckingham Palace (more info and tickets here). As you would expect for a home befitting a royal family, it is lavishly decorated, with stunning rooms and halls, sweeping staircases, and examples of fine art throughout. You can even visit part of the Royal Gardens with wildflowers and lakes, right in the very heart of London!
Good to know: When the Palace is closed to visitors, you can still see it from the outside.
Additional recommendation. Make sure to also visit Royal Mews. This site is open to the public even when the Palace is closed (more info and tickets here). Here, you can see the impressive collection of royal carriages and vehicles. It's especially great for families visiting London with kids.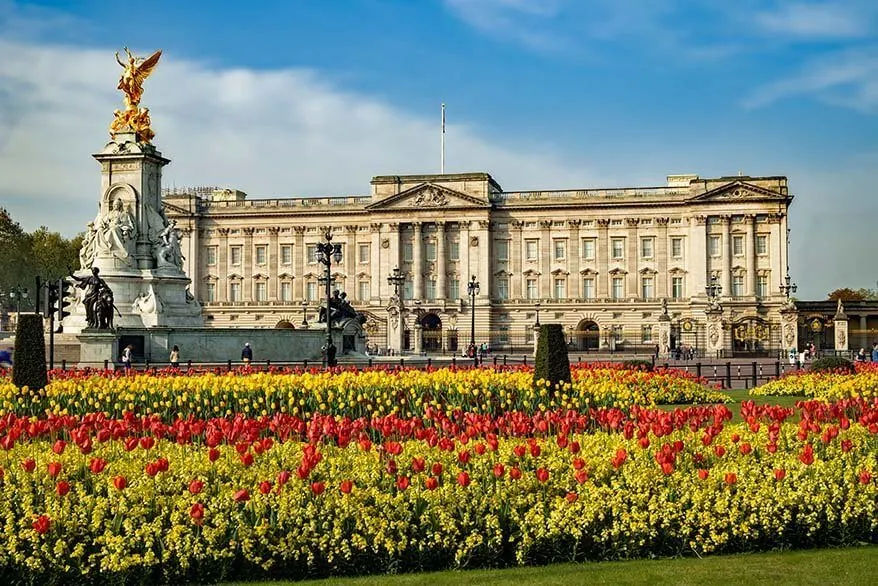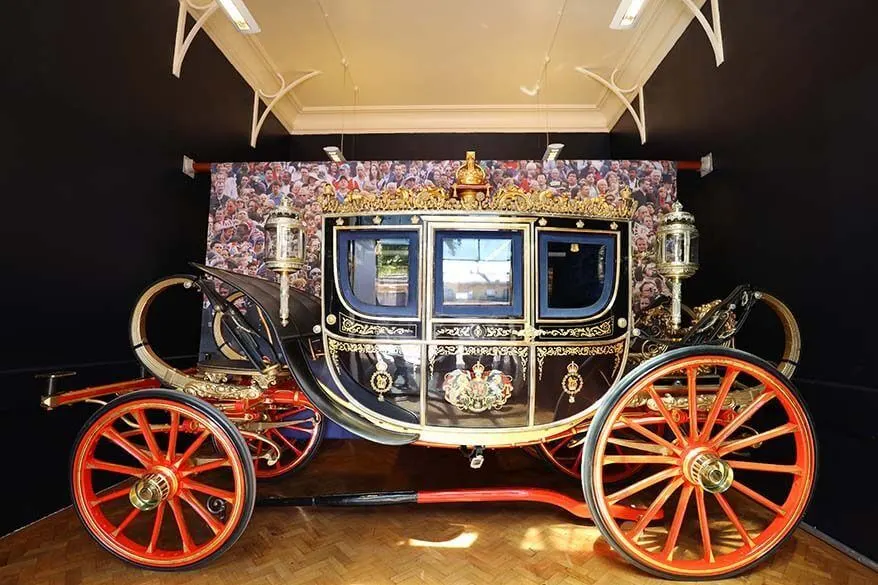 4. Changing of the Guard
Almost every London postcard will feature a photograph of the Queen's Guards (now King's Guards) in their distinctive bearskin caps. At Buckingham Palace, you can see them for yourself!
When sightseeing in London, don't miss the iconic Changing of the Guard ceremony! This happens almost every morning when the Old Guard (the guards already on duty) is replaced by the New Guard.
Changing of the Guard at Buckingham Palace takes place daily in June and July. During the rest of the year, you can see it on Mondays, Wednesdays, Fridays, and Sundays. It starts at around 10.45 am and lasts about an hour. The official start time is 11 am; that's when St James's Palace relief leaves Buckingham Palace.
The ceremony is accompanied by music from the military marching band. But don't expect to hear JUST military marches – you'll often be treated to show tunes and maybe even one or two of the latest pop songs!
TIP: This is one of London's most popular tourist attractions, so make sure you arrive early and secure a place right by the Palace gates for the best view. Alternatively, join a walking tour; they know just the right places and the best times to be there.
Good to know: This is not the only place where you can see the Royal Guard in London. More info further below.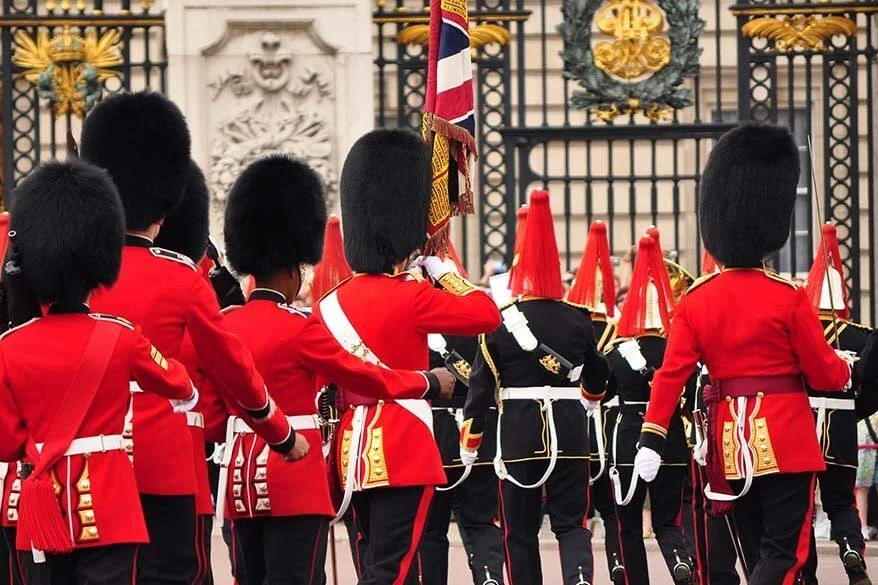 5. Westminster Abbey
A visit to Westminster Abbey gives you the opportunity to step back in time, at the site of many of Britain's most important moments in history. The building was consecrated in 1065 and every British monarch has been crowned there since 1066. It has also been the venue for 16 royal weddings.
The Abbey is open for regular worship, although it is not a normal parish church or a cathedral. Instead, Westminster Abbey is known as a 'Royal Peculiar', which means it isn't subject to a bishop or archbishop – only to the reigning Sovereign.
There is a lot to see and appreciate at Westminster Abbey besides its beautiful Gothic architecture!
Most fascinating is the ancient Coronation chair in St. George's Chapel. This is the magnificent oak seat where British kings and queens have received their crowns throughout the centuries. You can also see the Grave of the Unknown Warrior, where the body of a soldier was buried after being brought from France in 1920. This is a place of pilgrimage and the site to which many visiting heads of state come to lay a wreath when in England.
There are also over 600 wall tablets and monuments commemorating important figures in science, battle, music, and more. If you are a fan of literature, be sure to visit Poet's Corner, which is devoted to notable Brits such as William Shakespeare, CS Lewis, and Charles Dickens.
Alternatively, listen to the beautiful and atmospheric sound of the practicing choir as you tour the tombs of British monarchs. You can even visit the 950-year-old Pyx Chamber, which still has its medieval tiled floor. Indeed, nowhere brings history to life quite as much as Westminster Abbey!
PRO TIP: If you want to visit Westminster Abbey inside, it's best to book your tickets online in advance. Otherwise, you'll easily waste a few hours in line. Alternatively, visit with a guided tour that includes a visit inside – not only will it save you time, but you'll also be sure not to miss any of the most important sights and get a good introduction to the place. If going without a guide, we recommend hiring an audio tour!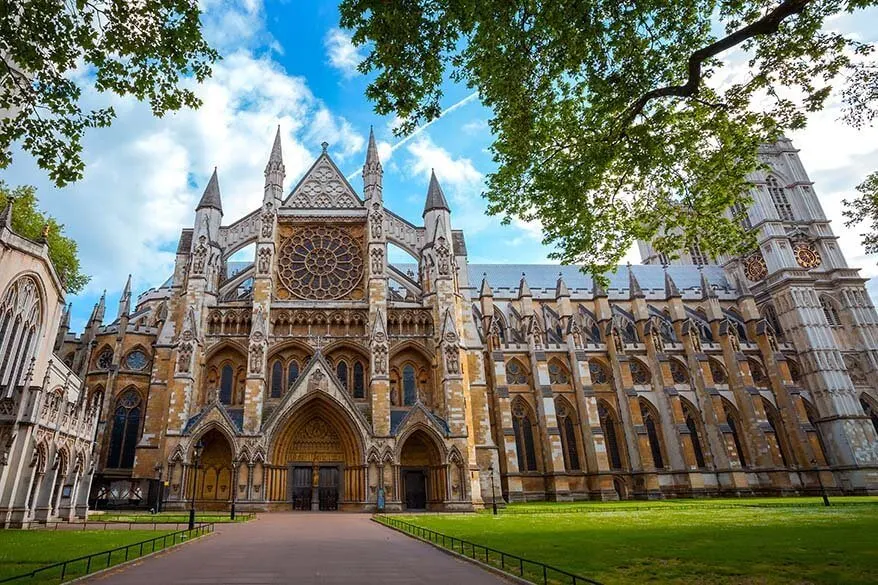 6. Tower Bridge
Tower Bridge is another must-see landmark of London. An integral part of the London skyline, it's probably the most recognized bridge in the world!
Tower Bridge may appear to be very old, but the construction was only started in 1886, and the bridge was opened in 1894. It was designed to look older than it is so that it would blend in with historic buildings like the Tower of London, just nearby (see below).
Not to be confused with London Bridge, Tower Bridge opens to let tall ships pass by, which is why some people refer to it as a drawbridge. But it is actually a double-leafed 'bascule' bridge. The word bascule comes from the French word for seesaw, which is the best way to describe how the lifting mechanism works.
Of course, seeing the bridge in action is part of the fun of visiting it. As it is raised between 700 and 1000 times a year, the chances of watching it happen are pretty good! You can even view (and feel) the raising of Tower Bridge from the walkway at the top if you book tickets to take an official tour.
If you go on top of the Tower Bridge, you'll also get to see the inside of the North and South Towers, along with the engine room. This contains the steam engines that were originally used to power the lift mechanism. The walkway gives you a fantastic, panoramic view across London. There's also a glass section so you can look down at the city directly beneath you.
TIP: Just as with all the main tourist attractions in London, it's best to book your visit online in advance. On the other hand, if you are short on time, don't worry about going on top. Seeing the bridge from walkways near the river is impressive enough, and you can walk across as many times as you want as well.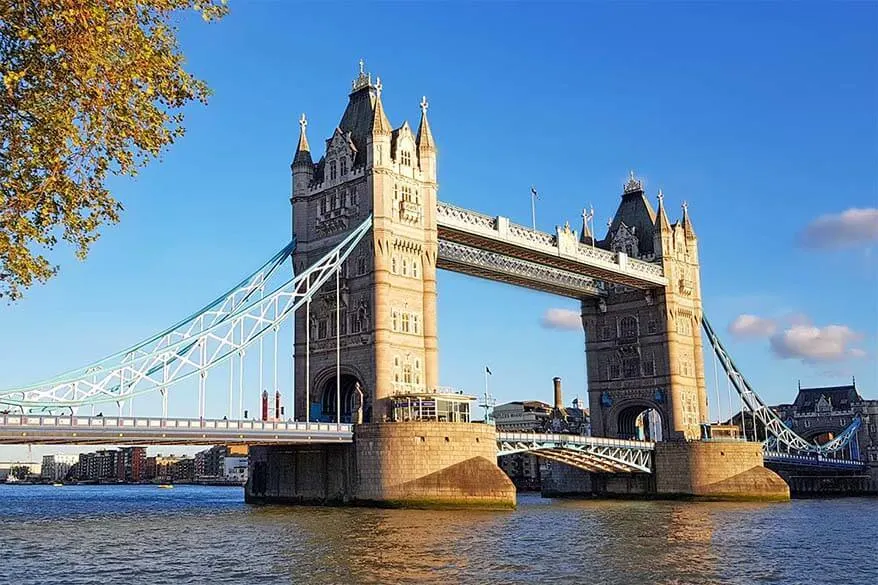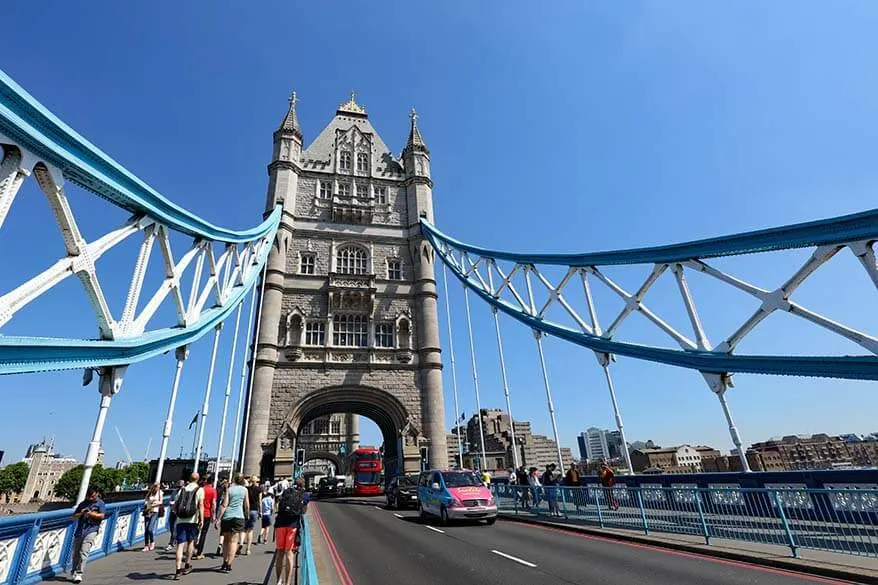 7. Tower of London
No other place in London has a history quite so varied and captivating as the iconic Tower of London. If you visit just one museum in London, make it this one. The Tower of London is one of the most iconic London attractions that you really have to see!
Surrounded by modern city buildings and on the banks of the River Thames, this London landmark was originally built as a fortress. It was also designed to show off the power of British royalty and doubled up as a royal palace, with luxuriously furnished apartments and staterooms. In fact, it is still the official palace of the reigning monarch.
But the Tower has a grim and grisly past!
It was used as a prison for many years, with unfortunate convicts entering through the Traitor's Gate and some later being executed on Tower Green. During a tour of its walls, you can learn all about the fiendish devices used to torture prisoners during the 16th and 17th centuries. You'll also hear some of the dark stories associated with the Bloody Tower, where 12-year old Edward V and his brother Richard were believed to have been murdered in 1483.
It's not all doom and gloom though – the Tower is also home to the Crown Jewels and a vast collection of over 23,000 gemstones. Plus, you can meet the Yeoman Guards – popularly known as the Beefeaters – who are the ceremonial guards of the Tower.
Since they are no longer required to guard prisoners, they act as tour guides and can tell you all about the Tower's famous ravens. Legend has it that if the six resident ravens ever leave, both the Tower of London – and the kingdom – will fall! There are actually seven ravens living at the Tower now – which includes a spare one, just in case!
Good to know: The Tower of London is one of the most popular tourist attractions in London. So expect big crowds! Also here, it's advisable to book your ticket online in advance. Alternatively, join a guided tour that already includes skip-the-line tickets.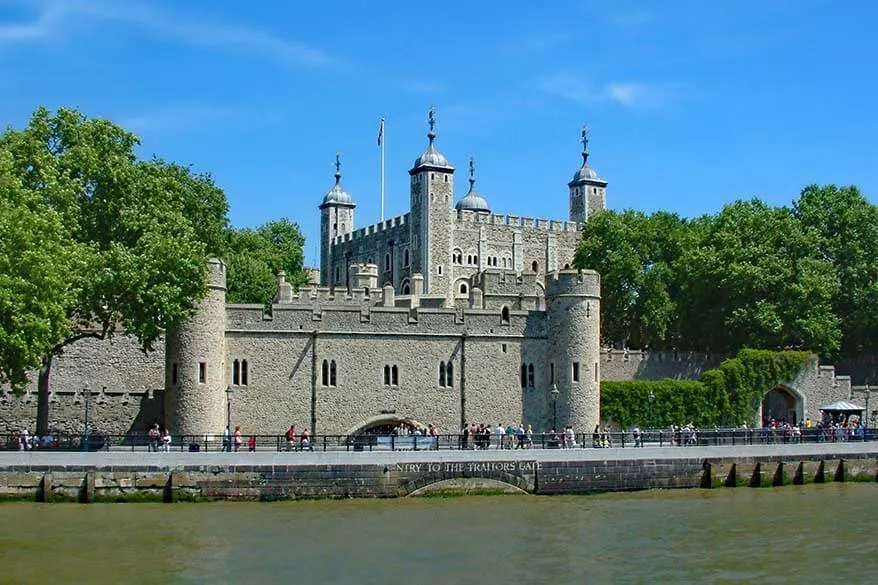 8. Thames Cruise
Another must-do in London is taking a cruise on River Thames. Cruising along the Thames allows you to view the city from a whole new perspective! It's a unique way to see London and some of its most iconic sights from another angle.
There are lots of companies offering different types of experiences for London sightseeing on the Thames River. The most popular option among tourists is taking a cruise between the London Eye/Westminster Bridge and Tower Bridge/Tower of London. It is also often included with hop-on-hop-off bus tickets. Taking a boat on the river is also a popular way to get to Greenwich.
If you have more time, you can opt for hop-on-hop-off cruises that allow you to disembark and rejoin another cruise when you're ready. It's a great way to see London sights that are close to the river.
For a more luxurious experience, you might prefer a luxury dining cruise. There are afternoon tea cruises, lunch cruises, or dinner cruises. Or perhaps you are a thrill-seeker, in which case you might prefer a speedboat experience. Some operators even offer to accompany your trip with a James Bond soundtrack – definitely the coolest way to enjoy the Thames!
No matter how you choose to do it, a boat ride on the River Thames is not to be missed in London!
Alternative: If a regular boat isn't quite your style, you can also join a guided kayak tour to explore the river and waterways, or a barge cruise along the Regent's Canal north of the Thames.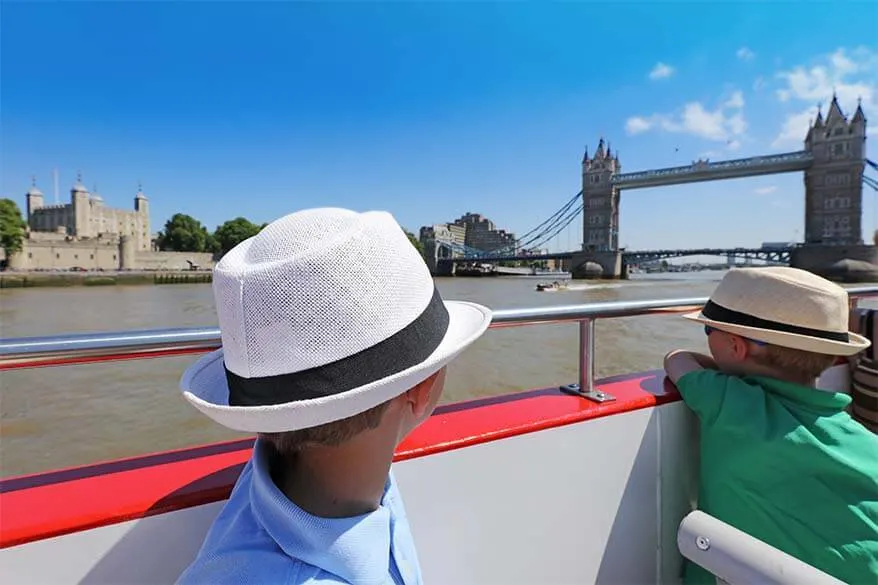 9. Trafalgar Square
Established in the early 19th century, Trafalgar Square was named to commemorate the 1805 Battle of Trafalgar, when Horatio Nelson and the British navy defeated Napoleon. Right in the middle of the square sits the 52m (169 ft) Nelson's Column, on top of which is a statue of Nelson himself.
On either side of the Column are two large fountains and four large lion statues. You can also see other commemorative statues, along with various contemporary works of art displayed on the Fourth Plinth. The National Gallery, one of the best museums in London, is also located here.
But perhaps the main reason to visit Trafalgar Square is simply to sit awhile, soak up the lively atmosphere, and watch the world go by!
The Square is always filled with groups of tourists taking photos of the monuments, or London city workers relaxing and enjoying their lunch. Indeed, Trafalgar Square has long been a public gathering place and you may even come across some type of demonstration or celebration taking place there when you visit.
If you're lucky enough to visit during the festive season, look out for the huge Norway spruce or fir Christmas tree. A tree is given as a gift every year by the citizens of Oslo, as a thank you for Britain's help during WW2. Trafalgar Square is also a popular place for revelers to meet on New Year's Eve.
Good to know: You don't need much time to visit Trafalgar Square, but it's one of the must-see places in London. So don't miss it! This area is also one of the best places to stay for sightseeing in London – see the 'where to stay for sightseeing' section below for more info and hotel suggestions.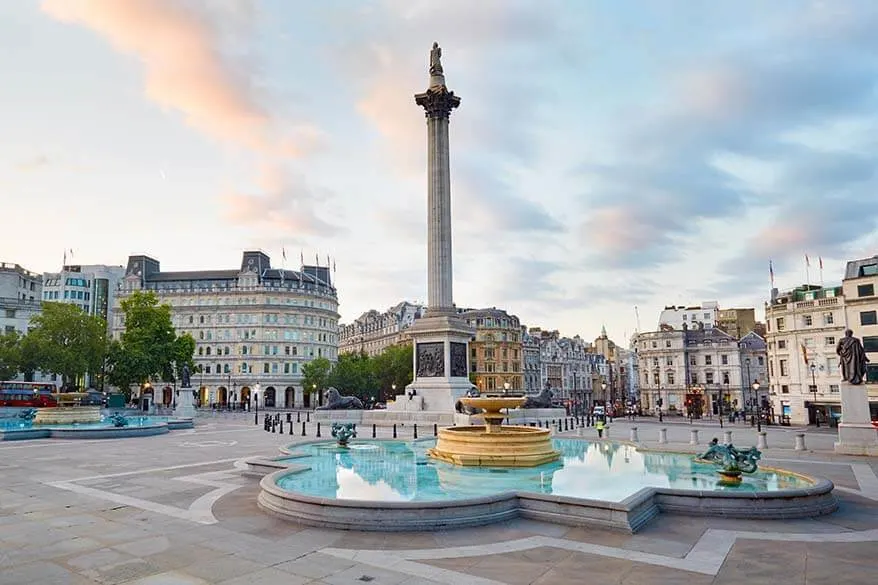 10. Downing Street & Horse Guards
No visit to London would be complete without taking a glimpse of 10 Downing Street, the official residence of the UK's Prime Minister. Another must-do is seeing the Horse Guards at the nearby Household Cavalry Museum.
We list these two places together because they are so close by to each other. You'll pass them both if you walk between Westminster/ Big Ben and Trafalgar Square.
Downing Street is closed to the public, so you can only see the famous no. 10 from a distance. There's a big gate at the crossing of Whitehall and Downing Street – this is usually as close as you can get to it. We indicated the location on our map of London sights at the end of this article.
Whereas the Horse Guards can be admired from close-by and there are always tourists taking pictures here. In addition to the hourly guard changes, there are also daily morning guard changes and daily afternoon Garrison Inspections. At the Household Cavalry Museum, you can learn more about HM The Queen's Mounted Bodyguard and take a peek at the working stables, etc.
Good to know: For the daily Changing of the Guard, be here at 11 am. On Sundays – 10 am. This is not the same ceremony as the one at Buckingham Palace. There is also a daily parade that takes place on the courtyard in front of Horse Guards at 4 pm. It's also known as The 4 o'Clock Parade.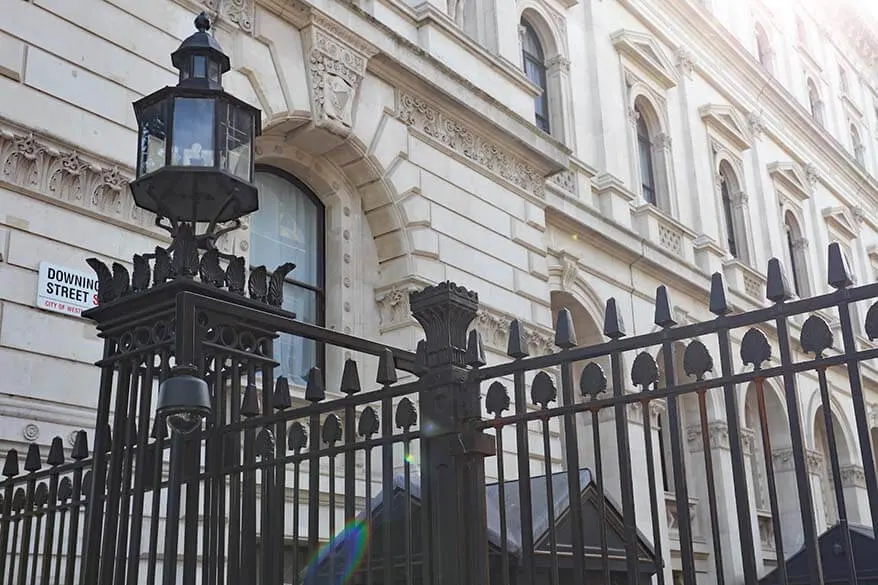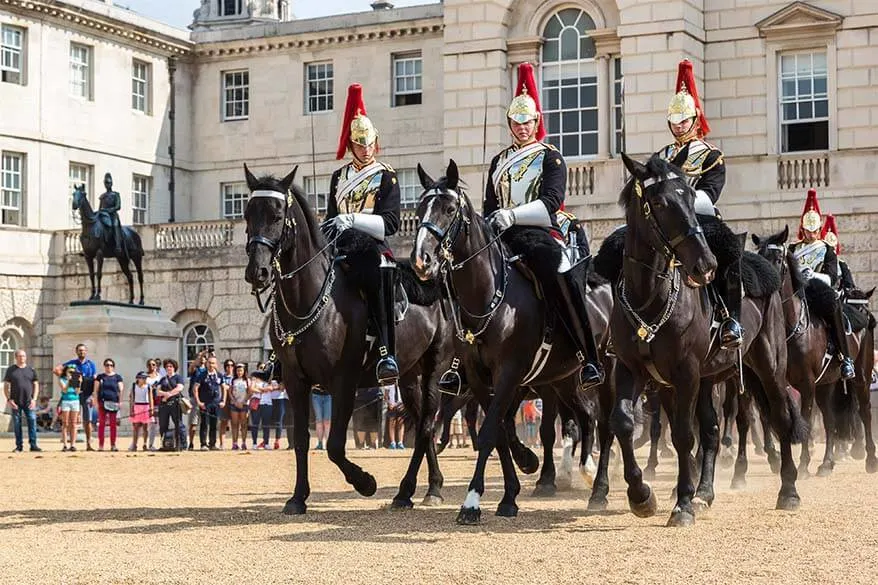 11. Piccadilly Circus
Piccadilly Circus is another of the must-see places in London. This hip and happening attraction in the heart of London isn't actually a circus at all. It's a road junction, connecting London's Regent Street with Piccadilly. The 'Circus' part of its name comes from the Latin word for circle and refers to the round open space it occupies.
But whilst a road junction may sound uninteresting, Piccadilly Circus is quite the opposite!
Surrounded by bars, restaurants, and designer stores, the area is lively day and night. It lies in the center of theaterland, with the Criterion, Plaza, and Piccadilly Theaters all close at hand.
The Circus is perhaps most famous for its enormous digital billboards which cover the upper stories of the corner building on the north side. They look especially captivating at night, as does the entire area, with its performing street artists and its relaxed and welcoming atmosphere. If anything, you could probably compare it a bit to Times Square in New York.
Piccadilly Circus is also very well known for the bronze Shaftesbury Memorial Fountain at its center. This fountain is often described as the 'Eros' fountain because of the statue of a winged archer that sits atop it. But the archer actually represents a sibling of Eros – Anteros, the ancient Greek god of requited love and the avenger of the unrequited!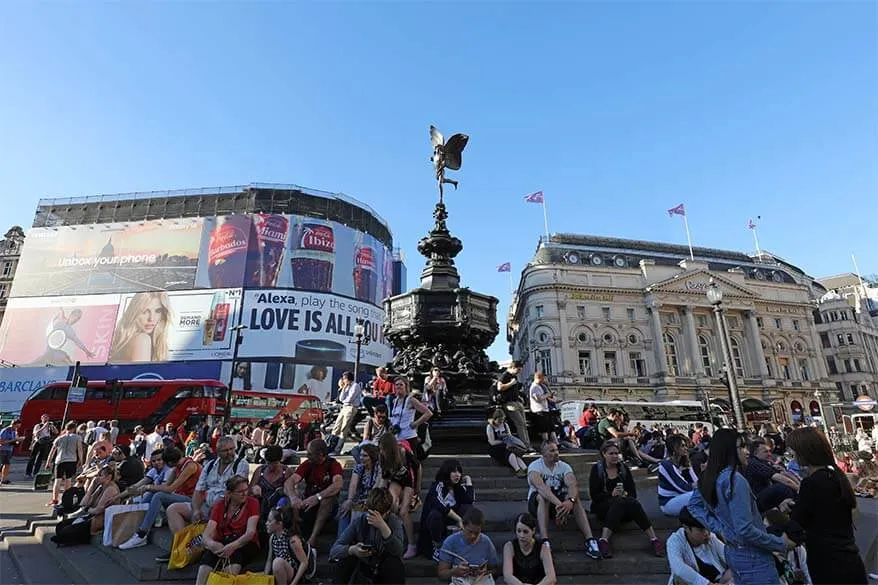 12. Hyde Park
When you step into London's beautiful Hyde Park, it's hard to remember that you are actually in the middle of a bustling city! Covering an immense 350 acres, it is filled with a wide variety of interesting things to see and do. There are also many cafes throughout the park, so it's a great place to come for lunch as well.
Of course, the main reason to visit Hyde Park is to connect with nature. And with its ornamental flower gardens, meadow, and 40-acre Serpentine Lake, it's very easy to do. If you're lucky, you may even get to see a red squirrel darting between the trees – a species native to Britain but becoming increasingly rare.
If you're feeling active, there are plenty of opportunities to expend a little energy, from swimming or cycling to roller-skating along the wide tree-lined paths. In summer, you can hire a (paddle) boat on The Serpentine. In winter, there's usually an outdoor ice skating rink at the Hyde Park Winter Wonderland.
There are also various monuments and statues scattered throughout the park, including the Diana Princess of Wales Memorial Fountain and the Holocaust Memorial.
But one of the most interesting aspects of Hyde Park is its history as a protest site, with many marches and rallies being held there over the years. Hyde Park was, in fact, the meeting place of the suffragette movement as it campaigned for votes for women. Head to Speaker's Corner on any Sunday morning, and you can listen to various members of the public sharing their opinions on any (legal) subject they choose. Notable past speakers have included Karl Marx, Vladimir Lenin, and George Orwell!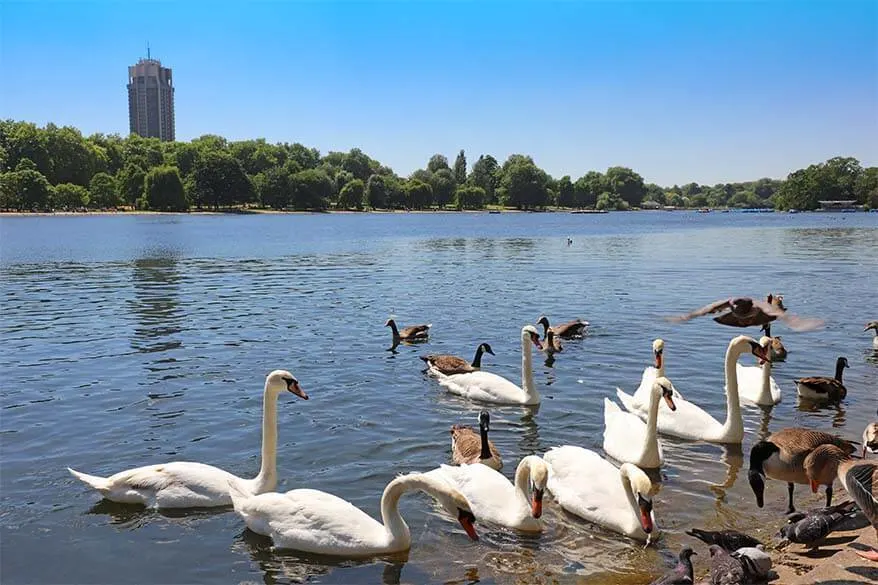 13. St. Paul's Cathedral
Instantly recognizable by its world-famous dome, St Paul's Cathedral is one of the iconic London landmarks that you should try to visit as well. As a minimum, try to see it from the outside.
The current St Paul's Cathedral was designed by the architect Sir Christopher Wren and built from 1675 to 1710. Its predecessor was destroyed in the Great Fire of London in 1666.
Still an active place of worship, St Paul's has been central to some of Britain's most important events, including the 1981 marriage of Prince Charles and Princess Diana. It has also hosted the funerals of key figures in history, including Lord Nelson, Winston Churchill, and Margaret Thatcher, Britain's first female Prime Minister.
There is an incredible amount to see in the Cathedral and you can easily while away an afternoon admiring its various chapels, beautiful frescoed ceilings, and religious artwork.
But the highlight of a visit to St Paul's is the walk up into its dome! Not for the faint-hearted, the walk starts with 259 steps up to the Whispering Gallery, from where you'll get the most incredible views of the inside of the Cathedral. The dome's excellent acoustics mean that the slightest whisper will be heard right across the other side of the Gallery – hence its name.
Another 117 steps will take you up to the Stone Gallery. But for exceptional, panoramic views across London, take the extra 150 steps up to the Golden Gallery at the very top.
Good to know: If you want to visit inside and climb the dome, it's best to book your tickets online in advance. For opening times and tickets, see here.
TIP: For a great view of the Cathedral from the outside, head to the rooftop terrace of the One New Change shopping center, right across the street. It offers some of the best views in London.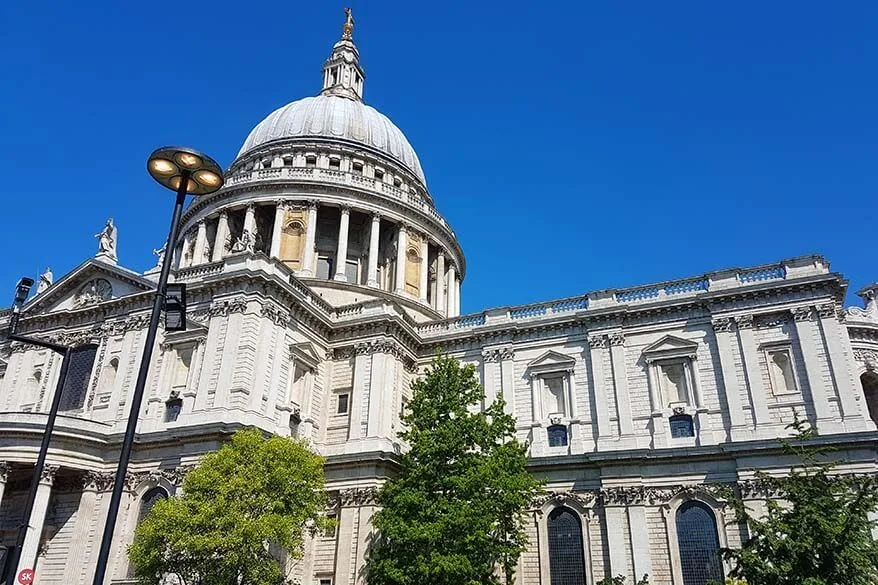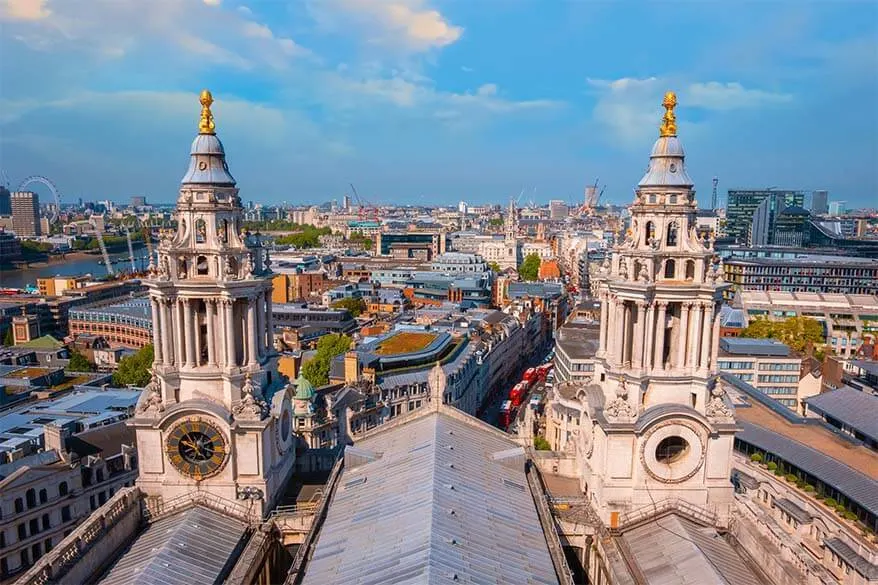 14. Greenwich
The London borough of Greenwich sits on the banks of the River Thames (and can be easily reached from the center by Thames cruise, which is something nice to do in itself). This fascinating part of the city with strong royal connections and rich maritime history, has something to offer everyone.
Even though it's located a bit further away from the main sights in London city center, this is also one of the most visited areas of London. And it is well worth your time even if you are traveling from the other side of the world and have to be selective with how you spend your time.
The tranquil Greenwich Royal Park is home to the Royal Observatory, which played a huge part in the history of astronomy and navigation. Here, you can view its incredible collection of timepieces and astronomical equipment. You can also take an incredible journey through the stars at the Planetarium, where digital lasers project views of the heavens!
Something you MUST do when visiting Greenwich is stand astride the Prime Meridian Line. This line represents 0° longitude, dividing the planet into eastern and western hemispheres and running all the way from the North Pole to the South. The Line passes through the Royal Observatory (get tickets here) and provides the unique opportunity of being photographed with one foot in the east and one foot in the west!
The architecture in Greenwich demonstrates its royal connections, with the stunning Queen's House and its famous Tulip Staircase. If you're interested in maritime history then you could easily spend a couple of days exploring the stunning Old Royal Naval College and National Maritime Museum. As a minimum, check out the Painted Hall!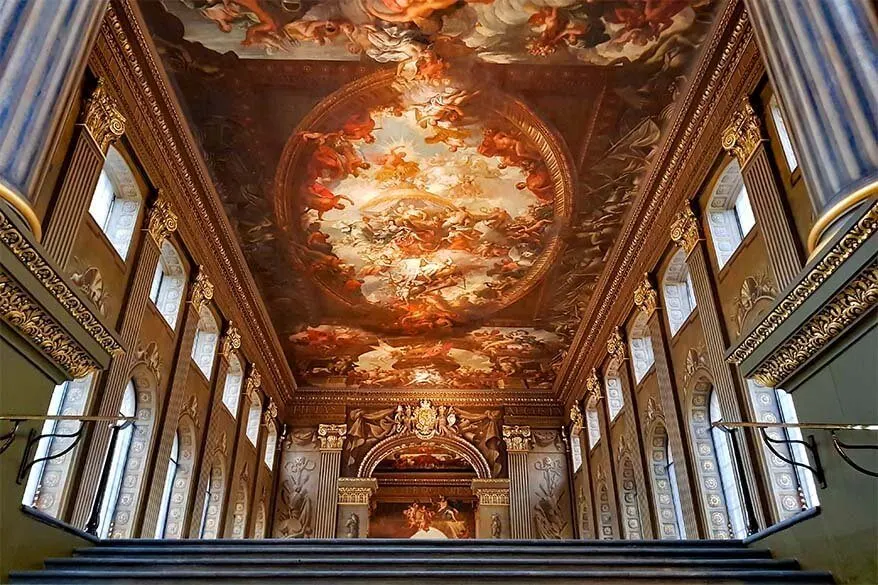 One of Greenwich's most popular attractions is the Cutty Sark – a restored British clipper ship that now stands proudly on a glass pedestal. The whole family will enjoy exploring everything from the rigging on deck to the crew's quarters and engine rooms.
The bustling and popular Greenwich market provides a great place to shop and eat, with some of the best street food in town.
And as the sun starts to set at the end of the day, be sure to take a walk through the Greenwich foot tunnel, which takes you from one side of the River Thames to the other. Not only is the experience of walking underneath the river a pretty cool one, but the views back across to the Greenwich skyline glowing in the setting sun are quite unforgettable.
Good to know: There is so much to see and do in Greenwich that you could easily spend at least one full day here! As an absolute minimum, you'll need to plan half a day for a visit here. See our complete guide to Greenwich attractions via the link above.
15. London Museums
No list of the top London attractions would be complete without mentioning at least some of its museums. Indeed, London has some of the finest museums in the world, covering all fields of interest.
The British Museum is the largest and one of the most visited. It houses over 8 million objects representing human history, culture, and art. These include the controversial Elgin Marbles and the Rosetta Stone, which helped scholars decipher Egyptian hieroglyphics.
South Kensington is home to both, the Natural History Museum and the Victoria and Albert Museum. A leading center for scientific research, the Natural History Museum houses a vast number of exhibits related to all aspects of the natural world. The Victoria and Albert Museum, however, is devoted to human creativity. Here you can see over 4 million examples of decorative art and design from all over the globe.
Also on an artistic theme is the Tate Modern – one of the four Tate galleries in the UK. It features both modern and contemporary work from artists worldwide and is made all the more impressive by its Turbine Hall. This vast space runs the whole length of the building and is capable of displaying very large sculptures and installations. This gives you the chance to appreciate art on a scale you may never have experienced before.
Good to know: Many London museums can be visited free of charge. However, they do require quite some of your time. Depending on your interests and how many days you have in London, try to visit at least one or two museums. But if you want to truly explore them, you'd need several days for the main museums alone.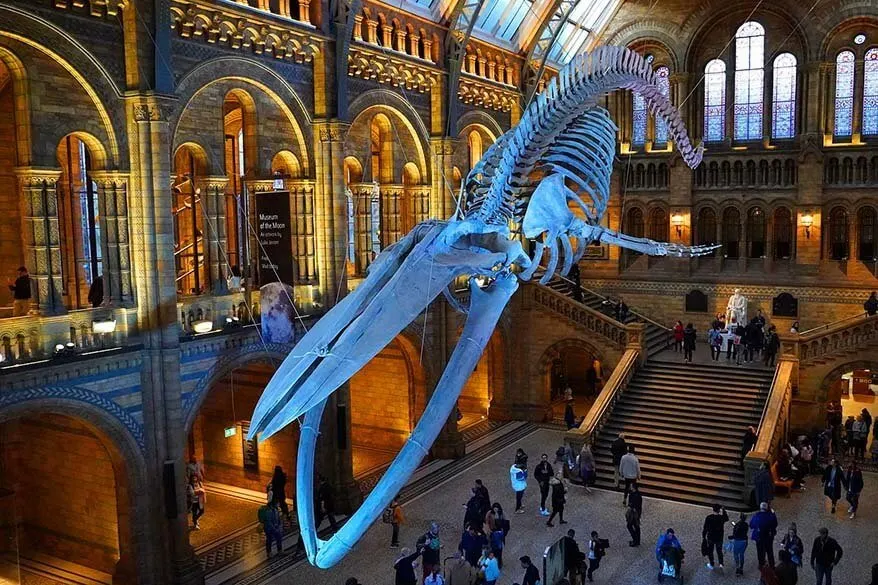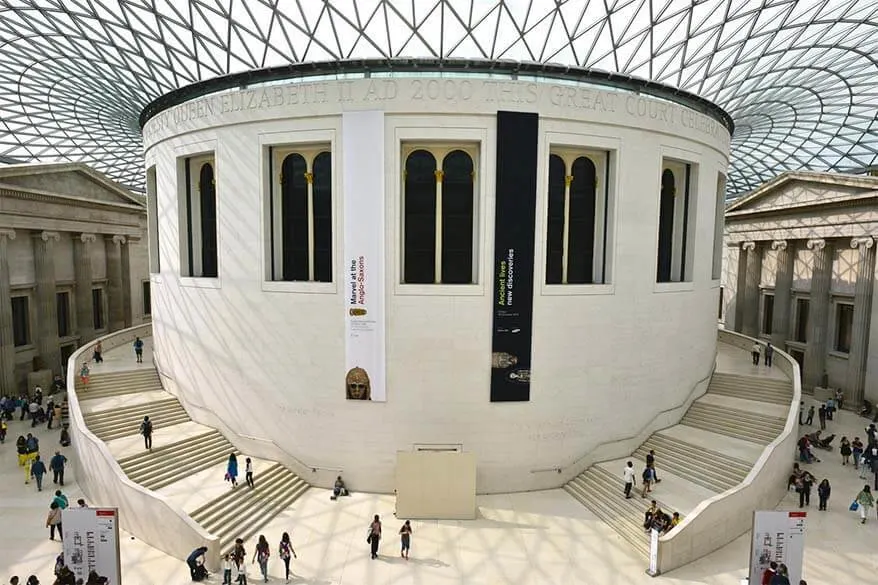 16. London Theaters & Musicals
One of the very best things to do in London is to see a theater performance. With so many theaters, concert halls, world-class shows, and musicals, there's always something going on in London that will suit your interests.
TIP: For the best seats and the most popular shows, it's best to book your tickets well in advance. It's very hard to get tickets for the show and the time that suits you on the day itself, especially if you are traveling in the high season.
If you are not that particular about which show to watch or where to sit, you can usually find some last-minute tickets as well. There are some last-minute ticket booths in the city center (Leicester Square is a good place for that) and also tourism offices and even hotels can usually help you arrange this. But, ideally, you do it at least a few days upfront.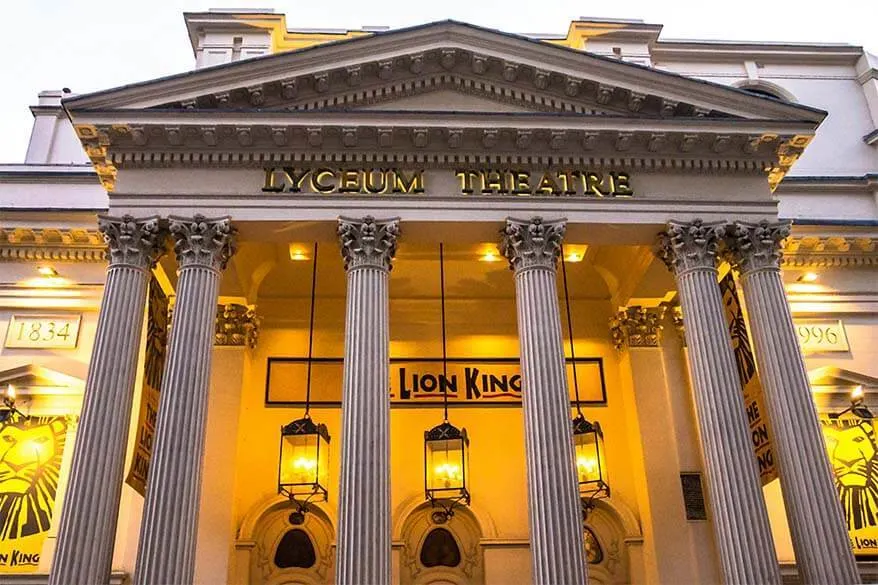 17. The View from The Shard
The Shard is one of the most iconic skyscrapers in London. The View from The Shard is one of the absolute best viewpoints in the city that can definitely compete with the views you get from the London Eye.
The Shard has several viewing platforms, both indoors (66th and 69th floors) and in the open air (72nd floor). The open-air sky deck on the 72nd floor is the highest viewing platform in Western Europe. The Shard also has several bars and restaurants. The bars normally work on a 'walk-in' basis with no admission charge (but very pricey drinks).
But the main reason to come here are, of course, the viewing decks which offer 360° views that you won't get from any bar or restaurant. From the top, you get unparalleled views over the entire city of London and its wide surroundings. It's also really nice to visit here at sunset or in the dark.
Good to know: The Shard is located relatively close to the Tower area (just 10 minutes walk from Tower Bridge). So it's really easy to include a visit here in your itinerary.
TIP: The View from The Shard is one of the most popular things to do in London and they operate with timed-entry slots. So if you want to visit, be sure to book your tickets in advance!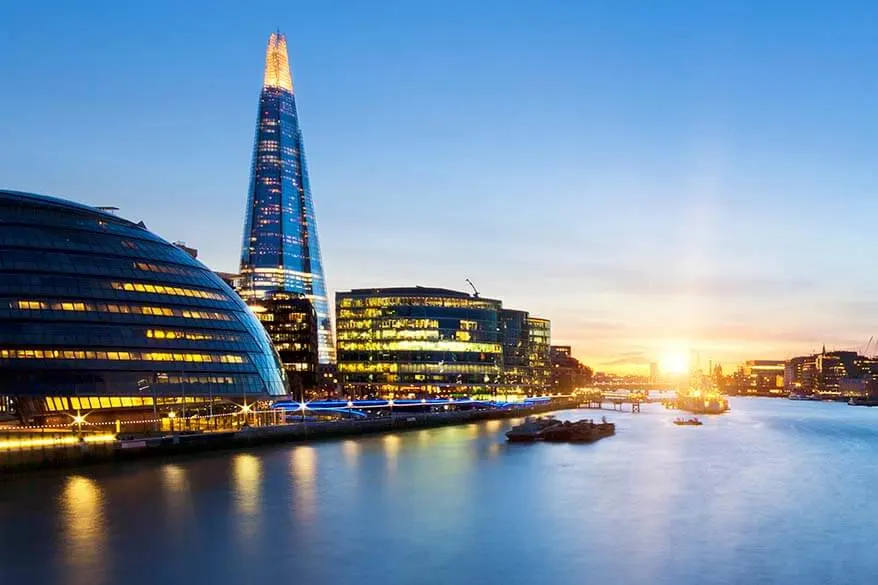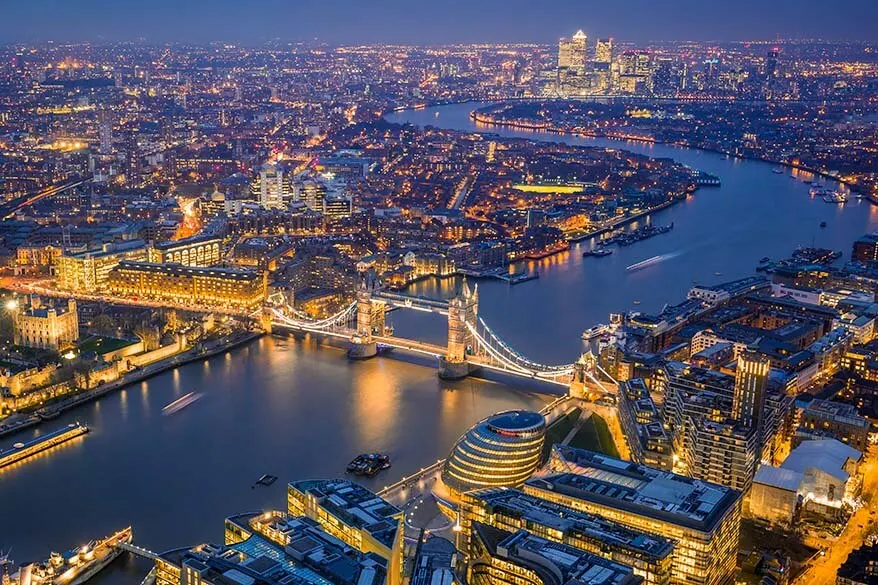 18. Madame Tussauds
If you've ever wanted to get up close and personal with the stars, then be sure to visit Madame Tussauds wax museum. For several decennia already, Madame Tussauds has been on all the top lists of London's must-see attractions.
It contains more than 250 wax figures of celebrities from the worlds of history, glamour, music, popular culture, and more. Best of all, there are no ropes separating you from the exhibits, so if you've ever felt like taking a selfie with James Bond or the Queen of England, this is your chance!
But there's more to Madame Tussauds than simply walking around and looking at the incredibly lifelike figures. Various interactive displays and immersive experiences really bring all the characters to life, and you can even get a backstage look at how they are created.
The host of celebrities on display is constantly changing, so it's easy to see who's hot in popular culture – and who's not! Although… there's always a place for The Beatles here!
TIP: Madame Tussauds is another extremely popular tourist attraction in London and it's always very busy here. So make sure to book your tickets online in advance! This is not only cheaper than buying tickets on the same day, but it can also save you from wasting a few hours waiting in line as well!
Also here, fast-track tickets are available and they are well worth it if your time in London is limited.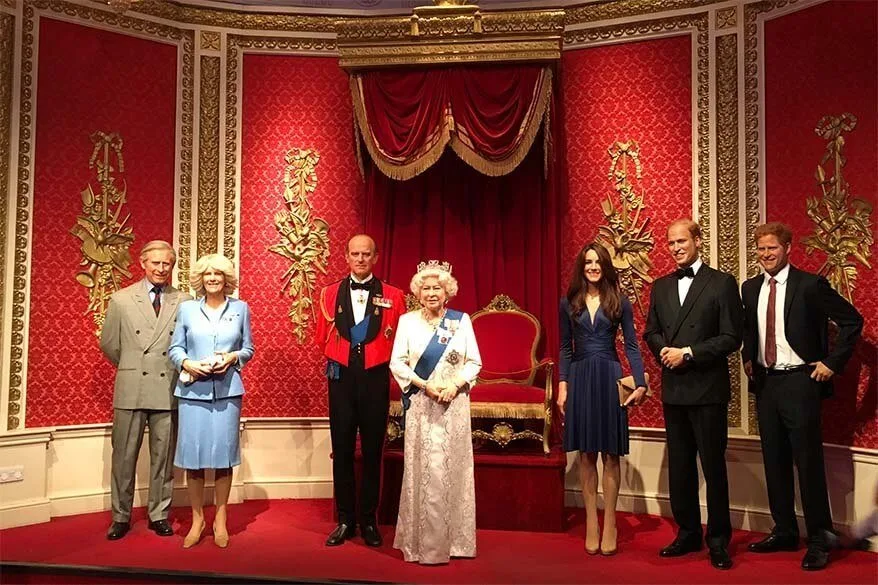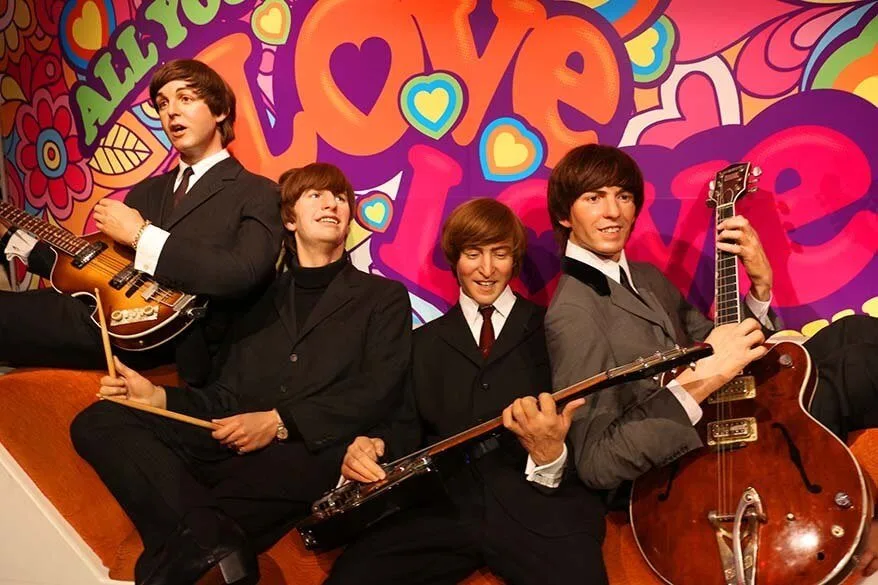 19. Covent Garden
Located in London's west end, Covent Garden is a fun and lively mixture of trendy bars, restaurants, upscale shops, and cultural attractions, all centered around its historic market. Even if you don't feel like shopping, a visit to Covent Garden Market is a must, if only to admire its 19th-century glass roof and fantastic architecture!
Step away from the market and into the fully pedestrianized 17th-century Piazza. Here, you can enjoy the eclectic (and free!) street entertainment whilst sipping a glass of wine at one of the many bars that surround the square.
If you're a fan of opera or ballet, then you're in the perfect spot – Covent Garden is home to the Royal Opera House. And the nearby London Transport Museum is a great place to visit if you'd like to see some of England's historic vehicles and iconic London transport signage.
The most surprising part of Covent Garden is Neal's Yard, one of the hidden gems of London. Maybe the prettiest street in London, its winding alleys are lined by buildings painted in all colors of the rainbow. These are home to independent and ethical businesses selling everything from pizza to natural remedies.
TIP: Before you leave, be sure to check out the Infinity Chamber in Conduit Court. Made with hundreds of colored LED bulbs, it's open 24 hours a day and guarantees you the perfect shot to remember your visit to this part of the city.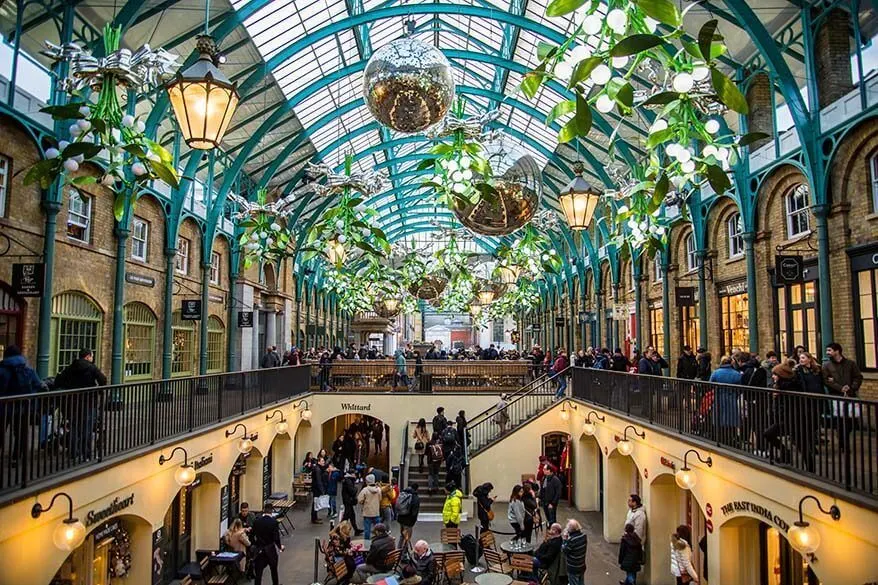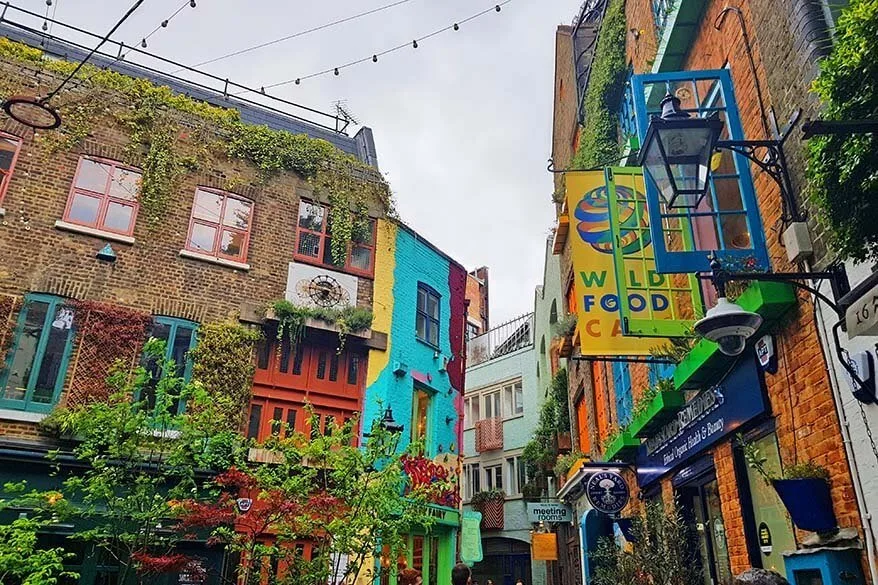 20. Oxford Street
If you want to do some serious shopping in London, then make sure Oxford Street is on your London sightseeing itinerary. But even if you don't plan to buy anything, a visit here is a great way to experience yet another facet of the city.
This 1.9 km (1.4 mi) road in the city's west end is the most popular (and therefore busiest) shopping street in Europe. It features all kinds of stores from affordable high street fashion chains to exclusive designer names, sometimes with lower prices than you'll find elsewhere.
There are plenty of eateries and pubs to keep you fortified and much of the architecture is interesting too, with some stores occupying listed buildings.
Not for the faint-hearted, Oxford Street is busy, and both the sidewalks and the road itself are almost constantly congested. If you want to avoid the worst of the crowds, visit first thing in the morning on a weekday.
But if you want to indulge in a little people-watching as you shop, head to Oxford Street at night. The bright lights and buzzing atmosphere will remind you just what makes this shopping mecca such a draw for visitors from all over the world.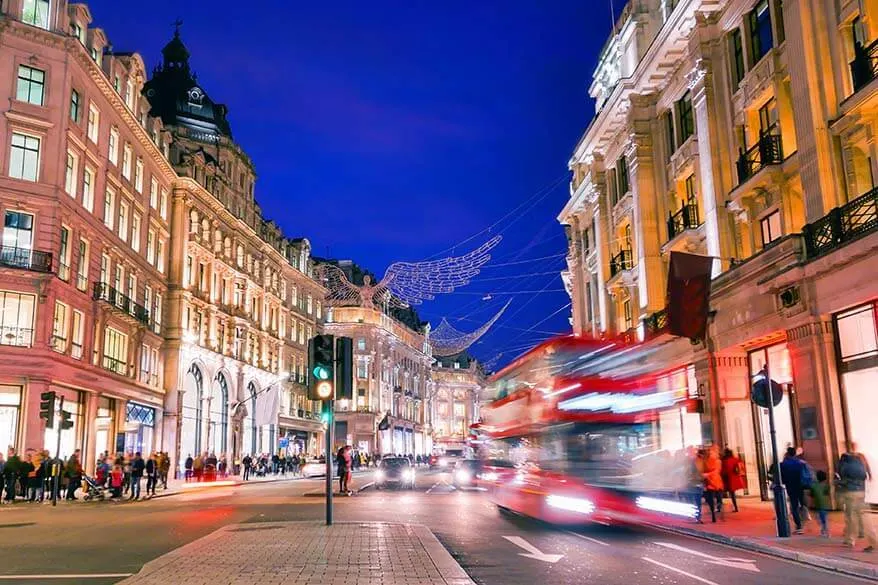 21. Leicester Square
Leicester Square is another bustling place in London that you just can't miss. This public square – established in 1670 – has a distinctly cool and vibrant atmosphere, especially at night when it really comes to life. There is something here for the whole family to enjoy.
Kids, in particular, will love M&M's World – the biggest candy store on the planet! You can also visit the world's largest LEGO store, where you can see a huge – and fully working – replica of Big Ben.
Outside the shops, you'll find plenty of statues of famous figures from literature to popular culture and more. These include Mary Poppins, Paddington Bear, and even Mr. Bean!
The Square is especially popular for its entertainment, offering London's very best shows and movie theaters. If you're lucky, you may even get to spot a celebrity at one of the 52 red-carpet movie premieres that take place here every year.
As you would expect for such a busy area, there are lots of excellent bars and restaurants to choose from. And you are just a short walk away from London's Chinatown, with its incredible restaurants offering a wide variety of Asian specialties.
Before leaving Leicester Square, make sure to visit the Swiss Glockenspiel clock, which is located close to M&M'S World. It's easy to walk past without noticing – but on the hour, every hour, its bells begin to chime and its figures rotate. This charming clock looks even better at night when it is fully illuminated and it makes a great photograph to add to your collection of London's diverse and iconic sights.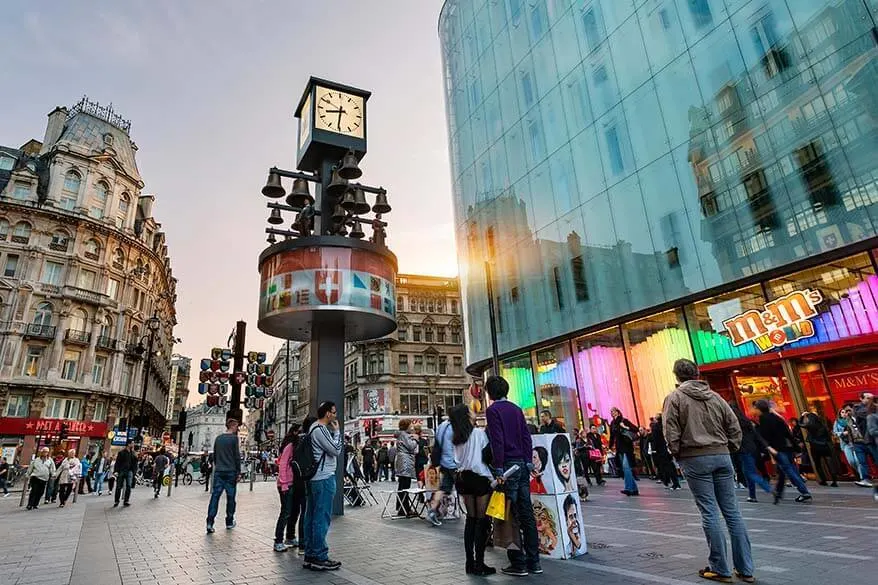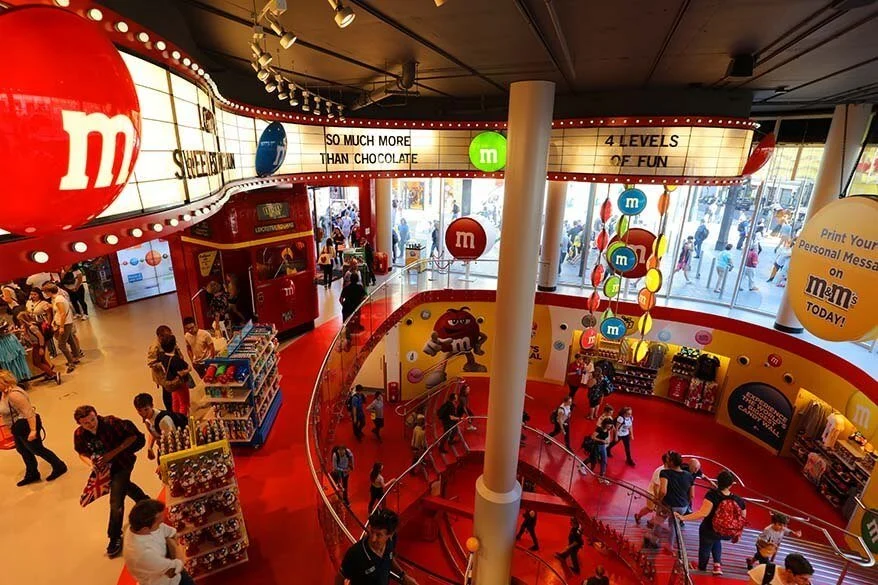 22. Borough Market
Borough Market dates back to the 13th century and is both the oldest – and the largest – market in Britain. Just steps away from the Shard in Southwark, it is – without a doubt – London's foodie paradise!
Featuring both British food and lots of international options, the market is packed with stalls and food trucks selling dishes as diverse as spicy empanadas, fresh oysters, specialty fudge, and handmade chocolates. There are also booths heaped with fresh produce and herbs, along with exotic ingredients you'd struggle to find elsewhere. In fact, there are so many stalls that you could spend an entire day here if you decided to visit each and every one!
Borough Market is a great place to visit for lunch! In addition to the artisanal street food, there are plenty of popular restaurants and cafes both inside the Borough Market and in the streets surrounding it. That being said, most visitors would agree that the very best food is to be had at the stalls themselves. The only problem is choosing just which regional specialty to have!
Good to know: The best days to visit are from Wednesday through to Saturday, when the full complement of traders are there. Keep in mind that the market is open during the day, until around 5 pm and it's closed on Sundays.
TIP: If you are looking to visit more markets in London, definitely check out Camden Market in Camden Town. It's one of the most unique, quirkiest neighborhoods in the city! Also Greenwich Market, Spitalfields Market, Portobello Road Market, and Columbia Road Flower Market are all really nice.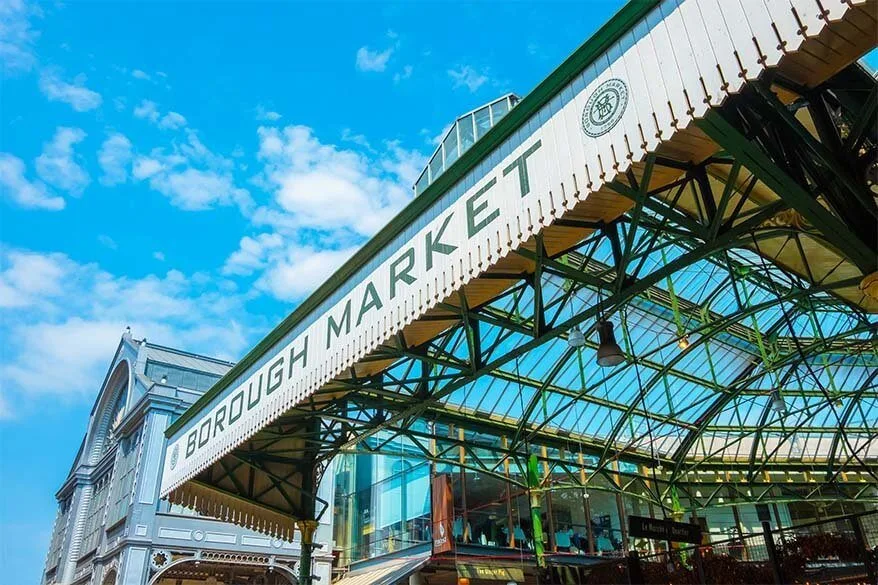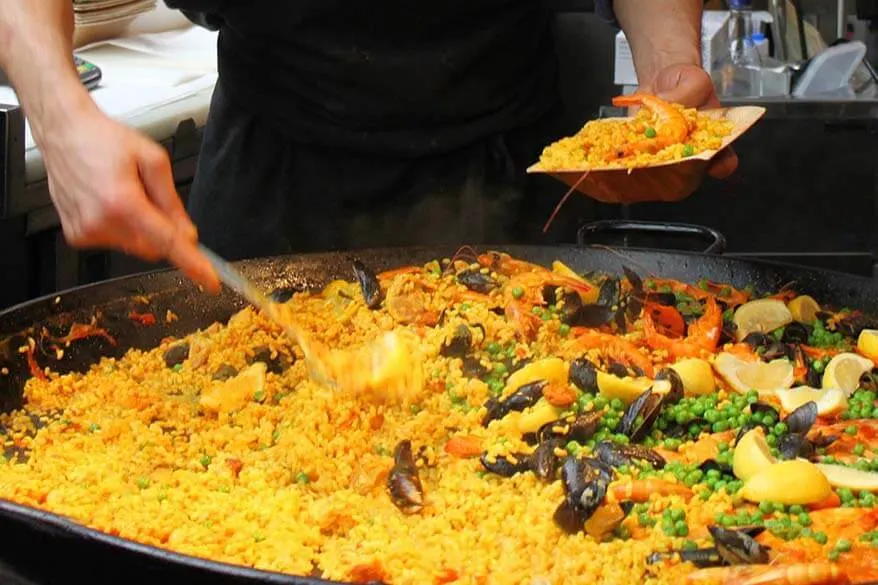 23. Hop-On Hop-Off Bus
Last but not least, the hop-on hop-off bus also deserves a mention among the best things to do in London! London is a huge city and there's no way to see everything in just a few days (not even to mention that your feet will get sore). A journey on a London sightseeing bus is a great way to familiarize yourself with the city and see the best of London's landmarks in the shortest amount of time.
You can choose to board the bus and enjoy a complete loop of the city, taking in iconic sights such as Big Ben, the Houses of Parliament and the Tower of London. If you decide you want to explore an attraction a little more thoroughly, then you can just hop off and jump on the next bus that comes along when you're ready.
Each bus has an open top which gives you a great 360° view. In addition, most providers offer features such as live or audio guides, special commentaries for kids, and even activity books.
The raised position of the upper deck of the bus gives you a whole new perspective and a real appreciation for London's architecture, particularly that of the upper floors that you might have missed otherwise!
Tickets are generally valid for either 24, 48, or 72 hours and usually include extras, such as a free Thames cruise or walking tour. Some providers also offer night tours – a real treat if you choose to take one, as the view of the city lit up at night is unique and unforgettable.
Good to know: The two main hop-on hop-off bus companies – London Tootbus and the Big Bus Tour – both offer very similar routes and prices. Tootbus is usually slightly cheaper than Big Bus. In the past, Big Bus tickets were valid for 1-3 calendar days, whereas Tootbus – for 24-72 hours. So if you only started your Tootbus tour in the afternoon, you could still use it the next morning as well. But Big Bus has recently adjusted its system as well, so now both offers are pretty much identical, and the tickets are valid for 24, 48, or 72 hours from the first validation.
TIP: We recommend booking a ticket for a longer duration, as one day will not be enough to take full advantage of all that's included. Also, 2-3 day tickets offer much better value than a day ticket.
When we were in London, we took the Tootbus for a day. It was good, but I really regretted we didn't book it for a longer duration. Multi-day tickets offer much better value and you can also take more time to explore the landmarks along the way.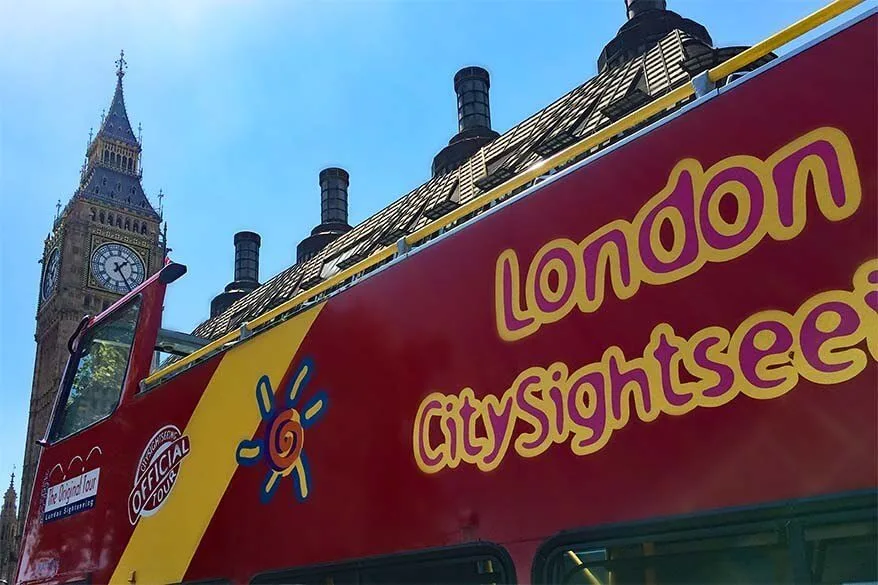 Map of Top London Attractions
To help you get a better idea of where all the main London attractions are located, we created a map indicating all the points of interest and sights mentioned in this article.
This should help you plan your time a bit better. But please keep in mind that you can only visit 2-3 of the main tourist attractions in a day. It's busy everywhere, distances between places are big, and even with the skip-the-line tickets, you'll need several hours for each place (if you visit inside). So plan your time well!
TIP: For more information and useful tips for your visit, please also see our guide with top travel tips for London via the link below. It's an essential read when planning your trip!
LEARN MORE: Top Tips for Visiting London
How To Use This Map: Use your computer mouse (or fingers) to zoom in or out. Click on the icons to get more information about each place. Click the arrow on the left top corner for the index. Click the star next to the title of the map to add this map to your Google Maps account – that way you can also consult it when sightseeing in London. To view the saved map on your smartphone or PC, open Google Maps, click the menu button, and go to 'Your Places'/'Maps'.
So, this is our list of the very best things to do in London for tourists. It might not look like much for such a big city, but you'll need at least 2 days in London to see just the main places, and 3-4 days to try to cover all the main sights of London mentioned in this guide (and you won't have enough time to actually visit everything inside).
In addition, there's so much more to see and do in this fascinating city than just the most famous London tourist attractions! So if you have more time, then definitely take some time to visit at least a few hidden gems of London as well and check out some of the best viewpoints in London!
TIP: If you want to see all the top London sights from this list, visit the main attractions inside, check out some of the lesser-known places, and truly enjoy your visit, make sure to plan at least 5-7 days in London. Staying for a week will allow you to also take one or several day trips from London.
Don't despair if this is your first visit and you only have a day in the city. With some good planning and advance preparation, you can see some of the musts in London in just a day too. In that case, be sure to check out our recommended London itinerary for one day.
Where to Stay for Sightseeing in London
PRO TIP: In order to make the most of your visit to London, we recommend staying in the heart of the city. Our favorite area to stay for sightseeing in London is close to Westminster Bridge (near Big Ben – London Eye). For example, Park Plaza Westminster Bridge London hotel has a great price/quality/location ratio in this area.
Another really nice central area for sightseeing (but also shopping, dining, and theaters) is the area around Trafalgar Square – Covent Garden.
Here are some of the best hotels in this area for all budgets:
READ ALSO: Best Areas to Stay in London
Using the map below, you can also compare hotels and short-term rental accommodations in central London. Simply insert your travel dates and group size, and you'll see what's available for your stay. Check it out!
More travel inspiration for your trip to the UK:
If you found this post useful, don't forget to bookmark it and share it with your friends. Are you on Pinterest? Pin these images!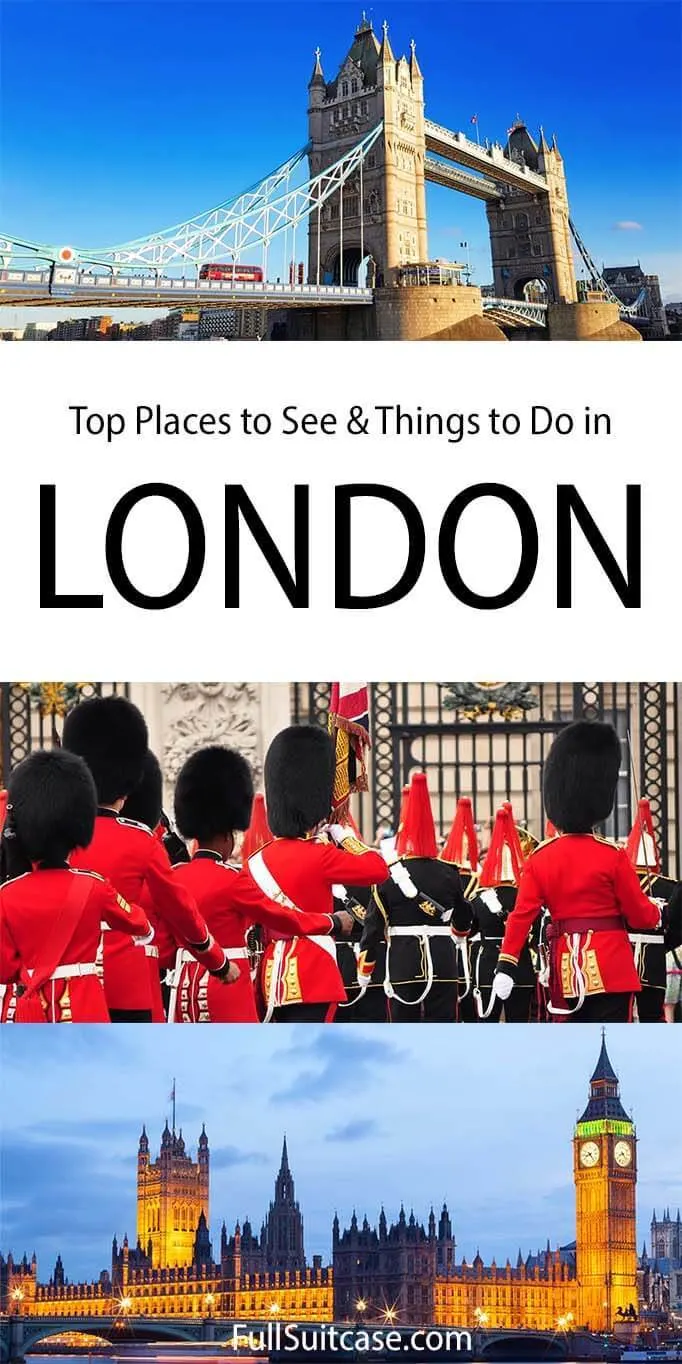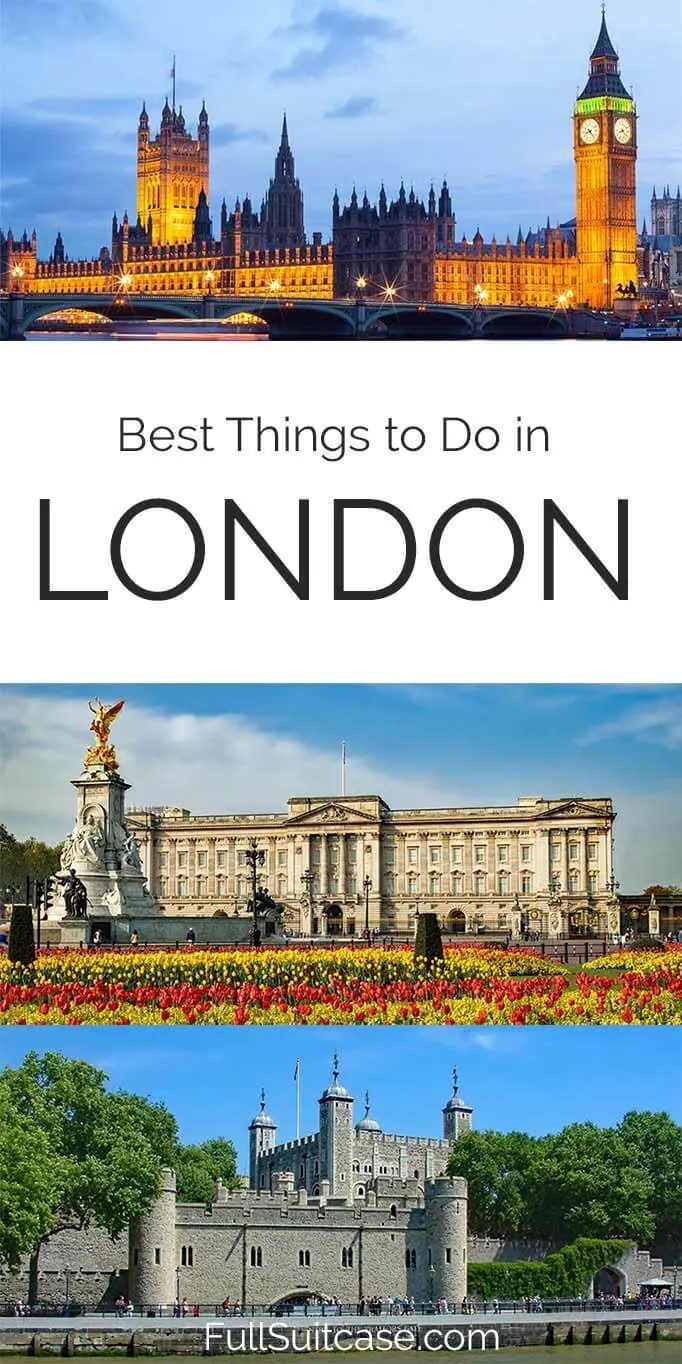 Photos: personal collection, Pixabay.com & Depositphotos.com