Are you going for an afternoon tea in London with kids?! With all the kids, three boys? You must be kidding… We got the same reaction several times when people asked us about our plans for London with kids and we said that we are going for a family afternoon tea in London…
I have to admit that I also always associated afternoon tea with luxury hotels and fancy dress… I thought it was too pricey, too gracious, and definitely not something to even consider for a family with three young boys…
However, it's definitely possible to have a really nice family afternoon tea experience in London. Find out!
Disclosure: We were the guests of St. Ermin's, but all opinions are my own.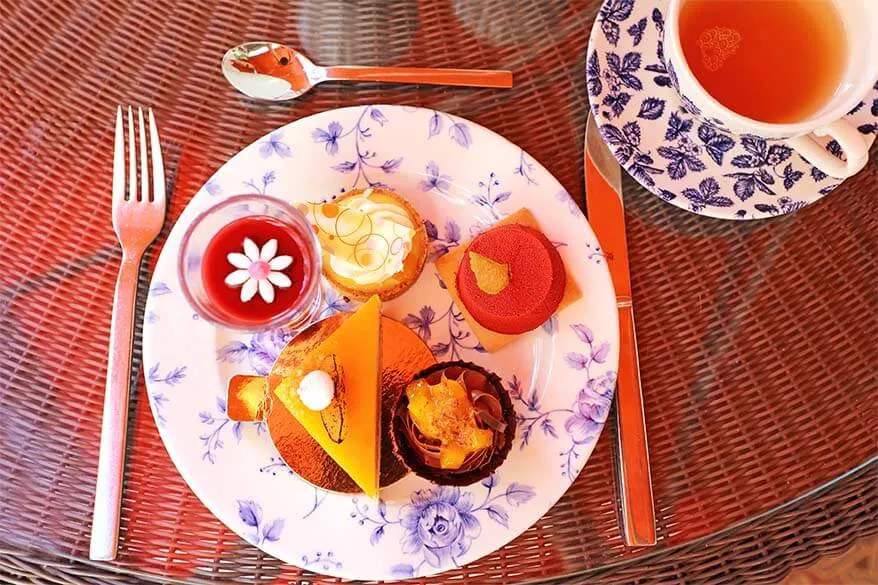 Where can you find a truly family-friendly afternoon tea in London
When we received an invitation for a family afternoon tea at St. Ermin's Hotel in London, I was not sure how to react. I was really excited about spoiling ourselves with this delicious and stylish treat. At the same time, I was wondering whether we would really enjoy afternoon tea with the children…
I did some research on Google for the best London afternoon tea experience with kids and what I found was not really reassuring.
Most articles would start by telling you how 'there is no better meal suited for children than afternoon tea', but then you would read further and they would say 'children are offered the same menu as adults… it is required that one dresses for tea: jeans, sportswear and trainers are forbidden.. children should be mature and on low volume…' Don't know about you, but this doesn't sound like a family-friendly experience to me at all!
Still, we were really eager to try this typically British experience and have an afternoon tea in London with kids, so we decided to give it a try. And we loved it! Further below, you can read all about St. Erlin's afternoon tea experience.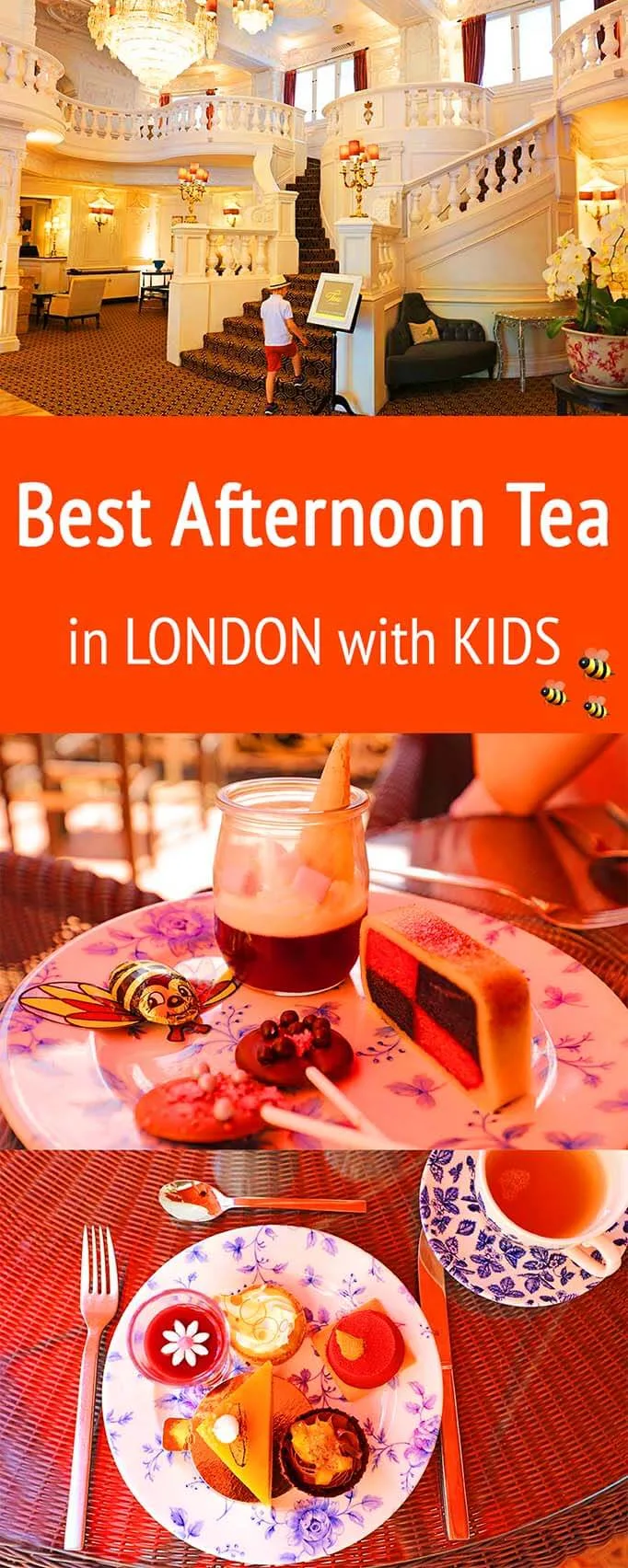 The best afternoon tea in London for families with kids
After further research, I realized that at St. Ermin's Hotel they have a very different approach to a family-friendly afternoon tea.
Not only do they offer a special Buzzy Bees afternoon tea menu for kids, they even invite children to see their 350,000+ bees going about their daily business – making honey!
On top of that, the prices are really reasonable, so it's a treat any family could afford, whether to celebrate a special occasion or to spend a truly memorable afternoon in London.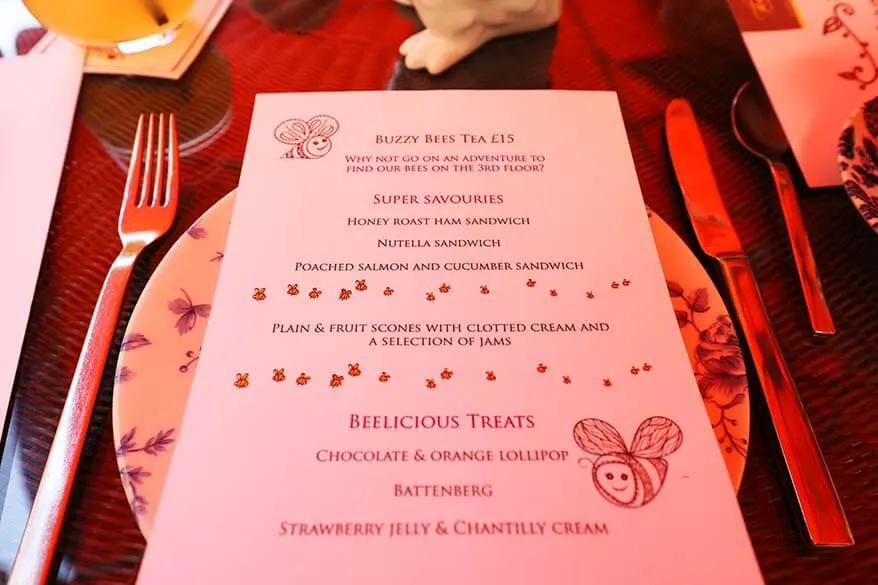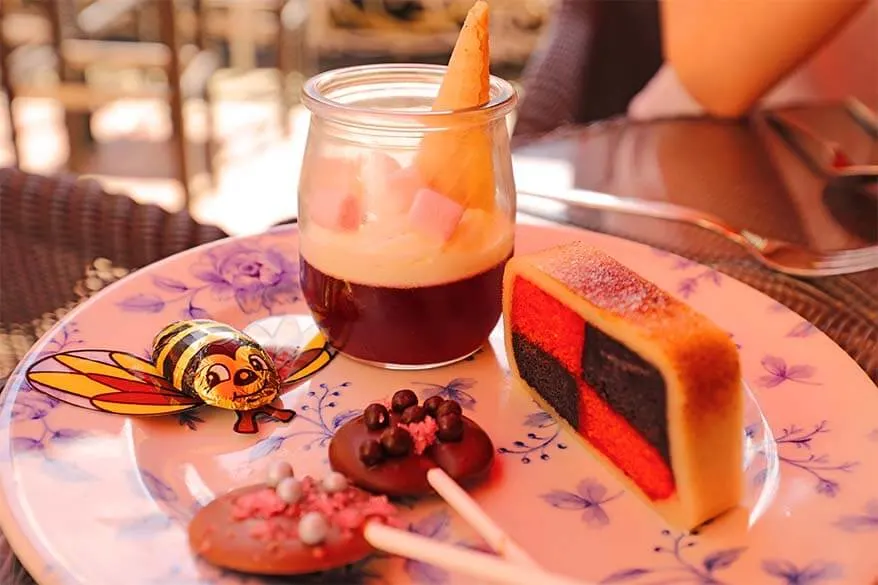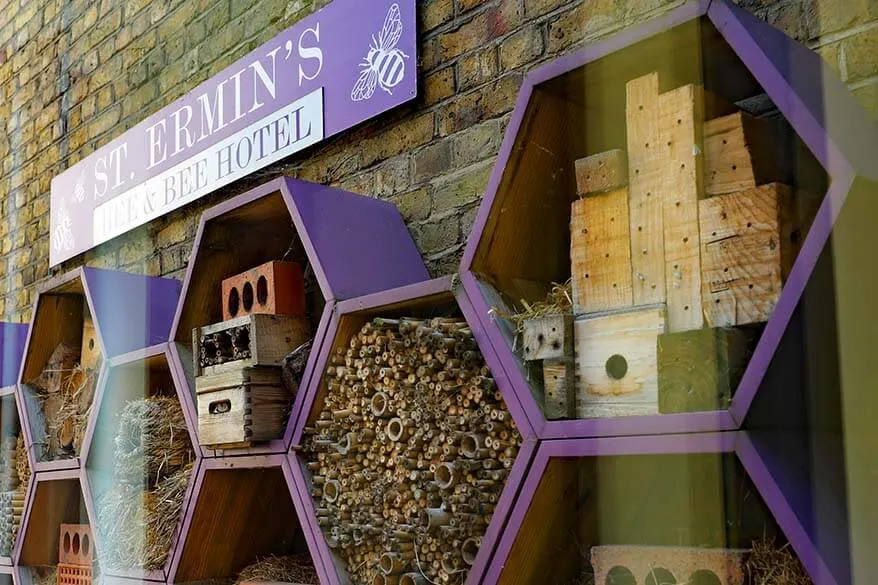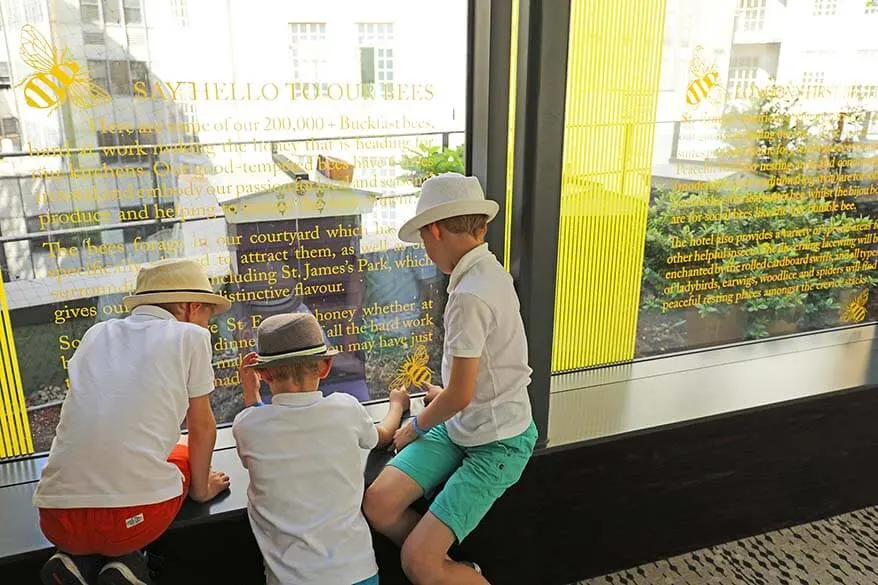 Of course, adults are not forgotten either!
Depending on the season, there are different afternoon tea menus that you can choose from, including a gluten-free option. And what do you think about afternoon tea with unlimited Prosecco!
Here you can find the current St. Ermin's afternoon tea selection. And did I mention that it's really affordable?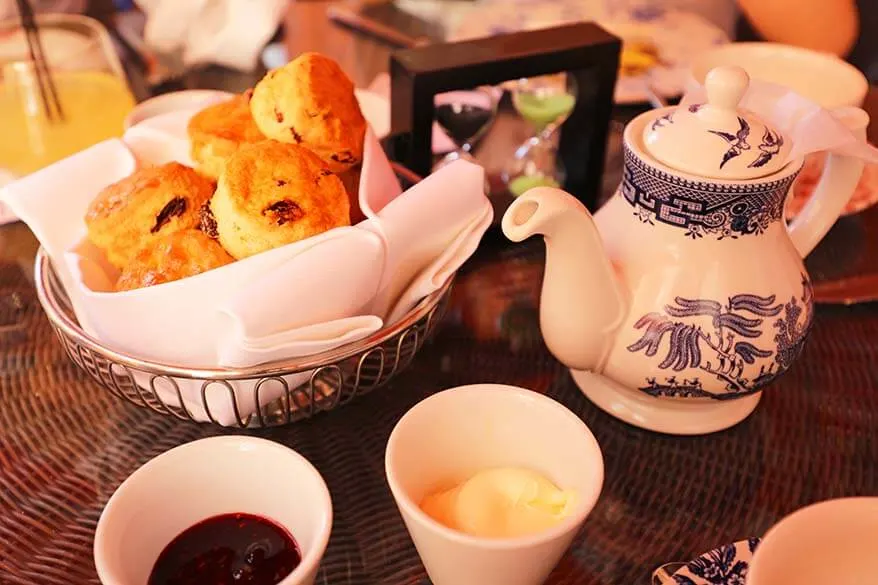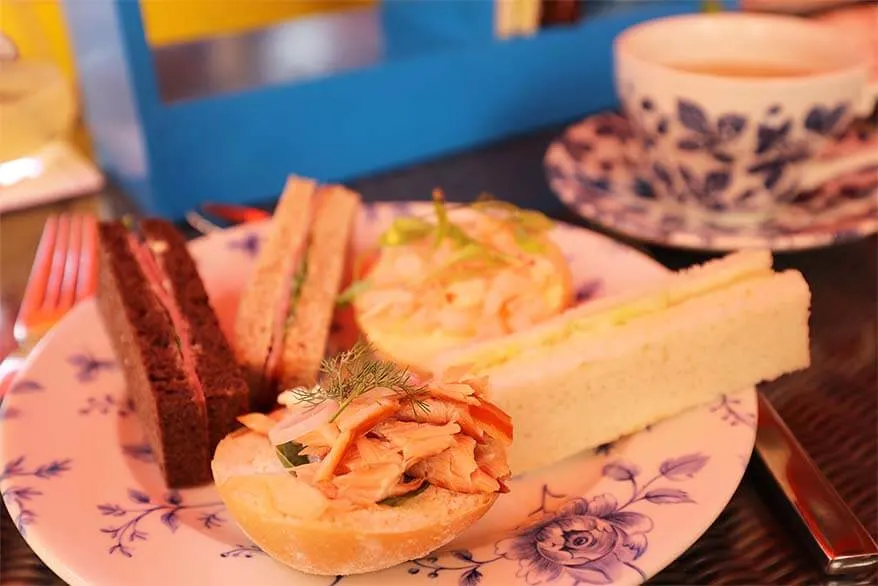 Afternoon tea at St. Ermin's London – what to expect
St. Ermin's is a luxury hotel in the heart of London, located in a beautiful historical building dating back to the 19th century. It would be worth visiting even if just to see the magnificent interior!
It's also very centrally located and is less than 10 minutes walking from Westminster Abbey or Buckingham Palace.
In fact, the location is perfect for sightseeing! On top of that, St. Ermin's also offers big family rooms and is much more affordable than most other luxury hotels in the centre of London.
So if your budget allows a little splurge, definitely check it out as it's one of the best family-friendly luxury hotels price/quality/ location wise that you can find in London! Find the best prices for your stay here.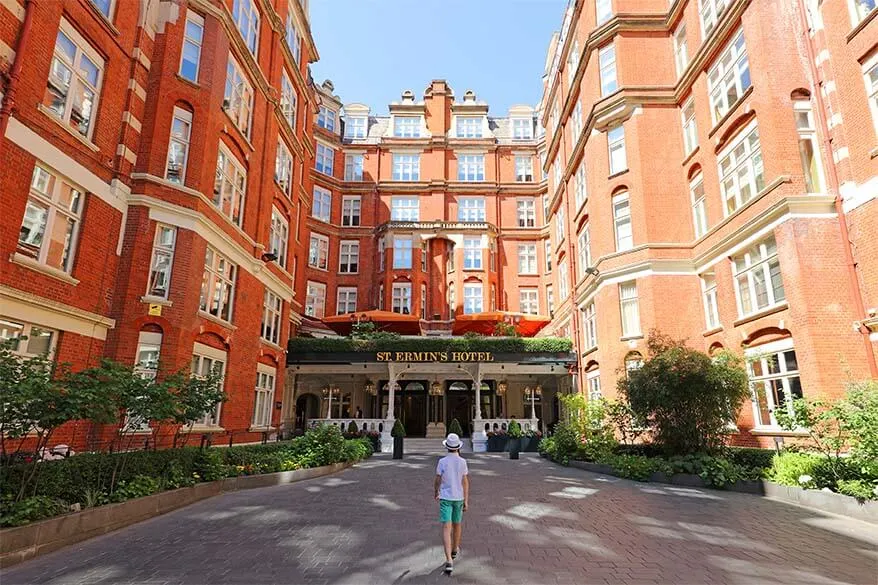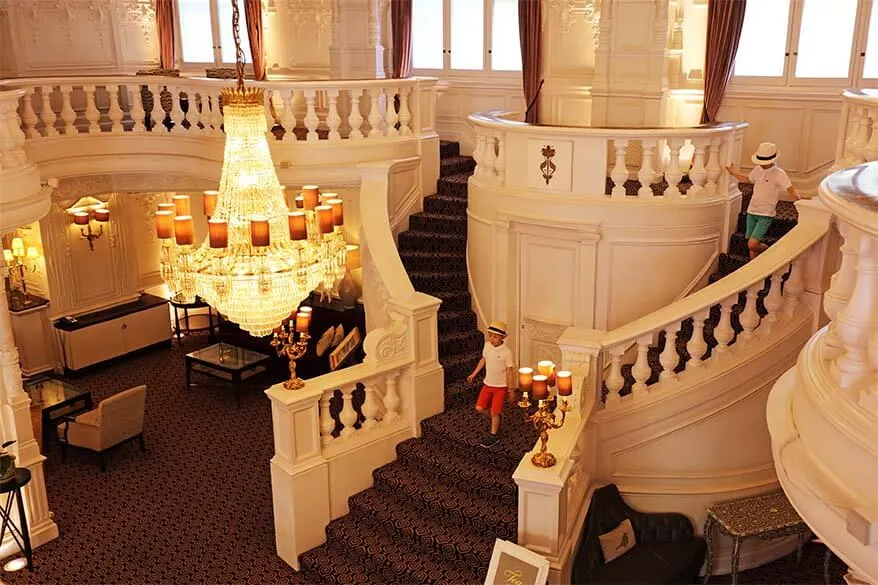 Afternoon tea at St. Ermin's is served in the Tea Lounge and Library, or – weather permitting – on an outdoor terrace. We were there on a beautiful summer day and so we were seated on the terrace. It was perfect with kids as it felt completely relaxed and we didn't have to worry about the boys not being able to keep 'low volume' at all times.
We were served a tea of our choice and a selection of sweet and savoury seasonal treats. Everything was absolutely delicious! My husband is not a tea drinker, but he couldn't get enough of his tea and kept on asking for refills…
I have to admit that even with the special afternoon tea menu for kids I still wasn't sure if the boys would eat much (they're at the age where they are becoming really fussy eaters).
But the delicious treats and sweets were so nicely presented that they didn't want to miss any of it! On top of that, the kids could opt for fruit juice instead of the tea, which they gladly accepted.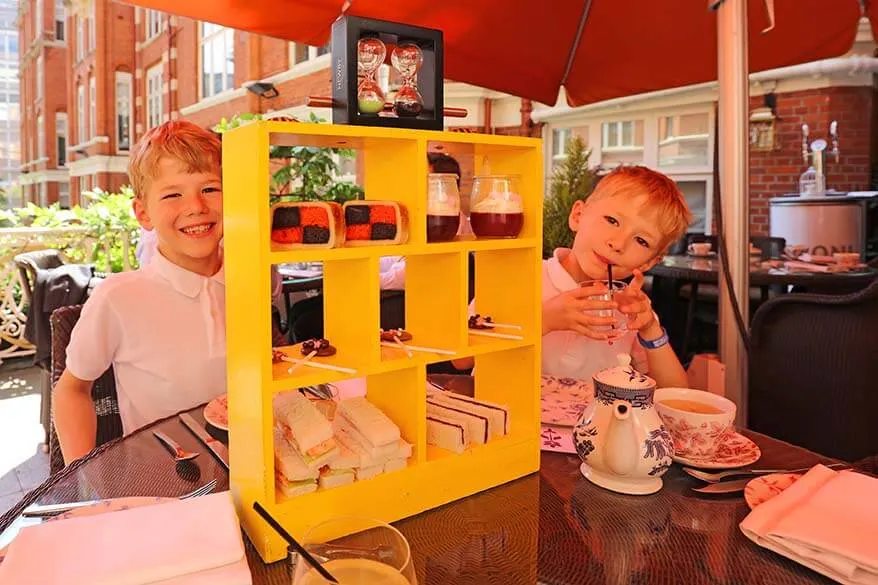 How to dress for an afternoon tea with kids?
Honestly, I don't know if there is any special dress code for afternoon tea at St. Ermin's Hotel, but you'll definitely feel better if you are nicely dressed.
Since it was really hot when we visited, we couldn't imagine dressing kids in pants and long-sleeved shirts. They were all wearing shorts and white polo t-shirts
, I was in a casual dress, and my husband wore long Dockers-style summer pants
and a white shirt.
We didn't see any other kids (it was a school day in the UK), but the adults we saw were all nicely dressed without being overly dressed.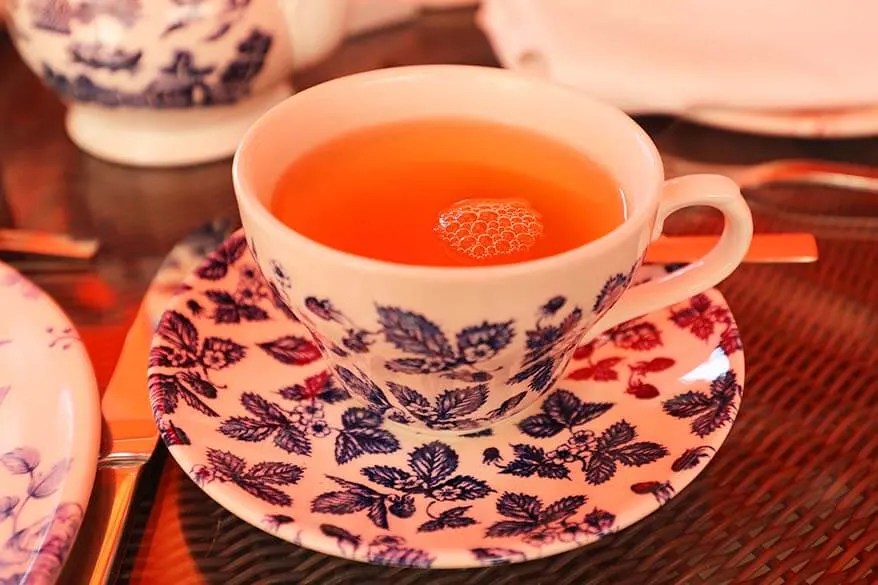 Would I recommend the afternoon tea at St. Ermin's hotel in London with kids (or without)? Absolutely! Afternoon tea is such an old English tradition and an experience you shouldn't miss when visiting cities in the UK.
And now that you know where to find a truly kid-friendly and affordable afternoon tea in London, you have no excuse not to try it… 😉 So check it out next time you're in London and I am sure that you will enjoy it just as much as we did!
READ ALSO:
Best Things to Do in London
London Travel Tips
Hidden Gems of London
Best London Views
How to See the Best of London in 2 Days
Some interesting facts about the English afternoon tea tradition
Afternoon tea is said to have been started by Anna, the Duchess of Bedford around the 1840s. She found the time between lunch and dinner too long and that's how the tradition has been born.
In the 1920s afternoon tea reached its apogee and it became a huge social event among the English aristocracy: musicians were invited, the best tea was served in silver teapots and elegant teacups, and the park would sometimes even include lawn games like croquet or badminton.
High tea is not the same as afternoon tea. While afternoon tea was an upper-class event, high tea was the main meal of the day for the working class.
READ ALSO: British Food: Best Traditional Dishes to Try in the UK
If you found this post useful, please share it. Are you on Pinterest? Pin these images!