Even people who have never been to London can tell you what the main highlights of the city are. Who hasn't heard of the London Eye, Big Ben, Tower Bridge, or Buckingham Palace… But if you are looking for a more unique and local experience and want to discover a different side of London off the beaten path, you may like this selection of some of the less visited secret places – the hidden gems of London.
Recently we've had such a great time exploring London with kids and we had been to London several times in the past, but I am in no way an expert on the secret places in London. Therefore, in addition to our cool finds in London, I also asked my fellow travel bloggers to share their favorite hidden gems of London.
Some of these places are suggested by the locals who live (or lived) in London for many years. Some others – by people who live nearby and consider London their second home. Other suggestions are from tourists like you and I, who found some really cool places that made their visit to London more memorable.
UPDATE: Inspired by all the hidden gems of London in this article, I went back to explore these and many other secret places of London that most tourists never see. This article that used to contain 25 secret spots in London now has a selection of 35 incredible lesser known places in London.
London is an incredible city hiding countless hidden gems and there is no way to see them all. So each of these hidden gems are carefully selected, as I wanted to include only the most special, cool, unique places that are truly worth your time.
I'm not telling you to skip the highlights of London – they are all well worth visiting, especially if you are traveling to London for the first time. But if you want to travel deeper and experience the local side of this beautiful city, then this list of the hidden gems will give you plenty of ideas of more unusual places to see in London.
If you make an effort to visit at least a few places mentioned in this article, it will make your trip to London even more special and truly unforgettable. These hidden gems will show you a very different side of London and will make you fall in love with this incredible city even more. London is truly one of a kind.
From the most colorful neighborhoods, quirky pubs and cafes, a variety of gardens and parks, to some of the best views or unexpected activities – here you'll find plenty of ideas on how to experience London off the beaten path. Find out!
TIP: To make your travel planning a bit easier, I made a map featuring all of the locations mentioned in this post. You can find it at the bottom of this post. It should help you to combine visiting the main landmarks with some of the hidden gems of London, and create your own itinerary including some of these less known places to visit in London.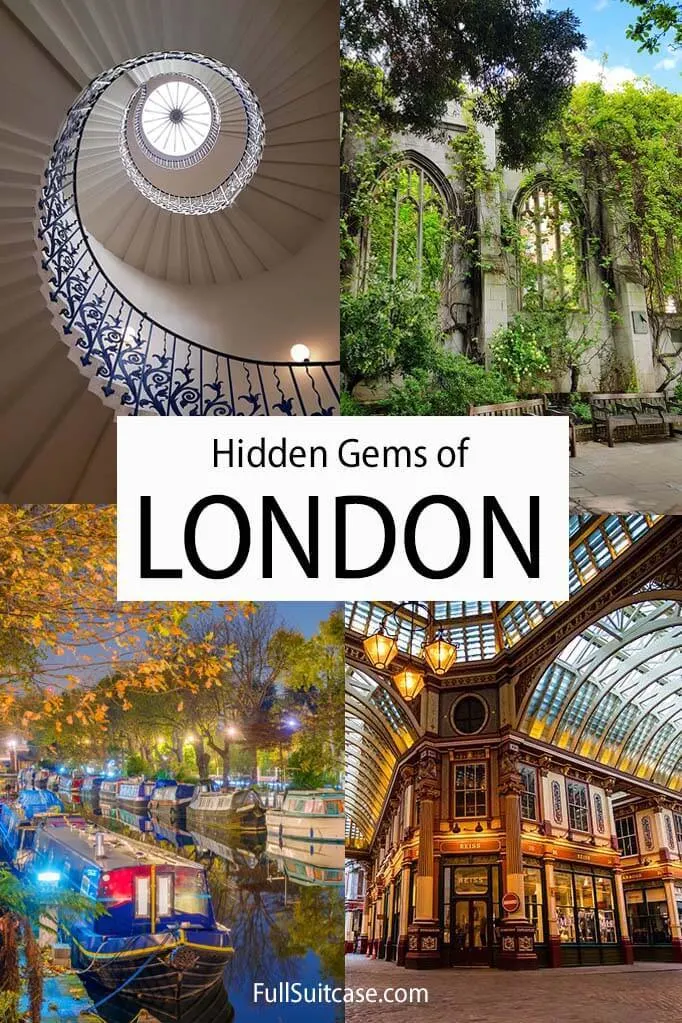 TIP: Before we continue to the best hidden gems of London, I want to share a few books that I stumbled upon while doing this research: Secret London – An Unusual Guide and The 500 Hidden Secrets of London. If you are looking for even more cool, unusual, and secret places in London, it might well be worth getting one of these guides.
Without further ado, these are some of the best hidden gems of London:
1. Saint Dunstan in the East
Originally built in the 11-12th centuries and refurbished several times after that, Saint Dunstan in the East is my personal favorite of the hidden gems of London.
This medieval church has been partially destroyed during WWII and the Anglican church decided not to rebuild it. What's left is an incredibly successful architectural project where the remaining walls of the church have been incorporated into a pretty little garden. It's a green quiet oasis and one of the absolute best secret finds during my most recent trip to London.
The Church of Saint Dunstan is located in between the Tower of London and London Bridge. Despite being so close to some of the major London attractions, it's an incredibly peaceful and tranquil place where you can escape from the hustle and the bustle of the city. This hidden gem is just 10 minutes walk from Tower Bridge – don't miss when in London!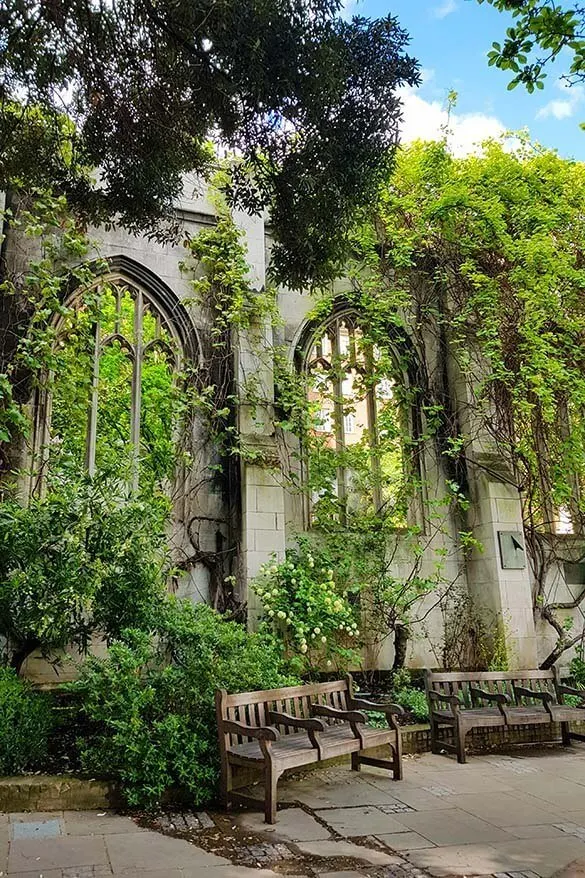 2. Little Venice
Sleepy Little Venice is a series of tree-lined canals that many tourists miss during their London trip. Spanning from Hyde Park to Warwick Avenue, it's near enough to the city center that you can squeeze it in between other attractions.
What makes Little Venice unique is that it's completely unlike anywhere else in the city: colorful canal boats roam the waterways, and many serve as tearooms and cafes. Afternoon tea or brunch on a London canal boat – does it get more memorable than that?
Visit any location between Paddington and Camden Town to see Little Venice for yourself. The popular cafe boats, Darcie & May Green and Waterside Cafe, are located near Paddington, while Camden is a great place to wander the locks and board a waterbus boat trip (these are very nice and a great way to see more of the area!).
TIP: One of my favorite ways to spend an afternoon in London is to walk the whole Little Venice towpath which takes about an hour (set your route on Google Maps between Paddington and Camden Lock Market or vice versa, and select 'walking'). You'll see some animals as you pass behind the London zoo, and admire funky-painted houseboats the whole way.
Little Venice is recommended by Rose from Where Goes Rose.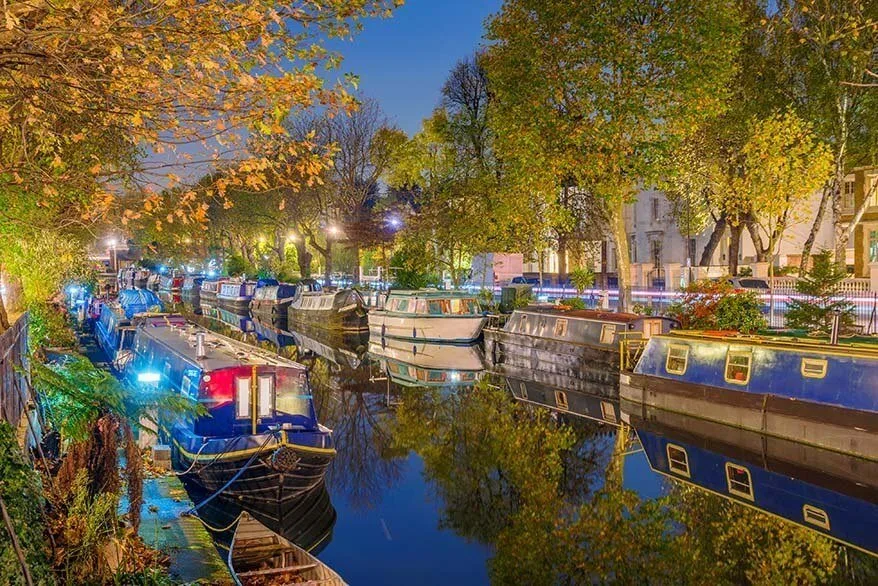 3. The Painted Hall
I have to say that I wasn't sure if the Painted Hall belongs on the list of the best places to see in London or the secret places of London. However, since it took me years and several trips to London to find out about it, I assume that it's still not very widely known. So I think it deserves a mention as one of the absolute-best hidden gems of London.
Located inside The Old Royal Naval College in Greenwich (and part of the UNESCO World Heritage Site), the Painted Hall has just recently been restored to all its previous glory. It's been its 10th and most successful renovation so far. The moment you catch the first glimpse of it, it will take your breath away.
Painted by James Thornhill between 1707 and 1726, this spectacular ceremonial dining room is a real masterpiece of English Baroque art. The entire hall, covering over 3700 sq. meters is painted by hand. This incredible piece of art displays the power and prestige of Britain to the rest of the world. Even today it looks absolutely impressive; I can just try to imagine what kind of an impression it left on people back in the 18th century…
The Painted Hall is one of the most incredible places I have visited in London and I can thoroughly recommend that you take a trip to Greenwich just to see this. It will be absolutely worth it! You can visit on your own, but a guided tour is very affordable too and gives you a better appreciation of this unique place.
TIP: London hop-on hop-off bus ticket of 48 hours or longer includes a river cruise to Greenwich as well. It's a great way to see the highlights and the hidden gems of London in just a few days.
LEARN MORE: Visiting the Painted Hall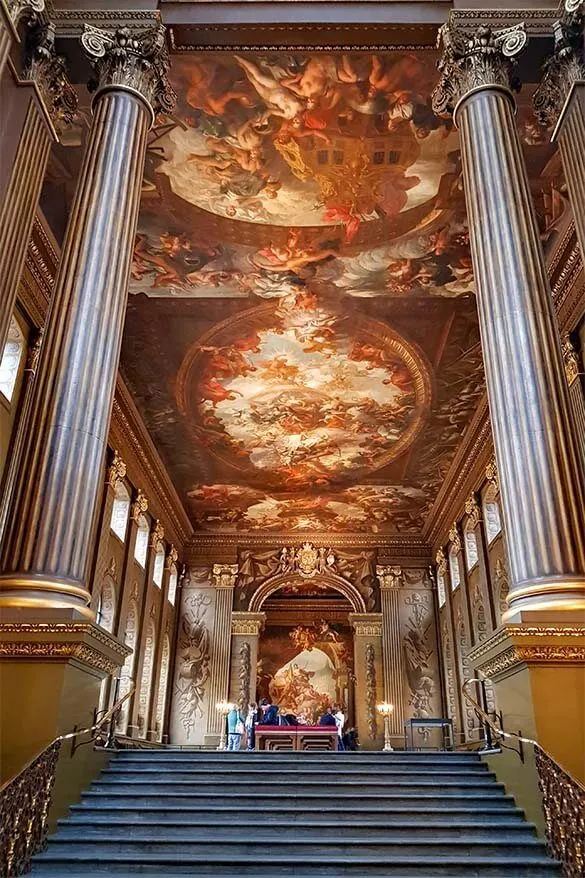 4. Spitalfields and Brick Lane
Spitalfields and Brick Lane is an area of London that I often find myself feeling too conspicuously uncool for. The rawness of Brick Lane, coupled with the exotic smells from the infamous curry houses is like nowhere else in London.
You won't be able to stop yourself from lingering. Grab a salted beef bagel from one of the Jewish delis at the top (people queue for these!) and slowly wander down Brick Lane taking the occasional side street or alleyway to check out some world-famous street art, eclectic vintage stores, and the best chocolate shop (Dark Sugars) in London.
You're in Jack The Ripper territory now. And there are plenty of opportunities to learn more about the serial killer by visiting some of the old English pubs he frequented in Victorian times: slightly scary but equally fascinating!
Finish off with a little shopping trip to Spitalfields Market and treat yourself to some of London's finest handcrafted wares. I'm telling you – Spitalfields and Brick Lane area has it all!
TIP: This area is well-known as Jack the Ripper territory. A unique way to explore the dark side of London is by taking a Jack the Ripper interactive tour with a local guide. Walk in the footsteps of Jack the Ripper and inspect the murder sites (and try to solve the unsolved murders on this immersive experience). See The Old Bailey, where the Elephant Man lived and where Braveheart was tortured, and hear stories that will show you a very different side of London, one that most tourists never see or hear of… These tours run in the evening and are well worth 2 hours of your time. Check it out!
This quirky neighborhood in London was chosen as one of the best hidden gems by Alex from My Life Long Holiday. You can read more about Spitalfields and Brick Lane on her blog.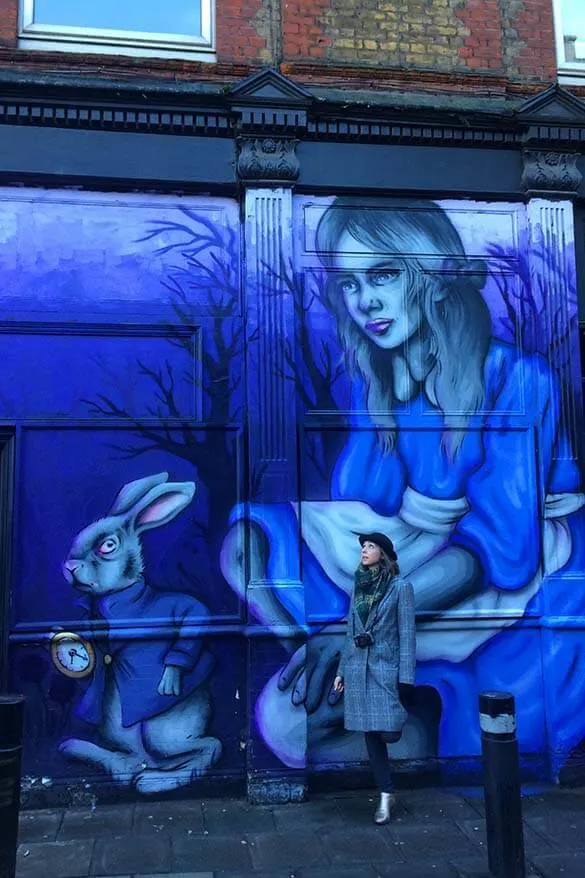 5. Neal's Yard
If you love walking around aimlessly looking for colorful streets, pretty corners, secret bookstores, and quiet tea shops, then you will love discovering London.
One of the best secret finds in London is a small alley called Neal's Yard. It opens into a courtyard defined by colorful facades housing health food shops and cafés, just a few minutes walk from the Covent Garden train station. Just walk up Neal Street until Short Gardens and turn left, you will enter a little gem tucked away from the usual modern setting.
The place may seem small, but being there separates you away from the busy atmosphere of London. You can have a snack, coffee, even lunch quietly while admiring the surroundings and watching people just go by. There are wooden chairs around the courtyard you can sit on to take a perfect selfie with the quaint features as your background.
Neal's Yard is also known for its values-driven retailers, you can buy organic soaps and beauty products, organic cheese, as well as homecoming gifts for friends and family from the various shops.
Good to know: Neal's Yard is located next to Covent Garden, close to Trafalgar Square and many other top attractions. So it's really easy to include this hidden gem in your London itinerary, even if you have just one or two days in London.
This hidden gem of London was selected by Marie from Our City Travels.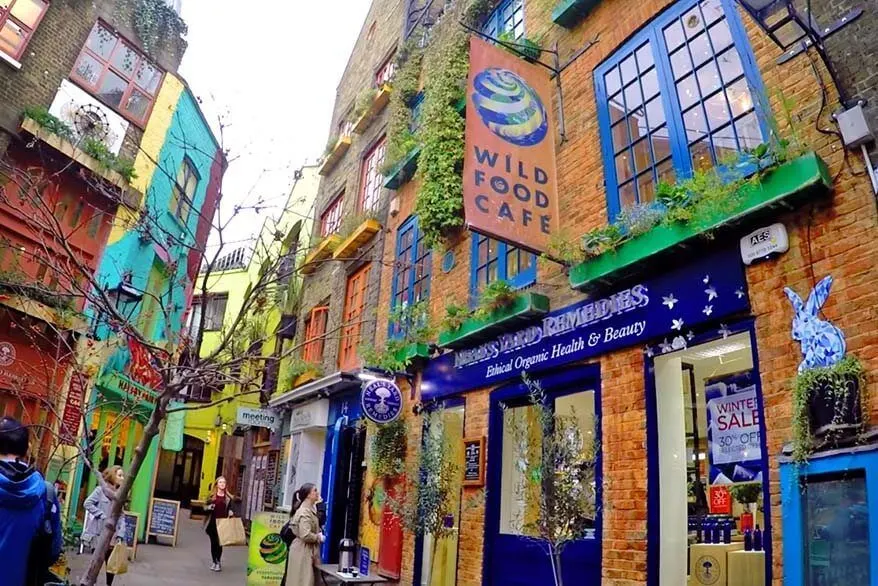 6. The Vaults
The Vaults, sometimes also called Waterloo Vaults are hidden underground tunnels deep under the famous Waterloo Station in Central London. It's a fascinating place that hides many more secrets than you'd think at first sight.
Located at Leake Street at the back side of Waterloo Station, the Vaults can be found inside a colorful graffiti tunnel. Despite all the associations with darkness, underground, and alternative lifestyle, it actually feels like a very safe and welcoming place.
If you love street art and quirky different things, then you should definitely not miss this secret place in London. It's an ever-changing sight and when we visited there were many artists painting and repainting the walls and the ceilings of the main tunnel. This tunnel, located on Leake Street, is open to the public and you can visit any time. If you bring some paint, you could easily add your own masterpiece as well.
Inside the colorful Leake Street tunnel, you can also find Waterloo Vaults. It's a sort of event venue for anything and everything unusual. Waterloo Vaults is a place for concerts, theater performances, parties, and so much more. Private events are also possible. On their website, you can find the most recent event calendar.
The nearby pub, Vaulty Towers, also has a very unique decor and is a great place if you fancy a drink or a quick meal. The pub is open daily (except for some public holidays), from noon on.
Good to know: Because of its very central location, just a short walk from London Eye, you can easily include this colorful graffiti tunnel in pretty much any London itinerary. For example, take a look at our 1-day London itinerary for inspiration on how you could plan your time and make even a short visit to the city a bit more special.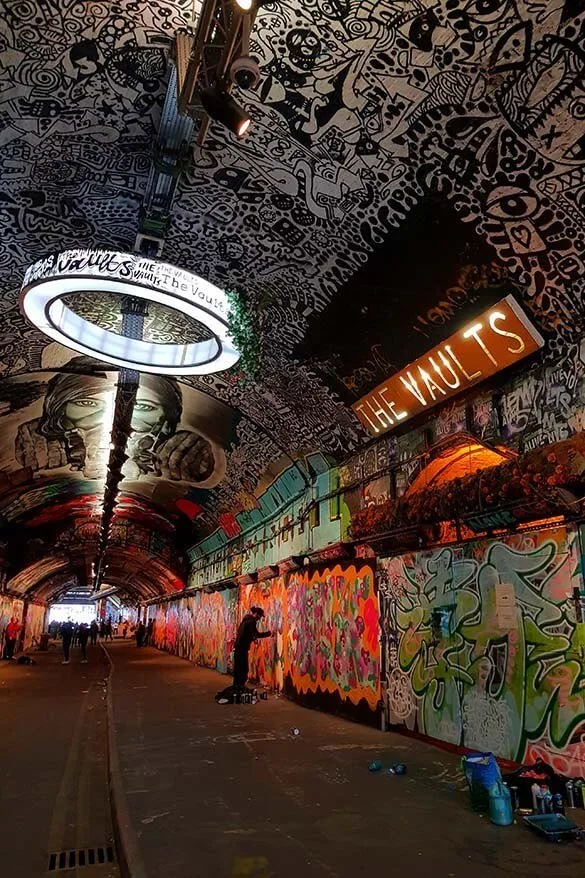 7. Tulip Stairs
The Tulip Stairs are probably the most aesthetically pleasing of all the hidden gems of London mentioned in this article. Located inside the 17th-century Queen's House in Greenwich, the sweeping staircase is considered one of the most beautiful spiral staircases in the world.
What makes the Tulip Staircase unique is that these are the first centrally unsupported stairs built in England. The blue wrought-iron railing has flowers in it and for a long time, they were described as tulips, which also gave the name to the Tulip Staircase.
However, it is now believed that the flowers are actually lilies, the royal flowers of France, and were used in compliment to Henrietta Maria of France. She took charge of completing the construction of the Queen's House after the passing of the previous queen.
The entrance to the Queen's House is free of charge, so if you are visiting Greenwich and have a few minutes to spare, don't miss this incredible gem.
TIP: Combine the visit to the Tulip Stairs with the other hidden gems of London located in Greenwich – the Painted Hall and the Greenwich Foot Tunnel.
LEARN MORE: Tulip Stairs & Queen's House in Greenwich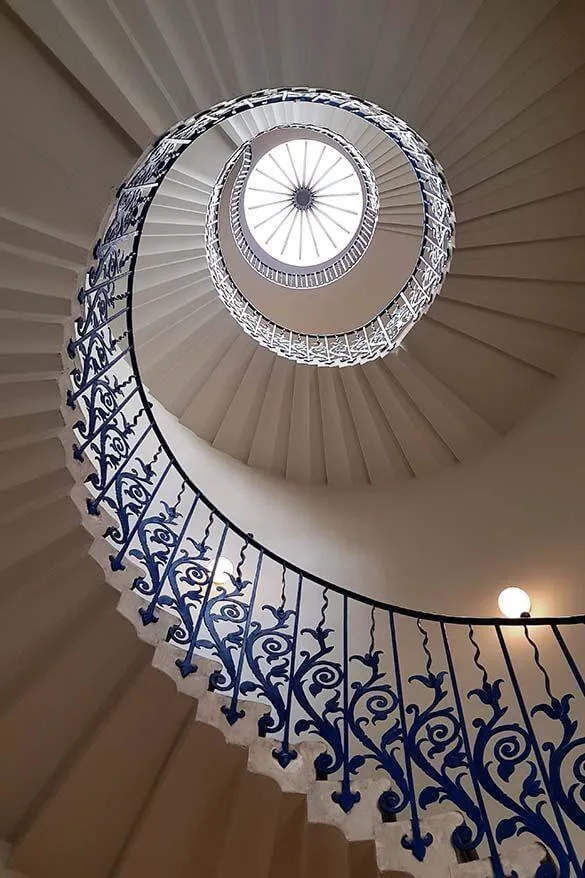 8. Sky Garden
Sky Garden's free and amazing views of London is one of my favorite London gems. It is a public space with landscaped gardens, observation decks, and an open-air terrace located at the top of 20 Fenchurch Street, the building known as 'The Walkie-Talkie'.
Sky Garden might be a hidden gem not known to most London visitors, but it's still a very popular place, with locals and tourists alike.
The bird's eye views of London are gorgeous. Sky Garden is a great place for dinner, or you can just grab a drink at the rooftop bar. There is also a botanical garden that you can explore while you take in the views of the city. When you peer through the windows, there are super helpful decals with the names of the major buildings that can be seen from here.
PRO TIP: Walk-in spaces are limited, so it's best to get a ticket. The free tickets are released online a week in advance, are very sought-after, and you have to be really quick to get one! For more practical information and booking check the Sky Garden website.
This free hidden gem of London was chosen by Constance from The Adventures of Panda Bear.
READ ALSO: Best Views in London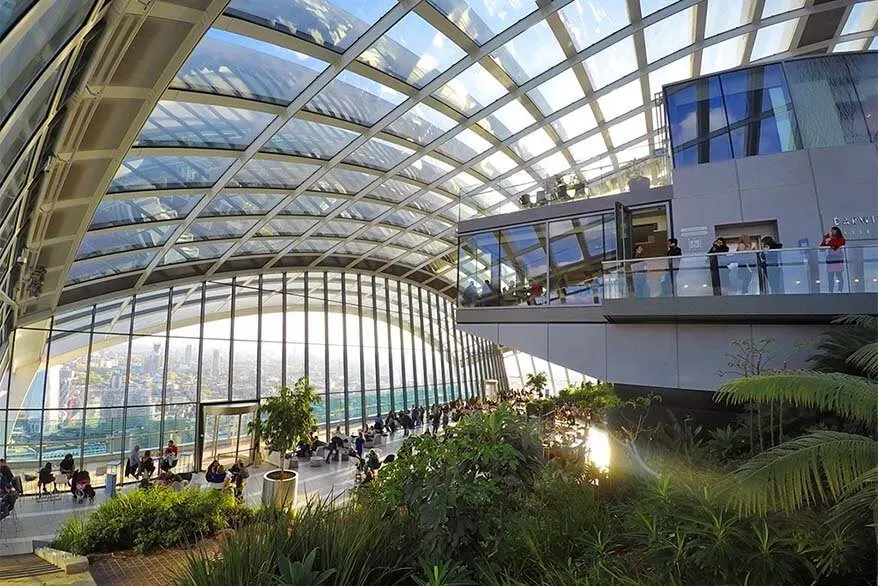 9. Sir John Soane's Museum
Cool, crazy, incredible, extravagant, fascinating… There are no words to fully describe one of the most unusual places in London – Sir John Soane's Museum. What a museum!
Sir John Soane (1753-1837) was an architect and art collector, who used his own house in order to test all kinds of architectural ideas. After his death, his house became a museum and it's said to house over 45000 art objects, all collected by its extravagant owner.
From the moment you enter the house of Sir John Soane, you'll be awe-struck by this crazy labyrinth of narrow corridors and rooms. It looks as if every single square inch is in use one way or another and even the ceilings are covered with sculptures, paintings, and other decorative objects.
The spaces are so narrow that you aren't allowed to bring any big objects with you and will be asked to put your purse or a small backpack in a plastic bag, just to avoid damaging something by coincidence. Please note that photography is not allowed inside, but you can find nice images on the website of the museum. The image featured here is courtesy of the museum and is a good representation of what you can expect to find inside.
If you are looking for something different to do in London, Sir John Soane's Museum won't disappoint. The entrance to the museum is free. It's open daily from Wednesday to Sunday. You can find all the practical information here.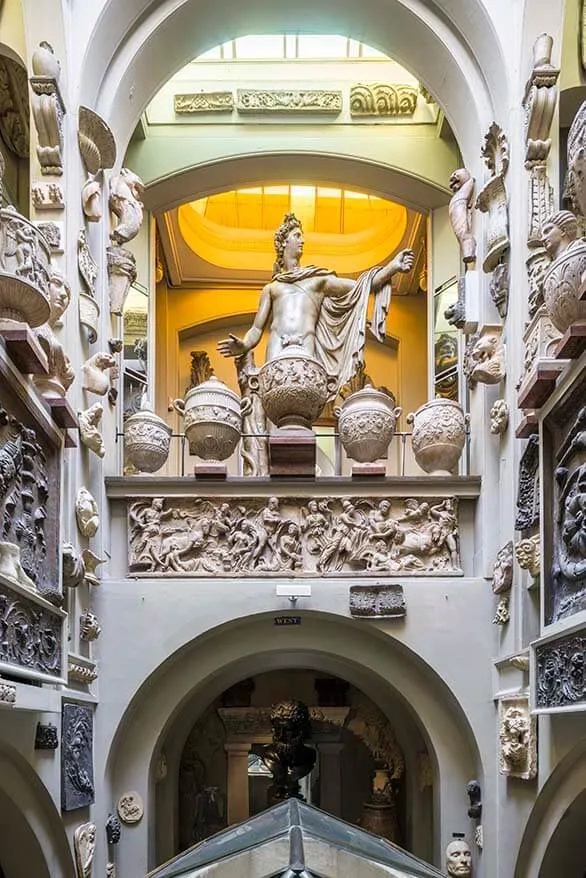 10. Silver Vaults
Silver Vaults was another very unique find on my recent trip in search of London's hidden gems. This secret place in London was recommended to me by one of our followers on Facebook. Since I was just nearby, I decided to check it out without having the slightest idea of what to expect. It completely blew me away…
Literally hidden deep under the ground beneath Chancery Lane, the Silver Vaults are exactly what the name suggests – a series of highly secured vaults filled with silver. The Silver Vaults of London host the world's largest retail selection of silver. It's a sort of underground market for the rich and the famous.
Built back in 1876 as a storage place for jewelry, documents, and household silver, it is now home to over 30 shops selling all kinds of silver artifacts. You'll discover more silver items than you ever thought possible – everything from silverware, silver trays, silver dining sets to silver jewelry, and even bigger household items like lamps, mirrors, or even a bbq set…
Some of the silver you'll see here is antique, some – recent modern design. They all have one thing in common, though – high price tags. We were told that Hollywood stars and other VIPs are regular customers, but everyone is just as welcome.
We talked to a couple of salesmen there and they all seem to be doing it for generations. One guy told us that his grandma was among the first people who started trading in silver at the London Silver Vaults. It really feels like a place with a unique history. Such an interesting find in London.
The Silver Vaults are open every day except on Sunday and bank holidays, from 9 till 5. 30 PM (till 1 PM on Saturday). The entrance is free of charge.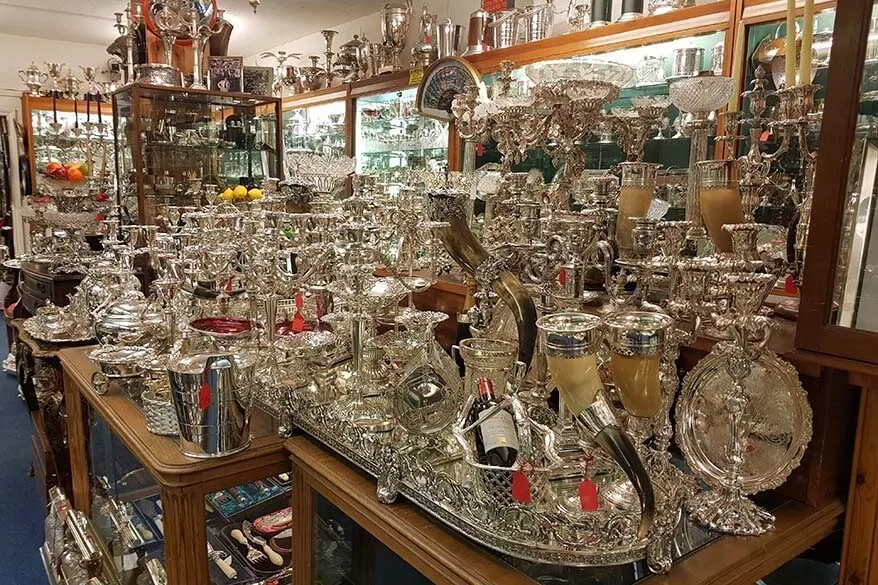 11. The Churchill Arms
One of our favorite places to visit in London that not many people know about has to be The Churchill Arms. Located in the Notting Hill area of the city, Churchill Arms is a pub with a beautiful array of floral decorations.
Spring is one of the best times to visit as you can see the flowers in full bloom, although the pub is incredibly beautiful at any time of year. In fact, at Christmas, the festive spirit is in full swing with Christmas Trees and lights having their moment to shine.
The Churchill Arms is probably one of the most photographed pubs in London, and when you see it for yourself, it is easy to understand why. Originally there were only a few hanging baskets and I guess you could say it has since blossomed into a lot more.
To get here, you will need to get the tube to Notting Hill Gate Station, and it is a short 5-minute walk from there. The Churchill Arms really is a special place to visit in London and we highly recommend you make the time for it if you like unusual places.
This picturesque pub was selected as one of the hidden gems of London by Lizzie & Dave from Wanderlust And Life.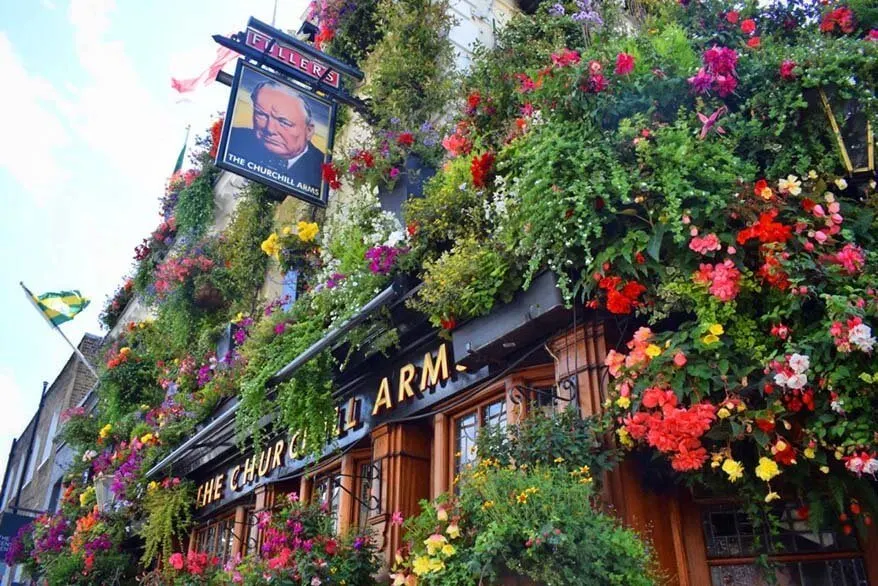 12. Hidden bar – The Mayor of Scaredy Cat Town
Secret bars are apparently very popular in London and are springing up like mushrooms. However, if you don't know they exist or where exactly to find them, chances are you'll just pass by and will never know.
My blogger friend Alex from MyLifeLongHoliday who was exploring the hidden gems of London together with me, had done some previous research and so we set on a quest to find one of the hidden bars of London. She had marked a bar called 'The Mayor of Scaredy Cat Town' on Google Maps, but when we arrived there, we found just a regular diner called 'The Breakfast Club'.
We decided to ask the waiter if he had heard of this hidden bar and if he could guide us to it. The friendly waiter said to follow along and took us inside the restaurant. Then all of a sudden, he stopped by an old fridge and opened the door. And indeed – the opening at the back of the fridge was an entrance to a hidden bar in the basement.
The bar itself is just a regular bar with drinks and some small snacks, but the people working there are incredibly friendly. When we came back to the bar in the evening, they met us with a smile and a hug – as if we were old friends. You should have seen the faces of the people dining in the restaurant when we disappeared inside that huge fridge…
The Mayor of Scaredy Cat Town is obviously not the only hidden bar in London. But it's quite close to some other hidden gems of London in the Spitalfields area and is therefore easy to combine with a visit to many other hidden gems of London. If you find yourself in the area, don't miss it.
Alternatively, look for another Breakfast Club in the area close to where you are staying in London. From what I understood, there seem to be a few of these restaurants in London and rumor has it that they are hiding some other bars as well.
TIP: They might ask you for a password to enter this hidden bar. It's best to ask to 'see the Mayor' or something along those lines. Make sure to also familiarize yourself with the rules as to how to exit the bar – it's a hilarious read.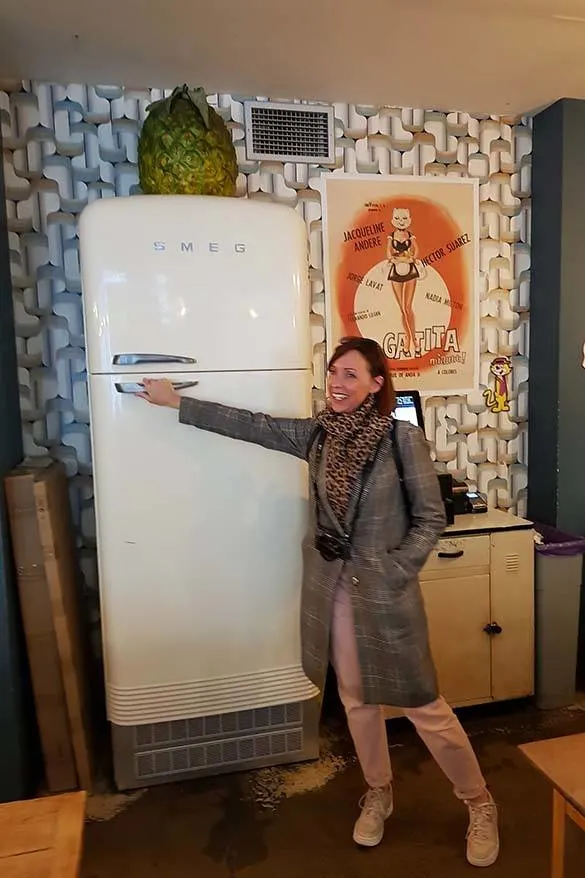 13. Columbia Road Flower Market
Columbia Road Flower Market is one of the real hidden gems of London. Only a ten-minute walk from the buzzing Brick Lane (see above), this flower market is tucked away in the East End of London, behind a housing estate. The only clue you have that there's anything to see is the occasional large potted plant struggling down the street with a person hiding somewhere behind it.
The market is held every Sunday morning between 8 am and around 3 pm. There are around 50 stalls selling every kind of flower and plant you could imagine. There are also around 60 small independent shops including several cafes. Add in some busking musicians and you have a great atmosphere.
TIP: Most of the best flowers tend to sell out in the first hour or two. We've found that the best time to pick up a bargain is around 1 pm, when things are starting to quiet down and stallholders are looking to offload their remaining stock.
This different way to spend a Sunday morning in London is suggested by David from Delve Into Europe.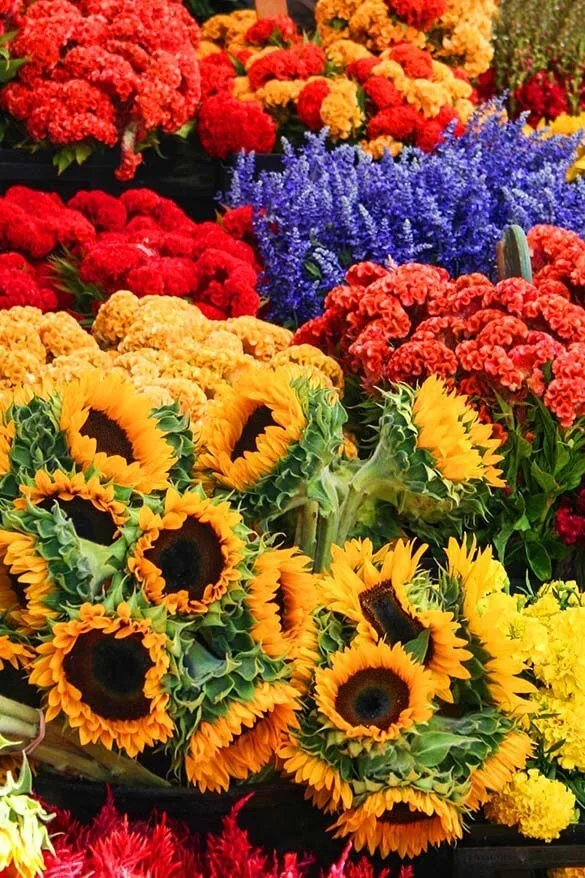 14. Royal Exchange
If you like places where modern life blends in with history, then don't miss the Royal Exchange in London. Established in 1566 as London's first place for trading stocks, this iconic building has a long history. It's one of the places where, traditionally, the reign of the new monarch is announced to the public.
The Royal Exchange building has been destroyed by fire twice and was in danger of collapse at the end of the 20th century. The building as we see it today dates from the 1840s but has been extensively remodeled in 2001.
Located halfway between St. Paul's Cathedral and the Tower of London, the Royal Exchange is impressive both from the outside as well as inside. Nowadays it is mostly known for boutique shopping and fine dining, with the upper floors being used as offices.
TIP: Combine your visit to the Royal Exchange with that of the nearby Leadenhall Market and many other hidden gems in the Spitalfields area.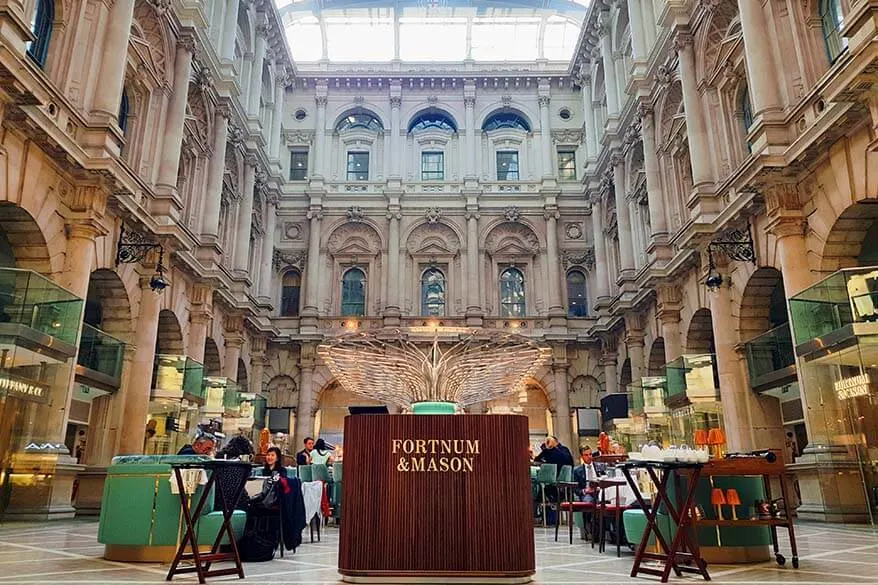 15. Leadenhall Market
London has no shortage of markets to visit, but I'd argue that Leadenhall Market is one of the most beautiful. It's also a bit hidden away, so it isn't as well visited as others, such as the popular Borough Market.
Leadenhall Market is a covered market, with a beautiful ornate roof that features glass windows and curved beams. It dates from the 19th century, although there has been a market on this location from the 14th century, making it one of the oldest markets in London. It's brightly colored and incredibly photogenic. You'll definitely want to bring your camera along!
Leadenhall Market is found in the City of London, on Gracechurch Street, and most visitors on foot will access it via one of the narrow pedestrian alleyways. It can be hard to spot, so having a map or an app with the location saved will help.
Film buffs will recognize the Leadenhall market as one of the Harry Potter filming locations in London. The market was the location for one of the entrances to Diagon Alley.
TIP: Harry Potter fans will love Magical London: Harry Potter Guided Walking Tour. It's a tour with exceptional guides, masters of storytelling, that has been selected as one of the best tours in London by GetYourGuide. If you have a day to spare, you may like to consider this highly rated day trip Harry Potter: Warner Bros. Studio Tour with Transfer from London as well.
This literally hidden gem of London is suggested by Laurence from Finding The Universe, where you can find more Harry Potter filming locations in London.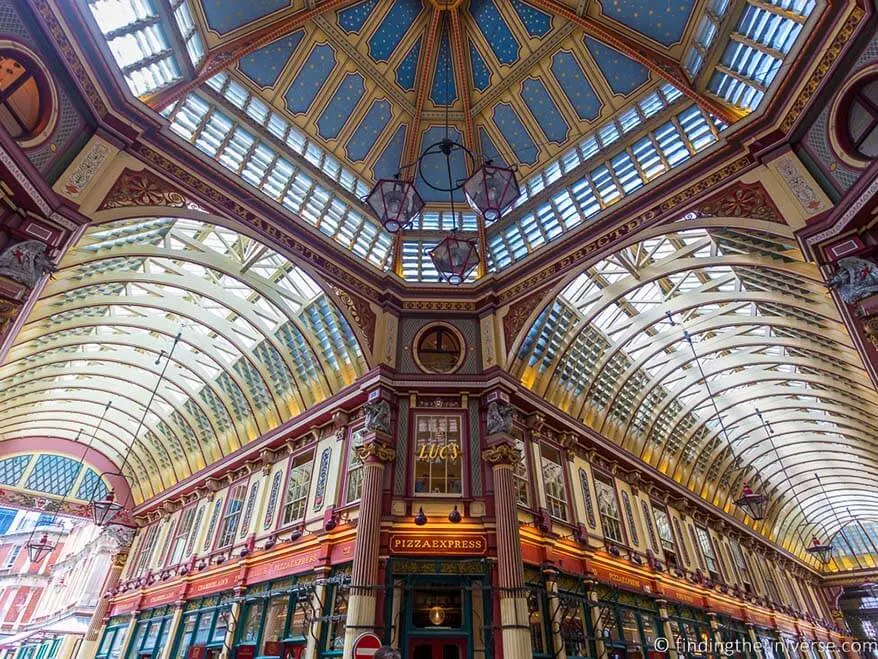 16. Monster Supply Store
Did you know that there are monsters living in London? Well, there are and they are hungry. Fortunately, they can get the snacks that they need at the Hoxton Street Monster Supplies Store.
This cool little spot is located on Hoxton Street in northern Shoreditch. They offer "service with a snarl" and assorted snacks for feeding your monster. You can find goofy products like "salt made from tears of anger" (smoked salt), "night terrors" (rainbow candies) or "impacted earwax" (caramels…I hope).
What's really going on at Monster Supply is a brilliant literacy program started by the author Dave Eggers in the US and expanded to the UK by author Nick Hornsby. The organization inspires kids to become storytellers and writers through literacy workshops. The store, also known as Ministry of Stories, helps to bring awareness of the program and supports nonprofits.
TIP: You can load up on Monster supplies Thur/Fri 1 pm-5 pm and Saturday 11 am-5 pm.
This cute monstrous find is suggested by Carol from Wayfaring Views. On her blog, you can find more information about this and other great things to do in Shoreditch.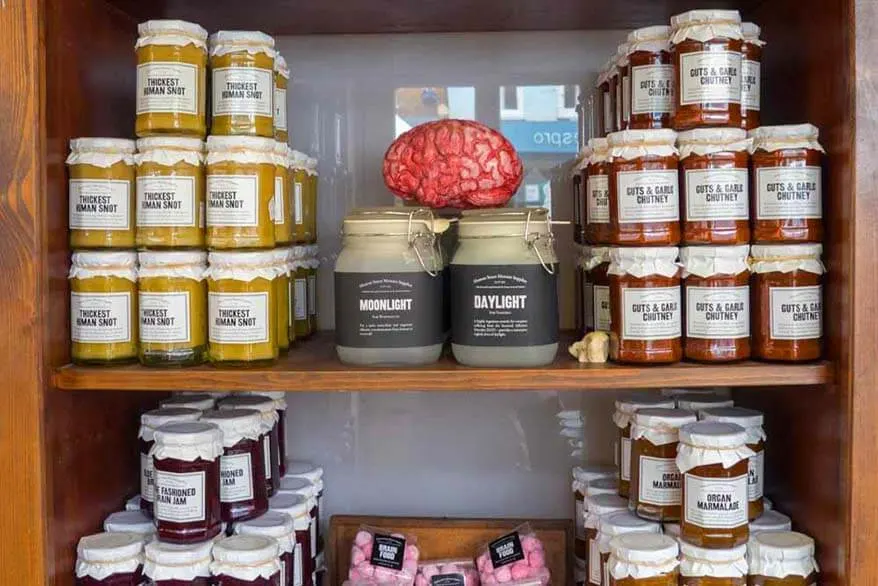 17. The Postal Museum & Mail Rail
The Postal Museum also deserves a mention on this list of true hidden gems in London! Not only it's a great place to learn more about Britain's postal service and communications history over the past 500 years, but you can also take a trip back in time via underground railway tunnels under the city!
Mail Rail is an underground railway of Royal Mail and one of the best-kept secrets in London. It was built at the beginning of the 20th century and remained in operation until 2003. It is now open to the public and is one of the most unique experiences in London.
There are several ways to explore this underground railway system. Mail Rail experience takes you on a ride on a miniature train through some of the original tunnels. Whereas Tunnel Walks allow you to explore other parts of the railway on foot. This tour gives you exclusive access to platforms, tracks, and tunnels that you don't see on the ride.
This museum is great for young and old. It's also one of the coolest places to visit in London with kids!
Good to know: The Postal Museum is open from Thursday to Sunday. Depending on the activities you choose, count 1.5-3 hrs for a visit. For more up-to-date information, please check their website.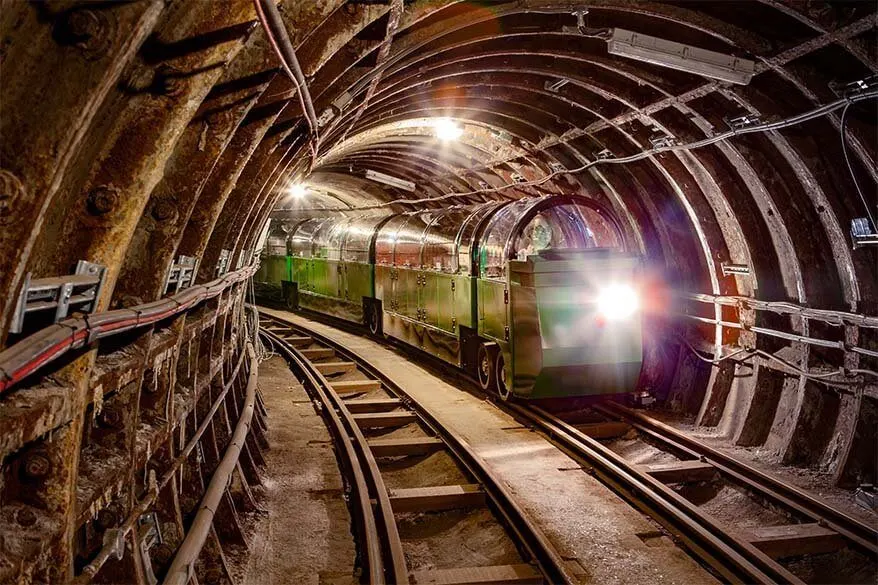 18. Primrose Hill
Head to Primrose Hill for some of the best views of London and a quirky neighborhood to explore.
One of six protected viewpoints in London, from the peak of Primrose Hill you can see the entire city laid out before you. When it is clear, it is easy to spot landmarks like the London Eye, The Shard, and BT Tower in the distance.
Take a picnic to Primrose Hill on a sunny day and join Londoners enjoying one of their favorite neighborhoods, famous for its colorful houses and resident celebrities.
When you have finished admiring the views, wander down the hill until you reach the Regent's Canal. From there it is a short stroll along the canal to the bustling markets and bars of Camden Town.
Primrose Hill is one of the favorite choices of less known places in London by Katy from Untold Morsels.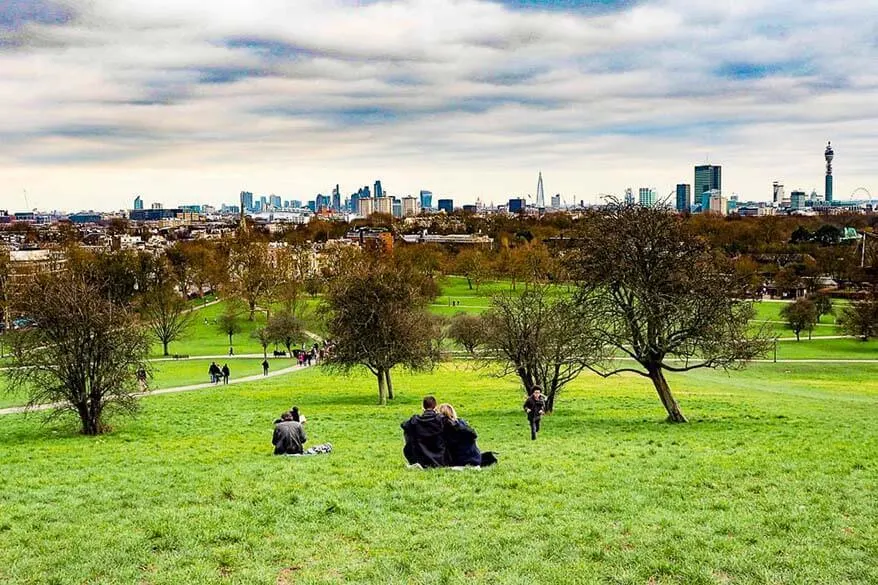 19. Nomadic Community Garden
Walking through the Nomadic Community Gardenin Shoreditch is a bit of a wonderland-esque experience. Street art covers walls, cars and makeshift buildings to create a grown-up fairytale fort.
On the surface, the Nomadic Community Gardens in Shoreditch are an Instagrammer's paradise. After digging a bit deeper, though, there's so much more to this urban oasis.
The Nomadic Community Gardens movement is transforming vacant spaces into vibrant gardens, where the marginalized of society can grow food, create art and have a place to experience a sense of community.
Just a few years ago, this was a derelict piece of land just outside bustling Brick Lane. Today, this self-funded, volunteer-run area might just be London's best kept secret. Buy a cup of coffee from one of the makeshift cafes and take a stroll through this secret garden, where sculptures, musicians and theater will dazzle your senses.
This secret gem of London was selected by Brittany from The Sweet Wanderlust.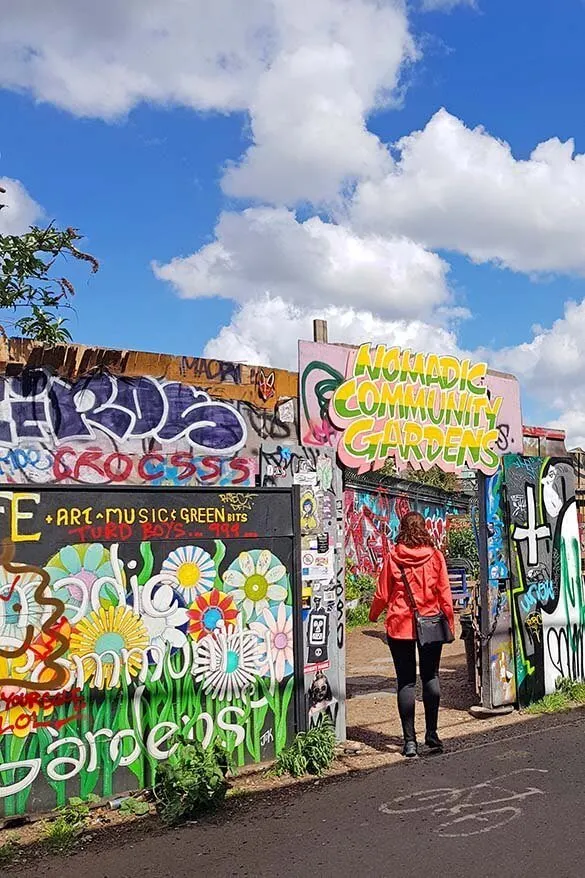 20. Greenwich Foot Tunnel
As you walk along Greenwich riverside, you may notice a small red brick circular building with a glass dome. It is right next to the imposing Cutty Sark, so being overshadowed by this impressive structure there is a chance that you may even miss it. In fact, so many people do! Greenwich has so many things to do in such a small area that it's easy to miss things.
So, now that you know what to look out for, I'll tell you that this little building is the entrance to one of the most astounding feats of Victorian engineering, the Greenwich Foot Tunnel. It is a pedestrian tunnel built under the Thames river to connect Greenwich with Island Gardens on the Isle of Dogs.
Greenwich Foot Tunnel was opened in 1902 and its purpose was to provide access to the docks on the north of the river for dockworkers that lived in the south of the river. It has been recently refurbished and it is now a pedestrian highway and free for everyone to walk through.
It amazes me that such a structure is still in use, and walking through it is quite an experience – cold, damp, and very echo-y. Certainly not for claustrophobics!
This hidden gem was chosen by Teresa from Brogan Abroad, where you can read about more places to see in Greenwich.
LEARN MORE: Best Things to Do in Greenwich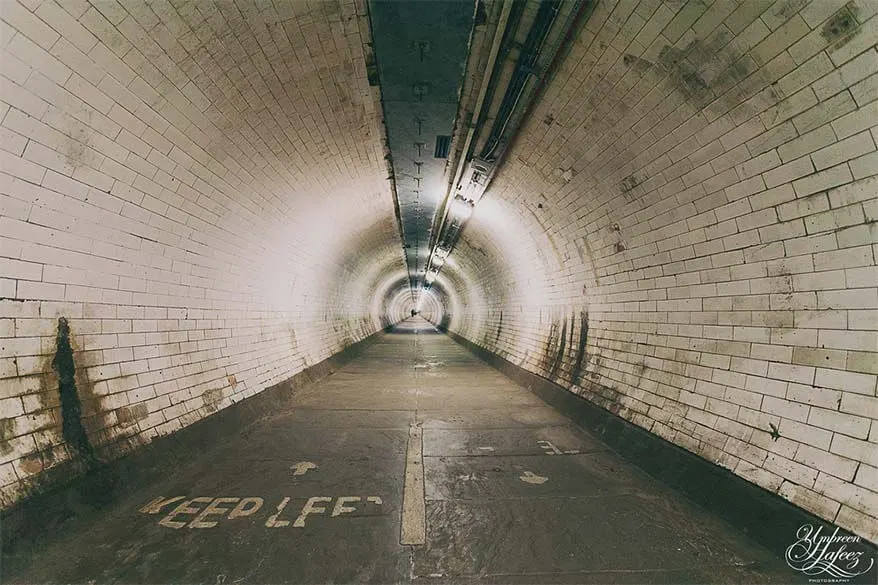 21. The Dickens Inn
One of my favorite pubs to take visitors in London is The Dickens Inn. Not only is it a beautiful-looking building, but it is also full of history.
This former 18th-century three-story warehouse was thought to have housed tea or be owned by a brewery. It has a long and intriguing history intertwined with Charles Dickens and East London heritage.
With a slanted roofline that is higher on one side than the other and 2 huge balconies covered in flowers, you definitely cannot miss The Dickens Inn when you enter St Katharine Docks.
The best bit is that it is only 5 minutes walk away from both Tower Bridge and the Tower of London, making it a great spot for a drink or something to eat. Children are allowed into the pub during the daytime as well. Also, there is also a pizza and a grill restaurant inside, if you want a nice sit-down meal.
TIP: The best time to visit is during the spring season when all the flowers are blooming on the outside walls.
Recommendation by a London resident Melissa from MelB Travel.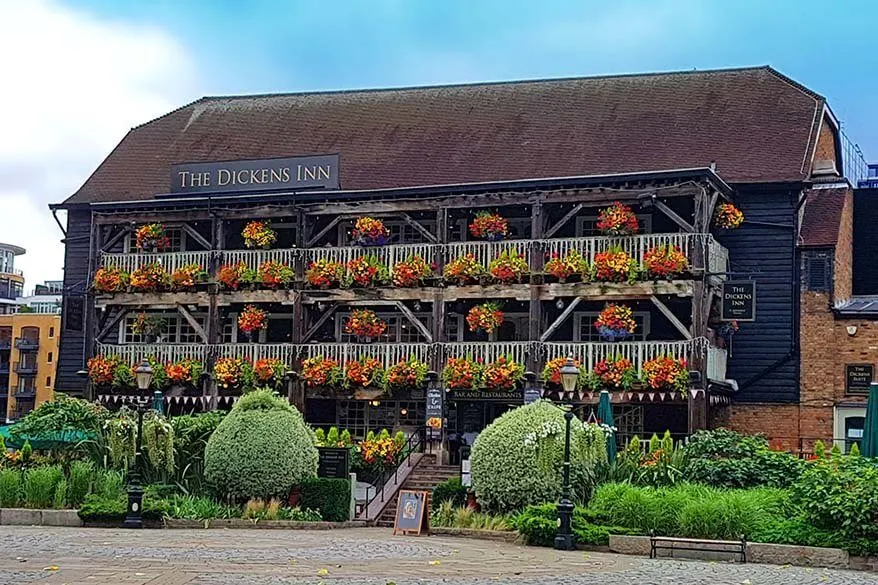 22. Kayaking under the Tower Bridge
You've probably all heard of Tower Bridge and seen lots of pictures of it, so it is not exactly a secret place in London. But did you know you can go on an organized kayak tour which goes past the best London landmarks and the highlight is paddling under Tower Bridge?! Now that is one unique experience to have in London!
The Thames can be quite busy with traffic from riverboats, but thanks to our four guides we felt completely safe during the whole journey! It took us about 3 hours to cover the 17 km from Battersea to Greenwich. We used double kayaks, which were very stable and easy to handle, so beginners were also welcome. If you want to explore London in a truly special way, this trip is for you!
This unique experience in London is recommended by Krix from Travel Hacker Girl. On her blog, you can find more information about kayaking in London.
TIP: If you would like to see River Thames and London in this unique way, but are short on time and/or not interested in kayaking, you may want to consider this highly-rated speed boat tour that also goes under the Tower Bridge.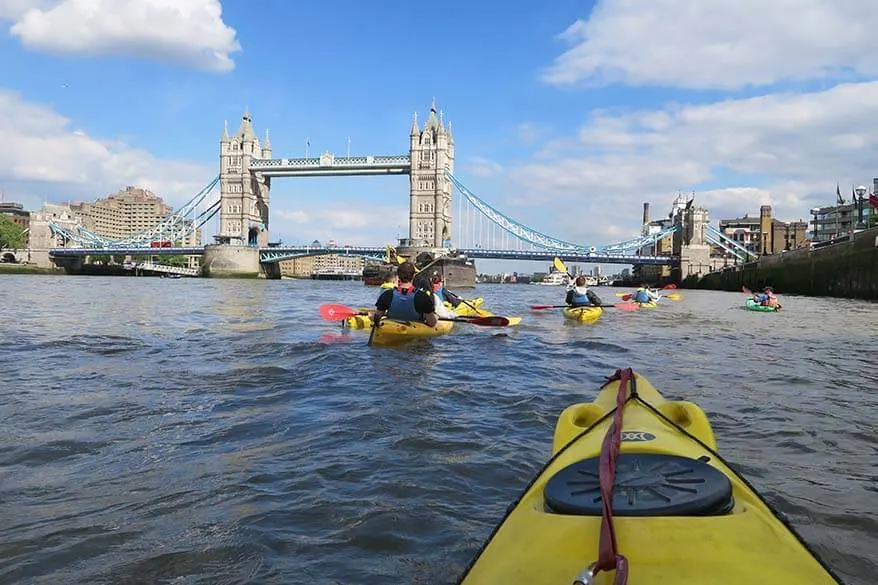 23. Kyoto Garden
If you are looking for a beautiful hidden gem in London, then head to Kyoto Garden. The gardens are easily accessible from central London.
Kyoto gardens are over 20 hectares and are located around Holland House, which used to be an old castle where many famous families have lived in. It was originally built in 1605 but was destroyed in the second world war.
The Kyoto Gardens was officially opened in 1991 to mark the friendship between Japan and the United Kingdom.
The gardens have been beautifully landscaped and designed to reflect how Japanese gardens look. It is a truly peaceful and picturesque place a bit off the beaten path in London. You will find stone carvings in Japanese style, peacocks and herons roaming around, numerous varieties of flowers and trees, waterfalls, and even the beautiful koi carp fish.
The gardens can be visited in any season. In spring you will find a big variety of magnificent flowers in full bloom, it's also the season for the famous Japanese cherry blossom. In summer you will see the bright colors of flowers and trees. In autumn – golden rusty vibrant leaves on the huge oak- and maple trees surrounding the area. In winter you will find incredible views over the gardens; it's truly magical if covered in snow.
Kyoto Garden is open daily and is free to visit. This is a great location for photography so don't forget your camera.
This beautiful park was chosen as one of the best secret places in London by a local resident Eliza.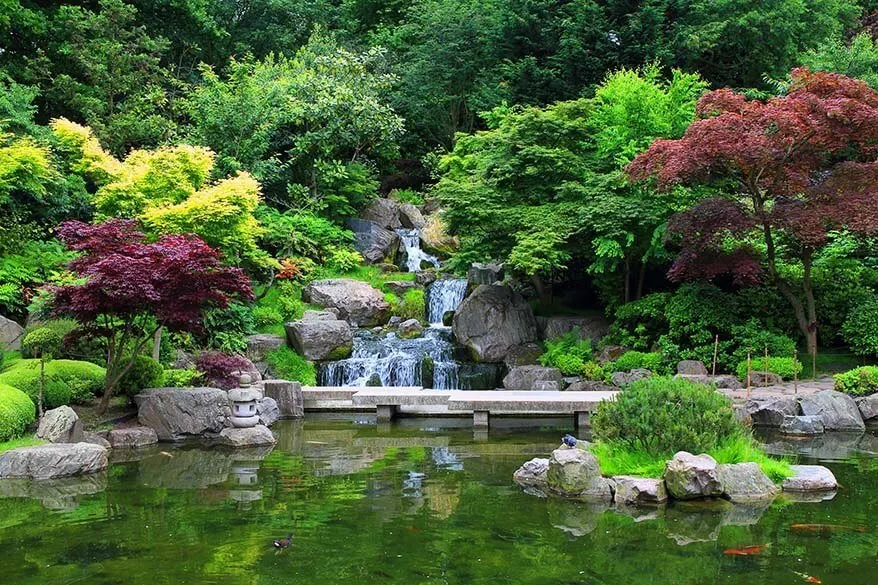 24. Postman's Park
In the shadow of St. Paul's Cathedral is one of the most poignant parts of central London. Postman's Park – so called as it was popular with postal workers from the local central sorting office – is host to George Frederic Watts's Memorial to Heroic Self Sacrifice, a memorial to ordinary people who died while saving the lives of others.
It consists of a long wall housing ceramic memorial tablets featuring the likes of "G Garnish, A young clergyman, Who lost his life in endeavoring to rescue a stranger from drowning at Putney" or "John Clinton, Aged 10, Who was drowned near London Bridge in trying to save a companion younger than himself".
The fact that this small park, with its sad little plaques, is in the center of one of the great world cities, surrounded by skyscrapers and other important buildings, makes this quiet place even more poignant. It's a secret place in London that many tourists never visit. Postman's Park is a must see, if only for a few moments of peace in the hustle and bustle of London life…
Contributed by Chris Young from England Explore.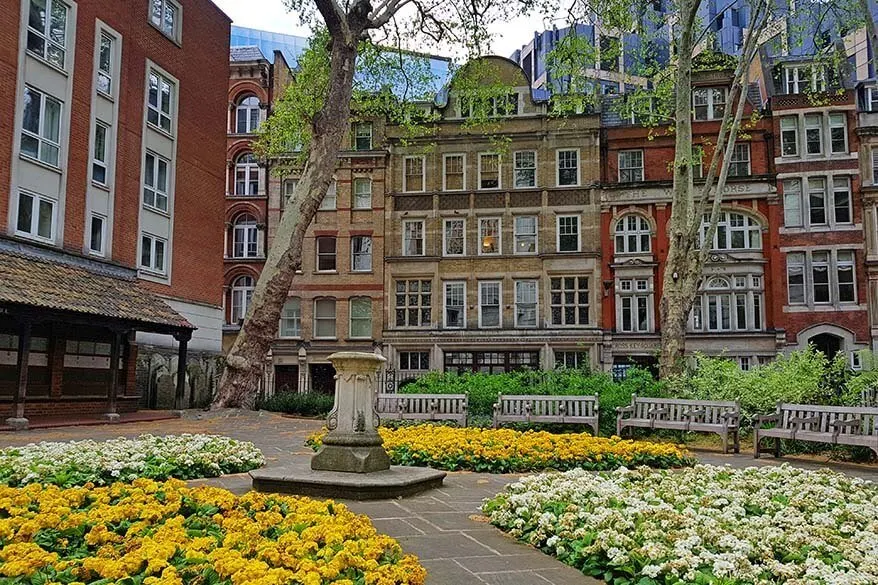 25. Battersea Park and Children's Zoo
Nestled on the southern banks of the Thames, you will find one of London's better kept secrets, Battersea Park. With a real community feel to it, the 200-acre park has been home to many fairs, playgrounds, and attractions over the years.
One of the more recognizable landmarks of Battersea Park is the Peace Pagoda, erected in 1985. It's a beautiful place to reflect and watch life roll by on the Thames.
Whilst the funfairs of the past are now gone, there's still a lot going on in this park – sporting fields aplenty, a miniature zoo, the historic Pump House gallery, Putt in the Park mini-golf with pizzeria, a nature reserve, a playground with a miniature train, and in the heart of the park, an ornamental lake where on weekends and holidays you can hire mini rowing or paddle boats.
Our favorite part of the park is the hidden gem Battersea Park Children's Zoo. Far cheaper to enter than its more famous north London counterpart (and with far less or an urban, concrete feel), it's the perfect size zoo for little explorers. All their mammals, reptiles, and birds are little and in keeping with the zoo's size. There are plenty of hands-on activities scheduled throughout the week for children to be involved in, including feeding times and education programs. To finish things off there's a magnificent adventure playground, complete with its own fire truck!
This little-known gem of London is suggested by Keri from Little City Trips.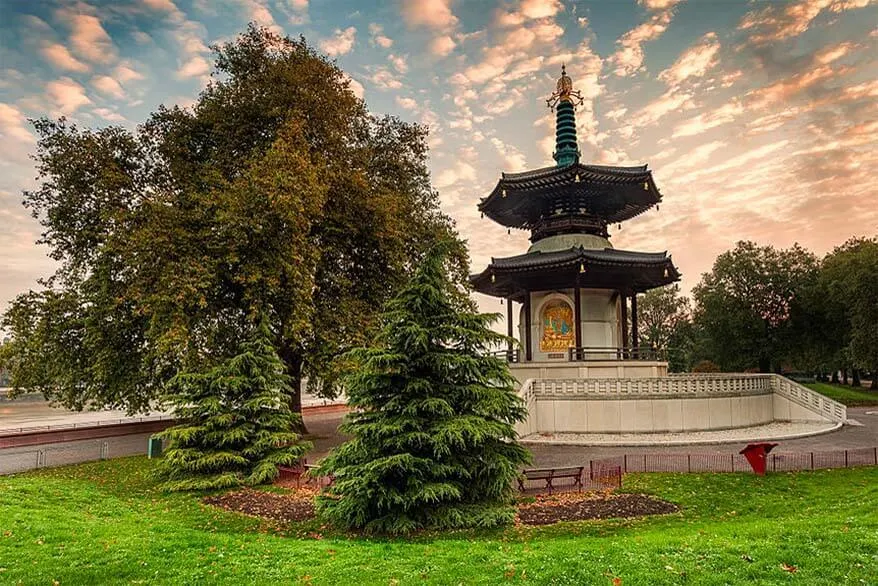 26. MI6 Building
A few minutes after Skyfall begins, M is shown driving to her office building when an explosion rips apart one side of the building forcing the agency to relocate to an underground bunker. That building is the actual MI6 headquarters called SIS Building in Vauxhall, London.
The MI6 building is situated on an embankment and has prongs along its roof to prevent unauthorized networks from catching the digital transmissions inside the building. That's the closest you'll come to seeing any sort of geekery about the Secret Service from ground level.
It looks somber and foreboding from the outside and could easily be mistaken for a drab office building if you don't know what you're looking at. But for James Bond fans like me, the place is particularly important for all the special moments it has given us in the movies.
The SIS Building has featured in GoldenEye way back in 1995, The World is Not Enough, Skyfall, and its follow-up Spectre. In case you're wondering how the real MI6 staff feels about their building showing up so prominently, an established anecdote says that the staff actually cheered when the model SIS building created on a film set was blown off in Skyfall. That's three cheers for attitude right there!
The MI6 building is actually a pretty popular place to see in London among James Bond fans. James Bond tours will bring you here, albeit usually by a (mini) bus, because it is located a bit outside the city center.
MI6 building is recommended to all James Bond fans by Priyanko from Constant Traveller.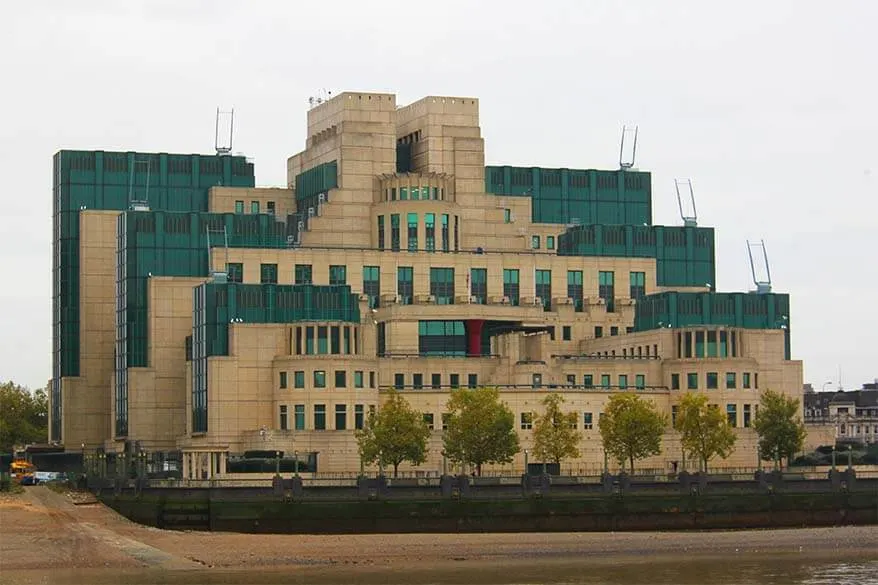 27. Pop Brixton
Pop Brixton is home to some of London's tastiest food stands, hipster cocktail bars, pop-up vintage clothing shops, art galleries, quirky exercise classes and even a co-working space.
Their mantra is all about supporting small local businesses, so the space is always buzzing with creative people and unique startups milling around.
It's the perfect place to go for casual food or drinks on any afternoon or evening. Or check out their special events like photography exhibitions, wine tasting, tai-chi, or urban gardening.
Pop Brixton is a place where you can experience London as and with the locals, a secret find not many tourists know about.
This hidden gem is recommended by a London local Harriet.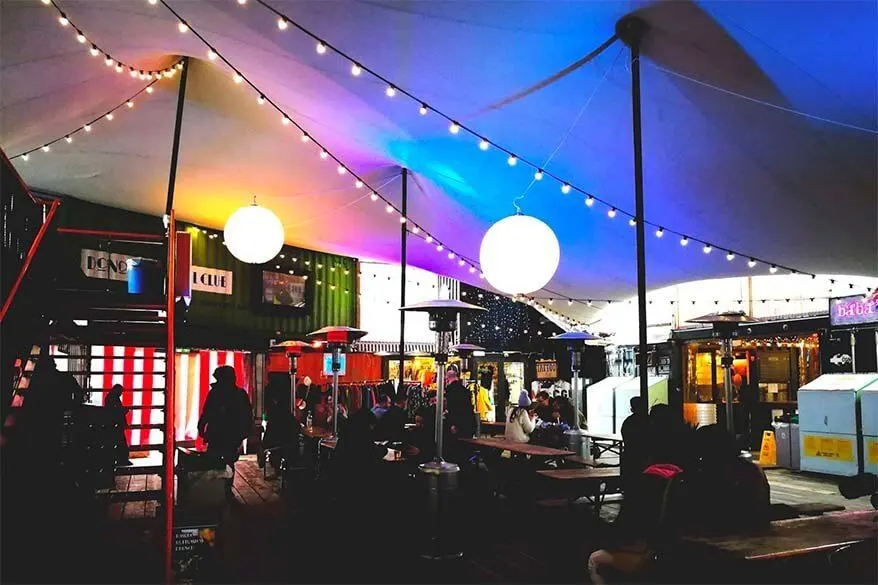 28. Short walk through the centuries in the City of London
The City of London has a rich history and in just a few steps you can be transported through the centuries.
Starting at the London Mithraeum the immersive experience gives you a taster of worshiping at the cult of Mithras in the recreated Roman temple. Artifacts are displayed to give you an insight into the lives of the first Londoners.
One minute down the road you'll fast forward to the 17th century as you reach St Stephen Walbrook. Destroyed by the Great Fire of London, the church was rebuilt by Sir Christopher Wren. The green dome is thought to be the precursor for the dome of St Paul's Cathedral. Find the Rothschild Building to get a great view of the dome framed by the building.
You'll find yourself back in Roman London when you reach St Magnus the Martyr. The arch on the western side of the church is where people crossing the old London Bridge entered the city. Pop into the church to see a model of what the bridge looked like. Other remnants include a piece of timber dated AD 75 and stones from the medieval bridge.
TIP: The walk between these hidden gems will take just 10-15 minutes, however you should build in some time at each stop.
This short walk covering several of London's hidden gems is suggested by Emma from Emma Online. On her blog, you can find more details about this historic walk in London.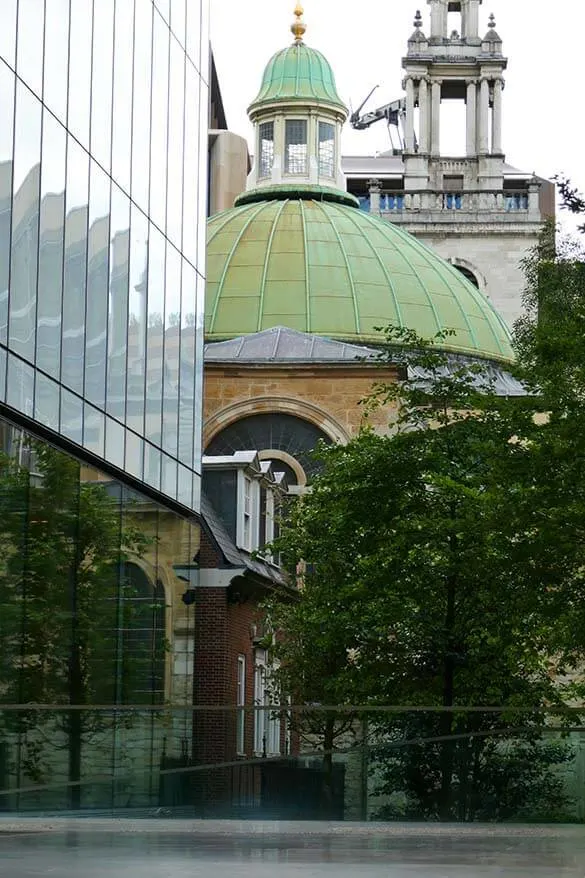 29. Alexandra Palace
If you are visiting London and you've picked a hotel in the Northern part near Muswell Hill or Wood Green, then you may enjoy visiting Alexandra Palace. Sure, it's not a typical place you would visit when you go to London. However, Alexandra Palace, also called Ally Pally, can be a fun getaway especially if you are visiting London with kids.
Built in 1873, the palace is stunning to look at. You can relax on the green lawns of the palace while admiring the Rose window or take a boat ride on the lake behind the palace. You don't have to wait for winter to do some ice skating. The ice rink at Alexandra Palace is open all year round.
There are other things you can enjoy as well such as tree climbing, a small golf course, Farmer's market, a segway rally, and an adventure course. It's a full day of fun at Alexandra Palace!
Submission by Pari from Traveling Pari.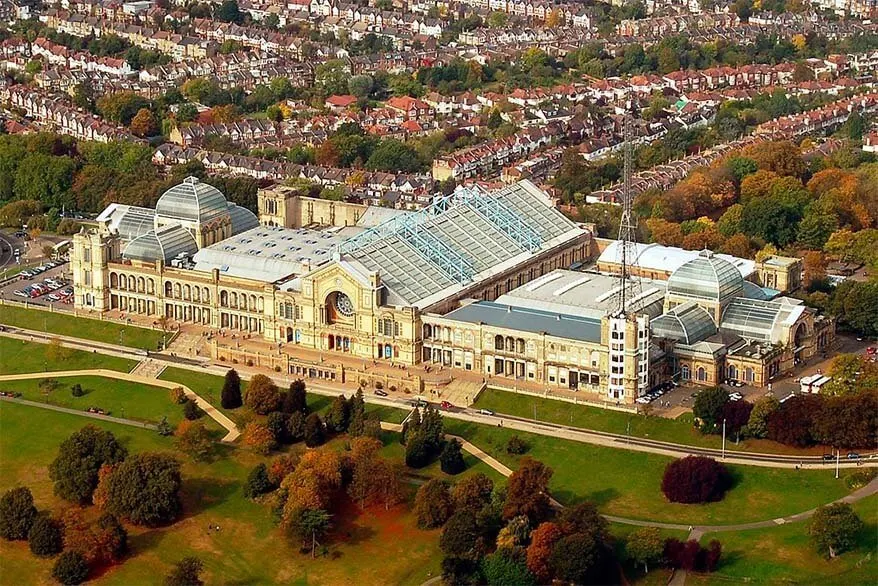 30. Hampstead Heath
Hyde, Regent, and Kensington Gardens are perennial favorites for parks to visit while in London. They are all beautiful, but for a less manicured bucolic setting, none compare to the wild beauty of the Heath in Hampstead Village.
Located about half an hour from Central London, Hampstead is a posh community that has a historically artsy past. The likes of D.H. Lawrence, Sigmund Freud, Robert Louis Stevenson, and countless creative luminaries have resided there.
At some point or another, all have been known to have taken their contemplative strolls through Hampstead Park. There are riding lanes for horses, many ponds where one can find people and swans swimming alongside. There are also private mansions, such as the Kenwood House which has been a backdrop for countless period films.
Of all things, the beauty of this park is its ability to make one think and appreciate both the simple and the complex while taking a stroll. There is something inherently English about the place and it almost can't be helped that your creative self comes alive. Hampstead Heath is certainly worth a day trip from Central London.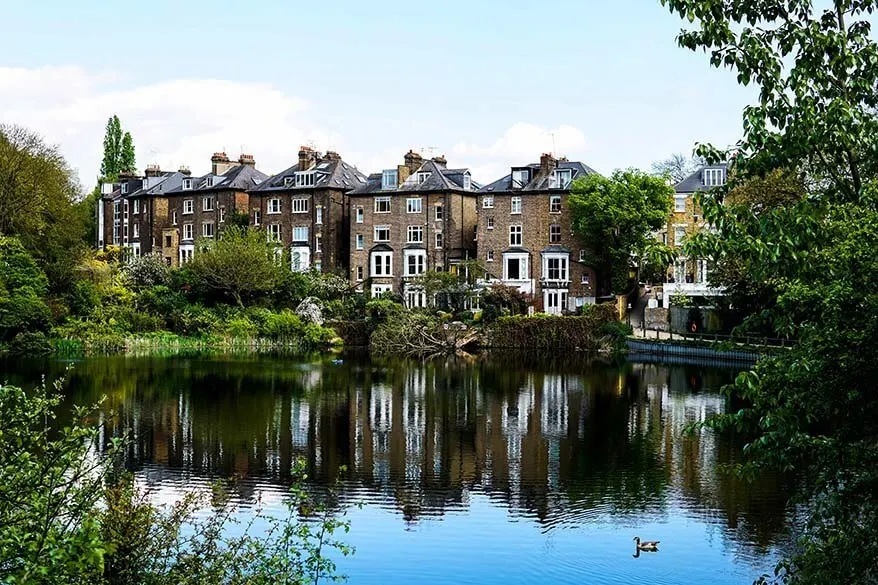 31. Kew Gardens – Royal Botanic Gardens, Kew
The Royal Botanic Gardens, Kew is home to the largest and most diverse collection of living plants, anywhere in the world.
Although it's not necessarily very hidden, most tourists seem to skip this beautiful part of London. Perhaps because it's a bit out of the way of other popular tourist attractions. But trust me when I say that Kew Gardens are well worth a visit!
Kew Gardens is a UNESCO World Heritage site and offers unique landscapes and iconic architecture from every stage of the Gardens' history. There are more than 100 world-class attractions at Kew Gardens such as iconic buildings, art collections, vistas, and glasshouses. There are also various temporary exhibitions at Kew Gardens that might be worth your time. The glasshouse is not to be missed and is a perfect place to shoot some amazing photos (whether it's for your Instagram page or traditional photo album).
TIP: Kew Gardens are really big, so you definitely need time to properly explore this less known gem of London. It's recommended to do some research to decide what you want to see upfront, or take a full day and explore this beautiful place to the fullest. You can buy admission tickets in advance and save some time.
Kew Gardens are recommended to visitors looking to explore some less known places in London by Lisanne from Chapter Travel.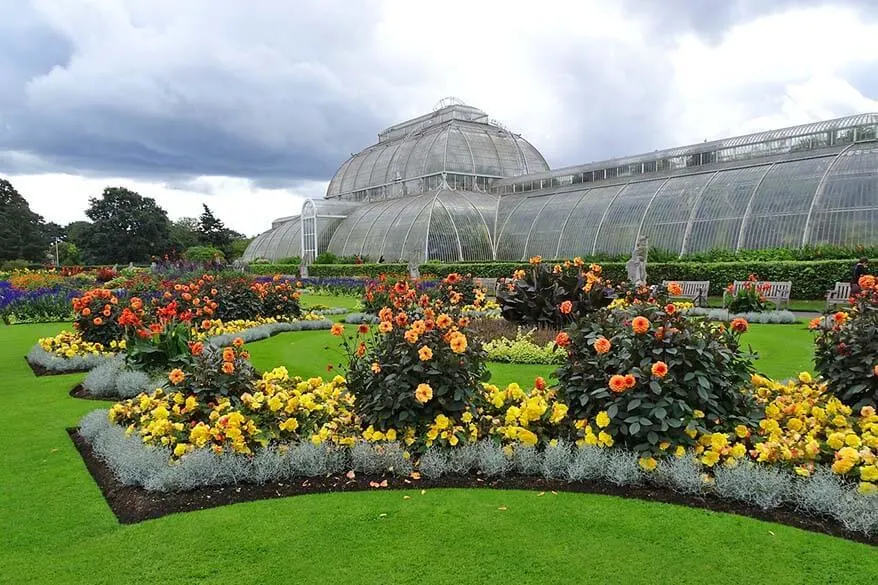 32. Saint Aymes Café
Saint Aymes coffee shop is one of the most Instagram-friendly cafes in London and one of the many hidden gems in the capital of the UK. It's quite trendy to go here for the fashionistas and Instagrammers of London, but as a first-time visitor, you're not likely to have heard about this cute little cafe.
Saint Aymes is quite easy to get to. It's located about 10 minutes walk from Paddington Station, close to Marble Arch near Hyde Park.
The unicorn cakes are particularly cute and tasty, are reasonably priced, and really shouldn't be missed. The cafe is charming and quaint, a truly unique place in London.
It has a flower petal wall and some tables outside. On the inside, there are plenty of flower walls, unicorn-themed cakes, and – of course – some unicorn lattes in rainbow colors. If that isn't enough, you can also enjoy some gold-plated coffee (yes I'm talking about real gold!).
This cute cafe is recommended by Christine from Christine Abroad.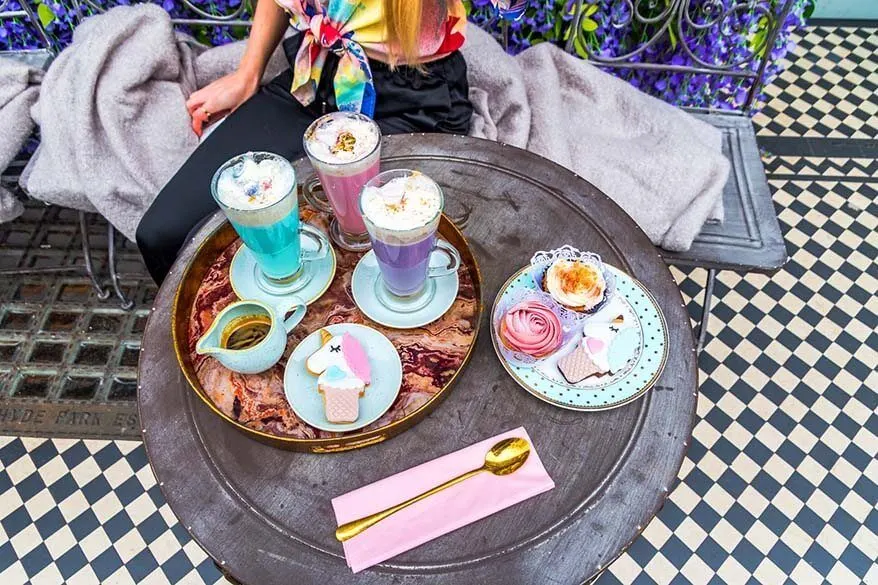 33. Chelsea Physic Garden
Tucked away in a hidden corner of London between the upscale shopping of the King's Road and close to the Chelsea Embankment and the Albert Bridge across the Thames is the capital's original secret garden. Dating back to the late 17th Century, the Chelsea Physic Garden remains the second oldest botanical garden in the UK (after the gardens at Oxford University). It has been at the forefront in the cultivation of medicinal plants.
Home to the tallest standing olive tree in Britain, the layout of different sections of the garden is very admirable. The Dicotyledon Order Beds (so named as the plants here are grown with two seed leaves) and Monocotyledon (one seed leaf) are a testament to this with over 800 organized according to their groups. Some are indeed quite rare. In between these and the statue of Sir Hans Sloane is the tranquil pond rockery.
Various glasshouses are located in these gardens, the largest of which is known as the Tropical Corridor. Ideal for storing all year round many exotic plants from the Atlantic that would otherwise not survive the harsh winters. Also, one of the smaller glasshouses has a little exhibit of desert cacti. A great anomaly in London!
An afternoon strolling in this peaceful oasis makes you forget that you are in the heart of a big, noisy city. With a cafe that provides outdoor seating too, what better way to take it in slowly and appreciate this green space in the heart of one of London's most well-heeled districts.
This unusual little garden in London is suggested by Jonathan from Journey Maxx.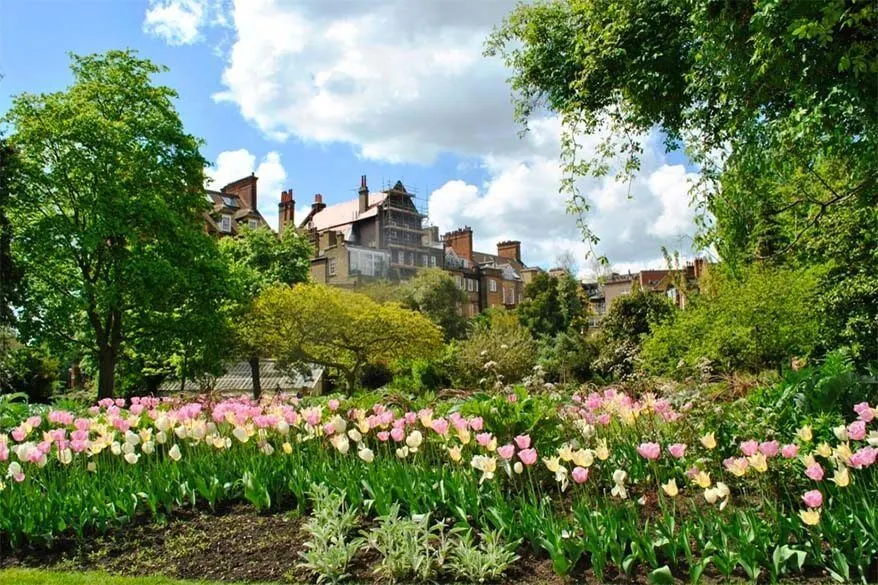 34. Climb The O2 Arena
The O2 Arena in London was originally built for the millennium and has become the world's most popular entertainment venue.
Not many people can say they climbed over The O2 Arena. With the Up at The O2 Experience, visitors can walk on a path suspended 2 meters above the roof of The O2. On the viewing platform at the top, 52 meters high, you have time to take in 360-degree views of London and even enjoy a glass of champagne if you like. On a clear day, you can see landmarks up to 15 miles away.
Your guide will provide you with all the climbing gear you need including a safety harness. At the beginning of the climb, you are going up at a 28-degree incline, then it levels off as you approach the top.
Going down, in a way it's more difficult than going up. The incline is slightly steeper at 30 degrees. If you are worried about looking down, you might want to try going down backward. Don't let your fears stop you, It's quite a unique and memorable experience!
TIP: If you want to climb the O2 Arena, you have to book it in advance. Here you can find prices and check availability for the climb.
This unique London activity is suggested by Anisa from 2 Traveling Texans. You can find more information about The O2 Experience on their blog.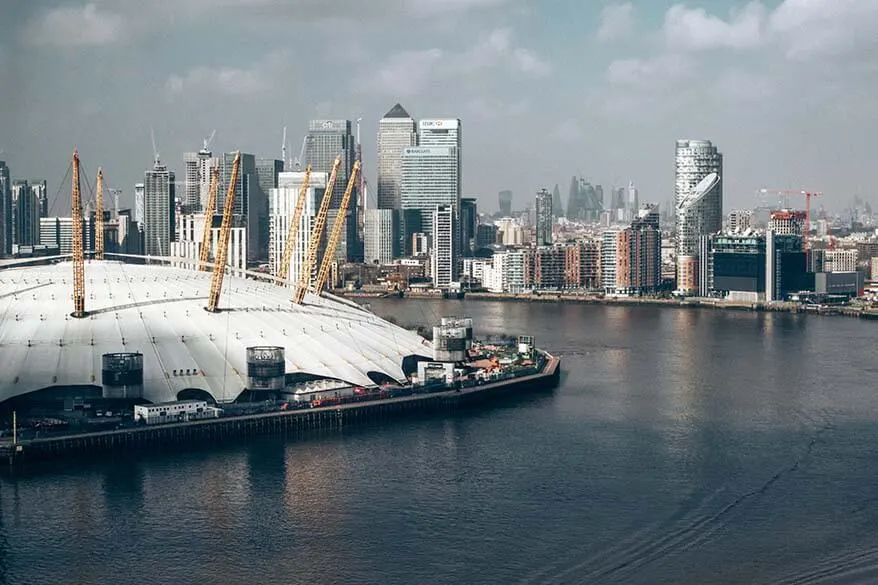 35. Thames Barrier Park
The Thames Barrier is an iconic structure in London, built in the 80s in order to solve the centuries-long problem of flooding in central London. You can visit the visitor center on the southern side of the river (not too far from Greenwich), or simply see this impressive movable dam from the Barrier Park (opposite side of the river). This little park is a real hidden gem in London!
Barrier Park with carefully landscaped gardens was designed with tranquillity in mind and also to frame the imposing barrier. The gardens have a variety of flowers that bloom throughout the year and are a haven for pollinators and wild birds.
While wandering through the park, you get nice views of the barrier. Between the park and the river, there is a nice waterfront promenade with benches to enjoy the view. There is also a coffee shop on-site for refreshments and a play area for children.
TIP: Barrier Park is in the Royal Docks area and is easily accessible via the Docklands Light Railway. The nearest stop is Pontoon Dock. However, if you are feeling adventurous, the river bus and then the Emirates Air Line cable car across the river makes a delightful journey there or back.
This special place to see in London is recommended by Rich from RJOnTour. On his blog, you can read about visiting Barrier Park.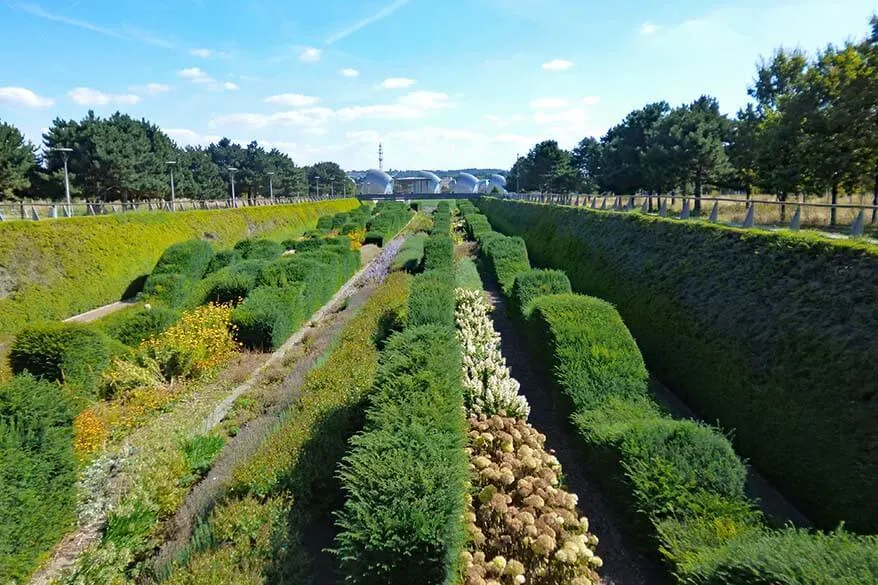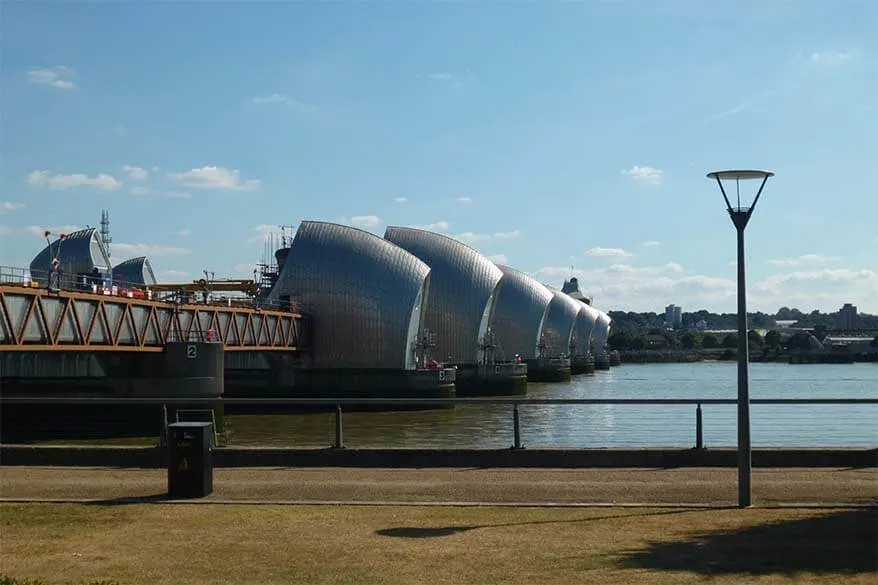 The Hidden Gems of London on the map
As promised, here is a map showing all the hidden gems of London that are mentioned in this post. You can click on the little arrow to see the index, alternatively just click on any of the locations to see which place it is.
How to use this map: Use your computer mouse (or fingers) to zoom in or out. Click on the icons to get more information about each place. Click the arrow on the top left corner for the index. Click the star next to the map's title to add it to your Google Maps account. To view the saved map on your smartphone or PC, open Google Maps, click the menu and go to 'Your Places'/'Maps'. If you want to print the map or see it in a bigger window, click on 'View larger map' in the top right corner.
So, these are some of the nicest local finds and less known places in London for your travel list. I am certain that visiting at least some of these gems will make your trip to London even more special and more memorable. In addition, you may want to check out some of the best London views (many of them are free to visit).
And, of course, don't miss the must-see tourist attractions in London! But even if you visit just a few of the hidden gems, it will make your trip so much more special!
Do you know any amazing secret places in London that you're willing to share? Please leave a reply below!
READ ALSO: Where to Stay in London: Best Areas & Hotels
More inspiration & info for your trip to London:
Travel guides for the UK:
If you enjoyed reading this post, don't forget to bookmark it and share it with your friends. Are you on Pinterest? Pin these images!