Visiting Los Angeles for three days and wondering what to see and how to plan your time? In this guide, we share a detailed LA 3-day itinerary based on our recent trip. This itinerary is ideal for first-time visitors since it covers all the must-sees in LA.
You probably already know that Los Angeles (California, USA) is a very big city. Extending for 44 miles in one direction and almost 30 miles in the other, LA covers an area of over 500 square miles (1,300 km²). As you can imagine, planning a trip to such a vast city isn't as straightforward.
So let's start with a few tips that you may find helpful when planning your LA itinerary.
First, you will need a car for exploring LA. There is a pretty substantial metro network in the city and it's expanding too, but it's not easy to explore all the best places in LA without a car. Alternatively, you can take organized tours for some areas, use hop-on-hop-off buses for the most popular sights, and taxi/uber is also a good option for getting around without a car.
Second, everything takes longer than expected. This is because most top sights and places you'll want to see on your first visit to LA are located far away from each other. Traffic can be quite bad too. In addition, you will need patience at the attractions too. In some places, you'll have to park your car quite far away, in others, you will need to reserve tickets in advance, etc.
So while 3 days in LA might look like a lot of time, you will have to be quite selective about which places you decide to visit. Don't fill your days to the last minute or it will leave you exhausted and frustrated. Instead, choose just a couple of main sites that you want to see each day and build your itinerary around them.
This article should help you do just that – see the best of LA in three days in an efficient, but relaxed way. To help you plan your trip, we also include a map indicating all the places mentioned in our article and the most convenient parking locations. In our guide, you will also find useful tips, such as tour recommendations, which tickets to prebook, suggestions for lunch/dinner, etc.
Good to know: When suggesting which places to see each day, we sometimes include additional recommendations indicated as 'optional'. These activities will make your visit to LA much more memorable, but you can't do each and every one of them. So pick the ones that interest you the most and perhaps skip something else to make it work.
How to use this map: Use your computer mouse (or fingers) to zoom in or out. Click on the icons to get more information about each place. Click the arrow on the top left corner for the index. Click the star next to the map's title to add it to your Google Maps account. To view the saved map on your smartphone or PC, open Google Maps, click the menu and go to 'Your Places'/'Maps'. If you want to print the map or see it in a bigger window, click on 'View larger map' in the top right corner.
Here is our recommended Los Angeles itinerary for 3 days:
DAY 1
On your first day in LA, we recommend focusing on what made the city famous – the movie industry. Start with Hollywood and Beverly Hills, visit film studios, see the Hollywood Sign, and enjoy the (sunset) views from Griffith Observatory.
Here's what your first day in LA could look like:
Hollywood & Walk of Fame
No trip to Los Angeles would be complete without visiting Hollywood. The must-see places here are the Walk of Fame, Dolby Theater, and Chinese Theater.
Walk of Fame is the famous pavement on Hollywood Boulevard featuring pink stars with the names of various artists, actors, and movie directors on them. It stretches for miles and – according to Wikipedia – there are over 2700 stars here.
Unless you want to spend an entire day here counting the stars, just visit the central part of Hollywood Boulevard where the two most famous theaters are located – Dolby Theatre and Chinese Theatre.
Opened in 1927, the Chinese Theatre is one of the most iconic cinemas in Hollywood. It's a popular venue for red-carpet movie premieres, always attracting big crowds trying to catch a glimpse of their favorite actors and other celebrities. It played home to the Oscars for a few years as well (1944-46).
In front of the Chinese Theatre, you can also see another famous Hollywood attraction – the handprints and footprints of some of the most famous Hollywood artists immortalized in cement.
Right next door, you can't miss the Dolby Theatre. Built specifically for the Oscar ceremony and opened in 2001, it's been home to the Oscars ever since.
Optional: If you have time, you could watch a movie at one of these theaters in the evening. Alternatively, if you want to visit inside, they both also run guided tours during the day. These tours last about 30 minutes and you can find more info on the official websites.
TIP: If you are looking for a specific star on the Walk of Fame, be sure to research its location in advance. Otherwise, the chances of you finding it are really low.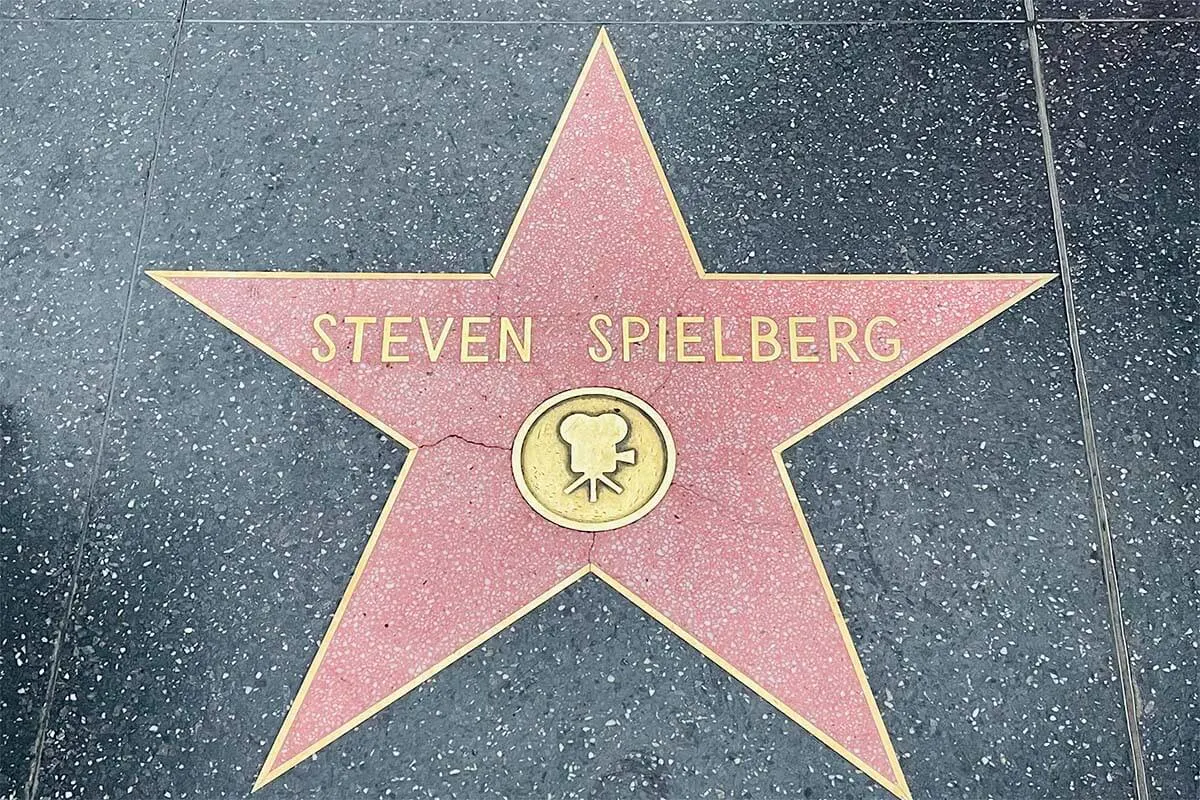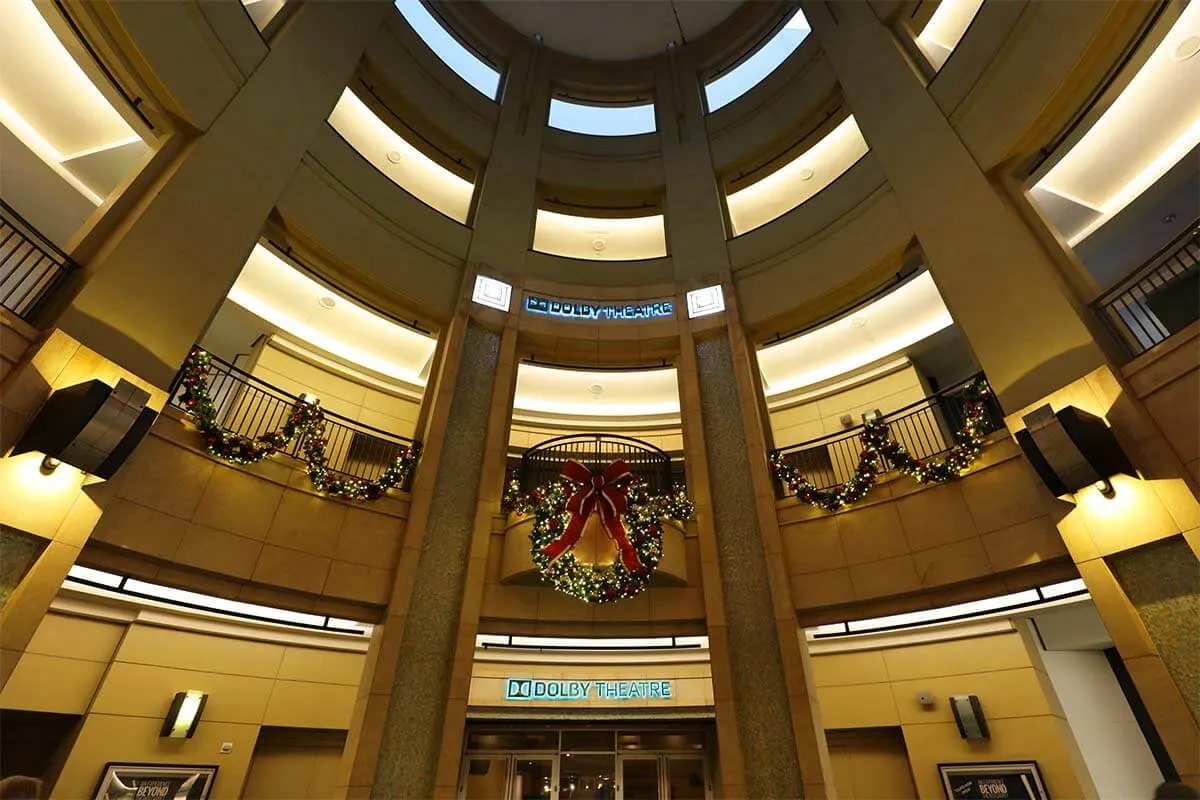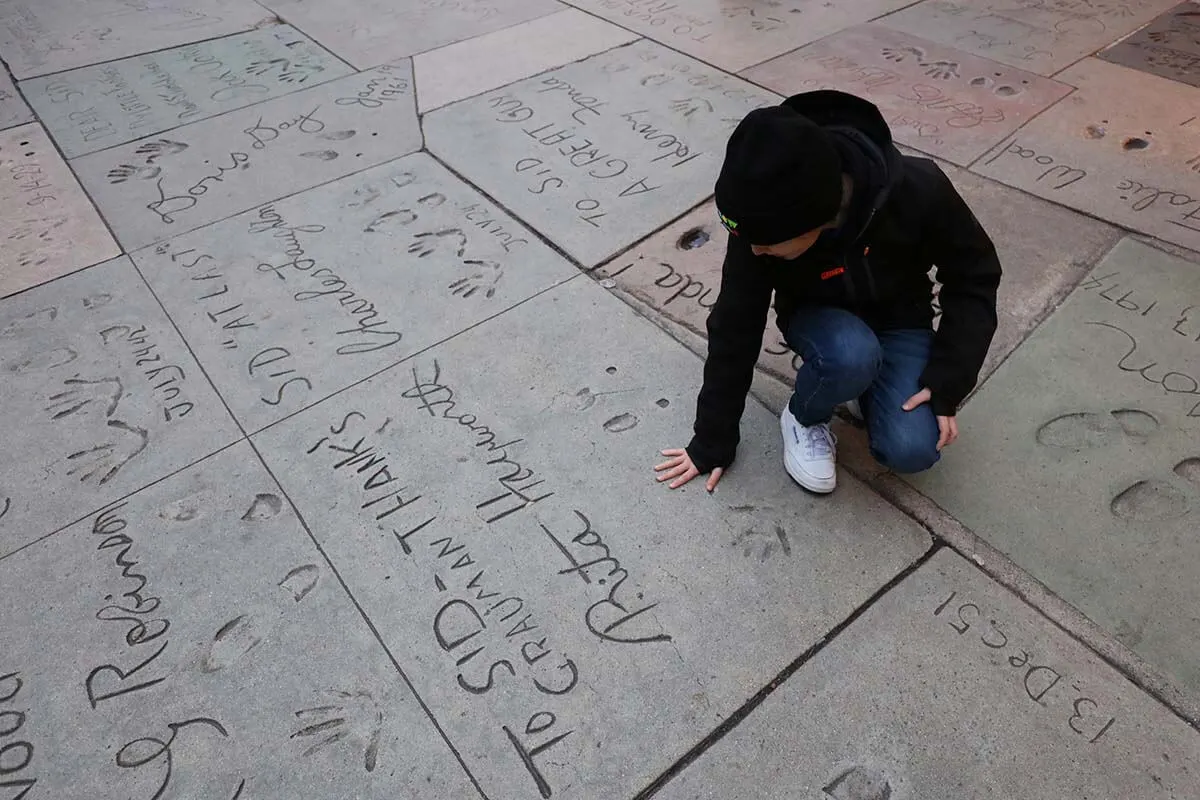 Beverly Hills
One of the most popular things to do in LA is to go on a celebrity tour that brings you past the most iconic places in Hollywood and Beverly Hills and passes several houses of famous Hollywood actors. There are tons of tour options, they usually take about 2 hours.
Optional: If you start your day early, plan well, and book a time slot that suits you, you could easily take such a tour on the morning of your first day in LA. This highly-rated tour is one of the best options and it fits this itinerary quite well since it starts/ends in the above-mentioned Walk of Fame area. There are hourly departures, so it's really easy to add this to your itinerary if you want to.
These tours can be really nice if you want to see more of Hollywood and Beverly Hills without worrying about the traffic or trying to figure out where exactly to go.
If you are not taking a tour, you can also visit Beverly Hills by car. But remember that it's a large area and so you may want to do some research in advance so that you know where to go and what to see.
TIP: One of the places to check out in Beverly Hills is the famous Rodeo Drive. This is the most expensive shopping street in LA and you will find all the big names in the fashion industry represented here. You may recognize it as the place where Julia Roberts went shopping in 'Pretty Woman'. It's also included in the itinerary of most Beverly Hills tours.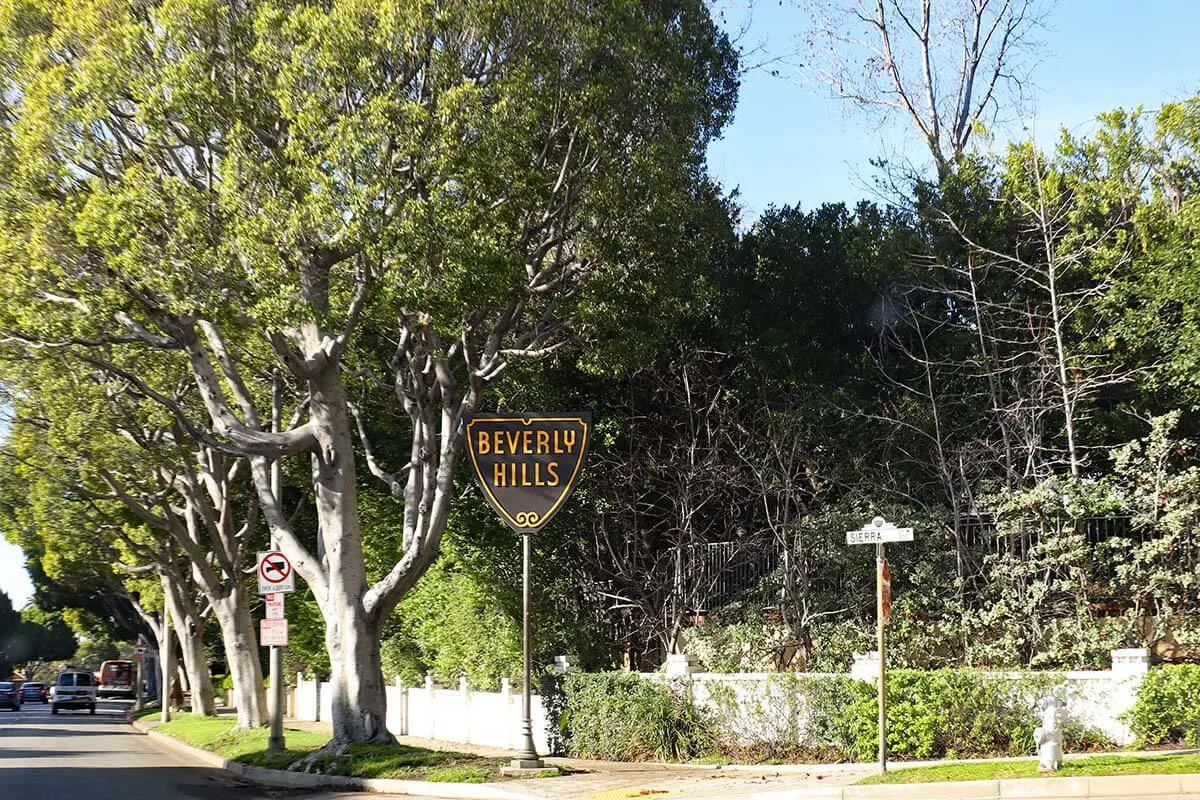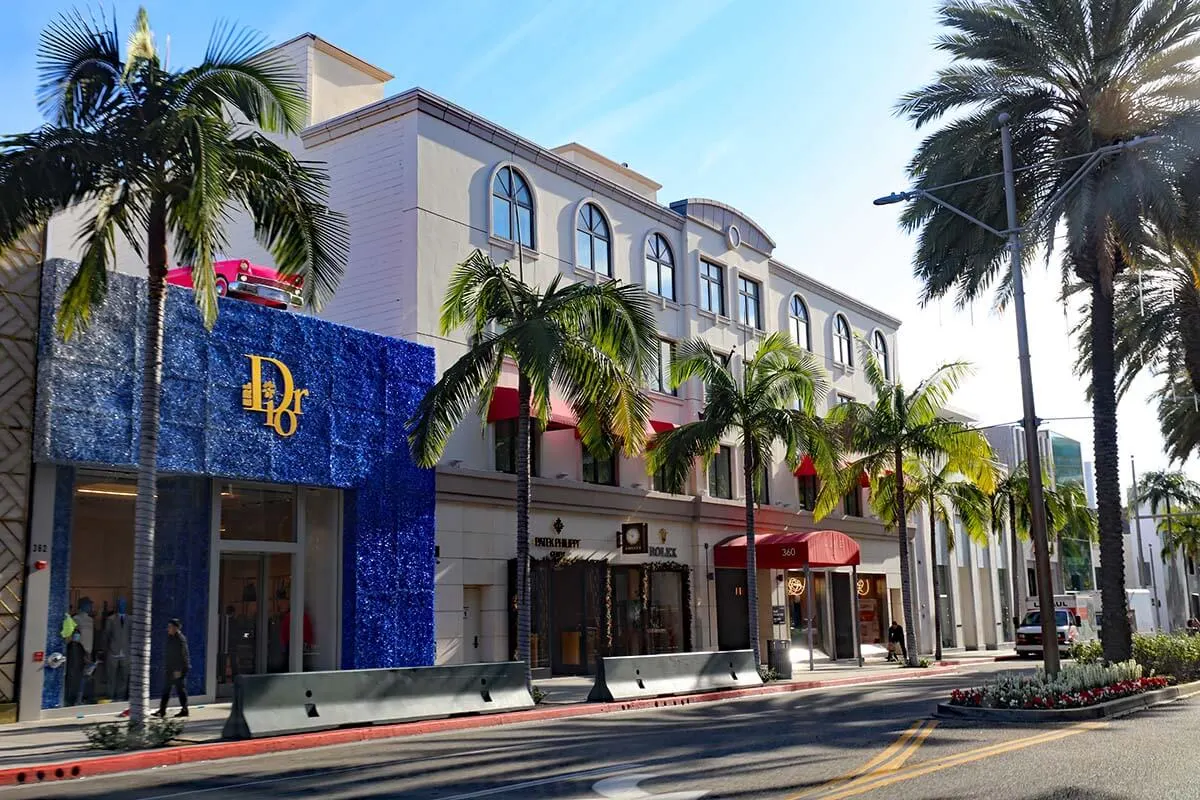 Lunch
Depending on what you choose to do in the morning, you could have lunch in Hollywood (after the celebrity tour), somewhere in Beverly Hills, or head to your next attraction and have lunch there (as we did).
Warner Bros. Studio Tour
When visiting LA for the first time, we highly recommend taking a tour of the film studios. One of the best places for that is the Warner Bros Studio Tour. It's just 4.5 miles (10-15 minutes drive) from the Walk of Fame in Hollywood and can easily be included in pretty much any LA itinerary.
Good to know: We highly recommend booking this tour in advance. That way, you can just arrive there for the specific time slot and be sure that you don't waste any time waiting for the next available spot (if it's not sold out for the day to start with). The tour is made up of three parts and generally takes about 2.5-3 hours.
After a short introductory film, you will step on a little bus which will take you to the film studios and stages. You visit the studios with a guide and this part takes about 1 hour. On the way, you will stop to explore a few of the places where movies are made, see the inside of a real filming studio, and maybe even get a chance to take some pictures on the famous 'Friends' couch in front of the NYC fountain (except that – obviously – it's not in New York at all and has never been).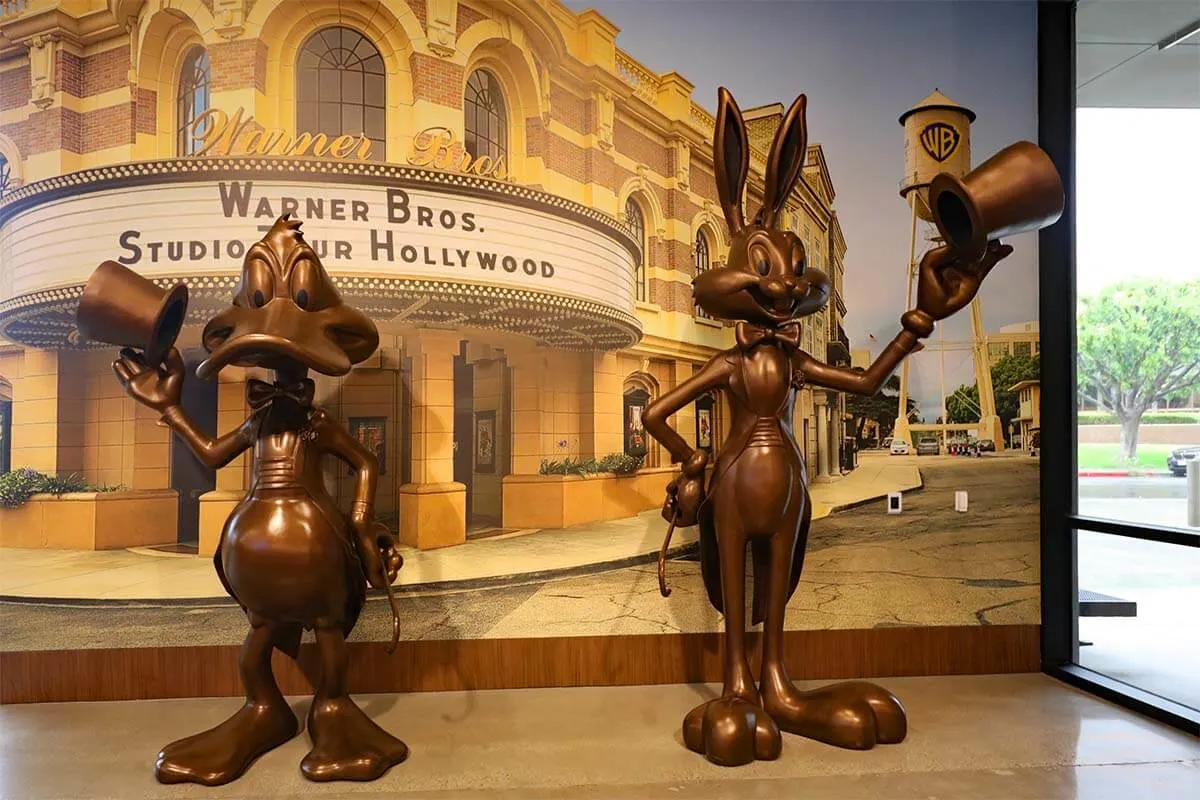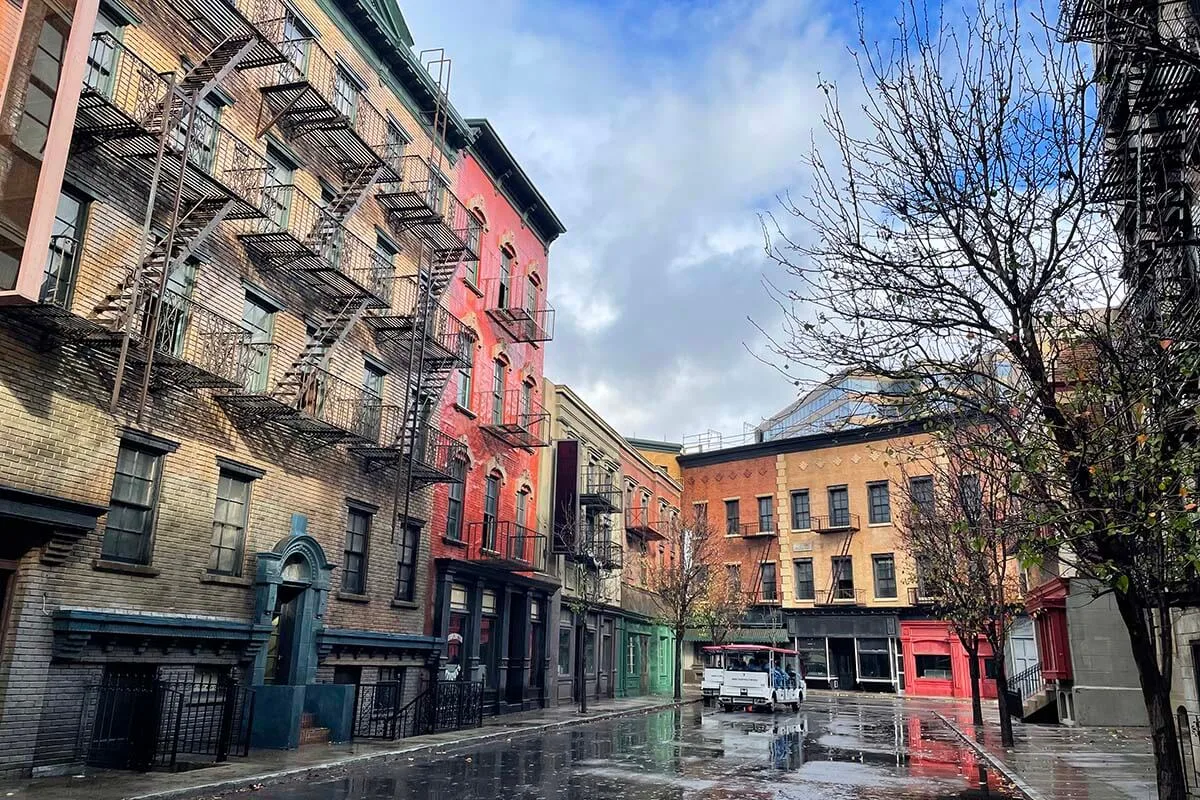 The second part of the tour is where you can explore on your own, and you can make it as long or as short as you like. Here, you can see the reconstructions of the actual film sets from 'Friends', 'Big Bang Theory', and several others.
You can have pictures taken everywhere (or take your own), and you can also opt for a video recording of yourself driving the Batmobile or flying on a Harry Potter broomstick, etc.
Here, you will also find a 'Friends'-themed gift shop and a café/restaurant where you could have a quick lunch. We opted for the 'Joey Special' (pizza) and it was surprisingly good.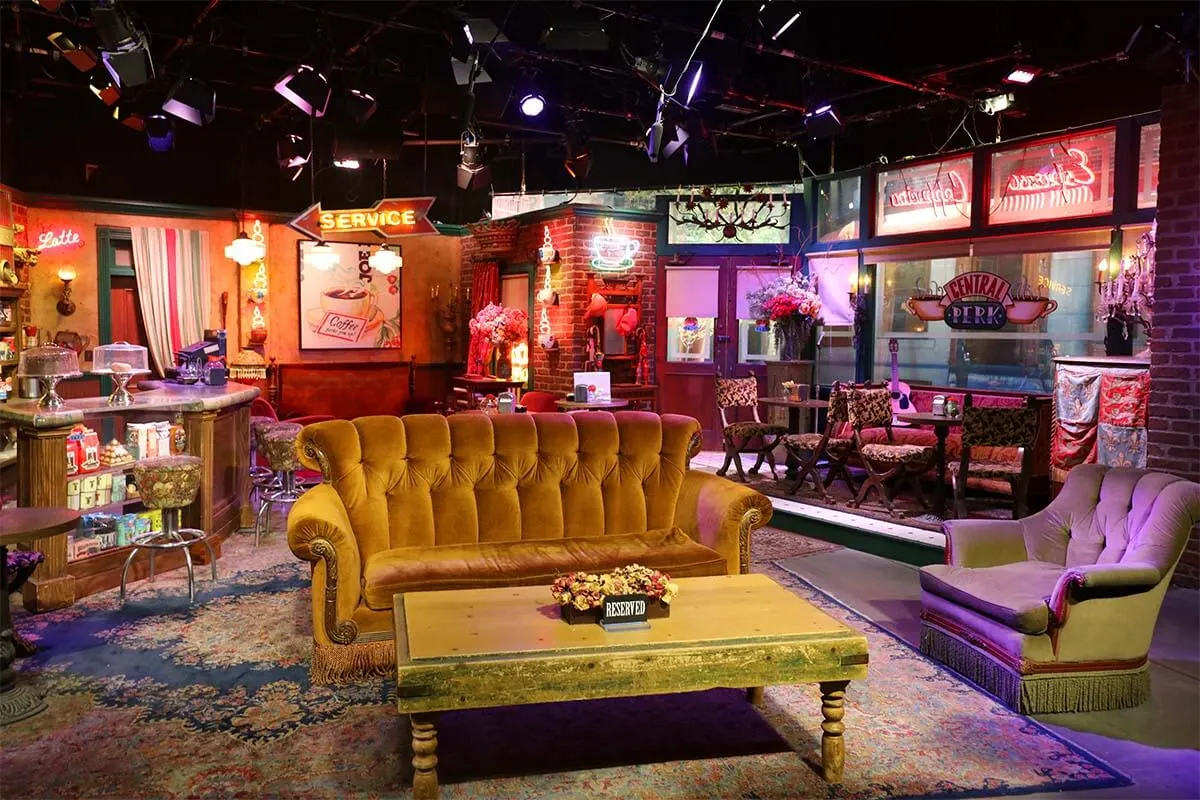 Finally, you step on a shuttle again, and it brings you to the last part of the tour where you will also find a gift shop and the exit. But don't rush through it – there are some cool costumes that you can see here, plus a few famous vehicles and other artifacts that you will recognize from some iconic films, etc. There is also an entire section for Harry Potter fans. You can sit under the famous Sorting Hat, make a potion drink, etc.
We personally really enjoyed this tour and I can highly recommend it. We did this with kids/teens and they had a great time as well.
TIP: Harry Potter-themed souvenirs are much cheaper at Warner Bros. than at Universal Studios. At least, that was the case when we visited. Some items were even 30-40% cheaper here.
READ ALSO: Warner Bros vs. Universal Studios Hollywood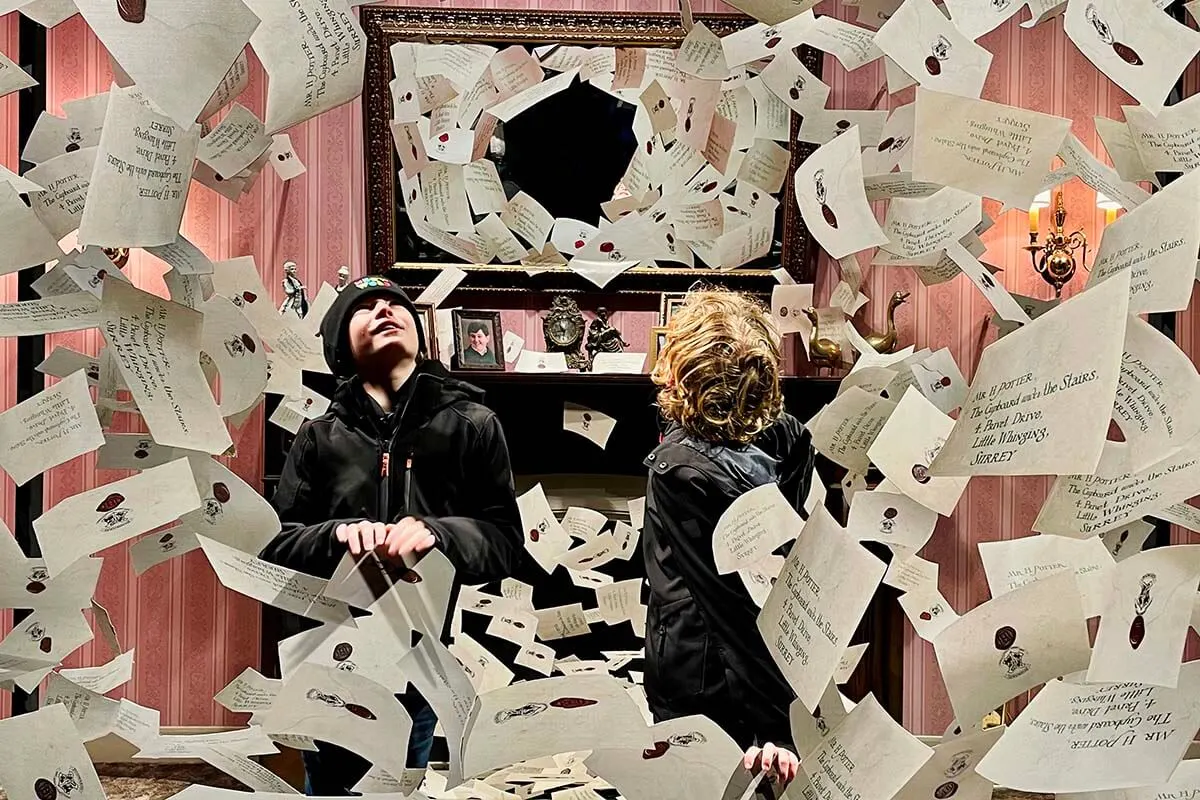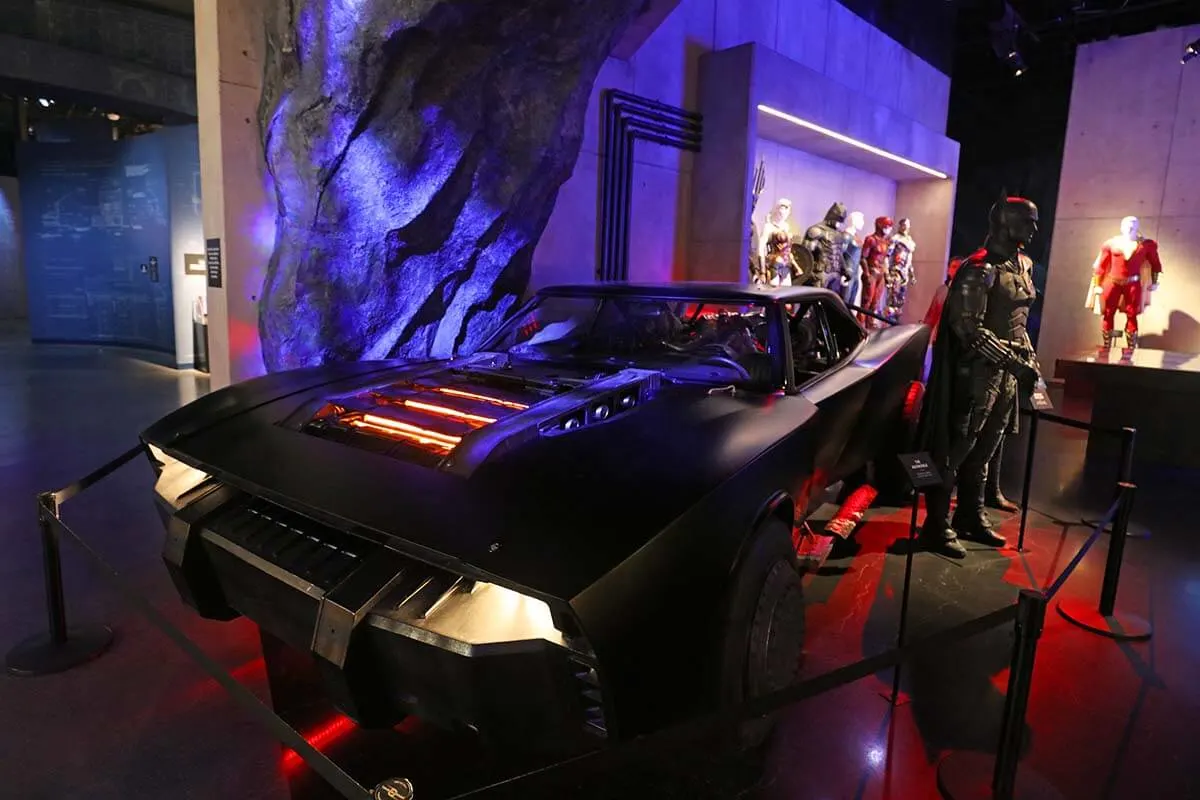 Hollywood Sign
Taking a picture with the iconic Hollywood sign is one of the musts in LA. You will see the sign from various locations in the city, but if you want to take a picture from somewhat closer, you may want to drive to the Hollywood Sign Viewpoint (indicated on our map).
It's less than 4 miles/10-15 minutes drive from Warner Bros Studios. However, the road is really steep and narrow here and usually very busy with tourists. Plus, the roadside parking at the 'viewpoint' is very limited and if you pass by, there is no place to park or turn around anymore.
So you may want to just skip this and go straight to Griffith Observatory where you also have a pretty decent view of the Hollywood sign. In both cases, you don't get really close to the sign, but close enough for a decent picture.
Good to know: If you want to get as close to the Hollywood sign as possible, you will have to hike. For that, head to Innsdale Trailhead (free street parking, but very limited). For the front of the sign, choose the 'Hollywood Sign' trailhead. If you want to get really close and see the back side of the letters from the hill, you'll need to choose the 'Mt Lee Summit' trail. Going all the way to the top is strenuous and you need good shoes and lots of water. Count at least 2 hours for this hike.
TIP: You can also do this hike with a guide. This is a very highly-rated tour with a great guide who also knows all the best spots for photos. If you book well in advance, there are usually many possible starting times that you can choose from. So you could easily fit this hike into this itinerary.
As you can imagine, your overall itinerary for this day will depend on the choices that you make (take the Beverly Hills tour or not, visit the Hollywood sign viewpoint or hike to the sign, etc.). If you just drive to the viewpoint and take some pictures, it takes maybe 30-45 minutes out of your day. If you also do the hike, then you will need about 3 hours for a visit here.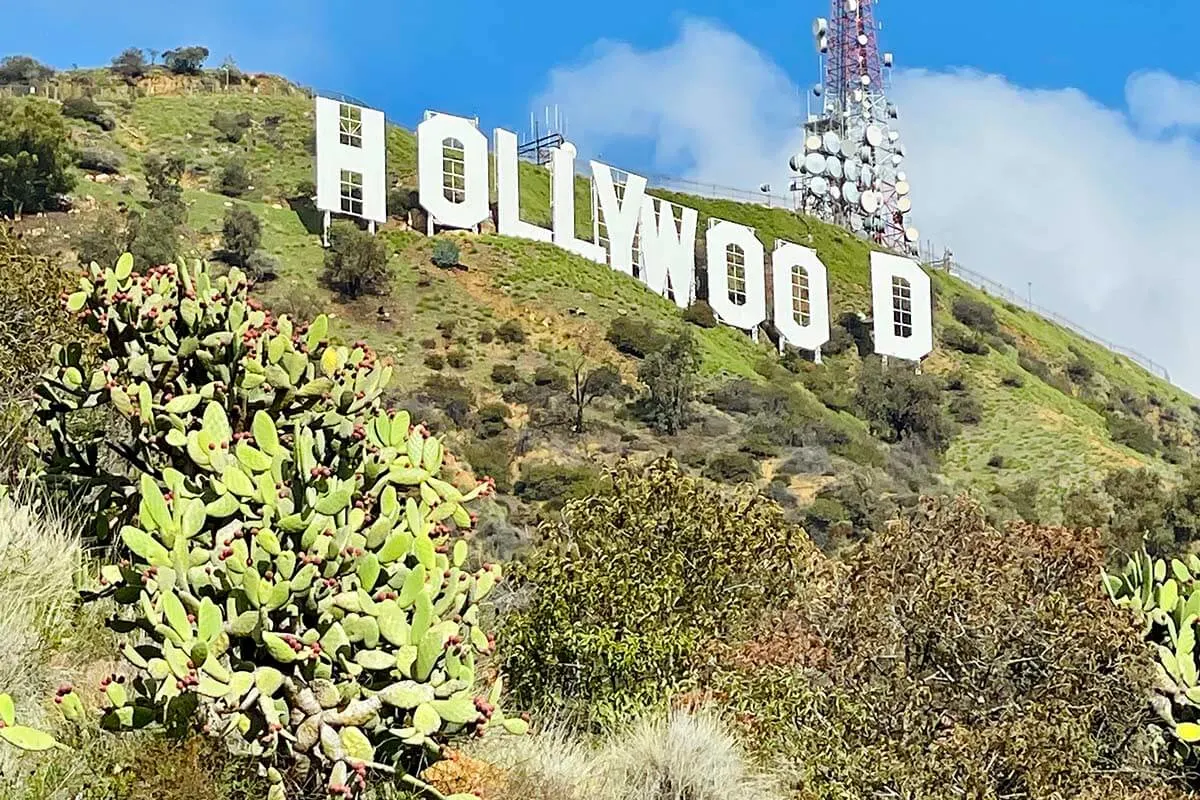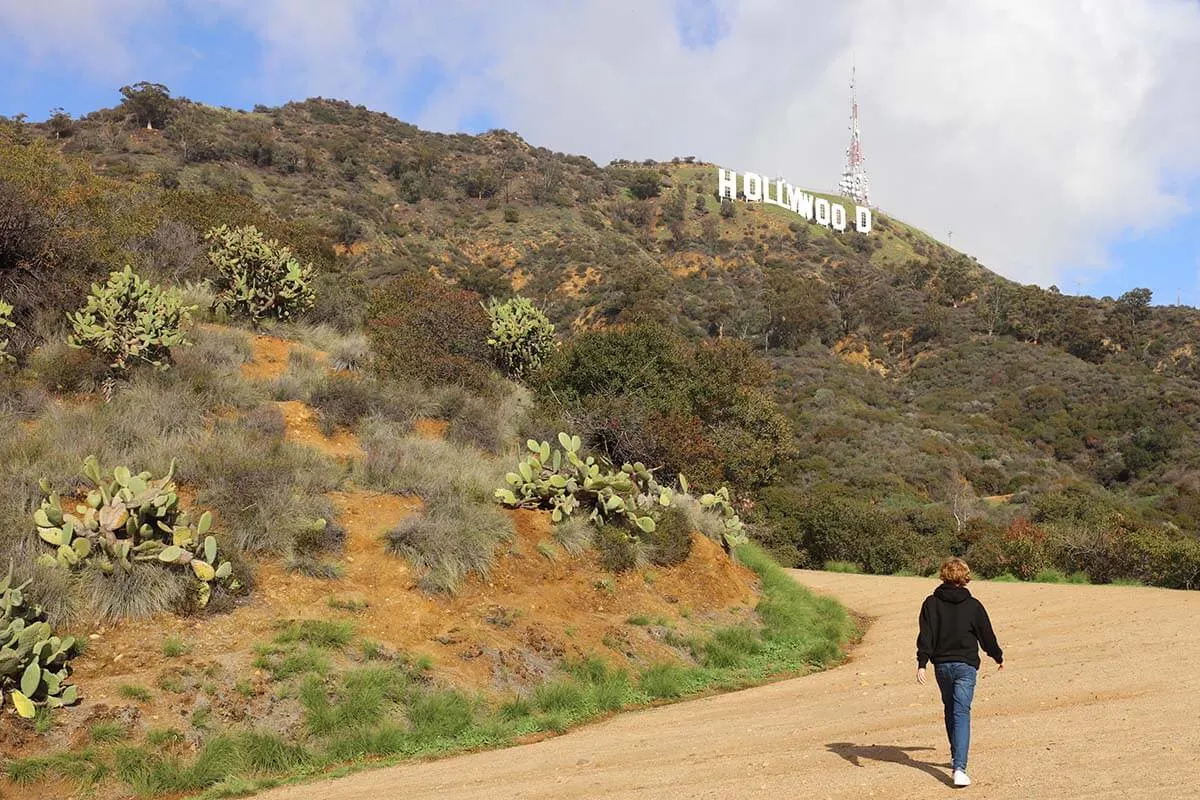 Griffith Observatory
Next on your itinerary is one of the must-sees in LA – Griffith Observatory. People come here mostly for the views, but you should also visit the planetarium/museum.
Set on the hill in Griffith Park, the views from the observatory are quite nice indeed – with the entire city of Los Angeles stretching far into the horizon. As already mentioned, you also have a decent (but far) view of the Hollywood Sign from here.
Griffith Observatory is also a very popular place to come to for sunset.
If you have some time, be sure to also explore the museum inside. Comprising two levels and several halls, it's free to visit. You can learn more about our planet system, the sun, the moon, etc. There are also regular shows at the planetarium, and you can just get the tickets on the spot.
When we visited, it was very busy here and the museum was packed. But the planetarium show (the only part where you have to pay) was available and we could just get the tickets for the next show.
The show took about 30 minutes and was ok, but definitely not a must. We had seen more interesting planetarium shows before. But they have several options, so I can't comment on all of them. Anyway, our kids found it quite worth it, and we all agreed that it was nice to relax in a comfortable chair after all the walking and sightseeing the whole day.
Good to know: Griffith Observatory is open daily except on Mondays, until late in the evening (usually 10 pm). It sometimes closes for events. You can find all the practical info here.
Parking: This can be a nightmare. There is a parking area at the observatory itself, but it fills up quickly and they close Observatory Road not even allowing you to get closer. When we visited, we had to park at the bottom of the hill (I indicated the parking on the map), about 15 minutes walk from the observatory itself. This is a large and free parking. There's also roadside parking on Western Canyon Road (also about 10-15 minutes walk from the Observatory), but the signs indicated that you have to pay $10 (and it was full when we visited).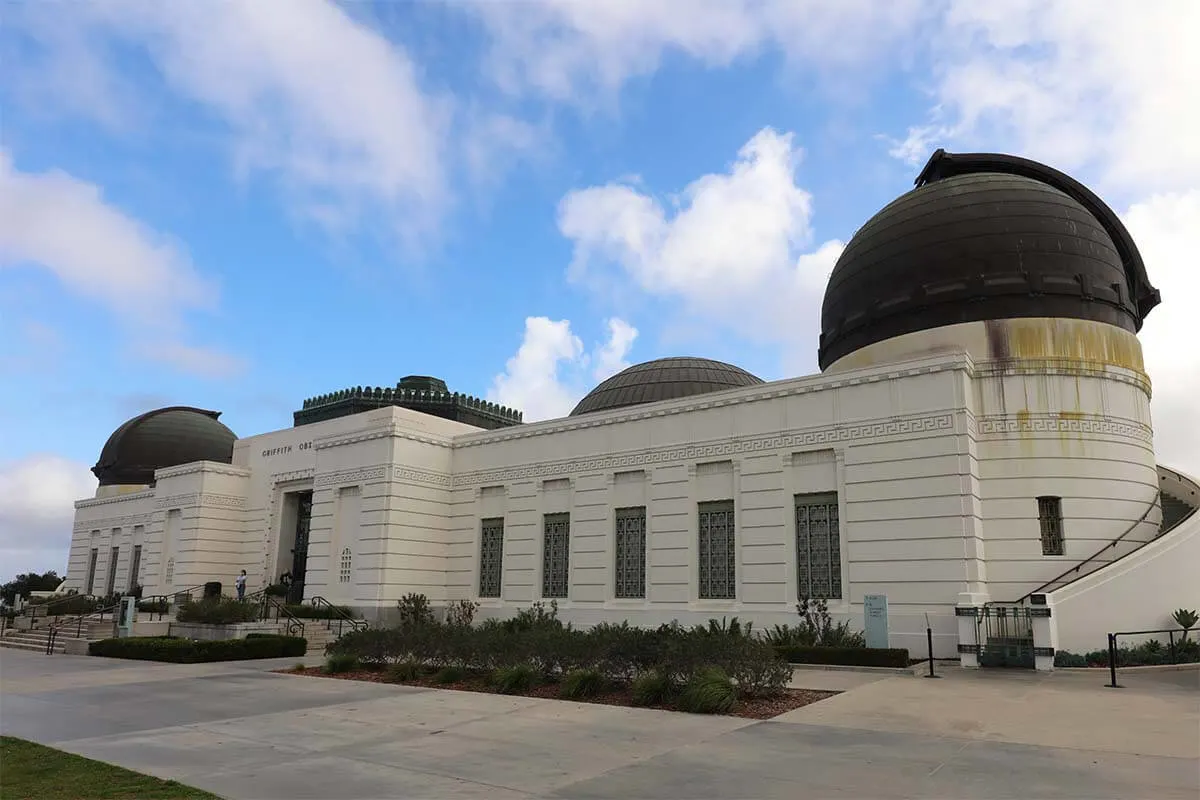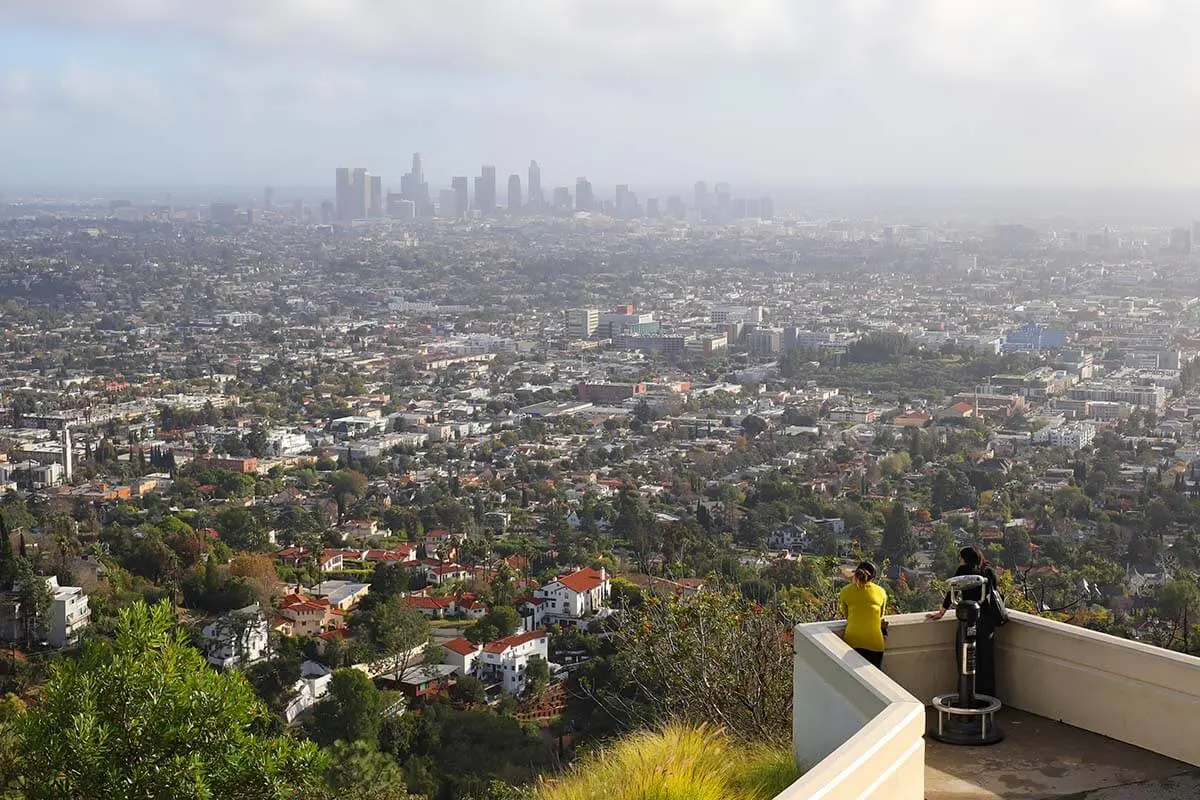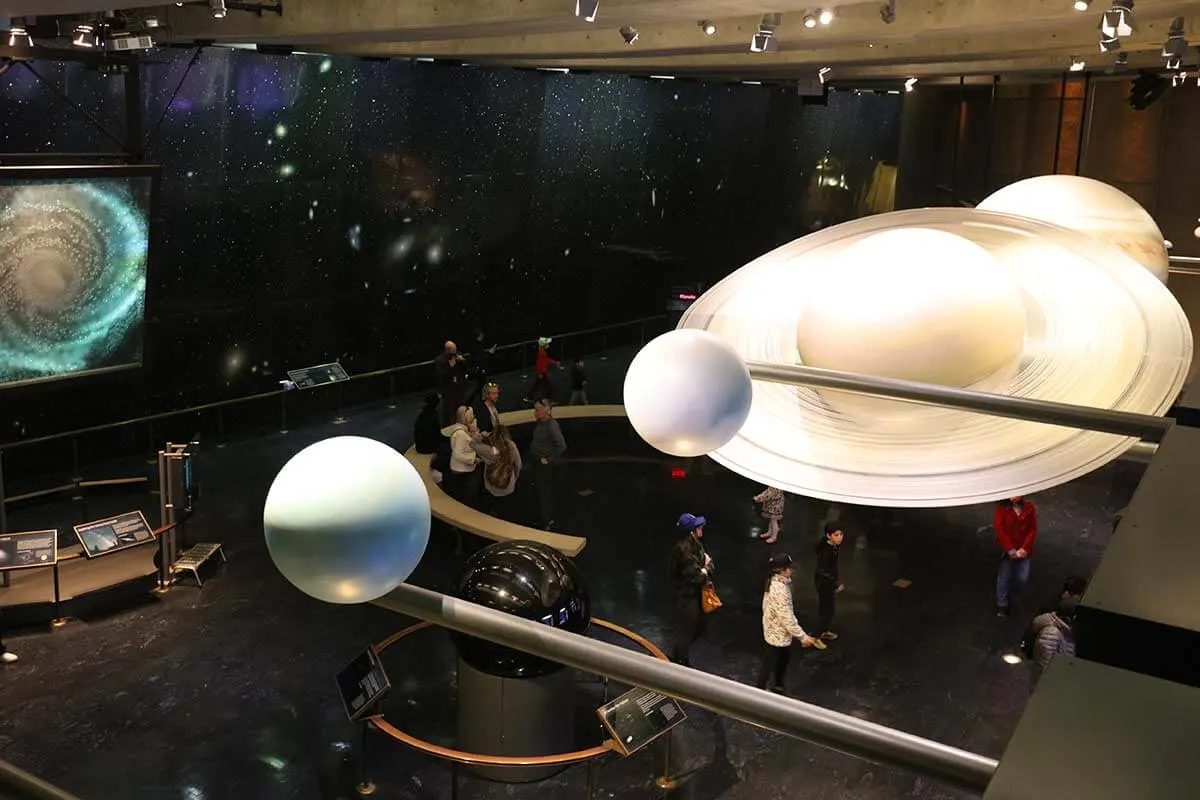 Dinner
After visiting Griffith Observatory, you may want to call it a day and find a restaurant for dinner. There is a café here too, but I would recommend looking for a nice restaurant closer to your accommodation.
We stayed in Hollywood and, after returning to our hotel, went for dinner at L'Antica Pizzeria da Michele (also indicated on our map).
It's a very nice Italian restaurant and their pizza is truly as good as the one we had at the restaurant with the same name in Naples, Italy. The prices in Hollywood are not comparable to 5-6 euro pizzas in Naples though, but all the meals we had were absolutely excellent.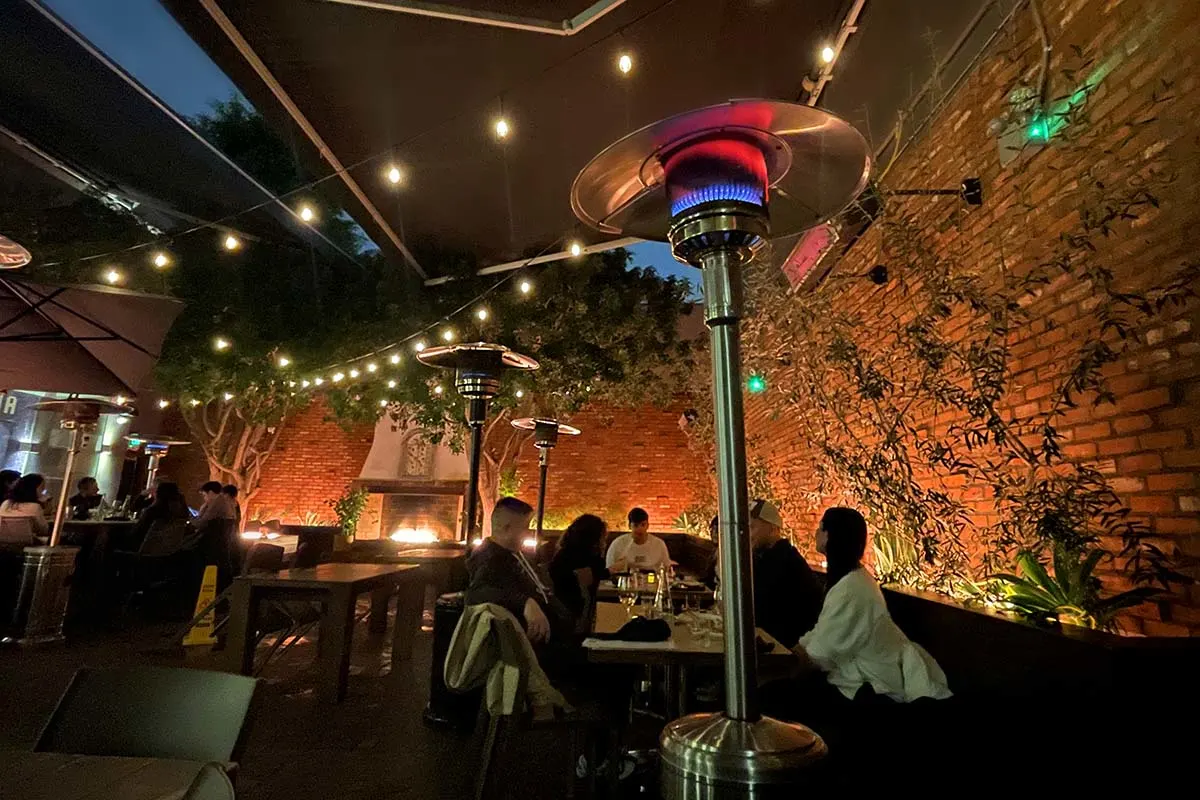 DAY 2
On your second day in LA, you could visit one or two museums, followed by lunch/shopping at a local market, and end your day with a visit to LA's most famous beaches. You can easily adjust this itinerary and visit The Getty Center and/or Getty Villa if you prefer.
This is what your second day in LA could look like:
Academy Museum of Motion Pictures, LACMA & Urban Light
There are quite a few nice museums in the city, but with just three days in LA, you'll have to be selective. We recommend planning the first half of the day for this. Depending on your interests and the places you choose, you could visit one or two museums.
If you are like us and want your LA trip to be focused on something typically 'Los Angelesy' that you wouldn't find anywhere else, then head to the Academy Museum of Motion Pictures.
This museum is dedicated to the history of the movies and film industry. You can watch fragments from some iconic movies, get to know more about some of the most notable film directors, see costumes from various blockbusters, etc. It's also a good place to visit with kids and teens.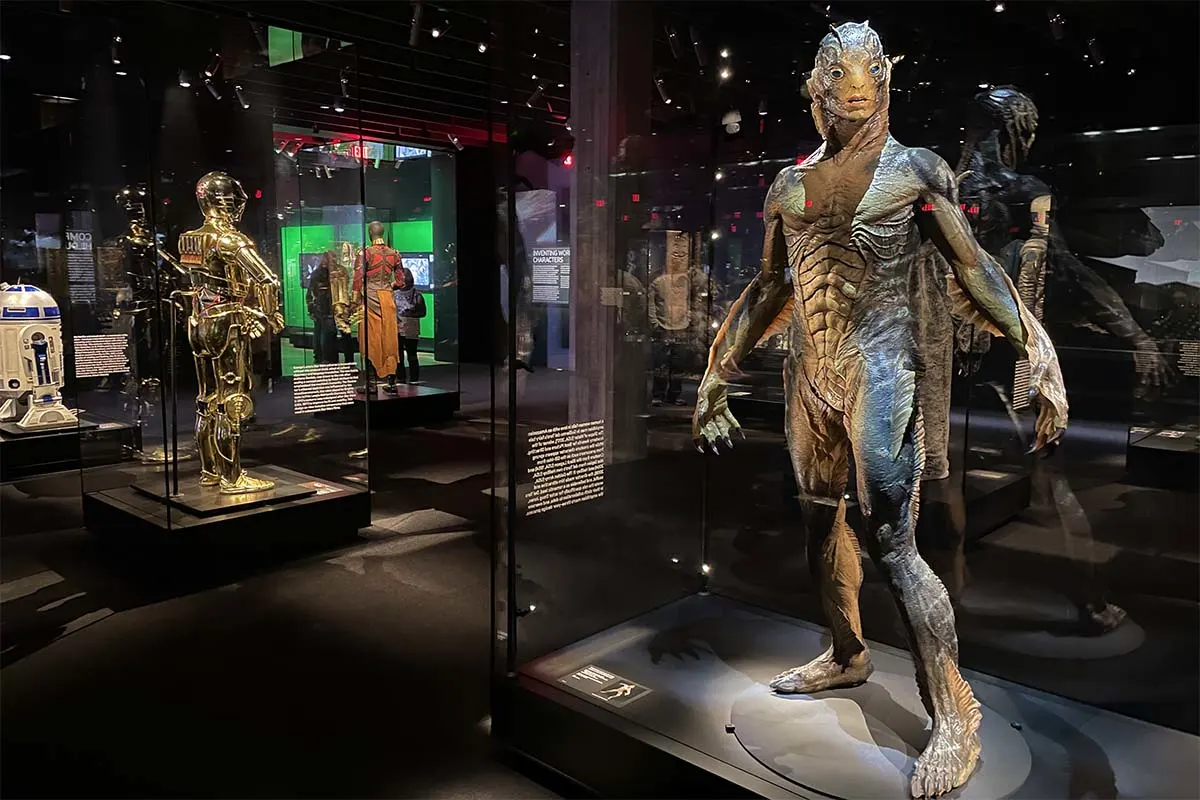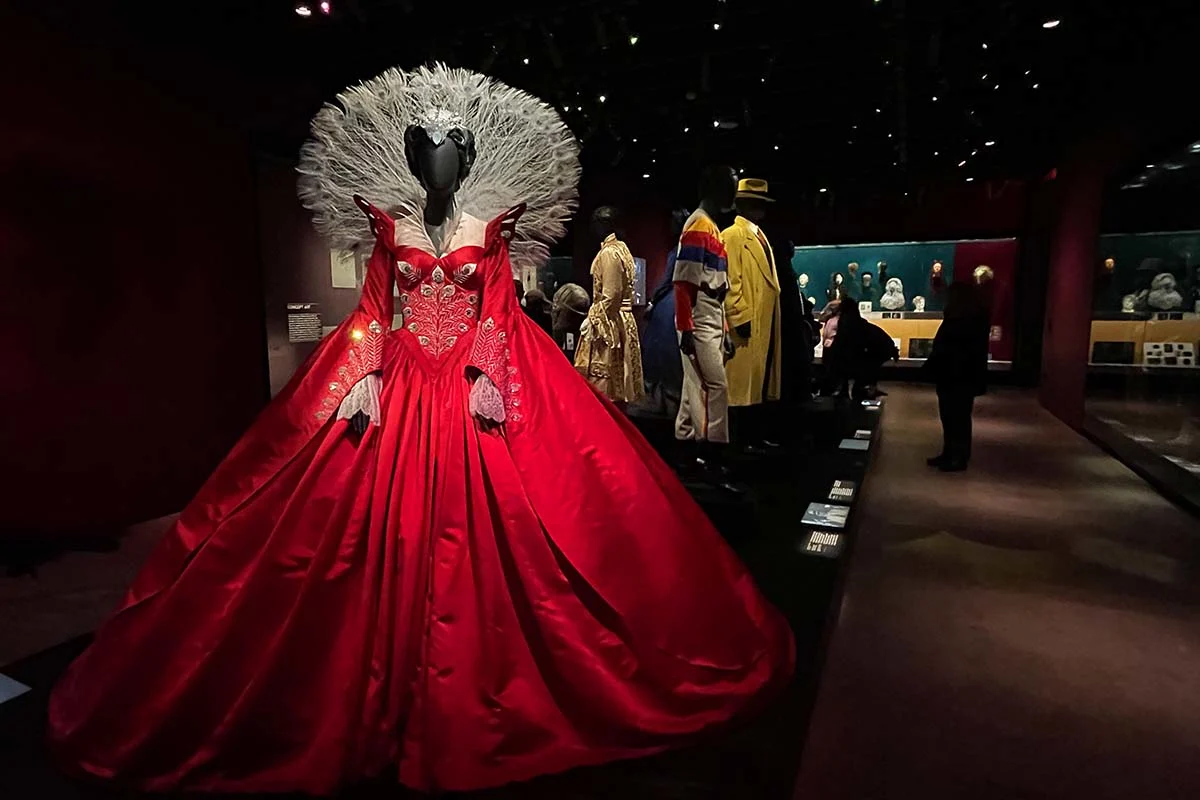 Right next door, you'll also find the Los Angeles County Museum of Art (LACMA), which is considered one of the best museums in the city after The Getty Center. It could be a very nice addition to your LA itinerary, especially if you have a few extra hours to spare.
TIP: In addition, check out the Public Art sculpture 'Urban Light' which is located just outside the LACMA. This is one of LA's most popular Instagram spots and you'll probably also recognize it from various Hollywood movies, video clips, and various commercials. This light installation is located outside, is always open, and there is no fee to visit.
Good to know: These two museums are located just next to each other. So if you start early and don't linger too long, you could see them both in half a day. LACMA is closed on Wednesdays.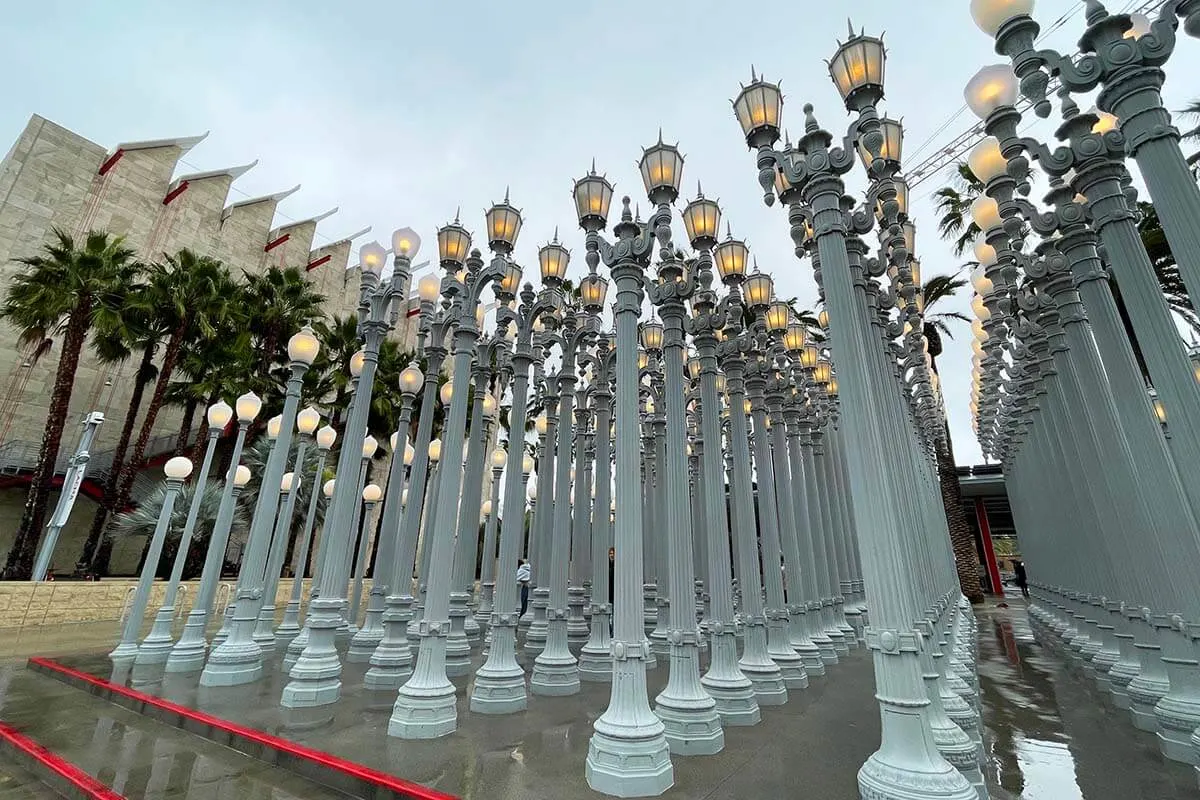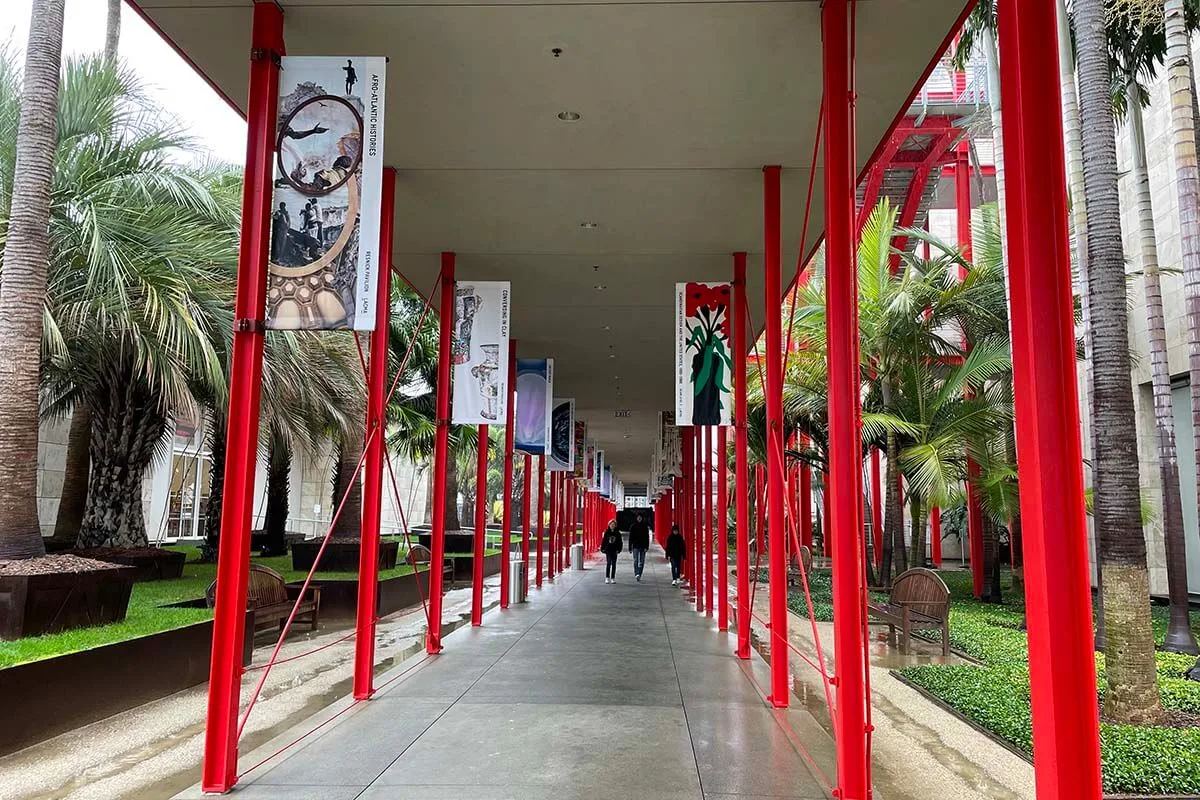 Lunch at the Farmers Market & The Grove
Just a few blocks from the above-mentioned museums, check out The Original Farmers Market, which is a great spot for lunch in this part of LA.
This is indeed a food market where you will find stands selling fruit, vegetables, flowers, etc. Some places serve food and have seating available too. Whether you are looking for a quick bite or want to sit down for a quieter lunch, there are some really nice options here.
In addition, check out the adjacent outdoor shopping mall The Grove. Even if you are not planning to do any shopping, it's nice to just walk through.
You will find several restaurants here as well. Since it was raining (yes, we Belgians tend to bring rain everywhere we go), all the seating at the farmers market was wet. So we had lunch at the Cheesecake Factory.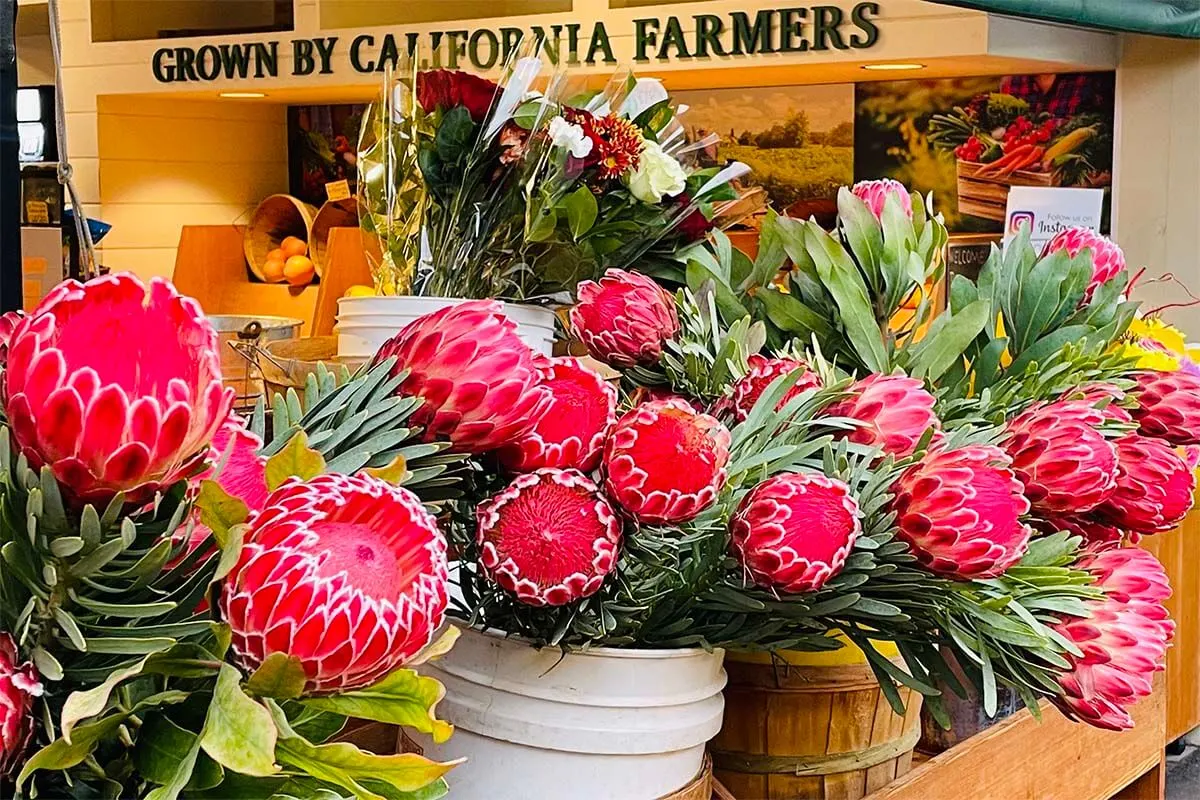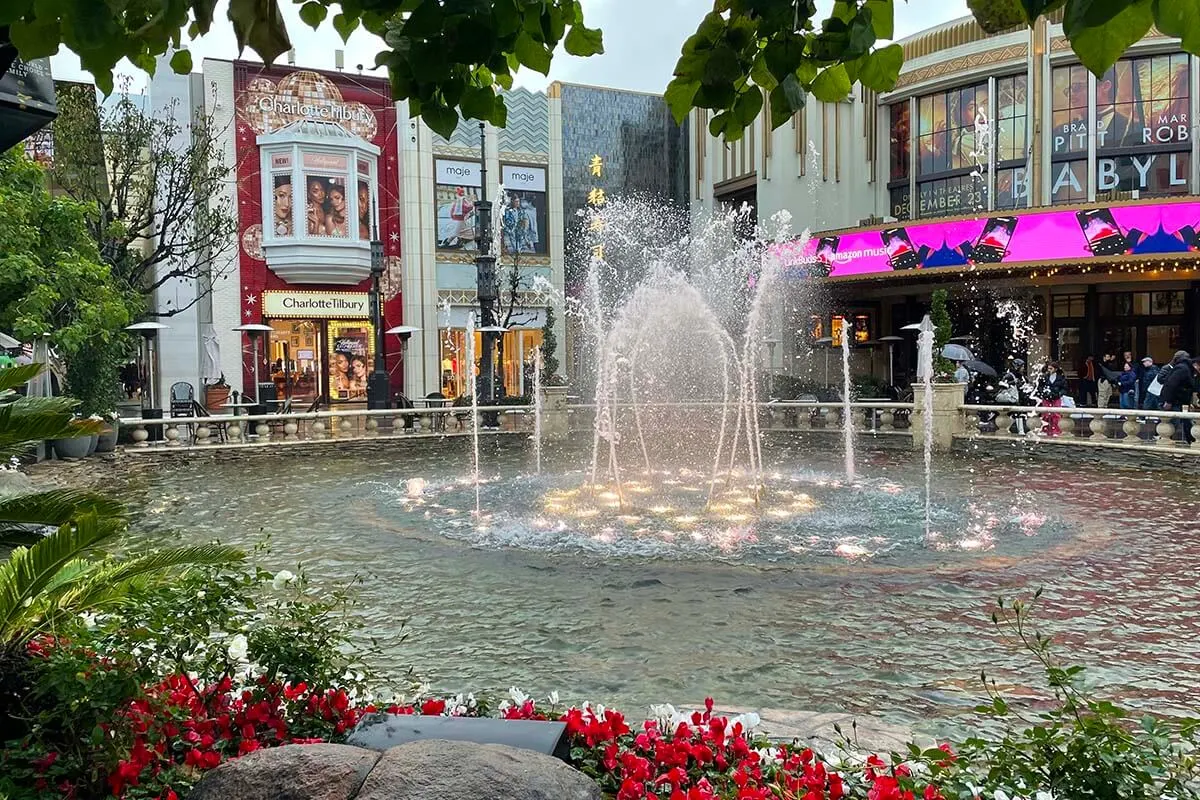 Santa Monica
In the afternoon, head to Santa Monica at the coast and visit the most popular beaches of Los Angeles.
This is a very different side of LA compared to any other area you will have seen up to now. The atmosphere is very relaxed, and you can find all the typical beach resort activities here.
Start with a visit to the Santa Monica Pier (there is a big car parking just next to it too). One of the landmarks here is the 'End of Route 66' sign. Indeed, this historic road starts in Chicago and ends here at the Pacific Ocean.
If you have seen the movie 'Forrest Gump', you will have to smile at the name of the restaurant 'Bubba Grump Shrimp & Co'. At the entrance, they also have a Forrest Gump bench and a pair of oversized sneakers like the ones he used to run across America.
There are a few other restaurants at the Santa Monica Pier too. Plus, a small Ferris wheel and a few other rides for kids. You'll see fishermen, souvenir vendors, and street artists here too. It's a nice place to hang around for a while, watching surfers in the sea and all the people around you.
If you feel like it, you can also take a nice long walk on or along the beach. Or you can rent a bike and bike or walk to Venice Beach.
Santa Monica is a great place to spend at least a couple of hours. If you are here in the evening, be sure to stay for sunset. You can also find some nice (seafood) restaurants for dinner here as well. We had a very nice meal at The Albright on the pier itself. Despite its very touristy location, the food was excellent and very good value. Plus, we really enjoyed the relaxed atmosphere.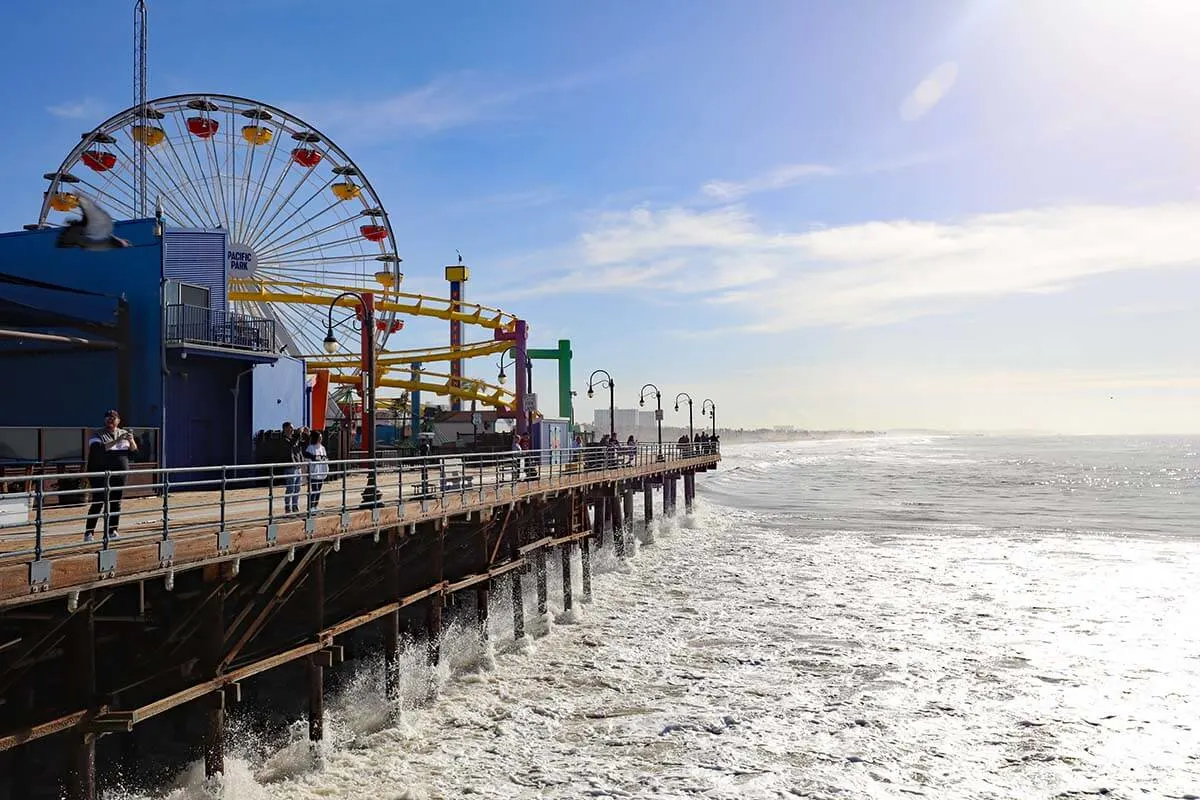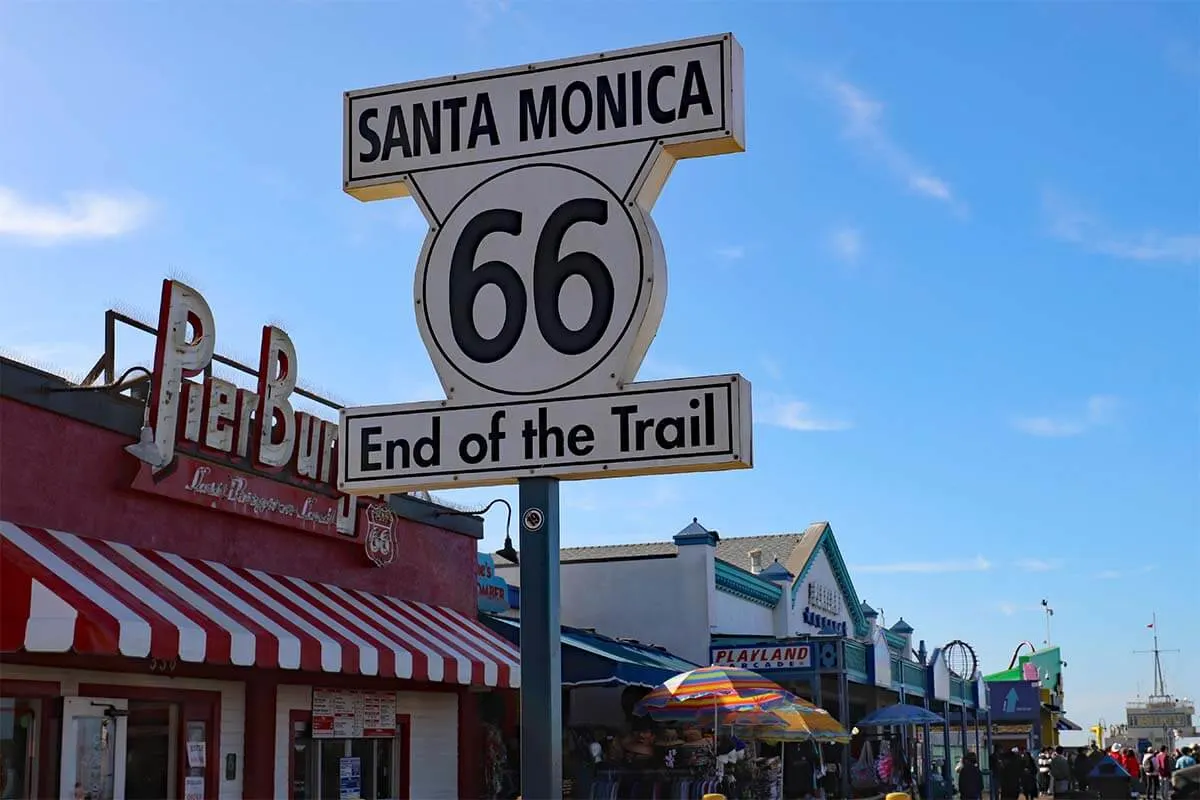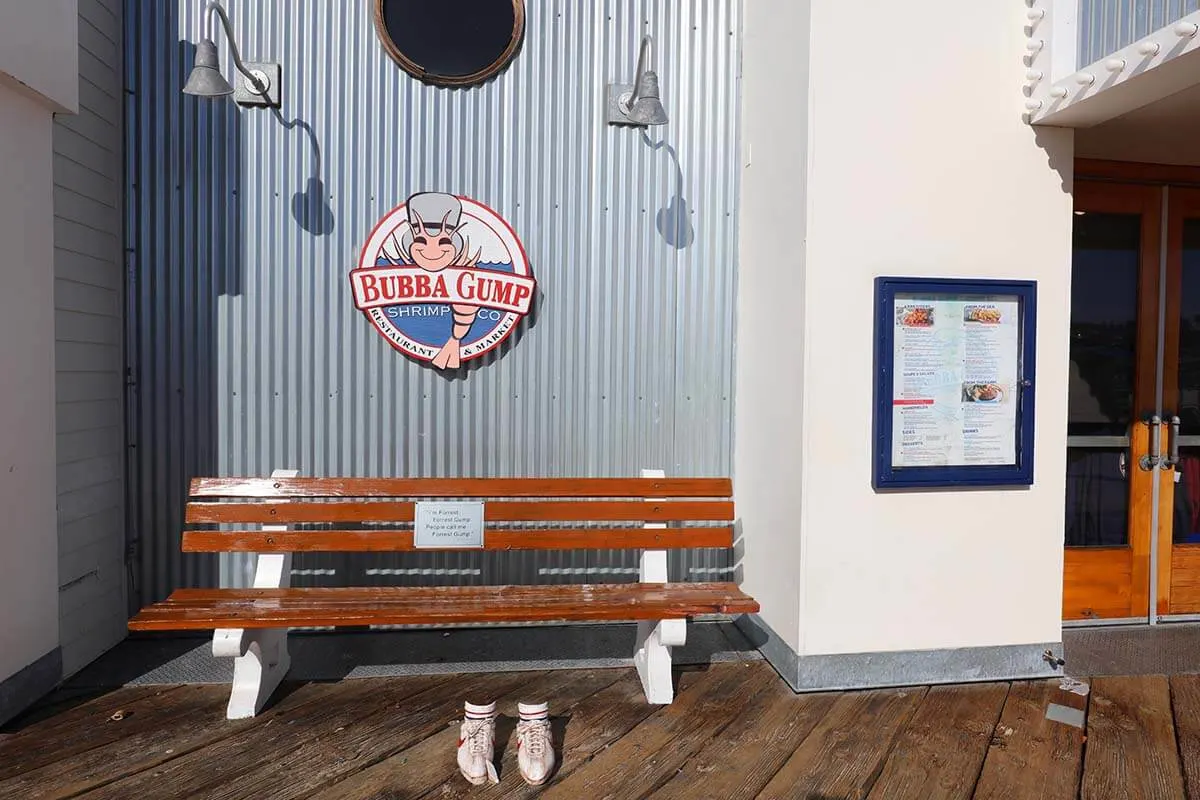 DAY 3
On the third day in LA, we recommend that you visit Universal Studios. The ticket is valid for an entire day, and indeed, you can easily spend the whole day here. Alternatively, you can just do their iconic studio tour in the morning and then visit one of LA's most famous museums in the afternoon. If you are not interested in Universal Studios at all, you can devote the entire day to the museums – see our recommendations below.
Here are some of the places you could visit on the third day in LA:
Universal Studios Hollywood
Universal Studios Hollywood is a working film studio, but also a theme park. The theme park has expanded so much over the years that you would almost forget this is the place where some of the most famous movies are being filmed.
As fun as the rides are, the main reason we highly recommend visiting Universal Studios Hollywood is for their iconic and world-famous studio tour. We have done it in the past, but while the concept of the tour remains the same, it's been enhanced and improved so much in recent years.
The studio tour takes about 1 hour and takes you behind the scenes of a real movie studio. You can see some film sets and experience quite a few really cool features that make you feel like you are in a movie yourself. It's really well done, with intense 3D experiences, exhilarating high-speed chases, and so much more. In addition, check out the WaterWorld, which has been their most popular show for decades (prepare to get very wet!).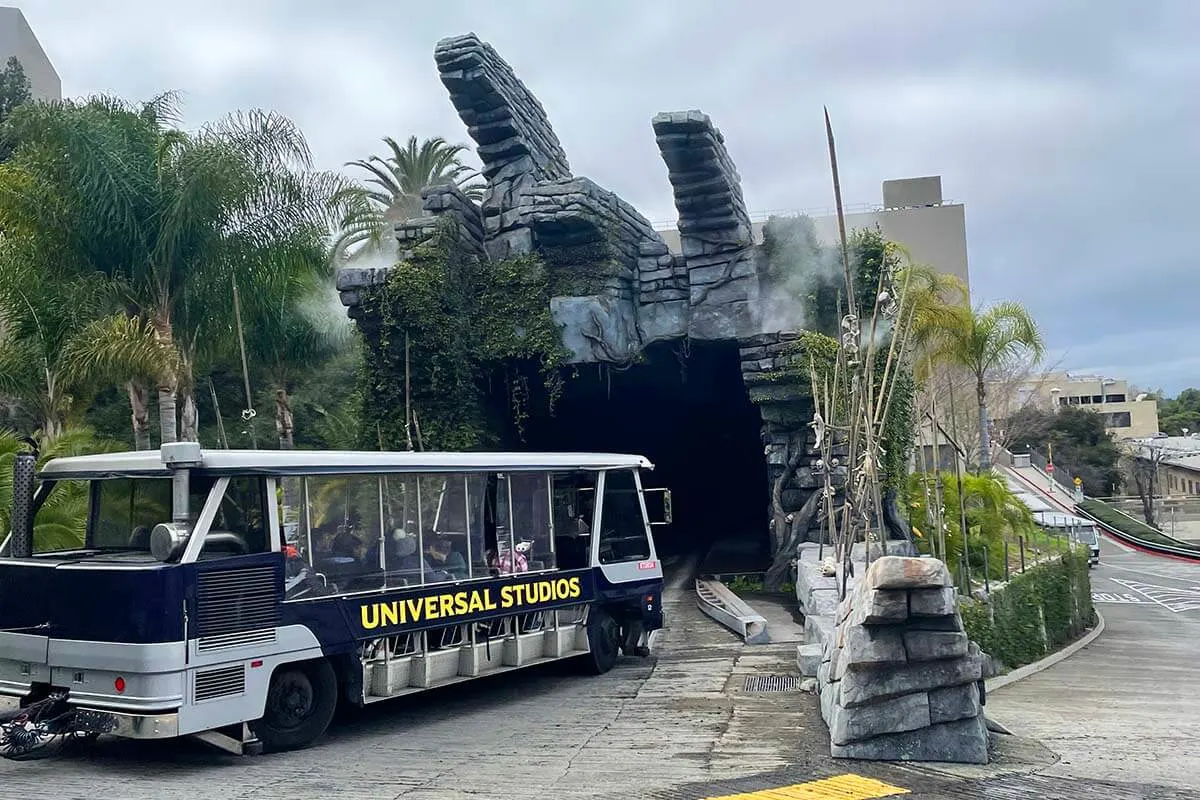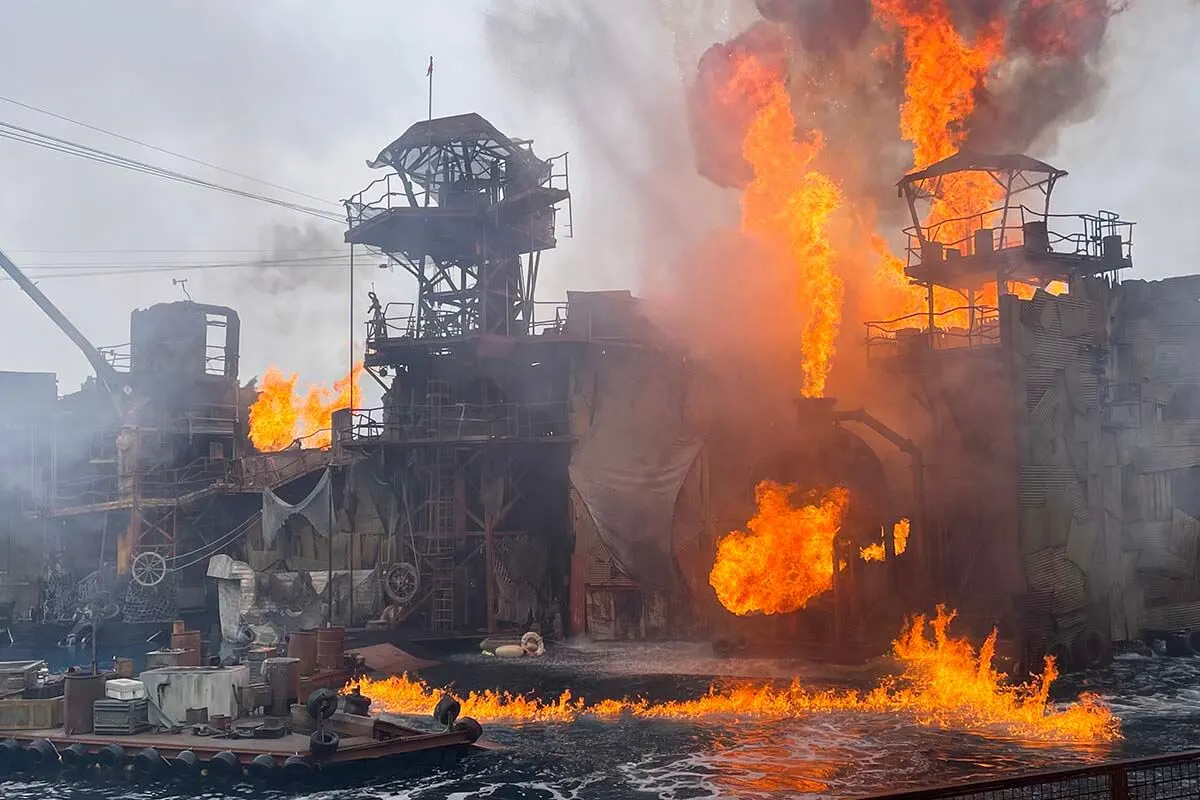 If you decide to spend an entire day here, you won't get bored. There are so many fun things to do at Universal Studios Hollywood and you may want to make the most out of your (not-so-cheap) ticket!
On the other hand, most attractions and rides are similar to what you find at other theme parks too. So if you want to make the most of your three days in LA, in the afternoon, you may want to visit a few other landmarks instead.
TIP: Reserve your tickets for Universal Studios in advance – it will save you a lot of time at the entrance. With an advance booking, you get a ticket with a QR code and can head straight to the entrance. You only have to pass the security line.
We booked our tickets via GetYourGuide and it was so much simpler than the official site which overloads you with so much unnecessary information and choices. Not even to mention that it's easy to cancel or reschedule.
LEARN MORE: Tips for Visiting Universal Studios Hollywood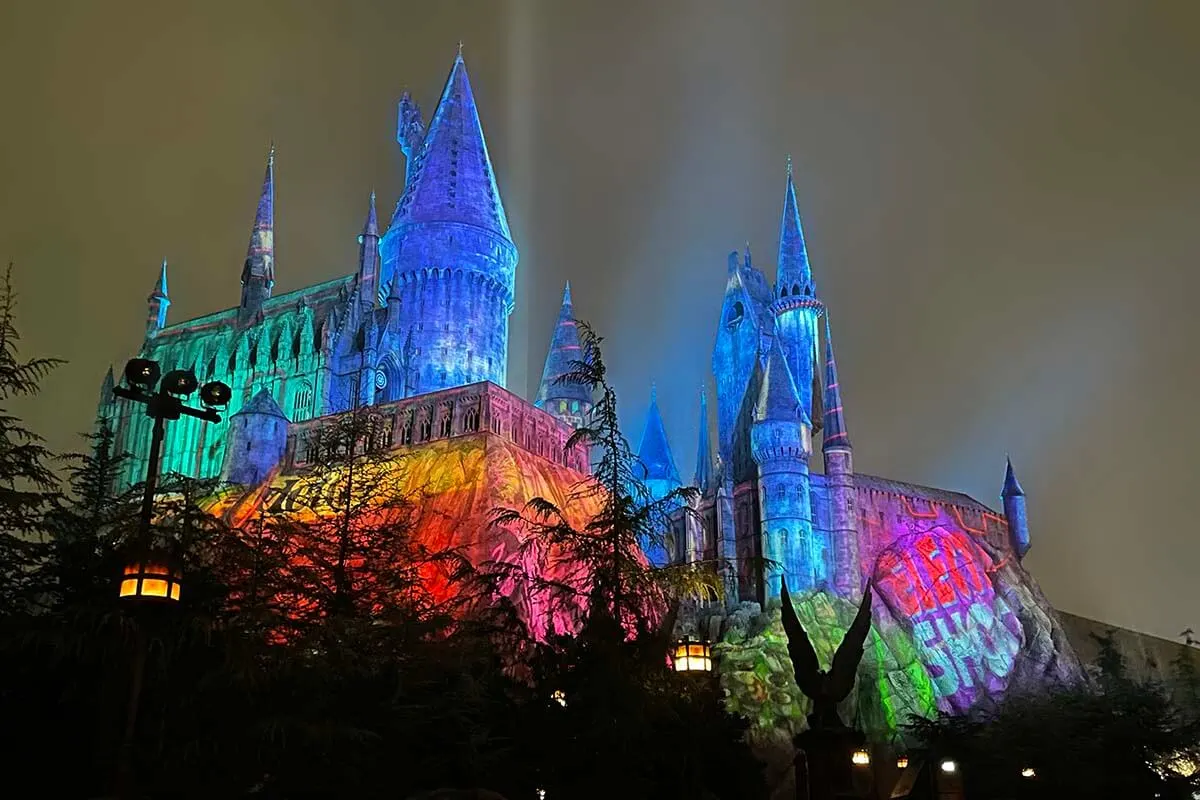 Alternative Suggestions for Day 3 in LA
If you decide to visit Universal Studios for just a few hours, or if you are not interested in the film studios tour at all, you could see one (or both) of the Getty sites on your third day in LA. Alternatively, you can opt to explore the LA downtown area and visit the contemporary art museum The Broad.
If you only have the afternoon free, it's best to choose just one place because on most days these museums close at 5-6 pm. If you have the whole day, you can definitely visit two places. If you would happen to visit on one of the late-opening days, you could even see all three.
Here are some additional suggestions for day 3:
The Getty
The Getty Center is probably the most famous art museum in Los Angeles. Set over six buildings, it features a very impressive art collection from the Middle Ages to the late 19th century.
The permanent collection features works by Leonardo Da Vinci, Edgar Degas, Claude Monet, Bernini, and Rembrandt to mention just a few. In addition, there are temporary exhibitions as well.
Many people visit The Getty not just for the art, but also for the impressive architecture of the Getty Center, its gardens, and stunning panoramic views of the city.
Good to know: The museum is open daily except on Mondays and the entrance is free of charge. However, you have to reserve a timed-entry spot in advance. Plus, you have to pay for the parking. See their website for more info. We indicated the location of the parking on our map (it's the only way to get to the museum if you are coming by car). The parking is located much lower than the museum and there is a 'train' that brings you up the hill.
All in all, you should count at least 3-4 hours for a visit here.
TIP: If you are interested to learn more about the center and the art, you can also book a private guided tour of the museum.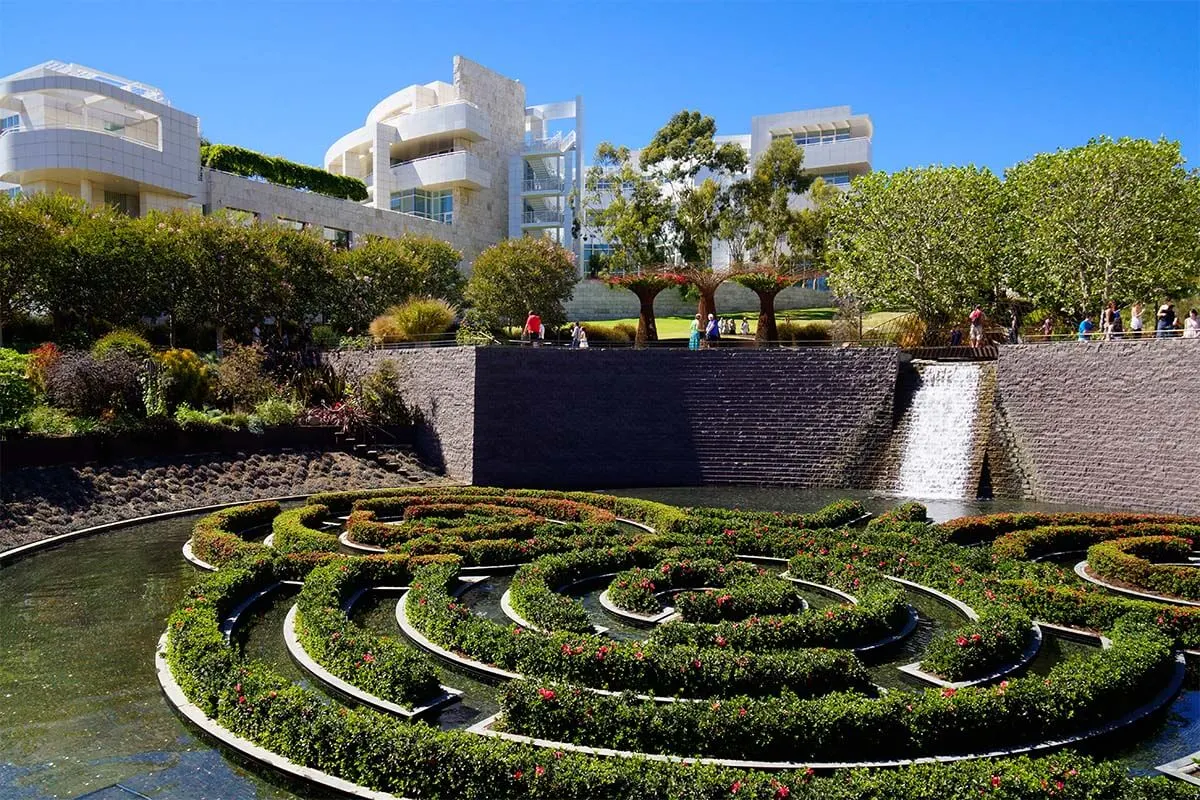 The Getty Villa
The Getty Villa Museum is located close to the coast, about 20-30 minutes drive from the Getty Center. Its architecture was inspired by old Roman villas and the art here is focused on ancient Greek and Roman times.
In addition to the museum, you can also explore the beautiful gardens. A visit here will take you from the hustle and the bustle of LA and transform you into ancient Europe.
If you have never been to Pompeii or Herculaneum in the Naples area in southern Italy, a visit here will give you somewhat of an idea of how a luxury Roman villa would have looked like two thousand years ago.
Good to know: The Getty Villa is open daily except on Tuesdays. Also here, the entrance is free of charge, but you have to reserve timed entry tickets in advance and pay for the parking see here). Also here, you can opt for a guided tour if you'd like to get a better understanding of what this place is about.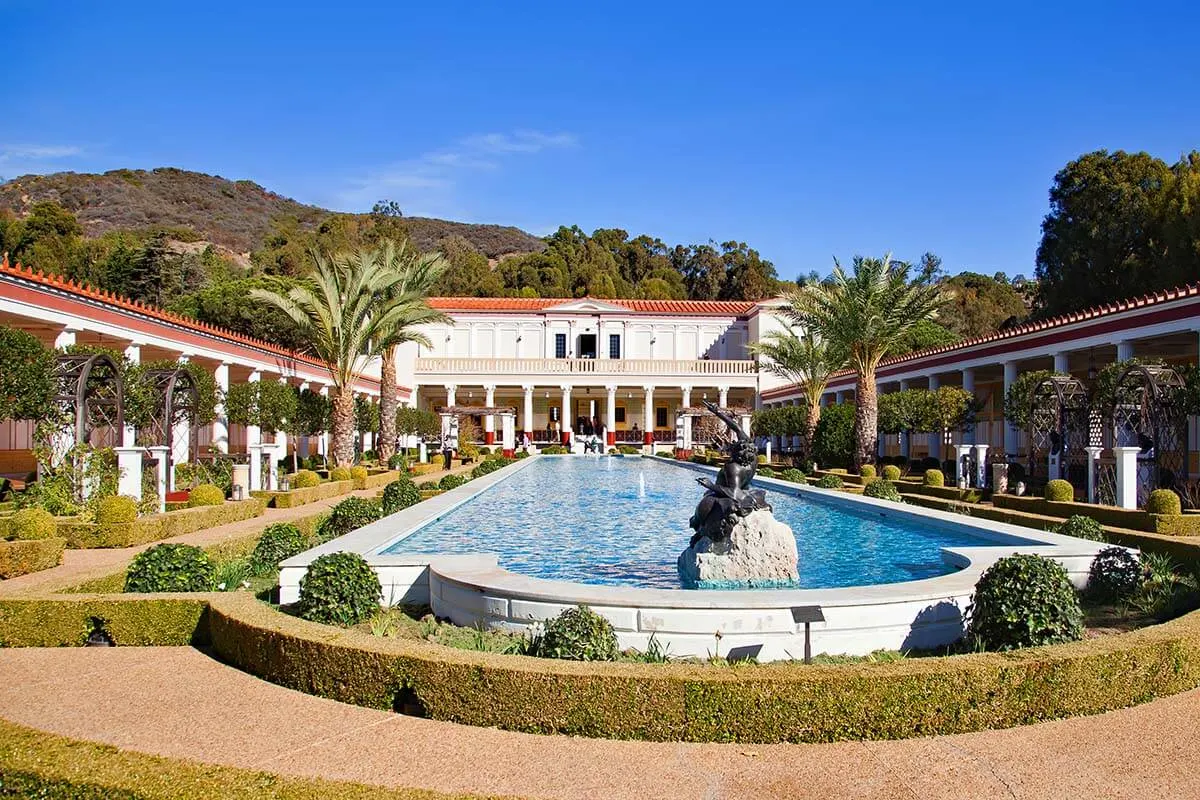 The Broad
The Broad is a modern art museum in Los Angeles downtown. It has rotating exhibitions and when we visited, you could also see one of Yayoi Kusama's famous Infinity Mirror Rooms. We had seen one of these in the Swarovski World in Austria in the past and now also in LA and it remains a really special experience.
But also the other exhibitions at the Broad are really interesting, especially if you like modern art.
Good to know: The regular exhibition at The Broad is free of charge and you don't need to reserve. They have a big underground parking garage and you get a small discount if you validate the ticket inside the museum. The Infinity Mirror Room requires a timed-entry reservation. You can find more info on the website of the museum.
You only need about 1 hour to visit this museum, so – time permitting and depending on your itinerary – you could also explore a bit more of the downtown area. If you have more time in this area, you may want to check out Elysian Park where you'll also find a nice viewpoint overlooking the city.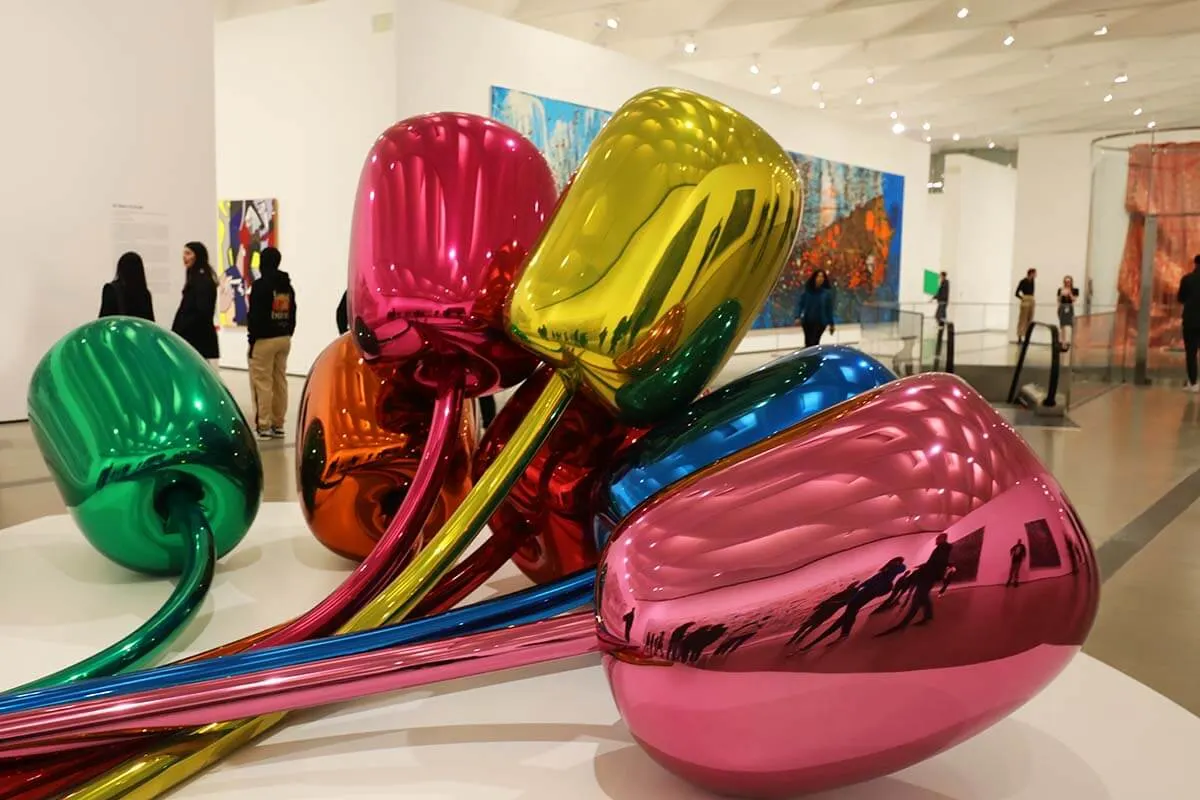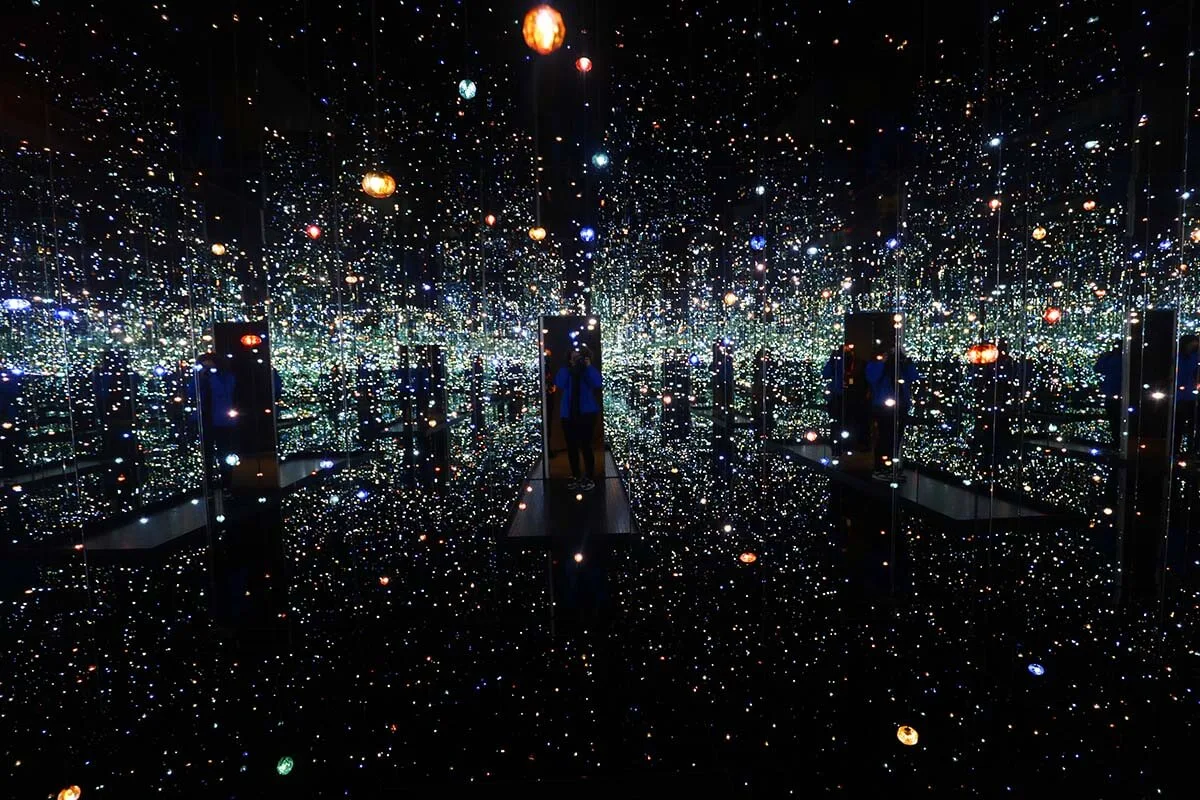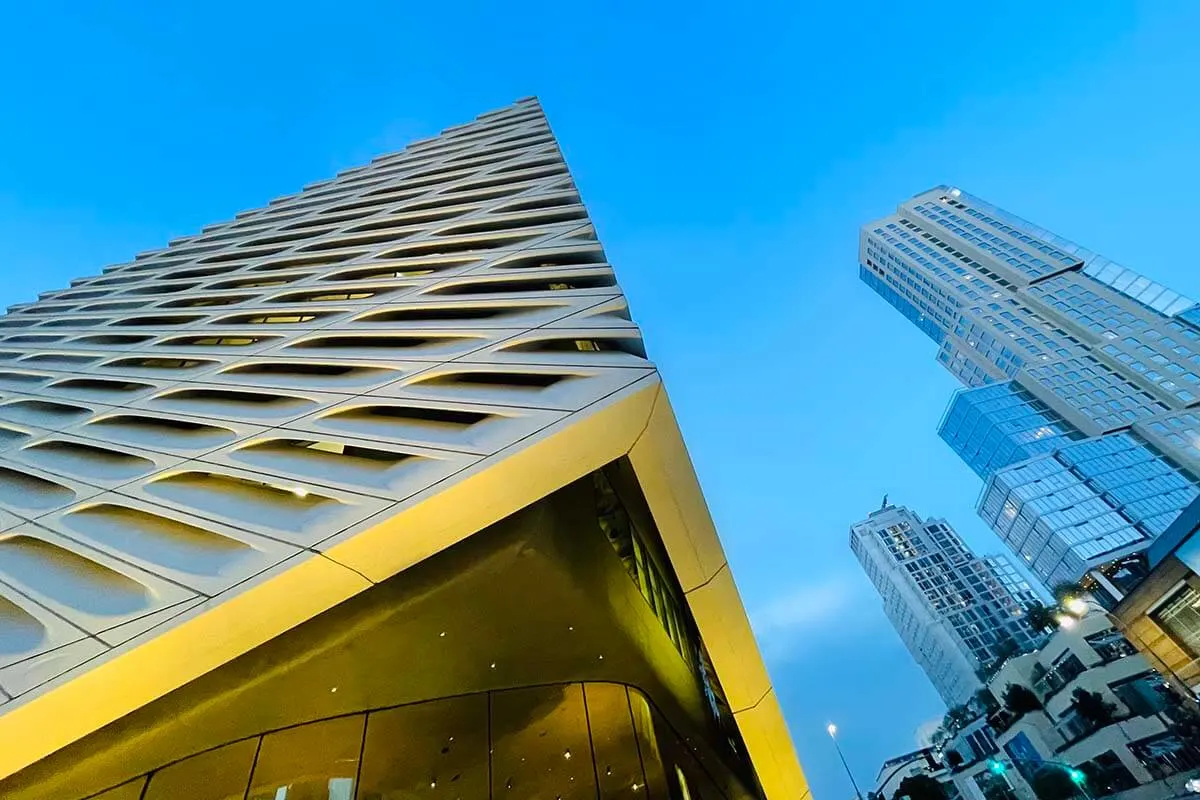 Lunch & Dinner
Depending on what you choose to do, you can have lunch at Universal Studios or at one of the Getty museums. For dinner, it really depends on where you end your day.
We had dinner at Miceli's Italian restaurant in Hollywood. They had live music and the food was quite good, just double-check what you order if you eat here. For some strange reason, some of their pizzas have garlic on them… This is something we never experienced in any Italian restaurant before (and most definitely not in Italy)…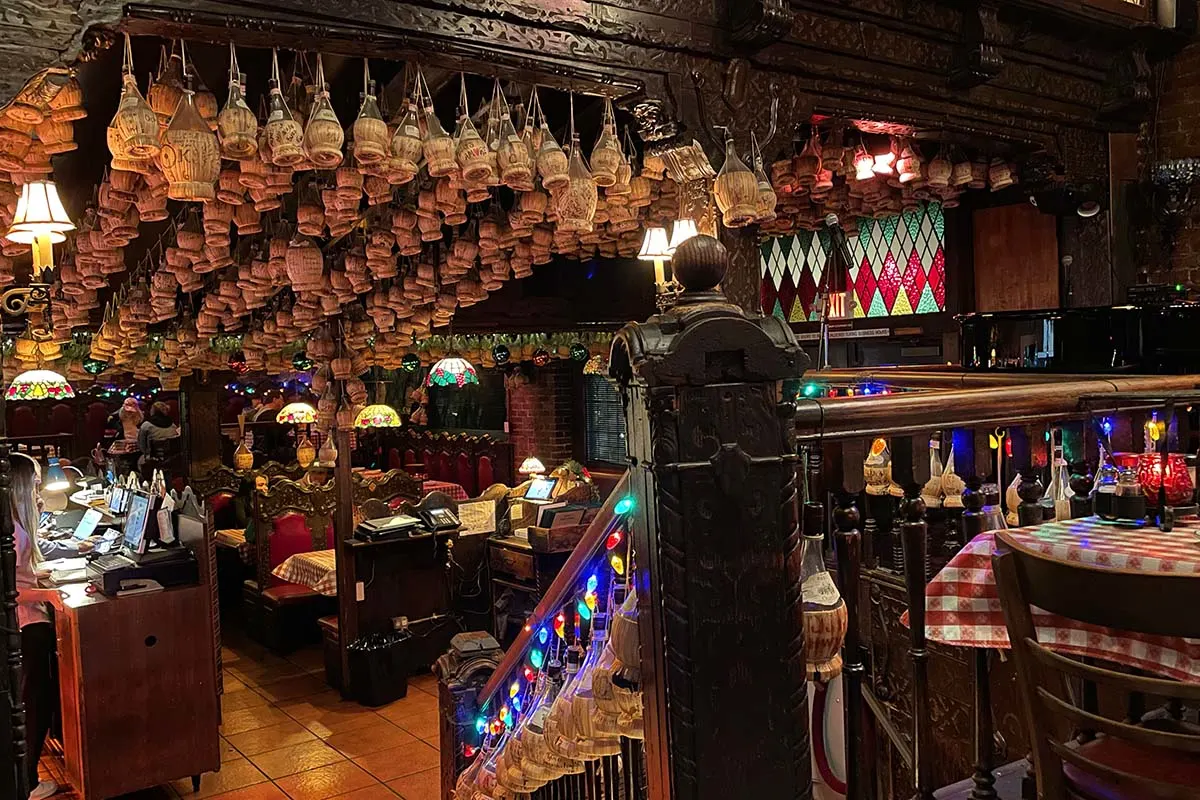 Where to Stay for 3 Days in LA
If you are wondering where to stay for sightseeing in LA, there are countless options. I recommend that you choose a place which is somewhat central to everything you want to see.
We chose to stay in the Hollywood area because it was quite central for most of the places that we visited, easy to reach from the highway, and close to the metro (which we used once – to go to Universal Studios). There are also lots of restaurants in this area. It's not the nicest area of LA, but it's very convenient for sightseeing and offers good price/quality.
Here are some of the best-rated hotels in this area for various budgets:
$$$$$ The Hollywood Roosevelt
$$$$ Loews Hollywood Hotel
$$$ Holiday Inn Hollywood Walk of Fame
$$ Hollywood Celebrity Hotel
$ Orange Drive Hostel
We also considered hotels close to Universal Studios – that area is also very central to most of the sights mentioned in this itinerary.
If you are looking for something a bit more exclusive, you'll find some really nice hotels in Beverly Hills.
So, this is a suggested 3-day Los Angeles itinerary based on our personal experience.
Of course, you can switch the days around, combine several different attractions in a day, and just choose to visit the places that interest you the most. I hope that this gives you an idea of some of the main places to see in LA and how you could cover all these sights in just three days.
Have a great trip!
READ ALSO: San Diego Itinerary (1-3 Days)
If you found this post useful, don't forget to bookmark it and share it with your friends. Are you on Pinterest? Pin these images!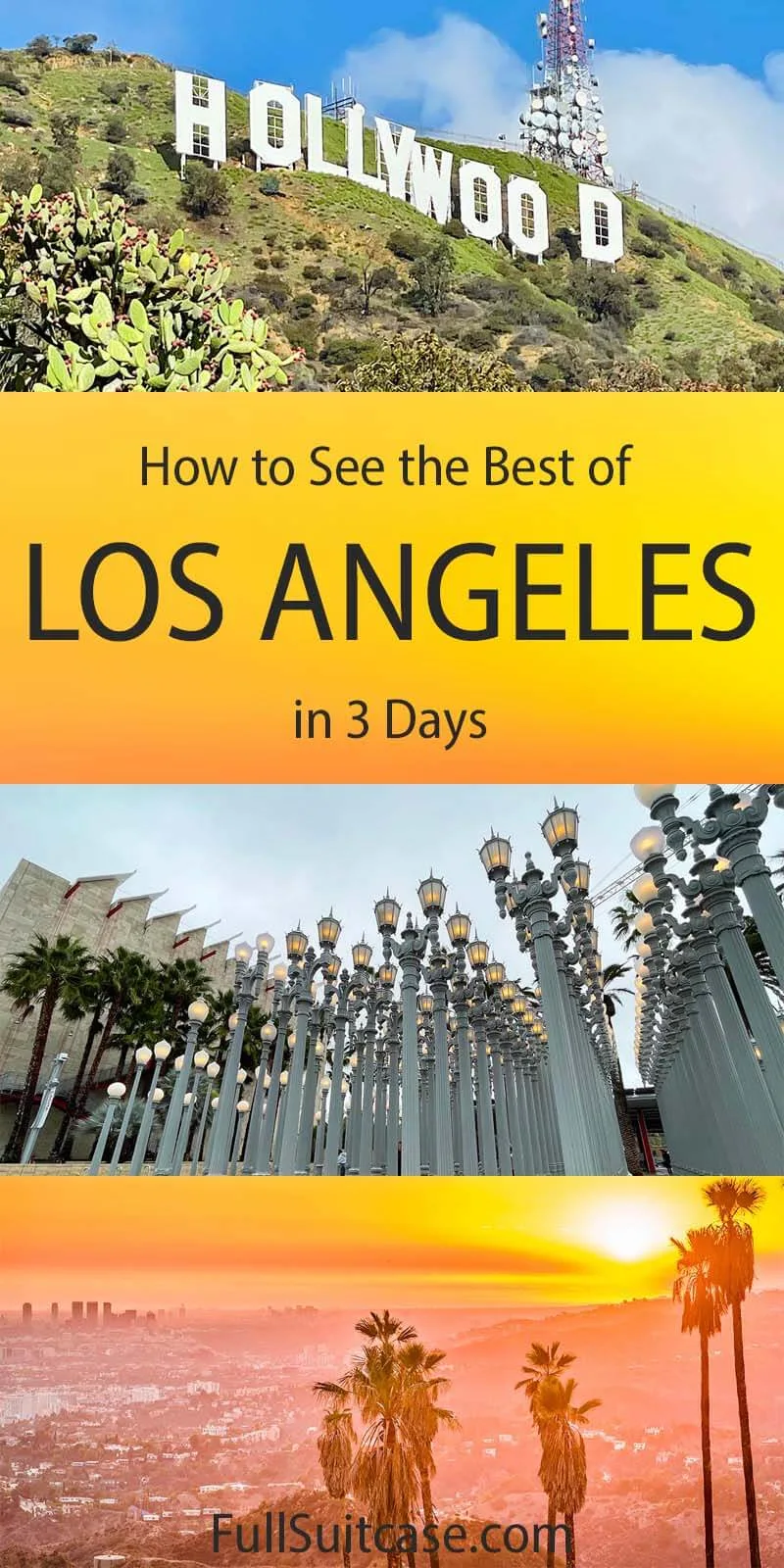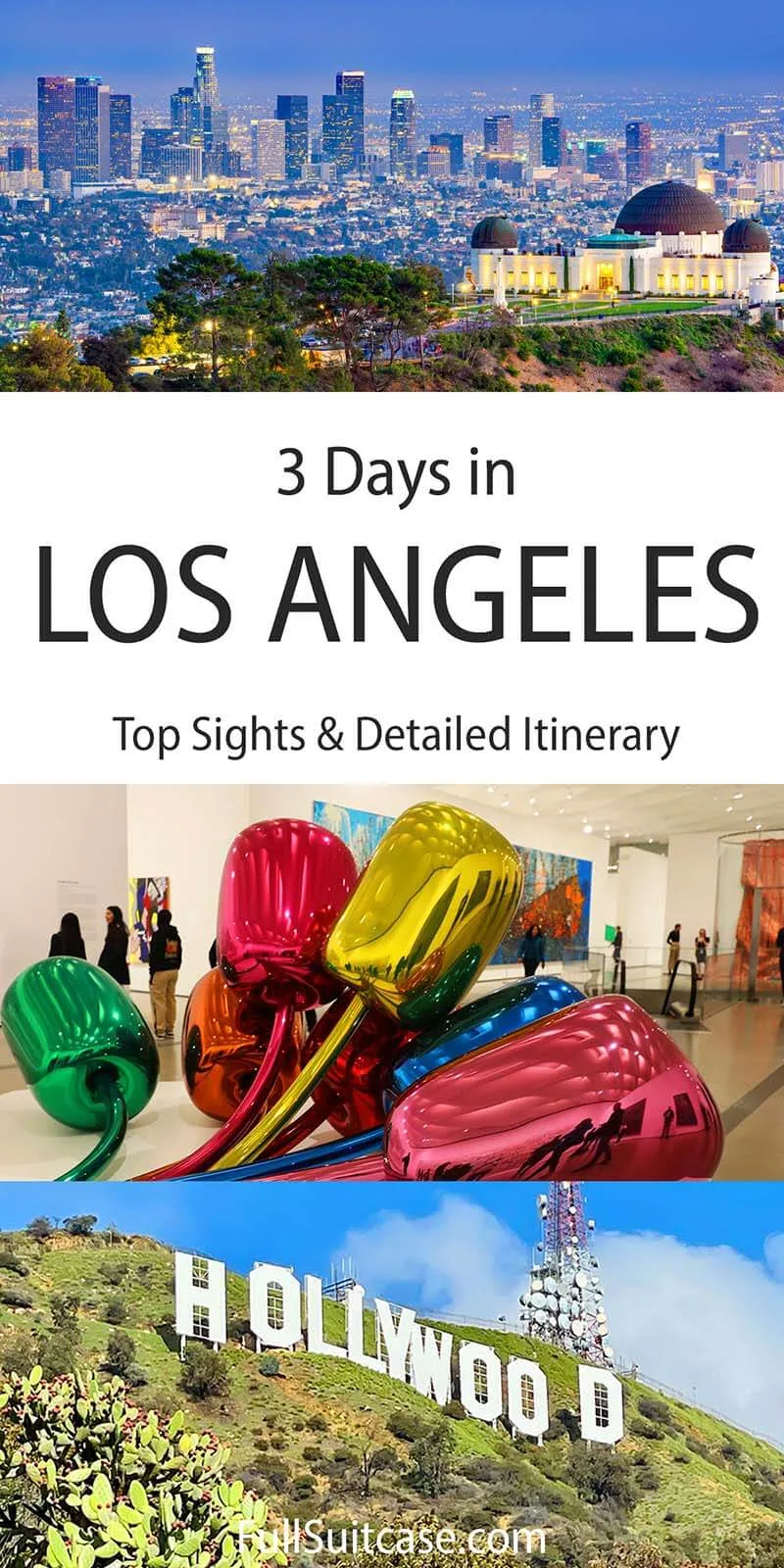 More travel inspiration for the Southwestern USA:
Las Vegas and nearby:
Grand Canyon:
More of Arizona:
Moab, UT:
Zion, UT:
More itineraries for city trips in the USA: