Are you thinking of visiting Grand Canyon, Antelope Canyon, and Horseshoe Bend, but are not sure how to plan a trip? In this article, we share the perfect 2-day itinerary that covers all these bucket-list landmarks and so much more. This itinerary starts and ends in Las Vegas, but you can easily adjust it and start from Grand Canyon. We also include some suggestions for additional places you could visit nearby if you have more time. Find out!
Every traveler visiting American Southwest wants to see the famous Grand Canyon! But Antelope Canyon and the nearby Horseshoe Bend are definitely worth a trip just as much. Unique landscapes, grandiose displays of nature's power, and iconic imagery make these sites absolutely unmissable.
The sights along this 2-day trip rival any other in the United States. And while these natural landmarks are quite far from major cities, Grand Canyon and Antelope Canyon/ Horseshoe Bend are only two hours apart, making it easy to see them all on the same trip.
Below, we have put together one of the most efficient itineraries so see the best of Grand Canyon, Antelope Canyon, and Horseshoe Bend in just two days. We have laid out the perfect loop starting and ending in Las Vegas. This road trip itinerary makes sure that you don't backtrack and also get to see the major attractions at the best time of day.
Need a rental car for your road trip?
We recommend renting your car via the Rental Cars website. You can compare different companies and their offers, and find the best prices for your trip. They have an excellent cancelation policy and you can also get full insurance for a much lower price than at the counter. We personally always use them, also on a recent road trip from Las Vegas.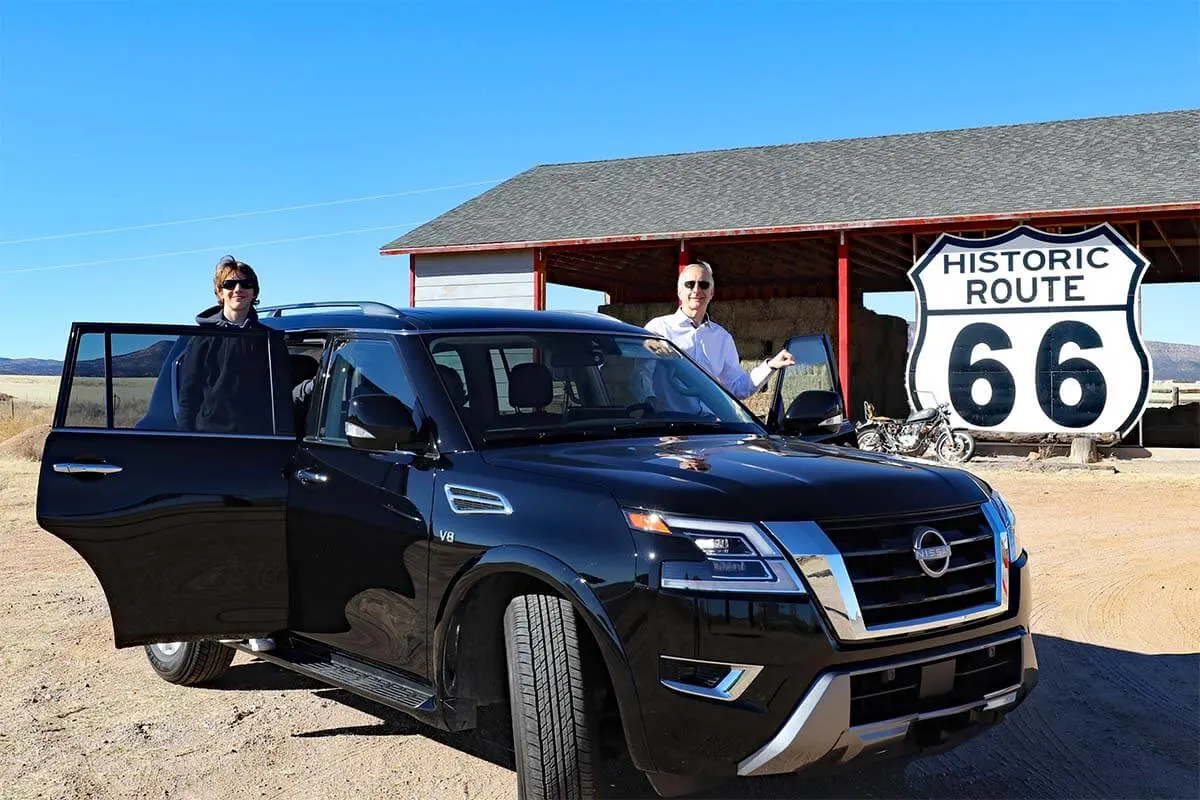 Good to know: This itinerary is designed with the help of Matthew Meier, a local guide from Las Vegas who has led thousands of travelers on tours to Antelope Canyon and the Grand Canyon. In this article, he shares the best Grand Canyon – Horseshoe Bend – Antelope Canyon itinerary that not only brings you to all the must-see places along the way but also includes some hidden gems, his personal recommendations, and insider tips that will help you make the most of your trip.
Using his suggestions, you can easily plan a self-drive road trip visiting the Grand Canyon, Antelope Canyon, Horseshoe Bend, Hoover Dam, and more amazing places in two days.
TIP: Alternatively, if you don't feel like planning everything yourself or driving 13 hours over two days, you can simply book this 2-day tour from Vegas that follows this exact same itinerary and hits all the places listed below.
Or you can book two separate day tours if you prefer not to do it all in one go. In that case, on one day, you could take this day tour to the Grand Canyon, including Hoover Dam & Route 66, then take a day to rest/ explore Vegas, and then go on this popular day tour to the Antelope Canyon/Horseshoe Bend.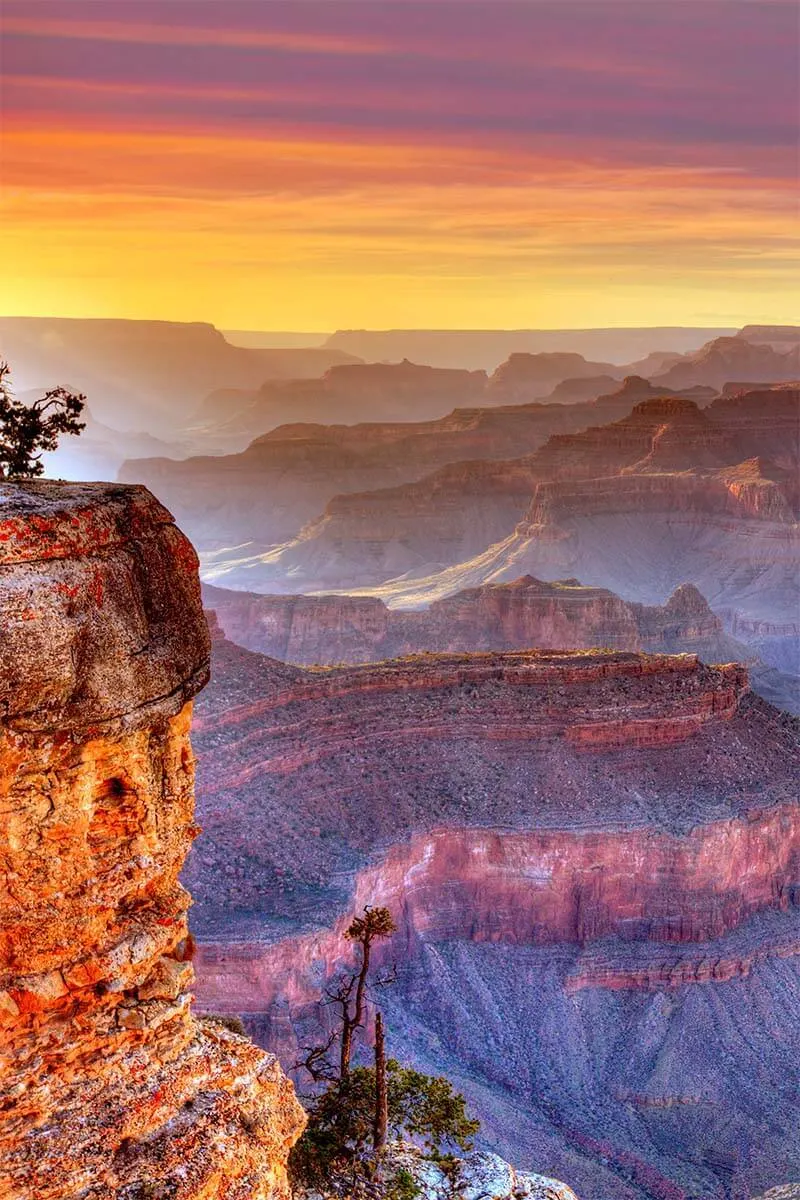 When to go: Weekdays are better than weekends, and spring and fall are better than summer and winter. Our absolute favorite time to visit Grand Canyon, Antelope Canyon, and Horseshoe Bend is in October and early November.
What to wear: Note that the Grand Canyon is almost 8,000 feet of elevation and can get cold in any season (although it's usually hot in summer). Antelope Canyon is in the desert and can get very hot in all seasons apart from winter. It's best to dress in layers so that you can adapt to the situation. Wear comfortable walking shoes, take sun protection, and pack plenty of water.
Good to know: It's essential to book your Antelope Canyon tour in advance so that you can immediately see if it's available for your travel dates. In the peak travel season, these tours usually sell out weeks in advance. So be sure to check availability for Antelope Canyon tours before planning your trip!
PRO TIP: Check the availability for all slot canyon tours in Page and book your Antelope Canyon tour before you book anything else. If there's limited availability, you may have to adjust your itinerary to make it work.
TIP: If the Upper and the Lower Antelope Canyon tickets would be sold out, Antelope Canyon X is a great alternative. You'll find more information about all of these options below.
Grand Canyon – Antelope Canyon 2-day road trip itinerary: overview & map
Day 1:
Las Vegas
Hemenway Park
Hoover Dam
Route 66
Grand Canyon National Park
Day 2:
Lower Antelope Canyon
Horseshoe Bend
Glen Canyon Dam
Lake Powell
Back to Las Vegas (with detour suggestions and tips to extend your trip)
Here you can see the map of this Grand Canyon – Antelope Canyon – Horseshoe Bend itinerary. On this map, we indicated all the places mentioned in this guide (and you can find all the details about each place further below).
How to use this map: Use your computer mouse (or fingers) to zoom in or out. Click on the icons to get more information about each place. Click the arrow on the top left corner for the index. Click the star next to the map's title to add it to your Google Maps account. To view the saved map on your smartphone or PC, open Google Maps, click the menu and go to 'Your Places'/'Maps'. If you want to print the map or see it in a bigger window, click on 'View larger map' in the top right corner.
Day 1: Las Vegas – Hoover Dam – Route 66 – Grand Canyon
Since this itinerary is designed to make the most of the short time, this is a long and exciting day with lots to see. So in order to see it all and not have to rush everywhere, you will need to leave Las Vegas very early. Ideally, you depart from Vegas no later than 6.30 am in the winter, and 7.30 am in the summer.
TIP: You will need a car for this trip, so if you are renting a car, get it the evening before. On the RentalCars website, you can compare different providers and find some of the best deals for car rental. We always book our car rental via this website (at least 2-3 times a year, all over the world) and I can highly recommend it based on our (many) personal experiences.
Here's what your first day would look like:
Welcome to Fabulous Las Vegas Sign
On the way out of town, make a quick stop at the Welcome to Las Vegas sign – one of the must-see attractions in Las Vegas. A photo stop in front of this iconic sign works best in the morning as the sun will be behind you for great lighting and crowds are thin this time of day.
TIP: Grab Coffee and pastries to go at Mothership Coffee Roasters as you pass by on your way to the next stop – see our map for the exact location.
Next stop: Hemenway Park, 27 miles/ 30 minutes drive.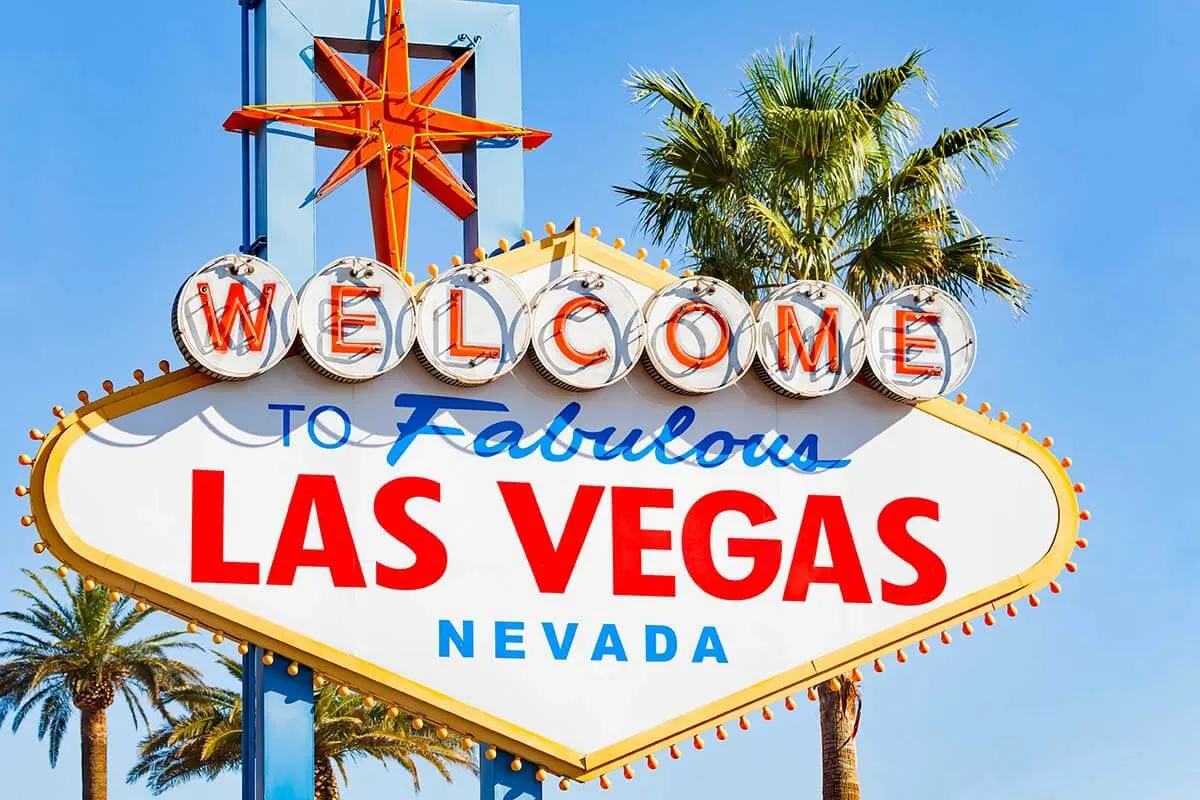 Hemenway Park
Hemenway Park is a beautiful small park with nice views and – often – wildlife. It's a hidden gem and just 1 minute off of the main road on the way to the Hoover Dam, so be sure to check it out.
This is a great place to spot bighorn sheep and take in views of Lake Mead. The bighorn sheep are part of a herd that hangs out at the park, particularly in the hotter months. They are wild animals but are used to seeing lots of people in the park, so you can usually get quite close to them for a photo.
Next stop: Hoover Dam, 6 miles/ 10-15 minutes.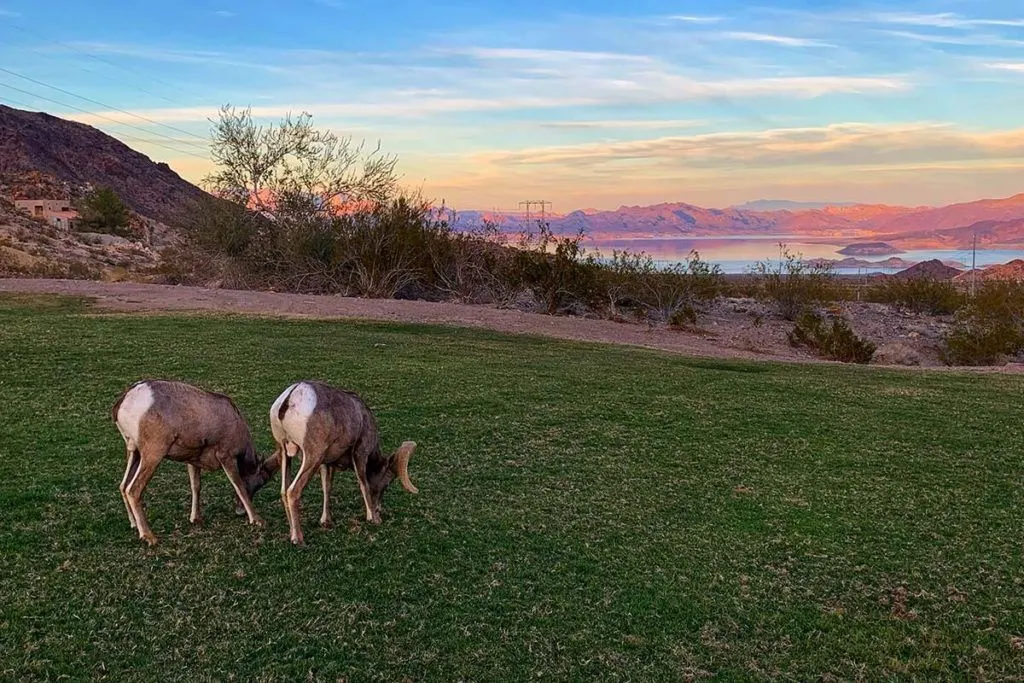 Hoover Dam
The Hoover Dam is a modern engineering marvel in the middle of a ruggedly beautiful canyon. Along with the fantastic views of Lake Mead, this stop is a must on any road trip to the Grand Canyon.
There is a lot to see at the Hoover Dam, but with limited time, these are my recommended stops that will get you great photos and a personal sense of the size of the dam. Plus, it's free!
After passing through security, you will see a parking lot on your right for the Mike O'Callaghan Memorial Bridge. A 5-minute walk up the ramps will lead you to the top of the second-highest bridge in the United States with sweeping views of the Hoover Dam and Colorado River below. This is the best place to take in the immense size of the dam and get a full photo of the face of the Hoover Dam.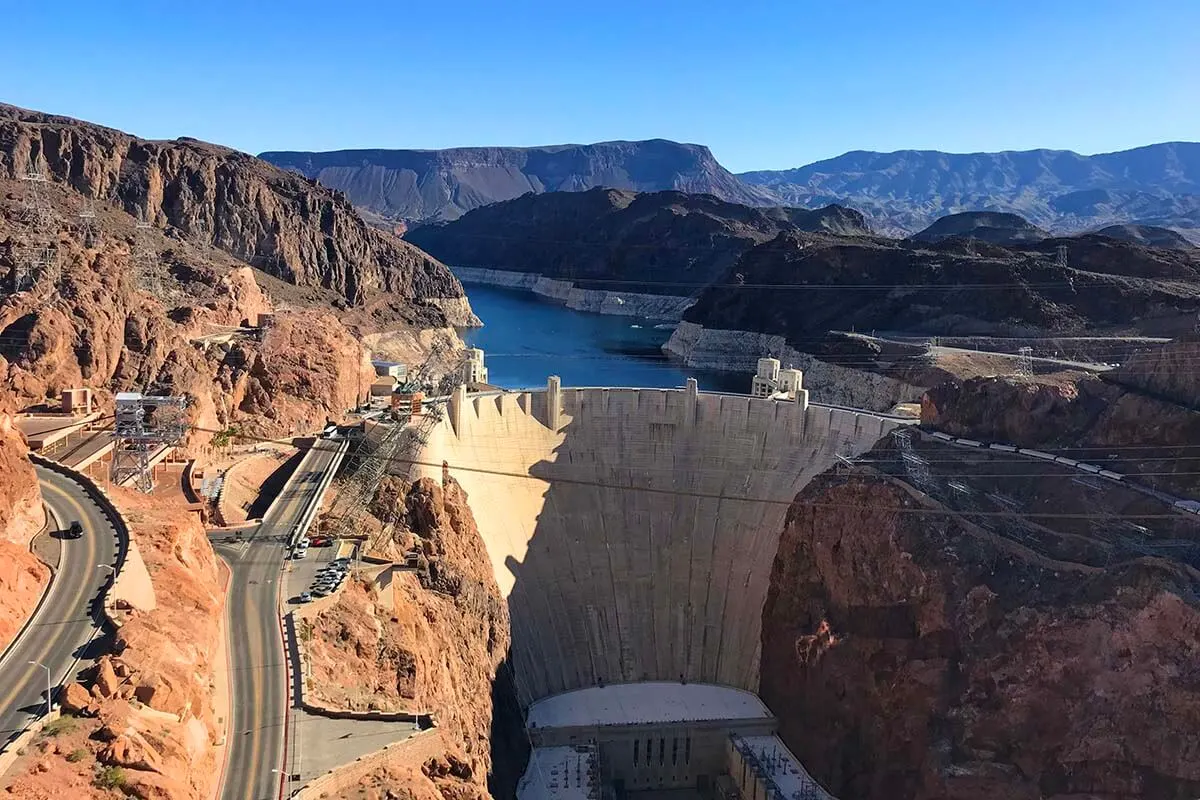 After this photo stop, drive down the Hoover Dam access road, cross the Hoover Dam, then park at the first parking lot on the right side, Parking Lot 10. Parking area 9 is on the left and a bit closer, but charges a $10 parking fee. We recommend Parking Lot 10.
From here, walk back down the way you came, and walk across the Hoover Dam, going down one side and back another. On the left side with the Colorado River, make sure to check out the face of the Dam.
On the opposite side of Lake Mead, see the plaque halfway across the dam for a chance to stand in Nevada and Arizona at the same time!
Next stop: Route 66, 2 hours drive.
Pit stop: Kingman AZ for cheap gas.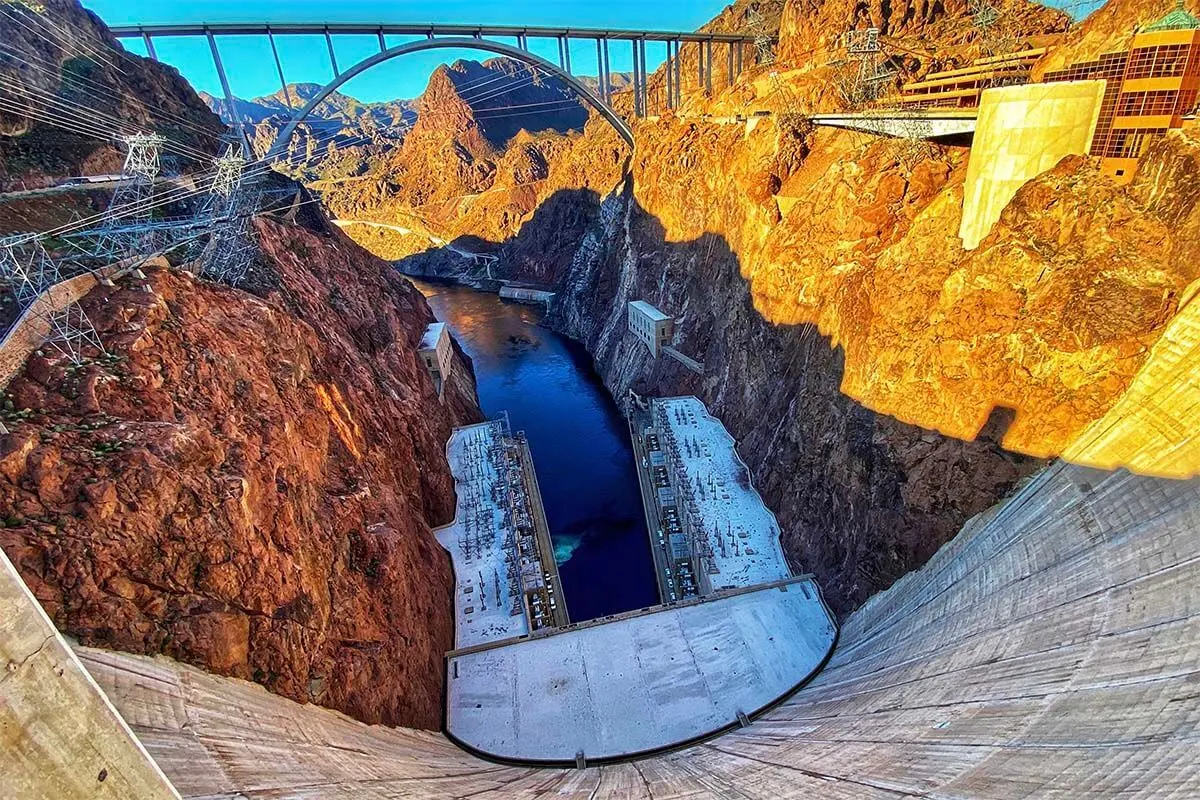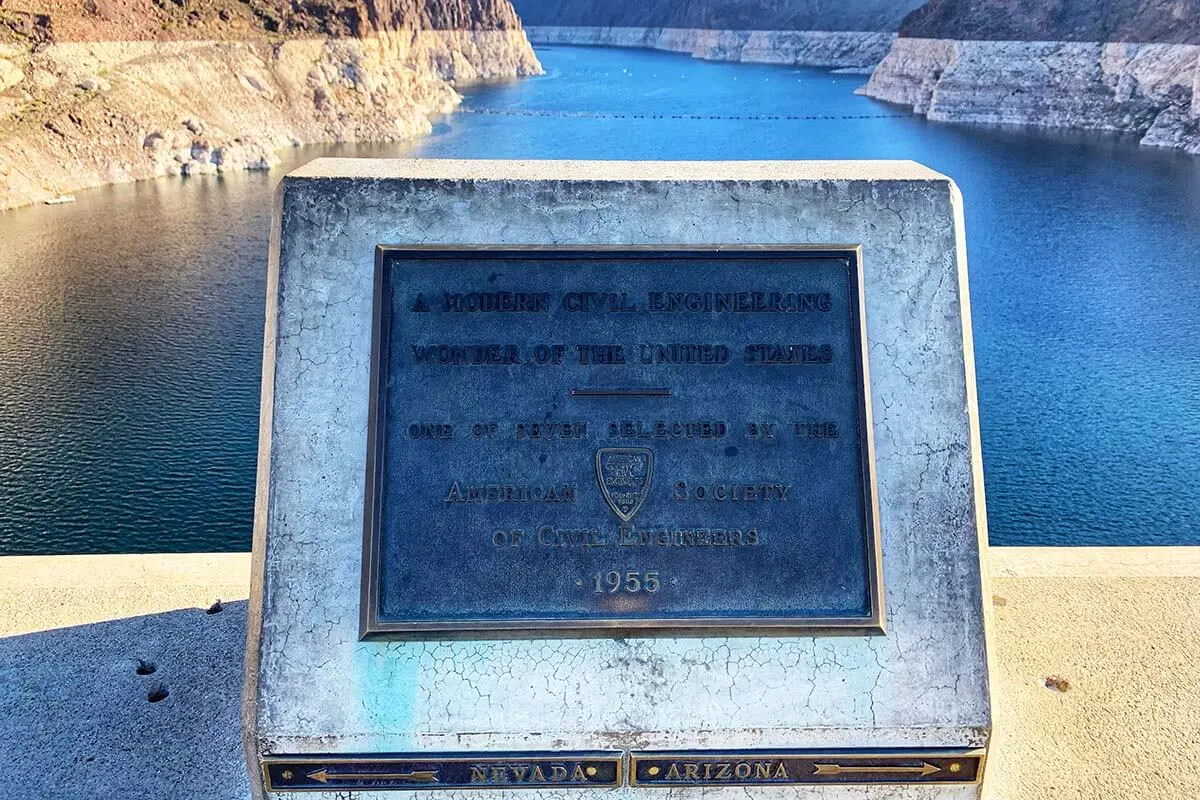 Route 66
Route 66 is an iconic road that used to run from Los Angeles to Chicago. There are three main stops along Route 66 that we recommend checking out on your way from Las Vegas to Grand Canyon: Seligman, AZ, the historic section of highway, and Williams, AZ. See below for more info on each of these places.
Seligman, AZ
Seligman is a small town along the original Route 66 line that has preserved a lot of its buildings and culture, making it an ideal place to stop and see what Route 66 used to look like. It's also a nice place to take some outstanding photos!
You can park in front of or nearby the Copper Cart, an old gas station turned gift shop. It has the greatest variety of photo opportunities. Often you will see a real-life cowboy fully equipped with a couple of horses, cowboy hats, and 1870s Winchester rifles that you can use as props for your own epic photo. This service is free, but tips are appreciated and go toward hay for the horses.
Across the street from the Copper Cart is a colorful Seligman sign that will make any social media feed pop. There are dozens of great opportunities for photos in Seligman! However, try not to spend more than 40 minutes exploring this small town because you have to save time for the day's highlight – The Grand Canyon.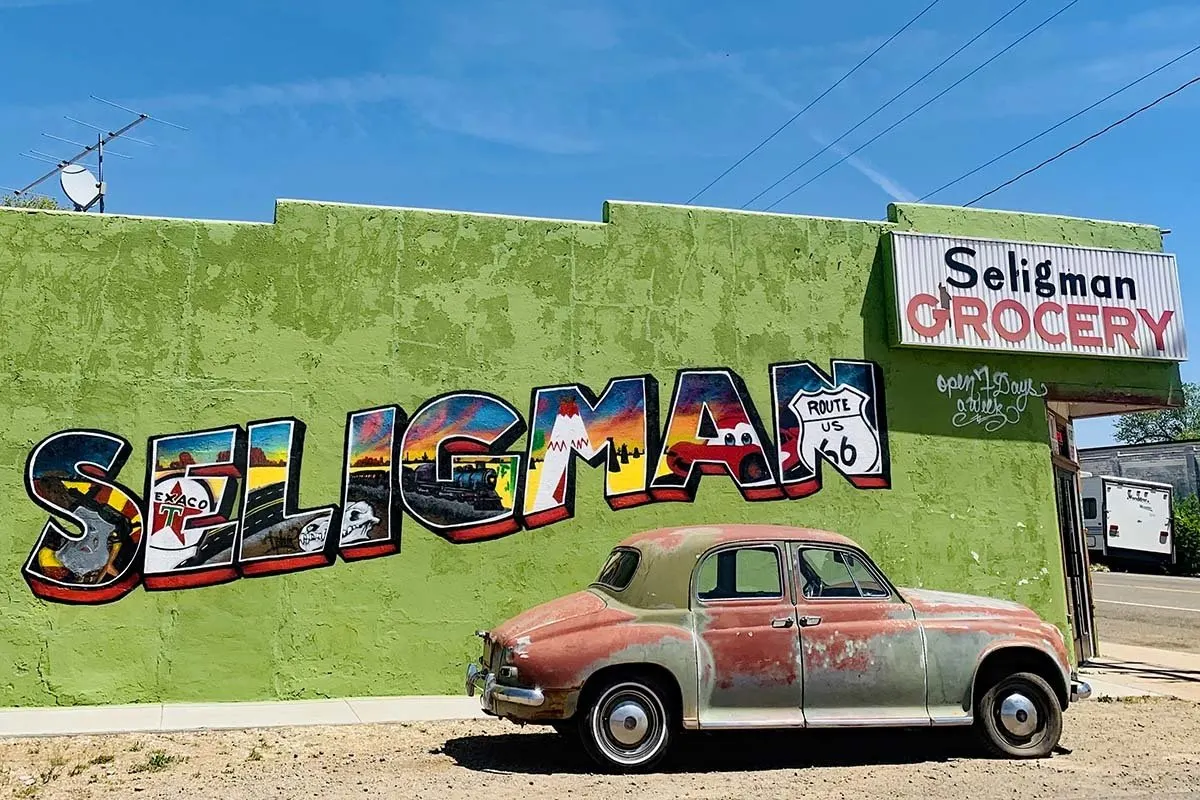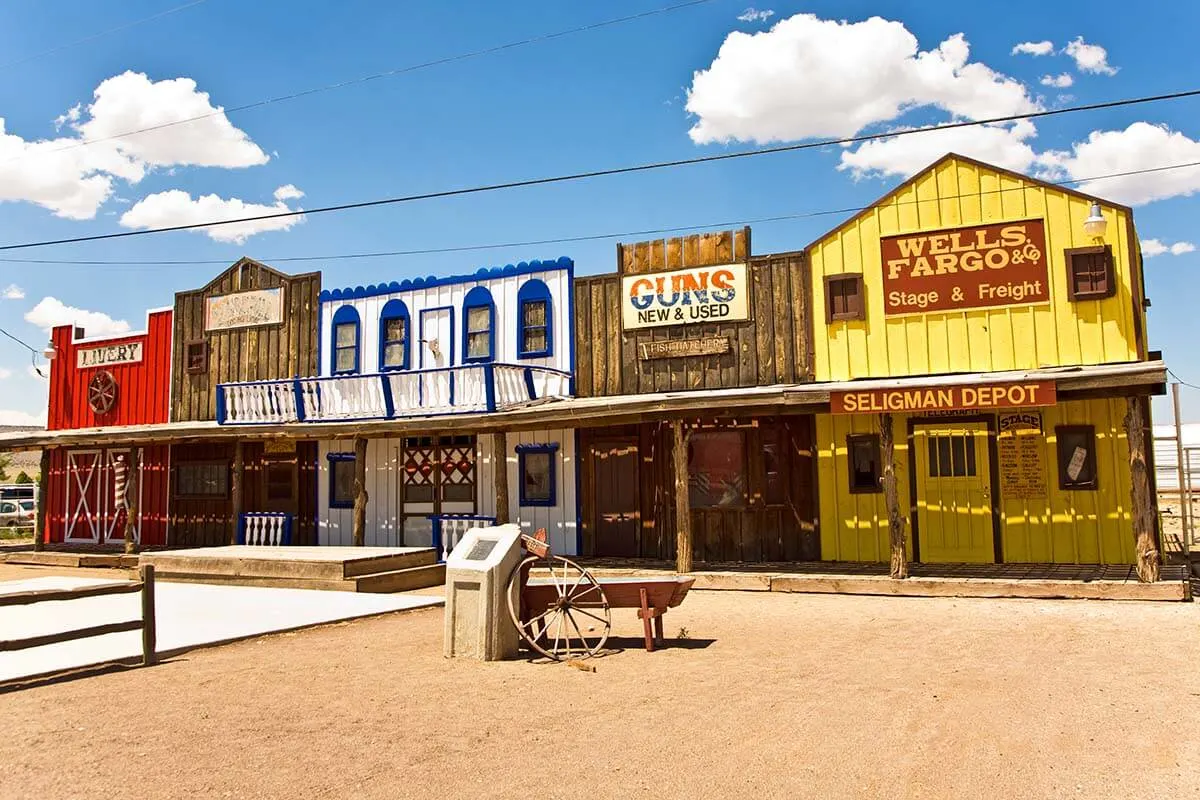 Historic Route 66
From Seligman, you can get back on Interstate Hwy 40 and get going towards Grand Canyon… or you can spend a few extra minutes and cruise down the original Route 66. I always recommend a short detour on this historic section of the highway! It's not going to take you much longer than following the Interstate and can say you've driven on Route 66! 🙂
Just one minute down the road from the Copper Cart, you will see the turn-off to stay on Route 66 – see the picture below. Take a right here and stay on Route 66 for 20 minutes until it merges back with Interstate 40 East.
Next stop: Williams, AZ, 40 miles/ 45 minutes from Seligman.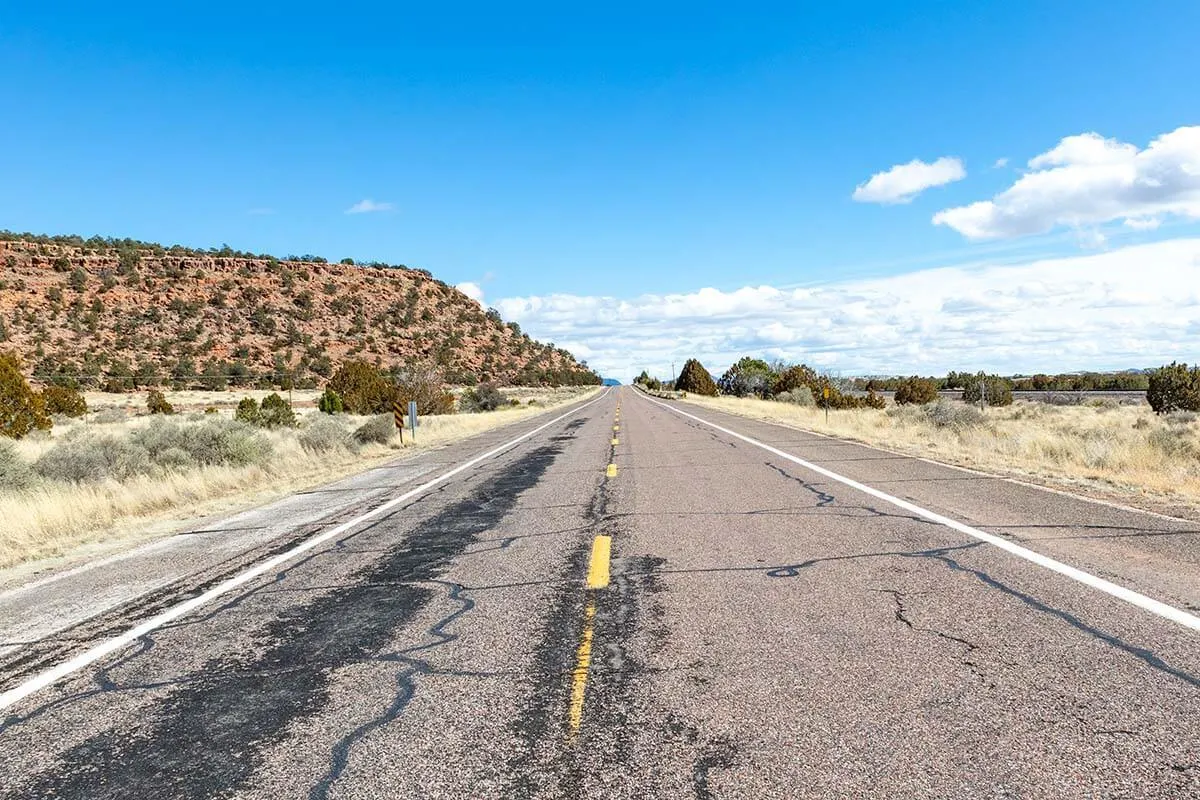 Williams, AZ
Williams is another small town along Route 66. Williams stands out for its excellent dining options. It makes a perfect place to grab lunch and get a few more classic Route 66 photos. Our top choice for lunch is Red Raven, a classic American restaurant that serves great food at fair prices.
TIP: Williams has the only chance to get a photo with the Route 66 sign painted on the road in this region! So if you want to take a picture like that, make a quick stop on the way in or out of Williams to get your shot. Just be careful and keep an eye out for traffic if taking pictures on the road!
Next stop: Grand Canyon National Park, 60 miles/ 1 hour.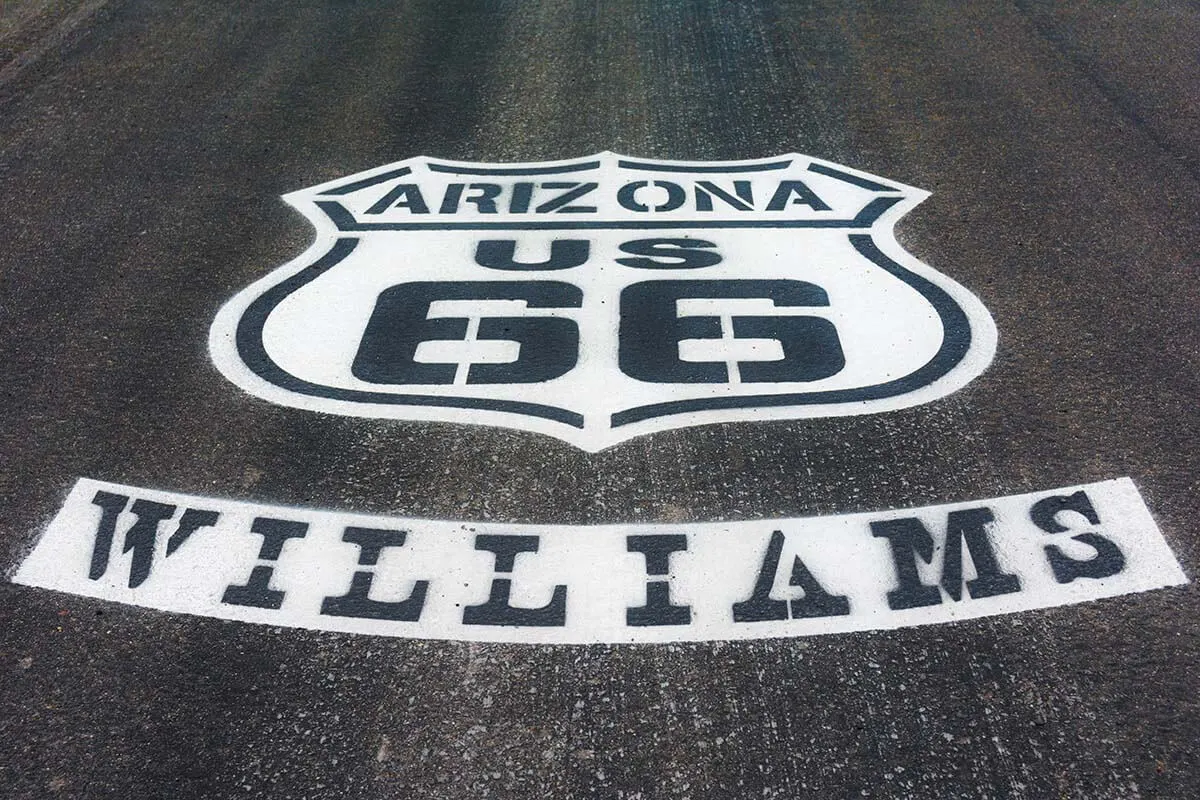 Grand Canyon National Park
Grand Canyon National Park is enormous, spread out over 1,900 square miles (4,926 km²). There are three main rims that you can visit and you could spend several days just exploring the canyon… However, following this itinerary, you'll only have half a day here. No worries – you can still see some of the best scenery of the Grand Canyon!
The most popular place to visit at the Grand Canyon (and the one we recommend for this itinerary) is the South Rim of the Grand Canyon. Here, you have easy access to some of the very best viewpoints over the majestic scenery. You'll need to pay the National Park entrance fee (about $35 per car), or you use your annual National Parks Pass if you have it.
If you have been staying on schedule, you should be arriving at the Grand Canyon in the afternoon, giving you great light for photos and setting yourself up for a memorable sunset over the Grand Canyon.
TIP: To help avoid crowds AND get the best views, here are the best stops along the South Rim that you should hit, in this order: Yavapai Point, Grandview Point, Moran Point, and Lipan Point. See below for more information about each of these stops and why we recommend them over the others.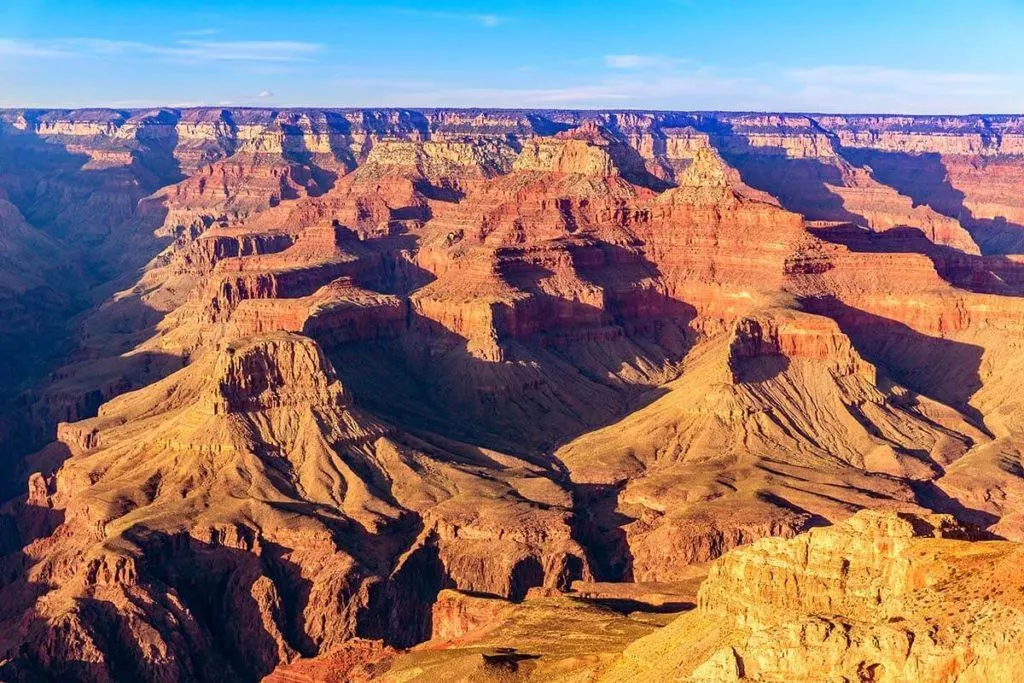 Yavapai Point
Yavapai point has arguably the best views of the entire park. It is a great alternative to the more popular Mather Point just up the road. Mather Point does have a visitor center, but it is also the most crowded of all viewpoints at the Grand Canyon. Parking there can be a nightmare. Yavapai Point, on the other hand, almost always has available parking spaces.
You could also walk to Mather Point from Yavapai, but it's about 1 mile/ 20 minutes each way, and might be hard to squeeze it in with limited time. Or you could check out the parking lot there as you drive by after leaving Yavapai and stop for a quick visit if you can find a spot for your car (this will be easier in low season).
Anyway, back to the Yavapai Point. There are 3 things you MUST see here:
1. Yavapai Geology Museum
We prefer this museum over the visitors center. Not only does it have impressive displays and information about the creation of the Grand Canyon, but it also offers magnificent views of the canyon, as well.
They chose this spot for the museum because it is the best place to see the layers and colors in the Canyon. As a bonus, on freezing, hot, snowy, or windy days, this is a great place to escape the weather and still enjoy some views of the Grand Canyon.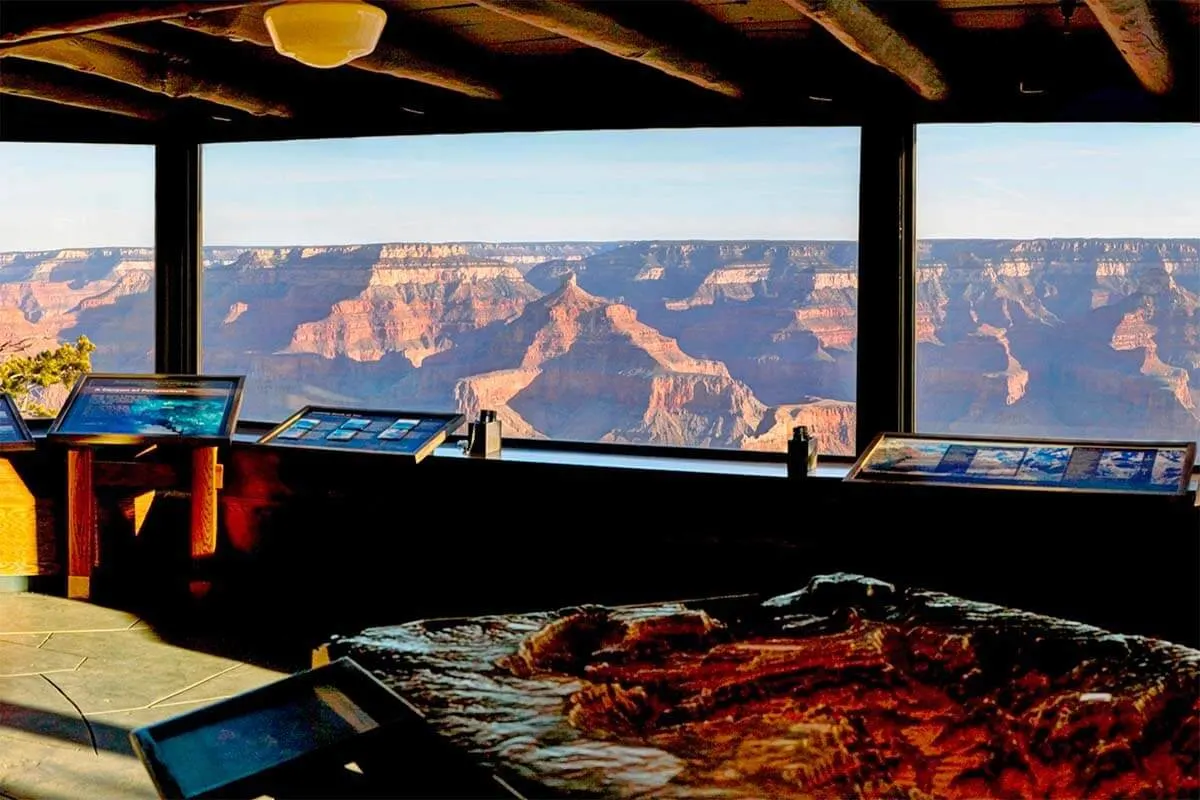 2. Wide-open canyon views
This hidden gem does not have an official name. From the museum with the Canyon on your right, walk along the rim trail for 3 minutes, until you see a small trail on your right leading out to an open rock. This viewpoint has the best unobstructed view of the Grand Canyon at the South Rim.
While we don't recommend this if you are scared of heights, this is also the best place to get a photo with your feet dangling over the Grand Canyon. If you want this type of photo, only do it via the "sit and scoot" method. Sit down 5 feet away from the edge, scoot out, get your shots, then scoot back 5 feet and stand up. Or simply enjoy the views and take some nice pictures of the Grand Canyon without putting yourself at risk!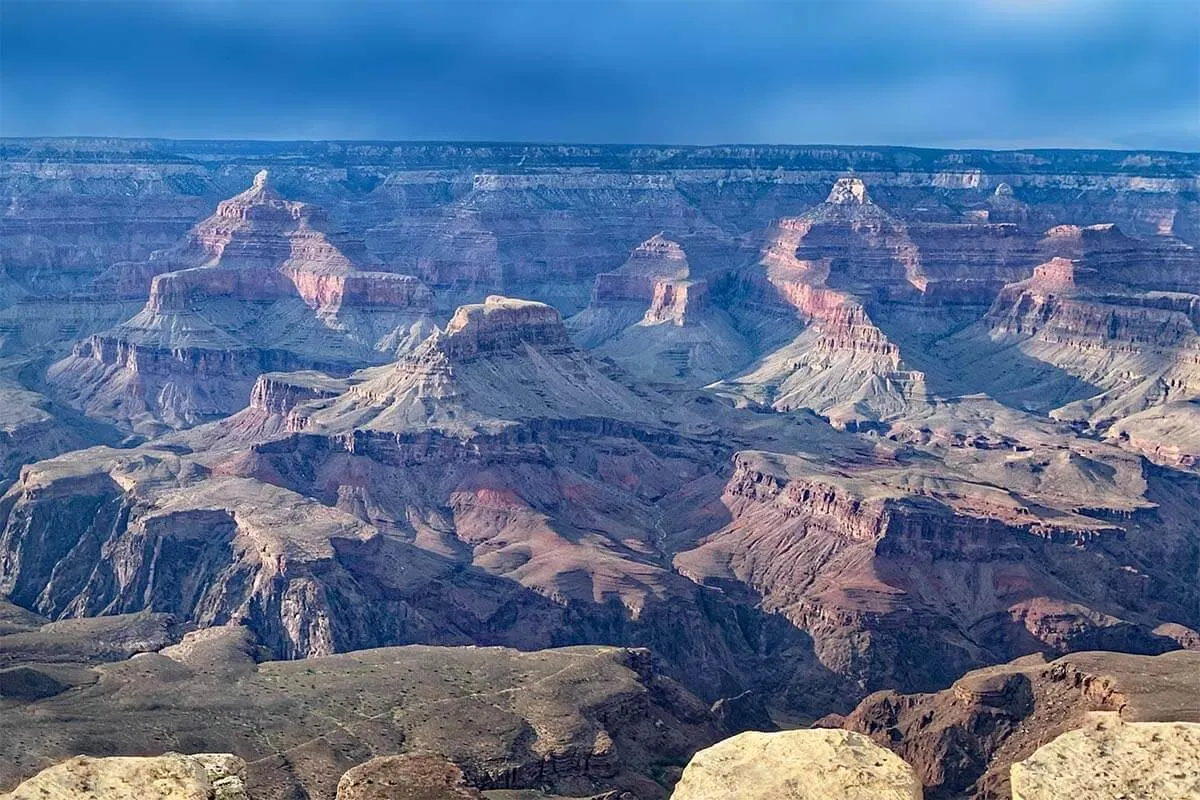 3. Yavapai Point
Leaving the Museum with the canyon on your left, one minute down the Rim Trail, there is a set of stairs leading down to Yavapai Point. This overlook has a sturdy guardrail, making it a good chance for those with a fear of heights to get a close-up look at the edge of the Grand Canyon.
Leaving Yavapai Point, you will want to drive east on Highway 64 heading towards Desert View. As you drive, keep an eye out the left side of your car for views of the Grand Canyon, and out the right side for deer and elk.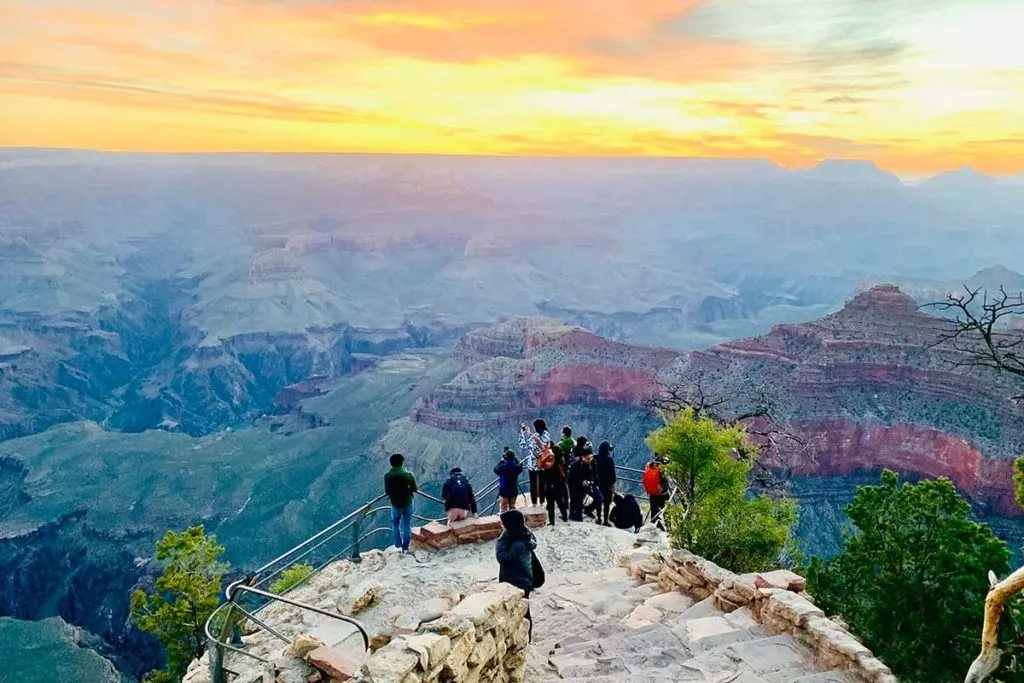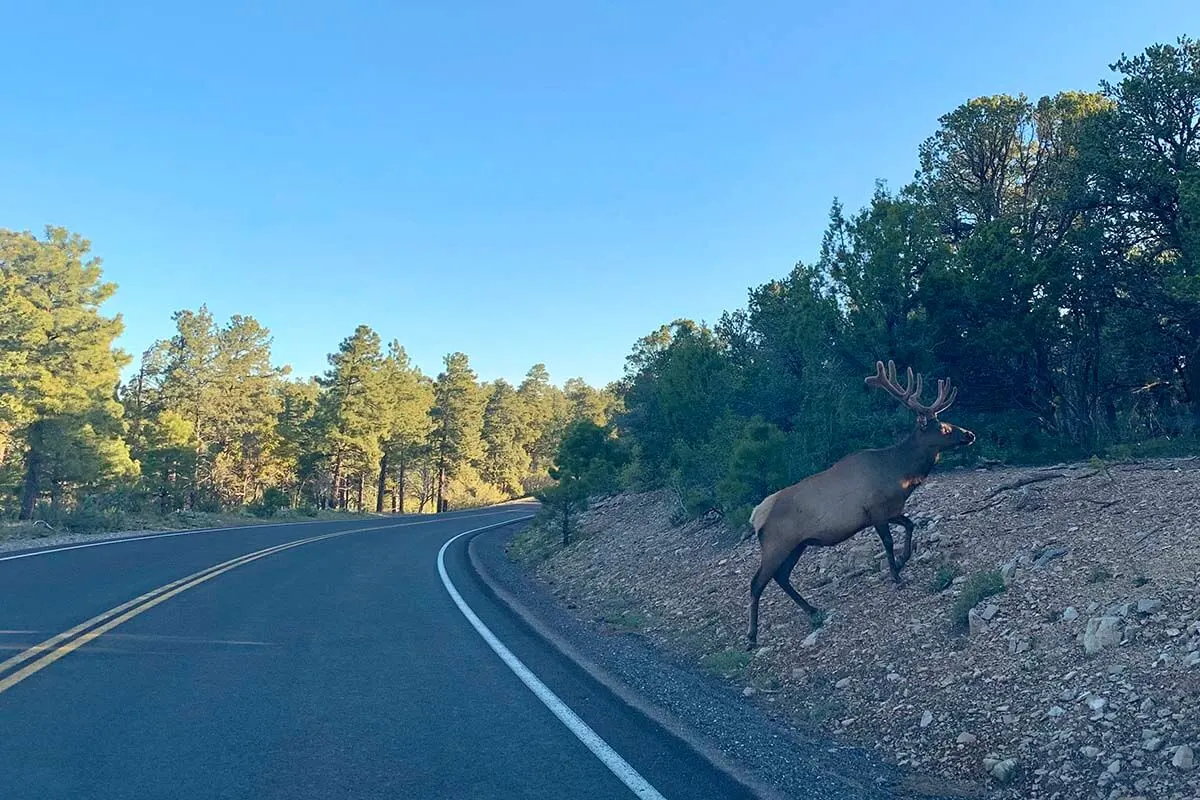 Here are more viewpoints that you will not want to miss along the road:
Grandview Point
Grandview Point is the first major stop along Highway 64 towards Desert View. Along with a nice view of the Grand Canyon, there are a couple of things to see here. The first is a "secret spot".
To get there, find the very first parking spot in the lot, and to the right of it, there is a small trail. Follow that trail out and stay to the right. This will take you out to a secluded, quiet area with fantastic views of the mountains, canyon, and the Colorado River. Follow the blue arrows to get to the secret spot – see one of the pictures below. The red circle on the map below is another great photo opportunity.
From the secret spot, you can follow the ridgeline back to the main point. Grandview point is also the starting point of the Grandview Trail. This trail can be taken all the way to the Colorado River at the bottom of the canyon, but on a short visit, you can just walk a small part of it – this is a good chance to spend a few minutes inside the canyon.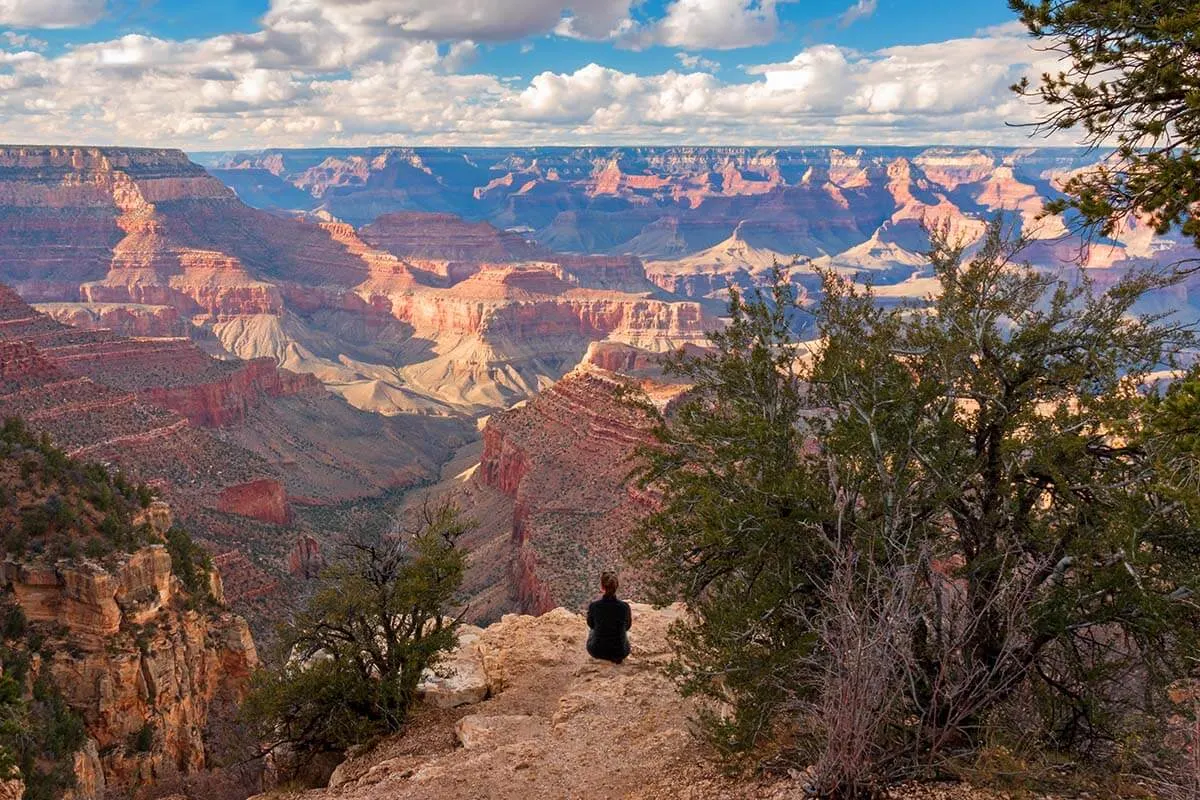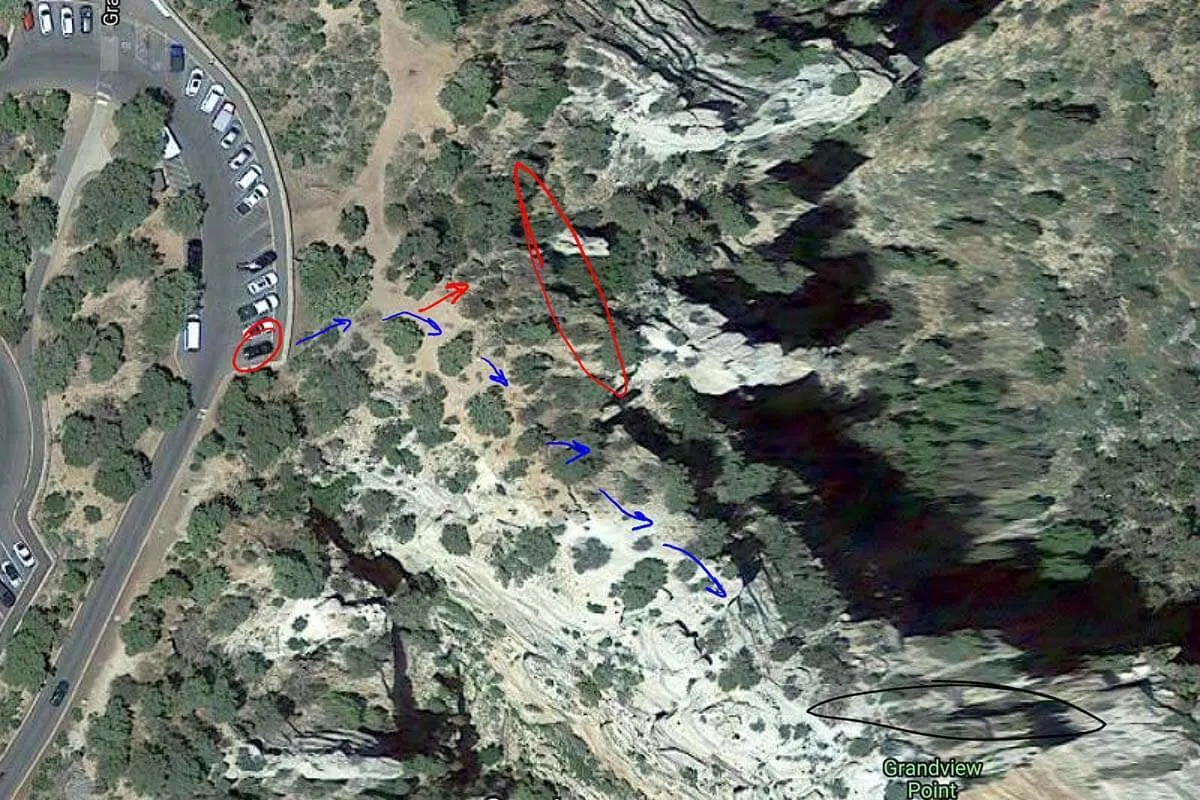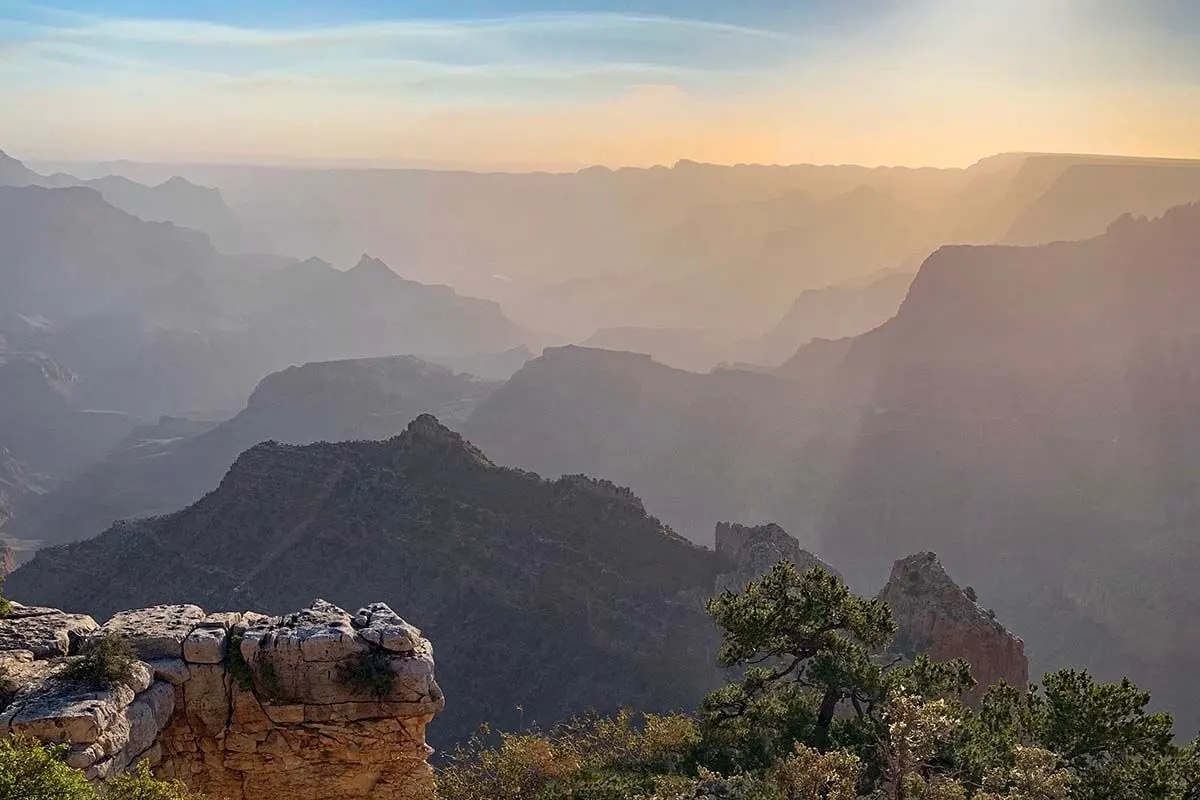 Moran Point
The next major stop along Hight 64 is Moran Point. It is another great place to get out of the car and see the Grand Canyon from a different angle.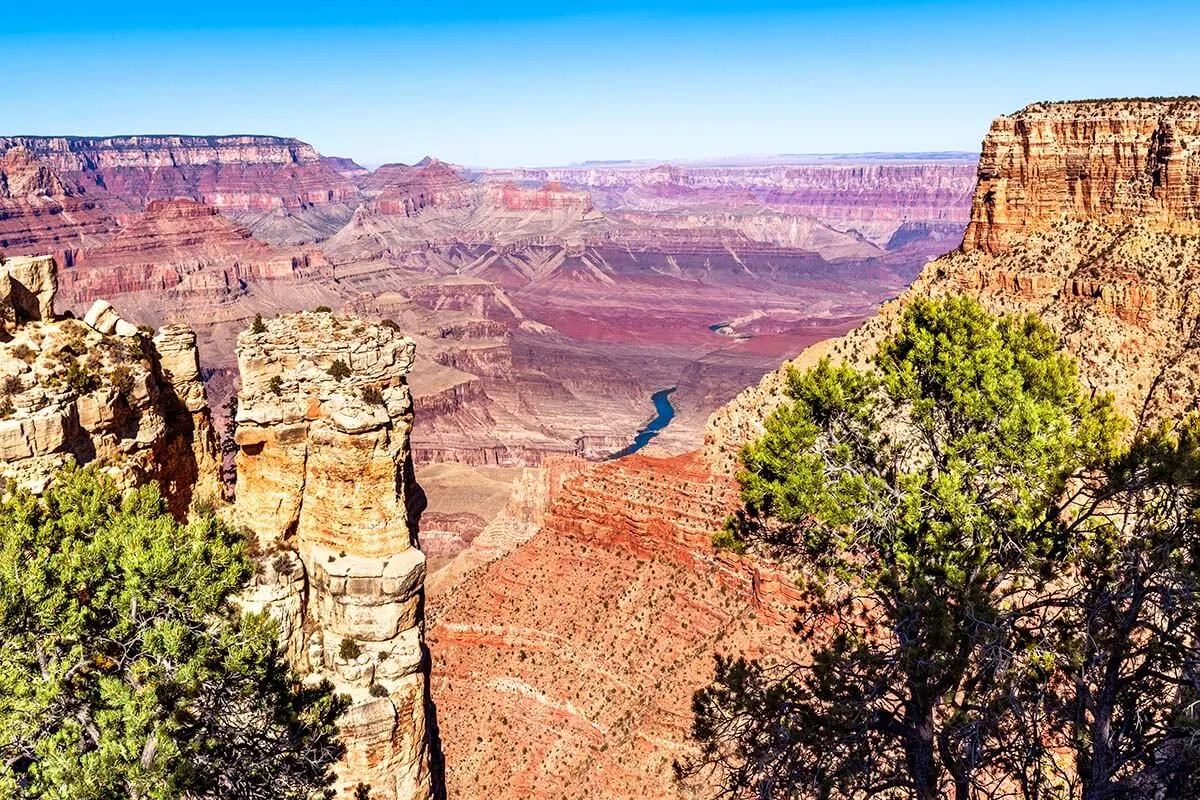 Lipan Point
Lipan Point is one of the highest viewpoints at the South Rim. There isn't a lot of room to walk around and explore here, but the views are amazing and make this a must-see.
TIP: Lipan Point is a great spot to watch the sunset. If visiting between March and October, this is our favorite place to watch the sunset over the canyon. From November until February, Moran Point is a better bet for catching a stellar sunset.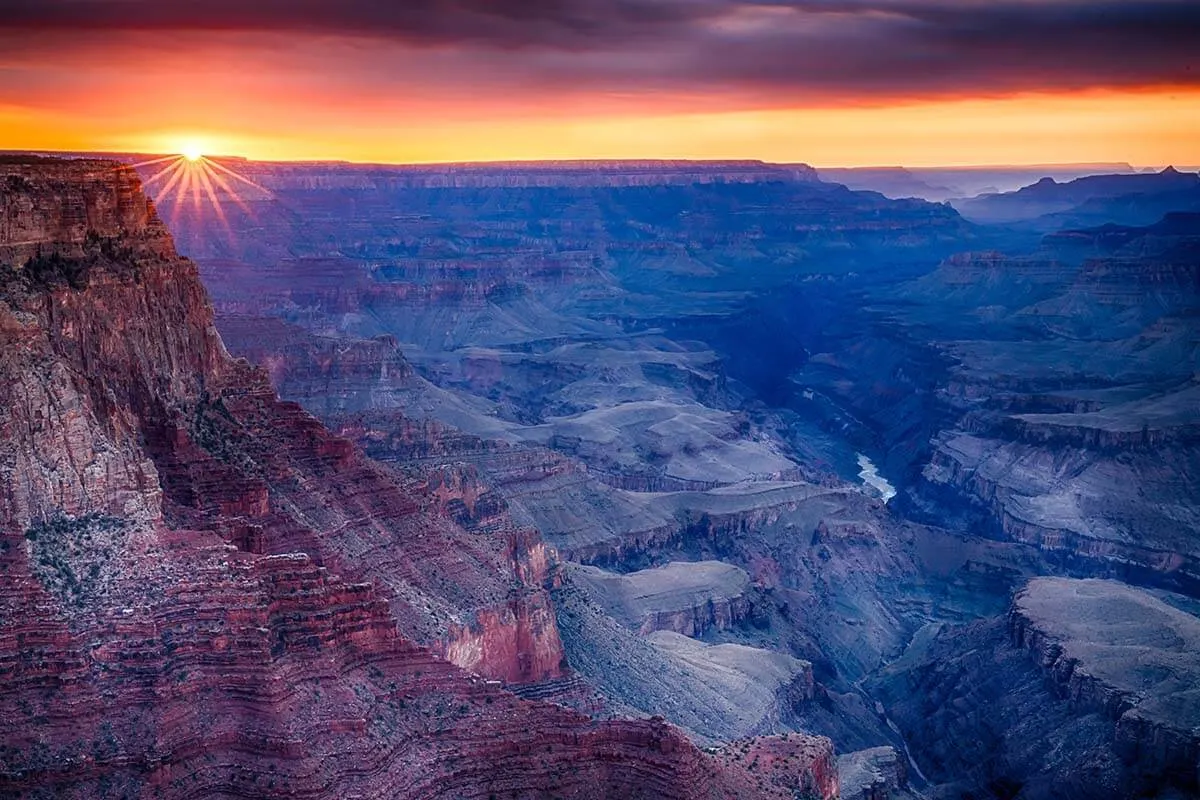 What about the Desert View Point?
Desert View also has some very nice views of the Grand Canyon, but we find it overrated (and mostly overcrowded) compared to the previously listed viewpoints.
It is one of the few places with parking for big buses, so it's often very busy here. If you don't have the time to see everything and it is busy, we suggest skipping Desert View and spending more time at the previously listed Grand Canyon stops.
Next stop: Hotel – see our recommendations on where to stay for this Grand Canyon Antelope Canyon itinerary.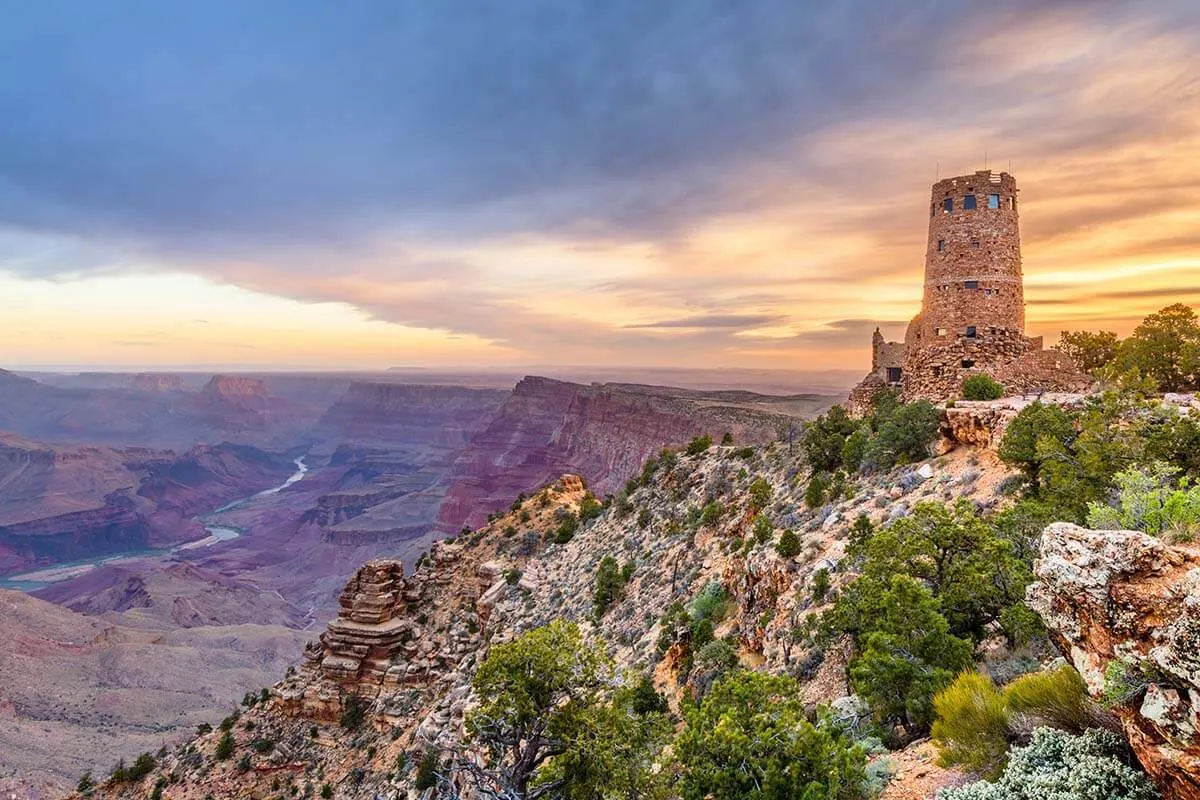 Where to stay between Grand Canyon and Antelope Canyon
There are a few options for lodging after this long day:
Cheapest. The cheapest hotels somewhat along the way are in Flagstaff, but this is a serious detour. You'd have to drive over 50 miles extra to get to Flagstaff and then 50 miles back again on the next day. This would mean at least an hour, more likely 1.5 hrs, of extra driving on day 1 and also on day 2.
Most fun. Cameron Trading Post. This is our favorite place to stay between Grand Canyon and Antelope Canyon and it's right en-route. It is a hotel that has been around for more than 100 years, yet they have recently renovated all their rooms, giving it a clean and updated feel. As a bonus, they have the best gift shop in the area, and the on-site restaurant serves traditional Navajo food along with Mexican and American favorites. If you want to stay here, make sure to book in advance!
Half-way. Navajoland Hotel of Tuba City. This is a good alternative place to stay between Grand Canyon and Antelope Canyon, about 70 minutes drive to Page. This is a simple lower budget hotel with a 24/7 reception, a restaurant (including Navajo specialties on the menu), and easy parking. Ideal if you're just looking for a good value place to stay in the area.
Most convenient. Page, AZ. Getting into Page will take you a bit longer on day one (about 75 miles/ 1h 15 drive from Cameron), but it will lead to a relaxed start to day two. Accommodation prices can be high on holidays and during the summer, but it's worth it. Some hotels we particularly like in Page, AZ, are Country Inn and Suites, La Quinta, or Hampton Inn and Suites. Also here, for the best deals and availability, be sure to book in advance!
Where to eat
For dinner on day 1, we usually get sandwiches and salads at McAlister's Deli in Cameron. The food is great and is quick. Alternatively, you can eat at any of the variety of places in Flagstaff or Page.
In Page, try Big Johns Texas BBQ or Birdhouse. Note that places close early in Page, one of your best bets for late-night eats is State 48 Tavern.
Day 2: Antelope Canyon – Horseshoe Bend – Glen Canyon Dam – Lake Powell – (Zion NP) – (Red Hills Desert Garden) – Las Vegas
Most hotels in Page and Flagstaff will serve free breakfast in the morning. Grab something quick to get you started on your day. If you spend the night in Flagstaff or in Cameron, you'll have to start very early. If you slept in Page, you can have a bit more relaxing morning.
The second day of this itinerary is going to revolve around your visit to the two major attractions in the Page area: Antelope Canyon (Upper or Lower Canyon, or Canyon X) and Horseshoe Bend. We recommend touring Lower Antelope Canyon. Alternatively, if you have trouble walking or descending stairs, opt for the Upper Antelope Canyon.
TIP: To get the best light for your photos, plan the first half of your day like this:
If visiting Lower Antelope Canyon. Tour Lower Antelope Canyon in the morning, 8.30-10.30 am is best. Go to Horseshoe Bend around noon.
If visiting Upper Antelope Canyon or Canyon X. Visit Horseshoe Bend in the morning. Visit Upper Antelope Canyon as close to noon as possible. The same applies for Canyon X, where the best time to visit is +- between 10.30 am and 1 pm.
No matter which one you choose, be sure to reserve your tickets well in advance (one of the easiest ways is to book tickets and tours on GetYourGuide or on Viator). Below, you can find all the essential information for visiting the Antelope Canyon, and more information about various ticket options.
Lower Antelope Canyon OR Upper Antelope Canyon OR Canyon X
If you are physically capable, we recommend visiting the Lower Antelope Canyon. Here are some things you may want to know when deciding where to go:
Lower Antelope Canyon is over twice as long as Upper Antelope Canyon and the tickets for the Lower Canyon are a lot cheaper. It also has fewer people inside at one time. In the second half of your tour at the Lower Canyon, the crowds will spread out and you get good chances for photos without other people in them. Furthermore, Lower Antelope Canyon also has more twists and turns, plus stairs going up and down, giving you a real feeling of adventure when hiking through this slot canyon.
Upper Antelope Canyon is also amazing and is better known! It is great for people with mobility issues who can't navigate the stairs of the Lower Canyon, so all tour groups tend to visit the Upper Canyon. That's why it's much busier and also a lot more expensive. Depending on the season, Upper Antelope Canyon tickets can be twice the price of the Lower Canyon.
Good to know: Note that neither Lower nor Upper Antelope Canyon offers photography tours anymore. Also, neither section allows you to bring in tripods, selfie sticks, bags of any size, or other photography equipment inside the canyon. Cameras and phones are allowed.
Canyon X is a lesser-known canyon just nearby. It has a bit of a mix of what you see at the Upper and Lower Canyon – with the stunning pillars of light that you see at the Upper Antelope Canyon, but it's steeper – like the Lower Antelope Canyon. It's also deeper and offers lots of great photo opportunities.
Because it's not that well known, at the moment, Canyon X is still much cheaper to visit than the other two canyons. It can be a great alternative for those who prefer to get a bit off the beaten path.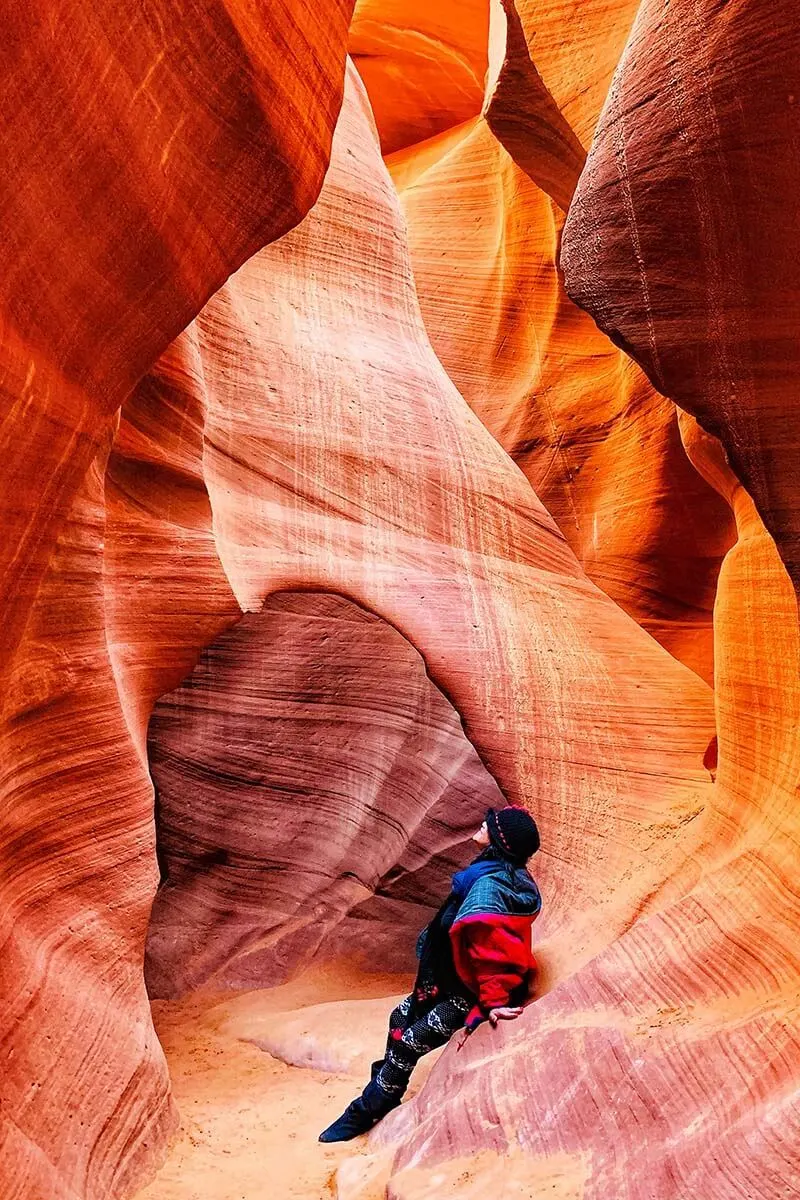 Antelope Canyon tour companies
Antelope Canyon is part of the Navajo Nation. You must join a tour if you want to see the canyon and the Navajo Nation has authorized several companies to run the tours. There are two companies running tours of the Lower Antelope Canyon and four companies run tours of the Upper Antelope Canyon. They all offer very similar experiences and prices.
Lower Antelope Canyon tour companies are Ken's Tours and Dixie Ellis. They both lead the same tour of the same section of the canyon and prices are usually the same. We prefer Ken's Tours as they have a nice air-conditioned waiting room with a cafe, but as far as tours go – it's all the same.
Upper Antelope Canyon tour companies: Adventurous Antelope Canyon Tours, Antelope Canyon Navajo Tours, Antelope Canyon Tours, and Antelope Slot Canyon Tours.
Canyon X can be a nice alternative to the more famous Antelope Canyons. It's also much quieter.
Antelope Canyon tickets !!!
More important than the tour company you choose is actually getting your tickets. On weekends, holidays, and during the summer, tickets can sell out very far in advance. When planning your trip, the absolute first thing you need to plan is your Antelope Canyon tickets! Seriously, don't book anything until you have these tickets in your email inbox.
You can get tickets on the websites of all the official tour companies mentioned above, and also on Viator. Please note that most of these tickets are non-refundable.
TIP: Alternatively, you can also easily reserve your tickets for the Antelope Canyon on GetYourGuide. At the moment of the last update, they offer Antelope Canyon ticket options with free cancelation (but be sure to double-check, in case things change). This is where we booked our tickets for the most recent visit to Antelope Canyon.
Here are some of the best options for the Antelope Canyon tickets online:
TIP: As already mentioned, for the Lower Canyon, try to book the 8.30 or 9 am tour – the light will be best for your photos, and the crowds are not as thick at this time. For the best light at the Upper Canyon or Canyon X – go around 11 am – noon.
Additional things to know when visiting the Antelope Canyon
Arrive 30 minutes before your tour. From the time you arrive to the time you leave, plan on spending here about 2 hours.
Leave all your bags in the car!
Filters can help you get the best photos. Try 'Vivid' mode on iPhone or 'Pro Mode' on Android.
Your Navajo tour guide will help you take photos throughout the tour. If you are happy with their service, tips are appreciated. $2-3 per person is recommended.
It is generally 10 degrees cooler inside the canyon. Wear your warmest clothes in the winter! Also, wear sensible walking shoes.
Next stop: Horseshoe Bend, 15 minutes.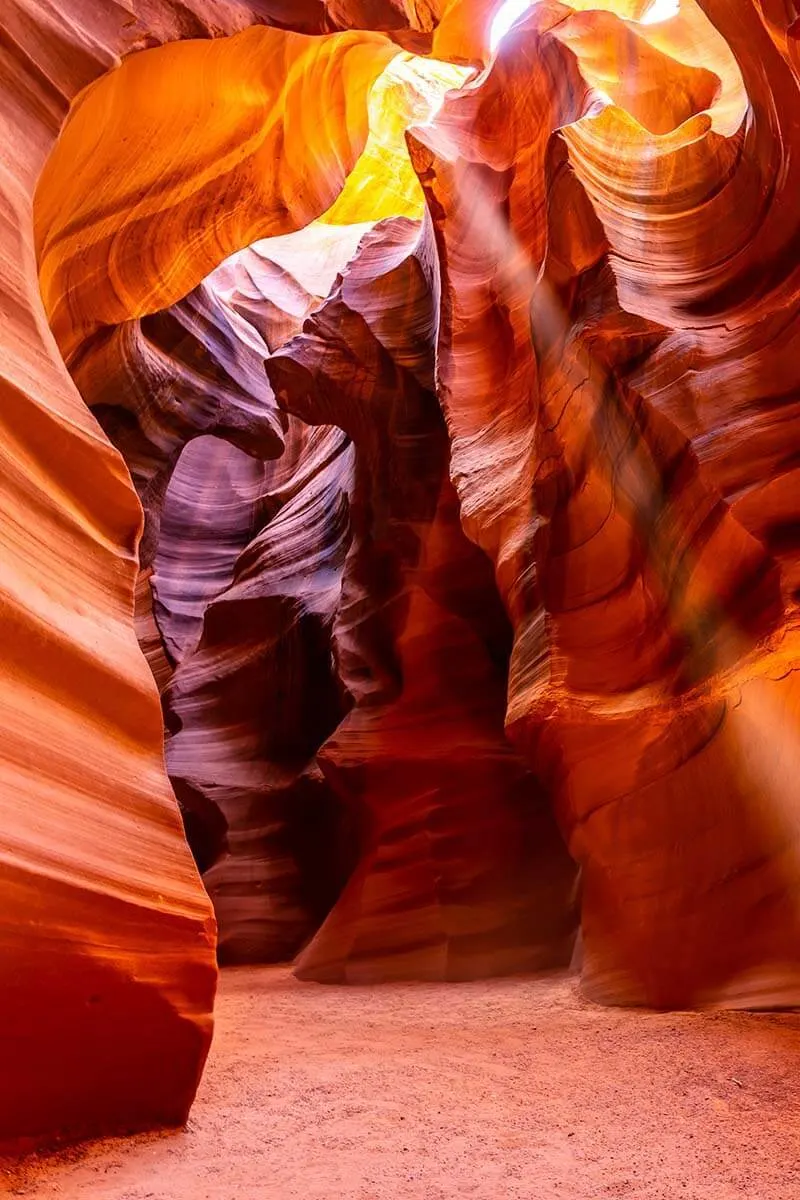 Horseshoe Bend
Horseshoe Bend is a U-shaped turn in the Colorado River with 1,000-foot sheer rock drops down to the river. The entrance fee is $10 per car, you can not use a National Park Pass here.
You can visit Horseshoe Bend in as little as one hour, but to really get the most out of it you should plan on spending two hours.
There is a bit of a hike out to the viewing area, it takes about 15 minutes or 0.6 miles to get there and the same coming back. After your hike, your first point in front of you will be an overlook with a sturdy railing. This is a good chance for a photo, but it can get quite crowded. The more you hike towards your right, the thinner the crowd will get. You can get some fresh angles of the bend up there as well!
TIP: Bring water and wear comfy shoes. You are hiking in the desert, please come prepared. And of course, be careful around the edge – there have been quite a few accidents here!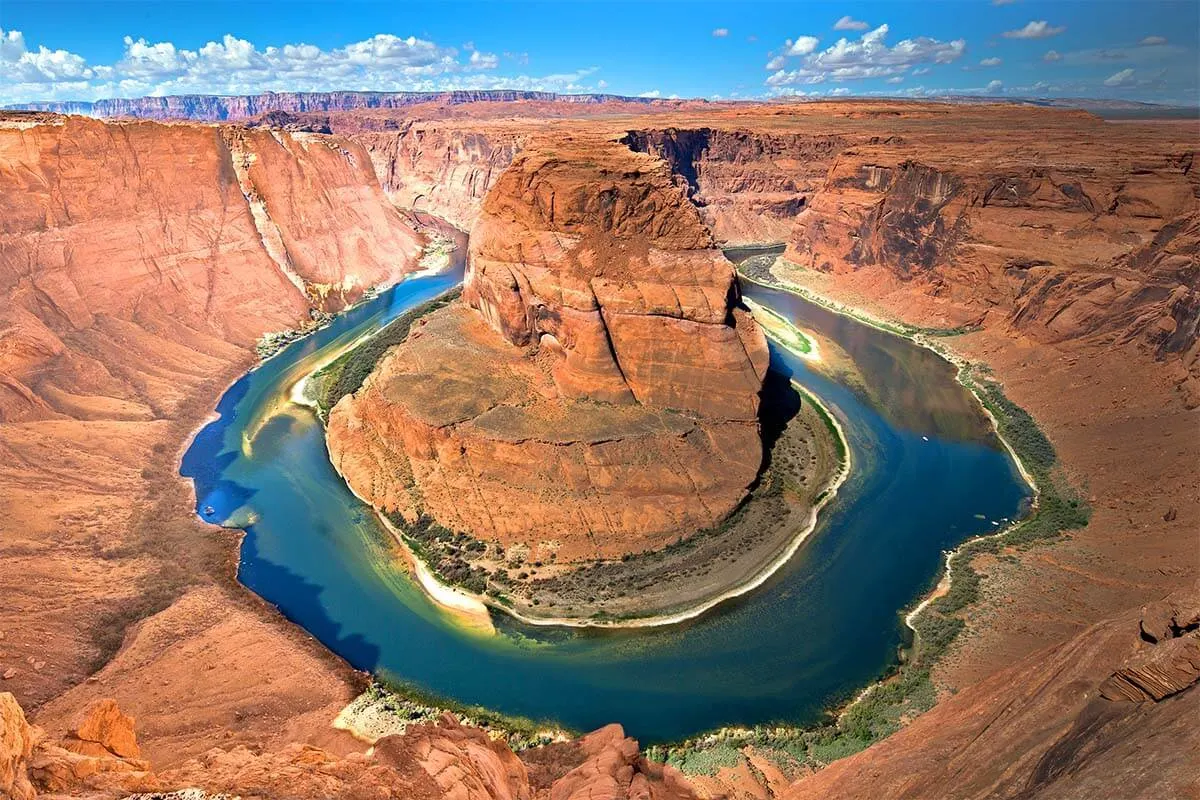 Lunch
The town of Page is only 10 minutes from Horseshoe Bend and has some winning options for lunch. Our favorites include Birdhouse, Slackers, and Big Johns Texas BBQ. For an afternoon cup of coffee, there is a Starbucks inside the Safeway in the middle of town.
Next stop: Glen Canyon Dam, 10 minutes.
Glen Canyon Dam
Similar in size and structure to the Hoover Dam, the Glen Canyon Dam makes for a fun and literally knee-shaking stop on your way back to Las Vegas.
Park in the visitor center's parking lot, and make sure to turn around and climb out on the Glen Canyon Dam Bridge, the fifth highest bridge in the United States. The view of the Dam and the Colorado River is great, and the feeling of the entire bridge shaking as semi-trucks pass can raise some eyebrows.
The visitor center here has some useful information on the creation of the dam and nice views of the dam and Lake Powell.
Good to know: The restrooms in the visitor center are the last decent ones for a while along the road back to Las Vegas.
TIP: If you want to take a picture of the entire dam – similar view of what you see at Hoover Dam – you can find this view at the Glen Canyon Dam Overlook on the left side before you leave Page (we indicated the location on our map as well).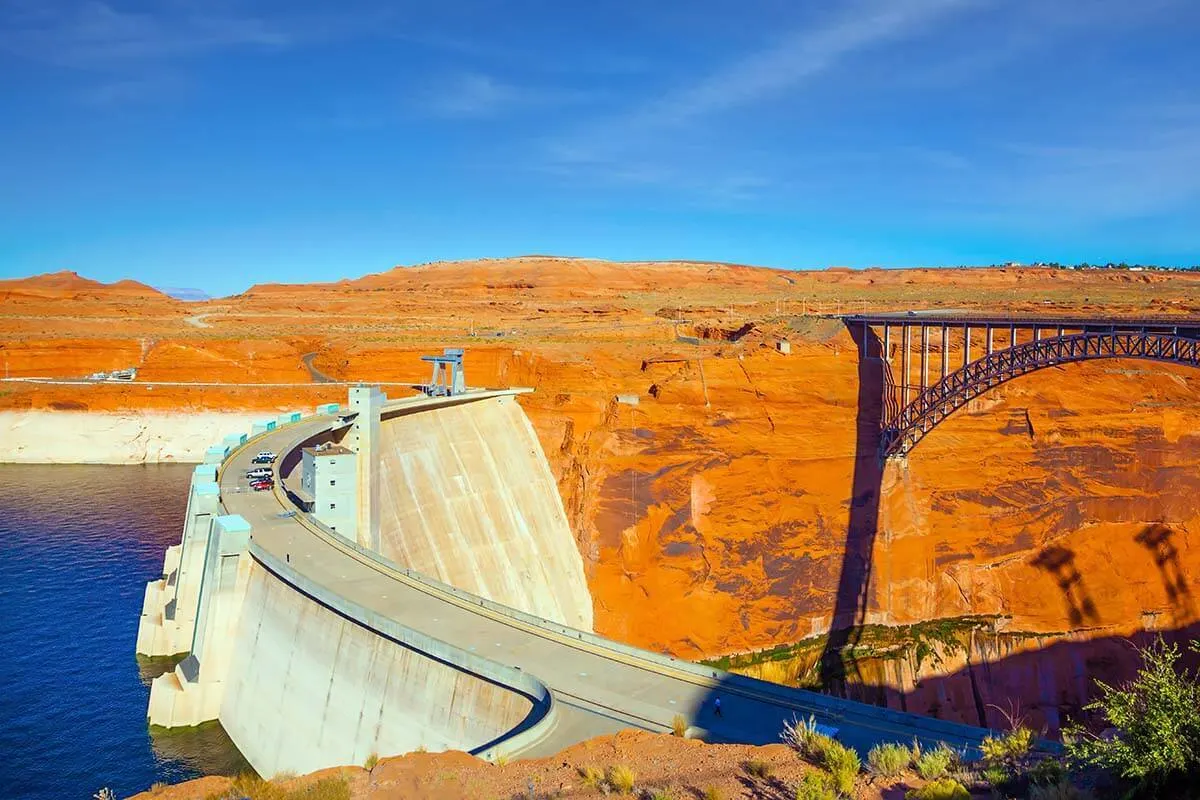 Wahweap Overlook of Lake Powell
Wahweap Overlook is another nice stop just outside of Page. With a free parking lot 1 minute off of the main road, it is worth a try. The 360 views of Lake Powell and the surrounding mountains, plateaus, and valley make it a great photo stop.
Next stop: Las Vegas, 270 miles/ 4-5 hours.
TIP: Depending on how you are doing for time, you can make a few more stops on your way back from Page to Las Vegas. See below for our favorite of suggestions.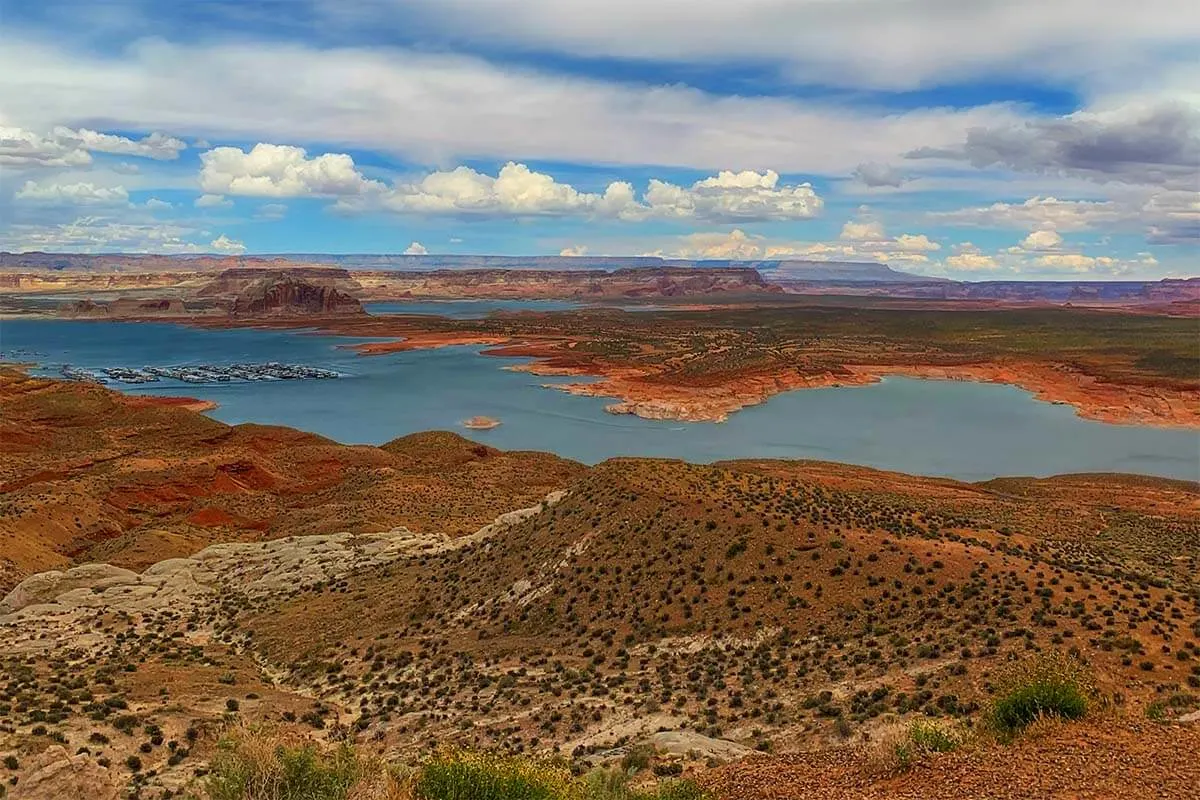 Zion National Park
A detour through Zion National Park will cost you an hour of time but can be worth it for the towering views, even if only seen from your rental car.
If, however, you could add a day to your itinerary, stay in Springdale near Zion and visit the park the next day. Here you can find our suggestions for the best hikes in Zion. Also Bryce Canyon National Park is not far away and makes a great addition to any trip to this area, but only if you have more time than these two days. Here you can find our guide on how to visit Zion and Bryce Canyon in 1-3 days.
Alternatively – if you are driving straight to Las Vegas – below, we have one more suggestion for one more nice stop along the way.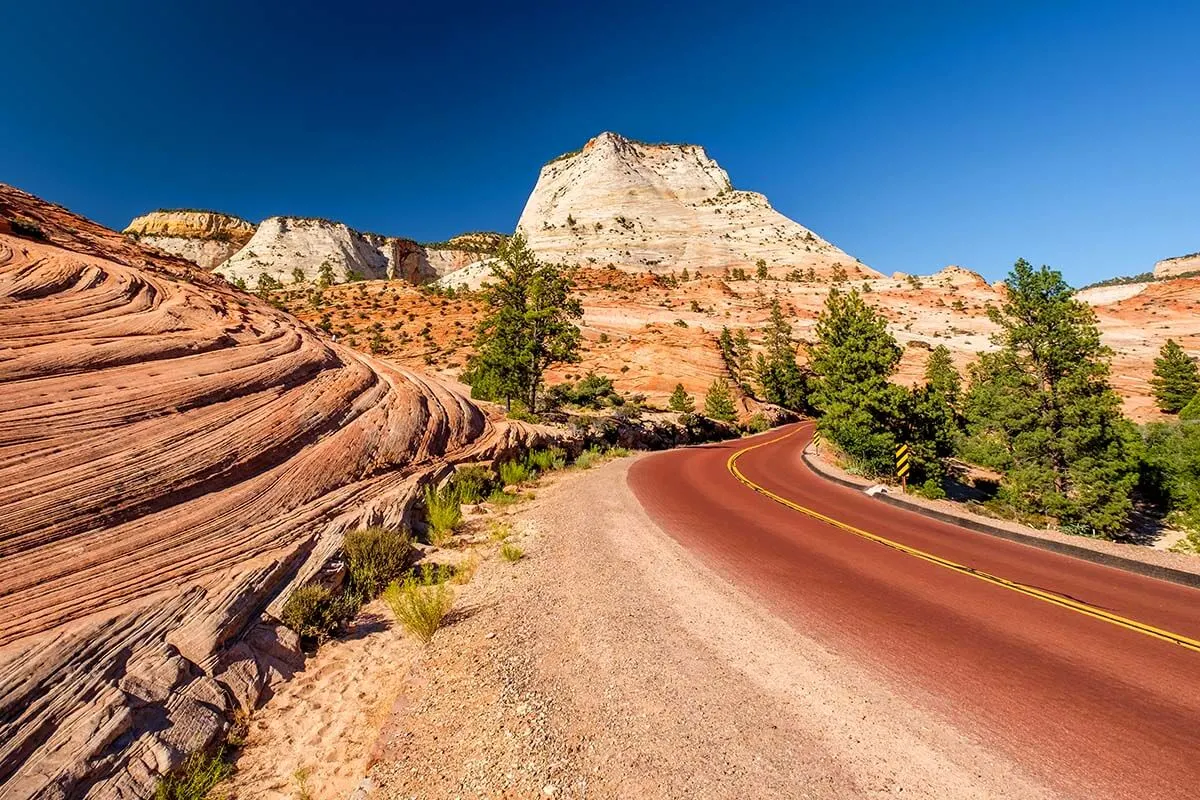 Red Hills Desert Garden, St. George Utah
Red Hills Desert Garden is one of our favorite short stops on the way back to Las Vegas.
This botanical garden has a variety of desert plants and cactus and is a great place to break up your drive and stretch your legs on multiple walking paths. Admission is free and the park is open daily between 6 am and 10 pm.
From here, it is a straight shot back to Las Vegas down Interstate 15. The driving distance from St George to Las Vegas is about 120 miles and it normally takes just a bit under 2 hours.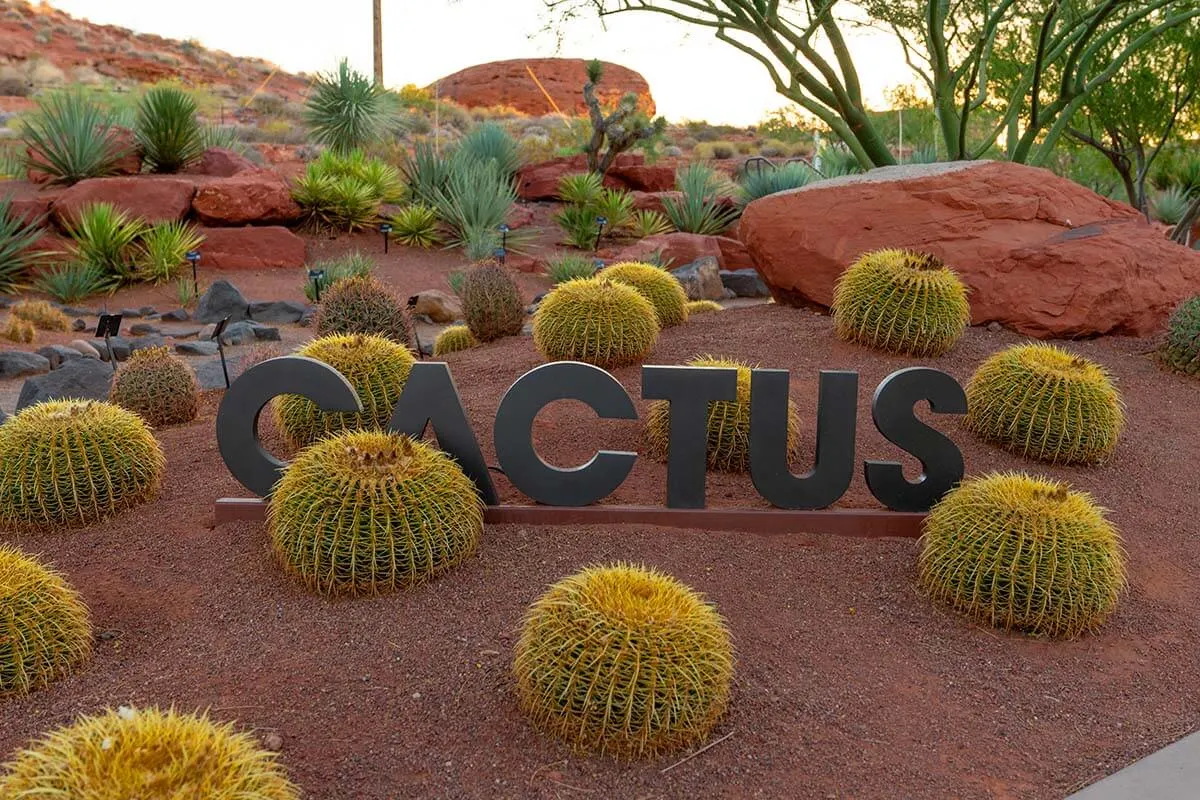 So, this is our suggested itinerary with Grand Canyon, Antelope Canyon, and Horseshoe Bend as the main highlights. As you can see, it covers a lot of ground in just two days. It's perfect for those who have limited time and want to make the absolute most of their short trip in this area. But it is packed indeed!
Also, keep in mind that you'll need to rent a car in Las Vegas and pick it up the day before you start your trip and likely only return it the day after you get back to Vegas. If you have a few days extra, keep the car longer and do a couple of more great day trips from Las Vegas as well.
TIP: As already mentioned before, if you want to see Grand Canyon, Antelope Canyon, Horseshoe Bend, and all the other places mentioned in this itinerary without having to worry about all the practicalities, hotels, tour tickets, parking, and driving, you can also book this small-group tour that does this exact same trip.
If you have a few more days…
If you have more time, there are several ways to adjust this itinerary and make it more relaxing, or add a few more destinations to the mix and see even more amazing places in the area. Here are some suggestions:
Spend a day visiting Zion National Park and Bryce Canyon National Park. As already mentioned, Zion NP is practically on the way between Antelope Canyon and Las Vegas and is a perfect addition to this itinerary. More info: Zion to Bryce Canyon.
When driving from Grand Canyon to Page, you can take a short detour to Monument Valley. This would require at least half a day in your itinerary, and is well worth it. Here you can find our guide to the Monument Valley Scenic Drive.
Also Sedona, AZ, could be a nice place to include in this itinerary if you have at least a day extra. It's just 30 miles south of Flagstaff and you can see the main highlights of Sedona in one full day, so you could easily add it to your Southwest road trip. Here you can find more information about the best things to do in Sedona, and here – Sedona day trip itinerary.
As you can see, there are so many beautiful places that you can visit and there are many ways to plan a trip to the region.
We hope that this itinerary with all the insider tips and recommendations will help you make a real bucket-list trip to the Grand Canyon, Antelope Canyon, Horseshoe Bend, Route 66, and maybe also a few other destinations nearby.
Have a great trip!
READ ALSO: Best Places to Visit in Arizona
FAQ
How far is Antelope Canyon and Horseshoe Bend from Grand Canyon?
Antelope Canyon and Horseshoe Bend are located less than 10 miles from each other and about 110 miles, 2 hours drive from the Grand Canyon South Rim. Because of this proximity, Antelope Canyon and Horseshoe Bend are popular destinations to visit as a day trip from Grand Canyon, or as part of a longer road trip through the region.
How far is Antelope Canyon and Horseshoe Bend from Las Vegas?
Horseshoe Bend and Antelope Canyon are about 280 miles, almost 5 hours drive from Las Vegas. While it is a long drive, it is even possible to visit here as a day trip from Las Vegas. In that case, it's best to go with an organized day tour as they'll make sure that you can see everything and make the best of your day.
Can you visit Grand Canyon and Antelope Canyon in one day?
While it is possible to see some viewpoints at the Grand Canyon and visit Antelope Canyon in one day, we recommend at least two days for these two areas. If you are starting/ending in Las Vegas, you should definitely count two days: one day for Route 66 and Grand Canyon and the second day for Antelope Canyon, Horseshoe Bend, and the drive back to Vegas.
READ ALSO: How to See the BEST of Las Vegas in 1 Day
If you found this post useful, don't forget to bookmark it and share it with your friends. Are you on Pinterest? Pin these images!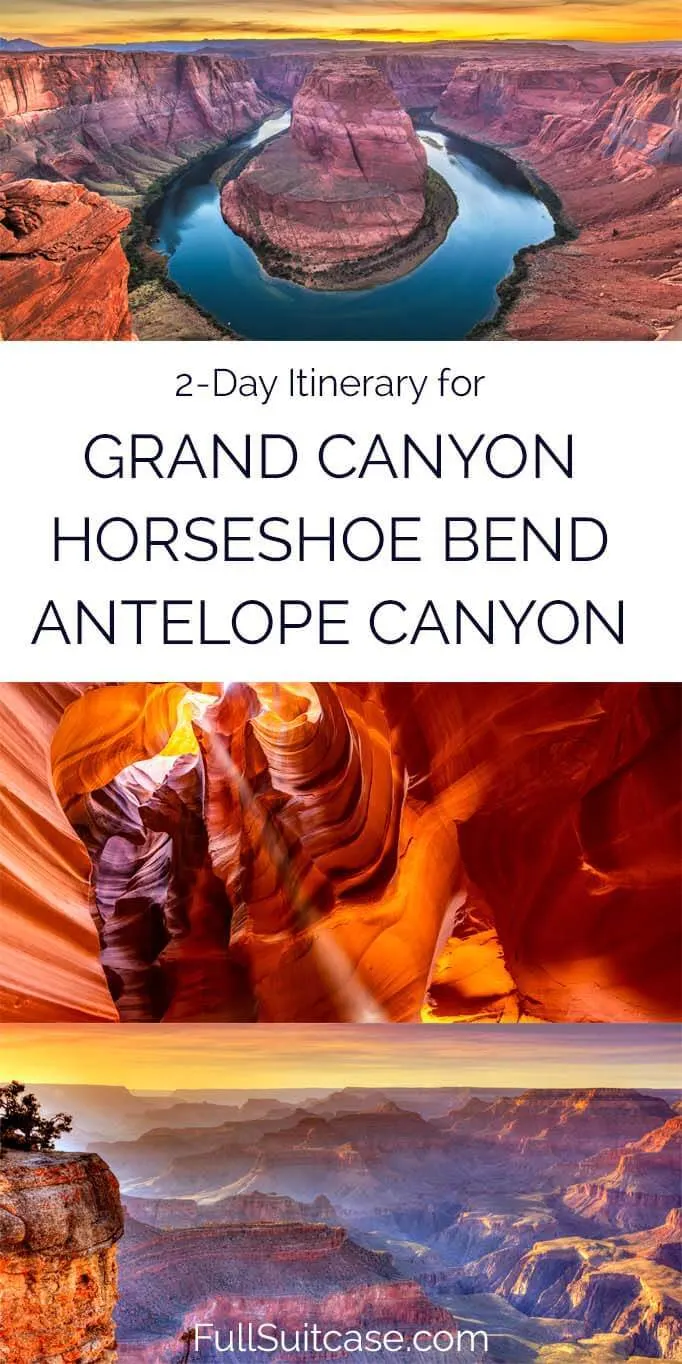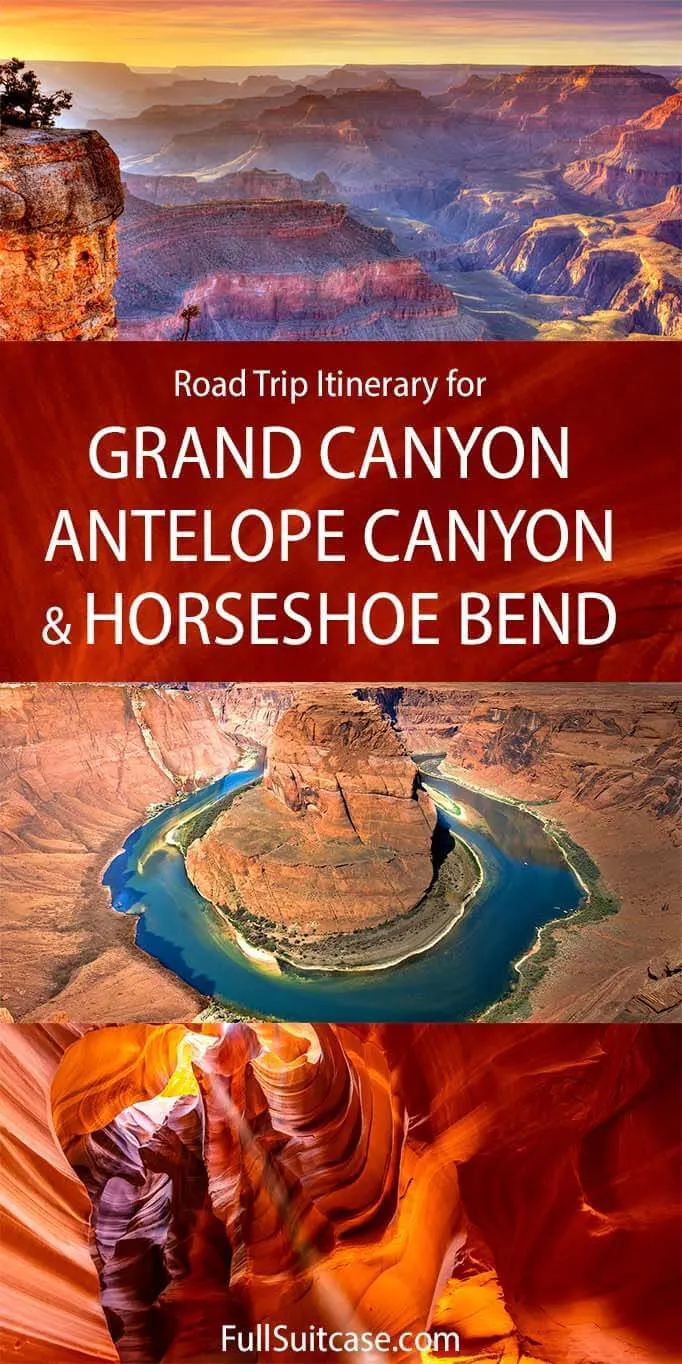 Images: Matthew Meier and Depositphotos.com
More travel inspiration for the USA: