Yosemite National Park is among the most famous and most visited national parks in America. It's also one of the oldest, having been established in 1890. Today, 4-5 million people visit its natural wonders each year, with the majority of visitors coming in the summer months.
But because the park is so popular and also because a lot depends on the season when you visit Yosemite, it's important to plan your trip well. That way you know what to expect, can prepare in advance, and make the most of your Yosemite vacation.
This insider's guide to Yosemite and travel tips will help you do just that! It covers all the essential information for your visit to Yosemite: when to go, what to see and do, where to stay, how to get around, best hikes, best viewpoints, and so much more. Find out!
Good to know: This Yosemite travel guide was written by our guest writer Mimi McFadden of The Atlas Heart, a California travel website that helps people explore the best of the Golden State through local insight, road trip itineraries, and bucket list guides. Mimi lives in California and has been visiting Yosemite since the age of five. In this guide, she shares her experience-based tips and insider advice for your first trip to Yosemite. Take a look!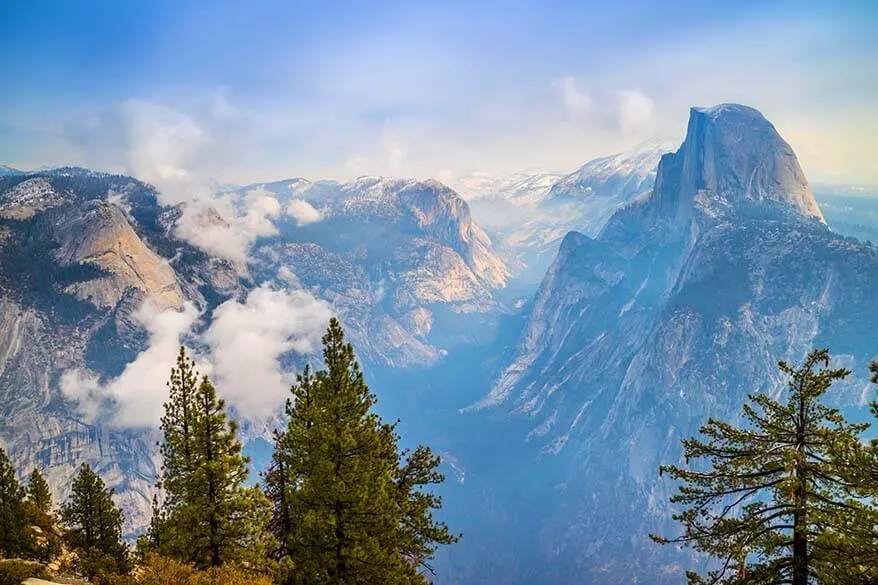 Centered around a valley in the Sierra Nevada Mountains, Yosemite contains many distinct areas and habitats. From pine forests to Giant Sequoia groves, you can spend many weeks here and still not experience all that Yosemite has to offer…
However, if you only have a few days in Yosemite, you'll have to make choices about what to see, or where to stay. This is where this guide comes in!
Whether you're doing a weekend trip from the Bay Area or a longer stint from further afar, these Yosemite tips will help you get the most out of your time and give you all of the practical info you might need to know before visiting. Take a look!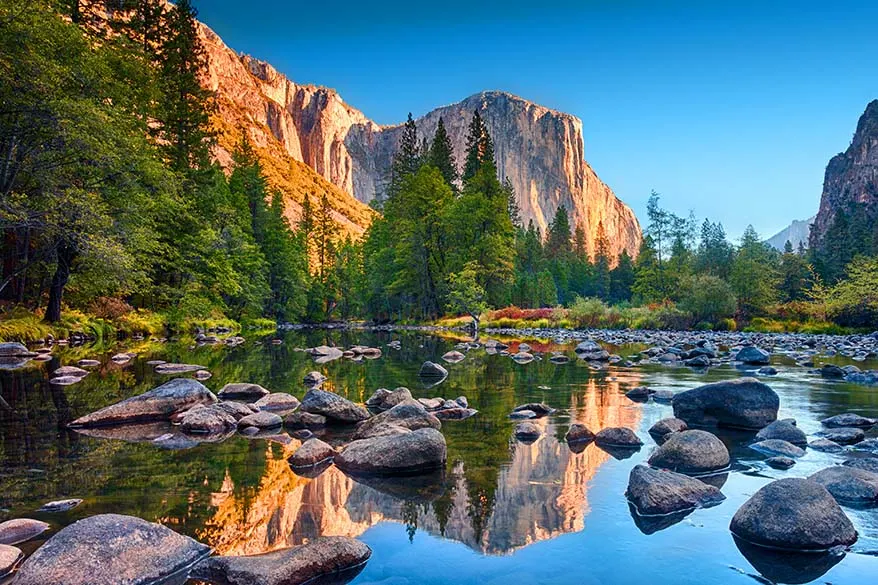 Best Time to Visit Yosemite
There's not a "best time" to visit Yosemite, per se, because there's so much to do at the park year-round. However, since there are some activities that you can only do at certain times of the year, the best time to visit Yosemite really depends on what type of trip you're looking for.
The dry summer months have the best conditions for hiking and climbing. It's nice and warm, all the roads are open, and you can explore the park to the fullest. Summer is also a great time to see wildflowers and wildlife in Yosemite. This is, however, also the peak season with big crowds, busy traffic, and higher accommodation prices.
Late spring is when Yosemite waterfalls are at their best with peak snowmelt. In this season, you may also get to see some wildflowers at lower elevations already.
Birdwatchers will want to plan for a spring or fall trip.
Early fall is also good for hiking as most of the park remains accessible in September and usually through October, sometimes even the beginning of November. The shoulder season is also much less busy than the summer months and can still be perfectly suitable for exploring most areas of Yosemite. Here you can find some information about visiting Yosemite in November.
If you love snowy landscapes, cross-country skiing, or snowshoeing, Yosemite is great in winter as well. Yosemite is also very popular in February when people come to see the famous natural phenomenon, Yosemite Firefall. You can read about it in our guide to the best National Parks to visit in February.
Below, we'll go deeper into what low and high seasons have to offer. That way, you'll get a better idea of what time of the year might be the best to visit Yosemite for you. But first, here is some info and tips for getting to and around Yosemite National Park.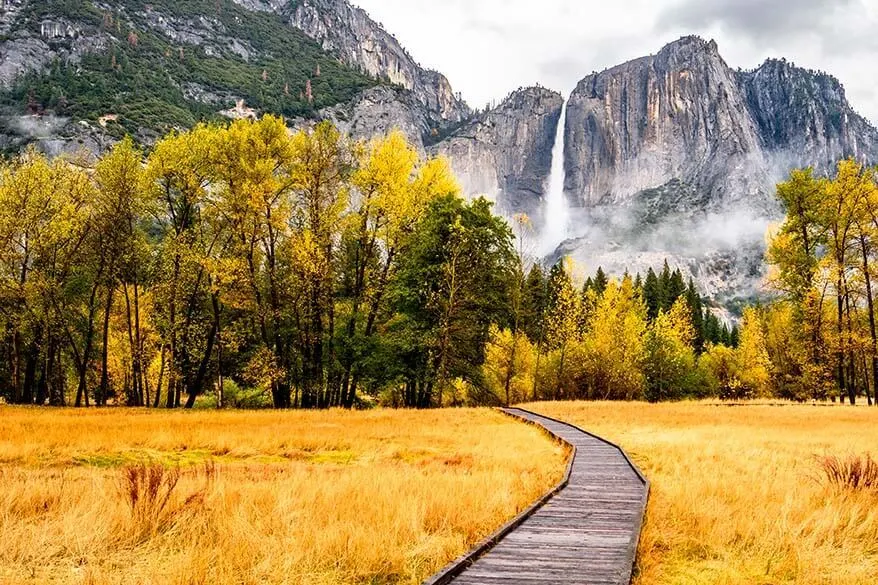 Getting Around Yosemite National Park
Yosemite National Park is so huge that – unless you visit with an organized tour – the best way to visit is by car. Highway 120 is the main thoroughfare that runs through the park. A quick exit off of it will take you into Yosemite Valley, where most of the campgrounds and amenities are. The Valley also has an extensive network of small roads that lead to hiking trails and lookoff points.
However, if you don't have a car, you can take public transport to the park and use shuttle services to get around. These can become crowded during the summer, but the roads are also infamous for traffic jams during the high season. So shuttles can be a good alternative for getting around the park.
There are several shuttle routes in various parts of Yellowstone, and some of them run the whole year round. Most shuttles are free and don't require any advance planning, but there are also a few that go between different areas. They require advance reservations and have a fee. Here you can find all the information about Yosemite shuttles.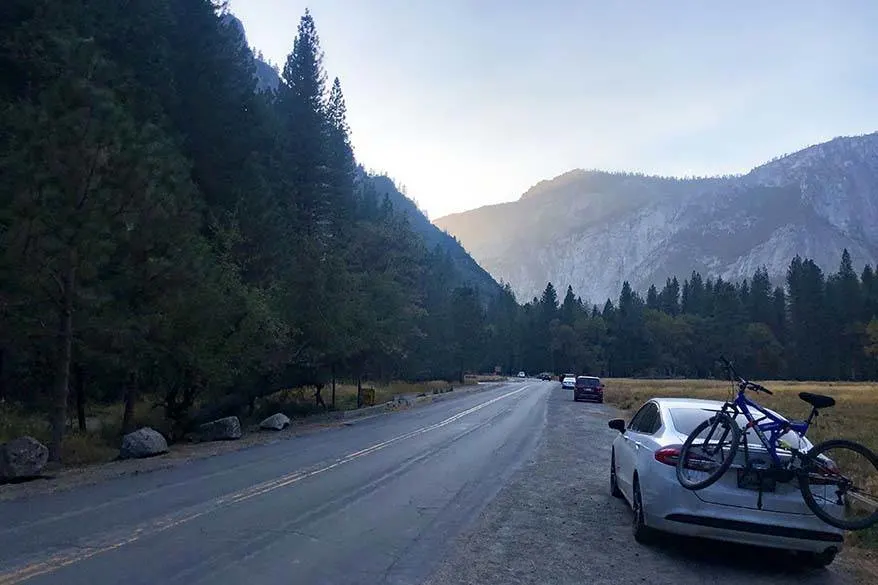 Good to know: Certain roads in Yosemite close down in the winter because of dangerous conditions. Tioga Road, which leads to many of the park's more remote areas, is only open seasonally once the snow has melted. It usually opens in late May or early June and closes in November. The same counts for Glacier Point Road and a few others.
PRO TIP: When planning a trip to Yosemite, always double-check which roads are open on the official NPS website. This is essential no matter what time of the year you're visiting! In spring, late fall, and in winter, there might be road closures due to snow, and in summer the roads might get closed for road works.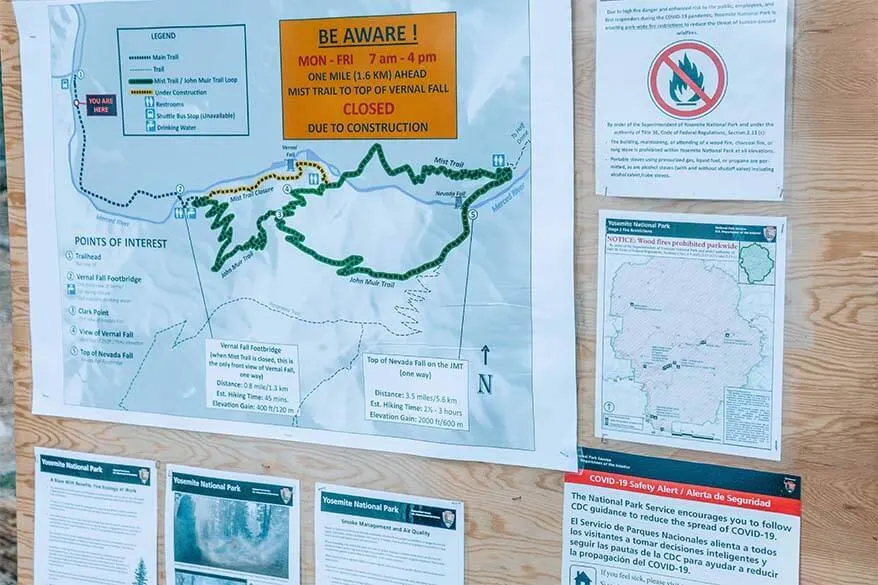 Yosemite Entrance Fee
Yosemite National Park entrance fee is 35 USD per private vehicle and you can buy it as you enter the park. This pass is valid for everyone in your car for 7 consecutive days and you can enter and leave the park as many times as you want during that time.
Yosemite NP also has an annual pass that costs 70 USD.
However, if you are visiting several National Parks over the course of 12 months, it's better to get an annual National Parks Pass. It's called America the Beautiful Pass and costs just 80 USD for the whole family traveling in the same vehicle. It's valid in all National Parks and 2,000 federal recreation sites across the United States for one year from the month of purchase.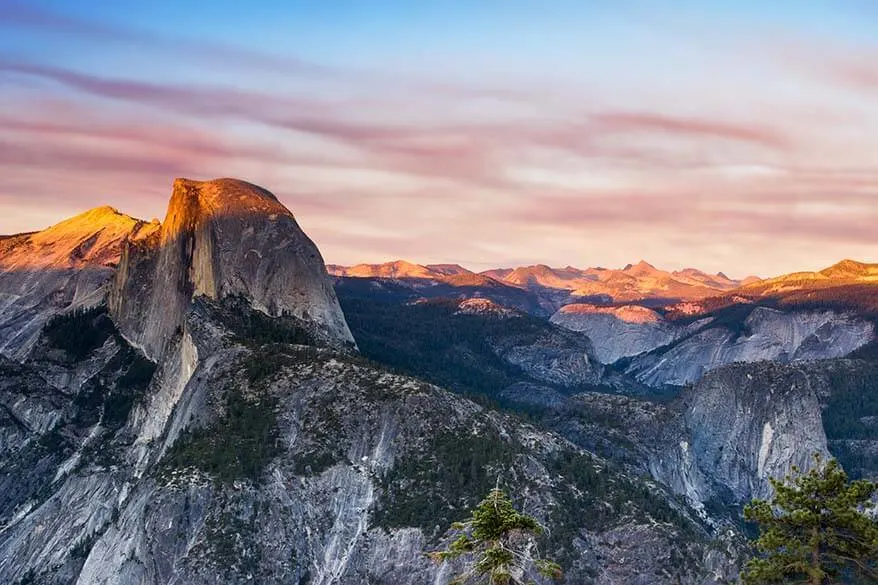 Yosemite Tours
If you feel overwhelmed trying to plan a trip to Yosemite, or if you want to have a local guide who knows the place well, then you can also visit Yosemite with an organized tour.
The most popular are the Yosemite tours from San Francisco. There are day tours available that cover all the 'musts' (this is the most popular day tour). But there are also 2-day tours that allow you to see more of the park in a more relaxing way (accommodation is included). If you like to camp, take a look at this popular 3-day tour.
If you can get closer to the national park, you can stay in El Portal and take day tours from there. And there's also a day tour from Lake Tahoe.
Best Things to Do in Yosemite in Summer (May to September)
If you're visiting Yosemite during the high season, these are some of the best activities to consider: take in the waterfalls, visit the best viewpoints, see Giant Sequoias, go biking, hiking, or rock climbing. In summer, there are also ranger-led tours, water activities, camping, fishing, and so much more.
Below, are some of the best things to do when visiting Yosemite for the first time:
Yosemite Waterfalls
In a park full of famous sights, the Yosemite waterfalls are one of the main highlights. Take Yosemite Falls, for instance. When water flows over its edge, it falls for an astounding 2,425 feet (739 m).
Besides Yosemite Falls, other waterfalls to visit at the park during this time of the year include Sentinel Falls, Ribbon Fall, Horsetail Fall, Bridalveil Fall, Nevada Fall, Wapama Falls, Illilouette Fall, Vernal Falls, and Chilnualna Falls.
Good to know: The volume of water of the falls around Yosemite changes throughout the year. So the falls will never be the same. They're at their heaviest and most impressive during the late spring (especially May), fed by rains and melting snow.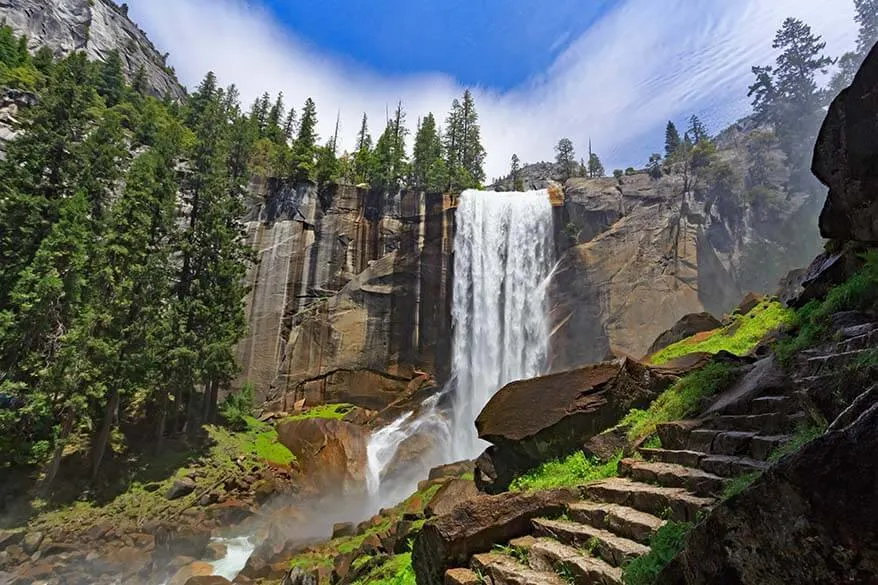 Mariposa Grove of Giant Sequoias
In another corner of Yosemite, a visit to the Mariposa Grove of Giant Sequoias is a must. This area is home to over 500 of the oldest and rarest trees in North America.
The species can grow to over 250 feet (76 m) tall and 30 feet (9 m) in diameter. These are some of the most impressive trees in the world and many people travel to Yosemite just to see them.
There are various hiking trails for all difficulty levels here. There is a short and easy wheelchair-accessible Big Trees Loop Trail, but also moderate hikes that take 1-2 hours and more strenuous trails that take 4-6 hours to complete. In summer, you can also bike through this area, and in winter, it's open for snowshoeing or cross-country skiing.
The park staff dedicates themselves to providing a liveable environment for these endangered trees, so visiting Mariposa grove comes with a number of restrictions. Neither horses nor bikes are allowed off the paths and pets aren't allowed at all. Also, you should know that the parking here usually fills up in the morning already, so be sure to get here early.
TIP: Because of the restricted access, it's essential to check current conditions and the best way to visit this area before you go. Here, you can find all the information for visiting Mariposa Grove.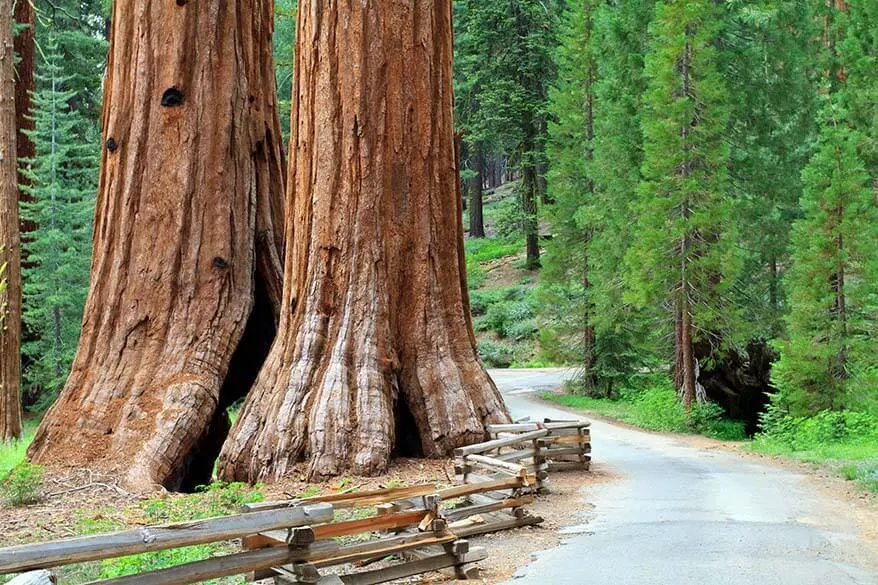 Scenic Roads and Viewpoints
Yosemite National Park has some stunning scenic drives. So even if you are only visiting the park for a day or two, you can still see some amazing scenery.
One of the most scenic roads in Yosemite is Tioga Road, from Crane Flat to Tioga Pass. This 46-mile (62 km) drive is a must if visiting Yosemite in summer! However, it's closed in winter.
Also the road through Yosemite Valley is a must. It's accessible the whole year-round and offers some of the best views over Yosemite's famous cliffs and waterfalls.
In summer, make sure to take a scenic drive up to Glacier Point.
TIP: You can find more information about this and other must-see viewpoints in Yosemite further below (see the 'best viewpoints' section).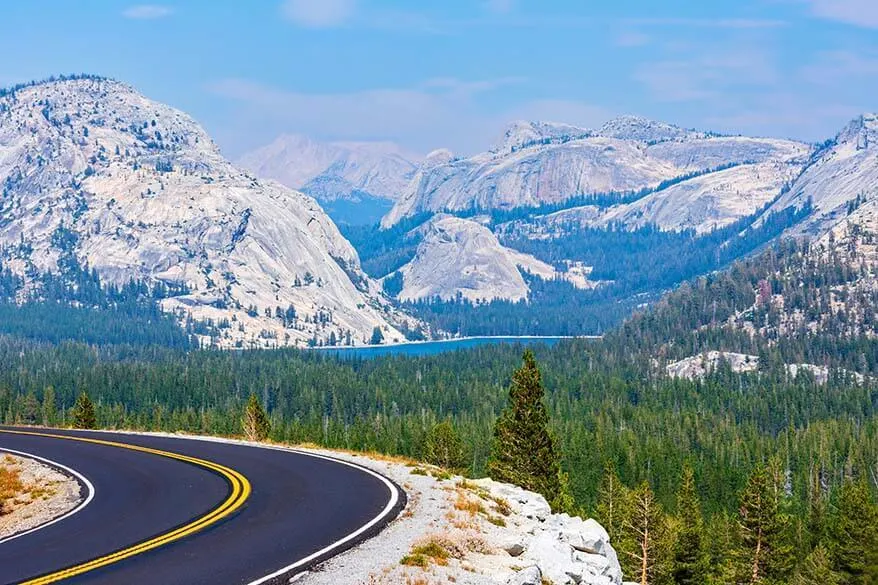 Hiking
One of the best ways to explore Yosemite (and also escape the crowds) is to go hiking. With over 800 miles of hiking trails for all difficulty levels, it's easy to find a hike that suits your interests and abilities.
You can find a complete overview of all Yosemite hikes on the NPS website. Alternatively, see our hand-picked selection of 3 top hikes under the "best hikes" section further below.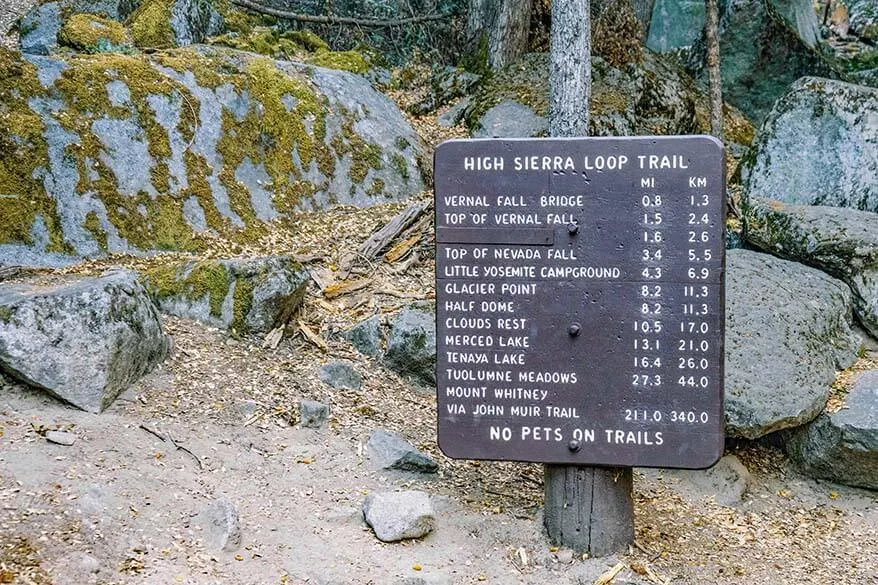 Rock Climbing
Similar to Pinnacles National Park and Joshua Tree National Park, Yosemite is a great place for rock climbing in California. Some of the world's most famous rock faces are in Yosemite Valley, the most prominent of which is El Capitan.
This sheer granite cliff stretches up over 3,300 feet (1,005 m) and has become a rite of passage for anyone eager to become a great climber. The two other famous faces to climb in the Valley are called Half Dome and Sentinel.
Otherwise, a lesser-known group of rock climbing spots lies above the Tuolumne Meadows. These areas are quite different because they are higher up in terms of elevation. In the Tuolumne Meadows, you can climb alongside pine trees on your way to more mountainous peaks compared to the sheer cliffs of Yosemite Valley.
And don't worry, just because you want to go climbing in Yosemite doesn't mean anyone expects you to take on El Capitan. There's a host of beginner climbing activities to try out too, but it's probably best to look for a local guide to accompany you, especially if you are new to the area.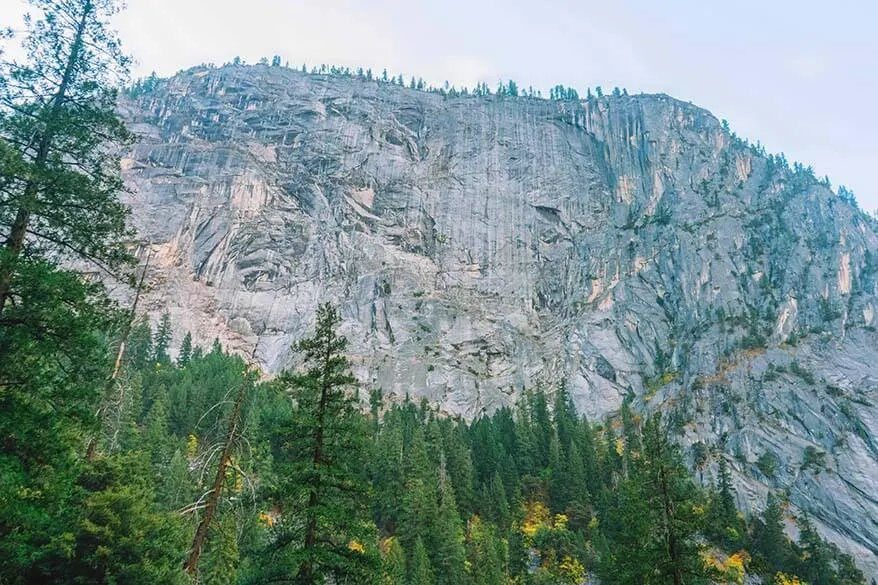 Best Things to Do in Yosemite in Low Season
Although a less popular time of year to visit Yosemite, the winter months and early spring can be beautiful (although chilly) and still have a lot to offer.
Here are some of the best things to do if traveling to Yosemite in the lower season:
Cross Country Skiing or Snowshoeing
There are miles and miles of snowshoeing and cross-country skiing trails in Yosemite. In winter, it's a top-class Nordic skiing terrain.
One of the best trails is the route up to the top of Glacier Point, a famous outlook over the Valley that's only reachable by ski or snowshoe during the winter months.
You can rent equipment from the Badger Pass Ski Area and ski the 10.5-mile route in about five hours. The Ski Hut on Glacier Point provides food and lodging, in case you don't want to return on the same day.
Crane Flat is another popular area for cross-country skiing.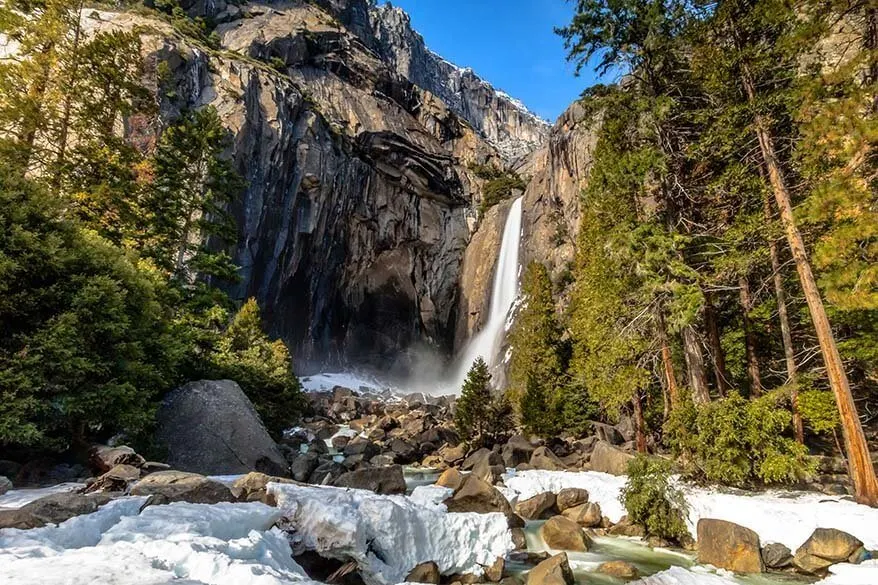 Ice Skating Below Half Dome
Every winter, park staff set up a beautiful ice skating rink just below the gigantic Half Dome. This must be one of the most scenic places to skate in the world!
The ice skating rink is near a campsite called Curry Village, which is easily accessible by car during the winter months. You'll have to buy tickets at the campsite and you can also rent skates there as well.
Other Winter Activities
In addition, there are many other great things to do in Yosemite in winter. For some of the best outdoor activities, head to Badger Pass. There, you can go downhill skiing, snowboarding, but also sledding and tubing. You can rent the equipment inside the park, and you can also take ski lessons.
You can also simply go for a walk in Yosemite Valley. Admire the scenery, visit Yosemite Valley Chapel, enjoy the views along the Merced River, etc.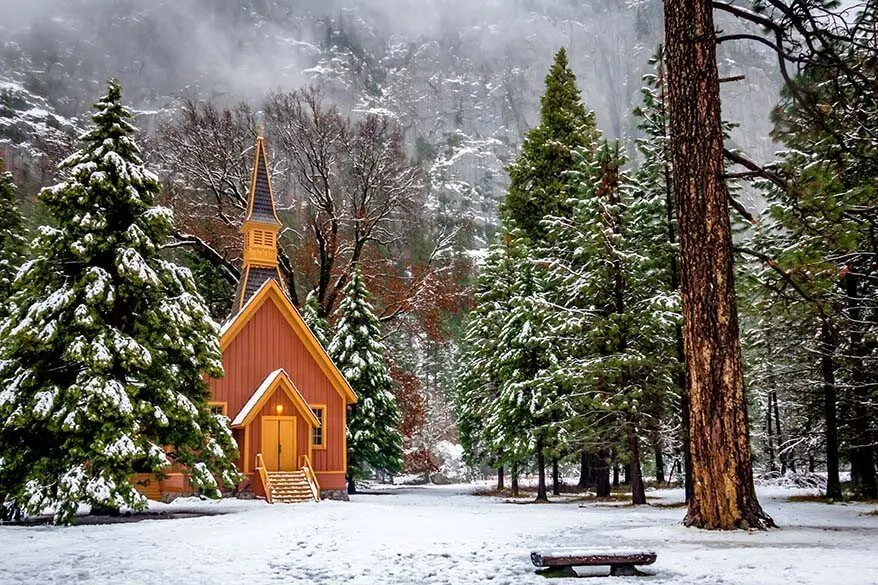 Best Hikes
There are far too many hiking trails in Yosemite to mention in one go here. But below you can see a few of the best hikes that we recommend if you are visiting Yosemite for the first time.
Good to know: Most hikes in Yosemite are only possible from late- May/ June to September/October. However, there are some hikes at lower elevations (Yosemite Valley, Wawona, Hetch Hetchy) that might be snow-free in April or early May as well.
Here are our recommended best hikes for all difficulty levels:
Sentinel Dome & Taft Point
Sentinel Dome – EASY: 2 miles – 400 ft elevation gain (3.2 km – 120 m)
Taft Point – EASY: 2 miles – 250 ft elevation gain (3.2 km – 76m)
Sentinel Dome & Taft Point loop – MEDIUM: 5 miles – 1,120 ft elevation gain (8.2 km – 342 m)
Sentinel Dome Trail is a leisurely two-mile hike that starts off from Glacier Point Road. The trail takes you up to Sentinel Dome's peak, from which you can see Yosemite Valley and waterfalls from a panoramic perspective.
Alternatively, you can walk in the other direction, to Taft Point. This hike is also about 2 miles and is even easier. Or, you can make a loop and combine Sentinel Dome and Taft Point hike in one.
Since you drive most of the way up to get to the trailhead, there's not that much elevation change on the trails. So these hikes are a good option for those who are looking for an easy-medium hike in Yosemite that still offers plenty of amazing views.
These are also good trails to start with if it's your first day in Yosemite. The effects of higher elevation are no joke and it's good to give yourself a day to adjust and ease into it.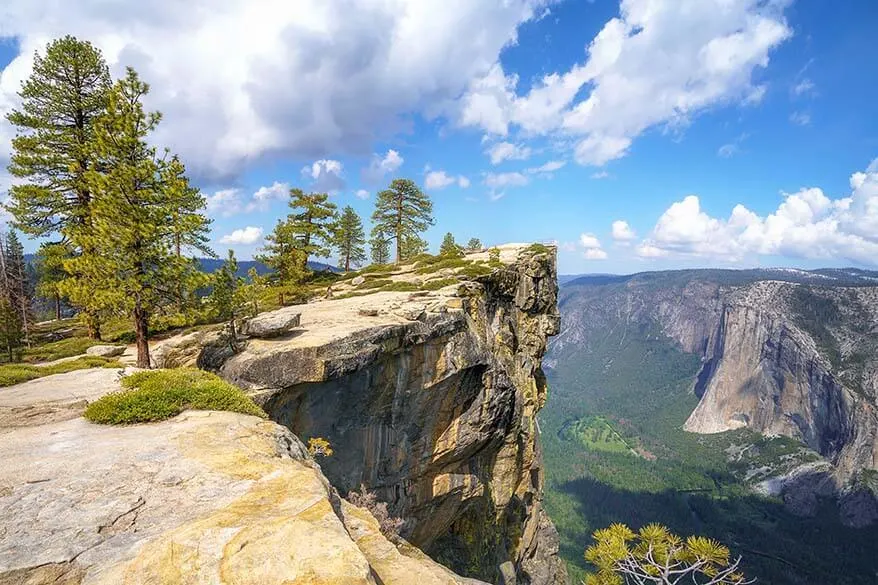 Yosemite Falls Trail
MODERATE: 7.2 miles, 2,700 ft elevation gain (11.5 km, 820 m elevation gain)
There are a number of options for hiking up and around Yosemite Falls. The best is the main trail, called, as you'd expect, Yosemite Falls Trail.
The 7.2-mile loop is an ideal choice for moderate hikers, with a little bit of a challenge in the 2,700-foot ascent you make to reach the top of the falls. It takes most people between 6 to 8 hours.
Easier alternative: Otherwise, if you still want to hike around the falls but don't want to work your calves as much, the 2-mile hike to Colombia Rock is a less strenuous option. And there's only 1,000 ft elevation gain. You don't make it to the top of the falls on this hike, but you still get a great view.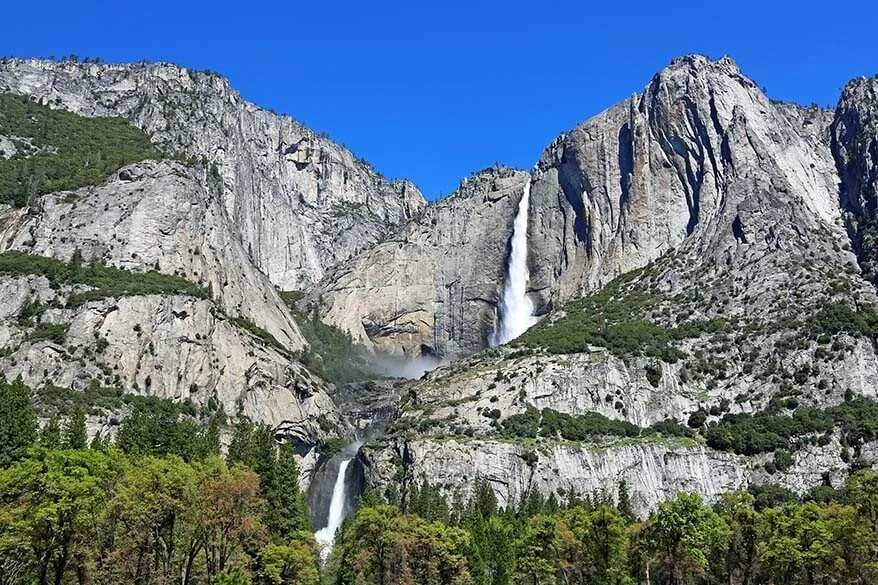 Half Dome Hike
STRENUOUS: 14 miles, 4,800 ft elevation gain (22.5km, 1,463 m elevation gain).
The Half Dome hike is a magnet for serious and experienced hikers that really want to test themselves in Yosemite. It's also become a rite of passage to hike at least once for those who live in California or visit Yosemite often.
The round trip hike is a whopping 14 miles, which some can do in 10-12 hours. The hike's final stage is the climb up the backside of Half Dome, which is so steep that you need to follow the cables the park installs to make it possible.
This hike is so popular these days that you need a permit to make the final climb up the dome on the cables. Only 300 hikers a day are allowed up, so there's a lottery system to decide who gets to go all the way.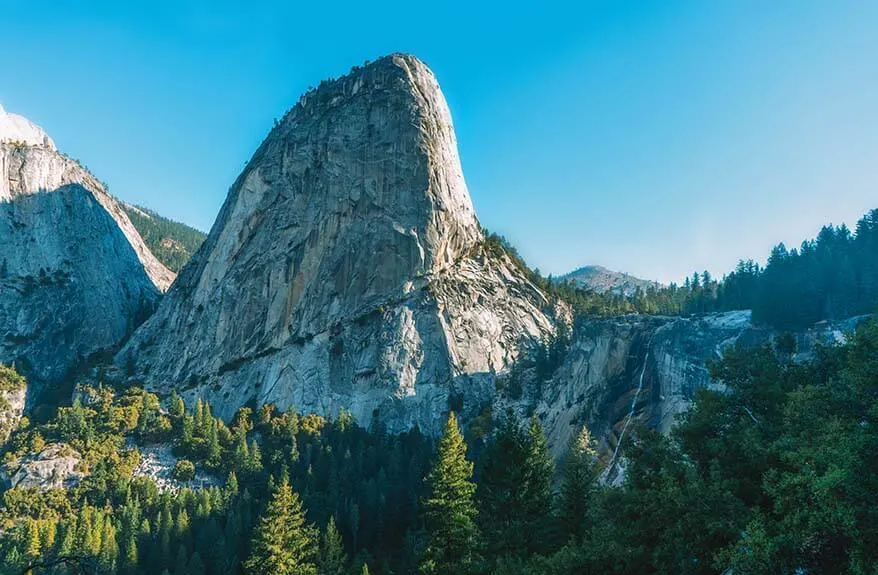 Best Viewpoints
The Sierra Mountains give Yosemite an abundance of vistas. You have to experience them yourself to really understand how beautiful Yosemite is as pictures just don't do it justice.
Here are three of the best viewpoints not to miss on your first trip to Yosemite:
Tunnel View
Tunnel View lies at the Western Entrance of Yosemite Valley, looking down over the entire Valley with the towering rock faces on either side. The viewpoint gets its name because it's right at the exit of the Wawona Tunnel and it's one of the first sights of the Valley that many visitors will see.
TIP: Just nearby, a bit down the road, there's a nice waterfall, Bridalveil Falls. It's just a short hike (or you can see the waterfall from further away too) and it's a nice stop in this area.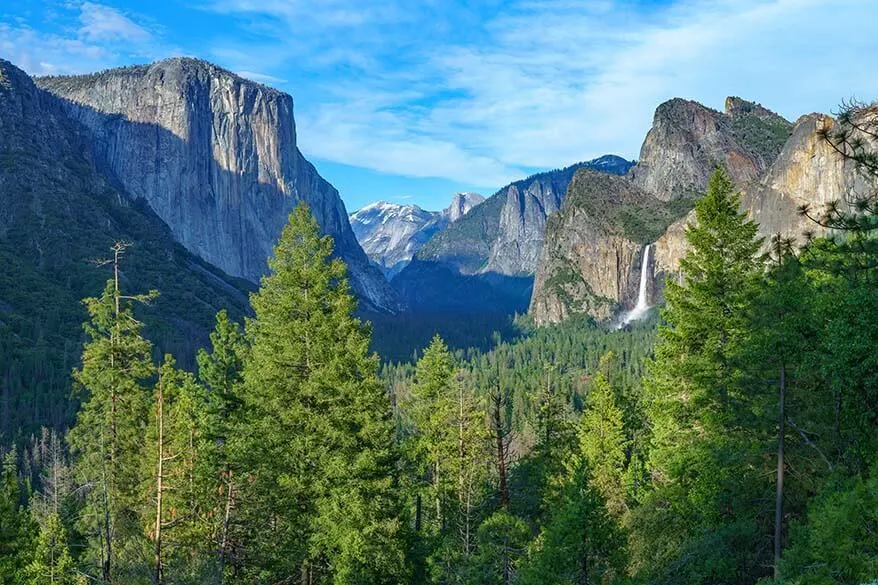 Glacier Point
Glacier Point is another viewpoint from which you can take in the Yosemite Valley. But this time, you'll be looking downwards rather than up. From Glacier Point, you can see Yosemite Falls from a great vantage point, as well as the famous Half Dome rock formation.
In high season, you can drive up here by car. So if visiting during the summer, spring, and fall, the viewpoint is just an easy 0.6-mile hike from the parking area.
You can also visit Glacier Point in the winter. But because the roads leading up to the viewpoint close down for the season, it's more challenging to get here. You'll need to cross country ski or snowshoe to get there in the colder months.
Good to know: Glacier Point Road will be closed in 2022 and will only be reachable via several (strenuous) hikes. More info here.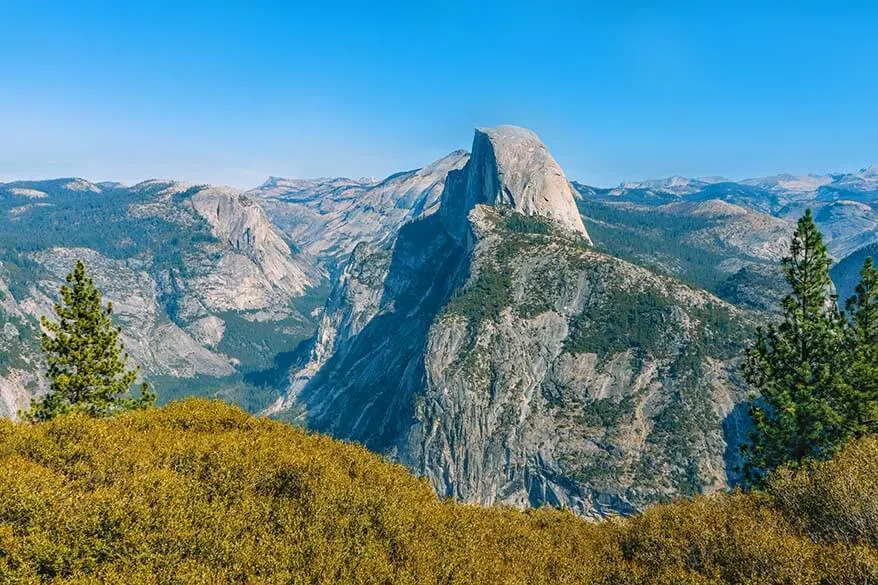 Olmsted Point
Olmsted Point is one of the nicest viewpoints along Tioga Road, in the eastern side of Yosemite. It's a bit further from Yosemite Valley, over 2 hours away by car, but the view is well worth the journey.
You can access the viewpoint by driving along Tioga Road, which itself is a nearly continuous string of viewpoints. Even after all that driving, you can still see Half-Dome, albeit from a more unique perspective.
Good to know: Tioga Road closes in the winter. And since it's much more remote than Glacier Point, skiing there isn't really feasible for most. So this viewpoint is best visited in the summer and in the fall.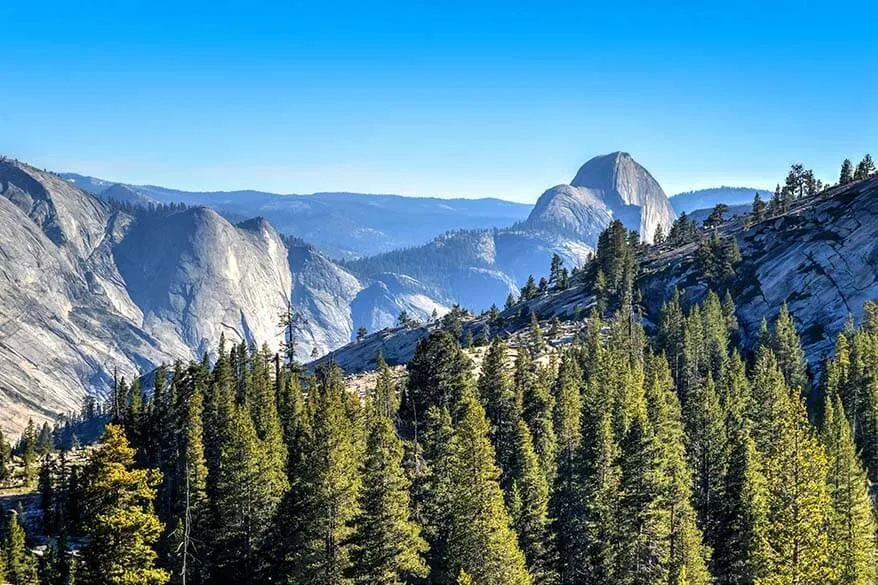 Where to Stay
Yosemite has a wide array of options for overnight stays, stretching from little campsites way off the beaten path to luxury hotels with all the amenities. The wealth of choices makes both a rugged wilderness adventure and a relaxing spa experience possible within the park's limits or just nearby.
Yosemite Lodging
Yosemite Village (Yosemite Valley) is the best place to stay in Yosemite. However, accommodation options here are limited and usually sold out months in advance.
Ahwahnee Hotel, briefly known as the Majestic Yosemite Hotel, is a grand hotel with a long history. It first opened in 1927 and has hosted high-profile guests, including several US Presidents (such as Dwight Eisenhower, John F. Kennedy, and Ronald Reagan) and even Queen Elizabeth.
As you would expect, the hotel doesn't lack luxury despite its rural location. There are heated pools, fine dining establishments, and valet service. All rooms come with standard amenities like flat-screen TVs, refrigerators, and coffee makers. Finally, there's a gift shop that focuses on the work of local artists.
Yosemite Valley Lodge is another great option in the heart of Yosemite Valley. It's more affordable, has good facilities, and a perfect location.
Another good place to stay, but much further away is Wavona. Location-wise, the Wawona is a little further from Yosemite Valley, about 27 miles away. But that might suit some people who want to explore less crowded areas of the park.
Wawona Hotel is a more modest home base for a trip to Yosemite than the Ahwahnee, but it's also a historic institution. It's actually older than the former hotel, first opened in 1856! The original whitewashed Victorian buildings are still standing and the decoration is still appropriate to that time period. The hotel also has some unique features, like live piano music in the bar, expansive verandas surrounding the buildings, and even a golf course.
Compare Hotels & Short-term Rentals near Yosemite National Park
Accommodation in Yosemite Valley is limited and quite expensive. The best alternative place to stay nearby is Yosemite West, just at the park border.
Here you can find the best choice of hotels, apartments, cabins, and B&Bs in Yosemite West. There are also a few hotels at El Portal.
Alternatively, using the map below, you can compare hotels, cabins, and short-term rental accommodations in Yosemite West. Simply insert your travel dates and group size, and you'll see what's available for your stay. Check it out!
Campsites
Campsites are scattered throughout Yosemite's sprawling area and can offer quite different experiences. Most campsites have to be reserved ahead of time, with the most popular spots filling up months in advance.
You can make a reservation through the National Park Service's online portal. For many campsites, you can make a reservation up to five months in advance. Indeed, competition for spots is so fierce that some would say it's a necessity to book that far ahead.
North Pines Campground and Upper Pines Campground are among the most popular campsites for RVs or trailers since there's ample space to accommodate larger vehicles. These campsites also have washrooms, electricity, and other conveniences. Furthermore, they are located very close to must-see landmarks like Yosemite Falls and Mirror Lake.
Another campsite near North Pines and Upper Pines is Lower Pines Campsite. Lower Pines' distinctive feature is that it's located along the Merced River, granting it a slightly different vibe that comes with the sound of water nearby. It's somewhat smaller than the other two campsites but still open to RVs and trailers. One thing to note is that Lower Pines sometimes closes as a result of high water levels, so check conditions before you leave.
A famous tent-only campsite is known as Camp 4. It's located close to many of Yosemite's best climbing spots. Camp 4 became an important nexus for California rock climbers during the 1960s and 70s when professionals would camp out there for the entire season. Indeed, Camp 4 has made it onto the National Register of Historic Places for its importance to climbing culture.
For most of the year, you can't reserve Camp 4. Instead, it's filled each day by walk-ins on a first-come, first-served basis.
Finally, the High Sierra Camps are actually a group of five campsites spread throughout the park. They are called Tuolumne Meadows, Glen Aulin, May Lake, Sunrise, Merced Lake, and Vogelsang. You can only get to these campsites by hiking in, and the trails to reach them vary in difficulty. For example, getting to Vogelsang takes 5-6 hours of very strenuous hiking, so you'll want to have light backpacking gear to get set up camp.
Once you make it to one of the High Sierra Camps, you'll be grateful to find some amenities. After the long hike, the showers might be the most welcome.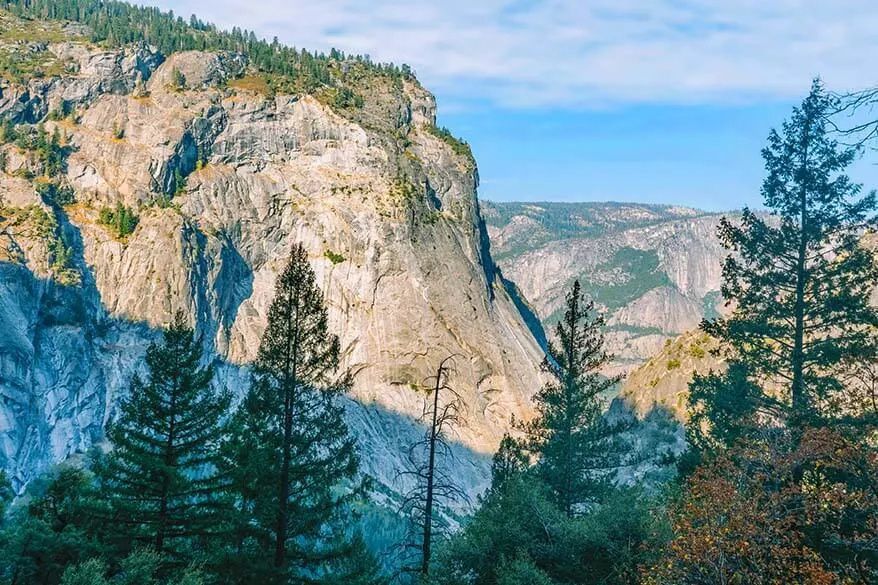 Where to Eat
As a national park that manages to include luxury within the ruggedness of nature, Yosemite is full of dining options that range from fine to threadbare.
The Ahwahnee Dining Room offers a fine dining experience that can make you forget how far from civilization you are. There's a dress code for dinners, but breakfast and lunch are casual, so you can show up in your hiking gear.
Another good option is the Curry Village Pizza Deck, which might be more to the taste of the climbers and hikers who visit the park. Plus, there's something that's satisfying about relaxing outdoors with a pizza and a beer after a long hike.
Should You Pack a Picnic for During the Day?
That depends on your plans, of course. There are plenty of food options around the park, especially near Yosemite Valley. But if you are going on a longer hike or to more remote areas of the park, you'll want to bring food along.
Luckily, the views along Yosemite's trails often provide beautiful backdrops for a memorable picnic.
Good to know: One thing to note is that Yosemite is a bear country. Normally, you won't need to bring bear sprays along for the popular day hikes. But if you're backpacking, you'll definitely need to store your food securely and have bear canisters with you.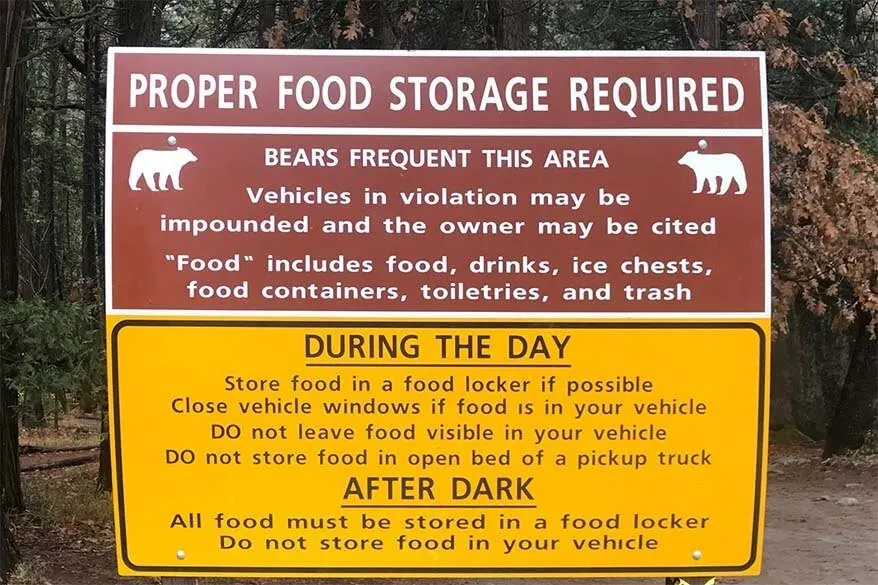 What to Know About the Wildlife in Yosemite
There are a lot of native Californian species that call Yosemite home. Many hikers have been lucky enough to catch a glimpse of one or more of them out in the woods. Bobcats and coyotes are two of the predators in the park's ecosystem. If you climb high enough into the mountains, you might also see some Sierra Nevada Bighorn Sheep.
However, the most well-known inhabitants of Yosemite might be the approximately 300 to 500 black bears. Black bears aren't usually dangerous if given space, but the best advice is to always watch out for those with cubs.
As a rule of thumb, avoid disrupting the wildlife as much as possible! Also, be sure to pick up after yourself so everyone can enjoy the beauty of Yosemite for years to come.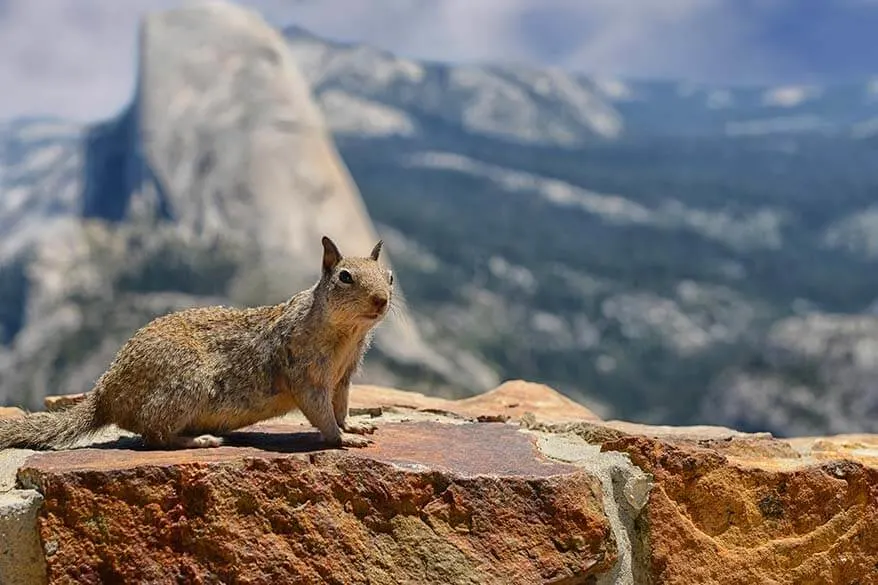 Yosemite Travel Tips
Here are some additional tips for your visit to Yosemite National Park:
Book in advance! Yosemite is a very popular national park, so if you are visiting in summer, it's essential to plan your Yosemite vacation ahead and book your accommodations in advance. For a few years, they also worked with a reservation system during the high season. While it's no longer required at the moment of the latest update, it's essential to check the official NPS website for up-to-date info.
Prepare a good itinerary. If you want to make the most of your stay and see all the main landmarks of Yosemite in a short time, it's essential to have a plan. It's always useful to take a look at the map and driving distances when preparing an itinerary. Also, keep in mind that many places will be very busy and traffic jams are common.
Start early! The best way to see the most popular places in Yosemite is by beating the crowds and getting there as early as possible. Of course, you can't visit every place first thing in the morning but go to the most popular ones first. For example, the above-mentioned Mariposa Grove of Giant Sequoias is best visited as early as possible before the car parking fills up.
Stay up late. Evening hours are also great for visiting some of the most popular landmarks. Most day tourists leave by 6 PM, so take advantage of that if you are staying nearby. Wildlife is more active around sunset as well.
Don't rush. If you can, plan at least 2-3 days for Yosemite. This will allow you to see the best places, but also get a bit off the beaten path. But you can easily plan a longer vacation in Yosemite and you'll find plenty to see and do, especially in summer.
Prepare for the changing weather. Since this is the Sierras, the weather changes quickly and you never know what type of conditions you might encounter at the park. So it's essential to check the weather forecast and travel prepared. Dress in layers and pack a rain jacket.
Get a map & prepare to disconnect. Cell service is very limited in Yosemite. Also, if you stay in one of the hotels inside the park, be prepared for limited Wi-Fi as well. Print out any documents/ information that you might need during the trip. You can find a good road map on Amazon, or you can download a small version of a Yosemite tourist map here. If you are planning any longer hikes, it's useful to get a map of Yosemite hiking trails.
READ ALSO: What to Pack for a Road Trip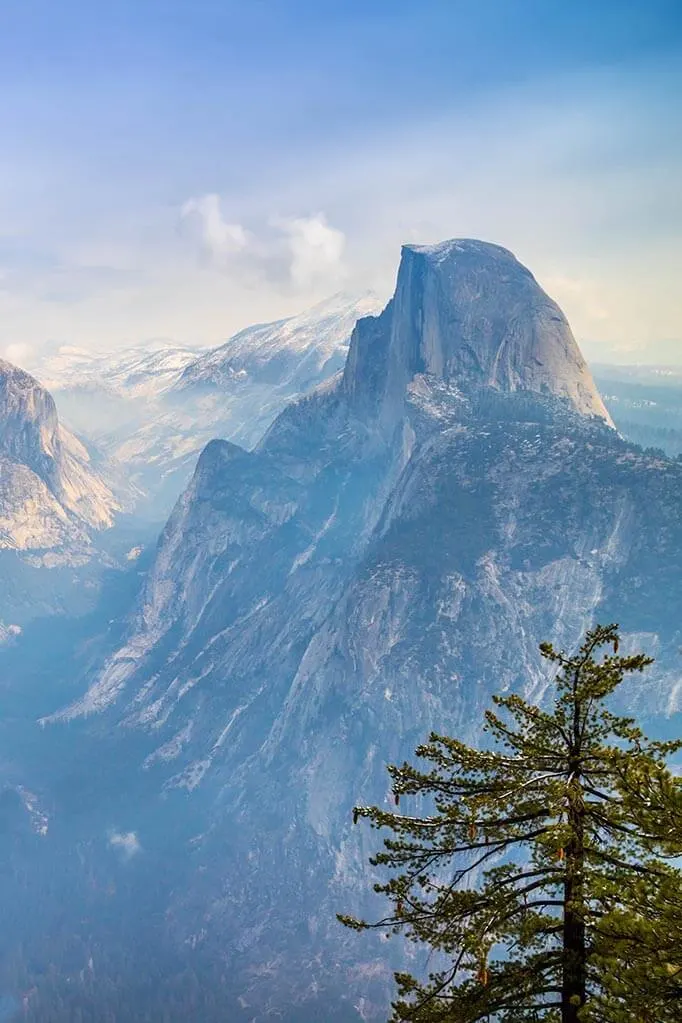 So, this is our Yosemite travel guide. Hope that it will help you plan a more memorable trip and help you make the most of your vacation!
Have a great trip!
More National Parks travel inspiration:
READ ALSO: Best National Parks for Families
If you found this post useful, don't forget to bookmark it and share it with your friends. Are you on Pinterest? Pin these images!