Wondering where to travel in February or looking for trip ideas for a romantic Valentine's Day getaway? In this article, we share some amazing U.S. National Parks to visit in February!
February is a great month to travel to many American National Parks. In the northern states, you'll often find winter at its best. In the meantime, it's a dry cool season in many southern states and the weather is perfect for outdoor activities. Furthermore, February is one of the quietest months to travel.
So depending on what you are looking for, February can be a wonderful time to visit various U.S. National Parks.
In this article, we feature an inspirational mix of a variety of National Parks that you can visit in February. From dreamy winter landscapes of the Grand Canyon to desert flowers in the Death Valley or Big Bend National Park – there's truly something for everyone on this list.
Good to know: For this inspirational post for National Parks to visit in February, we also asked the opinions of other travel writers. They share some of their favorite American National Parks that they visited in February and offer experience-based tips for your trip. We also included some of our personal suggestions. Take a look!
READ ALSO: Best National Parks to Visit in January
PRO TIP: If you are planning to visit several National Parks, get an annual NP pass. It's called America the Beautiful Pass and costs 80 USD for the whole family traveling in the same vehicle. It is valid in all National Parks and 2,000 federal recreation sites across the United States for one year from the month of purchase.
Need a rental car for your National Parks road trip?
We recommend renting your car via the Rental Cars website. You can compare different companies and their offers, and find the best prices for your trip. They have an excellent cancelation policy and you can also get full insurance for a much lower price than at the counter. We personally always use them, also on a recent trip in the Southwestern USA.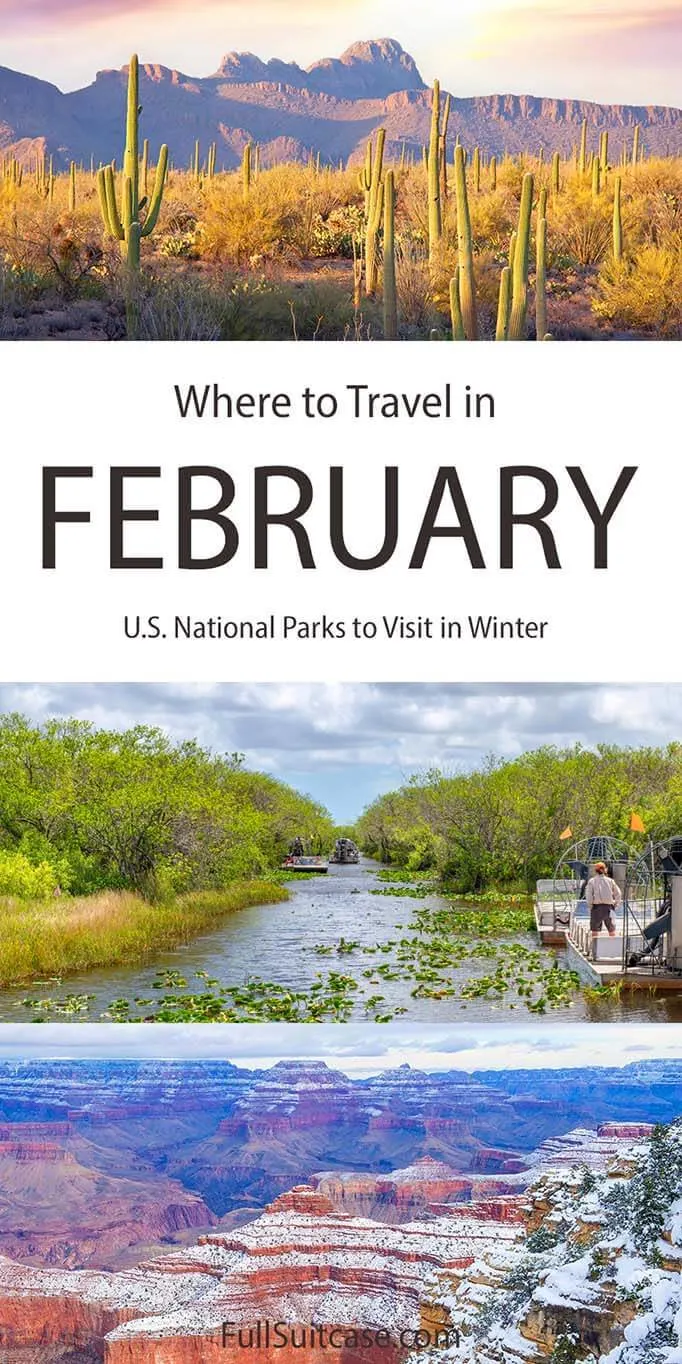 These are some great National Parks to visit in February:
1. Death Valley National Park
February is a wonderful time to visit Death Valley National Park in Southern California (also easily doable as a day trip from Las Vegas). With pleasant daytime temperatures, it is a joy to explore the stunning desert landscapes. Plus, if you are visiting following a wet winter, you may see early wildflower displays in parts of the park in the second half of the month.
Death Valley National Park, which experiences some of the hottest temperatures on earth in the summertime, has really pleasant temperatures in winter. In February, you can expect daytime temperatures in the low to mid-70s (21-24 °C), with much cooler nights. The weather is perfect for hiking and sightseeing during the day!
There is a lot to do here and February weather allows you to explore the park to the fullest! Scenic hikes in the park include the short walk to Natural Bridge or the more challenging Mosaic Canyon hike.
Important update fall 2023: At the moment, Death Valley NP is closed due to recent flooding and debris on the roads. If you are planning a trip soon, be sure to check the official website for up-to-date conditions.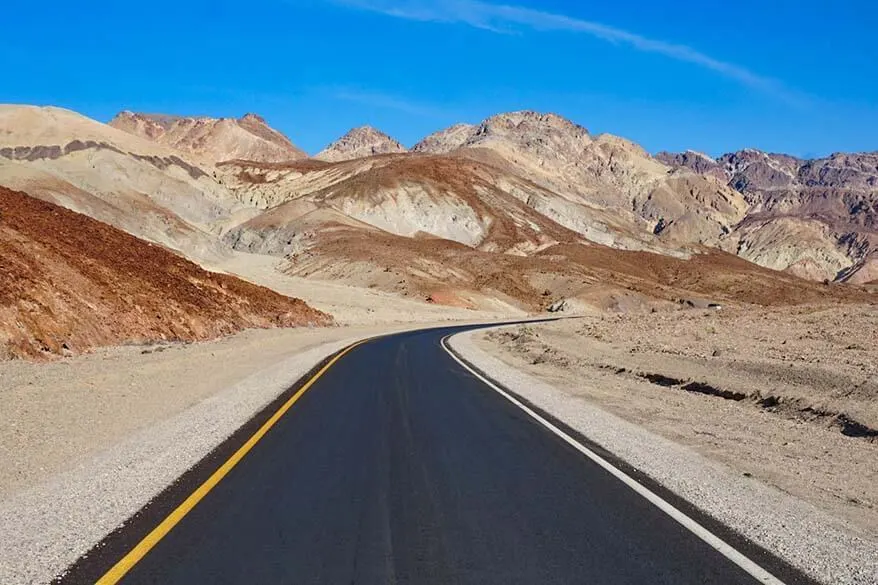 Don't enjoy hiking? Visit scenic overlooks: Zabriskie Point is an absolute favorite! Alternatively, do the Artist's Drive to see colorful mineral deposits on the hillside or tour the park's many historical sites from the days of the Gold Rush. From charcoal kilns to old mines, you can get a great peek into the region's past.
At night, bundle up to stargaze! Death Valley National Park is a Gold Tier Dark Sky Reserve, and the park generally hosts a dark sky festival each February. Perfect for a romantic Valentine's Day getaway!
TIP: Check at the Visitor Center to see if wildflower bloom is occurring when you are visiting! Bloom generally starts in the lower elevations at around mid-February and works its way up later in the year, but a super bloom only happens every few years. More info about Death Valley wildflowers.
LEARN MORE: Best Places to See in Death Valley National Park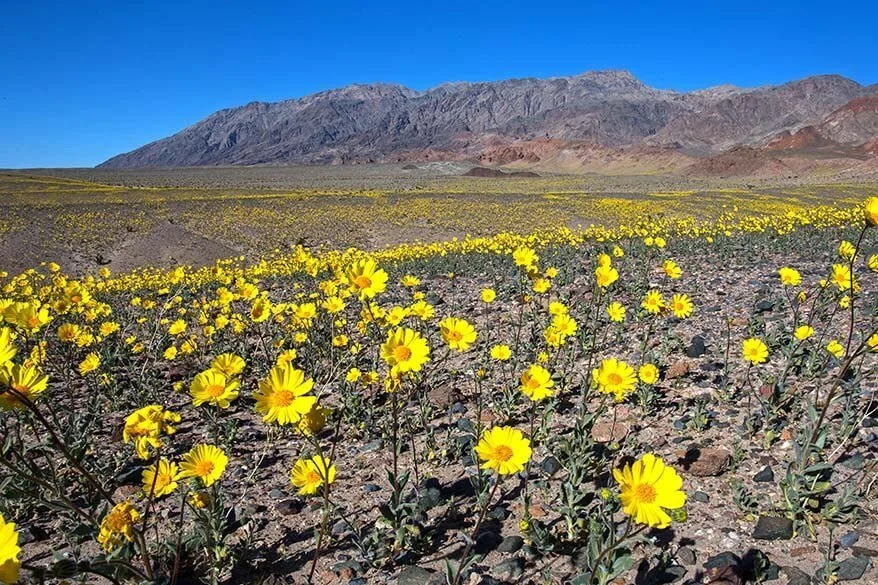 2. Yellowstone National Park
If you want to experience one of America's most unique National Parks without the crowds, then February is an excellent time to visit Yellowstone. Furthermore, Yellowstone is a real winter wonderland with dreamy white landscapes, steaming geothermal features, and cozy lodges where you can spend long winter evenings…
February is one of the coldest months in Yellowstone, with average temperatures between 4 and 30°F (0 to -15°C) and lots of snow. So you have to travel well prepared. But if you know what to expect, dress warm and plan well, it will be a trip of a lifetime!
The majority of Yellowstone isn't easily accessible in winter. Mammoth Hot Springs area and the road in the north of the park is the only one open to regular traffic the whole year round.
However, February is one of the months of the so-called Winter Recreation Season when the Upper Geyser Basin area and Old Faithful Snow Lodge are also open to the public. In this season, many park roads are open for over-snow travel by snowmobile or snowcoach.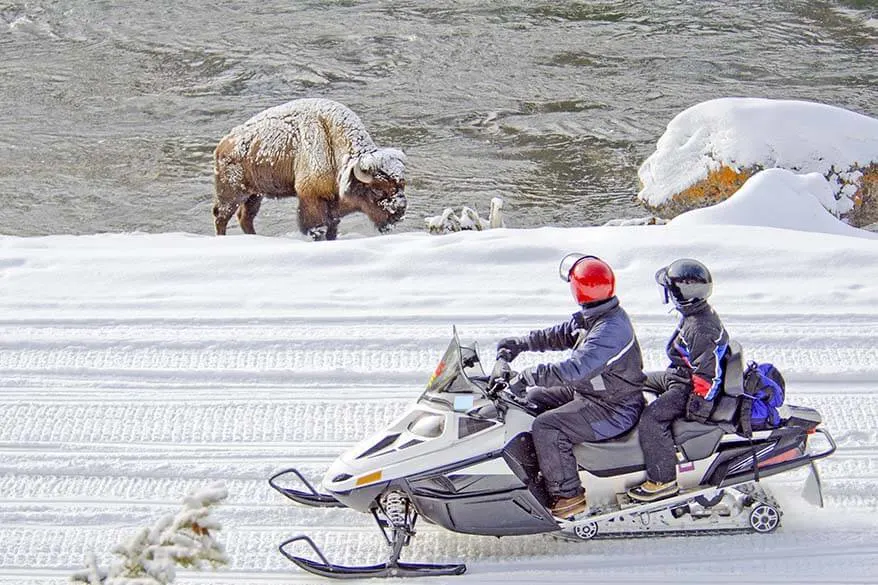 There are many winter activities that you can do in Yellowstone in February. Snowshoeing and cross-country skiing are popular, but probably the best way to see the park is by going on a snowmobile tour or on a snowcoach tour.
Also some of Yellowstone's most famous landmarks are accessible (by over-snow vehicles) in winter. You can see the Old Faithful Geyser and also the Grand Canyon of the Yellowstone. In addition, winter is a great time to see wildlife that gathers around the warm geothermal springs looking for warmth and food.
TIP: If you have a few days, then definitely consider a multi-day winter tour of Yellowstone. This is your best chance to see a big variety of wildlife including wolves and visit some incredible places that you would never be able to see in winter on your own. A bucket-list trip for sure!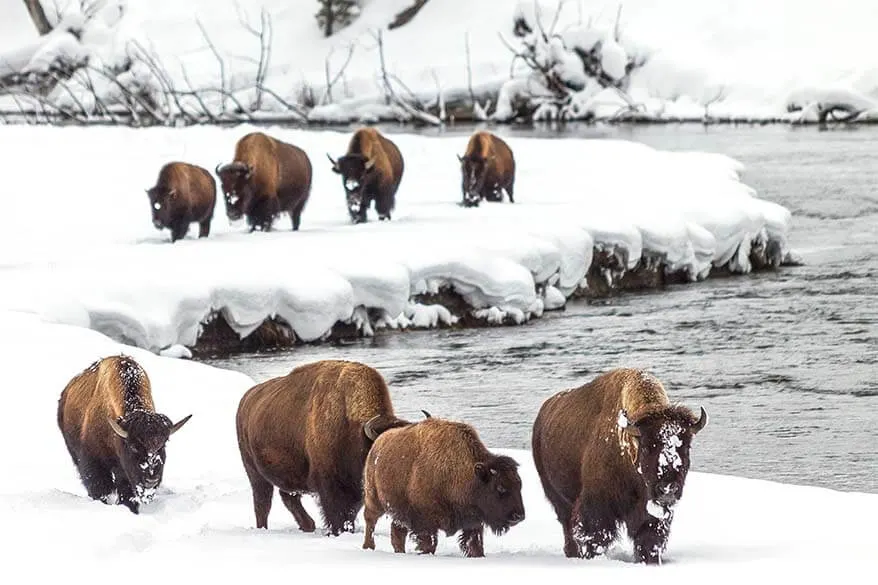 3. Big Bend National Park
February is one of the best times of year to visit Big Bend National Park, deep in west Texas along its border with Mexico. Unlike the long, scorching summers, February offers daytime highs over 64°F (18°C) and overnight lows of 43°F (6°C) on average.
Big Bend is a hiker's paradise, and the cool temperatures and thin crowds of February provide the ideal conditions. Hikes range from short, interpretive nature trails for families with young children to strenuous hikes in the Chisos Mountains that include thousands of feet in elevation gain.
For those seeking a truly unique experience, on some days you can cross the border and visit the Mexican town of Boquillas del Carmen. Late February is also the beginning of Texas bluebonnet season and the incredible bird migration that goes through Big Bend every year. No matter your interest, there are plenty of things to do at Big Bend National Park.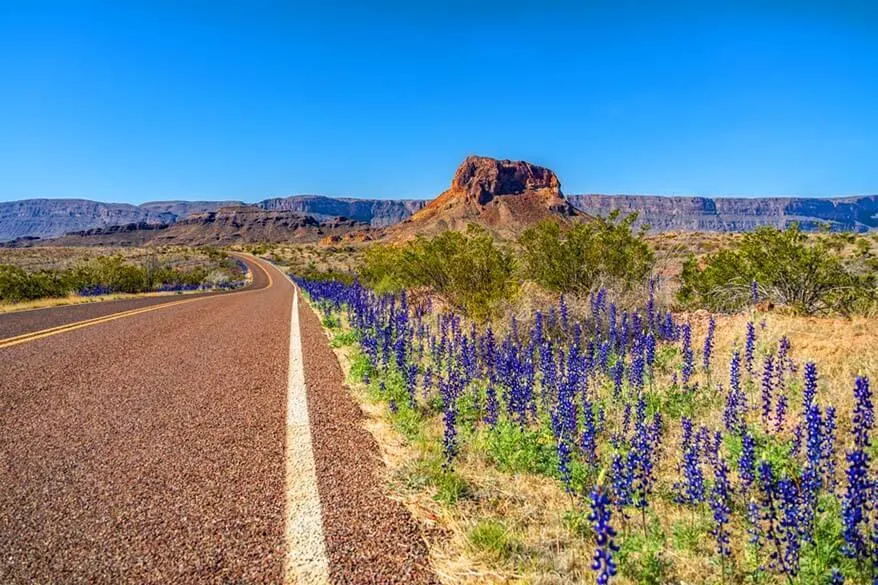 Unlike northern National Parks, almost everything in Big Bend is open from November to April when the weather is most pleasant. The park has five visitor centers and all open in February. The only closure in February is part of the South Rim trail during the peregrine falcon nesting season.
Due to the chilly nighttime temperatures, camping in Big Bend in winter isn't recommended.
Chisos Mountains Lodge inside the park is the best lodging option, but it's usually booked-up several months in advance. Good alternatives are Lajitas Golf Resort or Terlingua Ranch Lodge. Also here, book well in advance because this is the high season at Big Bend!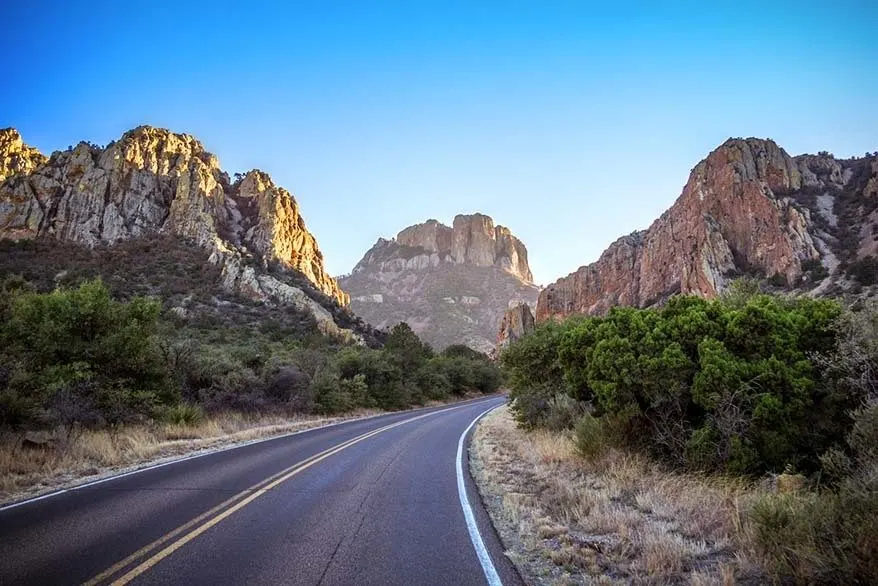 4. Yosemite National Park
Yosemite National Park is one of the most popular National Parks in the USA. It is extremely busy during the summer months, but also during public holidays and on weekends in the lower season as well.
But if you are a budget traveler and/or are looking to visit Yosemite without the crowds, February could be the ideal month for you! Together with January, this is one of the quietest months in this beautiful park.
Another nice thing about visiting Yosemite in winter is that you get to experience the magical view of the snow-capped huge domes of the valley. Besides amazing snowy vistas, Yosemite National Park has a lot to offer its visitors in winter as well!
Go for a hike to Bridalveil Fall; it's easy and offers a fantastic scenic view. Although the water won't be flowing like in the summer months, the snowy landscapes along the path and the view will not disappoint you. Lower Yosemite Falls and Mirror Lake are also accessible during winter.
The snow-covered Half Dome and serene winter landscape give countless opportunities to photography enthusiasts. In addition, you can enjoy various outdoor winter activities like snowboarding, ice skating, and skiing. If you are a novice, visit the ice skating rink at Curry Village and enjoy with your kids.
The snowboard resort is very affordable and has only 10 runs, mostly intermediate. There's only one drawback to visiting Yosemite in winter and that is the closure of Glacier Point Road and Tioga Pass.
February is typically cold and snowy in Yosemite, although sunny days are not abnormal and temperatures are often higher than you'd expect at this altitude. Average daytime temperatures in Yosemite in February are at around 53°F (12°C), average lows – around 30°F (-1°C).
TIP: For more information, please check this guide to visiting Yosemite. It contains all the practical information and tips for your visit.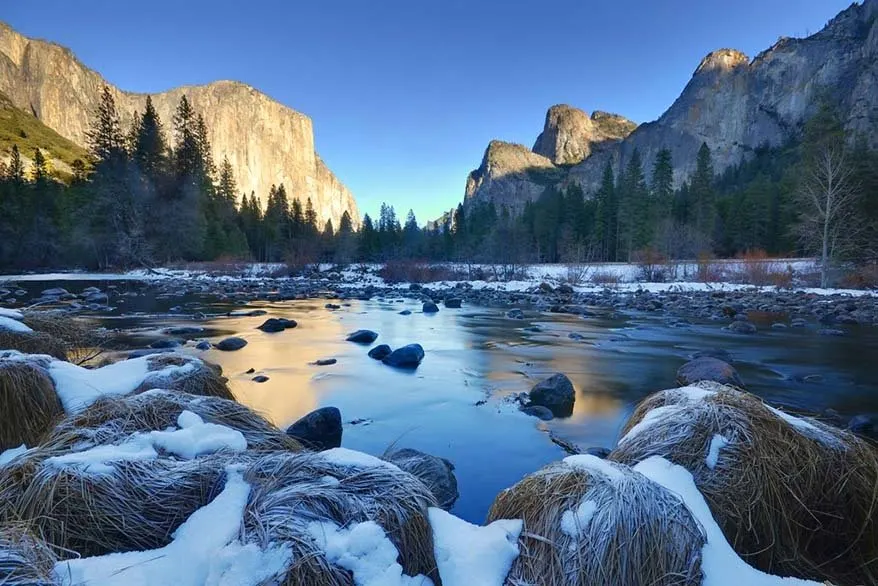 Good to know: At around the second and the third week of February, Yosemite experiences a beautiful natural spectacle that attracts big crowds of photography enthusiasts, Yosemite Firefall.
For just a few days in February, the angle of the setting sun illuminates Horsetail Fall in glowing orange and red colors. It looks as if the waterfall is on fire!
If you are not a photography buff, you may want to avoid visiting Yosemite between February 15-25; and if you are, be prepared to fight for the best photo post with hundreds of others.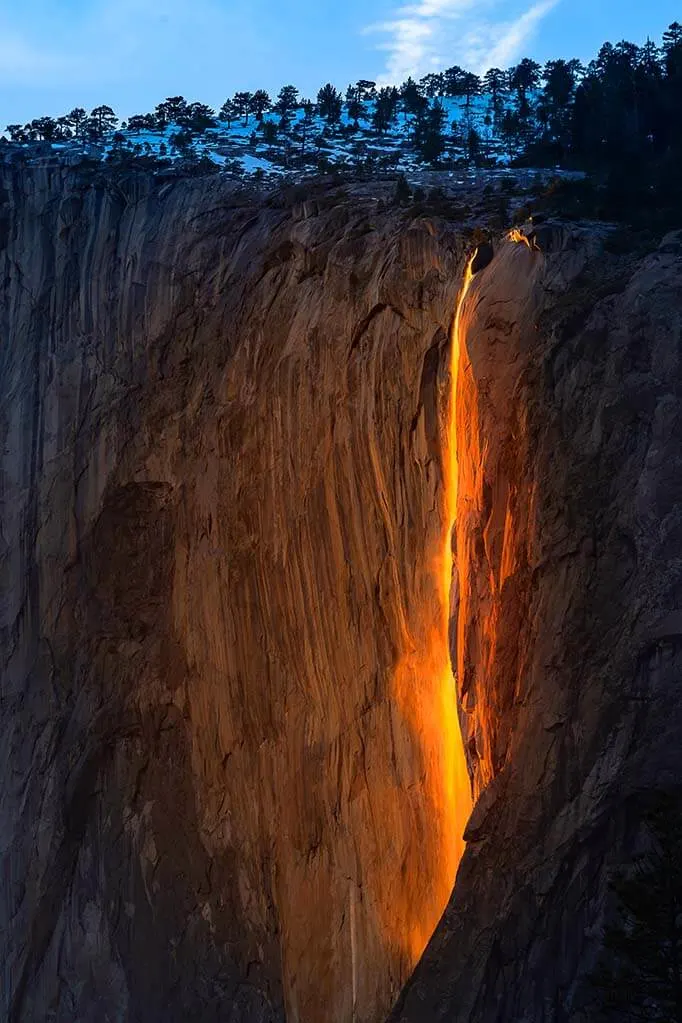 5. Hawaii Volcanoes National Park
Location: Hawaii Volcanoes NP is on Hawaii Island.
Suggestion by Constance from The Adventures of Panda Bear.
Where to stay: You can stay anywhere on the island, but you have to book well in advance!
February is a great time to visit Hawaii Volcanoes National Park on the Big Island of Hawaii. The weather tends to be mild in the winter, with pleasant daytime temperatures in the 70s (20-27°C). And while tropical rainstorms can occur, Big Island is one of the driest places in Hawaii, with on average just one day of rain in February.
In the past, Hawaii Volcanoes National Park used to be the only national park in the United States where you could catch a glimpse of active lava flows and eruptions.
However, since the 2018 eruption, there are no longer active flows in the park. Because of the damage, some areas such as the Jagger Museum and portions of Crater Rim Drive are closed. Still, there are many cool and unique things to explore in Hawaii Volcanoes National Park.
Drive the Crater Rim Drive and visit Nāhuku – Thurston Lava Tube. Continue along Chain of Craters Road past lava fields for a unique way to see lava's ability to alter the landscape.
The older, eroded flows will appear brown, sometimes even with ancient Hawaiian petroglyphs carved into them. The newer flows are usually a rich, black color and can appear in jagged rocky forms or in smoother flows, depending on how the lava cooled.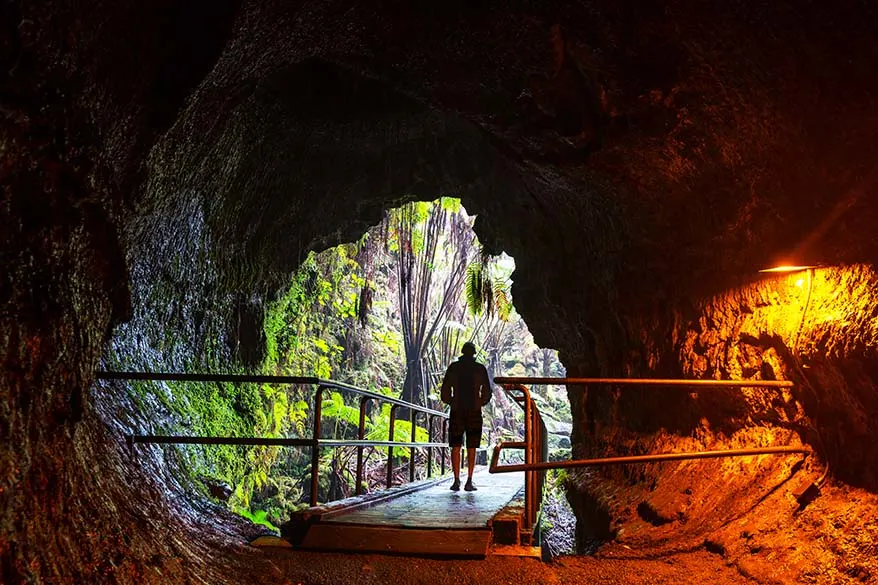 Near Kilauea's crater, you'll find steam vents with steam gushing from the floor and smell the sulfur gas rising from the ground. In the past, you could see lava from the crater. However, after the most recent eruption and further collapse of the crater, the lava has since drained underground and is no longer visible.
If you are not sure where to go, you can also visit this national park with one of the guided tours. For example, this tour visits underground lava tubes that are off-road and on the private land – something you wouldn't easily on your own.
And, of course, you don't go all the way to Hawaii just for this National Park. Snorkeling is great and a whale watching tour is always a must! February is the peak humpback whale season in Hawaii. In fact, if you're interested in beautiful nature and whales, you may want to check out Maui Island as well!
TIP: If you decide to visit Hawaii in February, make sure to book your accommodations well in advance because many Americans head there in order to escape the cold winter at home. It's especially busy around Valentine's Day.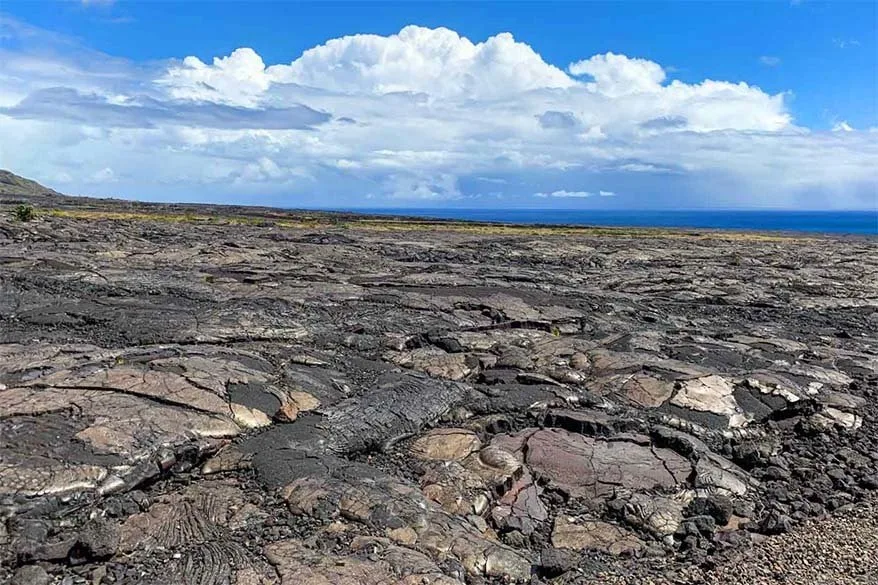 6. Saguaro National Park
Location: Saguaro NP is in Arizona.
Our personal suggestion.
Where to stay: Tucson, AZ.
Winter is the best time to visit Saguaro National Park. Cool and dry February weather is perfect for hiking and exploring the beautiful desert in southern Arizona.
The temperatures in Saguaro National Park in February range between 40°f at night to 70°F during the day (5-20°C). It's usually sunny and you should always carry a sun hat and plenty of drinking water!
The main reason to come here is to see the famous Saguaro cacti. Thousands of these impressive plants are dotting the landscapes of Saguaro National Park. The best way to explore the park is by taking a hike and there are plenty of trails available for all difficulty levels. Guided ranger walks are available as well.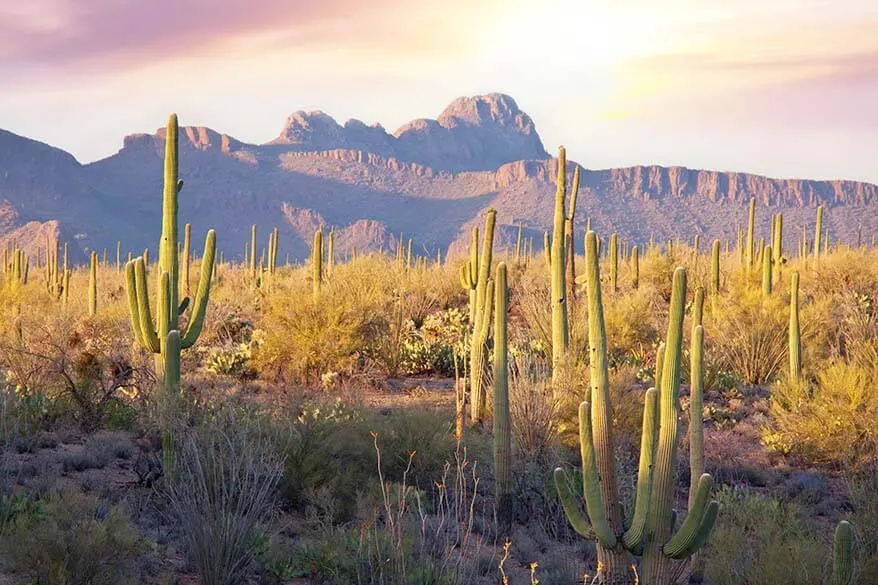 Saguaro NP is located near Tucson, AZ, and is split into two separate areas. Saguaro NP West side (Tucson Mountains) west of Tucson is somewhat easier to get to, has more features, and is generally considered more beautiful.
The western side has more large cacti close to the trails. You can also see a lot just by driving the scenic Bajada Loop Drive. If you'd like to see some petroglyphs, don't miss the short Signal Hill Trail.
Saguaro East (Rincon Mountains) is equally worth a trip and has nice mountain views in the background. Don't miss Mica View Loop Trail!
Tucson town is a wonderful place to stay for visiting Saguaro National Park. Because the two parts of the park are located on different sides of the city, it's probably best to plan two days for this area and visit them separately.
READ ALSO: Best Places to Visit in Arizona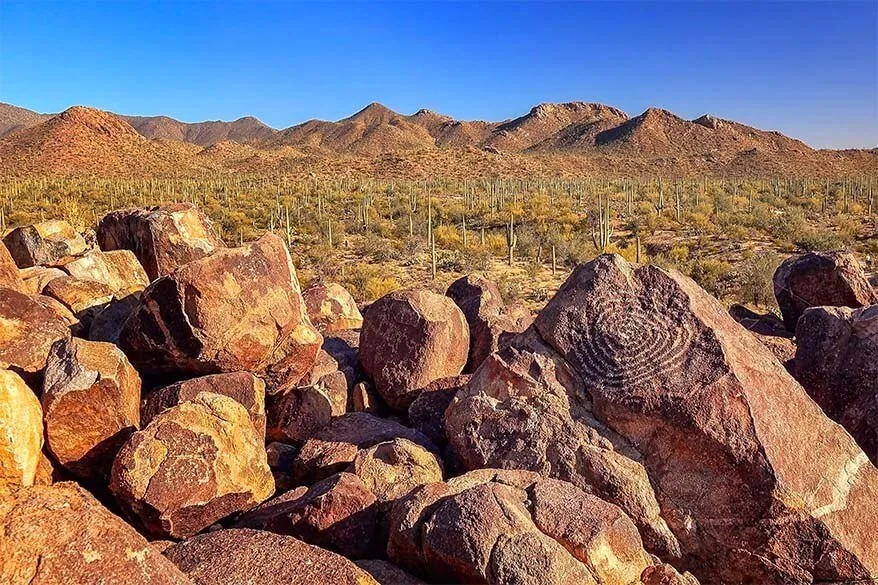 7. Grand Canyon National Park
There is never a bad time to visit the Grand Canyon and you can easily explore it in winter as well. And while the South Rim of the Grand Canyon can get some real winter weather, it remains open all year round.
Weather-wise you can really expect everything in February – from snowstorms to nice crispy winter weather and clear skies, and even early spring. Average temperatures in Grand Canyon in February range from 20 to 45°F (from -7 to 8°C). So make sure to dress in layers so that you are ready to enjoy the beautiful outdoors no matter the weather.
While visiting Grand Canyon in February requires a bit of extra planning, the weather seldom prevents viewing the stunning scenery. And it is always really special to see the majestic canyon with snow! Just keep in mind that some trails and roads may be closed so you need to be flexible.
The good thing is that February should be really quiet and you don't have to worry about the queues at the Grand Canyon South Entrance (unless maybe around Valentine's Day weekend).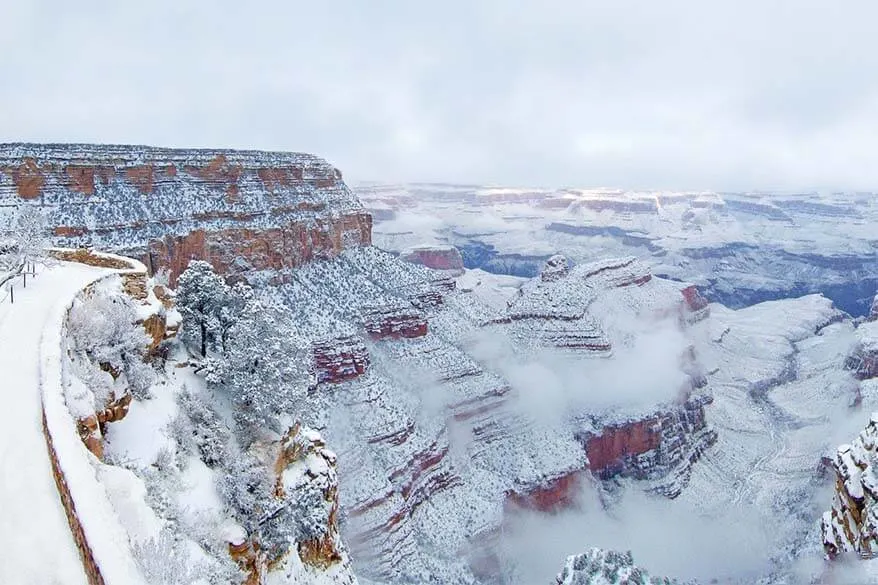 The first thing you should do is visit the Visitors Center (or check the official NPs website) to see how the roads are and which trails are open. You can also consider taking the shuttle to the different viewpoints of the South Rim, so you don't have to drive. If you are only planning on visiting the viewpoints, this is the best way to get around.
From the Visitors Center, you can take the Rim Trail which is a paved 13-mile trail from the Grand Canyon Village to Hermit's Rest. You can hike parts of the trail and use the shuttle bus for the other parts or to take you back to the Grand Canyon Village.
Check out the Mather Point which is one of the most popular viewpoints. My personal favorite viewpoint is Yavapai Point. This part of the trail is known as the Trail of Time and you'll find lots of informational panels explaining the history of the Grand Canyon.
I also recommend visiting Tusayan which is located 6 miles from the Grand Canyon entrance. There, you can visit Tusayan Ruins and Museum and the iMax theater. It's perfect for the really cold winter days! Here you can find our recommendations for some of the best things to do in Grand Canyon in one day.
READ ALSO: Grand Canyon in Winter (Complete travel guide)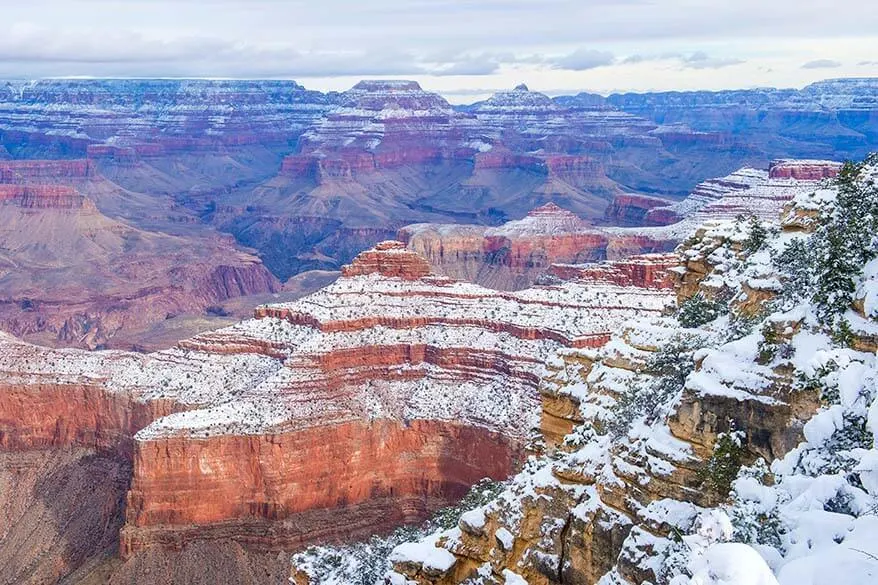 8. Everglades National Park
Location: Everglades NP is in Florida.
Suggestion by Pauline from Beeloved City.
Where to stay: Stay in Miami and visit Everglades on a day tour. For northern side of the park, Everglades City is also a good option.
Located in South Florida, the Everglades National Park is one of the most unique ecosystems on the planet. It features amazing wetlands and wildlife. It's also one of the few places in the world where you can see both crocodiles and alligators!
February is one of the best times of the year to visit the Everglades! Average temperatures in Everglades in February range in the 60s-70s (15-15°C) and it only rains 3 days a month (vs. 15 in the summer). Furthermore, there are hardly any mosquitoes that make the summer visit almost unbearable.
Florida is known for its tropical climate and is really humid for the biggest part of the year, but going there in winter means that you get to enjoy warm and dry weather. It's a much more pleasant visit, especially if you like outdoor experiences and hiking.
Speaking of hiking, there are loads of walking trails in the Everglades. If you head to Shark Valley or Flamingo, you can go on the Anhinga Trail and Pa-Hay-Okee Boardwalk which are both fantastic walks.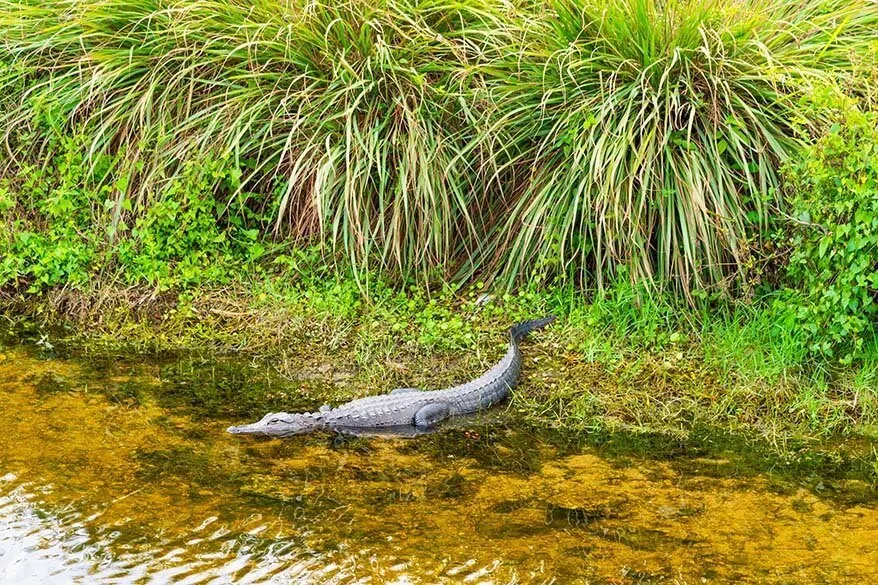 Another popular activity is an airspeed boat ride. You are in for a thrilling boat ride around the wetlands and in the mangroves. This gives you a chance to observe the beautiful landscapes that you wouldn't easily access otherwise. This is also one of the safest and easiest ways to see many alligators in the wild!
If you want to see even more wildlife, take a look at this tour that includes not just the boat ride, but also a drive-through safari park visit.
If you rather get a bit off the beaten path, you can also opt for kayaking tours. For the more adventurous, there are self-guided tours available where you just rent the kayak, get the map and instructions and explore on your own. But I'd advise going on a guided kayak tour with a local who knows the place well and is aware of how to behave if you run into any alligators.
If you'd like to discover more about the park and its wildlife, make sure to go on a ranger-led activity as well. Each one of the 4 visitor centers offer walking tours and other activities led by the park rangers. Not only will they (safely) bring you to fantastic spots and help you spot wildlife, but they will tell you more about the native plants and animals.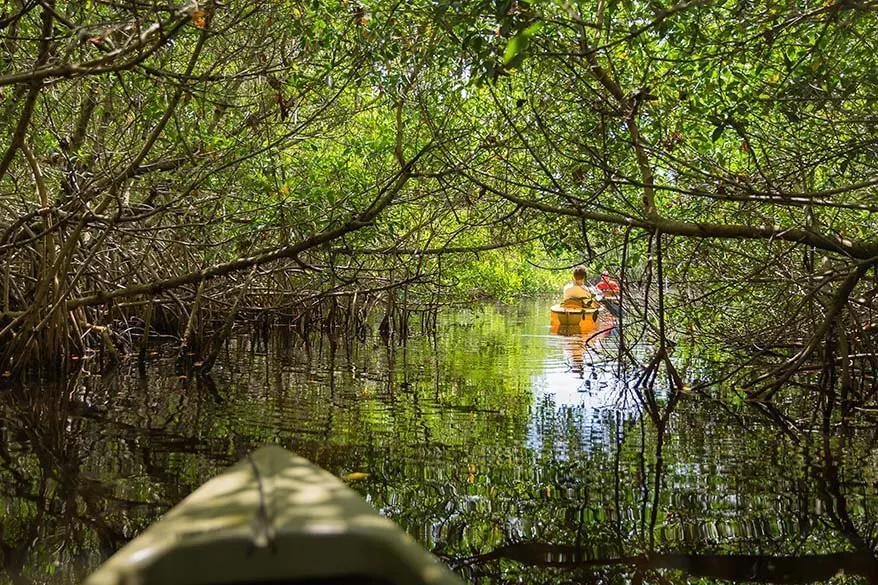 9. Guadalupe Mountains National Park
Location: Guadalupe Mountains NP is in Texas.
Suggestion by: Kristen from Yonderlust Ramblings.
Where to stay: Camping inside the park or hotels in Carlsbad, NM about 50 miles/50 min drive.
Guadalupe Mountains National Park may not be the most well known National Park in Texas, but it really shines in winter! When much of the country is blanketed in snow and dropping degrees, the moderate temperatures and cooperatively mild weather of this region in western Texas is a welcoming outdoor haven.
Winter brings dry cool weather to the Guadalupe Mountains. It can freeze at night and occasionally the mountains get some snow as well, but in February, average lows are already above the freezing point. Daytime temperatures in February are in the 50s (12-14°C) which is perfect weather for outdoor activities.
Also, winter months like January and February are off-peak season, which means that you'll have Guadalupe's desert, canyon, and mountain ecosystems mostly to yourself!
Whereas hiking outdoors in Texas in the summer can be a somewhat risky venture, Guadalupe's trails are really enjoyable in winter. The highlight of any visit includes hiking Guadalupe Peak, the highest point in Texas. This 8.5-mile day hike climbs almost 3,000 feet in elevation, from the mountain's base to 8,750 feet at the summit. This is the best hike for experiencing all the characteristics of Guadalupe in winter!
The normally harsh Chihuahuan Desert, which surrounds Guadalupe Peak, is drenched in calm and solitude during the winter. A winter hike here promises stark, crisp, and breathtaking views from the top of Texas!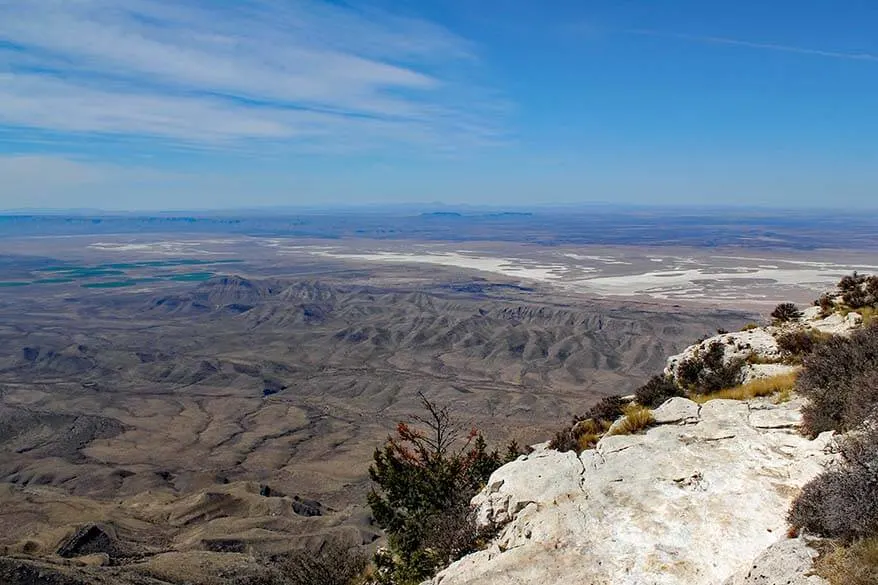 There are many other hikes in Guadalupe that are best enjoyed in winter. Check out the McKittrick Canyon Trail, which winds through another of Guadalupe's environments, its canyons. Or venture onto the Devil's Hall Trail, a challenging slot canyon hike that terminates in a narrow 'hallway'.
Another must-do in the Guadalupe Mountains is camping! There are two park campgrounds and both provide the opportunity for secluded camping in winter, with the promise of perfectly pristine skies and stargazing at night!
The Pine Springs Campground has a characteristic desert setting, while the Dog Canyon Campground is located at a higher elevation, overshadowed by neighboring cliff walls. Dog Canyon is often recommended during the winter, due to being protected from gusty desert winds.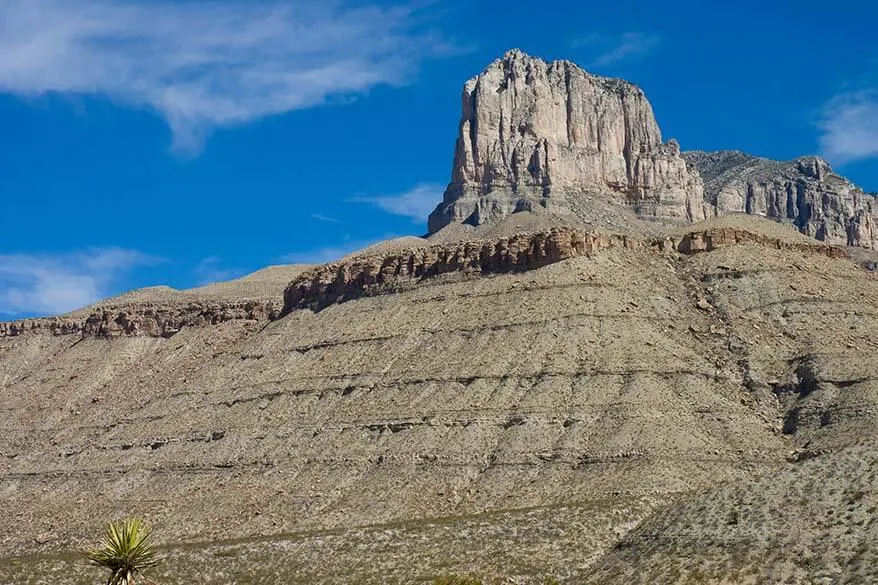 10. Arches National Park
Arches National Park is one of the places that you can visit year-round. But winter is considered off-season and you can have this extremely popular park almost to yourselves.
The area around Moab is known for scorching hot summers and relatively mild winters. The average temperatures in February are between 28-52°F (-2 to 11°C). And although snow is not uncommon, it rarely stays on the ground longer than a few days.
February is a perfect month to visit Arches because there are hardly any people around, Moab accommodation is much cheaper than in high season, and the ever-changing landscapes of the National Park are simply stunning.
It's a great time to be in Arches for photography enthusiasts! One day you get blue skies with bright red landscapes and the next everything gets a thin layer of white snow and the place looks totally different…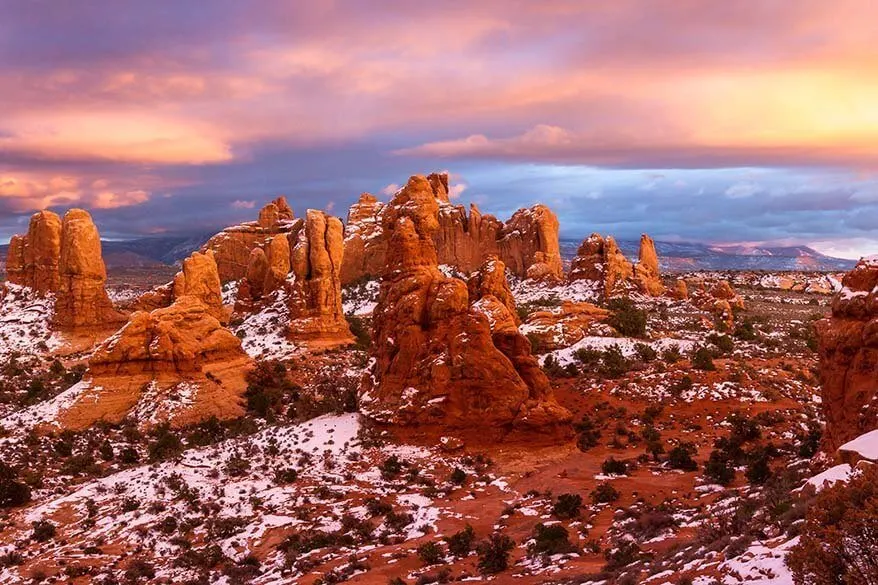 The best way to explore the park is the combination of driving and hiking. Arches Scenic Drive connects all the most beautiful areas of the park. Some of the most beautiful places require hiking. Don't miss the Delicate Arch trail if weather conditions allow or walk to the Landscape Arch if you prefer a shorter easy hike.
But you can also see a lot without having to walk far. Balanced Rock, The Windows, Double Arch, Park Avenue Viewpoint, and many other incredible rock formations are just short stops along the Scenic Drive.
This makes Arches NP a perfect destination in any season – its many jaw-dropping landscapes are easily accessible to everyone!
LEARN MORE: Best things to do in Arches National Park
Good to know! When visiting Arches in winter, make sure to pack good waterproof hiking boots and layers of warm clothing to bundle up for the longer hikes.
TIP: The nearby Island in the Sky section of the Canyonlands National Park is also well worth a visit, also in winter. In summer, you can even visit Arches and Canyonlands in one day. However, with shorter days in winter, I recommend spending at least one full day in Arches and half a day to a day in Canyonlands, followed by a sunset at the nearby Dead Horse Point State Park. See below for more info.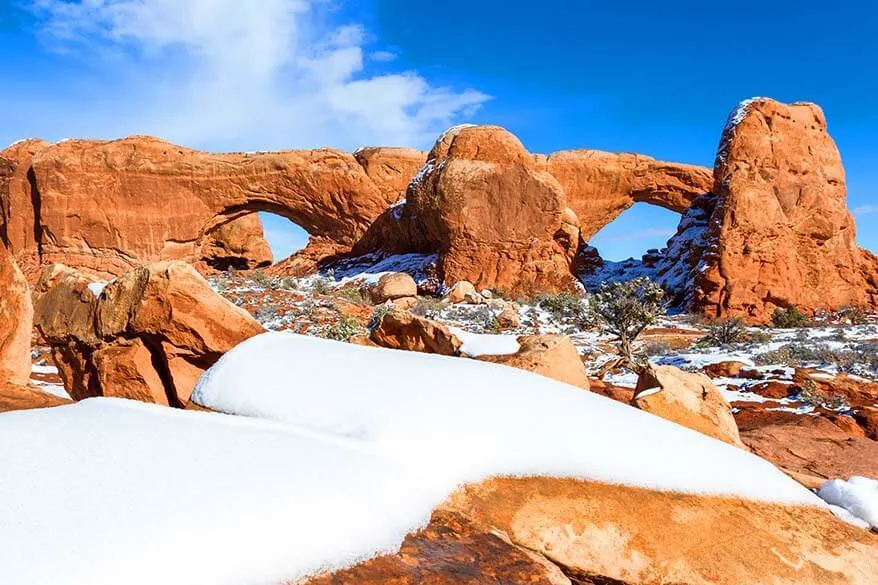 11. Canyonlands National Park
Location: Canyonlands NP is in Utah.
Our personal suggestion.
Where to stay: See our guide to hotels near Canyonlands.
Canyonlands National Park is another place that you can visit at any time of the year. In February, you're likely to have this lesser-visited National Park almost completely to yourselves. Hotels in the area also cost just a fraction of the high season rates.
The average temperatures in February are between 23-50°F (-5 to 10°C). You might get some snow, but it rarely stays long. And if you do, it just adds an extra layer to the unique landscapes and makes it even more special!
The Island in the Sky district of Canyonlands is generally easily accessible. However, it's always possible that there are some temporary closures in case of excessive snowfall. You can check the most up-to-date conditions on the official NPS website.
There are so many great things to do in Canyonlands National Park! The Island in the Sky part of the park has many nice viewpoints and a few short hikes that you can easily do in winter as well.
Don't miss the Grand View Point, the Green River Overlook, and a short walk to the stunning Mesa Arch!
When visiting Canyonlands in winter, make sure to check the weather forecast and dress accordingly. Pack good waterproof hiking boots and layers of warm clothing. Also, make sure to pack water and a picnic lunch because there are no restaurants in or near the park.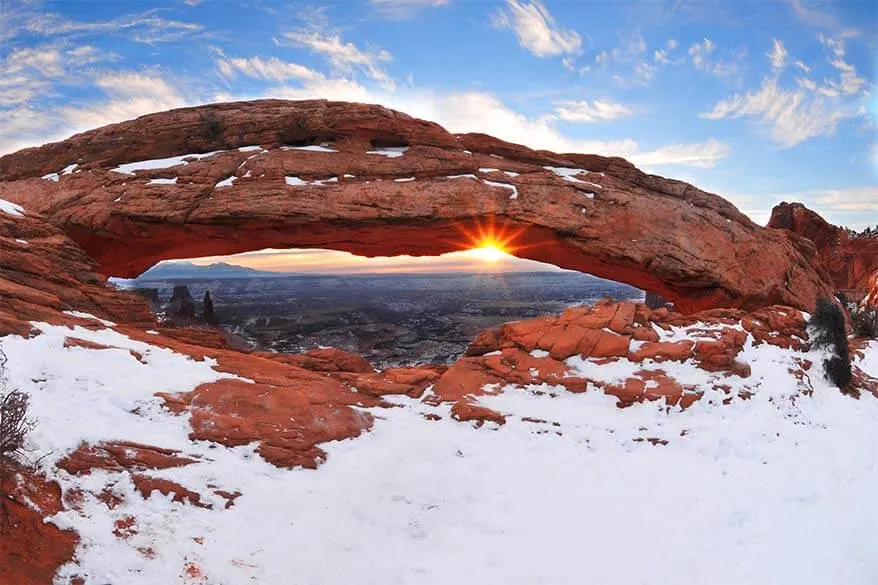 So, these are our suggestions for some great National Parks to visit in February. Of course, there are many more other amazing choices, but this just shows how diverse the United States National Parks are and that there is always a suitable destination for every season!
READ ALSO: Best Spring Break Destinations (USA) & Where to Go for Spring Break in Europe
For more inspiration for U.S. National Parks, please check our other articles below!
More travel inspiration for American National Parks:
If you found this post useful, don't forget to bookmark it and share it with your friends. Are you on Pinterest? Pin these images!