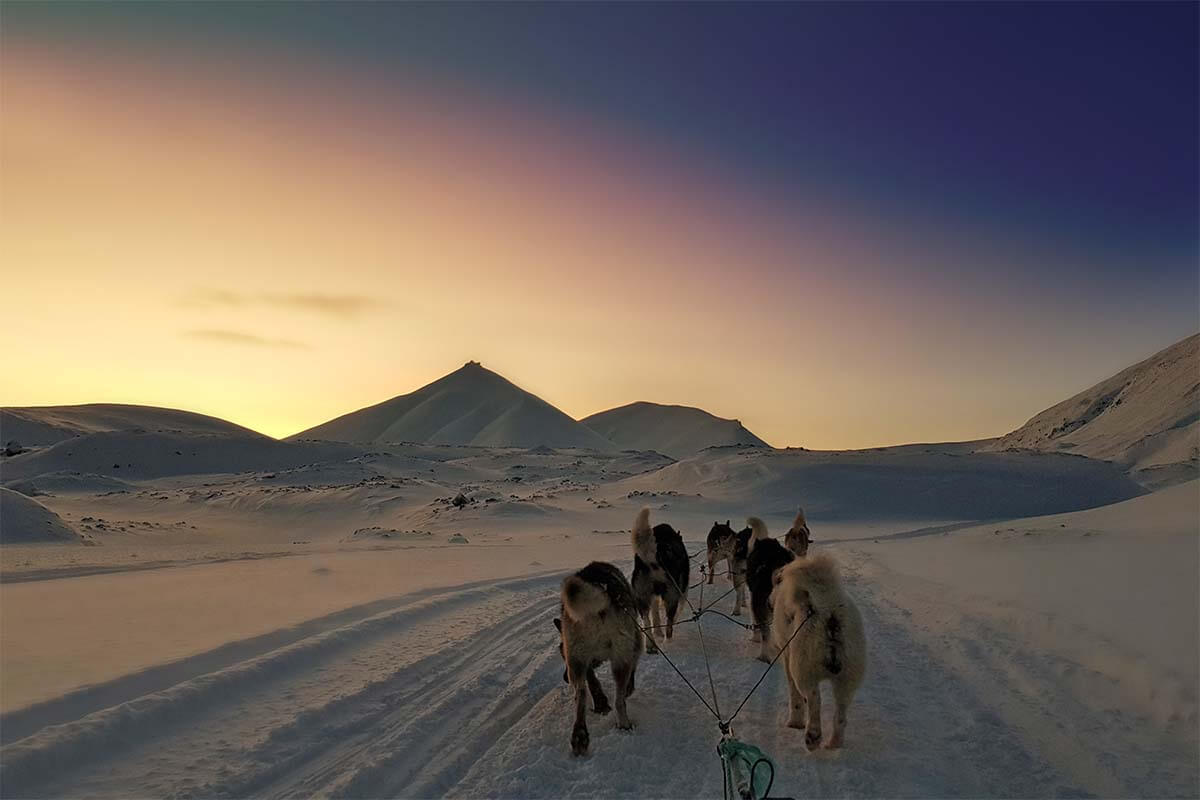 When visiting Svalbard in winter, you'll be overwhelmed by a big choice of outdoor activities. There's just so much to see and do! And while there are many great winter tours to choose from, there's one that stands out from all the rest – Svalbard dog sledding that also includes a visit to ice caves.
I've done dog sledding a few times before and it's simply the most bucket-list-worthy winter activity ever. So if you get a chance to go dog sledding in the beautiful wintery landscape, don't hesitate – it's absolutely amazing. But dog sledding in Svalbard is even more special than anywhere else!
In this article, you can read all about my experience with the dog sledding & ice caves tour with Green Dog Svalbard. I visited Svalbard by invitation of VisitSvalbard and they couldn't have picked a better tour to experience the magic of the Arctic in winter!
This tour had everything: incredible scenery, hands-on experience with the huskies, a thrilling ride, and an unforgettable visit to the underground ice caves at Scott Turner Glacier near Longyearbyen.
As always, all opinions and enthusiasm are my own and based on my personal experience. Read on!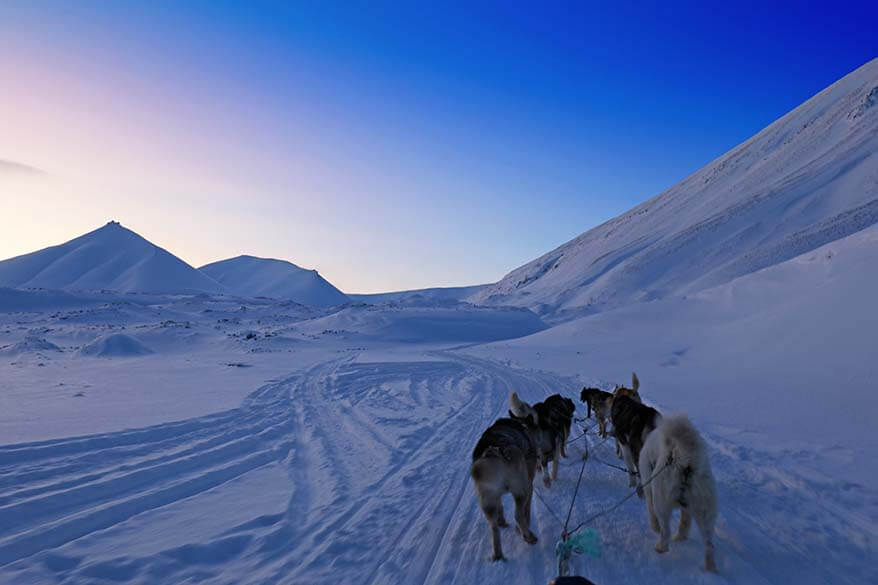 Why Go Dog Sledding in Svalbard
I have never done a dog sledding trip that wasn't great. But you should know that dog sledding in Svalbard is even better and even more special than in most other places.
It's because it gives you access to some of the world's most remote and most incredible landscapes that you wouldn't be able to see otherwise. In addition, you can opt for a tour that includes a visit to a natural ice cave in the mountains near Longyearbyen.
Just imagine a day spent in one of the most remote destinations on earth, riding a dog sled through magnificent scenery and places that only few people will ever get to see, and visiting a natural ice cave deep under the ground! Depending on the season, you may even catch a glimpse of the Northern Lights on your way back…
You may think that this sounds like the kind of day that you only see in the movies. Well, it does… But the good news is that in Svalbard, you can actually live this beautiful winter dream yourself!
If I were to go back to Svalbard in winter and could only do one tour, this dog sledding to ice caves tour would be my first choice!
And yes, I also did many other amazing tours in Svalbard in winter, including a wonderful snowmobile tour to Barentsburg which I absolutely recommend. But if you have to pick just one activity, this is it!
What to Expect
As already mentioned, there are many dog sledding tours in Svalbard. What differs is the duration of the tour, starting location and route, and what's included. Some tours only last a few hours while others take almost an entire day. Multi-day dog sledding trips are available as well. The tour that I did was a full-day trip from around 9 AM to 5 PM.
We started off with a hotel pick-up and a ride to the husky farm. There, you put on multiple layers of winter clothing until you look like a Teletubby and walk like a penguin… You then get an introduction to the basic principles of driving the dog sled and meet the dogs.
You then get on the sled – two people per sled. One person sits on the sled and the other one stands behind and drives the sled (this person is called a musher). During the ride, you can switch several times so that one person can rest and enjoy the scenery while the other one drives.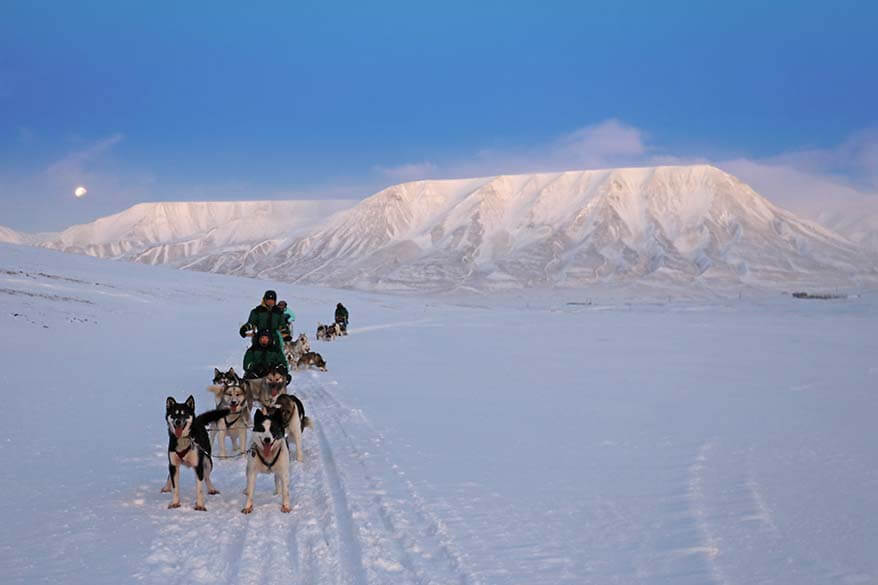 Our tour included a visit to an underground ice cave and took an entire day. We also saw some wildlife (Svalbard reindeer) while sledding.
First, we rode the sleds through a beautiful valley to the ice caves. We then visited the ice caves which were so incredibly cool (pun intended). After that, we had a warm lunch prepared by our guide and enjoyed warm drinks and some cookies while admiring the most beautiful blue light over the Arctic scenery.
By then, it was almost dark (I visited Svalbard in February when the days are still very short). We were sledding in the dark and under the full moon back to where we started.
Below, you can find more details about the practical side of dog sledding, the ice caves that we visited, and also useful information about the clothing, etc. Read on!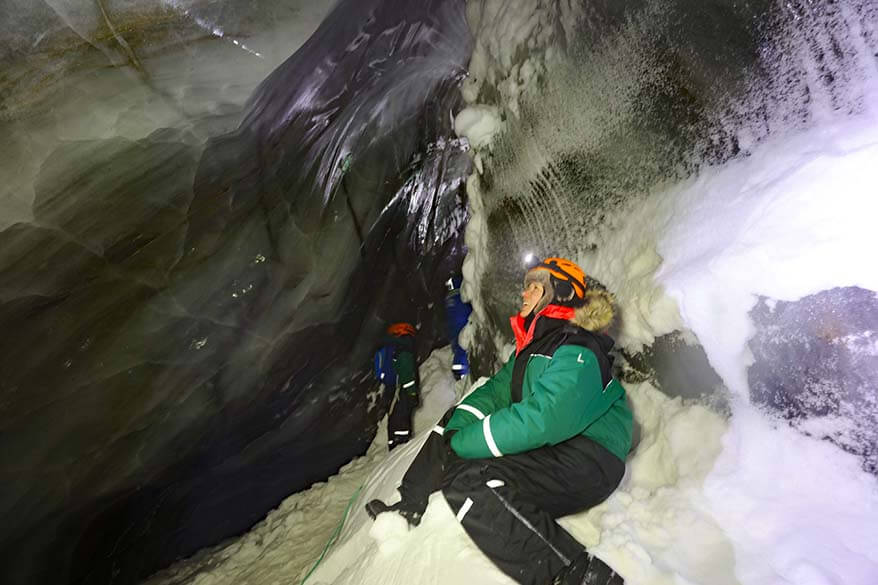 Overview
Here's a short overview of the dog sledding to ice caves tour that I did in Svalbard:
Season: From January to May
Duration: 7-8 hours
Difficulty level: Suitable for everyone, also kids from 6 years old
Group size: Small group tour, max. 8 people per guide
Facilities: There are bathroom facilities at the beginning and at the end of the tour, but not during the day.
Food: The guide carries supplies to make warm lunch and also warm drinks and some cookies.
Safety: Every guide carries a gun for polar bear protection. Guides also have satellite phones in case of an emergency and they carry a first aid kit as well. Our guide also took a snow shuffle and we had to wear helmets inside the ice caves.
More info: For more information and to book this or similar dog sledding tours in Svalbard, please check the Green Dog Svalbard website.
Below, you can read all about my husky sledding tour and find practical information for dog sledding and ice cave visit in Svalbard. Take a look!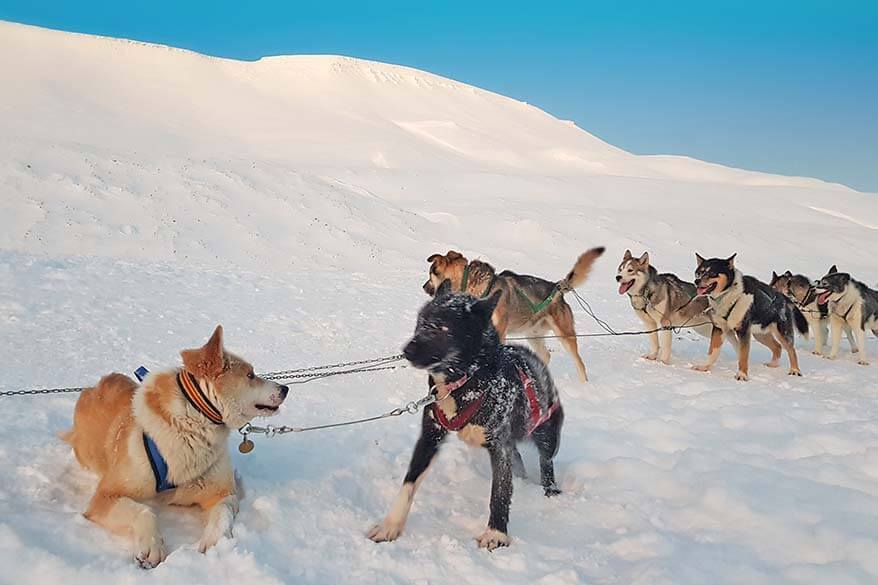 Dog Sledding
Dog sledding in Svalbard was in many ways different than dog sledding I did in the past. To start with, we interacted with the dogs so much more here.
You have to help with the dogs and the sleds
We had to bring the dogs to the sleds and help to prepare them for the ride. I really didn't feel comfortable doing this at first…
But here I was, unleashing huskies that were each stronger than me, walking them to the sled (let's just say they walked me and I tried to steer them in the right direction), and helping to attach them to the right sled while trying to make sure that they didn't fight or get the ropes tangled…
Luckily, the dogs are extremely well-trained. Also, the guides actually do most of the work. But by the time all the sleds were ready to go, everyone in our little group was warmed-up for the ride. Time to decide who's driving!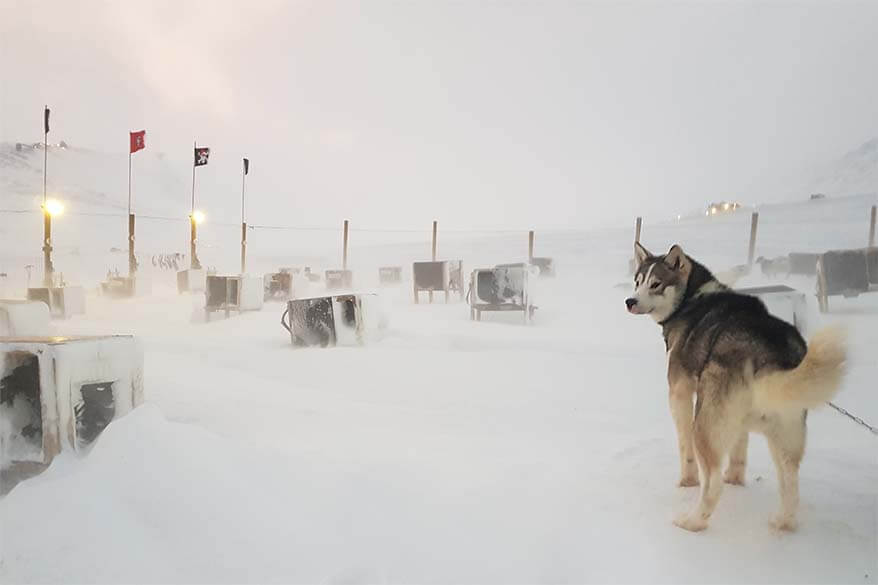 You have to drive the sled
When I went dog sledding on the Disko Island in Greenland, tourists were not allowed to interact with the dogs and there was always a local guide driving the sled. In Greenland, huskies are work dogs that aren't really used to human interaction except with their owner. In Norway, huskies are much more easy-going and friendly, so you can drive your own dog sled. For a dog sledding tour in Tromso, we could choose – either sit on the sled the entire time as a passenger or drive the sled.
However, all the tours I did in the past, were very short compared to the full-day dog sledding tour in Svalbard. On a dog sledding safari in Svalbard, you are expected to drive your own sled. Only one guide came with our group of 7 people and so every sled had to have at least one person who would drive it.
TIP: If you are not willing to drive the sled (or are traveling with kids), it's still possible to go on these tours. In that case, make sure to ask about the possibilities when booking the tour!
Since I was traveling alone, I shared the sled with the guide. He did most of the driving and I just enjoyed the ride and the scenery, took pictures, etc. I had to help him with the dogs a few times and I also did some driving. But that was just very short every time and so I never had a chance to get tired.
The other people on my tour were all traveling per two and each couple/ two friends got their own sled. Because this is a long tour of several hours, you both should be able to do at least some driving. Otherwise, it might get really tiring for one person to control the sled for several hours, especially because most tourists aren't really accustomed to this.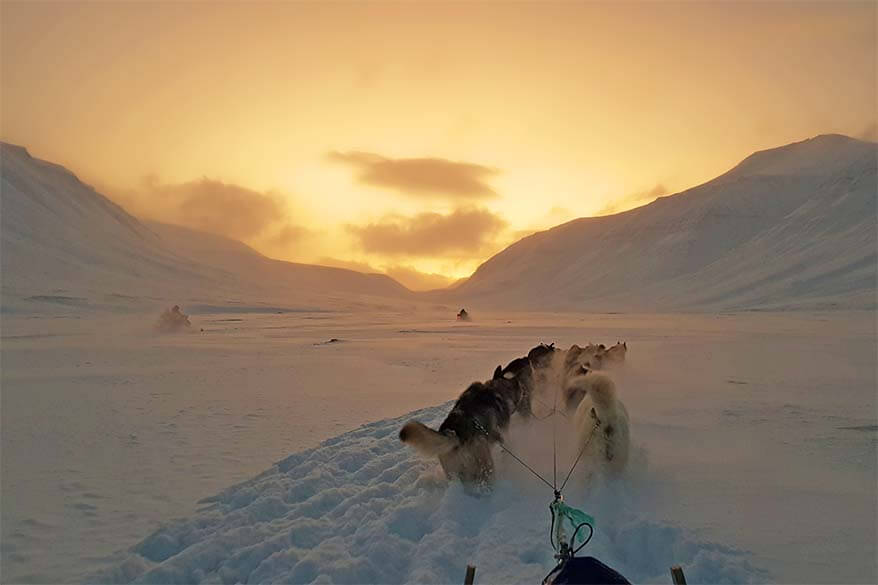 Who is a dog sledding tour for?
Half-day and full-day dog sledding tours in Svalbard are considered an easy activity and are suitable for everyone in a reasonable physical condition. Most tours also allow kids from the age of 6.
However, don't underestimate the energy and the skill needed to musher a dog sled! It's not exactly rocket science, but it is tiring, especially on the full-day tours. It's a really fun and exhilarating experience, but you'll be glad about every break you get and you'll definitely feel exhausted at the end of the day.
TIP: If you are not sure about it, you may want to try a shorter dog sledding tour first. It's a huge difference between driving the sled for 2 hours on a 3-4 hour tour or doing it the entire day!
I'm not saying this to discourage you in any way – everyone in our group managed to drive the sleds just fine and had the most wonderful time, but it was physically tiring. Especially for those couples/ friends that had just one person driving all the time. The cold and the wind take their toll as well… However, it's absolutely worth it!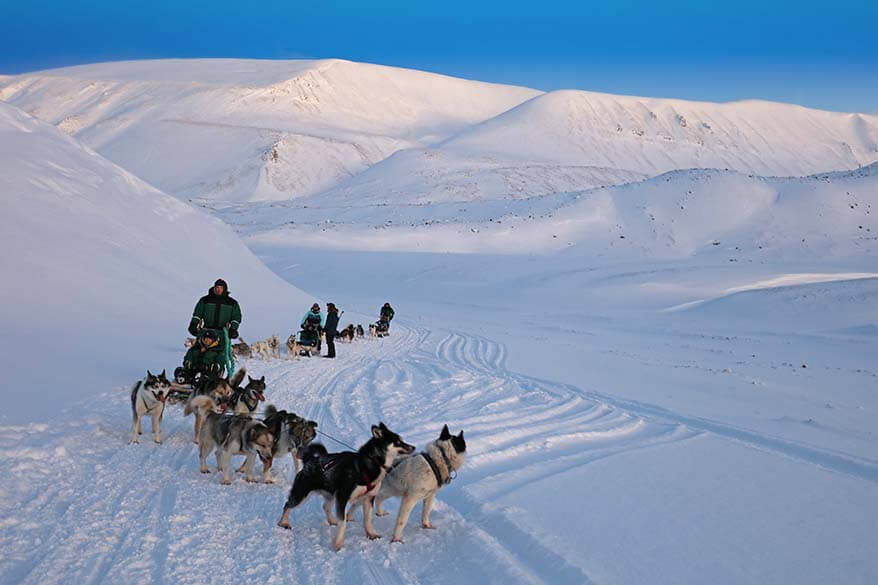 Svalbard Ice Caves
There are several natural ice caves in Svalbard that are accessible to the public. The ice cave we visited, at Scott Turner Glacier, was completely underground and nothing like I had imagined. I read that in summer, the ice cave is filled with melted water. That water shapes the ice tunnels that you can access in winter.
At first, all we saw was a hole in the snow. When we came closer, we saw that there was a ladder in that hole and we could see it disappear into an ice tunnel below.
You better don't think too much about the fact that you are going into naturally-formed ice tunnels deep under the surface. On top of that, our guide told us the story of a group that got trapped inside this ice cave because of a polar bear sniffing above the entrance. They had to wait inside the cave for a few hours until a helicopter came from Longyearbyen and chased the bear away. So yes, it's definitely not for people with claustrophobia!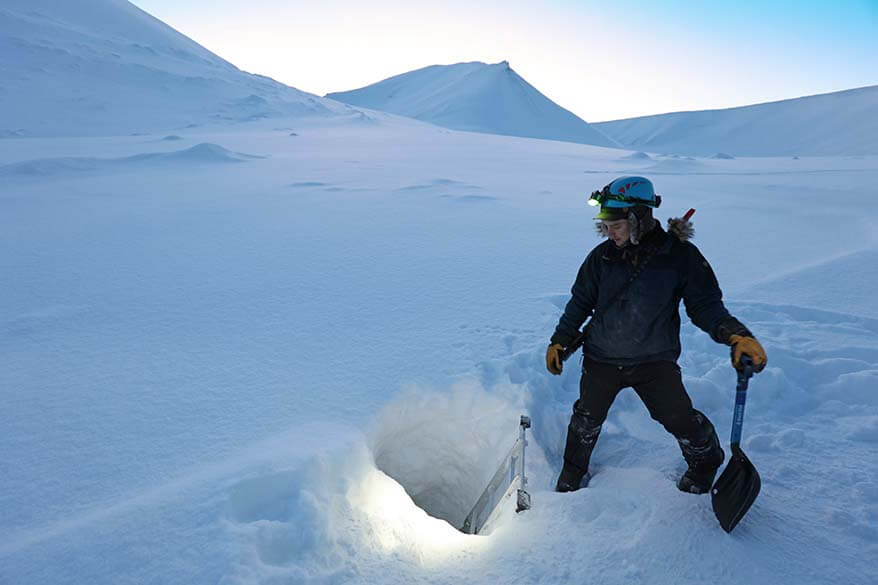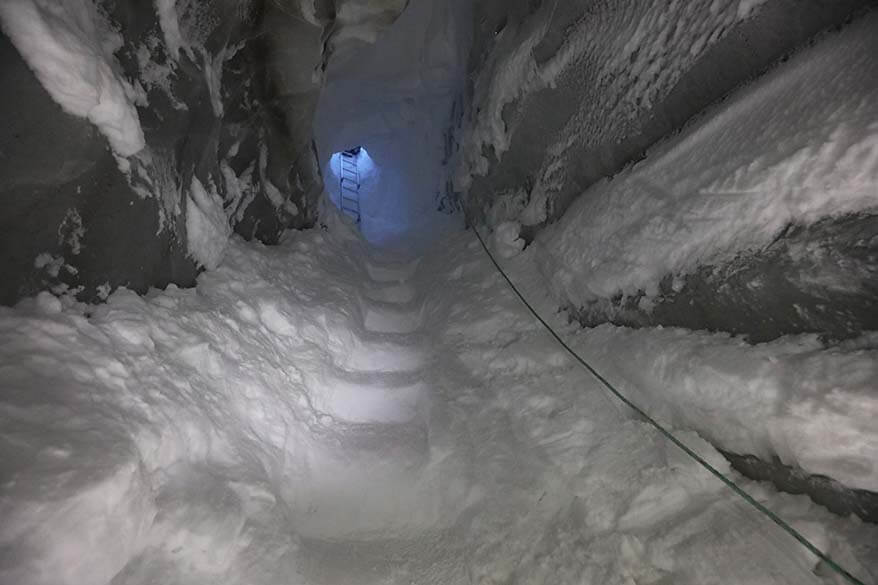 But once you descend the ladder, you completely forget all of that and all you can think of is how special and unique this place is! It's absolutely magnificent and it takes your breath away to see what nature is capable of!
The ice cave we visited was not just one 'room' or a 'tunnel'. It was a series of underground tunnels with some bigger ice chambers in between. We walked and walked and it seemed as if there was no end to this incredible underground ice world…
It's pitch dark inside the ice caves. The only light we had was coming from our headlamps. But because you're in a group with several headlamps lighting the place, you actually get a pretty good view of the ice around you. Once again, it was nothing like any of the ice tunnels or ice grottos I visited before. Something you just have to experience!
All I could think of was WOW! This is one of those pinch-me moments that you know you'll remember forever.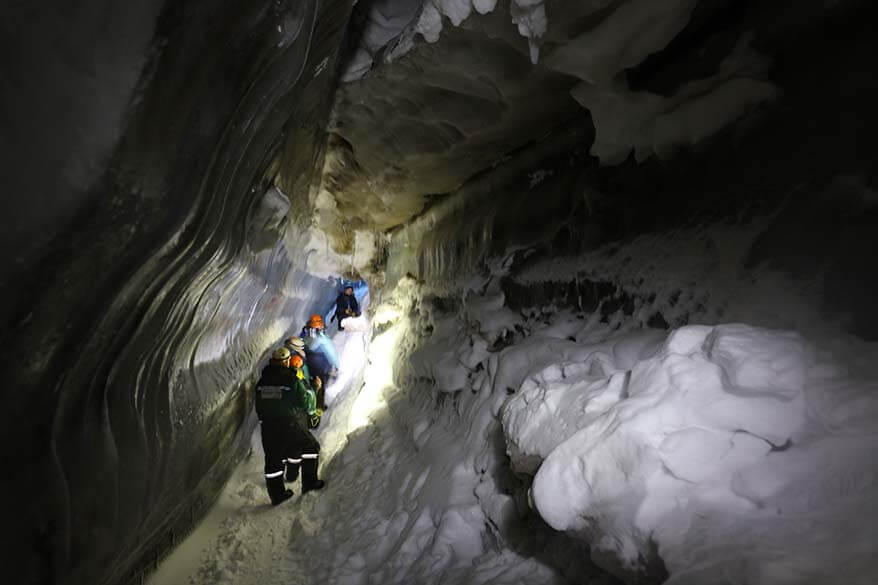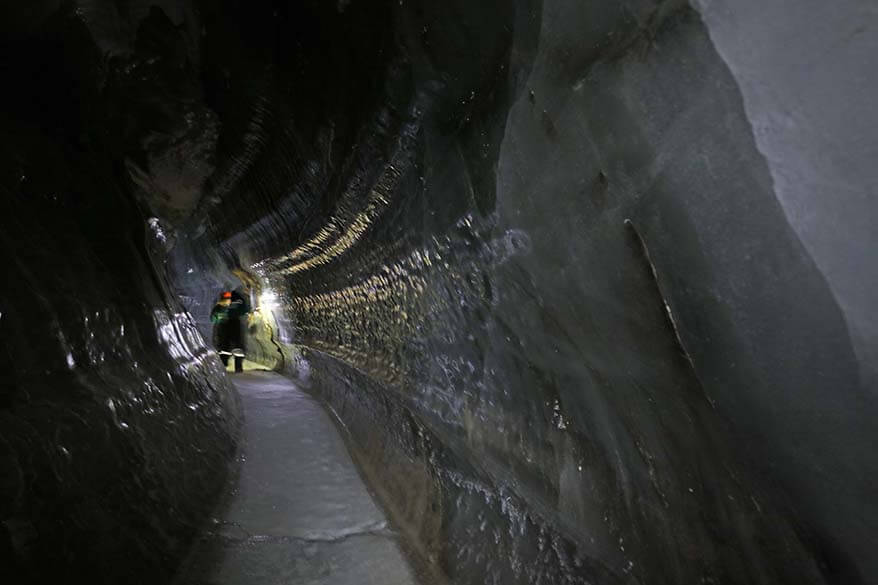 Lunch
The full-day dog sledding tours in Svalbard always include warm lunch and warm drinks. You're out in the cold for several hours and even though the meals are very simple, it's something that you really appreciate.
Furthermore, just imagine how special it is to sit with a warm cup of tea in your hands while watching the most stunning Arctic landscape all around you. Just drink it fast because it doesn't stay warm for long!
It's these little things that make your day even more unforgettable!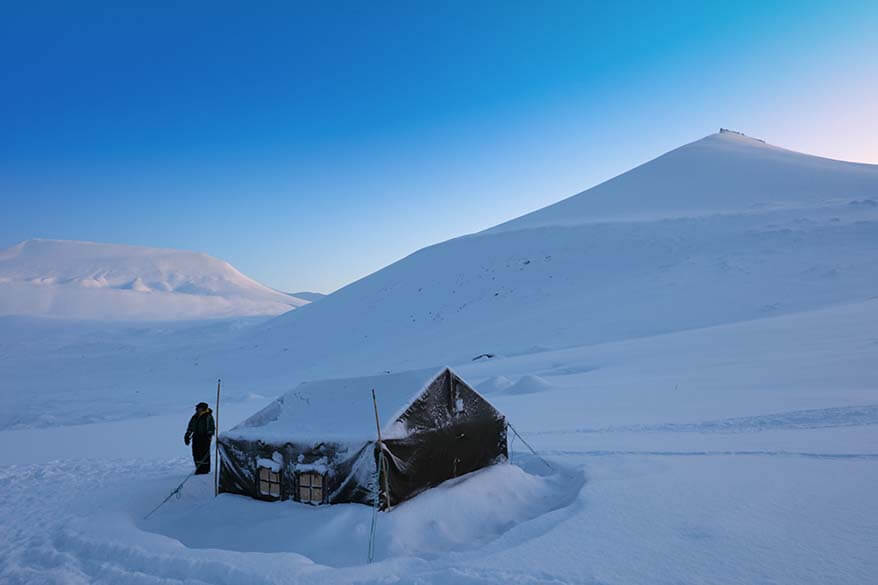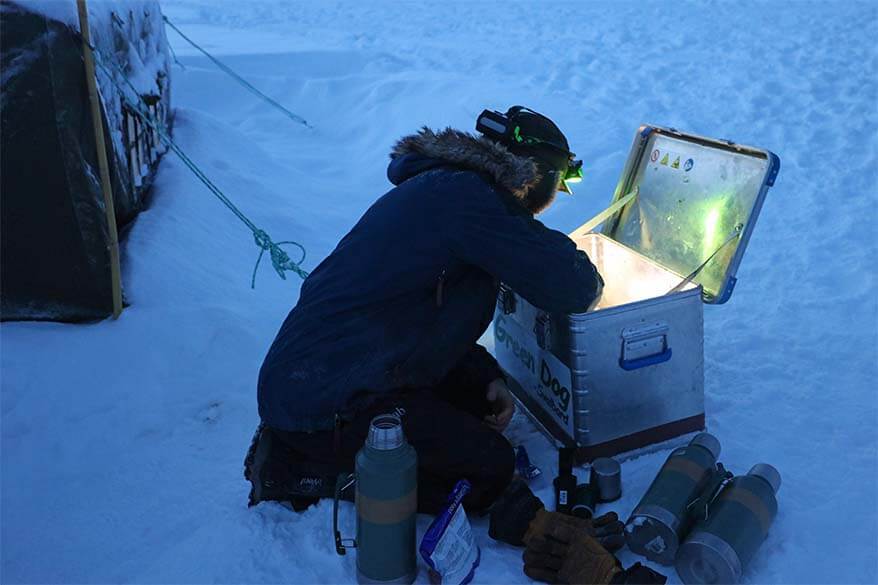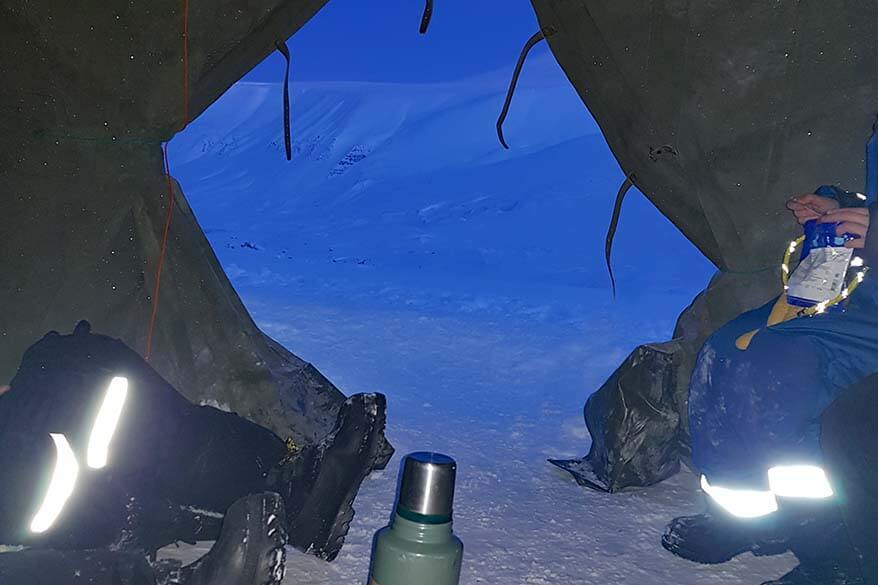 Northern Lights
Depending on the season in which you travel and the duration of your tour, you might be lucky to also see auroras on this dog sledding and ice caves tour.
I visited in February and it was getting dark as we were preparing to go back to the camp after lunch. It got totally dark soon and the last hour we rode in total darkness.
Unfortunately for us, there was no aurora activity at that time, so we didn't get to see the Northern Lights. If you are luckier, it will make this tour even more special. But it's not something you can plan for so see it as the cherry on the cake if it happens, but remember that this tour is absolutely amazing as it is!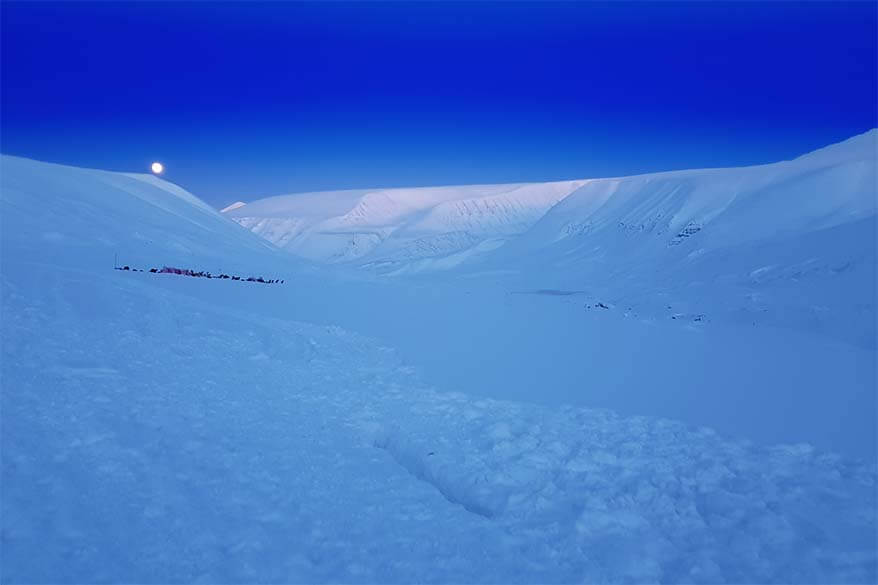 Back at the Camp
Back at the base of Green Dog Svalbard, we helped the guide to unleash the dogs and bring them back to their kennels. It was really windy and cold, but the dogs didn't seem to be interested in getting inside at all.
They all stayed outside to rest after the whole day of pulling the sleds. We couldn't believe it – everyone in our group couldn't wait to get inside and warm up, but not the huskies. They clearly enjoy the snow and the cold!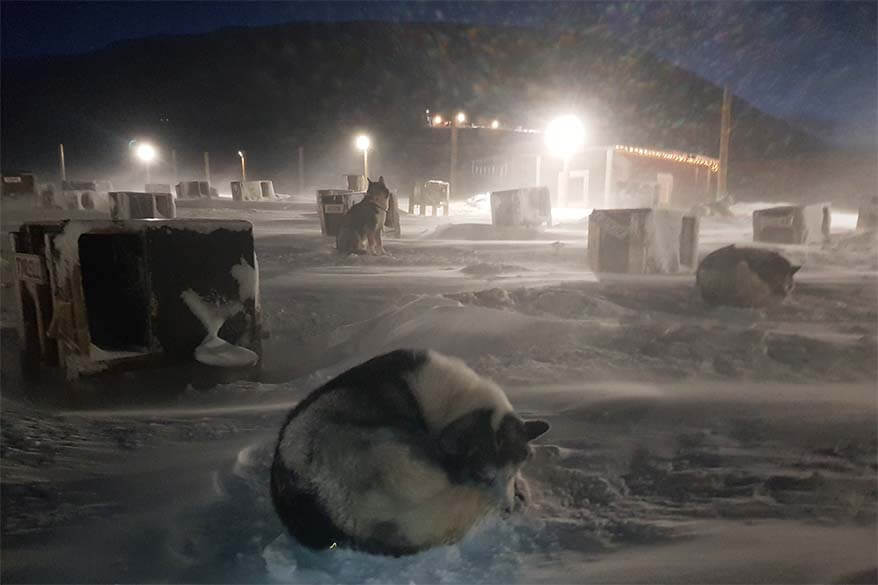 After we took off all the extra layers of clothing and got back into our own shoes, we drove to a nearby chalet for a warm drink and a chat.
There, we met some husky puppies, had warm drinks, and shared stories and impressions from our day… By the end of the day, our little group felt like one big family – we shared so many incredible moments that day!
One thing everybody agreed on – this dog sledding tour was one of the most special things we have ever done. A true bucket-list activity and something we'll remember forever!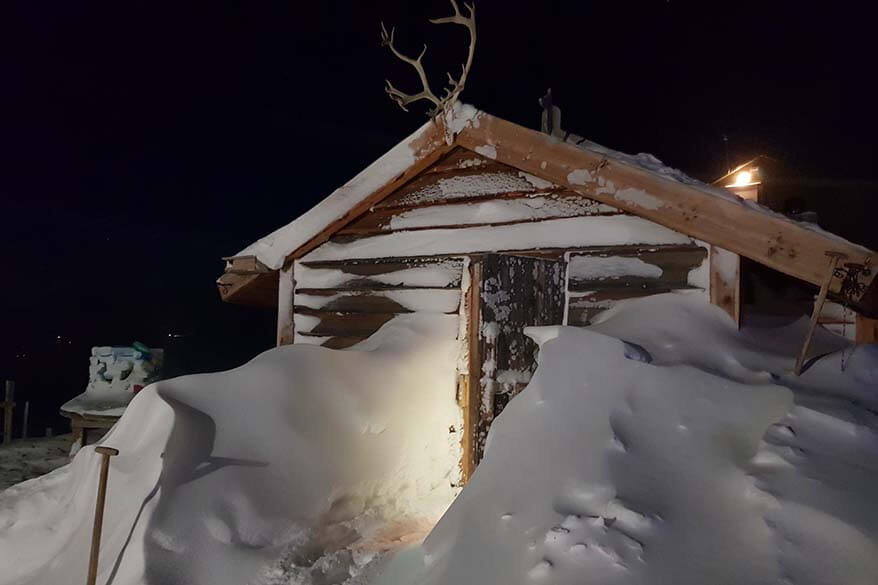 Is Dog Sledding in Svalbard Worth It?
Yes, dog sledding in Svalbard is absolutely worth it! I am not exaggerating when I say that a dog sledding and ice caves tour in Svalbard is one of the most wonderful, unique, and unforgettable experiences ever!
No words can describe how special it is and so if you get an opportunity to do this, don't hesitate!
So if you are hesitant whether you should go on a dog sledding safari in Svalbard or are wondering which tour to choose, I hope that this inspired you to do it and to book the tour that includes a visit to the ice caves as well.
There are other companies in Svalbard offering similar husky sledding tours. You can find a complete overview on the VisitSvalbard website.
But from everything I heard, Green Dog Svalbard is one of the absolute best companies to go with. I cannot recommend this tour highly enough! And no, I am not paid to say this. Hundreds of amazing reviews on Trip Advisor will confirm it as well.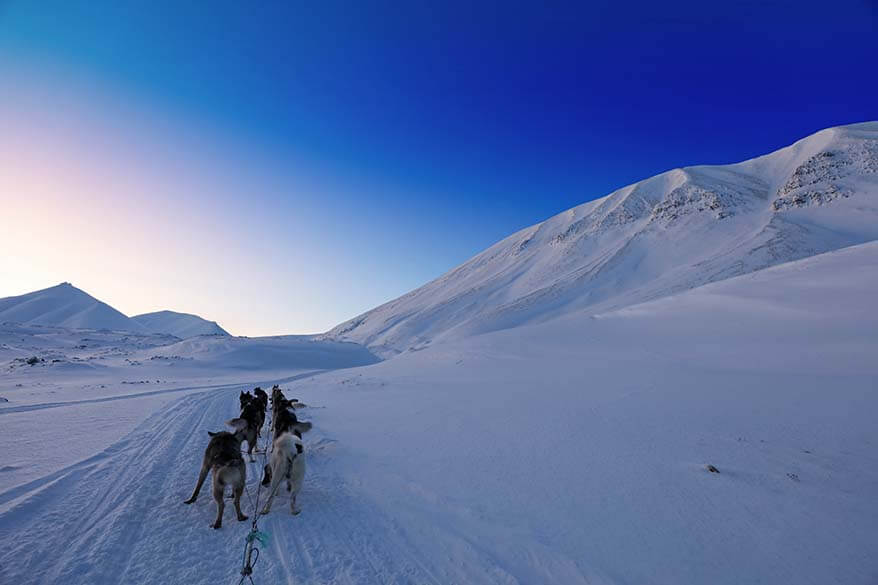 Photography
In order to set your expectations accordingly, I feel that I have to tell you that it's extremely difficult to take good pictures during the dog sledding tour in Svalbard. It's even more challenging inside the ice caves.
First, there is little light in winter. This will be different during the sunny winter from March on, but even then there are other factors that will make it difficult – see below.
Second, you are moving all the time and it's not the intention of the dog sledding tour to stop in order to take pictures. This is not a photography tour and they don't foresee time for that. Of course, there are short stops along the way if needed and you also have more time at the place where you have lunch and visit ice caves. But there is not enough time to set up a tripod, so you can only take good pictures if there's enough light.
Third, if you are driving the sled, you will need both your hands and full attention. So only the person sitting in the sled can take pictures. But even that is a challenge and also that person has to be able to help with the sled on very short notice if needed.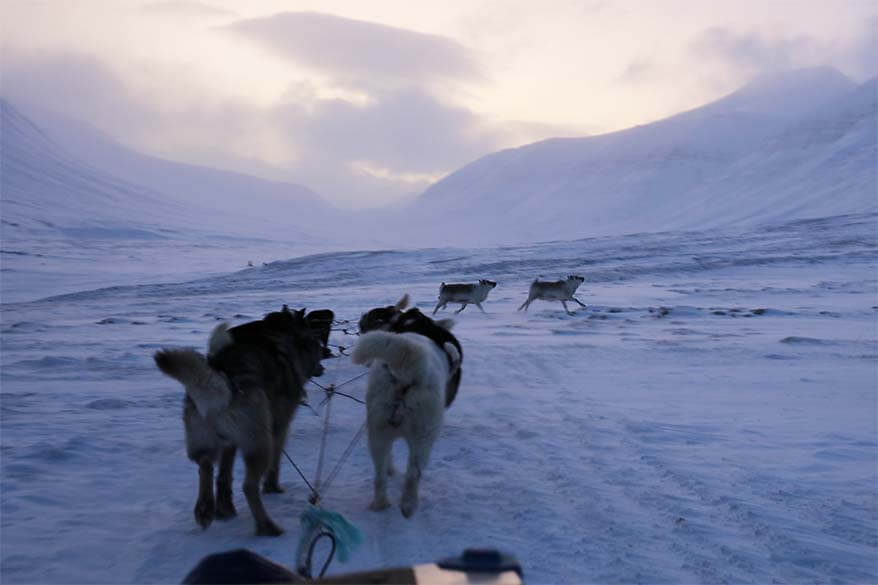 Photography inside the ice caves is also almost impossible. It's cold and dark and the group is moving quite fast, so you have very little time to set-up a picture.
I took a tripod with me and was able to get a few decent (-ish) shots, but it was really not easy. Furthermore, my semi-pro weather-sealed camera was at the limit of its capacity because of the humidity and the cold. Not even to mention that the lens kept on freezing over all the time.
So set your expectations accordingly and go on this tour for the experience and not for the pictures. If you take a camera, make sure to keep it warm when not in use. Also, pack extra batteries that you can keep close to your body. The same with your smartphone – keep it in your inside pocket so that it stays warm. Also, familiarize yourself with some basic photography tips and practice taking pictures in the dark.
If you are planning to use your smartphone for photography, you should also pack a good powerbank because batteries drain very fast in the cold.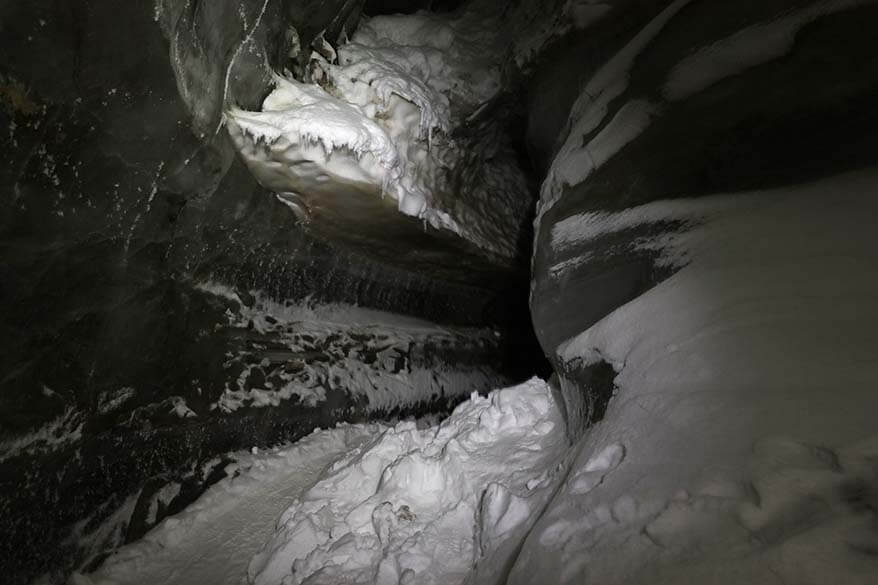 What to Wear on a Dog Sledding Tour in Svalbard
When considering what to wear for dog sledding in Svalbard, keep in mind that there's a big difference between the weather in January or February or in April-May. But in any case, you need to dress really warm because you'll be outdoors for hours.
LEARN MORE: What to Wear in Svalbard in Winter
Good to know: All the outdoor adventure tours in Svalbard provide thermal overalls. Most tours also provide warm winter boots, hats, helmets (where needed), and even gloves. It's the case with the dog sledding tours as well. However, you still need to wear all the layers like you would for a regular day spent outdoors in Svalbard (including winter pants and a warm jacket).
Depending on the weather, you can decide how many layers of your own clothes you want to wear. Most people in our group wore thermal underwear, ski pants, woolen socks, and at least a few warm sweaters. Everyone in our group wore their winter jackets under the thermal suits as well.
It really depends on the day when you visit and how cold it is. If unsure, ask your guides on what they recommend. Remember that you'll be outdoors for many hours with no shelter against wind or snow.
That being said, it was quite a cold day when we went dog sledding (around -15°C and lots of wind that made it feel colder), but we were only cold in our faces. Balaclava (pack a thermal balaclava) and even protective goggles are a good idea in the wind!
The ski goggles that I packed from home were completely useless in the dark in Svalbard because they had dark glasses. Our dog sledding guide had protective goggles like these that I could borrow when he wasn't using them. They were great and protected my face from the strong wind on our way back to the camp. This is not really a must, but something I'd definitely consider packing for longer dog sledding safaris in Svalbard.
We also received headlamps that were useful when sledding in the dark and also for visiting the ice caves. However, if you have a really strong headlamp of your own, you may want to pack it instead. The lamps that you get are ok and do the job. But it would be great to have more light inside the ice caves and also when sledding in the pitch dark. A strong headlamp like this would already make a huge difference!
Hand warmers and foot warmers might be a good idea for shorter tours. However, the problem with wearing feet warmers on the longer tours is that they only work for a few hours. So in the beginning, your feet are toasty warm. But then during the day, the warmth is gone and you might get very cold feet. Whereas if not using the feet warmers, your feet adjust to the cold temperatures and somehow it doesn't feel as cold.
So only pack hand warmers and foot warmers if you have enough of them to last you during the entire day. And keep in mind that it's not easy to change foot warmers during the tour.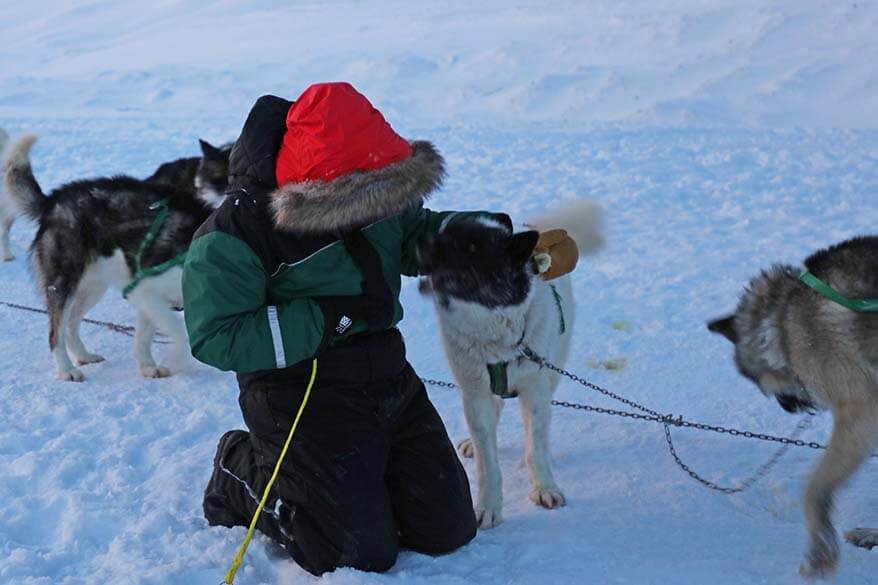 So, this is our review and tips based on my personal experience with a dog sledding to ice caves tour in Svalbard.
Of course, no two tours will ever be exactly the same. But I hope that this gives you a good idea of what to expect.
TIP: If this is your first time in Svalbard, make sure to also read our article with essential tips for visiting Svalbard. It's a place like no other and it's very important that you know what to expect and travel well-prepared. Check it out!
And here's an overview of all our articles about visiting Svalbard:
If you found this post useful, don't forget to bookmark it and share it with your friends. Are you on Pinterest? Pin these images!