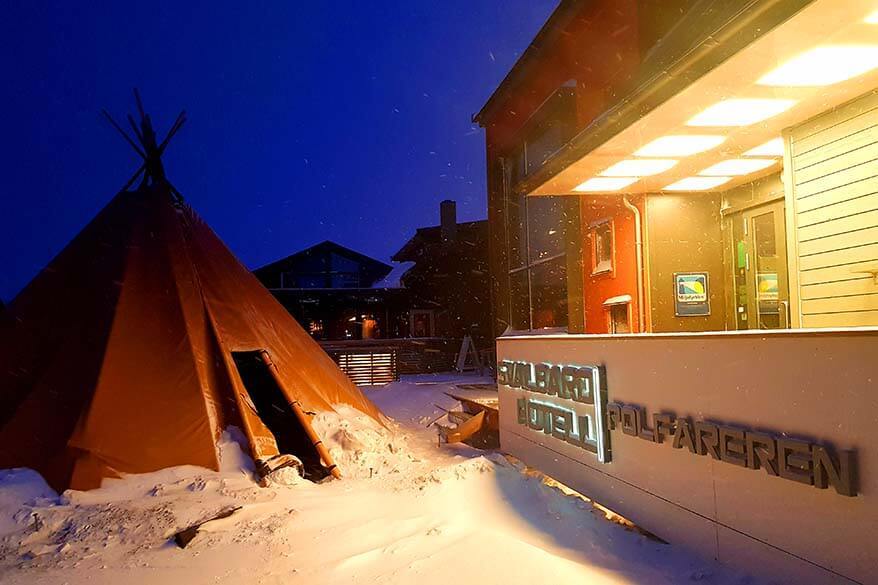 Wondering where to stay in Longyearbyen, Svalbard? In this article, you can find a complete selection of Longyearbyen hotels (all 10 of them), with a short overview of each. What to expect, why stay at one or the other place, and the main advantages and disadvantages of each. Find out!
We listed the best Longyerbyen hotels first; with the more budget-friendly accommodations listed a bit further below. At the bottom of the article, you can also find some additional information about the other Svalbard hotels in Barentsburg and in Pyramiden.
We also included a handy map that allows you to compare all the hotels, apartments, and Airbnbs in Longyearbyen. That way you can easily find the best deal for your stay.
But first – let's take a look at where the vast majority of Svalbard visitors stay – Longyearbyen hotels.
Good to know: All Longyearbyen hotels offer free Wi-Fi.
READ ALSO: Info & Tips for Visiting Svalbard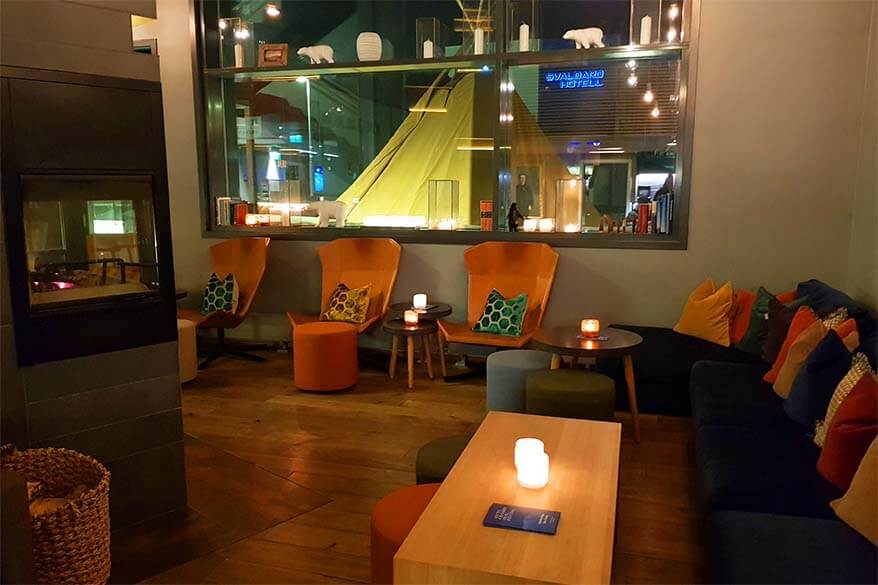 Hotels in Longyearbyen:
Funken Lodge
4-star Funken Lodge is probably the nicest hotel in Svalbard. It offers stunning views across Longyearbyen and up towards the Longyear and Lars Glaciers. This high-end hotel is open all year round and has 88 chic and comfortable rooms, comprising a mixture of single, double and twin accommodation, along with suites. There is also 1 fully accessible room for disabled visitors.
Funken Lodge is rated as 'fabulous' and everyone I talked to who stayed here was impressed by the incredibly high level of service and the accommodation itself.
The hotel prides itself on offering a warm, inviting atmosphere, creating a 'home away from home' feeling. There is great attention to detail, from the slippers provided on arrival (which is a common thing to do everywhere in Svalbard), to treats like cookies and coffee offered in the afternoons.
You can enjoy views of the Adventfjorden and Hiortfjellet Mountains from the restaurant. Buffet breakfast is included in your room rate. The restaurant is also a great spot for dinner, offering a range of Arctic specialties, including dry-aged meats and Svalbard reindeer. Don't miss their King Crab! The restaurant is popular with locals, too, so it's a good idea to reserve your table, especially in the high season.
Funken Lodge is located approximately a 15-minute walk from the town center, which is about the only minor point of staying here. However, I visited Svalbard in winter, and people who were staying there said that the walk to town was quite ok. If you are visiting in summer, then a 15-minute walk is no big deal at all. Room rates are very similar to those in the other better hotels in town. So, given the high standard of accommodation, it's very good value.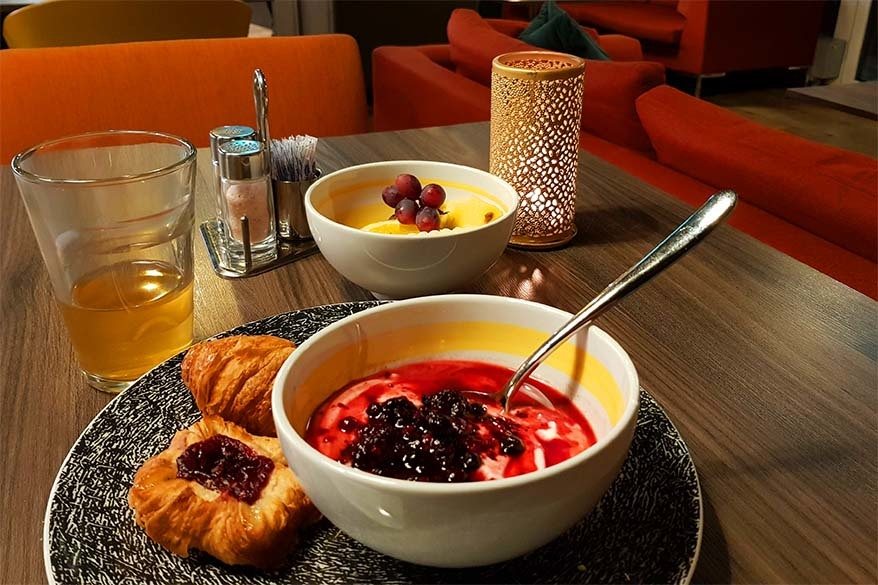 Basecamp Hotel
Basecamp Hotel is one of the more expensive hotels in Longyearbyen, but it also offers one of the most unique experiences.
Situated directly in the center of town, along the main pedestrian street, it also offers direct access to the very popular Kroa restaurant (my personal favorite in town). Basecamp Hotel is decorated in traditional and authentic trappers' style. From the sealskin rugs, driftwood furniture and maps on the wall to the log cabin-style feel of the individually decorated rooms… You can't help but get the sense of being an Arctic explorer (with a few luxuries thrown in, of course!).
The hotel is part of the Basecamp Explorer Group, which has 5 lodges across Spitsbergen, all offering ecologically focussed adventures. You can book unique excursions with the group directly from the hotel, including wildlife trips.
There are single, twin and triple rooms available, plus a suite for up to 4 guests, and a family room for up to 6. A wonderful breakfast made with fresh, natural ingredients is included in the cost of your stay.
At the end of the day, be sure to unwind with a beer and enjoy a magnificent view of the starry skies through the glass roof of the Cognac Bar.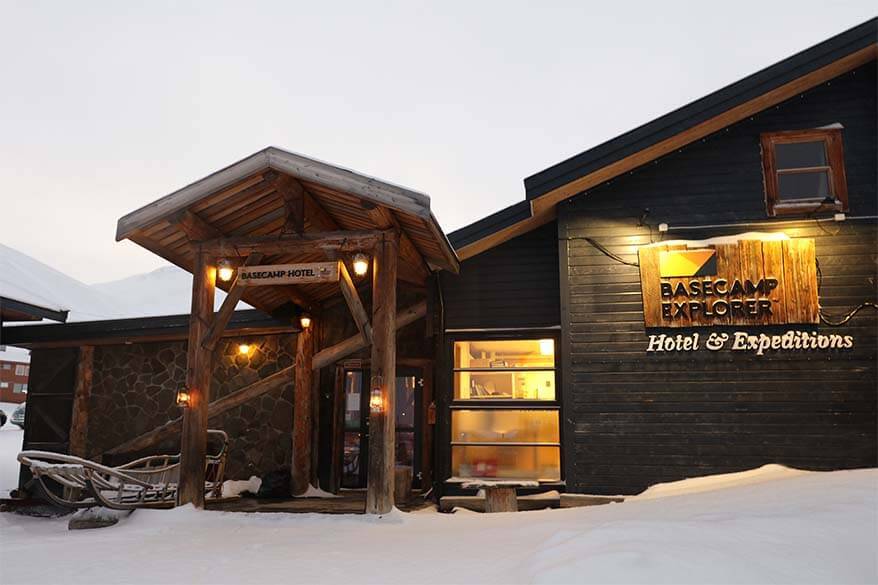 Svalbard Hotell – Polfareren
Svalbard Hotell Polfareren is an elegant 4-star hotel offering excellent value for money at one of the best locations in town. Located along the main pedestrian street and right next to the tourism information office, the hotel comprises of several separate buildings just across the pedestrian street.
This is the hotel where I stayed on my winter trip to Svalbard. I stayed in two different rooms in two different buildings and they were both very comparable and both excellent. Hundreds of excellent customer reviews can confirm that.
There is a restaurant at the main building of the hotel where complimentary breakfast is served. There is a cozy lobby area with a crackling open fire and complimentary tea and coffee all day.
You can also have lunch and dinner at the hotel restaurant. Offering a range of Nordic, French and Asian-inspired cuisine, this is one of the best (and great value) restaurants in Longyearbyen. The earlier mentioned Kroa restaurant is located literally next door as well.
Hotel Polfareren offers rooms in various sizes, mostly for two people, but some rooms can also accommodate 3 or 4 people as well. Children are welcome – with cots available on request. They also have an on-site tour desk, allowing you to easily plan day trips and excursions.
The staff can alert you when the Northern Lights are visible, just make sure to ask them. The hotel has a luxurious Polar Bear Suite and some other rooms also face southwards – so if you stay at one of those rooms, you may be lucky enough to enjoy auroras without even having to go outside. And in case you wonder if it's not a mistake… Svalbard is so high in the North that the Northern Lights are usually visible in the South.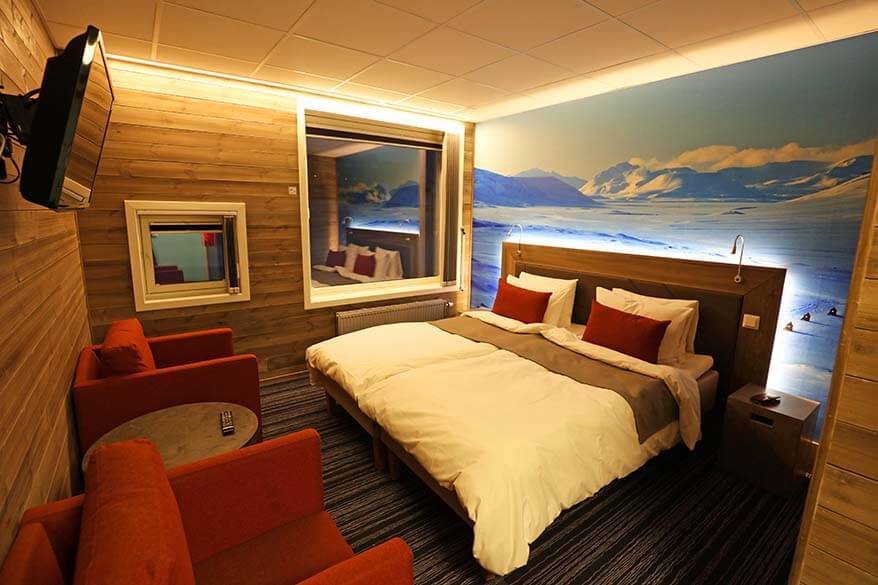 Radisson Blu Polar Hotel
The 4-star Radisson Blu Polar Hotel has a great location in the center of Longyearbyen, at the end of the main pedestrian street, and close to the Svalbard Museum. It prides itself as the northernmost full-service hotel in the world!
While the reviews of Radisson Blue aren't as good compared to most other hotels in Longyearbyen, its exceptionally good central location and good price-quality ratio make it one of the most popular hotels in Svalbard. Many groups stay here as well.
This hotel is a good choice for families, with family rooms and suites for up to 4 people. A big advantage of staying here is the open-air hot tubs on the common terrace. There is also an on-site sauna.
The hotel also has an on-site restaurant, which serves both Arctic specialties and international cuisine. Guests particularly rave about the seafood buffet, which is served every Saturday evening. A daily buffet-style breakfast is included in the cost of your room.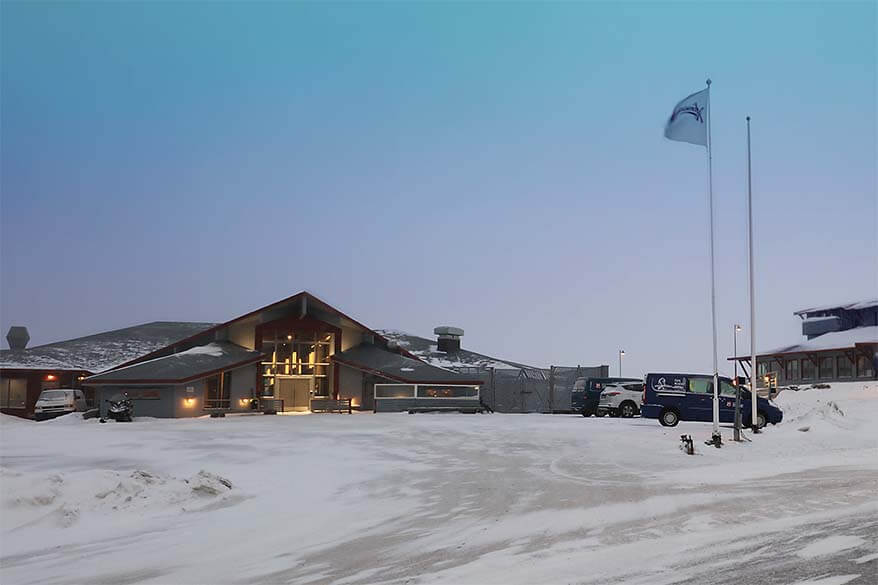 Svalbard Hotell – The Vault
The Vault is a stylish mid-range 3-star hotel, one of the three accommodations owned by the 'Svalbard Hotell'. Centrally located, this hotel is the perfect place from which to explore the historic local surroundings, with everything you need right on your doorstep. Airport shuttle bus stops right outside as well.
The Vault is a smaller hotel, offering just 33 standard double rooms and 2 single rooms. This makes it ideal for couples or single travelers.
One of the newest hotels in the area, it was designed with the environment in mind, with features to prevent wasted energy and a focus on recycling. Many rooms have multiple windows, allowing you to fully appreciate the natural beauty of the area during your stay.
Also here breakfast is included in your stay. And while the hotel doesn't have its own restaurant, guests rave about the fabulous food at the Japanese sushi restaurant Nuga, which is located just downstairs. Or you can walk to one of the many restaurants nearby.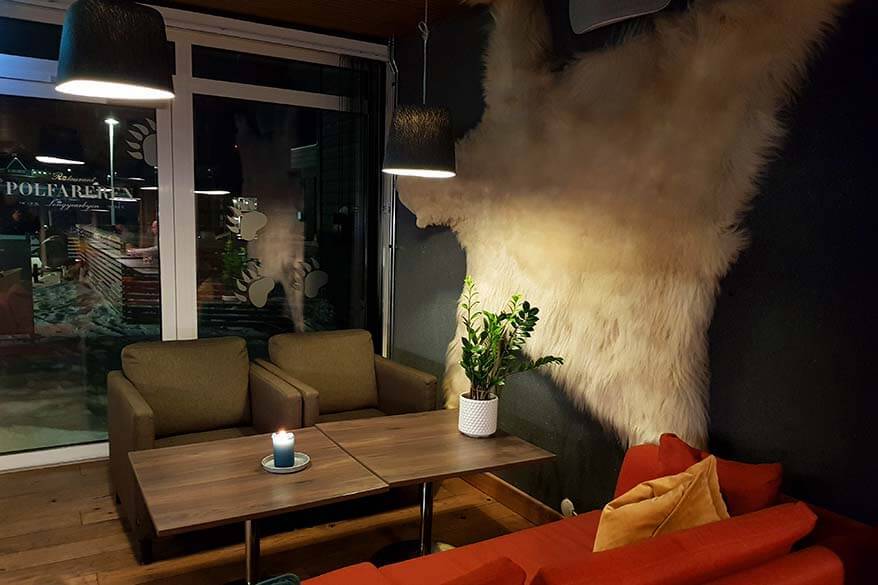 Svalbard Hotell – Lodge
Svalbard Hotell Lodge is located in the center of Longyearbyen, just near to the Polfareren hotel that belongs to the same group. The Lodge offers apartments with either 2 rooms (sleeping up to 4) or 3 rooms (for up to 6 people).
This is a great option for families who require a little extra space. Furthermore, apartments come with a well-equipped kitchen (including a washing machine), private bathroom and seating area with sofa and TV.
The Longyearbyen supermarket is right next door, which is perfect if you are self-catering, but there is also an on-site restaurant serving breakfast, lunch, and dinner. Keep in mind that breakfast is not included in the cost of your stay (but is available at an additional charge), which makes a stay here quite expensive compared to the other Longyearbyen hotels, especially if you are not using the maximum capacity of the apartments.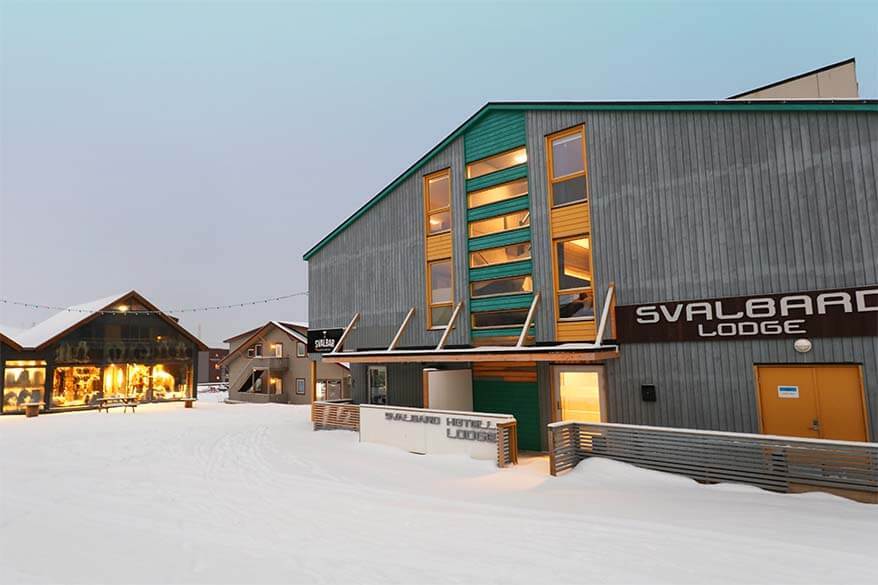 Mary-Ann's Polarrigg
Mary-Ann's Polarrigg is one of the most special hotels in Longyearbyen. Previously a miners' barracks and retaining lots of mementos from the old mines, this is a lower/ mid-range budget guesthouse with a quirky style and homely ambiance.
Just 5-10 minutes walk from central Longyearbyen, Mary-Ann's is in the perfect location to enjoy both the wonders of the Arctic wildlife and the convenience of the amenities in town.
The rooms are warm and comfortable and you can choose between accommodation with private or shared bathrooms. Single, twin, double, and family rooms sleeping up to 4 are available. Your complimentary breakfast is also served in this unique restaurant, which is described as the greenest place in Svalbard! Dining in the floor-heated conservatory – surrounded by lush plants and trees whilst looking out at the Arctic landscape – is an unforgettable experience for many guests!
All guests have access to a shared kitchen, so you can choose to cook for yourself if you prefer. Alternatively, you can take advantage of the delicious Arctic specialties served at the on-site Vinterhagen (winter garden) Restaurant.
There is also a spa with a sauna on-site, plus a bar and free coffee all day. Staff can arrange tours and excursions for you, all of which will pick you up directly from Mary-Ann's.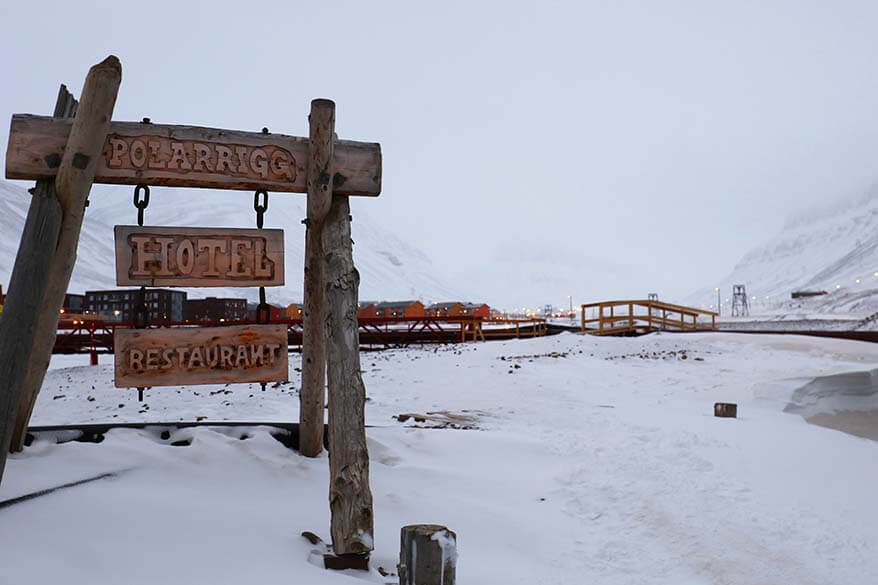 Haugen Pensjonat Svalbard
Haugen Pensjonat Svalbard is a wonderful option if you are looking for more budget-friendly accommodation in an otherwise expensive area.
This cozy guest house has 9 rooms (for a maximum of 3 guests) and 2 apartments (for a maximum of 6 guests), making it ideal for families or small groups. The rooms come with shared access to a kitchen and bathroom, whereas the apartments are self-contained.
This pension has great reviews and excellent service. There are many nice little touches, including homemade baked goods and individual shelves in the shared bathrooms and kitchen.
It's located near the earlier-mentioned Funken Lodge, approximately a 15 minute walk from the center of town and offers great views of the mountains. Although you have everything you need to prepare your own meals, the excellent Funken Restaurant is just nearby (make sure to book at busy times), or you can also walk to the restaurants in town. The airport shuttle stops nearby as well.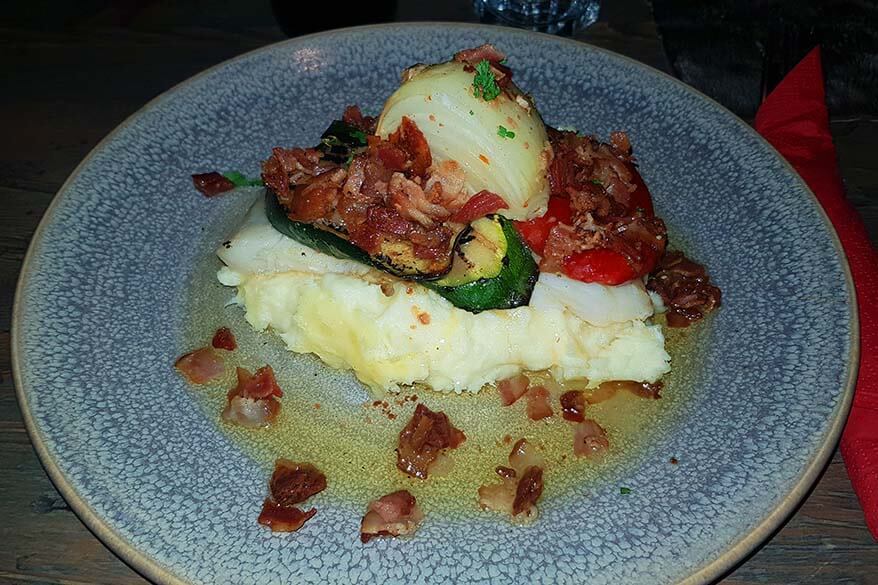 Coal Miners' Cabins
The Coal Miners' Cabins is a great budget accommodation in Longyearbyen, especially for families. It also gives you a taste of the history of the region that you just can't experience in a hotel! Known locally as 'Stormessa' (big mess hall) the property is a former coal Miners bunkhouse converted into individual rooms.
The mess hall itself has been converted into the Coal Miners' Bar and Grill, with excellent burgers. Their spare ribs are amazing too, but portions are huge (I never finished mine – it would have been enough for a coalminer or even two).
While not luxurious, the rooms here are comfortable and spacious, with shared facilities including bathrooms, fully equipped kitchens, a TV lounge, and a laundry room. Family rooms (for up to 4 people) have private bathrooms.
All guest accommodation is located in annex buildings, while the reception and guest computers are located in the main building. A good breakfast is included in the cost of your stay.
Coal Miners' Cabins is around a 35-40 minute walk from the center of town (2,5km), but still on the airport bus route. While you may not have all the amenities of town on your doorstep, its unique location allows you to see lots more wildlife – including reindeer and Arctic foxes – sometimes from the comfort of your room!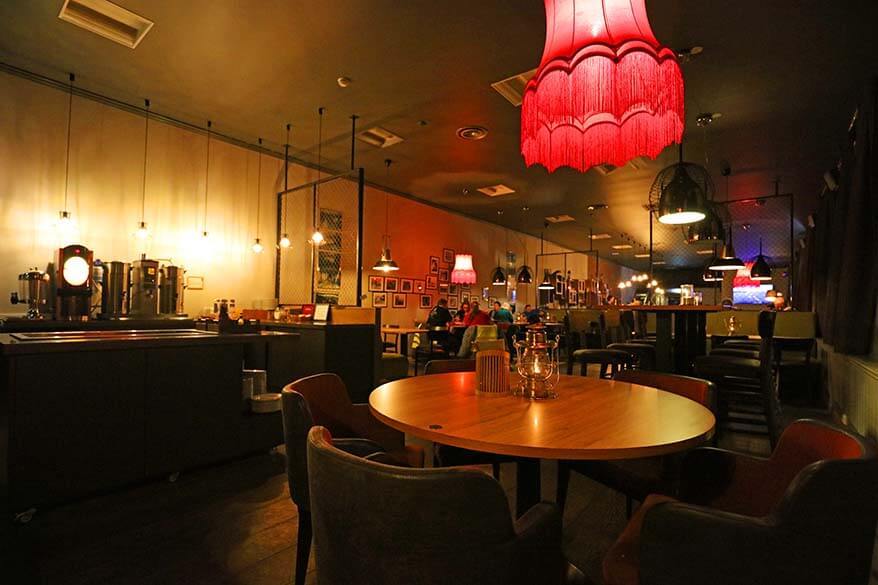 Gjestehuset 102
Gjestehuset 102 is one of the most affordable accommodations in Longyearbyen, offering budget rooms with shared facilities. This comfortable guest house has a wonderfully sociable atmosphere and provides a great way to meet fellow travelers.
Rooms – which are a mixture of singles, doubles and 4-person quads – have shared bathrooms and access to a fully equipped shared kitchen. A good breakfast is included in the cost of your room and although the guest house does not have a restaurant, it does sell snacks and drinks. You also have the option of dining at the local Coalminers' Grill bar/restaurant, which is excellent.
This guesthouse is situated just outside Longyearbyen, in Nybyen, 30 minutes walk from the town center. Airport bus stops here and most tours will pick you up here as well. However, if you need to take a taxi to town, it will be quite expensive. In summer, you can rent bikes at the accommodation and a walk to town is also quite manageable.
But while the location may be remote – which is reflected in the budget price – there are distinct advantages to staying somewhat 'off the beaten track'. The area is quiet and peaceful, allowing you to really appreciate the region's natural tranquility. You are also away from the bright lights of town, meaning that the skies are darker and any views of the Northern Lights are likely to be even more spectacular!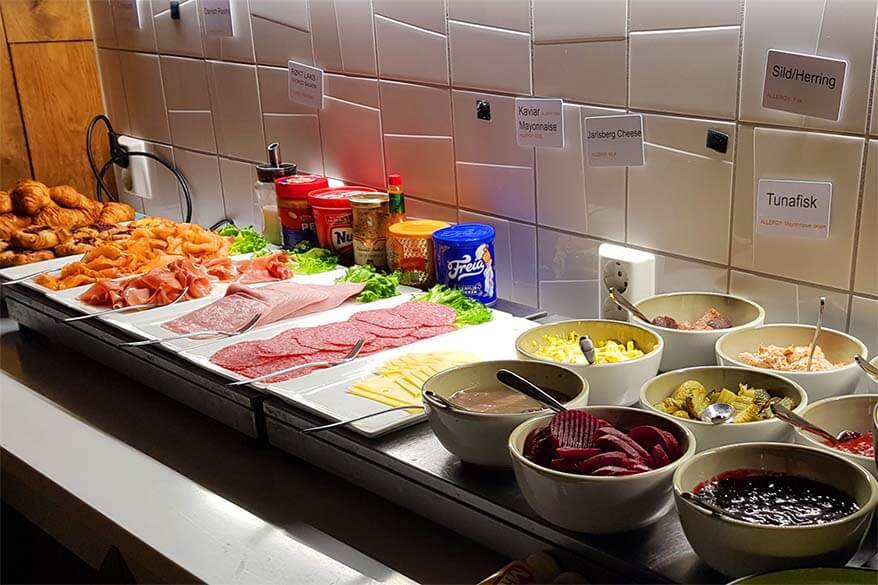 More Svalbard Hotels & Accommodation Options
Longyearbyen is the biggest and the best town to stay in Svalbard and the vast majority of tourists stay there. However, if you have more time in Svalbard or want to explore the other settlements, you'll be glad to know that there are some additional options.
Camp Bolterdalen (near Longyearbyen)
If you are visiting Svalbard with a big family or a group of friends and are looking for budget self-catering accommodation, consider Camp Bolterdalen. This house 3 bedroom house can accommodate up to 8 guests, but it's located far outside of town, so you'll need to rent a car if you stay here (which adds to your cost and makes it less budget-friendly).
Hosts operate a variety of tours directly from your accommodation. Transport to and from the airport is included in your stay – as is the opportunity to get to know the dogs in the connected dog yard. Staying here is a truly authentic Arctic experience, but it's definitely not for everyone.
Pyramiden Hotel
The ghost town Pyramiden (another popular day trip destination) also has a hotel. It's only open from March to October and can be booked via the Visit Svalbard website.
Barentsburg Hotels
Barentsburg is a Russian – Ukrainian settlement in Svalbard. Most tourists visit Barentsburg as a day trip from Longyearbyen. If, however, you want to stay here, there are two options: Hostel Pomor and Hotel Barentsburg. When comparing the rates, keep in mind that the hotel rate includes breakfast.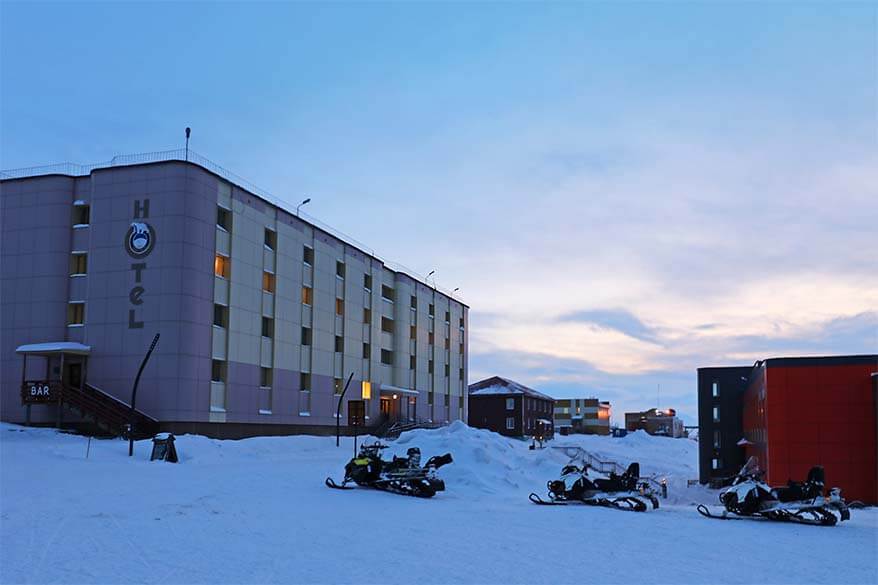 So, this is our guide to Longyearbyen hotels and other accommodation options in Svalbard.
TIP: If you have any practical questions for your trip, make sure to check our complete guide to visiting Svalbard. It should answer all your questions about traveling to Svalbard – interesting facts, safety tips, weather, packing tips, wildlife, best places to eat, and much more. Check it out!
More travel tips & inspiration for visiting Svalbard:
If you found this post useful, don't forget to bookmark it and share it with your friends. Are you on Pinterest? Pin this image!