Are you looking for a good price-quality 4-star hotel in Mauritius, but are overwhelmed with choice and are not sure where to start? Searching for a really nice all-inclusive Mauritius resort that's also affordable? Or maybe you already did some research and know that The Ravenala Attitude Hotel in Mauritius ticks so many boxes and are looking for reviews of someone who stayed there? This article should answer all your questions. Read on!
If you follow our blog, you know that we hardly ever publish individual hotel reviews. In fact, this is probably only the second time I'm writing about a hotel… So why review this 4-star resort in Mauritius? First, I enjoyed my stay at The Ravenala Attitude so much more than I expected. And second, I think that The Ravenala Attitude deserves more than just a short mention.
This resort has so much to offer that it feels like a destination in itself. You could spend a week here and never get bored… What's even more important is that their staff is amazing, truly friendly, and they seem to do it all just right.
The Ravenala Attitude is a luxury upmarket resort that offers all the comfort you would expect from a really nice hotel in Mauritius, but without being too much.
What I like the most, is that you never have a feeling that you have to be overly cautious of what others will think of you. The staff leaves you alone, yet is always there when you need them. If you have stayed at a really luxurious 5-star property where every step you take seems to be monitored, you'll know what I mean…
Having said all that, let's take a look at what to expect when staying at The Ravenala Attitude hotel in Mauritius. Read on!
Good to know: This is not a sponsored post. Although I visited Mauritius as a speaker of a conference organized by the Mauritius Tourism Promotion Authority, I have no obligation to write about my trip, let alone review hotels I stayed at.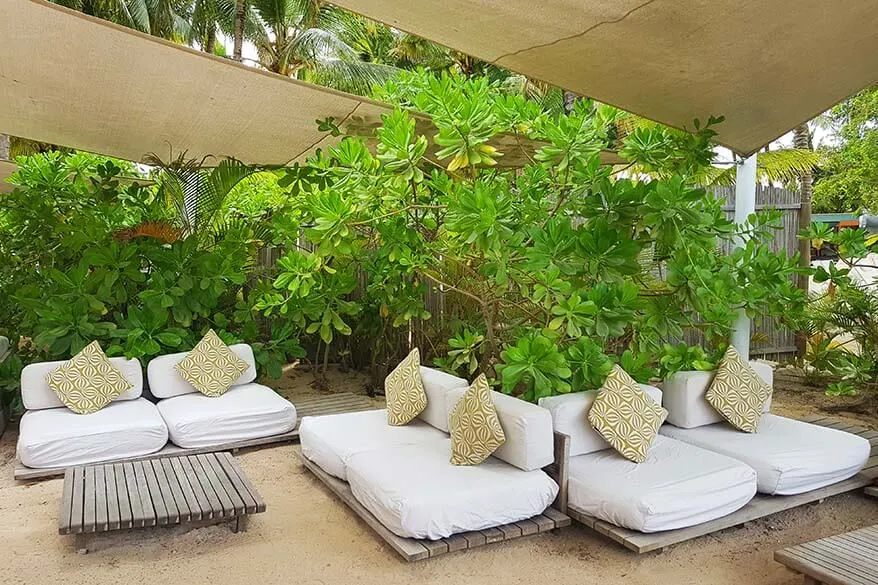 The Ravenala Attitude – Introduction
The Ravenala Attitude is an upscale resort with a beautiful white-sand beach, water sports, beach activities, several swimming pools, a spa, lit tennis courts, a fitness center, multiple restaurants, and bars. In addition, there is a kids' club, and special activities for teenagers, but also an adults-only section.
The Ravenala Attitude offers so many possibilities to enjoy your vacation in Mauritius that it's truly suitable for every type of traveler – from honeymooners to baby boomers and from singles to families with kids of all ages…
You can opt for an all-inclusive package, or scale down to half-board or even breakfast-only. Whatever option you choose, it's one of the best price-quality 4-star resorts that I have come across in Mauritius.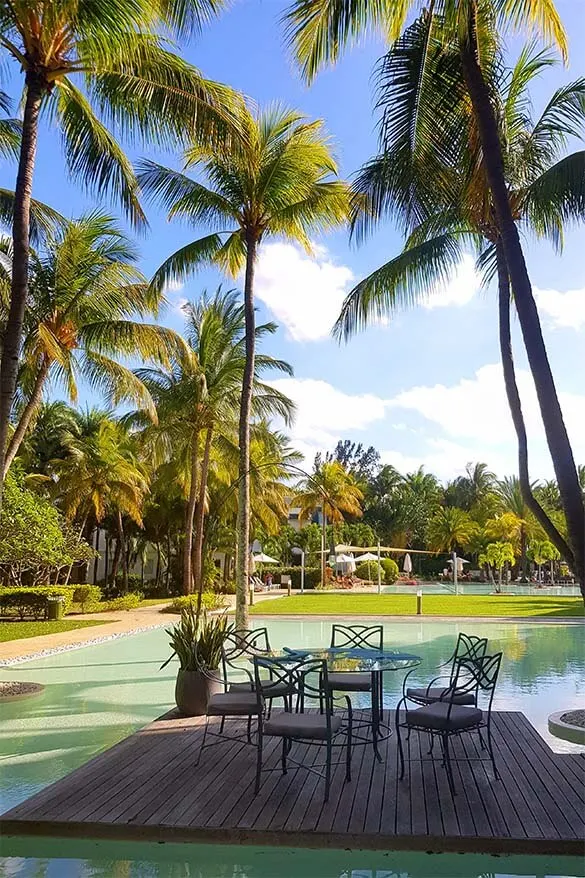 Location
Balaclava, the place where The Ravenala Attitude hotel is located, is about a 20-minutes drive from Port Louis and a 1-hour drive from the airport.
The resort is tucked inside the beautiful Baie aux Tortues on the Western coast of Mauritius. Set inside the bay, between a river and the ocean, this resort is somewhat protected from the open sea, yet it's perfect for all kinds of water sports or snorkeling.
With long and wide white-sand beaches and a big selection of the most luxurious hotels, the western coast is known as one of the best places to stay in Mauritius. It lays behind the mountains that keep the rain away and protect the area from the strong South-Eastern winds. This area also has many dolphins; many of them can be seen from boat tours or just by kayaking next to a hotel…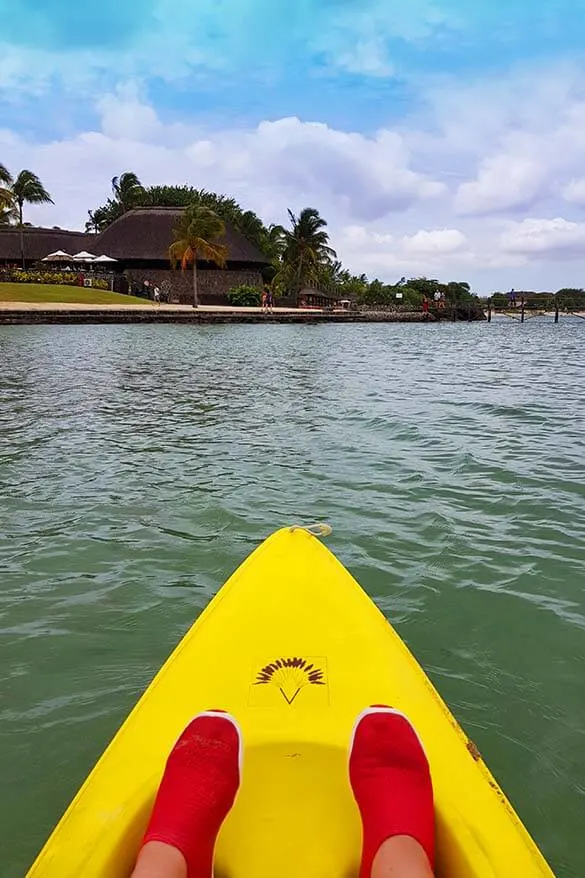 Suites & Facilities
My first impression upon arrival at the Ravenala Attitude was that it's a huge resort. There are 272 rooms! At first, it looked overwhelming, but it also allowed for complete privacy and anonymity, which I loved.
The Ravenala Attitude is the first 4-star Mauritius resort where all rooms are suites. The suites are extremely spacious and have a balcony or a terrace. From luxurious executive seafront suites to huge family rooms that can accommodate up to 6 people – you can easily find a room that fits your group size.
All rooms have air conditioning and a bathroom with both – a shower and a bath. Tea and coffee making facilities are available in every room, as well as a safe, cable TV, and free (and really fast) wi-fi. In fact, wi-fi coverage is amazing throughout the resort and even at the beach.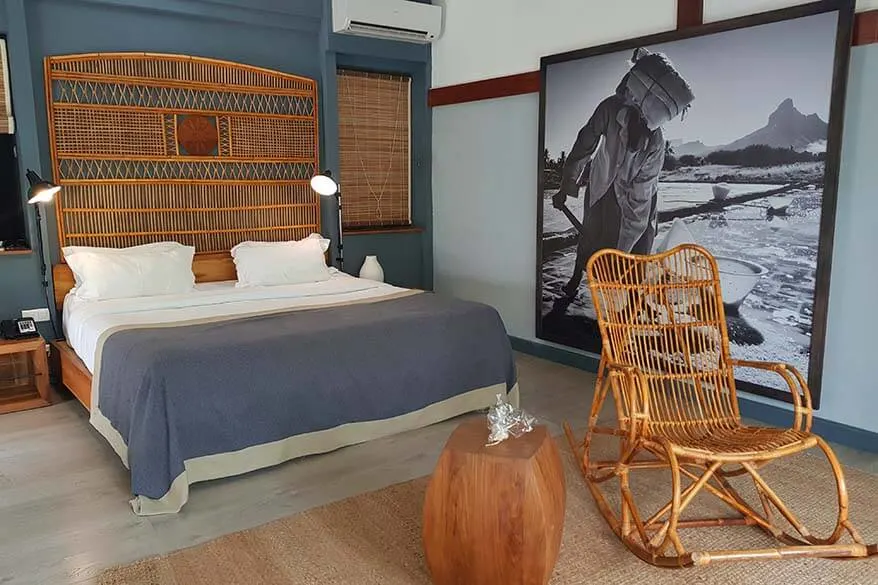 Inside the resort, you'll find a small supermarket. There is also a shop selling beach clothing and souvenirs.
There are plenty of beach chairs, lounge chairs, and all kinds of cozy places to sit and relax throughout the entire resort. I visited in high season and while the hotel was almost full, it didn't feel crowded or even busy at all.
There is so much space at the resort that people can very easily spread out. It's not one of those places where you have to fight for beach chairs.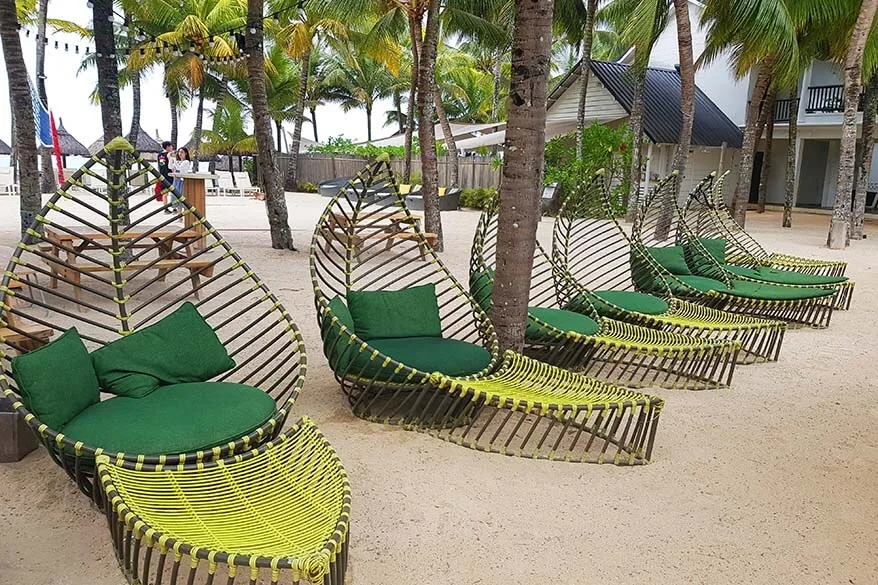 Restaurants & All-Inclusive Package
There are ten restaurants and several bars at The Ravenala Attitude. If you have the time, I recommend trying them all out.
From the international buffet, Italian food or BBQ restaurant to Japanese or local Mauritian cuisine, and even street food-style dining… There are so many dining options at this resort that the choice is really hard to make.
Vegetarian options are aplenty and the food is excellent everywhere!
If you really want to take full advantage of staying at this resort and enjoy a truly relaxing holiday, I highly recommend booking an all-inclusive stay. It includes breakfast, lunch, afternoon tea, dinner, snacks, and a huge variety of drinks at the bar.
Food and beverage prices at 4-5 star resorts in Mauritius are quite high. So if you are planning to stay at the resort most of the time, it's well worth looking into booking an all-in package.
To give you an idea, I had a hamburger and a non-alcoholic cocktail for lunch at another 5-star luxury hotel in Mauritius and it cost me 1200 MUR (30 EUR).
A few cocktails at the beach, a couple of glasses of wine at dinner… it quickly adds up. It's so relaxing to not have to think about what to order or how much it will cost you. It's even more the case when traveling with kids who keep on asking for ice cream, drinks, and snacks during the entire day…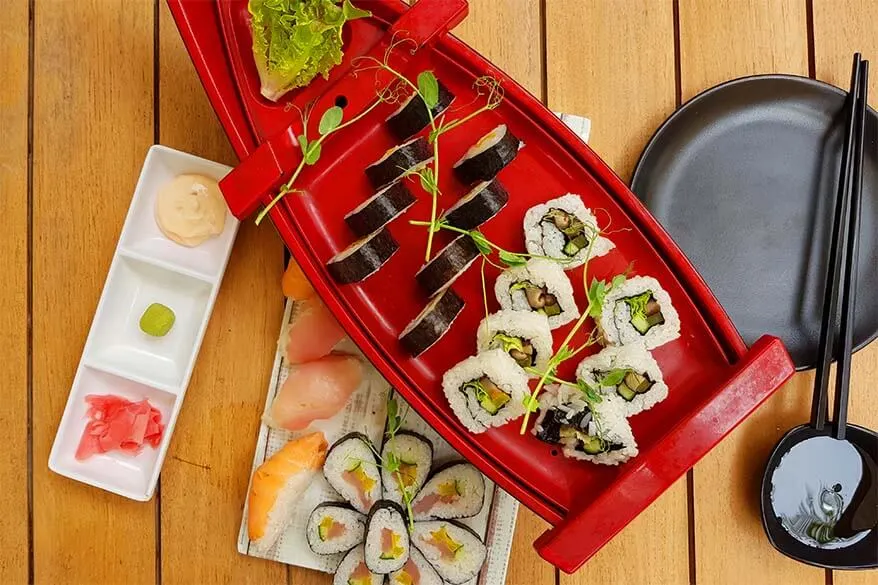 Booking an all-in stay at a resort like this is the best way to budget for your vacation in Mauritius, without constantly having to worry about going over budget.
Oh, and in case you wonder, the breakfast buffet has pretty much all imaginable international options – from English breakfast and Asian food to European continental breakfast or American pancakes with bacon – there are more options than you could possibly try in a week.
Just be warned – you'll definitely need to go on a diet after staying here…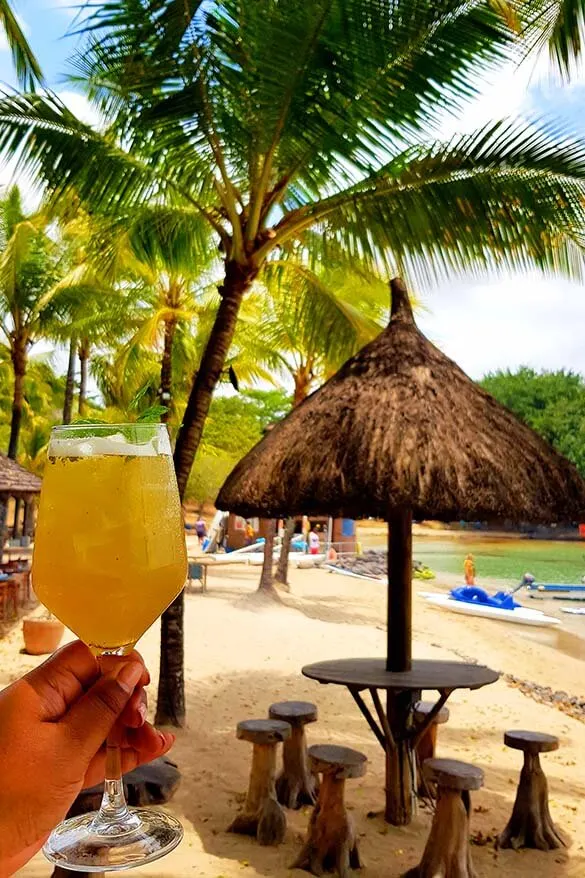 Activities
There is so much to do at The Ravenala Attitude hotel that it's practically impossible to mention everything. From yoga, aqua gym or beach volley to chess tournaments, creole lessons or traditional fishing and countless other things to do… The choice of activities is unbelievable!
Just like most other luxury hotels in Mauritius, The Ravenala Attitude also has live music on some nights and various local shows and performances in the evenings. The traditional Mauritian Sega show is not to be missed!
Upon arrival, you receive a weekly program with an overview of everything that there is to do at the resort. You are free to join the activities you like or do nothing at all. The choice is yours.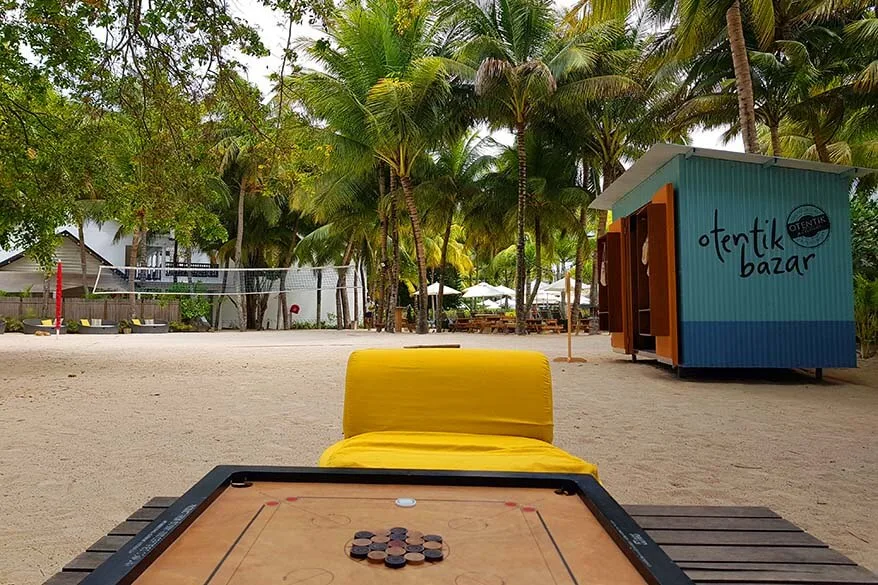 At the beach, by the river, you'll find a water sports center where you can go wind-surfing, borrow a canoe, a SUP, or a water bike. Motorized water sports like water skiing are also available and, if I'm not mistaken, are included in the all-in package.
Twice a day and weather permitting, you can also join a (free) snorkeling trip. A glass-bottom boat brings you to a nearby reef where you can see stunning coral and colorful fish. If you get lucky, you may even see some dolphins. The hotel can also organize a short trip to go swimming with sea turtles or dolphins.
One of the activities that I enjoyed most was a cooking lesson. With the help of a local chef, we made a traditional Mauritian chicken curry. It was really fun!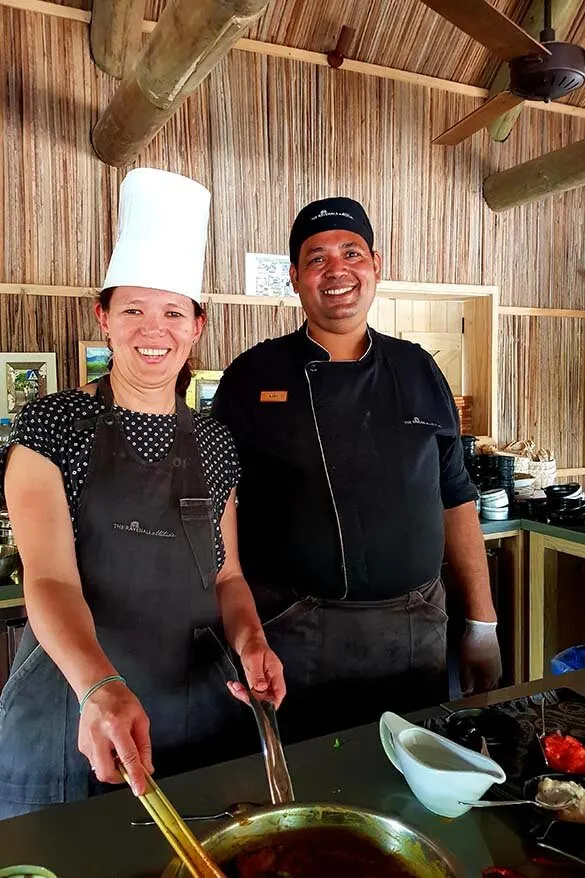 Spa
The Ravenala Attitude review wouldn't be complete without mentioning its spa. Just like all the other luxury hotels I saw and stayed at in Mauritius, Ravenala Attitude also has a big spa center.
You can choose from a big variety of treatments and massages or treat yourself to a relaxing time in a hammam or a sauna. You can even get your hair and your nails done if you fancy.
I had a short back massage here and it was so relaxing. Great way to start your holiday after a long-distance flight (or to end it before flying home, as I did).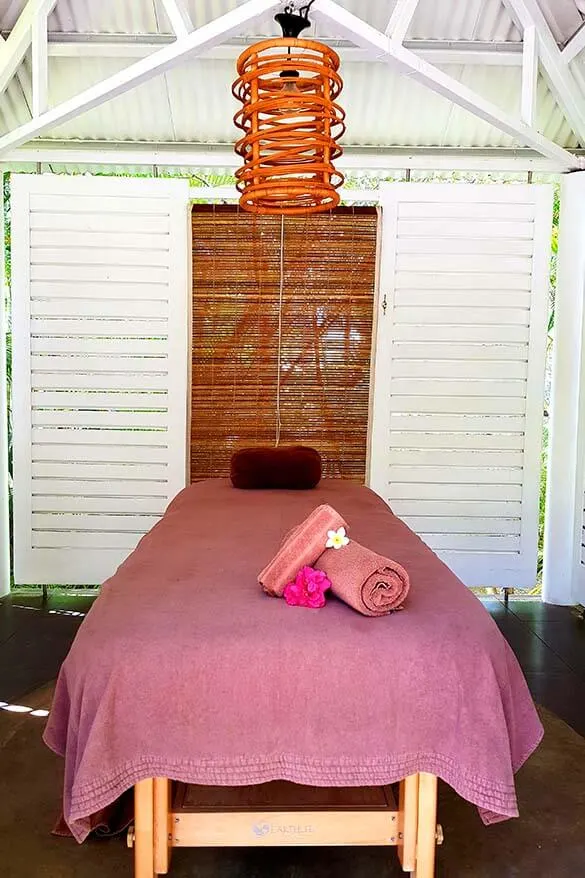 The Ravenala Attitude for Honeymoon or Adults-Only
The Ravenala Attitude is not an adults-only hotel, but they have a big adults-only section.
You can choose to stay at an adults-only wing with executive seafront adult suites that not only guarantee peace and quiet, but also offer amazing sea views. From the terrace of your suite, you can watch the most amazing sunsets every night.
There is also a separate beach for adults and an adult-only restaurant right on the beach. Romantic dinner with feet in the sand and the most amazing views – it's as good as it gets.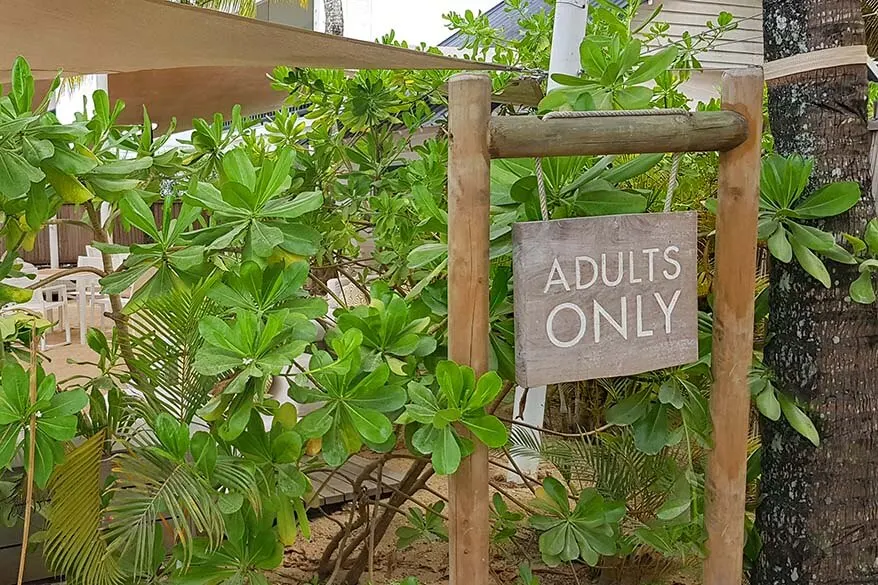 The Ravenala Attitude with Kids
As already mentioned, this hotel is truly for everyone. Offering spacious family suites, it's also a much more affordable option than many other hotels where you have to book two adjacent rooms if traveling with children.
Kids' club, Ayo Le Dodo, offers a big range of activities for kids from 3 to 12 years old. The program varies day to day offering activities such as treasure hunts, shows, or even cooking classes. You can relax and have some adults-only time knowing that your kids are in good hands.
Teens' club, Teens Republic, organizes daily activities for youngsters from 12 to 18 years old. Ping pong, karaoke, or mocktail making workshops are on the program, together with many other options…
Kids and teen clubs are free of charge and are open every day until late in the evening (9 AM to 11 PM).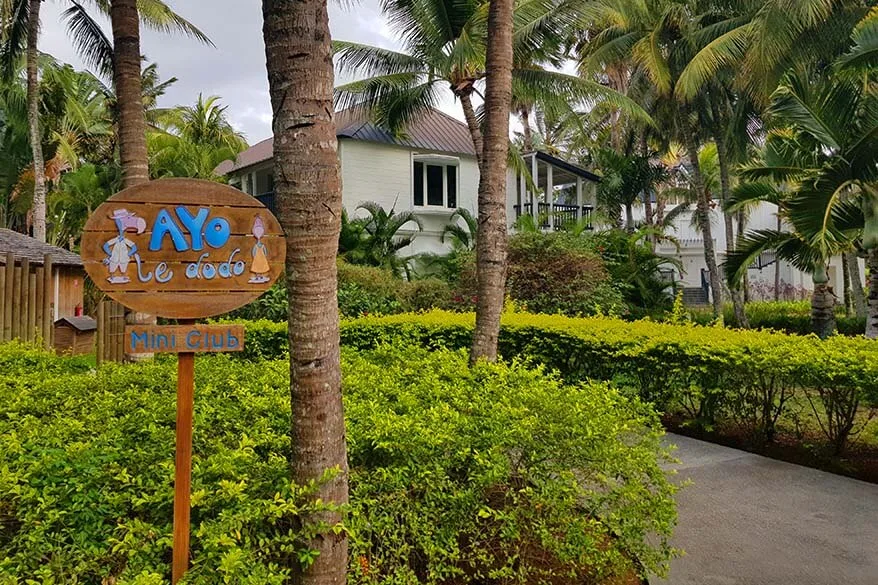 What Makes It Different
I find it important to mention that the hotel supports the Green Attitude Foundation which promotes conservation and restoration of Mauritius' coastal and marine environment.
They plant mangroves in order to protect the coastline. In addition, they participate in other projects that provide incentives to young people and help local communities through employment.
You can choose to support these projects via voluntary donations. Unless you explicitly ask not to, the hotel will add 200 MUR (5 EUR) to your bill to support this foundation (you can always decide to give more). It may not look like much, but when you know that thousands of people stay here every year, you understand that it's one of those seemingly small things that can actually make a big difference.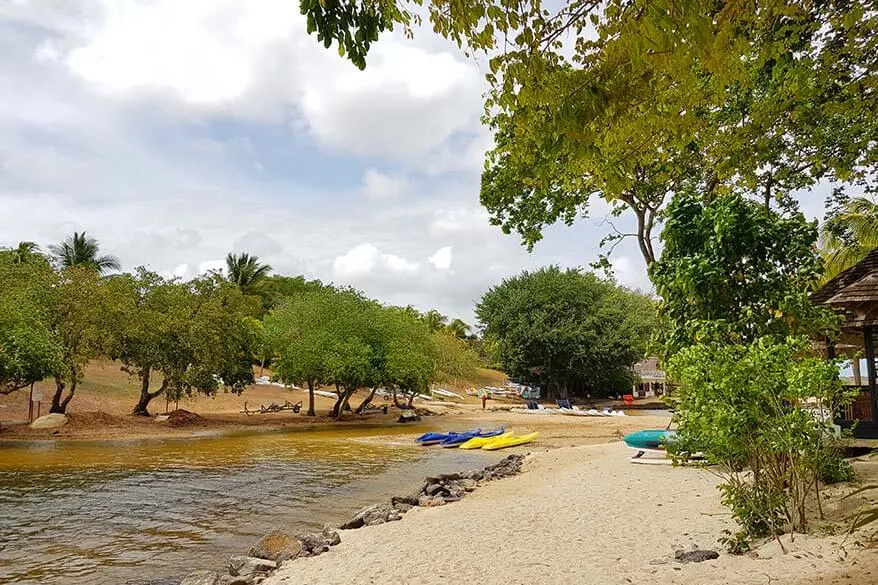 The Ravenala Attitude – Conclusion
I really enjoyed staying at The Ravenala Attitude hotel in Mauritius. Out of the three hotels I stayed at on the island (including a really nice 5-star luxury resort that was twice as expensive), this is the one that I can wholeheartedly recommend to our readers. Thus this review.
It's luxurious and nice without being too expensive or snobbish. And the all-inclusive package makes your stay so much more enjoyable and relaxing.
All in all, I think that the Ravenala Attitude is a great choice for those looking for a nice 4-star resort in Mauritius that truly has it all.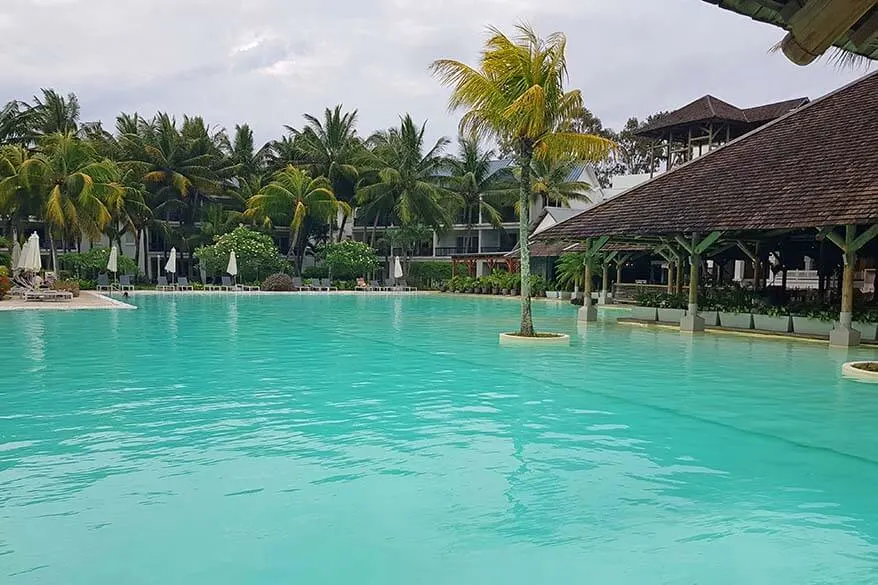 Book Your Stay
We use Booking.com for 99% of our vacation accommodation bookings and always recommend it to our readers. The prices are usually the best you can get and booking conditions and customer service are great too. The booking process is easy and you know exactly what you are paying for.
Here you can check the prices and book your stay at The Ravenala Attitude.
Good to know: For the best deals and availability, book your stay well in advance. November and December are especially busy months in Mauritius. Good weather all-year-round makes Mauritius so popular that there isn't really a low season. The quietest month to visit is June, just before the European summer school holidays start.
TIP: Using the map below, you can compare resorts, hotels, and short-term rental accommodations in Mauritius. Simply insert your travel dates and group size, and you'll see the best deals for your stay. You can also zoom out for the other areas. Check it out!
More tips for your trip to Mauritius:
If you found this post helpful, don't forget to bookmark it and share it with your friends. Are you on Pinterest? Pin this image!