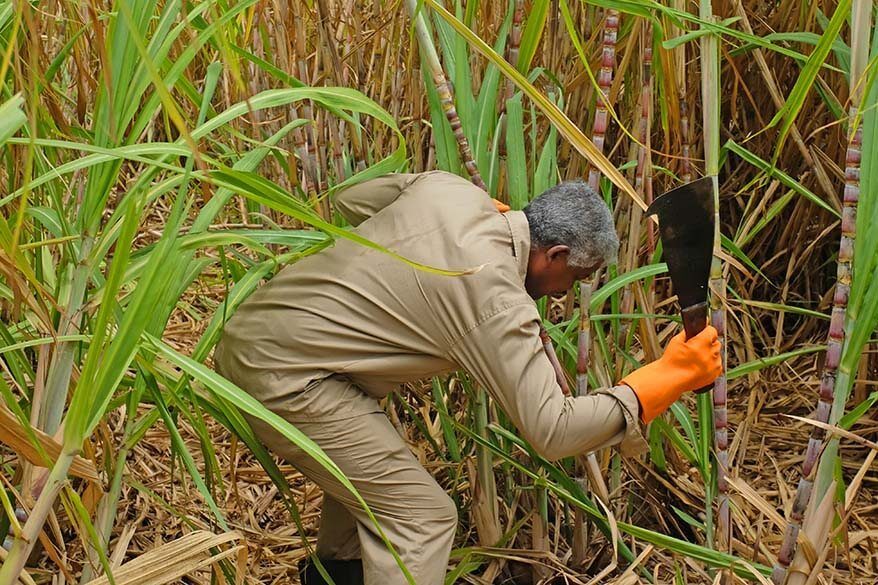 If you visit just one Mauritius museum, make it L'Aventure du Sucre! Sometimes also called the Sugar World or Sugar Estate and Museum, or simply Mauritius Sugar Museum, this is a unique landmark that will give you a fantastic introduction to the history of Mauritius island.
L'Aventure du Sucre is one of the most interesting cultural attractions in Mauritius. It's not a boring museum; far from that! Rather a place where you can get a taste (literally and figuratively) of real Mauritius like nowhere else on the island.
I recently visited L'Aventure du Sucre and it completely changed my perception of Mauritius island. To tell you the truth, my expectations were really low and because I had limited time to explore the island, I was hesitant to go here. So glad I did!
It turned out to be one of the most interesting places I visited in Mauritius. And this is the reason for this article. I want to inspire you to take the time to discover a different side of Mauritius by visiting this unique museum. I'm convinced that you'll enjoy it as well. Find out!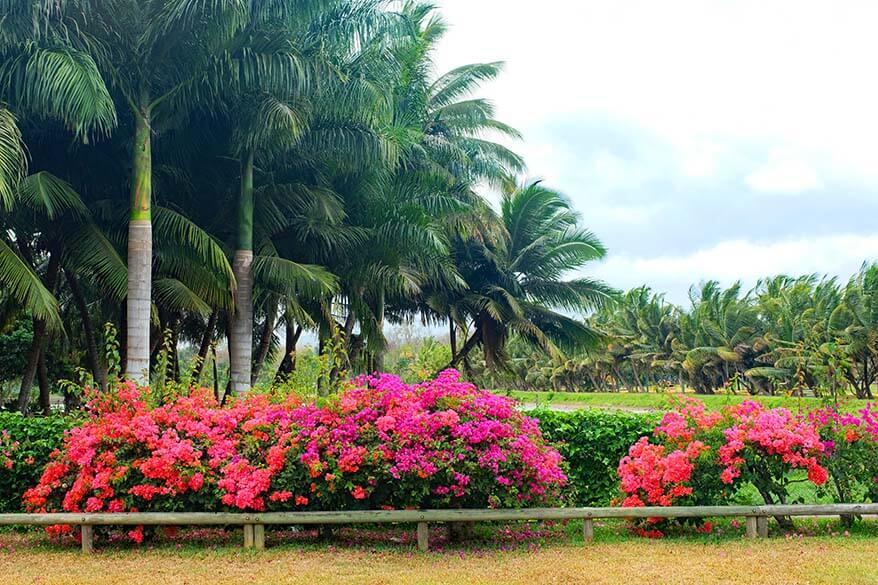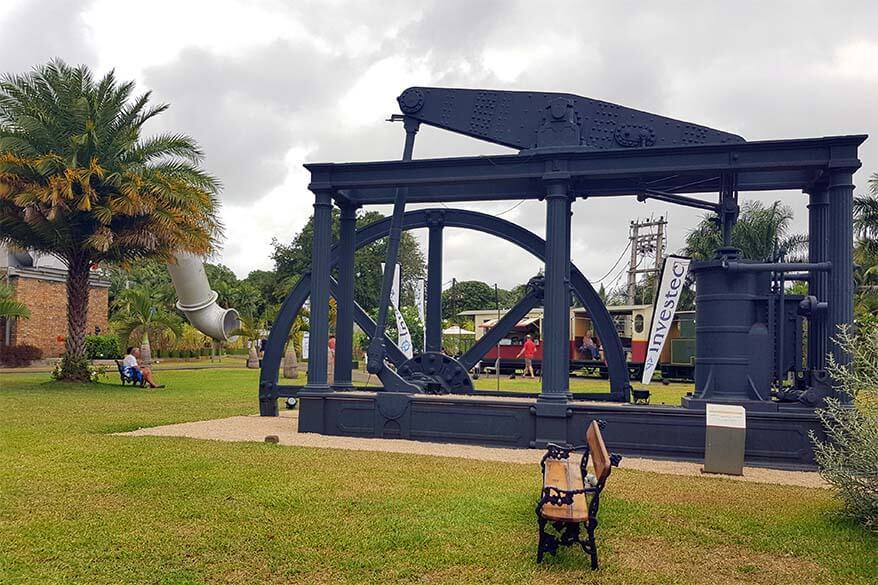 Why Visit L'Aventure du Sucre?
Most people come to Mauritius for its beaches looking for a relaxing holiday. However, it would be a real shame to travel to this beautiful island and not learn anything about it…
If you visit just one museum in Mauritius, make it L'Aventure du Sucre in Pamplemousses. There is no better place to get acquainted with the history of Mauritius, colonization, slavery, rum trade and the importance of the sugar industry than here. Pamplemousses is one of the oldest villages on the island and there is so much history here.
L'Aventure du Sucre is so much more than a museum. Set inside the historic sugar mill factory inside Beau Plan Sugar Estate and surrounded by lush tropical nature, a visit here is like a trip back in time. In addition, you can make it really fun by joining some of the organized activities like cane cutting experience, rum tasting, or cocktail making… Read on!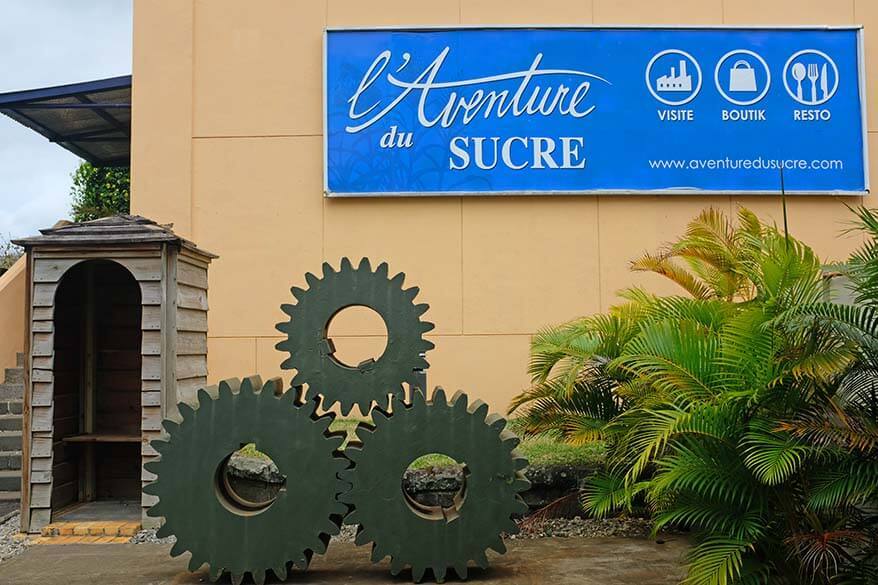 Sugarcane Cutting Tour
We started our visit of L'Aventure du Sucre with a cane cutting tour. After a short walk from the museum to a nearby sugarcane field, we met our guide Jean-Alain.
He immediately treated us to some fresh sugarcane. It's absolutely delicious! It's so juicy and sweet, but even then it's hard to believe that one sugarcane plant can produce up to 20 liters of juice from which up to 2 kg of sugar can be extracted.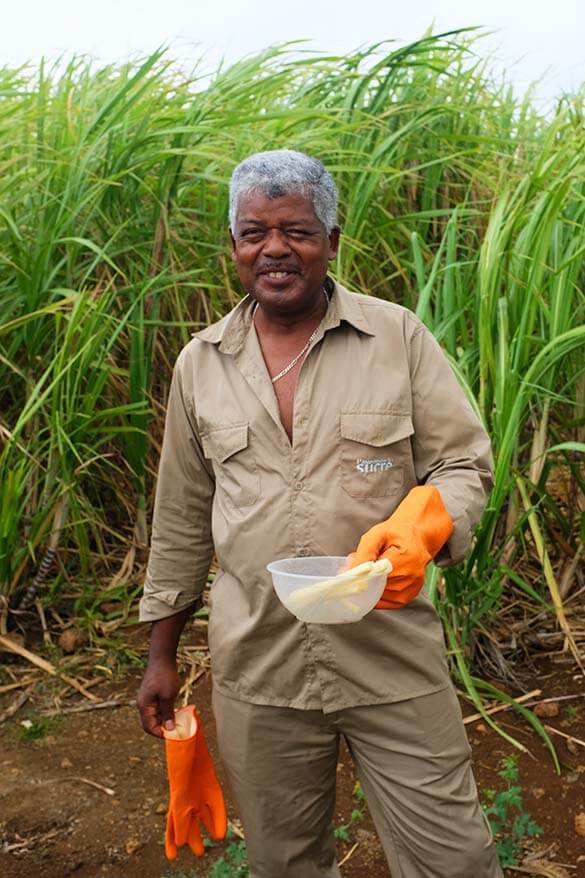 Jean-Alain told us about his father who has been cutting sugarcane since he was 15, and how he himself used to work in the cane fields as well. As easy as it looks when someone else is doing it, cutting cane is hard work. It's difficult to comprehend that one person was expected to cut about 10,000 kg of sugarcane in a day. Each day.
Nowadays, sugarcane cutting in Mauritius is mostly done by machines. Only the hilly areas that are difficult to reach are still done manually.
Of course, our tour included actual cane cutting as well. Equipped with sharp knives and a pair of gloves we could try it out for ourselves. It was a fun experience, but much harder than it looks like. It's definitely not something I imagine doing for hours and days in a row.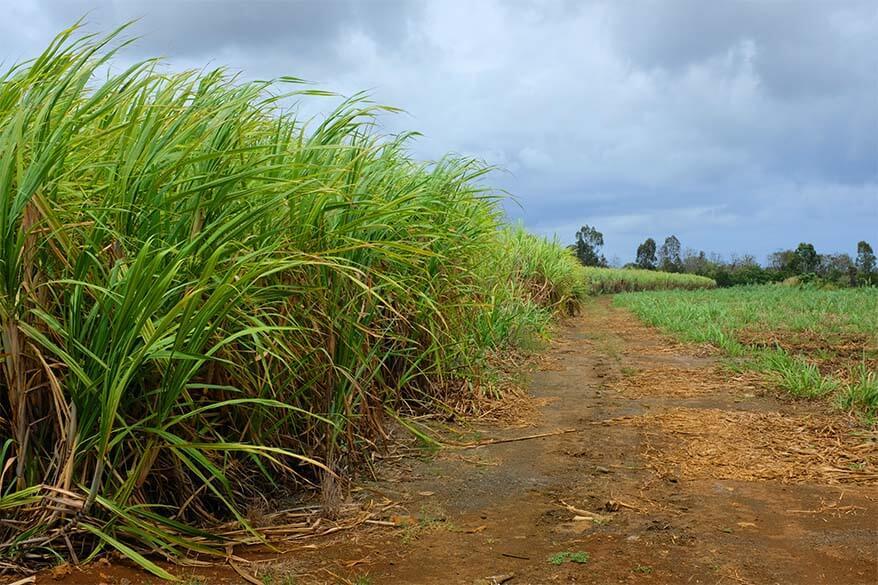 If you can, visit L'Aventure du Sucre on a Wednesday (see info below) and make sure to give cane cutting a try! It helps to appreciate the hard work of the people in the fields and it will make you see the museum exhibits with different eyes.
Practical information: Currently, cane cutting tours for individual visitors are only organized on Wednesdays at 10.30 AM. You can find more information about this tour and request to book it here.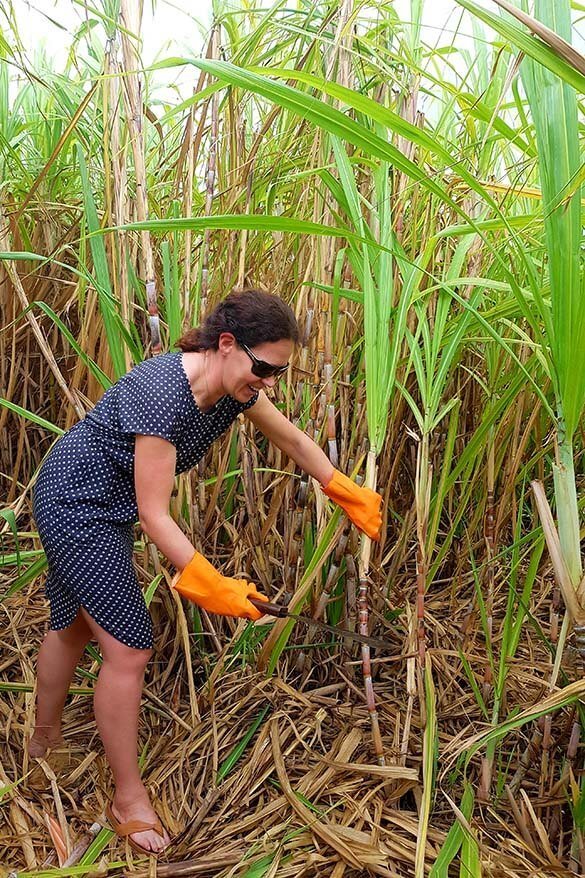 Sugarcane Crushing, Rum Tasting & Cocktail Making
We couldn't let all that cane we had cut go to waste, so we brought it back with us to the museum. While Jean-Alain went to crush the sugarcane for cocktails, we set to taste some local rum at Le Village Boutique, a museum store.
Rum tasting is included in the museum visit. if I'm not mistaken, they have 15 different kinds of rums produced by the New Grove House in Mauritius.
I stopped tasting after the first three, but I think that you can taste most of them. In addition, you can also taste 12 sorts of unrefined brown sugars, local jams, and honey.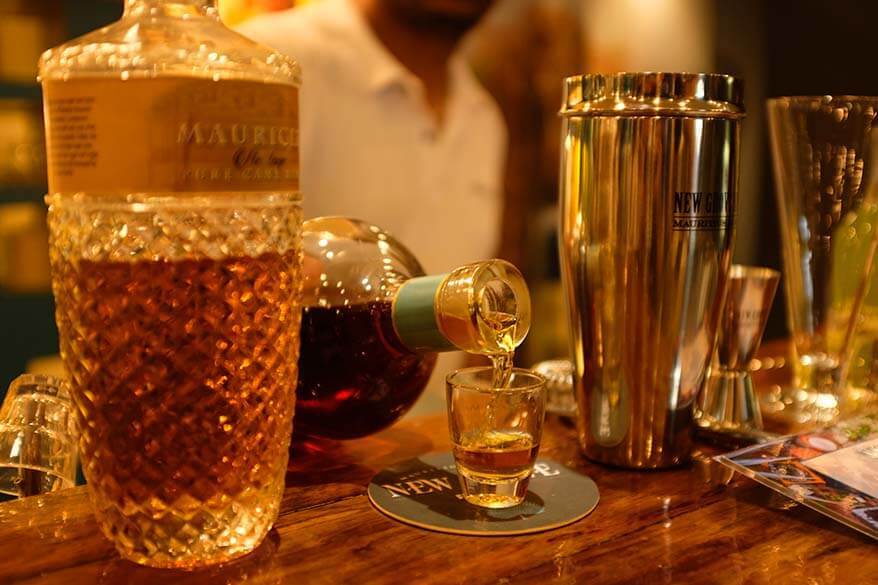 While I may not be a big fan of rum, I do appreciate a good cocktail made with it. So the next activity – cocktail making was much more up my alley.
Following a local cocktail recipe with sugarcane juice, lime juice, sugar syrup, lemongrass, and Mauritian rum, we made the most delicious cocktails. Not too sweet, not too sour, not too strong – just perfect and so typically Mauritian. Loved it!
If you have some free time, inquire about the cocktail making. Otherwise, you can skip all the 'hard' work and just order a cocktail at the bar inside Le Village Boutique.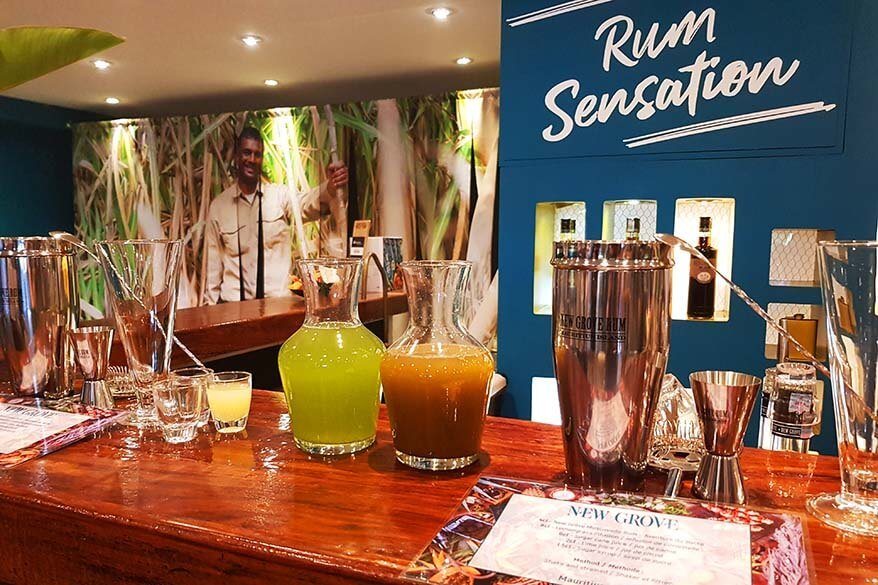 L'Aventure du Sucre Museum
After this hands-on experience, it was time for the real highlight of our visit to L'Aventure du Sucre – the museum itself.
Exhibitions are set inside the massive sugar factory that has been closed in 1999. The building has been renovated and lots of original parts of the sugar mill have been kept as they used to be.
TIP: If you can, try to visit the museum with a guided tour. It's free of charge and is really worth it. Without a guide, we wouldn't have been able to appreciate what this place is truly about. If there are no guided tours available, make sure to download their audioguide app. For guided tour times, the app, and more practical information, please check the official website.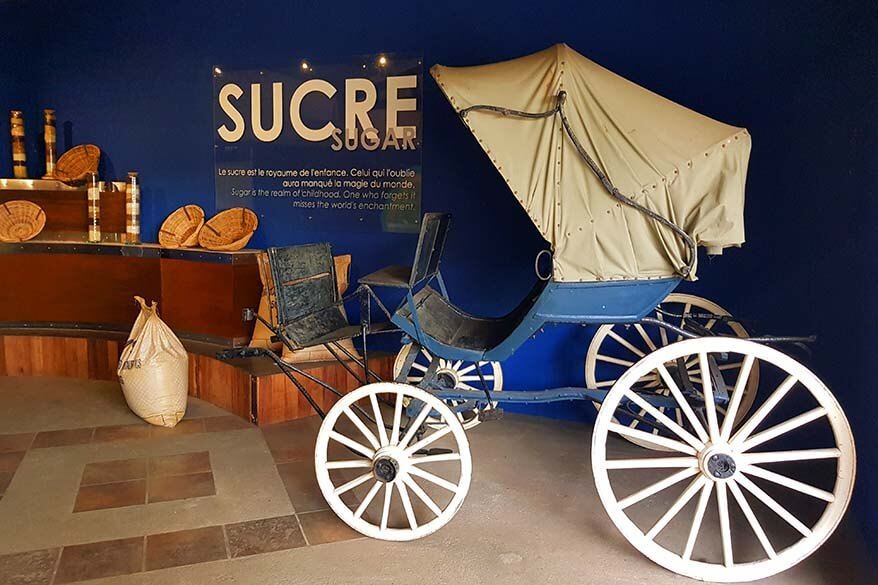 History
The museum visit starts with an introduction to the origins of the volcanic island that was born over 8 million years ago.
As you go further, you learn about Mauritius' colonial history. The island was discovered in the 15th century by Arabs but became better known when the first Europeans, Portuguese, set foot here. Later on the Dutch, the French, and the British have ruled over Mauritius and all had a big influence on the development of the island.
The Dutch introduced sugarcane and also gave the island its name (Mauritius is named after Prince Maurits of Nassau). They also exploited Ebony forests and were probably responsible for the extinction of the dodo (Mauritius's symbolic bird) as well as giant tortoises.
The French and the English ruled longer and had a bigger cultural influence. Traffic drives on the left side of the road, school kids wear uniforms, and English is now the official language of the country. However, locals prefer to speak French and with about 70% of the population having Indian roots, the island is truly multicultural. Mauritius became independent in 1968.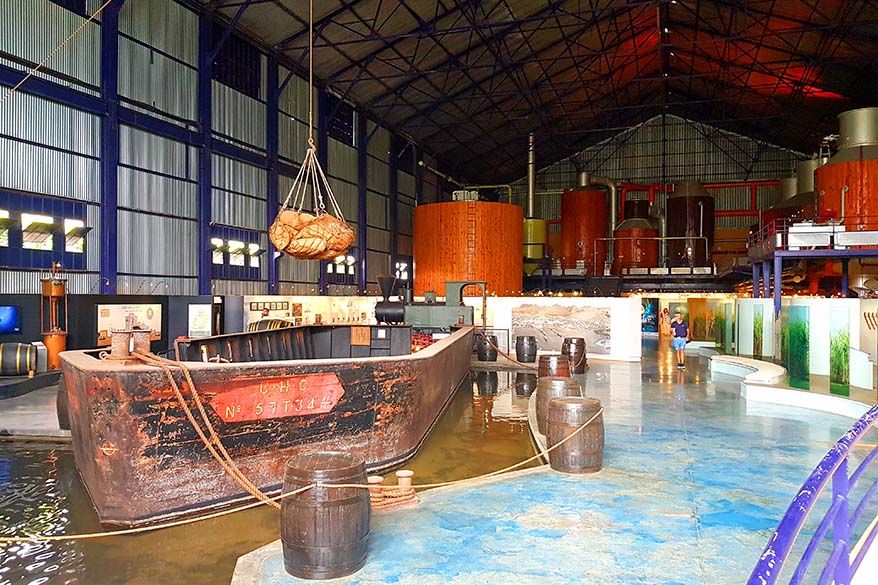 Sugar
It won't come as a surprise that the last part of the Sugar Museum visit is dedicated purely to sugar. Because, well, the history of Mauritius is closely linked to that of the sugarcane. There are only 3 sugar factories left in Mauritius today, but they are not open for visits.
L'Aventure du Sucre is the only place in Mauritius where you can learn about the whole process of making sugar. You can also see all the machinery that was used for it in the past. It's a really impressive sight and you also learn so much.
I never expected that learning about sugar would be so interesting! It made me realize how little we know about the seemingly simple products that we use in our daily lives.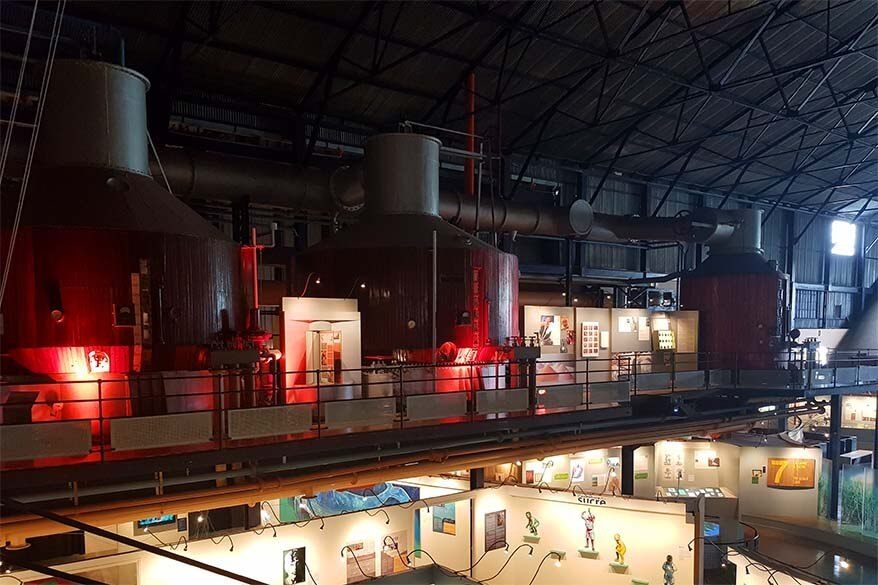 L'Aventure du Sucre with Kids
As a mom of three, I always look at every place I go to with the critical eye of a parent. Would this be a good place to visit with kids… While my kids were not with me on this trip, I really think that they would have enjoyed visiting L'Aventure du Sucre.
The museum is quite entertaining with some short videos, interesting exhibits, huge machinery, a real-size barge, and even a locomotive that starts to whistle and move when you answer the quiz questions correctly. In the main hall of the museum, there is also a kids play area.
Furthermore, a special kids' booklet is available at the entrance. Make sure to ask for it, because it will make the visit even more fun for kids. Targeted towards kids between 7 and 12 years old, it includes all kinds of games and puzzles that follow the route inside the museum. This booklet is available in French and in English.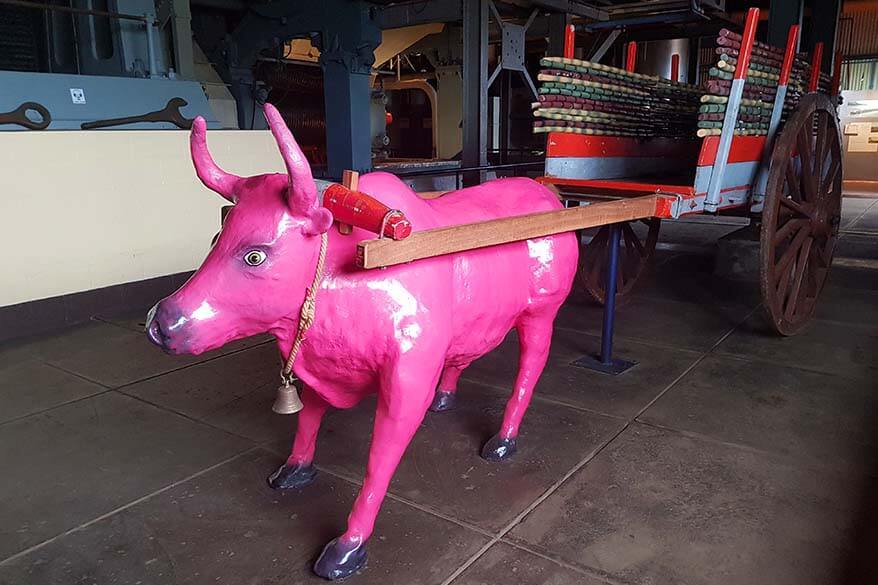 Le Fangourin Restaurant
Don't miss the Mauritian restaurant Le Fangourin that is located at the L'Aventure du Sucre. It's a great place to have lunch or a small snack before or after your visit.
It's a really nice restaurant with beautiful views, and also the cuisine is refined. We had a full lunch here with appetizers, main course, and dessert, and everything was absolutely delicious. A special kids menu is also available.
Even if you don't plan to have lunch here, as a minimum try their crème brûlée with fresh vanilla or dark chocolate fondant.
Good to know: Food prices are a bit like in Western Europe and comparable to those in the luxury hotels in Mauritius.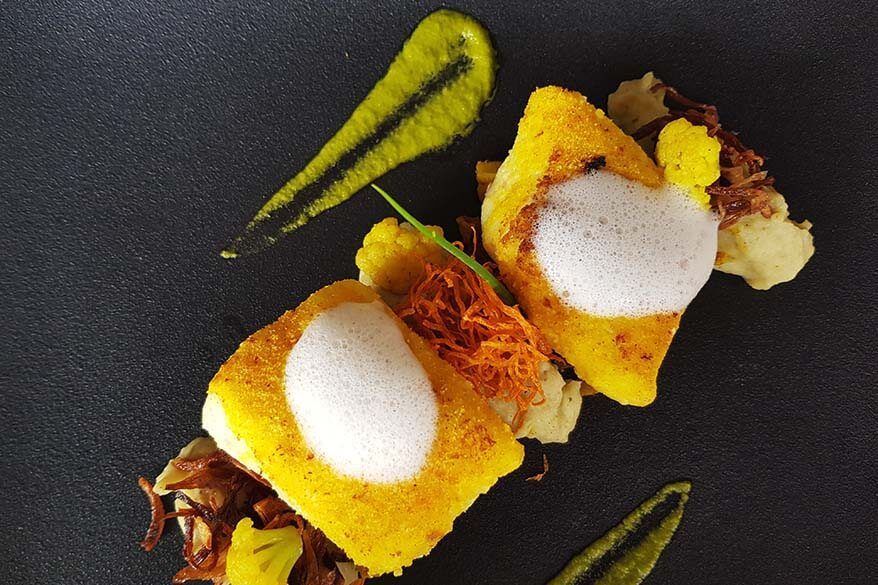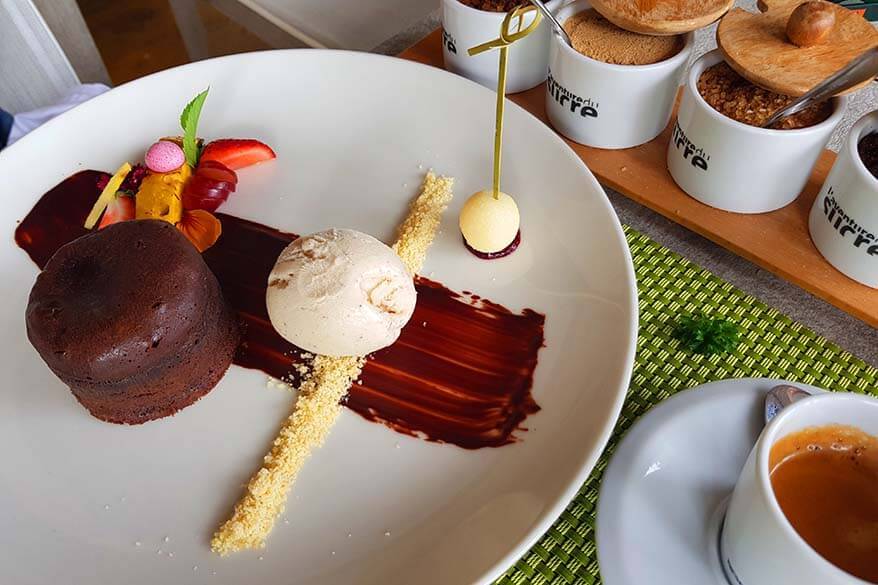 Practical Information for Visiting Mauritius Sugar Museum
Open from 9 AM to 5 PM every day, including public holidays.
Count at least 1,5-2 hours for a visit. We spent half a day here.
Most parts of the museum are wheelchair-accessible.
There is a restaurant, bathroom facilities, and a souvenir/rum shop.
Le Village Boutique sells special sugars and molasses, rum, as well as some other local products.
Cane cutting tours are best booked in advance.
For prices and up-to-date practical info, please consult the website of the museum.
TIP: Combine a visit to Mauritius Sugar Museum with that of the nearby Botanical Garden of Pamplemousse. It makes for a perfect day trip to the Northern side of Mauritius.
If you don't want to rent a car, you can take a day tour that visits both these places and more (hotel transfers included). Alternatively, you can hire a private driver for a day and design your own itinerary including a visit to this area.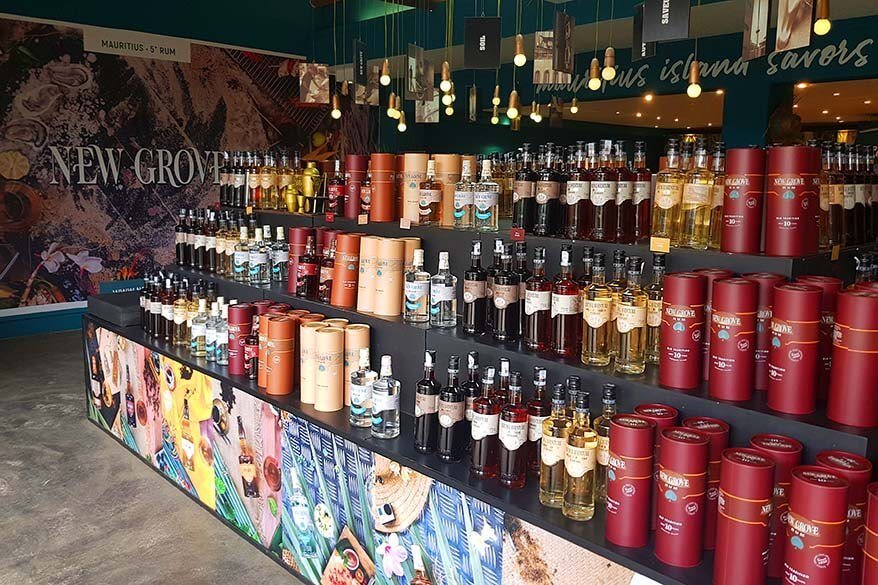 So, this is my guide to visiting L'Aventure du Sucre in Mauritius. I hope that it gives you a better idea of what to expect and that it inspires you to visit this interesting place yourself. Mauritius is so much more than its beaches and L'Aventure du Sucre is one of its must-see places.
READ ALSO: Best Things to Do in Mauritius
More tips for your trip to Mauritius:
If you found this post useful, don't forget to bookmark it and share it with your friends. Are you on Pinterest? Pin this image!