Looking for a boat trip, a speedboat excursion or a catamaran cruise in Mauritius, but not sure which one to choose or what to expect? Then read on!
Mauritius is a paradise-like island destination, but I had no idea that there are quite a few smaller islands nearby that are just as picturesque and just as dreamy as Mauritius itself. Obviously, the best way to see some of those little islands is by taking a boat trip. So we joined a catamaran cruise in Mauritius…
In this article, you can read about our experience with a speedboat/ catamaran cruise in Mauritius, the places we visited, and whether it was worth it. Spoiler alert – it was!
In addition, at the bottom of this article, you can find our suggestions for the best boat tours in Mauritius – both by speedboat or catamaran. We also included some practical tips for your Mauritius boat trip.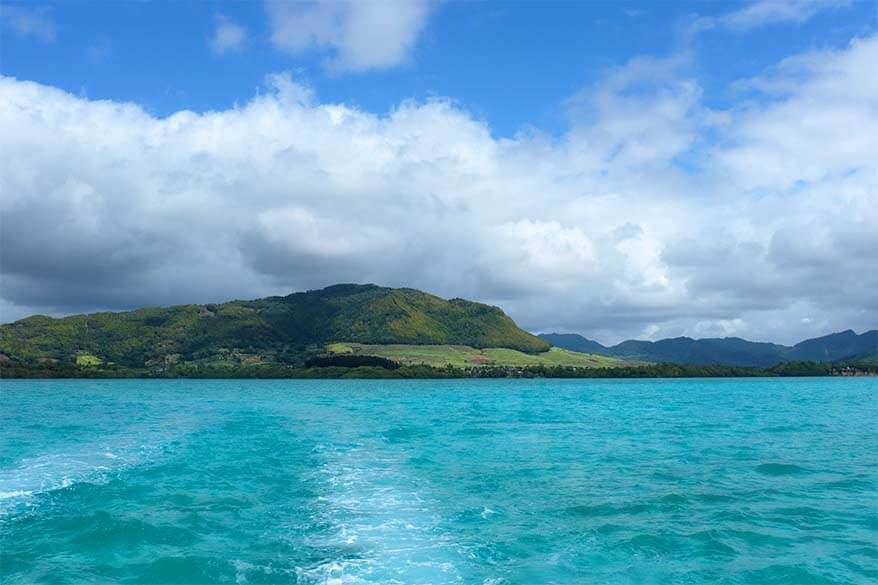 One of the most popular day trips from Mauritius is a boat tour to the picturesque island Ile aux Cerfs (see all the boat tour options here). We opted for a sightseeing catamaran cruise that visited several nice places in one day, in addition to this popular island.
Our catamaran cruise itinerary included snorkeling, a visit to Ile aux Fouquets (the Lighthouse Island), BBQ on the boat, an excursion to the GRSE waterfall, as well as some free time at Ile aux Cerfs.
Below you can read all about this catamaran trip. It will give you a good idea of what to expect on a speedboat or a catamaran cruise in Mauritius. This should also help you decide which Mauritius boat tour is right for you. Find out!
Mauritius Catamaran Cruise & Boat Trips – OVERVIEW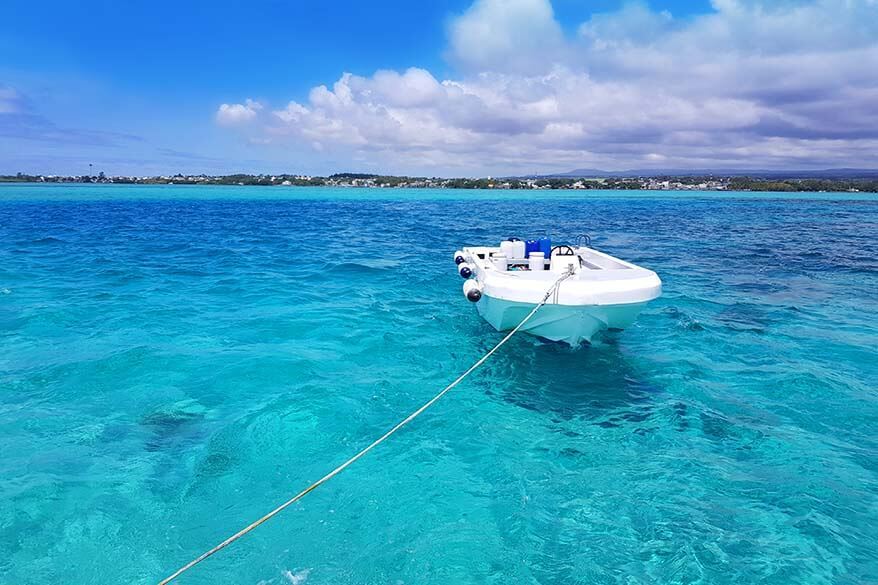 Mauritius Catamaran Cruise Review & Ile aux Cerfs Tour Itinerary
You are probably wondering what is Mauritius catamaran cruise or speedboat trip like and what to expect?
Well, first of all, you can expect a very relaxing day full of sunshine, stunning scenery, white sand beaches, and azure-blue water. In addition, you'll probably meet some really friendly people, dance to some great music (because… why not), get to taste some delicious local food, and – depending on the tour – maybe even get drinks à volonté. Mauritian rum & coke included. Vacation at its best!
The review below is based on my personal experience with a Mauritius catamaran cruise. Most catamaran trips in Mauritius seem to be very similar, so this gives you a good idea of what to expect.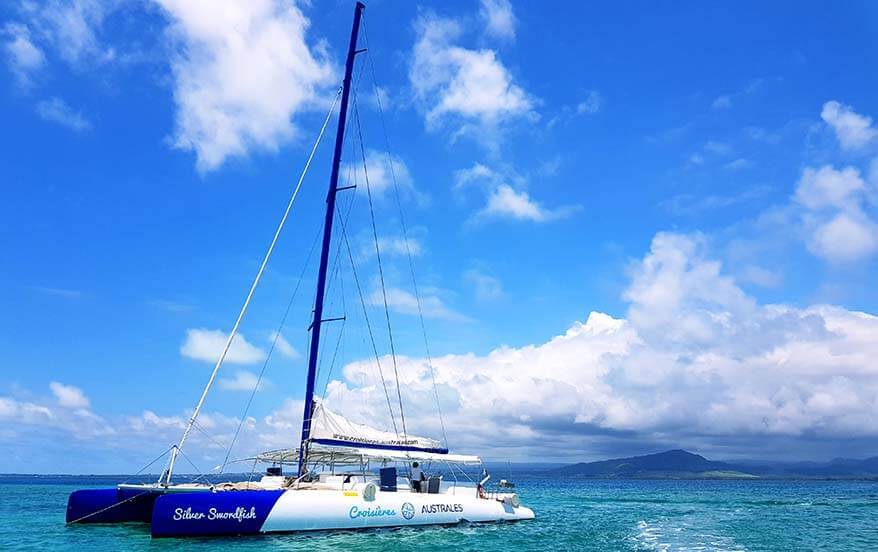 Snorkeling on a Boat Trip in Mauritius
Our catamaran cruise departed on the southeast side of Mauritius. While it was raining on our way there, the sun was shining on the coast. The scenery here is amazing – the azure-blue water of the sea and lush deep green mountains in the background…
We hardly installed ourselves at the front of our catamaran as the captain announced that we'd be stopping to go snorkeling. It's probably a good thing that they start with the snorkeling before anyone had a chance to enjoy Mauritian rum anyway…. Equipped with snorkels and flippers, we jumped into the incredibly blue and clear water.
I have to say that snorkeling here was just ok, though. There isn't much coral and we only saw small fish. It was nice, but definitely not wow. A few days before that, I took a free snorkeling tour from my hotel in Bel Mare (on the northeast side of Mauritius) and snorkeling there was much better.
Anyway, it's always fun to be in the water and watch the fish. I had a great time and, since snorkeling wasn't the focus of this catamaran excursion for me, I wasn't disappointed.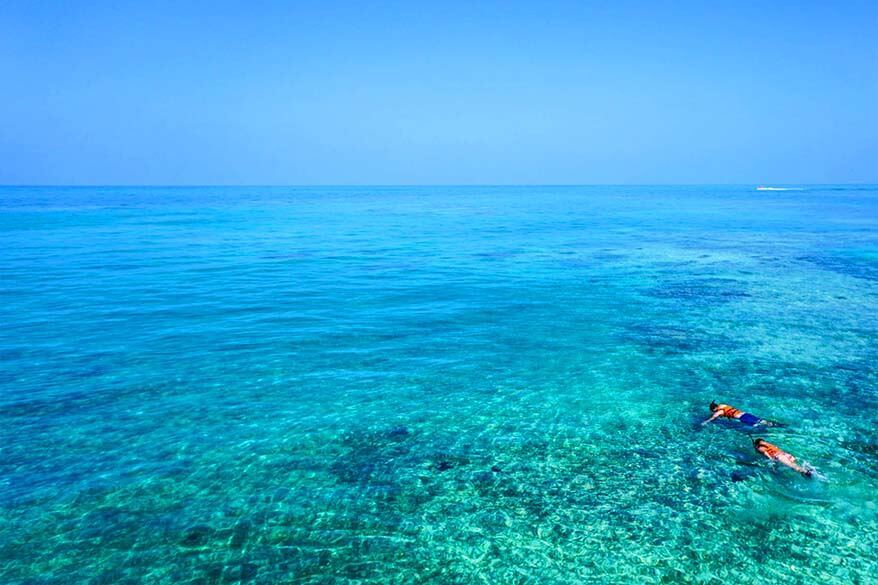 Ile aux Fouquets – The Lighthouse Island
Our next stop on this catamaran day trip in southeast Mauritius was the so-called Lighthouse Island. Its official name is Ile aux Fouquets – named after a bird species that live here. However, there is an old abandoned lighthouse on this tiny island and so locals call it the Lighthouse Island.
There are many boat trips visiting this tiny island, with tourists coming and going all the time. However, the island itself doesn't feel busy because all the boats are parked at a distance.
The water is really shallow here, so you have to take a smaller motorboat to get to the island. You also have to walk the last few meters in the water. Water shoes would be really handy here!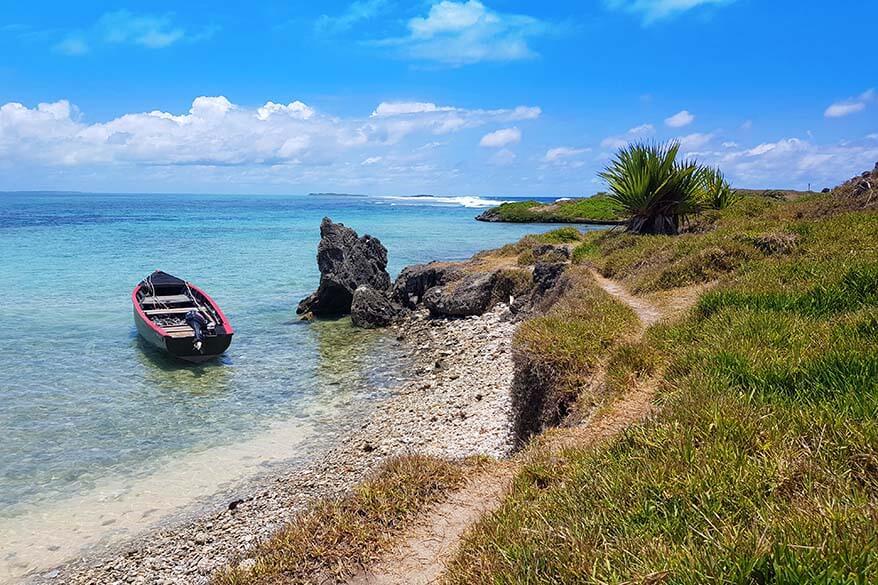 The lighthouse standing here was built in 1864 and witnessed several sea battles between the English and the French in the bay. It has long been abandoned and is now no more than a ruin. It also looks better from a distance than from close by. But it's definitely an interesting place to visit and gives you some insight into Mauritius' past.
The guide gives you a quick introduction to the history of the island and after that, you are free to explore on your own. The island is so small that you don't really need more than 10-15 minutes. You can take some pictures of the lighthouse, watch the waves crashing against the rocky shore, or try to spot some birds.
Before you know it, the guide calls you back to a small boat that brings you back to the catamaran. It's a really interesting short stop and a part of Mauritius that most vacationers never even heard about.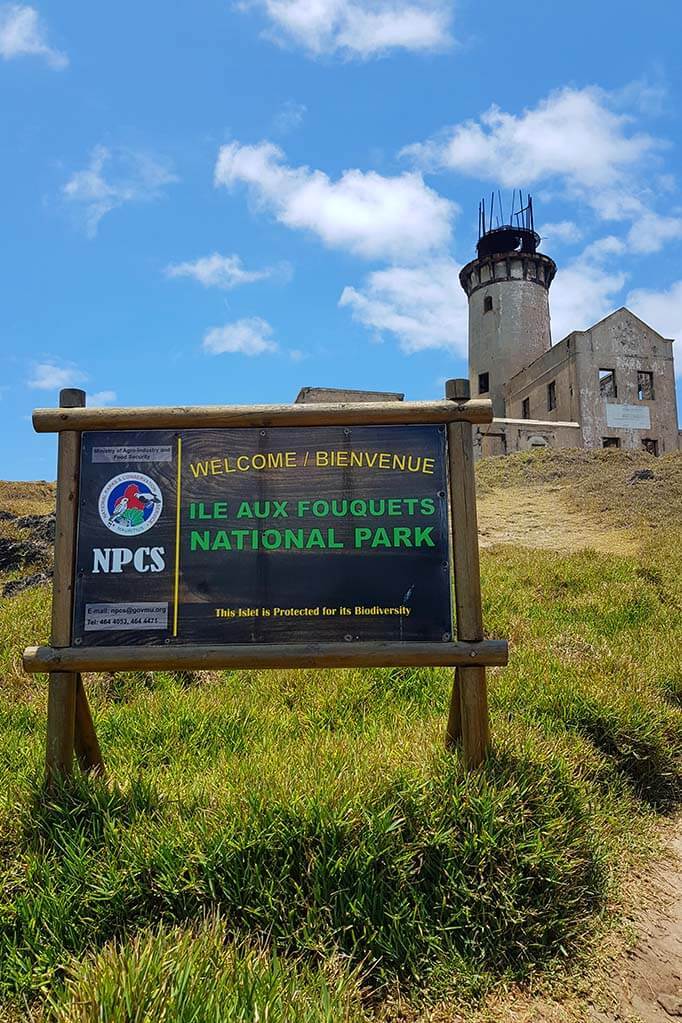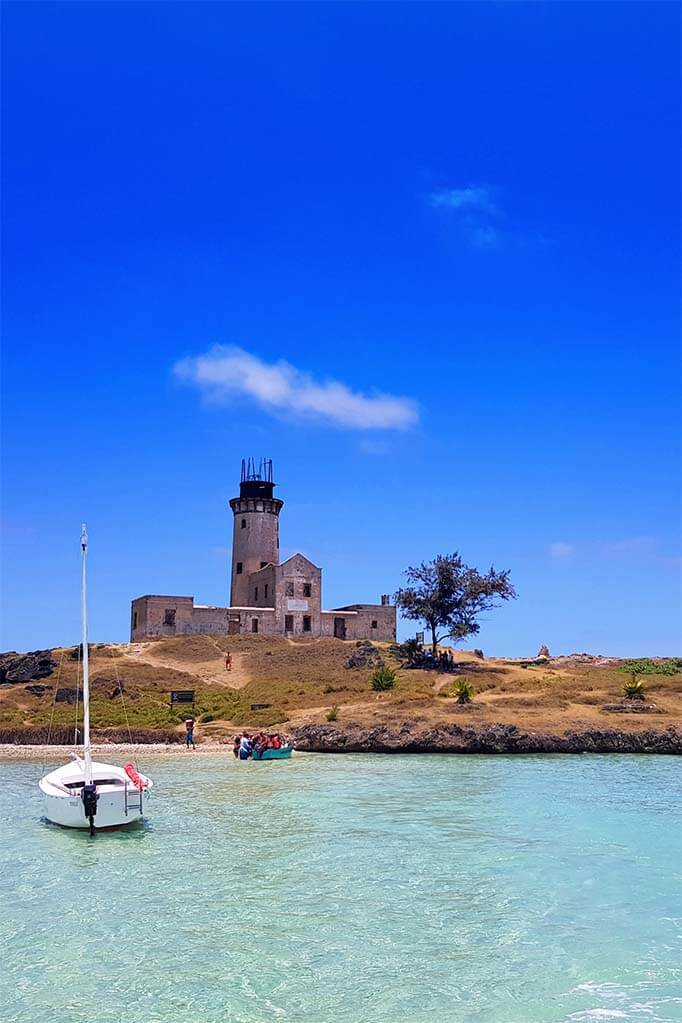 BBQ Lunch on Catamaran
While we were snorkeling and exploring the Lighthouse Island, the staff of our catamaran was busy preparing food. They set up a bbq on the deck and baked meat and seafood. It was served with traditional flatbread and fresh vegetables. Absolutely delicious! There was a vegetarian in our group and there was plenty of choice for him as well.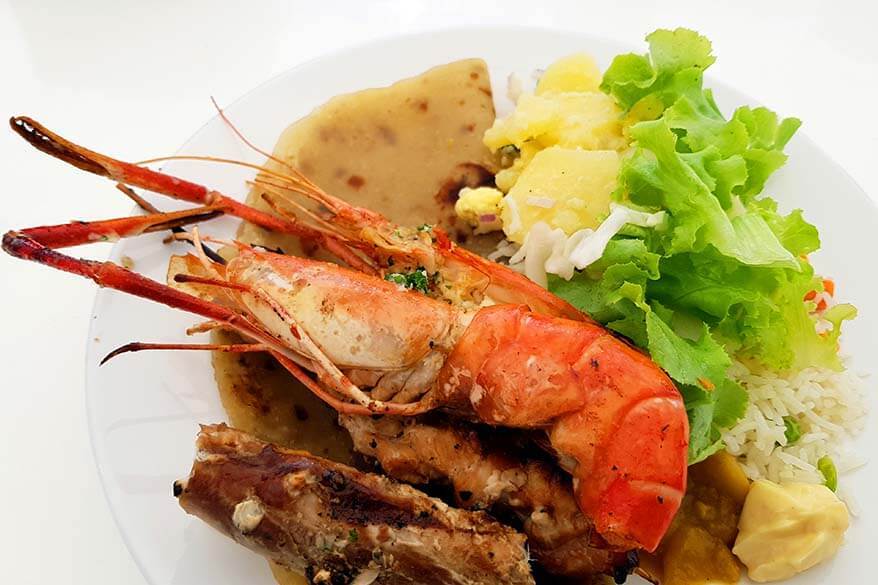 Sailing on the East Coast of Mauritius
After lunch, we set sail to Grand River South East, which is quite far away and took about an hour to get there by catamaran. This gave us a chance to lie down on the net and the soft cushions in the front area of the catamaran. It's such a great way to relax and enjoy the beautiful scenery and the wind in the sails.
TIP: Make sure you use sun protection when lounging on a catamaran or you might start to look like a boiled lobster in a matter of half an hour…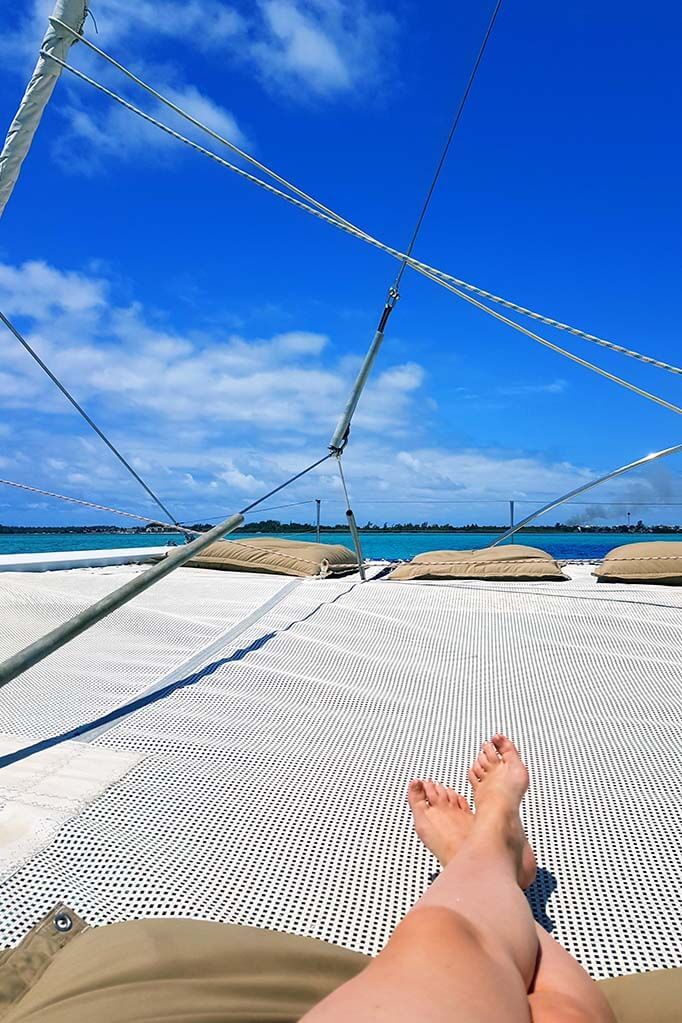 Grand River South East Waterfall
GRSE waterfall is one of the most impressive natural landmarks along the southeast coast of Mauritius. Many boat tours visiting Ile aux Cerfs also stop here. There are also tours from Ile aux Cerfs to this waterfall.
The waterfall itself is located a bit further from the coast, up the river, where large catamarans can't get. So you have to change to a smaller boat that brings you all the way to the waterfall. In fact, it brings you so close that you can get a shower under the waterfall without leaving the boat…
It's a short side excursion and the scenery here is nice, with mangroves and high rocks next to the river. The waterfall itself is also quite impressive, although this depends on what you compare it to, of course.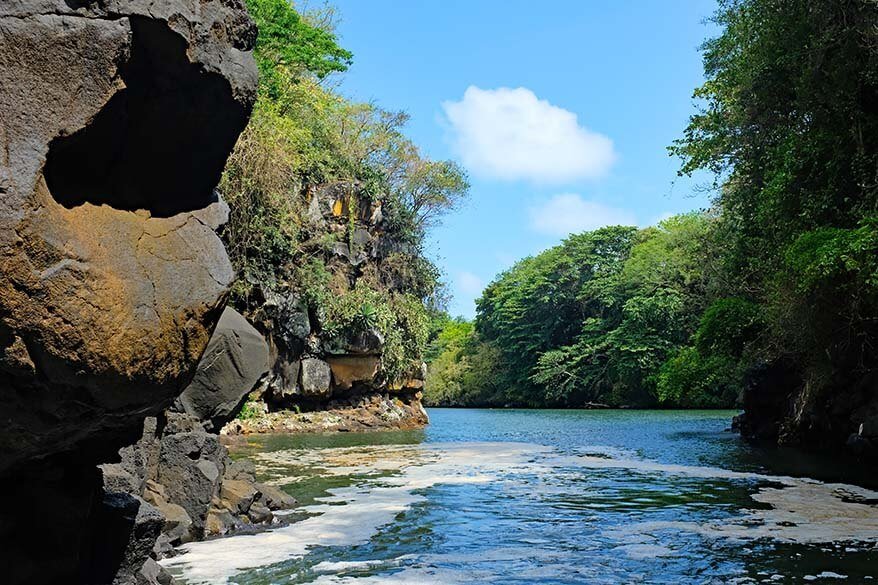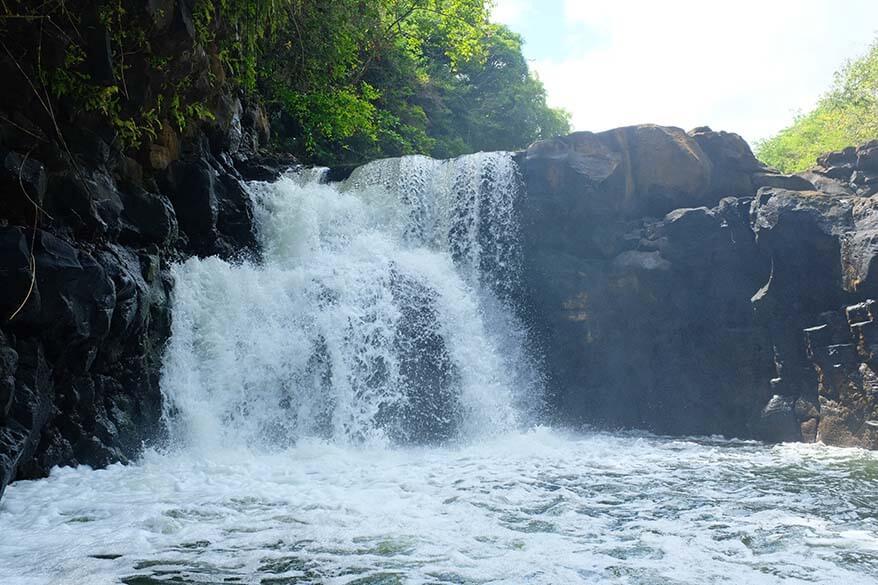 Ile aux Cerfs
The last stop of our catamaran cruise in Mauritius was the beautiful island Ile aux Cerfs. If you see aerial pictures of this island, it looks like paradise: white sand beaches, lush green interior, and azure-blue waters. Picture-perfect. From the boat, it also looks really nice, but once you arrive, you realize that it's also quite touristy.
Ile aux Cerfs seems to be one of the most popular destinations for boat tours on the East coast of Mauritius. So don't expect to be alone here. There are many boats coming and going to the tiny harbor of Ile aux Cerfs. Otherwise uninhabited, this tiny island comes to life during the day.
There are several restaurants and a bar on the island and a small market right by the harbor. Here you can find all the beach necessities as well as a big variety of Mauritian souvenirs.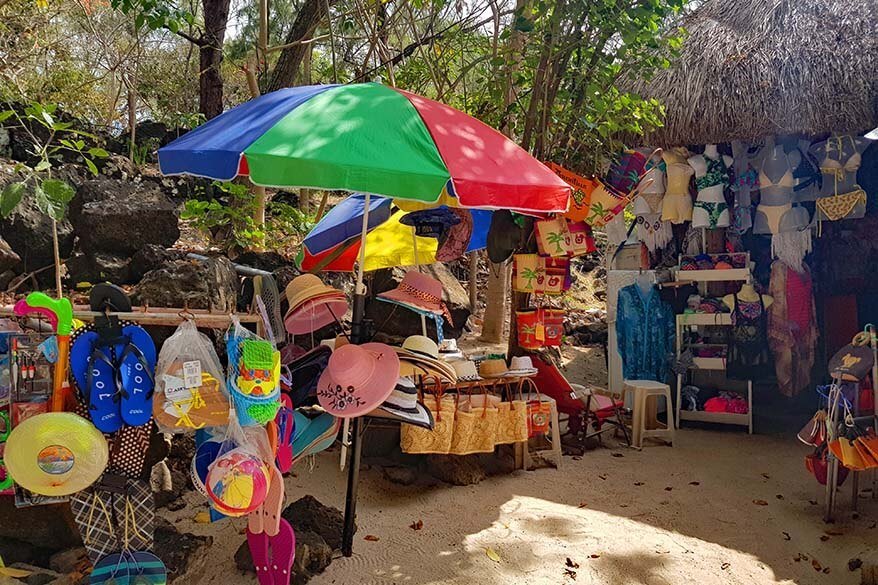 The moment you disembark from your boat, you're surrounded by local guides inviting you to try all kinds of water sports on the island. Sailing, banana-boat rides, water skiing… you can find it all here.
If you just take a boat to the island, you'll have a lot of time here. You can go walking and explore the island without the crowds. Alternatively, you can just stay at the beach (which is what most people seem to do), go snorkeling or do some fun water sports…
If you are staying at a really nice resort in Mauritius (I can recommend The Ravenala Attitude with its all-in formula), you'll have all these water sports available at your hotel as well. But if you are staying at a more local hotel that doesn't have all this included, Ile aux Cerfs is a wonderful place to enjoy all that Mauritius beach has to offer.
Good to know: Catamaran cruises and boat trips that also visit other places on the same day, tend to spend just 1-1,5 hrs on Ile aux Cerfs. This gives you enough time to enjoy the beach, but probably not enough to explore the island further.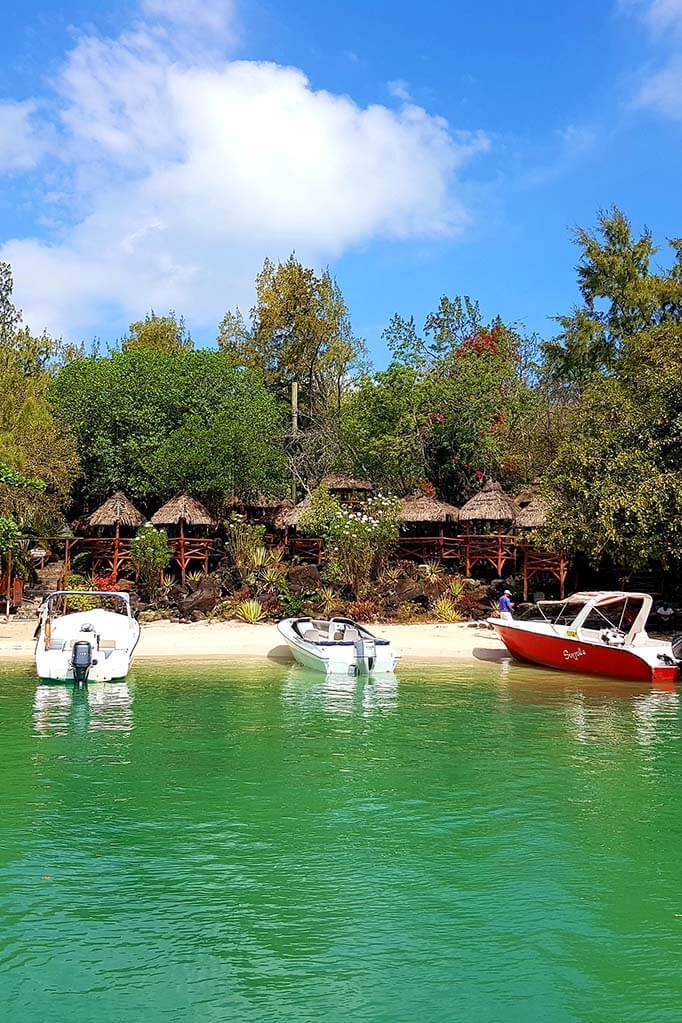 Speedboat Trip
I had even less time on the Ile aux Cerfs island because I got a unique chance to take a semi-private speedboat ride back to the mainland and so I opted for that instead.
I love speedboats! And having one just to myself and a friend was a really special experience.
Other friends stayed on the island longer and came back with the catamaran instead. They said it was fun, but they didn't see much of the island and just spent the time at the beach and did a few water activities.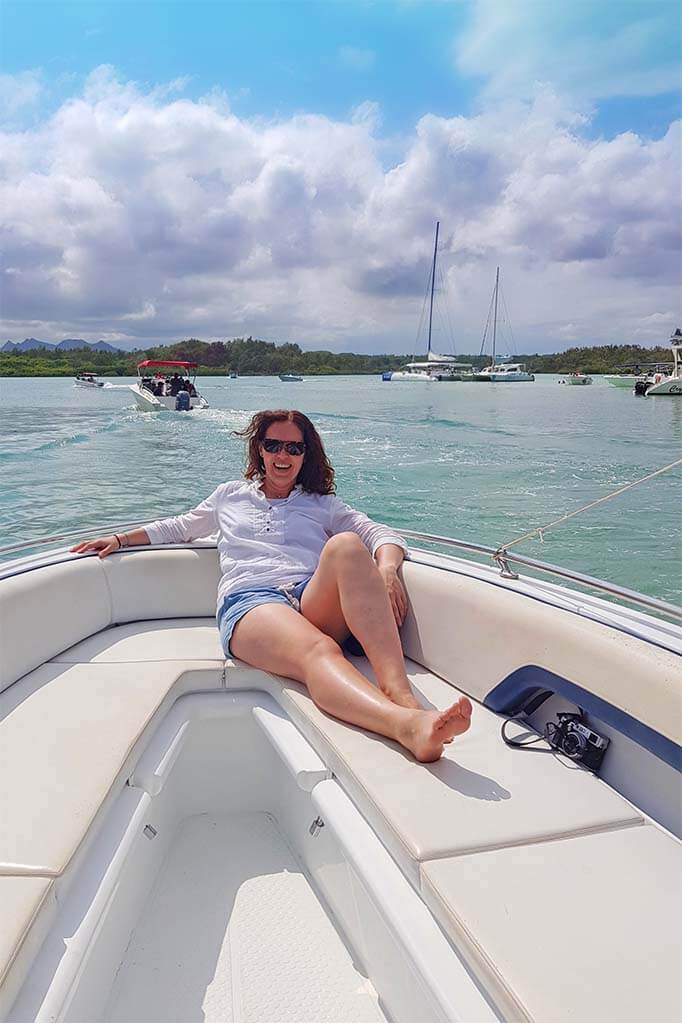 Best Mauritius Catamaran Cruises and Boat Trips
I was surprised to see how many options there are when it comes to taking a boat trip or a catamaran cruise in Mauritius. To help you easily choose the boat tour that's right for you, I made a small selection of the best Mauritius boat trips that have a good itinerary, as well as great customer reviews.
Take a look at my hand-picked selection below. You can't really go wrong with any of these.
Catamaran Cruise to Ile aux Cerfs with BBQ lunch. This catamaran cruise is one of the most popular boat trips in Mauritius. The itinerary includes snorkeling, sailing, bbq lunch, and Ile aux Cerfs visit. It starts and ends at Pointe Jerome in the southeast of Mauritius. TIP: This boat trip has pretty much the same itinerary but departs from northeast of the island, so it might be a better option if you are staying on that part of the island.
Speedboat Day Trip to Ile aux Cerfs & BBQ. This speedboat trip has pretty much the same itinerary as the trip that I did and described in this article. It includes snorkeling, a visit to Lighthouse Island, the waterfall, and Ile aux Cerfs. In addition, it stops at Ile aux Aigrettes. That's an advantage of a speedboat – they can cover more ground in the same time.
Private Catamaran Day Trip to Ile aux Cerfs. This is a great option if you can share the costs of a private boat with a bigger family or a group of friends (or if you don't mind splurging a bit). Private boat trips also include snorkeling, BBQ lunch, a visit to the waterfall, and free time on Ile aux Cerfs. Imagine a whole day on a private boat with an amazing crew, incredible scenery, and unlimited food and drinks… Life doesn't get much better than that.
Catamaran Cruise to the Northern Isles. This is a great boat trip for those staying in the North of Mauritius (Grand Baie area). You can visit the most beautiful islands without having to spend a lot of time in the car.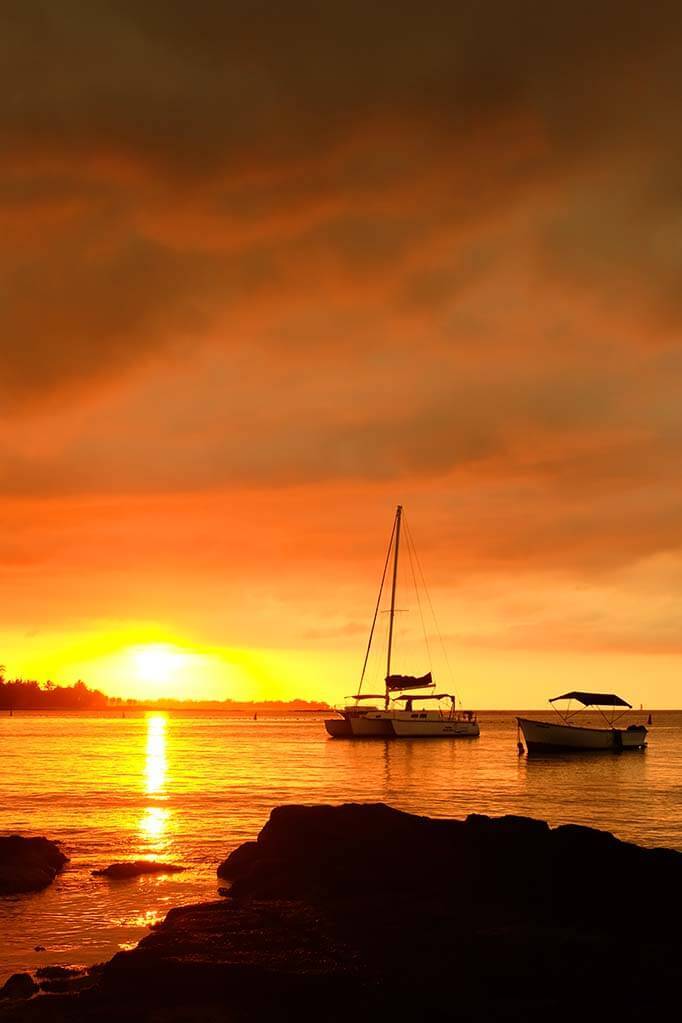 Is a Boat Trip or a Catamaran Cruise in Mauritius Worth It?
Well, as always, I guess it depends on what you compare it to and what the alternatives are.
There is so much to do in Mauritius that the choice can get really overwhelming. So if you only have a few days on the island, you may want to spend your time exploring more of Mauritius itself.
However, if you are looking for a relaxing day trip that combines beach and sightseeing, then a Mauritius catamaran cruise or a speedboat tour is a great choice. After all, that's what an island vacation is all about – sea, beach, sunshine, stunning scenery, good food, drinks, music, and wind in your hair…
I really enjoyed my catamaran cruise in Mauritius. Snorkeling, visiting the historic Lighthouse Island, seeing a beautiful waterfall and the famous Ile aux Cerfs – we covered quite a lot of ground without much effort. I would have never been able to visit these places without a boat tour.
Furthermore, the combination of sightseeing with some relaxing time on the catamaran, delicious food, drinks, music, and good company made it a really fun and relaxing day. I'd do it again!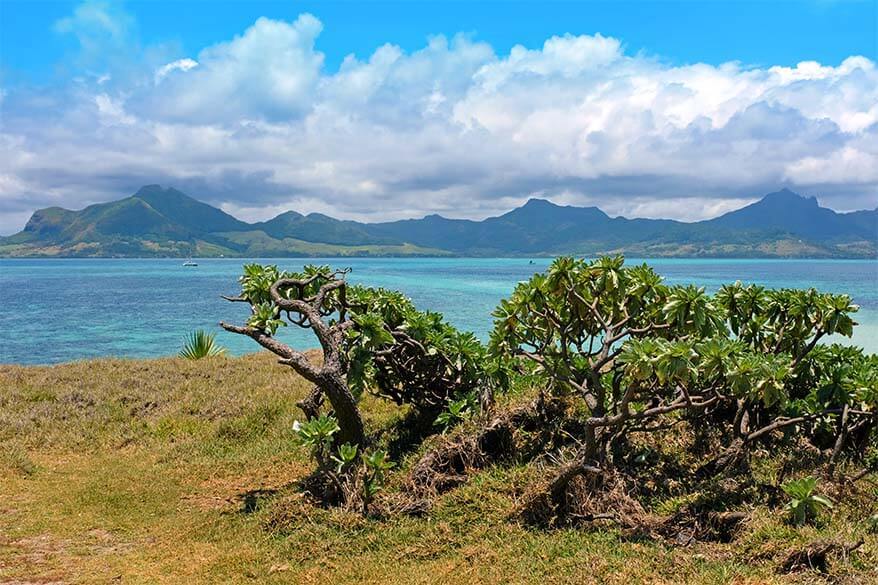 Mauritius Catamaran vs. Speed Boat
The catamaran cruise that I did was a bit different than the standard catamaran tour in Mauritius because it combined a catamaran cruise and a speedboat. Normally, you have to choose one of the two, and they both have advantages and disadvantages.
On a catamaran, you have more space to walk around, there is a bathroom, and a big net in front where you can lie down to read a book, sunbathe, or simply relax. But it's also busier as catamaran cruises take more people on board. A catamaran is also slower. If you opt for a group tour, a catamaran cruise in Mauritius is cheaper than a speedboat trip.
Speedboat goes much faster, so you can do more sightseeing in less time. That means that you can spend more time on the islands instead of on the boat or see more places in one day. You can't really walk around the speedboat a lot, so it's really more a means of transportation rather than a place to relax. That being said, it can be really relaxing and luxurious. If you can afford a private speedboat tour, I wouldn't hesitate. Contrary to group tours, a private speedboat costs less than a private catamaran.
Another advantage of a speedboat is that you don't get seasick in it. A catamaran is, in general, also ok and I never got seasick on a catamaran. But then I never took a catamaran in rough seas. However, that shouldn't be an issue in Mauritius anyway.
Catamaran vs. speedboat. I really like both – speedboat and catamaran. They are very different, but each fun in their own way. When it comes to choosing a catamaran cruise in Mauritius vs. a boat trip, I'd first look at the day trip itinerary and choose a boat tour based on that rather than on what type of boat it is.
Below, you can find our hand-picked selection of the very best boat trips in Mauritius. But first, some practical tips.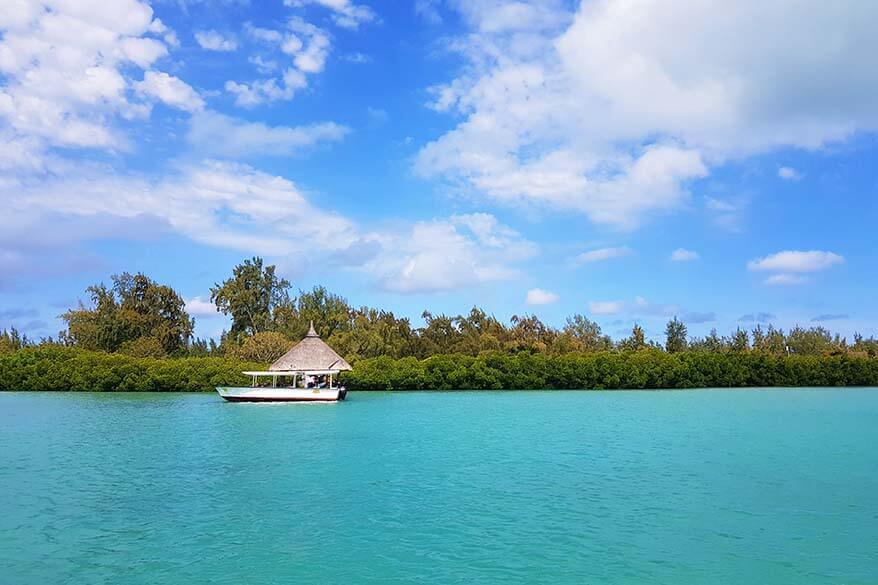 Practical Tips for a Boat Trip in Mauritius
Research and book a boat trip in advance. That way you can compare itineraries and prices, and read real customer reviews. Here you can find a big selection of boat trips and tours in Mauritius (or see our hand-picked selection of the best Mauritius boat tours higher above).
If you don't like to spend a lot of time in a car, pick a boat trip that departs from a place that's not too far from your hotel.
Wear your swimsuit, so that you don't have to change on the boat.
Bring water shoes if you have them – it comes in very handy when you have to disembark in the water or for water activities or at the beach.
Sun protection. Make sure that you have a sunscreen lotion, a sun hat, sunglasses, and – ideally – also a long-sleeved summer shirt or a UV t-shirt to wear on the boat.
Check if towels are provided and otherwise bring one from your hotel.
Bring some cash if you're planning to do any water activities on Ile aux Cerfs or buy souvenirs. Tips for your boat crew are also appreciated.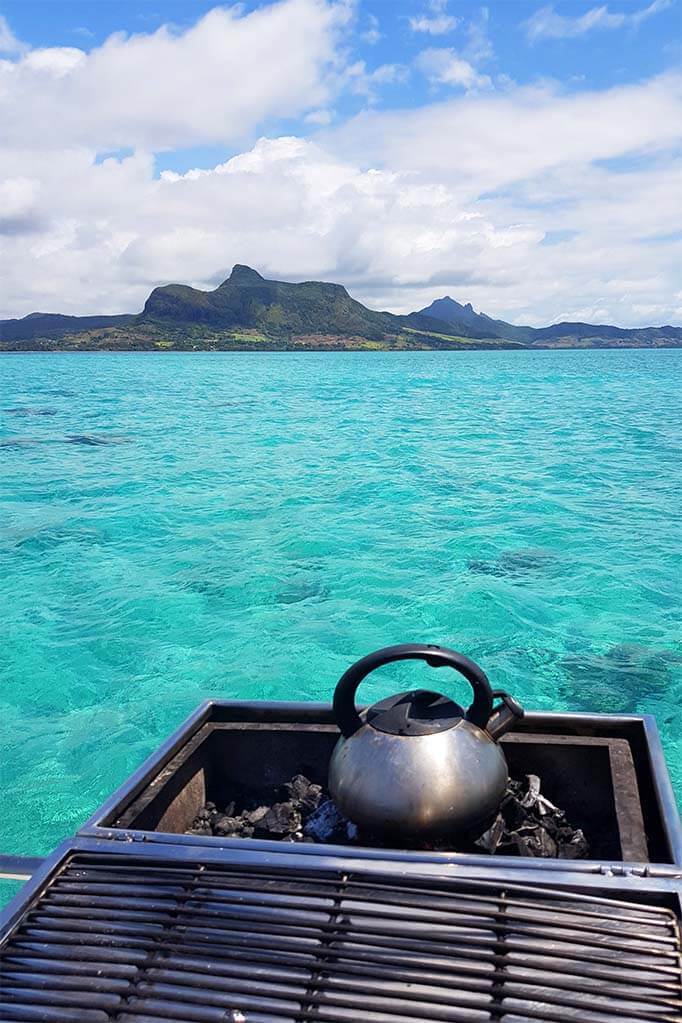 More tips for your trip to Mauritius:
If you found this post useful, don't forget to bookmark it and share it with your friends. Are you on Pinterest? Pin this image!