Yellowstone is America's oldest and most diverse National Park. But what to expect when visiting Yellowstone National Park and how to plan your Yellowstone trip? This guide should answer all your questions!
Located in the state of Wyoming, at the border of Idaho and Montana and far from any major cities, Yellowstone National Park is truly off the beaten path. It's a place you have to make an effort to visit.
Planning a trip to Yellowstone might look overwhelming at first, also because the park is so big and there is so much to see. But don't despair – with some advance preparation, it's really easy to visit Yellowstone and its major landmarks.
In this guide, you can find some practical tips and information for planning your Yellowstone trip. We also link to lots of detailed guides that contain more information about a variety of places and itineraries for visiting Yellowstone. Find out!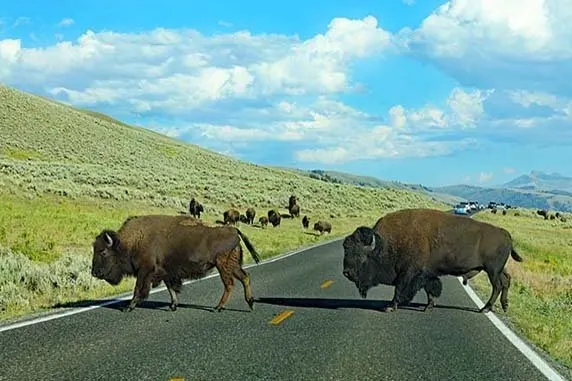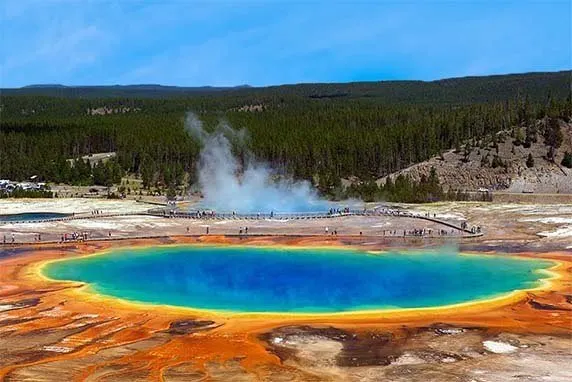 This page contains affiliate links, which means that we may receive a small commission, at no cost to you, if you make a purchase through a link. More info: Disclosure.
Why Visit Yellowstone & What to See
Yellowstone National Park is home to an incredible variety of wildlife, hot springs, colorful geothermal features, and the world's largest collection of geysers including the famous Old Faithful. Come here for beautiful nature and unique scenery that you won't find anywhere else.
Here you can find an overview of the best places to see and best things to do in Yellowstone National Park:
Here you can find more in-depth guides for the main Yellowstone landmarks and our favorite swimming spot:
If you are planning a longer trip and want to go hiking in Yellowstone, you may want to get this guidebook with the best day hikes in Yellowstone.
How to Get to Yellowstone: Airports & Car Rental
Depending on where you're traveling from, you can either drive or fly to Yellowstone.
There are no major airports in the close vicinity of Yellowstone. The closest big airports are in Salt Lake City, UT (SCL), about 6 hours drive, and Billings, MT (BIL), about 3 hours drive from Yellowstone.
The best airports to fly into for visiting Yellowstone are smaller regional airports about 1-2 hours drive from Yellowstone NP: Bozeman, MT (BZN), Jackson, WY (JAC), and Cody, WY (COD).
Good to know: The best way to visit Yellowstone on your own is by car. So if you are flying, you'll have to rent a car for exploring Yellowstone and the surroundings. Here you can find some of the best deals for car hire for any location in the United States. We always use this site for our car rentals, also in the U.S. Check it out!
How to Plan a Trip to Yellowstone
There are several important things to consider when planning your Yellowstone trip: when to visit, for how long, how to get there and how to get around, where to stay, and what you want to see and do.
Further below, you can find more details about each of these points. For Yellowstone itinerary suggestions, please check our detailed guides below:
Important!!! Please always check the official website for up-to-date information on any road closures or planned works when planning your trip to Yellowstone!
What to Know Before You Book a Trip
If you really want to make the most of your trip to Yellowstone, it's essential to do some advance planning and preparation.
To help you have a better experience, we compiled some of our top tips in one place. Check it out!
When to Visit Yellowstone
Yellowstone National Park has very distinctive seasons with extremely cold winters and warm summers. Most people visit Yellowstone in summer, but each time of the year is unique and there are also some advantages and disadvantages of each season.
For more information and what to expect in different seasons, please check our detailed guides below:
Where to Stay
Yellowstone accommodation is scarce, expensive, and usually fully booked months in advance. If you are traveling in summer, you have to book your Yellowstone hotel over a year upfront.
That being said, there are also some alternatives, small towns just outside of Yellowstone, where you'll find more availability and a better price/ quality ratio.
If Yellowstone accommodation inside the park is fully booked or is above your budget (or if you need to be able to use Wi-Fi during your trip), check accommodations in West Yellowstone or Gardiner.
For more information, please check our Yellowstone accommodation guides:
TIP: Using the map below, you can compare hotels and short-term rental accommodations in West Yellowstone. It's quite centrally located and is one of the best places to stay outside the park. Just don't forget to insert your travel dates and group size so that you immediately see the best deals for your trip. Check it out!
Where to Eat
This is one of the questions we had before our trip and one we often get from our readers. Are there restaurants in Yellowstone and whether they all require advance reservations?
Yes, there are lots of restaurants and food stores at all the main lodges of Yellowstone. There are restaurants at Canyon Village, Grand Village, Lake Village, Mammoth Hot Springs, Old Faithful, and Roosevelt Lodge. There are food stores in all these areas as well.
Most cafes and restaurants in Yellowstone don't require reservations. If you want to have dinner at the more upscale restaurants at the Old Faithful Inn or at the Lake hotel, it's best to reserve in advance.
Here you can find a complete overview of all the dining facilities in Yellowstone.
Yellowstone Tours
If you rather visit Yellowstone with a tour, it's best to stay in Jackson Hole, WY, or in Teton Village, WY, and join an organized tour from there.
Here is an overview of the best-rated Yellowstone tours:
For more information, please check our guide featuring the best Yellowstone tours:
TIP: We recommend booking Yellowstone tours via the GetYourGuide website because it has the best customer service and the most flexible cancellation policy on the market.
The popular booking site Viator has a bigger selection of Yellowstone tours, including a day tour from West Yellowstone, private tours, and rafting adventures. Most tours on Viator also have a very flexible cancelation policy.
Yellowstone Entrance Fee
You'll need a pass in order to enter Yellowstone National Park. You can get this pass at any entrance gate of the park. It costs 35 USD per private vehicle or 20 USD per person if you are visiting on foot or by bike. This pass is valid for 7 consecutive days and you can enter and leave the park as many times as you want during that time.
Yellowstone also has an annual pass that costs 70 USD.
However, if you are visiting several National Parks in one trip or even separately, it's better to get an annual National Parks Pass. It's called America the Beautiful Pass and costs just 80 USD for the whole family traveling in the same vehicle. It is valid in all National Parks and 2,000 federal recreation sites across the United States for one year from the month of purchase.
Connectivity
Cell service is very limited to nonexistent in Yellowstone. So make sure to download/ print any information you may need during your trip for offline use.
TIP: If you stay in the hotels outside of the park, you can at least use Wi-Fi in the mornings and in the evenings. So consider this when choosing your accommodation. More info below!
Accessibility
If you are visiting Yellowstone with a wheelchair (or a stroller), you'll be glad to know that most of the main landmarks are quite easily accessible.
For example, there are boardwalks at the Old Faithful and the entire Upper Geyser Basin has many flat walkways that allow you to explore the geysers. There are also boardwalks at the Grand Prismatic Spring and at most other geothermal areas.
For a complete overview of what is or isn't accessible with a wheelchair, please refer to the official website, where you can find detailed and up-to-date information per area.
The Weather
Yellowstone's high altitude means that it is much cooler here than you'd expect. Also in summer, you can experience freezing cold temperatures at higher altitudes during the day and throughout the park at night. But you can also have amazing summer days with temperatures in the high 70s or even 80s (25-30°C).
Make sure to check the weather forecast before you leave and pack accordingly. It's important to stay flexible, so pack layers. Further below, you can find more information about what to pack.
What to Pack
Yellowstone is an outdoor destination, so make sure that you pack comfortable clothing suitable for the time of the year when you travel. The dress code in Yellowstone accommodations and restaurants is pretty relaxed and casual as well. More information:
Yellowstone FAQ
Does Yellowstone require a reservation?
While some US national parks require advance reservations and timed tickets during the summer season, at the moment, there is no reservation required in order to enter Yellowstone National Park. However, expect it to be very busy in Yellowstone in summer, and be sure to reserve your accommodation or campground well in advance. My best tip is to start your days very early and visit the most popular places first thing in the morning.
How much time do you need in Yellowstone National Park?
Ideally, you need at least 3 or 4 days if you want to see all the best places in Yellowstone National Park. However, you can see the main highlights in 1 or 2 days as well. With just one day in Yellowstone, you can visit the main attractions along the Lower Loop. With two days, you can drive the entire Grand Loop and (shortly) see all the main landmarks. Staying for 3 -4 days will allow you to see all the best areas of Yellowstone and take some time to explore a bit off the beaten path.
Do you need a car in Yellowstone?
Yellowstone National Park is very vast, distances are big, and there is no public transport, so you really need a car in order to explore Yellowstone. If you don't want to drive, you can also visit Yellowstone with organized tours.
Do you need a tour guide for Yellowstone?
Yellowstone National Park is easy to visit on your own and you don't need a tour guide. All the main attractions are located along the main road – Grand Loop – and are easy to access. Furthermore, there is lots of information available at the Visitor Centers that can be found in all main areas of the park and you'll also find many informational panels at all the natural landmarks.
What is the best way to see Yellowstone National Park?
The best way to explore Yellowstone National Park is by driving its figure-eight road system where all the main natural attractions and landmarks are located. The main areas of Yellowstone have accessible paths and boardwalks allowing you to easily see all the best places. If you are fit and want to see more of Yellowstone, be sure to visit some lesser-known places and go hiking. This is also the best way to avoid the crowds.
What's the best airport for Yellowstone?
The best airports for visiting Yellowstone are small regional airports of Bozeman, MT (BZN), Jackson, WY (JAC), or Cody, WY (COD). They are located about 1-2 hours drive from the park. The closest big airports are in Salt Lake City, UT (SCL), about 6 hours drive, and Billings, MT (BIL), about 3 hours drive from Yellowstone.

Is Yellowstone open in winter?
While most roads in Yellowstone are closed in winter, the northern side of the park remains open the whole year. In addition, you can visit some other parts of Yellowstone during the so-called 'winter recreation season' between mid-December and the end of February. However, even in this season, most parts of Yellowstone can only be accessed with over-snow vehicles, so you need to book a tour with a snowmobile or a snowcoach.
If you found this Yellowstone trip planner useful, don't forget to bookmark it and share it with your friends. Are you on Pinterest? Pin these images!