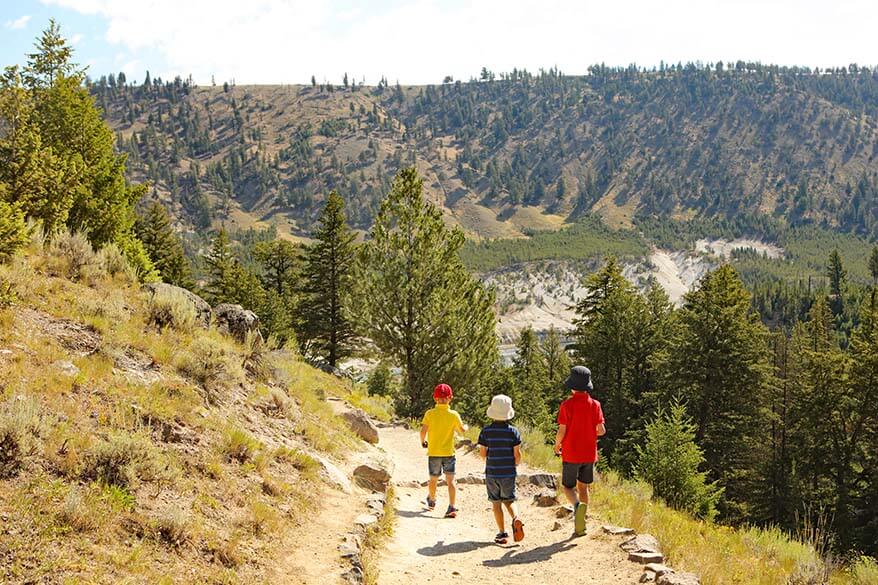 Looking for advice on what to wear or what to pack for Yellowstone in summer? We visited Yellowstone with kids at the end of July – beginning of August, and in this post, I am sharing our experience-based tips for packing for Yellowstone in summer. Find out!
Yellowstone is known for extremely cold winters, but it can get really hot there in summer. Despite the high altitude, we experienced temperatures above 80°F (27°C) during the entire stay. On the other hand, just a week or two before we visited, they had some snow on Mt. Washburn (not that it stayed for long).
My best advice for Yellowstone in July or August is to pack summer clothing for outdoors. Make sure to also carry a sweater and a thin rain jacket just in case it gets colder or you get caught in the rain.
Below you can find more detailed clothing tips and a complete Yellowstone packing list. Read on!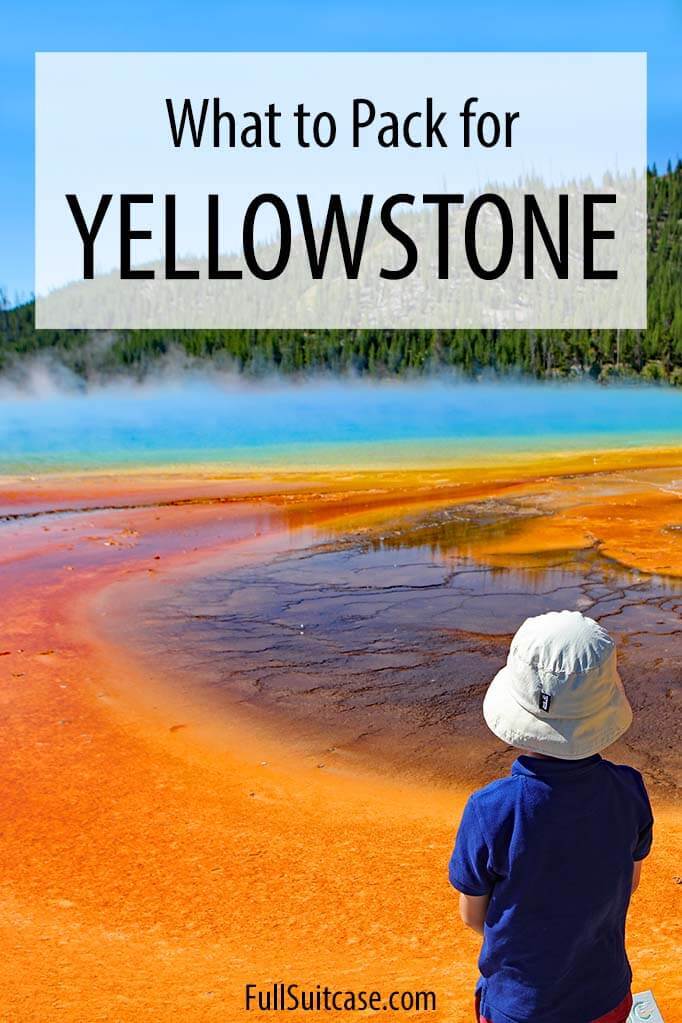 What to Wear in Yellowstone in Summer
First, let me tell you that the dress code in Yellowstone (including all Yellowstone accommodations) is very relaxed. So no need to pack any smart clothing, unless maybe for dinner at the more upscale restaurants at the Old Faithful Inn or at the Lake Hotel.
TIP: If you are wondering where to stay in Yellowstone, make sure to check our complete guide to the best accommodation options in and near Yellowstone National Park. If you are looking for accommodation outside the park (cheaper and better facilities), check out this guide to the best towns to stay & hotels near Yellowstone.
And now back to outdoor clothing. For Yellowstone in summer, I suggest packing lightweight functional sports clothing and shoes that you can hike in.
Some advice on footwear for Yellowstone:
Sandals or sneakers will be ok for most areas in Yellowstone where there are boardwalks (e.g. the Grand Prismatic or the Upper Geyser Basin).
You don't really need hiking boots for Yellowstone in summer (I would definitely pack them in spring and autumn though), unless maybe if you are planning to hike to the top of Mt. Washburn.
There are some really nice short walks that you can do all over Yellowstone, and in those cases, it's better that you wear closed walking- or sports shoes with a good grip. Light hiking shoes are ideal.
I also suggest packing water shoes for swimming (you'll thank me later, or will end up chasing a flip-flop in the mountain river as I did).
TIP: Here you can find more information in regards to hiking, swimming, and other fun activities in Yellowstone.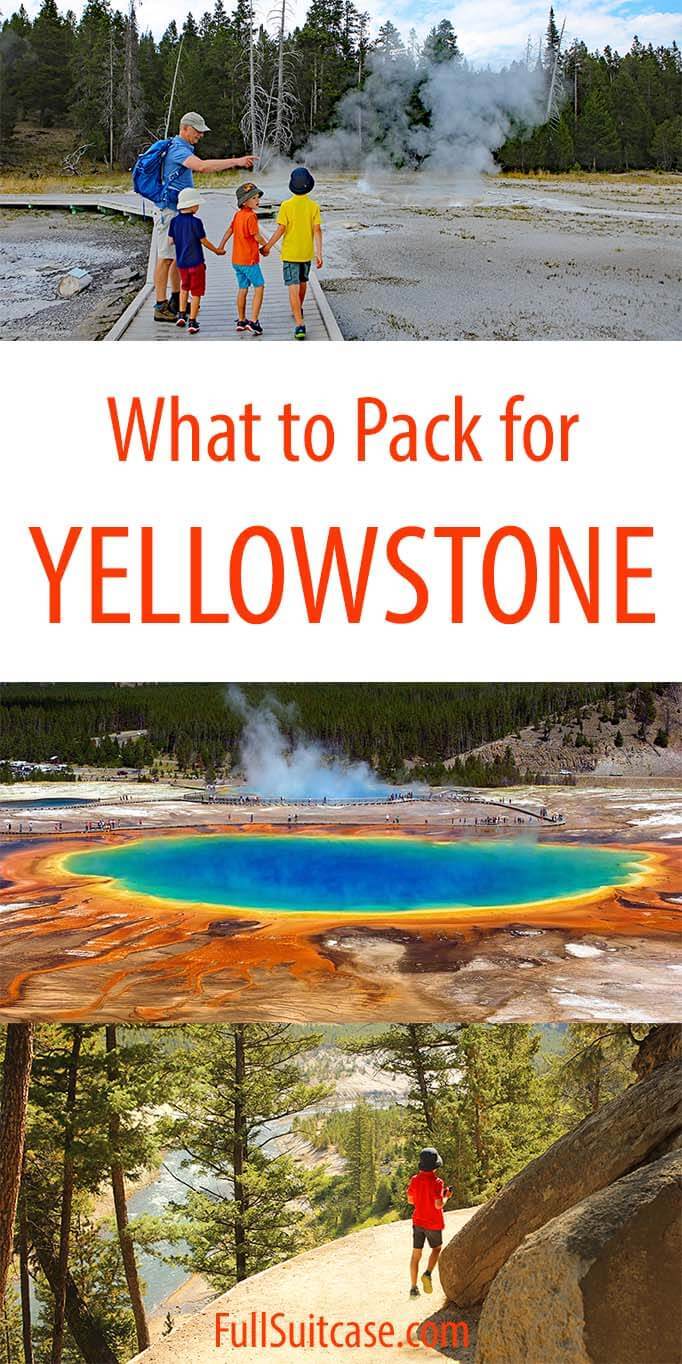 Yellowstone Packing List
This is a short packing list for Yellowstone in summer to help you prepare for your trip. Make sure to check the 'Don't forget' section below for some Yellowstone – specific packing tips.
Best footwear for Yellowstone in summer:
Summer clothing packing list for Yellowstone:
Don't forget these Yellowstone packing essentials
Make sure to also check our guide for the best camera gear for wildlife photography and also our travel photography tips.
So, this is our guide on what to pack for Yellowstone in summer. I hope that these extra tips will help you have a safe and more enjoyable trip. Do you have any questions or suggestions? Please leave a reply below.
If you are visiting Yellowstone in summer and wonder what it's really like and how to avoid the crowds and make the best of your trip, make sure to check this article where we share our experience visiting Yellowstone in July/ August and our top tips for your visit in summer. Take a look!
More information for your trip to Yellowstone:
If you found this post useful, don't forget to bookmark it and share it with your friends. Are you on Pinterest? Pin this image!