Yellowstone's most famous attraction, Old Faithful Geyser, is on the very top of the 'must-see' list of every Yellowstone National Park visitor, together with the Grand Prismatic Spring. But what makes this geyser so unique and what to expect when visiting Old Faithful?
If you have any questions about Old Faithful – what makes it famous, where and how to see it in action, how often it erupts, or are looking for practical information for your visit – then this article is for you.
In this post, you can also find historic information and some fun facts about Old Faithful geyser, as well as our experience-based tips for visiting this stunning natural wonder. In addition, you'll find answers to all the frequently asked questions about visiting Old Faithful that we ourselves also had before visiting the Upper Geyser Basin area in Yellowstone.
In this article, you can also find some tips for visiting the famous Old Faithfull Inn. Find out!
TIP: If you are looking for information on what to do at Old Faithful, make sure to also check our detailed guide to the Upper Geyser Basin (Old Faithful area). There's so much more to this area than just Old Faithful itself and it's well worth spending some extra time to explore other geysers and geothermal features!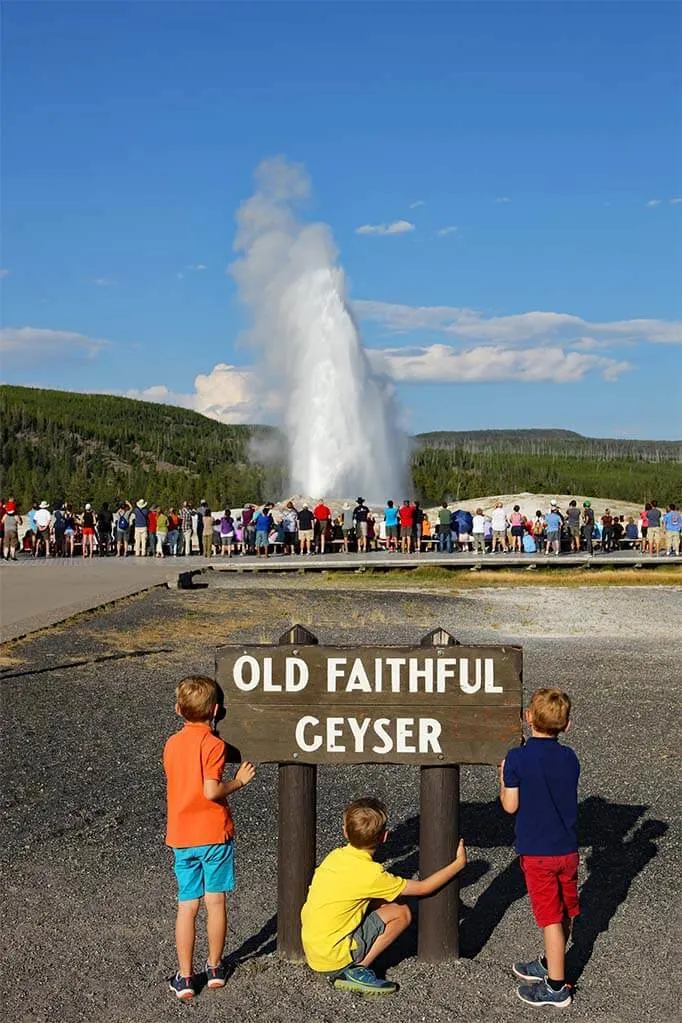 Some History
Back in 1870, three explorers from the Washburn Expedition traveled down Wyoming's Firehole River, where they came across the spectacular sight of an erupting geyser. After studying it for some time, a member of the expedition party – Nathaniel Langford – named the geyser Old Faithful. This name was given due to the regularity of its eruptions.
The first geyser ever to be named, the Old Faithful continues to erupt at regular intervals to this day. Now a must-see attraction, Old Faithful – along with the hundreds of other geysers and geothermal features of the region – gave rise to the establishment of the Yellowstone National Park in 1872.
Yellowstone was America's first National Park. It now attracts over 3 million visitors every year.
Interesting fact: Some sources mention Yellowstone as the world's oldest national park. However, over a century before that, in 1778, Mongolia established the oldest-known nature reserve, Bogd Khan Uul.
What's So Special about Old Faithful Geyser
Old Faithful (sometimes also indicated as the OF) is one of almost 500 geysers in Yellowstone National Park. It has over a million recorded eruptions. It is not the largest geyser of Yellowstone, nor does it erupt the most regularly.
However, Old Faithful is the largest regularly erupting geyser in Yellowstone, making it the easiest to see in action and subsequently the most famous geyser of them all.
Interesting to know: The word 'geyser' comes from the Icelandic word 'geysir', which means to gush. The 'gushing' of hot water results from a massive build-up of pressure in underground conduits, when groundwater is heated by magma beneath the earth's crust. Once the water is ejected by the geyser and then cooled, dissolved silica is deposited in mounds on the earth's surface. This dissolved silica is known as 'sinter'. Some of Yellowstone's geysers are named after the unusual colors or shapes that the sinter has developed.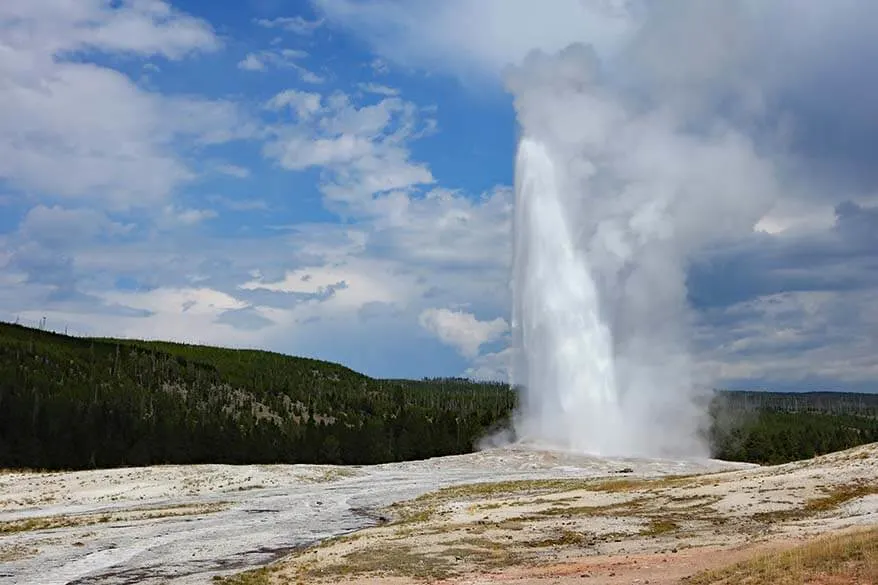 Where is Old Faithful Geyser & How to Visit
Old Faithful Geyser is located at the Upper Geyser Basin in Yellowstone National Park. You can find it just near Old Faithful Inn and the OF Visitor Center. Here you can see its precise location on the map.
You'll have to leave your car at one of the designated parking areas of the Old Faithful area. From there, it's just a short walk to the visitor's center and the geyser itself.
Good to know: The OF area is wheelchair accessible. It's therefore easy to visit with young kids in a stroller or for older people with limited mobility. Further below in this article, you can find more practical information about the facilities at the Old Faithful.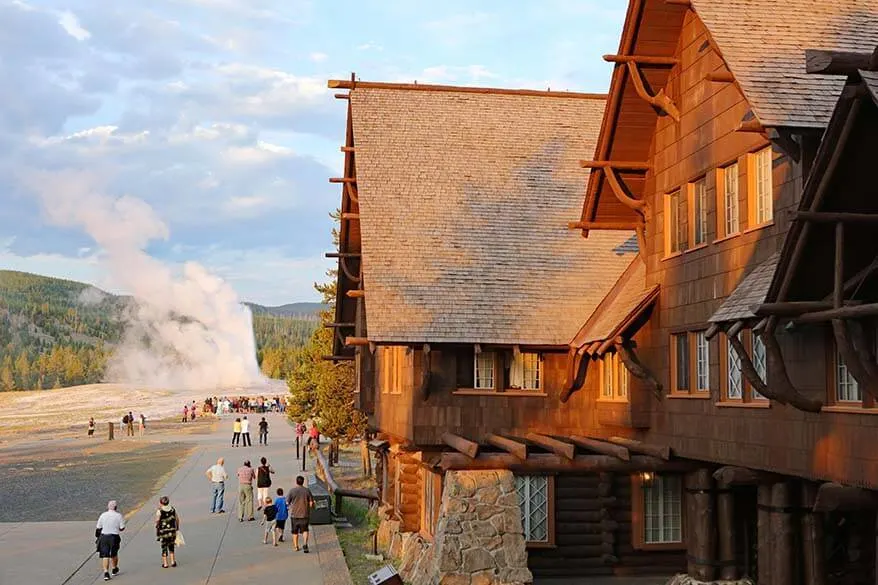 Best Time to Visit Old Faithful
What's the best time of the year to visit Old Faithful? The most popular time to visit Yellowstone and Old Faithful is between mid-May and September. However, Old Faithful is one of the few Yellowstone attractions that can also easily be visited in winter – see further below for more information.
What's the best time of the day to visit Old Faithful? The best time to see Old Faithful without the crowds is early in the morning before the day tourists arrive or late afternoon after the day tourists have left. There is no point in going to see the geyser at night – it's not lit and you can't really see much.
However, there is really no reason to worry about the crowds or how busy it is. You can see the geyser in action from such a wide surrounding area that there is absolutely no need to stand right next to it or fight for a place on the benches in the viewing area.
TIP: If you absolutely want to see Old Faithful from as close as possible, make sure to be there at least half an hour before the next predicted eruption.
Our experience: We visited Yellowstone in the busiest season – end of July/beginning of August. The Old Faithful area was the busiest place in the park. The first time we went to see the geyser, we arrived half an hour earlier in order to sit on the front row of the viewing area. By the time the geyser erupted, it was indeed very crowded (this was in the middle of the day in July). Afterwards, we saw the geyser in action several times, from many different places, and without the crowds. And it was just as impressive!
TIP: It can be easy to under-appreciate just how large Old Faithful is when you observe it from the official viewing area. It's worth taking a second look from further away as well because a different perspective truly highlights its scale.
LEARN MORE: Tips for Visiting Yellowstone in Summer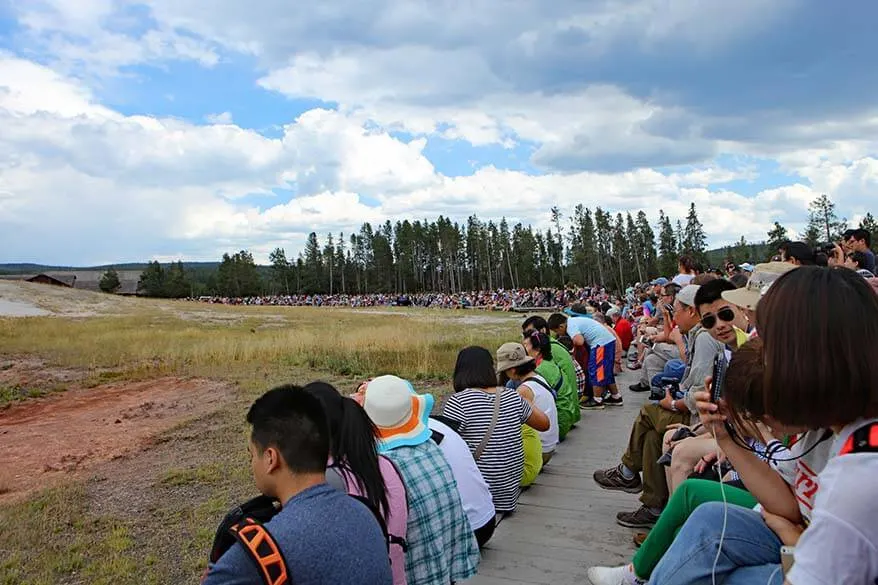 How Often Does Old Faithful Erupt?
Old Faithful erupts on average once every 90 minutes, but intervals between eruptions can vary significantly; usually from 60 to 110 minutes. Since the year 2000, recorded interval times have ranged from just 44 minutes up to 2 hours.
The time between eruptions is influenced by the length of the previous eruption. A shorter eruption will generally give rise to a shorter interval until the next one. A long eruption is likely to be followed by a longer interval.
New research has shown that the timing is also affected by the amount of rainfall in the area. Geysers are fuelled by groundwater, so the more that is available, the more likely Old Faithful is to spout.
Contrary to popular belief, the intervals between eruptions have lengthened only slightly over the years. The biggest changes have been caused by earthquakes, which affect the underground 'plumbing' of the geyser. The 1959 Hebgen Lake earthquake, for example, caused a drop in the number of eruptions per day from 21 to 20. While this is significant from a geological point of view, it doesn't have much of an impact on visitors to Old Faithful. There are still plenty of opportunities to see the geyser in action every day.
Old Faithful at Night
If you are wondering whether it's worth seeing Old Faithful at night, save the trouble. We stayed at Old Faithful Inn and went to see the geyser in the dark, but it wasn't lit, and really difficult to see anything at all.
Having a good camera with a tripod, I was able to take some pictures of Old Faithful at night. However, you can only see the geyser in the picture because it wasn't completely dark yet and because the shutter stayed open for a longer time. So the camera captures it better than you see it in reality.
So the short answer is no, it's not worth going out of your way in order to see Old Faithful geyser erupt after dark.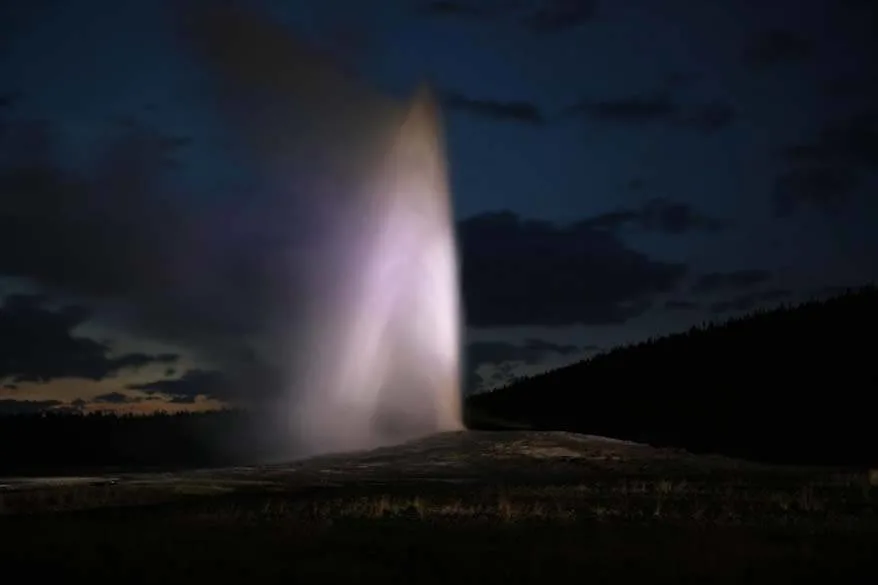 How to See Old Faithful Erupt?
When you are visiting Old Faithful, it's easy to get a fairly accurate idea of when the next eruption is due. Timings are posted in the Visitor Centre and other buildings in the Old Faithful area. You can also find predicted eruption times on the National Park Service Yellowstone app or the geyser prediction Twitter feed.
And although you might think that these timings are predicted using sophisticated equipment, the truth is that Visitor Centre staff work them out from prior eruptions using a stopwatch, a pen, and a logbook!
TIP: Check the predicted eruption time for the Old Faithful immediately when you arrive in the area. If it's a long wait, explore the Upper Geyser Basin or the Old Faithful Inn first. Otherwise, if it's just 15-20 minutes before the predicted time, head straight to the OF viewing area, find a seat on one of the many benches and wait.
Our experience: When we visited, Old Faithful always erupted 10-15 minutes later than predicted. But it also happens that it erupts sooner than expected. So you have to arrive a bit early and have some patience. We waited for over half an hour every time, but it's definitely worth the wait!
Good to know: Predictions are not available when the Visitor Centre is closed, from early November to mid-December and mid-March to mid-April.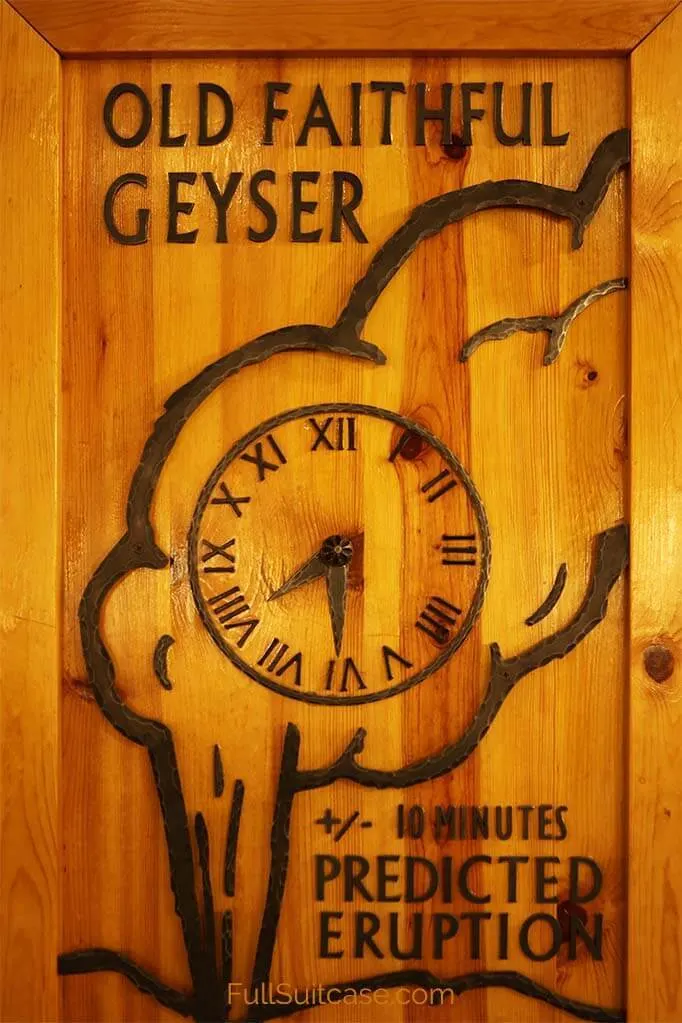 What Happens During an Eruption?
Before the eruption begins, there is a period known as 'preplay', where the geyser splashes and may even emit jets of water, occasionally as high as 20 feet into the air. This 'preplay' can last for up to 20 minutes and will gradually develop into the actual eruption.
Each eruption ejects anywhere from 3,700 to 8,400 gallons (14,000 – 32,000 liters) of boiling water to heights of 105 to 185 feet (32-56 meters). The average height of the Old Faithful is around 144 ft (44 meters).
The eruptions last from 1,5 to 5 minutes, which gives you enough time to appreciate their magnificence and take those all-important photos. However, the water reaches its full height after only 10 to 20 seconds and only maintains the height for a minute or two before waning.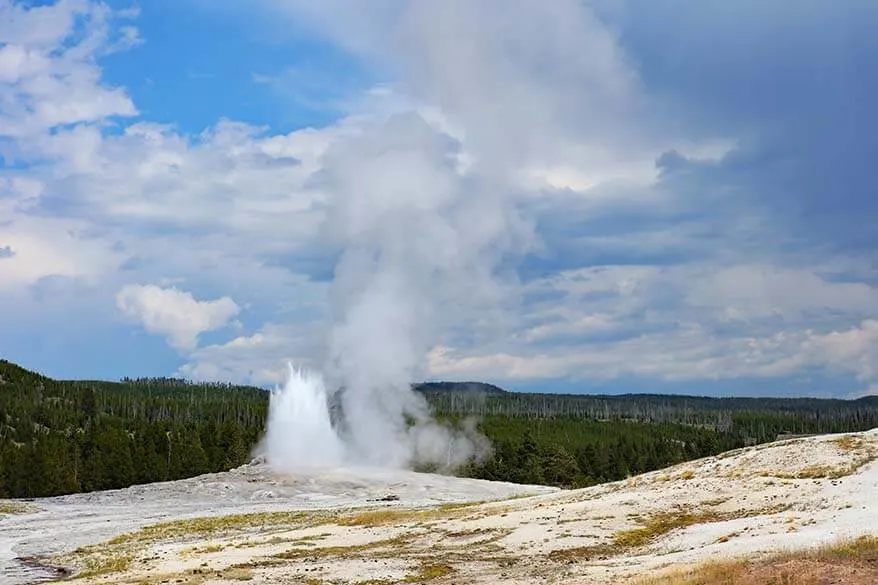 Is it Safe?
Yes, it's perfectly safe to visit the Old Faithful area and see the geyser erupt if you follow the rules and obey the signs.
The area around the geyser has designated boardwalks and the seating area is set well back. There are good reasons for this – the temperature of the water at Old Faithful's vent has been measured at 204 degrees Fahrenheit (95°C). Steam temperatures can rise above 350 degrees Fahrenheit (175 °C).
But as long as you keep a safe distance, there is really nothing to be worried about.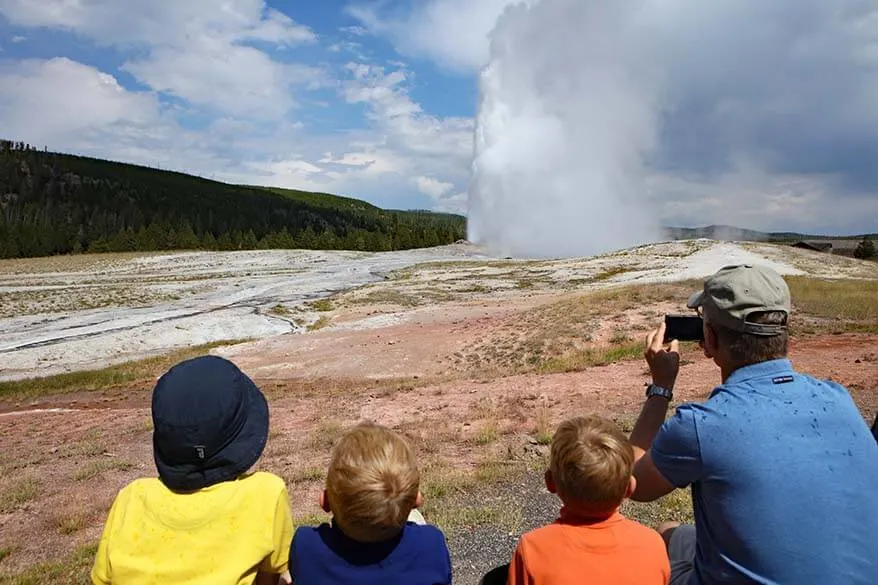 Will Old Faithful Remain Faithful?
Experts believe that Old Faithful's reliability is due to the fact that it is not connected to any other thermal features of the Upper Geyser Basin. So its natural rhythms remain undisturbed.
Nevertheless, all geysers and other thermal features are signs of volcanic activity taking place beneath the surface of the earth. While these can change at any time or be affected by activity from earthquakes, Yellowstone National Park works hard to maintain the natural geological processes that keep Old Faithful spouting.
For now, Old Faithful geyser remains active and quite predictable.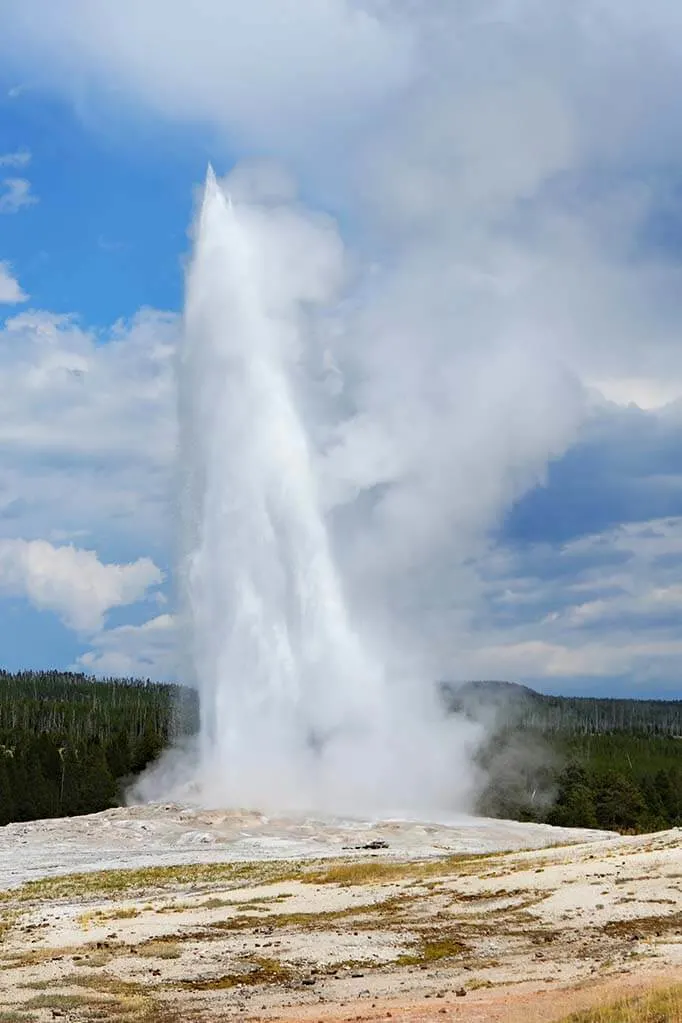 Old Faithful – a Victorian Laundry
When doing our research about Old Faithful geyser, we came across this funny story – see below. While it's a fascinating read, please note that actions like these can influence the activity of the geyser and change it forever. So please refrain from throwing any objects in this or any other Yellowstone geysers!
The army of General Sheridan – a Union General in the American Civil War – discovered that the Old Faithful geyser provided an easy way to wash their clothes. They would place garments in the crater and wait for the eruption. The forceful ejection of the clothing at high temperatures cleaned them instantly. However, this only worked for clothes made of cotton or linen. Woolen clothing was torn to shreds!
Experiments with laundry continued for a while. People would throw soap into the geyser to create suds and one entrepreneur reportedly even tried to start a laundry business…
Fortunately, others recognized the importance of this incredible geological feature and protection for the geyser grew, particularly with the establishment of the American National Park Service in 1916.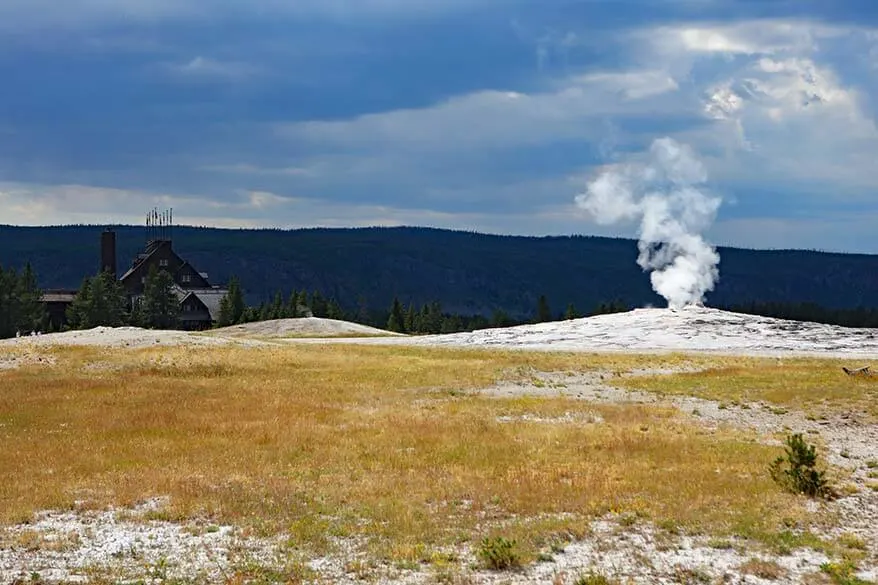 Old Faithful Inn & Dining
The Old Faithful Historic District where OF geyser is located includes the Old Faithful Inn, the upper and lower Hamilton's Stores, Old Faithful Lodge, Old Faithful Snow Lodge, and a variety of supporting buildings.
Its most iconic feature is Old Faithful Inn, a century-old hotel and a National Historic Landmark in itself. This impressive wooden lodge was built in the early 1900s, in order to accommodate the growing number of tourists coming to visit the OF geyser.
Considered the largest log structure in the world, OF Inn is truly impressive, both from the outside as well as from the inside. It's one of the places you really have to visit when in Yellowstone.
Good to know: You don't have to stay at the hotel in order to visit this impressive building. You can enter and walk around as much as you like. There is also a nice restaurant, a cafe, and a bar inside. If you are interested in the history of the Old Faithful Inn, don't miss an organized tour of the lodge. Tours are free of charge and run several times a day. You can just join a tour when you get there.
Interesting to know: There are several restaurants and a bar at Old Faithful Inn. If you are looking for a place for lunch, check out the Bear Pit Lounge – it has reasonably priced food and no waiting lines. We found the main restaurant of OFF Inn, the Old Faithful Dining Room, highly overrated. It's busy, it's expensive, and the food is not really that special.
TIP: You can't see OF geyser from these restaurants, but you can see it from the beautiful outside terrace of the bar. It's located on the 1st floor, just above the main entrance of Old Faithful Inn.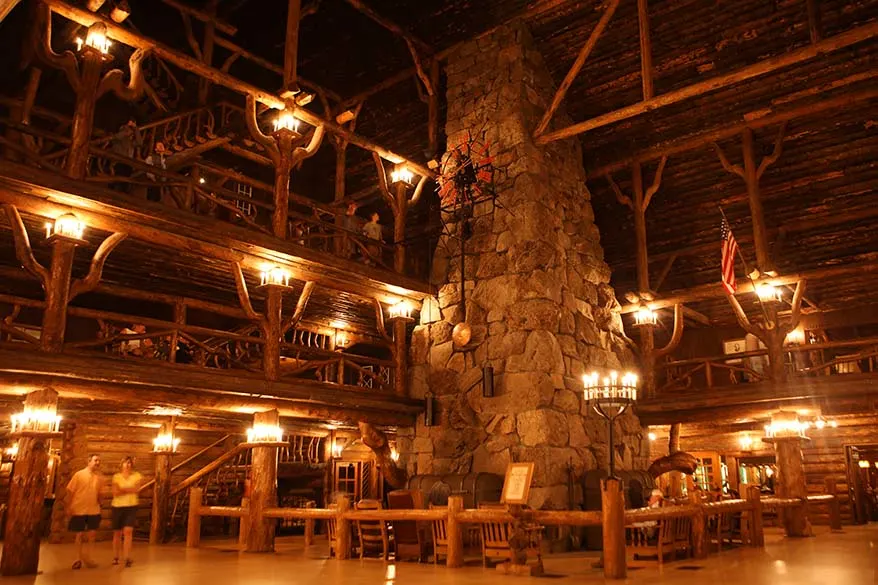 Old Faithful Visitor Centre
When visiting the OF area, don't miss the Visitor Center. It features lots of fascinating exhibits that explain the geological forces that created Old Faithful and other thermal features of the area, including hot springs, mud pots, and fumaroles. There are also opportunities to learn more about past and current scientific studies into the features of Yellowstone Park.
Junior Ranger and Young Scientist booklets are available for children of all ages. The Young Scientist Exhibition Room also contains a full-size model geyser and plenty of hands-on activities for children.
There is a variety of day and evening ranger-led programs for both adults and youth. Kids from 5 to 12 can complete activities required to earn a Junior Ranger badge.
The Old Faithful Visitor Center is open most of the year on a daily basis from 8 am to 8 pm. For more information, please visit the official park website.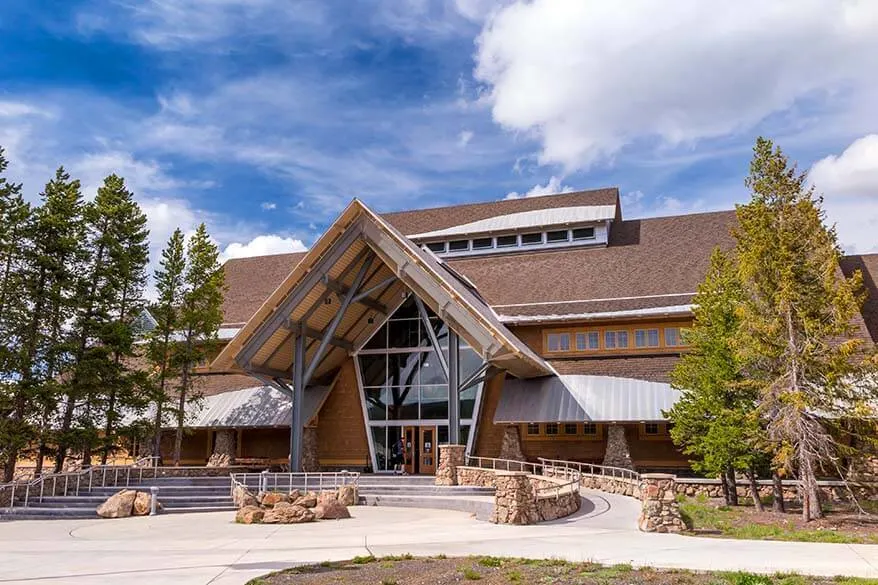 Facilities at the OF Area
The Old Faithful area is one of the oldest and most developed areas in Yellowstone. It's also very big and always busy, but everything is also extremely well indicated. So it's easy to orient yourselves and find everything you need.
You'll find all the necessary facilities here – a visitor center, bathrooms, souvenir shops, grocery stores, restaurants, cafeterias, and also a petrol station. There is also a Ranger Station and a post office.
There are several lodges here – the Old Faithful Inn, Old Faithful Snow Lodge & Cabins, and Old Faithful Lodge Cabins. However, if you want to stay here, you have to be book accommodation long in advance, especially if you are traveling in summer. For more information, please check our Yellowstone accommodation guide.
There is no campground in the Old Faithful area.
As already mentioned, the big majority of the Old Faithful area and the adjacent Upper Geyser Basin is wheelchair accessible.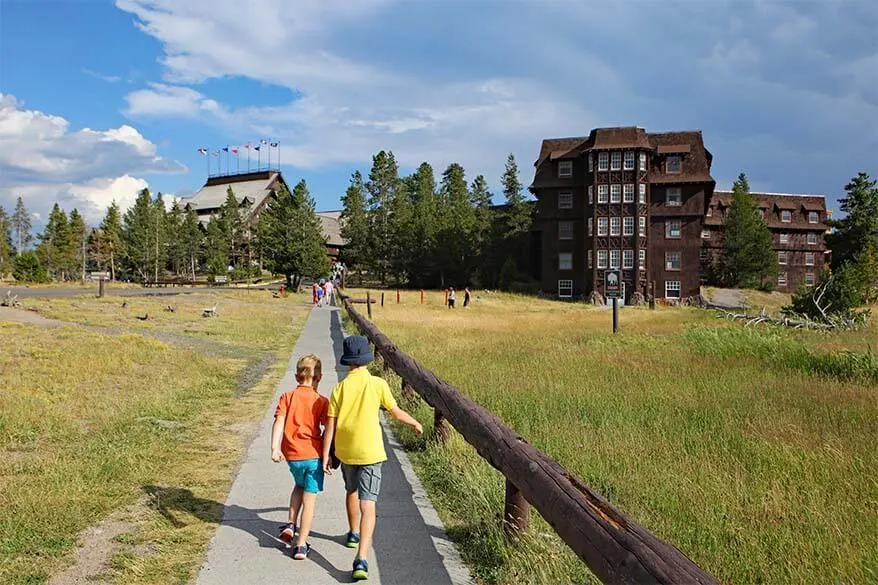 Can You Visit Old Faithful in Winter?
Yes, you can visit Old Faithful in winter. This is one of the areas that are open during the so-called winter recreation season, from mid-December till the end of February.
During this period, many park roads are open for over-snow travel by snowmobile or snowcoach. The Old Faithful Snow Lodge & Cabins are also open for those who want to experience the magic of Yellowstone in winter.
TIP: The best way to visit the Old Faithful in winter is by taking a day trip from Jackson Hole. You can also opt for a snowcoach day trip or a more adventurous visit by snowmobile. Here, you can find an overview of the guided tours to Yellowstone in winter.
For more information about winter travel, please check our guide for Yellowstone in winter.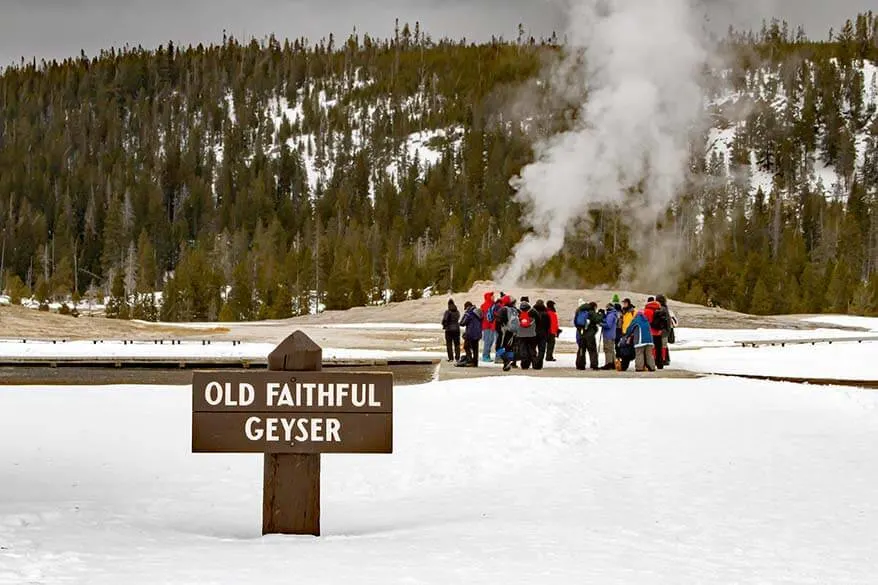 So, this is our guide to Old Faithful Geyser and its immediate surroundings. But there is so much more to see in this area! Take a look at our guide to the Upper Geyser Basin, where we list all the geysers and geothermal features that are worth visiting near the Old Faithful. Check it out!
Planning a trip to Yellowstone? Make sure to read our other articles that will help you get the most of your visit – see below.
More information for your trip to Yellowstone:
If you found this post helpful, don't forget to bookmark it and share it with your friends. Are you on Pinterest? Pin this image!