Are you visiting Yellowstone with kids and looking for ideas on what there is to see and do for families? This article should give you plenty of inspiration for your family vacation in Yellowstone. Find out!
Recently, we visited Yellowstone National Park with our three kids; the 5-year-old twins and a 7-year-old. We spent four amazing days at America's oldest national park and discovered some great activities for families that we didn't know about in advance.
There is so much to see and do in Yellowstone for families with kids, but in four days we obviously couldn't do it all. So we concentrated on the most beautiful, must-see areas of Yellowstone, but also left some spare time to explore, play and relax.
In this post, we are sharing our experience-based suggestions for the very best family-friendly things to do in Yellowstone with kids.
Good to know: We visited Yellowstone in July – August, so this is a summer activity list. July – August are very busy months at Yellowstone National park, but the moment you leave the main landmarks, it's not busy at all. You can easily avoid the crowds and find plenty of things to see and do in Yellowstone with kids in summer. Find out!
Read also: Our American road trip itinerary featuring Yellowstone, Grand Teton, and other amazing destinations in Colorado, Utah, and Wyoming.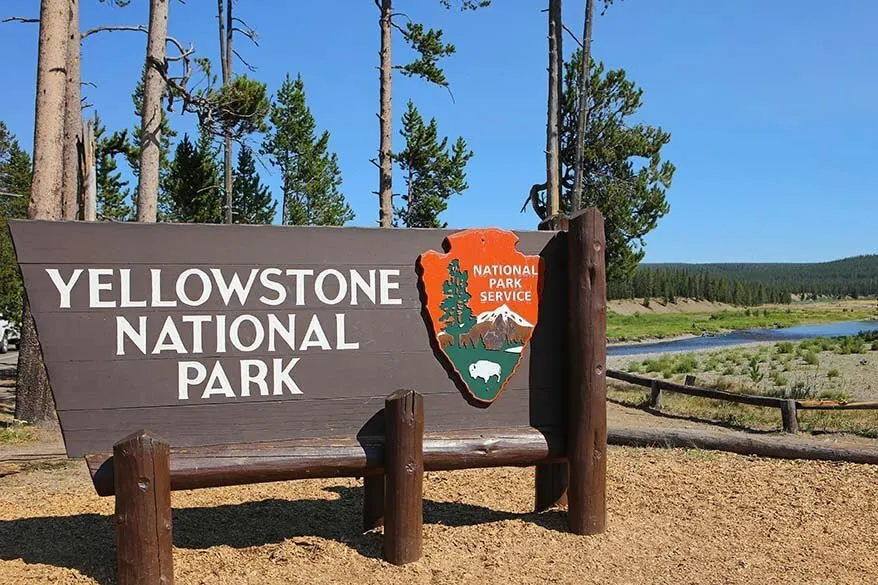 Best things to do in Yellowstone with kids – our family's favorites
Here are the must-do's for families visiting Yellowstone with children:
1. Visit the Grand Prismatic Spring
No trip to Yellowstone National Park would be complete without seeing the Grand Prismatic Spring.
One of the finest and biggest hot springs in Yellowstone, the Grand Prismatic is ideally seen from above. Unfortunately, the Fairy Falls trail was closed for construction when we visited, so we could only see the Grand Prismatic from the boardwalk.
Nevertheless, it was absolutely worth it! Without a doubt, one of the most extraordinary natural features we had ever seen!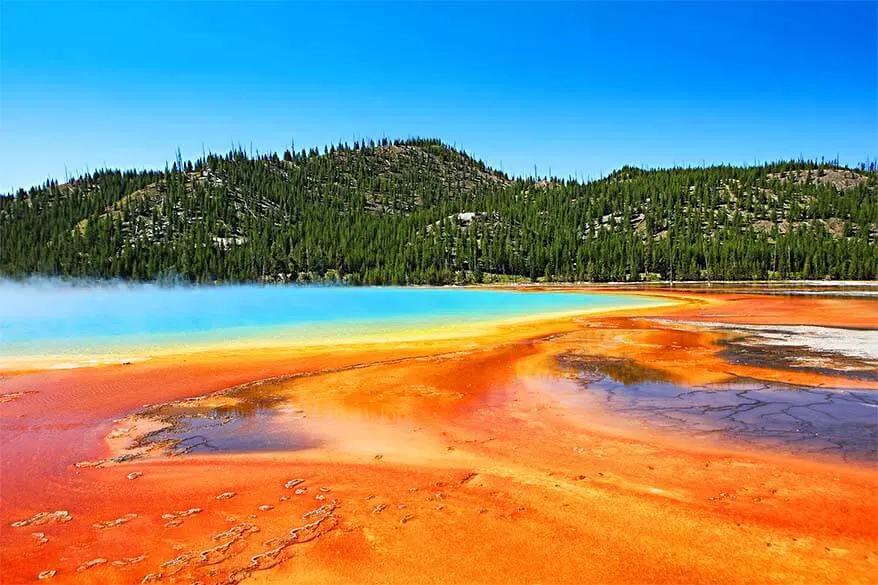 Grand Prismatic, just like the Old Faithful Geyser, suffers from its own popularity. It seems that these two places attract ten times more tourists than any other feature in the park. So prepare for the crowds, have patience at the car parking, or come back during less busy times in the morning or late in the evening.
On the other hand, I read that Grand Prismatic is best appreciated during the day when the sun is high, because that's when you get to see the most amazing color spectacle. Early in the morning, you may not get to see much due to the steam covering the spring… I cannot comment on this, because we only visited once and it was right in the middle of the day. The colors were absolutely amazing and it was well worth a short wait for a parking spot.
What to pack? Your camera and sun protection. Be careful with the sun hats as the wind can be very strong here. It's sad to see all those hats laying in the hot spring and polluting it.
TIP: Recently (after our visit), a new viewing platform has been opened. I think that seeing the Grand Prismatic Spring from above is an absolute must, one of the best things to do in Yellowstone. Please note that the Grand Prismatic viewing platform is accessible via the Fairy Falls trail, so not from Midway Geyser Basin.
LEARN MORE: Grand Prismatic Spring and Midway Geyser Basin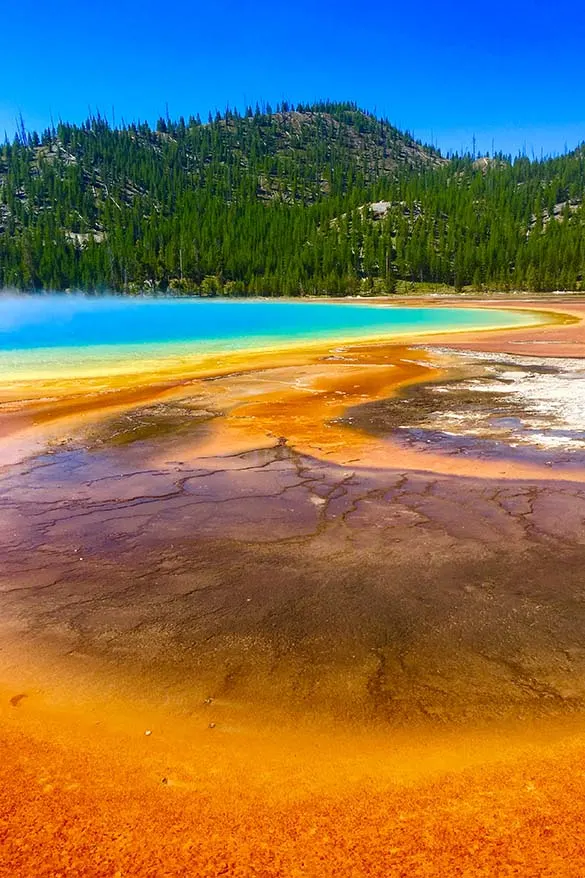 2. See Wildlife in the Lamar Valley
Yellowstone is home to so many different species of wildlife that you'll inevitably run into some elk or bison in the park. However, none of those experiences can compare to visiting the Lamar Valley, North-East of Yellowstone.
The Lamar Valley is a bit further from the main tourist routes in Yellowstone, but it's definitely worth a detour and a couple of hours of your time. The best time to see wildlife in the Lamar Valley is at sunrise or at sunset. With kids, we couldn't make it there early in the morning, so we went late in the afternoon. Driving through the Lamar Valley was one of the best things we did in Yellowstone and the kids loved it just as much as we did.
There were bison EVERYWHERE. Not one, not tens, but hundreds of these incredible animals! They were crossing the road and creating major traffic jams, but nobody minded. For once, we didn't have any problems keeping kids quiet in the car – they didn't know where to look first and were not bored for a second! For a real feel, take a look at this short video shot on the road in the Lamar Valley.
Did you know that in 2016 The United States Congress passed legislation, the National Bison Legacy Act, which names the bison a historical symbol of the United States?! The bison has joined the bald eagle as America's symbolic animal.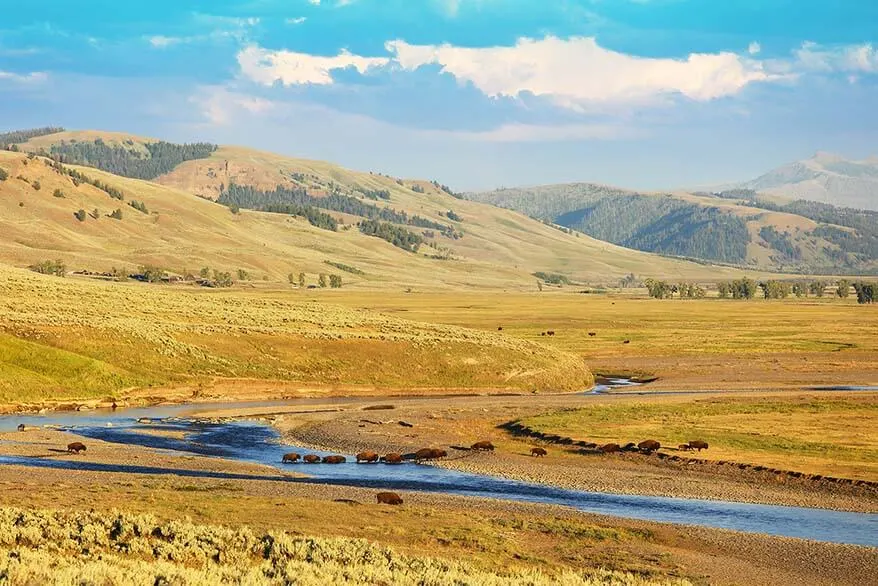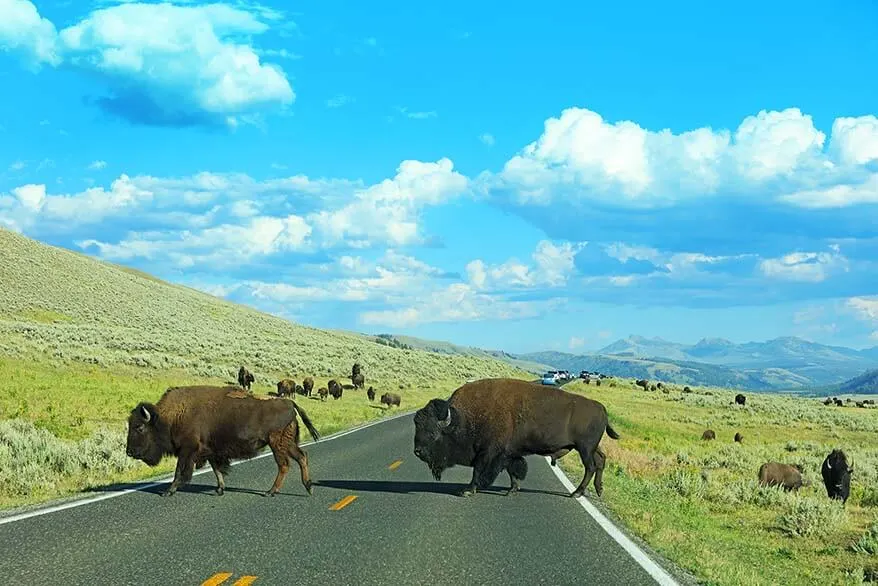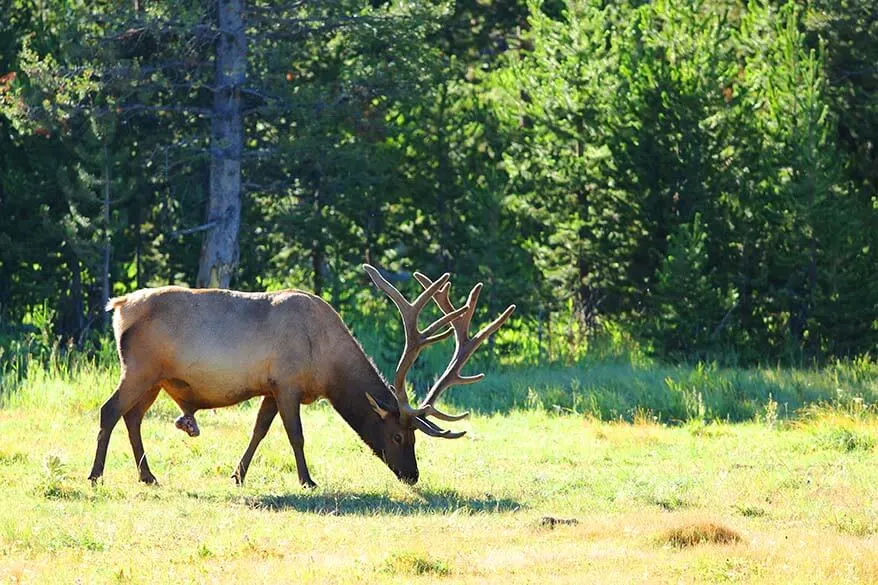 You can also see lots of bison (and other wildlife) in Hayden Valley, but it's crowded with cars! The Lamar Valley has stunning landscapes and there are almost no people, so if you have an extra hour or two, make sure you don't miss it!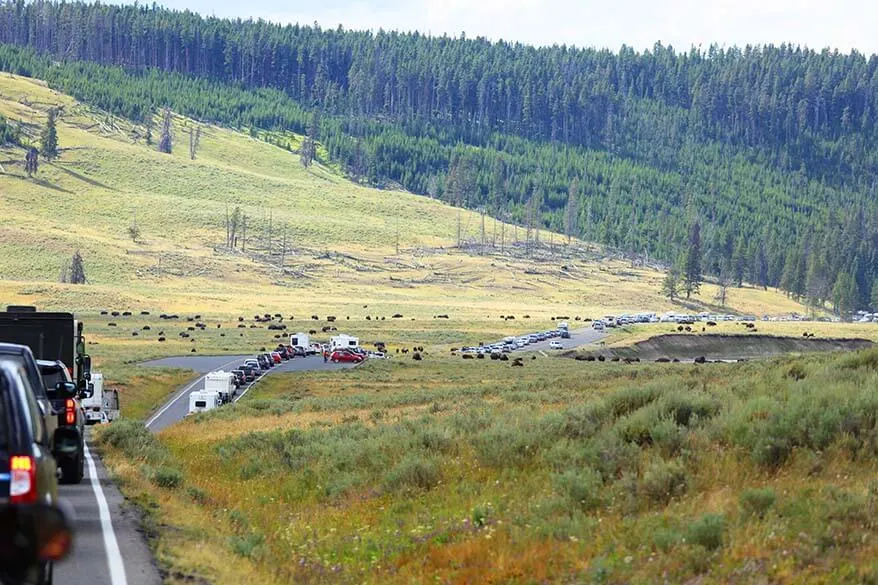 What to pack? Binoculars are a must, as is a good camera with a telephoto lens and preferably also a tripod (check this post for tips for the best camera equipment for wildlife photography).
If you have a couple of hours to spare, you can take foldable camping chairs and a picnic and just watch wildlife from one of the parking areas next to the road. We saw quite some people doing just that.
READ MORE: What to Wear and What to Pack for Yellowstone in Summer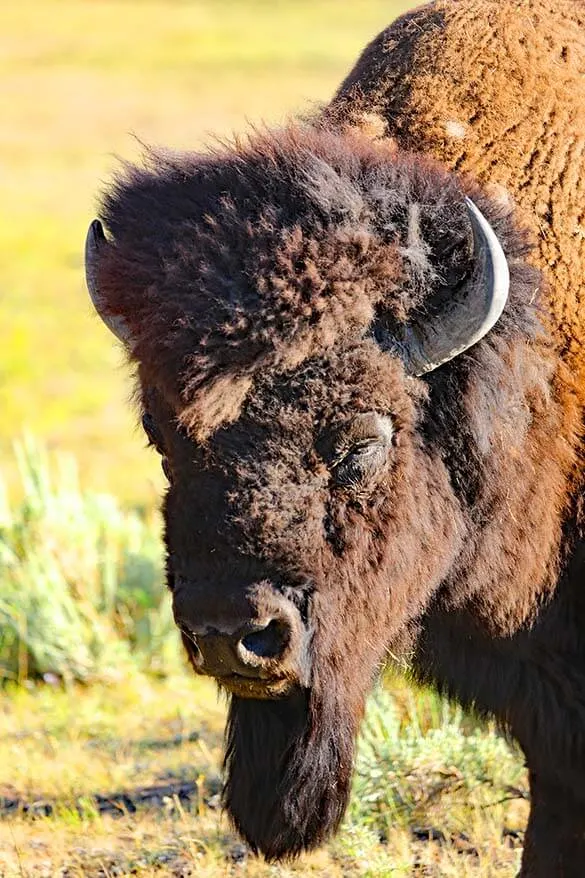 3. Catch a Rainbow at the Grand Canyon of the Yellowstone
There is a big variety of hiking trails at the Grand Canyon of Yellowstone, but with young kids, many of them aren't really an option. Don't despair, because you can easily explore the Grand Canyon of Yellowstone with kids.
There are several parking lots and viewpoints along the South Rim as well as along the North Rim of the Grand Canyon of the Yellowstone, allowing you to see the best places without having to hike for hours.
These are our three favorite places you have to see at the Yellowstone Canyon:
Uncle Tom's Trail
Artist Point
Brink of the Upper Falls
While Artist Point and the Upper Falls are each just a short walk from the car parking, Uncle Tom's Trail is a steep stairway descent of more than 300 steps. It's a great trail for families with active kids who like climbing and don't mind some stairs. Our kids loved this hike and we had difficulties keeping up with them.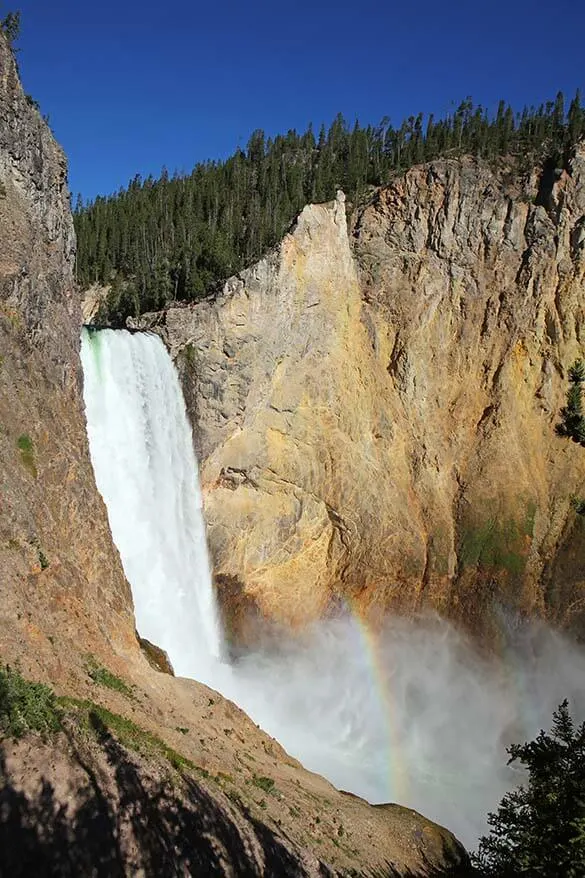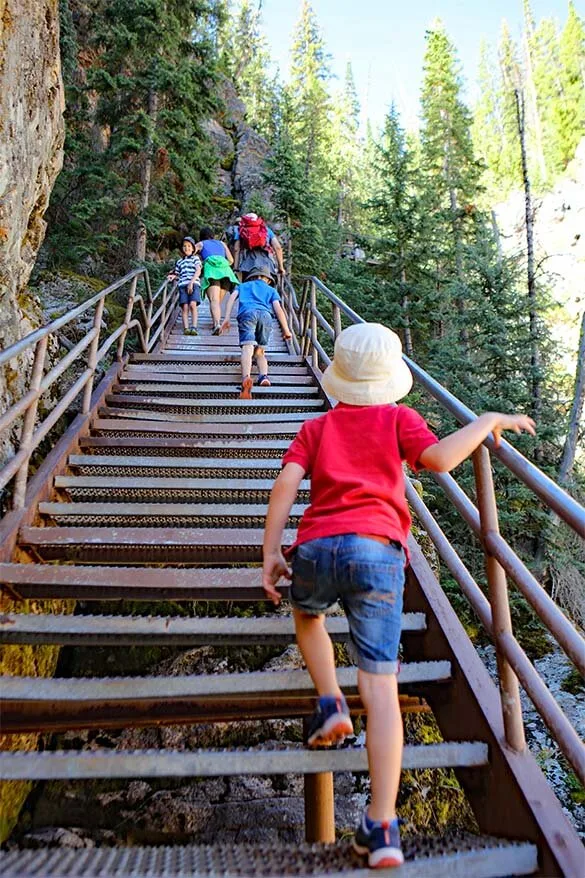 TIP: At certain times in the morning, you can see a rainbow at the Lower Falls from Uncle Tom's trail and also from the Artist Point. We were lucky to see both. We read that you could see a rainbow over the waterfall from the Artist Point at around 9.45-10 AM every morning (summer months), and so we timed our visit for that.
At Uncle Tom's trail, we were just lucky to be there at the right time (9-9.15 AM). There was approximately 40 min. between the two rainbows, it was enough time to climb the Uncle Tom's staircase back up, take the car to the Artist Point, and see the rainbow there.
This is not something I would adapt my whole Yellowstone itinerary to, but it's good to know if you are visiting the canyon in the morning anyway, as it makes the whole experience even more special, especially for the children.
What to pack? Sturdy walking shoes, sun protection, and drinking water.
LEARN MORE: What to See at the Yellowstone Canyon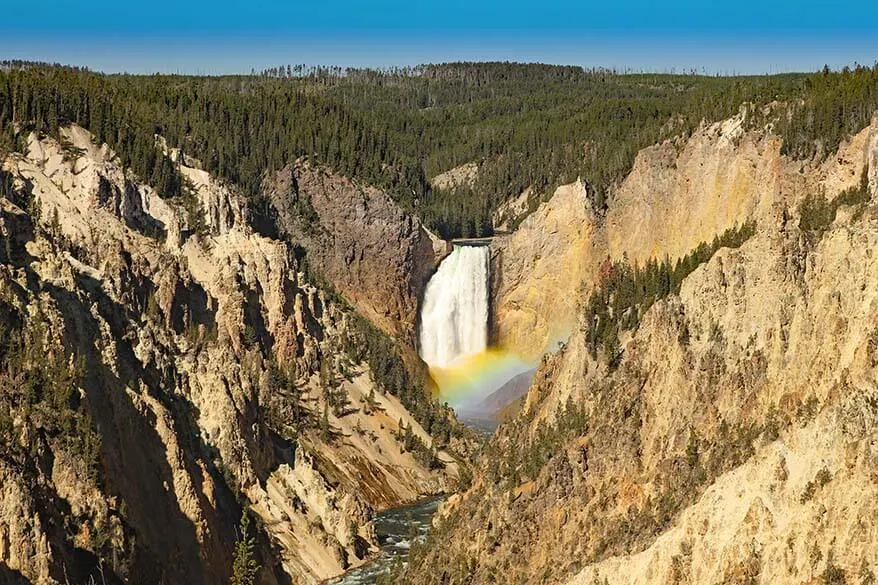 4. See the Geysers at the Upper Geyser Basin Trail – Old Faithful Area
If there is one area you have to visit in Yellowstone with kids, it's the Upper Geyser Basin. This area contains almost 25% of the world's geysers, and you'll definitely see at least a couple of them erupt.
The trails here are flat and also easily accessible with strollers. So even families with very young children can explore the most amazing thermal features of Yellowstone.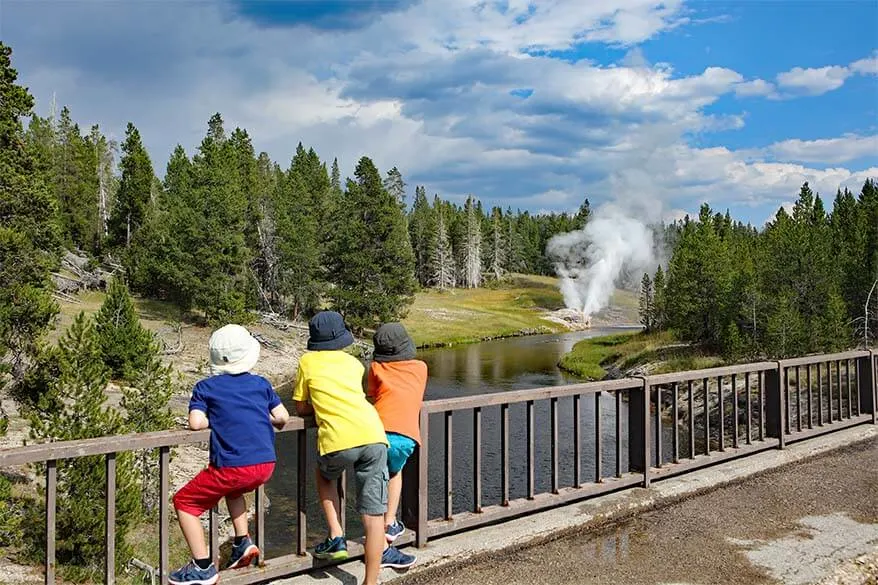 The complete Upper Geyser Basin loop trail is over 4 miles, but you don't have to do everything and can choose which parts to explore and where to go. There are so many junctions that you can make the tour as long or as short as you want.
I strongly suggest walking all the way to the Morning Glory Pool (+-1.4 mile one way), we found it to be one of the most impressive hot pools of Yellowstone.
READ MORE: Visiting the Upper Geyser Basin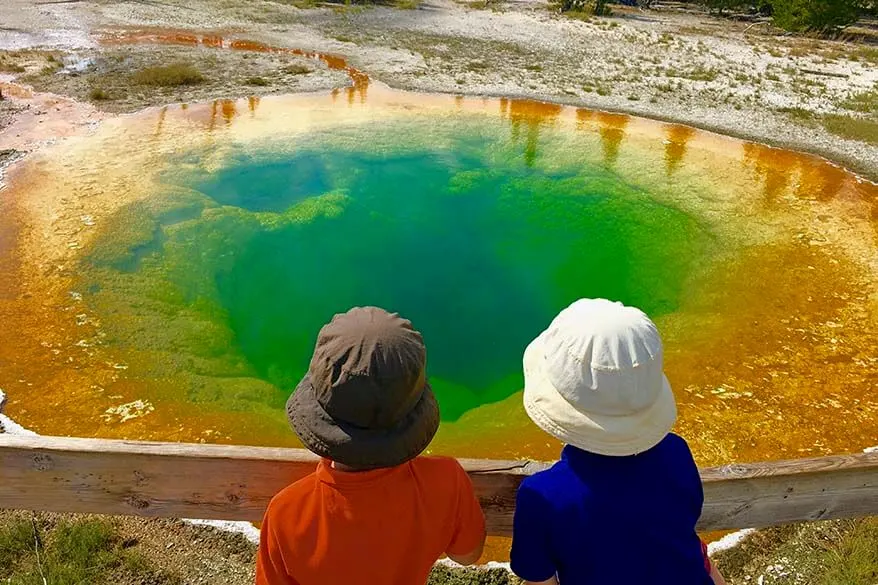 Make sure you visit the visitor's information center at the Old Faithful before you do this walk. There you can find the predicted eruption times for some of the geysers in the area.
We were lucky to see four geysers in action during our walk, but that might not always be the case. The predictions are not always very accurate, but once again, it gives you an idea of what you can expect.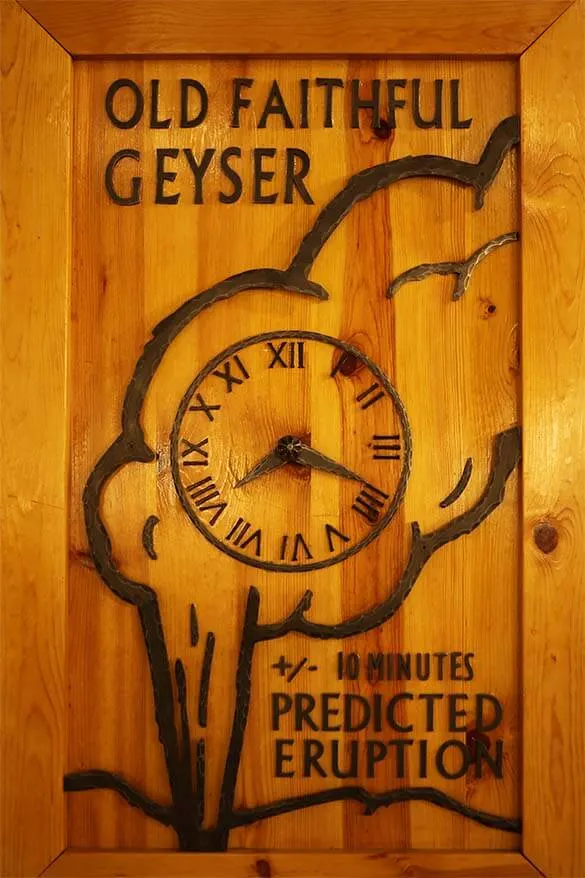 There is one geyser that you definitely have to see, and that's the Old Faithful geyser. It erupts at average intervals of about 90 minutes.
When we visited, the OF always erupted 10-15 min later than predicted, but it was worth the wait. We stayed at the Old Faithful Inn for one night, so we saw the Old Faithful go several times.
READ MORE: Visiting the Old Faithful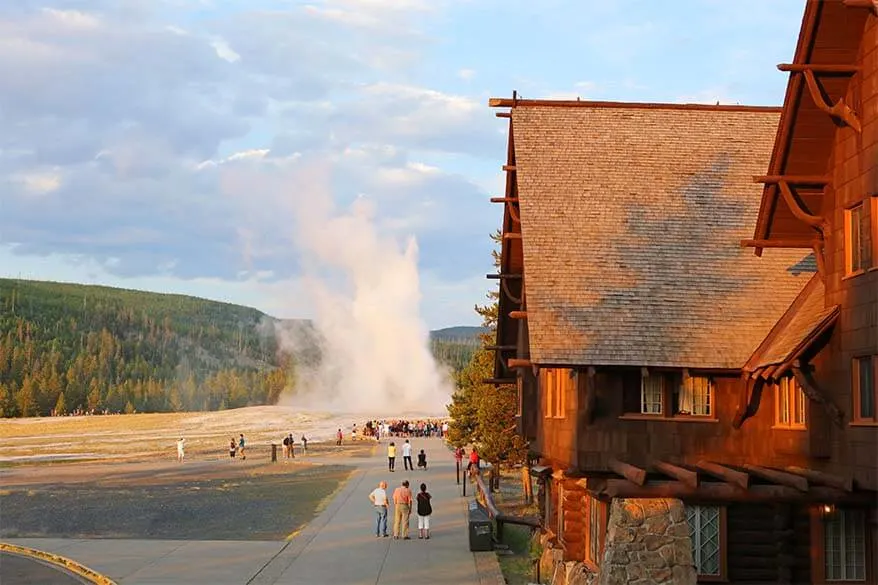 The main highlights of the Upper Geyser Basin include:
Old Faithful Geyser
Castle Geyser
Daisy Geyser
Grotto Geyser
Morning Glory Pool
The favorites of the kids in this area were the colorful Morning Glory Pool and the Castle Geyser that kept erupting and letting steam longer than any other geyser in the park. Apparently, it only erupts every 10-12 hours, so we were lucky to see it. On the other hand, the actual eruption lasts about 20 minutes and is afterwards followed by a noisy steam phase that lasts another 30-40 minutes.
So if you really want to, you should be able to see the Castle Geyser in action. In the meantime, take a look at the short video below.
What to pack? Sun protection and water. Also, grab a map of the area at the visitor's center and check the expected eruption times of some of the geysers in this area.
5. Go for a Swim at the Boiling River or at the Firehole River
Boiling River
Important update: Please note that Boiling River is currently closed due to the damage created by recent floods. At the moment of the last update, it's not even clear whether it will ever reopen.
We didn't know about the Boiling River of Yellowstone before our trip. An accidental encounter with a family from Montana introduced this place to us and it became one of our absolute favorite things to do in Yellowstone with kids.
The Boiling River is a sort of natural hot tub. It's created where a large hot spring enters the cold mountain river. The cold and hot water mix is comfortable enough to bathe in.
It's a great place to relax after a long day exploring in Yellowstone, or just to hang out with your kids and spend a couple of hours.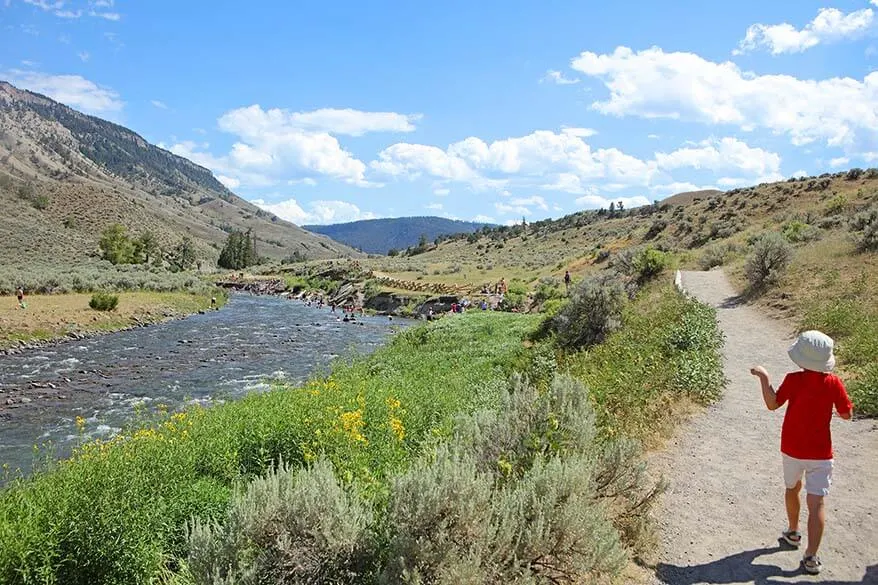 Beware that the current is strong (it is a mountain river after all) and the water temperature can change quickly. So with kids, I'd stay a bit more on the side and not too close to the hot spring itself.
The river is not deep and you can easily find a quieter spot to lie down and relax in this natural bath.
Where is the Boiling River? Boiling River can be found approx. 2 miles north of Mammoth Springs, just off the main road to Gardiner. The bathing area is a 5-10 min walk from the car park.
What to pack for the Boiling River? Swimming gear, sun protection, and towels. Ideally, you should also take water shoes or at least flip flops or crocs, as there are quite some sharp stones in the river. However, keep an eye on your loose footwear as the current is very strong. I ended up chasing my son's slipper down the river and I can tell you it was no fun… I'm sure the spectators had another opinion :).
READ MORE: Visiting the Boiling River in Yellowstone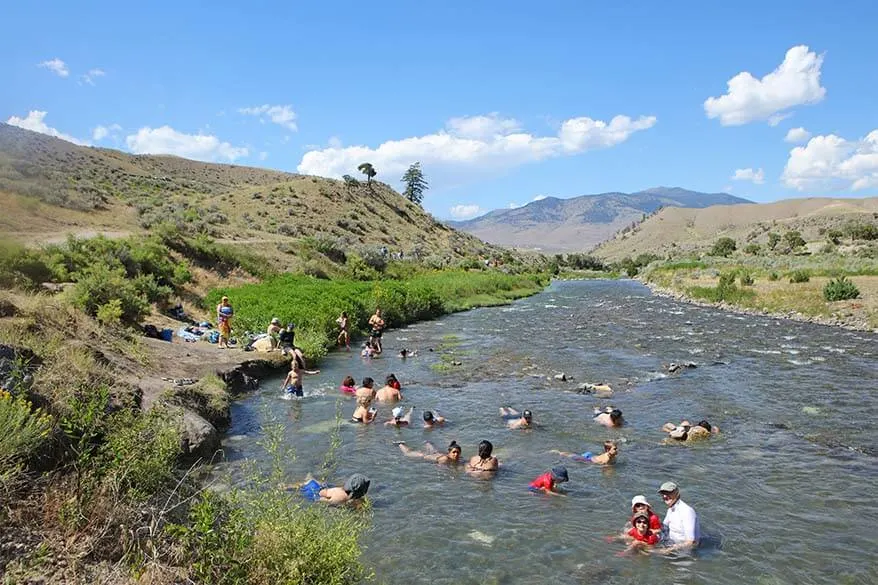 Firehole River
There is one more place where you can swim in Yellowstone – Firehole River.
It was extremely busy there when we visited, the narrow road was full of cars parked on the side of the road, and the river itself was crowded with people.
We didn't swim there, so I cannot comment on the experience. It looked like a very nice place, just much too crowded for us. We preferred the look of the Boiling River by far.
! Also this area has recently been closed, so be sure to check the official sources or ask park rangers for the most up-to-date information.
6. Discover Mammoth Hot Springs
When researching information for our family trip to Yellowstone, I found some very different opinions about the Mammoth Hot Springs area. Some people said that they'd skip it completely, while some others said it's their favorite part of Yellowstone.
We found the Mammoth Hot Springs area well worth a visit. More so, it's one of the most special areas in Yellowstone and very different from anything else in the park. I would definitely recommend including Mammoth Hot Springs in your itinerary!
Furthermore, you can easily visit Mammoth Hot Springs with kids. The area is not very big, there are boardwalks and some staircases that bring you very close to some fascinating thermal features.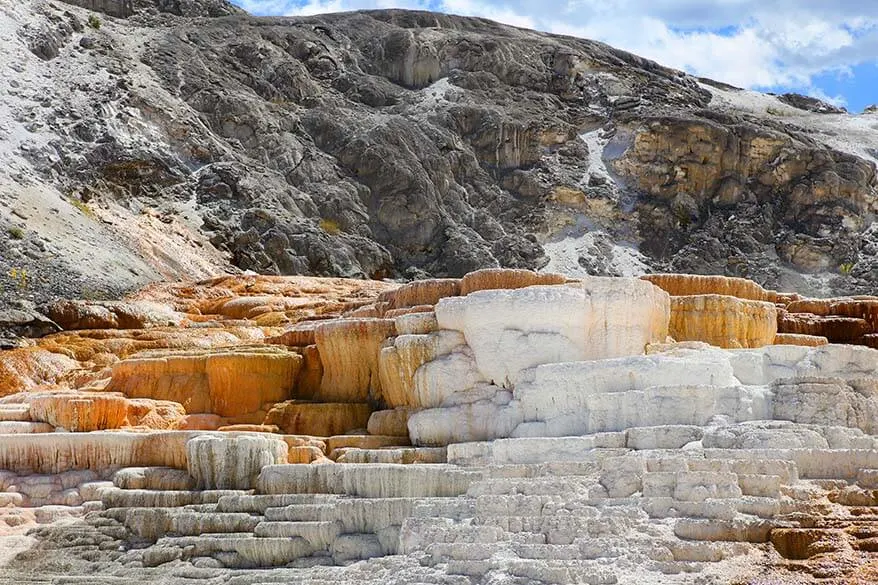 The only problem we experienced at Mammoth Hot Springs, was the heat. The area has no shade at all and it was really warm when we visited.
I hiked the whole area (a bit less than an hour in total), while my husband and kids only did the lower part. They then took the car and drove up the Terrace Drive where they picked me up on top of the hill.
On a cooler day and being less tired from other activities, the kids wouldn't have had any problems doing the whole walk at the Mammoth Hot Springs.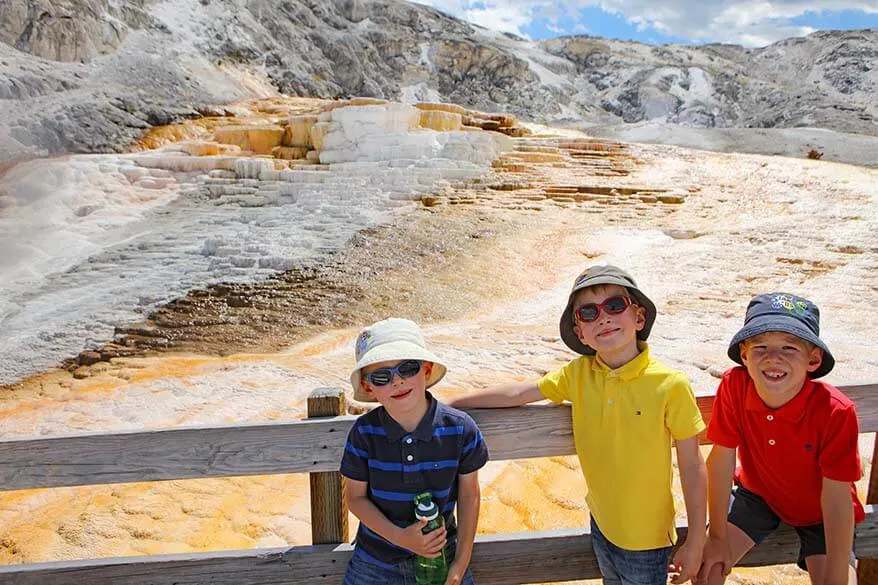 The highlights of Mammoth Hot Springs include:
Minerva Terrace
Palette Spring
Liberty Cap
Canary Spring
What to pack? Sun protection and water.
READ MORE: Mammoth Hot Springs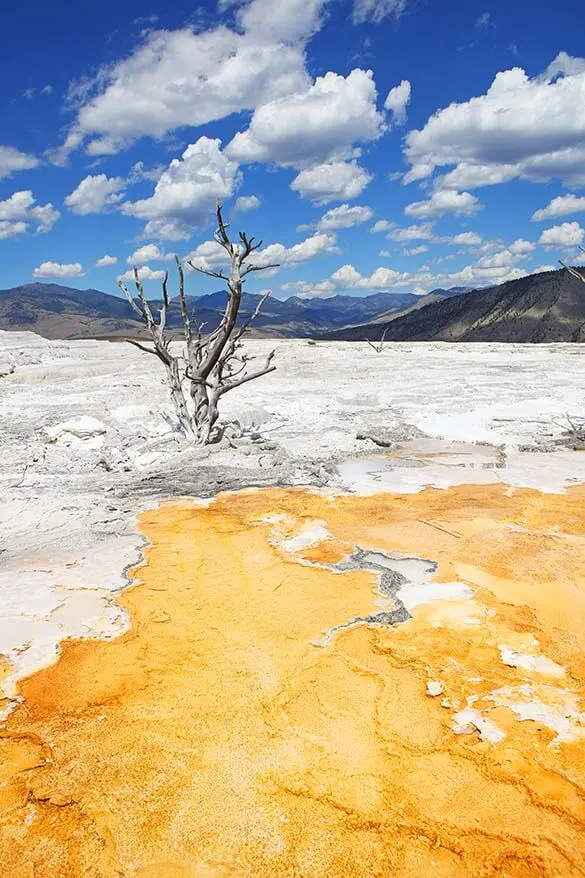 7. Visit the Old Faithful Inn
To secure a room at the famous Old Faithful Inn in high season you need to book your stay about a year in advance. However, you can still visit this iconic hotel even if you're not staying there.
Make sure you go inside! The interior of the Old Faithful Inn is very impressive. Kids will love climbing the wooden stairs and exploring.
Furthermore, there is no better way to watch the Old Faithful Geyser erupt than from the beautiful outside terrace of the OF Inn while having a drink from the adjacent bar. The porch is freely accessible to everyone, so make sure to check it out!
TIP: At the end of this article, you can find our suggestions for where to stay near Yellowstone with kids.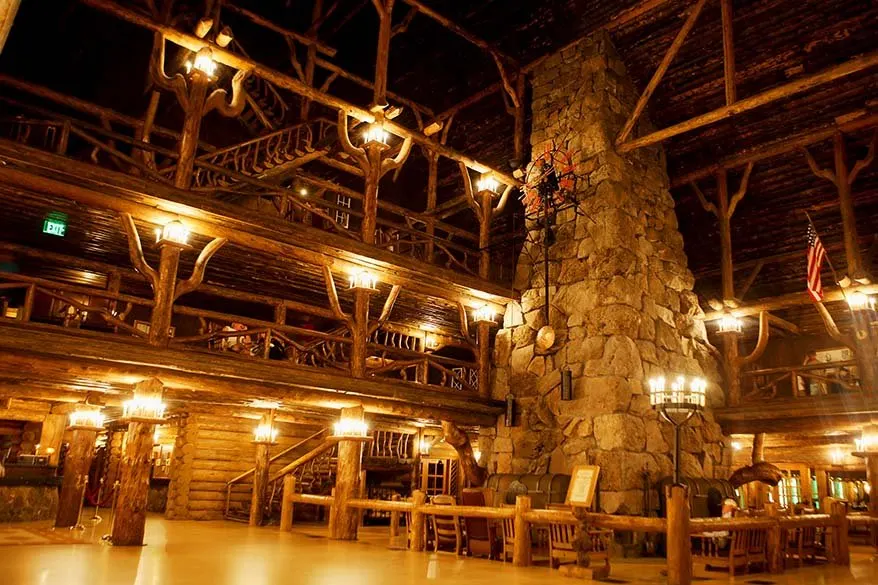 8. Take Your Family Hiking and Discover the Non-Touristy Side of Yellowstone
There are many short family-friendly hikes you can do in Yellowstone with kids. I'll try to write a detailed post with more information, but for now, here are several of the best options (some of these I already discussed above).
Best short family-friendly hikes in Yellowstone with kids
Mammoth Hot Springs terrace – at Mammoth Springs
Uncle Tom's Trail – at the Grand Canyon of Yellowstone
Upper Geyser Basin Trail – at the Old Faithful
Storm Point Hike – North of Yellowstone Lake
West Thumb Geyser Basin – West of Yellowstone Lake
Tower Fall – trailhead behind the Tower Fall general store
Porcelain Basin – at Norris Geyser Basin
Trout Lake Trail – East of Lamar Valley
Wraith Falls – between Tower-Roosevelt and Mammoth Hot Springs
Undine Falls – between Mammoth and Tower Junction (can also be seen from the road)
Ice Lake – between Norris and Canyon Village
Harlequin Lake Trail – between Madison and West Entrance
Geyser Hill Loop Trail — Old Faithful area
Black Sand and Biscuit Basin Trails – West of Old faithful
Mystic Falls Trail – back of the Biscuit Basin boardwalk
TIP: If you are planning to do some hiking in Yellowstone (and you should!), I can highly recommend this Ranger's Guide to Yellowstone Day Hikes. It features 29 hikes of all levels of difficulty, each with a detailed map and a short description.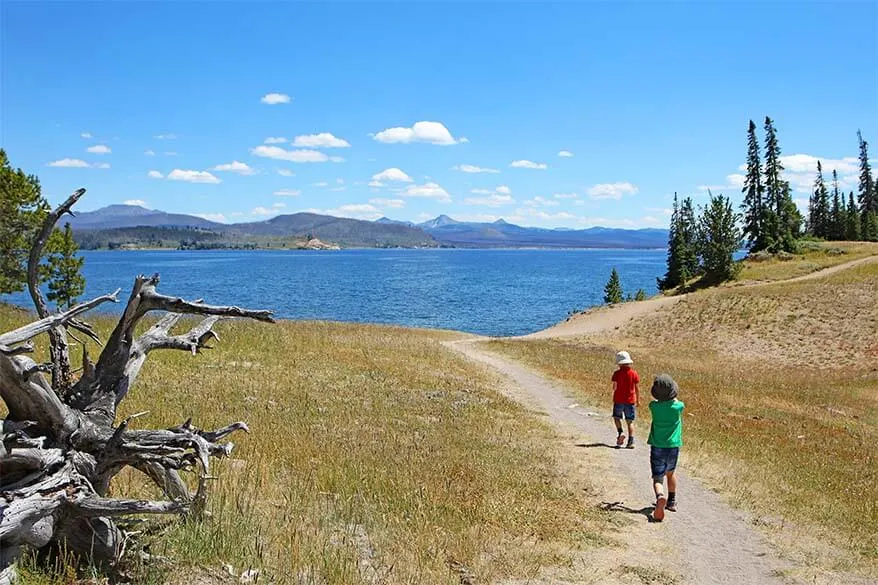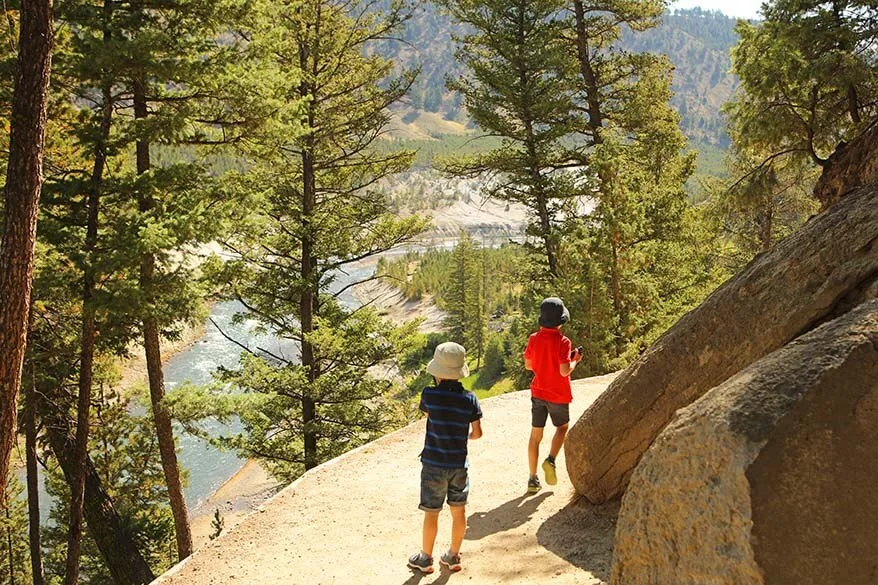 9. Drive the Scenic Roads of Yellowstone
The Grand Loop Road of Yellowstone is over 140 miles long and it brings you to some of the most beautiful places in the park. If you do the whole loop, you'll pass most of the park's famous landmarks.
Driving the Grand Loop Road can be done in just a day and it's the perfect way to see Yellowstone National Park if you only have limited time. However, Yellowstone National Park is huge, so try to spend at least 3 days in the park and take your time to explore more.
The following scenic drives of Yellowstone left the biggest impression on us, so I want to share our favorites with you.
Most beautiful scenic drives in Yellowstone
Hayden Valley
Dunraven pass – Mount Washburn
East of Lamar Valley all the way to the Northeast Entrance station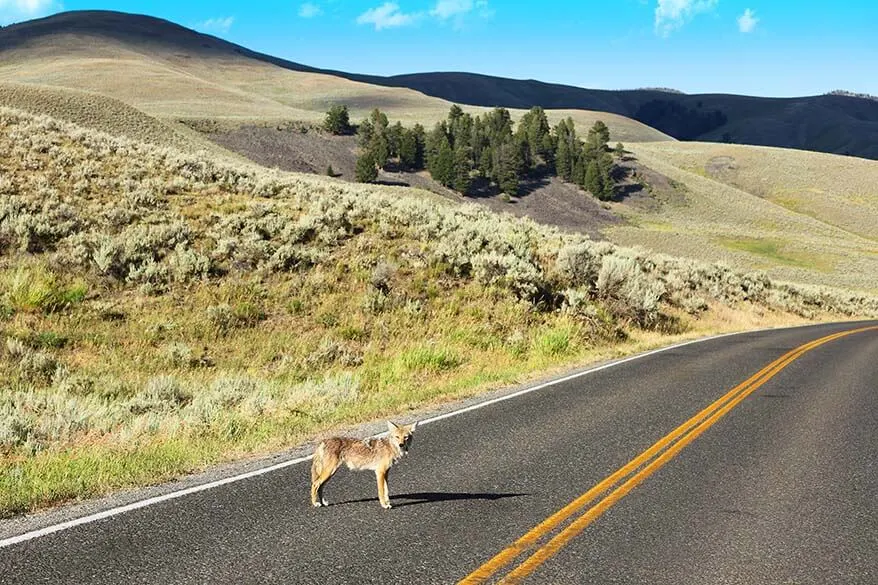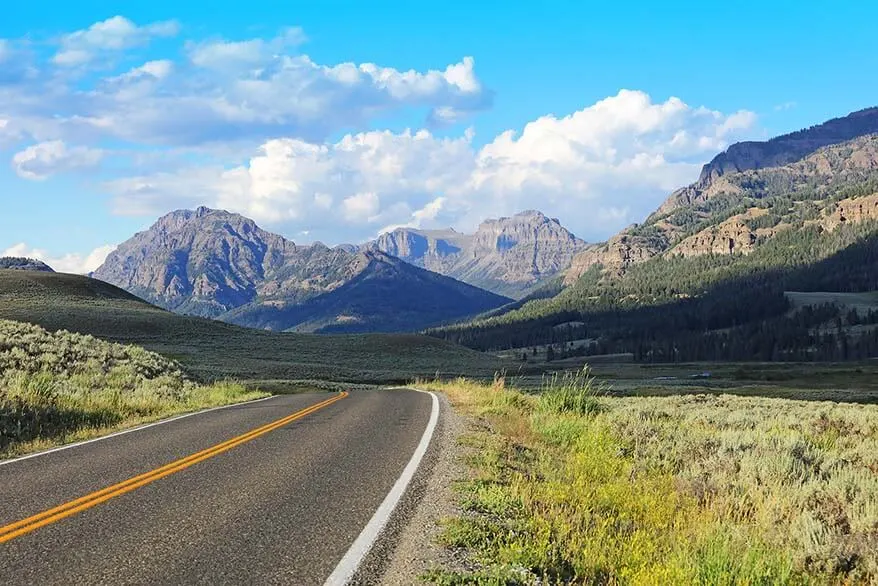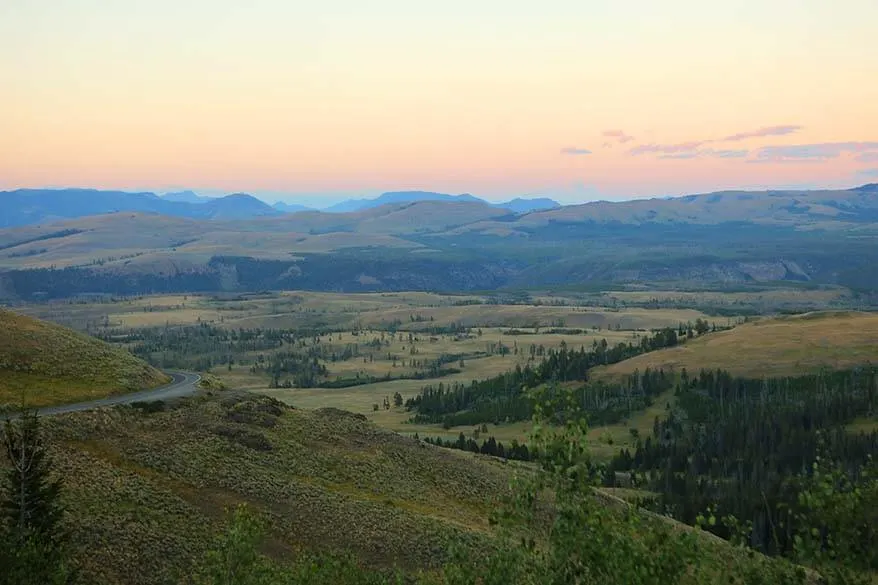 10. Other Activities and Things to Do in Yellowstone With Kids If You Have More Time
Here are several more ideas of things to do in Yellowstone with kids for those who have more time or are looking for a more active vacation:
Attend one of the free ranger-led programs for kids or become a Junior Ranger.
Take your kids ziplining (teens will love this!).
Hike to the top of Mount Washburn. This is a very long hike though, which we chose not to do as we only had limited time in Yellowstone. From what I read, it should be doable with kids of 6 years up. Count at least 6-8 hours if hiking Mount Washburn with children.
Build a dam in the river (and break it down afterwards).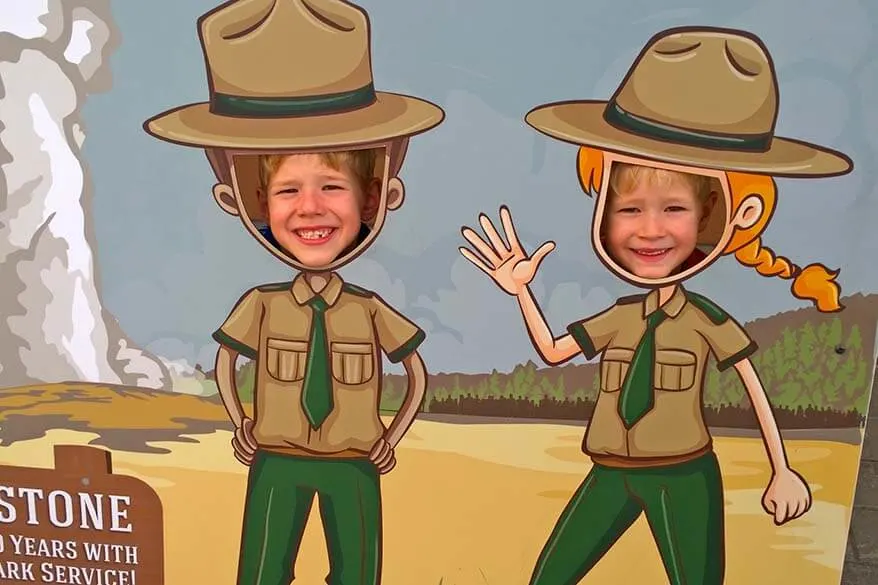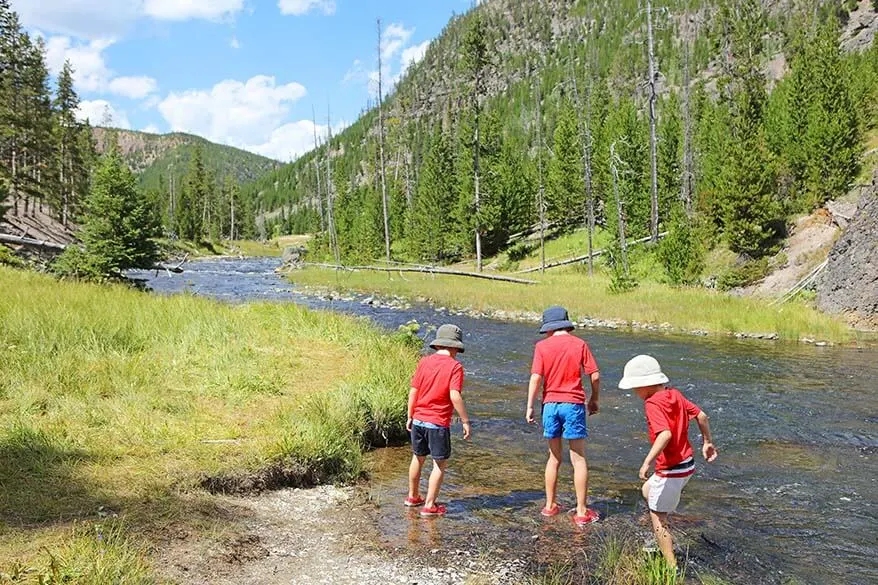 Where to Stay in & Near Yellowstone for Families
Yellowstone is a big park and accommodation inside the park is quite expensive. This is especially the case if you are visiting with a family of more than 4 people and can't use the 'standard' rooms. That being said, if you want to check places inside the park, we recommend Canyon Lodge as one of the best options with kids.
Good to know! Yellowstone lodges don't have Wi-Fi, swimming pools, and other family-oriented facilities. So if you are looking for cheaper accommodation and better facilities when visiting Yellowstone with kids, you may want to consider staying in one of the nearby towns.
One of the best central places to stay nearby is West Yellowstone. This small town has a lot of nice hotels, but also short-term vacation rentals.
For the northern side of Yellowstone, Gardiner is a good option too, with several hotels, cabins, and cottages, and many private rentals as well. This side of Yellowstone is quieter and a bit cheaper but is actually just as easy to get to/from the main sights as West Yellowstone.
LEARN MORE:
Yellowstone Accommodation: Best Places to Stay In and Near Yellowstone NP
Best Hotels & Cabins NEAR Yellowstone
Compare Hotels & Vacation Rentals in West Yellowstone
Using the map below, you can find the best deal for your family vacation in West Yellowstone. Simply insert your travel dates and group size and you'll see all the available options. Check it out!
You can also zoom out and use this same map for Gardiner accommodation and also other areas around Yellowstone.
So, this is our guide to visiting Yellowstone with kids. Planning a family trip to Yellowstone and have a question? Feel free to leave a reply below and we'll try to help.
READ ALSO: Yellowstone – Grand Teton Itinerary
Make sure to also check our other guides and practical tips for visiting Yellowstone National Park – see below.
More information for your trip to Yellowstone:
If you found this post helpful, don't forget to bookmark it and share it with your friends. Are you on Pinterest? Pin this image!