Yellowstone National Park is a place like no other. The park is so big, so diverse, and so unique that it just can't compare to any other spot on the planet. However, Yellowstone is also a place that requires some advance planning and preparation.
If you want to enjoy your Yellowstone vacation to the fullest and make the most of your trip, there are some things that you should know in advance. It can make a difference between it becoming your dream trip or a frustrating experience.
In this article, we share some essential tips for visiting Yellowstone. Make the most of your trip – find out!
Good to know: You'll need an entrance pass for visiting Yellowstone National Park. It costs 35 USD per private vehicle and is valid for 7 days. However, if you are visiting several National Parks in the same year, it's better to get an annual National Parks Pass. It's called America the Beautiful Pass and costs 80 USD for the whole family traveling in the same vehicle. It is valid in all National Parks and 2,000 federal recreation sites across the United States for one year from the month of purchase.
Without further ado, here are our top tips for Yellowstone:
1. Book in Advance
Yellowstone is one of the most-visited national parks in the United States. Furthermore, the main season to visit Yellowstone is rather short. So when planning a trip to Yellowstone, you really have to book your accommodation in advance!
To give you an idea, if you want to stay inside the park in summer, you have to book your Yellowstone hotel more than a year in advance!
Luckily, there are also some alternatives, small towns near Yellowstone that you can use as a base for some day trips into the park. But also there, the sooner you book the more availability you have and the better the prices.
Good to know: When considering where to stay, keep in mind that Yellowstone has a very limited mobile network and Wi-Fi coverage is very poor. Furthermore, Yellowstone accommodations have no TVs or air conditioning. So if you absolutely need these facilities, you're probably better off staying in the hotels outside the park – more info below.
TIP: If you are visiting Yellowstone on a lower budget, you should also know that lodging outside the park is much cheaper than Yellowstone hotels. The same counts for food or fuel – it's more expensive in the park.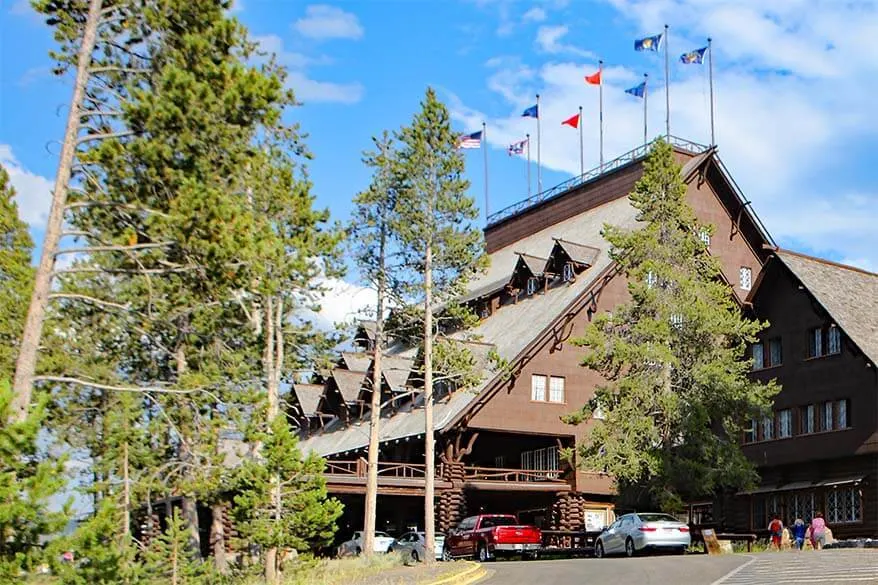 Good to know: The best-located towns to stay at for sightseeing are West Yellowstone (for the majority of the park) or Gardiner (for the northern side of Yellowstone).
READ MORE:
Best Places to Stay In and Near Yellowstone
Best Hotels & Cabins Near Yellowstone National Park
TIP: Using the map below, you can compare hotels, apartments, and short-term rental accommodations in West Yellowstone. Simply insert your travel dates and group size, and you'll see what's available for your stay.
You can also use the same map for Gardiner accommodation – you just have to change the location to see all the best deals in other places. Check it out!
2. Prepare a Good Itinerary
Yellowstone is big and many first-time visitors underestimate the size of the park and the time it takes to get from one place to another. If you want to make the most of your trip, be sure to plan your Yellowstone trip well. That way you don't end up driving up and down and wasting more time in the car than sightseeing.
The location of your accommodation is very important and will influence how much driving you have to do every day. However, it's even more important to prepare a good itinerary so that you know where to go and how to plan your time.
To help you plan your trip, we have some detailed itineraries for one day in Yellowstone and also for two days in Yellowstone. We also have a guide with detailed maps and day-by-day itinerary suggestions for any trip from 1 to 5 days.
LEARN MORE: Yellowstone Itinerary
TIP: If you don't have the time to plan a trip and want to see the best of Yellowstone in a short time, you can also consider booking an organized tour. There are tours for 1 or 2 days, but also for longer durations. Here you can find our selection of guided Yellowstone tours. Check it out!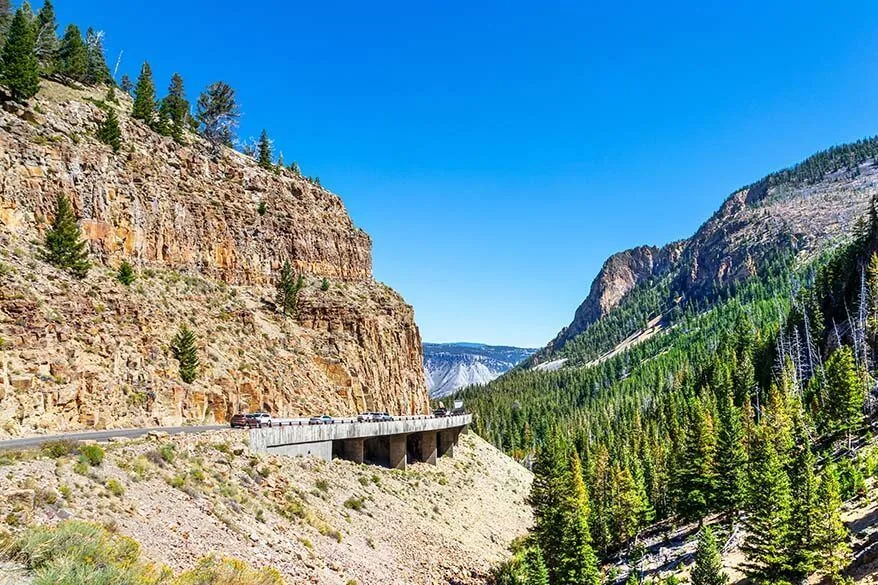 3. Foresee Extra Time
If you can, try to spend at least 3-4 days in Yellowstone. This will give you enough time to see all the main highlights of the park in a rather relaxed way.
Furthermore, Yellowstone is all about nature and many things cannot be predicted or scheduled. So you need to have some flexibility for bison jams on the roads, unexpected wildlife encounters, or erupting geysers.
Having some unscheduled free time will make your Yellowstone trip so much more relaxed. After all, you don't want to miss a geyser eruption or wildlife sighting just because you didn't foresee enough time in your schedule.
4. Start Early
The best way to avoid the crowds in Yellowstone is by starting your days early. If you can, try to visit the most popular landmarks such as the Old Faithful Geyser or the Grand Prismatic Spring early in the morning, ideally before 10 AM. The same counts for the Yellowstone Canyon and also Mammoth Hot Springs.
The busiest hours in the park are from around 10 AM to 5-6 PM. So another option is to visit the most popular places in the evening. However, it's incomparably busier in the evening than it is in the morning.
If you can start your days at 6-7 AM, you'll experience Yellowstone in a completely different way. It's a priceless experience to have some of those amazing sites all to yourselves.
TIP: Save the busiest hours of the day for the lesser-known places in Yellowstone, go for a hike, go swimming, or rent a boat on Yellowstone Lake.
READ MORE: Tips for Visiting Yellowstone in Summer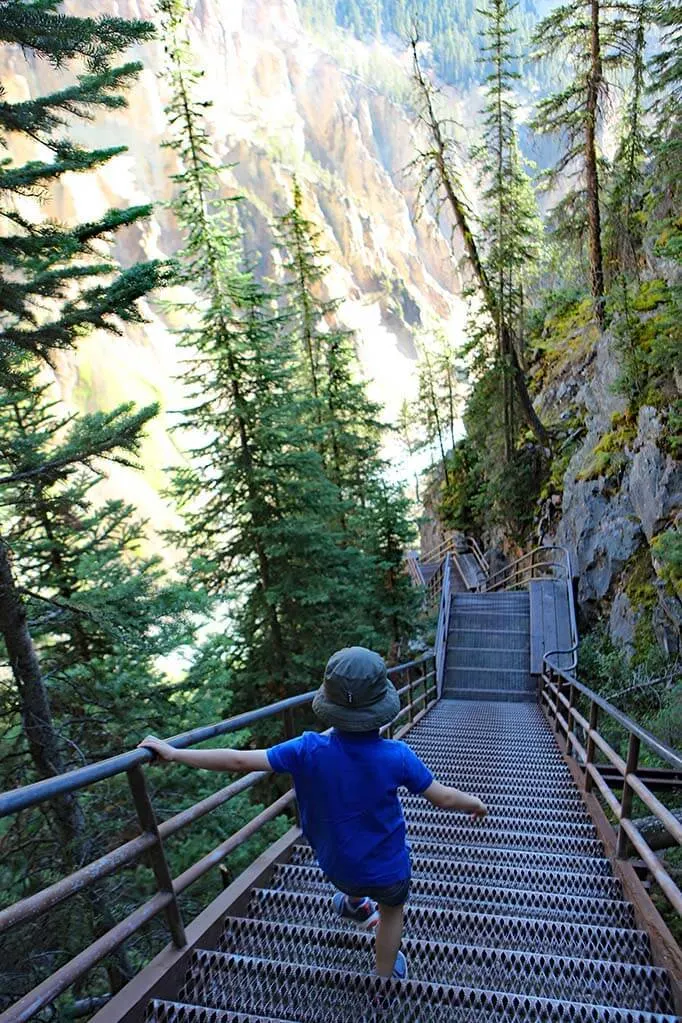 5. Pack a Picnic for Lunch
One of my top tips for Yellowstone is to pack a picnic lunch. That way, you don't have to waste your time looking for a place to eat at noon and waiting in a long line to be served. In addition, having your own food gives you complete flexibility. You don't have to plan your sightseeing based on where restaurants are located.
We packed a picnic with us on most days and it made everything so much easier. Once, we thought we'd just go for lunch at a restaurant. It was at Mammoth Hot Springs, one of the quieter places in the park, so we thought it wouldn't be an issue. But it was so busy there that we wasted a ridiculous amount of time for something that could have taken us 15 minutes. Furthermore, the kids were getting cranky having to wait for lunch and it really wasn't a pleasant experience.
Good to know: Consider bear safety rules if you plan on carrying food with you when you go hiking. Often, it's easier/safer to eat close to your car or use designated picnic areas in the park. For longer hikes, you should make sure that your food is packed in such a way that bears can't smell it. Here you can find more information about how to store food in a bear-proof way.
TIP: Make sure to pack a reusable water bottle with you. Ideally, you have one bottle per person. There are many places in the park where you can refill your water bottles. It's free and environmentally friendly.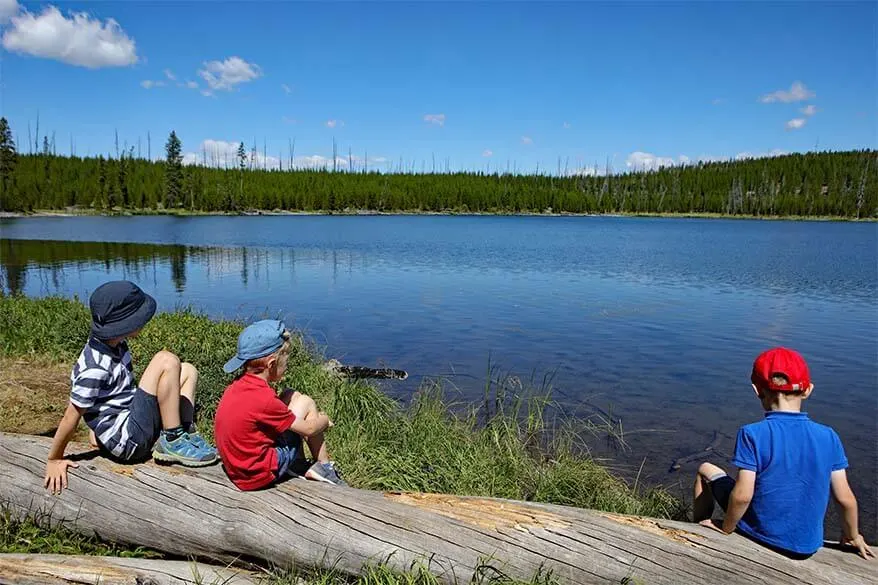 6. See Wildlife by Knowing Where & When to Go
I see you frowning – wildlife encounters can't be predicted. And you are absolutely right, you never know whether and where you'll see wild animals. However, you can highly increase your chances by knowing when and where to look.
The best time to see wildlife is around sunrise or sunset. Dusk and dawn are prime wildlife viewing times because animals are more active and often come out of the forest in search of food.
The best places to see wildlife in Yellowstone are Lamar Valley and Hayden Valley. The absolute best place and time to see wild animals in Yellowstone is Lamar Valley at sunrise.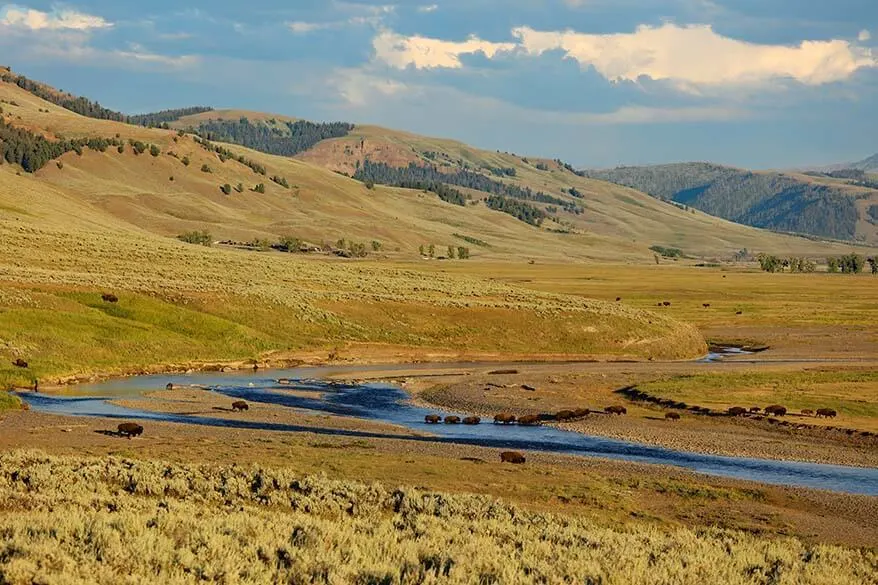 7. Get off the Beaten Path
As already mentioned above, it's best to go to the main landmarks in the morning and spend the busiest hours of the day visiting less popular areas in Yellowstone. There are so many places in Yellowstone where you hardly meet any people.
Good to know: The busiest places in Yellowstone are the Upper Geyser Basin (Old Faithful Area), Midway Geyser Basin (Grand Prismatic area), Yellowstone Canyon, Mammoth Hot Springs, and Norris Geyser Basin (mainly the Porcelain Basin).
Visit any place that's not in one of these areas and you'll see an exponential decrease in the number of people. Also, Upper Loop is much less busy than the Lower Loop. If you leave the Grand Loop Road completely, you can have some amazing hidden gems completely to yourselves.
Of course, you have to see the main landmarks of Yellowstone – no trip would be complete without that! But it's those unplanned experiences, places you have all to yourself, and unexpected encounters that will make your trip so much more memorable.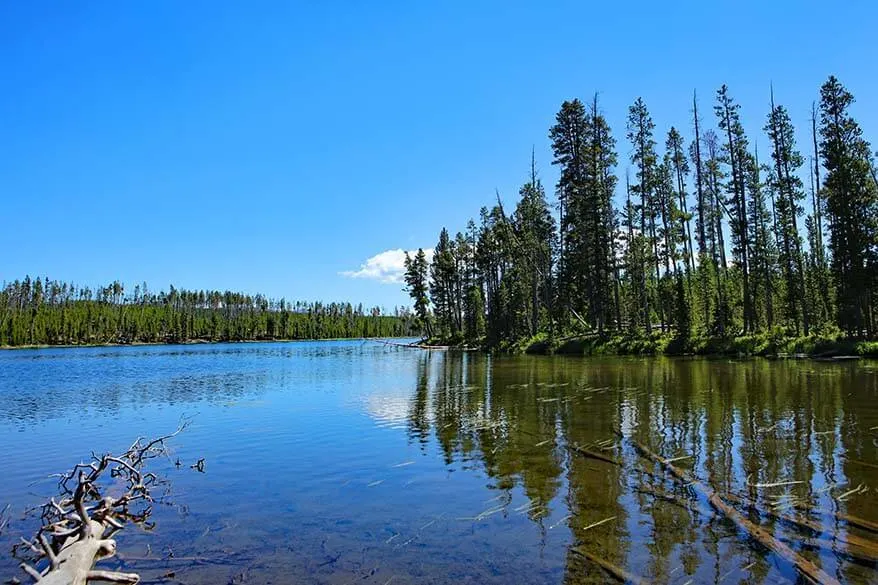 8. Go Hiking
Also in high season, it's quite easy to avoid the crowds in Yellowstone if you really want to. Simply go hiking. Even the easiest short hikes are rather quiet. But if you walk more than 20-30 minutes from your car, you'll likely be completely alone.
Before our trip, I read an article that said that about 80% of Yellowstone visitors never walk further than 10-15 minutes from their car. Based on what we saw, this seems to be quite an accurate estimate.
So if you have some time to spare and are physically capable, make sure to make at least a couple of short hikes in Yellowstone.
Here are some ideas for short hikes in Yellowstone where you'll hardly meet any people:
Ice Lake. Between Norris and Canyon Village.
Trout Lake Trail. East of Lamar Valley.
Harlequin Lake Trail. Between Madison and West Entrance.
Mystic Falls Trail. Back of the Biscuit Basin boardwalk.
Wraith Falls. Between Tower-Roosevelt and Mammoth Hot Springs.
Here are some better-known hikes that were also really quiet when we visited:
Uncle Tom's Trail. It's located at the Grand Canyon of the Yellowstone and I assume it might get quite busy during the day. However, we were here at around 8.30 – 9.15 AM and there was almost nobody else around.
Upper Geyser Basin Trail. Located at the Old Faithful, this is supposedly one of the busier places in the park. However, we were here in the early afternoon, in July, and by the time we got to the Morning Glory Pool (1.4-mile hike), we were all alone.
Storm Point Hike. This is a nice short hike north of Yellowstone Lake, one that's quite well-known. However, we met maybe two other families during the entire hike here. We did scare an elk though – we didn't see him and he didn't see us until we were very close. In a panic, he jumped out of the bushes right in front of us, and we definitely jumped in the air too…
TIP: You can find even more ideas in this guidebook with easy hiking trails in Yellowstone. Alternatively, you can also opt for this highly-rated guided hike at the Yellowstone Canyon.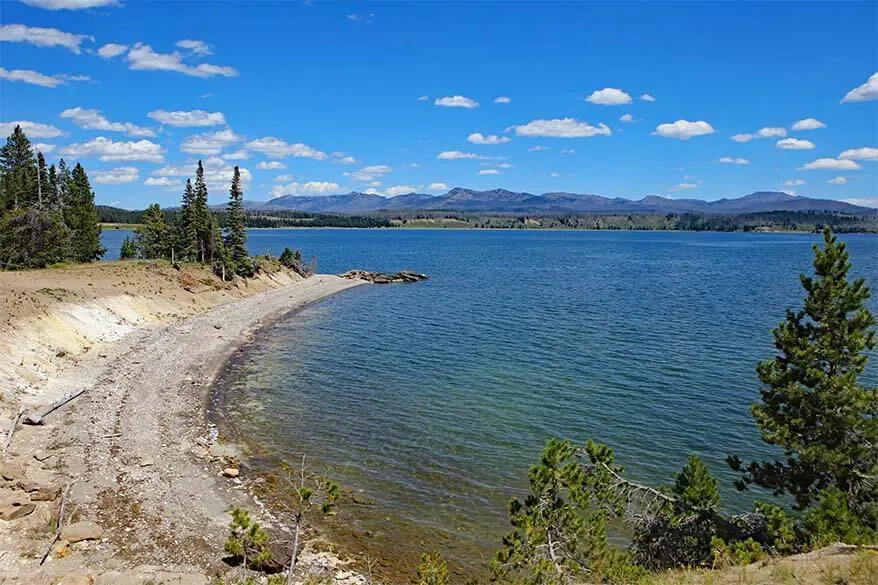 9. Be Bear Aware
Yellowstone is home to many bears and they roam all over the park. While your chances of running into a bear at the busy landmarks are very low, you should always be prepared for bear encounters. This is especially the case when you go hiking or are venturing a bit more off the beaten path.
First, make sure that you follow the rules. At different times of the year, some places in Yellowstone get closed for bear management. That means that you are not allowed to go there. Also, always stay on maintained trails and avoid thick brush.
Be sure to take a moment to read the guidelines on how to avoid encounters and what to do if you run into a bear. You can usually find these tips in the maps and brochures that you get at the park entrance gates.
Don't go hiking alone, make noise when you are hiking (a bear bell might be a good idea if you don't have noisy children as we did), and always be alert. Hiking at dusk or dawn is not such a good idea and hiking in the dark should be avoided at all costs. If planning to venture more off the beaten path, it's essential to carry a bear spray and know how to use it.
Good to know: Having said all of the above, your chances of running into a bear in Yellowstone aren't that high. If you are only visiting the main landmarks, there is really nothing to worry about. We did some short hikes in Yellowstone and were often completely alone, but never saw a bear. I also have to add that our three kids made enough noise that probably scared all the bears away long before we got anywhere near them.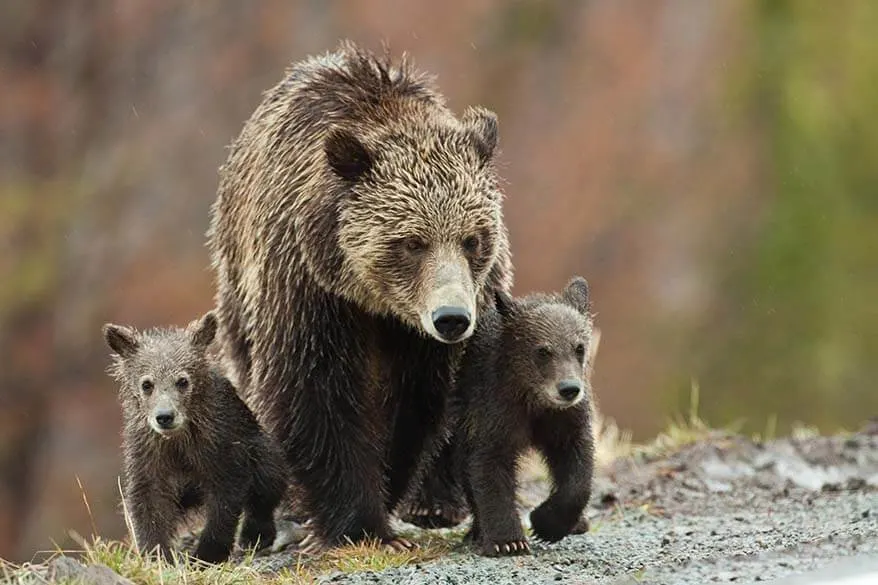 10. Don't Approach Wildlife
Every year, there are some crazy images and videos going around on the internet showing people's irresponsible behavior around wild animals in Yellowstone. And while accidents can happen, there is really just one simple rule – never approach wildlife.
There are plenty of opportunities to see animals from the safety of your car or by maintaining a safe distance. This is especially the case with bison and bears, but also other animals in distress can launch at you.
Sometimes, you'll see big groups of cars and people standing next to the road. Usually, this means that there are some animals around. I noticed that Yellowstone Park Rangers are often there to make sure that everyone keeps a safe distance. But if they are not around, always use your common sense.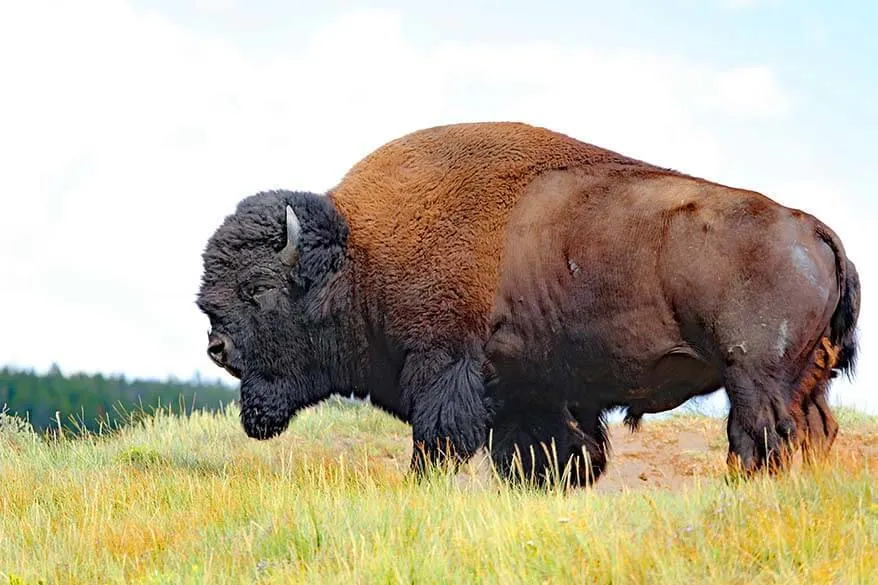 11. Dress in Layers
Yellowstone is known for its pleasant, warm summers and very cold winters. Be sure to check the weather forecast a few days before your trip so that you have a somewhat better idea of what to expect. Here you can also find our guide for the best time to visit Yellowstone, with weather information and tips for every season.
You should also keep in mind that the park is big and that the weather can change very quickly. Furthermore, it can be nice and sunny in one part of the park and raining or even snowing in another. So you should always be prepared for this and the best way to do it is by dressing in layers.
Even in summer, make sure you always have a sweater and a light rain jacket at hand. Most likely, it will be sunny and warm, but sometimes you can experience all seasons in a couple of hours.
READ MORE: What to Wear in Yellowstone in Summer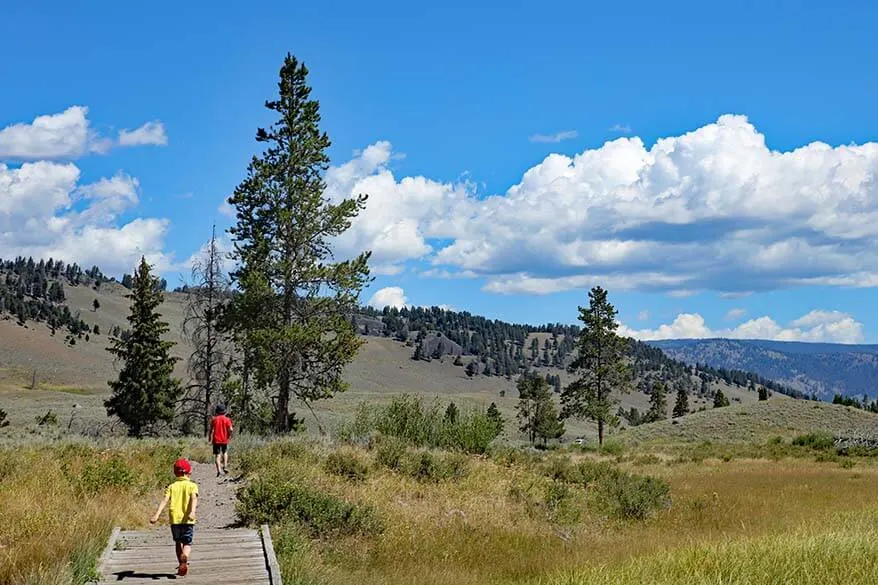 12. Bring Binoculars & Good Camera Equipment
To many of us, wildlife is one of the reasons to visit Yellowstone. Sometimes, you'll see many animals right next to the road, and quite often very close to your car. However, more often animals will be at a bigger distance and you really need a pair of good binoculars in order to truly enjoy the experience.
For any trips involving animals, we pack a pair of good-value binoculars for each member of our family. It's not a huge investment and it always does wonders in keeping the kids more interested and engaged during the trip.
If you are looking for a really good pair of binoculars, I recommend binoculars with image stabilization. However, that's quite an investment, so I wouldn't get it just for one trip. Remember that any binoculars are better than none and you'll be really glad you packed them.
One more thing to remember is that it's really difficult to take good pictures of wildlife with your smartphone. So if you are into wildlife photography, you should consider taking a good camera and the best zoom lens you own. Here you can find some tips for cameras and lenses for wildlife photography.
READ ALSO: Travel Photography Tips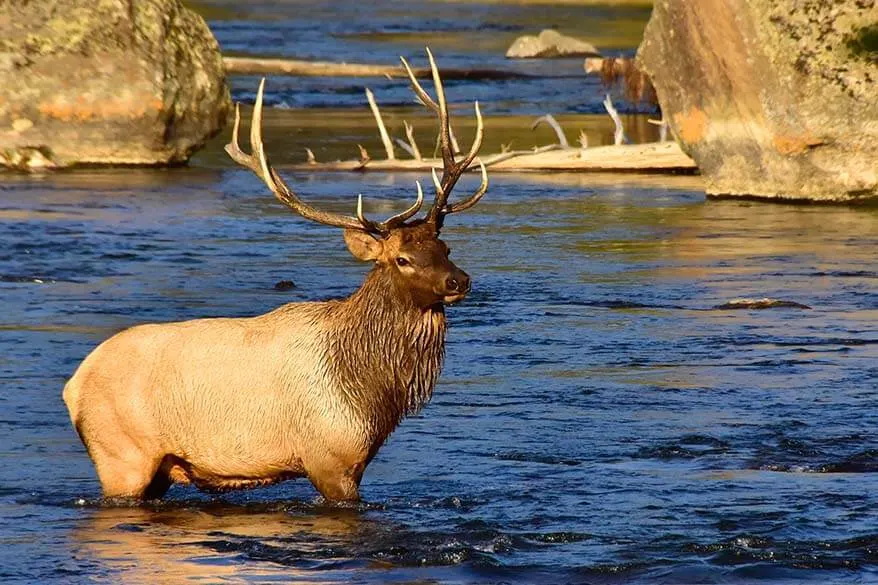 13. Respect Nature & Rules
Yellowstone has many geothermal features that can be very dangerous if approached too closely. So always follow the signs and stay on the marked paths. Only swim where it's explicitly allowed. The rules are there to protect you.
There are also so many rules in Yellowstone that protect nature and wildlife. Most often, it's simply common sense. Don't litter, don't throw anything into the geothermal features, don't approach or feed wild animals, don't speed on the roads, etc.
There are very few places in the world that are as special as Yellowstone. So it's our responsibility to leave no trace and preserve this incredible natural wonderland for the future.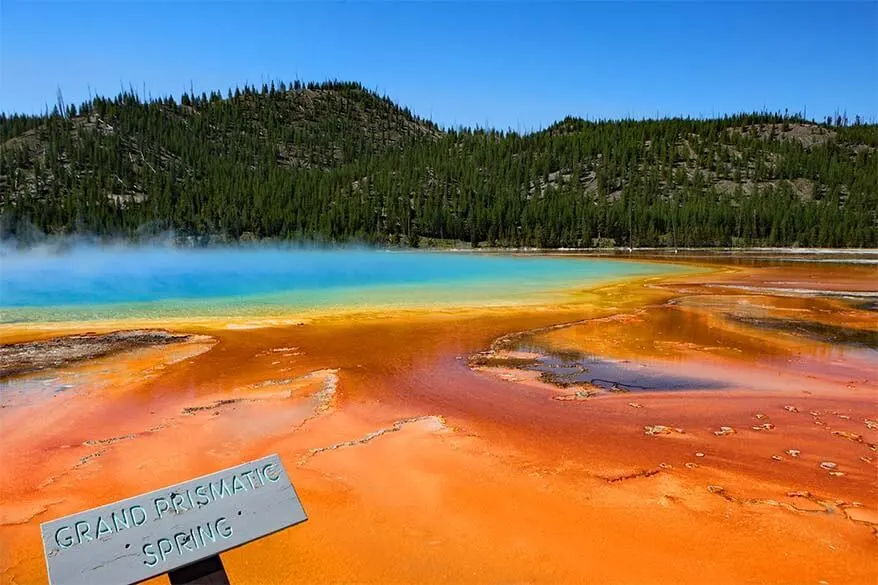 So, these are our top suggestions, things you should know before going to Yellowstone. I hope that these Yellowstone tips will help you make the most of your trip!
For more tips for your trip, please check our Yellowstone travel guide. It contains lots of practical information for your trip and an overview of all our articles about Yellowstone. Check it out!
More tips for your trip to Yellowstone:
READ ALSO: Grand Teton & Yellowstone – Itinerary ideas for any trip
If you found this post useful, don't forget to bookmark it and share it with your friends. Are you on Pinterest? Pin these images!