Boiling River in Yellowstone is one of the less known places of America's oldest National Park. Tucked in the far north corner of the park it's a true hidden gem of Yellowstone NP.
We had never heard of the Boiling River when planning our trip to Yellowstone National Park and it was a complete coincidence that we discovered it (read about it below).
We mentioned this discovery among our suggestions of the best things to do in Yellowstone with kids and after a while, the emails and the questions started coming in… So many of our readers told me that our blog inspired them to visit Boiling River in Yellowstone and that it became one of the highlights of their trip.
This inspired me to write this guide for visiting Boiling River in Yellowstone. What is the Boiling River? Where to find it? How hot is the Boiling River? What to expect… You can find all the answers to these questions and practical information below… But first, as promised, our story of how we discovered the Boiling River in the first place.
How we found out about the Boiling River in Yellowstone
The evening before we would arrive in Yellowstone, we were having dinner at a cozy hamburger restaurant in Jackson, WY. It was the peak summer season and the place was crowded. We were seated at a long table where you brush elbows with strangers and inevitably end up listening to other people's conversations.
It didn't take long for people around us to start asking where we were from. After all, we were the only non-English-speaking family at the restaurant…
We ended up chatting with a family from Montana. They had just spent a few days in Yellowstone and were willingly sharing their experiences. Most places they mentioned were, of course, familiar to us; after all, we have done so much research for our trip to Yellowstone in advance. But then we asked them what were their absolute favorite places and they mentioned Lamar Valley and Boiling River.
Boiling what?
We had read tens of blog posts, travel guides, and consulted the official website of Yellowstone National Park in search of the best experiences in Yellowstone when planning our Yellowstone trip itinerary. We researched and booked our Yellowstone accommodation a year in advance… Yet we hadn't seen Boiling River mentioned anywhere.
Not once had we read anything about one of the coolest places in Yellowstone…
So it was thanks to the friendly strangers at a restaurant that we found out about Boiling River in Yellowstone National Park. This post is just my way of giving back because some places are just too good to keep to yourself. Read on!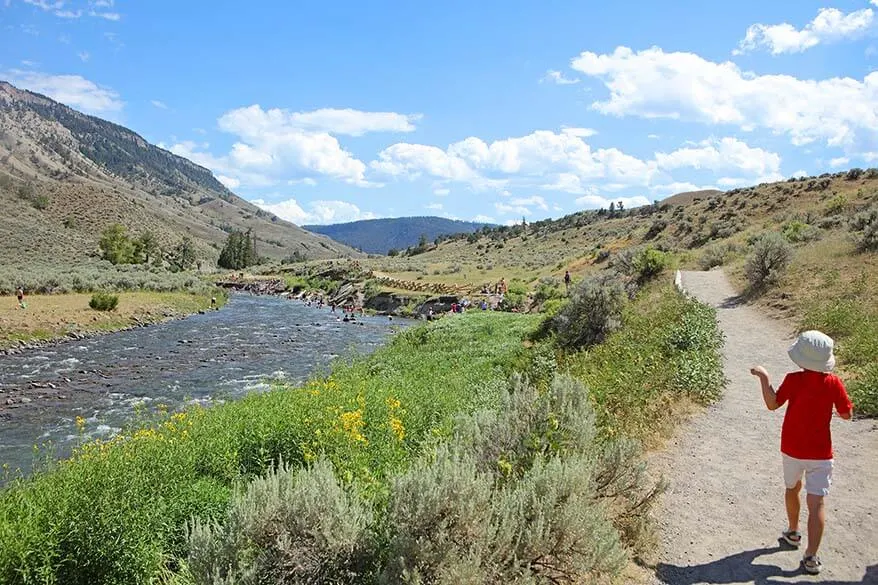 What is Boiling River
Boiling River in Yellowstone is a sort of natural hot tub where a large hot spring enters the cold waters of Gardner mountain river. The cold and hot water mingle and makes the water temperature comfortable enough to bathe in.
Boiling River is one of the few legal thermal soaking areas in Yellowstone (the other popular place is Firehole River, but it's much better known and therefore much busier).
It's a wonderful place to start or end your day in Yellowstone. What can be better than a soak in a warm river after a long day exploring the highlights of the park… If you have more time, you can even pack a picnic and make a whole day trip of it.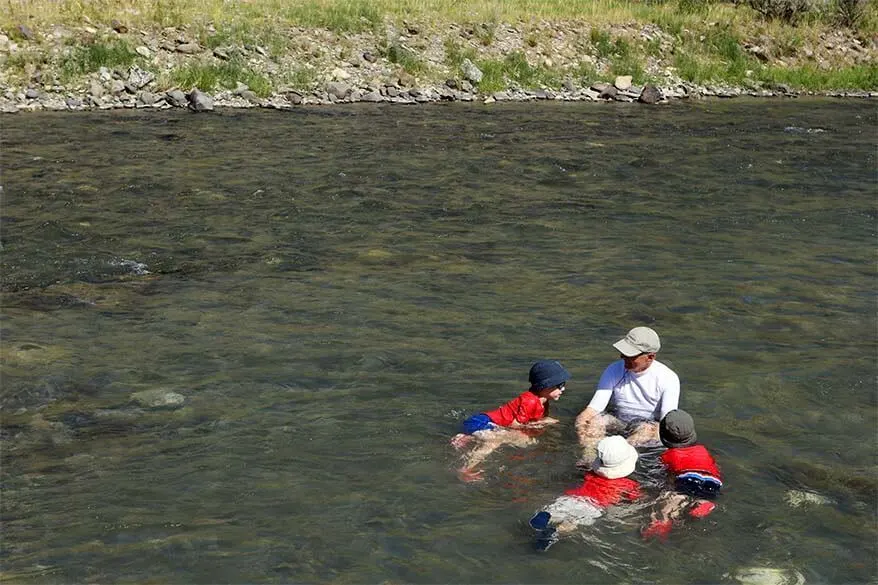 How to get to the Boiling River + Map
Boiling River is located next to the main road 89, between Mammoth Hot Springs and the North Entrance of Yellowstone, just at the border between Wyoming and Montana (see the map below for the precise location).
It's about 5 minutes drive from Mammoth, 1h from Canyon Village, and about 1,5h drive from the Old Faithful area.
There is a bathroom and a small parking area at the start of the short trail leading to the hot spring. If you are coming from the south, it's on the right side of the road just before crossing Gardner river; and if you are coming from the north, it's on your left just after you cross the river.
Keep in mind that Boiling River parking area is very small, so it quickly fills up. Many people park next to the road, but in general, it shouldn't be a problem to find a parking spot as people come and go all the time. We visited at the end of July and while we were not alone, it wasn't overly busy at the hot spring either.
How to use this map: Use your computer mouse (or fingers) to zoom in or out. Click on the icons to get more information about each place. Click the arrow on the top left corner for the index. Click the star next to the map's title to add it to your Google Maps account. To view the saved map on your smartphone or PC, open Google Maps, click the menu and go to 'Your Places'/'Maps'. If you want to print the map or see it in a bigger window, click on 'View larger map' in the top right corner.
Hiking to the Boiling River
The Boiling River bathing area is located about half a mile (0,8km) upstream from the car park.
A flat dirt path is an easy scenic walk along the river and can't even be called a hike; it shouldn't take you more than 10 minutes. Most people walk here in their flip-flops.
Depending on the outside temperature, you can see the large steam clouds from far. Where the path intersects with the river, you'll find a small area with a wooden fence and signs indicating where it's safe to swim. This is also the only place where you should swim!!!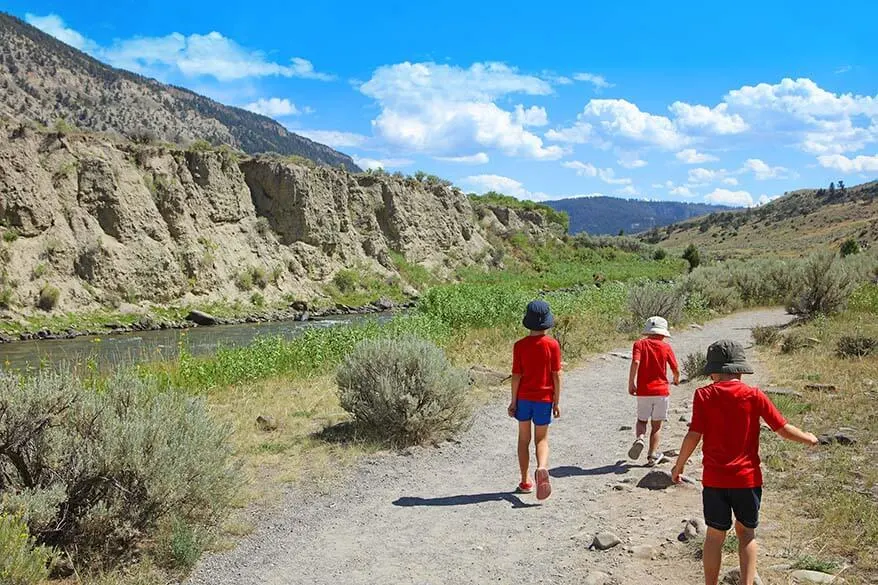 How hot is the Boiling River and can you swim in it?
Boiling River is not called 'boiling' for nothing! Discharge of hot water from an underground source flows out of the ground and is then mixed with the cold waters of Gardner river, turning a small piece of a wild mountain river into a sheltered relaxing hot tub in the most spectacular setting. The water temperatures can vary from around 100 to 140 degrees (38-54°C), so you have to look for a perfect temperature for you.
This area of the Gardner river is just deep enough to sit in and is somewhat sheltered, making it comfortable and safe to bathe. Still, you should be cautious as to where exactly you sit as water temperatures change all the time. Obey the signs and don't go too close to the source! You really don't want to risk getting burned.
It takes some time to find a place where the temperature feels just right for you. Our kids loved looking for a spot where they could feel the hot water on one side and ice-cold water on the other side of their body at the same time. You can sit or lay in the river here, but you can't actually swim – it's not deep enough.
When you find that perfect mix of hot and cold water, it's a wonderful place to relax. We have been to many hot springs all over the world, but Boiling River beats them all. It's a place like no other, a unique wonder of nature.
I made a short video, it will give you an idea of what bathing in Boiling River looks like… Take a look!
Is it safe to swim in Boiling River in Yellowstone?
Water temperature. As long as you are careful not to go too close to the stream, you can find perfect water temperatures that are comfortable and enjoyable for bathing.
Disease-causing microorganisms. Thermal waters contain organisms that can cause serious skin rashes, infections, etc. There are signs at the Boiling River that inform you about all possible dangers and warn to avoid submerging your head underwater or inhaling thermal steam.
You have to remember that it's a natural phenomenon, conditions change all the time, and your body can react differently than somebody else's. So be careful, and in case you experience any symptoms, get out of the water immediately and seek medical assistance.
We never experienced any issues and hundreds of people bathe at the Boiling River every day, so I don't think you have to worry much. Just be aware of the potential dangers and understand that you're bathing at your own risk.
Stream. The designated bathing area is quite sheltered and when the area is open, it means that the stream here normally isn't dangerous. Once again, it's nature and the situation can change quickly.
Boiling River with kids
Boiling River can easily be visited with kids. The walk to get there is short and easy, the water warm and not deep, and every child will love it!
As you can see in the video above, we took our boys bathing in the Boiling River and they had the time of their lives. Playing in water, building river dams… We spent over an hour in the water and they didn't want to leave…
Of course, you have to be careful, just like anywhere else. If you are planning to bathe here with toddlers, it might be wise to look for a very secluded place with calm water and use swim armbands.
Is Boiling River open right now?
Important update for summer 2023: Boiling River in Yellowstone is currently CLOSED due to substantial damage to the area after the floods of 2022. At the moment, the official website doesn't give any indication if the swimming area will reopen or when. For the up-to-date situation check here.
Boiling River is usually open from late summer till the end of winter. It is closed to the public in spring and early summer when the river water is too high and too wild due to the melting snow.
The Boiling River Trail can also be too muddy making the area inaccessible before mid-summer. Therefore, Boiling River is usually closed from mid-March till mid-July.
In general, you should expect Boiling River to be open from mid-July, but it varies from year to year. That being said, Boiling River is also usually open in autumn and in winter… Can you imagine a better hot tub in the winter months?!
TIP: If you are planning on visiting Boiling River, it's best to check current conditions on the official website of National Park Services.
Practical information for visiting Boiling River in Yellowstone
Boiling River swimming area is open during the day till it gets dark (it used to be open 10 am to 6 pm, but it's not clear if there are any official opening hours at the moment and the official website doesn't list them either.
Car parking is very small and gets filled quickly, so you may have to wait a while till a spot frees up. Many people park next to the road as well.
Bathing suits are required. The only place where you can change clothes is in a single vault toilet at the car parking.
It's forbidden to drink or eat in the river. You may bring a picnic, but no alcohol.
There are no lifeguards and swimming in the Boiling River is at your own risk.
Water shoes are recommended. We had flip-flops and our kids were wearing crocs and I ended up chasing one of their shoes down the stream in the river. I can tell you, it's not fun and can actually be quite dangerous. It's much safer to wear water shoes.
The area has no shade, so if you come in summer, make sure you have and use sun protection. UV t-shirts and sun hats are a good idea if you plan on staying in the water for longer than 5 minutes.
More tips for your trip to Yellowstone:
READ ALSO: Yellowstone Travel Tips
If you found this post helpful, don't forget to bookmark it and share it with your friends. Are you on Pinterest? Pin this image!