A visit to Mammoth Hot Springs in Yellowstone is almost like taking a trip to another world. It's such a unique place! In my view, it's also one of the areas that everyone should try to see in Yellowstone.
If you are wondering if Mammoth Hot Springs is worth visiting or what to see and do there, this article should give you a good idea of what to expect.
In this guide, you can find an overview of the main landmarks that you should see in Mammoth Hot Springs, a map to help you orient, and some practical tips for your visit. Find out!
READ ALSO: Best Things to Do in Yellowstone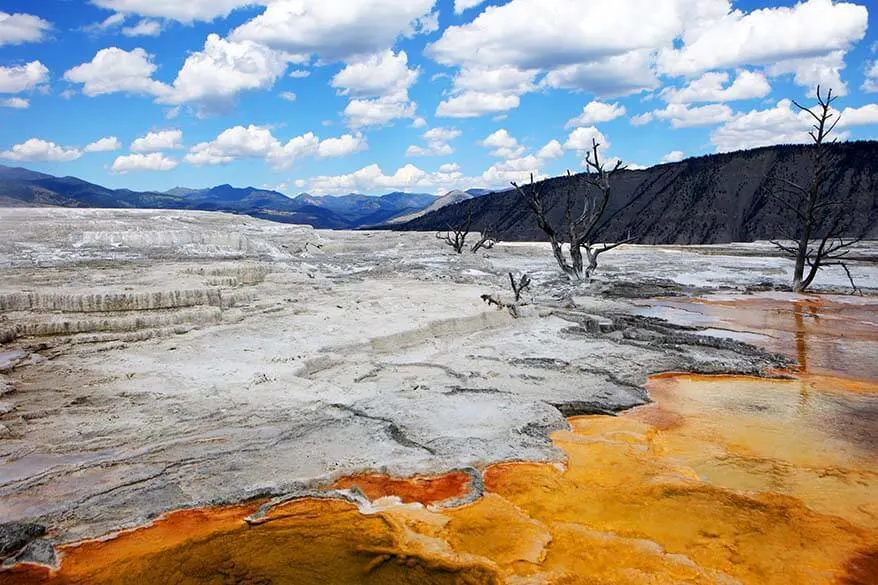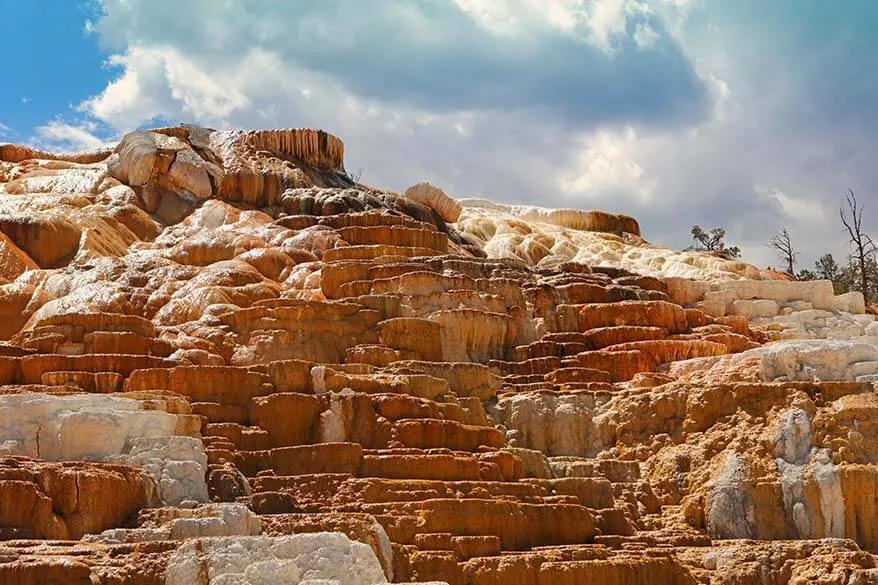 Why Visit
Mammoth Hot Springs is very different from all the other thermal areas in Yellowstone. In fact, the scenery here looks like nowhere else we've ever been! I always say that visiting Iceland is like traveling to another planet. Well, the same definitely also counts for Yellowstone's Mammoth Hot Springs geothermal area!
The landscape at Mammoth Hot Springs is truly surreal and the colors are incredible. Thermopiles (heat-loving bacteria) and various algae have created a rainbow of colors in the area, ranging from yellows in the hottest areas to greens and blues where the water temperature is below 140 °F (60°C). This area is also home to Terrace Mountain – the world's largest known calcium-depositing spring.
Upright, dead trees shrouded in clouds of steam, sulfurous smells, and bubbling pools of mud all add to the bizarrely dreamlike atmosphere. It seems that there is something new to see at every turn! The area is so dynamic and the eerie landscape is constantly changing…
Before our trip, we read very conflicting reviews of this area and were not sure if Mammoth Hot Springs were worth it. I'm so glad we went! It is one of the most special areas in Yellowstone and very different from anything else in the park.
If you have two days in Yellowstone or more, I would definitely recommend including Mammoth Hot Springs in your Yellowstone itinerary!
Good to know: Just in case you wonder, no, you cannot swim in the Mammoth Hot Springs. In the past, you could go swimming at Boiling River, just a short drive north of the Mammoth area. However, at the moment of the last update, that area is closed due to flood damage and it's not clear if it will ever reopen.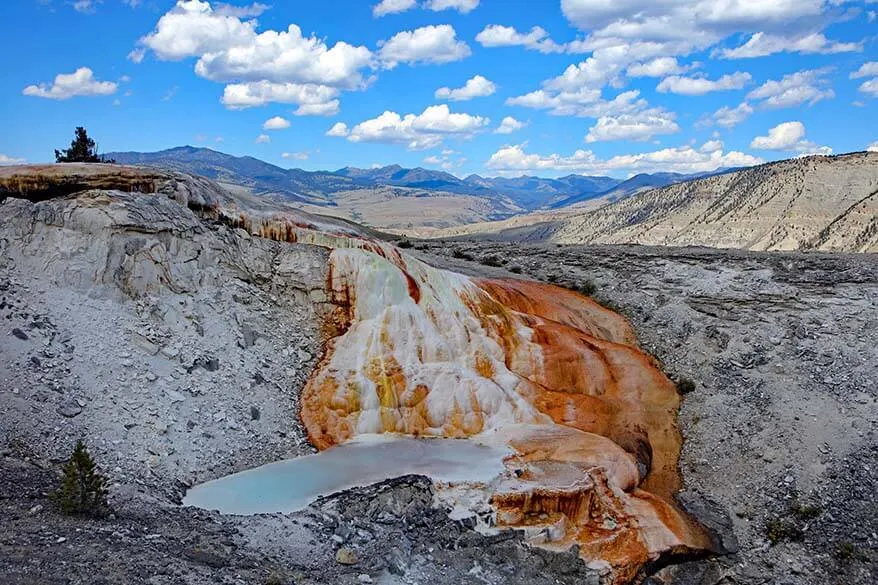 How This Area was Formed
The unusual formations of Mammoth Hot Springs are made of travertine, which is a form of limestone that is deposited by mineral springs. This happens when rainwater seeps into the earth, is warmed by underground magma, and then rises again. As it does so, it mixes with carbon dioxide which dissolves in the water, forming a weak acid.
This acid solution dissolves limestone as the water makes its way back up to the hot springs on the surface. Once on the surface, the limestone solidifies into the travertine that forms Mammoth's stunning terraces.
Unlike sinter formations – which are mainly made of silica – travertine formations grow quickly. This is what gives this landscape its unique and ever-changing appearance.
There are some signs of glacial activity in the area, with sediment from a glacier (known as glacial till) covering the summit of Terrace Mountain. You can also see a few thermal 'kames', including Dude Hill and Capitol Hill. Kames are made from irregularly shaped mounds of gravel, sand, or till that gather in the depression of a retreating glacier. As the glacier melts, the mound is deposited on the surface of the land, creating a permanent glacial landform.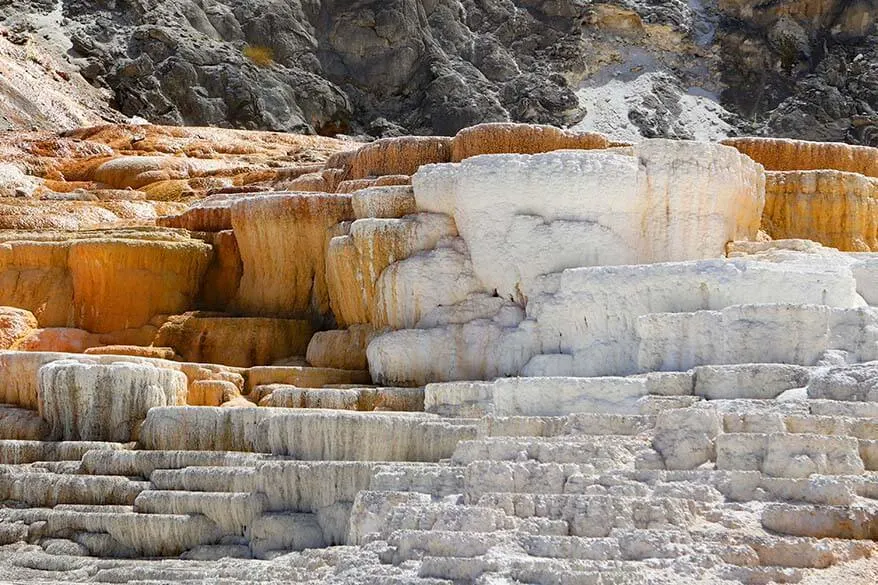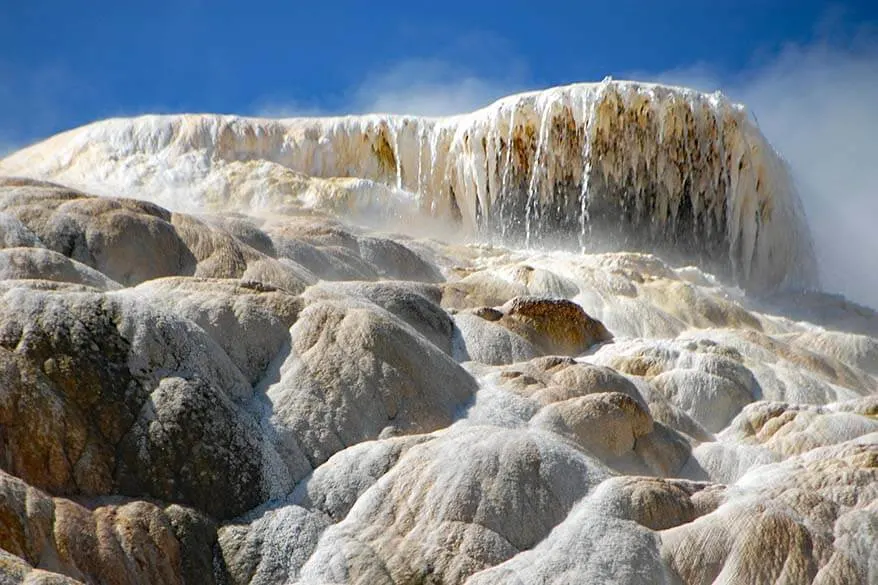 What to See & Do at Mammoth Hot Springs + MAP
Mammoth Hot Springs features two main areas – Upper Terrace and Lower Terrace. There are boardwalks in both areas and staircases connecting them. Furthermore, you can also explore the Upper Terrace by driving the Upper Terrace Loop Drive Road (just 2.3 miles).
Below, you can see the map of the Mammoth Hot Springs geothermal area. It will give you a better idea of where everything is.
The area isn't that big and so it's best to just walk everywhere. Boardwalks connect all the important features over 1.75 miles and make it really easy to see all the geothermal features up close.
Hiking both boardwalk areas of the Mammoth Hot Springs can take up to 1.5 hours. But this will depend on where exactly you start and what you choose to do (there are several parking areas and different access points and ways to explore the terraces).
Good to know: There are some steeper grades and lots of stairs between the Lower and the Upper Terraces. So if you have mobility issues, you may want to explore the two areas separately. First, visit the Lower Terrace using its boardwalks. Then, take your car and drive up to the top. If there is parking available, you can then explore the Upper Terrace on foot.
The upper overlook offers an unforgettable view of the springs, the village, and the valley! If car parking is an issue, however, you can at least drive the Upper Terrace Loop Drive Road and see some of the geothermal features next to the road. More info below – read on!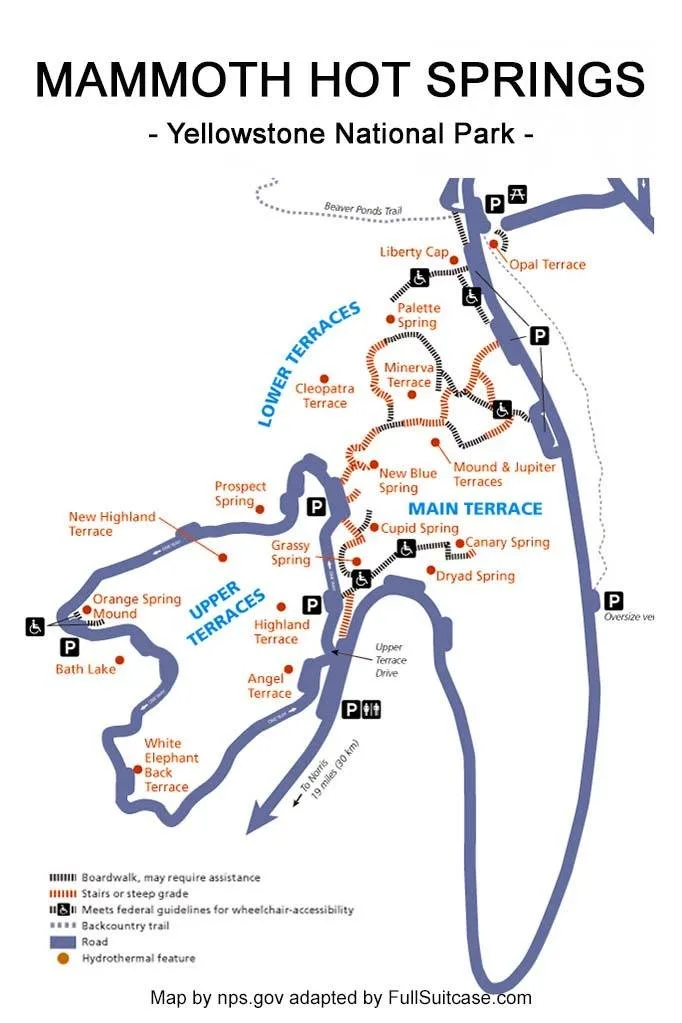 Lower Terrace
The stroller-friendly Lower Terrace boardwalk is accessed from either the Grand Loop Road or the lower parking lot. If you visit just one area of the Mammoth Hot Springs, make it this one as it provides the best views.
The 37 foot high Liberty Cap, near the start of the trail, is one of Mammoth's most well-known features. This hot spring cone was got its name in 1871 inspired by the peaked caps that were worn during the French Revolution.
Its distinctive shape was formed by a continuous flow through the hot spring, maybe over hundreds of years. The spring's internal pressure caused the water to shoot high up into the air, allowing the deposits to build up.
From there, continue to the viewing platform for Palette Spring, possibly the most striking feature in this area! Criss-crossing flows of water from the spring have created smooth bumps of orange and white, plus pink, orange and white terraces.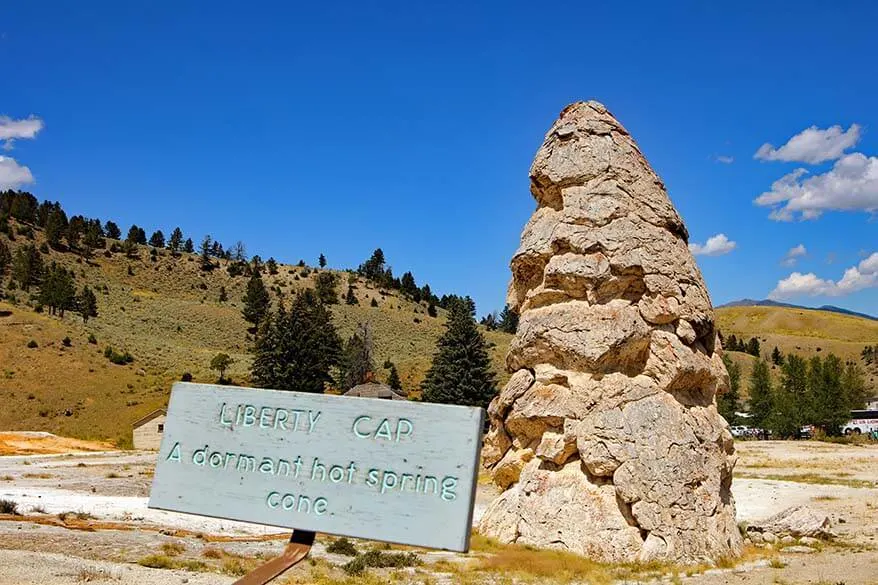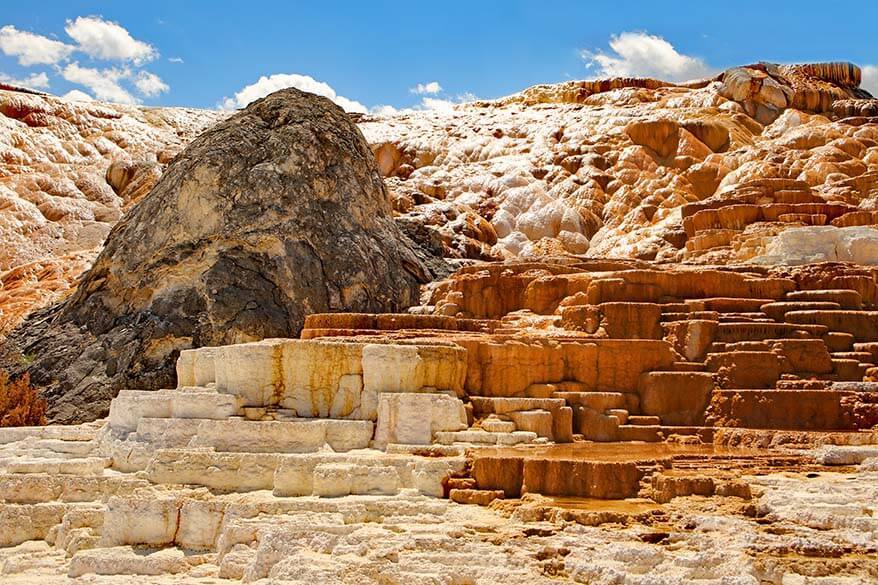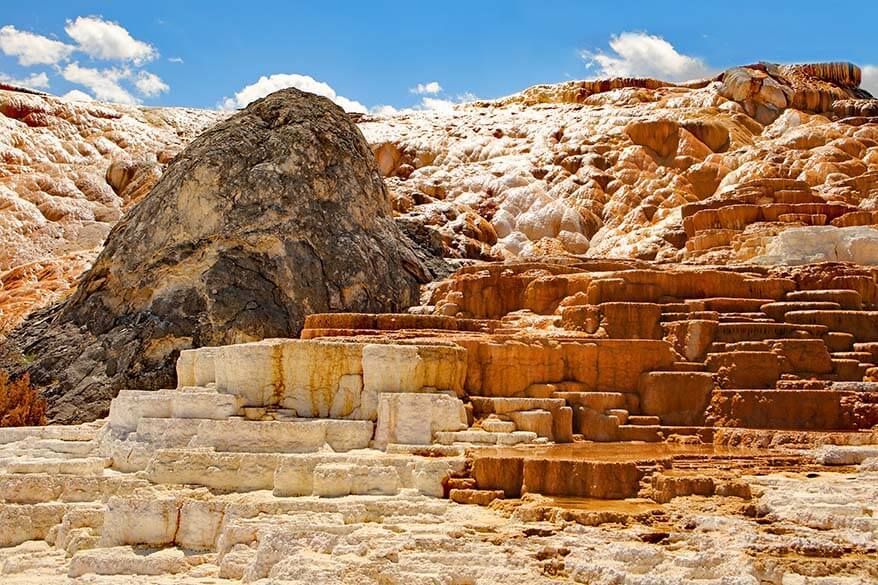 Whenever you see photographs promoting the Mammoth Hot Springs region, chances are that the feature you are seeing is the beautiful Minerva Terrace, located just beyond Palette Spring. That's because its intricate travertine formations are quite beautiful, giving it the appearance of a wedding cake.
The Minerva Terrace has had a changeable history – records show that it was totally dry in the early part of the 20th century but started flowing again by 1951. However, small, recent earthquakes in the area have caused the vent for the spring to shift a little, so it's dry once again.
Beyond Minerva Terrace sits Cleopatra Terrace – an orange formation that stands alone. Further, you'll find staircases up to the overlook, where you can connect to the Upper Terrace Drive and continue your walk through the Upper Terrace boardwalk.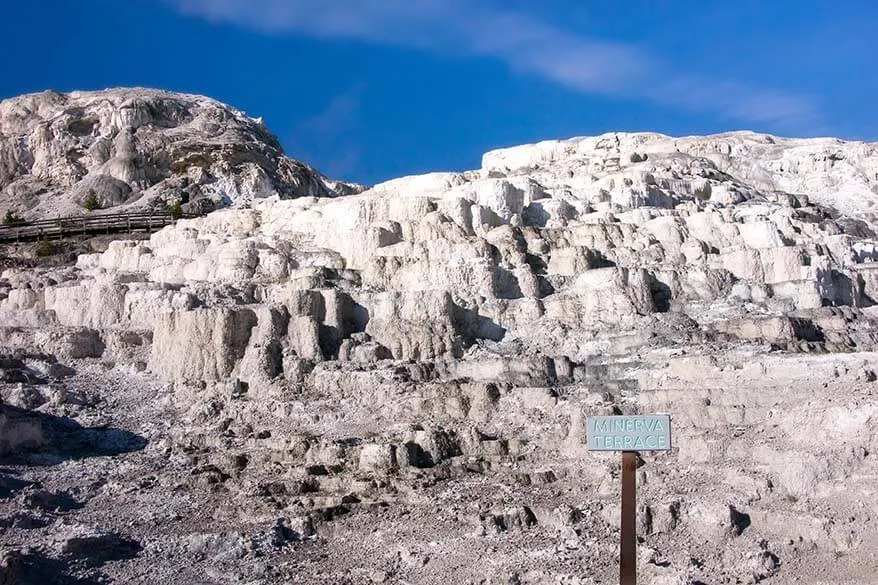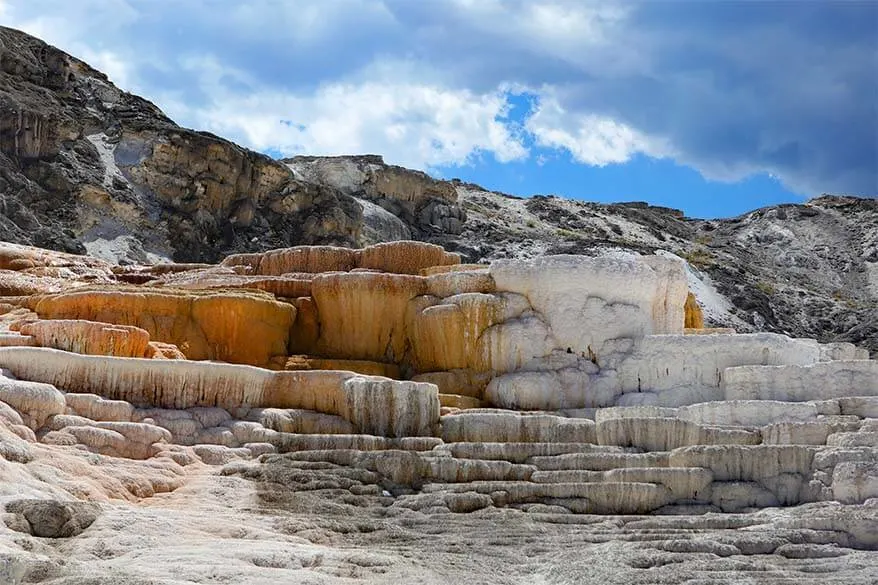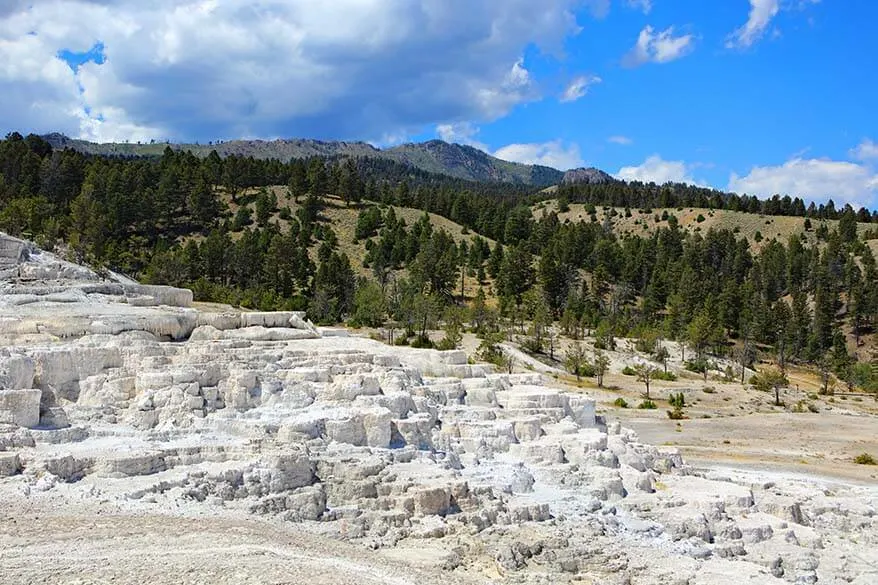 Upper Terrace
You can also reach the Upper Terrace boardwalk and Overlook from the parking lot next to the Main Terrace. Just head right from the parking lot and down a few steps to the Grassy Spring. You'll immediately see hot water beneath the plank walkway – a great reminder that this is a very active, ever-changing area!
The boardwalk ends at the very edge of Canary Spring, with its jaw-dropping yellow and white terraces descending around 20 ft. This very active spring is overtaking the trees around it – plus several inches of the boardwalk – and the sight of the steaming water flowing down the terrace is awesome!
A short hike back to the parking lot in the opposite direction takes you to the overlook of New Blue Spring, which is just before the boardwalk that descends to the Lower Terraces.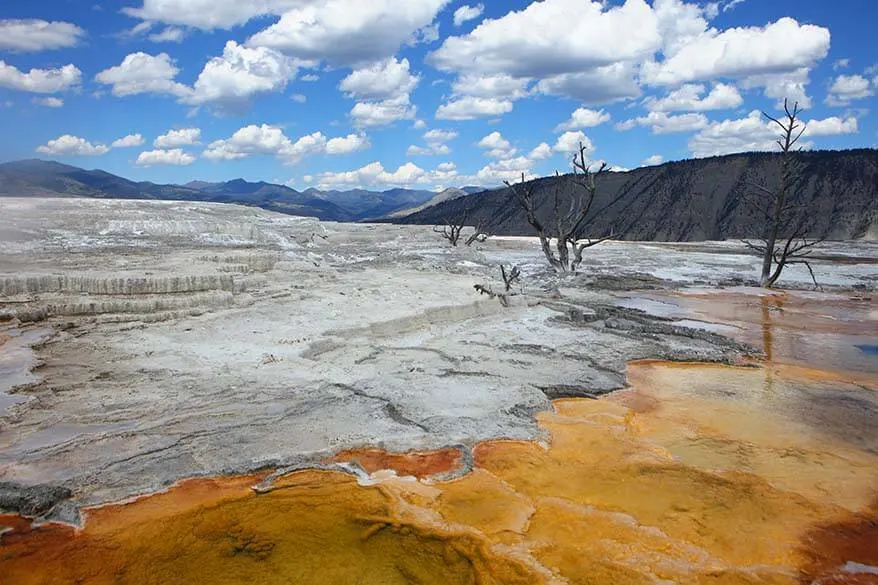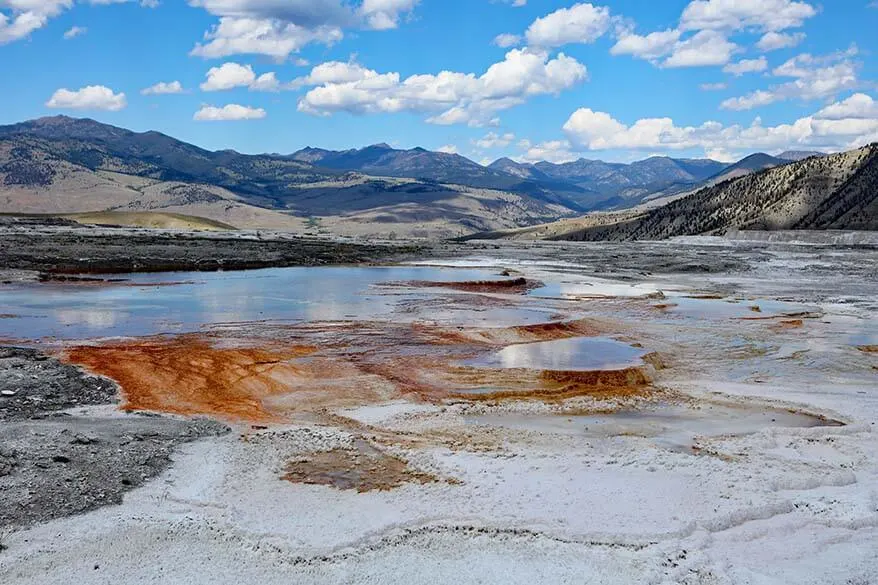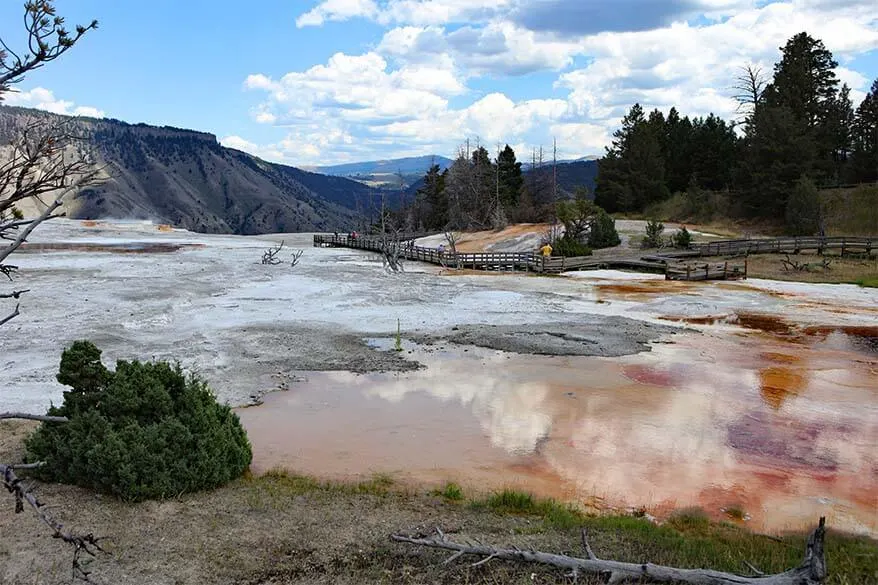 Upper Terrace Drive
Upper Terrace Drive is another must-do in the Mammoth Hot Springs area. This one-way road is for cars or foot traffic only – no RVs, trailers, or buses are allowed.
This road connects several springs for 1.5 miles, including New Highland Terrace, Prospect Terrace, Orange Spring Mound, Snow Pond, Bath Lake, White Elephant Back Terrace, and the unpredictable Angel Terrace, which is most popular for its perfectly white formations. The road then loops back for half a mile.
You can slowly drive this road and see most of the geothermal features from the car. If you have the time and don't mind some more walking, you can also choose to explore this area on foot.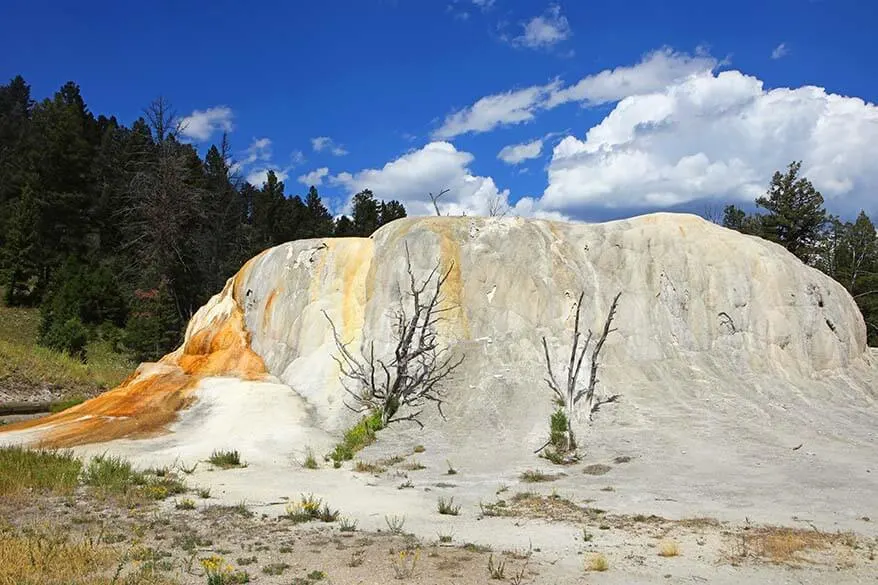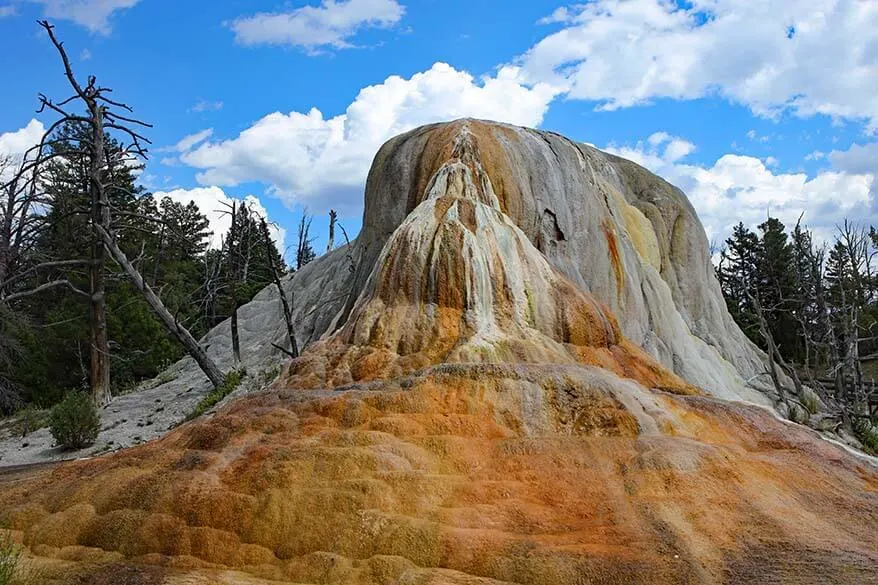 Wildlife
Wildlife in the area abounds and you are likely to see elk, moose, and bison. Especially if visiting during the less busy times of the day or in the lower season.
Don't get too close, though, particularly to the bison! They can run surprisingly fast and can be really dangerous. It's recommended that you always keep a distance of 25 ft between yourself and any wild animals.
Note: On your visit to Mammoth Hot Springs, it's very important to keep to the designated boardwalks, roads and pullouts. This is because the delicate formations and fragile plants in the area are very vulnerable and can easily be damaged by visitors. It's also a matter of safety – scalding water is hidden just below the earth's surface throughout most of the area and the crust is very thin in places.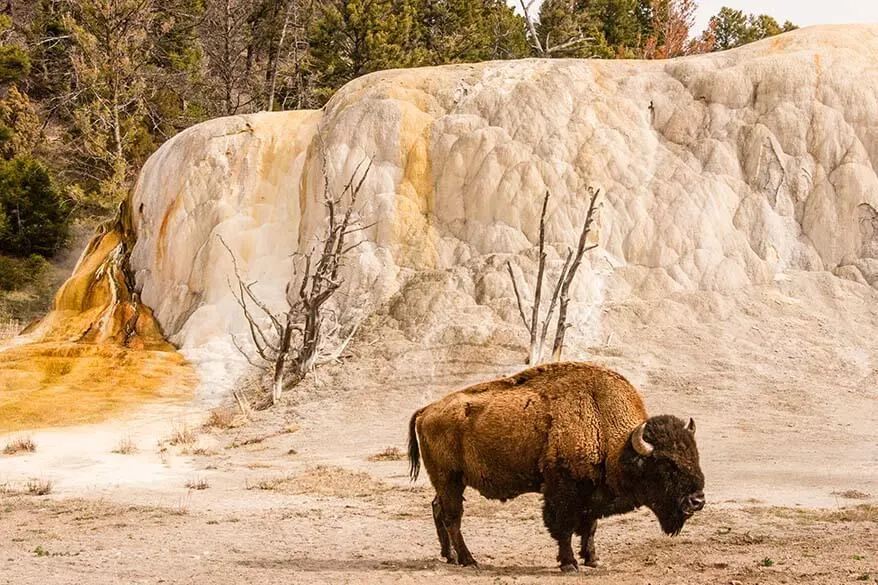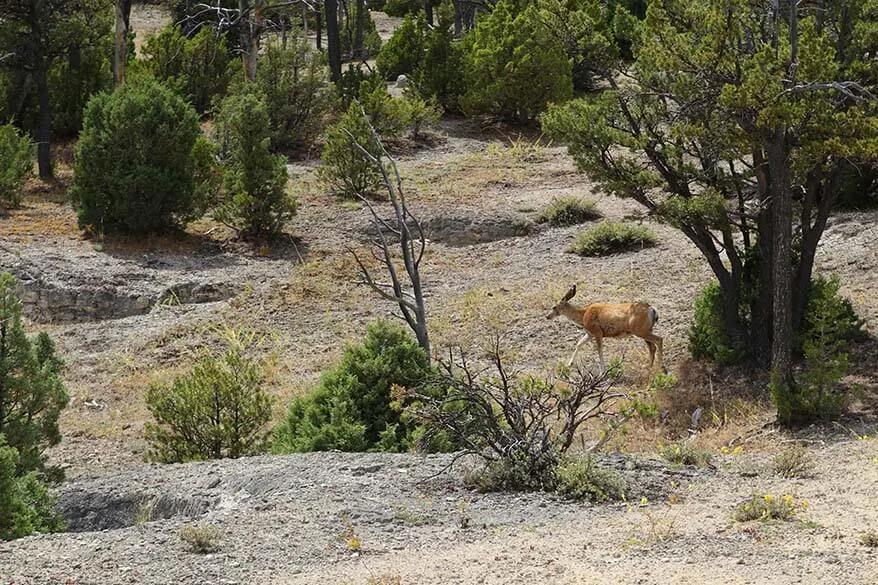 Mammoth Hot Springs Village
The Mammoth Hot Springs area has its own little town – Mammoth Hot Springs Village. It has restaurants, lodging, shopping, fuel, a charming post office, washrooms, and a visitor center.
Fort Yellowstone and the Mammoth Springs Hotel were constructed in 1891 on an old formation called Hotel Terrace. At the time, there were concerns that the ground was too hollow to support their weight. And while the buildings remain safely standing, there are indeed several fenced-off sinkholes on the Parade Ground.
Fort Yellowstone's history is interesting. The US Secretary of the Interior sent the US army here in 1886 to take control of the Mammoth Springs area, because Yellowstone's superintendent was having a hard time coping with the vandalism, poaching, and squatting that took place in the area. The soldiers stayed on to oversee the Fort's construction. The building is still in use today as the Albright Visitor Center, which is well worth a visit.
The construction of the Fort also involved the planting of many green lawns throughout the village. This is now a favorite place for Yellowstone elk that adore the fresh grass. So it's quite likely that you get to see elk in this area, especially at around dusk.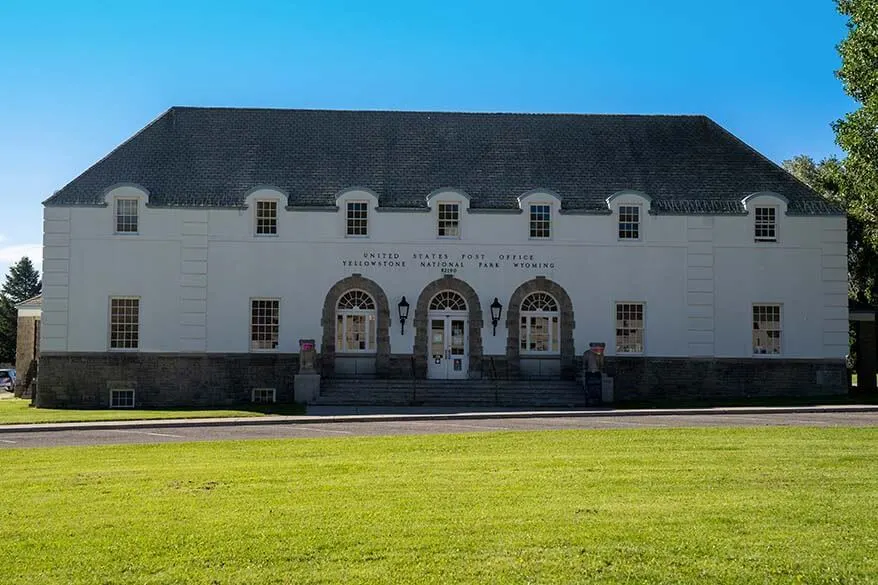 Getting There
Mammoth Hot Springs is located just near the North Entrance to Yellowstone National Park. The closest town is Gardiner, Montana, about 5 miles north. You'll need a car to visit this area, or you can visit with a tour.
Good to know: This is the only area of Yellowstone that remains open the whole year-round. The road between Mammoth Hot Springs and the northeast entrance is also the only road in the park that's always open to regular traffic, even in winter. More info below.
Where to Stay
Mammoth Hot Springs has its own accommodation – Mammoth Hot Springs Hotel & Cabins. However, there are also very good price-quality options in Gardiner, just outside the park and 5.5 miles/ 15 minutes drive from Mammoth Hot Springs.
Of course, you can also easily visit the Mammoth Hot Springs area from other Yellowstone accommodations or from the West Yellowstone area, which is more centrally located and is therefore somewhat better for exploring all the areas of the park.
LEARN MORE:
Best Hotels NEAR Yellowstone National Park
Where to Stay In & Near Yellowstone National Park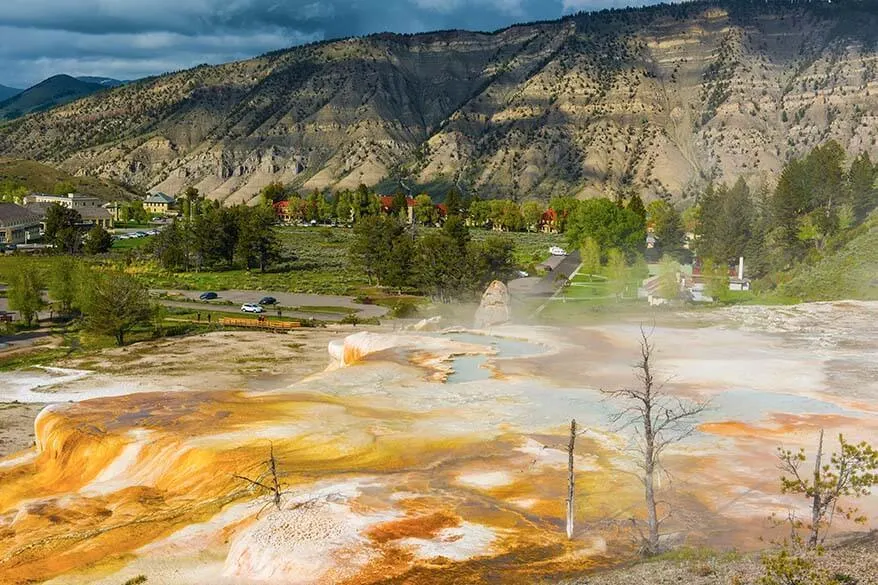 Best Time to Visit
Mammoth Hot Springs is a very popular attraction, so expect crowds, particularly if visiting Yellowstone in summer. The best times to visit are before 10 AM and after 5 PM when there are fewer visitors.
Furthermore, the area has no shade and it can get really hot on the boardwalks in July and August. Not even to mention that it's almost impossible to get any good pictures of the Lower Terrace at around noon – the sun is right in front of you most of the time…
The ideal time to visit Mammoth Hot Springs is early summer or early fall. The slightly cooler temperatures make exploring the area on foot more comfortable and the formation of steam on the pools is more likely.
Since the Mammoth Hot Springs area is always accessible, it's worth considering a winter visit. See below.
READ ALSO: Best Time to Visit Yellowstone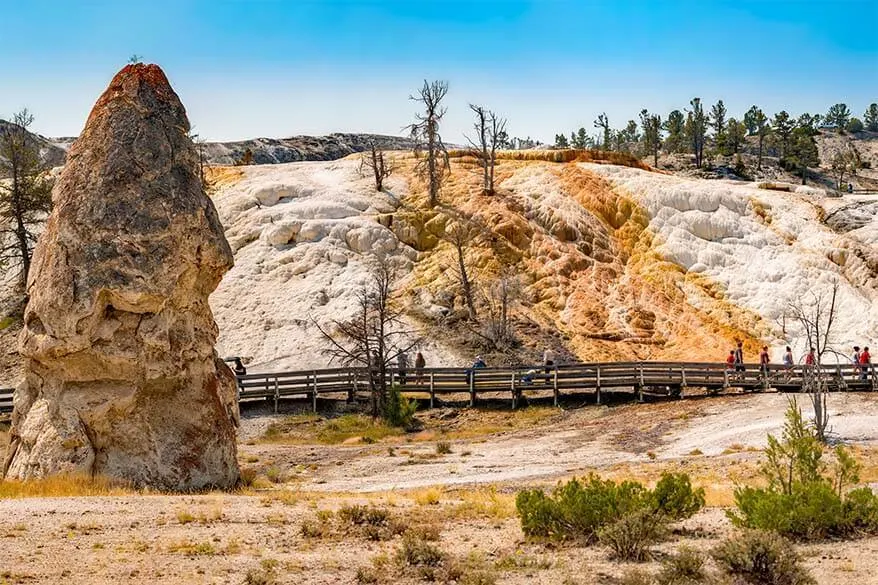 Mammoth Hot Springs in Winter
Mammoth Hot Springs is one of the few parts of Yellowstone that can easily be visited in winter. As steamy clouds meet frigid air and create frosts that cling to branches, the whole area looks like a winter wonderland!
Wintertime is also great for viewing wildlife which is more abundant as animals descend into the valley looking for warmer temperatures. Winter is also a good time to experience the solitude and tranquillity of the area, without the constant flow of cars and big crowds.
Mammoth is the only part of Yellowstone that can be accessed by car all year round (although, of course, roads may be closed if conditions are exceptionally poor).
The Lower Terrace is open to hikers in the winter, whereas the Upper Terrace is only open to snowshoers or cross-country skiers. Equipment is available to rent from the Mammoth Springs Inn and the village shop. Remember to dress very warmly – temperatures will be very low and there is lots of snow.
Mammoth Hot Springs winter season runs from mid-December to mid-March. Lodging and dining facilities are available throughout, as are the gift shop, general store and campground. Winter lodging tends to get filled up just as quickly as in summer, so book early. Alternatively, there are more and cheaper accommodation options in the nearby town of Gardiner.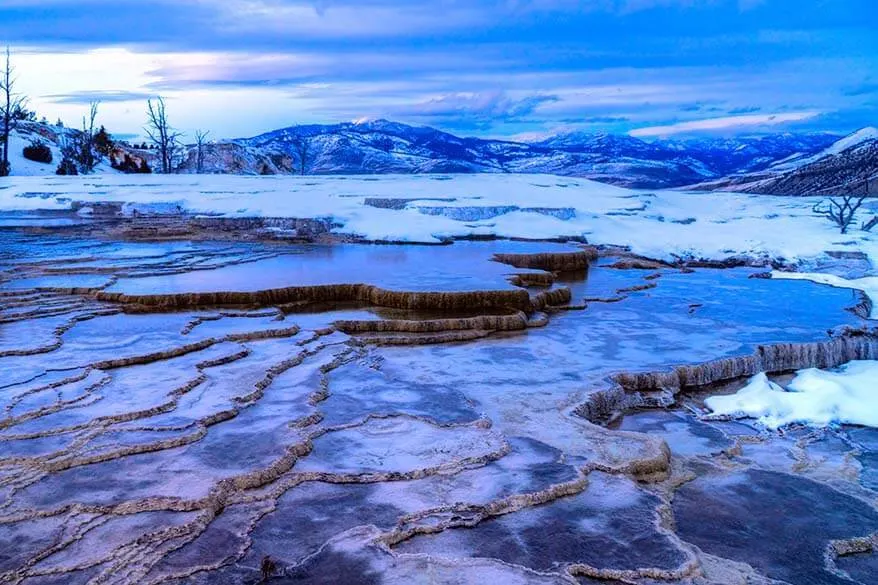 Tips for Visiting Mammoth Hot Springs
Parking for the Lower Terrace is very, very limited. It can get really crowded at peak times. Nevertheless, the flow of cars in and out is constant so it's really a matter of circling around until a spot frees up. Alternatively, park in a pullout then walk, which can sometimes be quicker than waiting for a spot in the parking lot! There is usually more parking available at the Upper Terrace Loop.
Dress appropriately for your visit! In summer, you'll definitely need your sun hat as it can get very hot in this area. However, it can also be windy, so be sure to secure your hat. Lost hats have to be retrieved by rangers to avoid upsetting the ecosystem of the area. Here you can find more tips for what to wear and what to pack for Yellowstone in summer.
Bring plenty of water with you, particularly if you plan on hiking both terraces in summer. This is the only area of Yellowstone that we couldn't enjoy to the fullest because of the heat.
Cell service in the area can range from spotty, to non-existent, although Verizon customers seem to fare the best! Plan ahead by printing off any directions or reservation information you need, or download them for offline access.
If you want to get a little off the beaten track, take the Old Gardiner Road. This dirt road runs from behind the Mammoth Springs Hotel one way to the North Entrance and gives you a fantastic hilltop view of the entire Mammoth Springs area!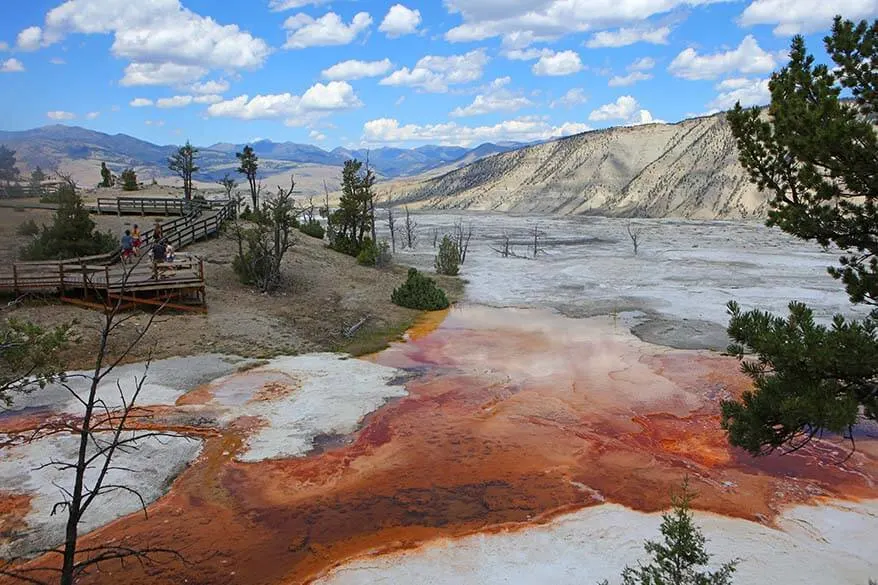 So, this is our guide for visiting Mammoth Hot Springs in Yellowstone. Hope that this inspired you to visit this very unique area.
If you have any questions, feel free to leave a reply below. If you are looking for more information for your trip to Yellowstone National Park, check out our Yellowstone travel guide or take a look at some of our articles linked to below.
More tips for your trip to Yellowstone:
If you found this post useful, don't forget to bookmark it and share it with your friends. Are you on Pinterest? Pin these images!