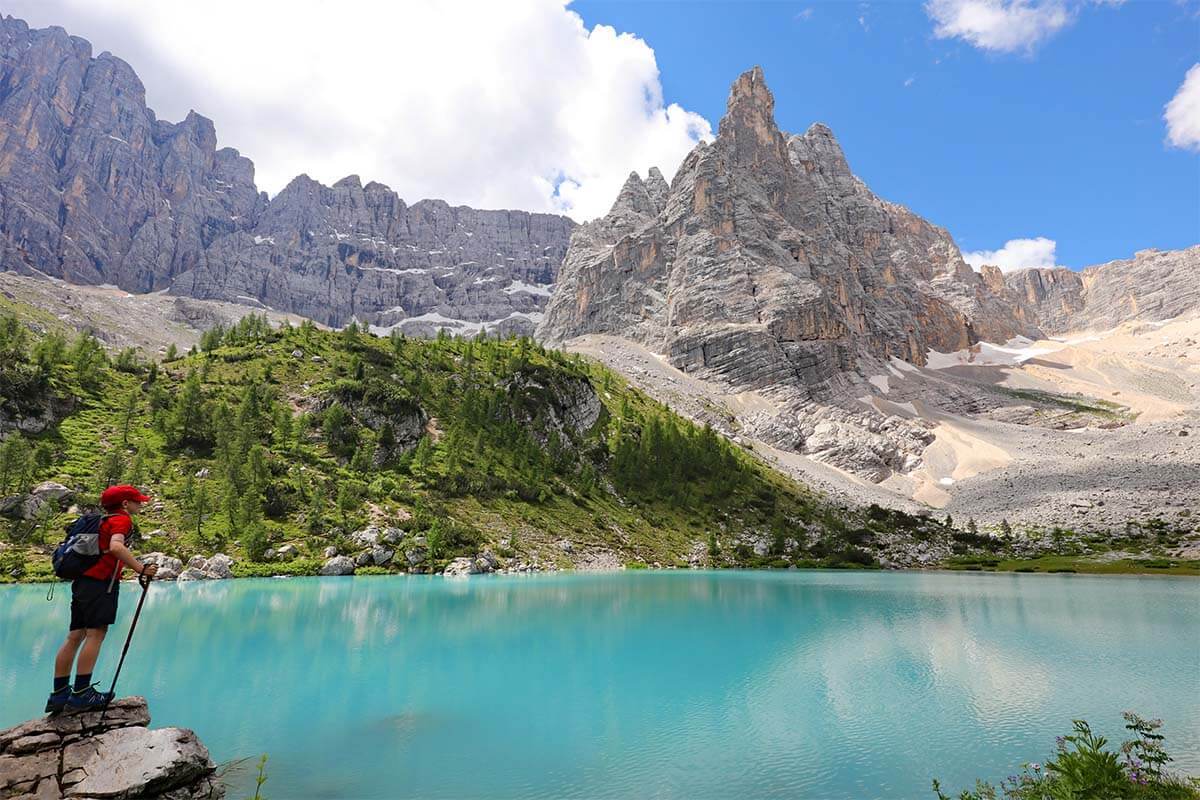 Lake Sorapis (Lago di Sorapis) is one of the most beautiful lakes of the Italian Dolomites. I think it could easily compete in the top-10 of the most beautiful mountain lakes in the world… It is incredibly picturesque, is surrounded by impressive mountain peaks, and the water has such special opal – turquoise color that it almost looks too beautiful to be real…
However, it requires some effort to reach this beautiful lake. In a way, that's what makes it even more special!
In this article, you can find all the information about hiking to Lake Sorapis – where exactly to start, how long it takes, what to expect, and some experience-based tips to help you make the most of your visit. We hiked to Lago di Sorapis with kids and so we share insights for families as well. Find out!
READ ALSO: Hiking in the Dolomites – Best Hikes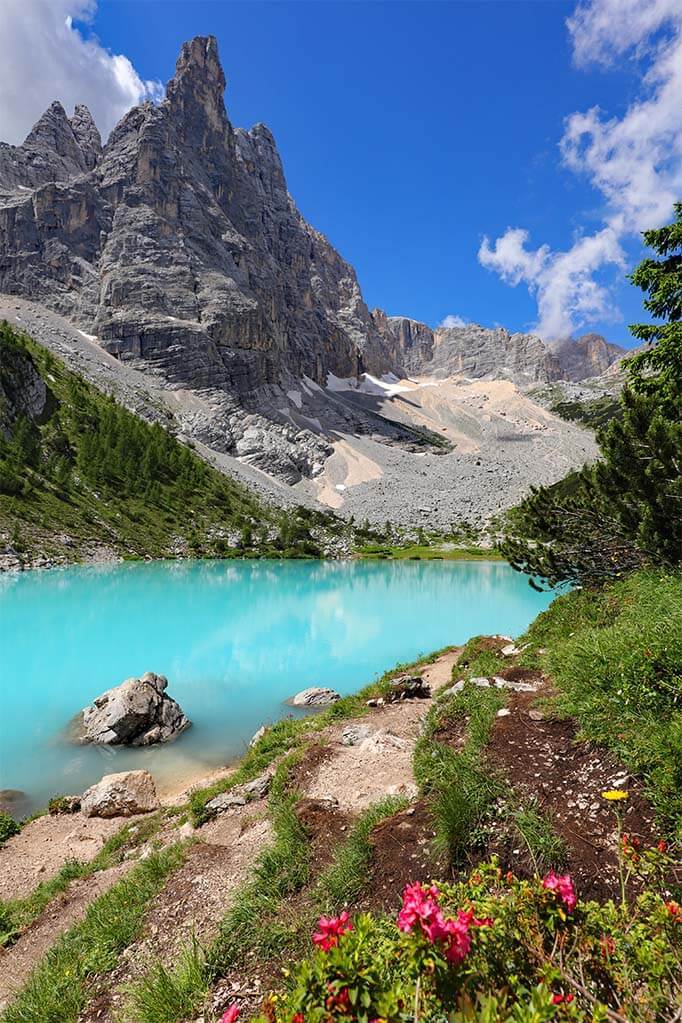 Lago di Sorapis Hike Overview & FAQs
Lake Sorapis hike distance
Officially, the total Lago Sorapis hike distance is 10.4 km. However, our GPS tracking app said that we hiked 12.5 km – about 6.2 km (3.8 miles) each way.
How long does it take to hike to Lake Sorapis
Lake Sorapis hike takes about 4-5 hours: about 2-2,5 hours each way.
Difficulty level
Lago Sorapis is a moderate hike. There are some very easy flat sections, but also some really demanding ones. Some parts involve ladders, staircases, and narrow passages with metal cables for support.
Equipment
You need good hiking shoes for the Lake Sorapis hike. Hiking poles can be useful. Even though we read that Via Ferrata equipment is advisory, we didn't see anyone use it and we didn't need it either.
Elevation gain
According to the signs at the trailhead, 200 meters up and also back down. The official website of a local tourism board said 434 meters. Our GPS tracking app said that the elevation gain of Lake Sorapis hike is 318 meters (1.043 ft). Either way, it's a steep uphill hike, but not too bad.
Trailhead/ end point:
Lake Sorapis hike starts and ends at Passo Tre Croci (see more info & map below).
Hiking season
Lake Sorapis is a summer hike. Normally, it's accessible between June and September. Weather permitting, you might be able to hike here at the end of May and in the beginning of October as well.
Facilities
At the moment, there are no facilities at the trailhead or at the lake. However, there is a restaurant and bathrooms at Rifugio Vandelli, just before you reach Lago di Sorapis.
Good to know: Lake Sorapis is not a circular hike, so you hike there and back the same way. It is possible to take a different route on your way back (more info below), but it's even more challenging and not necessarily nicer.
Additional information: Good hiking boots are a must. Don't do this hike when it's wet. Take enough water and – in summer – sun protection is a must.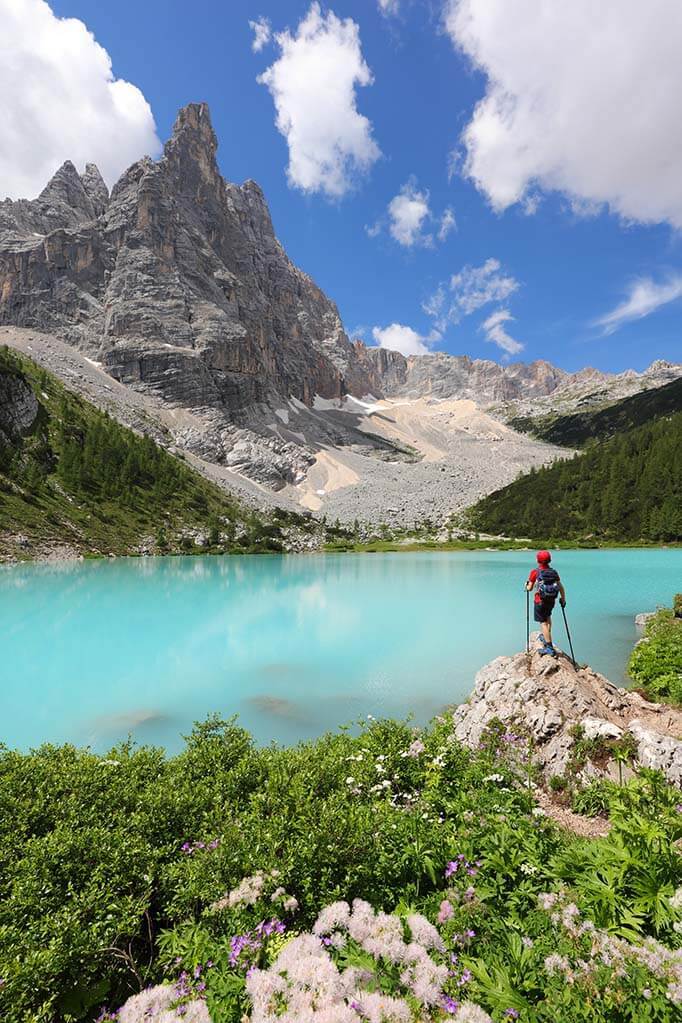 Where is Lake Sorapis & Hike Map
Lake Sorapis is located in the Veneto region in the Italian Dolomite mountains. The closest bigger town is Cortina d'Ampezzo, one of the most popular and posh mountain resorts in the Dolomites.
Lake Sorapis hike trailhead can be found at Passo Tre Croci, a mountain pass 10 km east of Cortina d'Ampezzo. If you come from Cortina, the trailhead is located on the right side of the road about 100 meters after you pass an old hotel on the Tre Croci mountain pass. If you come from Misurina, the trailhead is on your left just before you reach the hotel.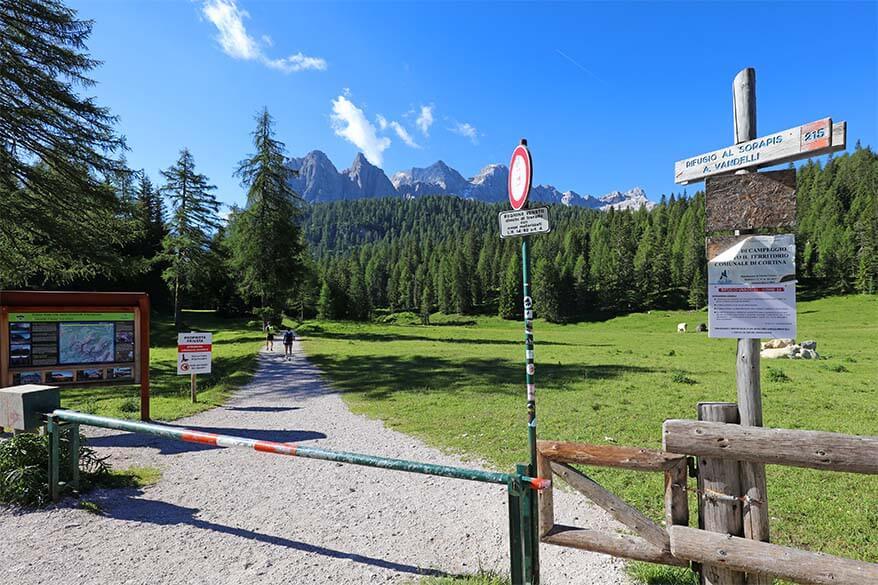 Below, you can see a map where I indicated the exact location of the start of this hike and the entire hiking trail. Further below, you can find a hiking map of the area indicating Lago di Sorapis hike and the alternative trails.
Good to know: Don't look for signs to Lago di Sorapis because the hike is indicated as trail 215 to Rifugio Vandelli. I think I saw Lado di Sorapis mentioned just once, after we already found the trailhead. Rifugio Vandelli is a mountain hut that's located just a few minutes walking distance from Lago di Sorapis and once you get there, the lake is just a few minutes walk further.
How to Use This Map: Use your computer mouse (or fingers) to zoom in or out. Click on the icons to get more information about each place. Click the arrow on the left top corner for the index. Click the star next to the title of the map to add this map to your Google Maps account. To view the saved map on your smartphone or PC, open Google Maps, click the menu button, and go to 'Your Places'/'Maps'.
Getting There & Parking
Lago di Sorapis hiking trail can be best reached by car or by bus. It's right on the main Dolomiti Bus route 30/31 that connects Passo Falzarego, Cortina d'Ampezzo, Misurina, and Tre Cime di Lavaredo.
If you are driving, you can leave your car in the car parking area of an old hotel (it's undergoing renovations). From there, walk east following the main road until you see informational panels indicating the hikes of the area, including Rifugio Vandelli hike to Lake Sorapis.
However, this small car parking area fills up very early in the morning and most likely, you'll have to park next to the road. In July and August, it's practically impossible to find a parking spot nearby after 8.30-9 AM, even on weekdays. If you visit on a weekend, parking might be a serious problem and it might be wiser to take a bus instead.
TIP: Avoid weekends and try to start hiking early in the morning, ideally no later than 8-8.30 AM. That way you can beat the crowds and parking problems and be back before afternoon storms start (rain and lightning in the afternoon is quite typical to the region and it was also the case on the day we hiked). If the weather forecast looks very good, you can also do this hike in the afternoon, after most day hikers start to leave. However, light for photography at Lake Sorapis is best in the morning.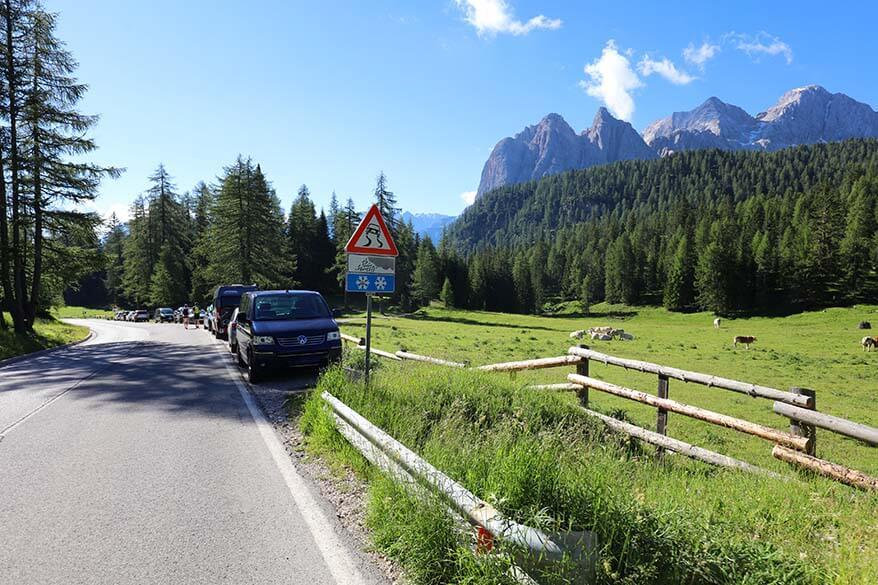 Hiking to Lake Sorapis & Rifugio Vandelli
Once you find the lake trailhead, the rest of the hike is quite well indicated. There are just a few intersections and when you come across any of those, just follow trail no. 215 to Rifugio Vandelli. Most of the time, the hike will be quite busy and all you have to do is follow other people…
The first part of the hike is really easy – you follow a wide forest trail with little elevation change. After a while, the path starts to climb, but it's still quite easy. After about half an hour, we came across a big field of snow that we had to cross, so hiking poles were really useful here.
From there on, you start going up even more, but it's still quite easy. The views here are really nice and it's a beautiful hike in itself. Just don't forget to turn around and look behind you once in a while!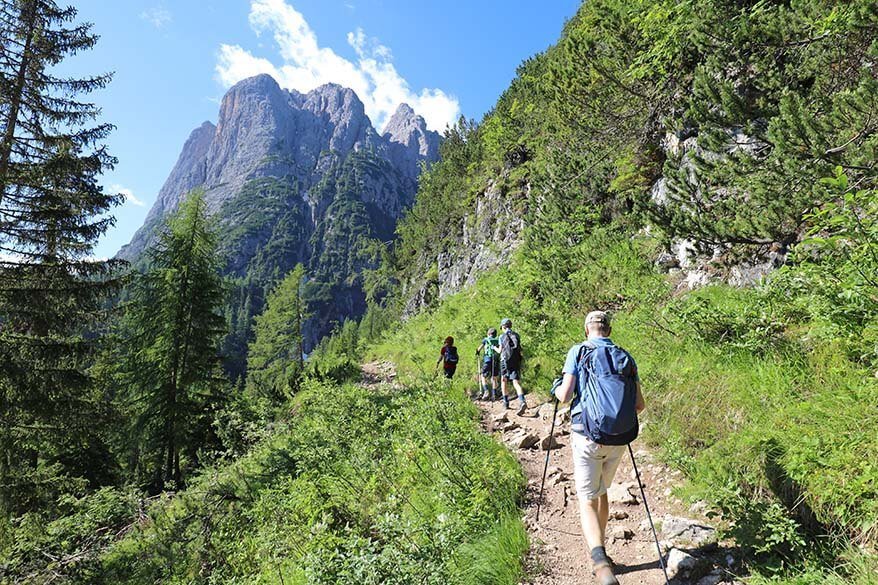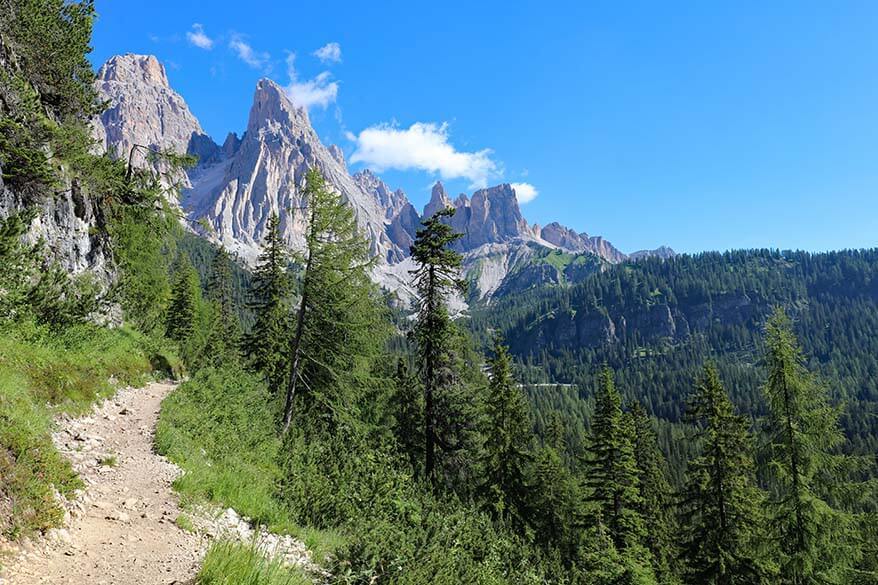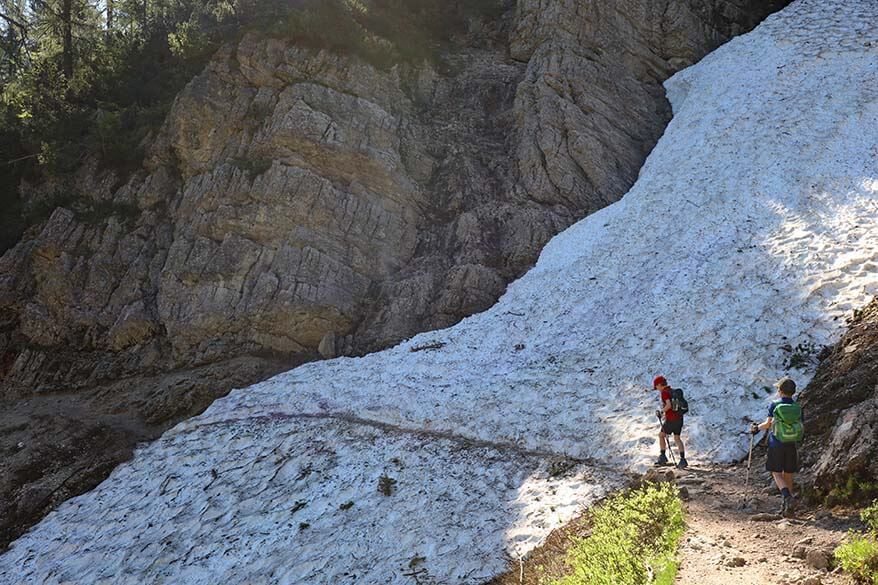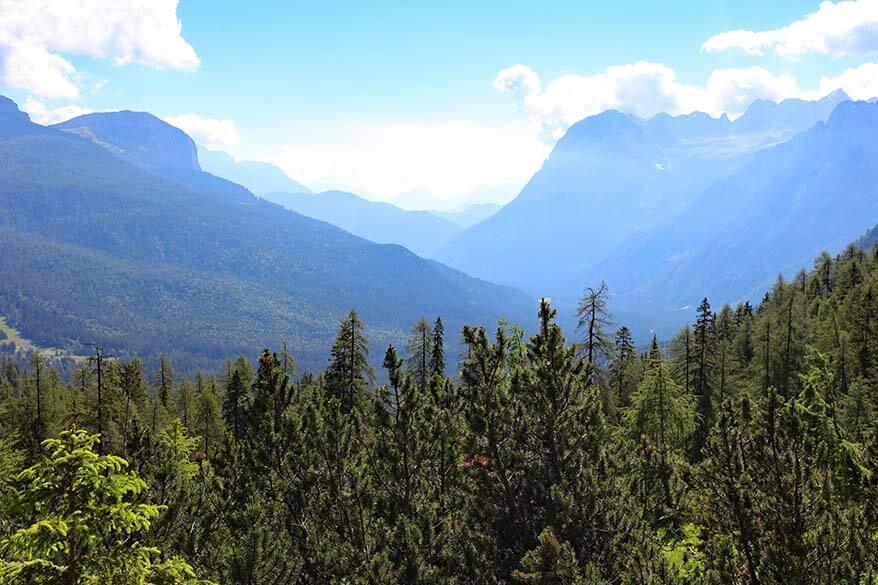 However, the second part of the trail is steeper and more demanding. There are several parts with metal ladders and exposed sections along the edge of the mountain. Some sections have metal cables for support, but there are also lots of places where there is no support at all.
If it's dry and you are careful, there is nothing to worry about. However, if the path is wet, big stones on the path get extremely slippery and it might be quite challenging to negotiate those sections.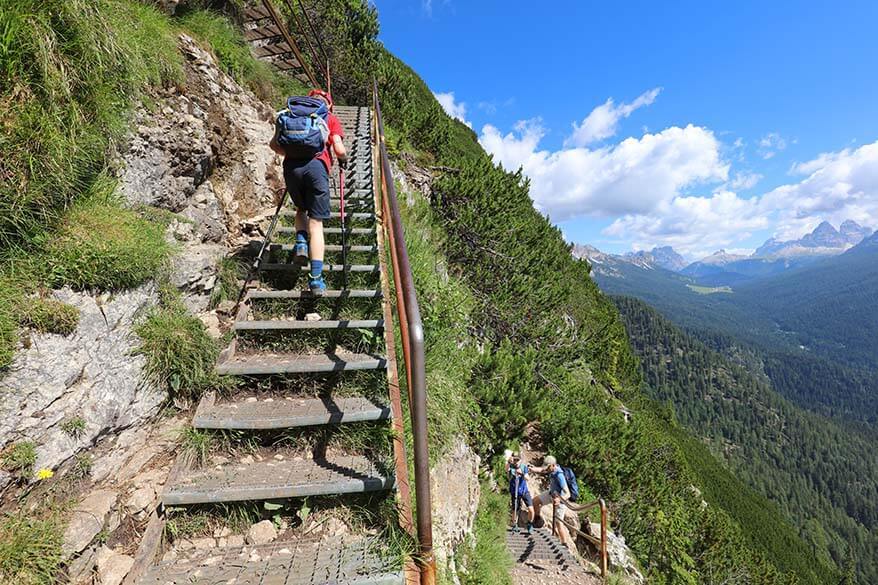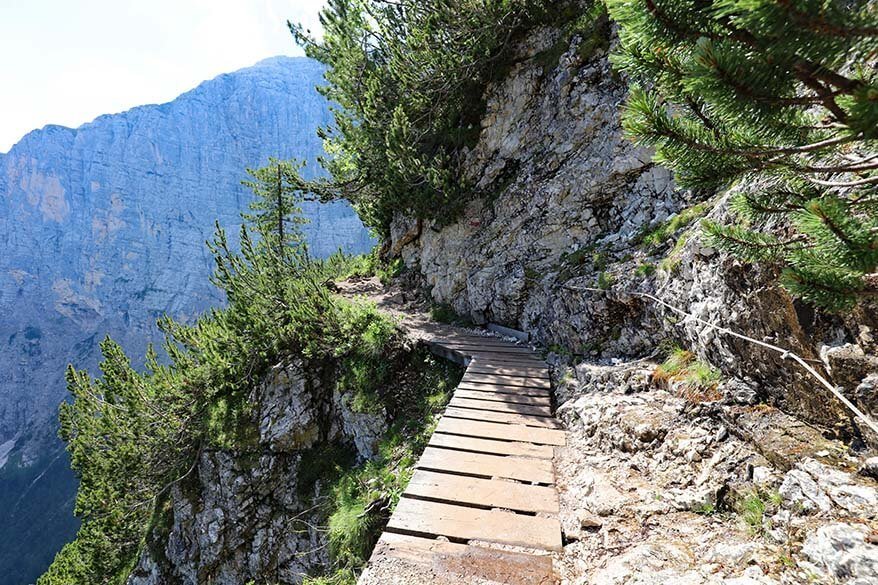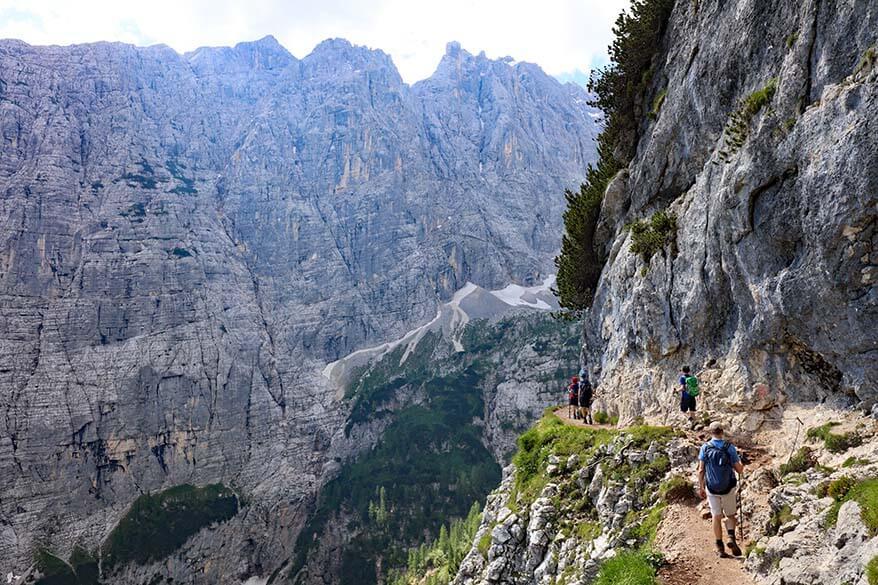 Lago Sorapis altitude is 1.923 m (6.309 ft). The total elevation gain of this hike is around 300-400 meters (according to our GPS app, 318m) and you sure feel it towards the end.
After about 1 hour and 45 minutes, we could finally see Rifugio Vandelli in the distance. From there, it's 10 minutes hike to the mountain hut and another 5 minutes hike the lake. It took us exactly 2 hours to get to Lago di Sorapis. This includes all the photo stops along the way.
The lake is located just a bit further, after you pass a turnoff to Rifugio Vandelli. You cannot see the lake until you're right in front of it. But when you finally get the first glimpse of Lake Sorapis, it's a real WOW effect!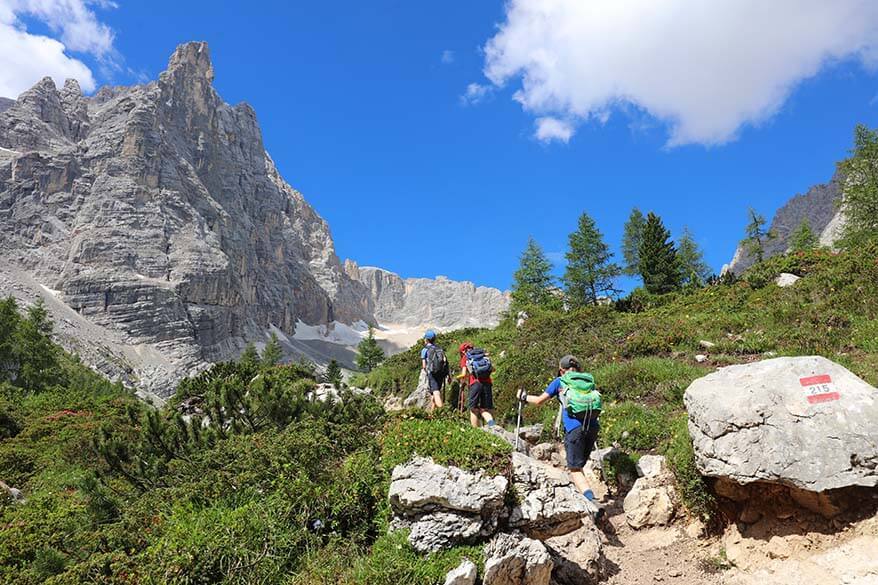 Lago di Sorapis
Nothing can quite prepare you for the scenery and the stunning colors of the lake. No matter how many pictures you've seen it, the reality will take your breath away!
What makes Lake Sorapis so special and so picturesque is its stunning color. The opal/ milky-blue color is created by the fine rock dust coming with the meltwater of the nearby glacier. Furthermore, the lake is surrounded by stunning mountains that give it the most beautiful backdrop. The highest and the most prominent peak of them all is the 2,603 meter-high pinnacle called God's Finger (Dito di Dio).
The lake is formed in the rock and there are no visible outflowing rivers or waterfalls. It has an underwater outflow that emerges further away in the waterfall El Piss. You cannot see this waterfall during this hike, however. There might be other hiking trails leading to it – I didn't research that. I read that this waterfall is quite spectacular in winter. As its many cascades freeze, it turns into a picturesque ice-climbing location.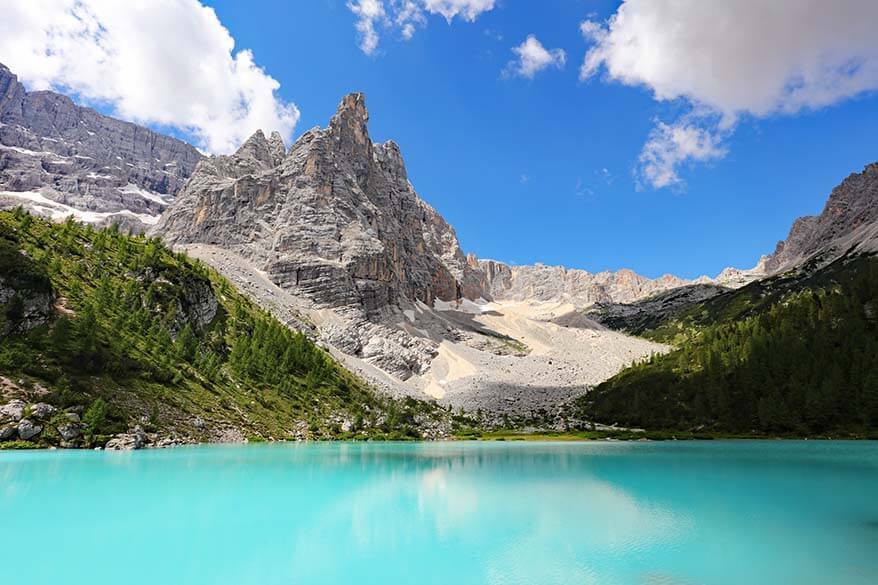 Lake Sorapis is incredibly popular and so the chances are high is that it will be very busy when you arrive there. Also for that, it's best to come here as early in the morning as you can. We started our hike at 9 AM and were at the lake at 11 AM and it was still ok. We were not alone, but it was enjoyable. We walked a bit further around the lake, had picnic lunch, took some pictures, and by the time we were back at the 'front end' of the lake just before noon, it was already really busy there.
TIP: If you have time and want to hike a bit more, you can walk to the other side of the lake. Just follow the path on the right side, anticlockwise. There, you'll find a flat grassy shore that's much quieter than the main area where the hiking path arrives. It might be a good place for a picnic or to escape the crowds, but the very best views are actually at the place where you first arrive after following the hiking trail no. 215.
Additional hiking suggestion: If you want to hike more, continue even further to Tonde del Sorapis. More information about this hike and a map – further below.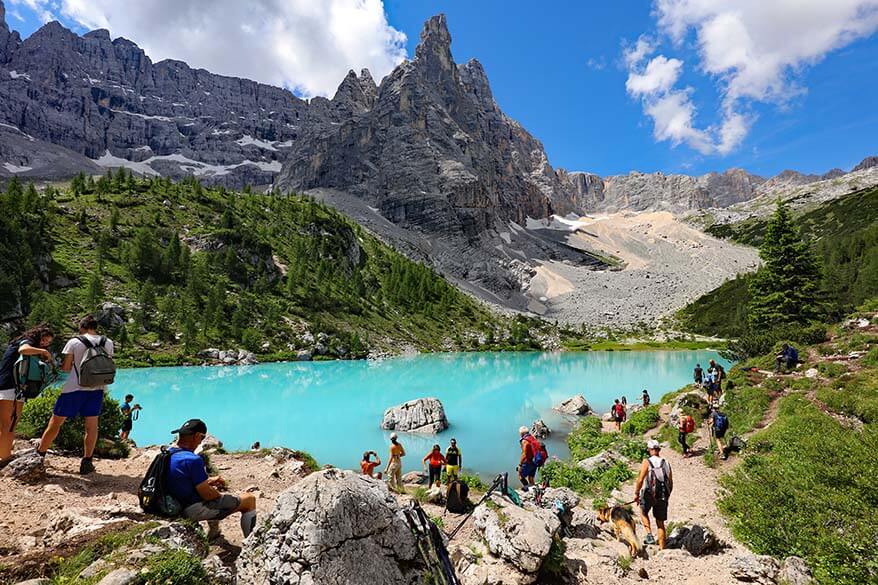 Social Media Hype & Photography
In the past only known to insiders, Lake Sorapis has become extremely popular in the last few years because of social media. And the effect is unbelievable! The minute I posted a picture with my son at the lake on Facebook and on Instagram (see also the picture below or give us a follow on FB or IG!), I got three private messages from family and friends asking where it was. Many more people followed after that…
A week later, my Lithuanian relatives who were in the region took a serious detour just to go hiking to Lake Sorapis. A few days after that – our Belgian family members did the same… And all that because of this one picture…
I haven't really checked Instagram images recently, but it was quite funny to see so many people trying to jump on a stone a few meters from the shore in order to take a picture on it. I assume that this means that Instagram influencers have shared some jaw-dropping images with themselves standing or sitting on a stone… But most people never hiked any further to even try to see if there maybe was another stone to climb on…
TIP: If you walk just a bit to the right along the lakeshore (as indicated in our map above), you'll find another picture-perfect stone. It's right on the shore, so you can easily stand or sit on it and get some amazing pictures without having to perform any dangerous maneuvers whatsoever.
Anyway, forget Instagram and perfect images and just enjoy the scenery! It's really quite difficult to take a bad picture here anyway…
Good to know: The best light for photography at Lago di Sorapis is in the morning when the sun is behind you when facing the lake. In the afternoon, the sun would be in front of you making it more difficult to take good pictures. Needless to say, the color of the water is much brighter and blue on a sunny day than when it's cloudy.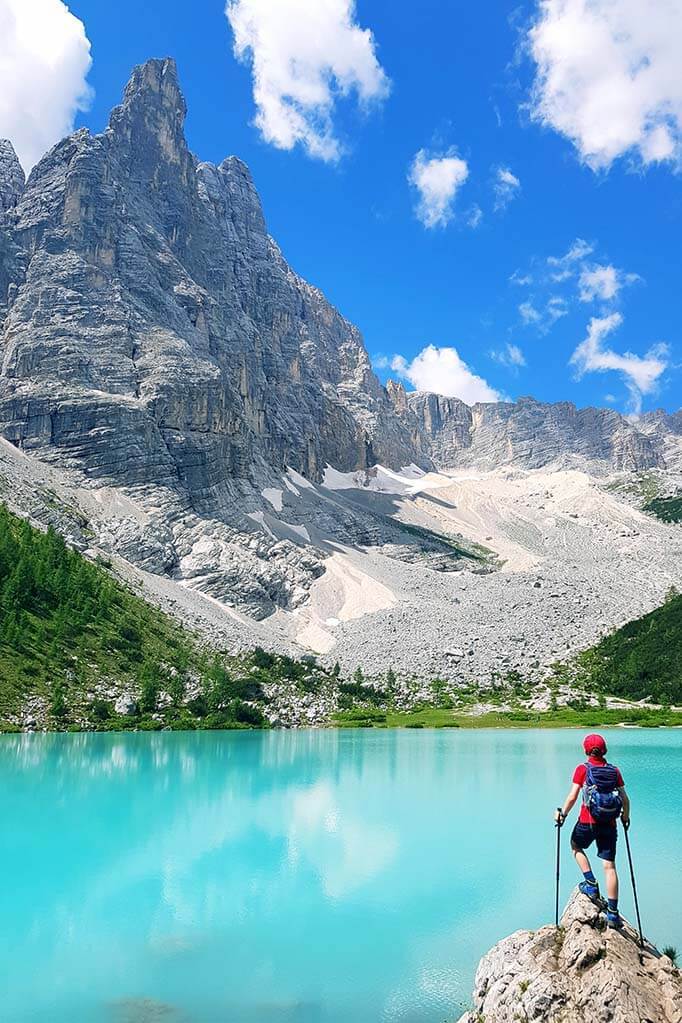 Camping and Swimming at Lake Sorapis
Swimming in Lake Sorapis is not allowed. Boats are also forbidden. So no need to carry that canoe or paddleboard all the way up the mountain ;).
Camping at Lake Sorapis isn't allowed either. Instead, you can stay at Rifugio Vandelli – see below.
You are allowed to take dogs on the Lake Sorapis hike, but – according to the signs – they should be on the leash.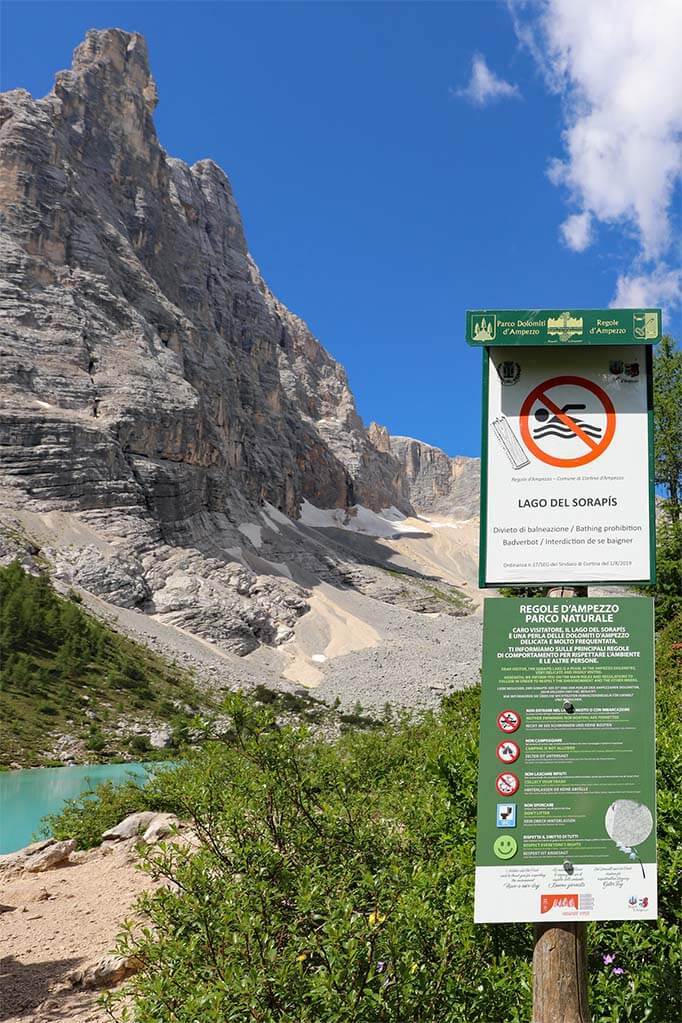 Rifugio Vandelli
Rifugio Vandelli, a mountain hut that's located at 1.926 m altitude just a few minutes before you reach Lake Sorapis, is also worth a stop. The original mountain hut has been built here in 1890 (!) and its location is simply stunning.
Take a seat at one of the outdoor tables, get a cold drink, and enjoy incredible views stretching many kilometers away. From here, you can see the famous Tre Cime di Lavaredo peaks, Misurina Lake and Hotel Misurina, and countless other mountain peaks of the Dolomite mountains.
As already mentioned, you cannot see Lake Sorapis from Rifugio Vandelli, but that's probably a good thing as it makes a visit here more enjoyable. It seems that the majority of the people hiking to the lake don't make an effort to come to the mountain hut. Yet, the views are really worth it! Not even to mention that this is a great place to reward yourself with a nice drink or some traditional deserts after a strenuous hike.
Good to know: There are bathroom facilities, a restaurant, and you can also spend a night here (although booking in advance is recommended in high season). If you want to have Lake Sorapis all to yourself in the morning or late in the evening, then staying at Rifugio Vandelli is probably your best bet.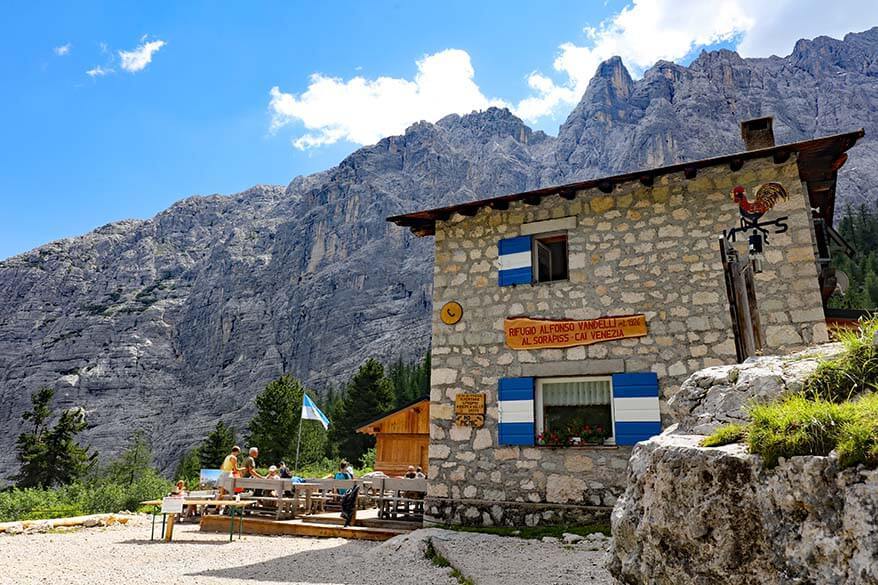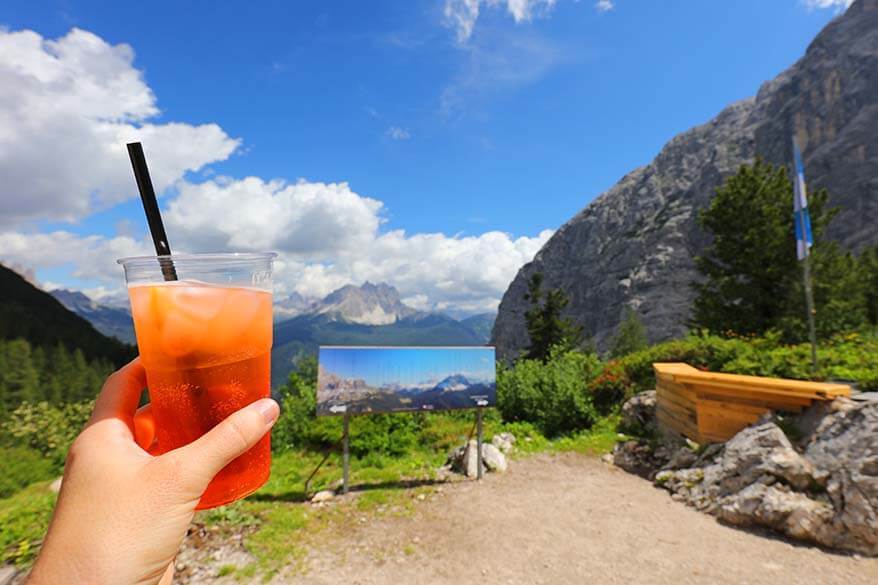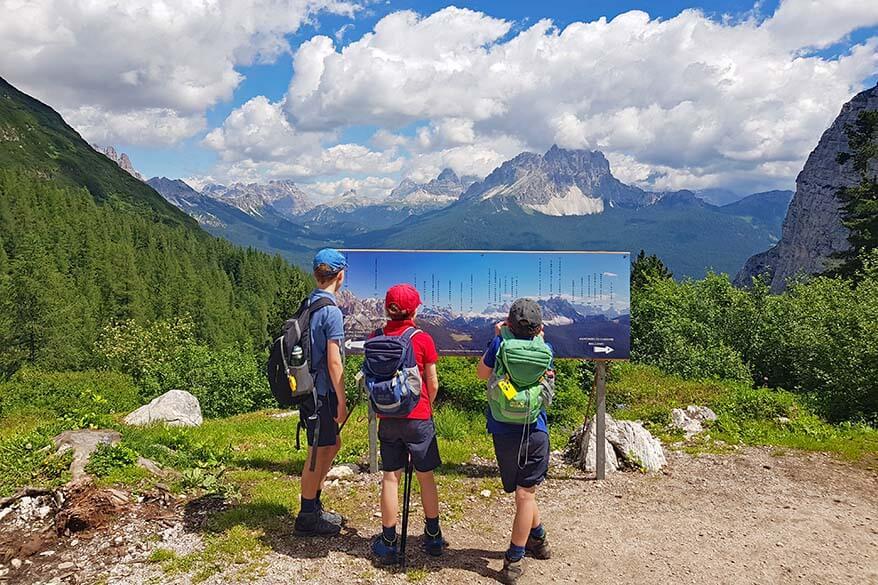 Hiking Back to Passo Tre Croci & Alternative Hikes
After visiting Lake Sorapis and Rifugio Vandelli, you can continue further along trail no. 215 to Tonde del Sorapis. This will add 2.6 km, and a steep uphill climb of 1 hour to your hike (plus the same distance and one hour return). I indicated this hike in blue on the map below (#2).
Please note that some sources indicate that you need Via Ferrata equipment for the Tonde del Sorapis hike (but they also say you need it for Lake Sorapis hike, which wasn't the case). Since we didn't do this section, I cannot comment on this. So make sure to do your research or ask at Rifugio Vandelli for the most up-to-date situation.
For the hike back to Passo Tre Croci (car parking), you have two options.
The first option is the most popular and the easiest – take trail no. 215 back the same way you came. The hike to Lago di Sorapis and back is indicated in red (#1). This is the hike we did and the hike most people do.
Another option is to continue your hike following trail no. 217 and then trail no. 209, the so-called Boschi di Marcuoira e Valbona hike (indicated in yellow on the map below – #3). We didn't do this hike so I cannot comment on it based on experience, but from everything I read and saw, it's not really worth it. But if you want to see some different scenery and don't mind a more strenuous track, it might be a good option for you.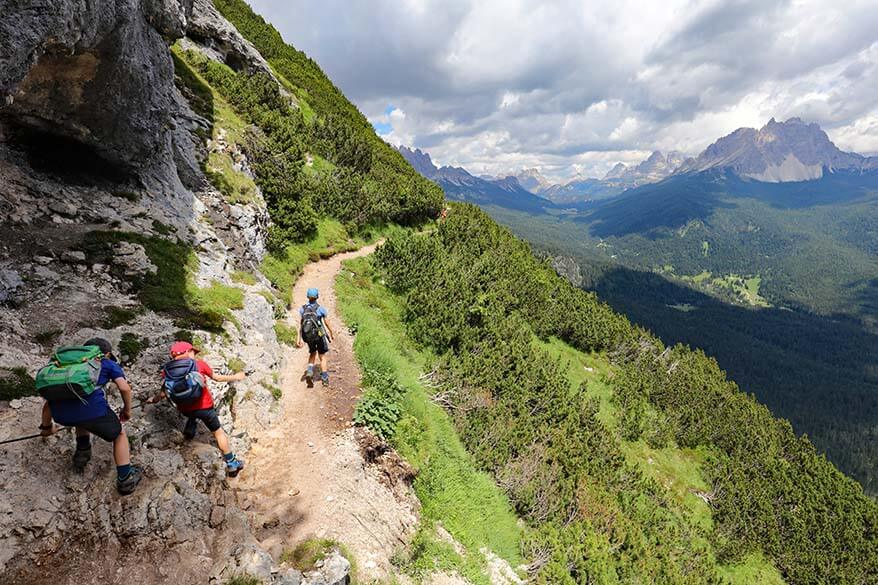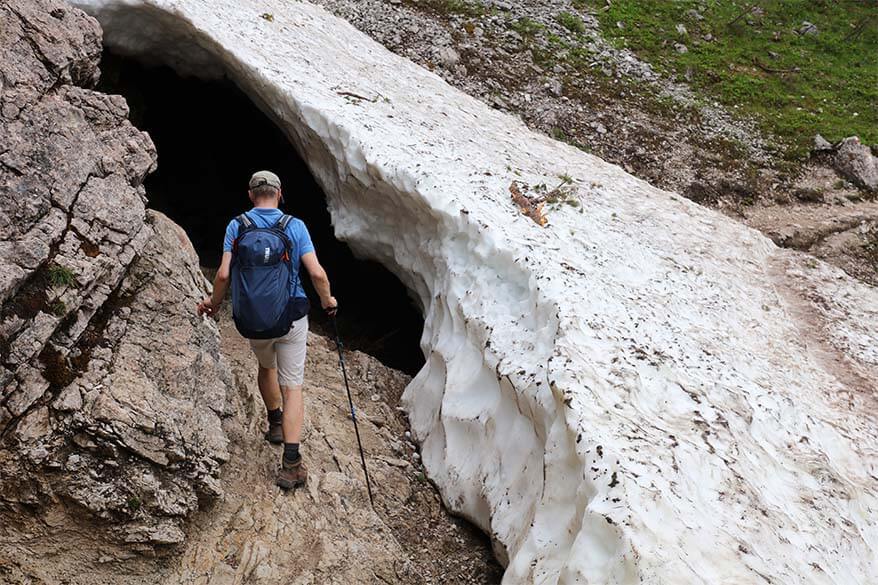 Hiking to Lake Sorapis with Kids
You might be wondering if you can hike to Lago di Sorapis with children. Yes, you can hike to Lake Sorapis with kids, but it all depends on your family situation. How many adults/ kids you have, are kids good hikers, will they stay close to you during the hike, and are you willing/able to carry them if needed.
We hiked to Lake Sorapis with our three boys age 9, 9, and 11 and they did it amazingly well. In fact, we constantly had to ask them to wait for us. I believe that they would have easily hiked to the lake in less than 1.5 hours if it wasn't for us, old folks…
That being said, there were quite some steep and exposed sections where I wouldn't have been at ease with younger kids. If you have just one child per adult and your kids are good hikers, I think you could attempt to do this hike with kids from about the age of 5-6 years. If you decide to hike here with younger kids, you'll really need to help them at quite a few places.
We saw just one family with a really young child (about 3-4 years old) and he was walking on the flat sections, but his dad had a carrier backpack with him.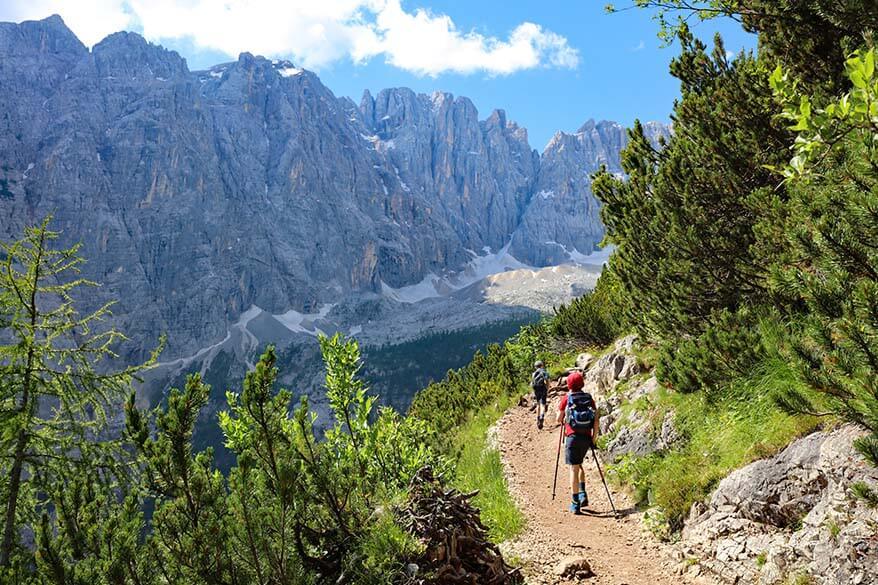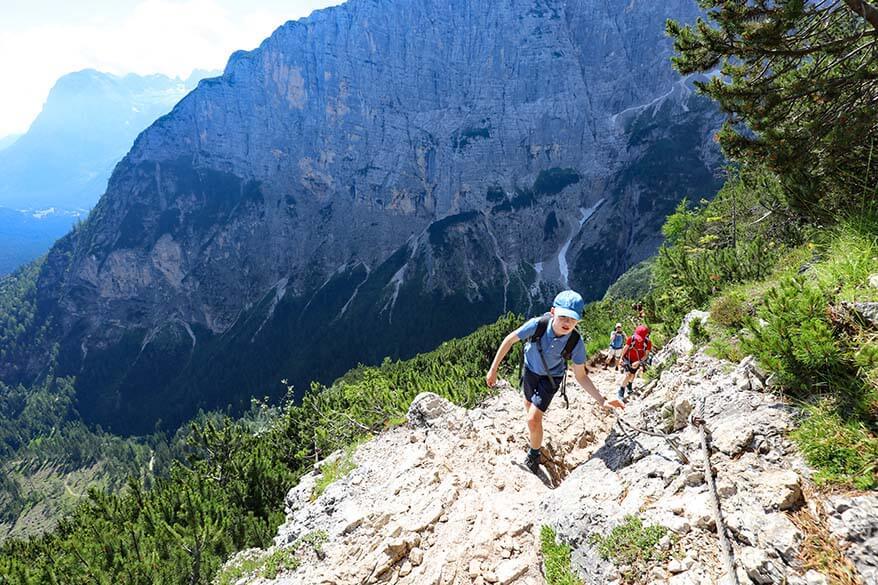 Is Lake Sorapis Worth It?
If you can hike 4-5 hours, don't mind some climbing and don't have fear of heights, then yes, Lake Sorapis is absolutely worth it. It's one of the most beautiful mountain lakes you'll ever see and the scenery justifies all the effort of getting there.
Furthermore, the scenery along the Lake Sorapis hike is very beautiful and the hike would be worth it in itself. Lago di Sorapis is just the cherry on the cake.
TIP: Just try to avoid busy summer weekends and start early in the morning so that you can truly enjoy the experience!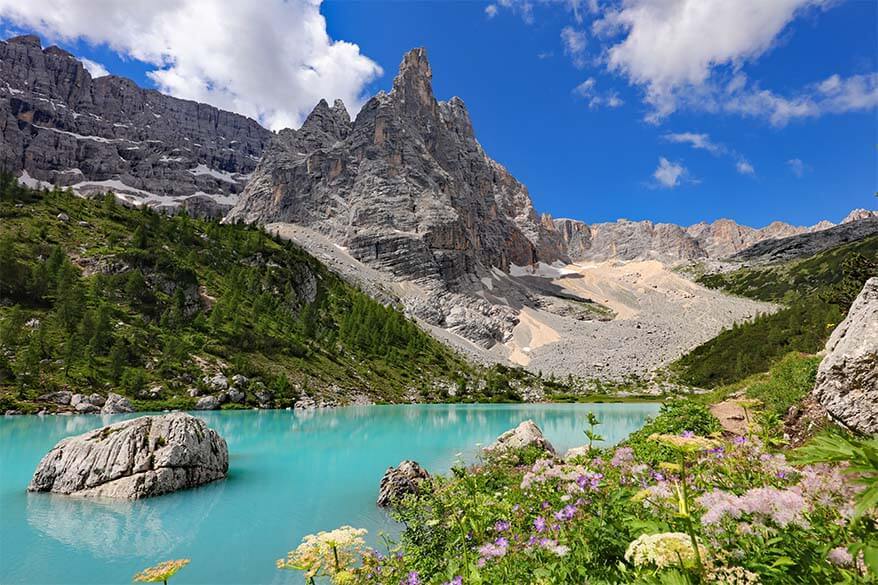 So, this is our guide for hiking to Lake Sorapis. If you have any questions, feel free to leave a reply below and we'll try to help.
TIP: Make sure to also check our guide to some of the best places to visit in the Dolomites. It has all the musts that are worth your time the most – check it out! If you are wondering how to plan your trip and make the most of your time, check out our Dolomites itinerary suggestions (for any trip duration).
READ ALSO: Tre Cime di Lavaredo Hike & Cinque Torri Hike
More travel inspiration for the Dolomites & Northern Italy:
If you found this post useful, don't forget to bookmark it and share it with your friends. Are you on Pinterest? Pin these images!