Are you planning your first trip to Cinque Terre and are not sure where to start? You came to the right place! This practical guide to Cinque Terre is filled with tips and info that should answer all your questions.
When we first visited Cinque Terre, we had so many questions before our trip. How to get to Cinque Terre? Can we visit Cinque Terre with a car? How much time do you need in Cinque Terre? What's the best time to visit? How to get from one town to another? What's the best Cinque Terre town to stay? How to visit Cinque Terre – by train, by car, by bus, or walking the famous Cinque Terre hiking trail?…
But I never found all the answers to my Cinque Terre questions in one place…
So in order to help you plan your trip to Cinque Terre and make the most of your visit, in this article, we are sharing all the practical aspects and our experience-based tips for visiting Cinque Terre. This guide should answer all the questions you may have. Find out!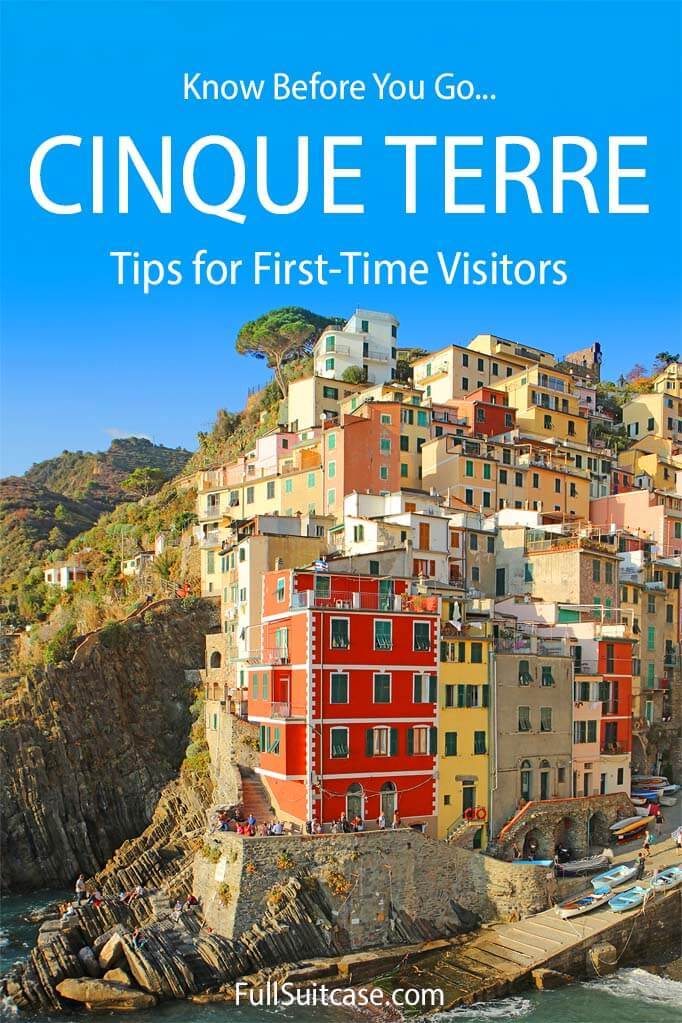 Visiting Cinque Terre for the First Time – Practical Information & Tips for Your Trip
Below you can find all the info and tips for Cinque Terre:
What is Cinque Terre and Why Visit It
Cinque Terre is a small but very picturesque coastal area in Italy. If translated literally it means five lands. Cinque Terre comprises of five picturesque villages: Monterosso al Mare, Vernazza, Corniglia, Manarola, and Riomaggiore.
5terre is a National Park and a UNESCO World Heritage Site that attracts over 2,5 million tourists every year.
Where is Cinque Terre
Cinque Terre is located on the Ligurian coast in Western Italy – you can zoom out on the map below to see its exact location. The closest big cities are Genoa and Pisa, each about 70-80km (50 miles), 1 hour by car.
The information below will give you a better idea of how far Cinque Terre is from Rome, Florence, Milan, and other places.
Rome to Cinque Terre: +-400km (250 miles), 4,5 hours by car and about 4 hours by train.
Venice to Cinque Terre: +-400 km (250 miles), 4,5 hours by car and 5,5-7 hours by train.
Milan to Cinque Terre: +-200km (125 miles), 2,5 hours by car and about 3-4 hours by train.
Florence to Cinque Terre: +-150km (95 miles), 1h45 by car and about 2,5 hours by train.
Genoa to Cinque Terre: +-90 km (56 miles), 1h30 by car and about 1h15 by train.
Good to know: It is also possible to visit Cinque Terre as a day trip from some of these cities – see more info on Cinque Terre tours further below.
How to Use This Map: Use your computer mouse (or fingers) to zoom in or out. Click on the icons to get more information about each place. Click the arrow on the left top corner for the index. Click the star next to the title of the map to add this map to your Google Maps account. To view the saved map on your smartphone or PC, open Google Maps, click the menu button, and go to 'Your Places'/'Maps'.
TIP: Due to its proximity, a visit to Cinque Terre can easily be combined with that of Tuscany. Here you can read more about the most beautiful towns of Tuscany. In one of my previous posts, I also shared a sample Tuscany itinerary for one week.
What is the Nearest Airport to Cinque Terre
The nearest airports for Cinque Terre are in Pisa and Genoa. Also Milan and Florence can be good options, especially if you consider renting a car and discovering the other areas as well.
How to Get to Cinque Terre:
Below you can find a detailed explanation about the best way to get to Cinque Terre and how to get around.
Visiting Cinque Terre by Train
The best and fastest way to get to Cinque Terre is by train. Every 5terre village has a train station and it has good connections to the big cities like Genoa, Milan, Florence or Pisa.
The nearest big train station where you will have to change the train if coming from most other towns is in La Spezia. From La Spezia, it is just 8 minutes by train to the first Cinque Terre village – Riomaggiore.
The distances between the five villages are very small and the train ride only takes a few minutes. Trains run at regular intervals, starting from around 4 AM till after midnight. However, on the day when we visited, two out of four trains we took had a delay of more than half an hour. They just canceled every second train; probably because it was low season.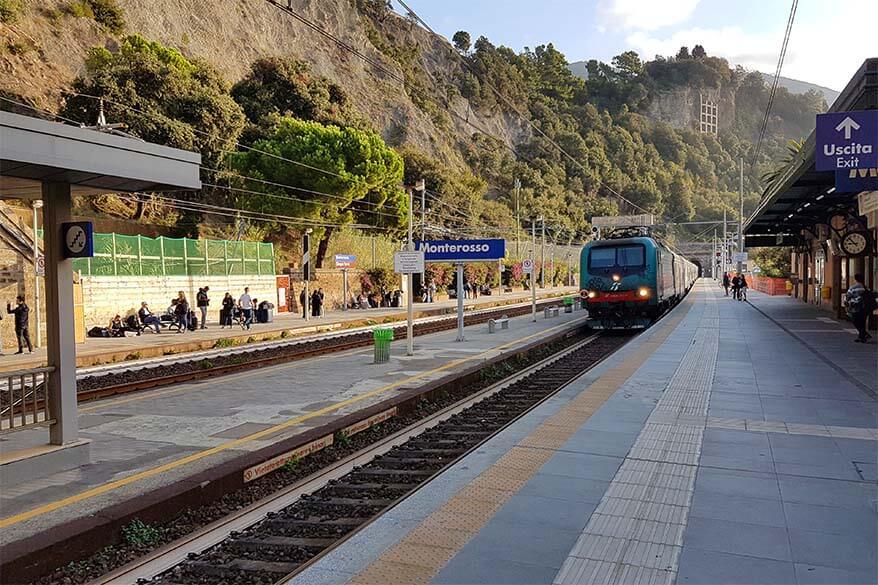 Exploring Cinque Terre by Boat
Many tourists choose to visit Cinque Terre by boat. You can book a day ticket that allows you to visit four villages. Why only four and not all five? Corniglia is the only village that is located high on the hill and has no water access.
The most popular town to start a Cinque Terre boat tour is La Spezia, but there are other connections as well. Note that boats only run in high season (the boats stop running at the beginning of November).
Note that it takes much longer to get from one village to another by boat than it does by train (unless they cancel the trains of course). It is still possible to visit Cinque Terre in one day, also by boat. But there would probably not be enough time left for hiking (this may depend on the boat schedule; end of October it was definitely too short).
In high season, there are many companies organizing boat tours to Cinque Terre and the nearby towns. Normally you don't need to book Cinque Terre boat tours in advance. I didn't even find an option to book a boat tour in advance for our trip; most companies only sell tickets at the harbor. In La Spezia the boats leave from the main harbor – see the map above.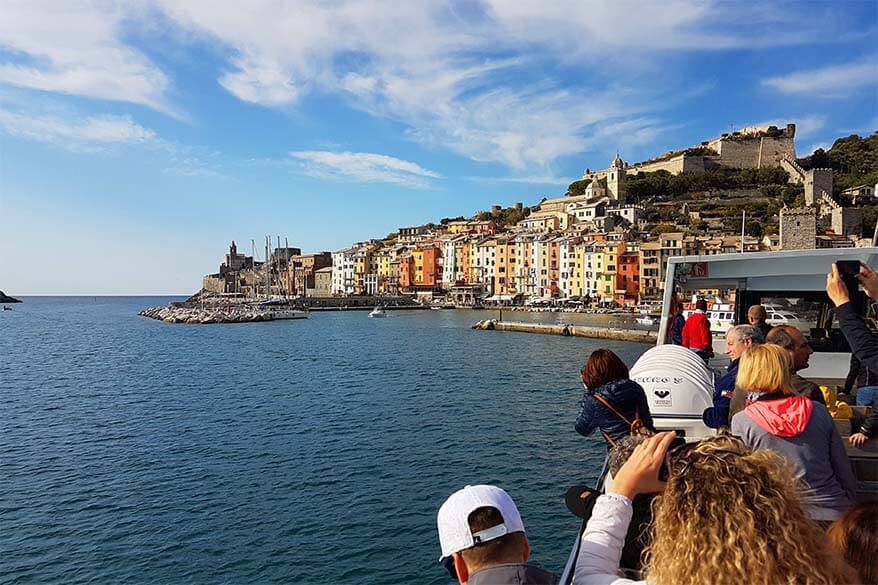 Can You Visit Cinque Terre by Car?
The simple answer is yes, technically it is possible to get to Cinque Terre by car. However, I really wouldn't advise visiting the villages of Cinque Terre by car. Cinque Terre roads are narrow, parking – nearly impossible, and driving between the villages would take you forever and would leave you frustrated.
On top of that, many Italian towns now have restricted traffic zones (ZTL) and entering one of those will result in a big fine (80-100 EUR when we visited). If you are looking for a parking spot and pass the camera several times, you will be fined accordingly, for each time you drove by it.
If you are planning to stay in one of the Cinque Terre villages and your accommodation has parking facilities, then you could drive up to there by car. In that case, park it and don't touch it till you leave.
One of the best places to stay in Cinque Terre with a car is Monterosso al Mare.
A better option is to park your car in one of the bigger towns nearby and take the train from there. There is a big parking garage at La Spezia train station, so it is probably one of the best options if you are traveling to Cinque Terre by car. (Secret tip: there is free parking space at the Piazza D'Armi – 10min walking from La Spezia railway station).
Visit Cinque Terre with an Organized Tour
One of the most popular ways to visit Cinque Terre – and especially if you are short on time – is by taking an organized tour from one of the bigger cities nearby.
There are group tours, small group tours, and also private tours available. Here you can find the best selection of Cinque Terre tours from Florence, from Pisa, or from Milan. If you are traveling on a cruise ship, there are also shore excursions to Cinque Terre from La Spezia.
What is Cinque Terre Card and Where to Buy It
Cinque Terre Train Card gives you unlimited access to Cinque Terre trains, hiking paths, guided visits, local busses, Wi-Fi, and even public restrooms, etc.
You can buy separate train tickets or a Cinque Terre Hiking Card, but usually, it's much cheaper and more convenient to just get a Cinque Terre Train Card for a day.
Good to know: Cinque Terre card that includes everything costs 16 EUR for adults and 10 EUR for kids. Family ticket (2 adults and 2 kids) costs 42 EUR. If you are staying longer, you can also consider a 2-day card (29 EUR) or a 3-day card (41 EUR) as well. If you get just a hiking card for a day, it costs 7,50 EUR for adults, 4,50 EUR for kids, and 19,60 EUR for families. These prices have been valid for several years already, but it's, of course, possible that they'll change in the future.
You can only buy the Cinque Terre train card at the train stations, not at the machines. In order to avoid the crowds in the morning, consider buying the card the evening before. Don't forget to write your name on the card and validate it before the first use. The Cinque Terre card is valid till midnight on the day that it was first validated.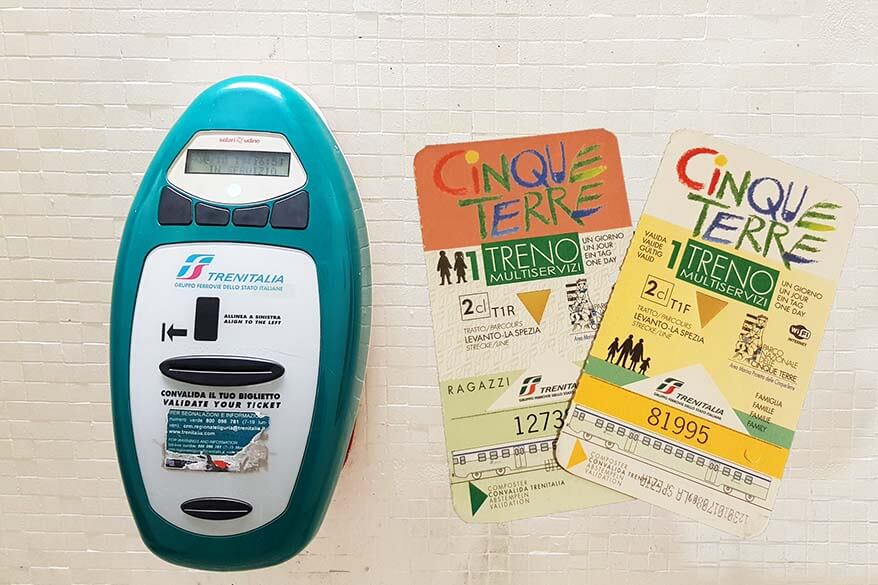 What to See and Do in Cinque Terre
As already mentioned, Cinque Terre is famous for its five picturesque villages. The main reason people come here is to visit the villages, hike the Cinque Terre trail, or just enjoy the scenery and the beach.
However, there is more to see and do in Cinque Terre! Depending on your interests, you could join one of the local tours, like this wine tasting tour in Manarola or a Pesto making class.
In summer you can go kayaking from Monterosso, take a sunset boat tour from Monterosso, go sailing, diving, fishing, or even paragliding over the Cinque Terre.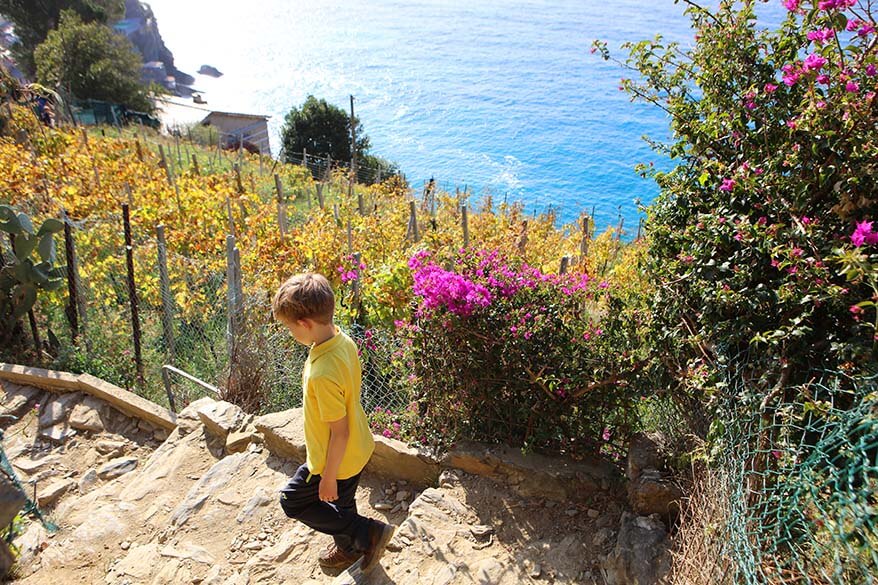 Hiking in Cinque Terre
It used to be possible to hike between all five villages of Cinque Terre following the coastal path (blue hike on the map below). The total hike would take 5-6 hours. However, due to landslides, several Cinque Terre trails have been closed without any indication when/if they will reopen. When we visited, you could only hike between Monterosso al Mare, Vernazza, and Corniglia.
The hike between Monterosso al Mare and Vernazza takes about 2 hours (experienced hikers can do it much faster). The hike from Vernazza to Corniglia takes 1,5 hrs. Both these hikes require quite some climbing. I would classify them as moderate in normal conditions and difficult if wet or hot.
Please note that the lower hiking paths between Riomaggiore, Manarola, and Corniglia, including the famous Via dell'Amore are now closed. It's expected that Via dell'Amore (between Riomaggiore – Manarola) will reopen from April 2021, but this is not certain. The hiking trail between Manarola and Corniglia might reopen in 2022.
Most of the upper trails (indicated in red and green on the map below) are open. These hikes are more challenging, take longer, and are not as popular. Perfect for those who like hiking and stay in Cinque Terre for at least a few days, but not ideal for those who are short on time.
You can find an up-to-date situation of Cinque Terre hiking trails here. Keep in mind, however, that the situation might change at any time and so it's best to inform on the trail conditions at a local tourist office upon arrival in Cinque Terre.
You can hike Cinque Terre trail with kids, but as I said it's not an easy hike. I would say, the minimum age for kids walking by themselves would be about 5-6 years, especially if it's really warm.
Good to know: We hiked Cinque Terre on the last day of October and it was really hot. If you are traveling in high season, consider hiking early in the morning or towards the evening. Make sure you have sun protection and carry plenty of water. You can refill your water bottles in every village – just keep an eye for the water taps.
And yes, you do need sturdy footwear to hike in Cinque Terre. Hiking boots are advised but are not absolutely necessary. Light hiking shoes are probably better in warm temperatures.
Important: You have to buy a ticket for walking on the Cinque Terre hiking trails, but it's often better to just buy the Cinque Terre Card (see higher above for more information). If you don't take a train and do need a separate hiking ticket, you can buy it at the tourist information centers in the villages or on the hiking trails. You will pass a little cabin on your way where they check and also sell tickets.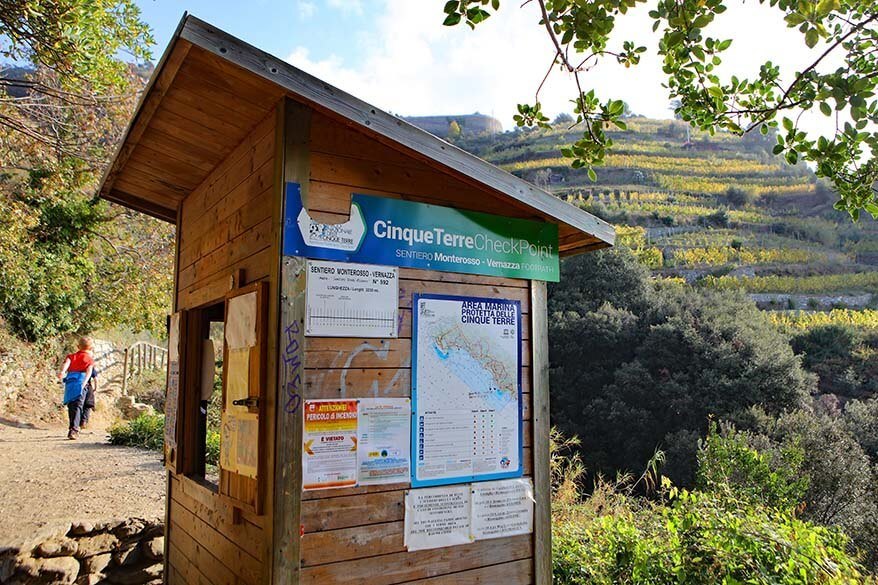 Which Cinque Terre Town is Best
Opinions are somewhat divided on which Cinque Terre town is the best or most beautiful, but everyone agrees that Manarola and Vernazza are the most picturesque villages of Cinque Terre. Riomaggiore is really nice too. Monterosso and Corniglia are the least special, in my opinion.
READ ALSO: Most Beautiful Coastal Towns of the Italian Riviera
What is the Best Place to Watch Sunset in Cinque Terre
Judging by the crowds, Manarola is the best place to be at sunset. Take a look at the picture below and judge for yourselves.
Which Cinque Terre Town Has the Best Beach
Most beaches at Cinque Terre are really tiny. The biggest and the best beach is in Monterosso al Mare. It's a long sandy beach where – in season – you can rent sun loungers and umbrellas.
Vernazza has a somewhat more protected harbor with a small swimming area and it's the second-best beach of Cinque Terre.
Riomaggiore has a very picturesque but tiny harbor where you could try potentially go for a swim, but the tiny coastline there is very rocky.
Manarola coastline is also very rocky and not ideal for swimming.
Corniglia is located on the hill and has no beach at all.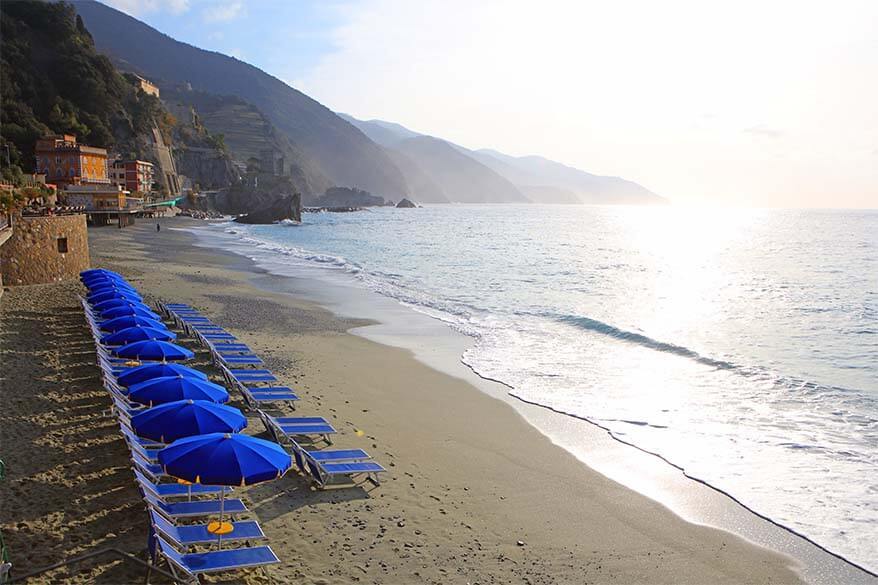 How Many Days Do You Need in Cinque Terre
Many people wonder how much time they need in Cinque Terre and can it be visited in one day? Yes, you can see the best of Cinque Terre in one (full) day. The fastest way to get around between the villages is by train.
Unless you are planning to spend lots of time on the beach, you really don't need more than one or two days in Cinque Terre itself. However, there are so many other incredibly beautiful places nearby that you should consider staying longer.
One town you definitely shouldn't miss is Portovenere – the hidden gem nearby. It's less busy than the 5terre villages but very picturesque and there is more to see and do there. If you decide to visit Portovenere as well, count at least two days/ three nights for Cinque Terre.
How to Spend a Day in Cinque Terre
There are many ways to spend a day in Cinque Terre. It depends on which way you travel (by boat, by train), and whether you are planning to hike, etc.
This is how our 1 day in Cinque Terre looked like: in the morning we took a train from La Spezia to Monterosso al Mare. We then hiked to Vernazza and Corniglia. From there we took a train to Riomaggiore. Then a train back to Manarola where we stayed for sunset and dinner. After dinner, we took a train back to La Spezia.
Below you can find our complete guide and experience-based tips for how to see the best of Cinque Terre in one day.
LEARN MORE: One Day in Cinque Terre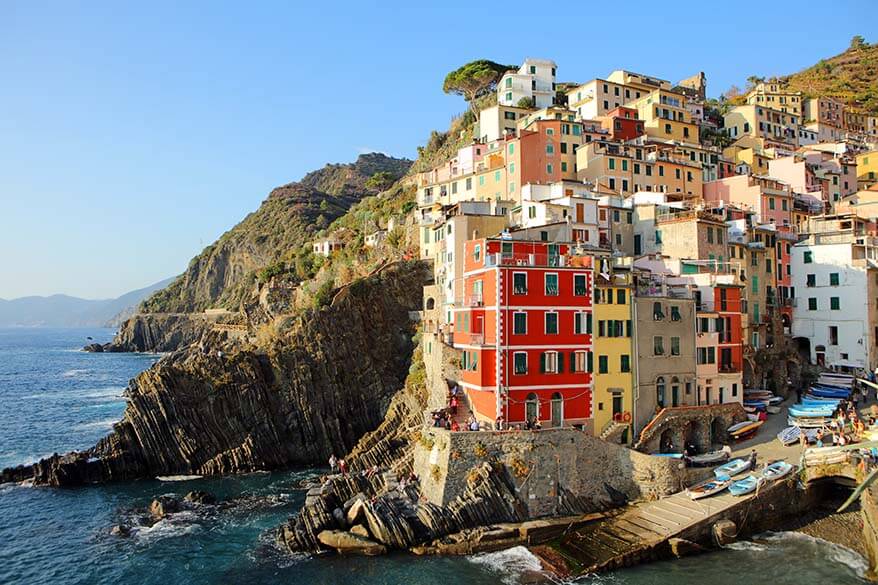 Where to Stay in Cinque Terre
If you want to spend a bit more time in Cinque Terre, it can be a very special experience to stay in one of the villages. Probably the best towns to stay in Cinque Terre are Manarola or Vernazza. On the other hand, there are much more quality accommodation options in Monterosso al Mare.
Please note that getting to most Cinque Terre accommodations will require at least some uphill walking, so only take the luggage you really need.
If you are visiting Cinque Terre on a lower budget or are coming for just a day, consider staying in a nearby town La Spezia. Accommodation and food prices are much lower in La Spezia and it's just a short train ride away from Cinque Terre. Here you can find the best deals for La Spezia accommodation.
Update: I got this question about the best places to stay in Cinque Terre so often that I now created a complete guide to Cinque Terre hotels and accommodations. So if you are wondering where to stay in Cinque Terre, please check it out! And remember – the earlier you book, the more choice you have. Quality accommodation choices are limited and hotel prices in Cinque Terre are quite steep.
LEARN MORE: Where to Stay in Cinque Terre
Where to Eat in Cinque Terre
There are many restaurants, cafes, gelaterias, and little shops in all five villages of Cinque Terre. So finding where to eat in Cinque Terre should not be a problem.
If you are looking for a table with the best view and really good simple food, try Nessun Dorma in Manarola. They don't take reservations and there is always a queue waiting to be seated, but it's really worth it. A friend who has been to the area many times also recommended the bar A Pie' di Ma' in Riomaggiore.
When to Visit Cinque Terre
Cinque Terre can be visited all year round, but try to avoid rainy and stormy days. The busiest season is May to September, but unless you are there for the beach, try to avoid the summer months. It's too hot, too crowded, and too expensive.
The best time to visit Cinque Terre are the months of March-April and September-October.
We visited Cinque Terre in the last week of October – beginning of November and were surprised how busy it still was in some places. I can't even imagine how it is from June to August…
Actually, we didn't dare to book our trip long in advance as many reviews said that the weather could be really miserable in Cinque Terre in November and at the end of October. If it rains, there is really not much you can do there. However, a week before our trip we checked the weather forecast and it looked very promising, so last minute we decided to give it a go.
We were lucky to have sunny weather the whole week (30 October – 4 November) and daytime temperatures of up to 20°C (68F) and much less crowds than in the high season. My mom visited Cinque Terre in May and they had rain and colder weather than we did, so you really never know.
Note, however, that the days are really short in autumn and in winter. We arrived in Italy the day when the EU changed to wintertime, and the sun goes down at around 5 PM at that time of the year. For more information about traveling in this season, please read our guide to Italy in November.
Can You Visit Cinque Terre with Young Kids in a Stroller
Even if you are traveling with very young kids, you can visit Cinque Terre. Getting around with a stroller might be a bit of a challenge though. The village streets are steep and there are quite some places that can only be accessed by stairs.
We saw people carrying strollers on the stairs even at a train station, so it's not always easy. But it is possible.
If you are in Cinque Terre with a stroller, skip Corniglia as it is located high on the hill. You have to climb some 300-400 stairs in order to get to town from the train station.
TIP: When we traveled around Italy with our toddlers years ago, we always packed a bicycle lock with us. So every time we would encounter long stairs and wanted to do some sightseeing anyway, we would just lock the stroller up and leave it behind. Our kids loved doing the stairs!
What's the Best Time of the Day for Photography in Cinque Terre
If you are hiking in Cinque Terre during the day, it's really difficult to get good pictures as the sun is always in front of you when looking towards the best viewpoints.
The best time for pictures is very early in the morning or very late in the afternoon. And the best spots are actually from the hiking trails or in the villages themselves, so not from a boat.
If you are traveling by boat, then you might be able to take good pictures in the direction of the villages during the day as well, since the sun will usually be behind you. However, the best viewpoints of Cinque Terre seem to be in the wrong direction sun-wise pretty much an entire day.
READ ALSO: Travel Photography Tips & Tricks
What to Pack for Cinque Terre
A reusable water bottle is a must and you can fill it up in every village. Bottled water is quite expensive in Cinque Terre, not to mention the unnecessary waste.
Pack light hiking shoes for the Cinque Terre trail.
Swimwear and quick-drying towels – if you are going to the beach
Sun hats, sunglasses, and sunscreen lotion are a must
A light day backpack might be very useful, certainly if hiking or traveling with kids
Take a sweater or a light jacket for the evenings in spring and autumn
I hope that this post covered most of your questions about visiting Cinque Terre. However, if you don't find an answer to your question, please leave a comment below and I will try to help.
More tips for your trip to Italy:
If you found this post useful, don't forget to bookmark it and share it with your friends. Are you on Pinterest? Pin this image!