Italian Riviera, synonymous with the Liguria region, is probably best known among international travelers for the picturesque coastal villages of Cinque Terre and the luxury holiday resort for the rich and the famous – Portofino. But there's more to it than that!
I have to admit that we also knew very little about the region before we started planning a trip to the Italian Riviera… We had no idea that this coastal region had so many beautiful towns!
Cinque Terre has been on our list for some 20 years. But when we finally started planning the trip, we realized that there are so many other incredibly picturesque and charming places nearby.
So today I want to share some of our favorites, the most beautiful small coastal towns and villages of the Italian Riviera. These are one by one stunning destinations, each worth a trip on its own.
Furthermore, these 8 Ligurian coastal towns are relatively close to each other. So you can easily visit several or even all of them during the same trip. (We visited all these places and a few more in 5 days.) Find out!
How to Use This Map: Use your computer mouse (or fingers) to zoom in or out. Click on the icons to get more information about each place. Click the arrow on the left top corner for the index. Click the star next to the title of the map to add this map to your Google Maps account. To view the saved map on your smartphone or PC, open Google Maps, click the menu button, and go to 'Your Places'/'Maps'.

These are the most beautiful towns in Italian Riviera:
1. Portovenere
It's not a coincidence that I list Portovenere as the first among the best towns along the Ligurian coast. This little colorful town in the Bay of Poets (Golfo di Poeti) surrounded by history and incredible nature became one of our absolute favorites at the Italian Riviera.
We visited Portovenere by boat on the last day of October, which is also the last day of the season of the coastal Cinque Terre ferry. Portovenere is the first stop on the ferry route from La Spezia to Cinque Terre, which also makes it a great base for exploring Cinque Terre and the nearby coastal areas.
In summer, the possibilities are endless. But on the day we visited there were very few boats which meant that we had 5 hours to fill in Portovenere. As we arrived at a tiny picturesque harbor we were wondering how in the world we would keep ourselves and the kids busy here the whole day…
It turned out that Portovenere had so much more to offer than it looked at first sight. We visited the 12th-century castle, the 13th-century church of San Pietro, walked along the cliffs and saw the nearby grottos, climbed countless staircases and explored the narrow streets of this medieval town… There are plenty of restaurants, gelaterias, and little shops…
Our time in Portovenere flew by. It was such an enjoyable visit with so much history, stunning vistas over the Mediterranean, and very few tourists compared to Cinque Terre.
There is also a possibility to take a scenic boat trip to the three nearby UNESCO World Heritage Site comprising of three islands: Palmaria, Tino, and Tinetto. And in summer there are many more options to hire boats, visit beaches, go swimming, snorkeling or diving…
LEARN MORE: Best things to do in Portovenere
TIP: If you are visiting Italian Riviera in high season, I would strongly consider staying in Portovenere and using it as a base town for excursions. There aren't that many accommodation options, so make sure to book in advance. You can find the best deals for Portovenere accommodation here.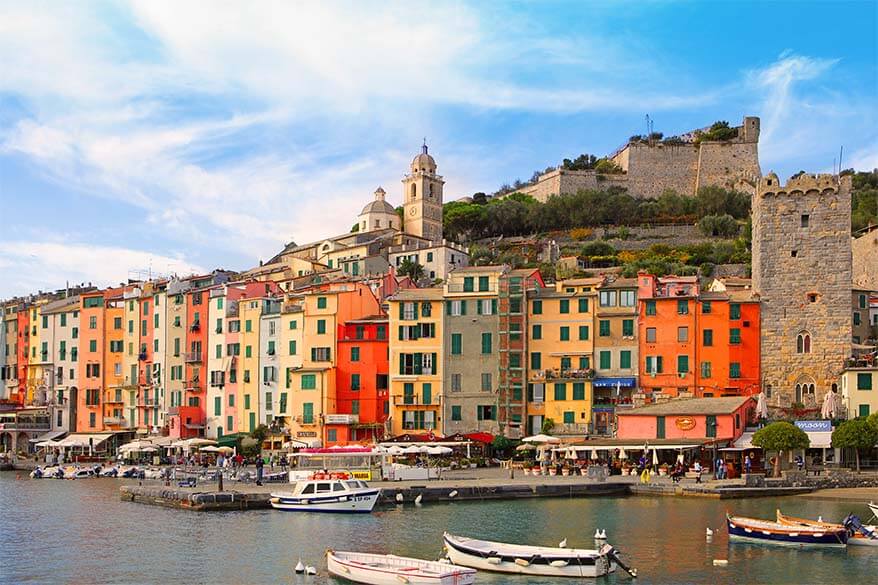 2. Camogli
Camogli was a completely unexpected find for us, so we consider it to be a true hidden gem of Liguria. From the reactions on my pictures on Instagram, it seems like this town is quite known to international travelers, but it wasn't for us.
If you arrive in Camogli by car, you will definitely be able to relate to the 'hidden' part. We passed it without realizing that there was a turn to the town center and ended up in the next village.
It was raining and on our last day in Liguria we were wondering if we wouldn't just turn around and drive home. But then we said we are here anyway, let's just get out of the car for 5 minutes and walk around a bit. Five minutes turned into several hours and we never wanted to leave… Camogli is, without a doubt, one of the most beautiful coastal towns of the Italian Riviera!
Surrounded by the steep hills dotted with colorful houses, Camogli's picturesque setting will not leave anyone untouched. It's simply STUNNING!
We walked down to the beach without having the slightest idea of what to expect. And the moment we saw it, we had a WOW moment. One of those moments you travel for. When you know you stumbled upon a place that will stay in your memory forever…
Pictures don't do justice to the beauty of this town, nor to how it felt to be there on that deserted beach on a stormy day in November. The kids loved looking for colorful stones and could have played on the beach for days…
Just as with the other nearby towns, there is plenty to see and do in and near Camogli, especially in high season. It's not only a beautiful vacation town, but also a great base for exploring the Portofino Peninsula (hiking and/or by boat). Here you can find the best deals for Camogli accommodation.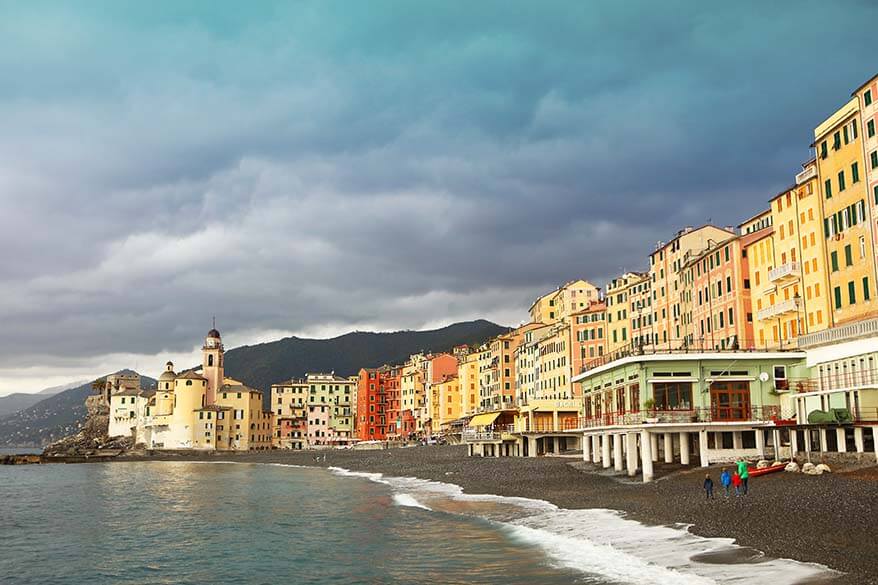 3. Manarola
Manarola is one of the five Cinque Terre villages and if I were to visit just one town there, this would be it. With colored houses leaning against a mountain overlooking the Mediterranean, Manarola is as picturesque in reality as it is in the pictures.
It's also the liveliest town in Cinque Terre and as I already said in my guide to the best places to stay in Cinque Terre, Manarola is probably the best village for those who want to stay in Cinque Terre itself.
We only visited Manarola shortly, for sunset, and despite it being very busy, it was one of the most special experiences of our day in Cinque Terre. We had dinner at the restaurant Nesun Dorma and it became one of my favorite spots for sunset. Ever.
READ ALSO: Cinque Terre Travel Tips
4. Portofino
Portofino is probably the most picturesque town of the Italian Riviera. Maybe even the whole of Italy. With luxury yachts in the azure blue water, colorful houses and luxury estates dotting the landscape it's a picture-perfect town you see on postcards and in travel guides. Surrounded by mountains and spectacular coastline, the Portofino Peninsula is not to be missed in Liguria.
The narrow coastal road leading to Portofino is incredibly scenic, just as the whole surrounding area. We truly enjoyed the walk leading to Castello Brown and the lighthouse of Portofino. A boat trip to the nearby 10th century San Fruttuoso Abbey is also not to be missed.
All this being said, we didn't love Portofino as much as we loved the other towns in Liguria. Overpriced restaurants with snobbish personnel ruin this small picture-perfect village. I honestly wonder if there are any local fishermen left in this so-called 'fishing village'. Portofino is now the place for the rich and the famous.
The place to stay in Portofino is the beautiful Belmond Hotel Splendido. I would recommend having lunch or a drink there. The prices can hardly be worse than in the harbor (where they charge over 8 EUR for a soda), and the views are said to be the best in town.
A nice alternative is also Belmond Splendido Mare. If you want to spoil yourself for a nice romantic weekend, then don't look any further. For cheaper options, check the best Portofino accommodation offers here.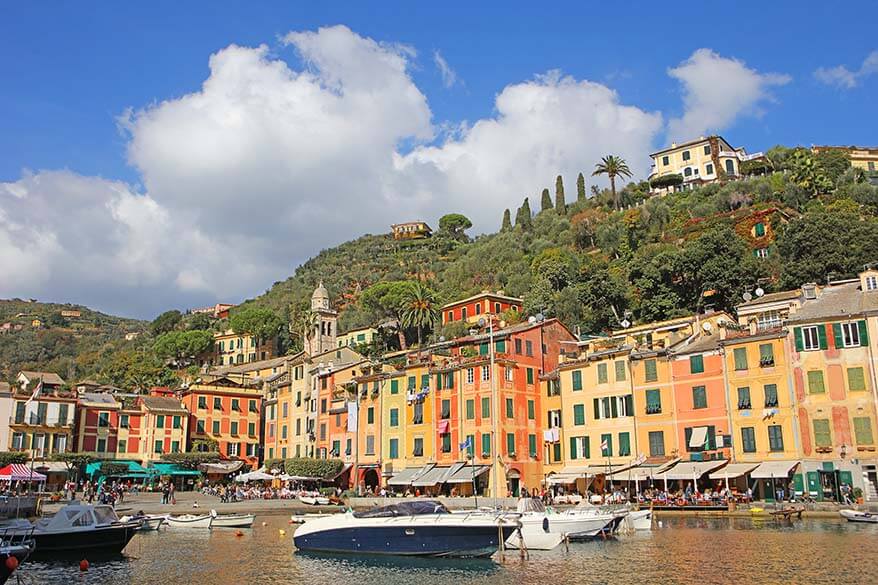 5. Santa Margherita Ligure
One of the bigger towns of Portofino Peninsula and the biggest of this selection, Santa Margherita Ligure is probably the most lively and local town of them all.
With a good mix of local residents and vacationers, Santa Margherita Ligure is a town that seems to be one of the most popular options among those vacationing on the Italian Riviera. Beautiful beaches, a big variety of accommodation, plenty of dining and shopping options, and easy access make it one of the best towns along the Ligurian Coast.
We enjoyed walking around the harbor area and checking out the local food stores selling wine, cheese, and local pastry specialties.
Santa Margherita Ligure is located just a few kilometers from Portofino, but what a difference! If you are looking for a really nice lively town with a good laid-back atmosphere, then don't miss Santa Margherita Ligure.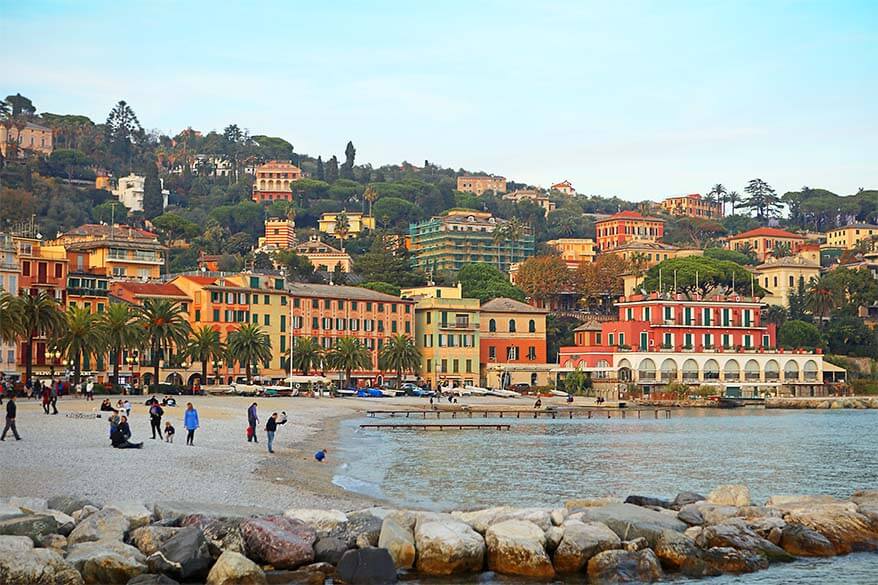 6. Vernazza
Vernazza is one more really picturesque little village along the Cinque Terre coast. It's a very lively and colorful town surrounded by vineyards.
I strongly recommend to make an effort and hike a part of the Vernazza – Monterosso trail for some of the best views of Cinque Terre.
We hiked the Cinque Terre trail from Monterosso to Vernazza and further on to Corniglia, but you don't have to hike far or to be extremely fit to just walk to the viewpoint from this picture. It's just 5 minutes away from the town center.
LEARN MORE: One Day in Cinque Terre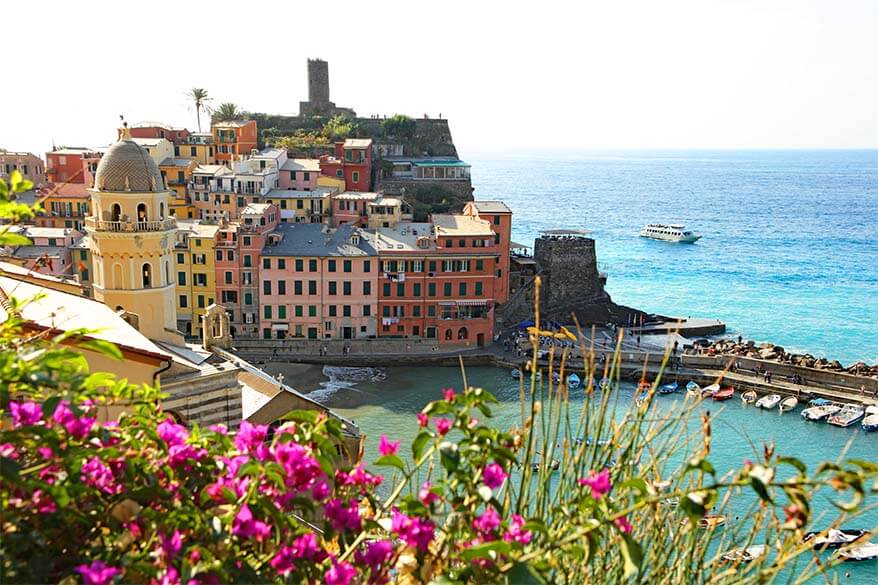 7. Lerici
Lerici is another beautiful town of Italian Riviera, situated in a picturesque inlet of Golfo di Poeti, close to La Spezia and the above mentioned Portovenere. Lerici, also called The Pearl of The Gulf (Perla del Golfo), is a charming coastal town with a small marina, a 13th-century castle and a church from the same period.
It's a tourist resort that comes to life in summer, yet despite its proximity to Cinque Terre, Lerici seems to still be under the radar of most international tourists, and is mostly visited by Italians. It's the only place along the Ligurian coast where we had difficulties ordering a meal in English.
So here it is, the secret is out – you can still find a real Italian beach town on the Italian Riviera, one that somehow managed to escape the crowds from the huge cruise ships docking just a few kilometers away.
We wouldn't have thought of going to Lerici was it not for an Italian friend who recommended it to us. And indeed, it was really worth a visit.
TIP: if you have an extra day in Lerici, you should hike to the nearby fishing villages Fiascherino and Tellaro which are considered among the most beautiful villages of Italy. You can also get there by bus and in summer also by boat.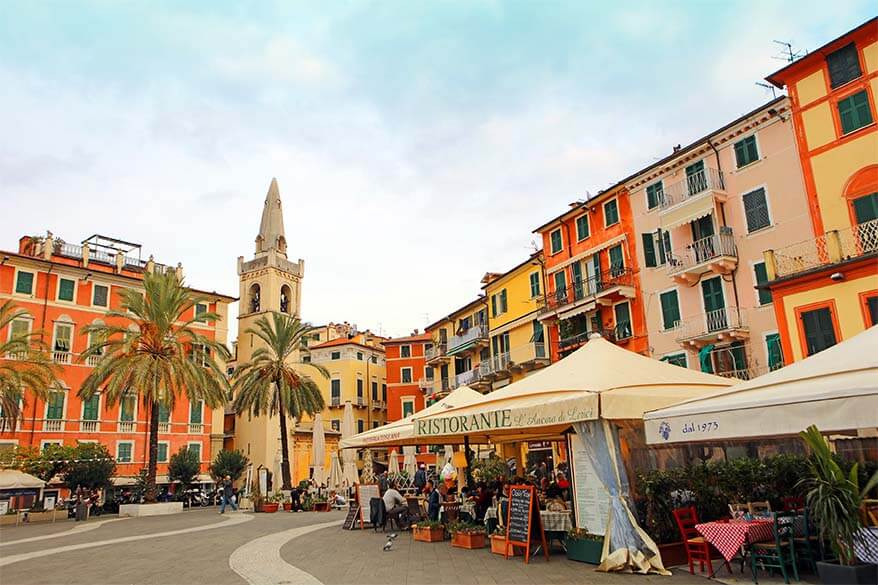 8. Riomaggiore
Riomaggiore is one more of the five Cinque Terre villages that you shouldn't miss. The best view of this little colorful town can be found down at the harbor (see the picture below).
Don't miss the coastal walk along the cliffs leading from the Riomaggiore station to the beach!
In the past, you could walk Via dell'Amore between Riomaggiore to Manarola along the coast, but at the moment only a small section of this road is open. Via dell'Amore has been closed due to landslides.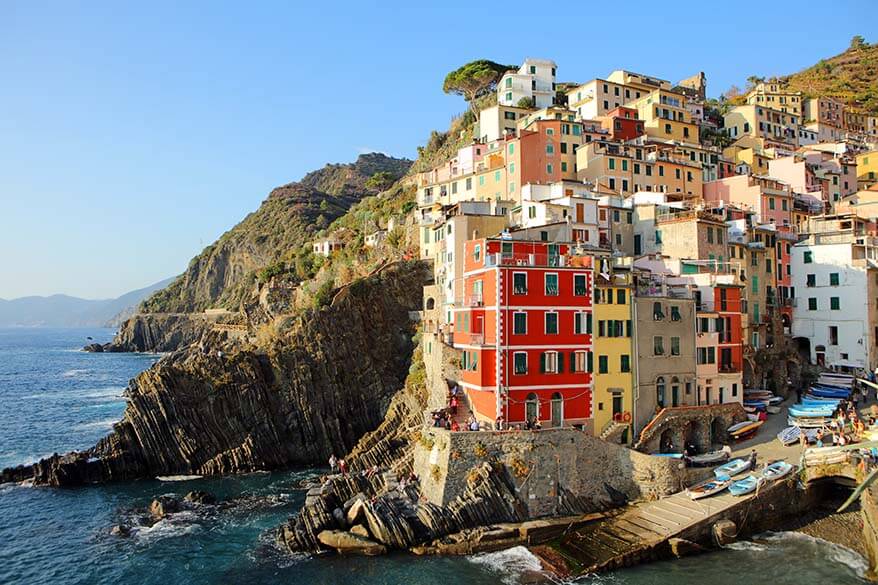 So, this is my short guide to the most beautiful small coastal towns of the Italian Rivera. Did I miss any of your favorites? Please leave a comment and share your experience and the most special places along the Ligurian Coast.
For more travel inspiration for Italy, please check our guide to the most beautiful places to visit in Italy.
READ ALSO: Best Cities in Italy & Italian Food Guide
If you found this post useful, don't forget to bookmark it and share it with your friends. Are you on Pinterest? Pin this image!