If there is one trip where it is practically impossible to choose just a few pictures to describe it, then it's our 5-week trip around Australia.
Nevertheless, I made a small selection of my favorite photos from Australia and Tasmania.
This selection is not about the most famous landmarks or the highlights of the trip, it's not about the most beautiful pictures either; it's about our personal experiences and about the diversity of this amazing continent.
Australia is more than the Sydney Opera House, Uluru, or the Great Barrier Reef, and these pictures show just that. Take a look!
Blue Mountains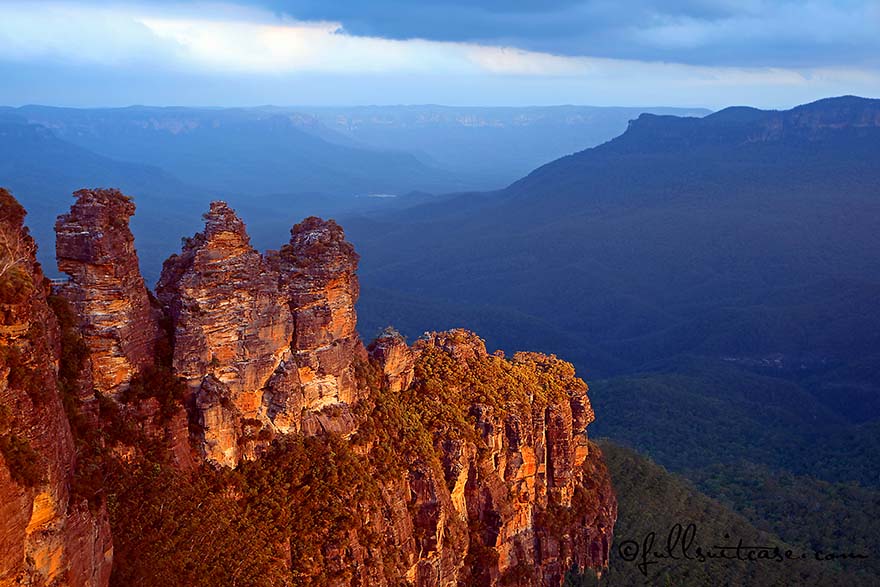 Blue Mountains is a very popular destination just near Sydney. However, we were in the Blue Mountains just days after the biggest bushfires in years. Most of the tourists cancelled their trips and the place was deserted.
There were probably less than 15 people when we arrived at Echo Point in Katoomba where this picture of the Three Sisters was taken at sunset.
Normally, this place is crowded and we had read about how commercialized the Blue Mountains experience has become. Not for us. We could really enjoy the magnificent beauty of the place, the overwhelming sound of the cicadas, and the blue mist above the eucalyptus trees below us.
Australia's Red Center From Above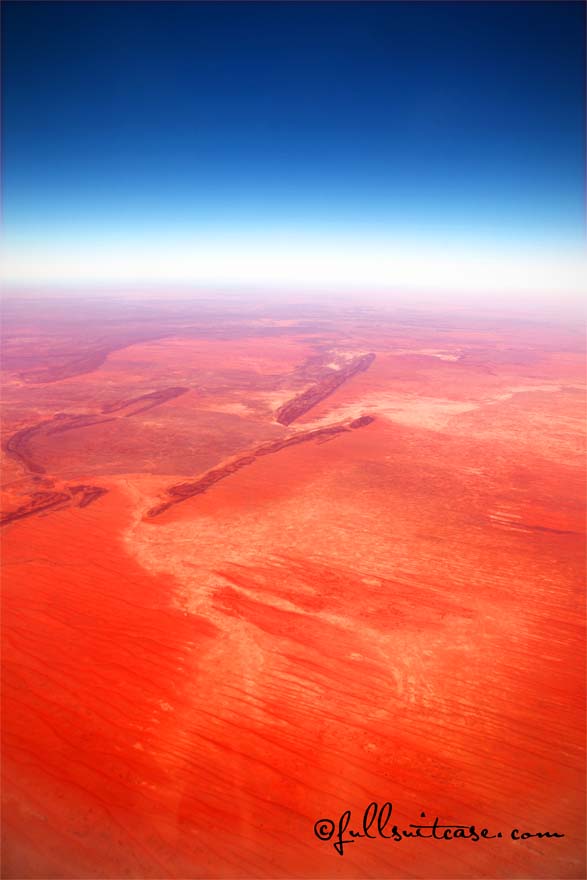 Wow! No words and no pictures can describe how immense the Red Center of Australia is.
Just after we left Sydney, the land underneath us turned red and it stayed like that through entire 3-hour flight to Alice Springs. There was just no end to the beautiful red desert beneath us.
Simpsons Gap in the West MacDonnell Ranges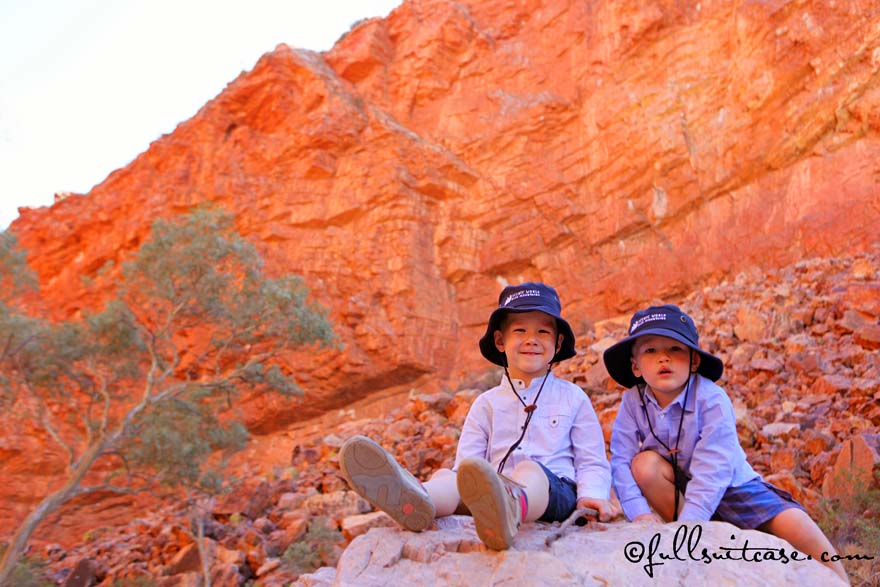 This picture was taken on our first day in the Red Center of Australia. Simpsons Gap was also the first of the many gorges we visited in the West MacDonnell Ranges. The scenery was absolutely incredible!
Sightseeing in the heat of the Northern Territory is only possible early in the morning in summer. And even though it was only November, it was unbelievably hot (by 10 am temperatures would exceed 40°C (104°F)).
Despite the heat, our little travelers were doing just fine: they were running on a trail ahead of us, playing with stones, climbing the rocks and the dead trees, trying to spot some animals… Who said you cannot travel with young children?!
Ormiston Gorge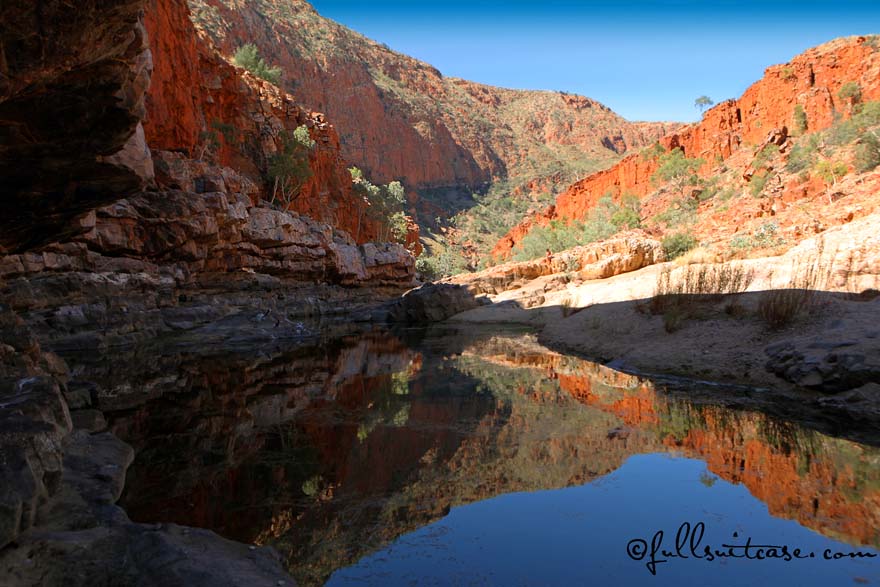 This picture was taken on the same day as the previous one. Towards the end of the day and many gorges further, we arrived at the stunning Ormiston Gorge.
Here, we could take a well-deserved plunge in the cool water. Children just couldn't get enough of it! No swimming pool can compare to this.
On the Road In the Red Center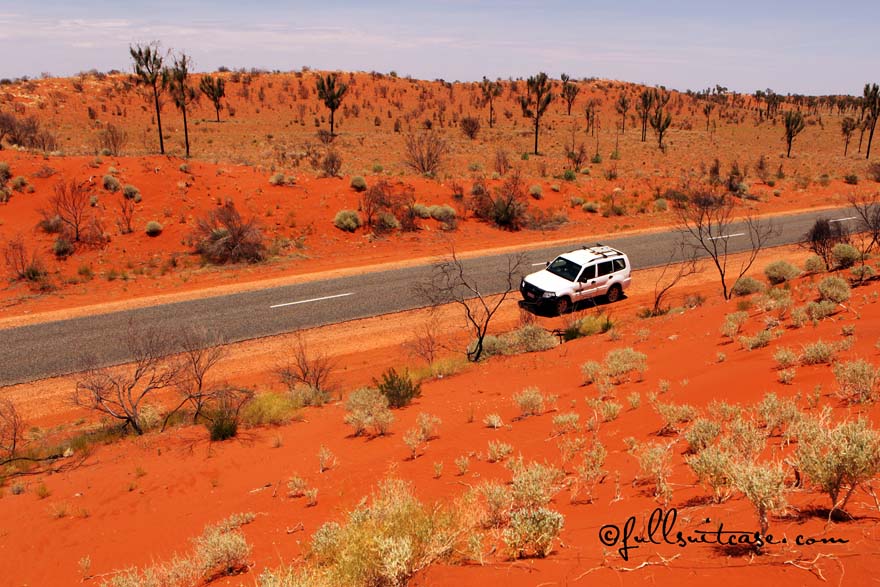 After almost a week of discovering the highlights of Australia's Red Center between Alice Springs and Uluru, we were driving back to Alice Springs on a tarmac road (what a luxury!). The scenery was amazing: red sand landscape as far as an eye can see.
All of a sudden we realized that we haven't taken any pictures of the red sand! We've been so impressed with the gorges of West MacDonnell, with the Kings Canyon, Uluru, Kata Tjuta… that we started to take the 'regular' landscape for granted.
I was the only one who volunteered to get out of the car in the heat of the day in the middle of the desert in order to photograph sand. But hey, it's not just any sand. It's what central Australia is all about!
MacKenzie Falls in the Grampians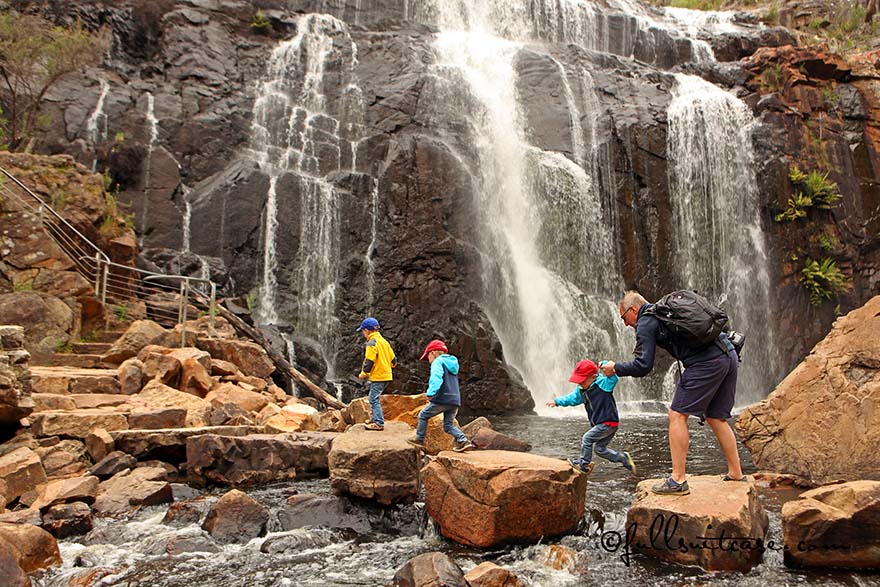 I have never heard of the Grampians National Park before this trip, so my expectations were low. However, this place was en-route for us and so we decided to include a few nights here in our itinerary. And we were so glad we did! We loved the Grampians and it became one of the highlights of our trip!
This picture of my husband and the kids crossing the river at MacKenzie Falls is my favorite picture of the entire 5-week trip. It brings back so many fun memories, but it also reminds me of what a great family I have.
We haven't met many families with three children younger than 5 during our travels. And definitely not traveling to the other side of the world… Yet somehow I often take it for granted that our children actually like to hike, go places, and are open to new experiences. It's not that they are any special kids; it has more to do with the fact that we have been traveling with them ever since they were born.
Australian Rainforest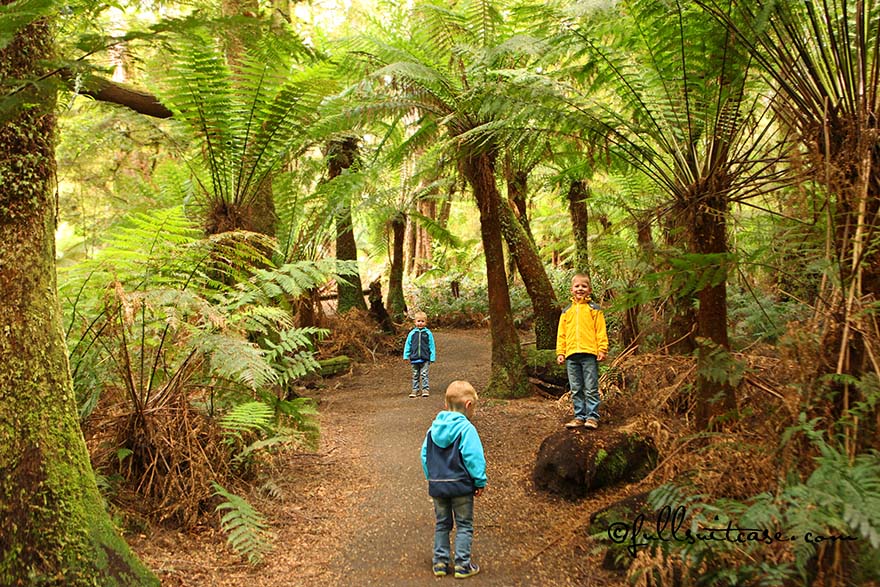 There are so many rainforests all over Australia, one more impressive than the other. This picture was taken in the Maits Rest Rainforest in Otway National Park.
It made it into my top 10 of my favorite pictures from Australia because it just shows once more how diverse Australia is.
Kids Feeding Wild Parrots at Kennett River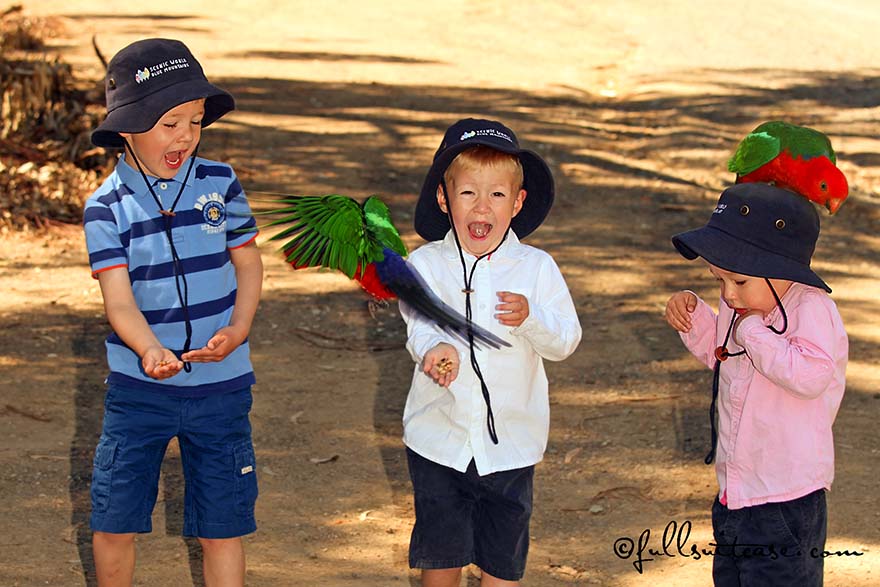 Kennett River was one of those unexpected gems on the Great Ocean Road. The place is well known for seeing wild parrots, and they know tourists like to feed them.
Since we were the only ones there early in the morning, tens of wild parrots surrounded us expecting some food. Children loved it, but they were anxious at the same time, and this picture captures just that.
By 9 am the place was full of tourists and the magic was gone (it pays to have small children when traveling as they get you out of bed so early!).
We then took our car up the hill on the road that's famous for spotting wild koalas. And even though it was less than a mile away from the crowds surrounding the parrots, there was no one else there. We got out of the car and in less than 10 minutes we spotted more than 20 wild koalas. I have a beautiful picture of one of them in my post about tips for taking better travel photos.
Bicheno Blowhole in Tasmania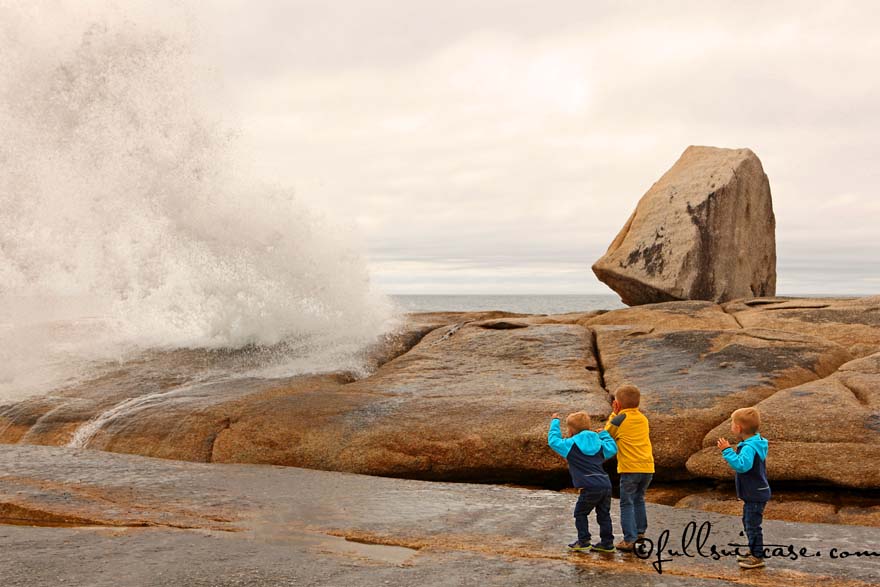 Tasmania is a whole different world in comparison to the rest of Australia. Nature is spectacular here, but very different than the rest of the country. It reminded us of New Zealand or West Canada.
Bicheno Blowhole was definitely one of the highlights of the trip for the kids! This picture captures their excitement and enchantment with this natural wonder.
The kids were fascinated by the power of water shooting through a hole in the rocks! They spent at least an hour watching the Blowhole, running towards it, waiting for the water to splash, then laughing and running back trying not to get wet… They had such a good time and couldn't get enough of it, and neither could we.
Giant Trees on a Walk to Russel Falls in Mount Field National Park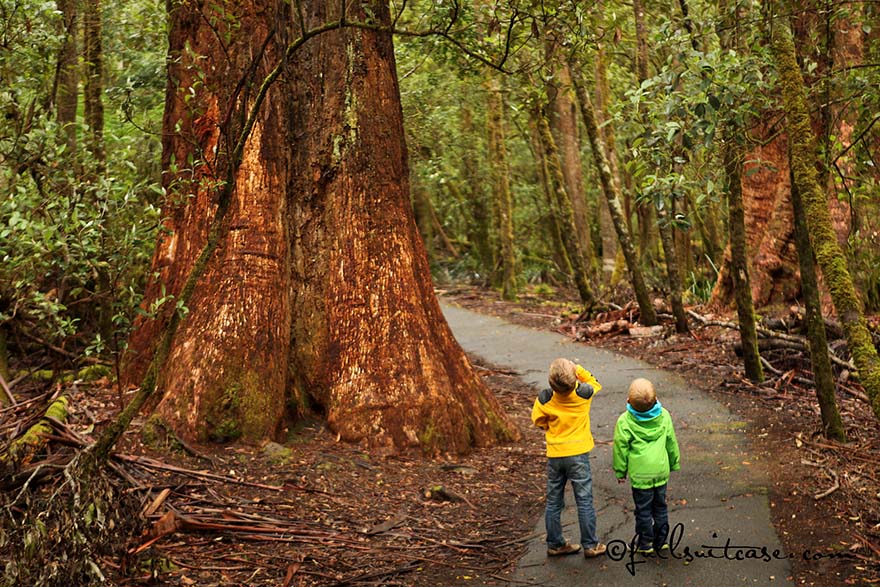 Russel Falls in Mount Field National Park are lovely, but we were just as awestruck with the walk through the forest on our way there as we were with the waterfall.
We saw some gigantic trees at various locations during our trip throughout Australia and Tasmania, and we were impressed every single time. No picture can truly portray how colossal the trees actually are, or what you feel when standing next to one of these thousand-year-old giants…
Wombat in Tasmania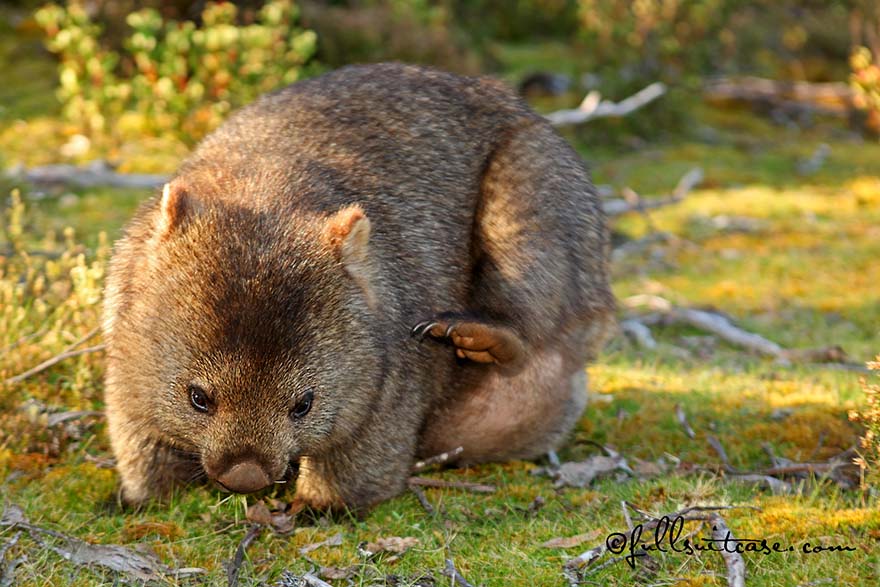 No story about Australia would be complete without mentioning its wildlife. Australia is famous for kangaroos and koalas, so why in the world did I choose a picture of a wombat? Let's just call this cutie the ambassador of all Australian wildlife. Because let's be honest, there is no way they could all make it into the top 10 of the Australian pictures.
Australian wildlife was one of the deciding factors for us to actually book a trip Down Under with three young children. And it didn't disappoint! We saw tens and tens of kangaroos, koalas, but also a wild camel, sea lions, wombats, wallabies, echidnas, Tasmanian devils, platypus, cicadas, parrots, cockatoos, pelicans, an uncountable number of various birds we don't even know the name of, and even a couple of snakes.
I hope that these photos will give you a more complete picture of Australia. Maybe you even learn something new, so that when you book your trip Down Under you will want to explore more than just Australian beaches.
Read more:
Planning Your Trip to Australia: Where To Start, When To Go, What To See
Australia with Kids: Our Experience and Travel Tips