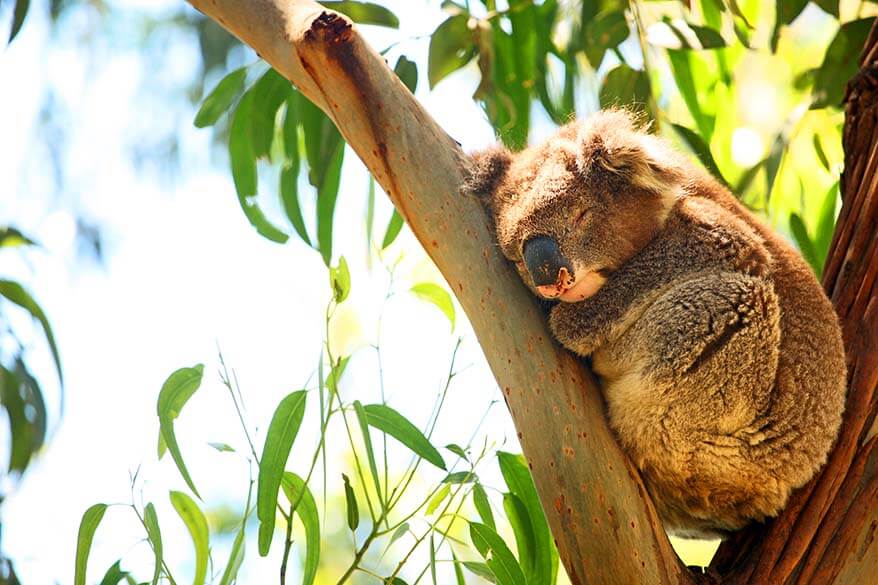 Wildlife was one of the main reasons why we decided to make a far trip to Australia with three little kids. We had been to Australia before and knew that kangaroos are pretty easy to spot in different regions and that you can hug and cuddle koalas in many zoos. But this time we were hoping to find some wild koalas as well.
So one of the questions we had before the trip was where can you see wild koalas in Australia?
After some research, we learned that Southern Australia and in particular the Great Ocean Road in Victoria has a big wild koala population. One of the best places to see wild koalas in Australia is the famous Kennet River Koala Walk (Kennett River) along the Great Ocean Road.
In this article, you can read about our experience at Kennett River Koala Walk. Find out!
Kennett River Koala Walk – what to expect
Responsible travel
UPDATE – I added this paragraph after receiving a message from a very concerned local resident.
You can read all about the koalas at the Kennett River Koala Walk below, but first I want to ask you to be a responsible tourist, everywhere you go. I got a message from someone living in the area who said that tourists' behavior at the Kennet River Koala Walk has become appalling…
So please be respectful of wildlife, nature, and also to the people living nearby. Places like this should be treasured and not ruined by tourism. However, the line between the two is very thin. So it's up to each and every one of us to make sure that we leave no trace.
Thinking of this, I also now realize that feeding wild parrots is probably not the best idea. Unfortunately, this has been going on long before we visited and I'm afraid it will not stop immediately. We just came back from Thailand where feeding wild monkeys is extremely popular… In other places in the world, people feed pigeons, stingrays, or even sharks…
This means that animals become dependent on humans and can't take care of themselves… So if I were to visit this place again, I think I would refrain from buying bird food at the nearby store and just watch the animals instead of interacting with them… That being said – it's also the responsibility of the local businesses to stop selling bird food and encouraging this…
Anyway, below you can read about our experience spotting wild koalas and parrots at the Kennet River. I left it unedited, the way we have experienced this beautiful and unique area.
Spot wild koalas
Kennett River Koala Walk is actually just a road surrounded by gum trees and a significant population of wild koalas. I don't know the exact numbers, but I read that there are hundreds of koala colonies in this area, with over a thousand of koalas.
That being said, it doesn't mean that you will see a bunch of koalas sitting in every tree just next to the road. However, the odds are pretty good that you will see some. We spent about an hour in this area and counted more than 20 koalas.
Koalas are lazy animals and they spend most of the time sleeping. You may be lucky to see a koala 'in action'. The 'action' usually involves a short climb to reach the leaves, followed by some lazy feeding. Most of the koalas you will see will be sleeping, which makes it a bit more difficult to spot them.
Once you spot your first koala it will get much easier to see more. It requires some patience and it helps if you know where to look.
TIP: look at the places between the stem and the branches, that's where the koalas usually sit.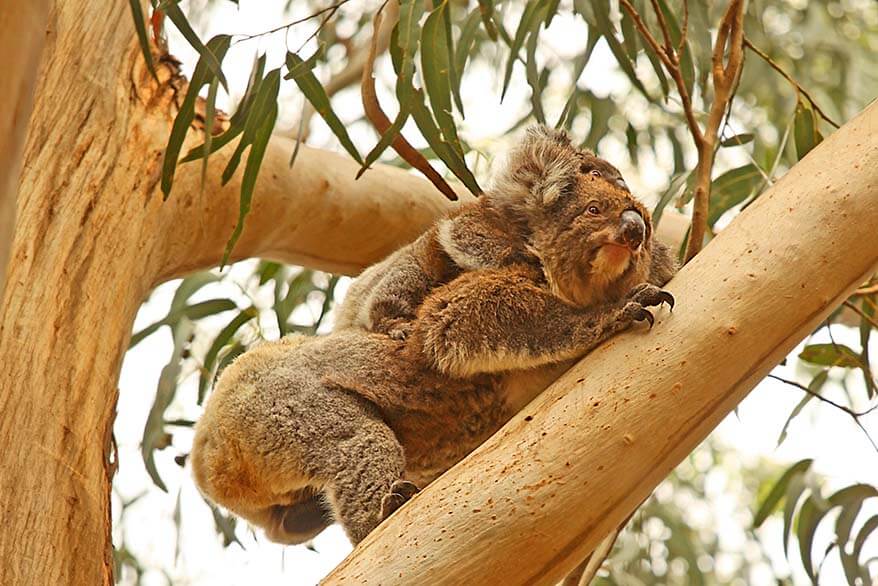 Feed King Parrots
There is more wildlife to see in this area too. Kennet River might be best known for koalas, but you can also find a big population of colorful King Parrots and other birds.
Most of the birds we saw where sitting in the trees right next to the Kennet River parking lot by the Kafe Koala. The reason is simple – this coffee shop sells bird food to tourists.
We bought some birdseed and in no time we were surrounded by these colorful birds. Kids were thrilled and anxious at the same time, but they bravely kept feeding the birds. I preferred taking pictures instead. The parrots are clearly used to people and they come and sit on your head (helps to wear a hat), your shoulders, and they feed straight from your hand.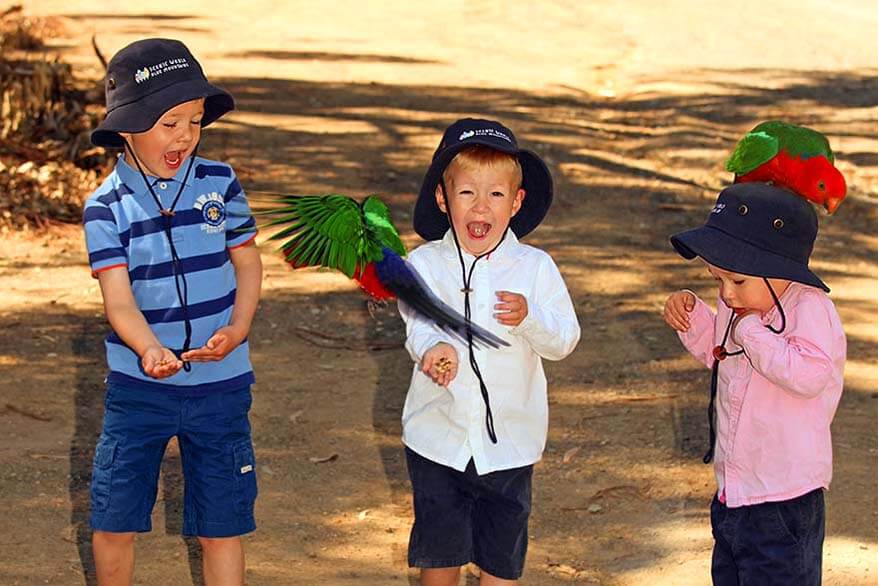 Luckily for us, we were there early in the morning, just before the big busses of tourists started to arrive.
When we saw koalas climb higher and birds stopping to eat, we realized that there were more people around than birds. We then took our car up the Grey River Road and went looking for more wild koalas.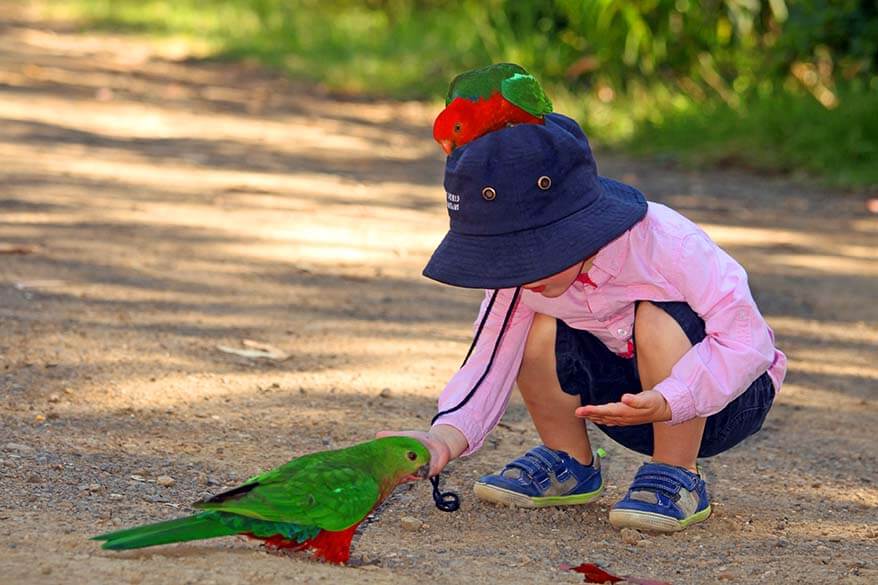 Walk along the Grey River Road
The best way to spot koalas at Kennet River is to take a walk along the Grey River Road. This road is surrounded by a huge eucalyptus forest, and you may know that eucalyptus leaves are the favorite diet of koalas.
The first section of the road close to the coffee shop and the parking lot quickly fills up with tourists. The good thing is that 99% of them don't seem to make an effort and walk any further. They see some birds, wait for the guide to spot a koala for them, each take the same picture and leave.
Since we were visiting with young kids and the Grey River Road goes up the hill, we decided to take the car rather than walk further. We drove 2-3 kilometers and we were completely on our own. We parked the car next to the road and went for a short stroll looking for koalas. It's a rather quiet road and we only saw a couple of cars pass, so it's quite safe to walk along this road, also with kids.
As I said, we spotted so many koalas that we lost count at around 20. Some koalas were sleeping, some were feeding, and we also saw a few koalas with their babies on their back. There was one tree with 6 koalas in it! The leaves there must have been greener and tastier than anywhere else I suppose.
So if you are visiting Kennett River, make sure to walk or drive up the Grey River Road and go for a short stroll looking for koalas. Even if you come on a busy day, it will be much quieter up the hill than down below by the parking lot.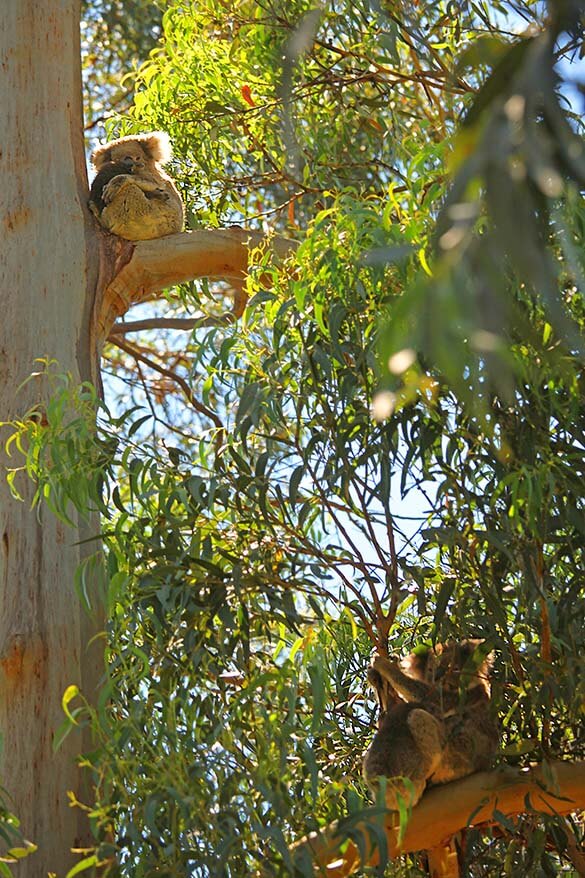 Kennett River Koala Walk Location
Kennett River is located halfway between Lorne and Apollo Bay along the Great Ocean Road in Victoria, Australia. See the map below for the exact location.
How to Use This Map: Use your computer mouse (or fingers) to zoom in or out. Click on the icons to get more information about each place. Click the arrow on the left top corner for the index. Click the star next to the title of the map to add this map to your Google Maps account. To view the saved map on your smartphone or PC, open Google Maps, click the menu button, and go to 'Your Places'/'Maps'.
Practical Tips
Visit as early in the morning as possible. The birds will still be hungry and there will be fewer tourists. After 9 AM the parking lot fills up with tour busses doing the Great Ocean Road day trip.
Buy some birdseed at the coffee shop or bring some with you. For our kids feeding the parrots was a much more memorable experience than seeing the sleeping koalas.
Wear a sun hat if you are not comfortable with parrots sitting on your head.
You may want to bring binoculars for spotting koalas, but it's not a must. We saw plenty of them from a rather close distance.
About 5 km up the road you can find a beautiful picnic area Grey River Reserve. We haven't visited at night, but apparently this area is famous for glow worms. So if you bring a torch you may spot some.
Where to eat. Kafe Koala serves good fish and chips for lunch.
Kennett River Koala Walk is not the only place where we saw wild koalas in Australia, but it was the most accessible one. It also had the biggest number of koalas by far. If you are visiting the Great Ocean Road, don't miss the Kennet River. It's just a short stop along the way and so worth it!
Have you been to Australia? Feel free to share your best tips and locations for spotting wild animals. You can do so by leaving a reply below.
More travel tips for Australia:
If you found this post useful, don't forget to bookmark it and share it with your friends. Are you on Pinterest? Pin this image!