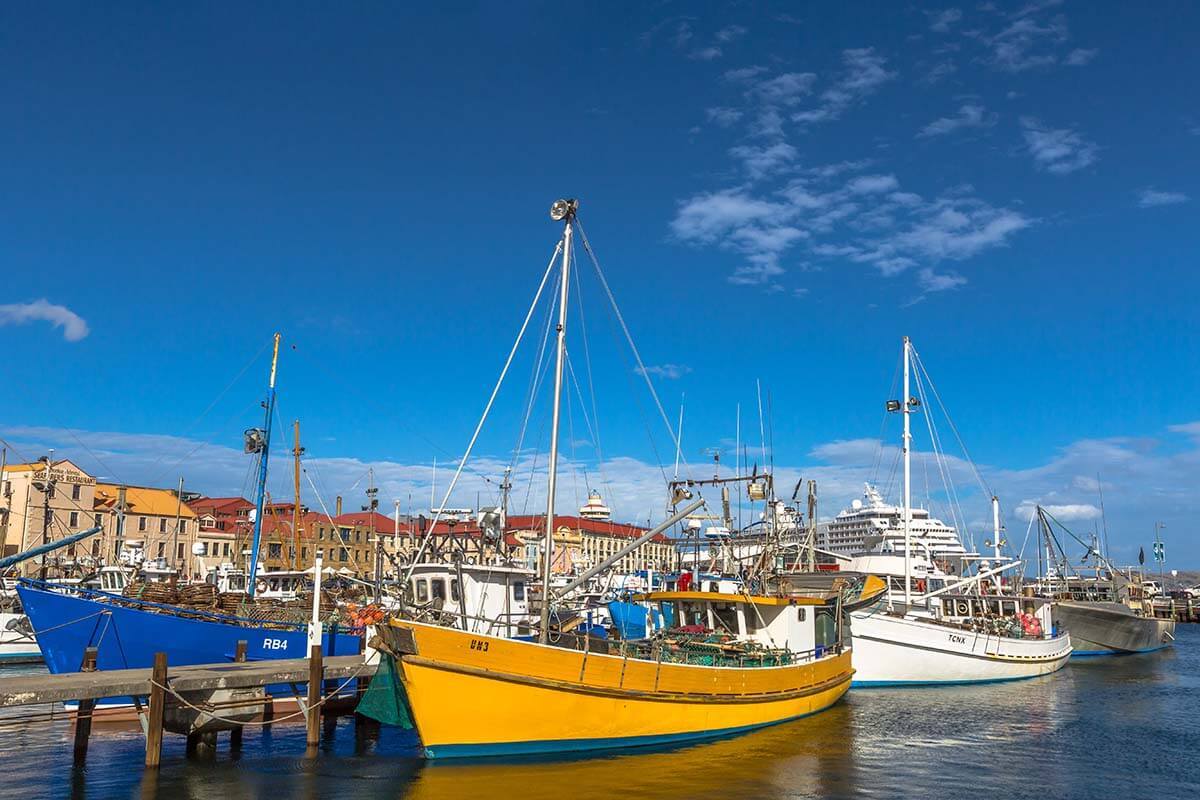 Planning to visit Hobart, Tasmania, and wondering what to see and do or how to plan your trip? In this guide, we share top things to do in Hobart and planning tips for your visit. Find out!
Hobart is the capital city of Tasmania, a beautiful Australian island that has some of the most stunning nature and wildlife on our planet. Even though Hobart is not a large city, what it lacks in size it makes up for in diversity. In this article, we cover some of the very best things to do in Hobart.
In order to give you a more complete picture of what there is to do in Hobart, this selection also contains some of the very best day trips nearby. After all, there is so much more to Tasmania than just its capital city. So with that in mind, we also share suggestions for how to see the best of Hobart in one day, as well as tips for how to spend two or three days in Hobart.
There are many ways to spend your time in Hobart. From exploring the art scene, taking in incredible views, or getting in touch with nature – there is something here for everyone. In this article, you can find a nice mix of the very best places to see in Hobart and its surroundings. So no matter what your interests are, there's always something that's right for you.
Good to know: This article is written in collaboration with Australian travel writer Sharee from Inspire Family Travel who recently visited Tasmania with kids. With her help and tips, as well as our personal experience when visiting Hobart and road-tripping in Tasmania, we put together this guide to Hobart that should help you make the most of your trip. Take a look!
What to do in Hobart – OVERVIEW:
Here are the best things to do in Hobart:
1. Hobart's Historic Waterfront Area
Hobart Waterfront is not to be missed when visiting the city. It's the place-to-be for locals and tourists alike. No trip to Hobart would be complete without a visit here. Grab some fish and chips and watch the hustle and the bustle of the harbor around you. It's the ultimate Hobart experience!
Take a stroll along Hobart's Constitution Dock that is famously known as the finish line for the annual Sydney to Hobart Yacht Race. It is also one of the best places in town to taste Tasmanian seafood. You'll find a big choice of popular restaurants, or you can pick up some fresh catch from the local fishermen.
The area holds a significant amount of history for the city of Hobart. It is here that many of the first migrant forefathers came to shore to begin their new lives.
What becomes evident as you continue towards Salamanca Place is how this area blends old world charm with modern-day. The Georgian sandstone warehouses that were once used to store food and materials to trade are now home to galleries, restaurants, and boutiques.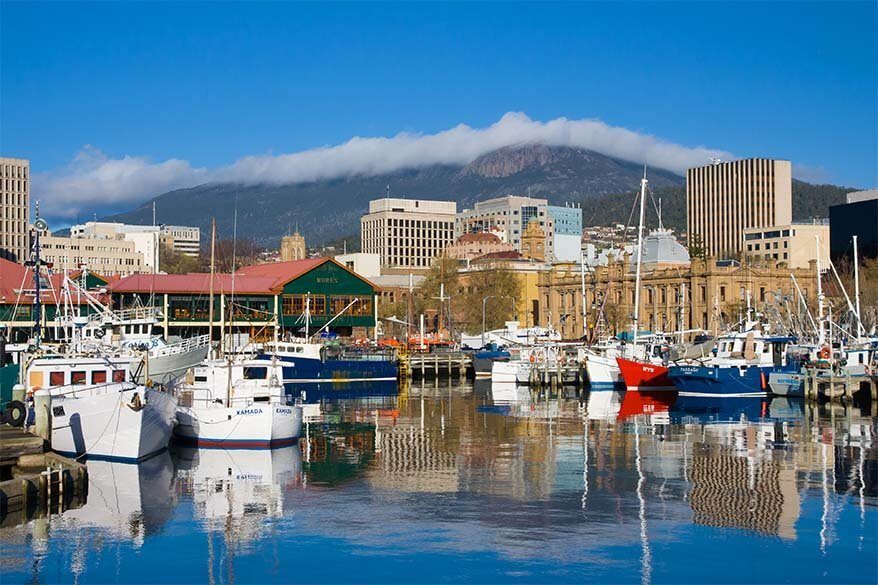 2. Tasmanian Museum and Art Gallery
One of the best things about Hobart is there are so many child-friendly activities around every corner. For those who love to experience a touch of history and art on their trips, the Tasmanian Museum and Art Gallery is an engaging experience for all ages.
TMAG, as it has been affectionally named, is the second oldest museum in Australia. It's ideally located on the Hobart waterfront, in a beautiful historic building. Admission is free, and you can choose to join a free guided tour or browse the rare and unique collections at your own pace. The museum also offers a range of hands-on programs and interactive zones for kids to encourage their interest in art, history, and science.
A visit to the museum is really nice at any time of the year. But if the weather turns bad, this is one of the best things to do in Hobart when it rains.
Tip: You could easily spend 2 hours at TMAG. But if your travel schedule is tight and you only have one day in Hobart, you can always pop-in for a short visit.
Practical info: The museum is open daily, except on Mondays. For more information, please check the official website of TMAG.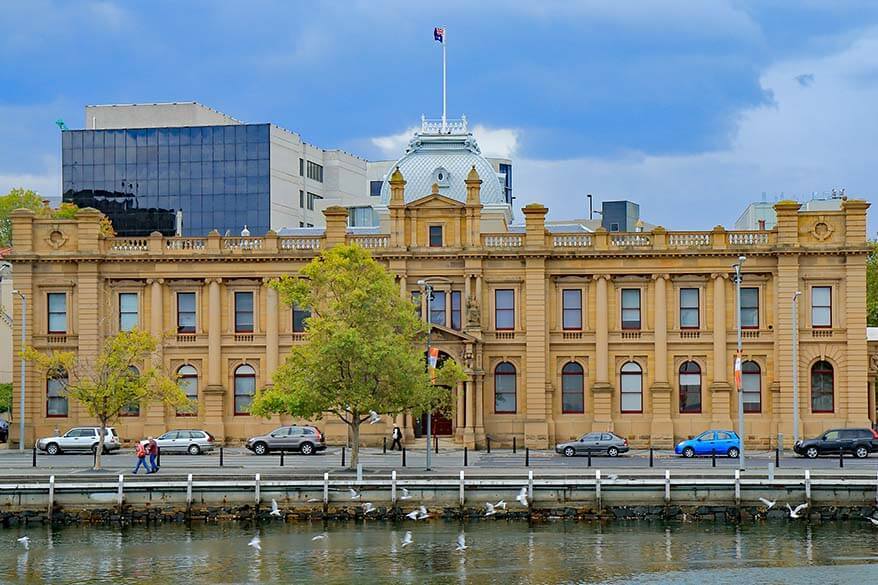 3. Salamanca Markets
On Saturday mornings, Salamanca Place is transformed into one of Australia's largest outdoor markets. This tradition started back in 1973 and continued ever since.
There are over 300 stalls lining the streets. You can buy everything from antiques, craft, clothing, jewelry, flowers, woodwork, and more. There is usually live music as well. It is not surprising that these markets attract thousands of visitors and locals.
This market is the reason why many travelers plan their trip to Hobart over a Saturday.
You can easily spend a good part of the day wandering the rows, relaxing on the lawns listening to buskers, and sampling the incredible Tasmanian food. The markets are a brilliant place to stock up on extra snacks for the day ahead.
Practical information: Salamanca Markets take place on Saturday, from 8.30 AM to 2-3 PM.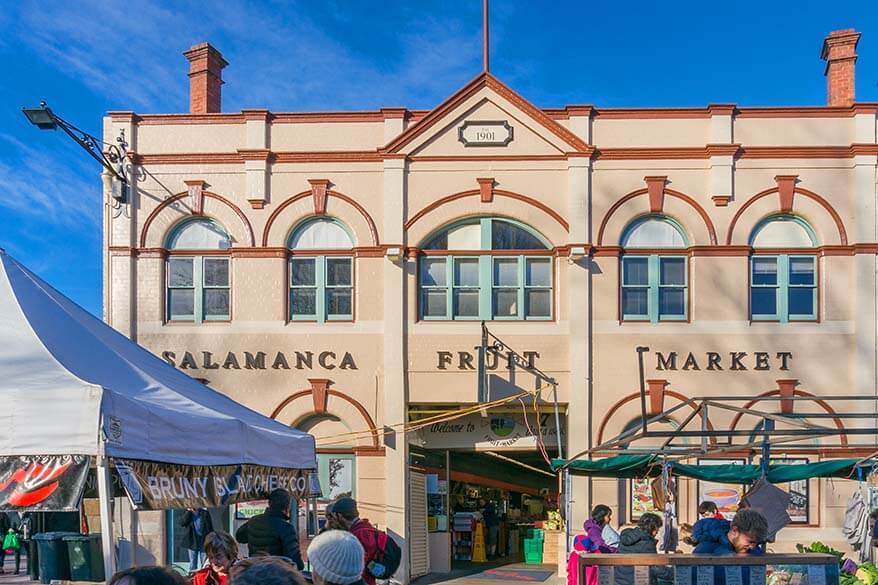 4. Battery Point
Battery Point is a historic area in Hobart, just a stone's throw from Salamanca Markets and the Hobart Waterfront. A visit here gives you a sense of stepping back in time. It's well worth coming here!
Climb the colonial era Kelly's Steps to explore this historic neighborhood. Walking through the laneways and quaint streets enables you to imagine what this area was like 100 hundred years ago. The streetscape has mostly been untouched since then!
Battery Point was once a military outpost in the early 19th century. It is now a fashionable suburb where cottages have been converted into guest houses and sandstone buildings transformed into a popular café scene.
If you don't want to walk, you can also take a hop-on hop-off bus to quicker visit this and many other parts of Hobart. And on the contrary, if you want to explore deeper and learn more, you may want to visit this part of town with this highly-rated walking tour with a local guide.
TIP: If you're visiting Hobart with kids and need a change of pace from the historical walking tour, check out the Princes Park. This green oasis in the heart of Battery Point is also known as the "boat playground". There is lots of green leafy space and a nautical-themed playground to keep the kids entertained.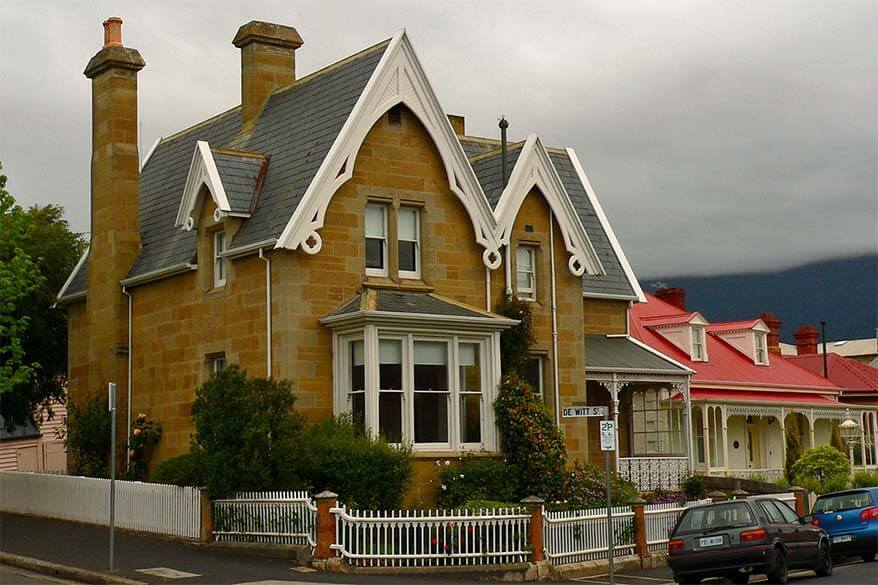 5. Royal Tasmanian Botanical Gardens
Another popular place to see in Hobart is the Royal Tasmanian Botanical Gardens, just a short drive or walk from the city center. The second oldest botanical gardens in Australia cover 14 hectares, which is equivalent to approximately 26 football fields.
The grounds contain many different displays and one-of-a-kind exhibits, such as the Subantarctic Plant House. A world-first the plant house was built to mimic the environment and grow the flora within subantarctic islands. It is well worth visiting, but best to pack something warmer if you want to linger. Even in the summer months, the blast of the misty air inside the plant house is very cold.
Some of the other living collections that are highly recommended are the Japanese gardens and the flower display in the Conservatory.
Practical information: The Royal Tasmanian Botanical Gardens are open seven days a week from 8 am to 5 pm. There is a restaurant and café onsite that offers lunch, light snacks, and coffee. For more practical information, please check the official website of the botanical garden.
TIP: The botanical gardens are on the Hobart hop-on hop-off bus route.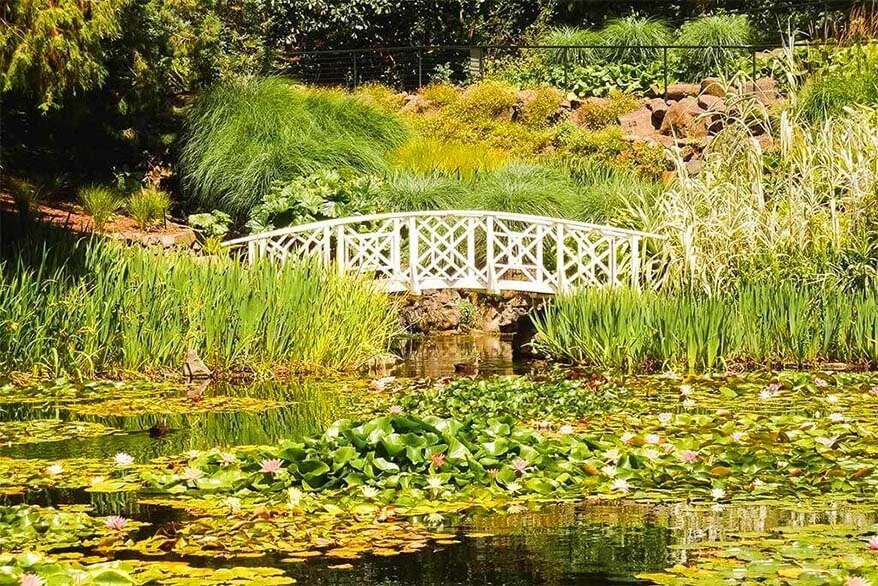 6. MONA (Museum of Old and New Art)
MONA is the quirky and somewhat controversial playground of its creator David Walsh. This is the largest privately funded museum in the Southern Hemisphere. It was opened in 2011 and is now one of Hobart's most popular tourist attractions.
You won't' find any wall texts explaining the artwork here. Instead, each person is given a handheld device called "The O" which offers visitors a cutting-edge electronic guide to MONA. It is important to note that the museum includes a lot of adult content that may not be to everyone's liking. If you are traveling with young children, you may want to ask the staff which rooms are family-friendly and which can better be avoided.
Getting there: MONA is located up the river, 11 kilometers north of Hobart. You can get there by car or by bus – it's a 15-20 minute drive from the CBD. But the more popular way to get to MONA is by ferry from Brooke Street Pier. The MR-1 fast ferries take approximately 25 minutes and also give you a nice opportunity to see Hobart and the surroundings from the water.
Practical information: Admission is free for Tasmanian residents and kids under 18 years of age. Regular tickets are 30 AUD. For more practical information and opening times, check the website of MONA.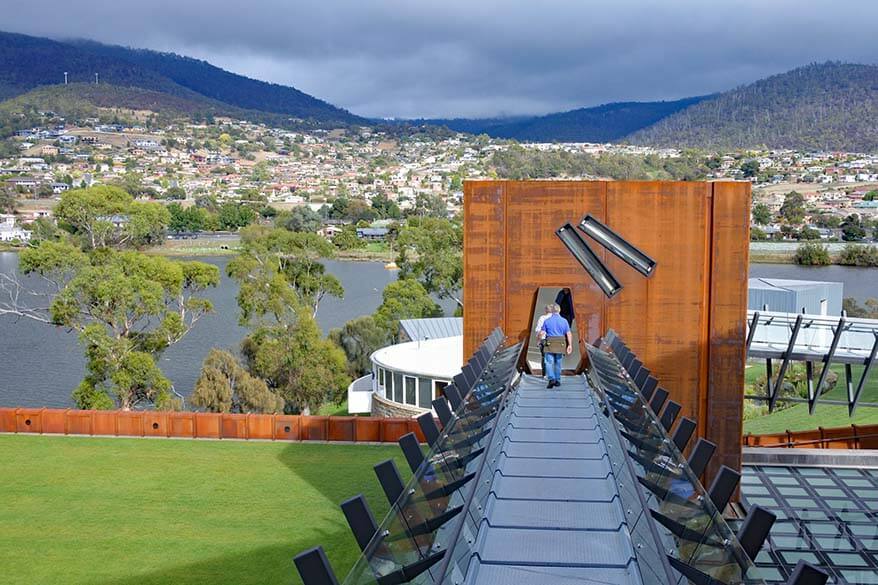 7. Mount Wellington
While strolling Salamanca Place you will have noticed the impressive Mount Wellington in the background, towering over the city of Hobart as a commanding presence. A short 30-minute drive from the city will have you standing atop of the 1.270-meter summit gazing at the beauty below.
Kunanyi / Mount Wellington, as it's officially called, is a must when visiting Hobart. On a crystal-clear day, there is no better place in the area to experience these magnificent sweeping views over Hobart, the Tasman Peninsula, and Bruny Island! Sunrise and sunset are particularly special times to visit as you watch the colors in the sky dance over the city.
Located in Wellington Park, the summit is free to visit and is mostly always open. The only exception is when the park may be forced to close for safety concerns. Take advantage of the walking tracks on the summit and the Pinnacle observation shelter if you are experiencing challenging weather conditions.
TIP: Take some extra layers up the mountain as the weather can change very quickly. It's usually several degrees cooler (and windier) here than in the city.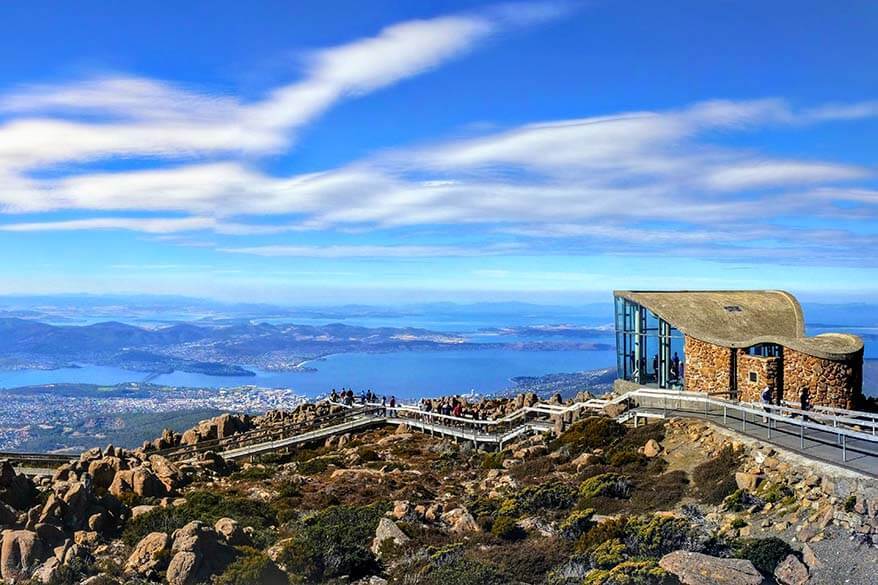 8. Mount Nelson
Mount Nelson is a great alternative to Mount Wellington's summit. The lookout at the Mount Nelson Signal Station is only a 10-minute drive south of Hobart and offers a great aerial perspective of the city and its surroundings.
As the signal station holds a prime position in the hills, you can enjoy panoramic views over Hobart city and the River Derwent. When the skies are clear, you can see as far as Bruny Island in the south and out to Storm Bay.
The colonial-built signal station was constructed in 1811 in order to send messages to the Port Arthur convict site (more info further below). Nowadays, this place is a popular recreational area. With a picnic area located close by, along with cafes offering light breakfast and lunch, Mount Nelson is popular among locals and tourists alike.
You can also explore this area on foot along several walking trails. There is a 4.2 km return walk from the signal station down through the beautiful Truganini Reserve. So even this close to the city, you can meander through bushland and admire the stunning Tasmanian flora while listening to native birds.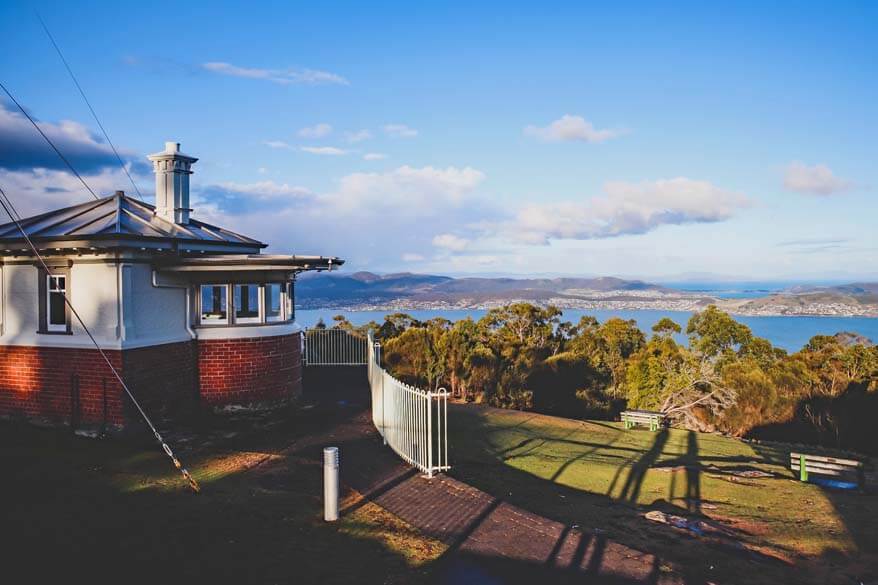 9. Farm Gate Markets
Weekly Farm Gate Markets located in the heart of Hobart is another popular market that visitors and locals flock to every Sunday. It is here in Bathurst Street that you'll find local farmers selling fresh Tasmanian produce.
From its modest beginnings, Farm Gate started with the philosophy that if you can drink it, eat it, or grow it, then you'll find it at this market. Many years later, this award-winning market has grown to one of the top five within the country, and the ethos still applies.
When traveling to a new destination, you always know you have hit the jackpot when locals are visiting a market to fill their pantry and fridges from the food offered. The Farm Gate Markets are a family-friendly outing with the ringing of a farm bell signaling the start of trading. They then come alive with street performers, buskers, face painters, and musicians, creating a fun atmosphere while you wander the stalls.
Practical information: The Farm Gate Markets are open from 8.30 AM – 1 PM every Sunday. Parking is available for a small fee at Central Car Park which opens to coincide with the market's opening hours.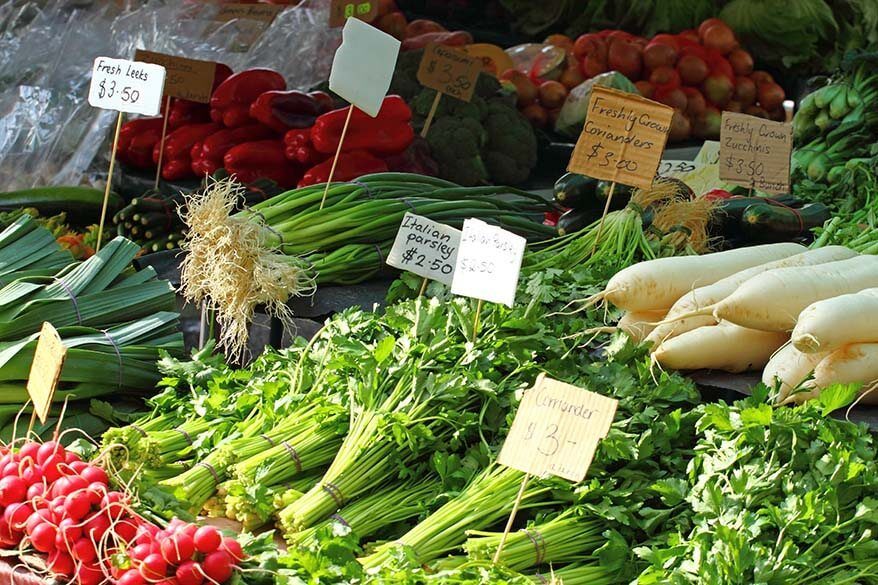 10. Port Arthur
Port Arthur is a significant heritage area and one of the top tourist attractions in Tasmania. Visitors flock to Port Arthur to learn about Australian history and how this site was once a place of sadness, hardship, and brutality. While it's not in the city, no guide to Hobart would be complete without mentioning this important site.
Port Harbor is located on the Tasman Peninsula approximately 90 minutes' drive from Hobart. This town was a former convict settlement. Inscribed on the UNESCO World Heritage List in 2010, Port Arthur is the best-preserved and thought-provoking convict site in Australia. More than 30 historic buildings are spread out over 100 acres of beautifully manicured lawns, which form a high contrast to this area's dark history.
Good to know: Entry tickets to Port Arthur include access to the site for 2 consecutive days. So if you have plenty of time, you can take it easy, explore deeper, join the harbor cruise, introductory guided tour, and explore the buildings and ruins on the grounds (all included). If you want to experience a historic site at night, take a lantern-lit walking tour around Port Arthur full of mystery and possible paranormal activity.
TIP: Most people visit Port Arthur as a day trip from Hobart. There is a variety of organized tours, sometimes combining several places/activities that allow you to make the most of your short time.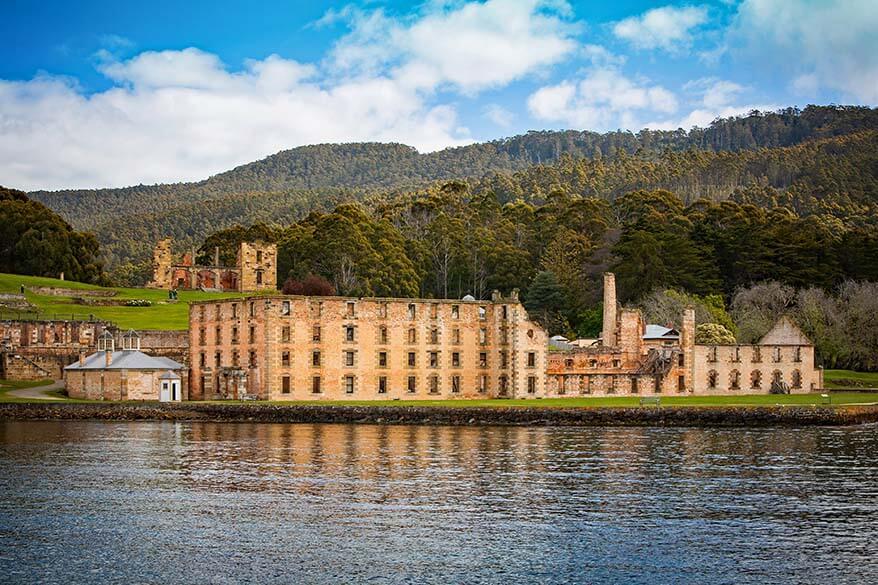 11. Bruny Island
Another place many visitors to Hobart also tend to visit as a day trip from the city is Bruny Island. It can be accessed from the mainland via a 20-minute crossing from Kettering after a 35-minute drive south of Hobart.
Rugged natural scenery, rich history, delicious produce, and long sandy beaches are some of the reasons to visit this island. Furthermore, Bruny Island is one of Tasmania's most pristine natural environments. It is home to many rare forms of plant life and endangered animals.
One of the highlights on Bruny Island is to view the narrow strip of land from the lookout steps between North and South Bruny. It's called The Neck. Make sure to also visit the Cape Bruny Lighthouse. First lit in 1838, this is Australia's second-oldest continually staffed lighthouse.
How to visit: Depending on your time restraints, you can choose to drive there by car and explore the island at your own pace. Alternatively, there are many guided tours from Hobart; both on land and via the water. They offer an insight into Bruny Islands' fantastic food, spectacular scenery, and unique wildlife. If one day is not enough time to unwind and immerse yourself in nature, there are also plenty of accommodation options for all budgets.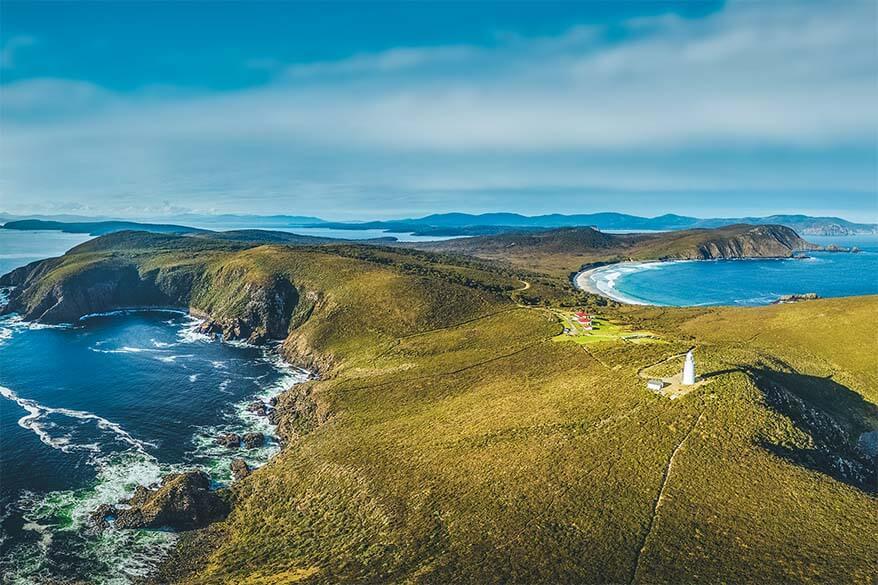 How Much Time Do You Need in Hobart?
Hobart is a small city. So, one day is enough to discover the highlights of Hobart town. However, as you can see from our list above, there are plenty of interesting places nearby and amazing natural sceneries to easily fill several days in the Hobart area.
So if you only come for a day, it will leave you wanting more. This is why if you have the time and are in the early stages of planning your visit, it is worth considering staying in Hobart longer. Not only will you be able to savor more experiences within Hobart at a slower pace and see more attractions in and near the city, but it is also a great hub for exploring the wider surroundings.
The above-mentioned day trips to Port Arthur and Bruny Island are the most popular because they are closest to Hobart. But there are also many more! Wineglass Bay at Freycinet National Park is a very popular place to visit with a tour, just as Mt Field, Bonorong & Richmond.
So while one day is enough for the city of Hobart, you can easily stay here for 2-3 days or even longer and find plenty to do.
Below, we have some suggested itineraries on how you could plan your time in Hobart in one, two, or three days. Further below, you can find more practical suggestions for getting around Hobart, as well as some of the best places to eat and places to stay. Take a look!
1 Day in Hobart
For some travelers, one day may result in spending that whole time along Hobart's waterfront area, walking the historic streets, picking up souvenirs from the markets, and feasting on fresh Tasmanian produce. Others may want to experience as many attractions and sights as possible. The latter is what you can expect from our suggested one day Hobart itinerary.
Explore Hobart's Historic Waterfront Area on Foot
Visit the Tasmanian Museum and Art Gallery
Visit the Buzzing Salamanca Markets (Saturday only) or Farm Gate Markets (Sunday only)
Walk Around Battery Point
Visit the Royal Tasmanian Botanical Gardens
Stand on the summit of Mount Wellington
Getting around: Hobart city is easy to navigate on foot as many attractions are in one area. If, however, you also want to visit the sights further away, a rental car or a sightseeing bus would be the most convenient.
In order to see all these places in a day, you can take the earlier-mentioned hop-on hop-off bus. Or, if you also want to go to Mt Wellington, you can opt for this sightseeing bus option.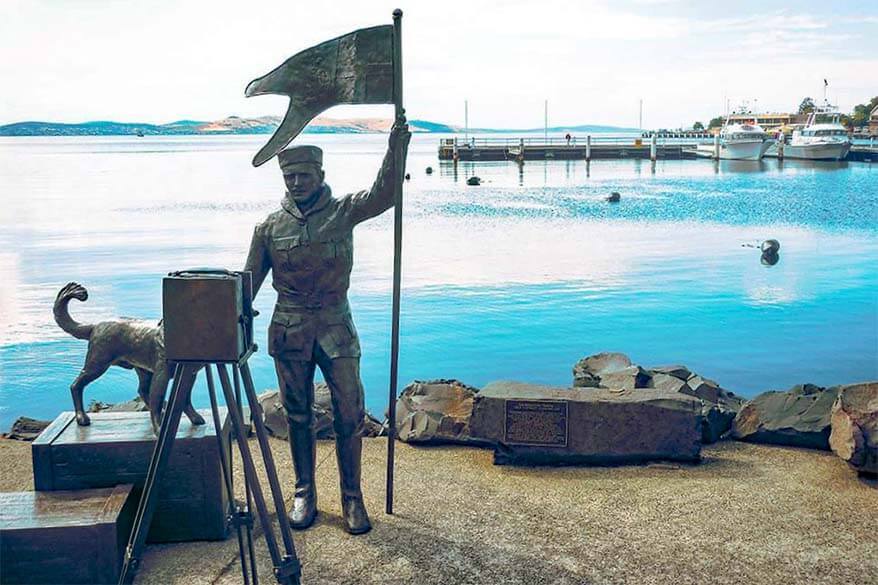 2 – 3 Days in Hobart
If you have two or three days in Hobart, here are several options to consider:
Day 1: Self-guided day tour of the city as described above or join this day tour of Hobart including MONA ticket. Try to stay in the city on a weekend so that you can visit one of the markets – Salamanca Markets (Saturday) or Farm Gate Markets (Sunday).
Days 2 & 3: Organized day tour to Port Arthur on one day and Bruny Island on the other day. If you are driving by car, you could also stop at Mt Nelson or Mt Wellington, depending on which way you're headed.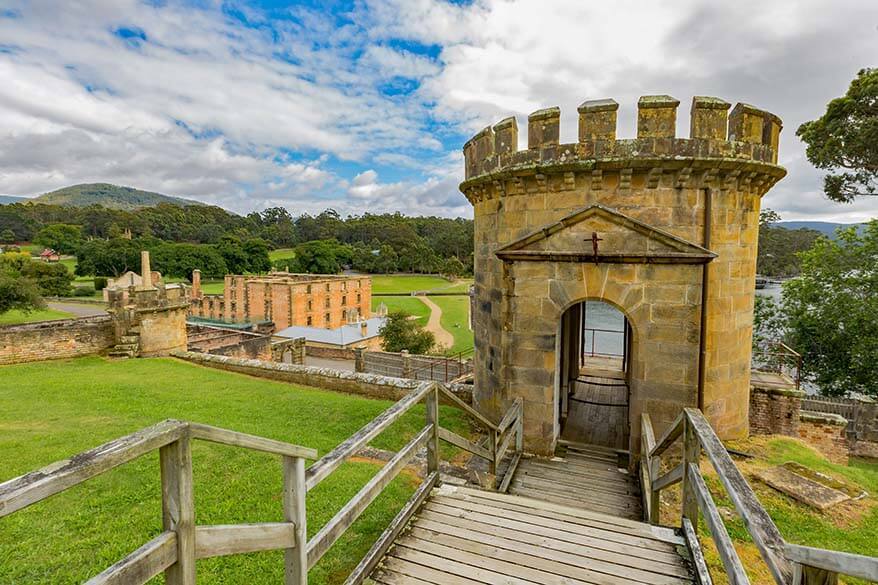 Where to Eat
Move over Melbourne, as Hobart is fast becoming the place to be for food-lovers. Below are just a few popular places to eat in Hobart:
Drunken Admiral. One of Hobart's most iconic and longest-serving restaurants situated on Hobart's Old Wharf. The Drunken Admiral specializes in seafood, offering an innovative A La Carte menu inclusive of a kid's menu that will satisfy all appetites.
Fish Frenzy. You can't visit Tasmania without trying their local fish and chips! Fish Frenzy is a popular choice serving fresh and cooked seafood in a casual setting on the waterfront doorstep.
The Point Revolving Restaurant. Dine 17 floors above Wrest Point Casino while slowly rotating 360 degrees to admire the views over Hobart. The Point Revolving Restaurant offers a French-inspired menu incorporating Tasmanian ingredients.
Da Angelo Ristorante. Highly-rated as one of the most family-friendly dining options in Hobart, Da Angelo Ristorante has been serving traditional Italian cuisine since 1994.
Machine Laundry Café. A quirky café tucked away in Salamanca Square. As the name suggests, you can take your laundry to wash while dining inside or alfresco for breakfast and lunch.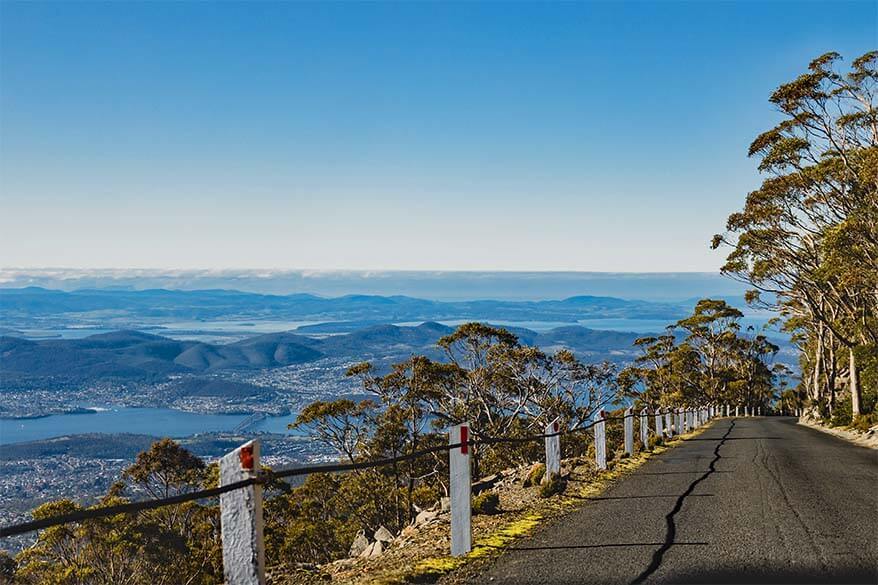 Where to Stay
Choosing where to stay in Hobart will be dependant on several factors including budget, transportation, and proximity to attractions and sights.
The Hobart CBD or Waterfront are the best areas to stay in Hobart. When staying within these areas, sightseeing on foot is simpler as you are staying in the vicinity of some main attractions, not to mention entertainment and dining precincts. Furthermore, most tours start centrally and you have convenient access to public transport. You'll find a wide variety of accommodation for all budgets here.
Here are just a few choices for accommodation in central Hobart:
MACq 01 Hotel. This 5* hotel is a wonderful choice for those looking for a great location and a bit more luxury.
Hadley's Orient Hotel or Hotel Grand Chancellor. A very popular mid-range choice, both these 4* hotels offer a great location/ price/ quality ratio.
Alabama Hotel. This is one of the best-rated and best-located budget hotels in Hobart CBD. However, they only have rooms with shared bathrooms.
Somerset on the Pier. If you want to stay at an apartment right on the Hobart waterfront, then look no further! Originally built in the 1930s with an added modern design, this is one of the nicest self-catering accommodations in Hobart.
Sullivans Cove Apartments. These 5* self-contained serviced apartments are great for families and large groups (even up to 7-8 people). The spacious one to four-bedroom apartments are conveniently located in five different locations around Hobart.
TIP: Using the map below, you can compare hotels and short-term rental accommodations in Hobart. Simply insert your travel dates and group size, and you'll see the best deals for your stay. Check it out!
More Travel Inspiration for Australia:
If you found this post useful, don't forget to bookmark it and share it with your friends. Are you on Pinterest? Pin this image!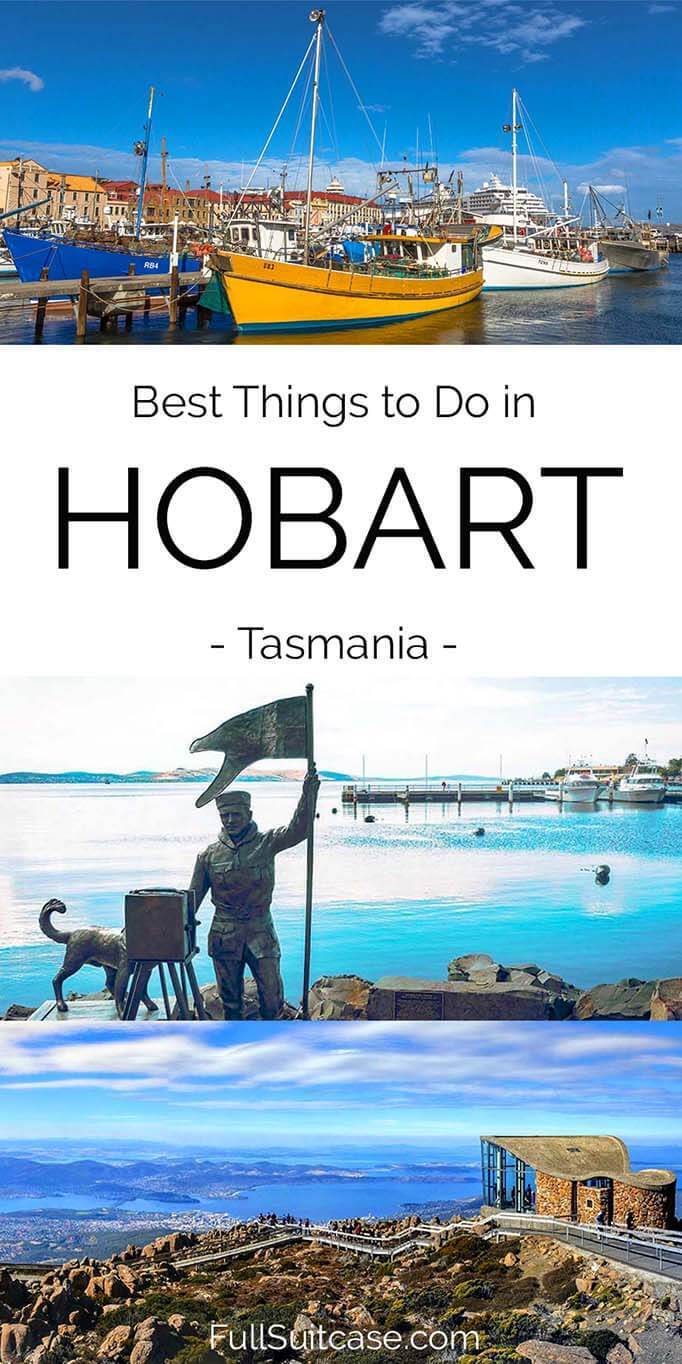 Image credits: Featured image – bennymarty/Depositphotos.com// Hobart Waterfront – filedimage/Depositphotos.com// Tasmanian Museum and Art Gallery – TKKurikawa/Depositphotos.com// Salamanca Markets – OKGraphic/Depositphotos.com// Battery Point – Richard Horvath /WikimediaCommons CC BY-SA// Botanical Gardens & Bernacchi Statue – InspireFamilyTravel// Mount Wellington Lookout – Premium_shots/Depositphotos.com// MONA – lucidwaters/Depositphotos.com// Mt Nelson – Faithie/Depositphotos.com//