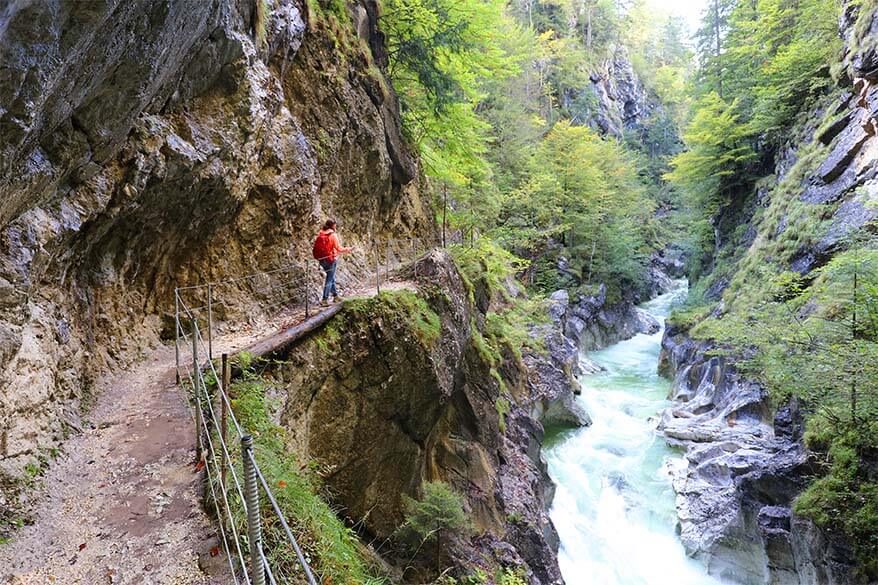 Austrian Tyrol is an amazing place to spend a family vacation in the mountains! But with so many beautiful places, a choice is always tough where to go. In this article, you can read all about visiting Kaiserklamm (Kaiser Gorge) and Kaiserhaus in Aschau.
Kaiserklamm Gorge is located near Brandenberg in the beautiful Alpbachtal Seenland region in Tyrol. Brandenberg has all of the ingredients for a perfect family-friendly day trip in Tyrol: beautiful nature, an easy hike along the Kaiser Gorge (Kaiserklamm), Prügeltorte cake baking demonstration, and a fantastic playground for kids with a small petting zoo.
And if this is not enough, nearby there are two more family-friendly hikes: Tiefenbach Gorge (Tiefenbachklamm) and Kundl Gorge (Kundler Klamm).
Read on to find out what to expect and why visit this beautiful place!
READ ALSO: Best things to do in Tirol with kids in summer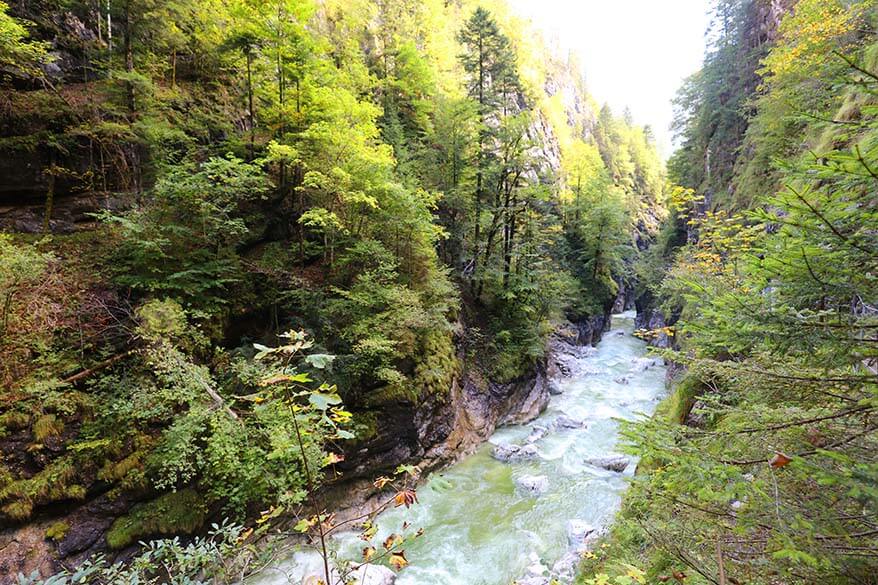 Here are the things you can expect to see and do when visiting the Kaiserklamm area in Brandenberg:
Gasthof Kaiserhaus
The best place to start your visit to Kaiserklamm Gorge is Gasthof Kaiserhaus (see map for the exact location).
Gasthof Kaiserhaus is a guesthouse/ restaurant in a beautiful setting in Brandenberg. There are several beautiful walks you can do in the area. So depending on how much time you have, you may turn this short itinerary into a full-day trip as well. We spent an afternoon in this area, and I hope to return and explore more one day.
The road to Gasthof Kaiserhaus takes you through one of the most scenic landscapes one could imagine. The green rolling hills make you think of Tuscany, and the snowcapped mountains in the background make it even more spectacular. Simply stunning!
I couldn't take a picture from the car, so you'll just have to take my word for it and go see this place for yourselves. Below is a picture of Gasthof Kaiserhaus and its playground.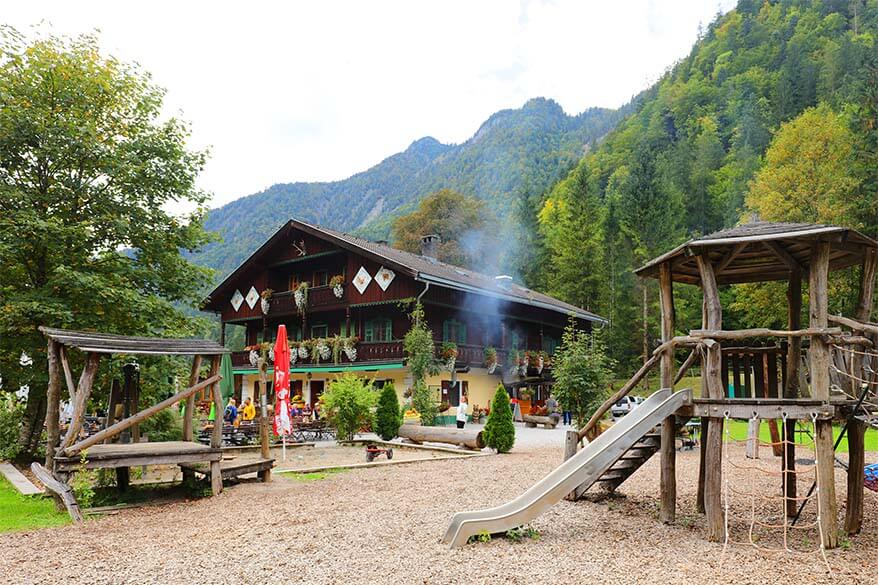 Lunch at Gasthof Kaiserhaus
We started our visit with a tasty local-style lunch on the outdoor terrace at Kaiserhaus. I had fresh trout from the nearby river, Brandenberger Ache. The food was really good and the prices – very reasonable.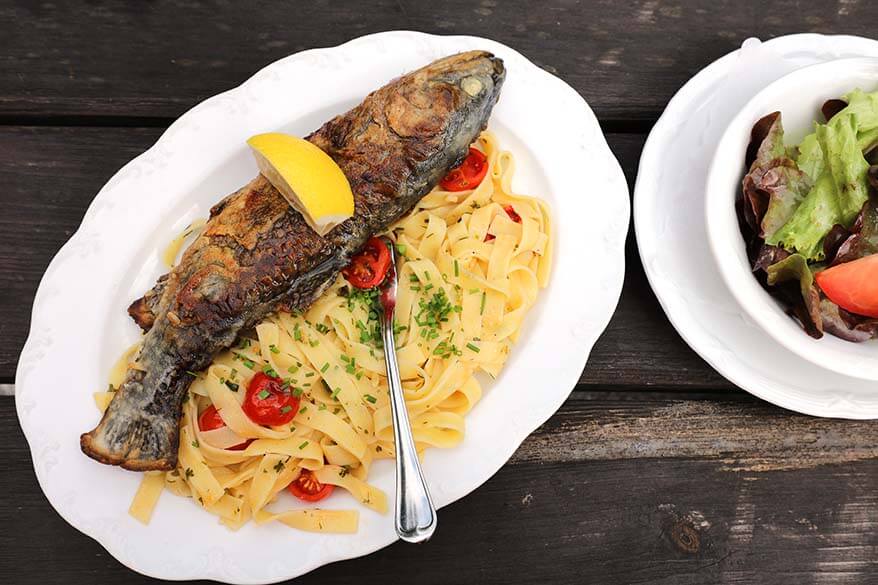 It was mid September when we visited, but on a sunny day, it felt almost summer-like. Several children were playing at the adjacent playground, while their parents were having a drink and enjoying the autumn sun on the terrace. It's a place my kids would love!
And – did I mention already – there are a couple of farm animals next to the playground as well. We saw a horse, a couple of pigs, and the cutest rabbits were digging underground tunnels to the big delight of two little girls who were trying to get the rabbits out of the tunnel and cuddle them.
But there is more to see and do here, so read on!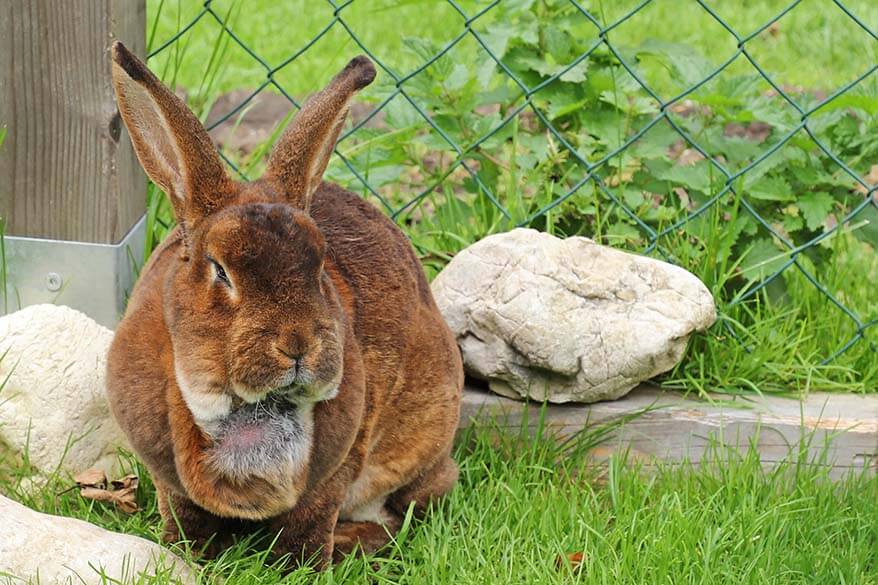 Prügeltorte Baking Demonstration
This area in Tyrol is known for the traditional cake – Prügeltorte. In season, every Thursday afternoon, you can see the Prügeltorte – baking demonstration at Gasthof Kaiserhaus. Don't worry if you come on another day – you can still buy and/or taste the cake.
This cake is said to be unique, but the exact same method is used to make a very similar cake in Lithuania where I was born. Our Austrian guides couldn't believe it, but I actually helped my grandmother bake the exact same cake as a kid.
Only here in Austria, it's called Prügeltorte and in Lithuania, it is called Šakotis. However, most people call it Bankuchenas, which comes from German Baum Kuchen = Tree Cake, so I guess this explains it somehow.
But anyway, here at Gasthof Kaiserhaus you can watch how Prügeltorte is being baked in Tyrol. The whole process takes about an hour, but it's really interesting to see, also for kids. If you ask the bakers they might even let the children help with the turning of the cake…
Prügeltorte looks very impressive and is therefore often given as a present on important occasions in Austria. Just like in Lithuania, actually, where Bankuchenas is a popular cake for a wedding reception or a big birthday celebration.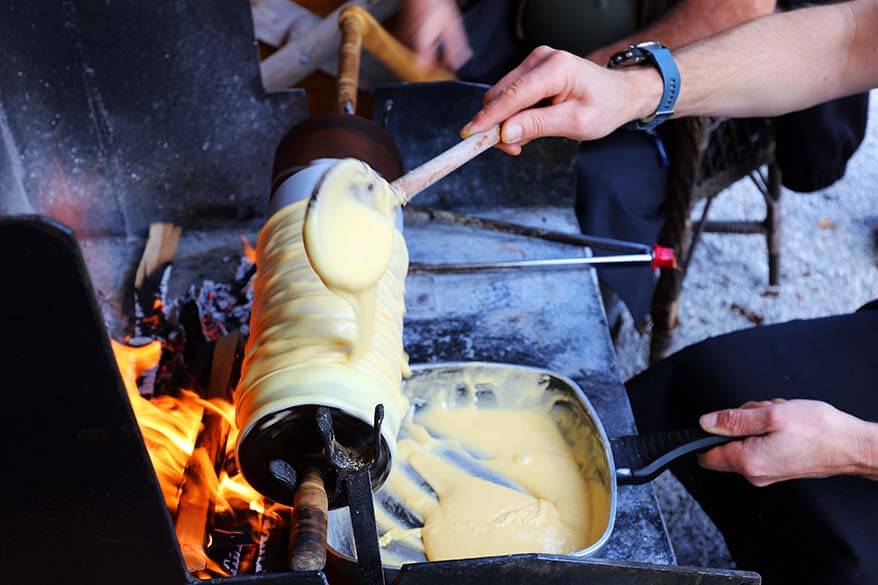 The Empress Sissi Room
While the cake was baking, we went to visit the room of Empress Sissi on the top floor of the guest house. Yes, she actually stayed here on various occasions!
The name of the guest house 'Kaiserhaus' actually means 'the house of the emperor'. Emperor Franz Joseph I, the husband of Empress Elisabeth of Austria, aka Sissi, used to actually stay at this house during many of his hunting trips in Tirol.
The Sissi room at Gasthof Kaiserhaus is surprisingly small and has the same type of furniture that was used by the Emperor. It's not an attraction I would go out of my way for, but if you are visiting the area anyway, don't miss it.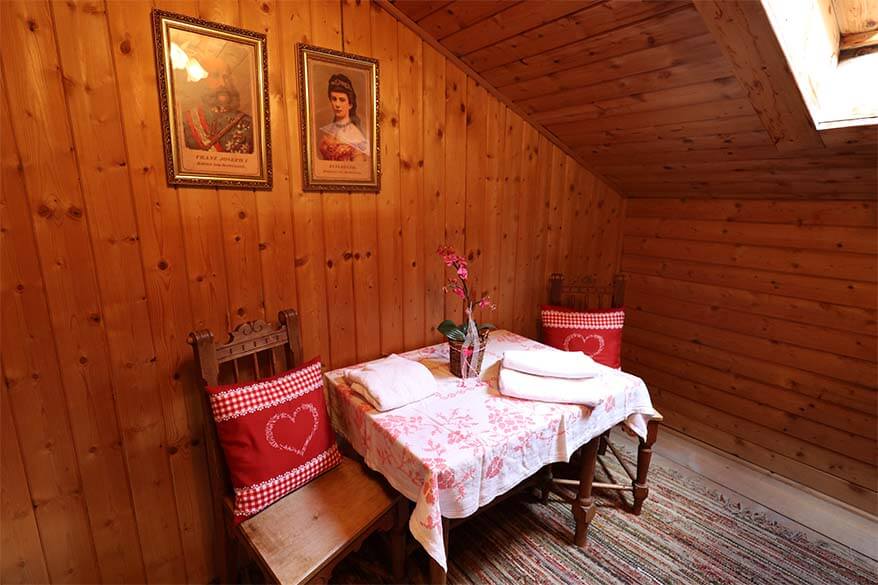 After this short visit, we returned back to the garden to check on the guys who were baking the cake. It started to take shape already, but it was still far from done. So we headed to the next attraction – the nearby Kaiser Gorge.
Kaiser Gorge – Kaiserklamm
The walk to the Kaiser Gorge starts just a few steps away from the Gasthaus Kaiserhaus. It's a rather short and easy walk, and you can choose for yourself how deep into the gorge you want to go.
I understood that the whole walk would take about one hour. We only went up to the tunnels, and with many photo stops it took us about 40 minutes (round trip).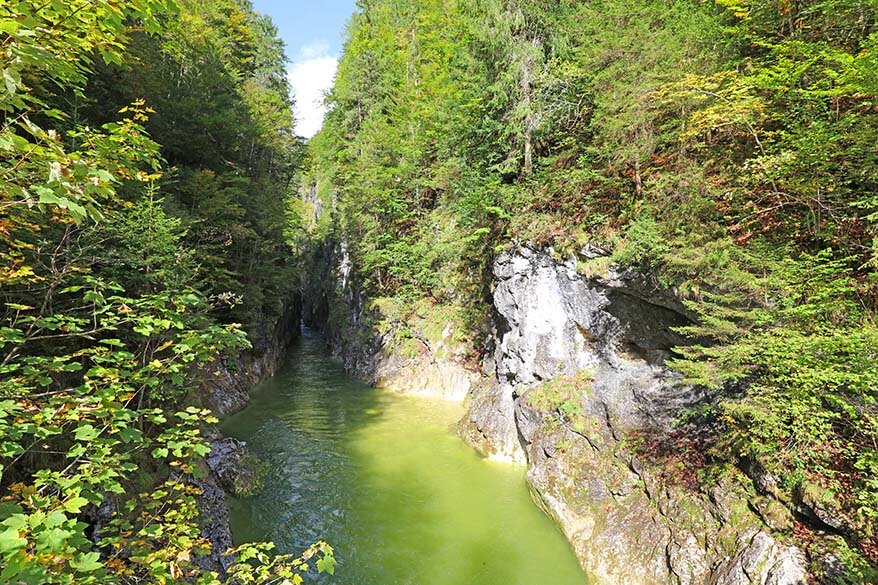 Kaiserklamm Gorge (Kaiserklamm) is one of the several gorges you can visit in the Brandenberg area. It's easily accessible and this hike can be done with kids as well. The flat walk into the Kaiserklamm Gorge has security rails along the whole walk. Just beware that the terrain is a bit uneven and might be wet, so it's advisable to wear hiking boots.
The pictures don't do justice to how beautiful this gorge actually is. If you are looking for a short family friendly hike in the Alpbachtal region, I can highly recommend Kaiserklamm – Kaiser Gorge.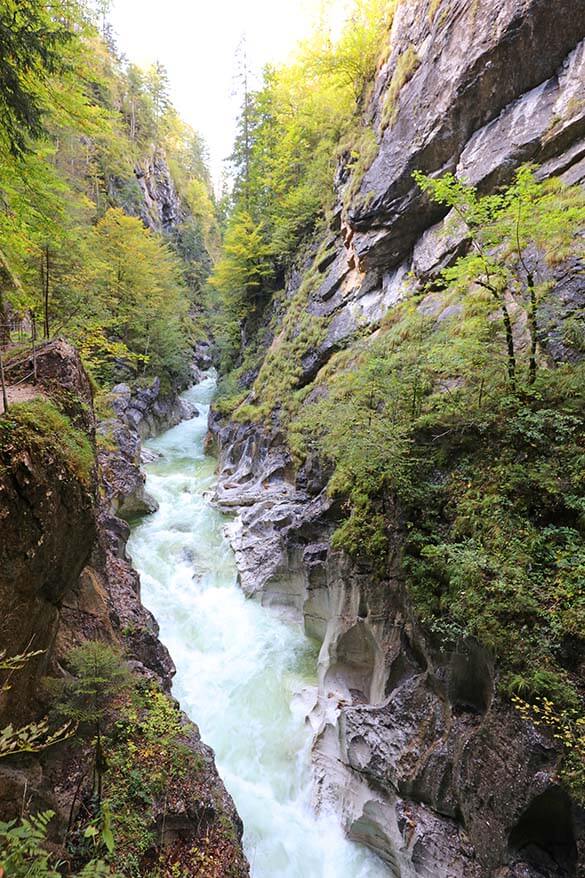 Back to the Gasthof Kaiserhaus and Prügeltorte tasting
After the short but incredibly beautiful walk to the Kaiser Gorge, we felt like we definitely deserved a small reward. So we headed back to the sunny terrace of Gasthof Kaiserhaus for some of that freshly baked Prügeltorte.
The cake-baking demonstration was over by the time we returned, so I don't have a picture of that particular cake. But here is a picture of the Prügeltorte that I photographed at the local market in Alpbachtal. That way you see how the cake looks like.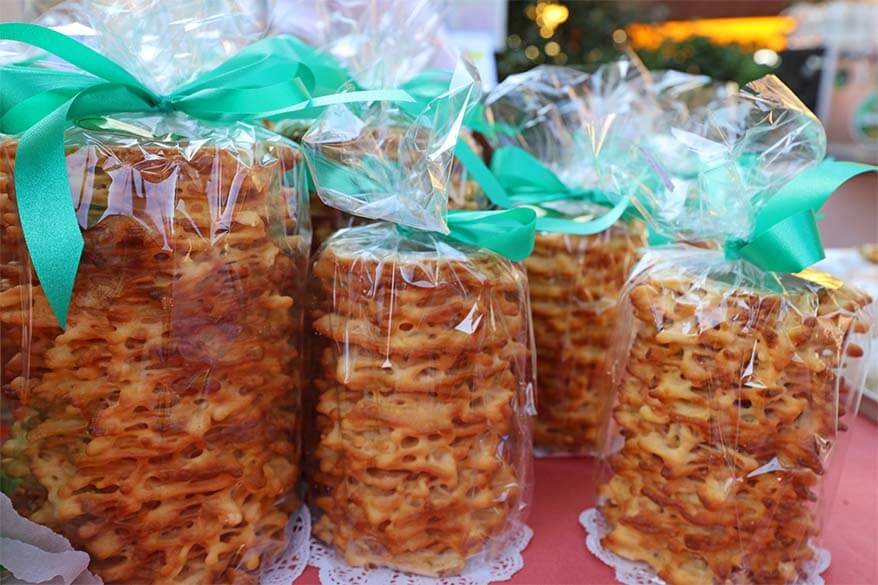 I have to say that it tastes divine. I was surprised to see that the Austrians serve Prügeltorte with whipped cream and cranberry sauce. In Lithuania, we would just cut a piece off and eat it on its own.
I am really not sure now which version I like better, but I am definitely going to look for the Tyrolean Prügeltorte on the menu next time I return to Austria.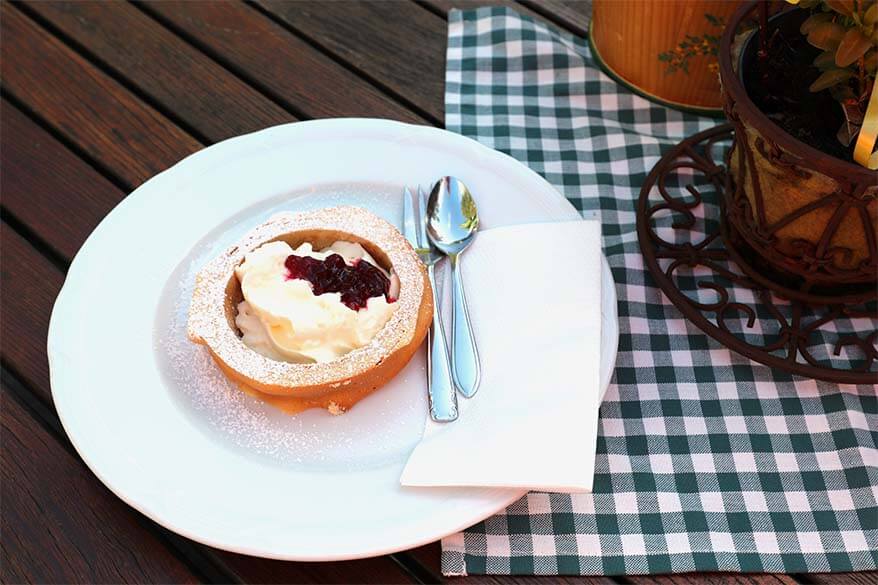 Tiefenbach Gorge and Kundl Gorge
In the same area there are two more gorges – Tiefenbach Gorge (Tiefenbachklamm) and Kundl Gorge (Kundler Klamm) that are easy to access, don't require too much hiking, and perfectly doable with kids. If you have a full day in this area, definitely consider exploring these gorges as well.
Tiefenbachklamm Gorge is about 4,5km long and it takes about 1h10 to walk the entire length in one direction. You then have to walk back the same way.
Tiefenbachklamm Gorge has two entrances. One is at Jausenstation Tiefenbachklamm on the northern end of the gorge (see map), the other one – on the southern end of the gorge (see map).
Kundler Klamm is located a bit further away from the other two gorges, but actually closer to the highway and the main roads (see map). It's easier to get to and therefore also busier. It also takes about 1,5hrs to walk the gorge in one direction.
Practical information
All of the activities described here are free of charge. The only cost is the food at the restaurant. Make sure to at least try the cake!
Gasthof Kaiserhaus is open from the beginning of May to the end of October. In July and in August it's open daily, during the other periods – every day except Tuesday. You can check their (German) website for more info.
The Prügeltorte – baking demonstration takes place every Thursday at 2.30 PM.
It's also possible to get there by bus. It takes about 45-50 minutes from Alpbach. The regional busses are actually free for everyone staying in the Alpbachtal Seeland region. You get a card when you register at your hotel or other official accommodation in the region. You can find more information about the card and other things to do in the region on the website of Alpbachtal – Seenland tourism board.
Tiefenbach Gorge and Kaiser Gorge hikes are well secured, but if you are hiking with young kids, you may want to use children's safety harness. They can be hired at the Gasthaus Kaiserhaus, Jausenstation Tiefenbachklamm, or at Sport Ossi's.
Kaiser Gorge is located just 1 hr drive from Innsbruck and 1h40 from Munich.
So this was our short trip to Kaiserklamm in Brandenberg. It's a beautiful area that has all of the ingredients for a relaxed yet very varied and family-friendly day trip in Tirol.
If you find yourself looking for an authentic Tyrollean experience, with or without kids, check this place out. You won't be disappointed!
If you are looking for more ideas of what to do in this part of Tyrol, I can highly recommend a guided e-bike tour in Alpbachtal. Unforgettable experience!
Read also our other guides to the most beautiful places in Tirol:
Some of our other favorite hikes in Tyrol:
If you found this post useful, don't forget to bookmark it and share it with your friends. Are you on Pinterest? Pin this image!