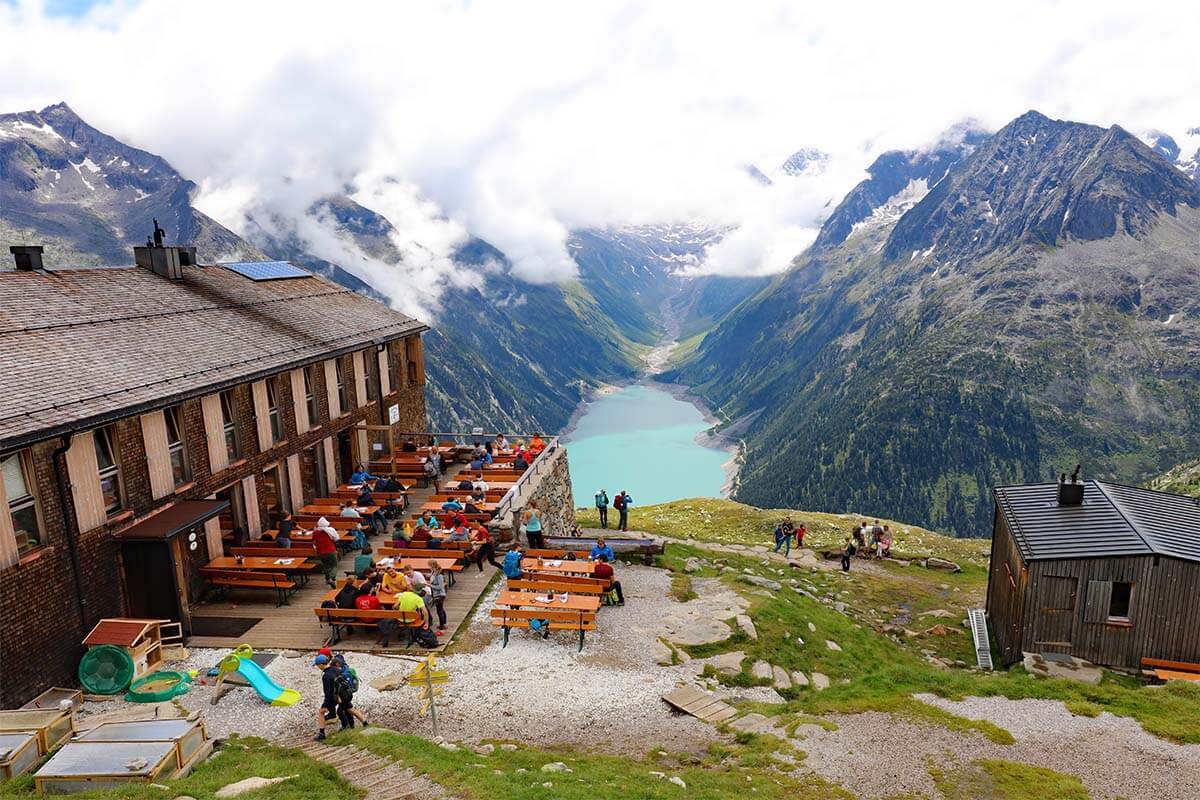 If you are looking for a spectacular hike in Zillertal, then you have to check out the hike to Olperer hut (Olpererhütte). It's one of the most iconic hikes in Tyrol, Austria!
In this guide, you can find all the practical information for the Olpererhütte hike, including a short detour to the most photographed suspension bridge in Austria.
I am not sure about the name of this bridge. Some call it Olperer Bridge, some others – Schlegeis Bridge because you can see Schlegeis Lake (Schlegeis Stausee) from there. Google Maps say it's Kebema Panorama Bridge. In any case, for many people, this suspension bridge is the main reason and motivation to do the Olperer Hut hike…
We also learned about the Olpererhut hike after seeing jaw-dropping images of this bridge. But now that we went there, I can say that there are many more reasons to do this hike than just the views around the suspension bridge. The Olperer hut trail would be more than worth it without the famous Instagram-bridge as well! The scenery along the entire hike is absolutely spectacular.
Hands down, this is one of the most beautiful hikes we have ever done! And this says it all. Read on to learn all about this hike, alternative trails, and all the practical information you might need for your visit. Take a look!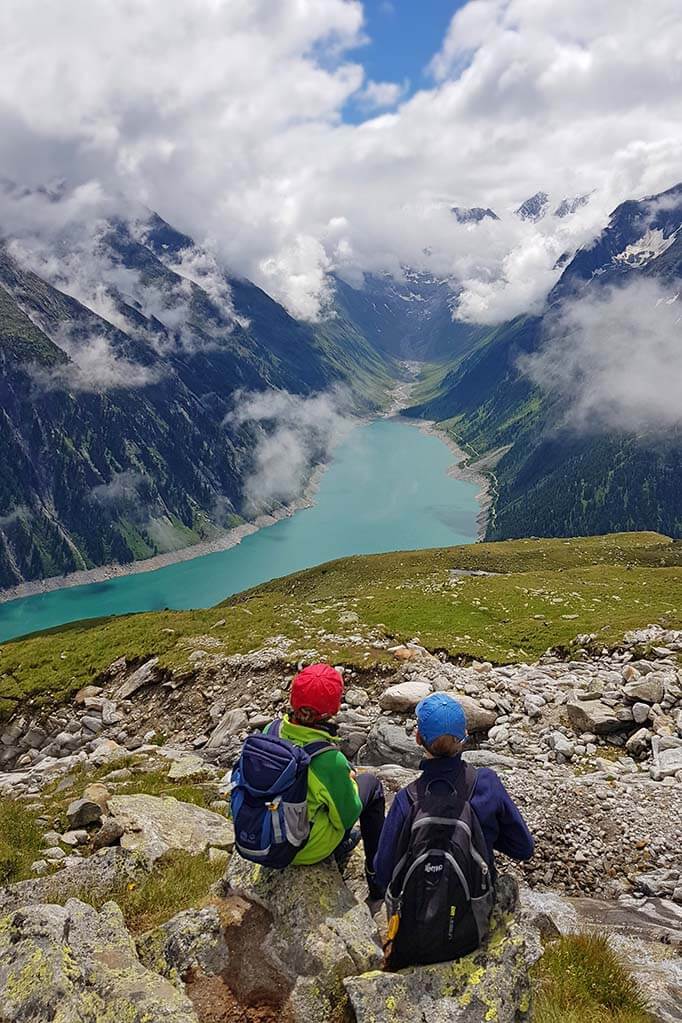 Olpererhütte Hike Practical Info
Starting point: Schlegeis Reservoir (see the map below for the exact location).
End: Same as the trailhead.
Time: 1.5 – 2 hours up and 1 – 1.5 hours down. We recommend planning at least 4 hours for this hike.
Distance: 3 km (1.9 miles) one way, so 6 km in total.
Alternative hikes: Longer options of this hike are also possible (more information below).
Altitude change: +-600 m up and +-600 m down (that's 1,970 ft up and down). You hike from Schlegeis Reservoir (1.800m) to Olpererhütte (2.389 m) and to Olperer Bridge (yet a bit higher) and then back down again.
Difficulty: Moderate.
Season: June to September (weather-permitting, end of May and maybe early October).
Public transport: Available (more info below).
Facilities: There are several restaurants at Schlegeis Reservoir. Olpererhütte also has a restaurant and bathrooms. You can also spend a night there, but it's best to book it via their site in advance.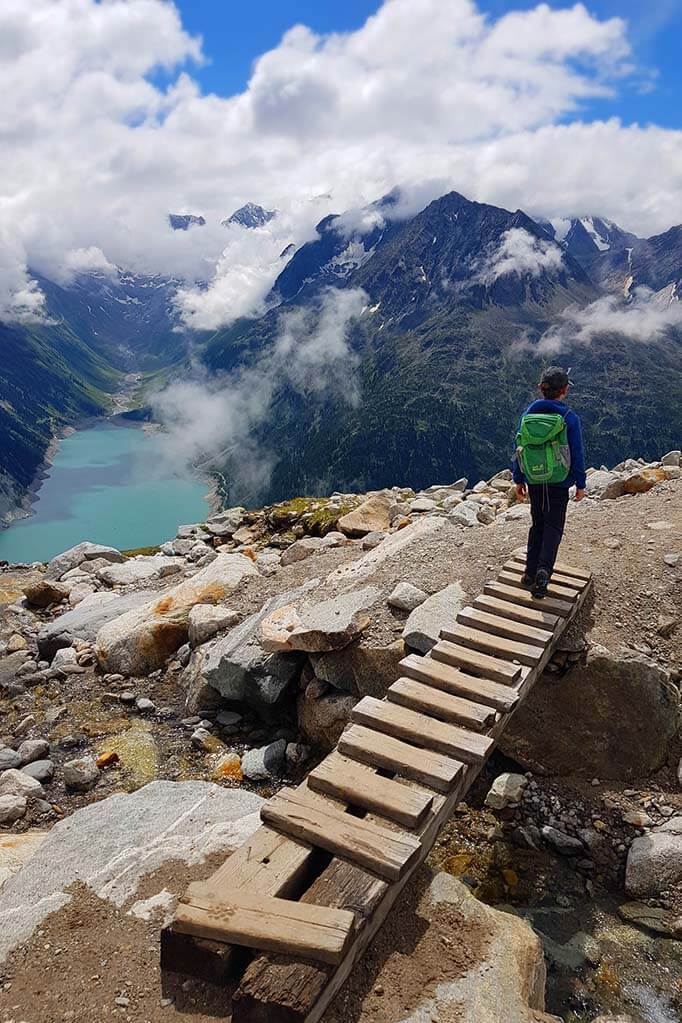 Map
On the map below, you can see the exact location of the trailhead of this hike. I also indicated where Olpererhütte is located and were Olperer bridge is.
How to Use This Map: Use your computer mouse (or fingers) to zoom in or out. Click on the icons to get more information about each place. Click the arrow on the left top corner for the index. Click the star next to the title of the map to add this map to your Google Maps account. To view the saved map on your smartphone or PC, open Google Maps, click the menu button, and go to 'Your Places'/'Maps'.
Getting There
Olpererhutte hike starts at Schlegeis Reservoir (Schlegeis Stausee or Schlegeisspeicher) that can be reached by road #169 via Mayrhofen and Ginzling. You can either drive to Schlegeis by car or take a bus.
The distance between Mayrhofen and Schlegeis Reservoir is about 22 km (14 miles) and it takes about 30 minutes to drive there one way.
To get to Schlegeis, you have to take Schlegeis Alpine Road. It's a scenic, but very narrow mountain road with a few one-way tunnels. Tunnels open to traffic from just one direction using traffic lights to control it all, so it's not dangerous. But this also means that sometimes you have to wait +-10 minutes for the traffic to pass in the other direction before you can continue your journey.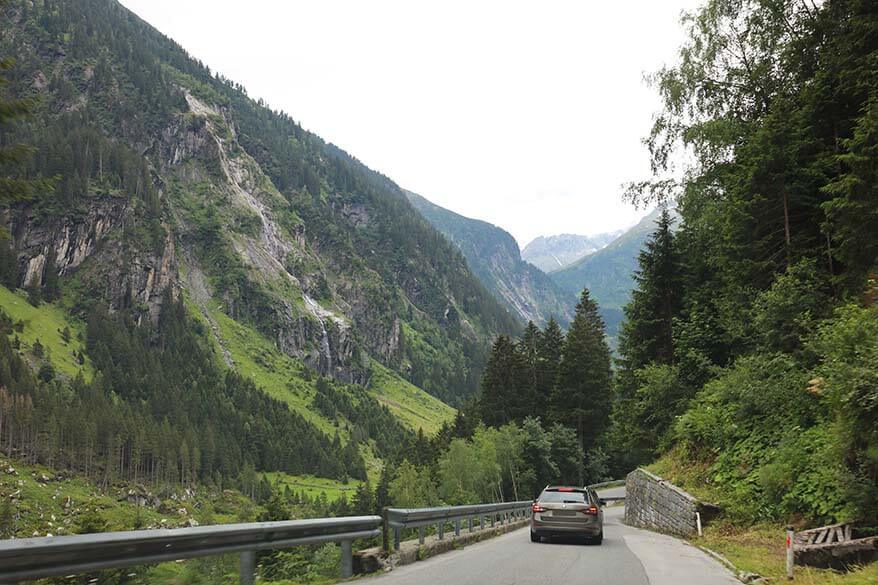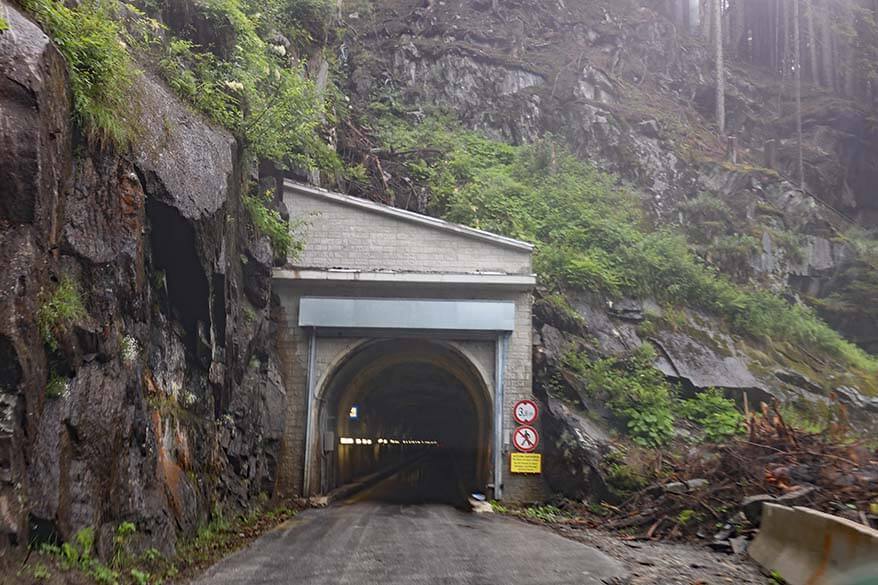 By bus
You can also take a bus to the starting point of the Olpererhütte hike. You'll need to get to Mayrhofen, where – in season – you can take a bus 4102 Mayrhofen – Ginzling/Schlegeis. For timetables and more practical information, please check the website of the regional tourism board.
By car
The last part of the road to Schlegeis is a toll road. Just before the last tunnels, there is a toll booth where you have to pay a 14 EUR fee per car in order to drive to the end of this road. There is no additional parking fee after that. This fee is for a day ticket, but there are also multi-day tickets available.
Opening hours are from 6 AM to 6 PM in July and August and from 7 AM to 6 PM in May, June, September, and October (road conditions permitting).
Good to know: It sometimes happens that all the parking lots at Schlegeis Reservoir are completely full and this is not indicated anywhere before you pay the toll and drive there. When preparing for our trip, I read quite a few angry reviews by people who paid the toll and drove all the way up there, to then realize they couldn't park anywhere. So make sure to get there early in the morning, especially if visiting on a nice sunny summer weekend!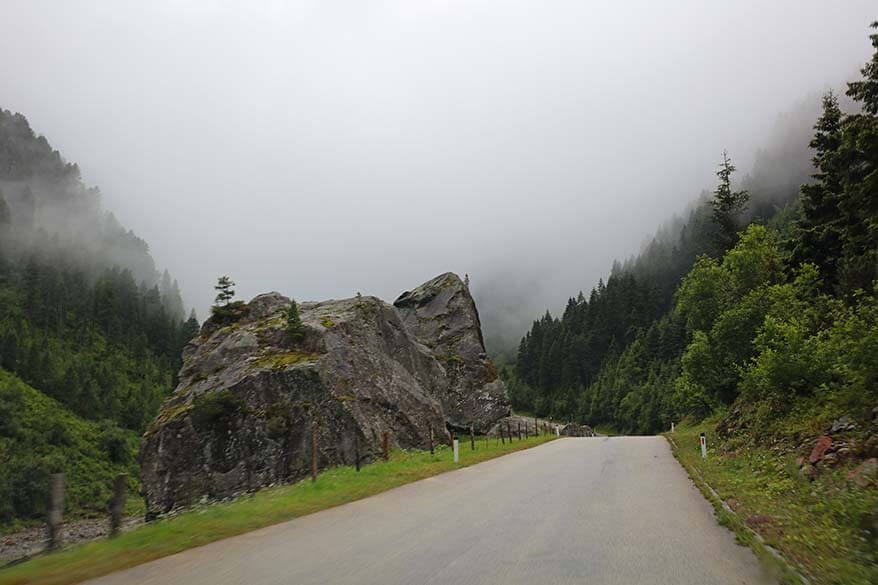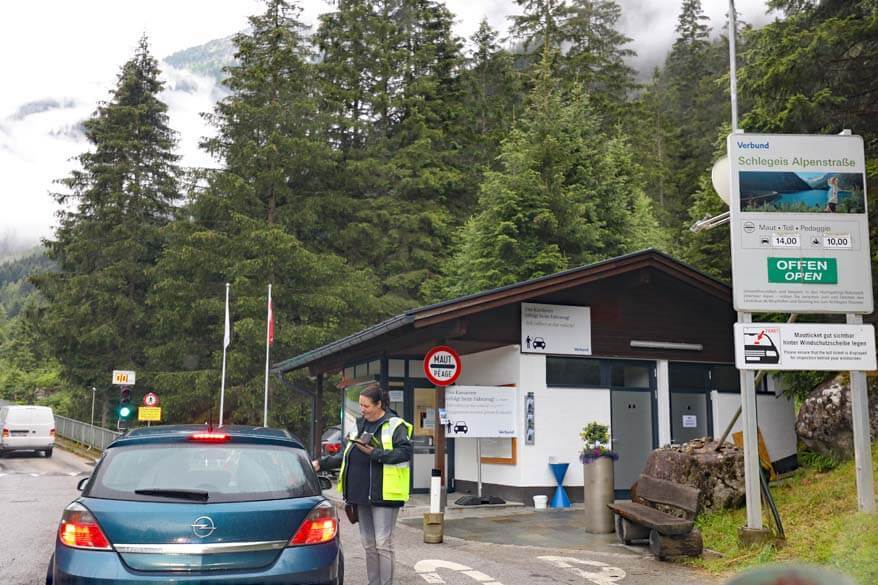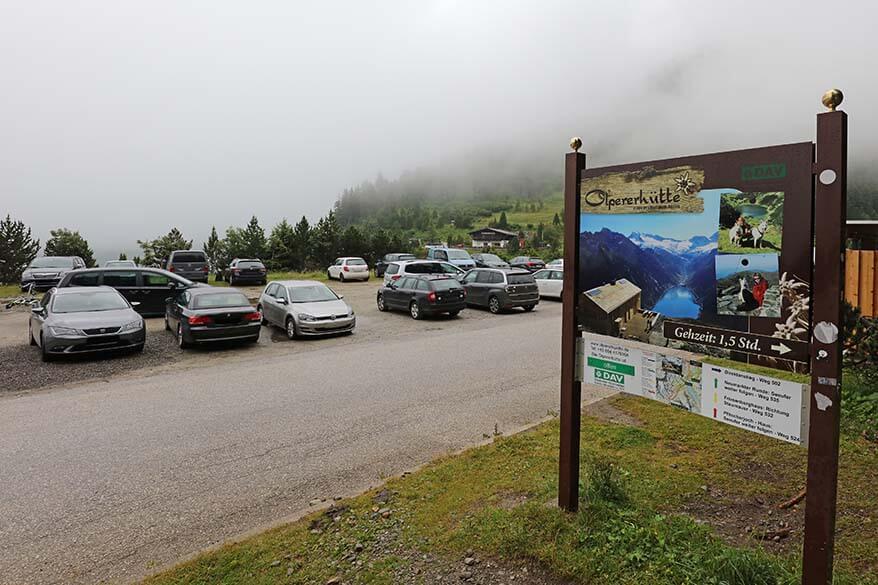 Hiking to Olperer Hut & Bridge – Our Experience
We were in Zillertal for a few days in July, but we were really unlucky with the weather. We chose the day with the best weather forecast to hike to Olpererhütte, but even then, it wasn't perfect. As we drove up there, the mountains were completely covered in the mist and we couldn't see any of the scenery around us.
The good thing was that this meant that there were fewer cars on the roads and there was still parking available at 10 AM.
Upon arrival at Schlegeis dam, we could hardly see where the lake was supposed to be. Nevertheless, the forecast was showing some possibility for sunshine later in the day and this was our only chance to do this hike anyway, so we decided to give it a try.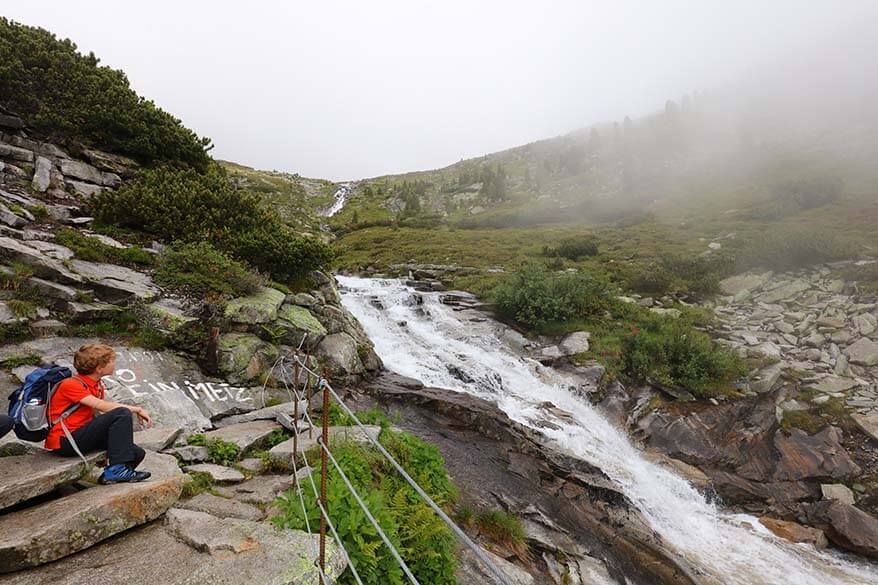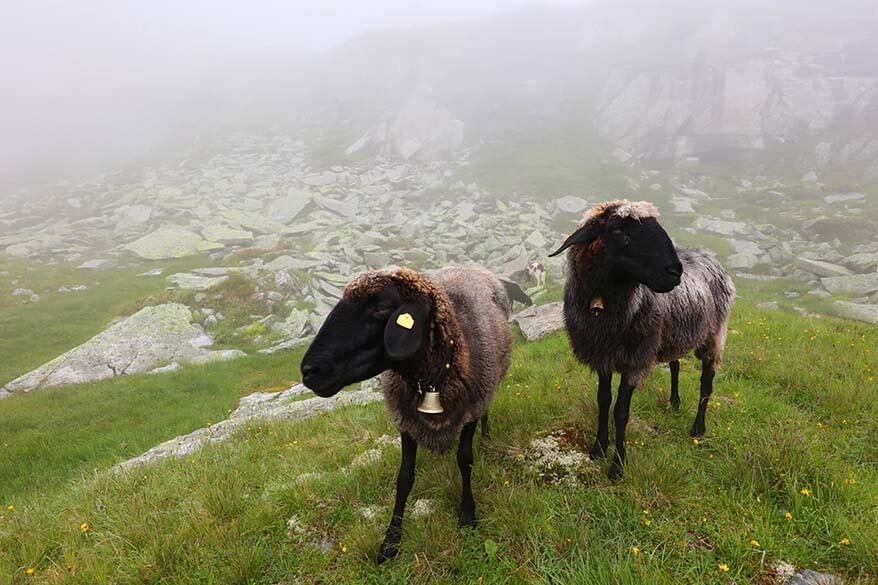 Because of the weather, we took the shortest and the most popular route to Olpererhütte. It's a well-traveled alpine trail with some mud and stones that were a bit slippery because it was wet. The hike is really a constant climb and you go up and up the entire time. Yet somehow it didn't feel overly tiring or very challenging for us (and we are just recreational hikers with kids).
We hiked in the mist, and it was a really special experience. The scenery around us was nice with mountain streams, waterfalls, and beautiful wildflowers along the trail. We also met some sheep towards the end of the hike. However, we couldn't see the mountains or the lake below us. We couldn't even see the Olperer mountain hut until we were almost there…
Despite the mist, we took quite some photo stops, cuddled the sheep along the way, and we also hiked at a relaxed pace. It took us 1h40 to get to Olpererhütte and we were all surprised that the hike felt much easier than we had anticipated, despite the 600 m climb on a muddy trail.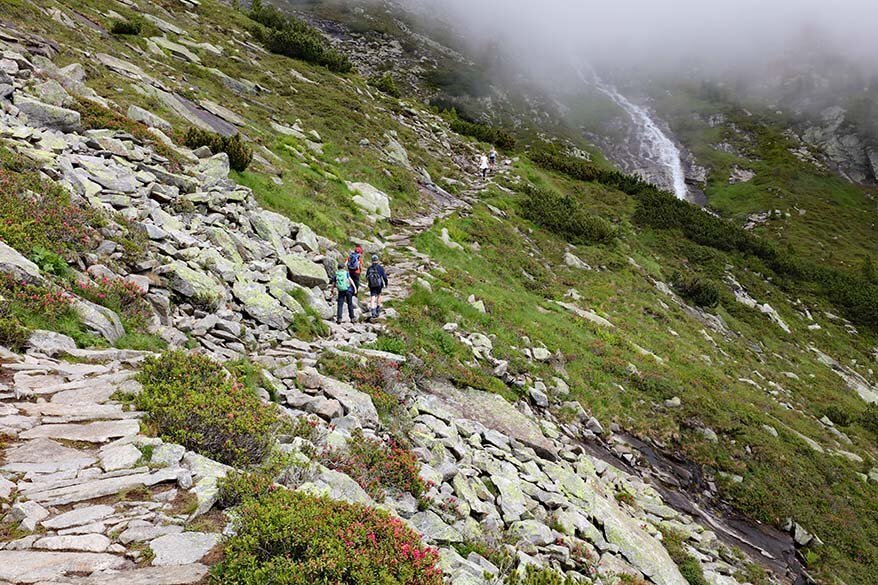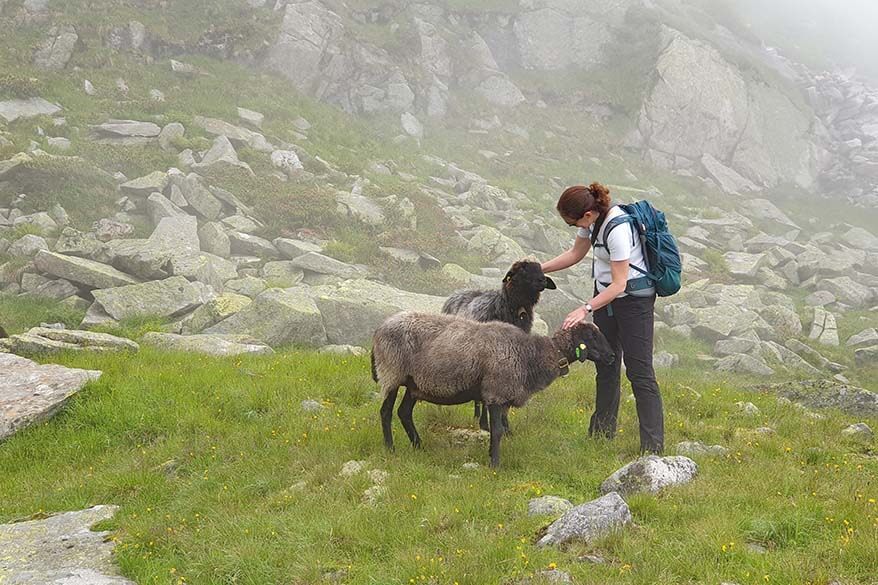 Olpererhütte
The Olpererhütte is located at the foot of Olperer mountain, at 2,389 m (7,837 ft) altitude. It's a rather simple modern-looking mountain hut with a restaurant with indoor and outdoor seating areas. There are bathrooms here as well and you can also sleep here.
Olperer hut was first built in 1881 and has been completely rebuilt in 2007. If you take a minute to think that people built a mountain hut at such a remote location some 140 years ago, it gives you a very humble feeling… What makes this mountain hut special is the incredible view over the azure-blue Schlegeis lake surrounded by snowcapped mountains in the distance. It's absolutely breathtaking!
When we reached Olpererhütte, the mist started to clear up a bit and we could catch a glimpse of the views. Still, visibility was very limited with clouds opening up for just a few seconds every time. We decided to get a drink at this mountain hut and wait for the clouds to part.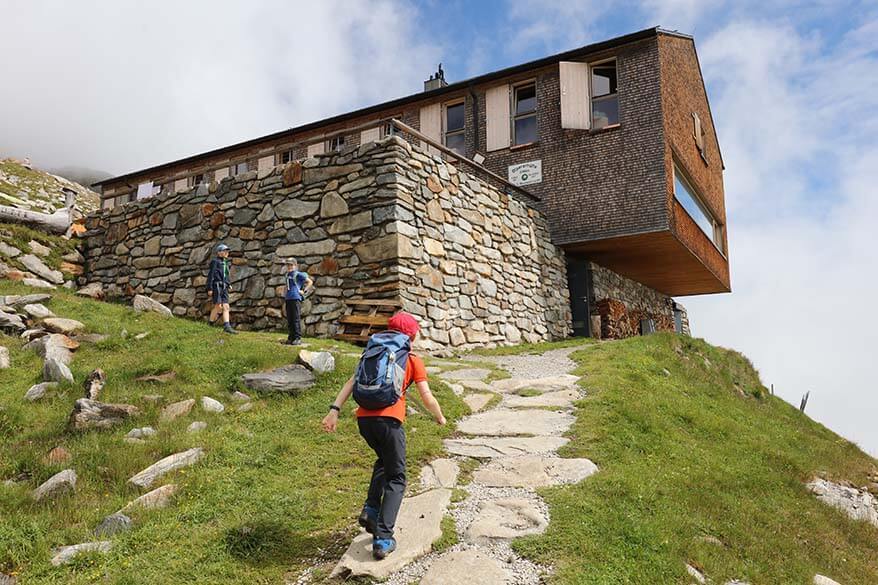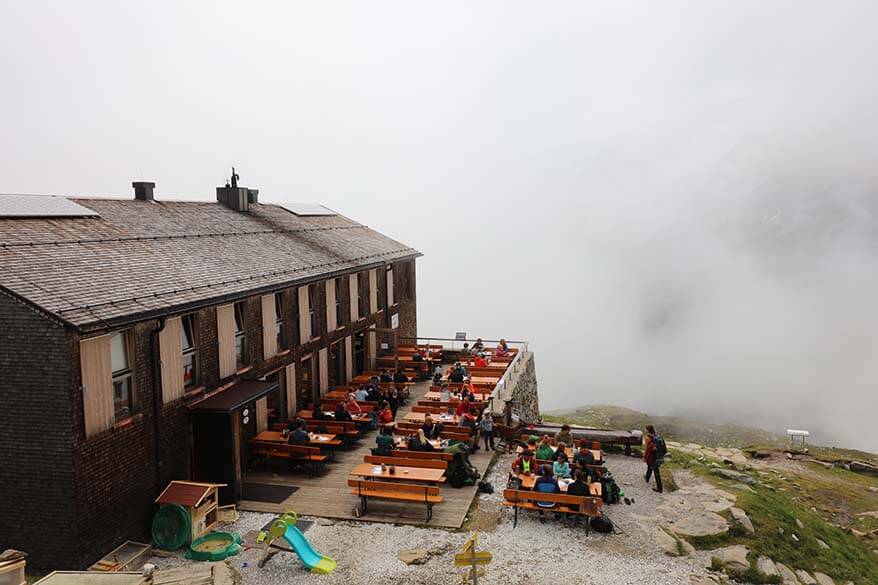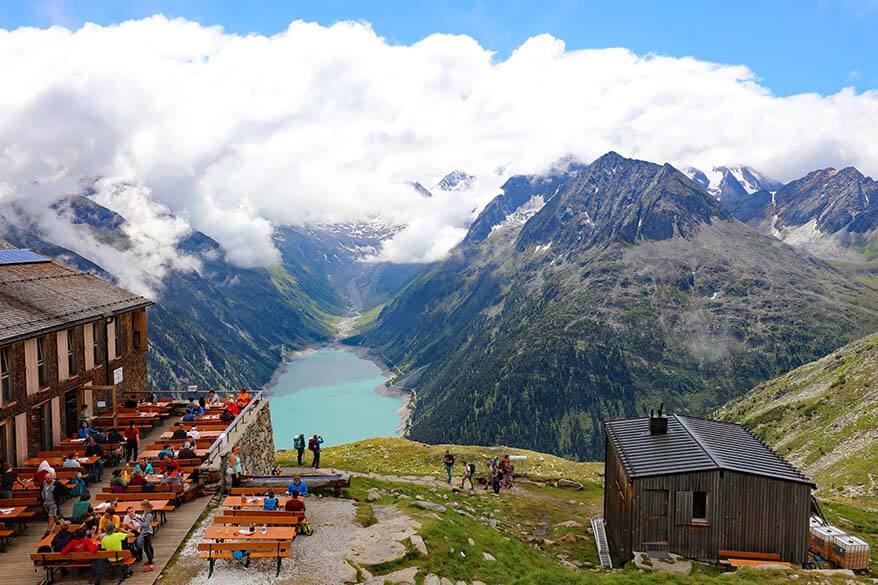 Good to know: There are some farm animals at Olpererhütte – chicken, goats, etc. They are roaming around freely. There is also a big heart sculpture a bit higher than the hut (you can see it from there). Some people like to climb here for a picture as well.
After a short while, the openings between the clouds got bigger and bigger and we decided that it was time to hike to the famous suspension bridge near Olpererhütte. It's just a few minutes' walk from the hut to the bridge, but it's completely out of sight. So if you don't know it's there, you'd likely stop your hike at Olpererhütte and be perfectly happy with the view you got from there.
But now that you know about it, do make an effort because it's totally worth it! We went to the bridge for some pictures, but the clouds disrupted the views once again, so we decided to get back to the hut for a relaxing lunch and try the bridge again after that.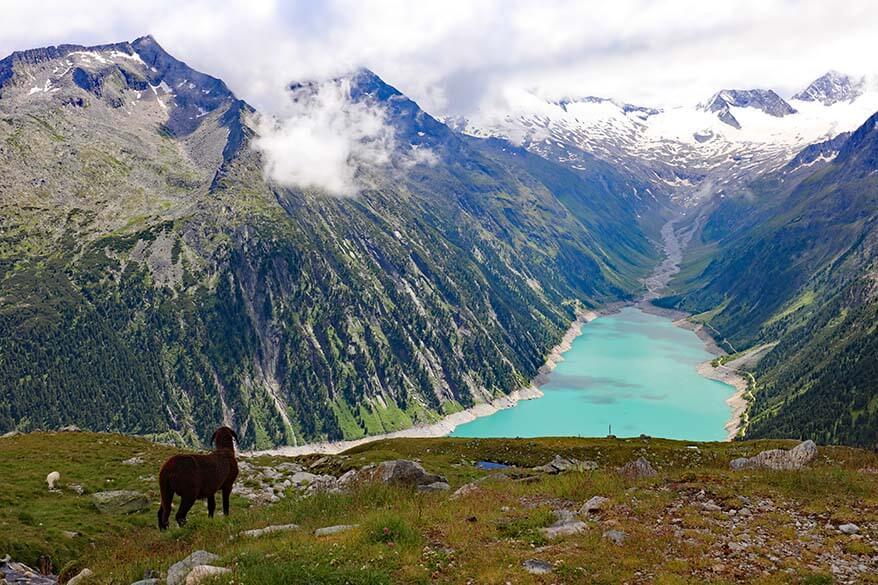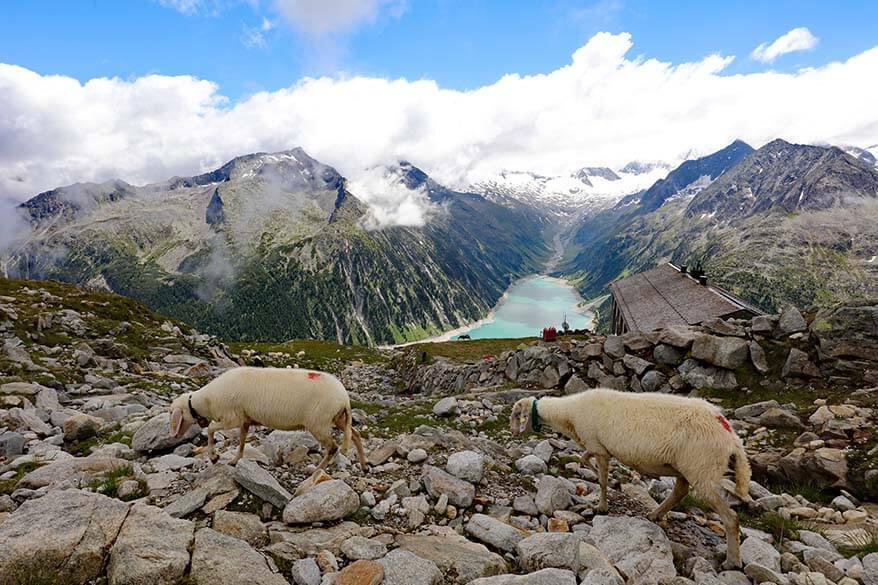 Lunch at Olpererhütte Restaurant
If you like traditional Tyrolean food and drinks, you'll love it here. They have things like Wiener Schnitzel or Kaiserschmarrn (traditional shredded pancakes), but also somewhat more sophisticated versions of other local dishes. Everything we had was really good!
I also had the most delicious skiwasser here. Skiwasser is a traditional Tyrolean beverage made with raspberries, lemon juice, and glacier water. You'll find it in restaurants and cafés all over the region. Definitely give it a try!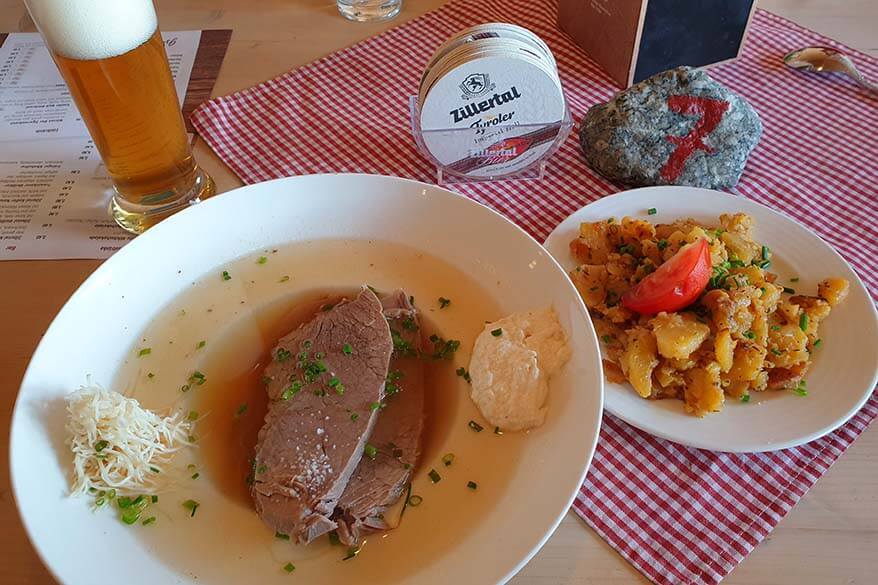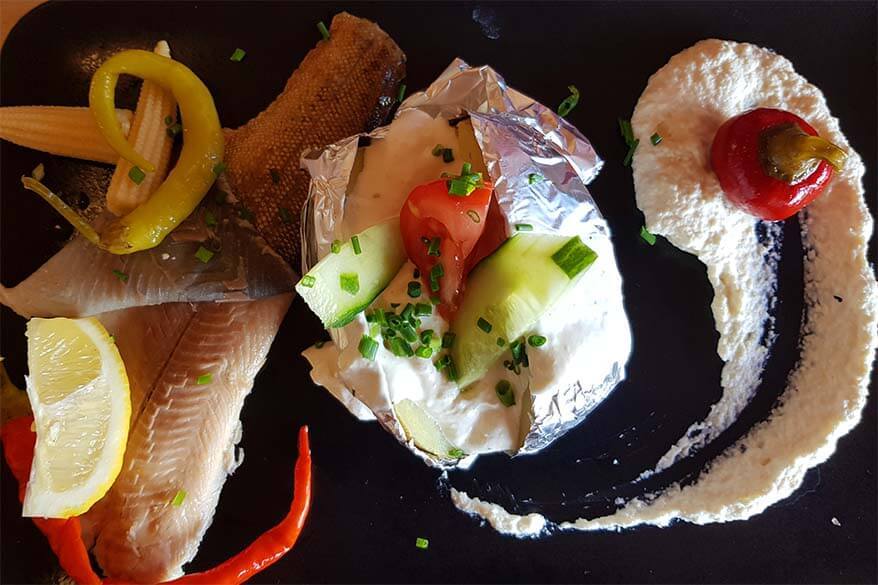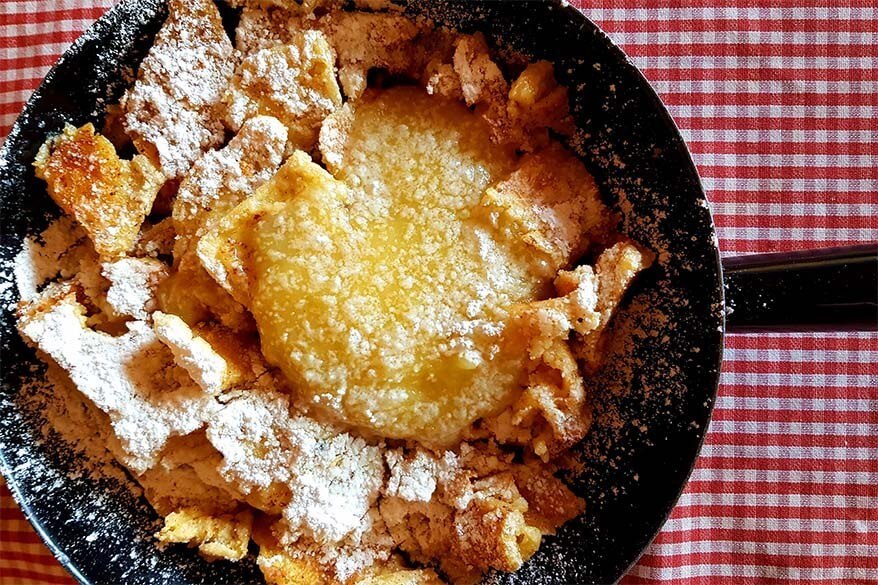 Olperer Suspension Bridge
Olperer bridge can be found by following the hiking trail to the right behind the Olperer hut. Follow the sign to Friesenberghaus. It takes just 3-4 minutes to walk there, it's just a bit more uphill and you see it very soon after you leave the hut.
The suspension bridge might be small, but you can't really miss it. It's become so popular because of Instagram these days that there are always people taking pictures at the bridge. In fact, it's often so busy that you have to wait in line in order to take a picture…
As it was still very cloudy when we got there, it wasn't busy and we could take some pictures of the bridge. The views weren't as we expected, but the clouds just made it all even more special.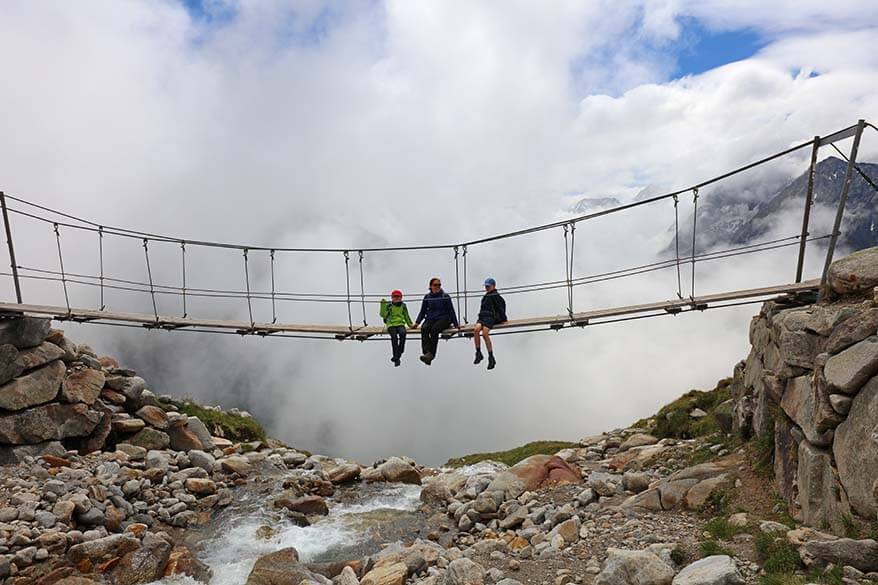 After lunch, we returned to the bridge once more. It was not as cloudy as before and we could now truly enjoy the spectacular views of the surroundings.
Still, the views were not completely open and clouds were moving really fast, but this time we could get a glimpse of the spectacular surroundings.
It's just as beautiful as in the pictures. Actually no – it's even more beautiful and pictures don't even do justice to how magnificent the scenery here is.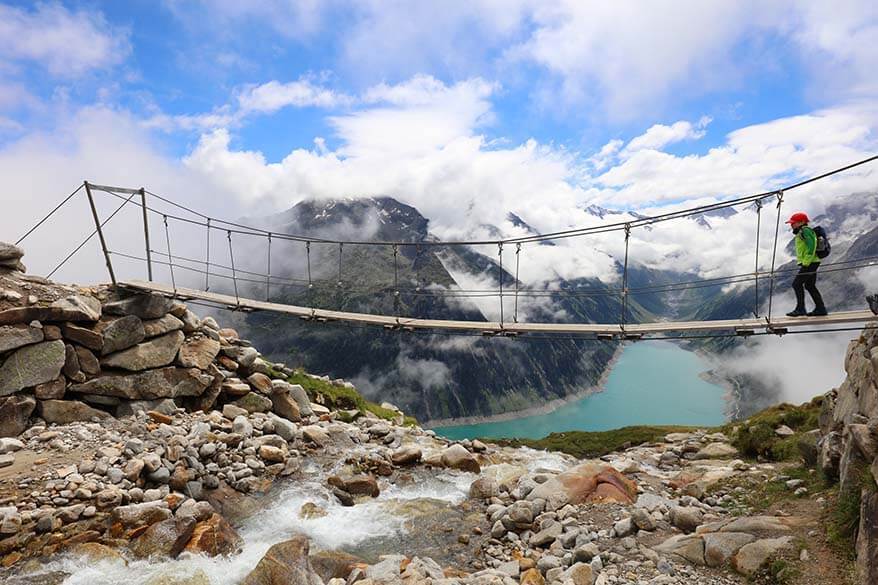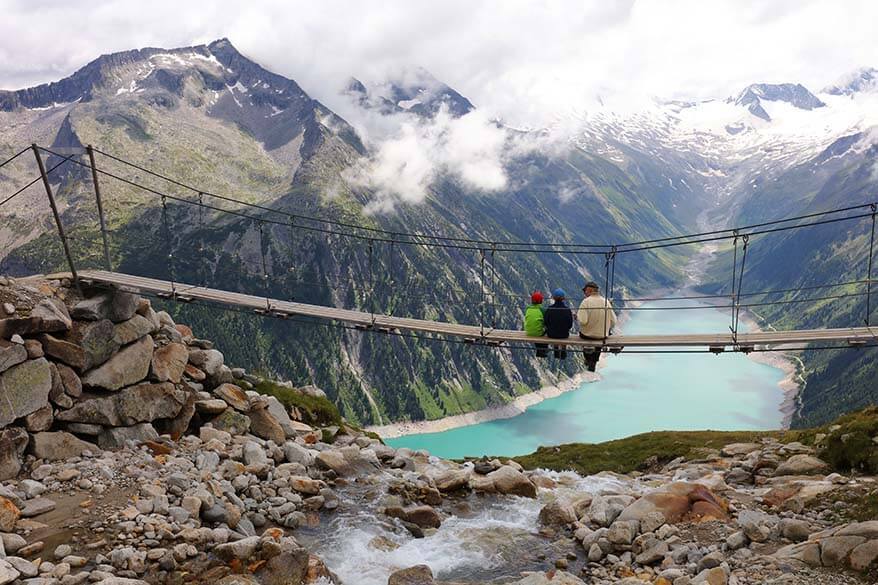 This time, it was crazy busy at the bridge and there was a long queue for pictures. Of course, we decided to stand in line and wait for our turn as well. As we stood there, we saw people in the strangest clothing (a suit and fancy shoes, party dress, a ballet dress, various hats, etc.) and striking all kinds of poses for the gram…
It's quite entertaining to watch, but also a bit sad to see how social media can ruin some places and also influence the most reckless behavior. There was one person who was hanging under the bridge holding himself with just one hand…
Please don't do things like that! It's very well possible to take really nice pictures without putting yourself or anyone else in danger. Sometimes you just need to be a bit more creative with your zoom and the angle (see our article with travel photography tips for some tricks we use).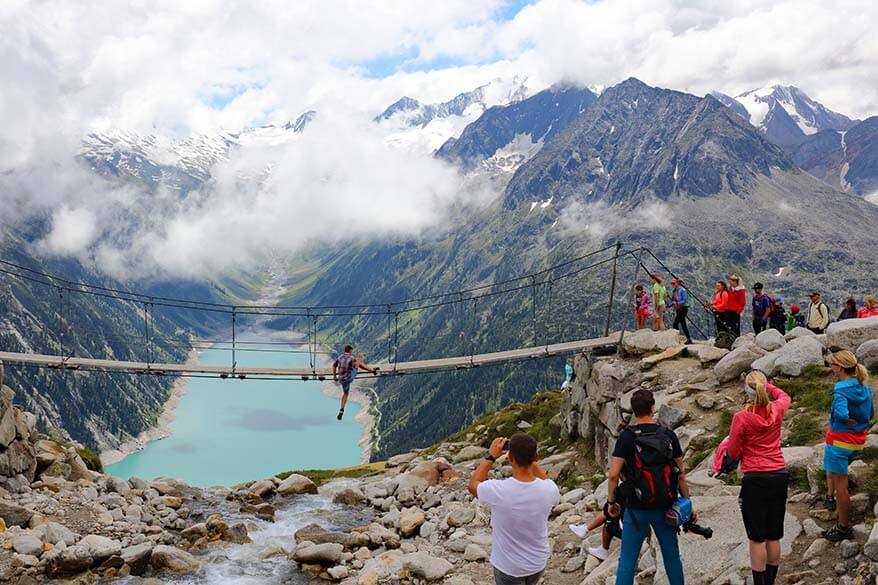 TIP: Don't just rush to the bridge and back! In addition to the mountain hut and the suspension bridge, there are many other great photo opportunities and fantastic views along this hike.
Even just a few meters away from the hut or from the bridge, you often find yourself completely alone, and can quietly enjoy the surroundings.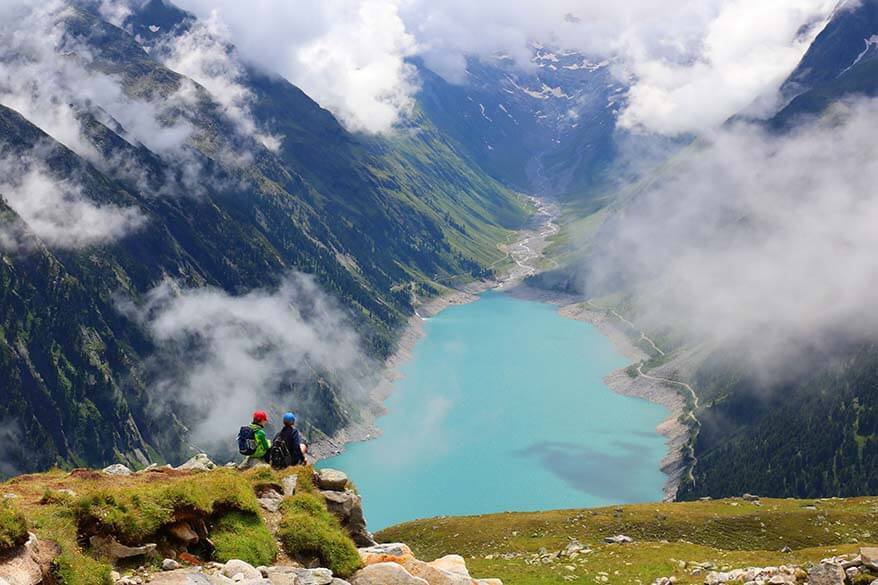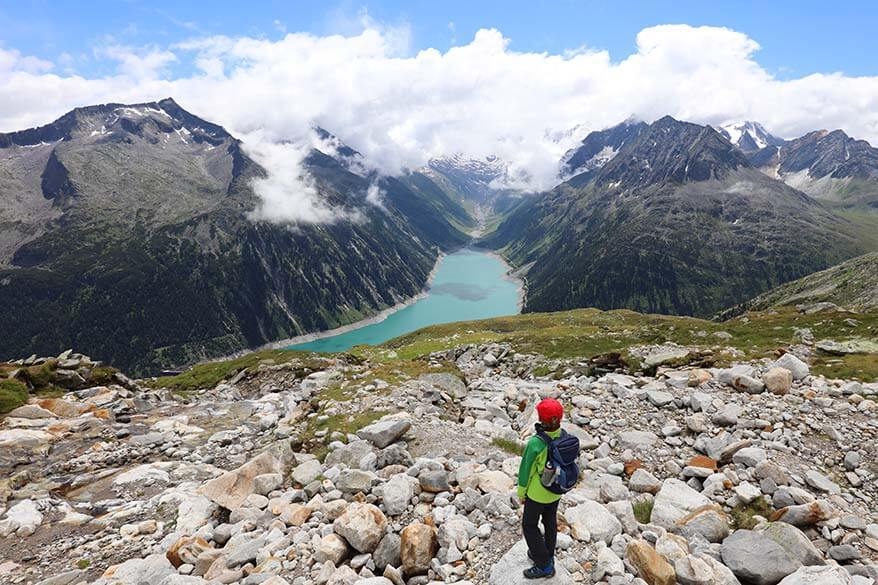 Hiking Back from Olperer Bridge to Schlegeis Reservoir
As sun came out and the clouds parted, our hike back down was so much more spectacular than the hike up. We simply took the same route back as we came, but now the lake was visible and it was absolutely stunning!
I think we stopped for pictures at every corner. It was early afternoon and there were so many people hiking up that it got very busy. While we met just a handful of other hikers in the morning, it was like a highway now. So definitely try to do this hike as early in the day as possible!
With all the photo stops, it took us about 1h20 to hike back down from Olperer hut to the car parking at Schlegeis. Our total hiking time was 3 hours (1h40 and 1h20 down), but because we also had drinks and lunch on the mountain, we spent about 5.5 hours here in total.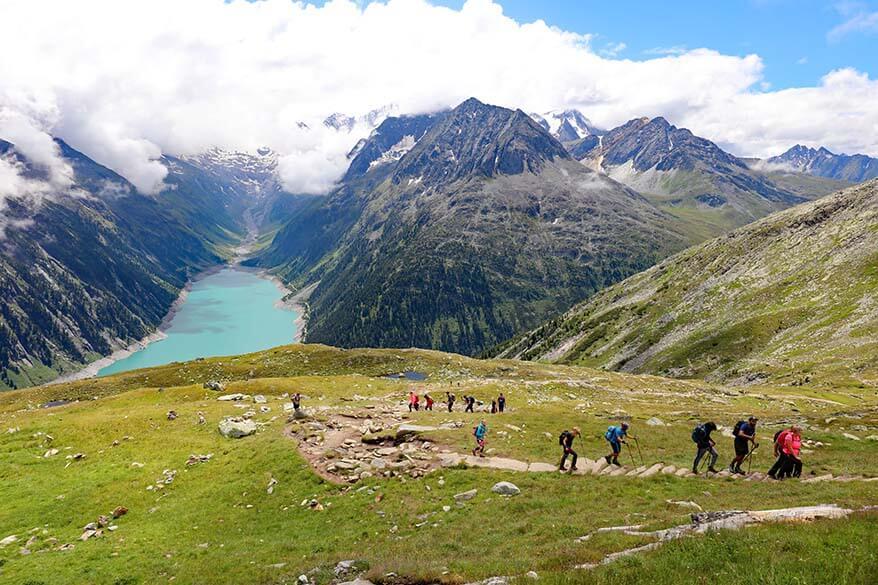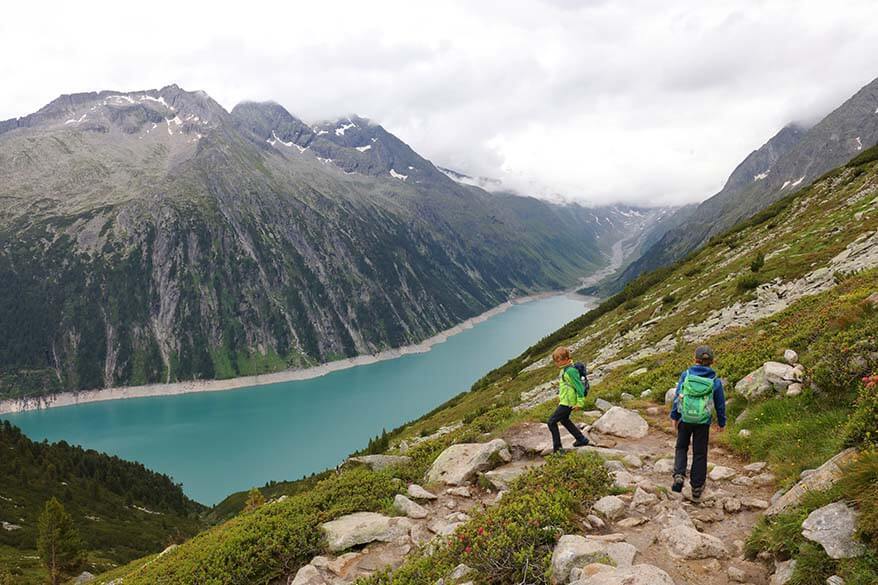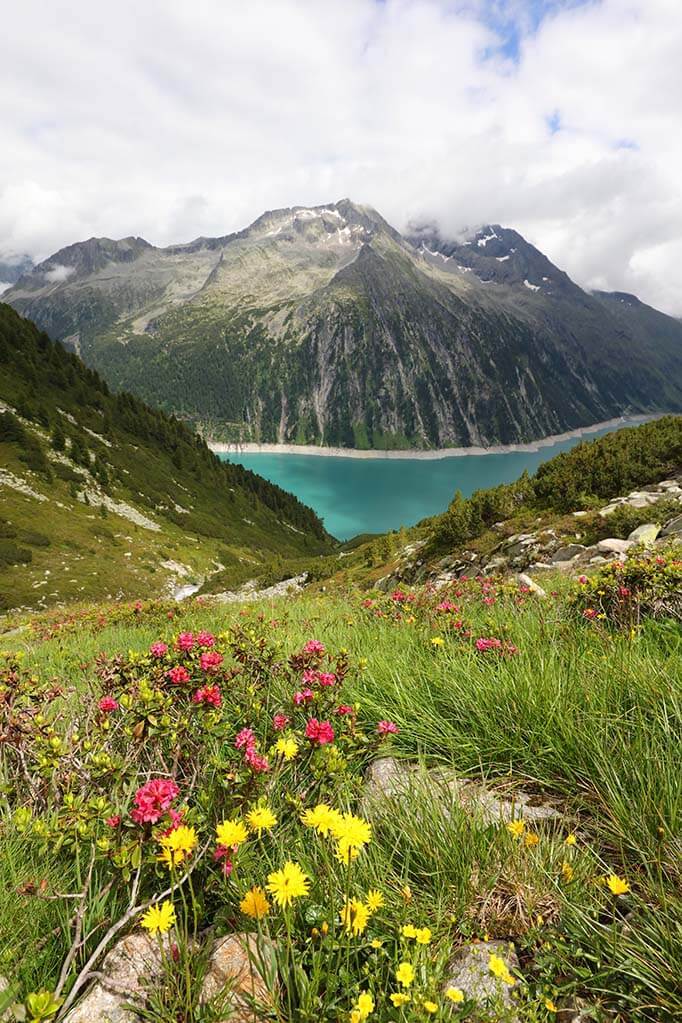 Things to Do at Schlegeis Reservoir
Schlegeis Reservoir (Schlegeis Stausee) is an artificial lake that was created by building a dam that's used for electricity generation from hydropower. The water of the lake has the most beautiful opal-green color that changes depending on the light. The dam is very impressive too; it has a length of 725 m (0,45 miles).
Many hiking trails start at Schlegeis Reservoir, including the four different routes to the Olperer hut. In addition, you can also walk over the dam itself and there are also guided tours inside the dam. There are also two restaurants here and they both offer amazing views over the lake.
Directly on the dam wall, there is also a via ferrata that's supposedly also suitable for beginners. It looked really intimidating, but if you have some time to spare, it might be worth checking it out!
Another popular activity here is the Flying Fox and various climbing routes, as well as a giant swing. You don't need any previous experience or special equipment and you can hire it all here.
We were here for the Olperer Hut hike and – due to the weather and also because of the long drive ahead of us – we didn't have the time to try any of the other activities. It looked like a wonderful place to come for a day. Even if you don't hike, you could find plenty to do at Schlegeis.
Practical information: If you are looking to do the Schlegeis dam tour, you can find more information about it on the official website of the company responsible for the dam. For all the other activities, see this website.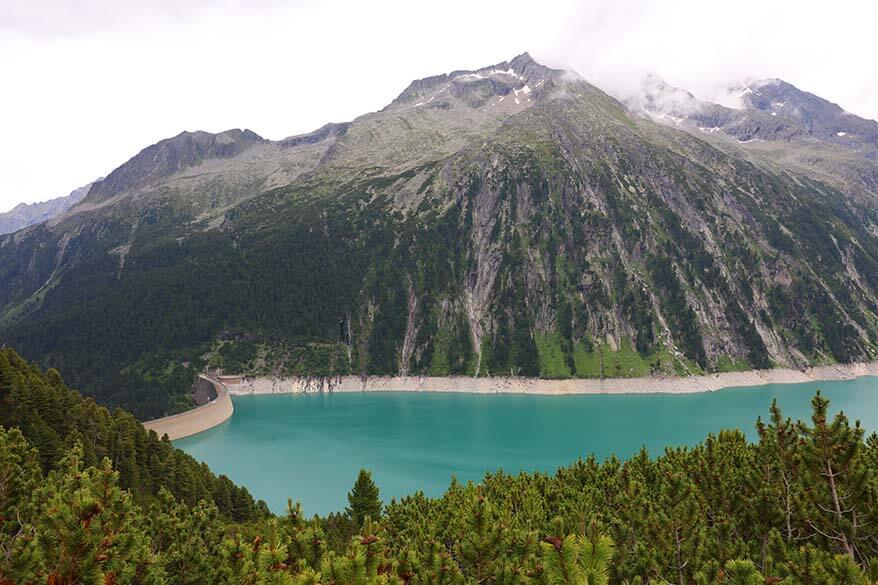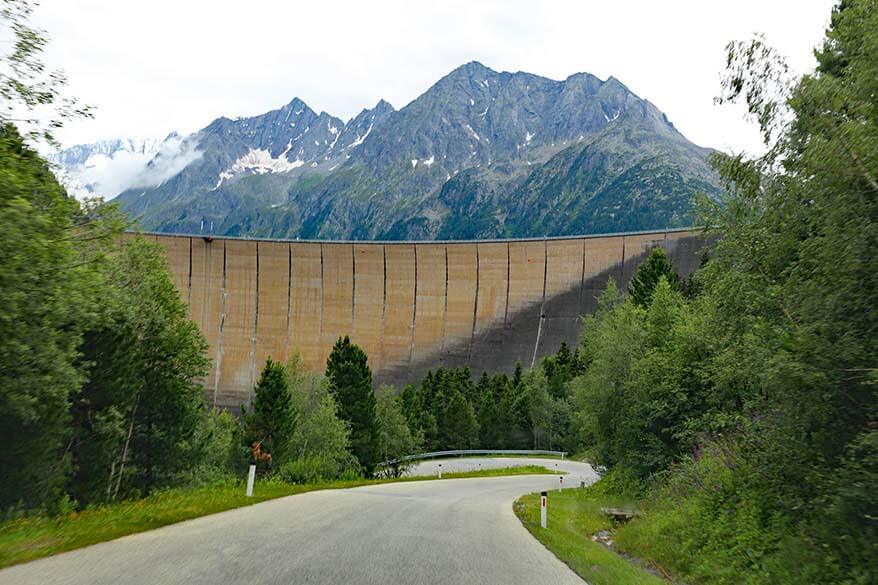 Olpererhütte Hike with Kids
Olpererhutte hike is an uphill hike of 1.5 – 2 hours one way, so your children should be able to walk in the mountains for about 4 hours if you want to tackle this hike with kids.
If your child is used to hiking, I think they should be able to hike to Olpererhütte from the age of about 5-6 years. Of course, it might take you a bit longer with younger kids, but it's really not such a strenuous hike as it looks based on altitude difference. If, however, your kids have no hiking experience, then this is probably not the best hike for kids under 7.
Our kids (age 9, 9, and 11) had no trouble with this hike at all. In fact – as it often happens recently – we constantly had to ask them to wait for us. We also saw many other families with younger kids at the top. And yes, this hike is also perfectly doable for active seniors.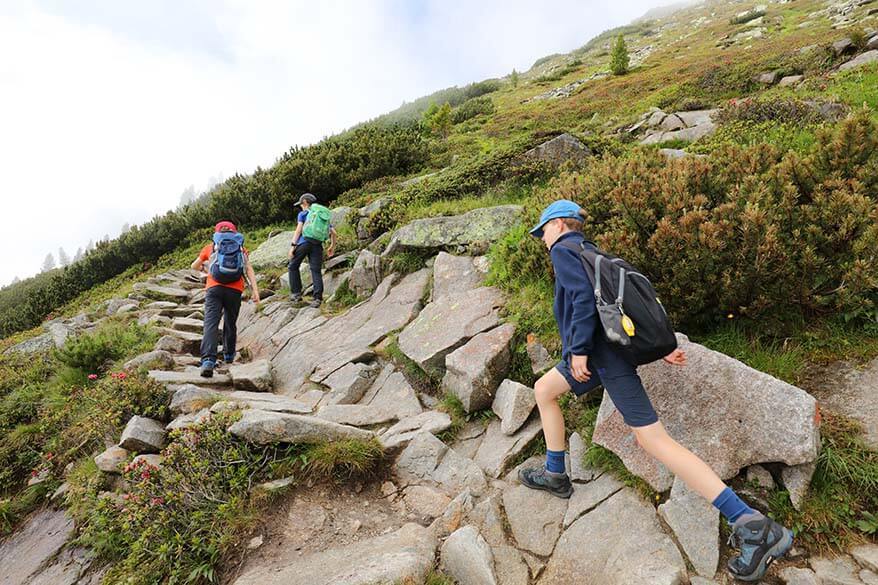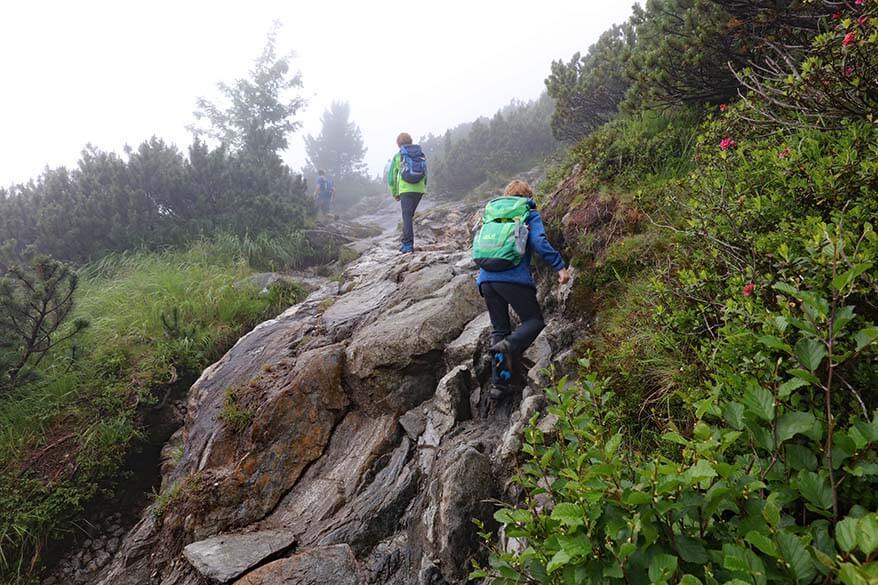 What to Pack
Make sure to wear sturdy hiking shoes for this hike to Olpererhütte. It's also quite steep and so hiking poles are useful as well, especially on your way down.
Wear layers of clothing and always pack a sweater and a rain jacket because the weather can change very quickly in the mountains. Also take some drinking water and sun protection!
Alternative Hikes to Olpererhütte & Map
There are 4 different ways to get from Schlegeis Reservoir to Olpererhütte.
Below, you can see the map of all these trails between Standort at Schlegeis Reservoir and Olpererhütte. You'll also find this map at the beginning of the hike – that's also where I took this picture.
TIP: As you can see, it's possible to hike up one way and come back via another trail. Some people also make a multi-day trip visiting several mountain huts and staying overnight at one of them. If you start early and take an entire day, you should definitely consider taking one of the longer routes. Read on for a short description of these trails.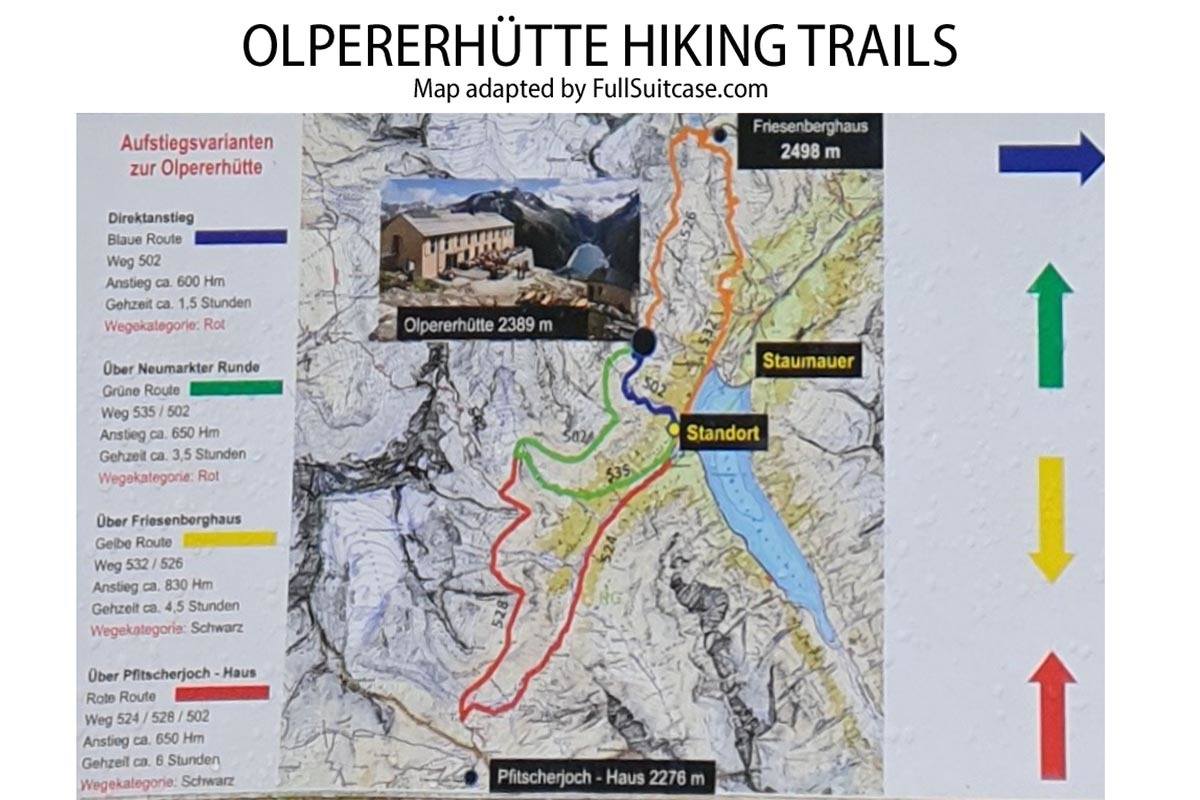 1. Blue Route – Trail 502
This is the easiest and the shortest hike to Olpererhütte. This is the most popular hike, the one that we did, and that is described in our article. It's a medium hike with an elevation gain of 600 meters and takes about 1.5-2 hours one way.
2. Green Route – Trail 535 / 502
This is another medium hike to Olpererhütte, but it's much longer. It takes about 3.5 – 4 hours one way and the elevation gain is 650 meters.
3. Yellow Route – Trail 532 / 526
This is a more demanding hike that goes via Friesenberghaus (2.498 m). It takes about 4.5 – 5 hours to get to Olpererhütte via this trail. Elevation gain – 830 meters. We saw signs at Olpererhütte to Friesenberghaus and they indicated 2 hours hike between the two.
4. Red Route – Trail 524 / 528 /502
This is the longest of all trails. It starts and ends just as the Green Route, but also passes Pfitscherjoch Haus (2.276 m). This mountain hut is located just over the border in Italy. This hike takes 6 hours with an elevation gain of 650 meters. Signs at Olpererhütte indicated that it takes about 4.5 hours to hike from there to Pfitscherjoch Haus.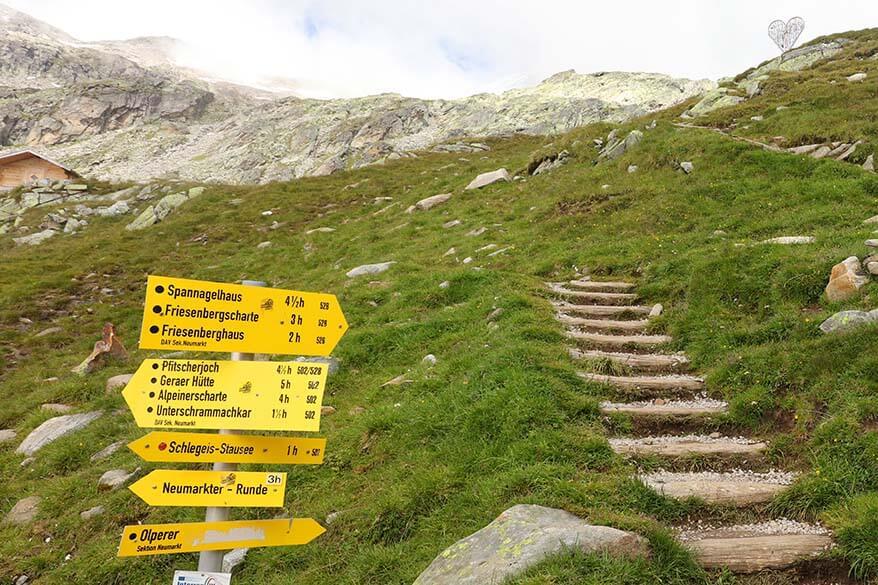 Where to Stay
Most people visit Olpererhütte for a day when vacationing in the Zillertal region in summer. There are many small towns in the region with a big choice of hotels, apartments, and Airbnbs.
We stayed at Landhaus Klausnerhof, a self-catering accommodation in Aschau. It was a good location to explore the region, but only because we had a car. Also, they require a minimum stay of 5 nights in summer.
If you are looking for a good central location that's also perfect for a day trip to Olpererhütte, then we recommend staying in Mayrhofen. It's just 30 min drive from the start of the Olpererhut hike, you can take a bus from here, there's also a train station, and there are lots of other facilities in town. You can find the best deals for Mayrhofen accommodations on Booking.com.
TIP: Using the map below, you can compare hotels, B&Bs, and short-term rental accommodations in Mayrhofen. Simply insert your travel dates and group size, and you'll see the best deals for your stay. Check it out!
Olpererhütte Hike FAQ
Is Olpererhütte hike worth it?
The scenery at Olpererhütte and Olperer bridge is one of the most beautiful mountain landscapes in Austrian Tyrol. So yes, it's absolutely worth a long drive and an uphill hike.
How long is Olpererhütte hike?
There are several hiking trails to Olpererhütte from Schlegeis Reservoir. The shortest and the easiest trail has an elevation gain of about 600 meters (1,970 ft) and is about 3 km (1.9 mi) one way. It takes about 1.5 – 2 hours to get there and about 1 – 1.5 hours to get back down.
How can you get to Olpererhütte trailhead?
Olpererhütte trailhead at Schlegeis Reservoir can be reached by car or by bus 4102 from Mayrhofen via Ginzling. If you are coming by car, keep in mind that there is a toll road and parking at the top is limited.
How much time do you need for Olpererhütte hike?
You need at least 3 hours for Olperer hut hike. In addition, you'll want to spend some time on top and take pictures at the suspension bridge. You really need 4-5 hours in order to enjoy this hike and the views on top. Depending on where you are driving from, you should count half a day to a day for a visit to Olpererhütte.
When is the best time to hike to Olpererhütte?
The best time to hike to Olpererhütte is in summer, from June to September. The road and the hiking trails are closed in winter. It usually just starts to reopen in late May and stays open as long as the weather permits, usually until the beginning of October.
READ ALSO: Best Things to Do in Zillertal
Some of our other favorite hikes in Tyrol:
More travel inspiration for Austrian Tyrol:
If you found this post useful, don't forget to bookmark it and share it with your friends. Are you on Pinterest? Pin these images!