It was love at first sight. From the moment we arrived in the Tiroler Zugspitz Arena in summer, we knew it would quickly become one of our all-time favorite places in the European Alps.
If you are wondering what there is to see and do in Zugspitz Arena in summer, then read on! This article will give you a good idea of what to expect and lots of inspiration for things to do in this beautiful area. Find out!
Tiroler Zugspitz Arena in Austrian Tyrol was the last stop after almost three weeks of road-tripping through Italian and Austrian mountains. It was a beautiful trip: we visited lots of stunning places, did more hiking than on any other trip ever before, and had so many adventurous activities that it was difficult to still get excited about anything new… We thought we had the best of the trip behind us, but we couldn't have been more wrong!
Disclosure: We visited Tiroler Zugspitz Arena in collaboration with Visit Tirol and Tiroler Zugspitz Arena tourism board in search of the best summer activities in Tirol for families with kids. However, this post is not sponsored. We had such a great time in this beautiful region and we want to share it with you. I can hardly imagine a better place for a family holiday in the mountains!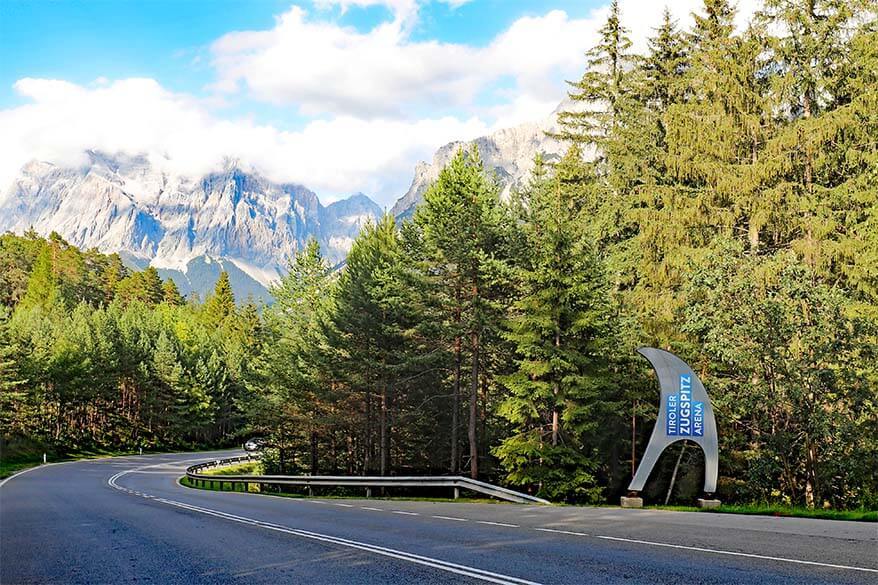 Good to know: Tiroler Zugspitz Arena is a part of Austrian Tyrol and comprises of the following areas: Ehrwald, Lermoos, Berwang, Bichlbach, Biberwier, Heiterwang am See, Lähn-Wengle, and Namlos.
Just so you know where this beautiful region is located and where all the places mentioned in this article are, I created this MAP of the area.
How to Use This Map: Use your computer mouse (or fingers) to zoom in or out. Click on the icons to get more information about each place. Click the arrow on the left top corner for the index. Click the star next to the title of the map to add this map to your Google Maps account. To view the saved map on your smartphone or PC, open Google Maps, click the menu button, and go to 'Your Places'/'Maps'.
Here's how our 3 days in Tiroler Zugspitz Arena in summer looked like:
Day 1: Gamsalm, Zugspitze, Biberwier Alpine Coaster, Blindsee
Tiroler Zugspitz Arena met us with beautiful sunshine. After checking in at the beautiful Zugpitz family resort (more about it later), we set to explore the area.
Gamsalm
We left our car at the hotel and took a leisurely walk through the woods to a nearby mountain hut for lunch. Gamsalm is a nice mountain restaurant with sunny terraces and good local food – a perfect place for a relaxing lunch in the mountains. Our kids quickly discovered a little playground and so we only saw them for about 5 minutes – the time it took them to devour their food.
We had a very good lunch followed by Kaiserchmarrn for dessert and could have easily spent the rest of our afternoon there. Just watching a herd of sheep, enjoying the good food, nice views, and lovely summer weather. Sometimes the simplest things in life make you feel so good…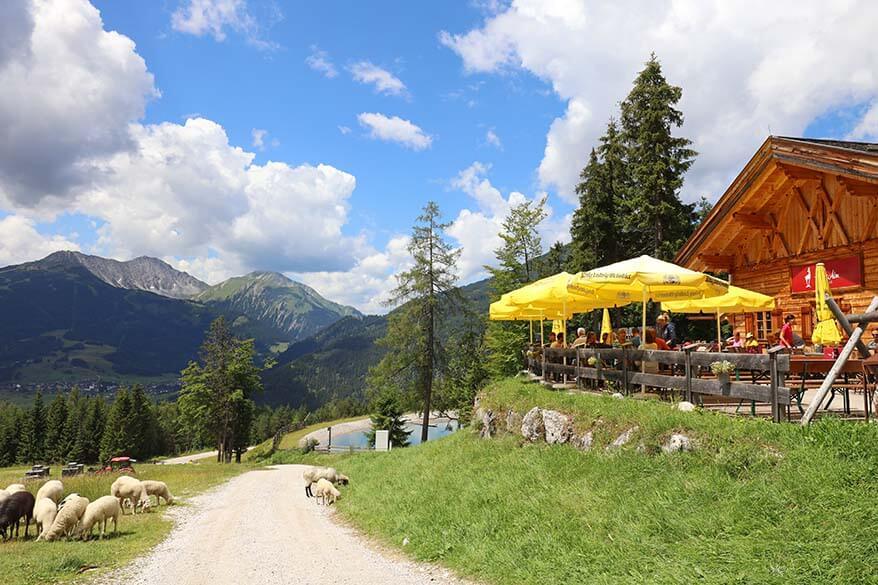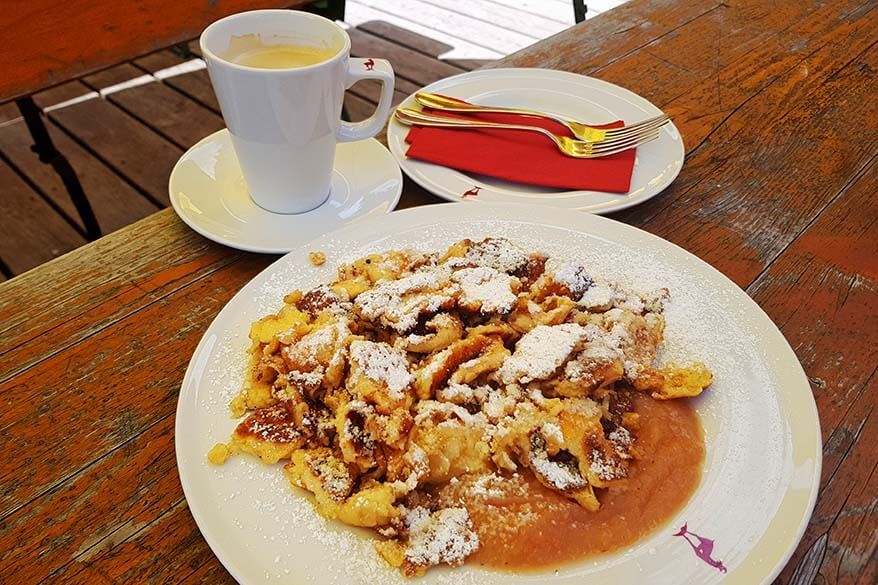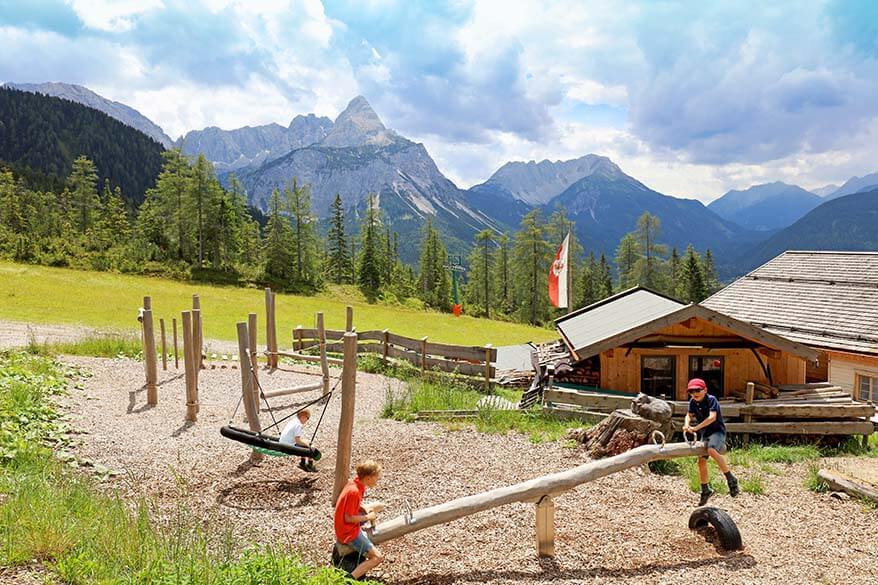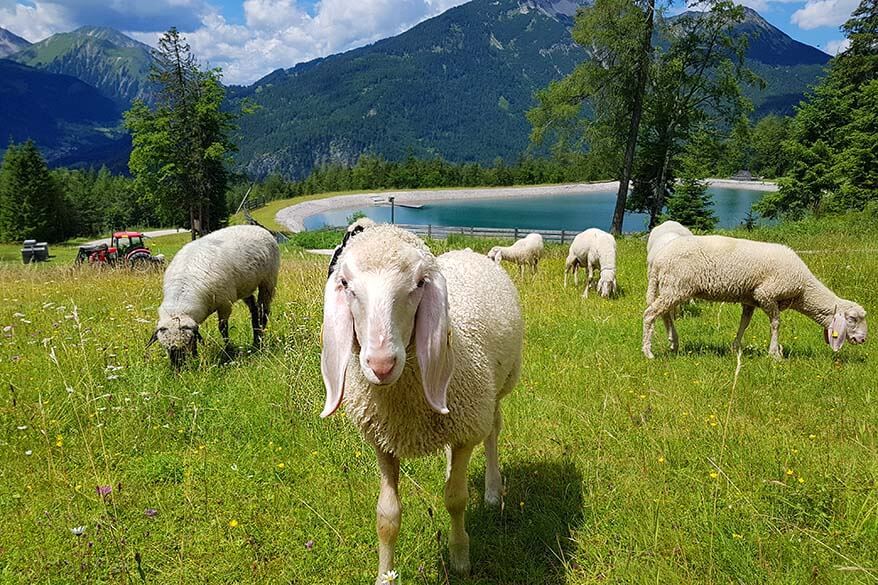 Zugspitze
Zugspitze, Germany's highest mountain, and one of the main points of interest in Tiroler Zugspitz Arena, was our next stop. The Zugspitze cable car station is located just right next to the hotel, so it couldn't be easier!
The scenic gondola ride to 2962 m (9700 ft) is an experience in itself – panoramic views are amazing and the cable car ascends 1725 m (5660 ft) in just 10 minutes.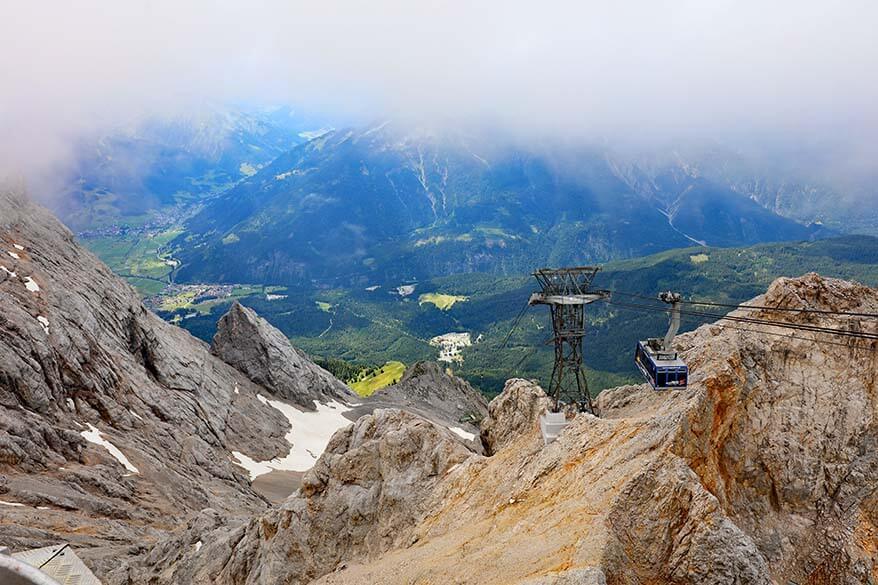 And yes, you read it correctly, you take the cable car in Austria, but the peak of Zugspitze mountain is actually in Germany. The Austrian side has a great viewing platform from where you can see four countries (Austria, Germany, Switzerland, and Italy).
There is also a really interesting museum, you can stand on a glass floor overlooking a steep drop down the mountain, watch beautiful documentaries about the region, or visit Europe's first snow crystal world. In other words, there is plenty to see and do on top of Zugspitze. Count 1,5-2 hours for the visit including the cable car rides.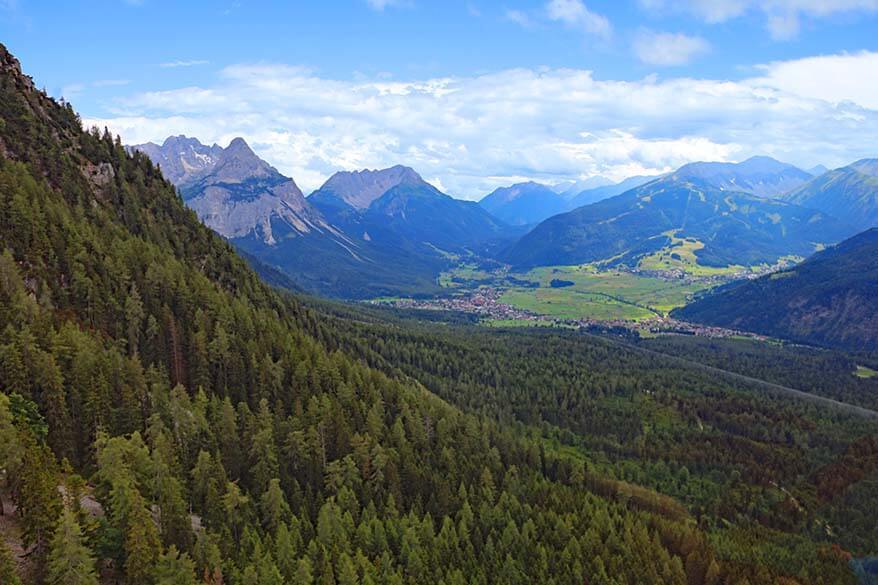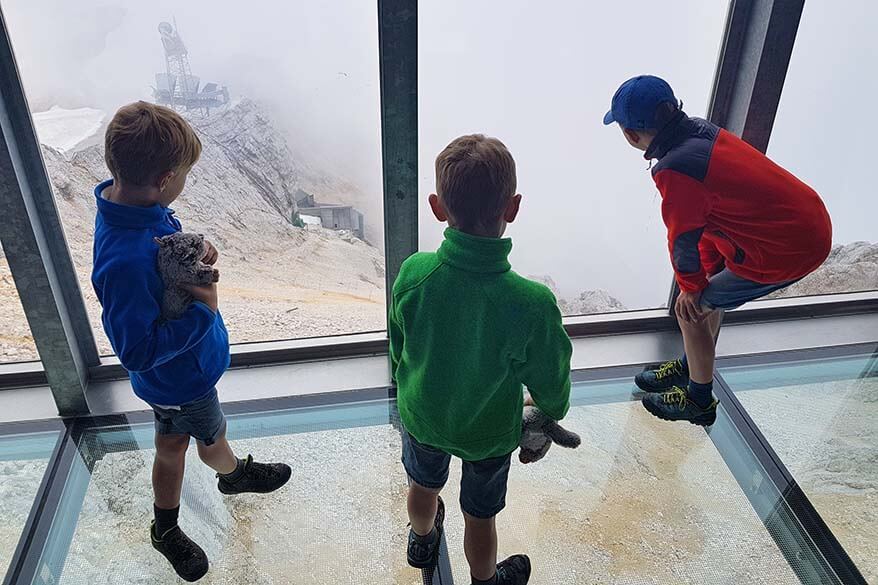 It was a beautiful sunny day when we visited Zugspitze, yet the top of the mountain itself was mostly covered by clouds. Once in a while, the mist would part and we had great views, but there were moments when we were literally walking in the clouds and everything around us was white. A very special feeling…
After you explore the Austrian side, make sure to walk over to the German side as well! You will pass an old border checkpoint where in the past skiers were asked to show their passports when crossing the border.
Nobody will ask for your passport here these days, yet you know immediately that you are in another country. The first thing you see and smell is German bratwurst on the bbq. There is a big panoramic restaurant, a souvenir shop, and in winter you can ski here as well. Just don't forget to go back to the Austrian side and take the same cable car down the mountain or you will find yourself in Eibsee in Germany.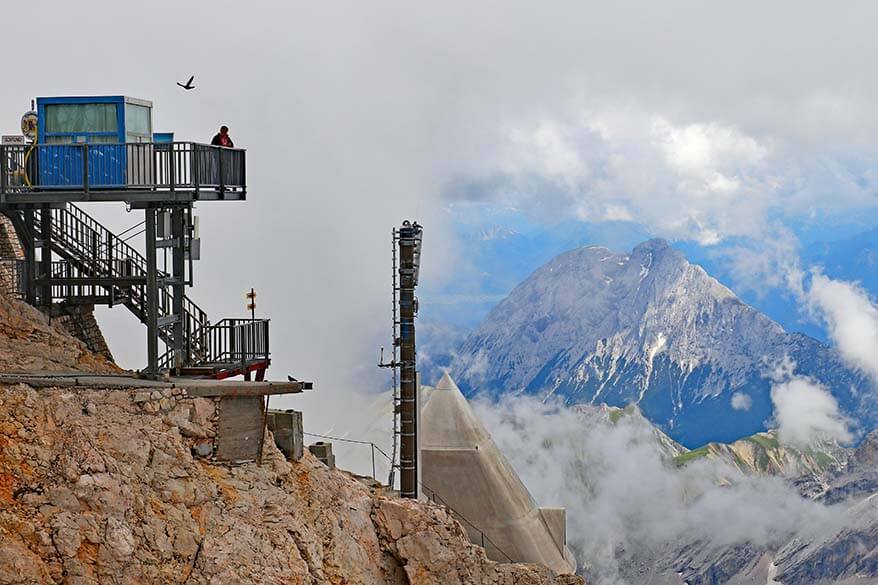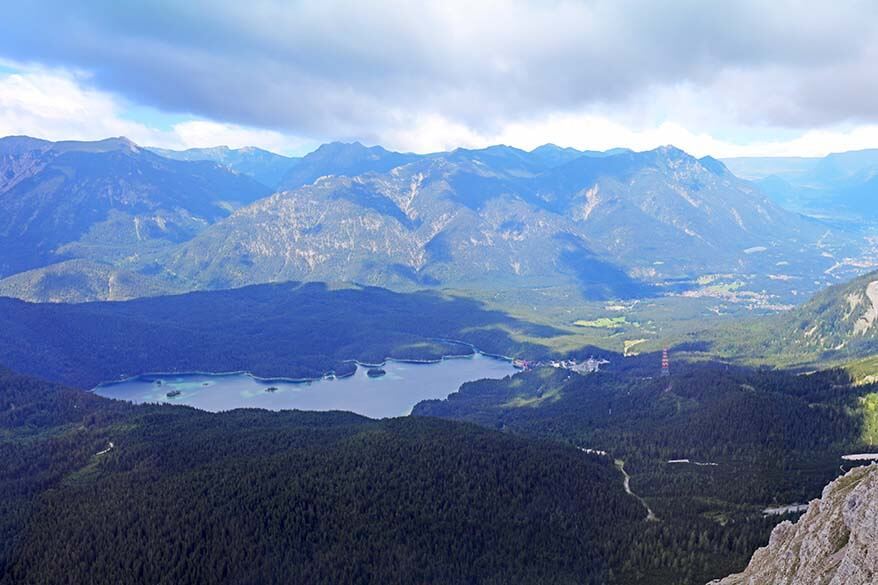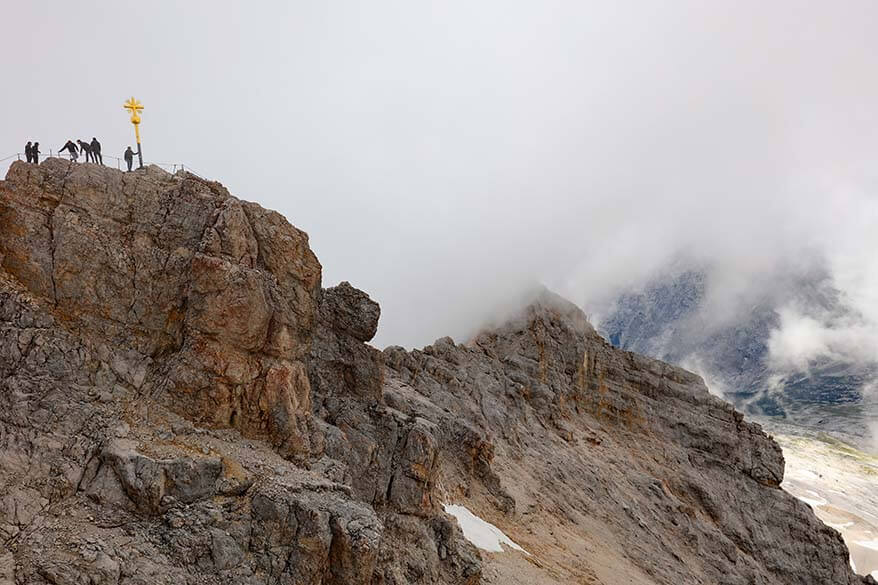 Alpine Coaster in Biberwier
In the meantime, the kids learned about the summer toboggan in Biberwier and there was no way we could wait another day to try it out. Luckily for us, it's open quite late in July and August, so we quickly set to try one of the longest alpine coasters of Tirol.
The Biberwier alpine coaster is 1,3 km long, so you first need to take a chair lift to the Marienberg mountain. On the way up, you can see the toboggan run underneath your feet and it's really impressive.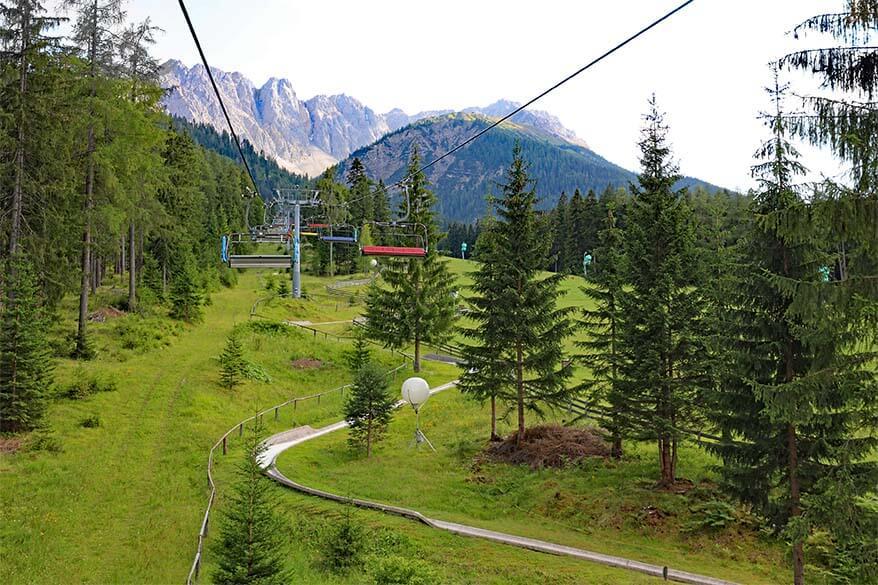 Once on top, you pick up a sled and glide down. The ride itself isn't too steep and there are 40 curves to slow you down and add to the excitement. The views are really beautiful too, so take your time and enjoy the ride!
Our kids loved tobogganing so much that it quickly became one of their favorite activities of the whole summer. We went twice and the next day we were back for more.
I am not sure about the age limit for this summer toboggan, but our 7-year-old twins were allowed to operate their own sleds. I saw families with younger children where a child shared the sled with one of the parents, but normally you just sit in it alone. It's really an attraction for everyone and can be enjoyed by the whole family. Just beware that it's easy to get hurt in the curves (scratches on arms or legs) if you go too fast, so adjust your speed accordingly.
For more information, opening times, and rates please check the website of Tiroler Zugspitz Arena.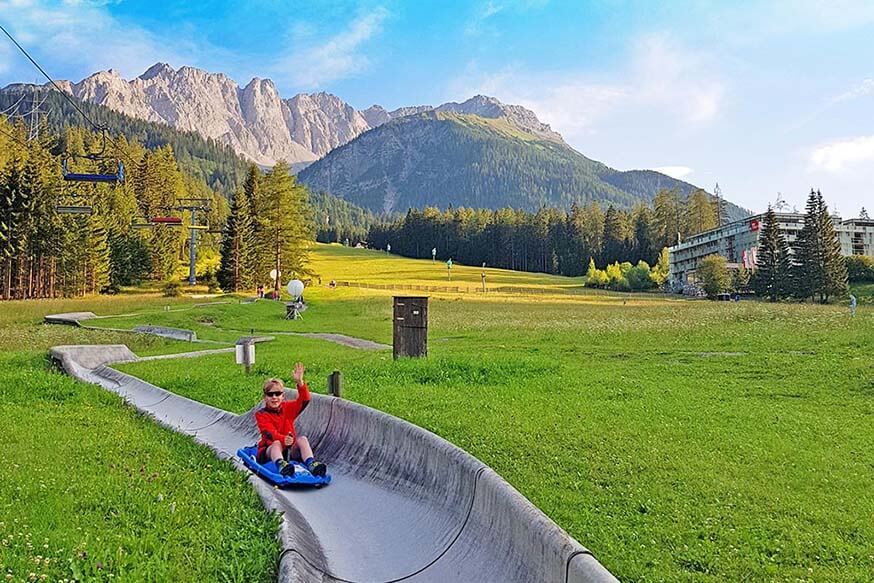 Blindsee
It was such a lovely summer evening that we just didn't want to call it a day yet. We were told about a nearby mountain lake Blindsee and decided to check it out.
It's one of the hidden gems of Tyrol because you really wouldn't come here unless you knew about it. First, it's not really indicated. And second, there is a barrier at the entrance of the narrow road that would just get me to turn around without even looking further. But if you know it, you just drive up to the barrier, pay 4 EUR and it opens. You then enter a forest road that will eventually lead to one of the most scenic mountain lakes.
This place reminded us of the Canadian Rockies. So beautiful!
We were at Blindsee in the evening and there were still some people around – sunbathing, swimming in the lake, or just walking around. Apparently, this place is quite well known and probably much busier during the day. But to us, it felt like we found a true hidden gem. It was so scenic and peaceful. Such a lovely place to be. Don't miss it if you are visiting Tiroler Zugspitz Arena in summer!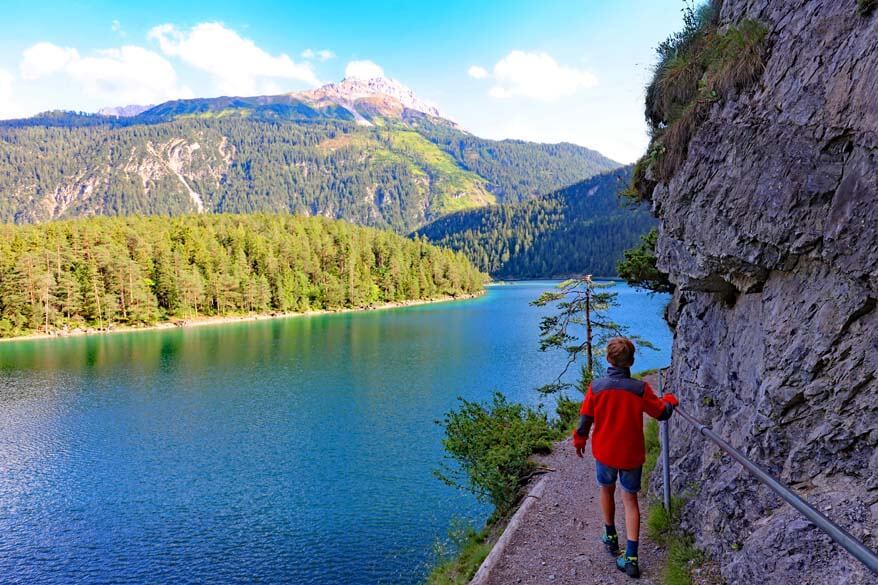 As the sun was setting down and the kids were getting tired, it was high time to head back to our hotel. We ended our first day in Ehrwald with an amazing 5-course dinner and incredible sunset views from our terrace.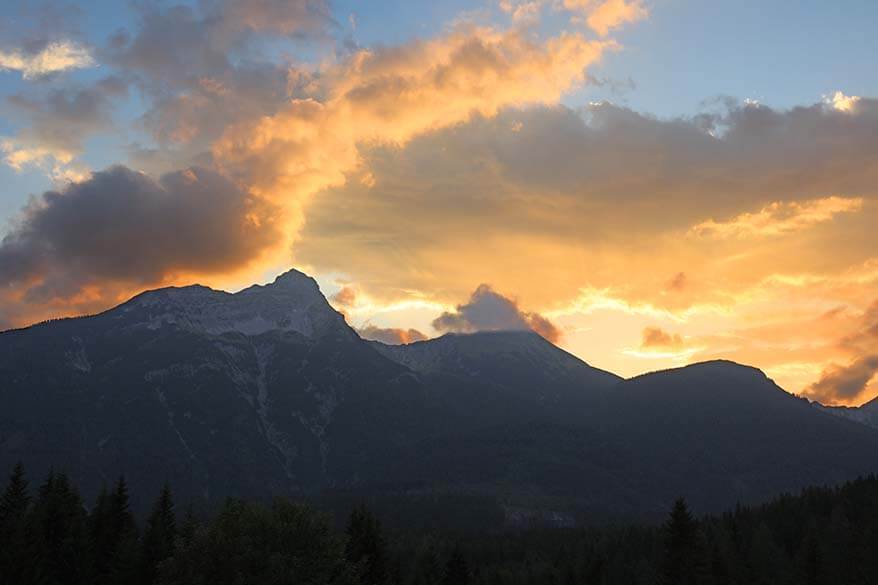 Day 2: Seebensee, Ehrwalder Alm & swimming
Seebensee
On our second day in Tiroler Zugspitz Arena, we chose to hike to Seebensee. Some people say it's the most beautiful lake in Tirol. While we can't comment on this for the simple reason that we haven't seen all the others, Seebensee lake certainly lives up to its fame.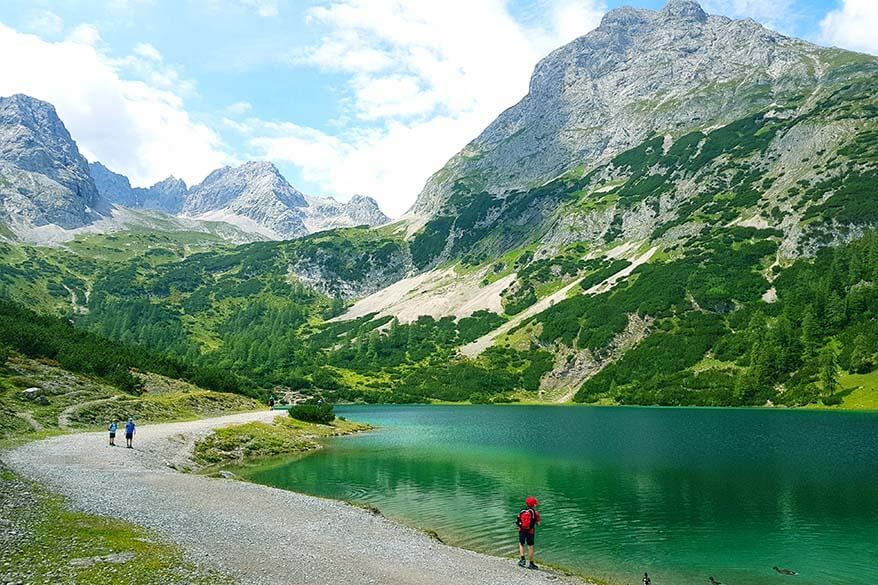 The hike to Seebensee starts at Ehrwalder Alm cable car which saves you a big climb. It's a relatively easy walk with some climbing and it took us about 1,5 hours to get to the lake (and a bit less time to get back).
Due to its beauty and relatively easy accessibility, Seebensee is a very popular day trip in Ehrwald. On a sunny day, you will find many people here: hikers, mountain bikers, families with kids enjoying their picnic… We had the lake practically all to ourselves. How come? Read on!
We were a bit less lucky with the weather on the day of our visit. The rain was on the forecast and the moment we reached the lake, it was covered in the mist. Luckily the weather changes so fast here that by the time we finished our picnic lunch, the rain had stopped.
A few minutes later the sun came out and painted the grey landscape into the most beautiful colors. Now we could see how beautiful Seebensee actually can be. Once again, it reminded us of some of the most beautiful lakes we had seen in our previous trips to Canada or Switzerland. We never knew Tirol was so beautiful!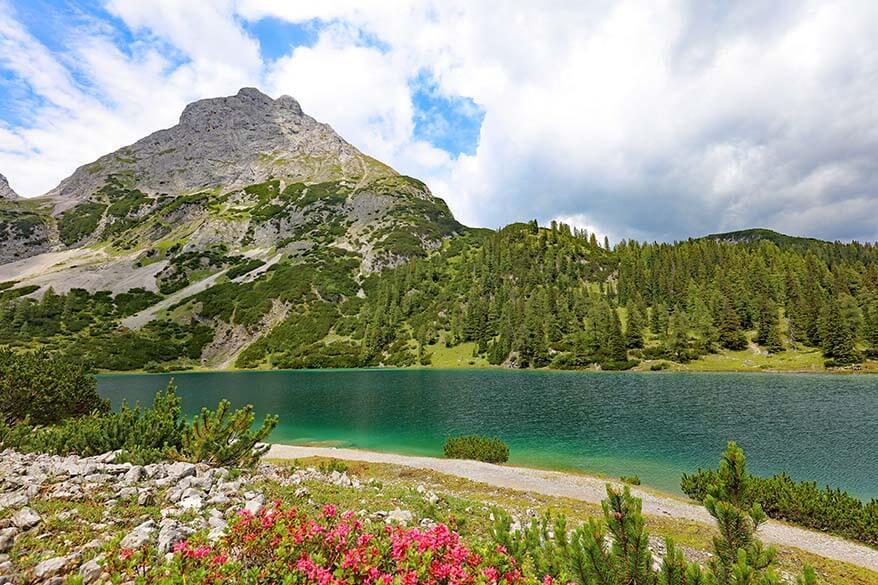 The sun disappeared as quickly as it came and in no time we got caught in the pouring rain on the way back down. But we didn't care. We got to see this unique place at its best and it was an even more special experience than coming here on a nice day.
If you come here on a beautiful day, it's recommended to hike a bit further, to a mountain hut Coburger Hütte. You can see the Seebensee lake from above from that hike and at the top there is also another lake, Drachensee. We didn't get there due to the rain, but otherwise, it's really worth the extra hour that it takes to get there.
Update: We re-visited Tiroler Zugspitz Arena in summer a few years after our first trip. This time, we chose the best day to hike to Seebensee and we also hiked to Drachensee. You can find a complete overview of this hike with all the details, a map, and lots of stunning pictures via the link below. Check it out and don't miss this hike when visiting the area!
LEARN MORE: Seebensee Hike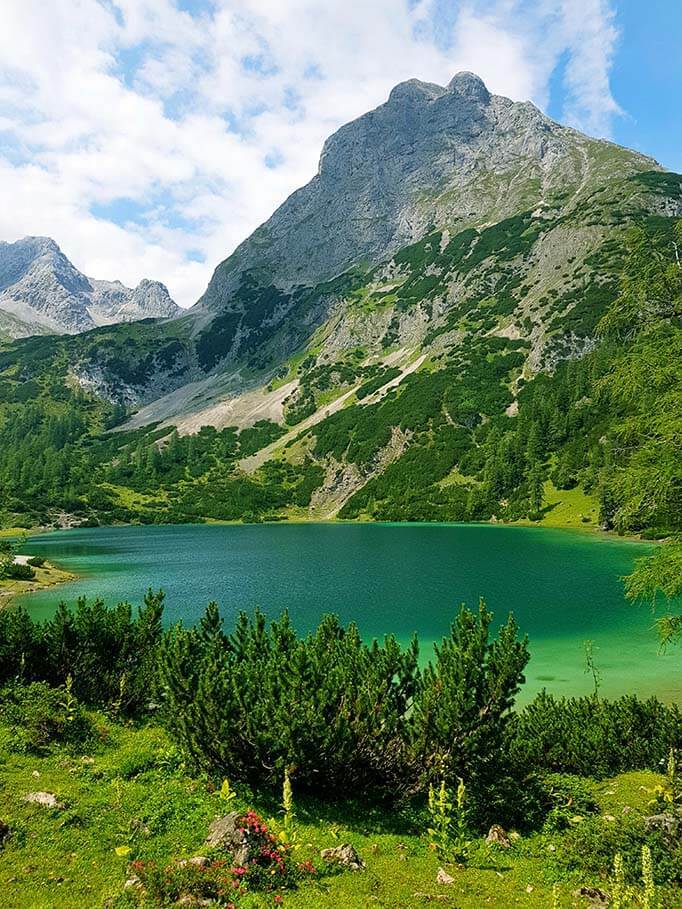 Ehrwalder Alm
Ehrwalder Alm is a beautiful mountain valley with stunning landscapes. In winter, you can ski here, and in summer you'll find water streams, wildflowers, and grazing cows. We even spotted a few Scottish cows here, they are just so cute…
At the cable car station of Ehrwalder Alm (where the Seebensee hike starts and ends), you will find several restaurants, children's playgrounds, and even a daycare center. I think the children's daycare center is only open during the ski season, but the whole area is really oriented towards families here. From playgrounds to special bathrooms for young kids – every little detail is thought of. It's a place we really want to discover in winter as well, it seems just perfect for a family ski vacation.
Our kids quickly discovered the playground with go-karts and trampolines. In the meantime, we decided it was time to try some Austrian apple strudel.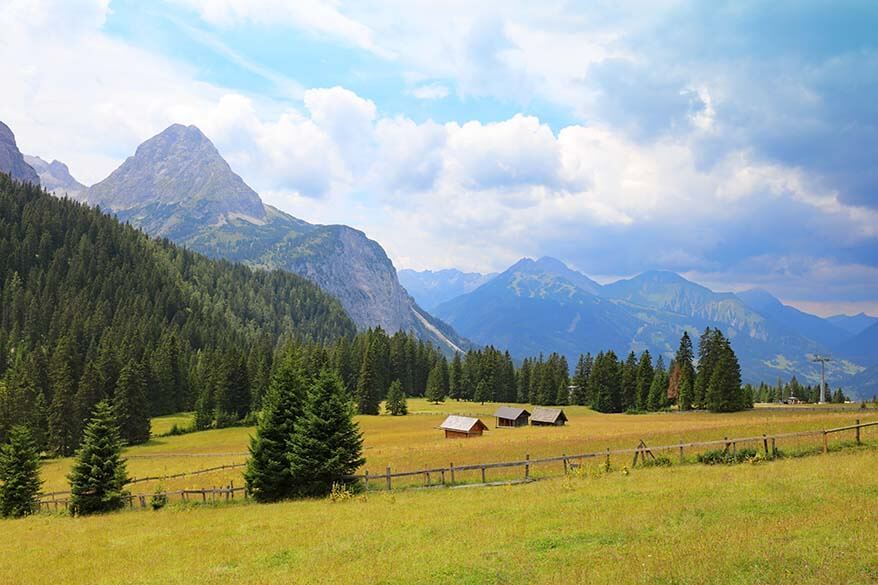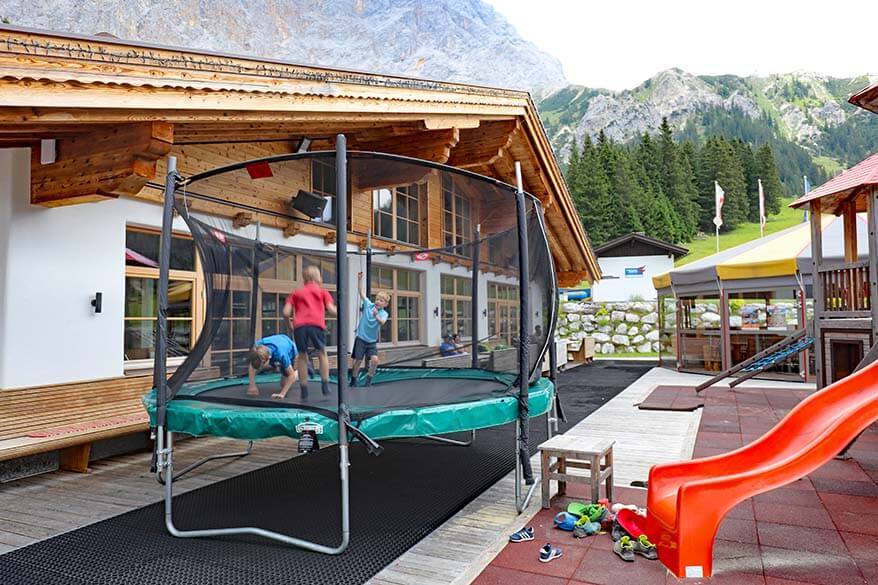 Alternative hike for families with young children
Seebensee hike is family-friendly and we even saw people walking there with a stroller. But if a 3-4 hike is too much for your children, you can opt for a much easier family-friendly walk 'Wassererlebnisweg Zugspitzi am Gaisbach' in Ehrwald.
It's a special trail for families with a variety of water-related games and activities along the way. The hike is easy and flat. It starts at the bottom station of the Ehrwalder Alm cable car, so you don't even need a ticket for the cable car to do it. You can find more information about this hike here.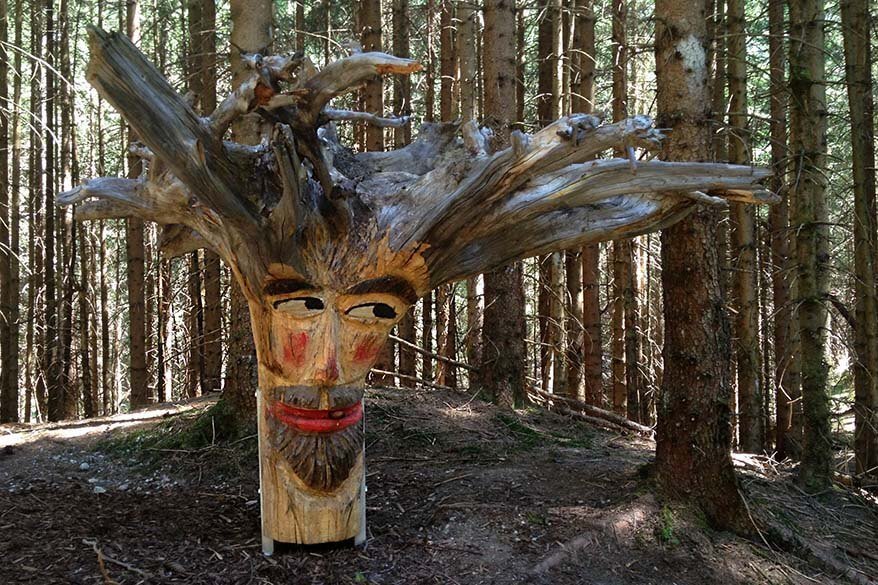 Swimming – Zugspitz Resort
We had planned to visit an adventure park in the afternoon, but had to reconsider because it was raining cats and dogs. Swimming at one of the many lakes wasn't really an option either. So we headed to our beautiful hotel, Zugspitz Resort. This hotel has been recently renovated and is one of the absolute best choices for a family stay in Tyrol!
With a really nice pool and spa area with indoor and outdoor swimming pools, we found all that we needed for a perfect afternoon after the hike. In the meantime, the rain stopped again and we could enjoy the outdoor pool as well.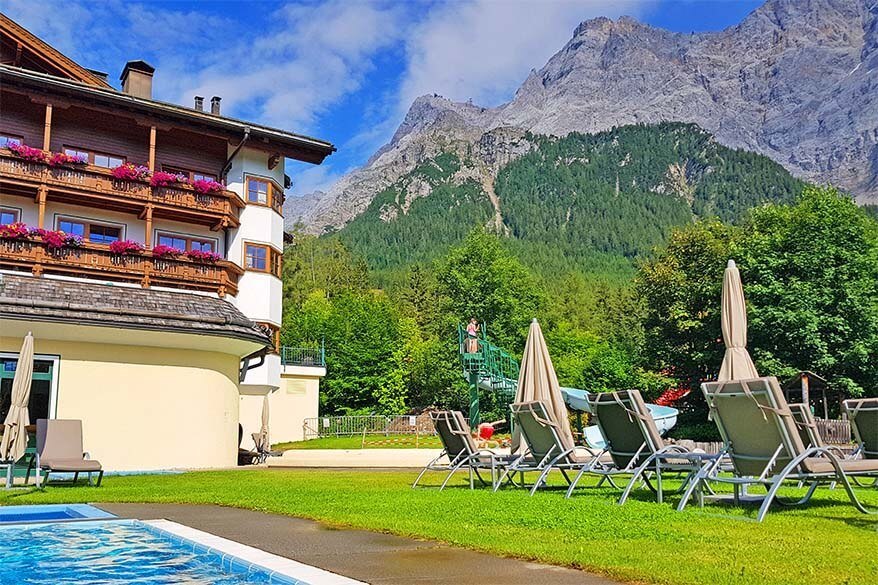 Oh, and did I mention that there were bathrobes and slippers for the whole family, kids club, indoor play area, and a big playground at the hotel too?
It's a perfect place to come back to after a day of exploring in the mountains! Kids could have stayed here forever… They were joking that it would be good if it rained every day and we never had to leave the hotel…
Of course, there are plenty of other hotels, resorts, and B&Bs in the area. If your hotel has no pool, you can always go swimming at one of the lakes, recreational areas, or an indoor swimming pool of Ehrwald.
TIP: Using the map below, you can compare hotels, apartments, and short-term rental accommodations in Tiroler Zugspitz Arena. Simply insert your travel dates and group size, and you'll what's available for your holidays. Check it out!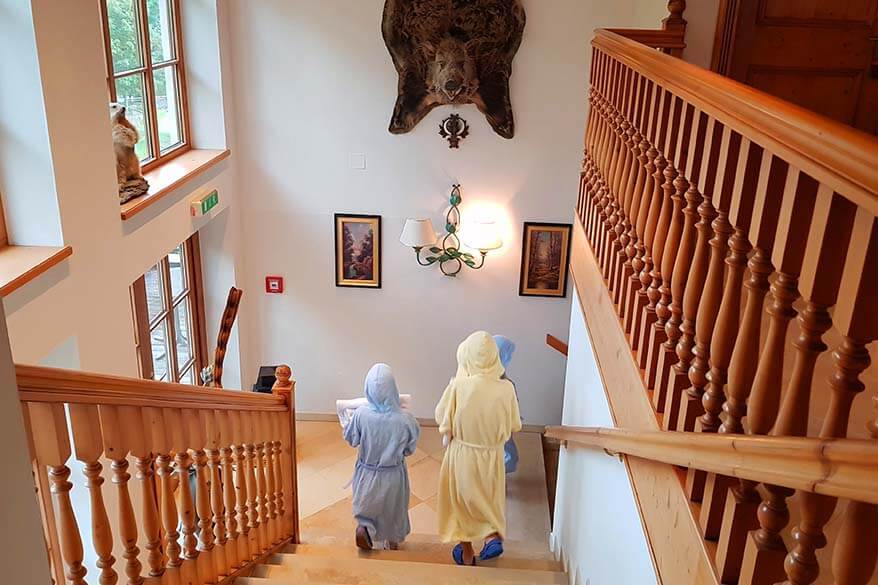 Biberwier Toboggan – yes, again
Since the sun came out towards the evening and the kids just couldn't stop talking about the alpine coaster from the previous day, we decided to go back to Biberwier. After all, it's not every day that you get to ride a toboggan, so we just had to take full advantage of it.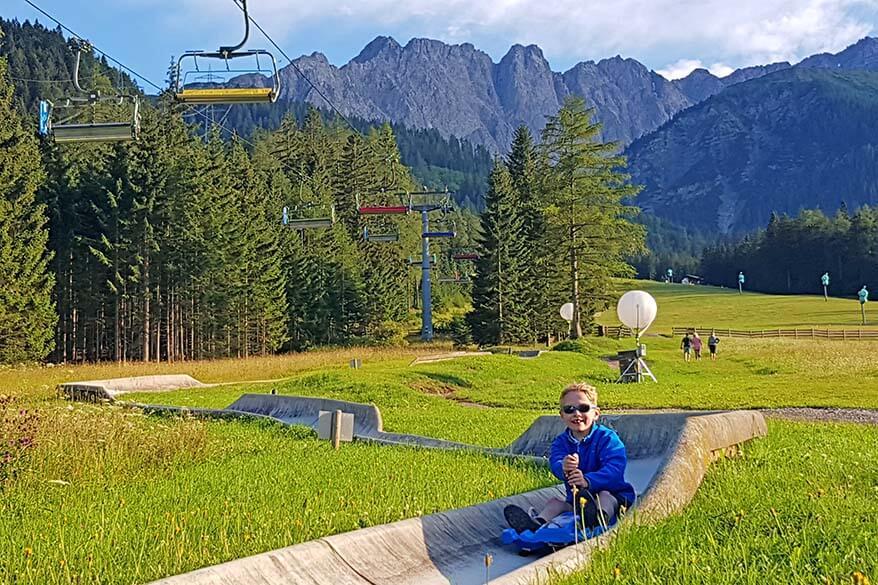 Day 3: Bichlbach Adventure Park and Heiterwanger See
This was our last day in Austria and the day we would drive back to Belgium. It's an 8-10 hour drive, but none of us wanted to leave…
We had two more places we really wanted to see before we left Tiroler Zugspitz Arena and there was no way we would get the kids to go home without visiting the adventure park first anyway.
Bichlbach Adventure Park
Bichlbach ropes course is just one of the many activities for families in Bichlbach leisure park. There is a natural swimming lake, kids rafting, mini-golf, and tennis as well. But we only had the time for one activity, so the choice was quickly made. Our kids just love climbing and zip-lining.
Bichlbach Adventure Park is a place for the whole family. I say this because you shouldn't expect to just drop the kids off at the ropes course while you go sunbathing by the lake. Some sections are just a bit too high for young children, so you have to be around to be able to help them once in a while. Quality time together guaranteed!
There are five courses of different levels of difficulty and a newly opened 90m (295 ft) Flying Fox. It's a really fun park, a bit more adventurous than the others we visited, but even the youngest kids can participate (as long as you help them). Our kids loved it! Zip-lining on the Flying Fox was the cherry on the cake.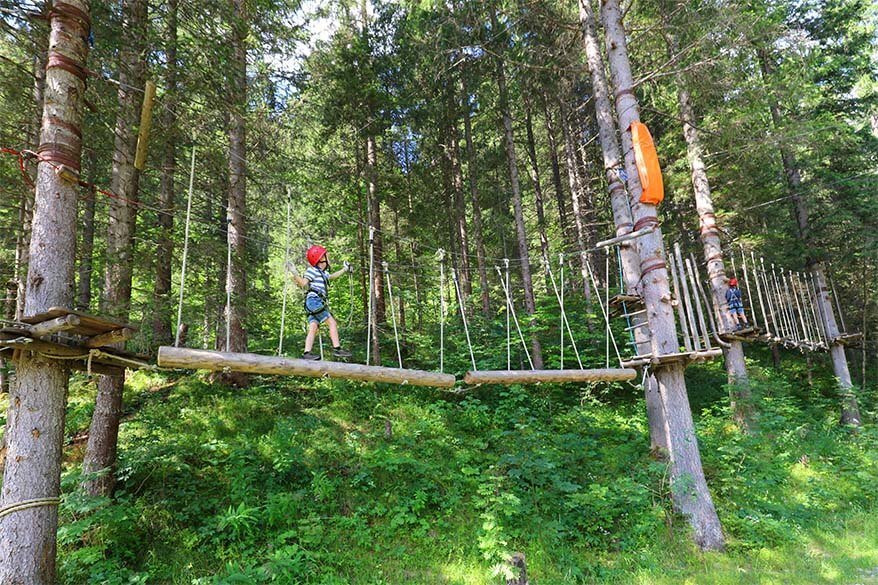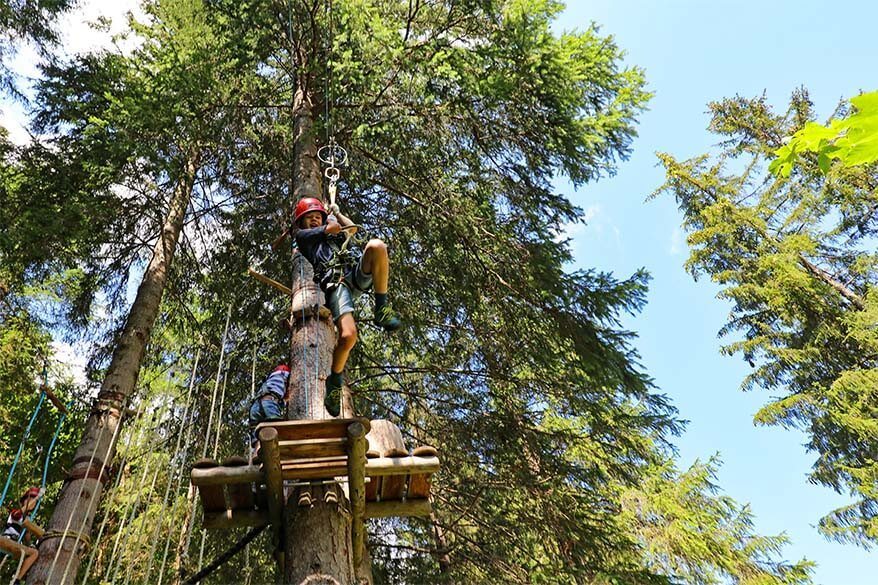 Heiterwanger See
Heiterwanger See is a rather big mountain lake with countless recreational possibilities.
It was such a beautiful sunny day when we visited and the lake was bustling with life. People were sunbathing and swimming. We saw quite a few paddle-boarders. There were rowing boats available for hire and also a bigger recreational boat that offers hop-on-hop-off possibilities allowing you to explore the lake at your own pace. There are hiking trails by the lake, so you can take a boat for a piece and then walk to the next stop, etc.
There is a camping near the lake and also the beautiful 4-star Hotel Fisher with a restaurant overlooking the lake. You can easily spend the whole vacation here…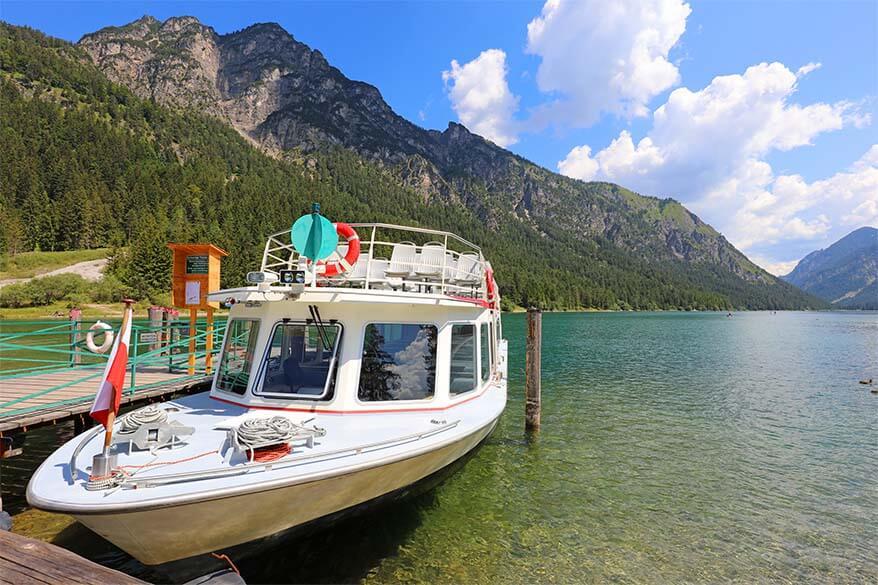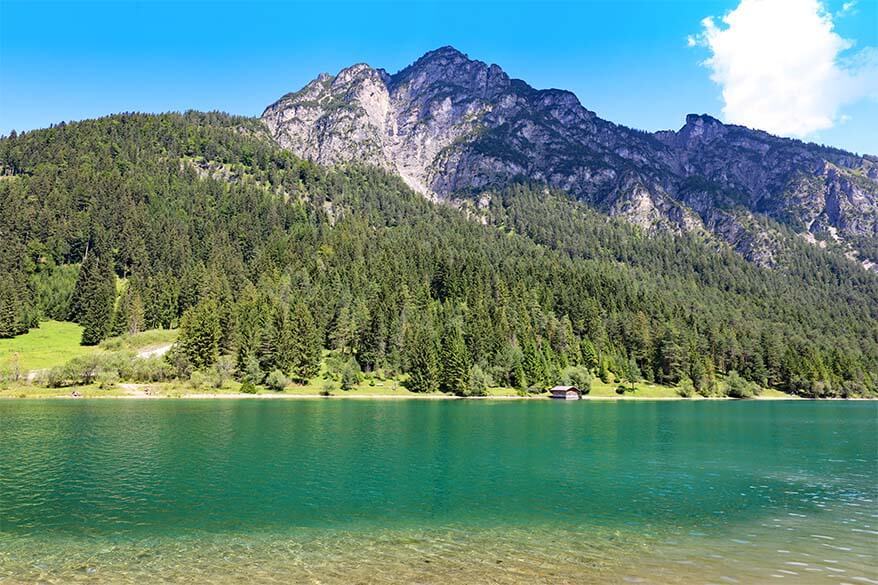 Practical Tips for Visiting Tiroler Zugspitz Arena in Summer
Every guest staying at one of the participating hotels in Tiroler Zugspitz Arena gets a guest card. It offers free transportation, guided tours, and a discount on many activities in the region.
If you are planning to visit Zugspitze mountain, do some hiking, and some other activities, it might be worthwhile getting a Z-ticket. It includes entrance fees for the cable cars in the region, boat trips, as well as many other activities. It can save you a lot of money, especially if you are visiting Tiroler Zugspitz Arena with a family. So check it out!
Tiroler Zugspitz Arena – we will be back
So, this was our short stay in Tiroler Zugspitz Arena with kids this summer. I cannot believe that we had never heard of this area before. It's a real gem!
Furthermore, Tiroler Zugspitz Arena is extremely well located. International Munich airport is just 110km from here, Innsbruck – 75 km, even Zurich is just 260 km away. Not to mention that you can drive there in less than a day from pretty much anywhere in Western Europe… We left Heiterwanger See around 1 PM and were back home in Belgium in time for dinner.
Tiroler Zugspitz Arena is such a beautiful region that truly has everything you might expect from a vacation in the mountains. We travel a lot and if I'm really honest, it's getting more and more difficult to get truly excited about new destinations. But from the moment we arrived in Tiroler Zugspitz Arena, till the moment we left, we were constantly telling each other that we have to come back here.
I can't even say what it is exactly: the scenery, the people, countless possibilities for activities and excursions, or the unparalleled focus on family travel… Whatever it was, this place left us longing to explore more. We will definitely be back!
Update: As I'm updating this article a few years after our first trip, I am happy to say that we did go back to Tiroler Zugspitz Arena in summer once more. And just as the first time, we absolutely loved it here and would definitely go back again…
If you have any questions, please do not hesitate to leave a reply below. Have you been to Tiroler Zugspitz Arena? Feel free to share your experiences as well.
More travel inspiration for Tyrol:
READ ALSO: How to see the best of Salzburg in 2 days
If you found this post useful, don't forget to bookmark it and share it with your friends. Are you on Pinterest? Pin this image!