Slide and Splash water slide park is one of the biggest and most popular water parks in the Algarve region in Portugal.
Located in Lagoa, in the central Algarve, it's a place that you can easily visit from all the popular resorts along the coast. Slide & Splash is just 10 minutes drive from Portimão and 30 minutes from either Albufeira or Lagos.
If you are looking for a fun day out with the whole family, you won't be disappointed – Slide& Splash is a really nice water park that has something to offer for all ages. Whether you are visiting with children, active teens, or a group of young adults, there are plenty of great options to choose from.
However, your experience at Slide & Splash can vary greatly depending on when you visit and how well-prepared you are.
In this guide, we share our experience-based tips for your first visit to Slide & Splash. You'll also find answers to some frequently asked questions and things we wish we had known before our visit. This way you know what to expect and can make the most of your time and money. Find out!
Here are our top tips for your first visit to Slide & Splash water park in Algarve:
1. Book your tickets in advance
Slide & Splash tickets are 10% cheaper if bought online vs. at the park entrance. Plus, you avoid standing in the queue at the ticket desk if you have them ready on your phone.
So save your time and money by booking Slide & Splash tickets online.
You can get tickets on their website, but we personally used and recommend booking Slide & Splash tickets via GetYourGuide.
The price is exactly the same, but GetYourGuide is so much simpler to use and offers a better cancelation policy. You instantly get the tickets delivered per email, there is no need to print them – just show the QR code at the entrance gate and that's it.
We use GetYourGuide for all our ticket and tour bookings in the Algarve (and pretty much everywhere else in the world). Whether you are looking to book a boat tour to Benagil Cave or want to go paragliding or kayaking in Algarve, it's really the best one-stop shop for all tickets and tours.
Good to know: No matter where you book the tickets, you'll be told that you have to 'check in' via the Slide & Splash website before you go. We did that, but nobody ever asked us to show the confirmation email that we got after this check-in. So I really don't understand the need for this bureaucratic extra step. They simply scanned our GetYourGuide tickets at the entrance and we were inside in less than a minute.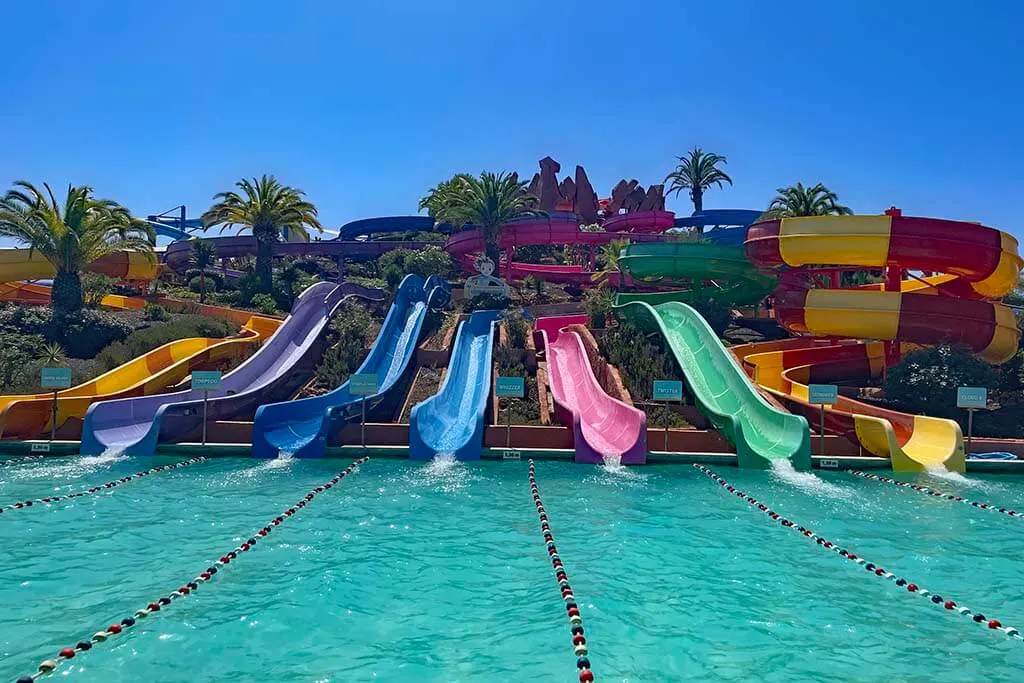 2. Arrive early
Slide & Splash water park opens at 10 am. If you can, try to arrive just as it opens. There are a few reasons for this.
First – and most obvious – it's really quiet at all the water attractions in the morning. So it's your chance to do some of the most popular slides before the crowds arrive.
Second, by arriving early, you can find a nice shady spot on the grass. There is very little shade, so those few areas that have it, fill up very quickly.
Third, if you are planning on renting a sun lounger or a cabana, there is much more choice in the morning.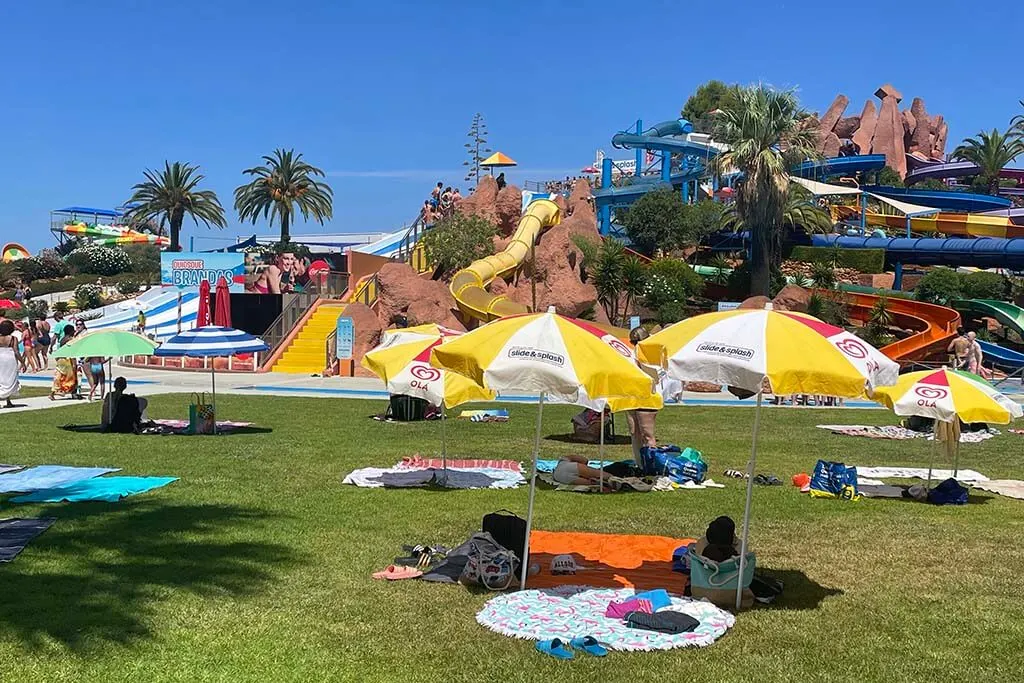 3. Visit on a weekend
Yes, you read it right. If you want to avoid the biggest crowds, visit Slide & Splash water park on Saturday or Sunday. Sunday is the quietest day of the week.
It may look completely against all logic that a water park would be quieter on a weekend than on a weekday. But there are a couple of reasons for this.
First, weekdays are popular with locals. School groups, kids' camps, and similar – all come on weekdays.
Second, many tourists staying in the Algarve arrive/leave on weekends. Since Saturday and Sunday are travel days for many holiday goers, popular attractions like water parks receive fewer tourists on weekends.
We asked the staff on various occasions about the quietest days, and time and again, they told us to come back on the weekend. However, in July and August, even weekends are busy (but still not as bad as weekdays).
We visited Slide & Splash twice in July. Once on Wednesday and once on Sunday. Indeed, the park was much less busy on Sunday. For the first two hours, there were hardly any queues at all. It got much busier after midday, but it was still not nearly as busy as on Wednesday.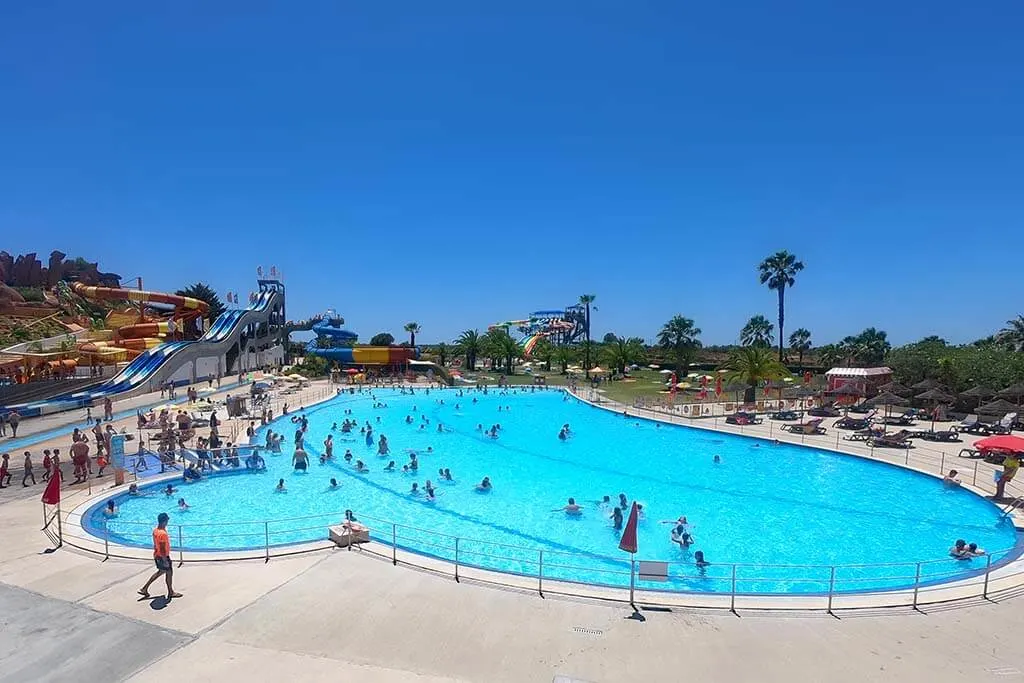 4. Need transportation? Book in advance!
Slide & Splash is located close to many bigger towns in the area, but it's best reached by car. If you have a car, then it's very simple and parking is free.
If, however, you don't have a car, and don't feel like trying out the local public transport system, you'll have to rely on taxis or transfers. In that case, it's wise to book a transfer in advance.
Since everybody travels to/from Slide & Splash (plus many other water parks and attractions in the region) at around the same time, the demand for transportation before 10 am and around 5-6 pm is huge. Especially in the summer months.
When demand is that high, Uber and Bolt more than double the prices at peak times, plus, you may have to wait a long time before you even get a car. I saw people complaining on Facebook that Bolt canceled their ride three times and Uber didn't have one for more than an hour…
TIP: If you are traveling from the Albufeira area, you can book a return shuttle- or private transfer here. If you are staying in the other areas, try to arrange transportation via your hotel or look for private companies that offer transfers in the Algarve region. They are usually a bit more expensive, but you can book them in advance and it saves you a lot of stress on the day itself.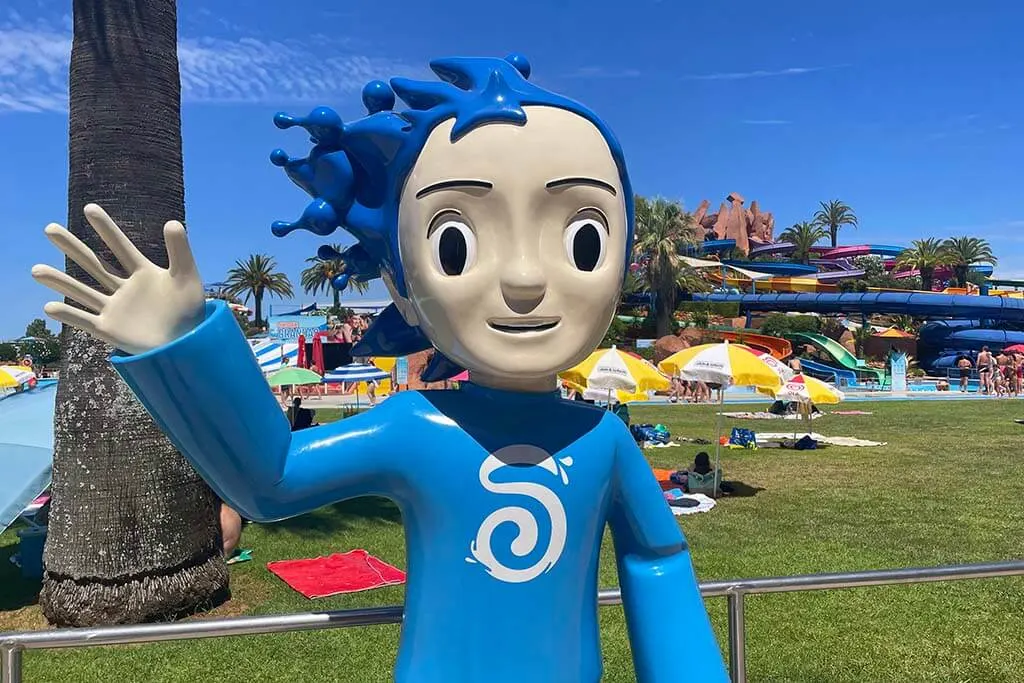 5. Protect yourself from the sun
The Algarve sun can be harsh, and every time we're on holiday here, we see people as red as lobsters… Even more so in the water parks, especially toward the end of the day when the first signs of redness start to get visible.
Visiting a water park means that you will be spending an entire day outdoors, with very little shade. So protect yourself from the sun or you'll feel it for days and days after that.
Bring plenty of sunscreen lotion and apply it at least every 2 hours. Ideally, you use SPF 50 and look for a cream that is somewhat waterproof. In any case, applying sun cream once in the morning and then forgetting it for the rest of the day is really not an option.
TIP: Wear UV T-shirts. They are really useful – not just to protect you against the sun, but also on the water slides where the plastic seems in the tubes can sometimes feel a bit rough as you glide fast. My teenagers were very reluctant to wear UV shirts when we went to Slide & Splash, but they told me several times during the day that they were really glad to have them.
Good to know: Cotton clothing is not allowed at the water attractions at Slide & Splash, but swimwear, UV shirts, and lycra clothing is ok.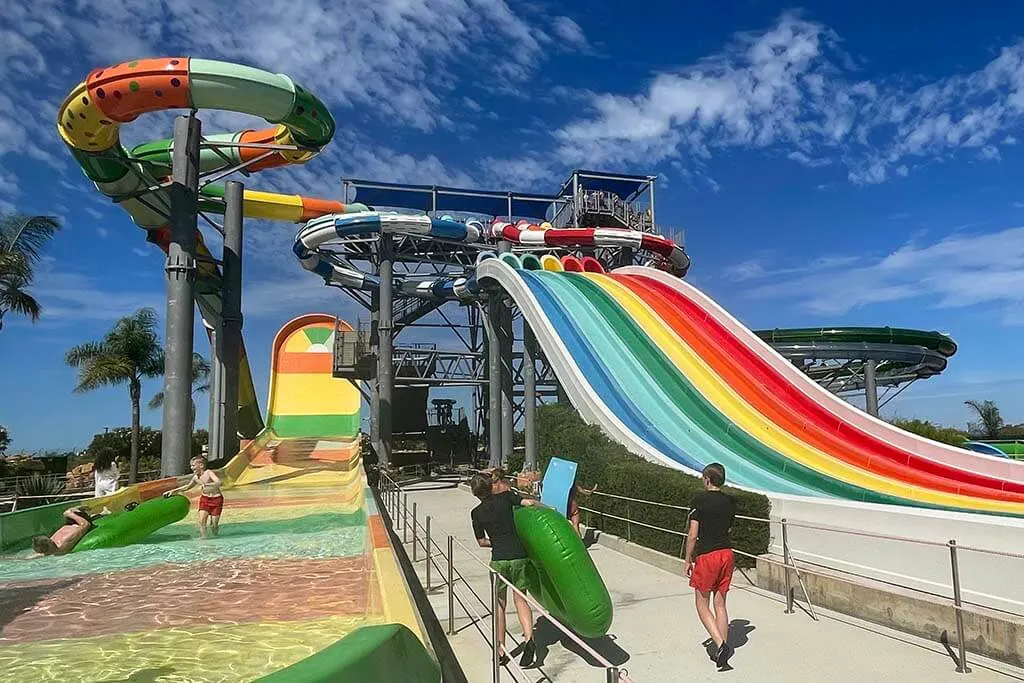 6. Wear water shoes
Water shoes will make your visit to a water park so much more pleasant too! No more worries about burning your feet on the glowing hot pavements or staircases on the way to one or the other water slide.
Even though Slide & Splash has a really clever system with 'water pavements', they only connect the main areas of the park. So inevitably, you will have to walk on hot stones all the time. There is just no way to avoid it.
TIP: Buy a pair of water shoes for your Algarve vacation. We use ours all the time – to walk to the beach, by the pool, to go kayaking, or for boat trips. We also wore our water shoes at Slide & Splash.
My husband forgot his water shoes and he was able to buy them at a store inside the park. The prices are very reasonable, and they seemed to have most sizes. But if you want to be sure, it's always better to bring your own.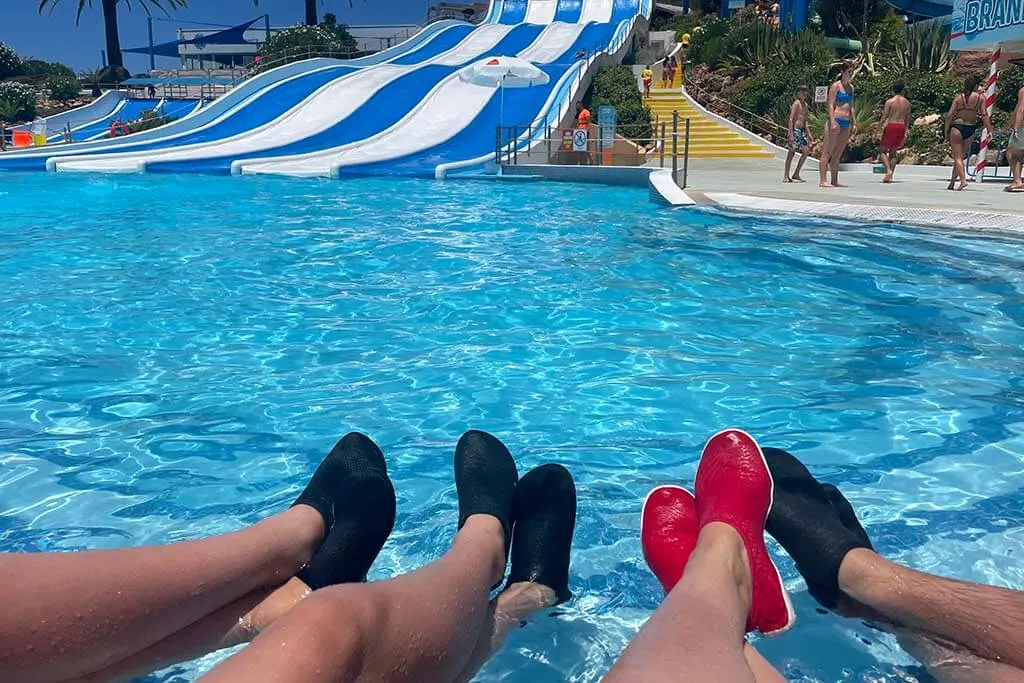 7. Do the 'wild' rides first thing in the morning
Just as most theme parks or water parks, Slide & Splash also has some attractions that are more popular than the others. Those are usually the 'wilder' rides. During the day – especially in the peak season – these rides usually have longer queues than the others.
So if you arrive at the water park early, take advantage of that and go to the steepest and most spectacular rides first.
These water attractions at Slide & Splash seem to get the longest queues: The Big Wave, Big Fall, Boomerang, and Black Hole. So if you can, do a few of these first thing in the morning. You can always come back later again, but you'll likely have to wait much longer.
TIP: Out of these, our kids' favorites were The Big Wave and Big Fall. We also really enjoyed Banzai, Race, and Foam Slides. We went on all of these multiple times. But there are so many other fun slides – you won't get bored.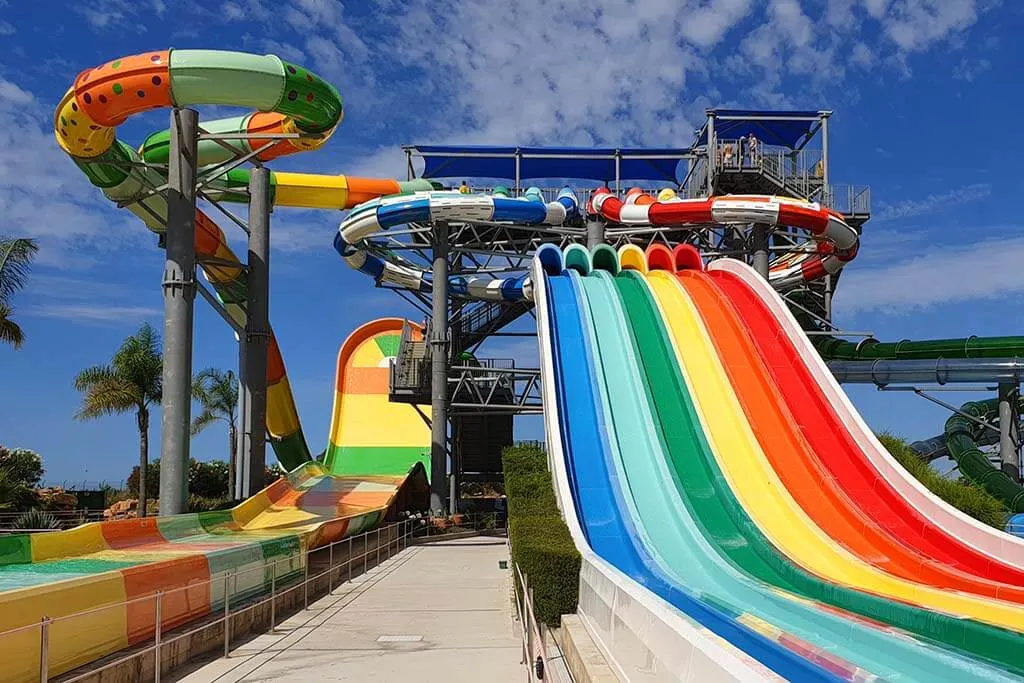 8. Bring whatever you need (or rent it)
Slide & Splash is a really family-friendly water park, so they allow you to bring pretty much anything you may need. Beach chairs, parasols, food, drinks – you can bring all of this with you.
On the other hand, the prices inside the park are really reasonable too, so you can also simply rent whatever you need. You can rent sunbeds and/or parasols, or reserve a cabana for 4, 6, or 10 people. Just be sure to do this early during the day because the price you pay is per day and there is much more choice and availability in the morning.
Food and drinks are also very reasonably priced at Slide & Splash. But we do recommend bringing some cold water with you, ideally in a refillable water bottle. They also have some drinking water fountains throughout the park, so you can refill your bottle (or just drink some water as you pass by). There is just one thing – the water at these water fountains is quite warm.
We took a bottle of frozen water with us and as it melted, it remained cool through the day. If you have a freezer at the place where you are staying, put some water in there the night before and you'll have delicious cold water during the entire day.
TIP: Don't forget your towels. Ideally, you buy a few quick-drying microfiber towels for a vacation in the Algarve. These towels are light and compact to pack, plus, they dry very quickly.
Good to know: Glass objects, sharp items, etc. are not allowed inside the park. Balls are not allowed either. You cannot bring animals with you, with the exception of guide dogs.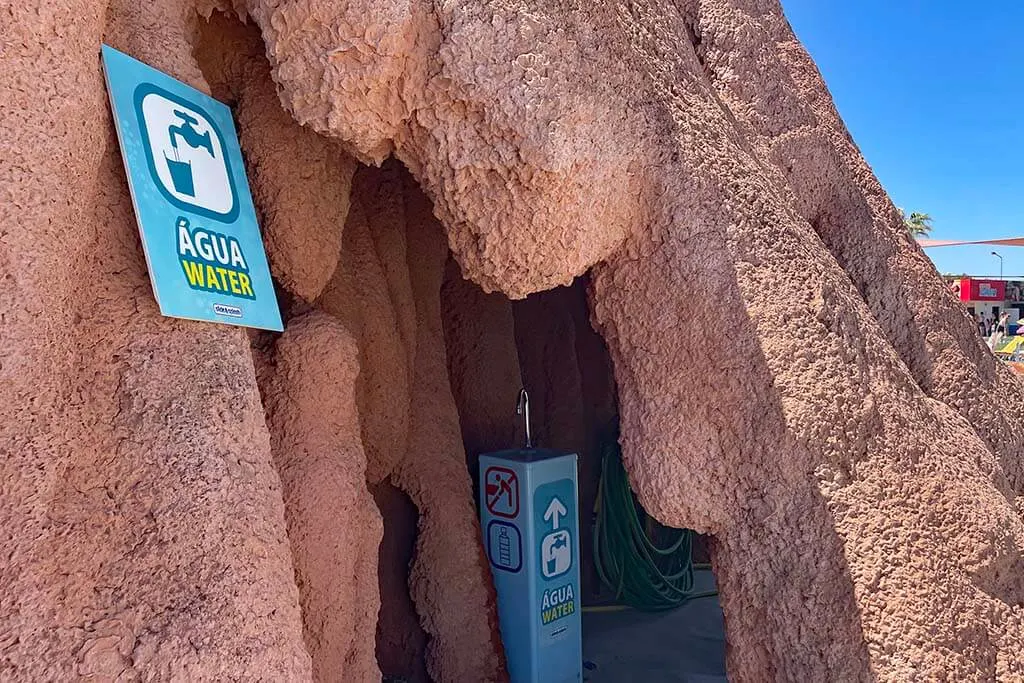 9. Use the lockers
While you can leave towels, clothing, and most other items behind without too much worry, ideally, you use the lockers for any valuables you may have with you.
For example, it's not allowed to wear any kind of jewelry or watches on most rides, so ideally, you leave those at the hotel. But you'll likely have a phone, your wallet, or glasses with you, and using lockers will give you peace of mind.
The lockers can be rented at the park entrance for a couple of euros and are really easy to use. Since the water park isn't that big and the lockers are located at the entrance close to the shop and the restaurants, you can easily take whatever you need during the day.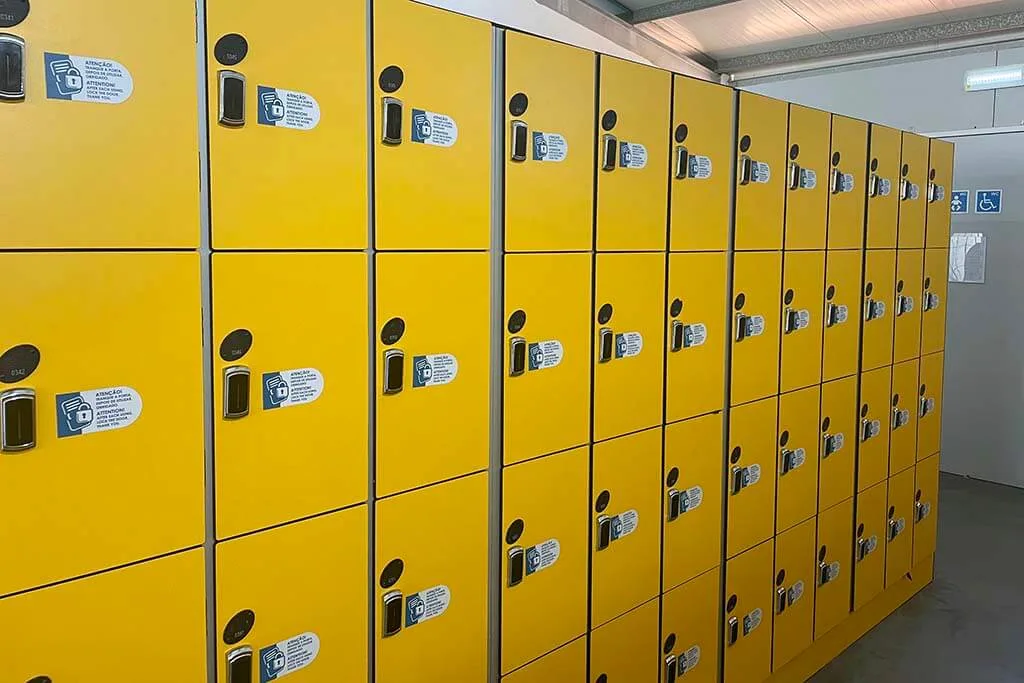 10. Have lunch early
If you are planning to have lunch at Slide & Splash and don't want to waste too much time, try to avoid the peak times at the restaurants. The busiest time at all restaurants seems to be in the afternoon – around 1-3 pm.
But quite frankly, even at the peak time, the restaurants at Slide & Splash seem to be rather quiet. Many people bring their own picnic and snacks with them.
We visited Slide & Splash in the peak season, went to a pizza restaurant at noon, got our order placed in 2 minutes, and 10 minutes later, we had our food. It got a bit busier half an hour later, but it's really nothing compared to any bigger theme park we have visited before. Just recently, we were at Universal Studios Hollywood in LA, and there, just ordering our food took longer than the whole lunch experience at Slide & Splash (not even mentioning the prices).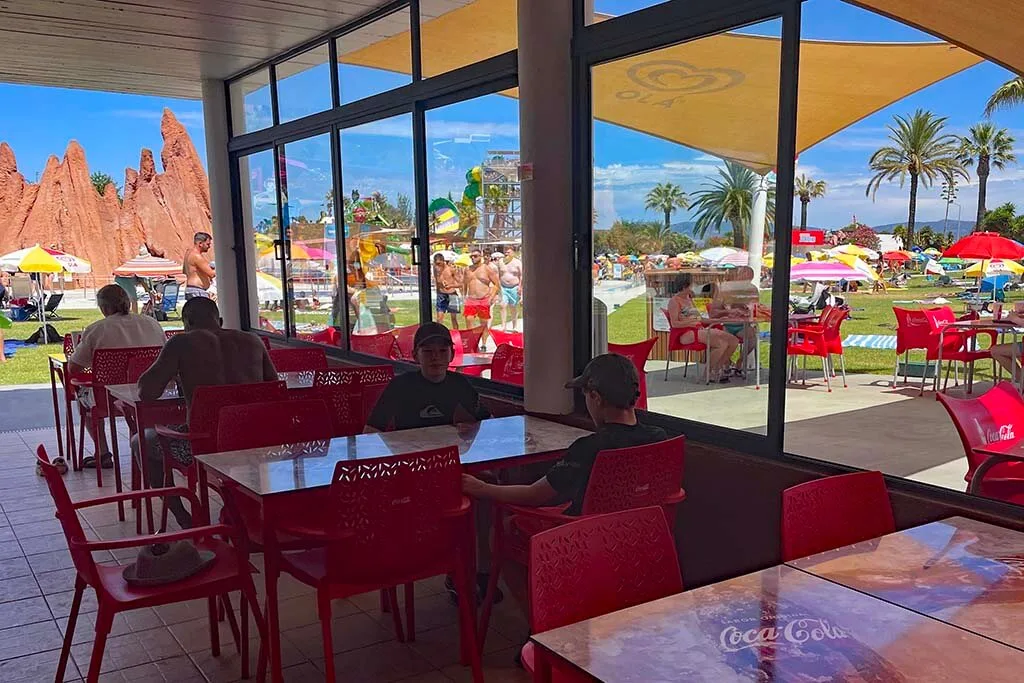 11. Check what's going on the day of your visit
We didn't realize before our visit that Slide & Splash water park has more to offer than just water attractions.
They also have a birds' show (very low-key), and you can have your picture taken with parrots, snakes, or birds of prey… In addition, photographers are taking 'action' pictures at some of the water slides at certain times during the day. You can buy these pictures at the exit of the park at the end of the day.
If you are interested in any of these, then be sure to check what is happening, at what time, and where.
There is also a jacuzzi, a place where you can have a massage and/or fish spa, and a booth where you can get temporary tattoos and hair braids. They both are open throughout the day, but afternoons are incomparably busier everywhere.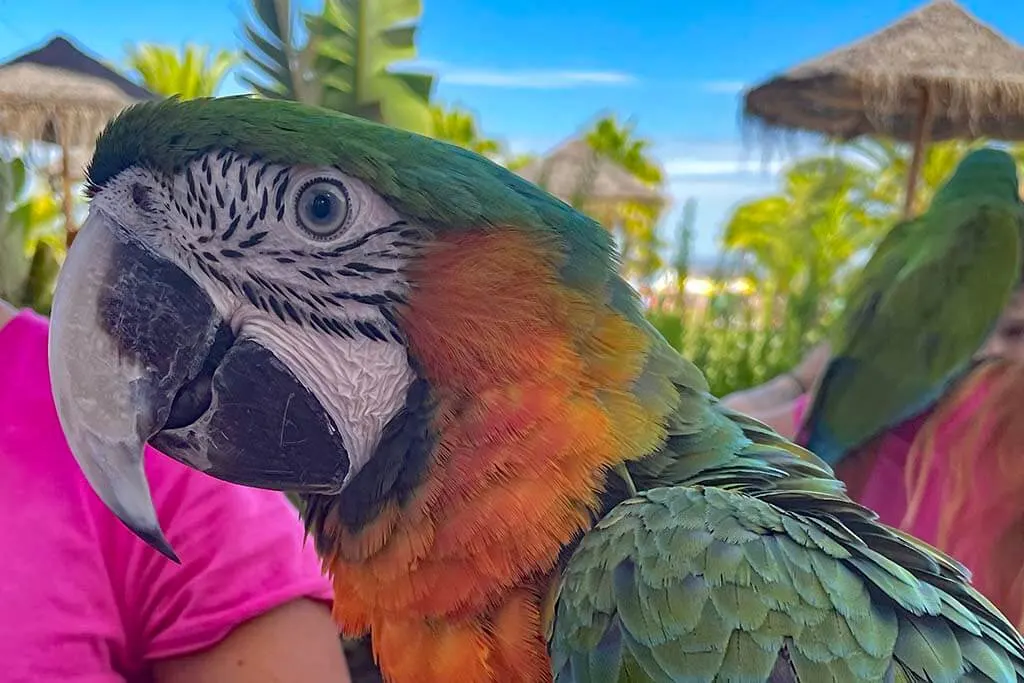 12. Visit Slide & Splash at the beginning of your vacation
If you are in the Algarve for a longer vacation and want to visit a water park more than once, go to Slide & Splash at the beginning of your stay.
They offer a big discount for a 2nd-day ticket (less than half the price), and it's valid for 10 days. So if you feel like coming back, you still have enough time left during your holidays to visit again.
Good to know: You can buy the 2nd-day ticket at the park on the day of your first visit. You get a wristband with a number – this is your ticket to come back within 10 days after the first visit.
Of course, Slide & Splash is just one of the many water parks in the Algarve, and you can see/do everything in the park in a day. So you may want to visit other places instead. In that case, we recommend Aquashow in Quarteira or – if you also like animal shows – Zoomarine in Guia.
But if you are budget-conscious, the Slide & Splash second-day ticket is a great deal.
READ ALSO: Top Places to See in Algarve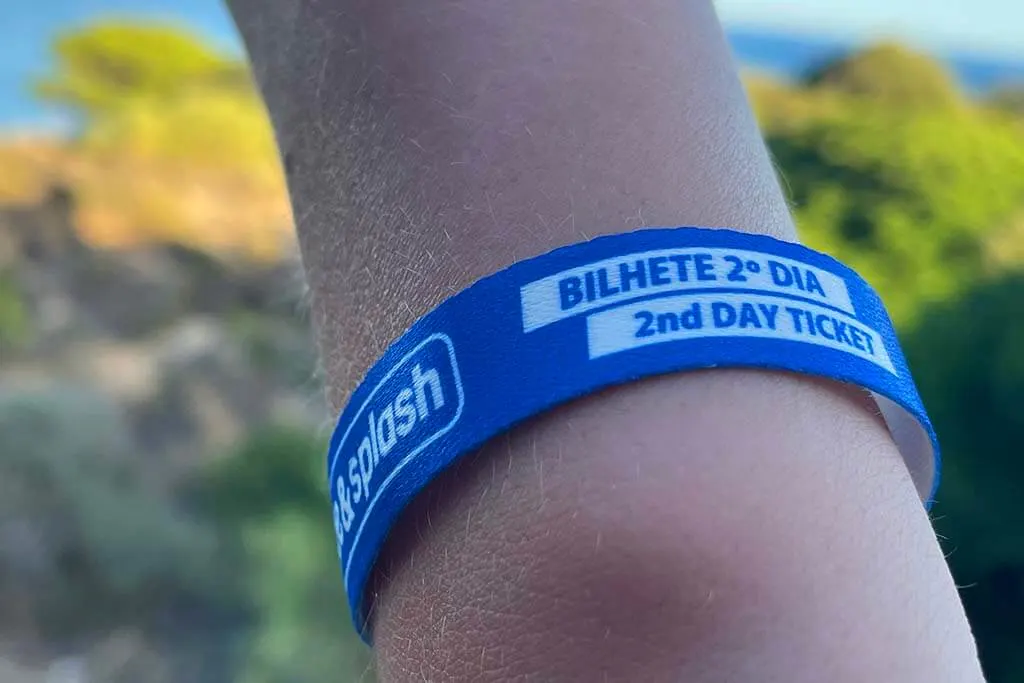 Slide & Splash FAQ
When is Slide & Splash open?
Slide & Splash is open daily between April and the beginning of November. The park is open from 10 am to 6 pm in July and August. In the shoulder season, it closes at 5 or 5.30 pm depending on the month.
Is Slide & Splash good for teens and adults?
Yes, Slide & Splash is one of the best water parks in the Algarve that has slides and water attractions for all ages. Together with Aquashow, Slide & Splash is one of the top choices for teens and adults, and not just for families with young children.
Is Slide & Splash good for families with young kids?
While water attractions at Slide & Splash have height requirements of 100-120cm, there is also a very nice kids' play area called Tropical Paradise which is perfect for the youngest members of the family. Laguna pool is also for all ages. If interested, you can see the park map with all the attractions and height requirements here.
Where can I get the Slide & Splash tickets?
You can get tickets for Slide & Splash online or at the park entrance. Tickets are 10% cheaper if booked online. For ease of booking and the best cancelation terms, we recommend booking your tickets via GetYourGuide.
What do you need to bring to Slide & Splash?
Bring your swimwear, towels, and plenty of sunscreen to Slide & Splash. We also highly recommend wearing UV shirts and water shoes. You can also bring parasols, beach chairs, and food/drinks with you if you like.
Can you wear glasses, sunglasses, and sun hats on the rides at Slide & Splash?
While you can wear whatever you want in the park, you are not allowed to wear any glasses (except swim goggles) on the rides. So no sunglasses or prescription glasses either. We saw some people wearing (swim) sun hats while waiting in the queue for the rides, but they had to hold the hats in their hands during the rides. I'm not sure if they are allowed on all rides either. Jewelry and watches are also not allowed on most slides.
Can you take a camera on the water attractions at Slide & Splash?
Cameras/smartphones are not allowed in the pools and most water attractions at Slide & Splash. However, a waterproof action camera like a GoPro is allowed on float slides, but only if it's fixed correctly with a wristband or a headband.
READ ALSO: Best Water Parks in Algarve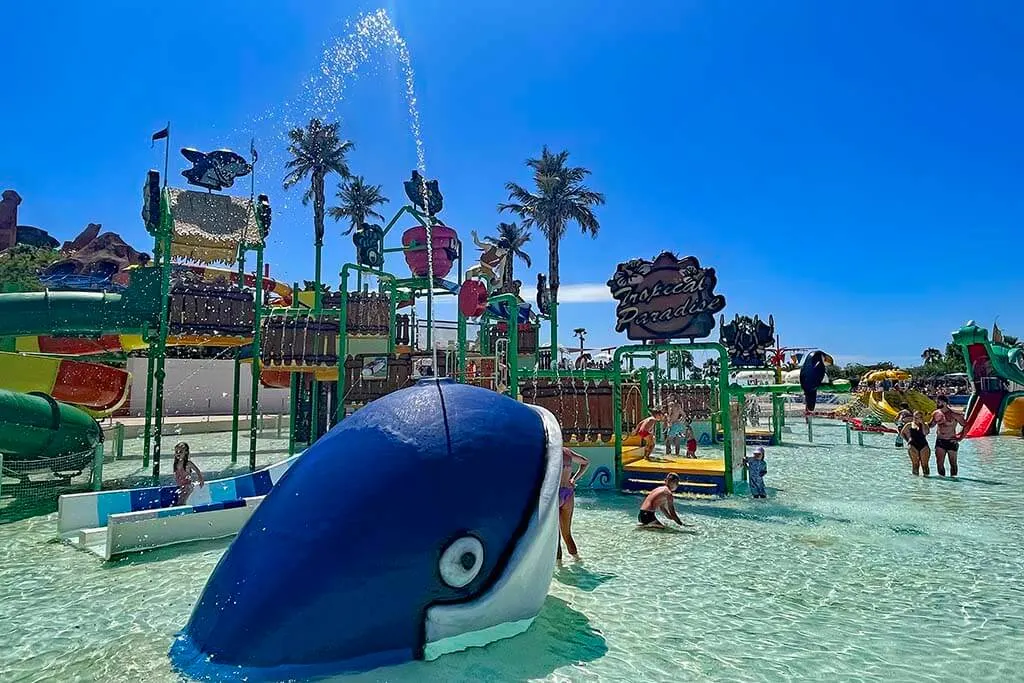 So, these are our tips for visiting the Slide & Splash water slide park in Lagoa, Algarve.
I hope that this gives you a better idea of what to expect and helps you plan a memorable day for the whole family.
Have a great time!
More travel inspiration for the Algarve region:
Top places:
Exploring the coast:
Towns:
Seasonal guides:
READ ALSO: Zoomarine Algarve: Tips & Info
If you found this post helpful, don't forget to bookmark it and share it with your friends. Are you on Pinterest? Pin this image!