Visiting Albufeira in Algarve, Portugal, and wondering where to eat and what are some of the best restaurants in town? In this guide, we share some of our personal favorite restaurants in Albufeira coupled with some pictures of mouth-watering dishes we had there. You'll also find a map indicating the exact location of each place as well as some practical tips for dining in Albufeira.
Albufeira is the biggest and most popular seaside resort in Portugal. So it will come as no surprise that there are hundreds of restaurants and eateries for all tastes and budgets here. There are also so many different cuisines represented – from traditional Portuguese restaurants to places serving Italian, Indian, Japanese, Chinese, Mexican, and even Dutch or British food.
To be completely honest, we never had a really bad meal anywhere in Albufeira. But this is also because we avoid certain types of places and some restaurants are simply much better than others. In this guide, we only mention those Albufeira restaurants where we had really good experiences and some of our absolute favorites where we like to dine time and again.
Good to know: We visit Albufeira at least a few times a year and have been to dozens of restaurants all over the town – old town, new town, beach restaurants, etc. So this selection of some of the best restaurants in Albufeira is 100% based on our personal experience. Furthermore, we don't just walk into the first restaurant we see, but do extensive research, ask locals for recommendations, and read tons of customer reviews before deciding where to eat.
However, there are many – many – more amazing restaurants in Albufeira that haven't made it to this list. Often, simply because we haven't found the time to try them yet.
As we explore the incredibly rich food scene of Albufeira further, we will likely add more restaurant recommendations in the future. But for now, you'll find plenty of suggestions to keep your stomach full with really good food during your vacation in Albufeira. Take a look!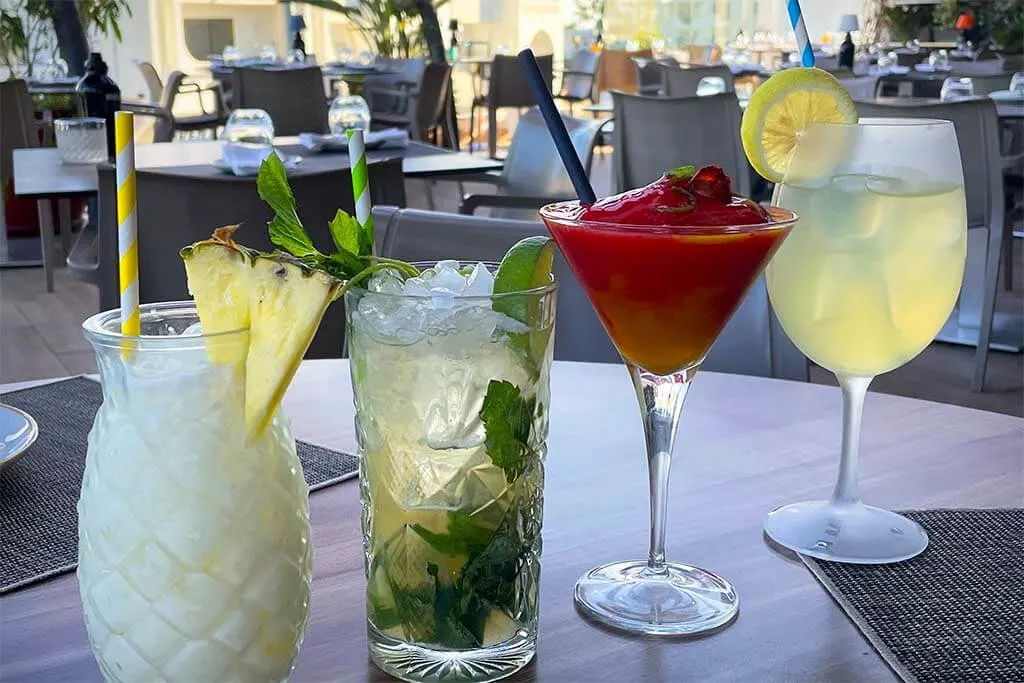 This guide to the best places to eat in Albufeira is not sponsored in any way and is purely based on our personal experiences and observations.
The top-3 restaurants on this list are our absolute favorites; the rest is listed in a random order and we really enjoy them all. In fact, the last restaurant on this list is one of the very best options price/quality/choice wise and could just as well be at the very top…
Please use this guide just as inspiration, be sure to check customer reviews, and decide for yourselves. Also, remember that everyone has different tastes and even the best chef or waiter can have a bad day.
Good to know: Most of the restaurants on this list are lower to mid-budget, so you will not have to break the bank for a good meal in Albufeira. That said, some of them are a bit more expensive than others and a lot also depends on which dishes or wines you choose. If the restaurant is pricier than average in Albufeira, you'll see it indicated in our description.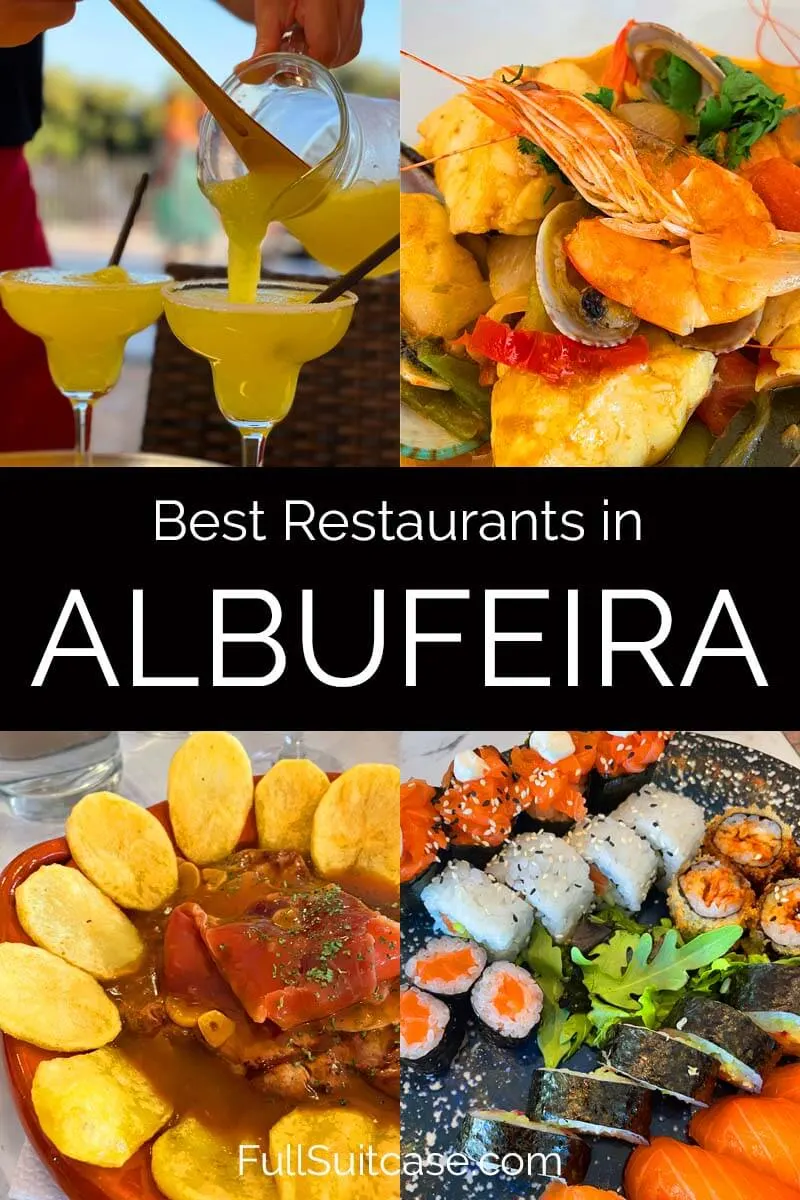 Here are some of our absolute favorite restaurants in Albufeira:
1. The Market
Upscale restaurant with sea views near the Strip.
Located at the corner of Av. Sá Carneiro (the famous 'Strip') and Av. Infante Dom Henrique, The Market is one of the absolute best restaurants in Albufeira. It's a bit more upscale and somewhat pricier than average, but it's worth it.
We have dined here a couple of times – alone, as a couple, and with friends and family, and every single time had an amazing experience. Everything is prepared with the biggest attention to detail and no matter what you order – a cocktail, a starter, fish, or meat – you are sure to get excellent quality.
Plus, the restaurant itself is really nice and classy – with a warm modern interior and a beautiful outdoor terrace with sea views in the distance. The staff is very professional too and treat you just the same no matter if you just order a cocktail or a full 3-course meal.
This is one of my personal favorite restaurants in Albufeira and I wouldn't hesitate to recommend it to anyone looking for a more special dining experience.
In my view, an upscale restaurant like The Market is best suited for couples, families with older kids/teenagers, or small groups of friends who are looking for a gourmet-quality meal. It's not a place to quickly fill your stomach before going out for the night on the Strip.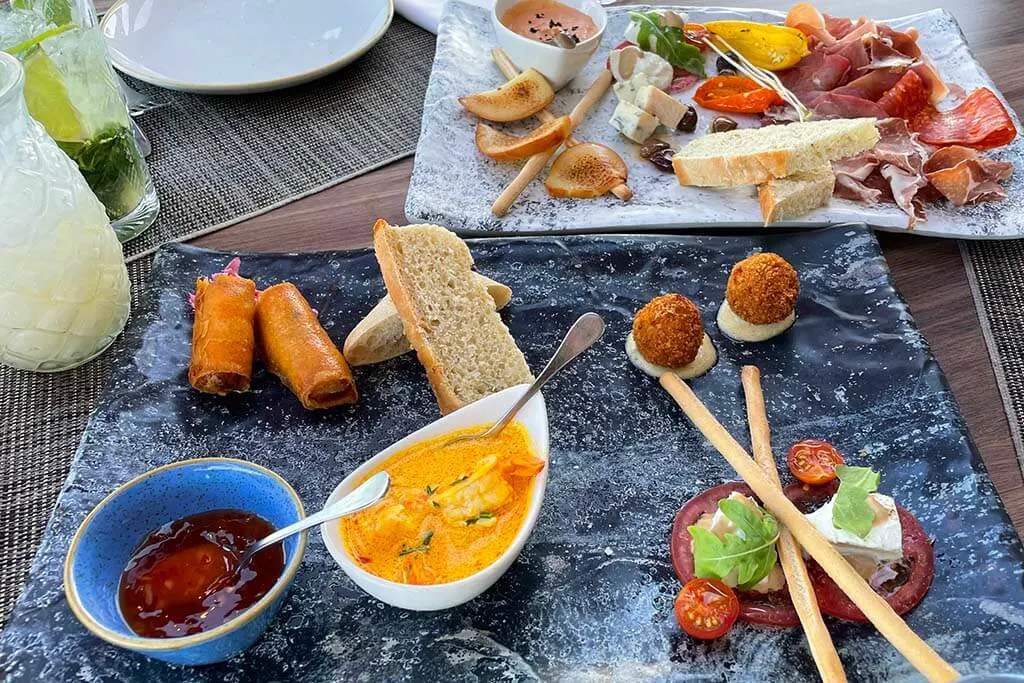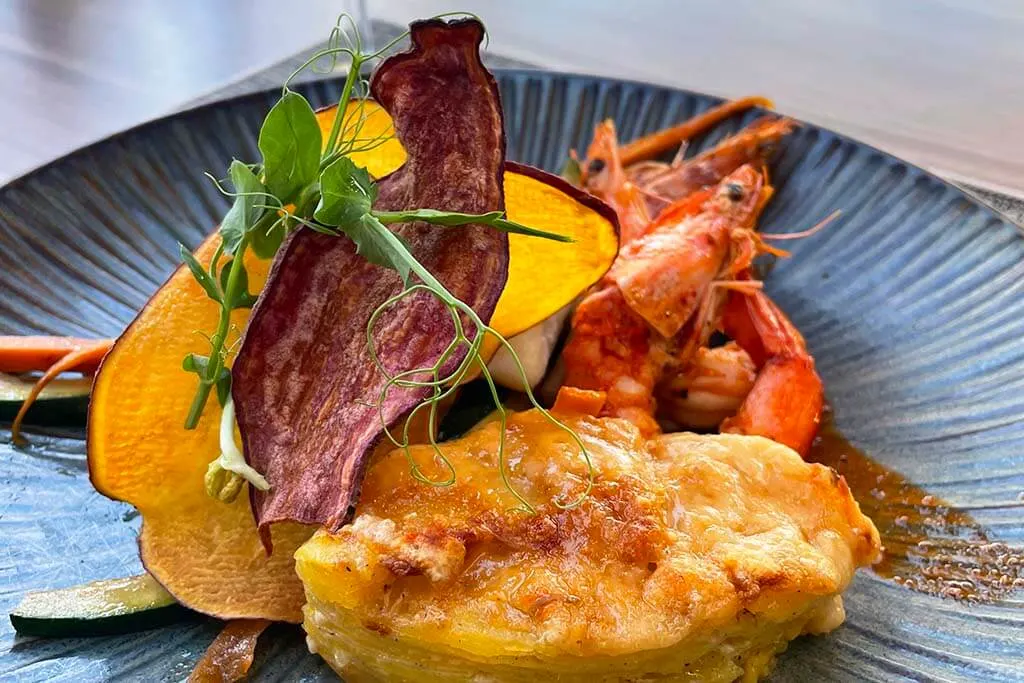 2. O Lusitano
Refined Portuguese restaurant – a true hidden gem with the best price/quality ratio in town.
Located less than 5 minutes walk from Rotunda das Minhocas (aka Worms Roundabout), O Lusitano is a true hidden gem that definitely deserves a high place on any list of the best restaurants in Albufeira. Even stronger – price/quality-wise, O Lusitano is by far the best restaurant we have ever been to in Albufeira.
It serves Portuguese dishes, but they are much more refined than at most other traditional restaurants in Algarve. In every detail, you can see that the people really love what they do and strive to give their customers the best meal and experience.
Recently, we had a monkfish cataplana here and it exceeded all our expectations. Everything else – from drinks to starters and desserts – is absolutely amazing too. They also serve some really good Portuguese wines that you won't easily find elsewhere.
Because of its less touristy location, O Lusitano is completely overlooked by most visitors. But it's really not that far and you can easily walk here from most hotels in Albufeira's old or new town.
If you are looking for a truly good Portuguese meal and want to support a small local business that goes above and beyond, do make an extra effort to locate it and you'll be rewarded with friendly service and excellent food.
O Lusitano may look a bit more upscale but it's very family-friendly and offers amazing value for your money. Highly recommended!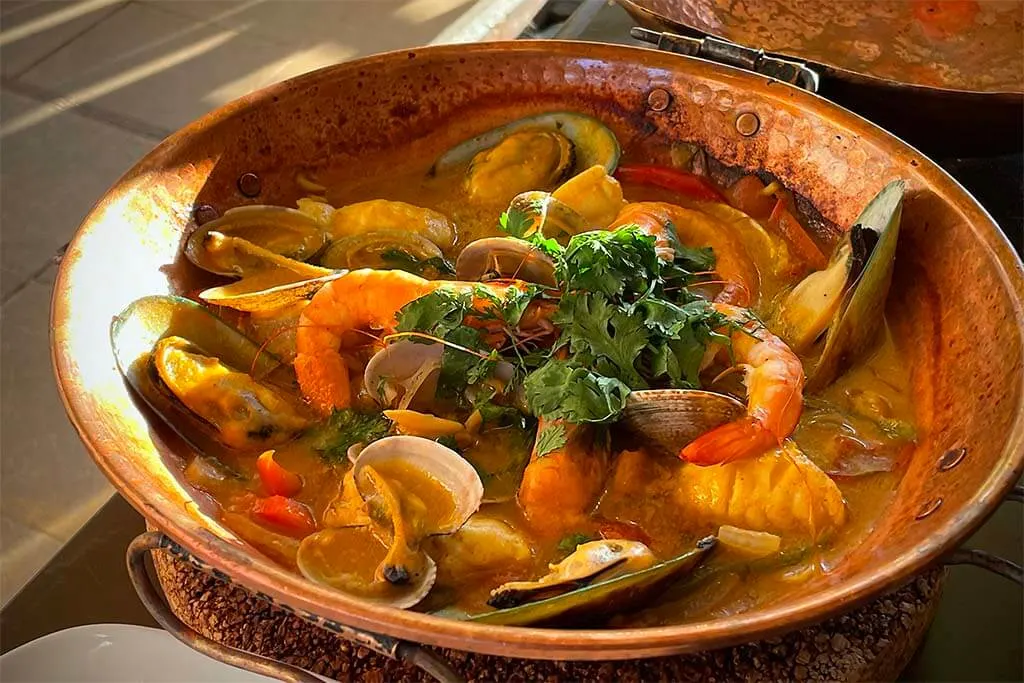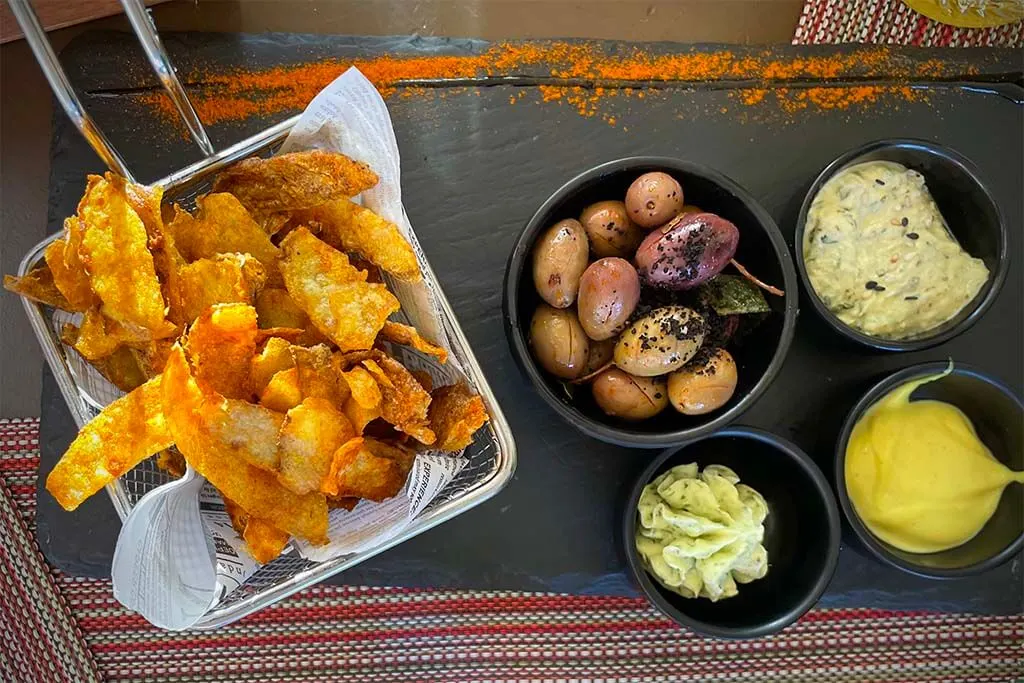 3. Cêpa Velha
Traditional family-owned Portuguese restaurant.
Located near the famous Kiss disco club on Rua Vasco da Gama, Cepa Velha is a bit of a hidden gem among traditional Portuguese restaurants in Albufeira. It's just 5 minutes walk from the Strip and is well worth a short detour.
If you'd ask my husband what's the best local restaurant in Albufeira, he would recommend Cêpa Velha before you even finished your question. We have dined here more times than I can remember and it never disappoints.
This family-run restaurant has been here for several decades and is a locals' favorite too. Whether you visit in the low season or in the heat of the summer, the restaurant always has local clientele. But they treat tourists just as nicely and do their utmost best to speak English.
Cepa Velha serves traditional Portuguese food and regional specialties. You cannot go wrong with grilled fish, cataplana, or monkfish rice, but they also have a big variety of meat dishes. The prices are very reasonable too (among the lowest in this selection of restaurants).
If you are looking for a local restaurant in a simple family setting, friendly service, and good traditional food, you cannot go wrong booking a table here.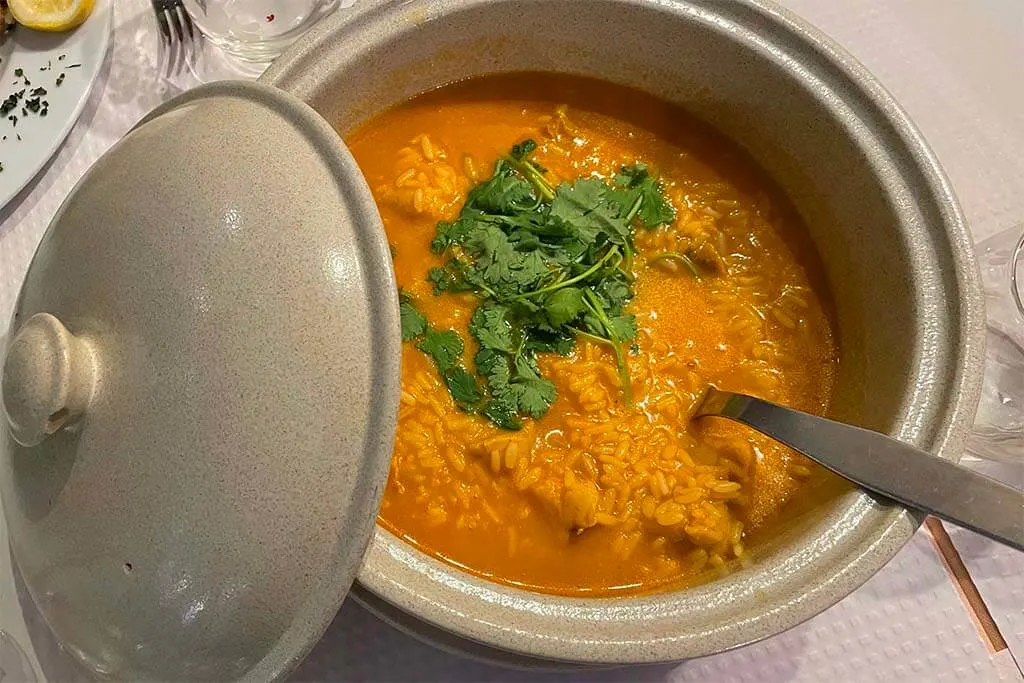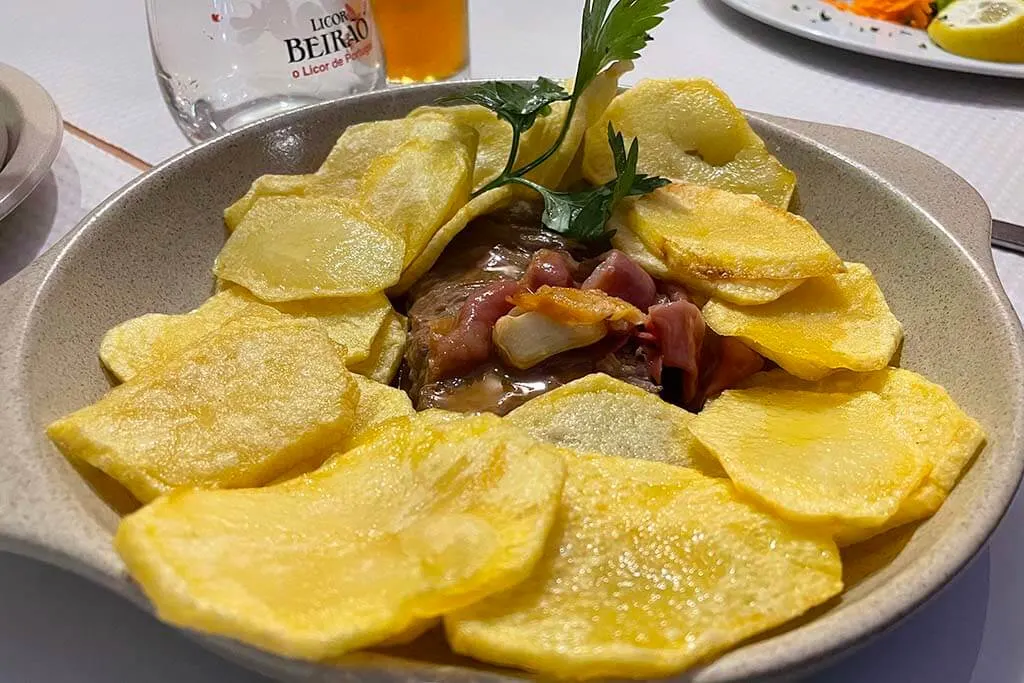 TIP: On Thursdays, Cepa Velha organizes a Fado/Portuguese music evening. It's such a nice experience with good music and a relaxed atmosphere.
The owner of the restaurant is also part of the band and plays the accordion. They start out with a musical journey through Portugal and traditional regional songs from the Algarve. You'll quickly be singing along with 'Albufeira Albufeira Albufeira' with everyone around you…
The evening ends with a quieter fado music. It is also expected that the audience is quiet during this part. So if you decide to come and listen, please be respectful and enjoy the music. If you want to chat with your friends with some background music, then you'll find plenty of other restaurants in Albufeira for that.
There is no extra cost for the music evening and they serve a regular menu on Thursdays just as on the other days. However, you need to plan a bit more time than average and be sure to reserve a table in advance. It's absolutely worth it!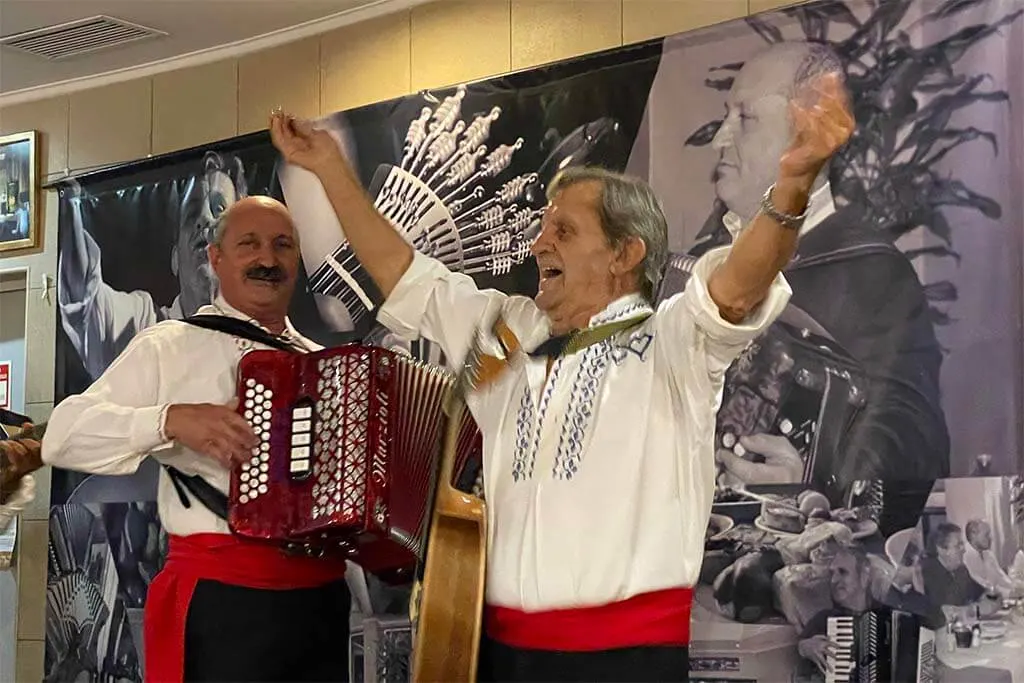 4. Staar
Fine dining in Albufeira's old town.
Staar Restaurante is a little restaurant tucked in one of the side alleys a few steps away from the main square in Albufeira's old town. It's an oasis of quietness that you would likely never stumble upon unless you know where to look for it.
They serve a more refined version of local dishes – seafood, meat, pasta, etc.
The prices here are slightly higher than average in the region, but it's still very reasonable, definitely considering the setting and the quality that you get.
If you ask locals for restaurant suggestions for a special occasion in Albufeira, you'll often see Staar as one of the top recommendations. Indeed, it's a nice place to check out if you are looking for a more refined dining experience.
Staar is a perfect restaurant for couples and small groups of friends, but we also see families dining here (even with very young children). However, our own teens wouldn't easily find something they like, so it's a good excuse for us to have a date night without the kids.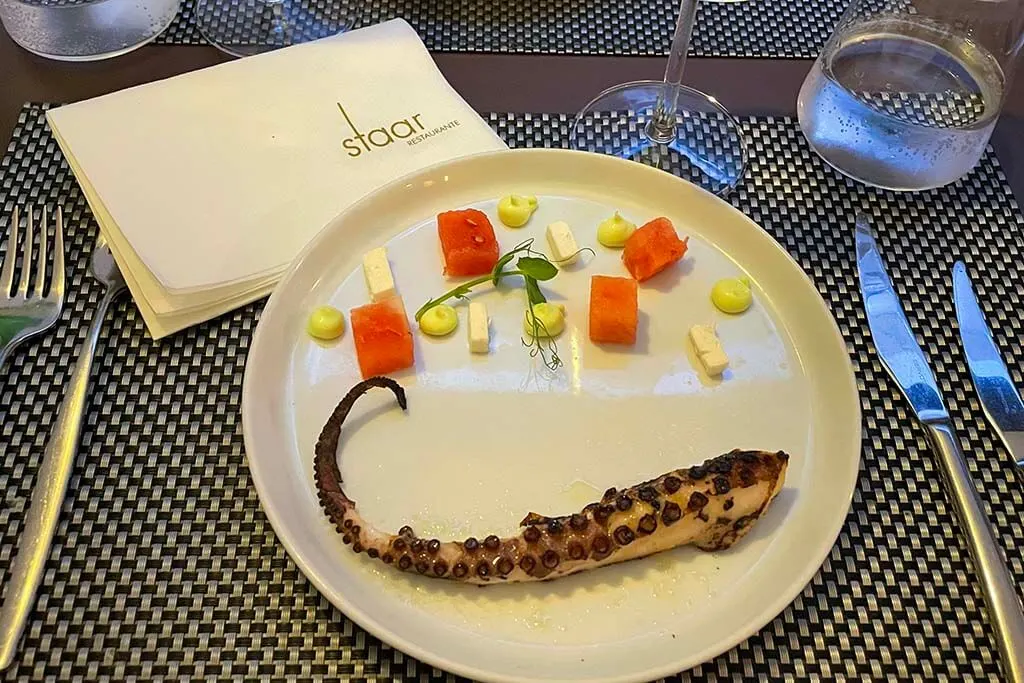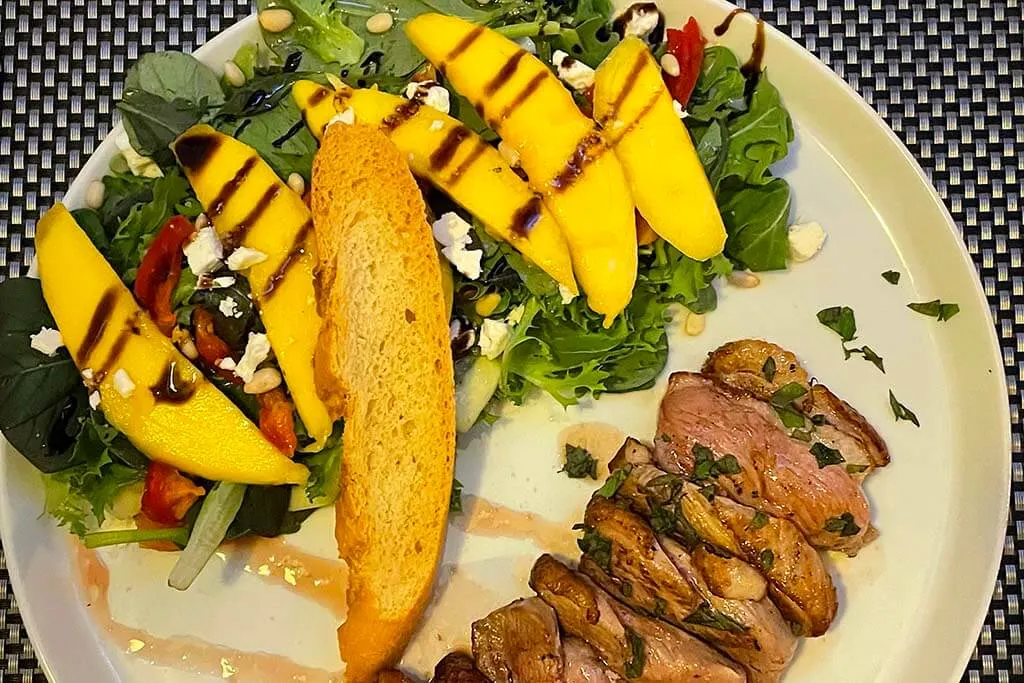 5. Donaldo's
Traditional Portuguese restaurant near the Strip.
Donaldo's is another simple Portuguese restaurant, one of our favorites in Albufeira. It's located on Av. Infante Dom Henrique in the new town, close to the Strip.
Despite its rather touristy location, it's an excellent choice for those looking to experience traditional Portuguese cuisine and try some typical dishes.
The interior and the food are simple and low-key. It's a very unpretentious place that gives you a feeling like you are dining at a local's home. The staff is extremely friendly and you quickly feel like family. If you come here for a second time (even weeks apart), they somehow remember your face and treat you like old friends.
Food quality is excellent too – from freshly-caught fish and seafood to typical meat dishes or even pizza for the kids, everything we ever had at Donaldo's was truly delicious (and we have dined here quite a few times).
Be sure to ask for the chef's recommendations and try some seafood or fish. Portuguese steak is very good too.
Donaldo's is a perfect restaurant for a simple relaxed dinner at very correct prices. It's good for anyone – families, couples, groups of friends – looking for a no-nonsense, unpretentious dinner in Albufeira.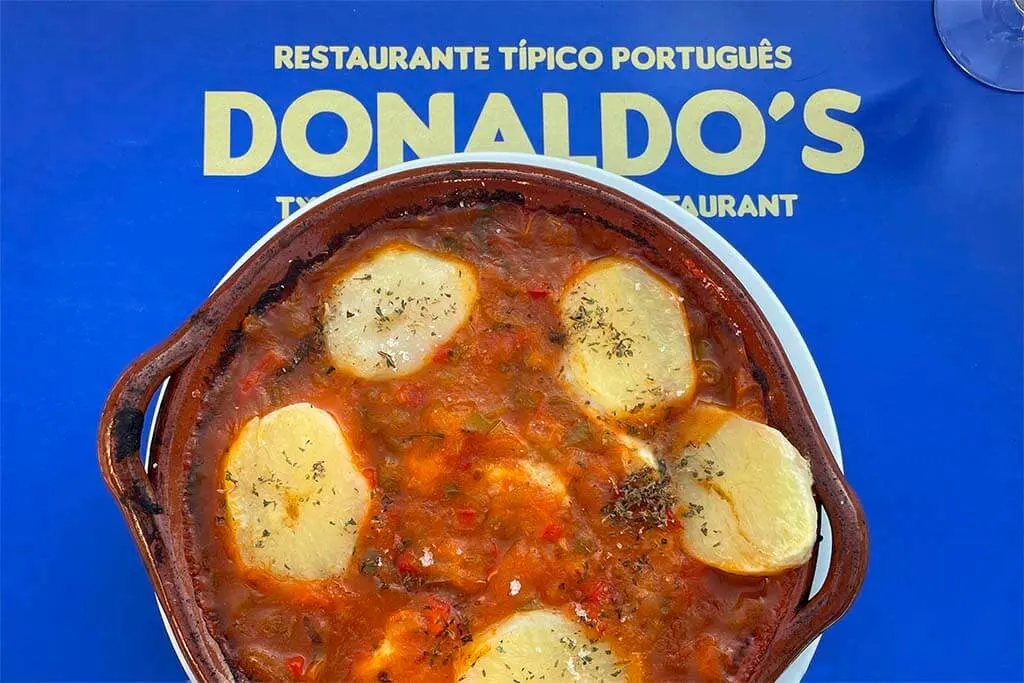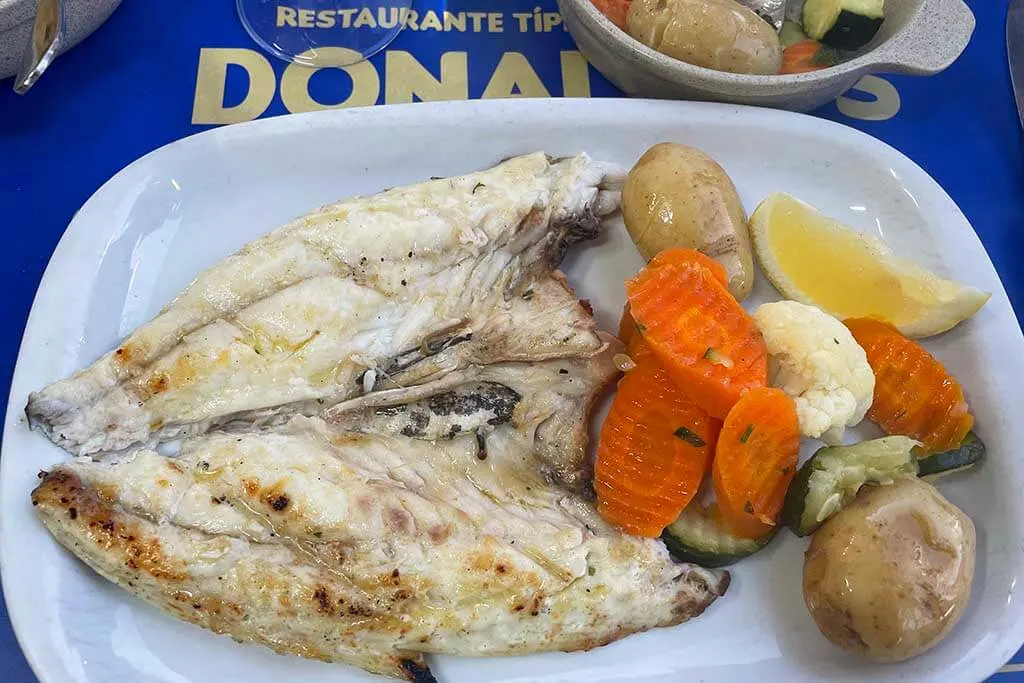 6. Clay Oven
Upmarket Indian restaurant in the new town.
Clay Oven is the most popular Indian restaurant in Albufeira and has been here for many years. In fact, they now opened a second, bigger restaurant right next to the original one and they're both full every night (at least in the summer).
It's located on Av. dos Descobrimentos, the big main road that crosses Albufeira. It's about 2-3 minutes walk from the Strip on one side and the Worms Roundabout on the other side.
If you are looking for truly good Indian food, you'll be pleasantly surprised. The restaurant is bright and modern with an upmarket feel. The staff is professional and the food quality is outstanding!
We also enjoyed the fact that you can see the kitchen – watching all the cooks at work is an experience in itself.
I have to admit that we have never been big fans of Indian cuisine after a few weeks spent in India. But we were hooked after just one dinner at Clay Oven. Every dish we tried was excellent – from naan bread to curries and desserts. We also liked that the staff gives you suggestions for milder or spicier options depending on your preference. They also have some good vegetarian options.
There are many Indian restaurants in Albufeira and we still have to try some of the others. But I wouldn't hesitate to recommend this one to anyone. Whether you are looking for a special dining experience as a couple or a simple dinner with family or friends, Clay Oven is an excellent choice.
TIP: Arrive early because it gets very busy, especially around 8 – 9 pm. In the summer, there are often long queues of people waiting to be seated here.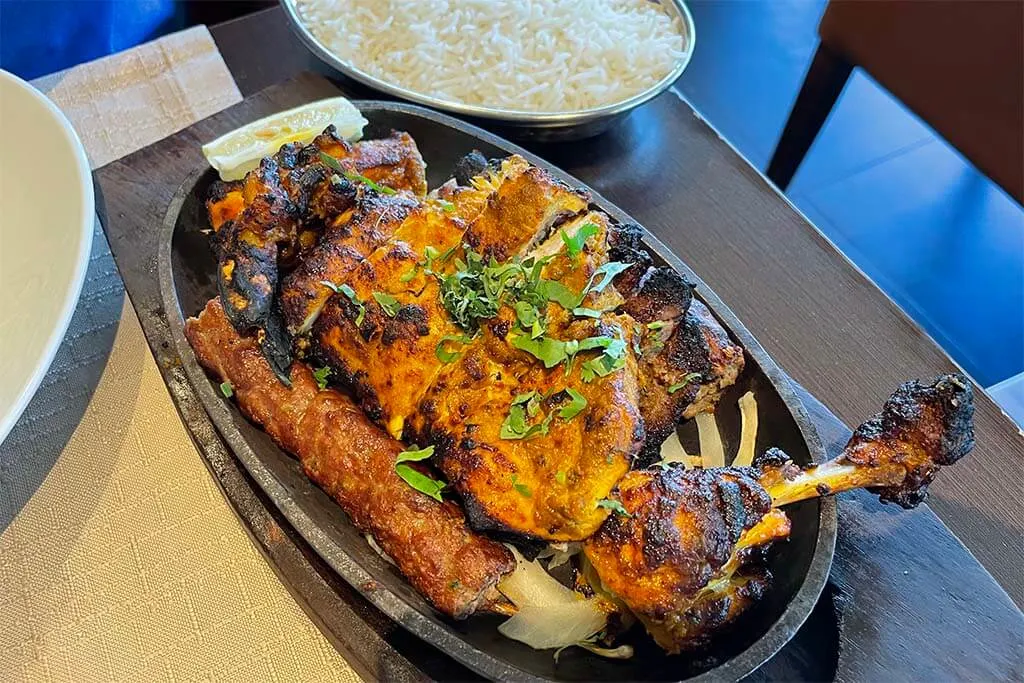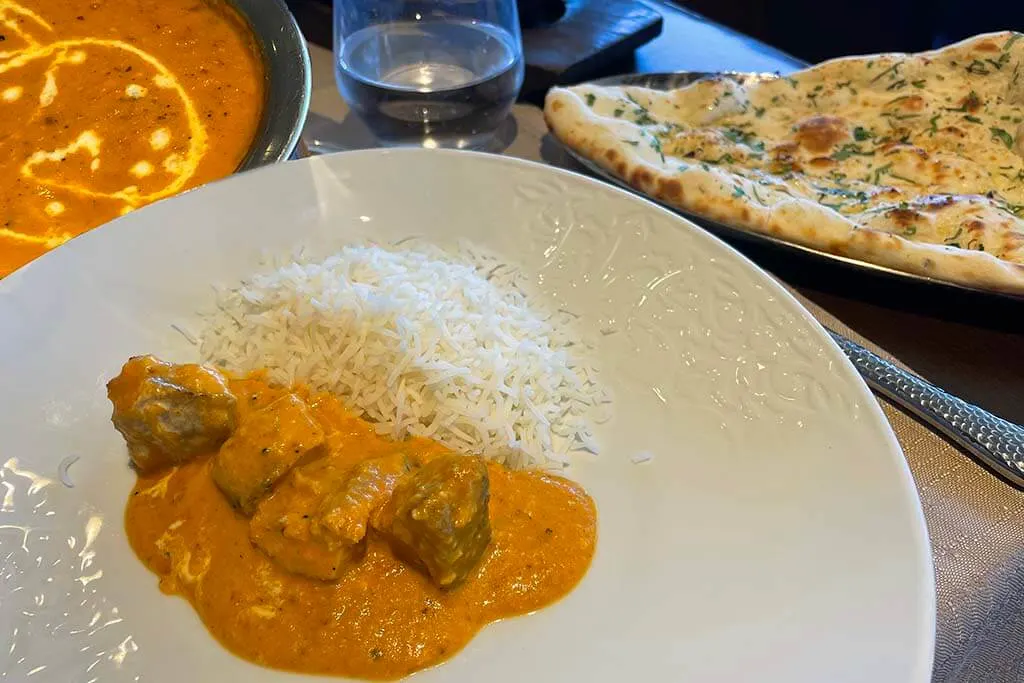 7. Il Brigante
Very good Italian restaurant in the old town.
Il Brigante is a popular Italian restaurant in the old town of Albufeira, just 2 minutes walk east of the main square.
Il Brigante is very popular among locals/expats and is often recommended as one of the best restaurants in Albufeira's old town. We have seen it mentioned on local Facebook groups so often that we just had to give it a try and our entire family really enjoyed it.
The atmosphere is relaxed, the staff is very friendly, the food is excellent, and the portions are generous. Plus, the prices are very reasonable too and there is something on the menu for the whole family.
Whether you are looking for a good pizza, fresh pasta, risotto, seafood, or a good steak, Il Brigante will not disappoint.
This is a simple restaurant that is perfect for dinner with the whole family or friends. However, also here, if you are planning on coming at the peak dinner time in the peak season, it's best to book a table in advance.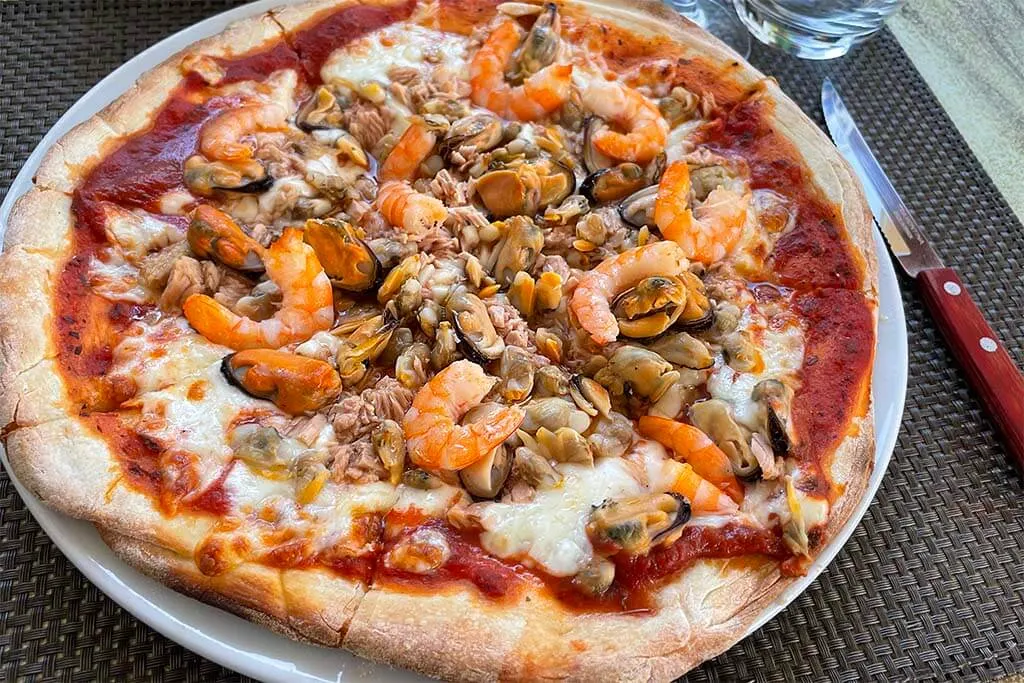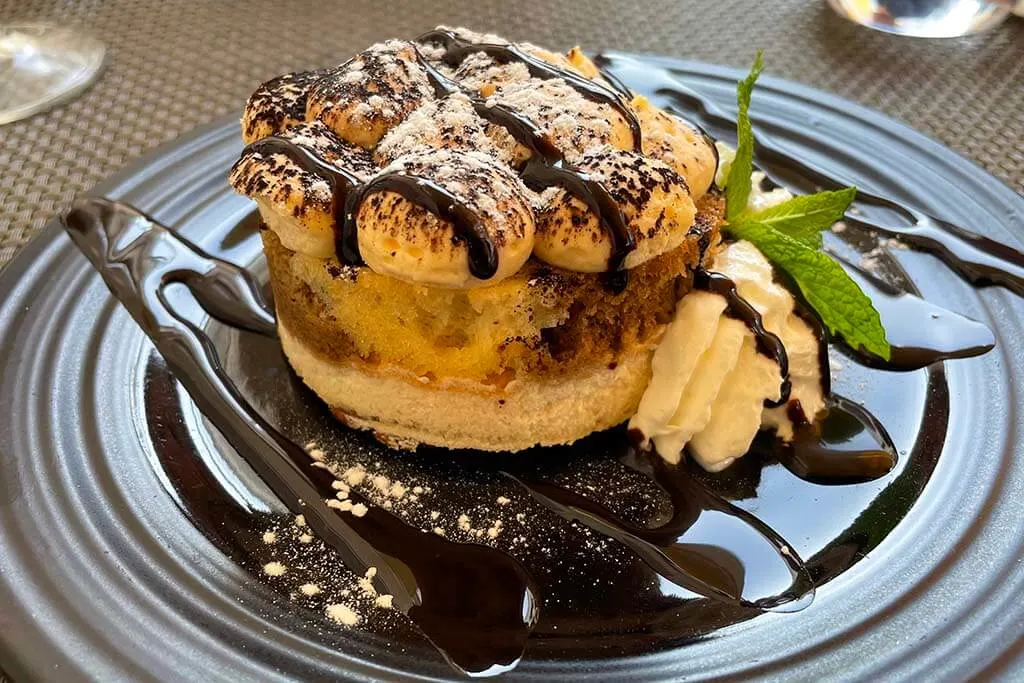 8. KingYo
Asian food and sushi near the Strip.
KingYo is one of the newest additions to the already incredibly rich choice of restaurants in Albufeira. It opened just recently and quickly became one of our favorites.
Located a few minutes walk from the Strip, this restaurant has a bright modern interior and a big outdoor terrace. It looked big and empty the first week when it opened but it's now full almost every night. I guess that says it all.
KingYo serves a mix of Japanese sushi and Chinese food and you can choose between a-la-carte or all-you-can-eat formulas. They make everything the moment you order and ask you to avoid food waste by only ordering what you will actually eat. If you opt for an all-in option, they give you a digital tablet where all the food is listed and you can just order whatever you like when you feel like it.
The prices are very reasonable, especially if you opt for the all-you-can-eat option, which costs 18.95 euro at the moment of writing.
Since the restaurant is new, there are still some hiccups but they are quickly working on it. Some of the staff are still a bit uncertain, but they absolutely do their best. Also, a few weeks after the opening, they still do not accept credit cards. Unless you have a Portuguese bank card (MultiBanco), you'll have to pay in cash. Let's hope they get it sorted out quickly because that's really the only negative point I can think of.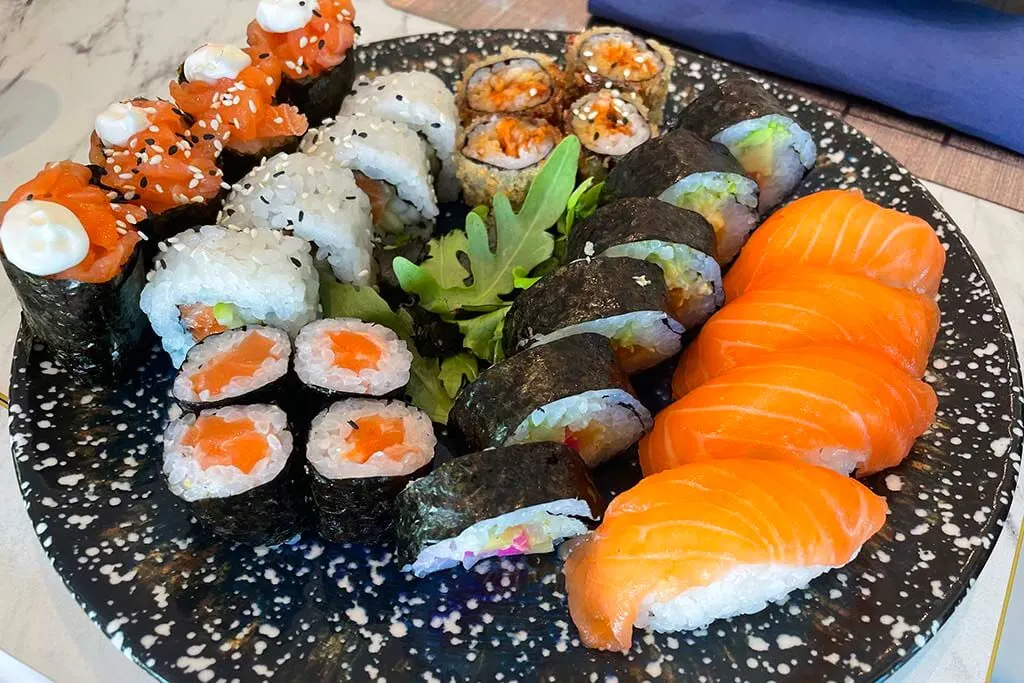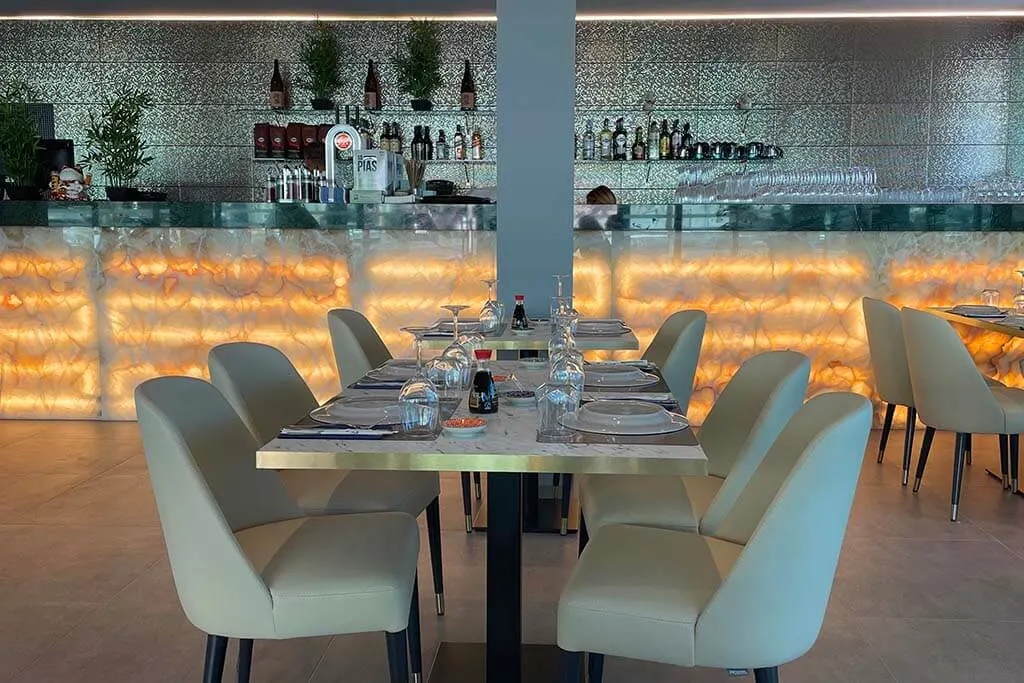 9. Sexy Meat
One of the best steak restaurants in Albufeira.
Sexy Meat is a steak restaurant located a bit outside of the touristy areas of Albufeira, just near Rotunda do Globo (the Globe Roundabout). It's about 10 minutes walk from the Strip and is just north of St. Eulalia Street which is famous for its countless dining options…
When I first heard of the restaurant called 'Sexy Meat', my reaction was who in the world came up with a name like that… It couldn't be good, could it?! But it's a catchy name that you won't quickly forget.
It appears that they have two restaurants – one in Lisbon and one in Albufeira, both with excellent customer reviews. So after hearing it recommended on several different occasions and checking the reviews, we decided to give it a try.
I have to admit that it was well worth a detour. Sexy Meat is the place where I had the best steak in Albufeira. And that in itself says a lot.
This is an upscale restaurant, but the prices are quite reasonable, also for steak. In addition, they have some seafood options, salads, burgers, and a small kids' menu.
TIP: Since this restaurant is a bit out of the way, you may want to reserve a table before you go there. It's often completely full in the evenings.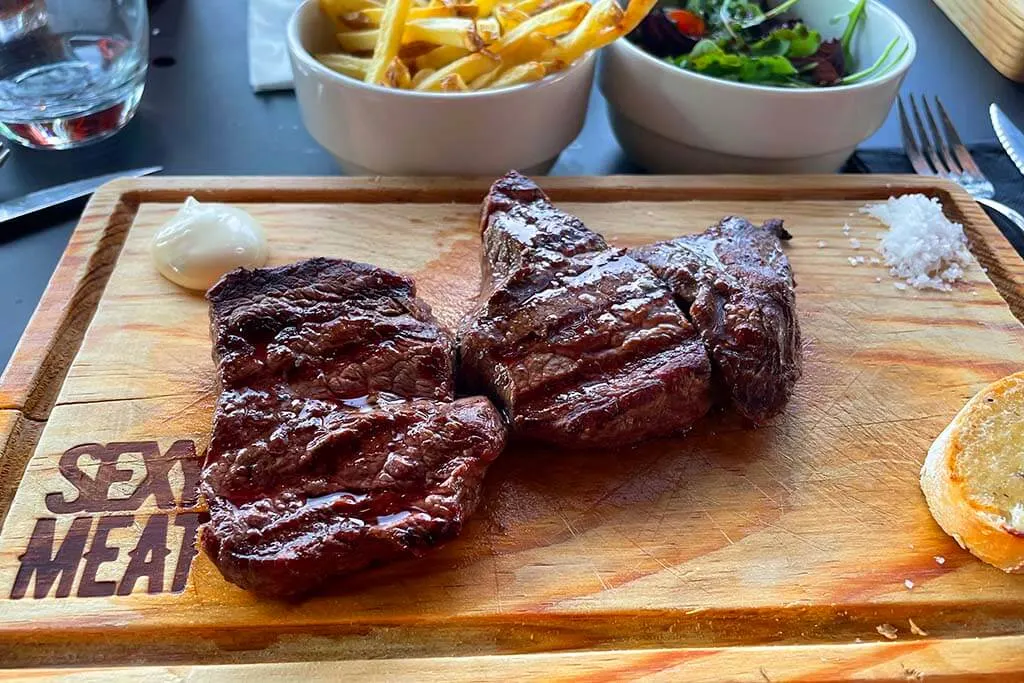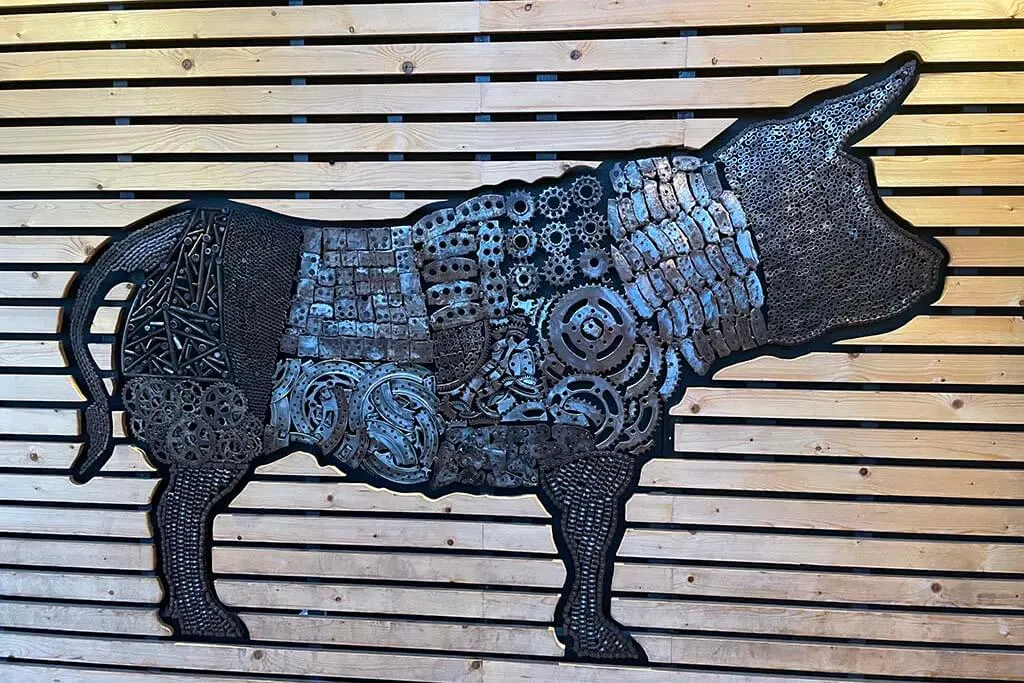 10. The Beach Basket
Portuguese restaurant with sea views in Albufeira's old town.
The Beach Basket (O Cabaz da Praia) is located in the higher part of Albufeira's old town, above the tunnel and overlooking Praia do Túnel beach.
If you are looking for a restaurant with frontline sea views, this is one of the best quality mid-budget options in the old town of Albufeira. To be fair, there are several other comparable restaurants nearby and we haven't tried them all, but The Beach Basket was recommended to us by the locals and it didn't disappoint.
They serve traditional Portuguese dishes – seafood, fresh fish, but also meat and some vegetarian options. The views are superb, especially if you can get a first-row table overlooking the beach below. But the views are really not the only reason to come here.
Since the restaurant is open all day, it's also a good place for cocktails or a small snack in the afternoon. My husband can't stop raving about the Burrata cheese he had here; supposedly the best ever.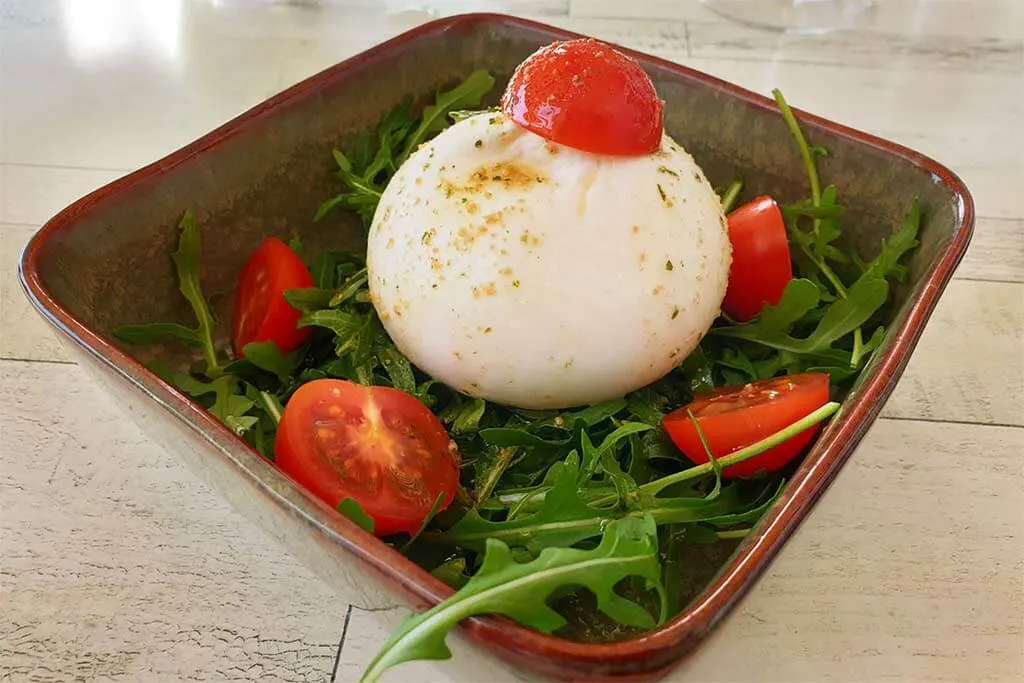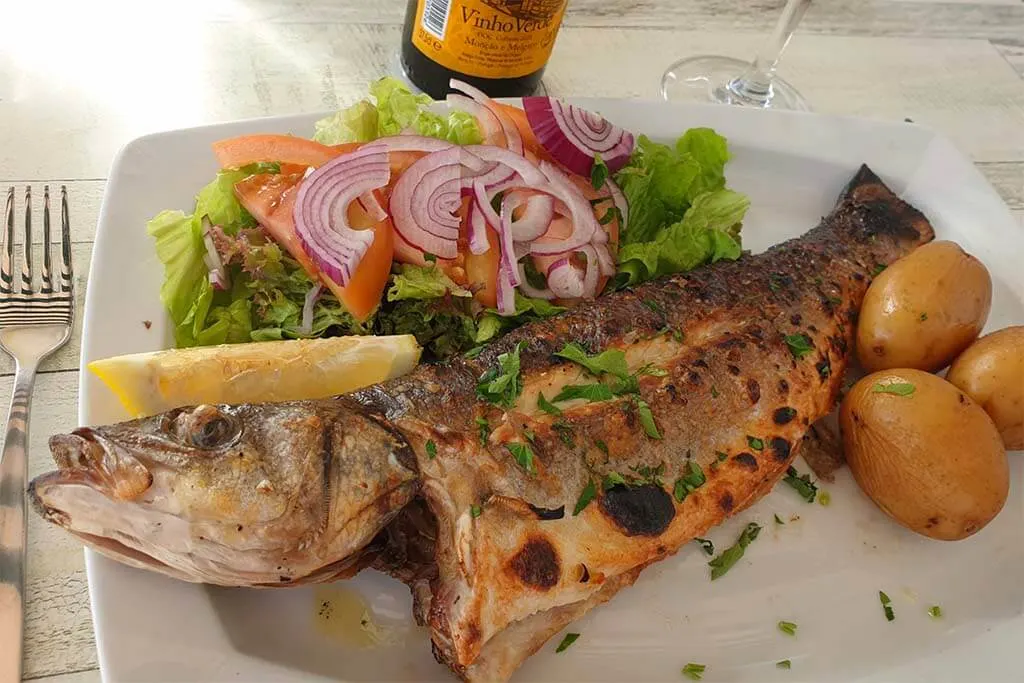 11. Italian Republic
Classy Italian restaurant near Praia da Oura.
Italian Republic is one of the classier Italian restaurants in Albufeira and one of our family's favorites. With three kids who can't imagine a life without pizza and pasta, we have been to more Italian restaurants than I can remember, also in Albufeira. This one really stands out for exceptional quality at a very good price.
Located in a very touristy area, between the Strip and Praia da Oura beach, Italian Republic has a lot of competition from the restaurants nearby, so this sets the bar quite high. The first time we went here was purely based on the amazing reviews on Google Maps and I have to say that this restaurant definitely deserves all the praise.
The interior is modern and cozy, the staff is friendly and efficient, and the food is great. They serve a bit fancier, gourmet-style Italian cuisine, and everything we ever had here was always excellent. The pizza dough is very thin and crispy, so if you are a fan of a true Italian pizza, you'll love it.
What we love about Italian Republic is that they have such a diverse menu that it's really easy to please even the pickiest eaters in your group. From pizza, pasta, and hamburgers to amazing risottos, fish, and meat dishes – there's truly something for everyone on the menu. This makes it a great choice for families or bigger groups of friends.
Because of its location, Italian Republic can get quite busy at peak dining times. But if you come a bit earlier than standard dinner times, it's usually not a problem to find a table, even with a bigger family.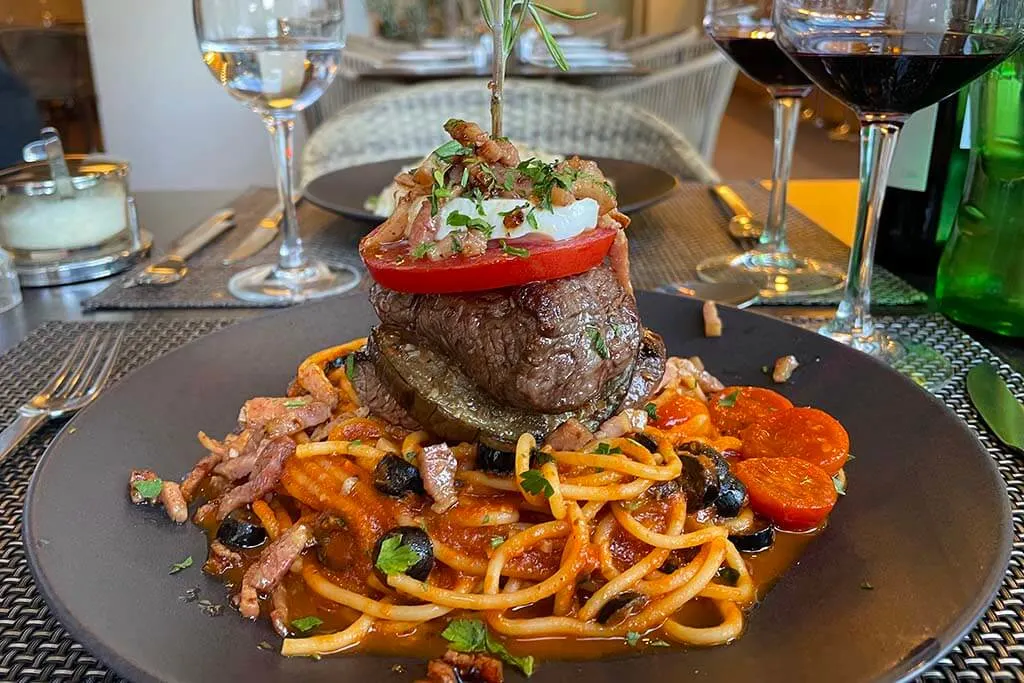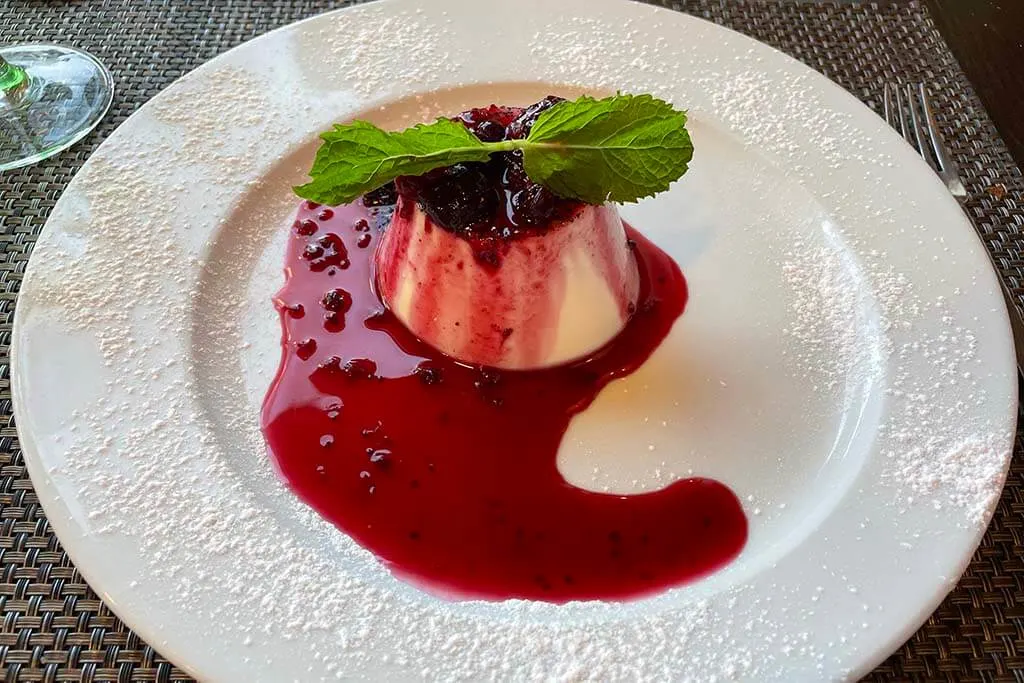 More recommendations for some nice restaurants in Albufeira
In addition to our absolute favorites mentioned above, there are so many other restaurants in Albufeira that I could mention as well.
Here are a few additional recommendations. They all have something special and many offer really good price-quality too.
Ricardo's is a very popular Italian restaurant in the old town. If you are lucky to get a table at the top terrace, you get amazing views in addition to good and reasonably-priced food. This restaurant is best visited in the lower season or during the day since it gets very very busy at peak dining times.
Neto is a popular and very reasonably priced Portuguese restaurant in the St. Eulalia area in Albufeira. Excellent value for your money.
San Martino is another very good Italian restaurant in Albufeira (I told you – with kids, we have tried (too) many of them). It's located at Praia da Oura and has the most beautiful views from its huge terrace, but is a bit out of sight so many people overlook it which means that there is usually not a problem to get a table with a really nice view. Their cocktails and wood-oven pizzas are amazing and the service is always excellent.
Taberna Vicentina in the old town, near Albufeira's City Hall is a small restaurant that serves Portuguese 'tapas'. It's a good place to try some traditional food and is especially suitable for bigger families or small groups of friends since you can easily share many different dishes.
Uzonj just across the street from Mini-Golf has one of the best-priced tourist menus in Albufeira. You can have a starter, a main dish, and dessert for just 12 euros. The other options (outside the tourist menu) are excellent too. If you are just looking for a good, simple meal at reasonable prices, check it out.
Mi Sombrero is a Mexican restaurant at Fisherman's Beach in the old town. If you are looking for good Mexican food, this is one of the best options in Albufeira. It gets very busy on summer evenings though, so you may want to come earlier.
These are just a few recommendations. As I said, there are hundreds of restaurants in Albufeira and even after so many trips here, we still just scratched the surface and only tried a small part of them. Not all of them made it into this article for various reasons, but the ones we mentioned here have never disappointed us.
Below, you can see the map indicating all the restaurants mentioned in this article as well as our experience-based tips for dining in Albufeira. Read on!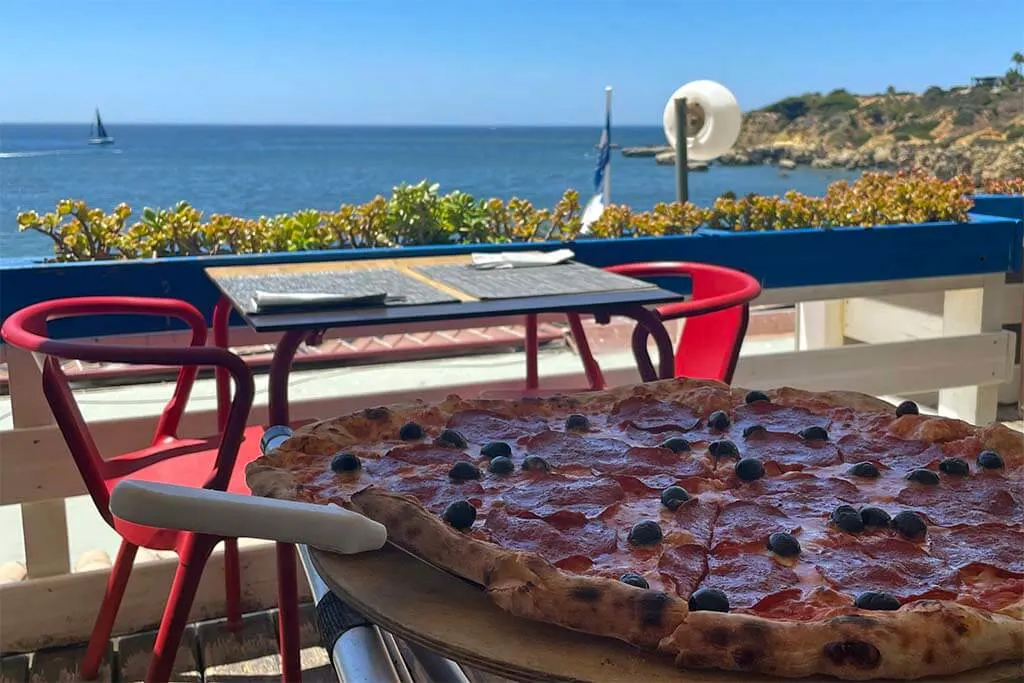 MAP
Albufeira is quite big and spread out, so you may want to see where a restaurant is located before deciding where to go.
Therefore, we created a map indicating all the Albufeira restaurants that are mentioned in this article – see below. It will give you a better idea of where everything is located and help you pick a few nice places for your vacation.
While many people are looking for restaurants in the old town, we find that some of the best restaurants in Albufeira are actually located outside of the busiest areas in the old town. We were also surprised to discover that there are many outstanding choices in the Strip area (usually not directly on it, though). In fact, some of the very best restaurants that we like the most are located very close to the Strip.
TIP: Taxis/Uber/Bolt are not expensive in Albufeira, so don't let the distance stop you from going to a restaurant that looks really nice. Often, it's really worth it. Sometimes, you can also make a really nice (beach) walk to the restaurant and that makes your evening more special in itself.
How to use this map: Use your computer mouse (or fingers) to zoom in or out. Click on the icons to get more information about each place. Click the arrow on the top left corner for the index. Click the star next to the map's title to add it to your Google Maps account. To view the saved map on your smartphone or PC, open Google Maps, click the menu and go to 'Your Places'/'Maps'. If you want to print the map or see it in a bigger window, click on 'View larger map' in the top right corner.
Tips for Dining in Albufeira
If you are visiting Albufeira in the peak summer season and want to dine at a popular restaurant late in the evening, it's best to reserve a table in advance. If a restaurant doesn't take reservations or if you rather just walk around and look for a nice place to eat, try to go early (ideally, before 7.30 pm). It's usually not a problem to find a table even at the most popular restaurants in Albufeira if you arrive early. But if you are going around 8.30-9 pm, you may find a long queue outside…
Try to look beyond the most popular restaurants. Often, people choose a restaurant purely because there is a queue outside thinking that it automatically means that a place must be really good. In the meantime, there are so many great alternatives nearby that are totally overlooked. They might simply be newer and not have that many loving reviews yet, or they are located just a bit outside the main tourist routes and are little hidden gems that may not have been discovered by travel guides or not often mentioned on social media platforms, etc…
Check customer reviews on Google Maps to get a feel of how good the restaurant is, but don't rely on it 100%. Remember that all those reviews are not verified. Still, as a general rule, any restaurant that has hundreds of reviews of 4 or more is usually well worth considering. Also, sort by the newest reviews first.
Don't get put off by the fact that restaurants offer menus in 6 different languages. While in many other places in Europe, this means that a restaurant is really tourist-oriented, in the Algarve it's quite standard. Even the most simple local restaurants and the fanciest gourmet restaurants in Albufeira usually have a menu in several languages to facilitate their international customers.
Many (beach) restaurants in Algarve are seasonal, which usually means that they are open between April and October. You cannot always trust the information on Google Maps (or even on their own websites) as local businesses sometimes forget to update their information when they close for the winter. So if you are visiting in the lower season and you are making a special trip to one or the other restaurant, it's always best to call them in advance to double-check that they are open.
When booking a vacation in the Algarve, try to avoid the 'All-In' packages that so many hotels and resorts in the region now try to push on their clients. You'd be missing out on some amazing dining opportunities if you opt for buffet meals at your hotel every night… Even if you booked AI, consider going out on a few nights (or for lunch). You'll likely have a much better meal, plus, you'll support smaller local businesses.
READ ALSO: Where to Stay in Albufeira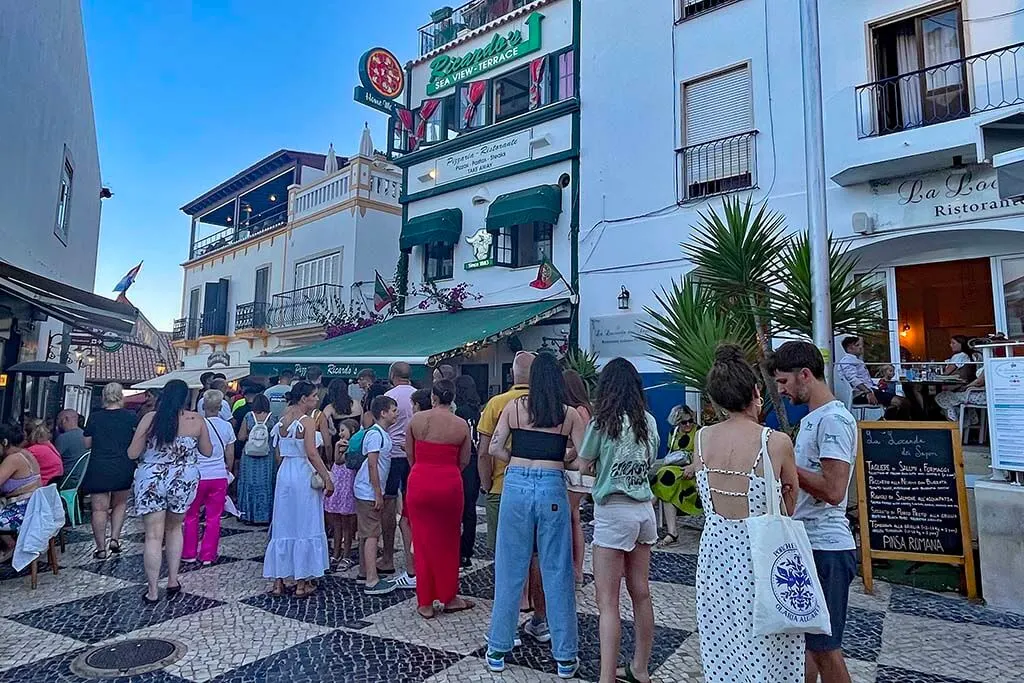 So, this is our guide to some of the nicest places to eat in Albufeira. Once again, this is not a complete list – far from it – just a few of our favorite choices.
Enjoy your meal and have a great time in the beautiful Albufeira!
TIP: Be sure to also check out some of our guides to Albufeira and the Algarve region via the links below for more travel inspiration and experience-based tips to help you plan a truly unforgettable trip to this stunning corner of Portugal.
More travel inspiration for Albufeira and the Algarve region:
If you found this post helpful, don't forget to bookmark it and share it with your friends. Are you on Pinterest? Pin this image!