Faro is the capital city of Algarve in Portugal and a gateway to the region. If you are arriving in Algarve by plane, you'll be landing at Faro airport. The majority of tourists immediately head to their beach destination and don't spend any time in the city. However, if you want to see a couple of the nicest towns in Algarve, Faro is definitely worth a visit.
But what to expect and what is there to see and do in Faro?
In this guide, you can read about all the best places to see and things to do in Faro for first-time visitors. These are the main sights and activities in Faro town and its immediate vicinity that are worth your time the most.
Good to know: Faro is a rather big town, but the old town where all the main tourist sights are located is very compact. You can easily explore Faro on foot and see everything in about half a day. If you want to visit all the best places in Faro mentioned on this list and visit one of the nearby islands or take a boat tour of Ria Formosa Nature Reserve, plan to spend an entire day in Faro.
To help you plan your visit and get a better idea of where everything is located, we created a map of the best places to see in Faro – see below. In addition, at the end of this post, you'll find some practical information for your visit, tips on where to stay or where to park, etc.
But first – what to expect and what are the top sights and best things to do in Faro. Take a look!
How to use this map: Use your computer mouse (or fingers) to zoom in or out. Click on the icons to get more information about each place. Click the arrow on the top left corner for the index. Click the star next to the map's title to add it to your Google Maps account. To view the saved map on your smartphone or PC, open Google Maps, click the menu and go to 'Your Places'/'Maps'. If you want to print the map or see it in a bigger window, click on 'View larger map' in the top right corner.
Good to know: Despite the fact that Faro is the capital city of one of the most popular tourist destinations in the country, you really can't compare it to Lisbon or other nicest towns in Portugal. Depending on where exactly you start – and even more so on when you visit – you may get a totally different impression of Faro.
Let me be quite honest – the first time we visited Faro, we weren't overly impressed. This was in November and while some parts of the city were relatively lively, others were completely deserted.
If you have visited the nicest places in Algarve, then you quickly realize that Faro definitely doesn't have the same wow factor as the most spectacular coastlines… But it's charming in its own way, and so we thought it deserved another chance.
Since we travel to Algarve quite often, we decided to visit Faro once again. This time, we made an effort to do some research in advance, took our time to explore just a bit deeper, and… we absolutely loved it.
So I hope that this guide and our experience-based tips will help you make the most of your trip and get just as excited about Faro as we were after this second visit. Because it has more to offer than it looks at first sight. Find out!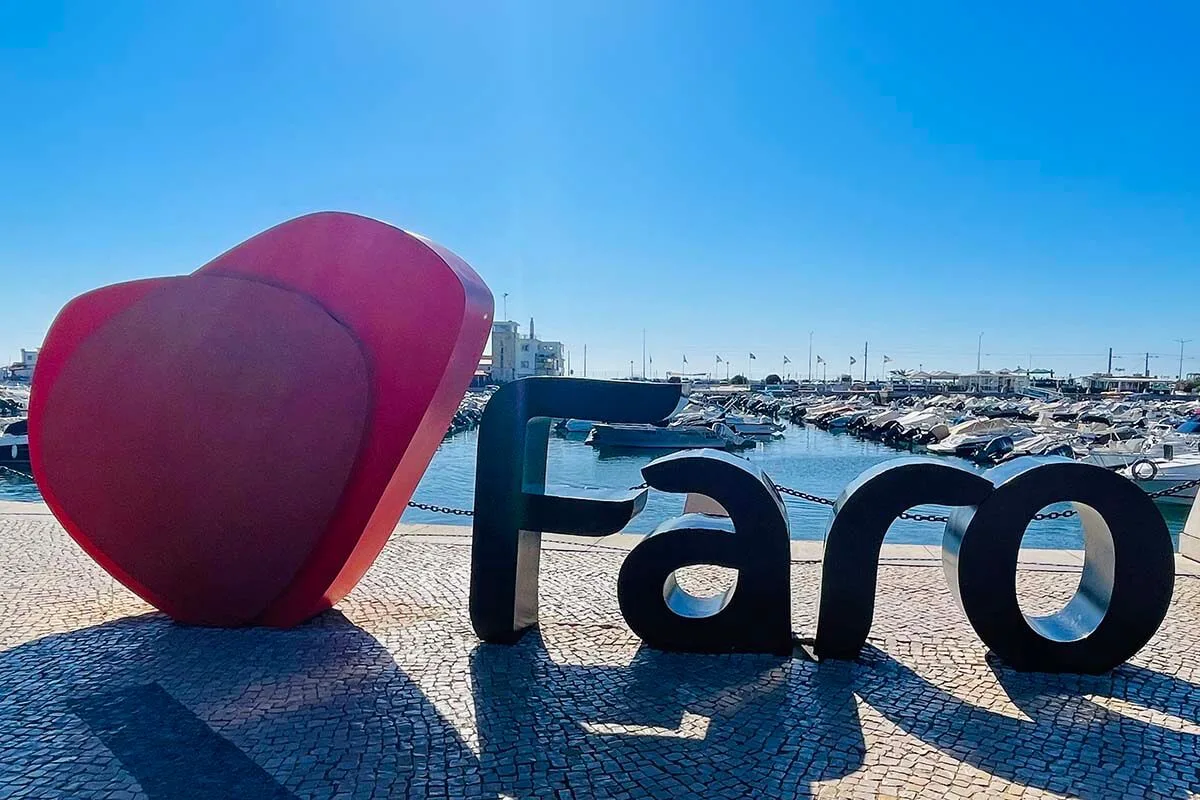 Here are the best things to do in Faro:
1. Faro Old Town
When you first arrive in Faro, the best place to start your visit is the historic Old Town. This picturesque maze of narrow cobbled streets, white-washed buildings, and charming plazas is like a step back in time where you can catch a glimpse of the authentic Algarve.
There are a few main landmarks that you absolutely shouldn't miss here. Here is an overview and some pictures to give you a better idea of what to expect (we also cover the main sights in detail further below).
Start your visit at Arco da Vila. This impressive 19th-century city gate is the main entrance to the historic center of Faro, Cidade Velha, which used to be completely walled (and you can still see parts of the old city walls as you explore this area). If you look up, you may see some storks in the nests at the top of this city gate.
Nowadays, you can visit the Interpretative Center of Arco da Villa where you can learn more about the history of the City of Faro (more info here). We also saw signs for Portuguese guitar (Fado) concerts at the city gate as well.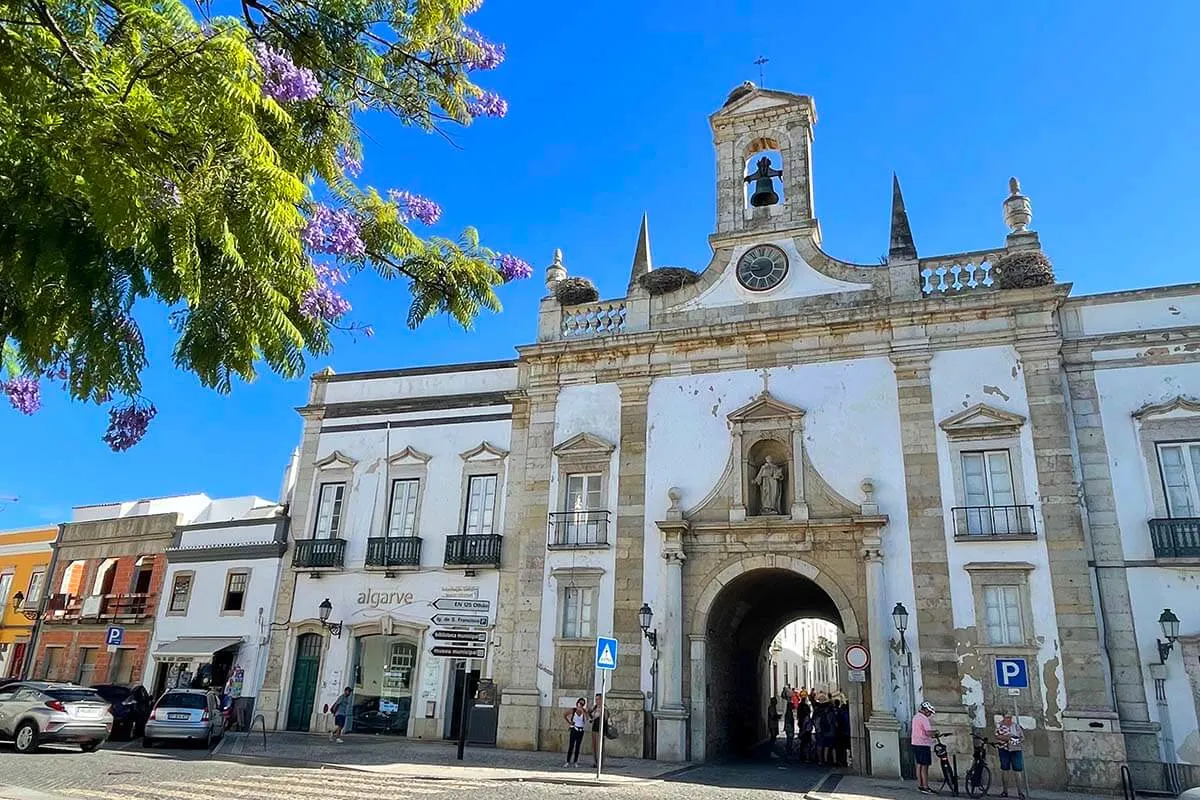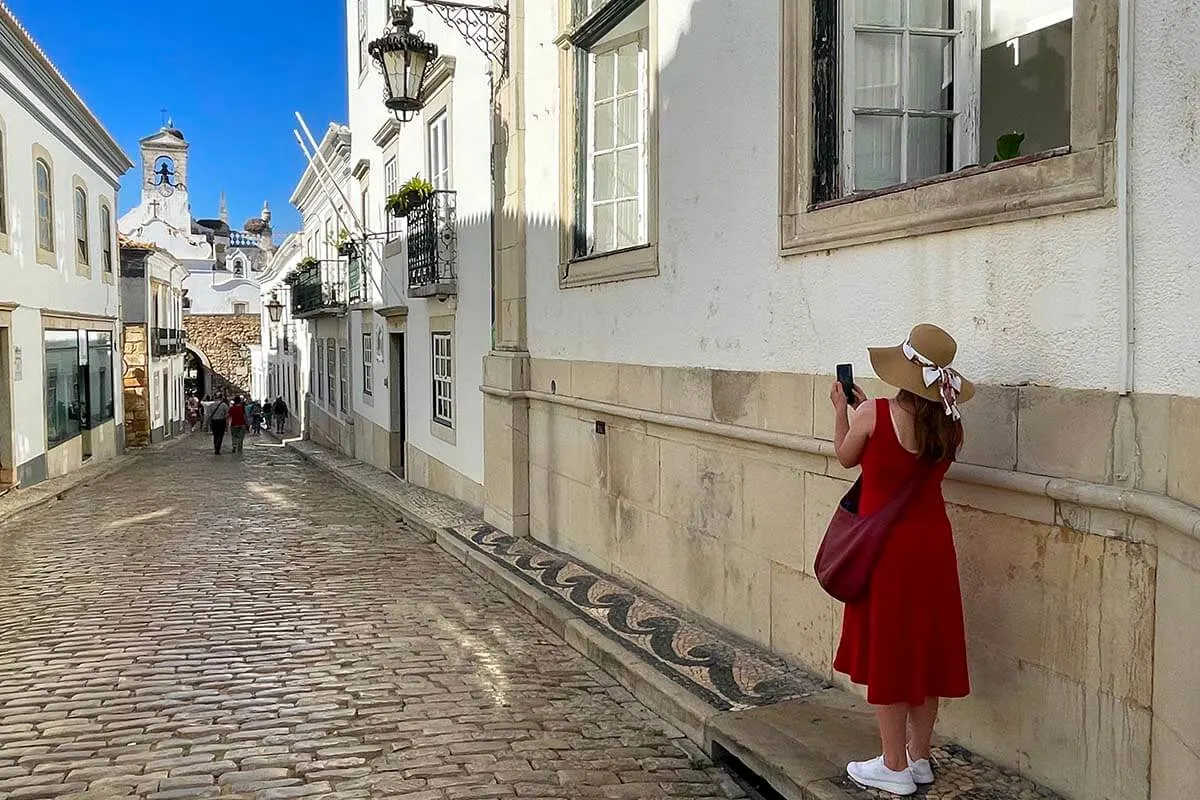 Soon, you'll reach Largo da Sé. This town square is home to Faro Cathedral and a few other points of interest. There are several museums in this area, and also cafes and restaurants.
You can also see an old Beer Factory here, at the site of old fortifications. Together with the city walls, it looks a bit like a castle from a distance, but it's far from that.
The building is only used once in a while, for temporary exhibitions or other cultural events. If it's miraculously open on the day of your visit, you may want to take a look inside. We heard that you can walk up to the top and enjoy nice views of the city and the lagoons around it.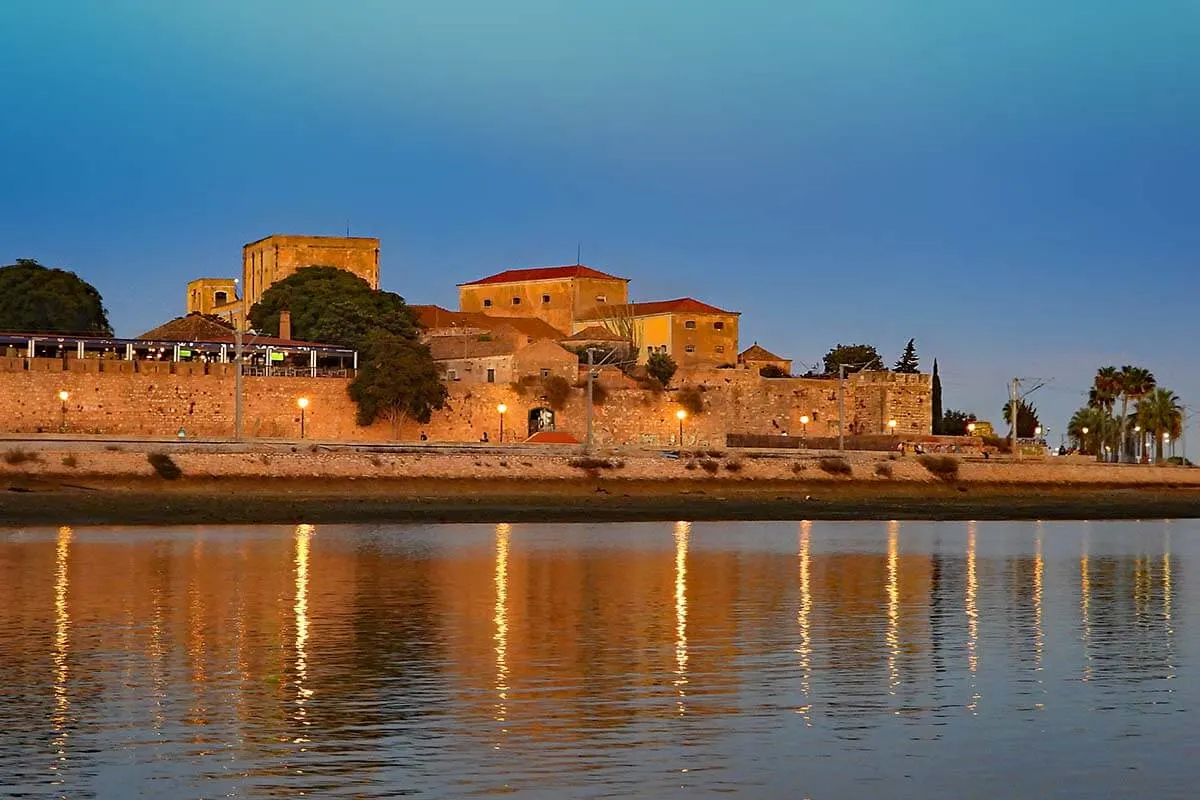 If you go further west, you'll leave the walled city center and find yourself on the waterfront with several fishermen's cabins and a ferry to the nearby beaches.
If you remain within the city walls, you can explore the narrow streets a bit further. Here, you'll also find the Municipal Museum of Faro which is well worth checking out (more info below).
Afterward, you can leave the walled part of the old town via Arco do Repouso, which is another impressive city gate.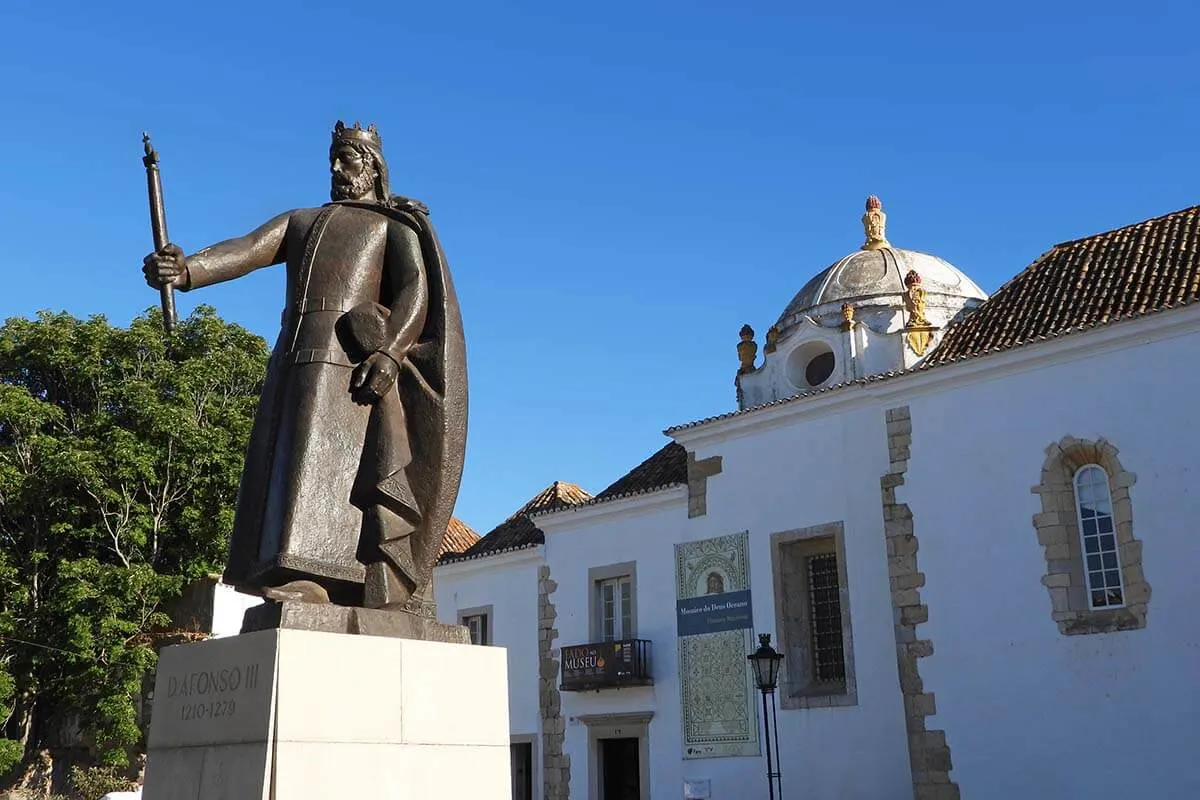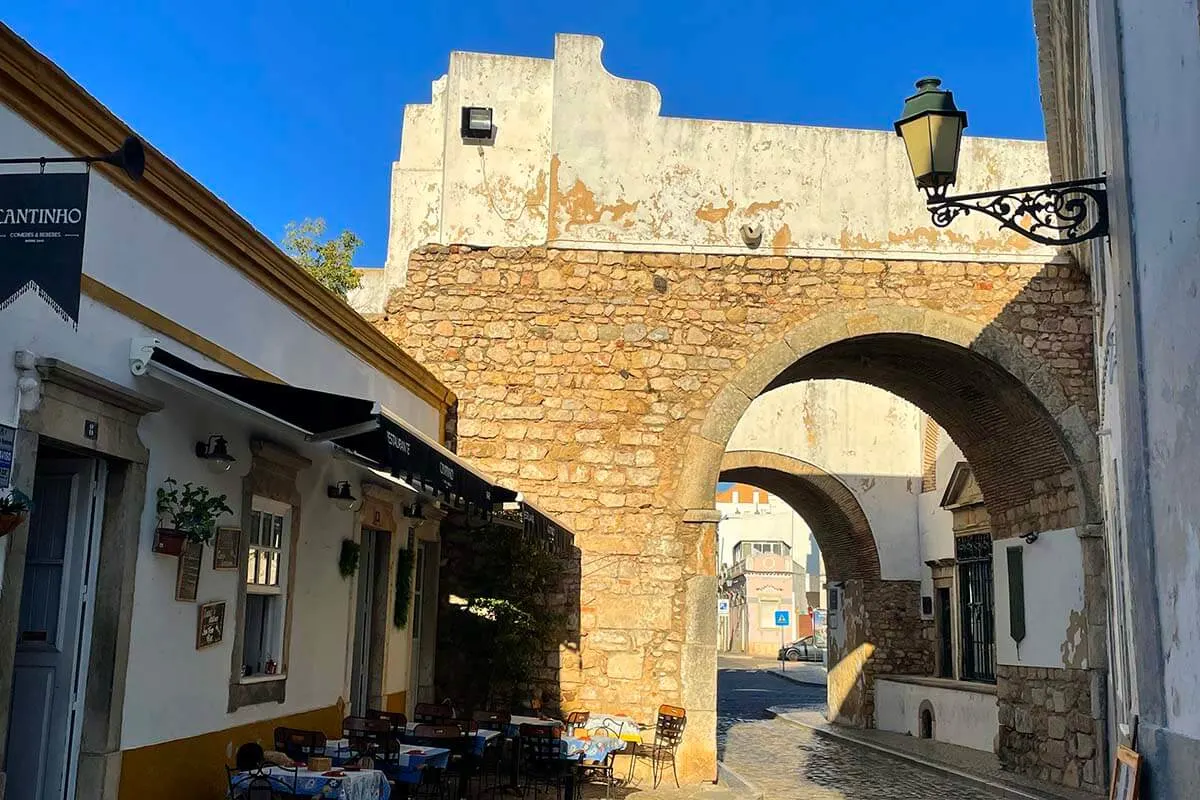 After leaving the city gate, turn left and walk next to the walls.
There are some azulejo tiles here and there depicting historical scenes. Next to the old town walls, you can also find the beautifully restored building of Palácio Belmarço.
I indicated all these places on our map of Faro attractions. But this part of the old town is quite small, so you can't really miss them.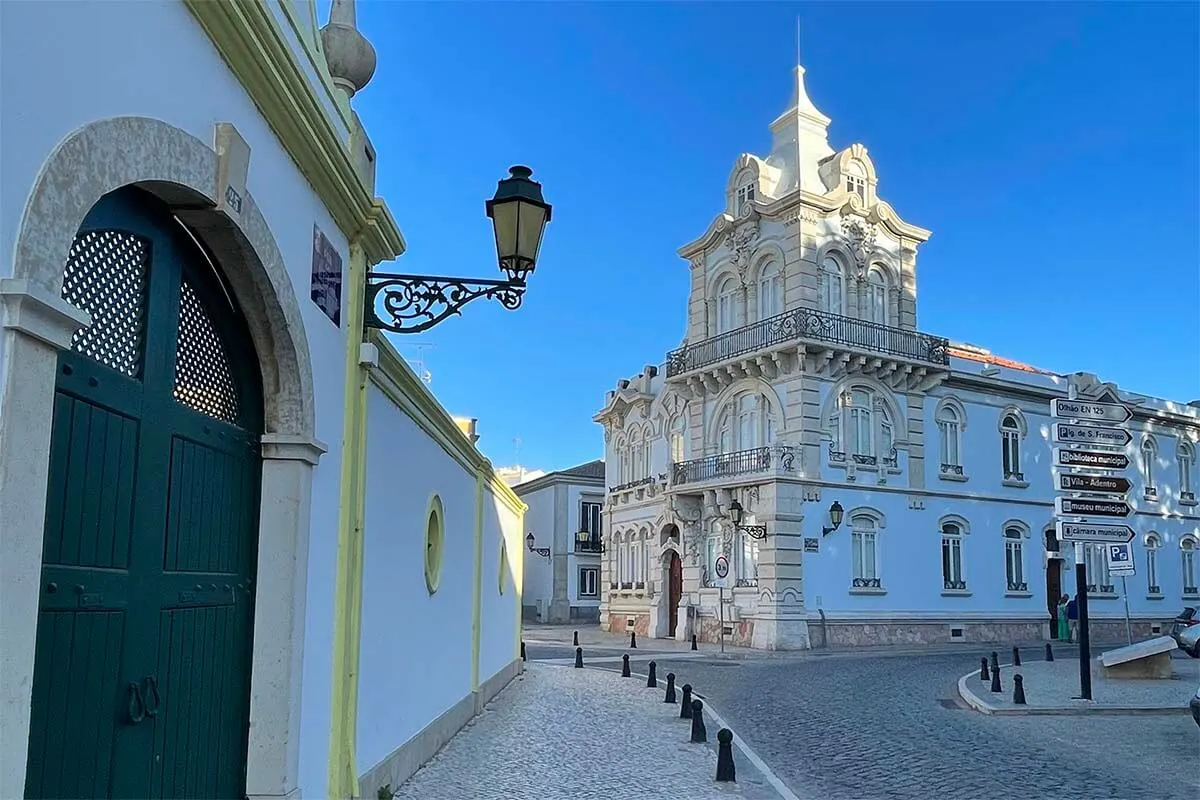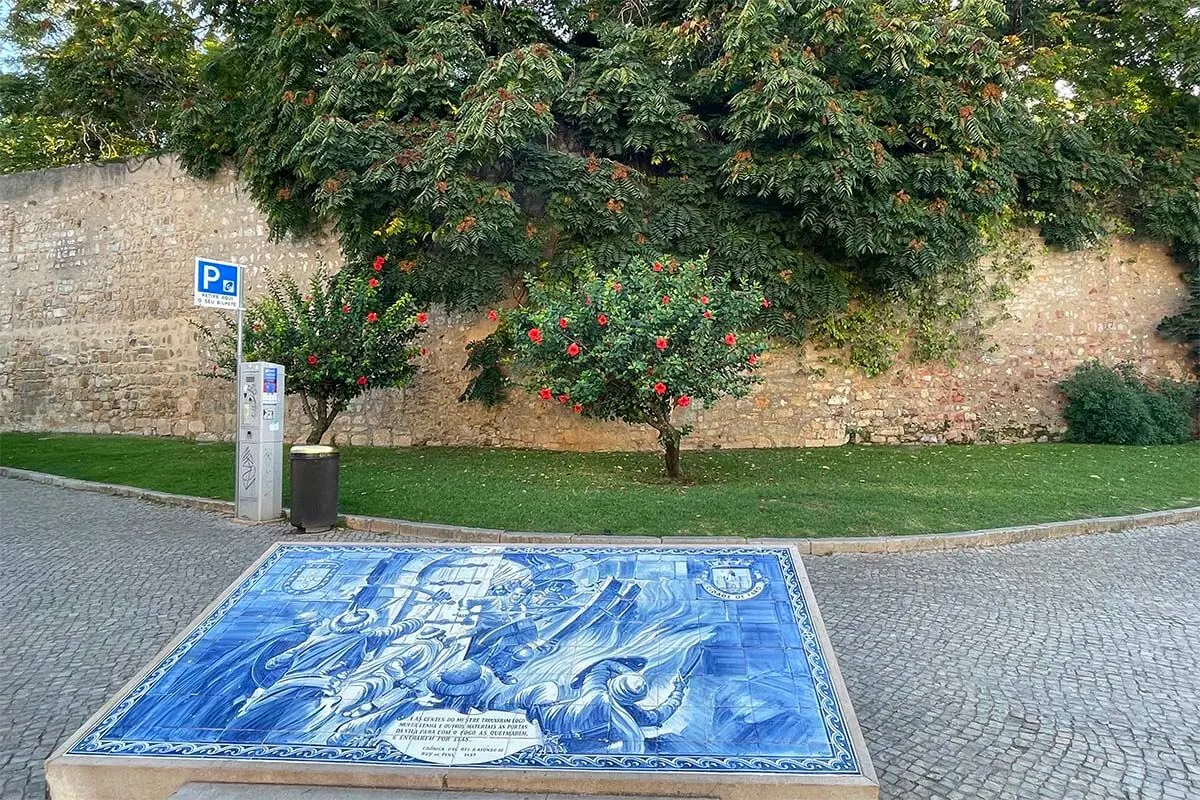 2. Faro Cathedral & Bell Tower
Located within the city walls, on the square of Largo da Sé, you'll find the Cathedral of Faro, aka Igreja de Santa Maria. If you are looking for the best things to do in Faro, a visit here should be high on your list.
Faro Cathedral is one of the oldest and most important buildings in the city, with its history going back to Roman times when there was a Roman temple here. During the Moorish reign, the church was transformed into a Mosque… The current building dates from the end of the 16th – beginning of the 17th century, with multiple improvements over the centuries. Most wall tiles inside are from 1694.
There are a couple of things to see here. First, the interior of the church itself with multiple chapels, each in a different style.
You can't really miss the impressive 18th-century organ. It's quite large and strikes with bold red color and Chinese decorations. Quite an unusual sight.
TIP: Take the stairs to the 1st floor from where you get a closer view of the organ. On the first floor, you'll also find a small Museum of Sacred Art. These rooms date from 1697 and 1813 and are worth a quick look even if you are not interested in the collection.
Outside, you can visit the Cloister garden, which used to be a cemetery and a few chapels. Be sure to check out the Bones Chapel from 1664. Please note that this is NOT the famous Faro Chapel of Bones which is located in another church in the city (you can find more information about it below).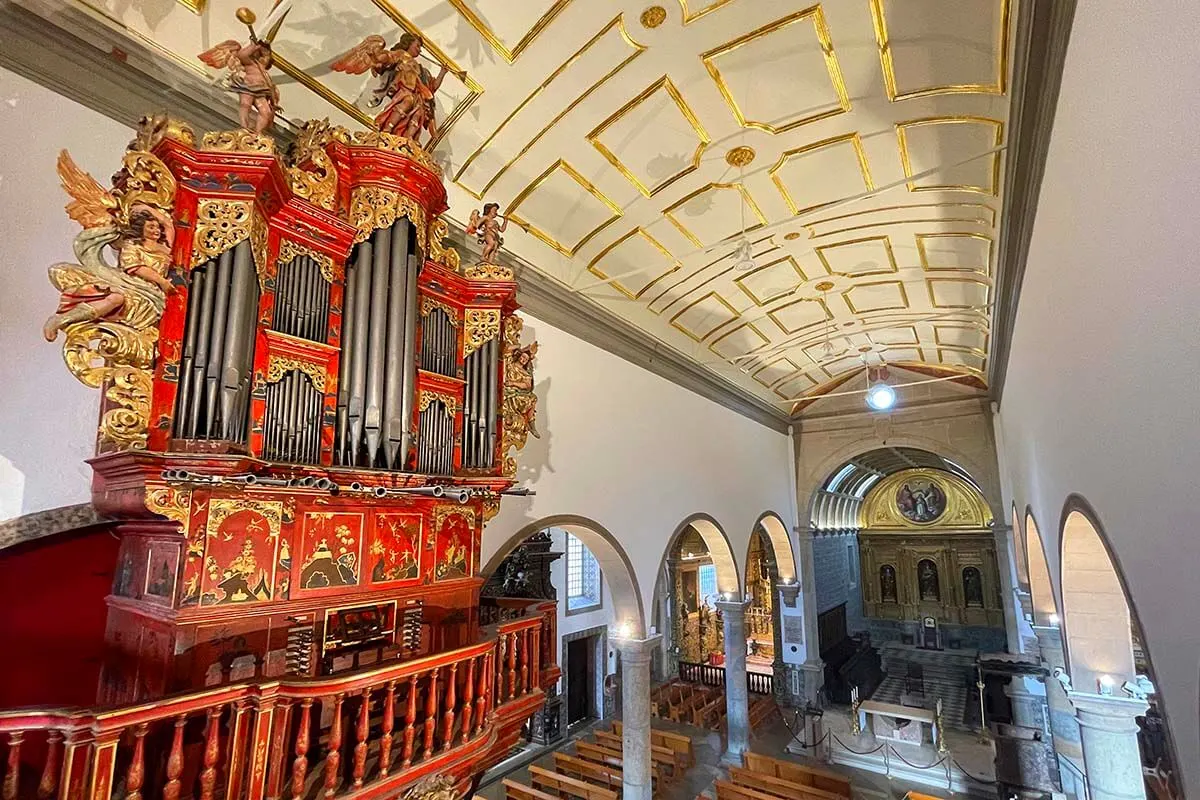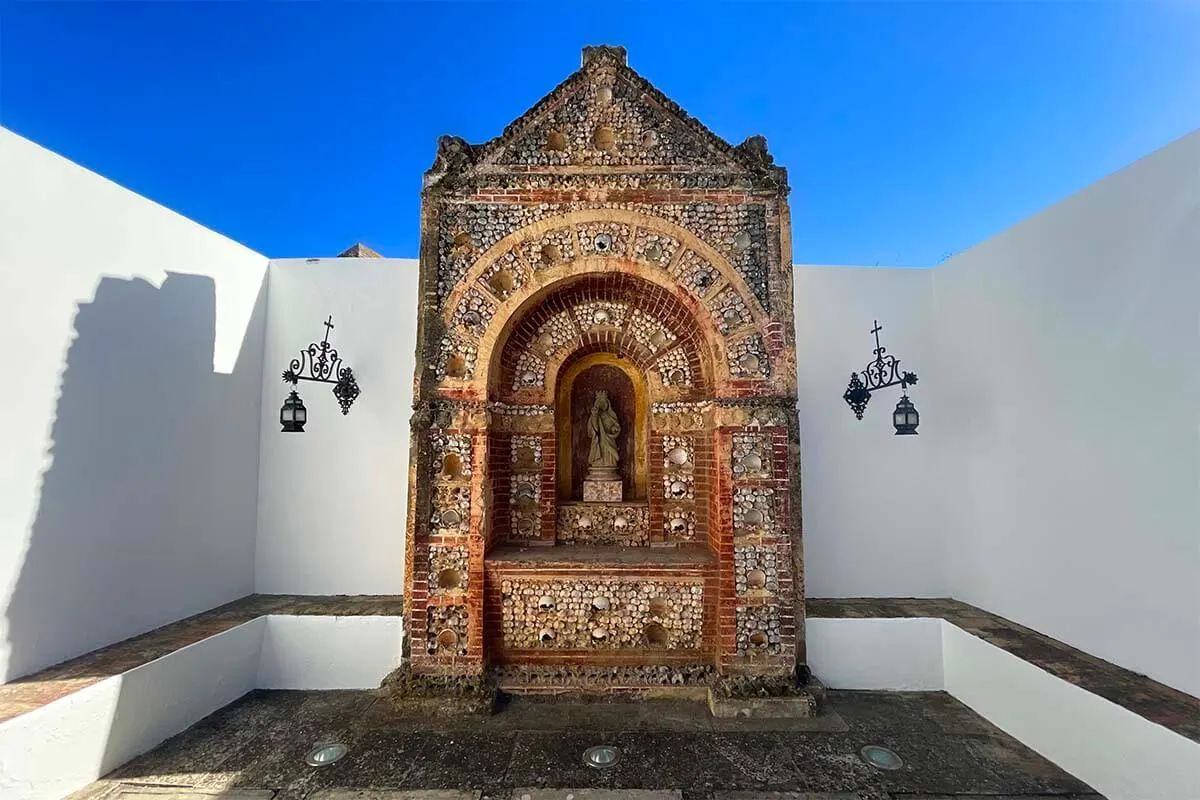 Another reason to visit the Cathedral is its Bell Tower. You can climb all the way to the top of the roof where you can get close to the bells and enjoy a nice elevated view of the city and its surroundings. This is the best place from where you can better appreciate the unique location of Faro town, encircled by the lagoons of Ria Formosa.
The good thing is that the tower is really not that high so it's absolutely doable for most people. Just keep in mind that the stairs are rather steep and narrow.
Practical information: Faro Cathedral is open daily except on Sundays, with hours varying depending on the season. In the main tourist season, it's open on weekdays from 10 AM to 7.30 PM and on Saturdays from 9.30 AM to 4 PM; the last entry is half an hour before the closing time. There is a small entry fee which goes towards the repairs and upkeep of the building. They accept cash and cards.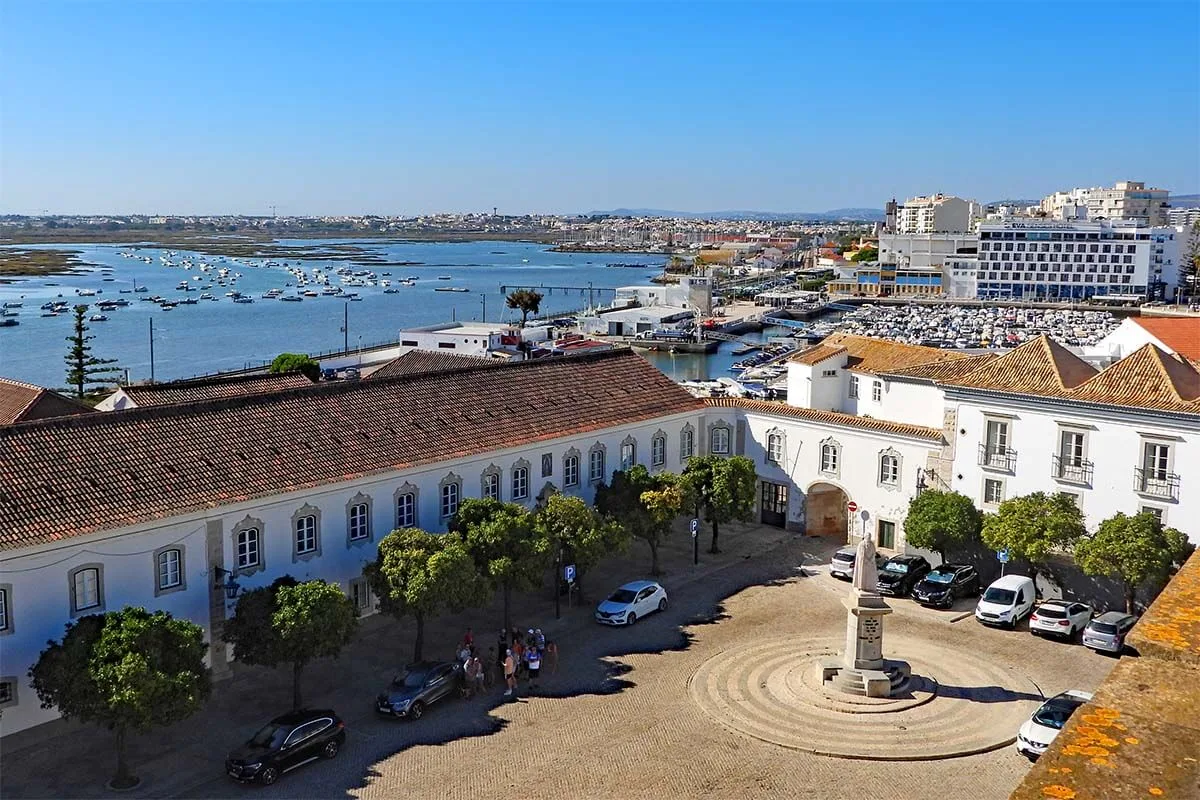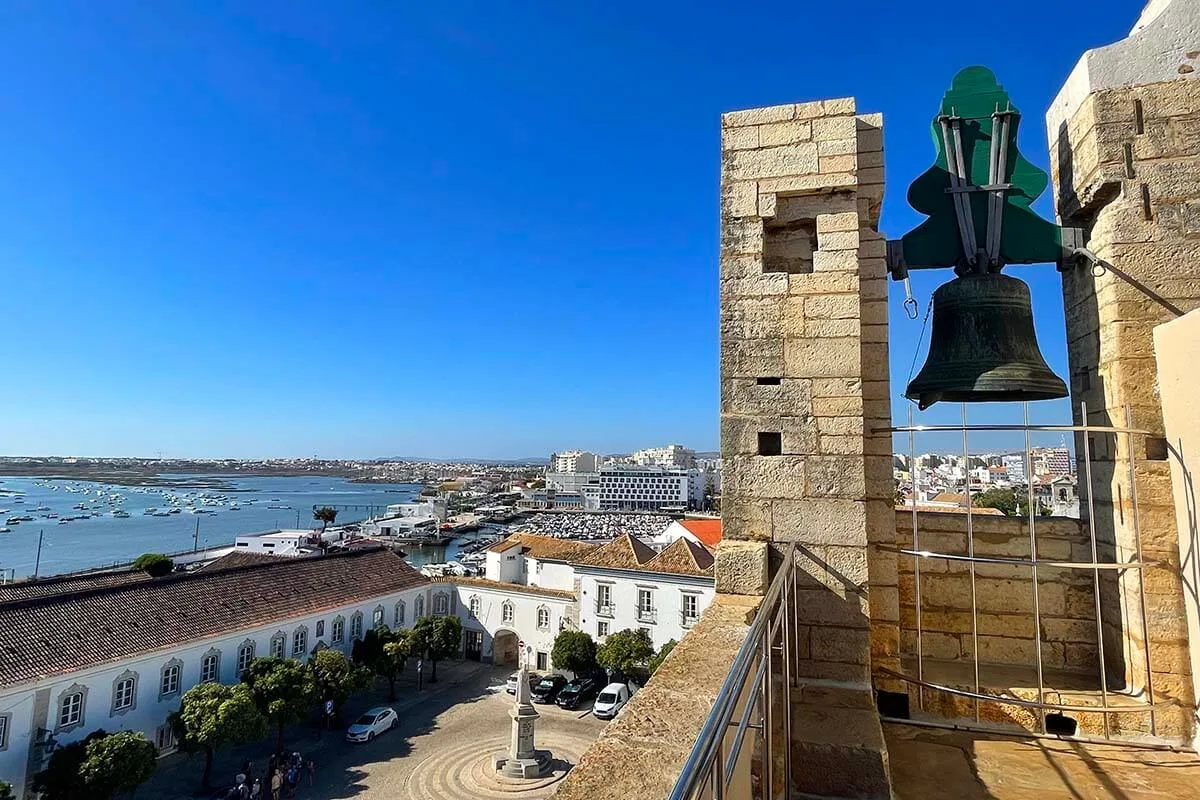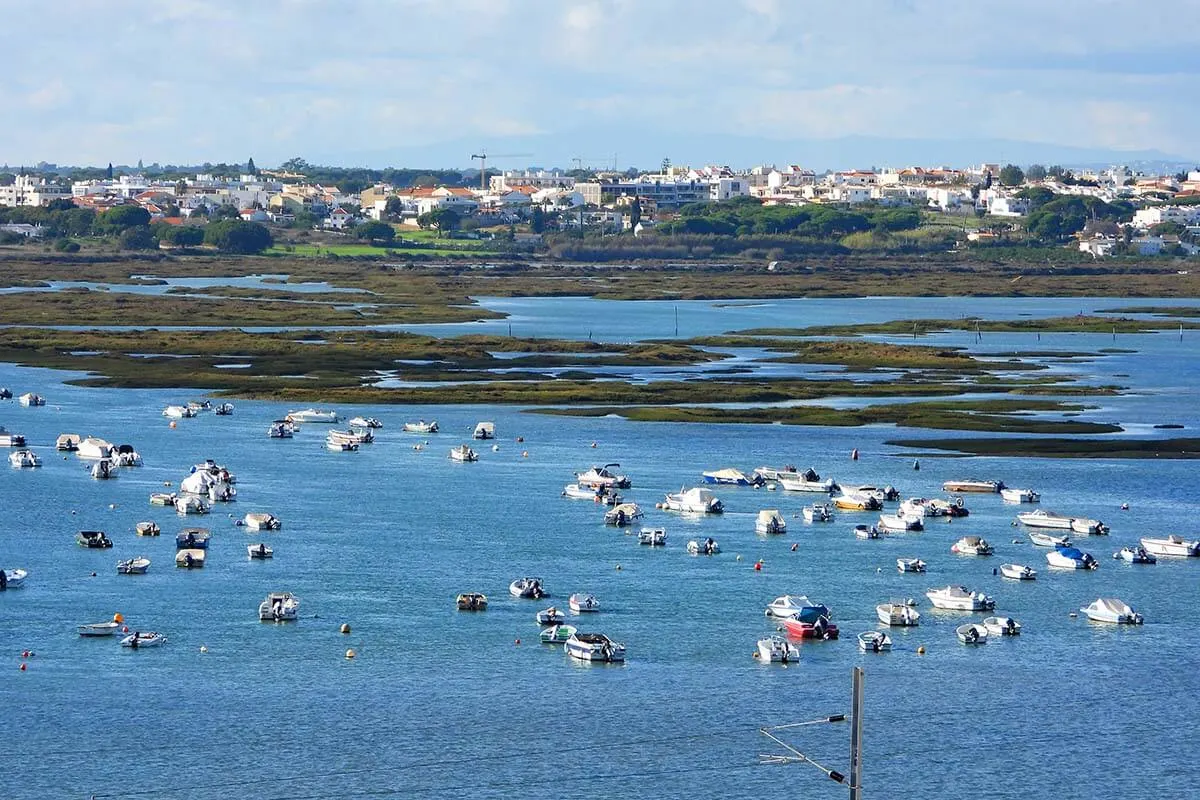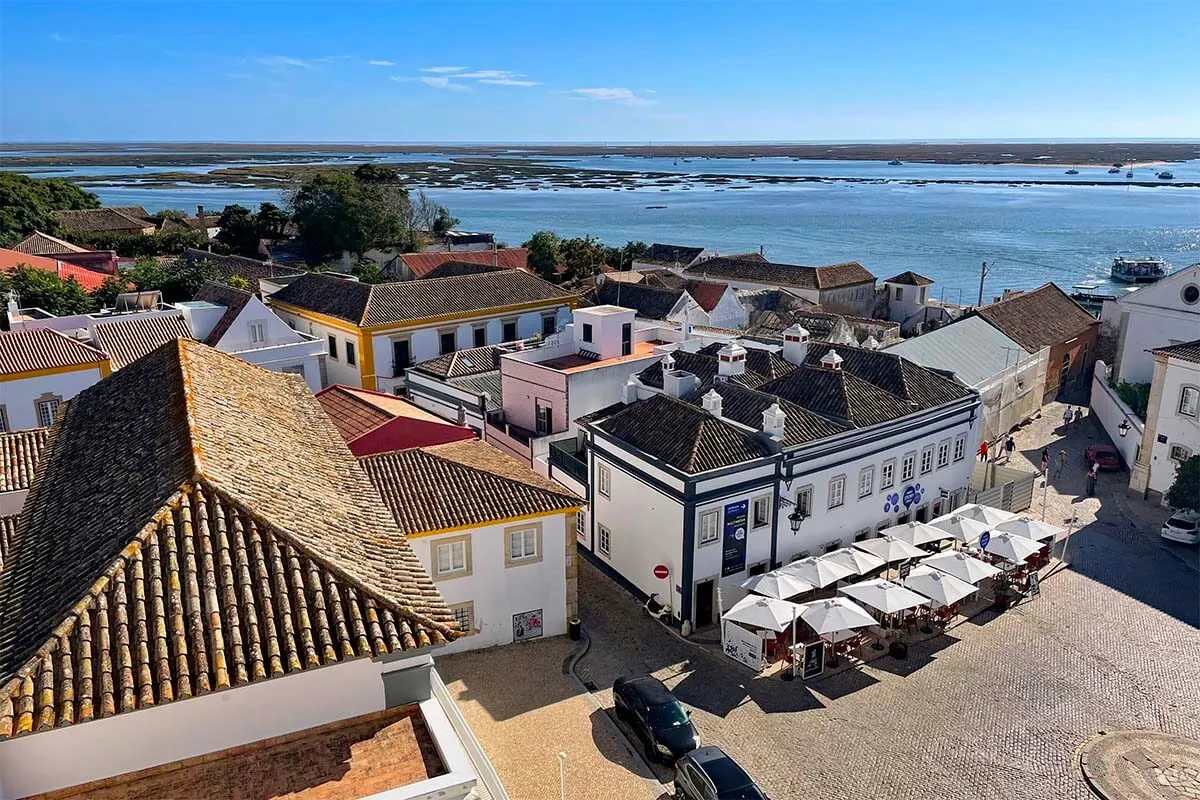 3. Chapel of Bones & Carmo Church
Capela dos Ossos de Faro (the Faro Bones Chapel) is one of the most famous landmarks in Faro.
It's located on the grounds of Igreja do Carmo (the official name – Igreja da Ordem Terceira de Nossa Senhora do Monte do Carmo), about 10-15 minutes walk from the main part of the old town.
The Carmo Church with its gold-plated altars is well worth a visit in its own right. Dating from the 18th century, the building is very impressive both – from the outside as well as on the inside. But the main reason people come here is the unique little chapel located in the gardens of the church.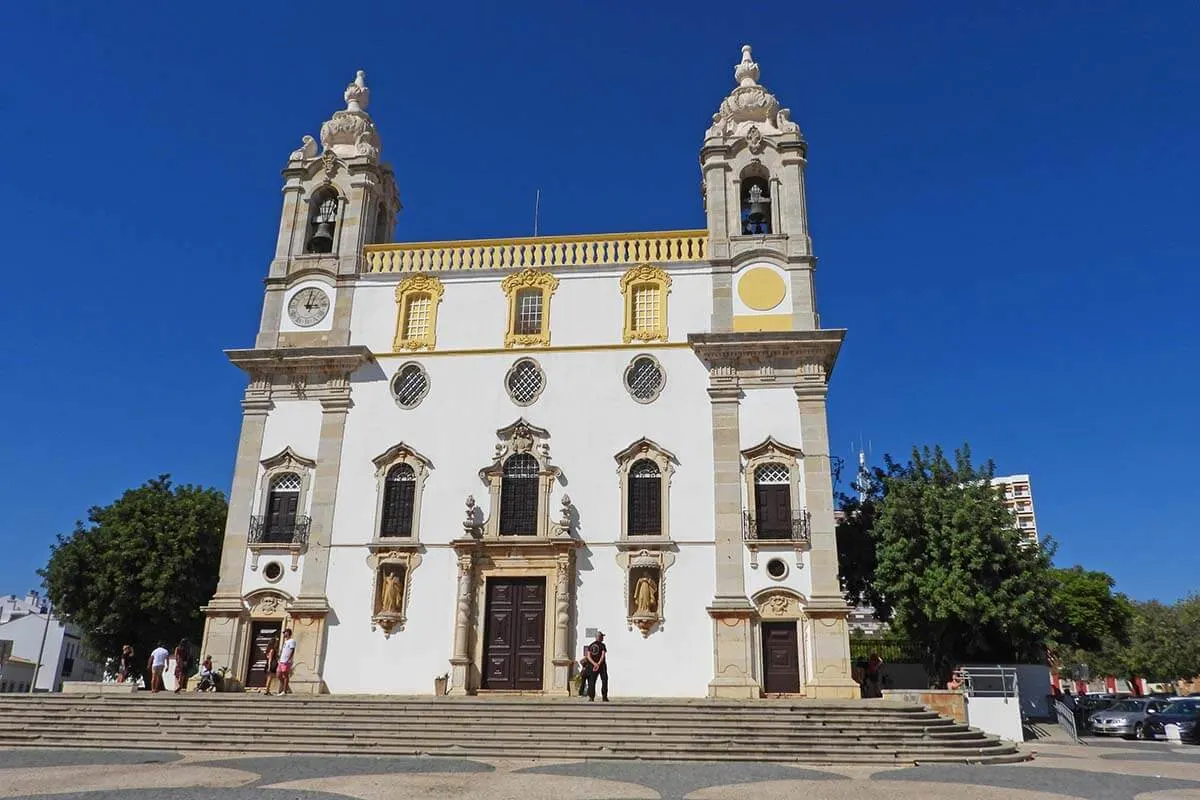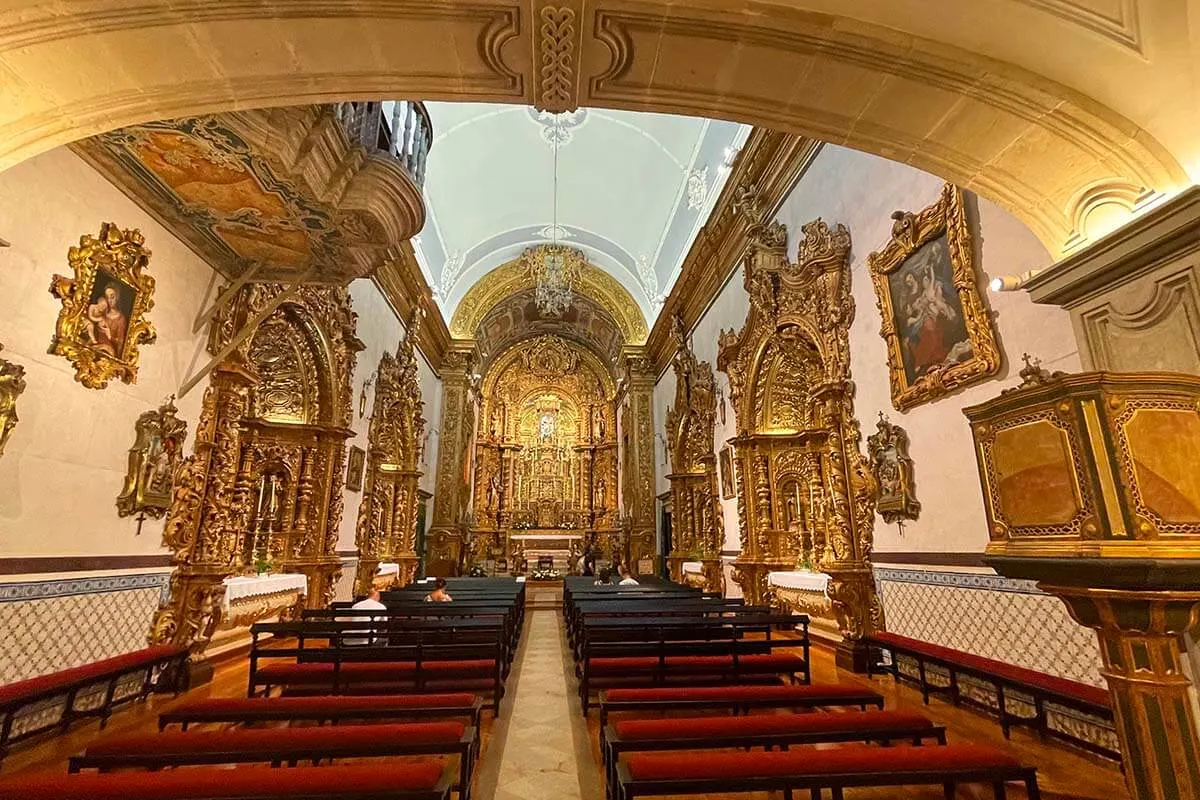 Just as its name suggests, the Chapel of the Bones is decorated using human skeletons. The bones and the skulls that you see here come from an old dismantled cemetery of over 1200 Carmelite monks. While some skulls have been lost (or stolen) over the centuries, the chapel is still very impressive.
While it's much smaller than Portugal's most famous Chapel of Bones in Évora, the Faro Bones Chapel is quite well preserved and is certainly worth seeing. In fact, it's the most visited Faro attraction, so expect it to be busy.
Practical information: The Bone Chapel can only be accessed via the Church and there's a small fee to visit (cash only). The Church is open daily except on Sundays. On workdays, it's open from 9 AM to 1 PM and from 3 PM to 5 PM, and on Saturdays – only in the morning.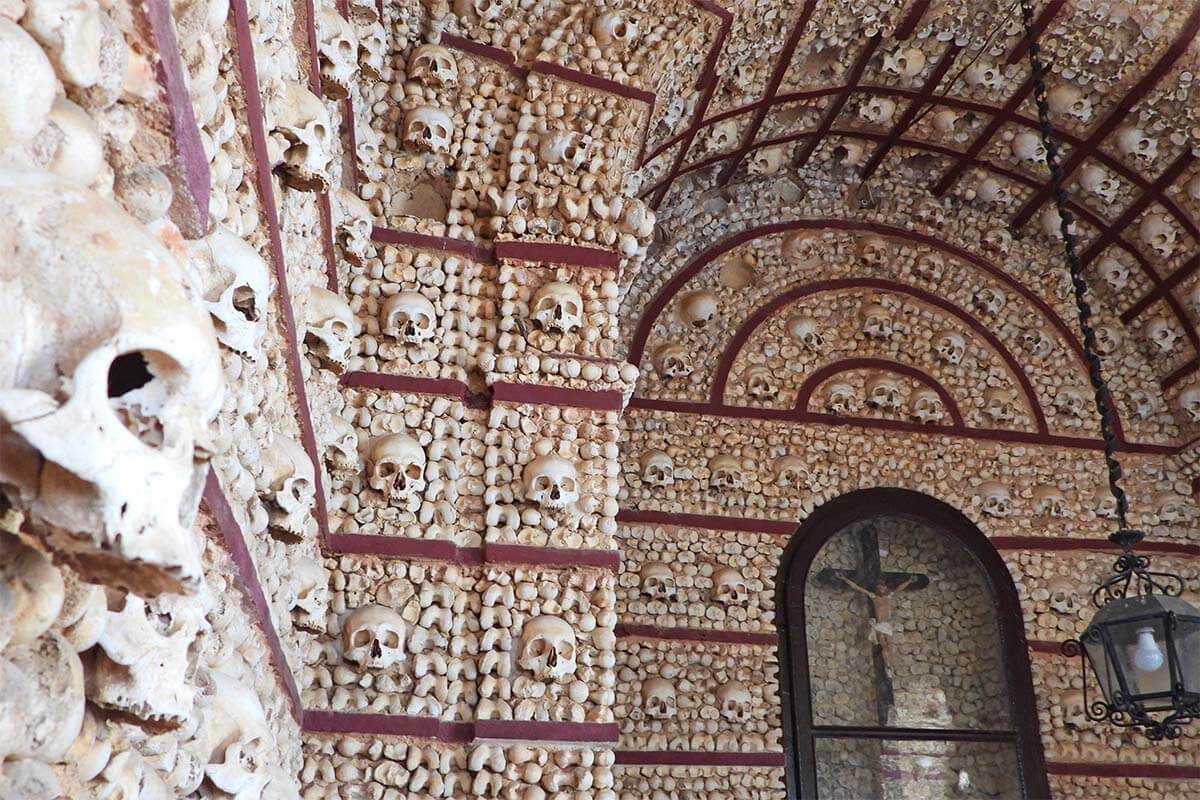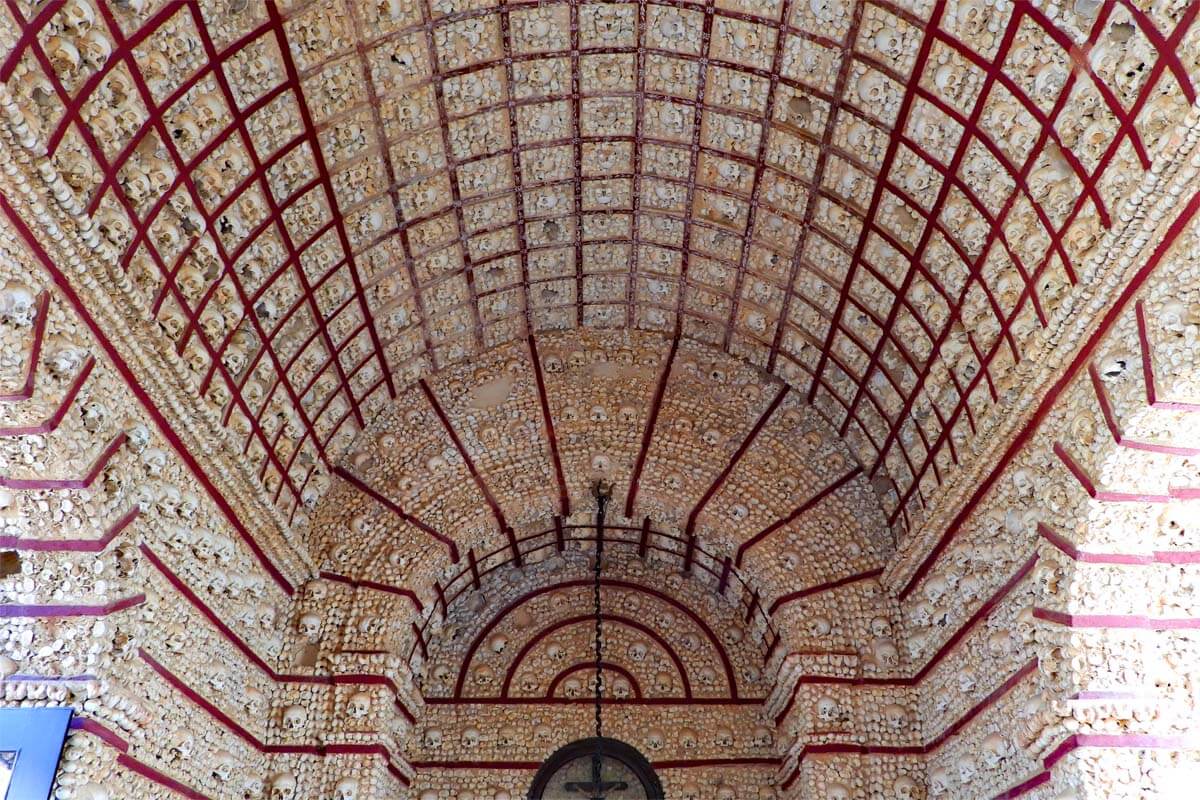 4. Faro Marina
Faro Marina is located in the heart of the old town and is a lively area that you'll definitely pass when sightseeing in Faro. If you arrive in the city by train, this will likely be your first introduction to the city (the railway station is just nearby).
Here you will find the Love Faro Sign and several interesting sculptures. There are also numerous cafes and restaurants in this area and it's a great place for a leisurely stroll or to enjoy a meal with a view.
Various tour operators offering all kinds of boat trips and excursions in the area are also located around Faro Marina. (You can find more info about the best tours further below).
TIP: Some of the nicest hotels in Faro – Eva Senses and Hotel Faro & Beach Club – are also located here. They both have stunning rooftop pools, plus, Hotel Faro also has a rooftop bar which is a great place for a (sunset) drink.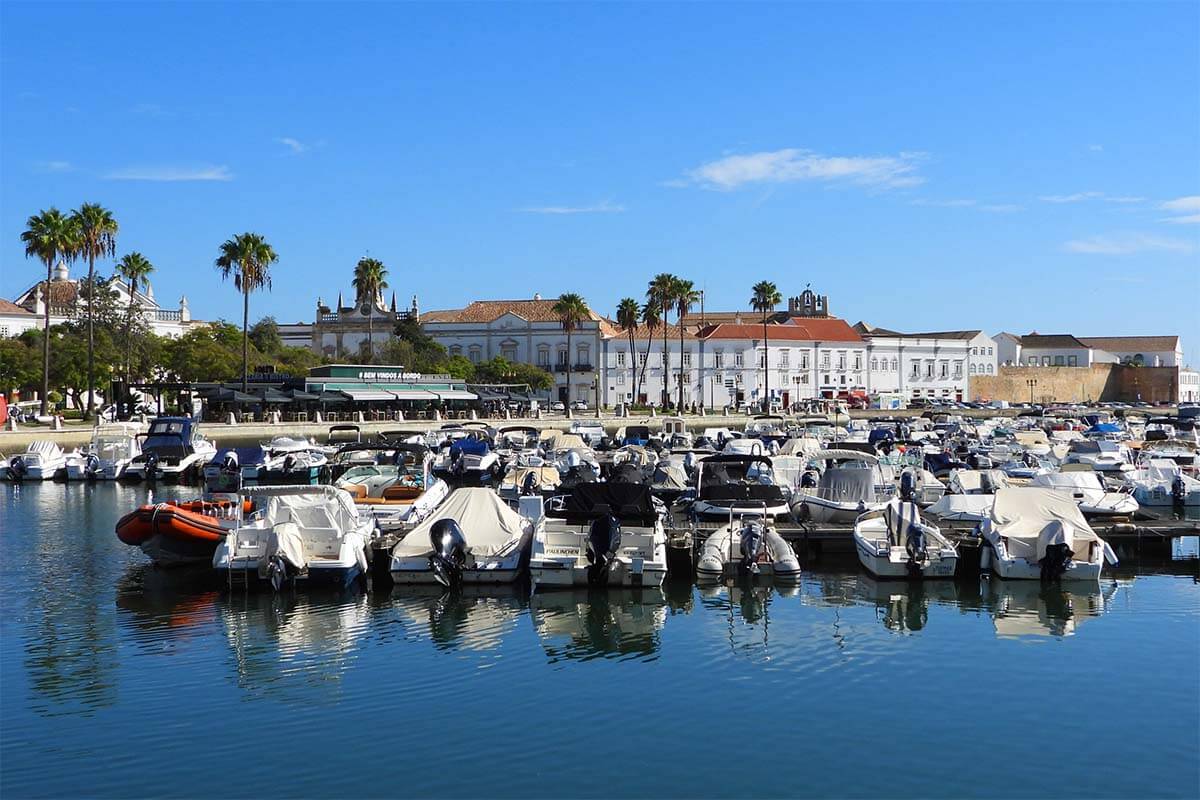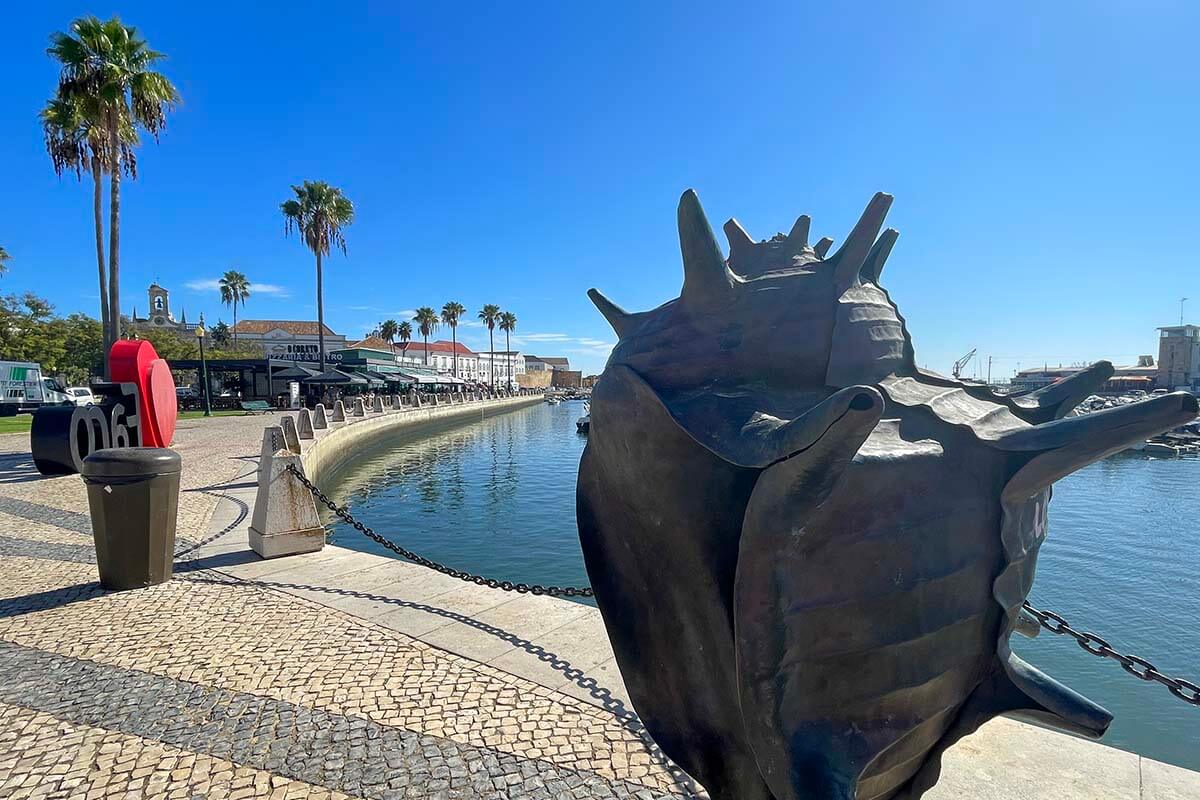 5. Jardim Manuel Bivar
Jardim Manuel Bivar is a small public garden located just across the street from Faro Marina. It's basically a shaded plaza with several big trees, benches, a small playground, etc. The main city gate – Arco da Vila – is located at the southern end of this square.
Being right in the center, this is a popular place for all kinds of events and fairs, e.g. live concerts, annual Christmas Markets, etc.
On weekends, there is usually an arts and crafts market which is well worth checking out. You can buy some traditional souvenirs here, not just the usual stuff that you find in most tourist locations in Algarve.
Good to know: This is also a popular meeting place – for locals, but also for all kinds of tours, etc. Faro Tourist Hop-on Hop-Off Train also stops here (although I'm really not sure if it's worth it). On the square, you can also find a drinking water fountain where you can refill your bottles.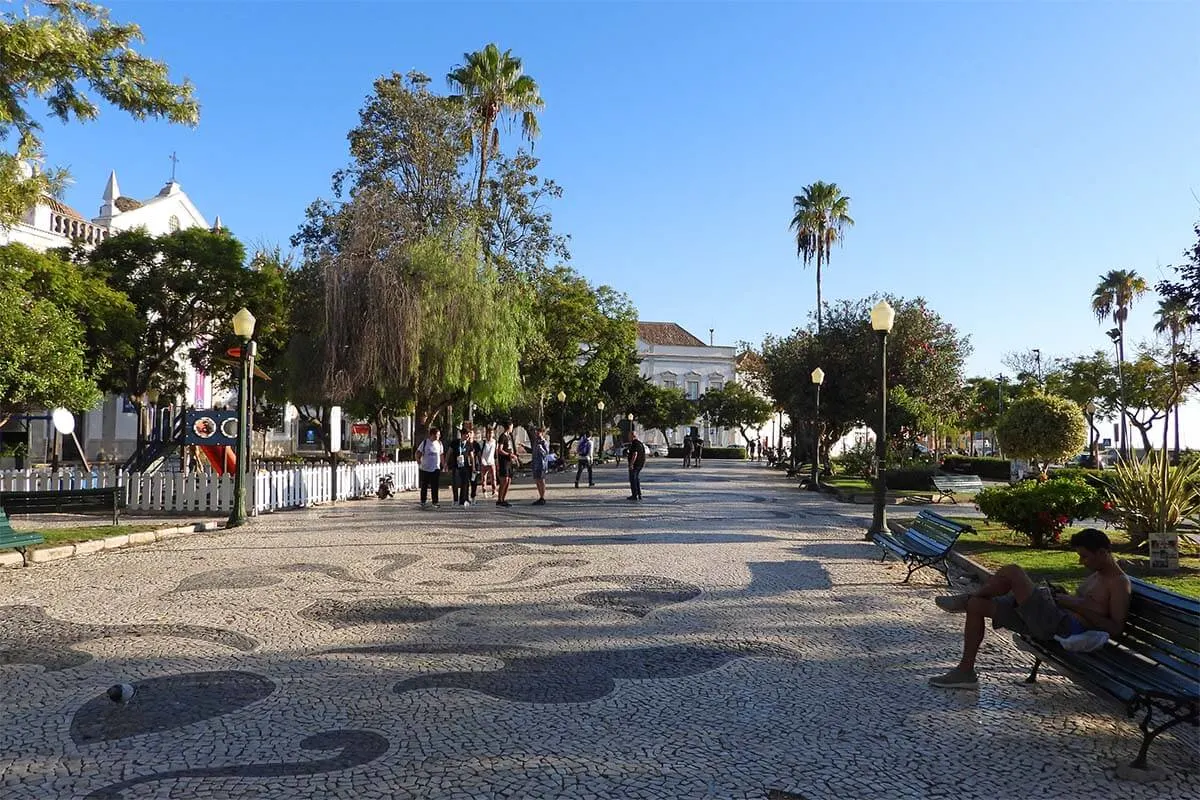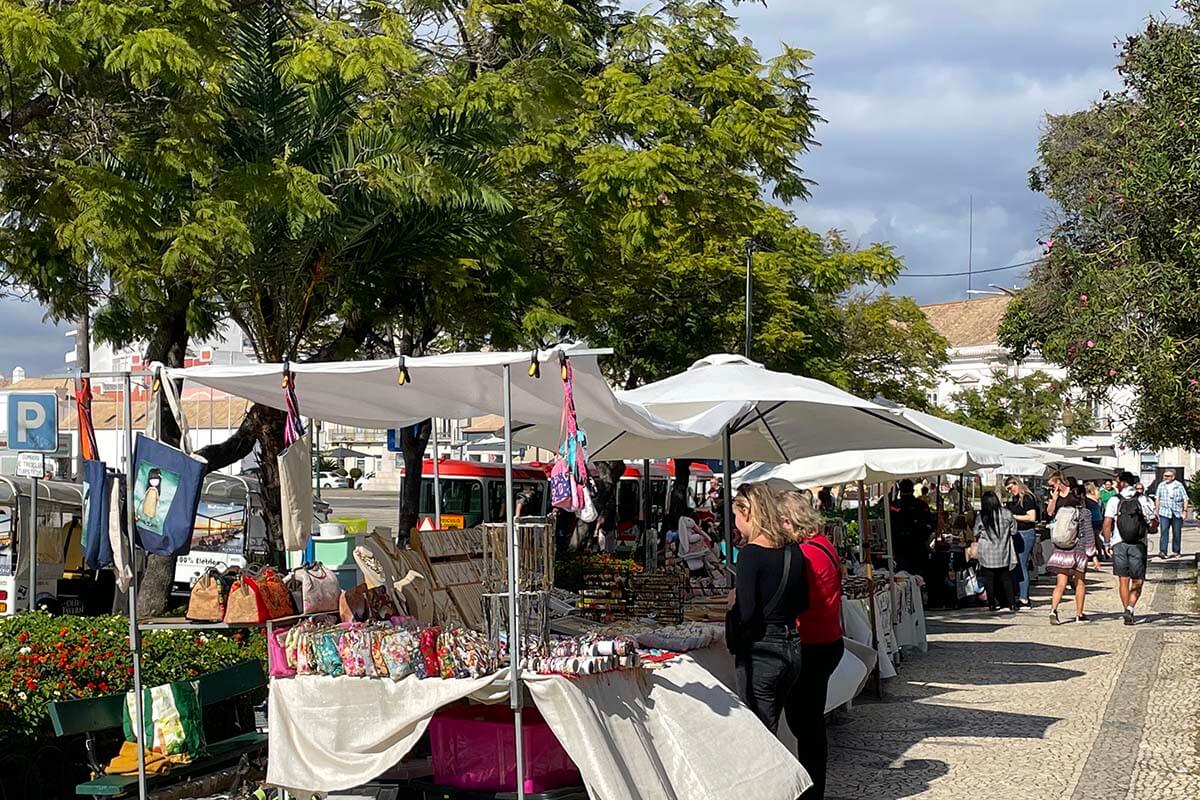 6. Municipal Museum of Faro
For a rather small town, there are quite a few museums in Faro. You can find a list of the main ones below. But if you visit just one museum in the city, make it the Municipal Museum of Faro (Museu Municipal de Faro).
Located in an old convent building inside the walled part of the old town, this is by far the most interesting museum in Faro.
This museum features some impressive archeological exhibitions found in the Faro area. The must-see is the Mosaic of Oceanus which dates from the 2nd to 3rd centuries. It was discovered during the works next to the current train station and is incredibly well-preserved.
The museum also has temporary exhibitions and also organizes Fado concerts. Depending on the season, there are concerts quite frequently, several times during the day. You can check availability and book tickets here.
But it's worth coming here even if just to see the building where the museum is housed – The Convent of Our Lady Of The Assumption. It was first commissioned in the 16th century by the Queen of Portugal and has been restored and remodeled multiple times throughout the centuries.
Practical information: Faro Municipal Museum is open daily except Mondays, from 10 AM to 6 PM (10.30 AM to 5 PM on weekends). You need about half an hour for a visit. There is a small fee to visit and they do accept cards.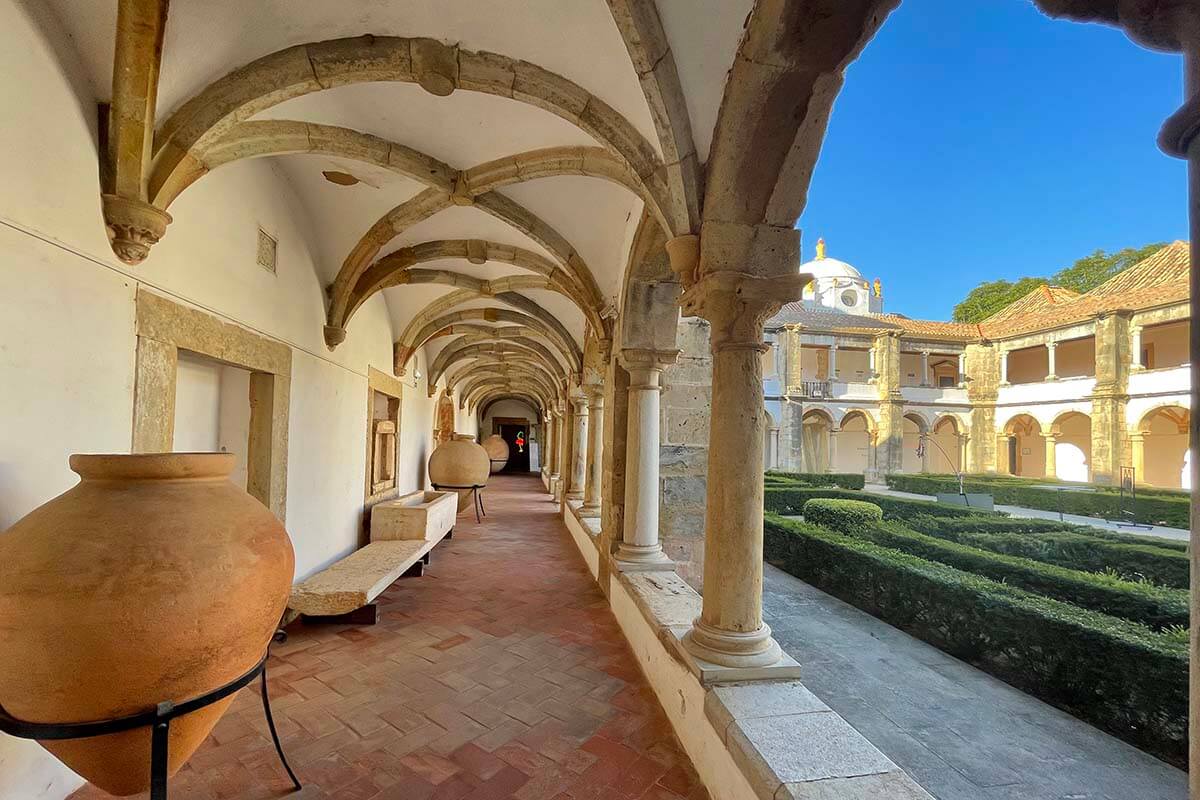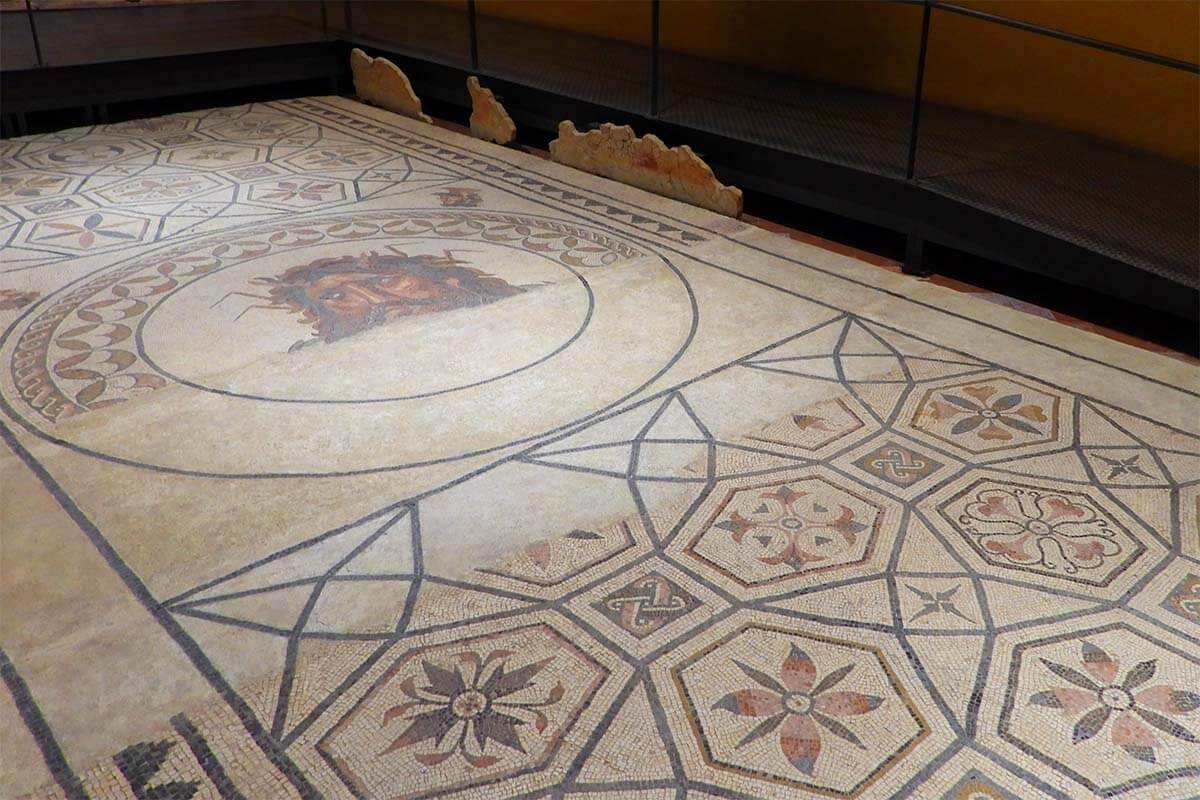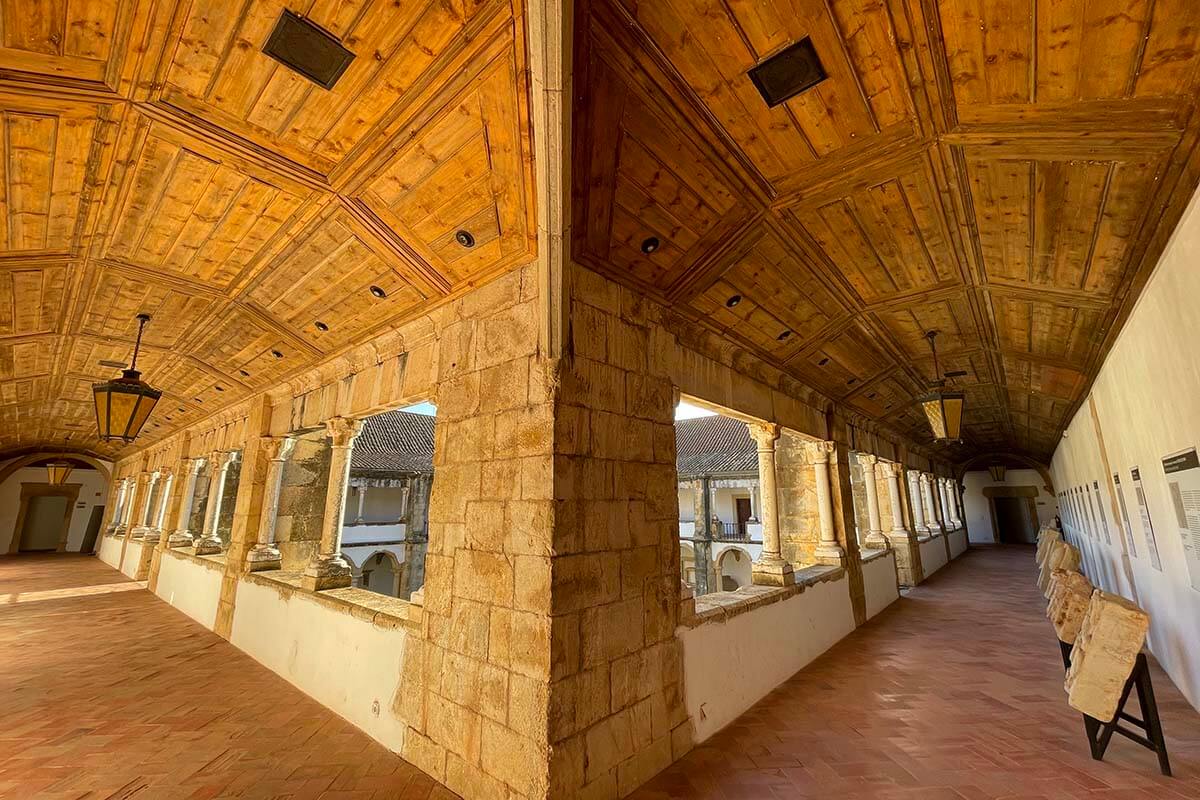 7. Faro Story Spot
Faro Story Spot is one of the newest attractions in Faro. It's an immersive multimedia experience that takes you on a journey through the centuries-old history of the city, until today.
It's really nicely done and gives you a good overview of the origins of the city, the main points of interest to visit in Faro today, as well as some info about the marine life of the Ria Formosa Nature Reserve. It also briefly introduces you to local gastronomy, and you can also opt to taste some local specialties at the end of the tour.
The whole experience is a bit of a mix of everything related to Faro, but since you go from one themed room to another, it somehow fits together and has a very positive vibe. It takes about 45 minutes and is suitable for all ages (but will be most enjoyable for families).
We really enjoyed a visit here. The only negative is that the price is quite steep compared to all other landmarks and sights in Faro. But it sure makes your visit to the city a bit more special by giving a very different view of it compared to just seeing churches and traditional museums.
Practical information: Faro Story Spot is open daily from 10 AM to 10 PM (!) during the peak summer season (June through September). The rest of the year, it closes at 5.30 PM and is closed on Sundays and some public holidays. The tour is available in four languages including English. You can find more info on their website, or simply pop in and check it out. It's located next to the Cathedral, so you'll pass here anyway.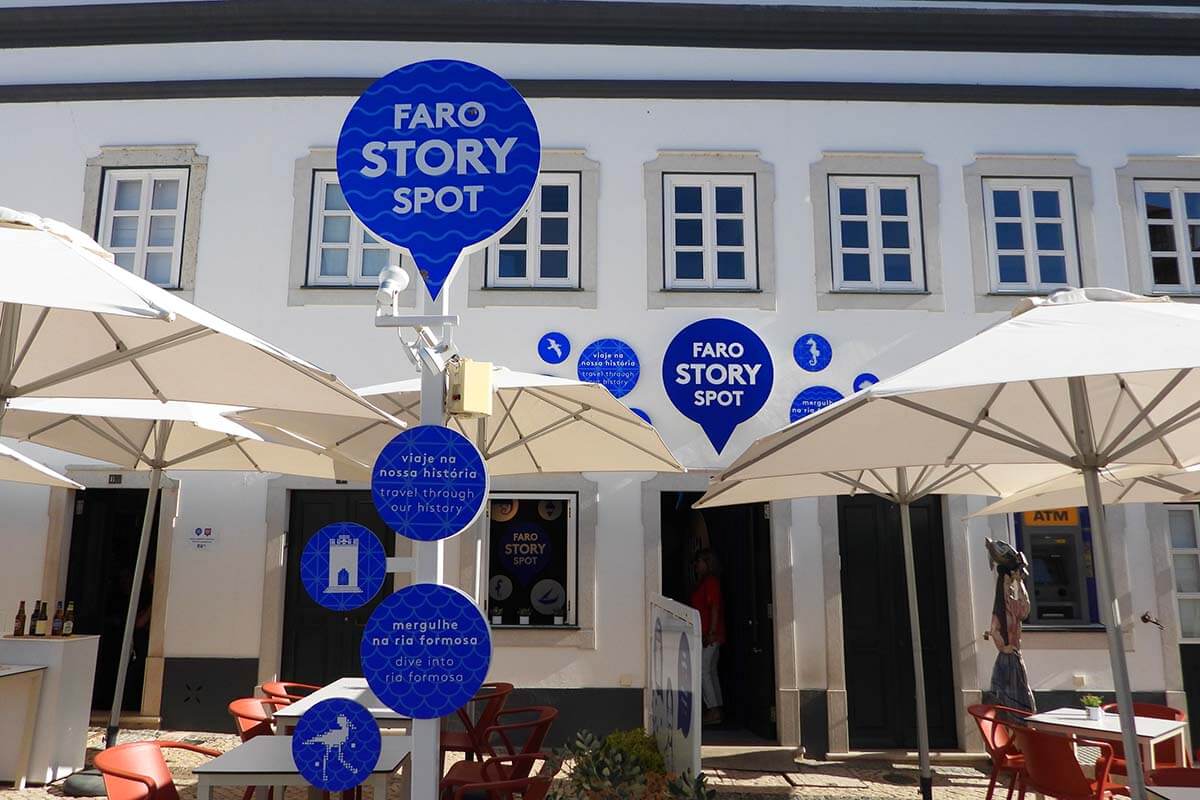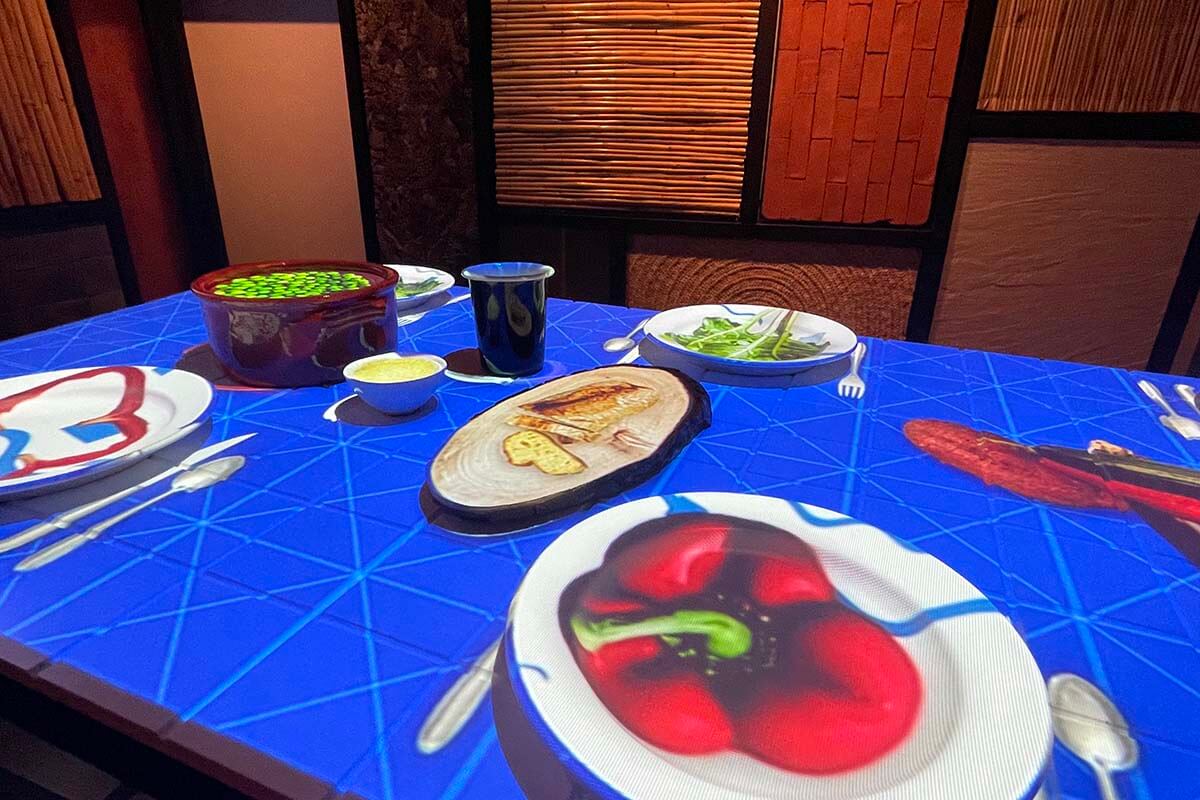 8. Ria Formosa Natural Park
Ria Formosa is a natural reserve that stretches through a big part of eastern Algarve, also around Faro.
This stunning coastal lagoon is protected from the ocean by several islands and is home to diverse bird species and unique ecosystems. This vast area encompasses different canals, salt marshes, and tidal flats. A visit here is a serene escape from the city, plus, you have fantastic birdwatching opportunities.
There are several ways to visit Ria Formosa from Faro, most of them involve taking a boat. But there are also segway tours and bike tours available.
If you have half a day or even a whole day to spare, you can take a ferry to one of the nearby beaches (more info below) or opt for a hop-on hop-off islands tour which allows you to visit several islands of Ria Formosa at your own pace.
Alternatively, if you want to see a lot in a short time, consider one of the boat tours. They typically take about 3-4 hours and bring you to several islands. This highly-rated tour on a small modern catamaran is the most popular excursion in Faro. It passes several really nice areas and stops at two islands – Farol and Deserta.
TIP: If you are short on time, consider a 1-hour sunset tour. I recently did it with my mom and we both absolutely loved it. There is just something about the sunsets in Algarve – they are absolutely magical! We did this tour after the whole day of sightseeing in Faro and I can't imagine a better and more relaxing way to end the day. The water was like a mirror…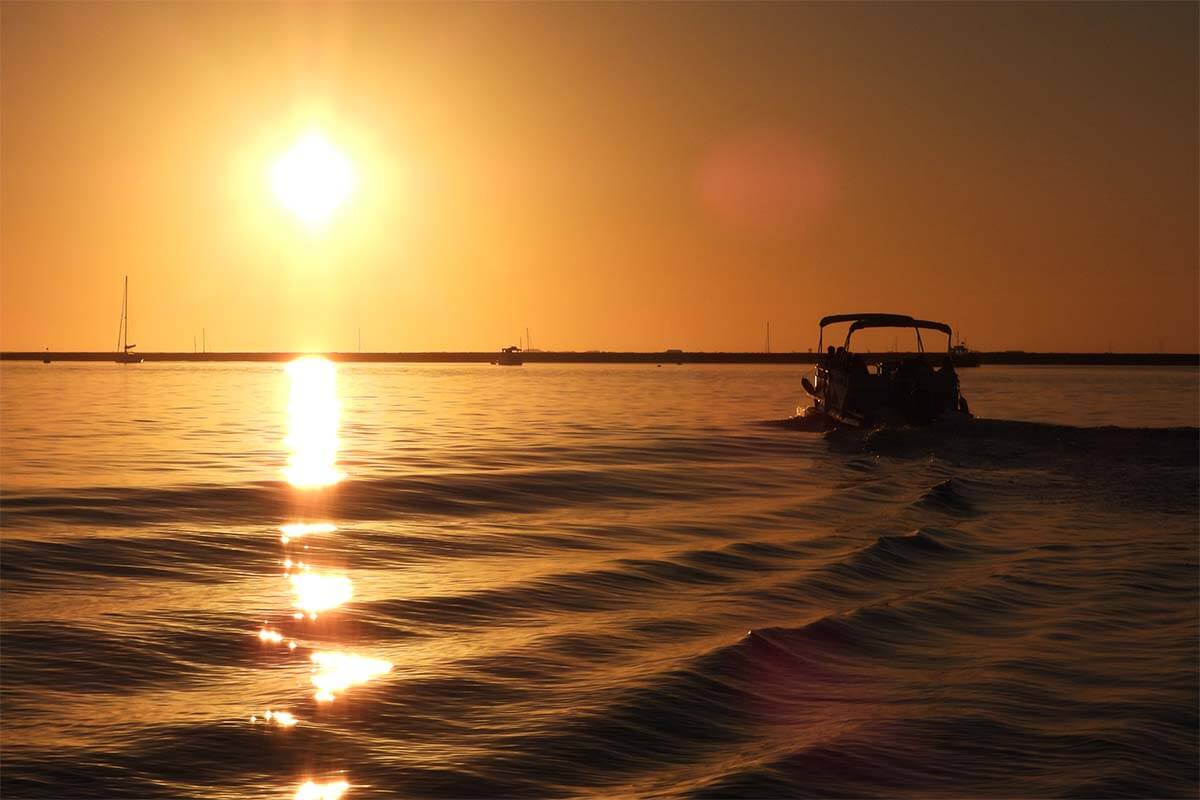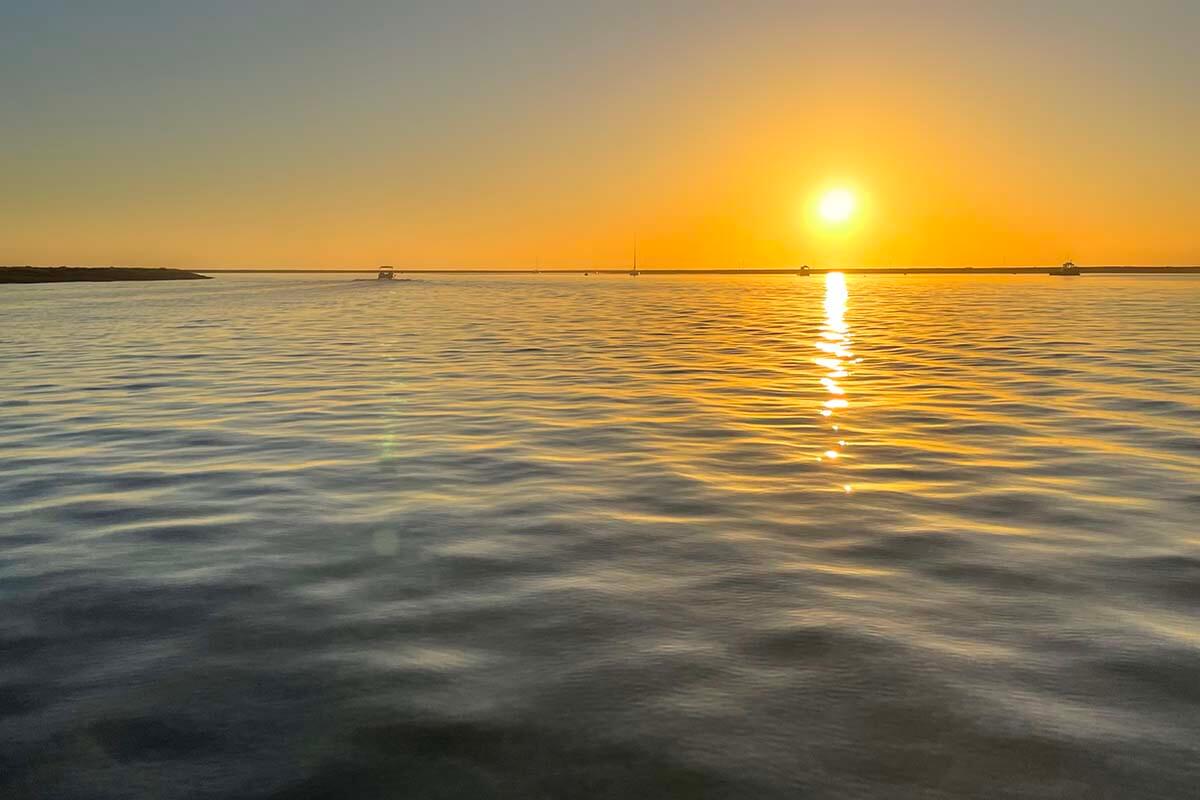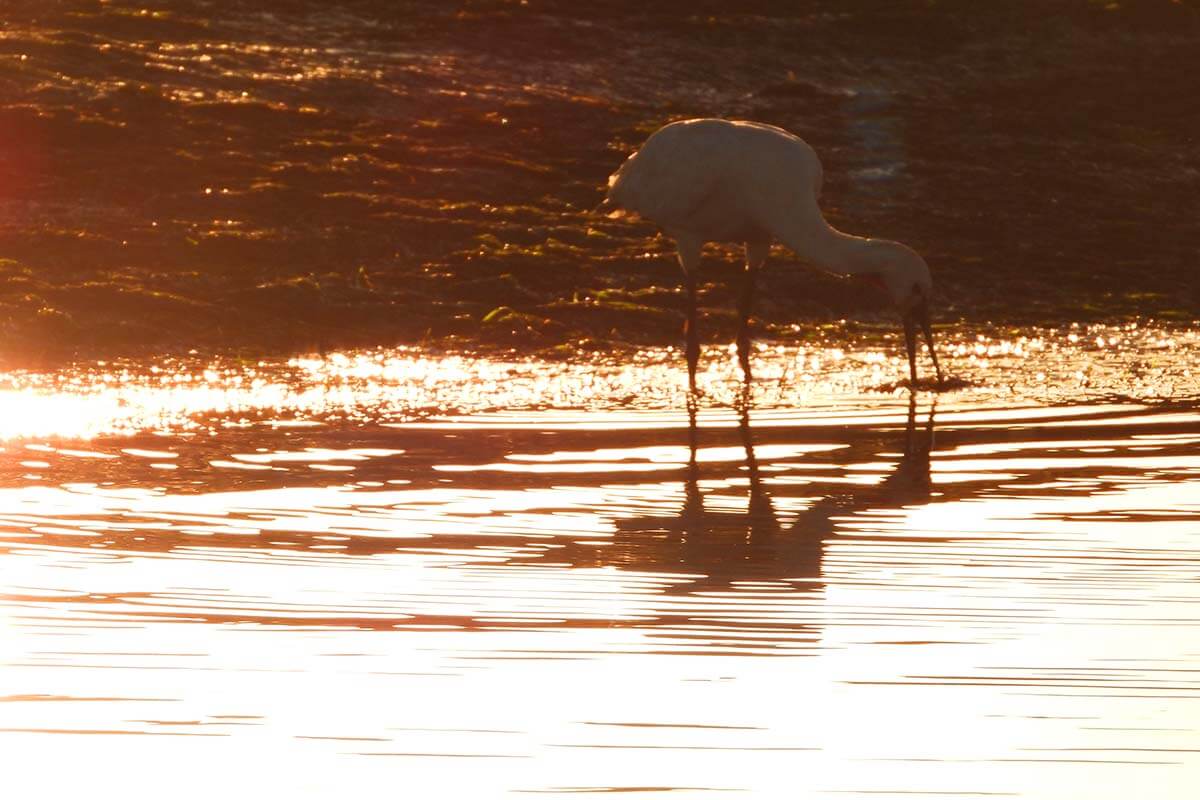 9. More Churches
In addition to the Cathedral and Carmo Church which you absolutely shouldn't miss, there are quite a few other churches in and near Faro.
Whether you want to see more of them, I'll leave it up to you. It will also depend on how much time you have.
But if you have time, here are our top 2 recommendations that we think are well worth it:
Igreja de São Pedro. This is a very nice church located between the main sights of Faro Old Town and Carmo Church (the one with the Bone Chapel). When walking there, you'll likely pass this church anyway, so check if it's open and take a look inside. There is no fee to visit.
Igreja de São Lourenço. This is the most beautiful church in Algarve. The azulejo tiles here are incredible! Unfortunately, they don't allow pictures inside… Anyway, this church is located outside of the city, about 15 minutes drive from Faro old town. But I really want to mention it because it's very impressive. If you have a car and are road-tripping in the area, you'll likely pass here anyway – be sure to check it out.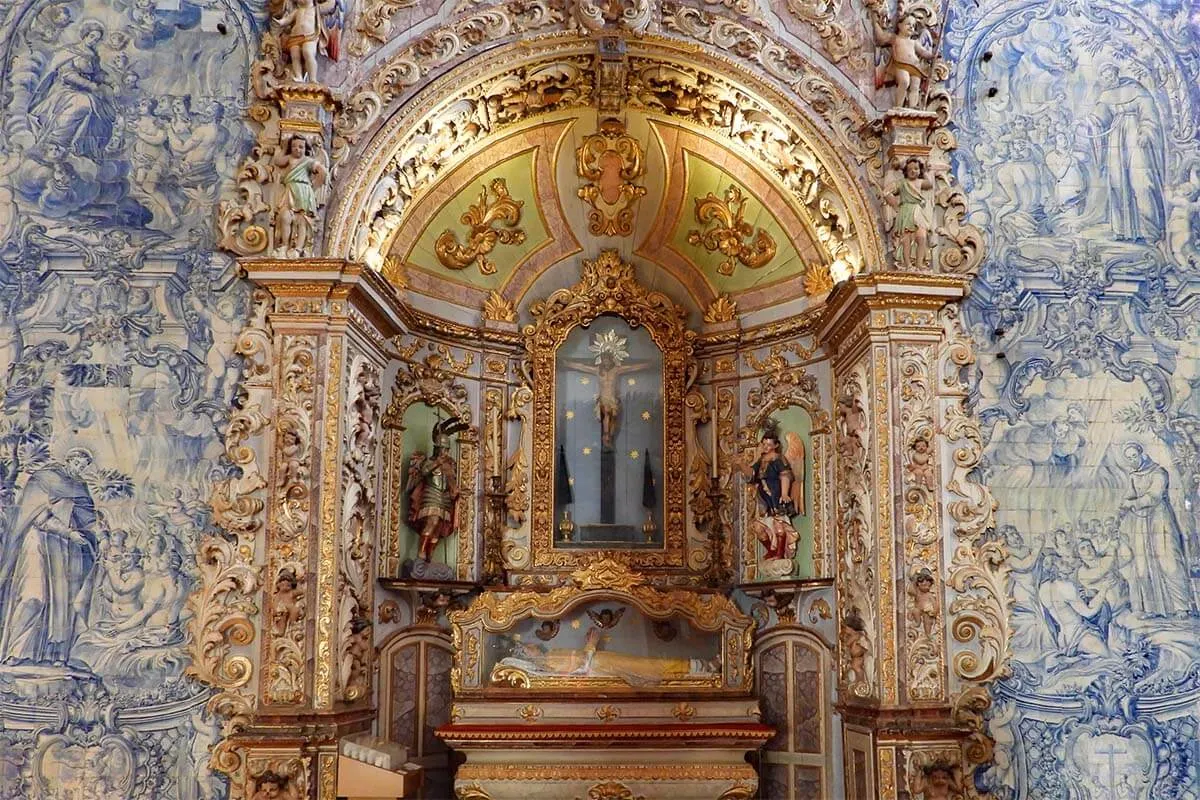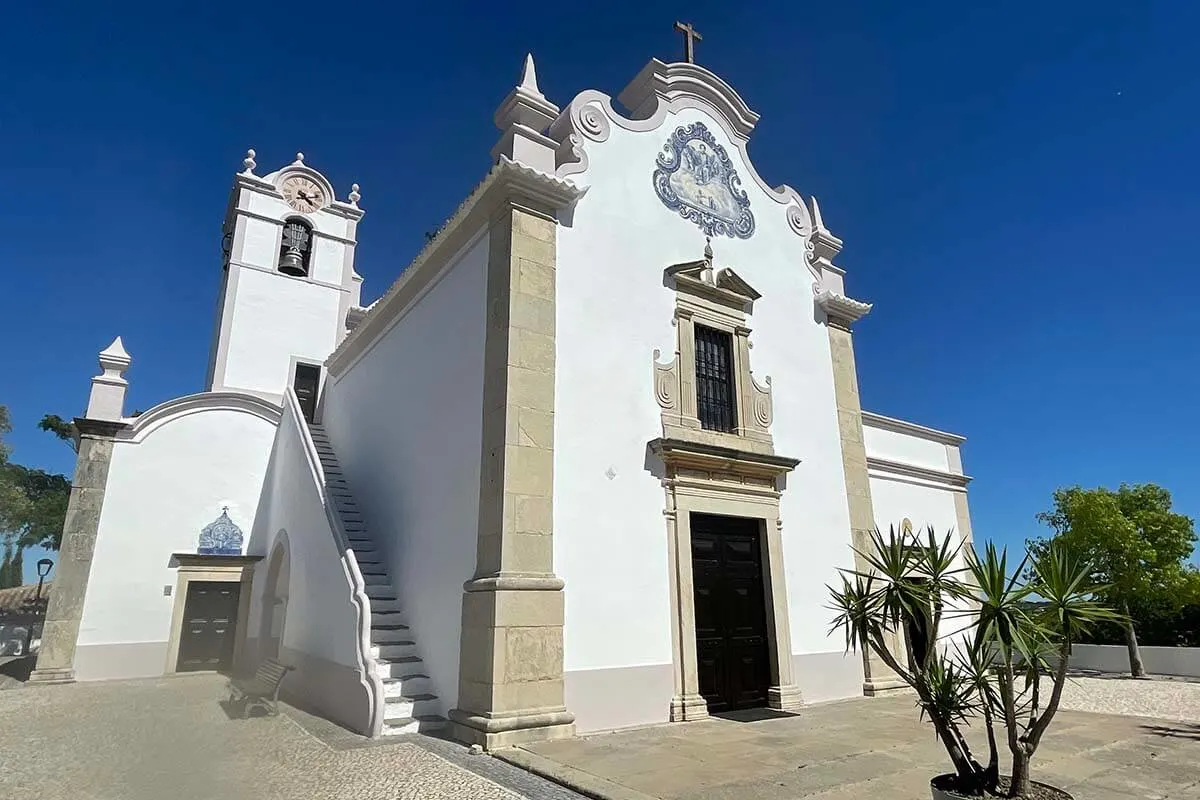 10. More Museums
For a rather small town, there are quite a few museums in Faro. Here's an overview of the main ones apart from the ones already mentioned above:
Museu Regional do Algarve, located in the old town. This museum is dedicated to the Algarve region. It's a low-key ethnographical museum featuring some local artifacts and showcasing daily life in the past.
Museu Marítimo Almirante Ramalho Ortigão is located at the Marina. This small museum is dedicated to maritime history and features some ship models, etc.
Centro Ciência Viva do Algarve (Algarve Life Sciences Center) is located at the waterfront, just outside of the city walls and a short walk from the Cathedral. This is a natural history museum + aquarium + kids' science center in one place. If you are looking for something fun to do in Faro with kids, you'll want to check it out!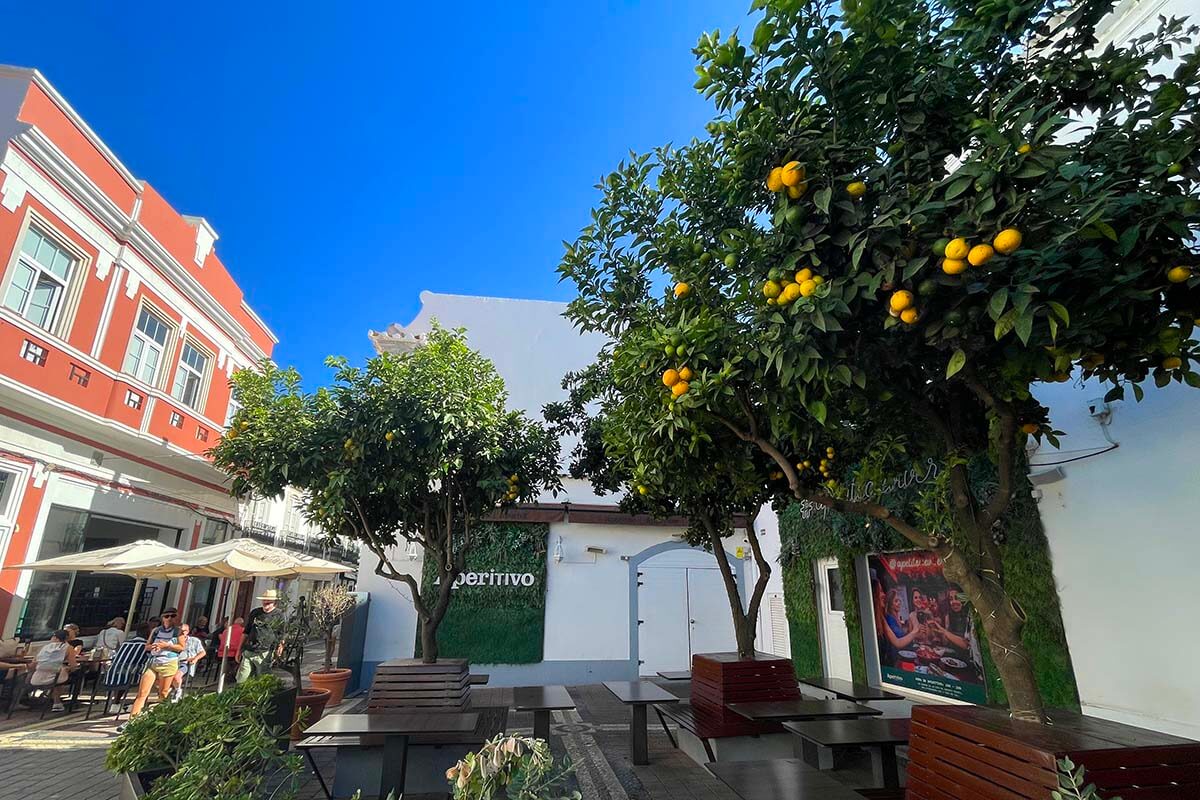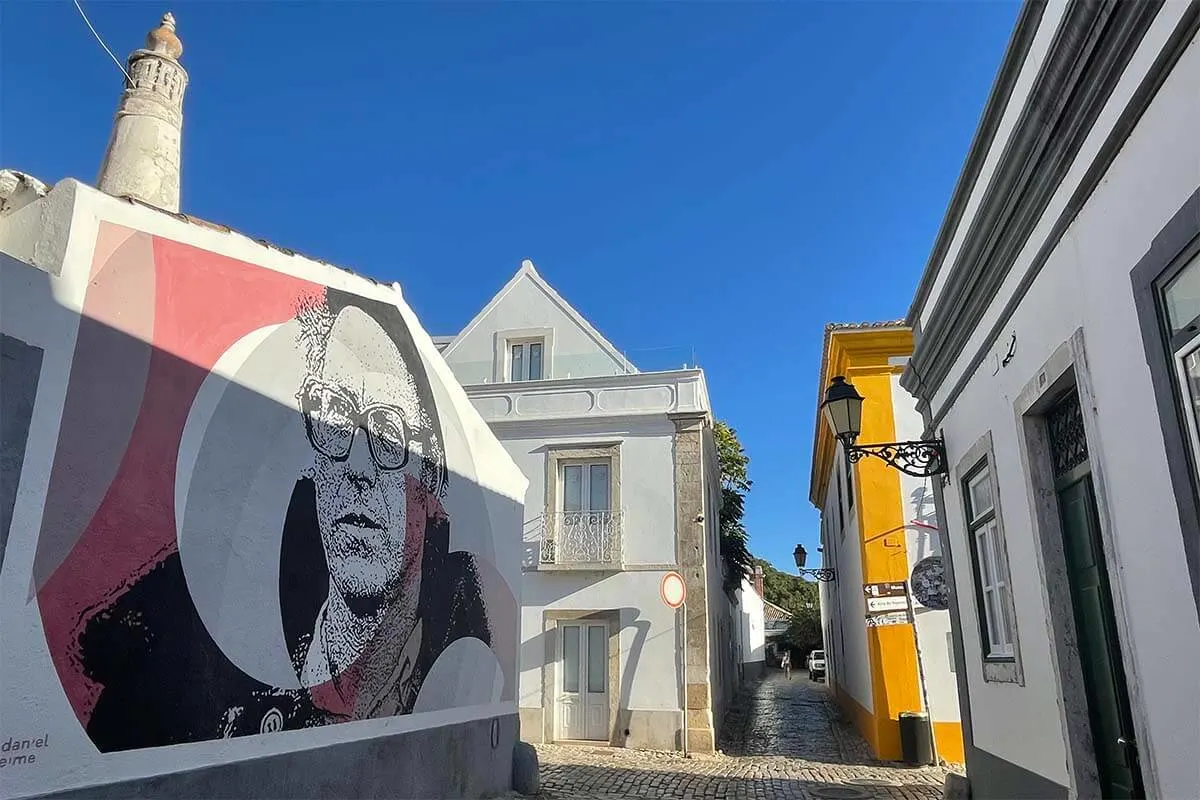 11. Faro Beach
Praia de Faro is the main beach of the city. It's located on one of the barrier islands of Ria Formosa reserve, outside of the town, and next to the airport.
This beach can be reached by car or by ferry from the old town (I indicated the location on the map). The ferry takes about 25 minutes and costs about 4 euros for a return journey. Along the way, you can also see the lagoons of Ria Formosa.
Faro Beach is a rather simple, flat white-sand beach that stretches for several kilometers. There are numerous restaurants and cafes there, water sports rentals, etc. Most places are only open during the main tourist season (+- April to the end of October – beginning of November).
It's a popular place for locals to escape the city for a few hours. But if I'm completely honest (and locals agree too), this is not the nicest beach in the area (not even to mention the airplane noise).
If you decide to come here, it's best to combine a visit to the beach with some exploration of the Ria Formosa, see some birds, enjoy a nice meal at a local restaurant, etc. There is a nice segway tour in this area that offers a combination of all of the above.
TIP: If you are looking for a nice beach to visit in this part of the Algarve, the beaches on the Deserta, Farol, and Culatra islands are much better (those are the beaches where most boat tours go to, and where you can also visit with the hop-on-hop-off boat).
READ ALSO: Most Beautiful Beaches in Algarve (hint – they are all located much further west)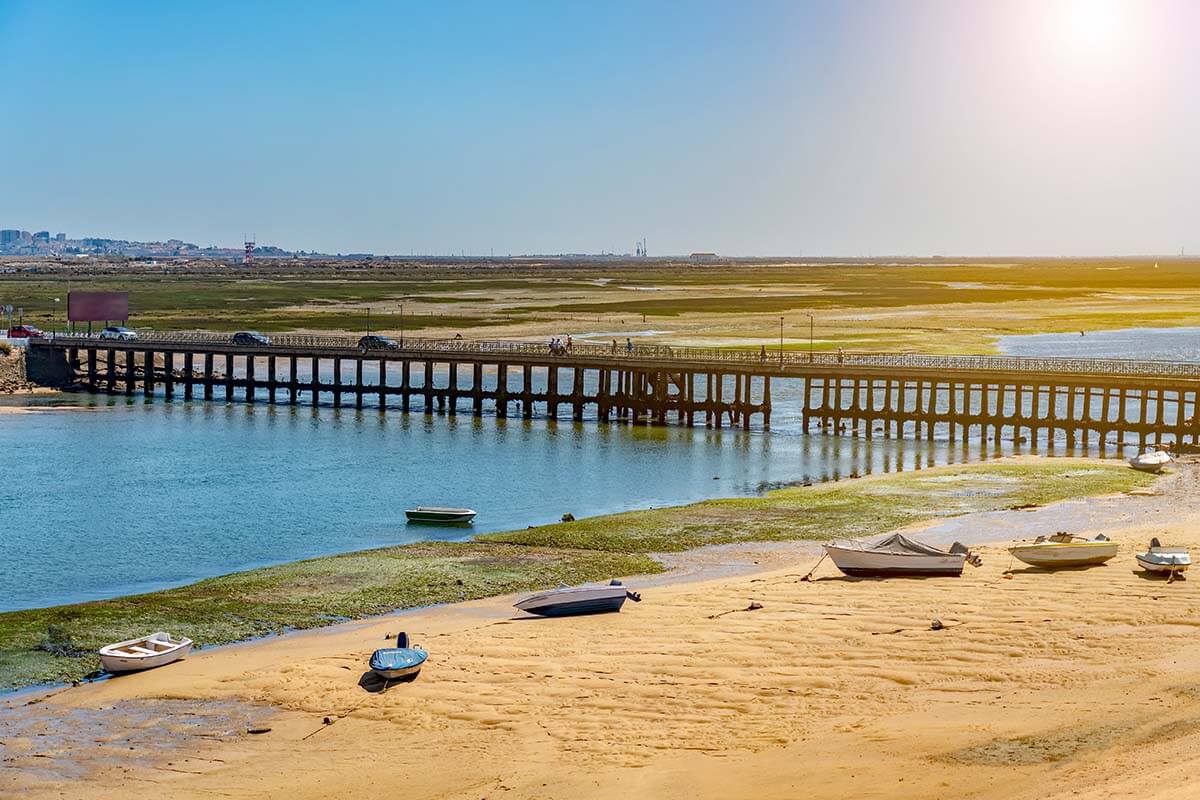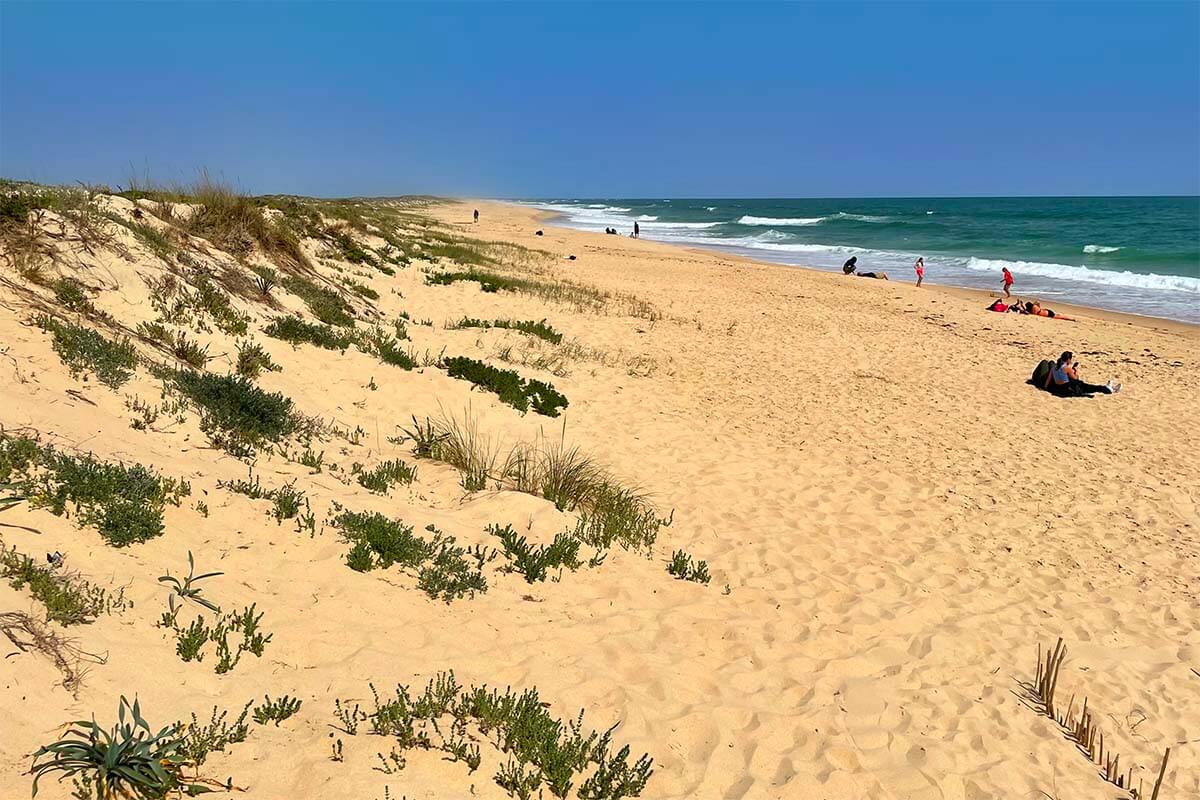 12. Local Food
No guide to Faro would be complete without mentioning local food. There are tons of nice restaurants and eateries in town (and on the beaches), so you won't have difficulties finding something nice.
Try dishes like grilled fish, sardines, cataplana (seafood stew), and Algarvian desserts with figs, carob, and almonds. Algarve's restaurants offer some of the freshest seafood you'll ever taste. The flavors are rich, and the ambiance is often relaxed and welcoming.
Just be sure to check the reviews (we usually use Google Maps) and remember that things are laid back in the Algarve. It's usually not the best idea to go to a restaurant if you are short on time. Sometimes it works out and you get quick service, but it can also take a lot longer than anticipated and ruin your mood… If you are in a hurry, it's better to get something on the go for lunch and then sit down for a long quiet meal in the evening.
TIP: This highly-rated old town walking food tour is a nice way to explore Faro and its food with a local. We absolutely love food tours when we travel – it's such a great way to experience a new place.
If you like visiting local markets, check out the Faro Municipal Market. On the same site, you'll find a food market, but also a supermarket and lots of cafes and restaurants. It's a good place to sample local specialties or get some traditional treats to take home with you.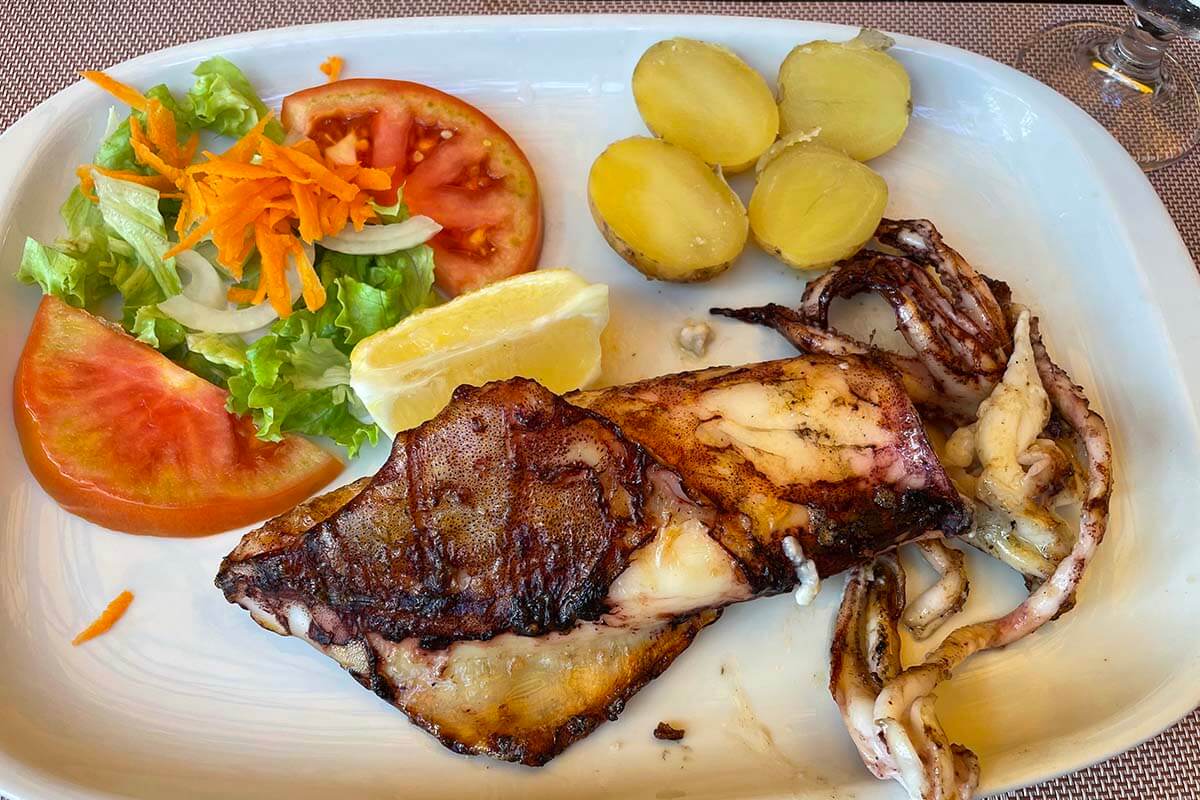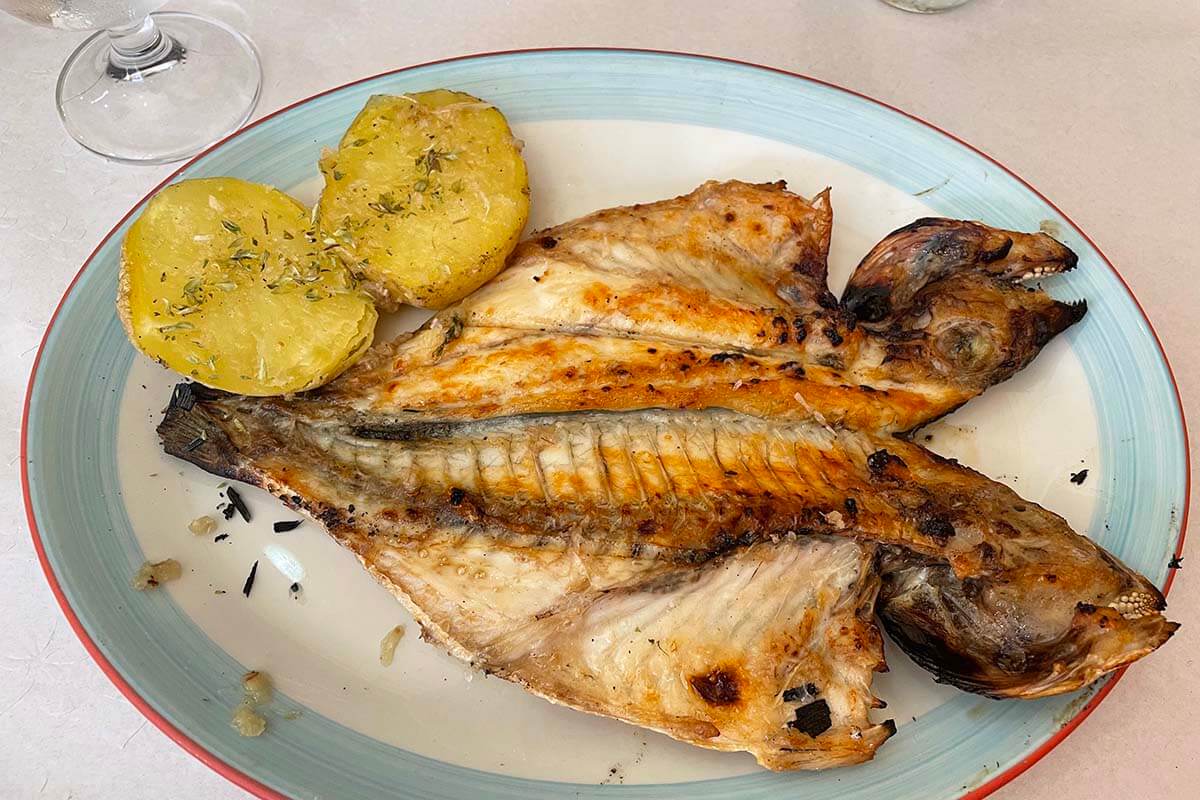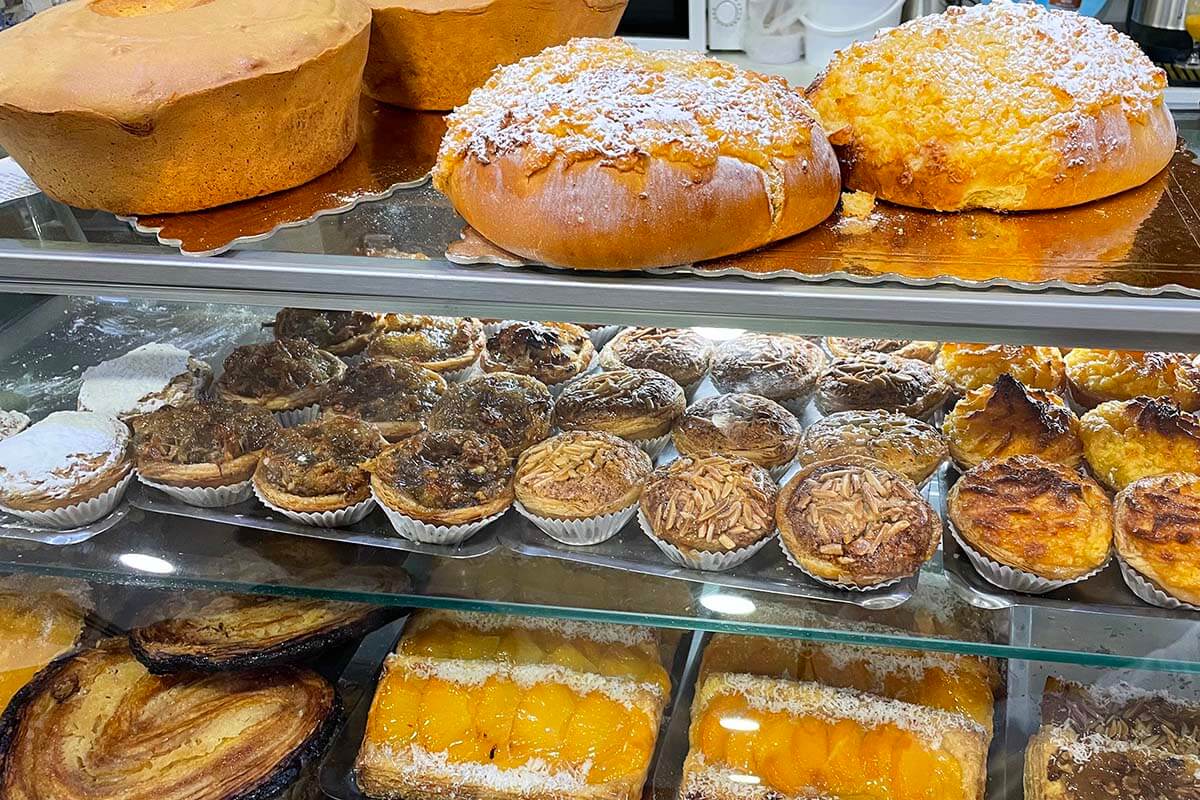 13. Shopping
As far as shopping goes, apart from souvenirs in the old town, shopping in Faro isn't that great. However…
There are a couple of really good places to go shopping near Faro. One of them is Forum Algarve 5-10 minutes drive from the center. And the other one – even bigger – is the MAR Shopping Center that is located 10-15 minutes drive from the city center.
MAR is a multi-storey indoor shopping mall that also has a food court, a cinema (with movies in the original language), and several restaurants. The shopping mall is also interconnected to a big IKEA. Just next door, you will also find the Algarve Designer Outlet.
If you are in Faro for a longer vacation, check it out. It's also a nice place to spend a couple of hours when it's too warm for sightseeing.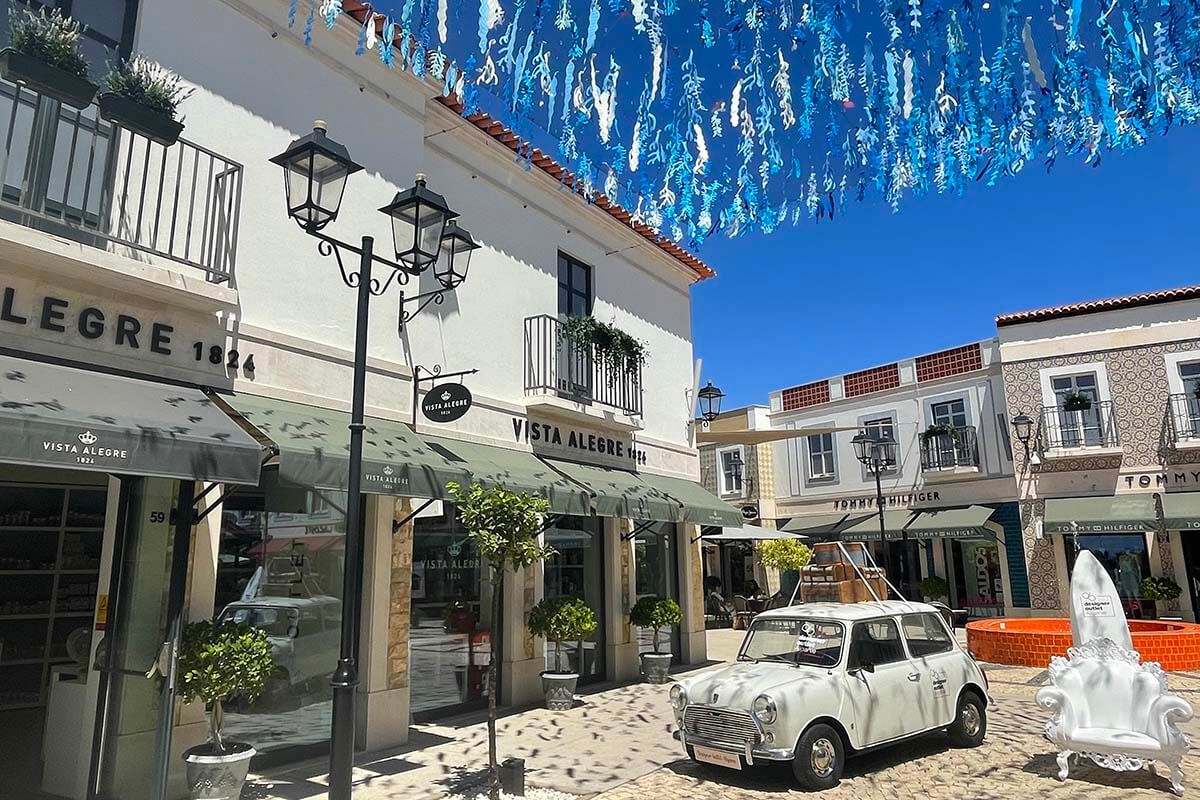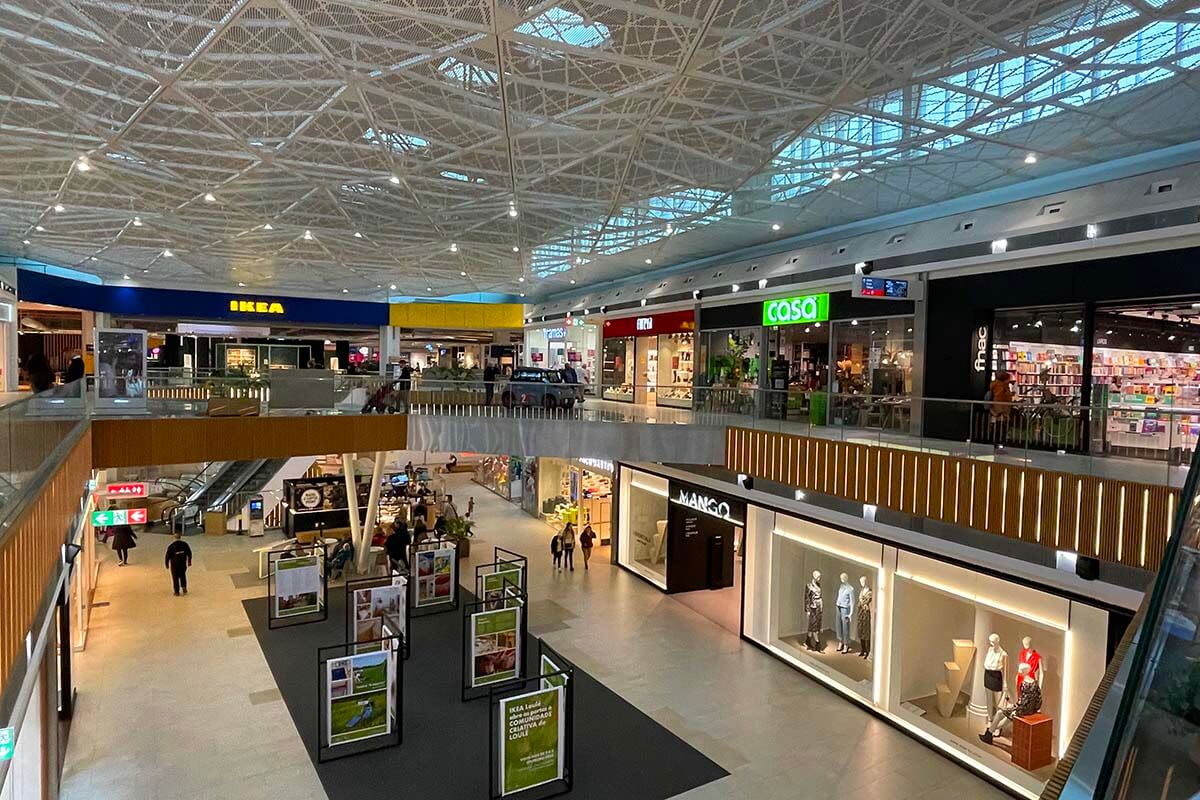 14. Excursions & Day Trips from Faro
In addition to all the nice things to do in Faro, there is so much more to see and experience in the Algarve region. If you have a car, you can easily spend several weeks exploring the region and still not see it all.
But also without a car, you can still see a lot. There are boat tours to some of the nicest places along the coast and bus/jeep tours inland. You can also simply get a taxi/Uber if you want to visit some places near Faro (taxis are very affordable in Algarve).
Here are some of the best tours that we recommend near Faro:
We did most of these tours and really enjoyed them all. Benagil Cave is a must, of course, and Ria Formosa too – if you are in the eastern Algarve anyway. The cork factory is surprisingly interesting (and fascinating how they still do everything by hand!), and we also really enjoyed the winery tour and tasting.
TIP: We recommend renting a car if you want to explore more of Algarve. Except for the winery tour where it's safer to take a taxi ;).
In addition to guided tours, you can also visit some of the nicest towns nearby: Tavira, Olhao, and Loulé are all very close to Faro and all worth a few hours of your time.
READ ALSO: Best Things to Do in Tavira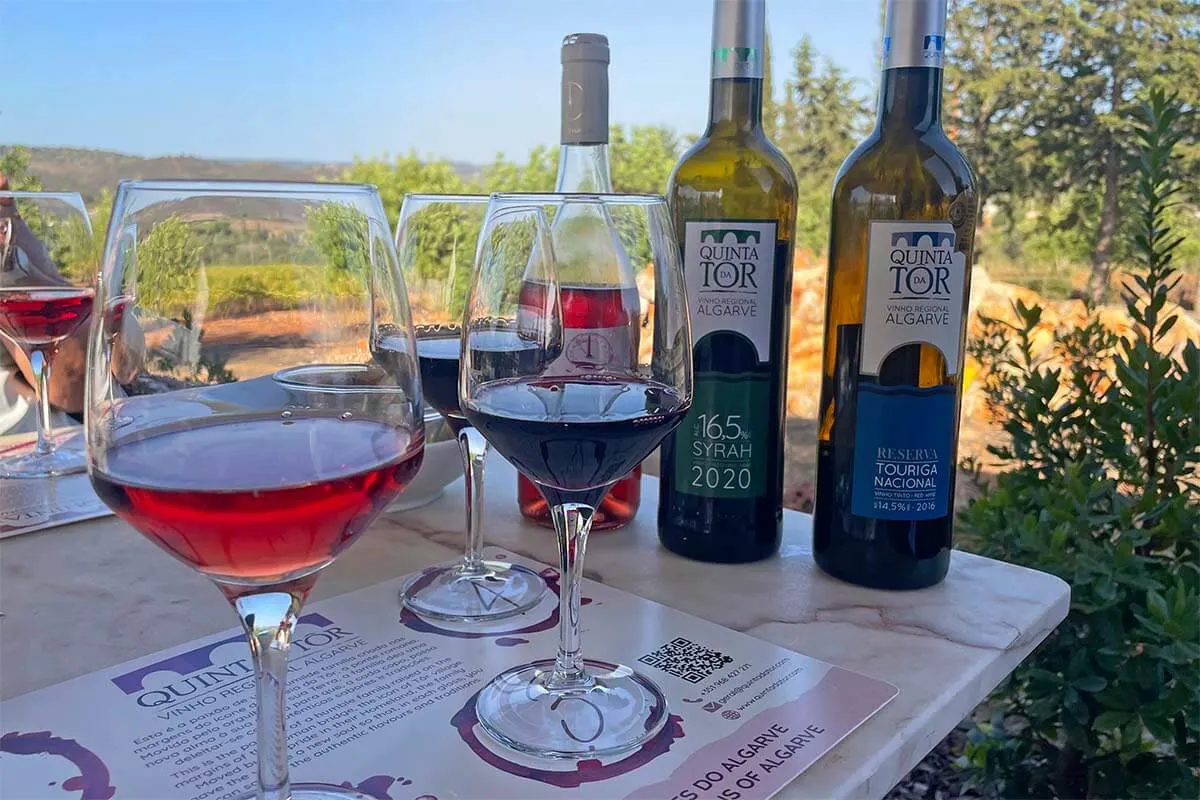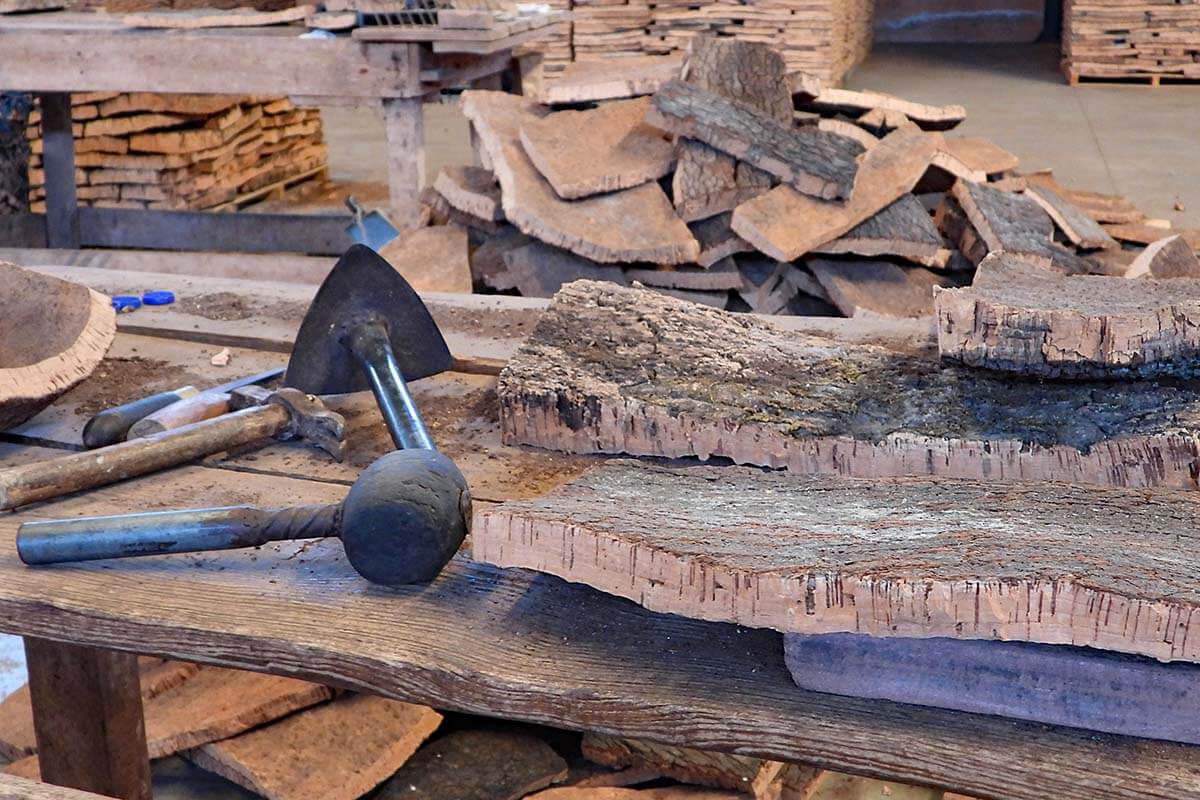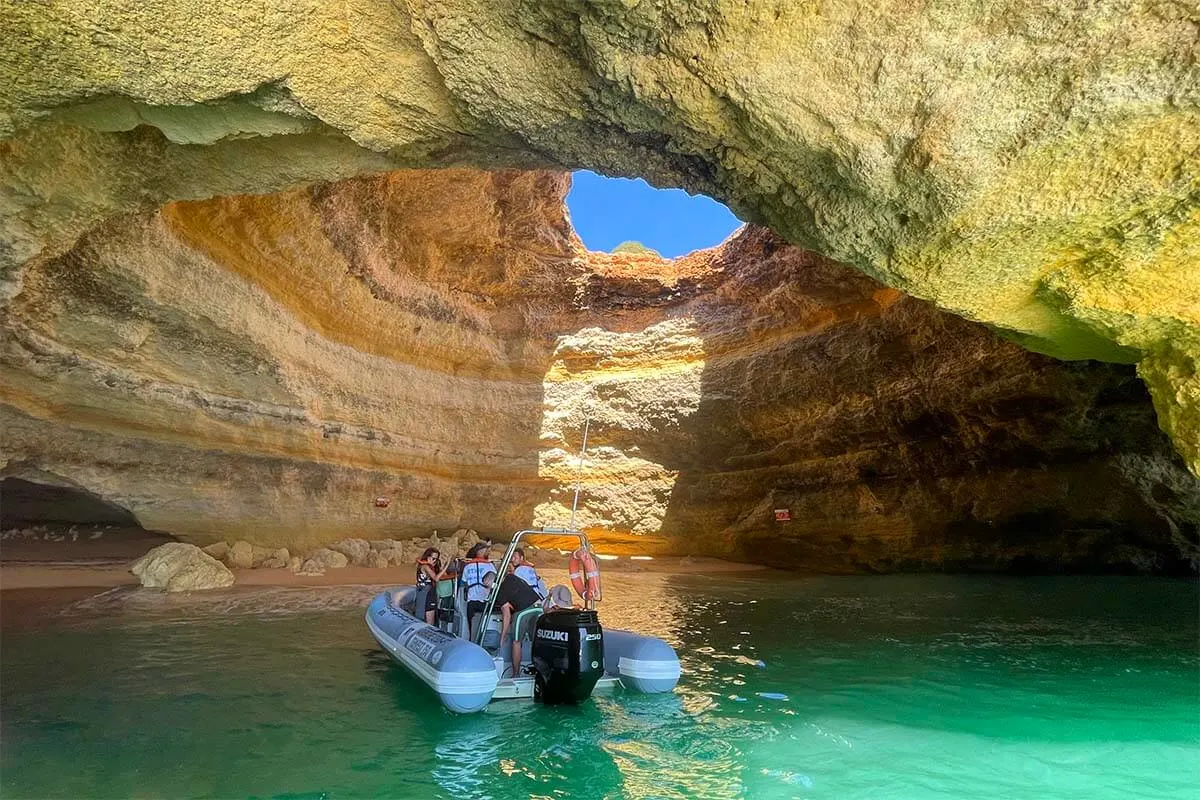 Where to Stay in Faro
While you don't absolutely have to stay in Faro in order to explore the best of the city, it can also be a good base for sightseeing in the eastern Algarve.
Because of its proximity to the airport and good transport connections (also by train), Faro is also a popular place to stay for those who decide not to rent a car.
Here are some of the best-rated hotels in Faro:
€€€€€ 3 HB Faro – a modern 5* luxury hotel.
€€€€ Hotel Faro & Beach Club – located in the heart of the old town, this mid-budget hotel offers great value (+ an amazing rooftop bar and pool!).
€€€ AP Eva Senses – located at the Marina and just a few minutes walk from the station, this is one of the most popular hotels in the city.
€€€ Roots Hotel – this highly-rated hotel offers a very good price/quality ratio.
€€ Hotel Sol Algarve by Kavia – a very nice lower-budget hotel close to the station and the old town.
READ ALSO: Where to Stay in Algarve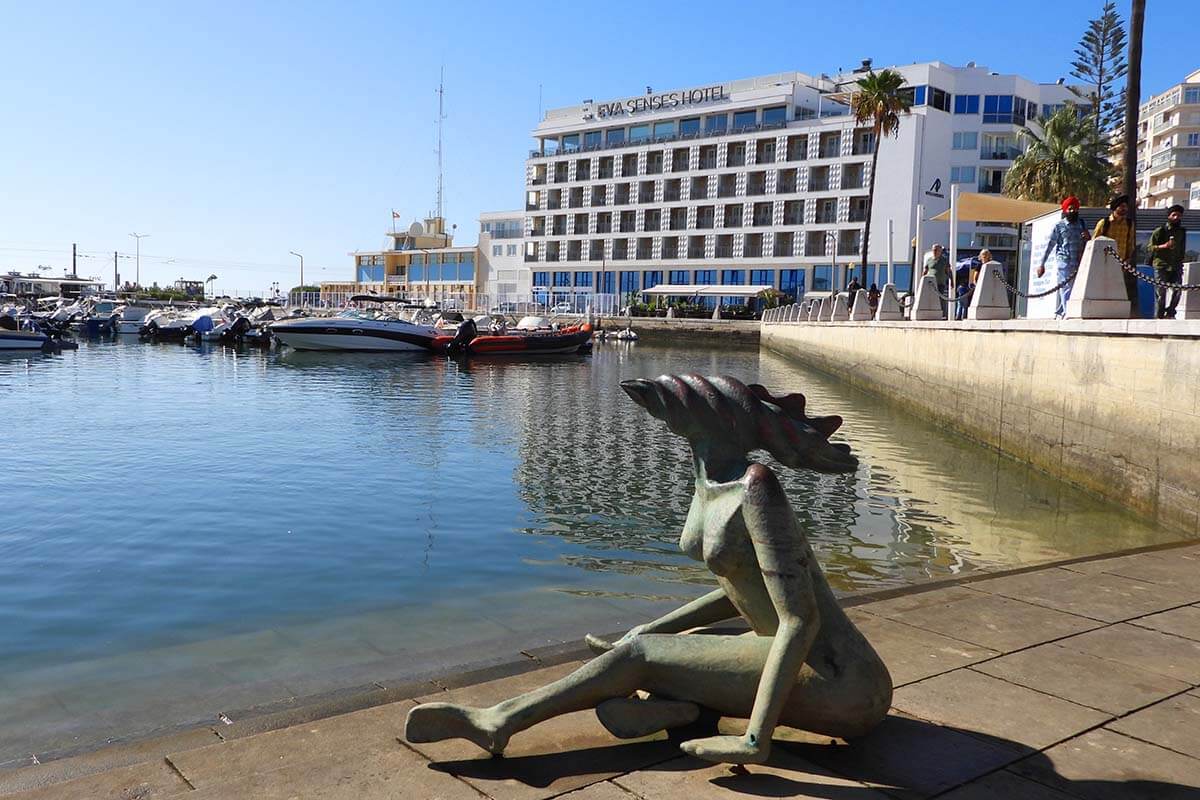 Where to Park for Sightseeing in Faro
If you are visiting Faro by car, you might be wondering where to leave your car. This highly depends on the season when you visit and parking can be a bit challenging in the old town. But in general, if you don't mind walking 10-15 minutes from the main tourist areas, you can find some convenient parking areas and it shouldn't be an issue. (We personally never had trouble finding a spot).
TIP: Be sure to check if you have to pay for parking before leaving your car. Many parkings are free, but some have a small fee (usually not even a euro per hour).
I indicated some of the best car parks in Faro on our map above. The parking at the Marina is very central but is not the easiest to get to (and some streets are quite narrow). For that, the area parking on the eastern side of the city walls (near the Church São Francisco) is better.
We also found the parking near Carmo Church very convenient and easy to get to. It was quite an entertaining experience too. Upon arrival, the guy issued us a 'ticket' with the entrance time written on it by hand and passed it to us via a long stick without having to get up from his desk. Unfortunately, by the time we got back from the sunset boat tour, he was long gone and there was nobody to collect the fees anymore…
I kept that hand-written ticket as a souvenir – see the picture below. Nowadays, when everything is automated and digitalized, travel experiences like this are becoming very rare. But you often remember these trivial things much longer than the churches or museums you saw that day…
Oh, and talking about fun travel experiences. We had a 'day menu' at one of the local restaurants in Faro where the owner didn't speak a word of English. After the main meal, you could choose a dessert. I took the cake of the day and my mom thought she chose an orange cake. But they simply brought her an orange and a knife. It was absolutely delicious, but you should have seen her face. 🙂
My best tip is to embrace these quirky travel experiences rather than getting frustrated about things being different from what you expect. You'll enjoy your trip to Algarve so much more if you just take things as they are.
READ ALSO: Algarve Travel Tips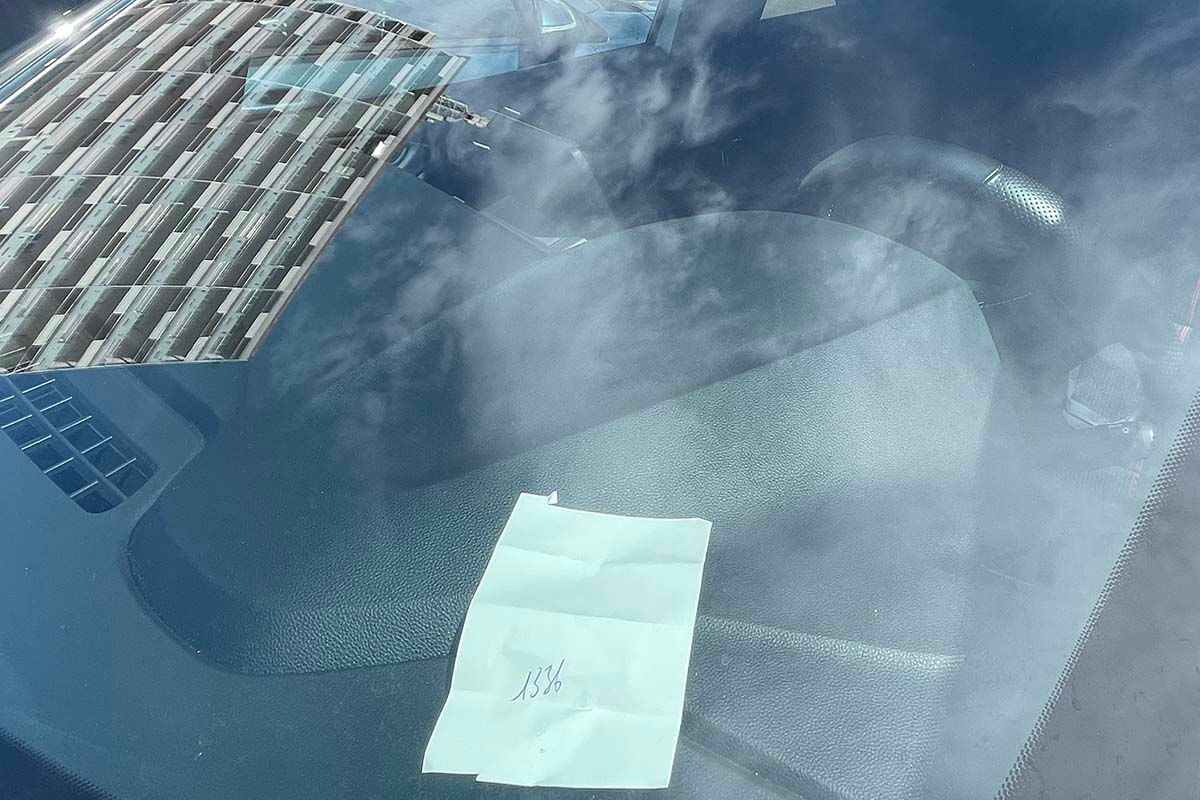 So, this is our guide to some of the best places to see and things to do in Faro.
I hope that this gives you a better idea of what to expect and make the most of your visit to the capital city of the Algarve. Have a great trip!
READ ALSO: Best Places to See & Things to Do in Algarve
More inspiration and tips for your trip to Algarve:
More travel inspiration for Portugal:
If you found this post helpful, don't forget to bookmark it and share it with your friends. Are you on Pinterest? Pin this image!