Algarve in southern Portugal is a destination that has something to offer at any time of the year. But your experience will highly depend on the season or even the specific month when you visit. In this guide, you can learn what to expect when visiting the Algarve in April.
What is the weather like in Algarve in April? What kind of clothes to pack? How busy is it? Is everything open? Is everything closed at Easter? Is April a good month for beaches, hiking, or sightseeing in the Algarve? Can you swim in the sea?…
In this article, you can find answers to all these questions, as well as our experience-based tips for your spring visit to this beautiful part of Portugal. We also share the advantages and disadvantages of visiting the Algarve in April.
Find out!
Top 3 Experiences & Tours in Algarve: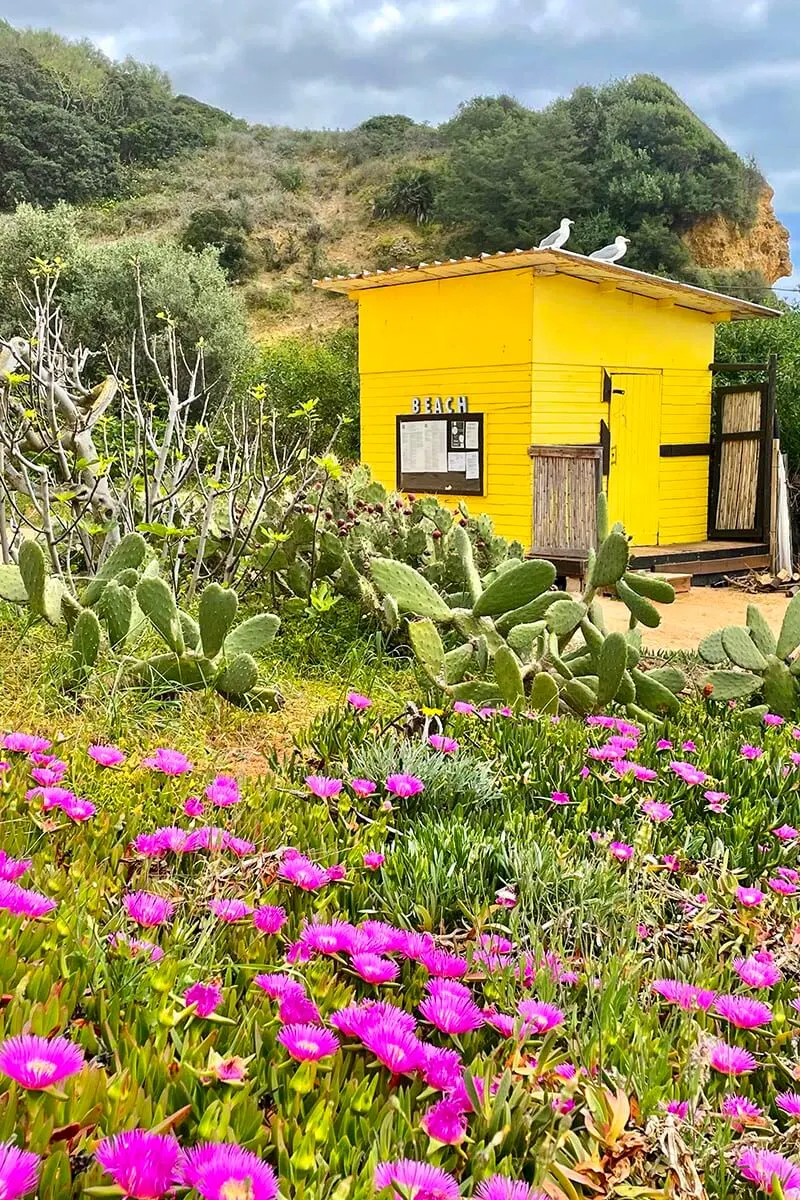 What kind of weather and temperatures to expect in Algarve in April?
April is a bit of a shoulder month between the 'winter' weather (which is already very mild in the Algarve) and the warm summer weather. So quite frankly, it's impossible to predict in advance what kind of weather you'll get in April.
Most likely, it will be nice and sunny with daytime temperatures around 20°C (68°F).
When I searched the Internet for 'Algarve temperature in April', pretty much every website said something different. Some say that the average daytime temperature in the Algarve in April is 15°C (59°F), some others – 20°C (68°F). According to some websites, the average low temperatures are around 10°C (50°F), others say it's 15°C (59°F)…
This might have to do with the fact that the Algarve is quite a big region, and so these stats are likely influenced depending on the exact location.
So according to statistics, average April temperatures in the Algarve are between 10 – 20°C (50-70°F). However, these averages really don't tell you much and it's quite possible that you'll experience temperatures around 25°C (77°F) or even higher.
But while the sun shines most of the time, you should know that there is always a possibility of some rain in the Algarve in April. Just don't stress about it because the weather forecast changes all the time, and the average number of days when it rains is just 3 in the entire month of April. Furthermore, even if it rains, it usually doesn't last longer than a few hours.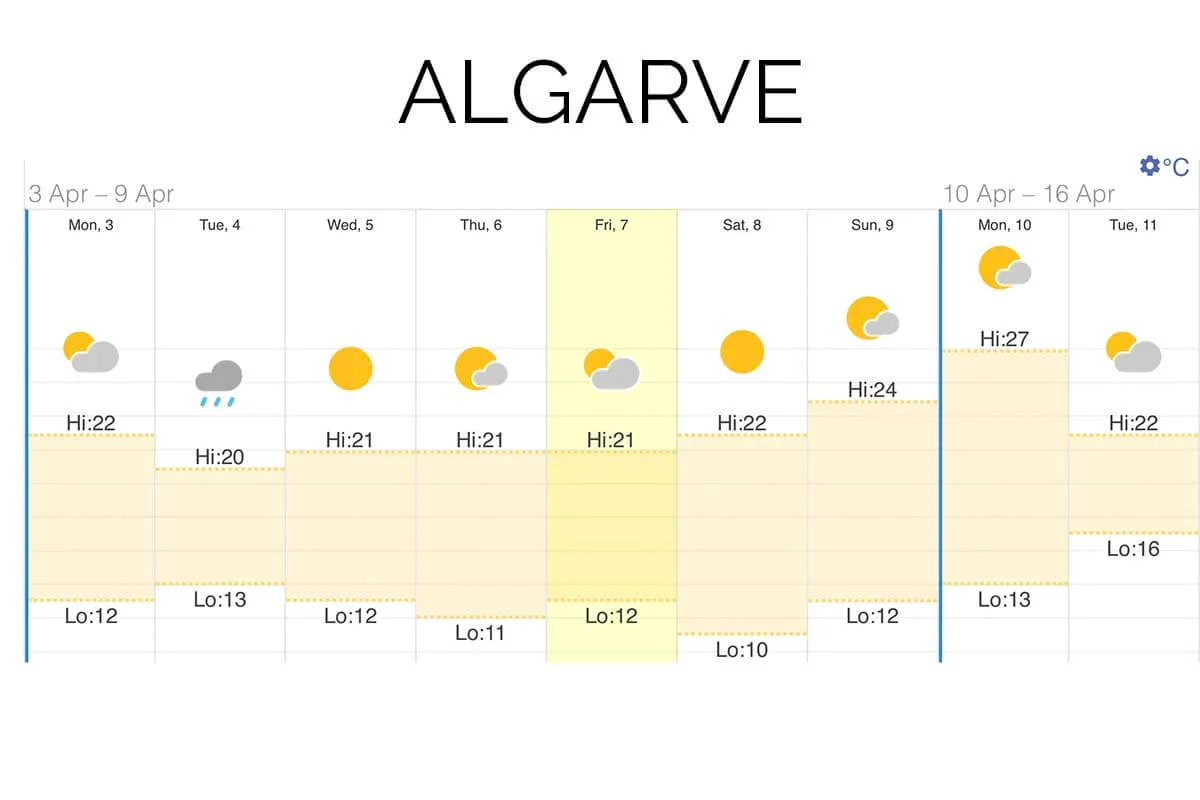 Our experience: We've been to Algarve in April a few times (and loved it every time).
One year, the coldest day we got was 15-17°C (59-63°f) with a few drops of rain. All the other days were sunny with temperatures around 18-20°C (64-68°F) – perfect for hiking and sightseeing.
Just recently, we spent 3 weeks in the Algarve in April and it was sunny and warm enough for the beach every single day. Daytime temperatures averaged around 22-25°C (72-77°F) for three weeks in a row, and there were even a few days when it got as warm as 28-30°C (82-86°F). This kind of weather continued for days and days after we left as well. So the entire month of April was beautiful and summer-like.
But even on the warmest days in April, evenings and nights get quite chilly. Plus, the wind can get quite strong as well.
If there is one tip I can give you is don't worry about the weather too much when planning your trip. Instead, simply make a list of activities that you can do depending on the temperature.
April is an amazing time to visit the Algarve, one of our favorite months, actually, and there is plenty to see and do beyond sunbathing. Check out the most beautiful beaches of the Algarve and don't miss the stunning scenery along the coastal Seven Hanging Valleys Trail. April is a perfect month for this hike!
READ ALSO: Ponta da Piedade (an absolute must-see in Algarve!)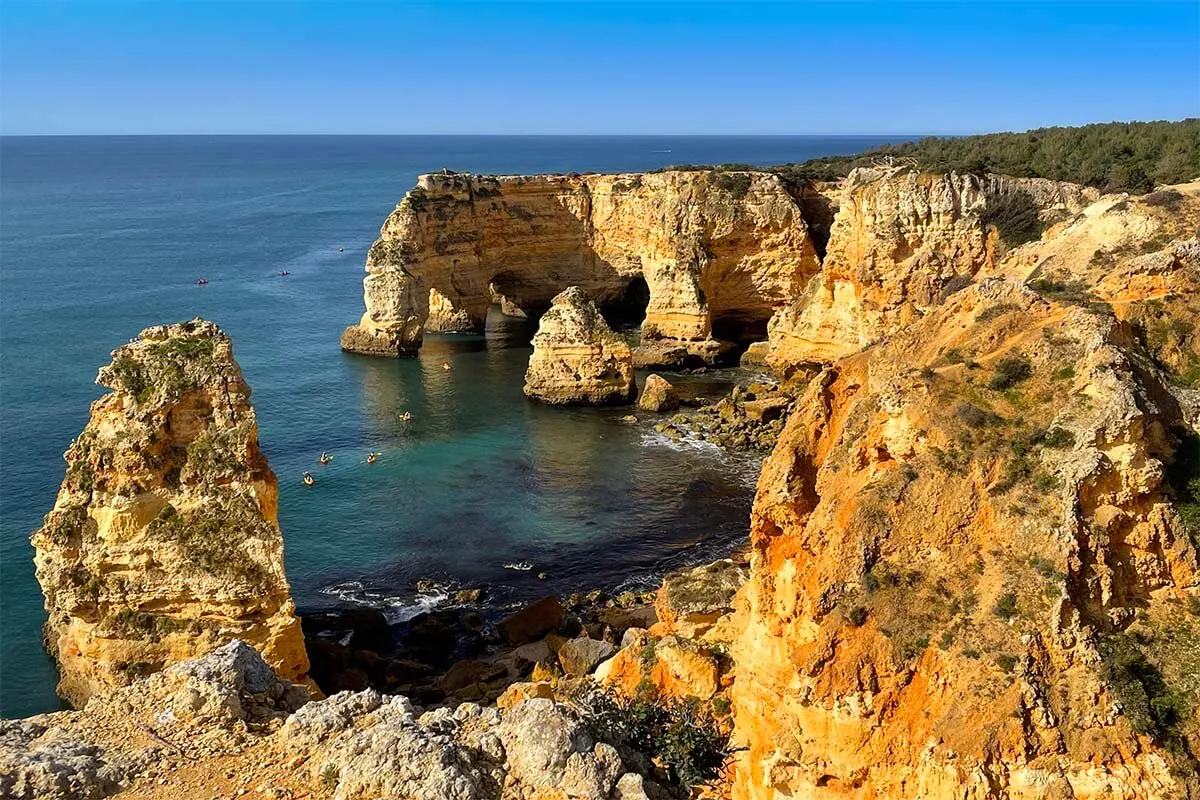 What to wear in Algarve in April?
As you can imagine, there's a big difference between packing for temperatures around 10-15°C and rain or for 20-25 °C and sunshine. And while most of the time you'll probably be wearing shorts and T-shirts, you really should be prepared for everything in April.
So when packing for the Algarve holiday in April, in addition to summer clothing and swimwear, be sure to take a few extra layers, like a sweater and a light rain jacket. (You will likely need these warmer clothes when traveling to/from the airport in your home country anyway).
Even if it's very warm during the day, you will usually need a sweater the moment the sun goes down.
Also, you should know that it can be quite windy in the Algarve. So it's always a good idea to have a sweater or a light jacket for boat trips and sightseeing as well.
That being said, on our recent trip, we only needed sweaters on two days out of three weeks. Or long pants and rain jackets stayed in the suitcase until it was time to go to the airport and head back home.
On the other hand, on previous trips, we wore sweaters, jeans, and even light jackets much more often… So you just never really know until you get there.
Important! Don't underestimate the sun in the Algarve and use plenty of sunscreen lotion. Every time, we see tourists as red as lobsters in the Algarve. It's as if people seem to think that you can only get burned in the summer. Even on colder days when you are wearing a sweater, you can still burn your face or your legs in no time. A sun hat and sunglasses are a must as well.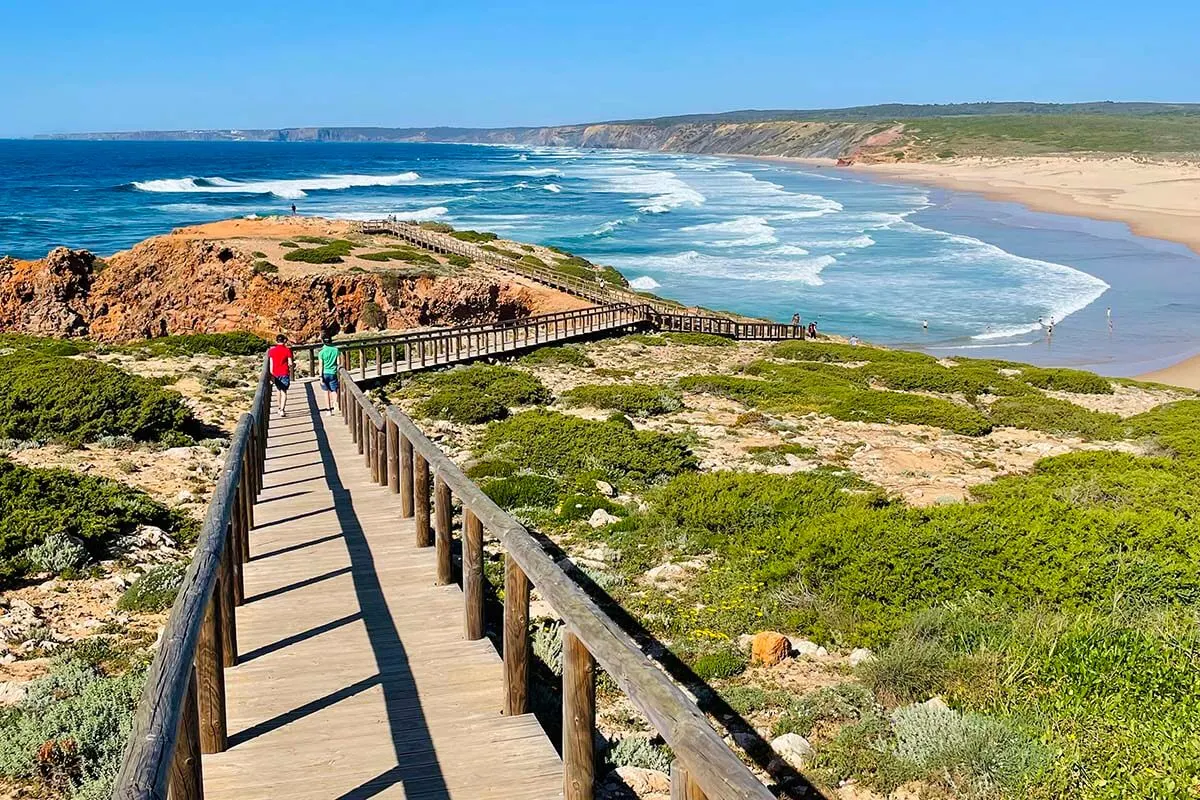 Is everything open in the Algarve in April?
When we first visited the Algarve in April a few years ago, quite a lot of smaller towns looked really quiet, with some hotels and many restaurants still closed at the beginning of the month. However, on our most recent trip, the situation seems to have changed completely, and almost everything was open in April even in the smaller villages.
This might have to do with the post-pandemic shift in travel behavior or the increased popularity of Portugal among international travelers, but there has clearly been a noticeable change in how lively the Algarve is in April.
Nowadays, pretty much everything is open in the Algarve in April, including small beach restaurants and even some water parks. For example, Zoomarine and Slide & Splash water parks are already open for the season. That being said, the water in the unheated outdoor pools is still quite cold, and so many smaller outdoor water parks are still closed in April.
Also, some places have limited opening times in April. For example, we did encounter a few attractions that were only open in the afternoon, a few beach restaurants that closed at 5-6 pm, and some restaurants in towns that were open for dinner but not for lunch… But overall, you won't have any trouble finding fun things to do or good places to eat in Algarve in April.
READ ALSO: Best Restaurants in Albufeira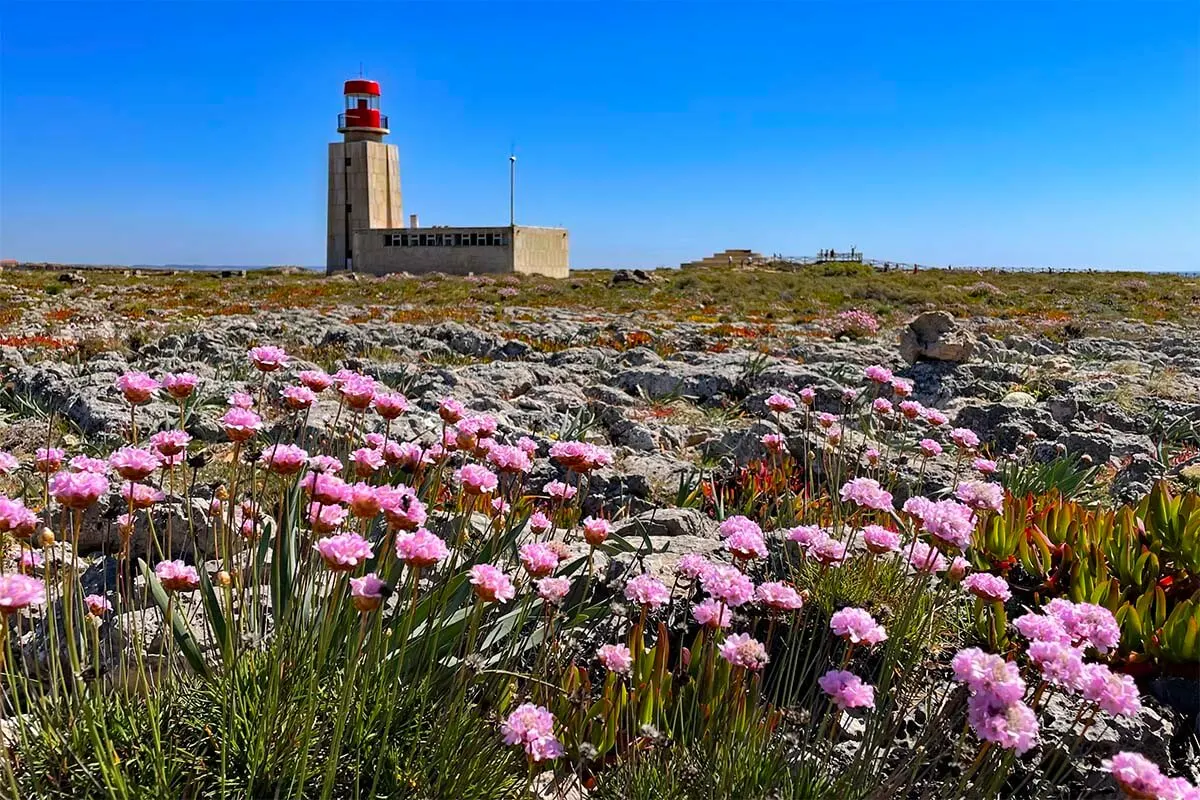 How busy is it?
April is still a rather quiet month in the Algarve, except for a few days around Easter. But even on the busiest weekend and in the busiest towns of the Algarve, such as Albufeira, Lagos, Faro, Tavira, or Vilamoura, it's just pleasantly lively everywhere.
You won't have to get up at dawn in order to find empty chairs at the pool or on the beach, parking isn't a big issue at most places yet, and you can simply show up at most restaurants without an advance reservation.
That being said, Algarve is getting more and more popular in the shoulder season as well, so some advance planning is always useful.
If you are thinking of visiting some of the most popular places, try to arrive before 10-11 am so that you don't have to worry about finding a parking spot. If you want to be sure to do a specific activity or excursion at the time that suits you best, it's always best to book at least a day or two in advance.
The busiest place in Algarve in April (or any time of the year) is the famous Benagil Cave – more info below.
But overall, visiting Algarve in April is very relaxing.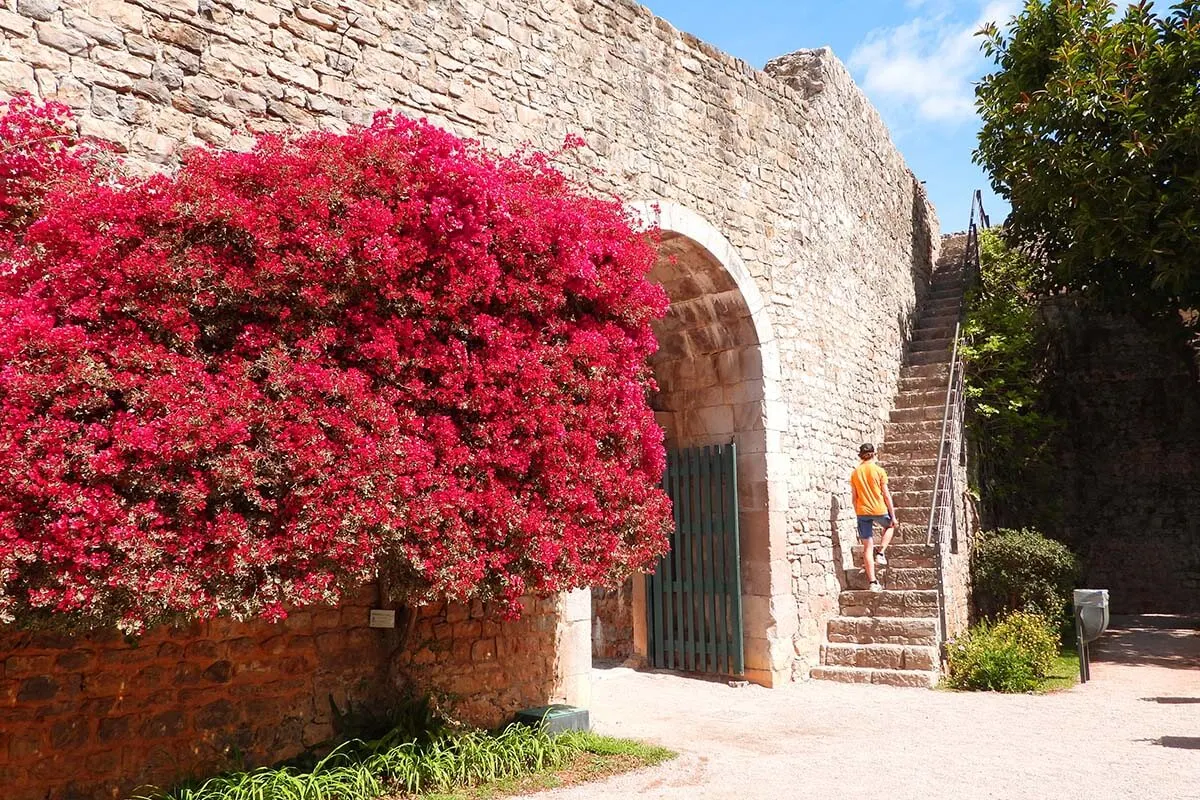 What to see and do in Algarve in April?
You can see and do pretty much everything that you want to in the Algarve in April. Of course, some activities like water sports are a bit more weather dependent, but if you get lucky with the weather, you can even go swimming in the sea.
Because April temperatures in the Algarve are usually not too high yet, it's a perfect month for sightseeing, hiking, and outdoor activities like biking, boat tours, jeep excursions, quad tours, (mini)golf, adventure parks, etc. April is also a great month for kayaking, surfing, parasailing, and long walks on the beach.
It's also one of the best times of the year to see some of the most beautiful flowers and stunning sunrises and sunsets. The nicest sunsets and sunrises are on warm days with cold nights.
There are just a few things that April is not ideal for. One of them is birdwatching because most birds that spend winters in the Algarve region usually start to leave in March. And the second is outdoor pools and waterparks because it can be just a bit too cold to properly enjoy them. But – depending on the temperatures – the latter may not be such a big issue.
April weather is perfect for sightseeing, so be sure to visit the stunning coastal areas and at least a few of the nicest towns in the region!
LEARN MORE: Best Towns to Visit in Algarve & Top Places to See in Algarve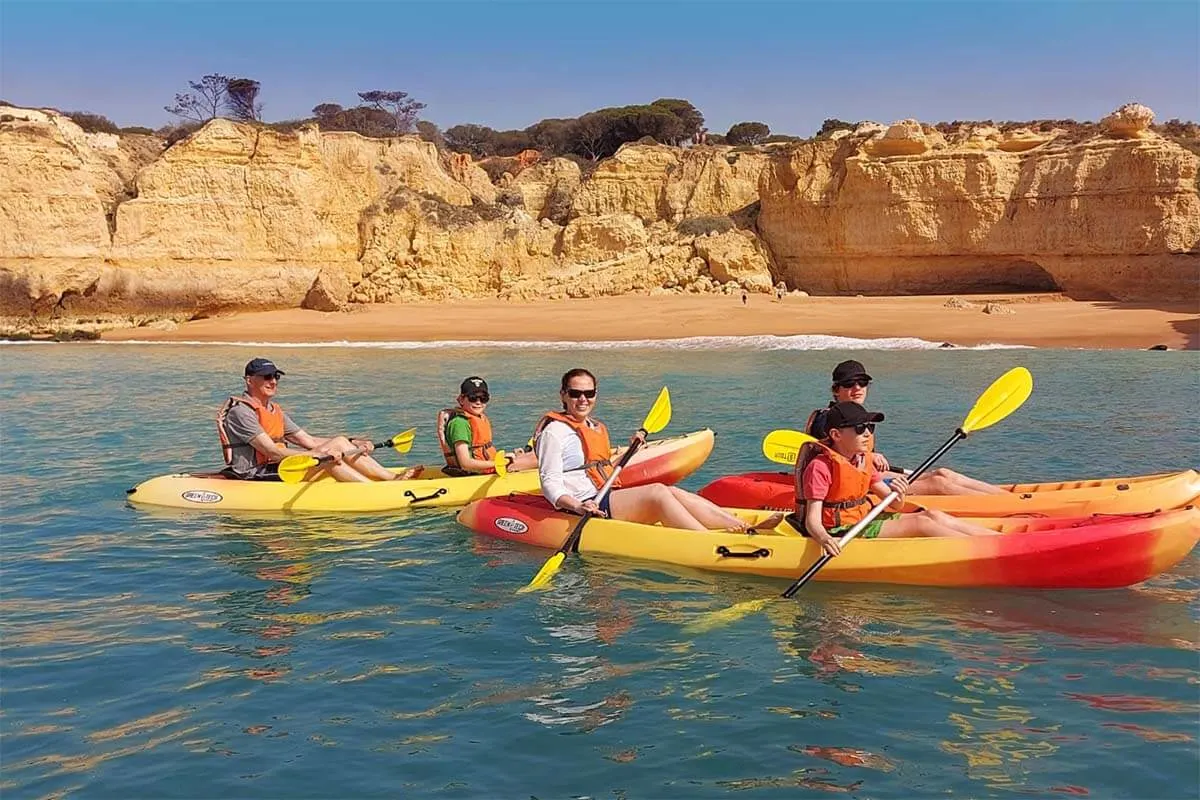 Benagil Cave in April
Benagil Cave is one of the most popular places in the Algarve region.
It's a sea cave that can be best admired from the water, so the best way to visit is by boat. However, if the waves are too high, the boats may not be able to enter the cave.
While it can happen that the sea is a bit too rough for sea caves in April, overall, it's a good time to visit Benagil Cave. The very first time when we visited Algarve in April years ago, it was very windy and the sea was quite rough, but even then, the boats were going in and out of the cave without any issues. Anyway, it's not something you can foresee in advance and it can happen in the summer too. But the coastline is so beautiful that we find a boat trip worth it in any case.
Good to know: Even in April, there are tens of boats in and around the cave pretty much the entire day. If you want to avoid the biggest crowds, go as early in the morning as you can! The sea is generally also much quieter in the morning than later in the day.
We have a detailed guide about visiting Benagil Cave where you can find all the information about the boat tours, kayak options, and also how to see the cave from above without going on a boat (it's not nearly as impressive, but nice to do in addition to seeing it from inside). You can find all this info via the link below.
LEARN MORE: Benagil Cave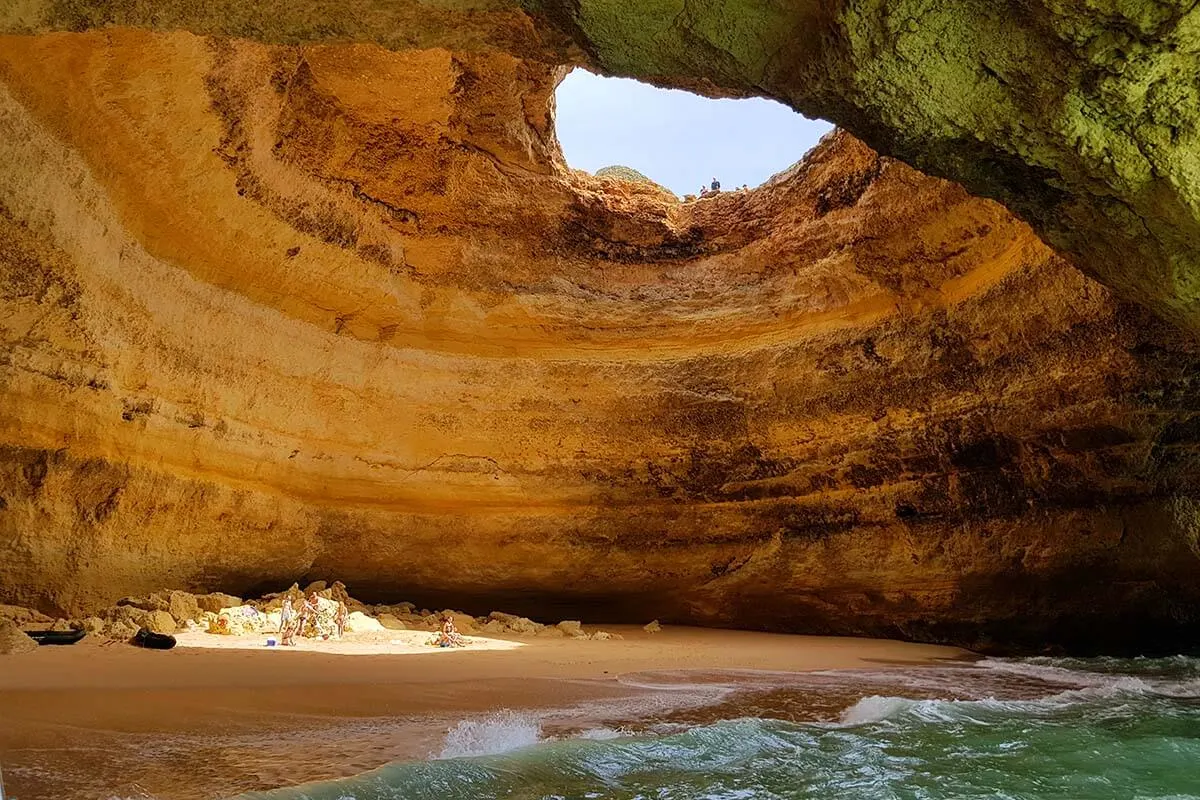 Easter in Algarve
Easter weekend is a public holiday in Portugal. Most shops are closed on Good Friday and on Easter Sunday. Some restaurants in Algarve were closed between Friday and Sunday during Holly Week as well.
However, the majority of restaurants remain open during Easter too, especially in the most popular tourist resorts such as Albufeira or Vilamoura. Portuguese don't seem to celebrate Easter Monday and we found that all the businesses were open as usual that day.
There are also all kinds of events in Algarve around Easter. The most notable is probably the Holly Week celebration in Tavira. The festivities usually start with the Procession of Triumph on Palm Sunday and there are various processions and masses throughout the entire week. The celebrations usually end with a concert on Easter day.
Albufeira holds a Sea Fest on Friday and Saturday before Easter. There are all kinds of fun (and free) events during the day and concerts on the main square by the beach in the evenings. Expect big crowds here, especially for the concerts.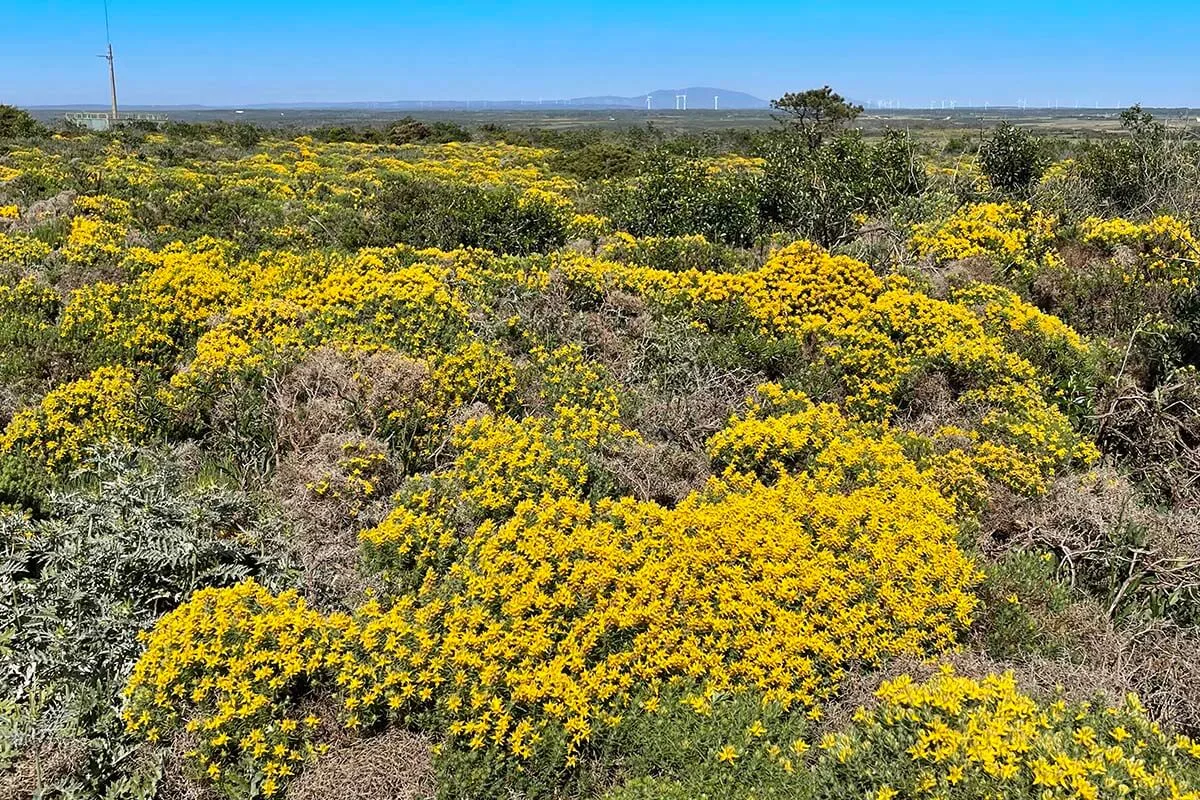 Advantages of visiting the Algarve in April
There are many advantages of traveling to Algarve in April. Here are some of the main ones:
The weather is generally nice and warm and perfect for sightseeing. Plus, it's often warm enough to enjoy the beach as well.
It's not nearly as busy as in the summer.
Pretty much everything is open for the season already.
There are spring flowers everywhere.
Beautiful sunsets and sunrises (and you don't have to get up very early or stay up late in order to see them).
Accommodations are more affordable. You can stay at a really nice resort for a fraction of the summer prices.
READ ALSO: Best Places to Stay in Algarve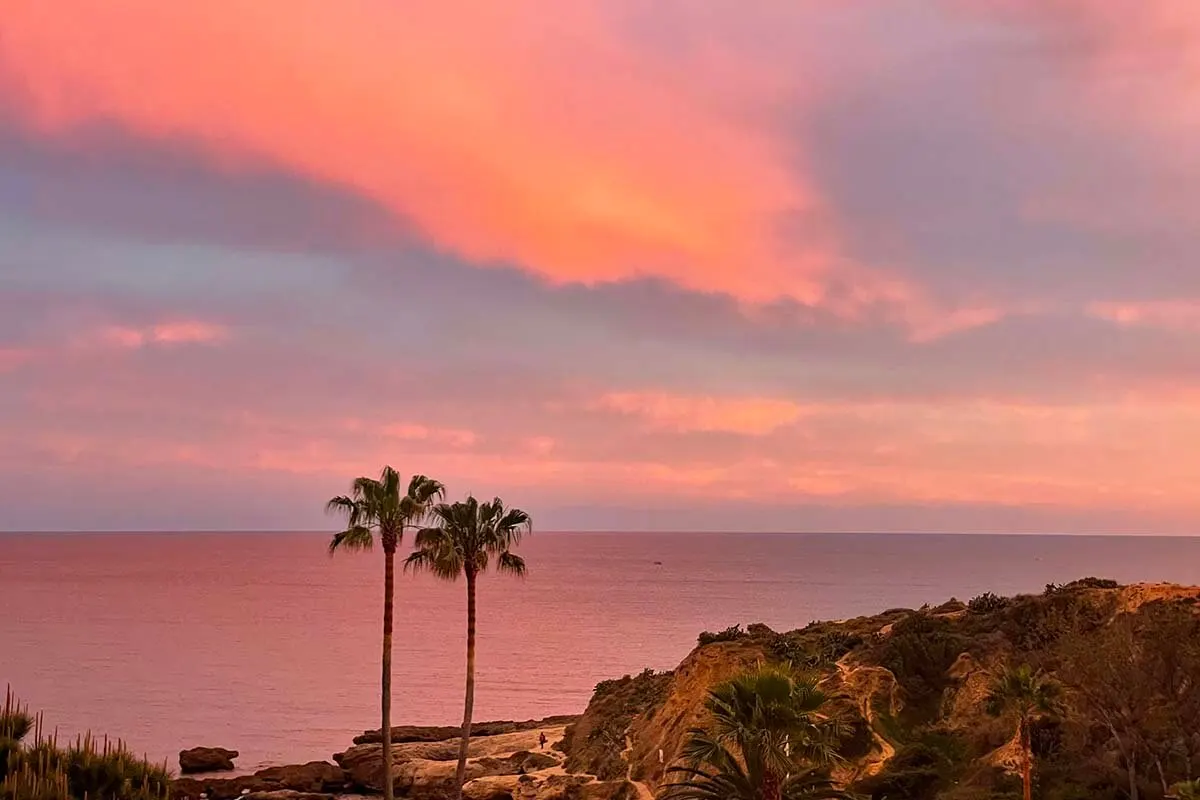 Disadvantages
Of course, there are some disadvantages to visiting in April as well. Here are some of the main ones:
Warm temperatures aren't guaranteed. If you are looking for a beach holiday and want to be absolutely sure that you can sunbathe and swim in the sea each day, then April is a bit too unpredictable for that.
It may be a bit too cold for outdoor pools and waterparks.
Migratory birds are usually gone by April. So if you want to see flamingos in Algarve, April is not the best time for that.
Some restaurants or attractions have shorter opening times.
READ ALSO: Tips for Your First Visit to Algarve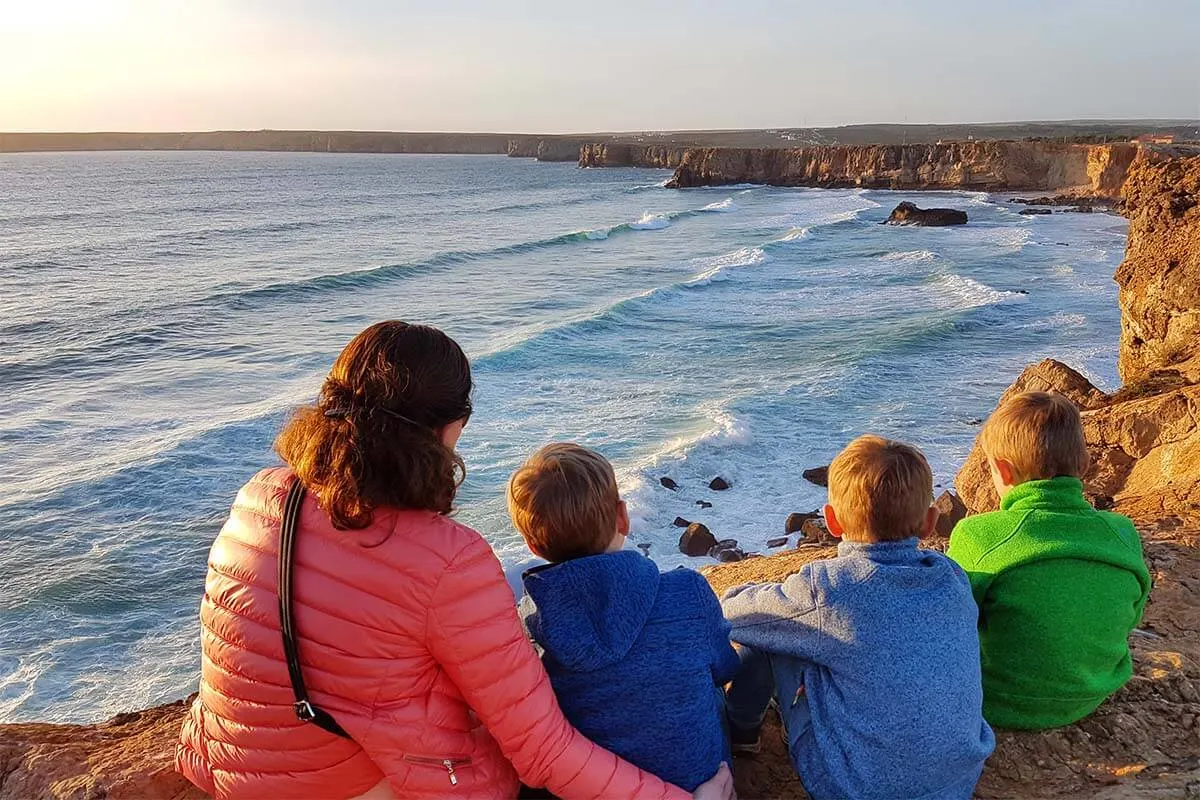 Conclusion
We go to the Algarve quite often, in all seasons, and I have to say that April is one of our favorite months.
It's warm but not too hot and lively but not too busy. In my view, April offers the perfect combination for a perfect vacation with a mix of sightseeing, plenty of beach time and swimming, but also fun activities for the whole family.
If you don't absolutely have to have guaranteed beach weather and sunshine every single day, then you really cannot go wrong with visiting Algarve in April.
More travel inspiration for the Algarve region:
READ ALSO: What It's Like to Visit Portugal in April
If you found this post helpful, don't forget to bookmark it and share it with your friends. Are you on Pinterest? Pin this image!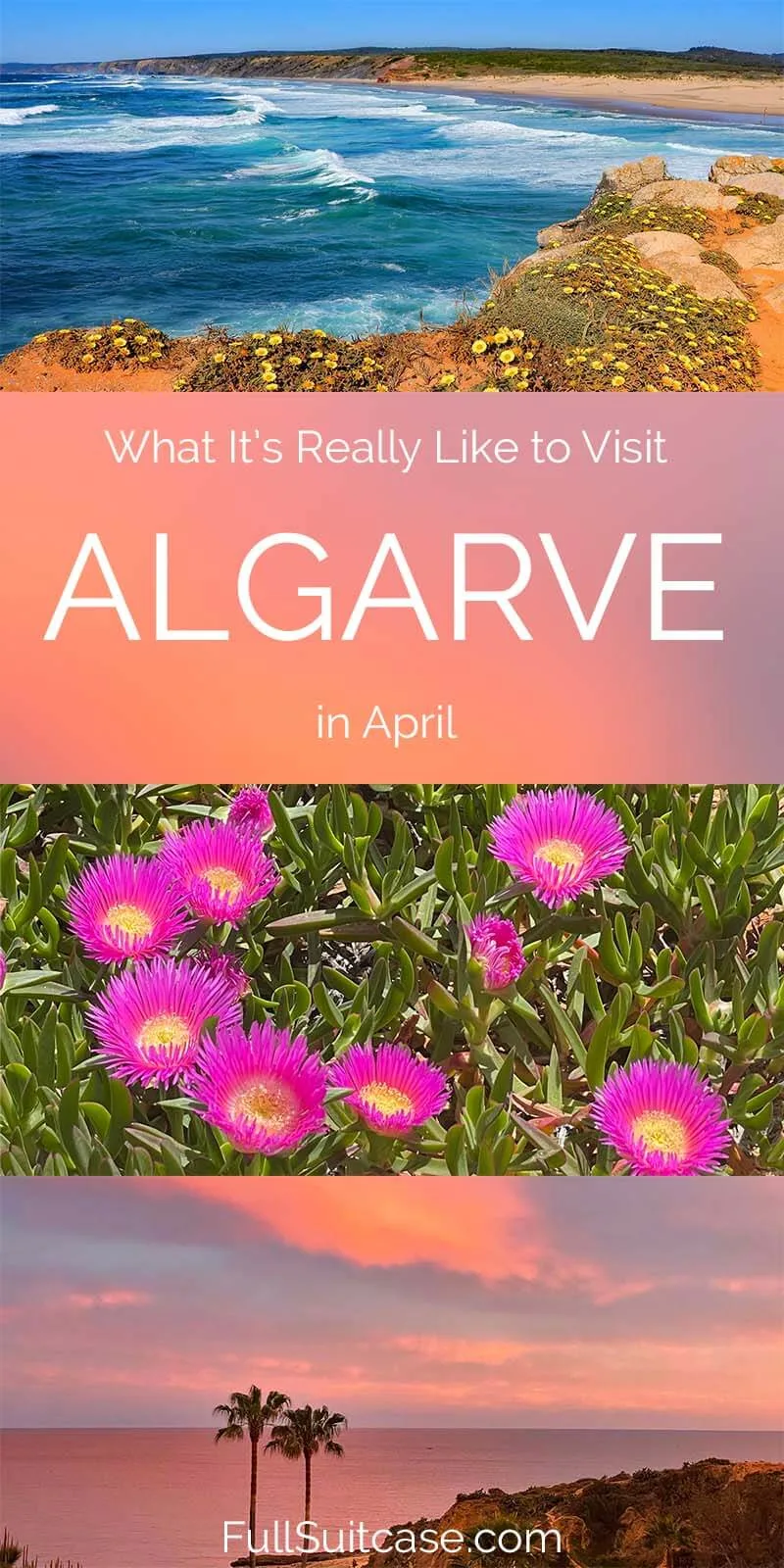 More inspiration and tips for your trip to Portugal: