Nazaré town in Portugal has become world-famous for the giant waves that hit its coast every winter from October to February and attract lots of surfers and spectators from all over the world. But there is so much more to this little fishermen's town in Central Portugal!
Beautifully located in between the moon-shaped sand beach on one side and a giant rock on the other, Nazaré has some of the oldest fishing traditions in Portugal. It's also a popular seaside resort.
We made just a short stop in Nazaré during our 10-day road trip in Portugal and quickly fell in love with this fascinating seaside town where time seems to have stood still. Or at least that's the feeling that you get if you come here off-season. I hear that Nazaré is extremely popular among beachgoers in summer and during weekends. Some publications even call it 'overwhelmed by tourism'.
However, it was really quiet when we were there. We traveled around Portugal in April and we could catch a glimpse of the authentic fishermen's village that Nazaré once was and enjoy the unique atmosphere that can still be found there today.
TIP: For fewer crowds and more authentic feel visit Nazaré off-season and avoid summer weekends.
It would be very difficult to choose just one favorite place in Portugal, but Nazaré would definitely be high on that list. Located about halfway between Lisbon and Porto, Nazare also makes for a wonderful day trip or a stop to break the long drive between the two most visited towns of Portugal.
Furthermore, Nazare is located in the same area as the famous monasteries of Fatima, Alcobaca, and Batalha and therefore makes a good base for exploring the area for a couple of days. Or – if you are short on time – you can visit Nazare, the monasteries, and the charming Obidos village with this popular tour from Lisbon.
Nazare will also be a highlight of any family vacation in Portugal with kids. If you are traveling in Central Portugal, I highly recommend that you visit this charming fishing village. Read on!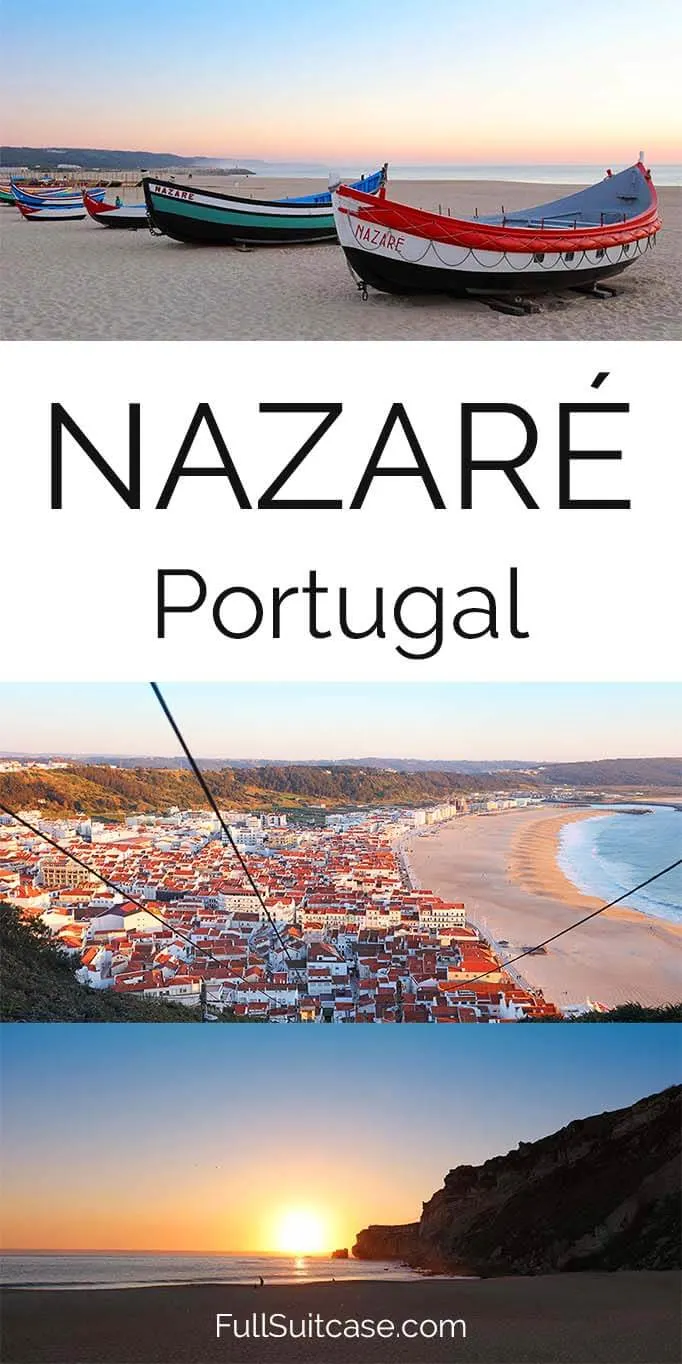 Here's what to see and do in Nazaré:
Nazare Beach – Praia de Nazaré
We arrived in Nazaré without knowing what to expect or what there was to see in town. We had heard of the famous Nazaré beach, so that was the first place we went to.
We parked the car at one of the little streets leading towards the sea thinking that we'd probably be back in no time as the village didn't look like a tourist highlight at first sight. We ended up spending the whole afternoon in Nazare and it was dark by the time we returned. It turns out Nazare has a lot more to offer than it looks at first sight, but of course, the beach is not to be missed.
We walked on a nice seaside promenade in the direction of a little harbor (Porto), but we never even got there. I read in the book that Porto of Nazaré is a nice lively place to visit in the morning when the fishermen come back from sea. However, since we arrived in Nazaré in the afternoon, it looked really quiet from afar. So we decided to skip it.
Our kids saw wooden boats on the beach and set to explore. They all agreed that it was the best playground ever.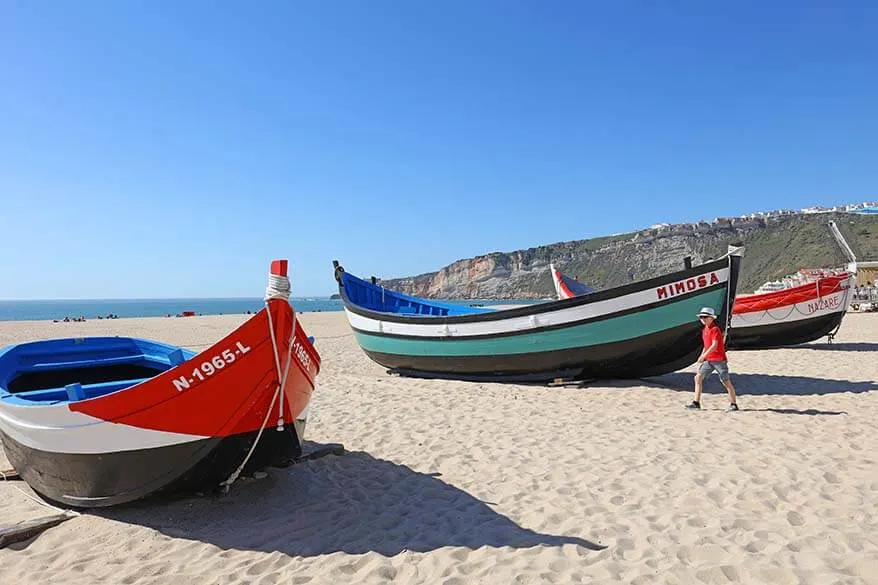 There were, of course, ice cream places and little shops selling souvenirs by the beach as well. It's incredible how well the traditional and the modern life fit so well and co-exist side by side here in Nazare. This town has such a unique atmosphere I haven't seen anywhere else in the world.
Nazare beach itself is really scenic and big and I can easily see why it's so popular with the locals and tourists alike. If you are visiting Nazaré in summer, definitely plan to spend some time here, with or without kids.
As I said, Nazaré is world-famous for its big waves, but the beach itself is not really where it happens (see further). Swimming is possible in Nazaré, but look for a more protected spot (in the direction of the cliffs) and keep an eye on the warning flags – the waves by the beach looked quite big even in spring.
Dried Fish
In the meantime, our attention was caught by the strange wooden constructions that were used to dry fish. We also saw a couple of local ladies selling fish to the tourists. Of course, we couldn't resist trying some dried fish.
The fish looks so dry that there's hardly anything left to eat, but it's quite fun to taste something different. After some hesitation, even the kids decided to give it a go.
When we visited, they charged a euro for two or three fish, so I'd say give it a try. More for experience than for the taste. Just be careful if you have any teeth fillings – my husband had to visit a dentist after this… I would definitely not try this dried fish if you have dentures.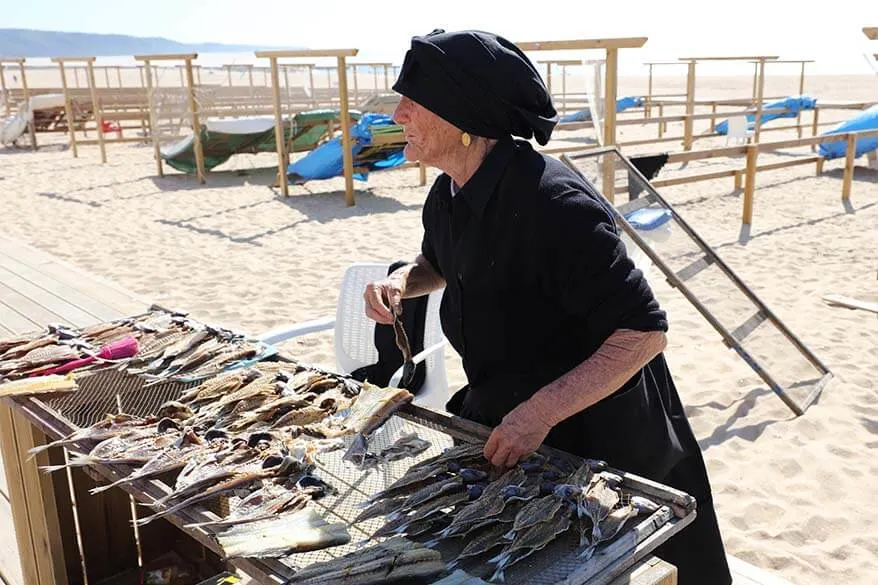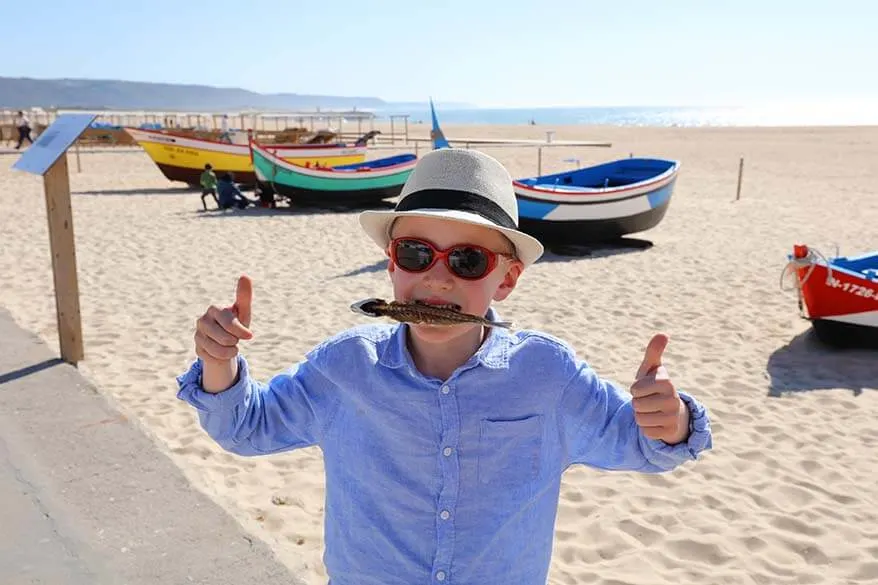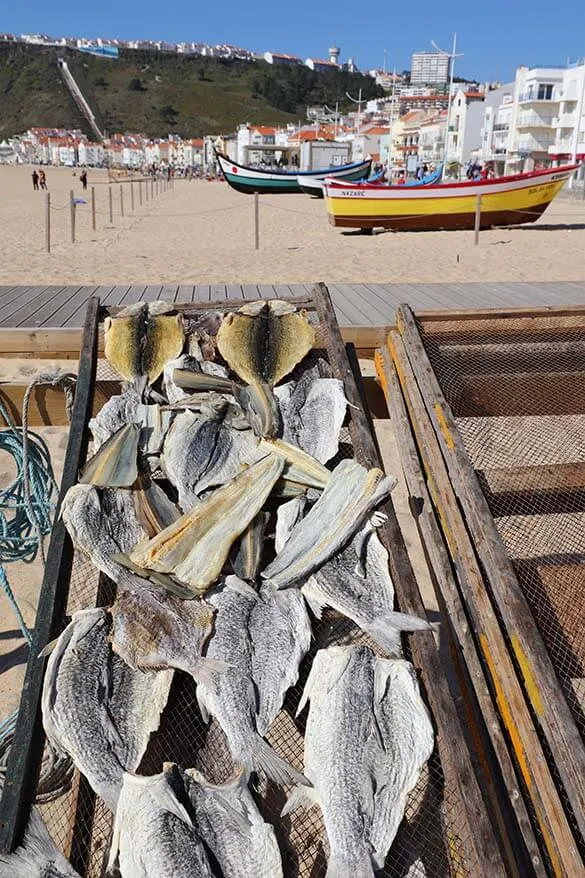 Fishermen's District – Bairro dos Pescadores
After we managed to convince the kids to leave the wooden boats, we set to explore the fishermen's district.
It's difficult to say where exactly the fishermen's district of Nazaré begins or ends. According to our guide book, it's several blocks of narrow streets with white little houses between Praca Manuel de Arriaga and Avenida Vieira Guimares.
It's a really nice area to 'get lost' and explore more. The fishermen's district has a very local feel and the houses are built so close to one another that it makes you feel a bit like an intruder.
Barefoot kids playing soccer, laundry flapping in the wind, men mending fish nets, and older people sitting on benches and catching up on the latest gossip… This is the more authentic side of Nazaré town that you find in the back streets, just a few steps from the more tourist-oriented seaside promenade.
While Nazaré beach feels very lively and is a bit touristy, the fishermen's district is a place that feels like it hasn't changed in a hundred years. It looks like time stood still here and it's easy to imagine the little fishermen's village that Nazaré once was.
TIP: If you visit Nazare on a Friday, you'll find a local market at the fishermen's district. On Saturdays, in summer, you can watch the fascinating Drag Nets (Arte Xávega) spectacle. In the late afternoon, local fishermen arrive from the sea with nets laden with fish, followed by local women screaming out their wares for sale. It's apparently quite a spectacle, so might be fun to see if you are visiting in high season.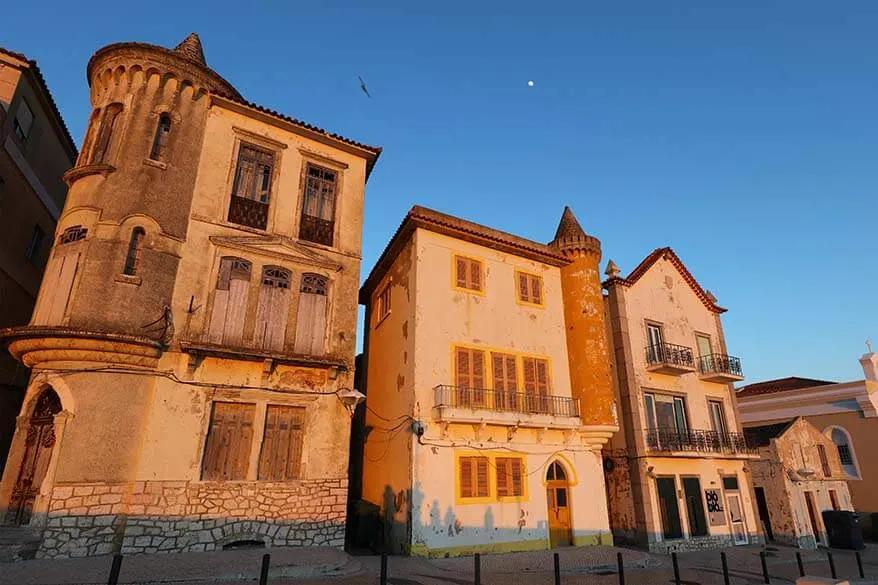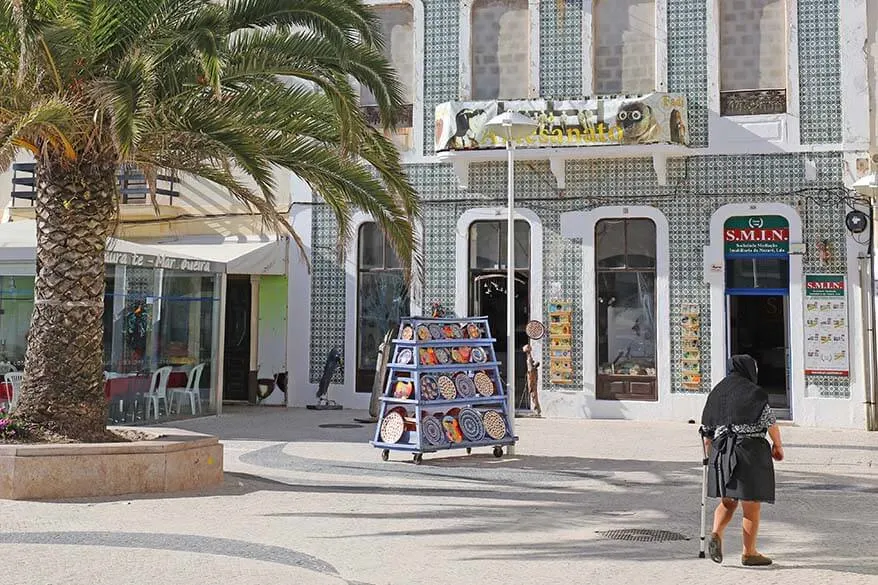 Traditional Nazare Clothing
You will definitely run into some locals in the fishermen's district. It's remarkable that all the ladies are wearing traditional Nazaré clothing. You can't really overlook it.
Old ladies wear black shirts and short colorful skirts with seven petticoats in combination with a woolen cape, an apron, and house slippers. While some gentlemen can be seen in checkered pants and traditional woolen caps reaching their shoulders. It is quite an unusual sight.
And no, it doesn't look like they wear the traditional clothing only for the sake of tourists and that's just one of the charms of exploring authentic Nazaré.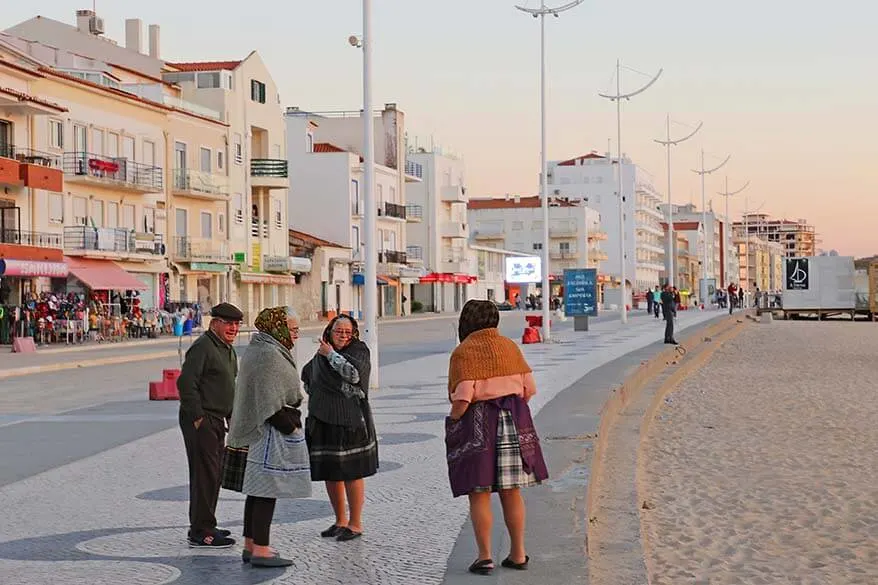 Nazaré Funicular
If you walk North along the seaside past the fishermen's district, you will find yourself at the Nazaré funicular. It connects Nazare town center to the O Sitio district.
Part of Nazaré town is called O Sitio and it's situated high on the cliff. You can get there by car, but the funicular is a much quicker and more scenic way to get there.
If you want to save a euro or two, you could opt to take the stairs, but beware that it's a really steep climb. And for less than 3 EUR for the round trip ticket, Nazare funicular is one of the best experiences you can have in Portugal.
The first Nazaré funicular was installed at the end of the 19th century and it's been an intrinsic part of the town ever since. Don't worry – the current funicular is quite modern and the ride is really smooth. Enjoy the ride and make sure to look around once in a while. The views are simply stunning.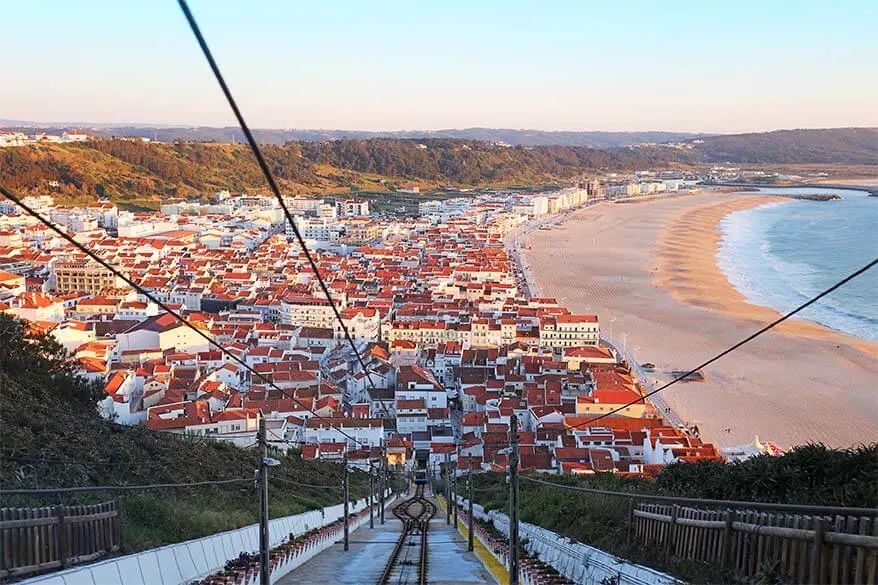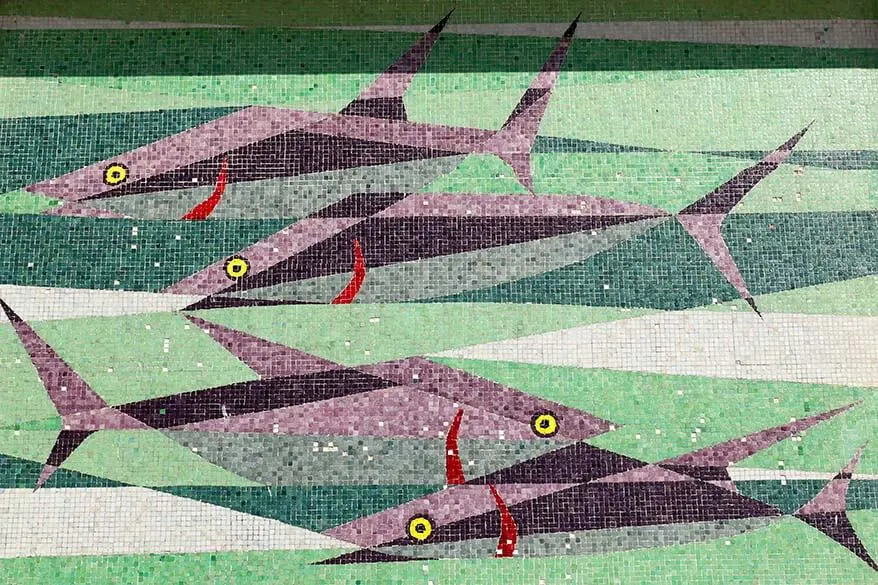 O Sitio
O Sitio is the upper part of town Nazaré located high above the sea that can be reached by funicular (or by stairs, for the brave among us).
Close to the funicular station you can find a viewpoint belvedere overlooking the town and the beach.
Make sure to walk further along the cliff – there are several really nice viewpoints here.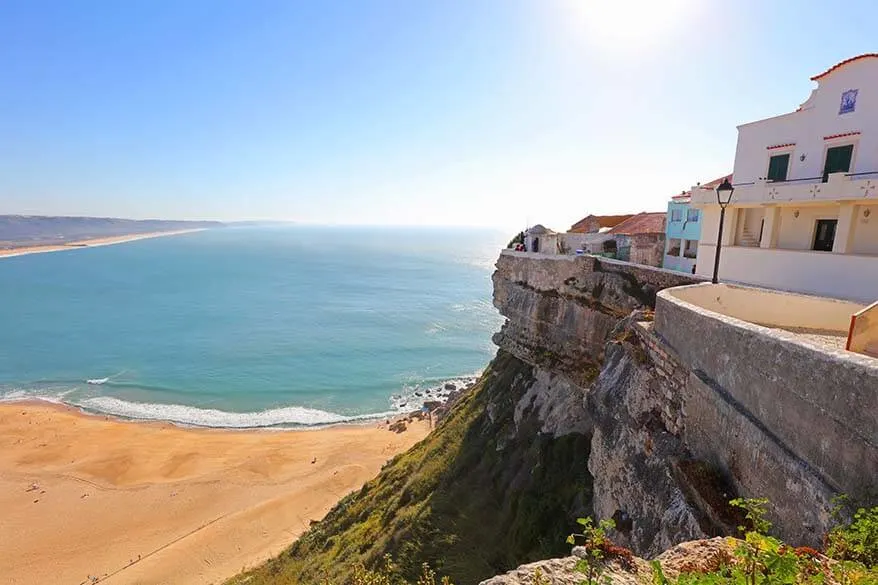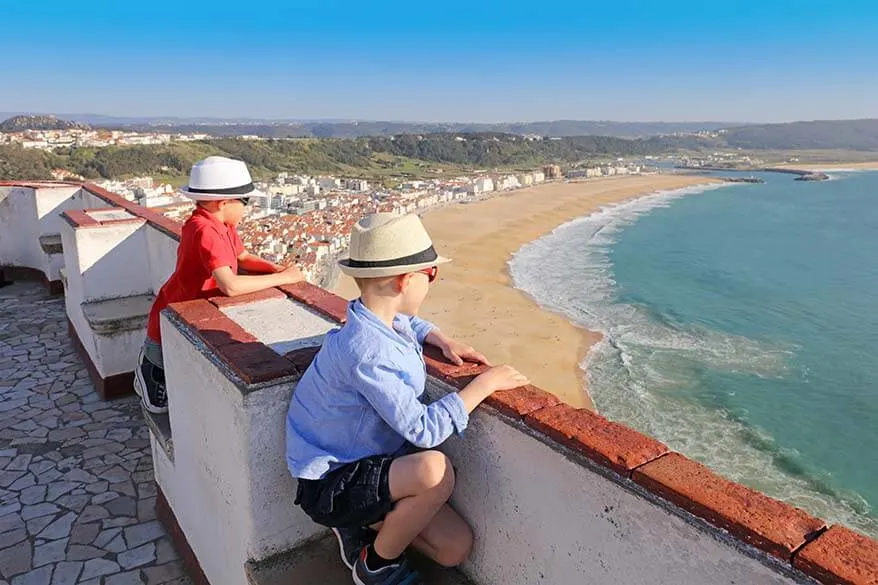 There are also several souvenir shops up on the mountain. It's well worth taking a quick look as some of the souvenirs they are selling are hand-made by local people.
We also saw a small market with sellers dressed in traditional clothing selling some local specialties, so check it out. Kids loved trying all different kinds of sweets and nuts that were for sale here.
Further, you can visit the chapel of Ermida da Memoria, the church of The Sanctuary of Our Lady of Nazaré, and the Dr. Joaquim Manso museum.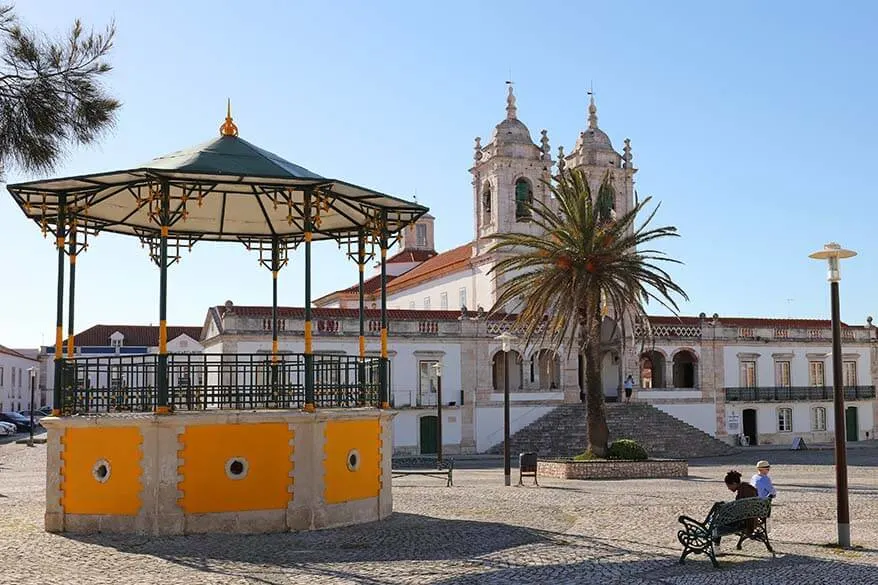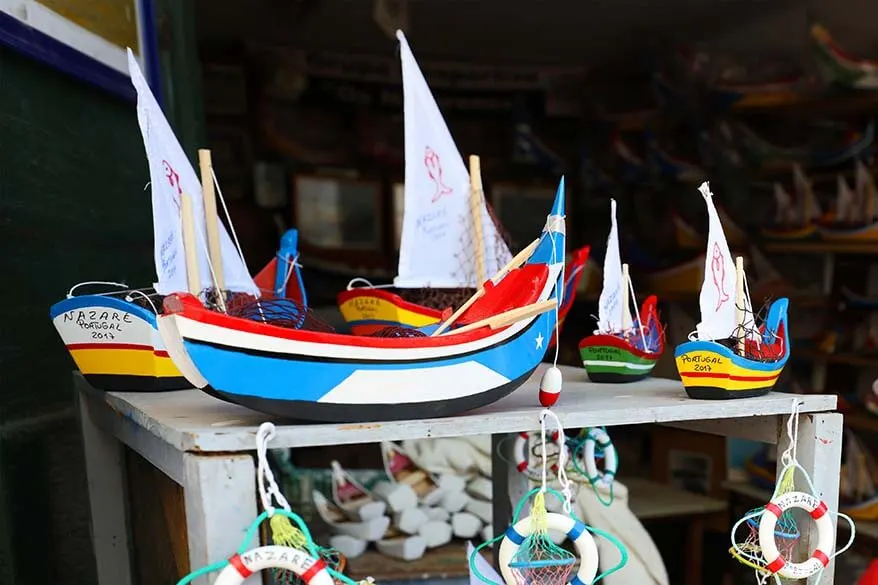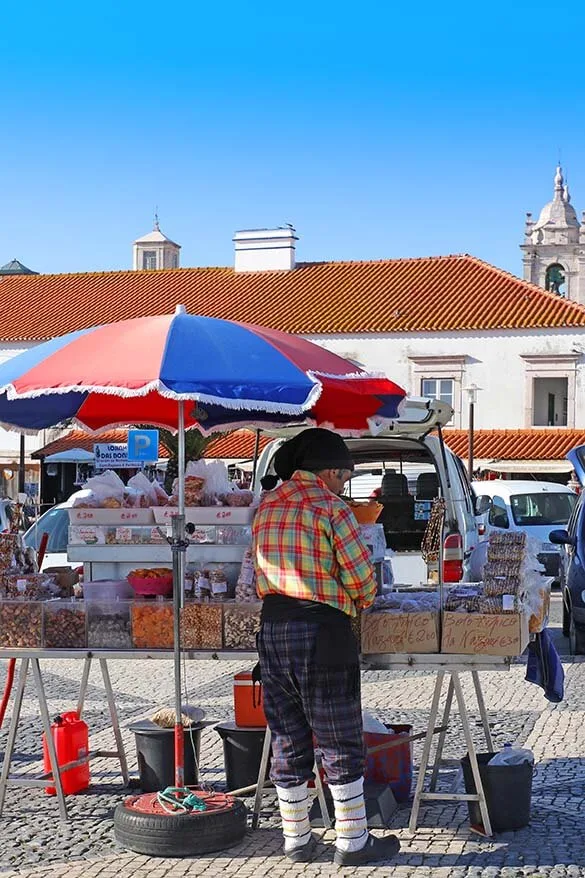 Giant Waves of Nazaré
The main attraction of O Sitio district is the coastline and the above-mentioned famous giant waves of Nazaré. A Portuguese surfer Hugo Vau is said to have beaten the world record by surfing a 35m (114ft) high wave in Nazaré in January 2018.
If you walk further in the direction of Farol lighthouse, you'll have a beautiful view of the rocky coastline. This is the place where people from all over the world come to watch and surf the big waves every winter.
There are even specialized websites where you can follow the wave forecast so that you can choose to visit at the best possible moment.
We visited in April, which is past the best season for the giant waves. However, even then the waves were really impressive.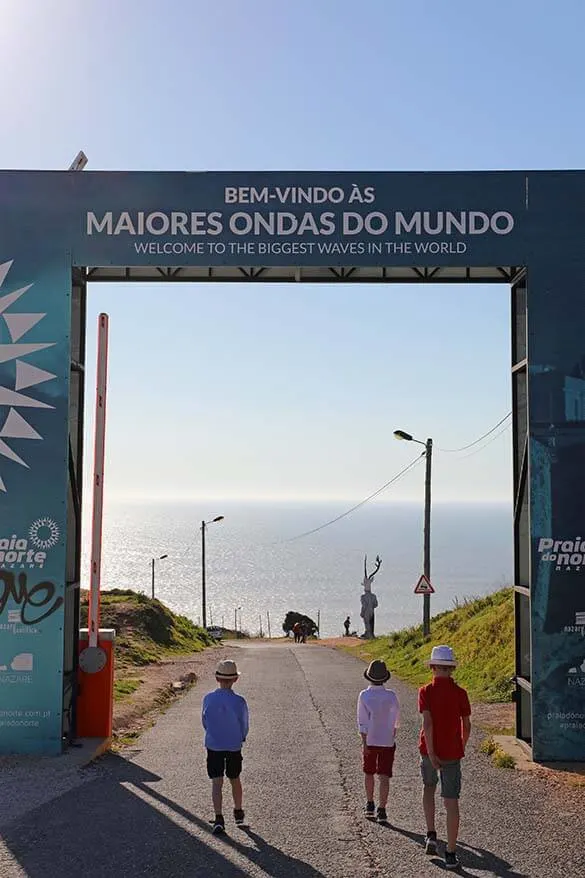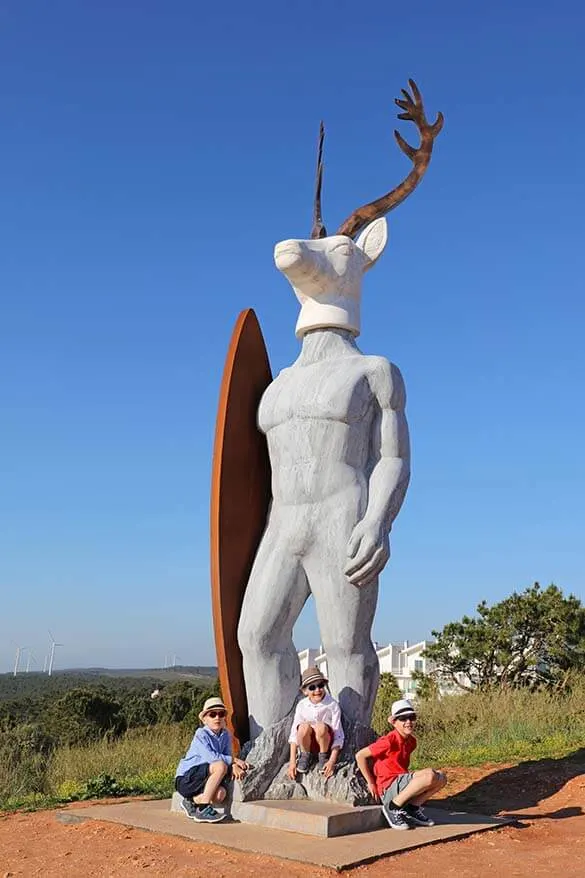 Dine at a Local Restaurant
By the time we explored O Sitio, it was time for dinner. We found a little restaurant with a beautiful view overlooking the bay (although the local men and our kids were more interested in a football game on TV).
Instead of a menu, we were shown a couple of freshly caught fish and could choose the one we liked. The price you pay depends on the weight, so you get a really good meal for little money. It's well worth to try the catch of the day instead of choosing something from the regular menu.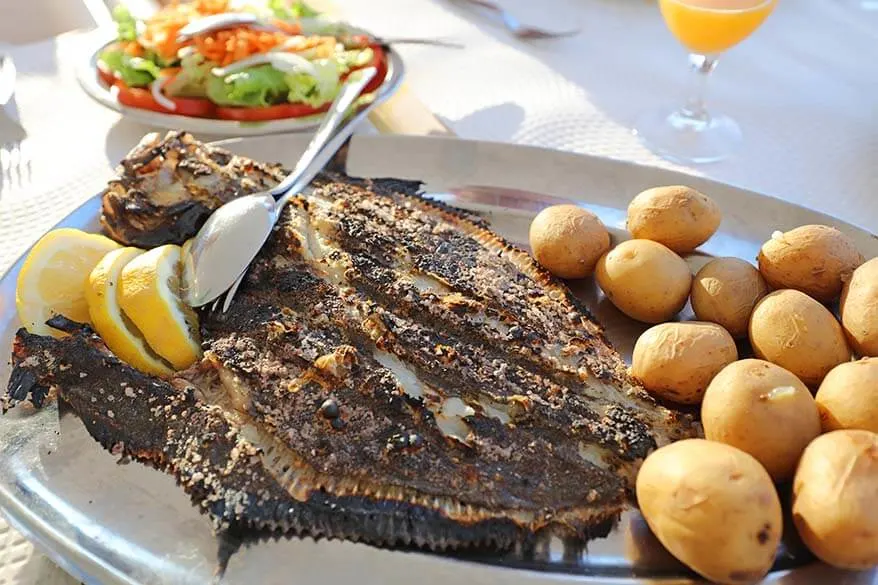 Nazaré Sunset
After dinner, we headed back to A Praia – the lower part of town where we started our Nazaré tour. By then the sun was starting to set and we were treated to a spectacular sunset. The perfect end of our short visit to Nazaré.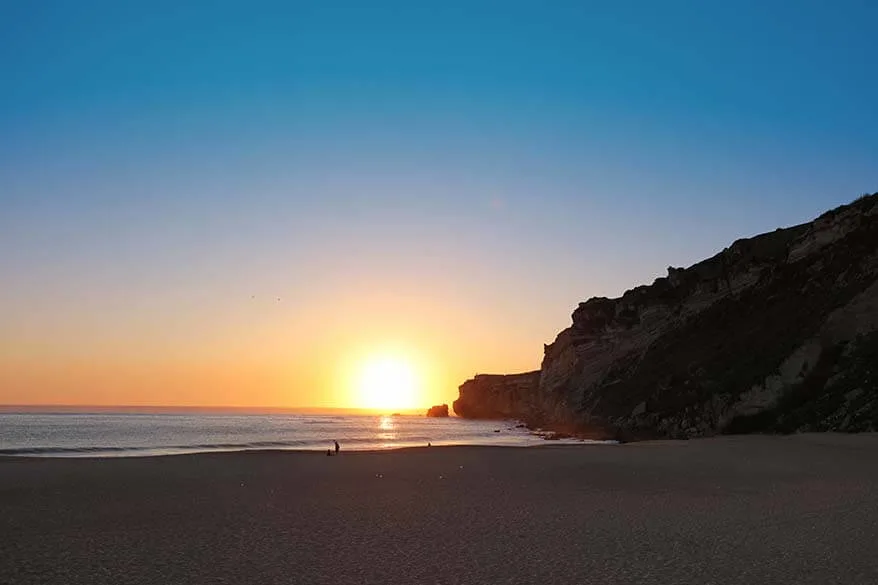 Practical Information for Visiting Nazaré
Nazaré is located 15min drive from Alcobaça monastery, 30 min drive from Batalha, 1.5 hrs from Lisbon and 2 hrs driving time from Porto.
READ ALSO: Best day trips from Lisbon
Is Nazaré Worth Visiting?
Nazaré may not have any major landmarks or famous tourist sights, but the combination of the scenery, the beach, and local traditions makes it one of the must-see places in central Portugal. In my view, Nazaré is definitely worth a visit.
We spent a lazy afternoon in Nazaré and the memory of this village always puts a smile on my face. You don't need longer than half a day to visit Nazaré, so don't miss it when in Portugal! Also, because it's so easy to visit Nazare on a day tour from Lisbon, often in combination with so many other nice places in this area, it's absolutely worth it!
Best Nazare Tours
Here are some of the most popular tours that can bring you to Nazare from Lisbon:
Fátima, Nazaré, Óbidos & São Martinho do Porto. This is the most popular small-group day tour from Lisbon that includes a visit to the famous pilgrimage site Fatima, the charming Obidos town, Nazare, and also a stop at the picturesque beach town São Martinho do Porto.
Fátima, Batalha, Nazaré and Óbidos. This is a great small-group tour that also includes a visit to Batalha, one of the most beautiful monasteries in Portugal.
Fatima, Batalha, Nazare & Obidos – this is the best private tour of this area, especially great value if you are traveling with a big family or a group of friends (or just want more privacy).
More tips for your trip to Portugal:
Lisbon & surroundings:
Algarve region:
If you enjoyed reading this post, bookmark it for future reference and share it with your friends who are thinking of visiting Portugal. Are you on Pinterest? Pin this image!