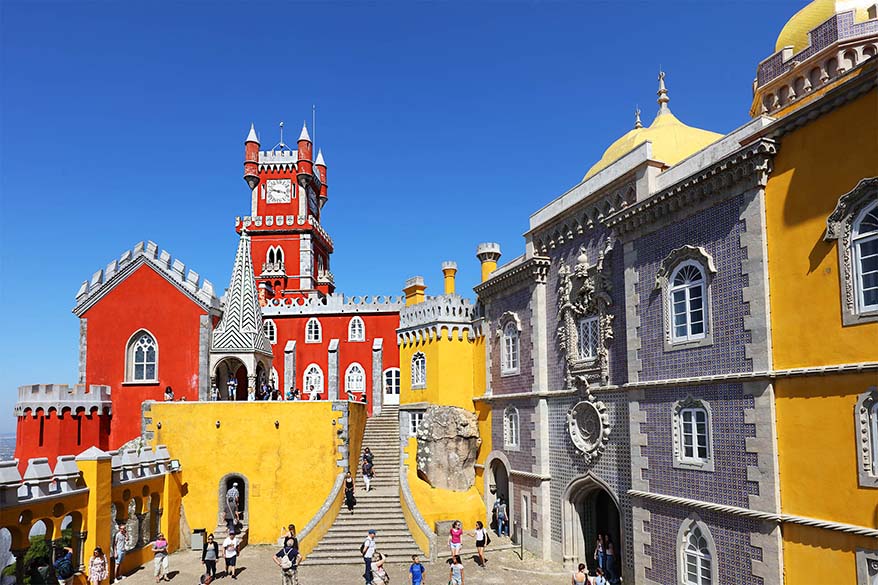 Are you looking for ideas for Portugal itinerary and are not sure where to start? In this article, you can find our 10-day itinerary for Portugal, covering all the most beautiful places between Lisbon and Porto. Take a look!
When we booked the flights for a 10 day trip to Portugal, we had a very different trip in mind than the one we ended up doing. At first, we thought to visit Lisbon and Sintra, then head to the beautiful beaches of Algarve and all the way to Faro…
After a little research, however, we quickly realized that we would be missing the most interesting places in Portugal. And so we decided to leave Algarve and the beaches for the next trip and to visit the main highlights, the most beautiful places in Portugal instead.
Good to know: Because it was cheaper for us to fly in and out of Lisbon, we started this trip in Lisbon, visited all the nicest places of Central Portugal, drove all the way to Porto and the Douro Valley, and ended our trip back in Lisbon area (Sintra).
Because driving distances in Portugal aren't that big, it was perfectly doable. You can adapt this itinerary a bit and start in Lisbon and end in Porto or vice versa. At the bottom of this article, we also have some alternative itinerary suggestions for your trip to Portugal. Read on!
READ ALSO: Best Cities & Towns in Portugal
Portugal Itinerary with the Main Highlights of Central Portugal from Lisbon to Porto:
Portugal Trip Itinerary and Map
Below, you can find a detailed day-to-day Portugal itinerary, exactly as we did it. We also included some practical tips for the most important landmarks and day tour suggestions for some places that you could potentially also visit as a day trip with an organized tour. Take a look!
To help you get a better idea of where everything is located, I also included a map indicating all the places mentioned in this article. See below.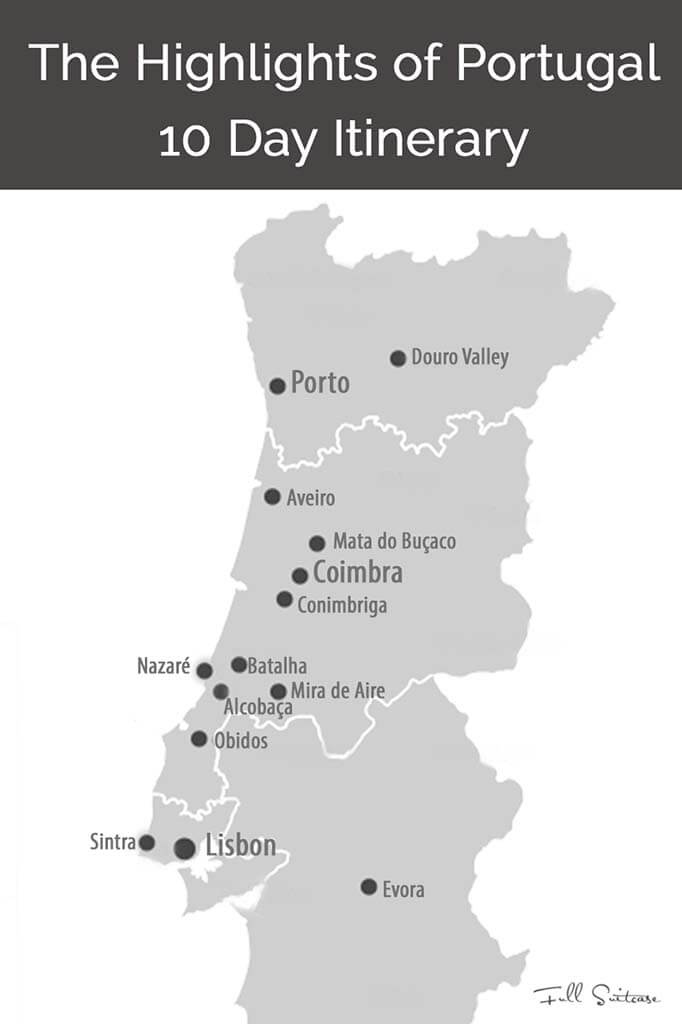 Day 1: Lisbon
We arrived in Lisbon late in the evening, so I'm not going to count this travel day. In addition, we spent one full day in Lisbon. We stayed in the heart of Lisbon, close to Rossio square, and the location was perfect for dining and sightseeing.
While one day isn't enough to see all the best places and attractions in Lisbon, you can still do a lot. We focused on the city center, Alfama district, and did a sailing cruise on the Tagus River. Below you can find all our tips and recommendations for what to see and do in Lisbon in one day. Check it out for more details!
TIP: If you have two days in Lisbon, make sure you also visit the Belém District as well. The main highlights here are the Jeronimos Monastery (book tickets in advance!), Belem Tower (also best to book in advance), and the Discoveries Monument. Count at least half a day for this part of town – that's if you buy tickets in advance. Otherwise, you'll probably need even more time.
LEARN MORE: One Day in Lisbon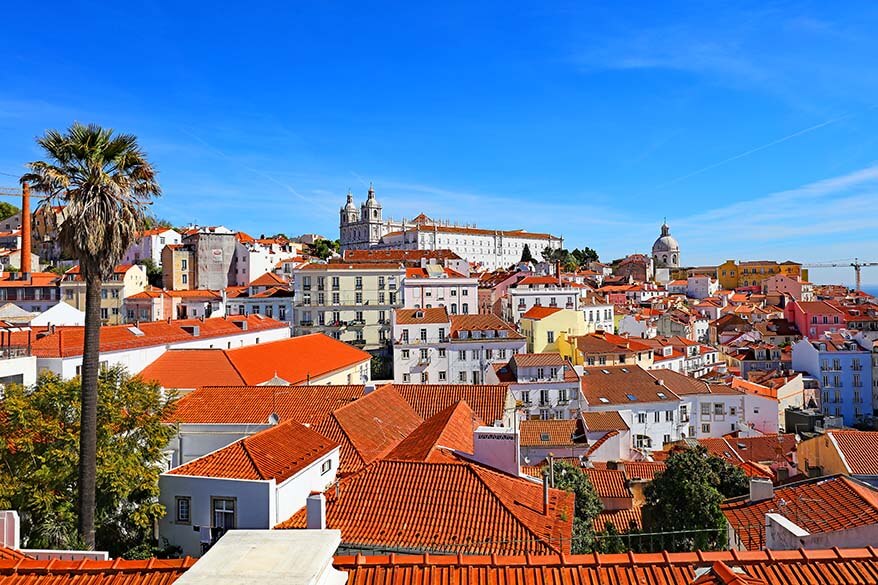 Day 2: Evora
We had planned to visit Belem in the morning before leaving Lisbon. Unfortunately, one of our kids didn't feel well and so we decided to leave Lisbon and head straight to Evora. We rented a car starting on this day and we picked it up in the city center.
TIP: Here you can find the best deals for car rental – it's the car rental deals searching engine that we always use and recommend to our readers.
Driving time from Lisbon to Evora – 1,5 hrs.
Evora is a small cozy medieval town. The main sights in Evora are: Chapel of Bones, Templo Romano, and the Cathedral (tower). Other highlights include the Public Park of Evora, Church of Nossa Senhora da Graça, the Town Square, Evora Aqueduct and the City Walls.
Practical information for visiting Evora:
Evora is perfectly doable as a day trip from Lisbon, but if you are renting a car for your trip anyway, I suggest you spend a night there. Hotels are much cheaper than in Lisbon, there are many good local restaurants and there are very few tourists.
Leave your car outside the city walls (or at the hotel parking) and explore Evora on foot.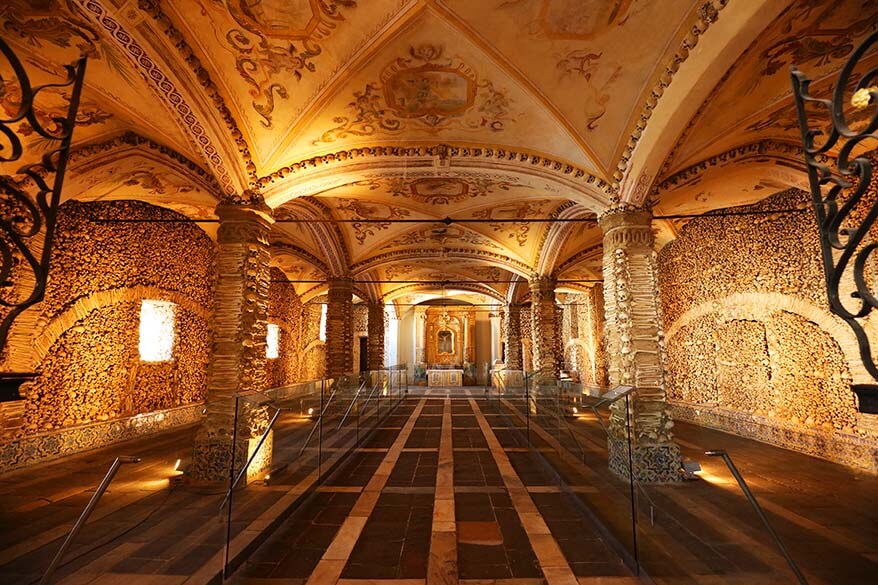 Day 3: Obidos and Alcobaca
After leaving Evora, we drove to one of the most picturesque little towns of Portugal, Obidos. It's a very popular day tour from Lisbon and you can expect it to be busy. I recommend getting here as early as possible. After visiting Obidos, we also visited the famous Alcobaca Monastery.
TIP: So many of our readers are asking how to visit these stunning places in Portugal without a car. While you can't see everything from this itinerary without a car, it is possible to visit places mentioned in day 3 and day 4 of this itinerary with a tour.
You can see Obidos, Batalha Monastery, Fatima Sanctuary, and Nazaré village with an organized small-group tour from Lisbon in one day. In that case, I recommend that you go with a small-group tour like this one or with a private tour like this one. Without any doubt, this is one of the best day trips that you can do from Lisbon.
Obidos
Driving time from Evora to Obidos – 2hrs.
The absolute must-do in Obidos is walking the city walls. It's really fun and the views are spectacular; just watch your kids! The biggest part of the wall has no railings or any other kind of protection on one side.
Make sure to taste the specialty of the area – Ginja de Óbidos – sour cherry liquor.
Practical tips for Obidos:
Park your car at one of the many big parking areas outside the city gate.
Count 2 to 4 hours to visit Obidos. We spent 2 relaxing hours sightseeing here; this didn't include time for lunch.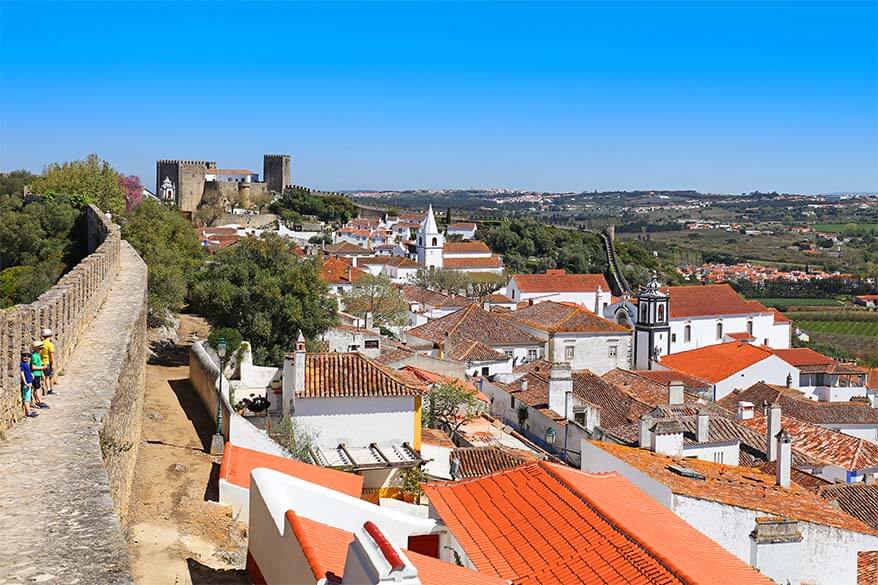 Alcobaça Monastery
Driving time from Obidos to Alcobaca – 30 minutes.
Our next stop for the day was Alçobaca Monastery. Alcobaca is one of the oldest convents in Portugal and a UNESCO World Heritage Site.
Practical tips for visiting Alcobaça Monastery:
Count 1-1,5hrs for a visit.
Take a sweater with you. Despite the fact that it was really warm outside when we visited, it was quite chilly inside the church and the cloister.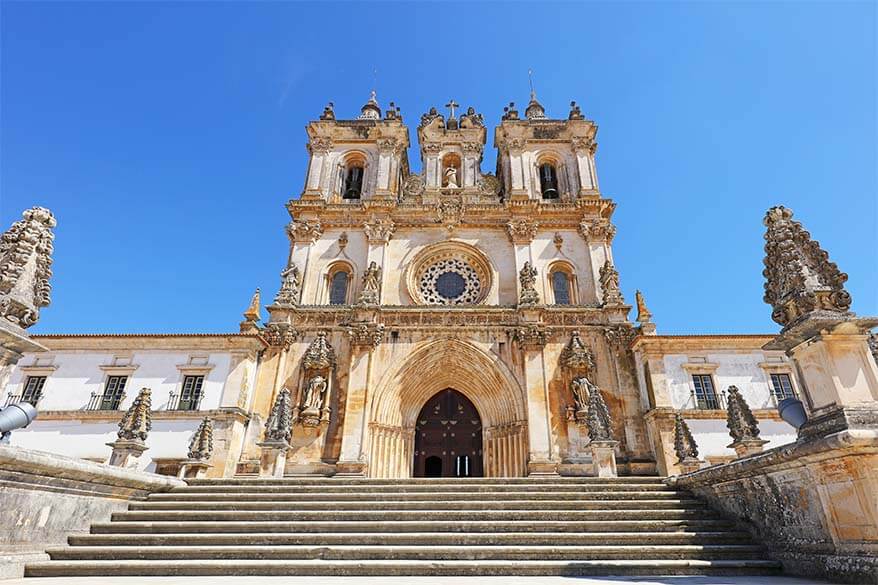 Where to Stay for Visiting Alcobaça, Batalha, Tomar Monasteries and Fatima
To visit the monasteries, I recommend staying in the Alcobaca – Nazare area. There is so much to see and do that you can easily spend several days here.
We spent 2 nights at the beautiful hotel Vale d'Azenha, just a few kilometers outside of Alcobaça. This modern hotel has amazing views, an infinity pool, and a really nice spa area. On top of that, they have a very good restaurant that uses fresh local ingredients; it was one of the best meals we had in Portugal.
Alternatively, if you prefer to stay closer to the action, you might find a bigger choice of accommodation in the nearby coastal resort Nazaré.
Day 4: Batalha Monastery, Grutas de Mira de Aire, Nazare
Another top day in Portugal today! We had another fantastic landmark in our planning – Batalha Monastery. In addition, we visited stunning underground caves, and one of our favorite coastal towns of Portugal – Nazaré. Below, you can find more details about each of these places. Read on!
Batalha Monastery
Driving time from Alcobaca to Batalha – 30 minutes.
If you visit just one monastery in Portugal, make it the Batalha! Do not miss the Unfinished Chapels, it's an absolute must!
We chose to visit just two monasteries – Alcobaca and Batalha. Tomar seems to be worth a detour if you have an hour or two to spare. As for Fatima, I had read in several books and also hear from people who visited that it's not really worth it from the touristic point of view.
Practical tips for Batalha Monastery:
Count 2 hrs for a visit.
Arrive early to avoid big groups.
Carry a sweater.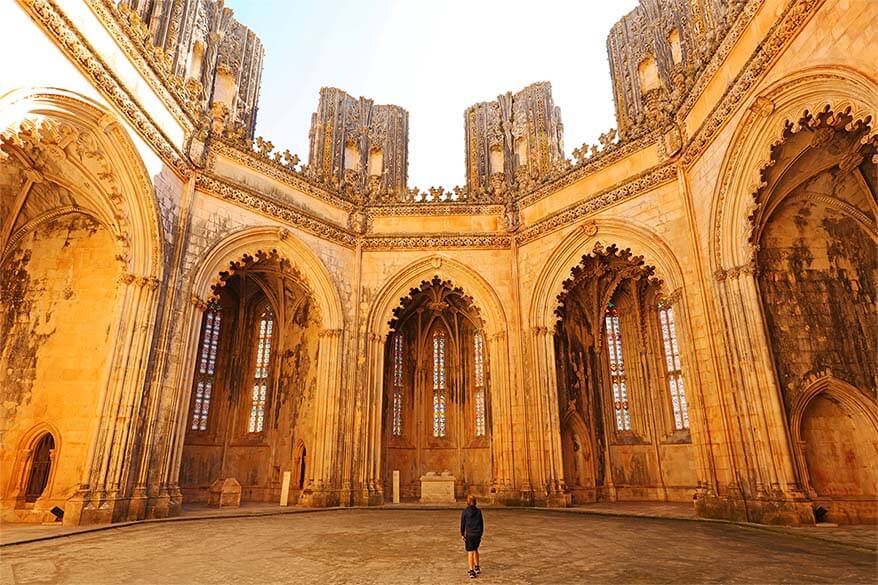 Grutas de Mira de Aire
Driving time from Batalha to Grutas de Mira de Aire – 30 minutes.
Our second stop today was Parque Natural de las Sierras de Aire e Candeeiros, and in particular the caves – Grutas de Mira de Aire.
We have visited many caves all over the world during our travels. However, I cannot remember that any of them would have been as big and as impressive as Grutas de Mira de Aire. We were a bit uncertain whether these caves were worth the detour, but yes, they absolutely are! It was one of the highlights of our Portugal trip for the whole family!
Practical information for visiting Grutas de Mira de Aire:
The caves are a bit outside the main tourist routes. You can find all the practical information on their official website.
You can only visit the caves with a guide. There is one tour hourly, at 40min after the hour.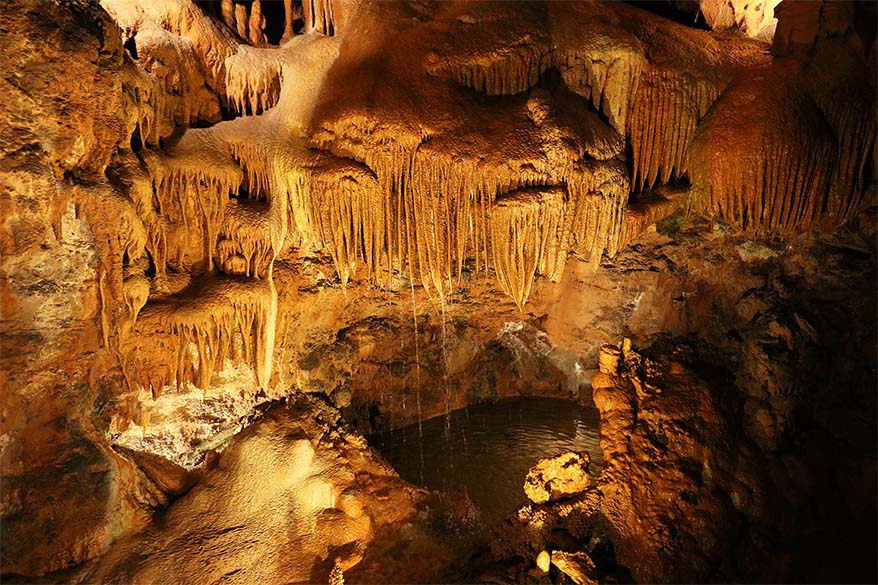 Nazaré
Driving time from the caves to Nazaré – 50 minutes.
A charming little coastal town of Nazare is a mix of old traditions and a busy beach destination. Don't miss the O Sitio district up on the cliffs overlooking the city. Nazare also holds the record to the world's largest waves. Even in calm weather, they were impressive!
Tip: If visiting in summer, consider spending an extra day in Nazare and enjoy the beautiful beaches in the area.
Practical information for visiting Nazaré:
Park your car in the city center and explore the town on foot.
You can reach the O Sitio district by funicular (recommended). Alternatively, you can take a car.
LEARN MORE: What to Do in Nazaré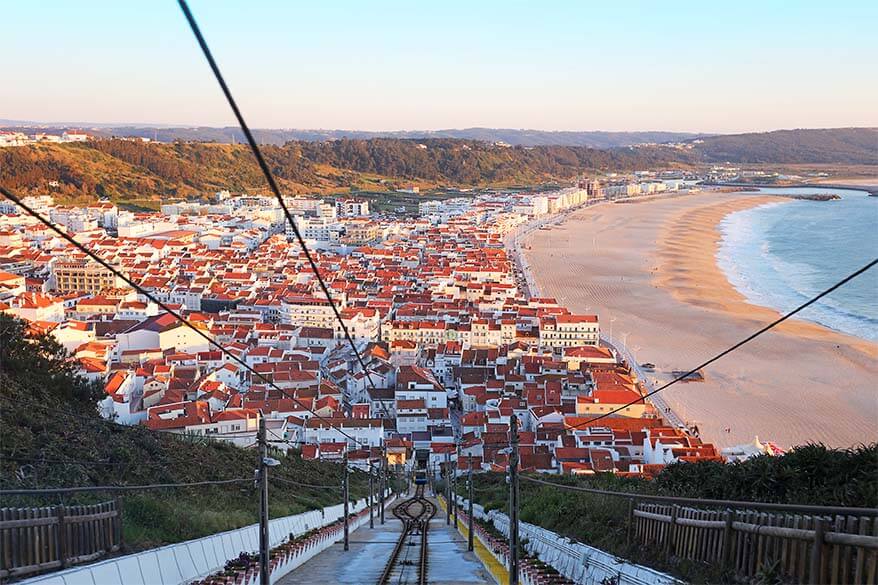 Day 5: Roman Ruins of Conimbriga and the City of Coimbra
On this day, we visited some lesser-known places in Central Portugal, as well as Coimbra – the biggest town of the region. Take a look!
Roman Ruins of Conimbriga
Driving time from Alcobaca to Conimbriga – 1hr.
Our first stop today was the ancient Roman city of Conimbriga. It's one of the best-preserved Roman towns in Portugal, with lots of very impressive mosaic floors. A small adjacent museum is also worth a short visit. Plan to spend about an hour.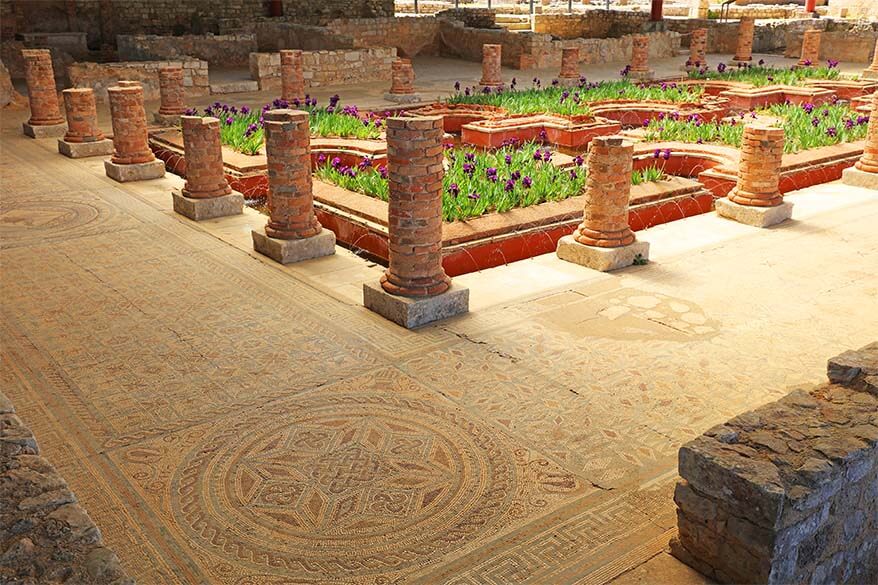 Coimbra
Driving time from Conimbriga to Coimbra – 20min.
Coimbra is the biggest town of Central Portugal and the ancient medieval capital of the country. The compact city center of Coimbra is best explored on foot, just be prepared to do some serious climbing. Don't miss the University of Coimbra and in particular the library and the Saint Michael's Chapel.
Tip: Just on the other side of the river you can find Portugal dos Pequenitos – a park with miniature buildings of Portugal and the former colonies. Check it out if visiting Coimbra with kids.
Practical information for visiting Coimbra:
Book a centrally located hotel and explore the city on foot. We stayed at hotel Oslo in the city center. The terrace/bar had the best views of the old city you could wish for.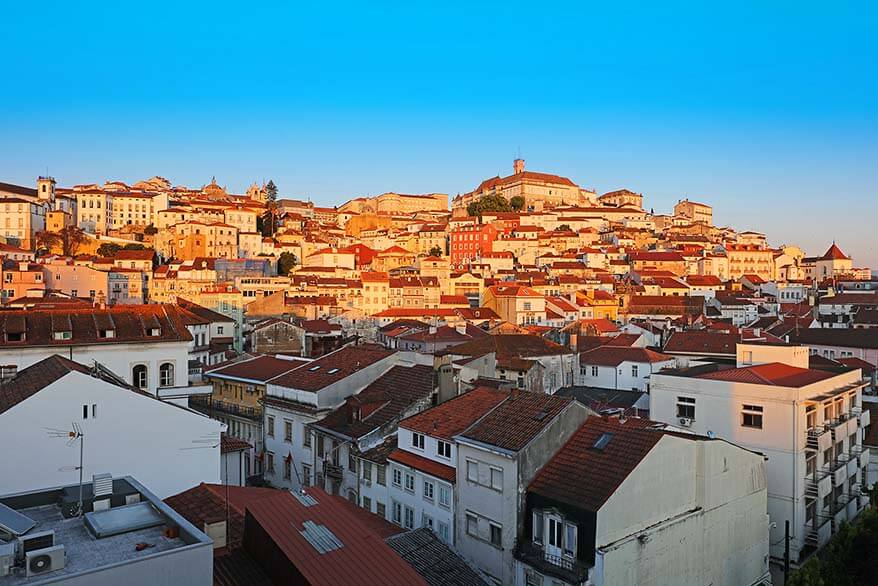 Day 6: Mata Nacional do Buçaco – Costa Nova – Aveiro
This was another amazing day discovering a hidden gem of Central Portugal – Bussaco Forest. We also visited Aveiro and – one of the most picturesque towns in Portugal – Costa Nova. Take a look below for more details!
Mata Nacional do Buçaco
Driving time from Coimbra to the forest – 30min.
Just 30km North of Coimbra lays the beautiful Bussaco forest (Mata Nacional do Buçaco). It's a true hidden gem! Not to be missed is the beautiful Palace Hotel, the gardens, but also the staircase of Fonte Fria and the Via Sacra.
Practical information for Buçaco forest:
Entrance fee: 5 EUR/ car
Ask for a map at the entrance. The forest is huge and without a map, you'll quickly get disoriented.
Pack a picnic and plan to spend at least 3-4 hours. Alternatively, you can have lunch at a small cafe close to the hotel.
Leave your car at the Palace Hotel and explore the forest on foot.
If I were to go back, I'd spend at least one night at the beautiful Buçaco Palace Hotel.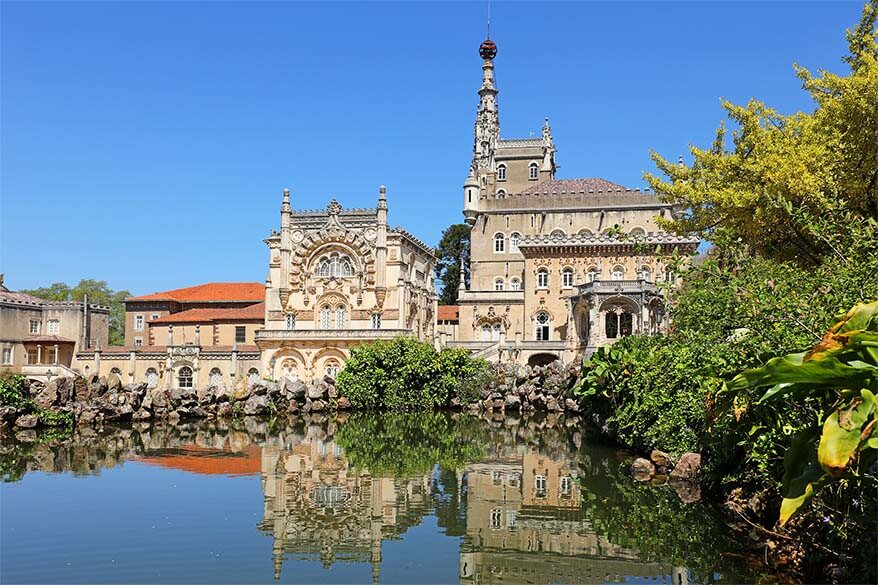 Aveiro and Costa Nova
Driving time from Bussaco forest to Aveiro – 45min.
Aveiro (50km drive from Bucaco) is a nice little town, also called the Venice of Portugal. One of the musts here is a boat ride on the canals. Aveiro is a nice place to spend a couple of hours, but then you have seen it all.
TIP: visit the nearby town Praia da Costa Nova with its colorful striped houses.
Depending on how much time you have and on your other plans, you can either spend a night in Aveiro, or drive to Porto (less than 1hr drive).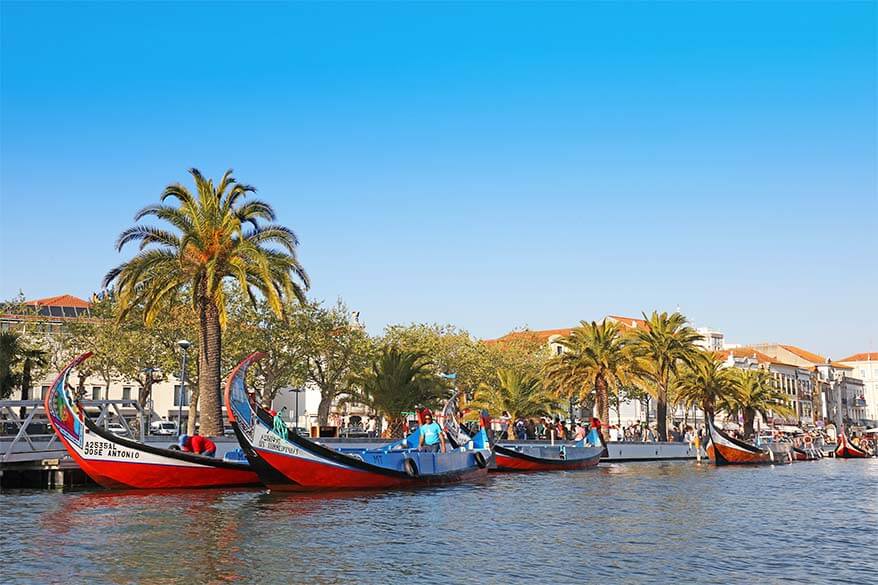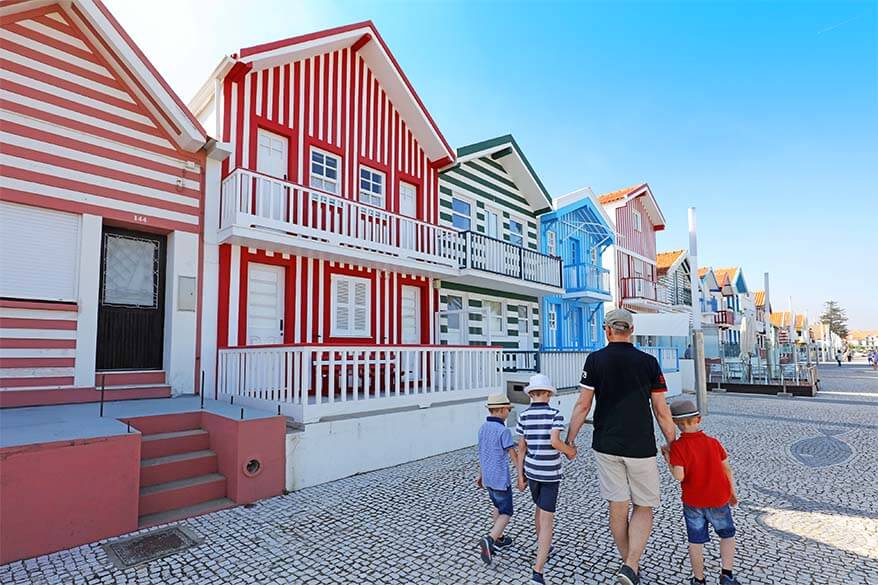 Day 7: Douro Valley and the vineyards of Porto and to Porto
Driving time: depends on the route you choose. Count at least half a day.
Because we were traveling with kids, we chose to visit the Douro Valley by car.
TIP: If you stay in Porto, consider one of the many available organized day tours to Douro Valley. That way you can actually taste Porto wine without having to drive. There are also boat trips you can take from Porto, from Peso de Regua or from Pinhao. Furthermore, there is also a possibility to explore the wine region by train. Take a look below for the best Douro Valley tours and experiences.
If you drive to the Douro Valley by car, don't miss the scenic road from Sabrosa to Pinhao. Make sure you do this road from Sabrosa and not in the other direction because driving down you'll have incredible views all the time.
Other highlights include Solar de Mateus just outside Vile Real, Casal de Loivos viewpoint near Pinhao, and also the towns of Amarante and Guimaraes.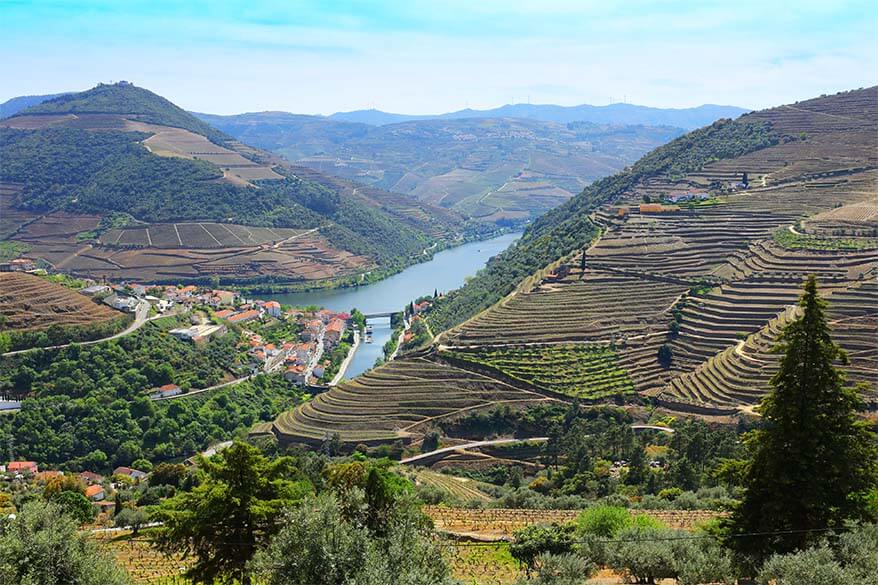 Day 8: Porto
Porto is a beautiful city with a really nice atmosphere. You can easily spend more than a day in Porto. However, Porto isn't as big as Lisbon and we found that one day in Porto was enough for the main highlights.
Practical tips for visiting Porto:
Stay in the city center of Porto so that you can explore it on foot. We stayed at the beautiful Flores Boutique Hotel & Spa right in the old city center, and I would highly recommend it (although, getting there by car and parking a car in their secure parking place was quite an adventure). Here you can find the best deals for Porto accommodation.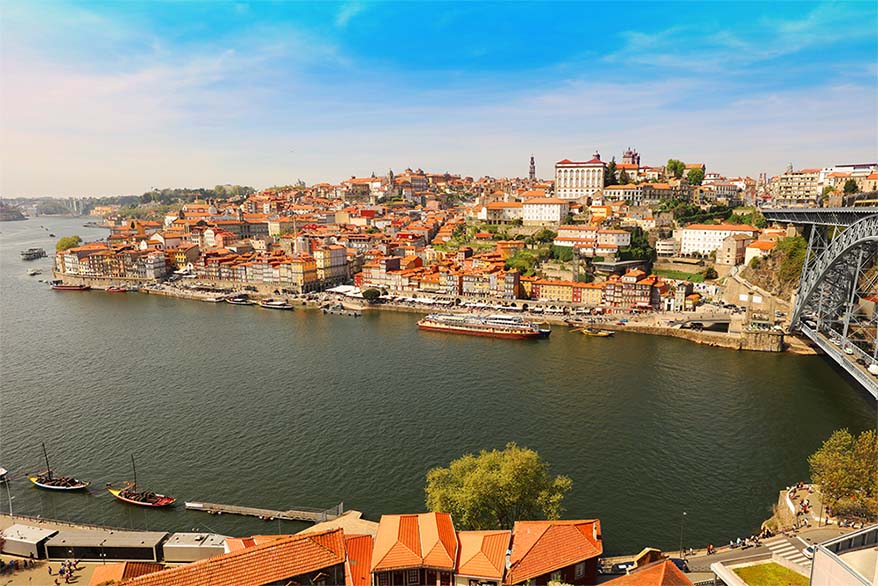 Day 9: Porto to Sintra. Visit Pena Palace and Castle of the Moors
Driving time from Porto to Lisbon (Sintra) – 3 hours.
Sintra
Sintra is a well known UNESCO World Heritage Site area, just outside of Lisbon. It has a lot to offer, but most visitors only come for one day. We had a day and a half, but it still felt rushed.
On the first day we visited the Pena Palace (see the featured image all the way on top) and the Gardens of Pena. We then walked to the nearby Moorish Castle. Palacio Nacional right in the town center of Sintra is also worth a visit.
LEARN MORE: Sintra itinerary for one, two, or three days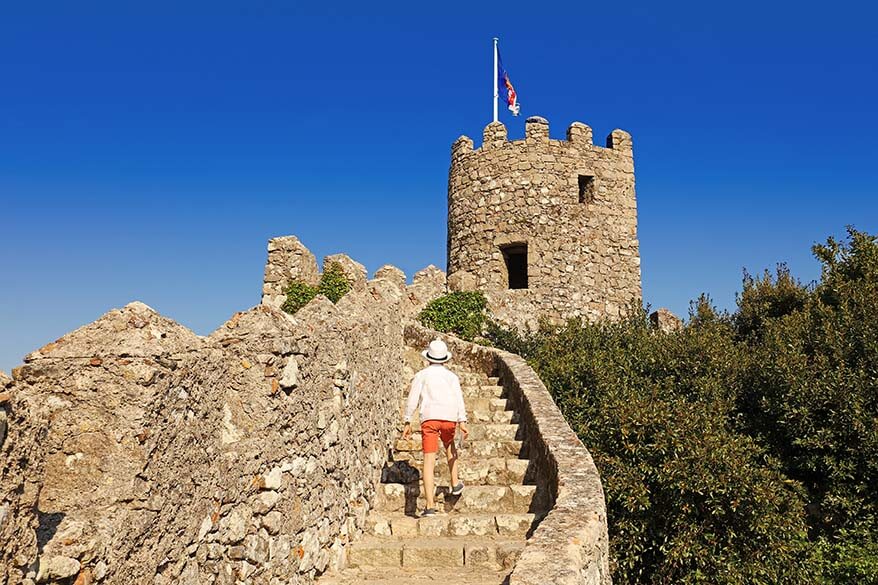 Day 10: Sintra: Quinta de Regaleira and the Palace of Monserrate
On our second day in Sintra, we visited Quinta de Regaleira and the Park and Place of Monserrate.
Tip: If you have more time in Sintra and have a car, you can drive to the nearby Cabo da Roca or the coastal town Azenhas do Mar.
Practical information for visiting Sintra:
Sintra is a popular day trip from Lisbon, but if you are coming by car anyway, I would recommend spending at least two days here.
Without the car, the best way to reach Sintra is by train from Lisbon. It takes about 45 minutes. Or you can take an organized tour. Some tours visit the places outside of Sintra too – places you can't see if you don't have a car.
Accommodation is very limited in Sintra, so book well in advance. You can find the best deals for Sintra accommodation here.
For more information about the parks, gardens, and monuments of Sintra, take a look at the official website of Parques de Sintra.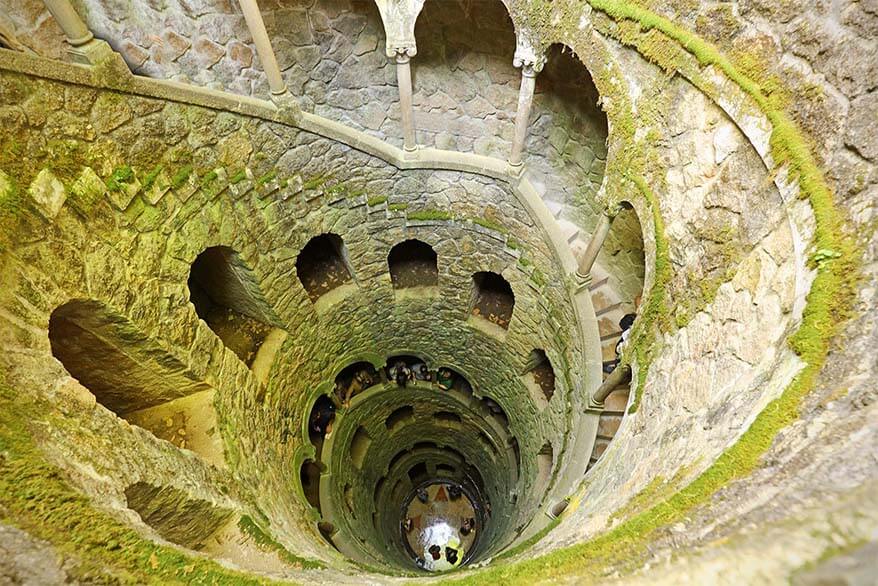 Portugal Itinerary for Any Duration
The above is our trip itinerary for 10 days in Portugal with kids. The distances in Portugal are quite small, so you can easily adapt this itinerary to your interests and any trip duration.
We traveled to Portugal with kids, so our days were not fully packed with sightseeing (although the kids would probably disagree :)). We found that this itinerary left quite some free time to explore deeper, have long meals, take a dip in the pool, etc.
If you have at least two more days in Portugal, visit the beaches of Algarve as well. If you are driving to Algarve, you could do this at the end of this trip, after returning to Lisbon. That way you leave the more relaxing beach stay for the end of your trip.
If you have less time than 10 days, skip the places that don't interest you, or try to squeeze more in a day. As I said, the distances aren't big and you can see a lot in a short time.
If you don't want to rent a car in Portugal, please take a look at our suggestions for day tours that I included where possible. For a bigger distance, like Lisbon to Porto, you can take a train.
TIP: Find the best deals for rental cars and hotels for your trip here. And don't forget good travel insurance!
P.S. We used Michelin Green Guide Portugal to plan this trip. It's a great resource containing lots of practical information for each of the locations described in this post.
Update: We loved Portugal so much that we returned a year later to visit the Algarve region, as well as Madeira Island. You can find more information about all these places in our Portugal travel guide.
Best Time to Visit
Portugal is a year-round destination. If you are planning to visit towns and cultural landmarks, then you can plan a trip at any time of the year, but I would suggest avoiding the hottest summer months. If you are planning to visit the beaches, then come from May to October. July and August are the peak months when it's very busy everywhere.
If you want to explore Portugal to the fullest, then visit in April – May or in September – October. That's when the weather is really nice but not too hot for sightseeing, it's not too busy, and accommodation prices are lower.
We made this trip in April and it was an excellent time to be here. For more information on what to expect in this season, please read our guide to Portugal in April.
READ ALSO: Best time to visit Europe
If you found this post useful, don't forget to bookmark it and share it with your friends. Are you on Pinterest? Pin these images!