Planning a trip to Amalfi Coast, Capri Island, Naples, and its surroundings, and wondering how to prepare a good itinerary combining all the best places in this beautiful corner of the Campania region in Italy?
In this guide, we share a 10-day itinerary that starts and ends in Naples and covers all the top sites nearby. Following this itinerary, you will see the best places on the Amalfi Coast, Capri Island, but also Sorrento, Pompeii, Mount Vesuvius, and of course, the fascinating city of Naples. In addition, you can also visit the Royal Palace of Caserta or the islands of Procida or Ischia.
This itinerary is based on our personal experience during a recent trip to southern Italy. It includes practical information such as where to stay or how to get from one place to another.
To help you plan your trip, we also share useful tips and recommendations based on the things that we learned and what we would do differently when planning a trip to Naples and the Amalfi Coast. That way, you can avoid the same mistakes and make the most of your trip. Find out!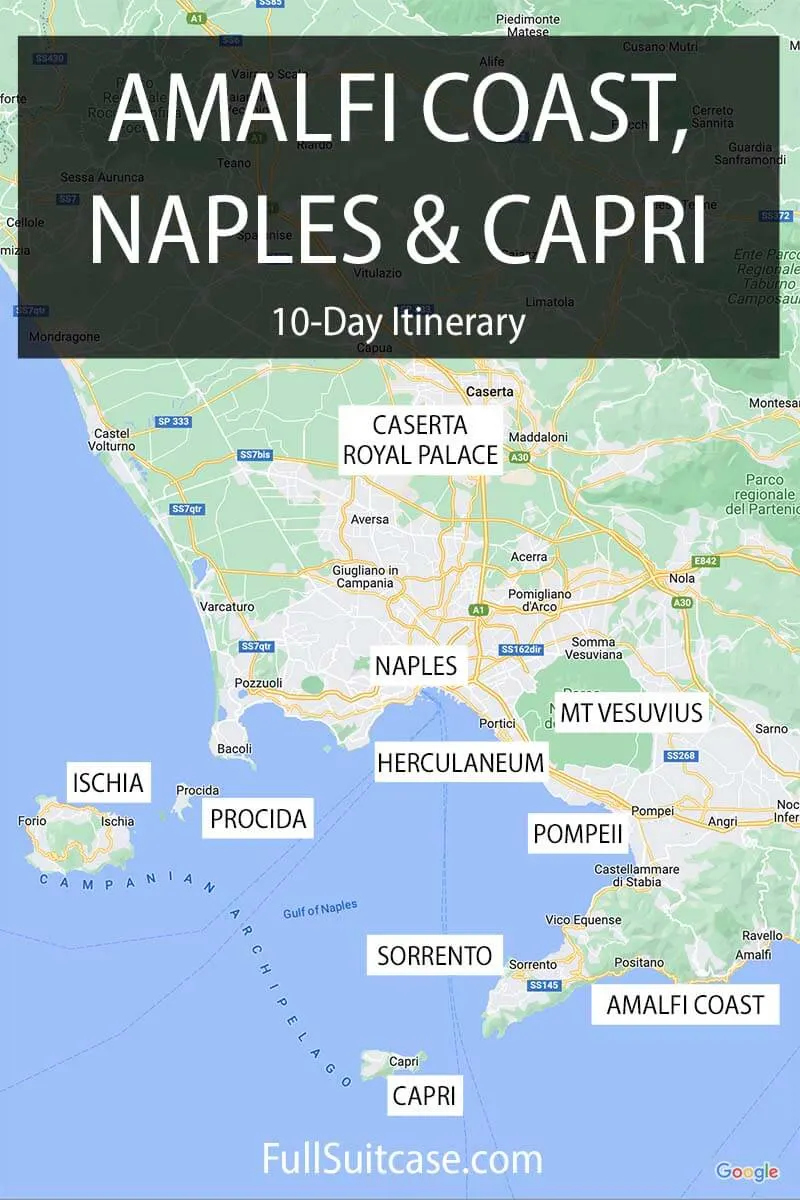 This itinerary covers all the top places in this area, but it's also not overly packed. So you can take some time to relax at the beach or enjoy a relaxing lunch or dinner. Alternatively – depending on your interests – you could add a few additional places to this itinerary and explore deeper.
If you are in a hurry, you can also visit just 'the musts' in less time. In that case, you may want to take a look at our Amalfi Coast itinerary for 5 days.
Here is an overview of our recommended itinerary for 10 days in the Naples – Amalfi Coast area that you will find in detail below:
Days 1-2-3: Amalfi Coast.
Day 4: Sorrento & Pompeii.
Days 5-6: Capri Island.
Days 7-8-9-10: Naples city + day trips (Herculaneum, Mt Vesuvius, etc.).
Alternative planning suggestion: All these places are so close together that you can easily shift things around. For example, you can also start with Naples (+ Pompeii, Sorrento, Vesuvius, Herculaneum…), spend a few days on Capri Island, and end with a beach holiday on the Amalfi Coast.
It's also possible to stay in just one location and visit all these places from there. In that case, we recommend staying in Sorrento – it's the best base location for this area.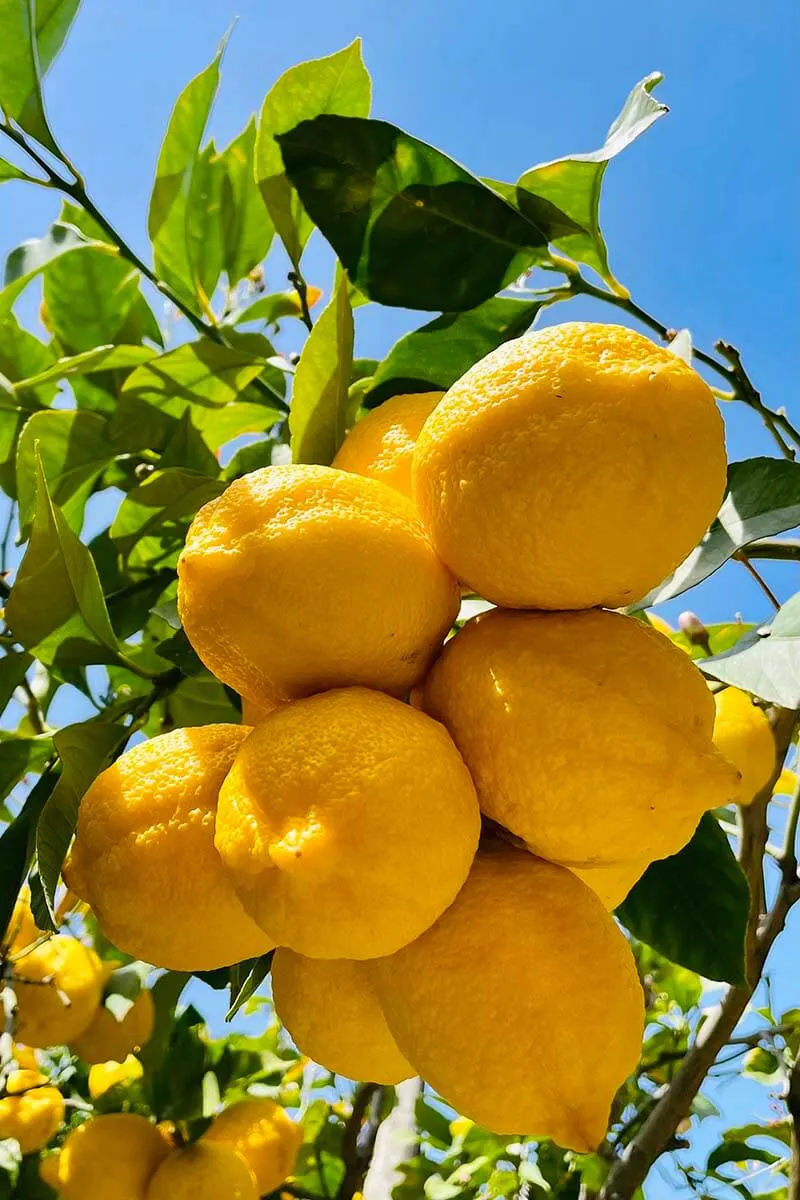 Here is our detailed itinerary for 10 days in Naples area:
Day 1: Naples to Positano
If you decide to start your trip with the Amalfi Coast as we did, head there straight after you arrive in Naples. Depending on where you choose to stay and how you travel, the journey can take about 1.5-3 hours.
READ ALSO: How to Get to Amalfi Coast from Naples
We chose Positano as our base for exploring the Amalfi Coast. It's the most picturesque town on the coast, the one that you see in travel brochure pictures of the area. And indeed, it's like staying inside a postcard!
However, Positano is also a very hilly town. So depending on where you stay, be prepared to do hundreds of stairs every time you need to get anywhere. If this is not your idea of a fun vacation, then you may want to choose a hotel close to the harbor or stay in Amalfi town.
LEARN MORE: Where to Stay on the Amalfi Coast
Whether you are staying here or not, Positano is a must-see on the Amalfi Coast!
After settling in at our accommodation, we explored the town. Some of the must-sees include the beach, the Cathedral, MAR Positano Villa Romana, and pretty much the entire old town. For some of the best views of the town, walk up on Via Cristoforo Columbo.
In the evening, find a nice restaurant for dinner. There are so many great choices! We had dinner at Saraceno d'Oro, close to our accommodation. Closer to the harbor, check out Da Vincenzo Positano 1958. In the high season, you should reserve in advance!
Accommodation: 2 nights in Positano. We stayed at this beautiful villa (with three kids, hotels were not really an option for us here). We absolutely loved the place and the views were amazing, but if I were to go back to Positano, I'd stay lower and closer to the center (e.g. Hotel Savoia) or on the eastern side of town (like Alcione Residence, where it's not nearly as steep and the views are stunning too).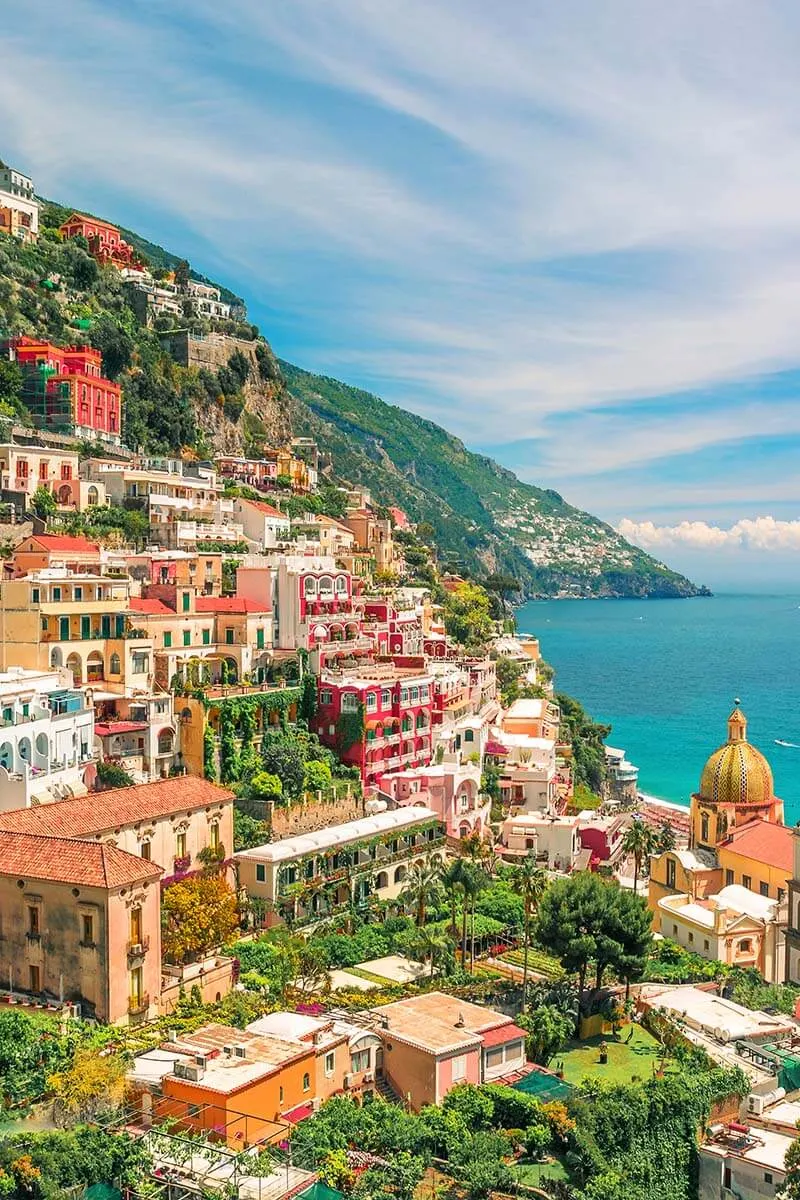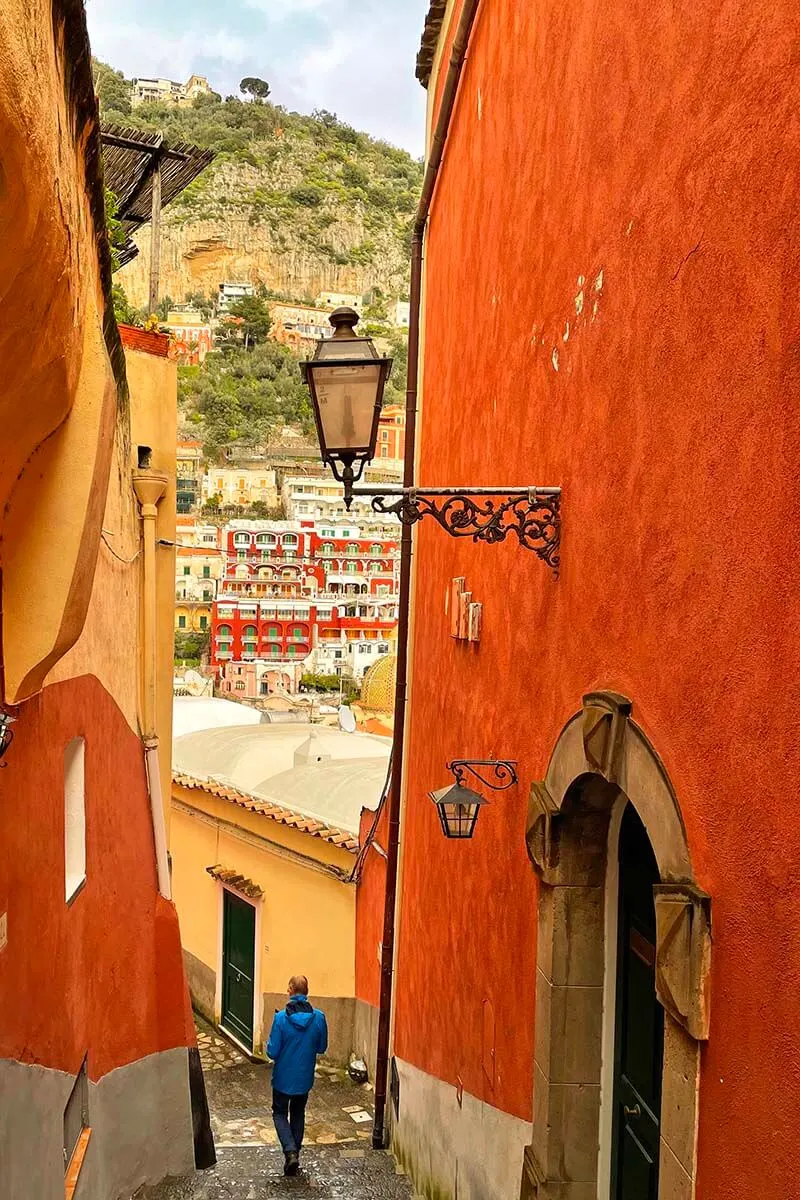 Day 2: Amalfi & Ravello
On the second day on the Amalfi Coast, explore some of the nicest towns along the coast. There are many options, but there are two places that you absolutely shouldn't miss, and that's Amalfi and Ravello.
To get there, you can get a bus or a boat (in season). Taxis are also available but are quite expensive and we really don't recommend renting a car for the Amalfi Coast, unless you are traveling in the super quiet season in the middle of the winter.
We took a boat from Positano to Amalfi and that in itself is a wonderful experience. The scenery along the coast is stunning!
We didn't book this boat in advance and just got tickets at the harbor, but we were traveling in the quiet season and were here on the first day the boats started running after the winter. In the summer, it's best to book in advance.
Amalfi is one of the most visited towns on the Amalfi Coast. The main highlight here is the Cathedral and you really have to visit inside! For the rest, explore the old town and the waterfront area.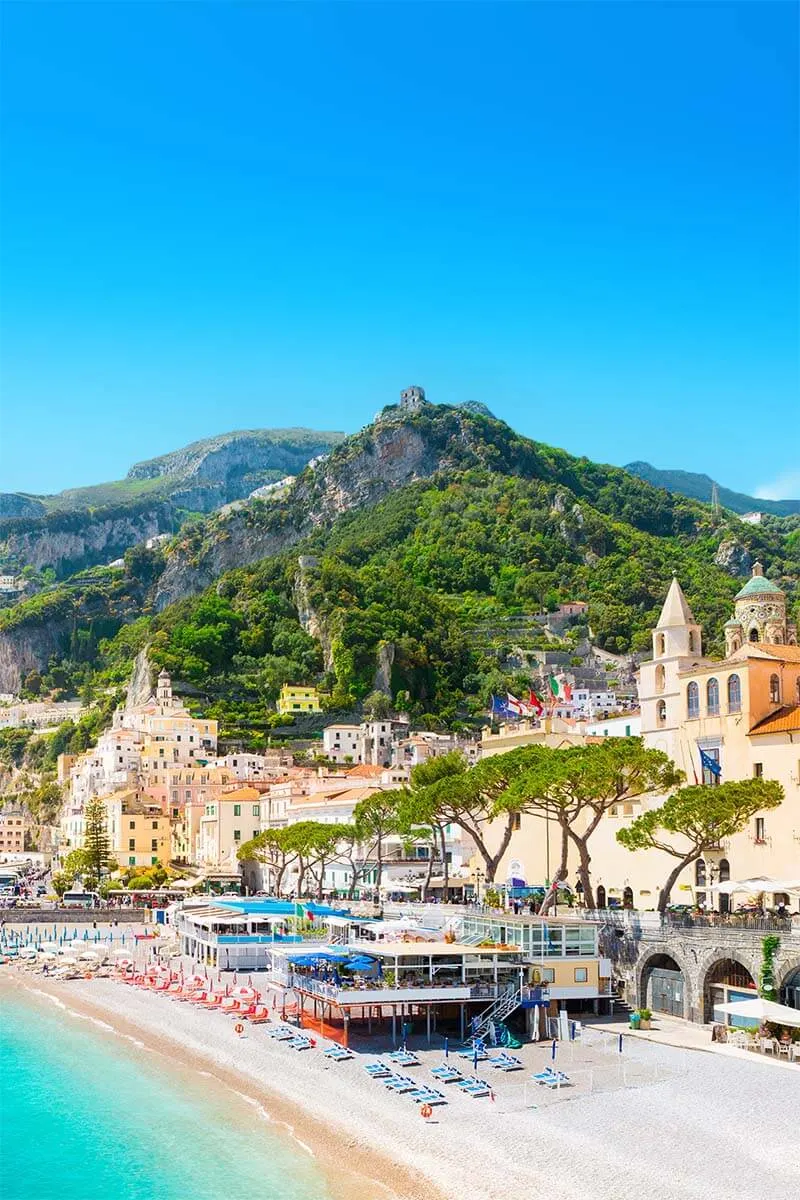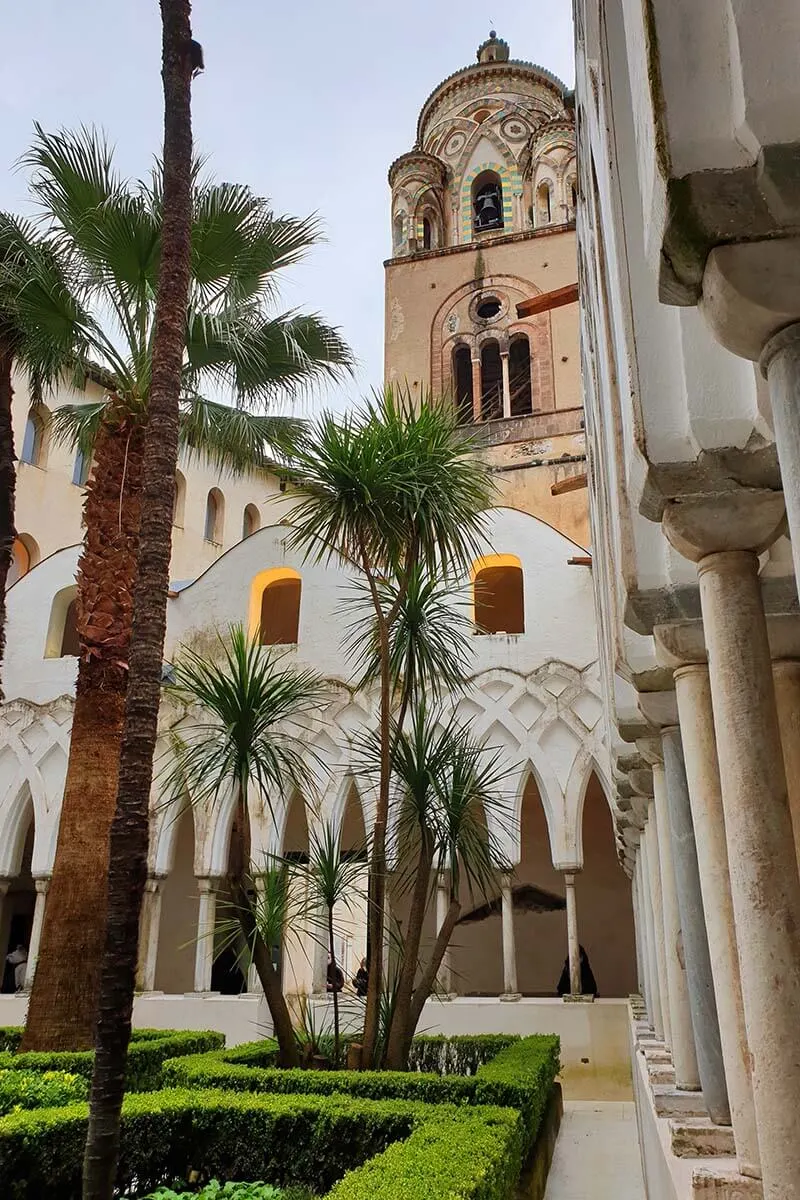 Next, take a bus or a taxi to Ravello. This is not something you have to book in advance – just go to the bus station by the harbor, get a ticket, and hop on the next bus.
Ravello is a little town that sits on top of a steep hill and offers stunning views of the Amalfi Coast. Don't miss Villa Ruffolo and the gardens of Hotel Villa Cimbrone – both have beautiful terraces with some of the best views in the area.
Please note that these are paid attractions and you can just get the tickets on the spot.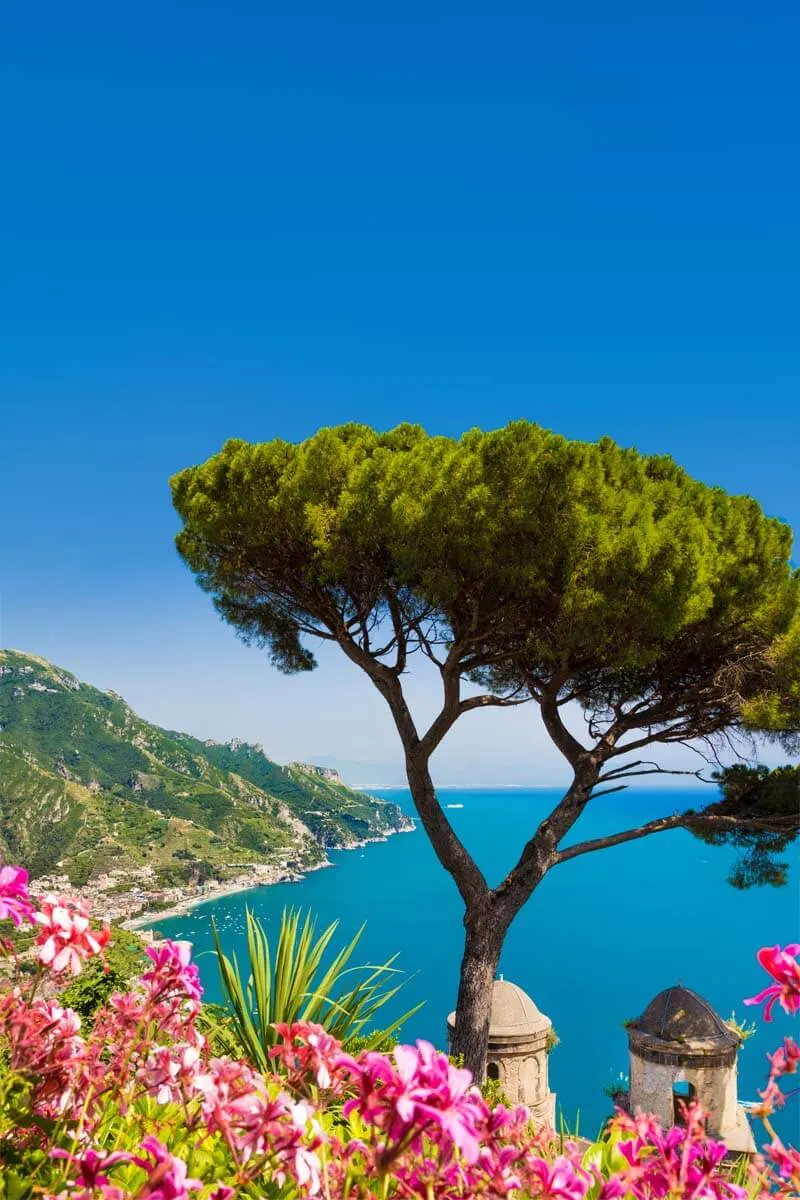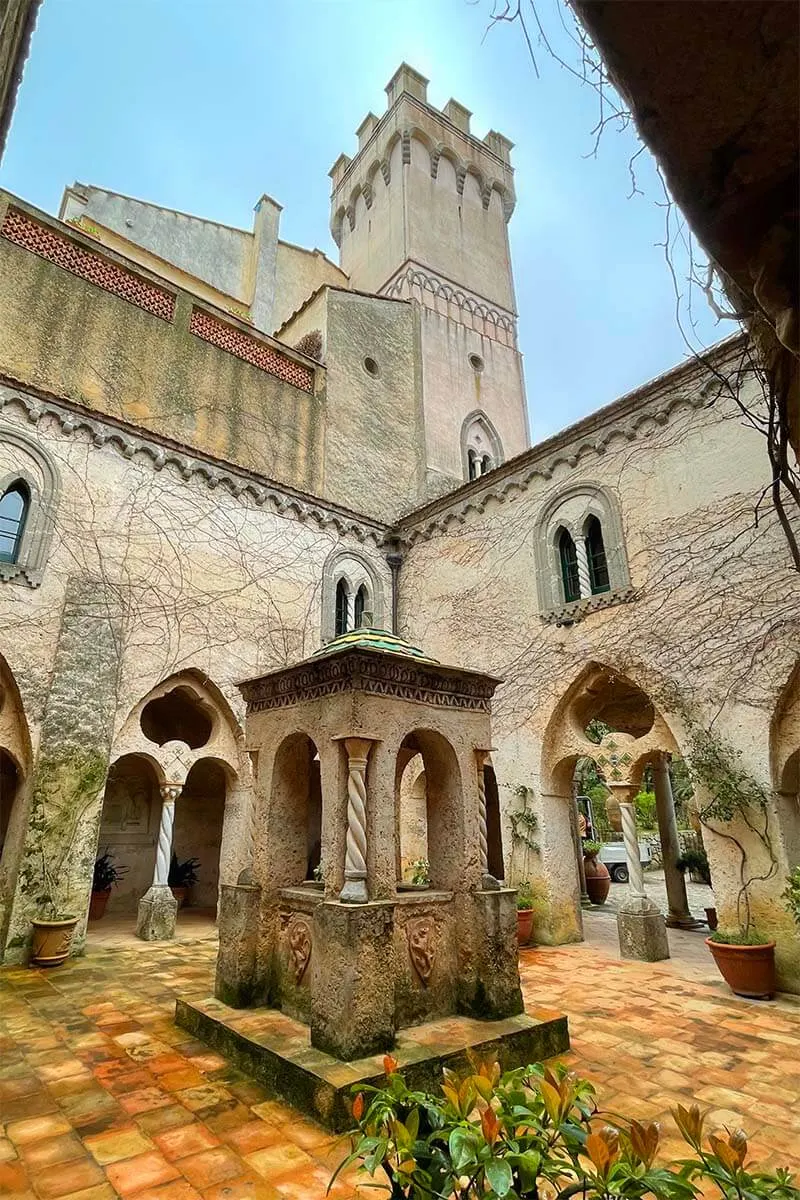 There are also several hiking possibilities in the Amalfi area.
One option is to hike between Amalfi and Ravello via Valle delle Ferriere. We did this hike starting in Amalfi and ending in Ravello, but the last part between Pontone and Ravello is really steep – not something I would do again. If you decide to do this hike, I'd first go to Ravello, explore the town, and then hike down.
Alternatively, you can also hike/take the stairs from Ravello down to the little town of Atrani. It's located by the sea, just near Amalfi, and is also very scenic.
In the evening, take a boat back to Positano. Depending on the time of the year, you may be able to enjoy a beautiful sunset on the way.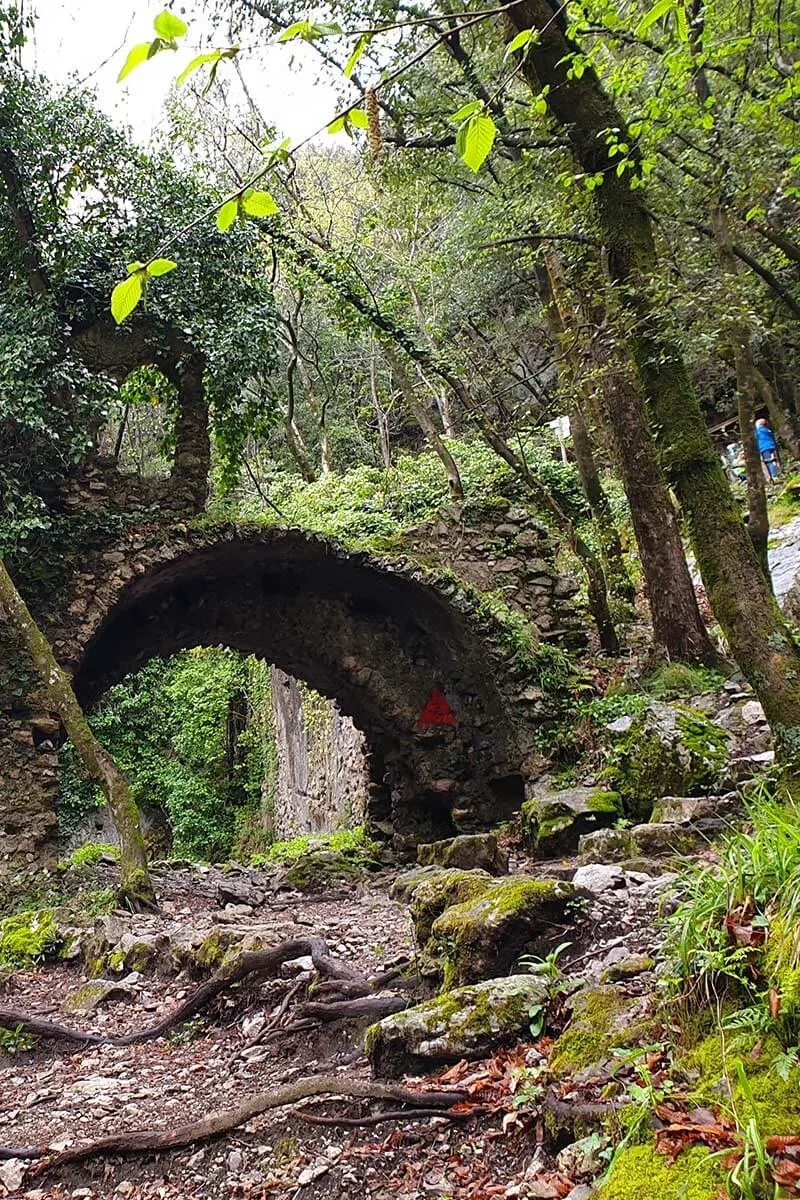 Day 3: Path of the Gods Hike
The Path of the Gods (Sentiero degli Dei) is the most famous hike on the Amalfi Coast. The scenery on this trail is stunning! Doing this hike is also your chance to see more of the Amalfi Coast, beyond the most popular coastal areas.
It's not a difficult hike, with little elevation change, and thus extremely popular. Even people who normally don't hike much consider this a must-do on the Amalfi Coast… Still, don't underestimate the hike, especially if you travel in the summer months.
The trail runs between the villages of Bomerano and Nocelle and takes about 1.5 – 2 hours one way. Most people indeed do it one way, but that also means that you have to arrange transportation to get there and back. Depending on where you start and end and what transportation you use, it can easily take a good half day or even longer.
LEARN MORE: Path of the Gods Hike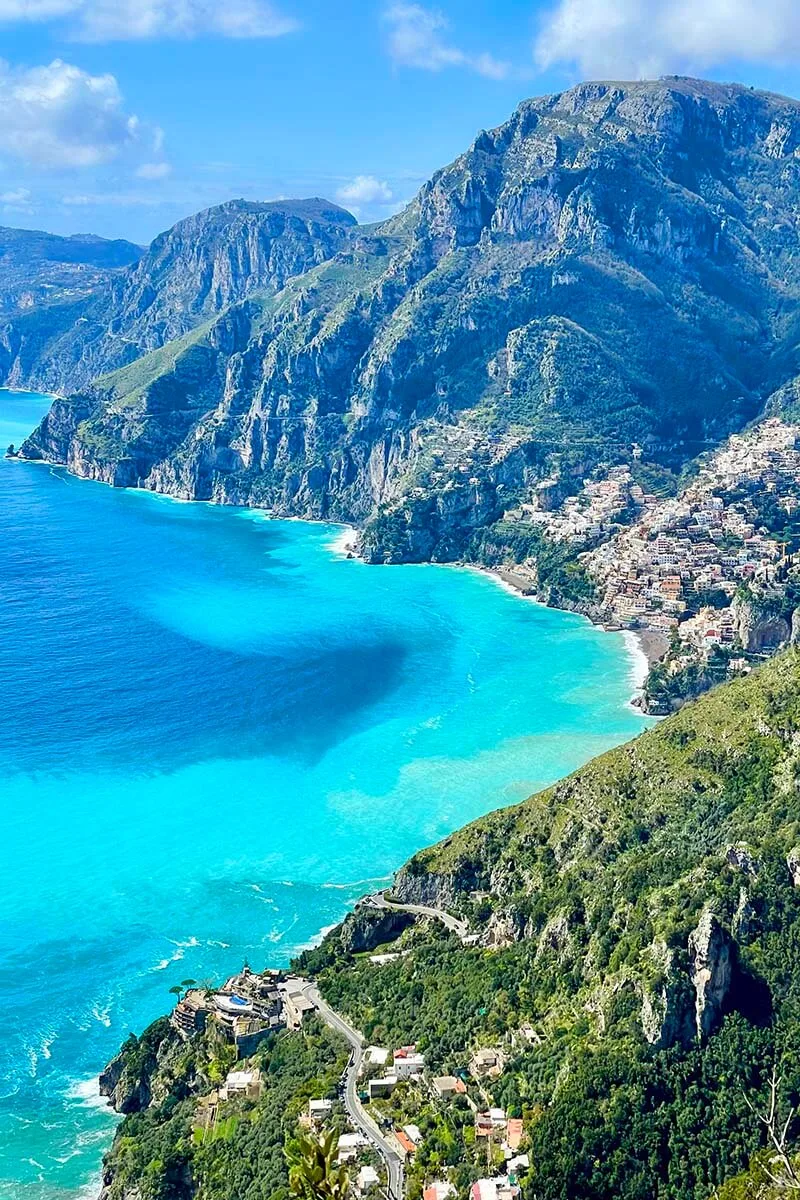 We took a private transfer to get to the start of the hike and also visited Fiordo di Furore on the way. This tiny fjord is very scenic. It also has a small beach where in the summer season you could go for a swim.
At the end of the hike, we also chose to take the stairs from Nocelle down to Positano. This adds quite some extra time and the steep staircase left our knees trembling…
After that, we picked up our bags and took a transfer from Positano to Sorrento. If you decide to do the same, I would recommend spending the rest of the day at the beach or by the pool of your hotel. Otherwise, if you still have some energy left, you can explore Sorrento a bit.
Accommodation: 2 nights in Sorrento. We stayed at this apartment at Marina Grande, and I'd go back in a heartbeat. But if you are looking for a more convenient location (closer to the old town, the station, and the harbor), then stay in the center (e.g. Imperial Hotel Tramontano)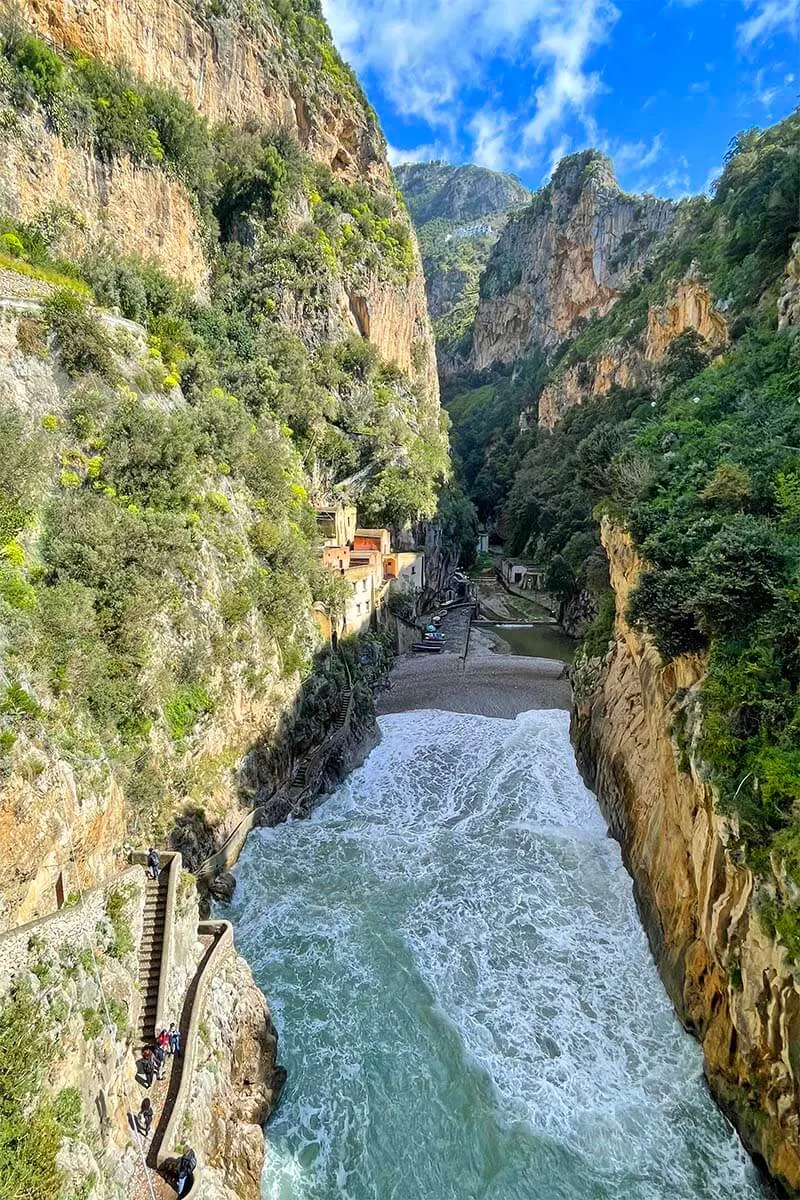 Day 4: Pompeii & Sorrento
Pompeii probably needs no introduction. This ancient Roman city was buried by the ashes of Vesuvius Volcano in the 1st century and was discovered centuries later. The town is incredibly well preserved and a visit here gives you a unique peek into how people lived during the glory days of the Roman Empire.
No matter how you plan your Naples area itinerary, Pompeii is an absolute must-see!
While it's rather easy to visit Pompeii as a day trip from Naples, it's even easier to do so from Sorrento. Pompeii is located just 25 km (15 miles) from Sorrento, and the drive takes about 45 minutes. Or that's what we thought when we rented a car and thought to discover more of the area that way… I'll spare you the details; let's just say that the traffic here is absolutely horrendous. So do yourself a favor and simply take a train.
There are direct trains from Sorrento to Pompeii every 20-30 minutes and the journey takes about 40 minutes. You'll need to get off at Pompei Scavi Villa Dei Misteri station, which is just next to the entrance to the Pompeii architectural site.
TIP: Book your Pompeii tickets online in advance! This will save you lots of time. Or – even better – opt for a guided tour. The site is huge, busy, and incredibly overwhelming. Going with a guide, you can see some of the musts and get some additional tips for the nicest places to explore on your own after the tour.
We also opted for a guided tour and were really glad that we chose to do this (at least something we did right that day!). The guide brought us to all the most important landmarks, gave tons of background information, and told many interesting stories. It really helped to better appreciate what we were seeing. After the tour which lasted about 2 hours, we decided to stay in Pompeii a bit longer and explore some places a bit further away that most tours don't get to (such as Villa dei Misteri which is an absolute gem!).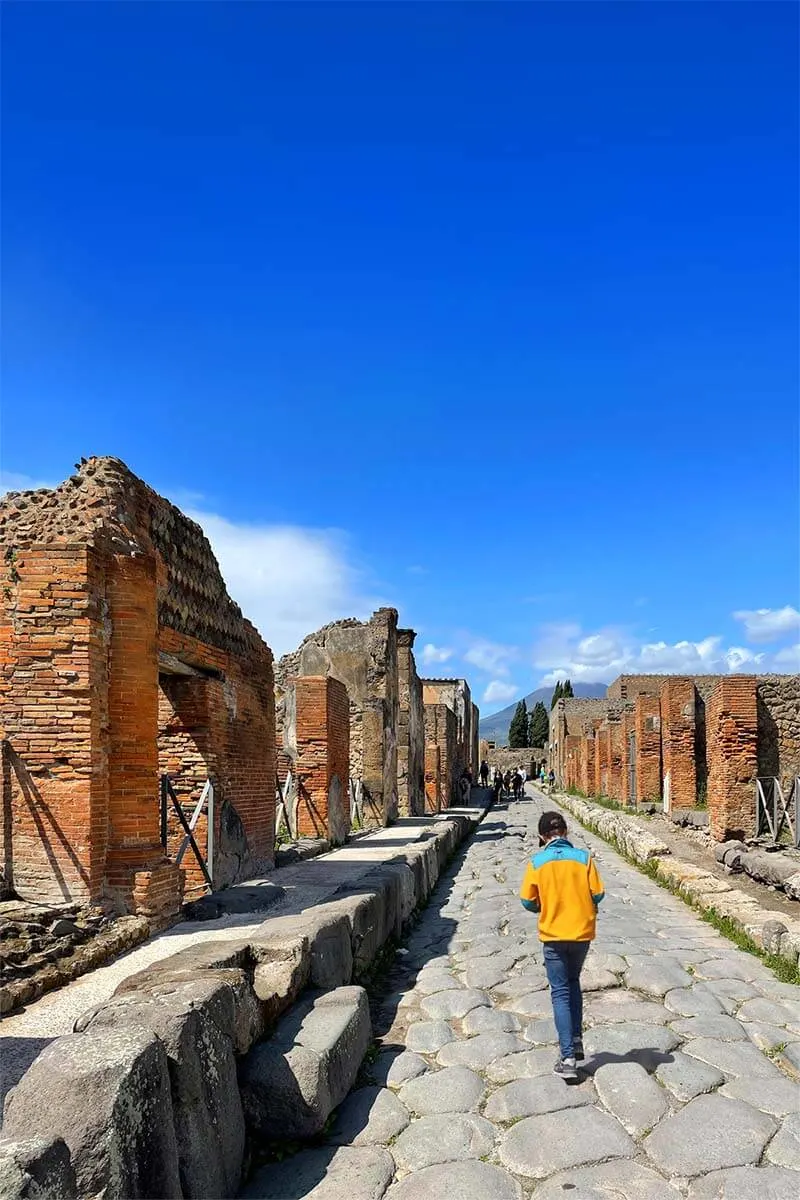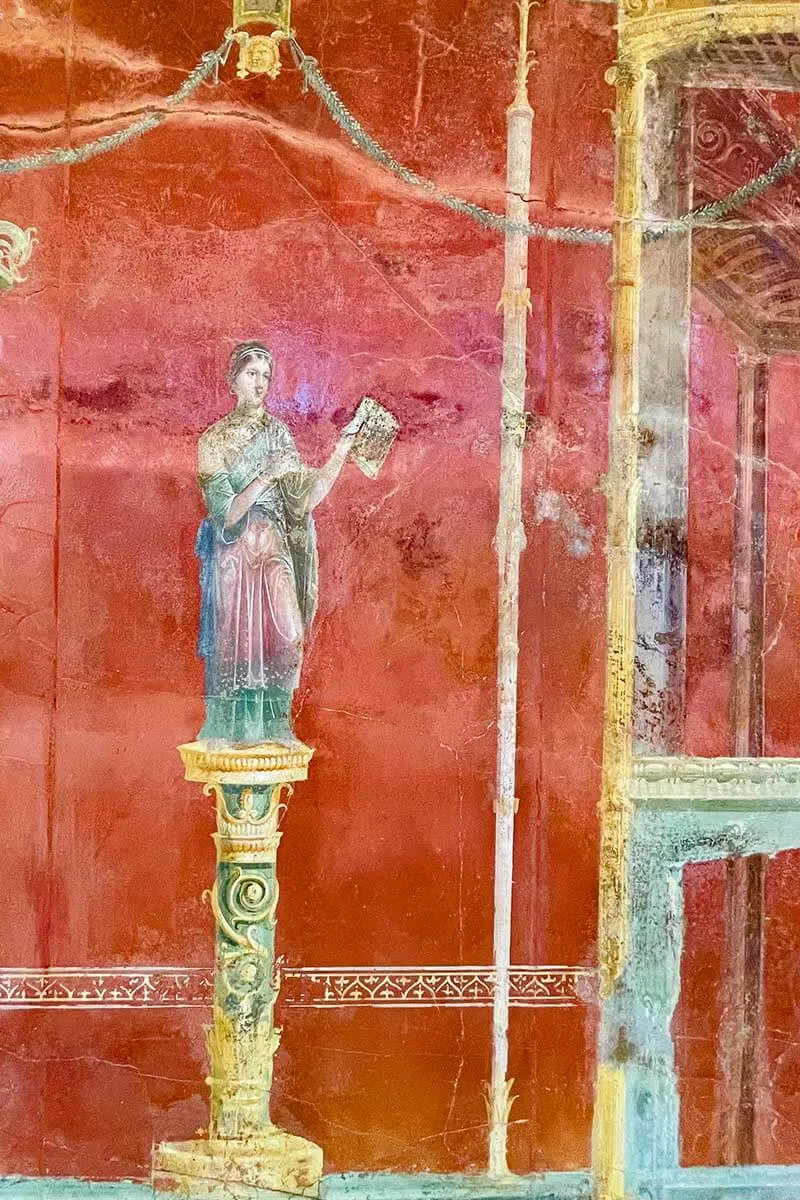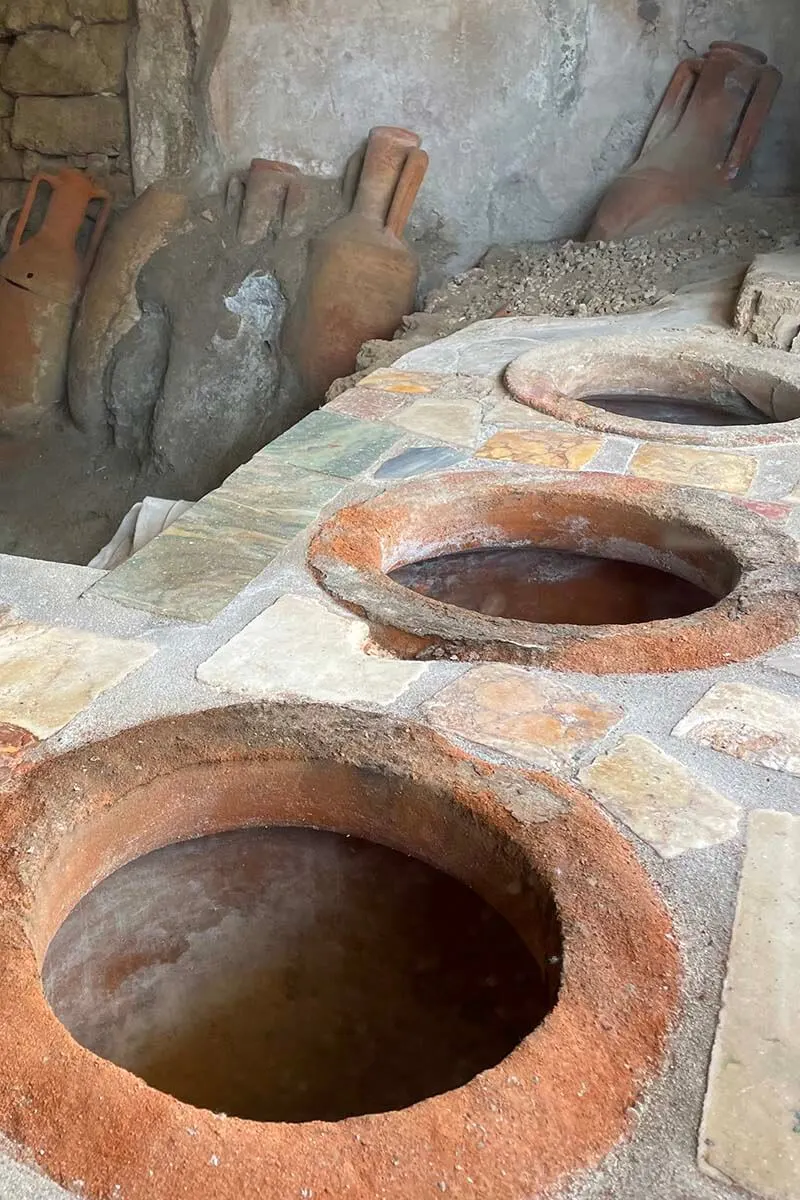 Since we had a car, we also visited Scavi di Oplontis – Villa Poppea, which is another incredibly well preserved Roman villa near Pompeii. However, while it was really interesting, it's just not worth the extra trouble that came with driving and parking in the area…
So for this itinerary, I recommend that you simply take the train from Pompeii back to Sorrento and explore the town.
Sorrento is really nice and there's plenty to see to fill an afternoon. Some of the musts in Sorrento include the old town (the area around Via San Cesareo), the views from Villa Comunale di Sorrento, and also the scenery from Terrazza Panoramica close to Museo Correale.
Be sure to also check out "I Giardini di Cataldo", a lemon garden/shop/cafe. Here, you can taste and buy all kinds of local special foods – from gelatos and jams to Limoncello and other traditional liqueurs. We loved how they have a lemon garden here, hidden behind the shop, right in the middle of the city center.
For dinner, head to Marina Grande, which is a small old harbor nowadays only used by local fishermen and maybe a few very local boat excursions. There are a few restaurants here. Our favorite is the simple, family-run O' Puledrone Restaurant. We dined here on various occasions and it never disappointed.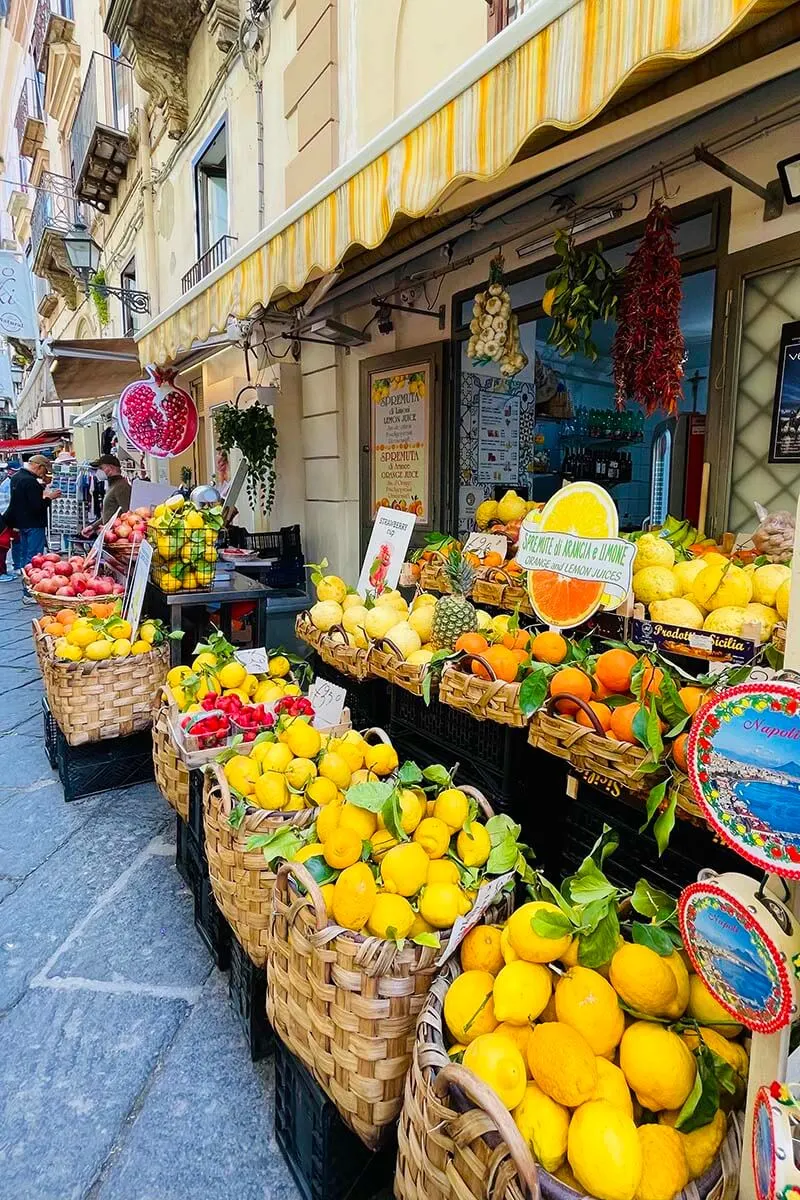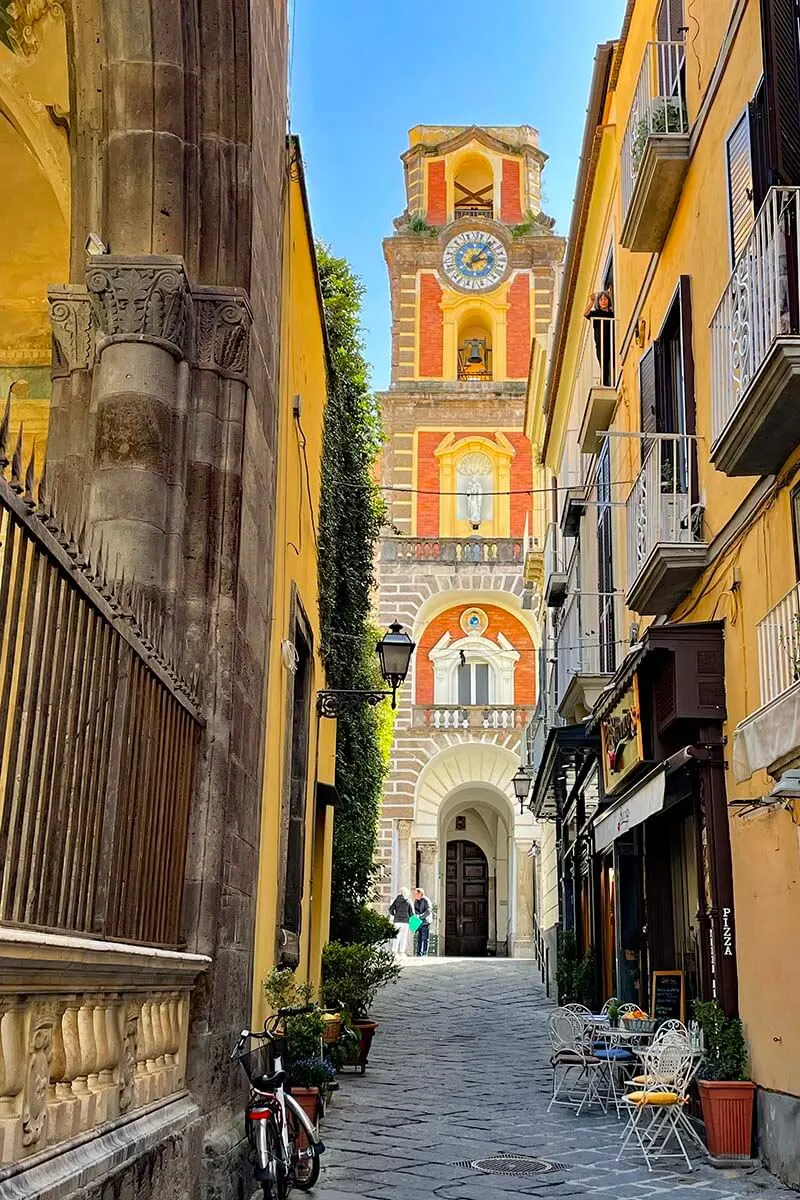 Days 5-6: Capri
Next, take a boat from Sorrento to Capri Island. There are boats and ferries from Marina Piccola in Sorrento and the journey takes about half an hour.
We recommend leaving early in the morning – that way, you have more time to explore Capri.
LEARN MORE: How to Get to Capri from Sorrento
While many people simply visit Capri Island for a day, we highly recommend staying here for at least one, ideally two nights. That way, you can explore the island a bit better and enjoy some of the best spots in the evening without the biggest crowds of day-trippers.
There is a lot more to see and do in Capri than it looks at first sight and with two days on the island, you should be able to cover most places.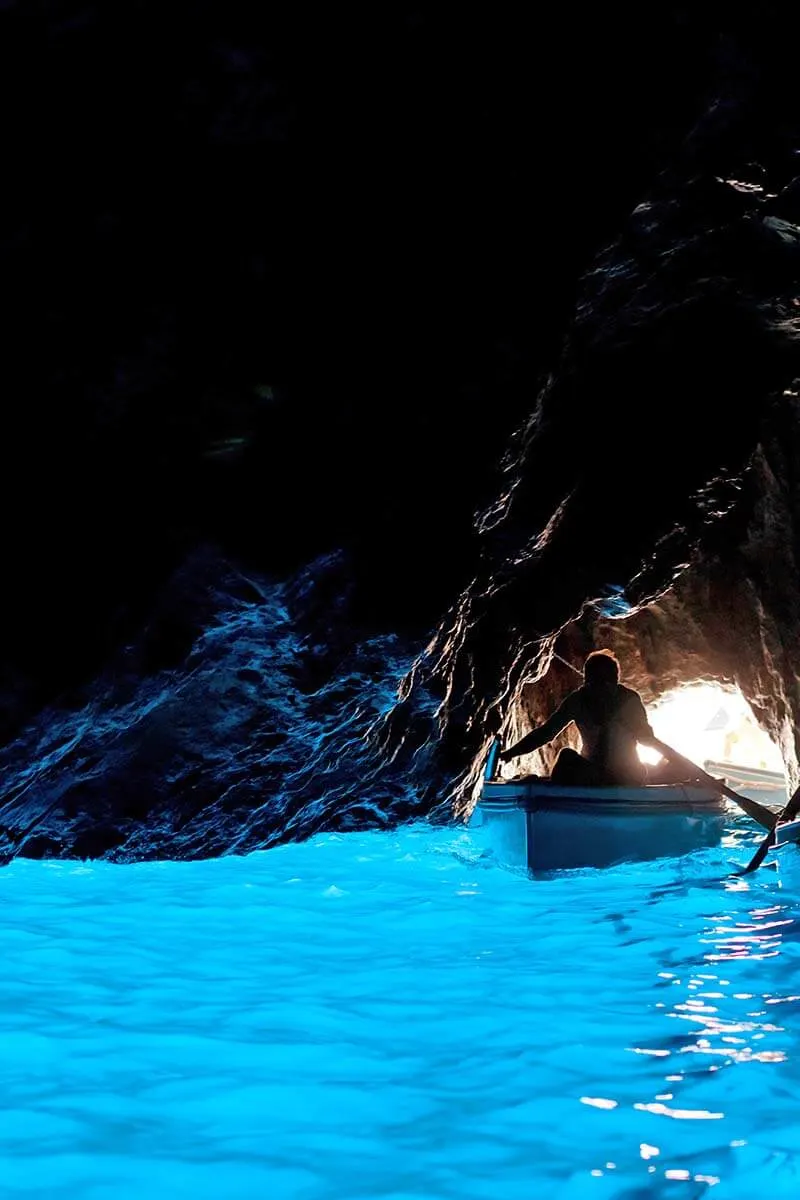 Depending on what exactly you want to see and do, you could visit Capri one day and Anacapri on the other day.
You can take a Blue Grotto tour on the day when you arrive, on the day when you leave, or at any other moment. If you stay close to the harbor, it will be a bit easier to plan, but it's a rather small island so you can do some backtracking too.
In Capri, don't miss the town center and the views from Giardini di Augusto (with Via Krupp). We also highly recommend the beautiful Via del Pizzolungo hike. The scenery here is incredible! Also, Villa Jovis is well worth a visit.
LEARN MORE: Best Things to Do in Capri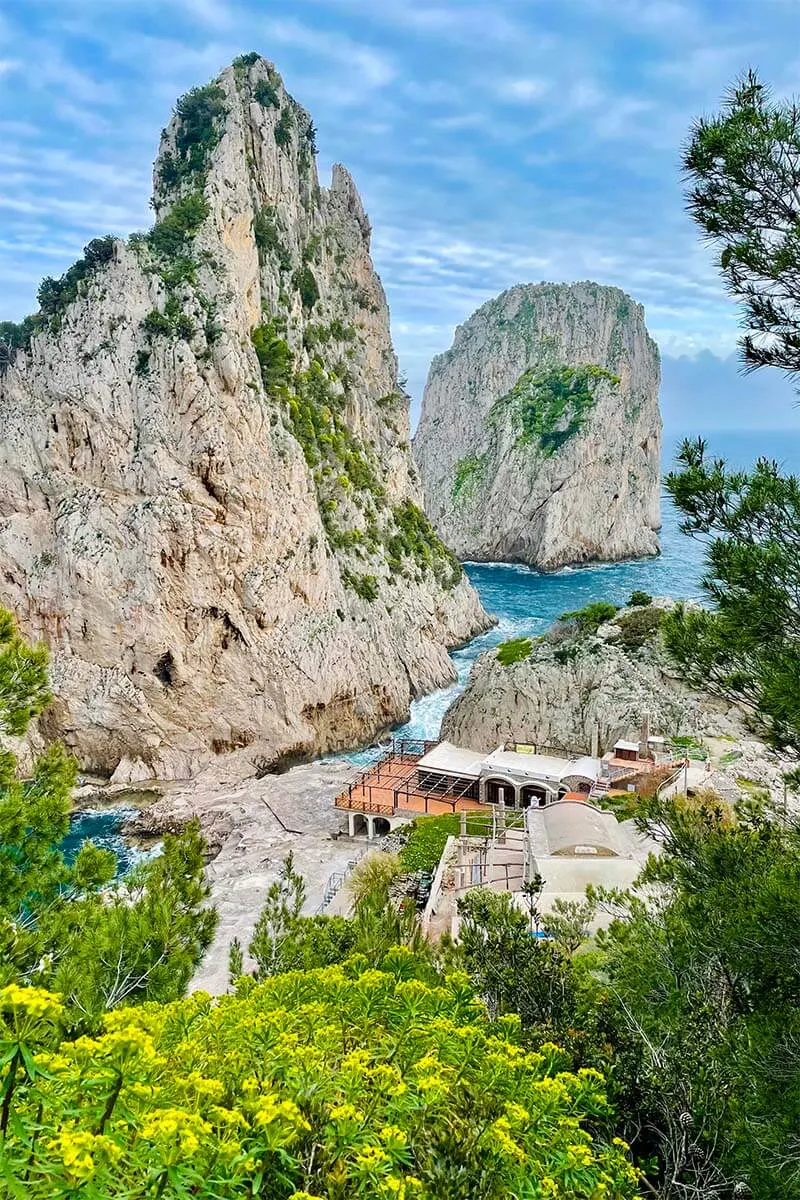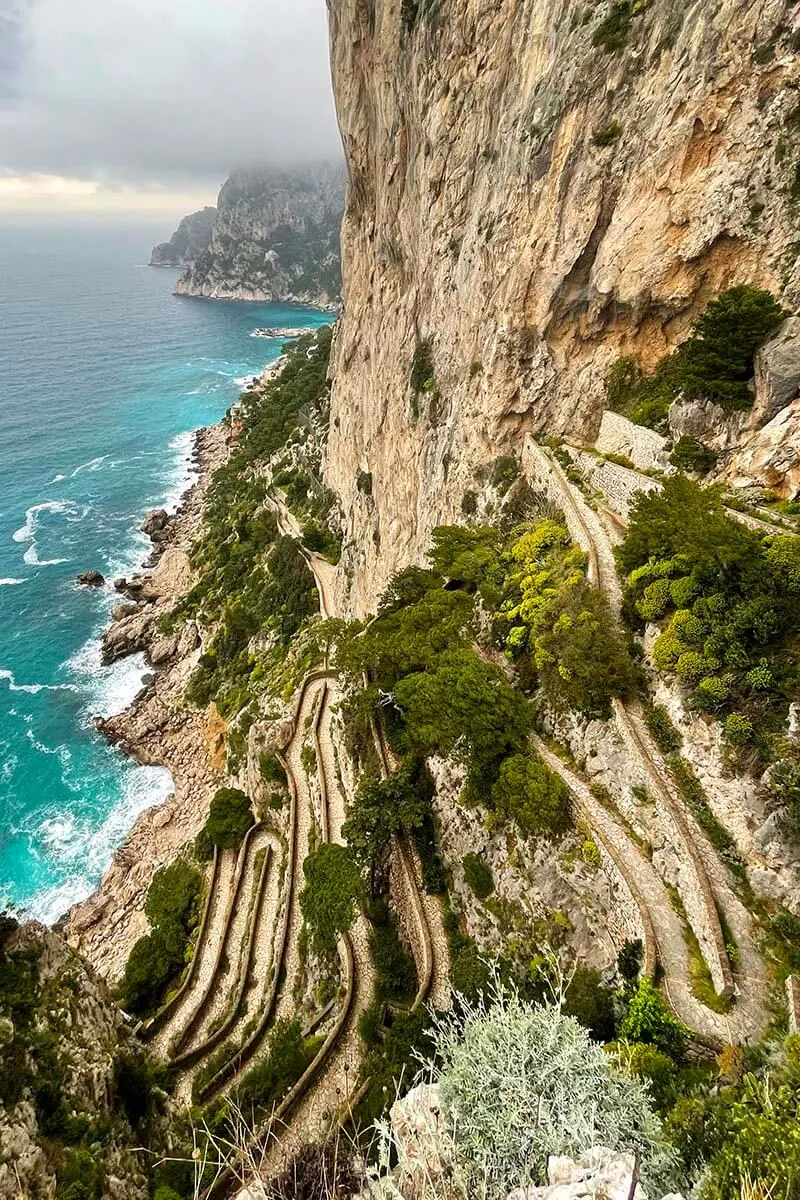 In Anacapri, Monte Solaro is an absolute must, and one place that everyone goes to. So prepare for it to be very busy or go first thing in the morning on your second day on the island.
We also highly recommend Villa San Michele and San Michele Church. One of our favorite spots in Anacapri is Migliara Viewpoint. It's somewhat of a hidden gem and one of the few places on Capri where you can still be alone (although, probably not in the high season).
Be sure to have lunch or dinner at Da Gelsomina Restaurant. We loved it so much that we often say we should plan a new trip to Capri just for this restaurant!
LEARN MORE: Best Things to Do in Anacapri
Accommodation: 2 nights in Capri. If you don't want to worry about luggage and practicalities, simply stay close to the harbor (e.g. Capri Inn or Palatium Mari – both are rather affordable for Capri standards). See our guide below for more information about different areas.
LEARN MORE: Where to Stay in Capri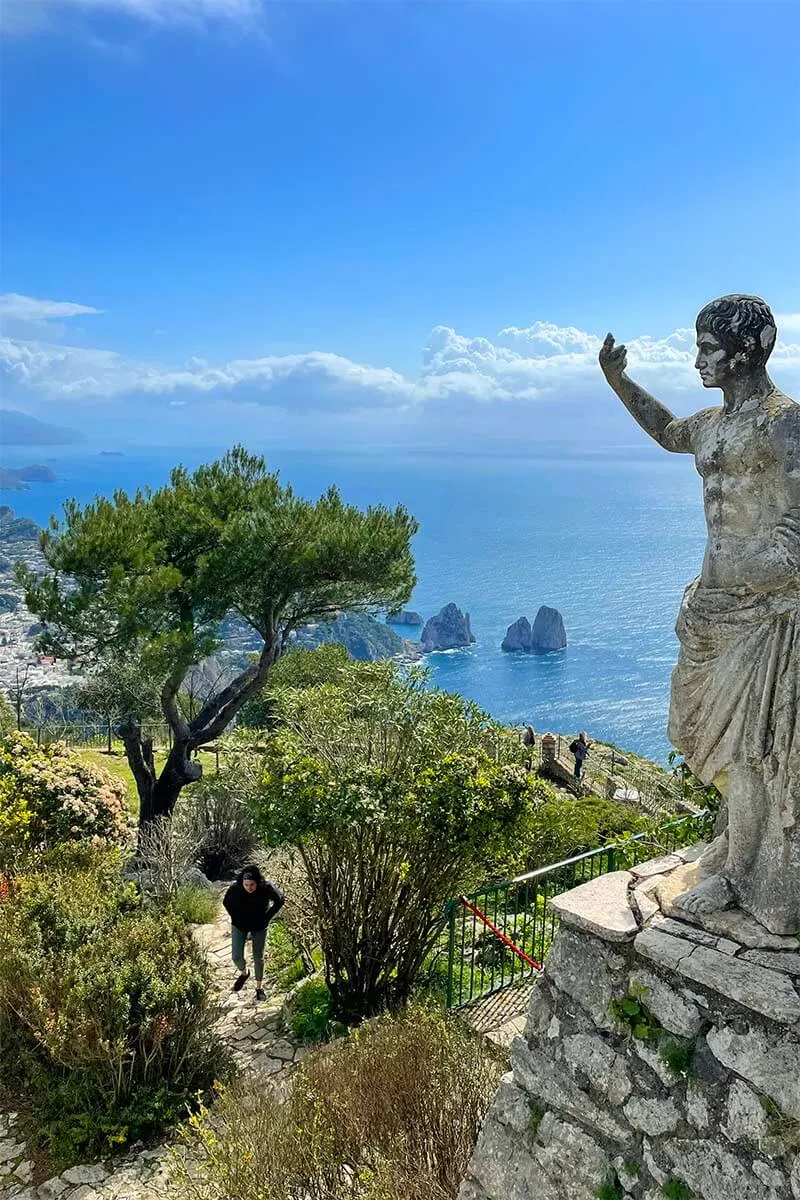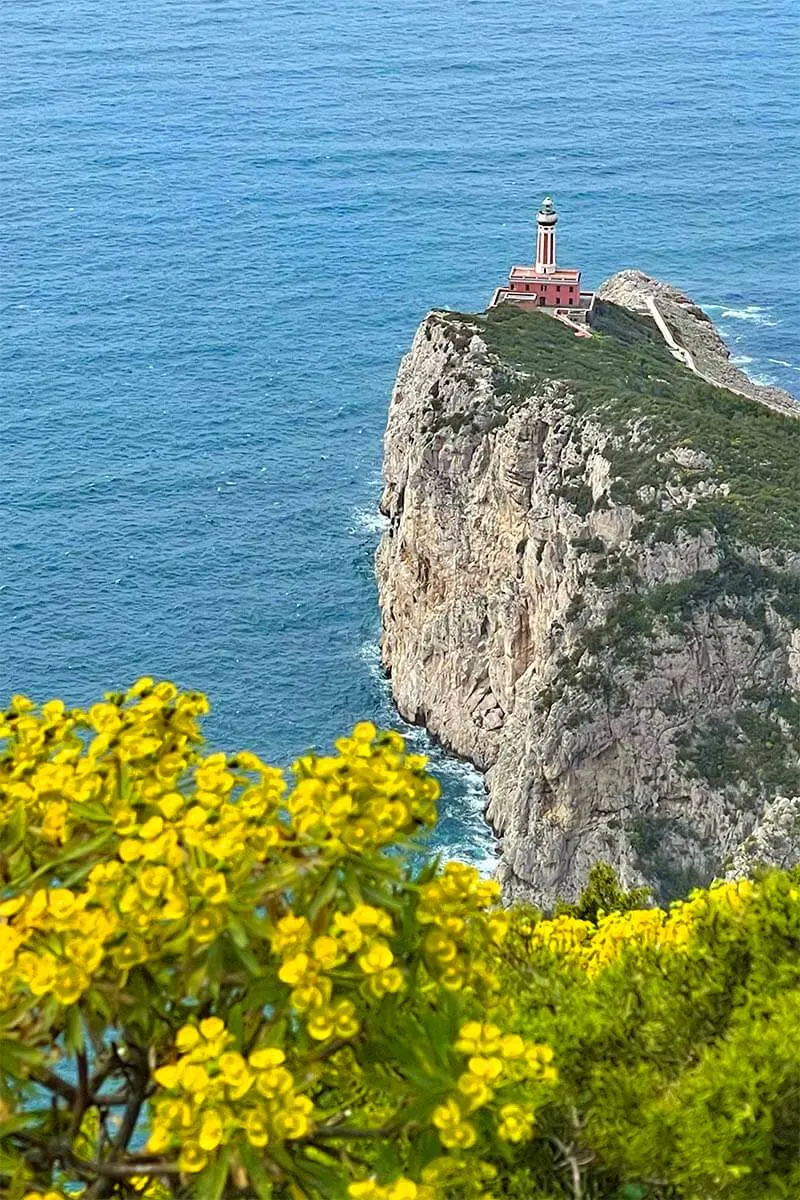 Days 7-8: Naples
In the morning, take a ferry from Capri to Naples. The journey takes about 1 hour.
Following this itinerary, you will have two (almost) full days to explore the city of Naples. In addition, we also recommend visiting a few other places nearby – see days 9 and 10 of this itinerary. Of course, you can easily switch the order in which you do it or skip some places and replace them with something else if you prefer.
With two days in Naples, you can visit most of the top sights in the city. Some of the top places to see include the historic center around Spaccanapoli and Via dei Tribunali, the churches in that area, the Sansevero Chapel, Piazza del Plebiscito, and the Naples National Archaeological Museum.
Don't miss the iconic views from Sant'Elmo Castle and the nearby San Martino Monastery. We also highly recommend visiting the Catacombs of Naples as well as the tunnels of Napoli Sotterranea.
And don't forget to try the traditional Napoli pizza every time you get the chance!
LEARN MORE: Best Things to Do in Naples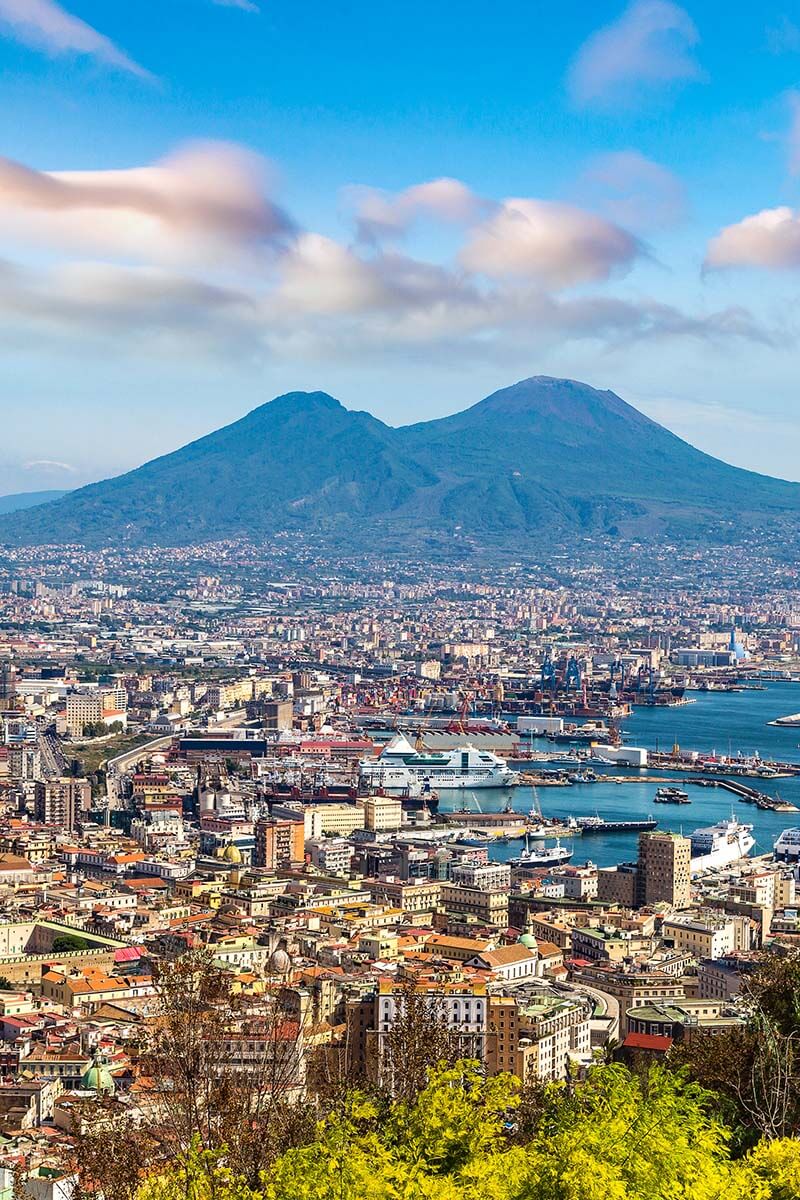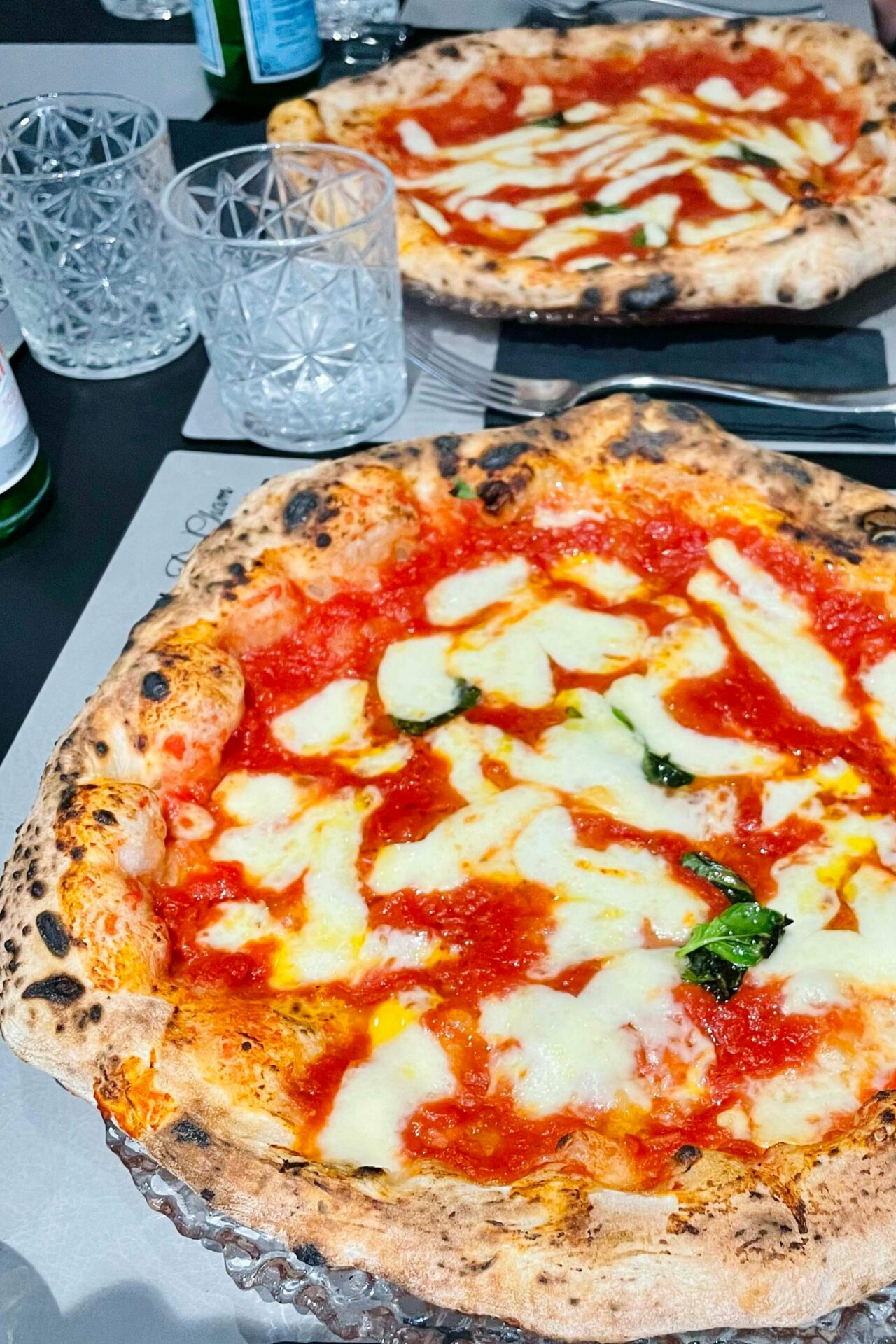 Alternatively, if you have less time or prefer to spend it outside the city, check our recommended 1-day Naples itinerary for just the 'musts'.
Accommodation: 3-4 nights in Naples (depending on when you depart). See our guide below for more information on where to stay and the advantages/disadvantages of various areas in the city.
LEARN MORE: Where to Stay in Naples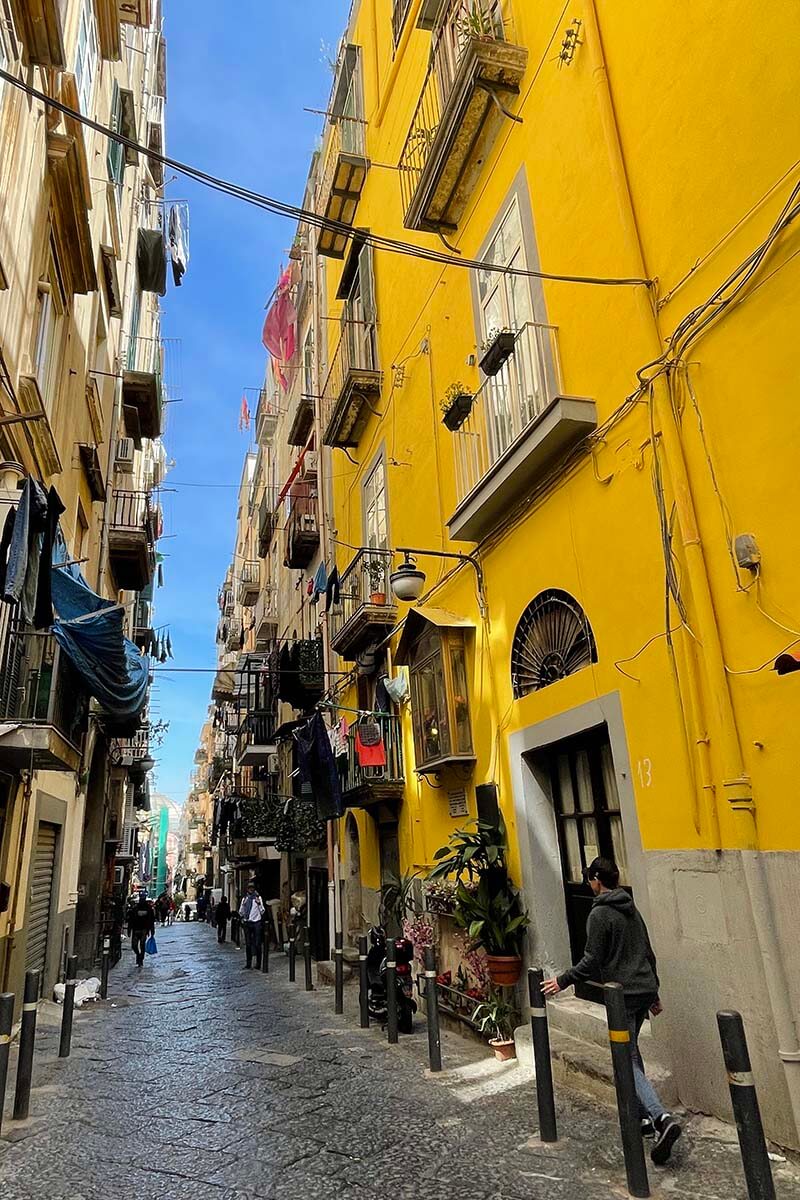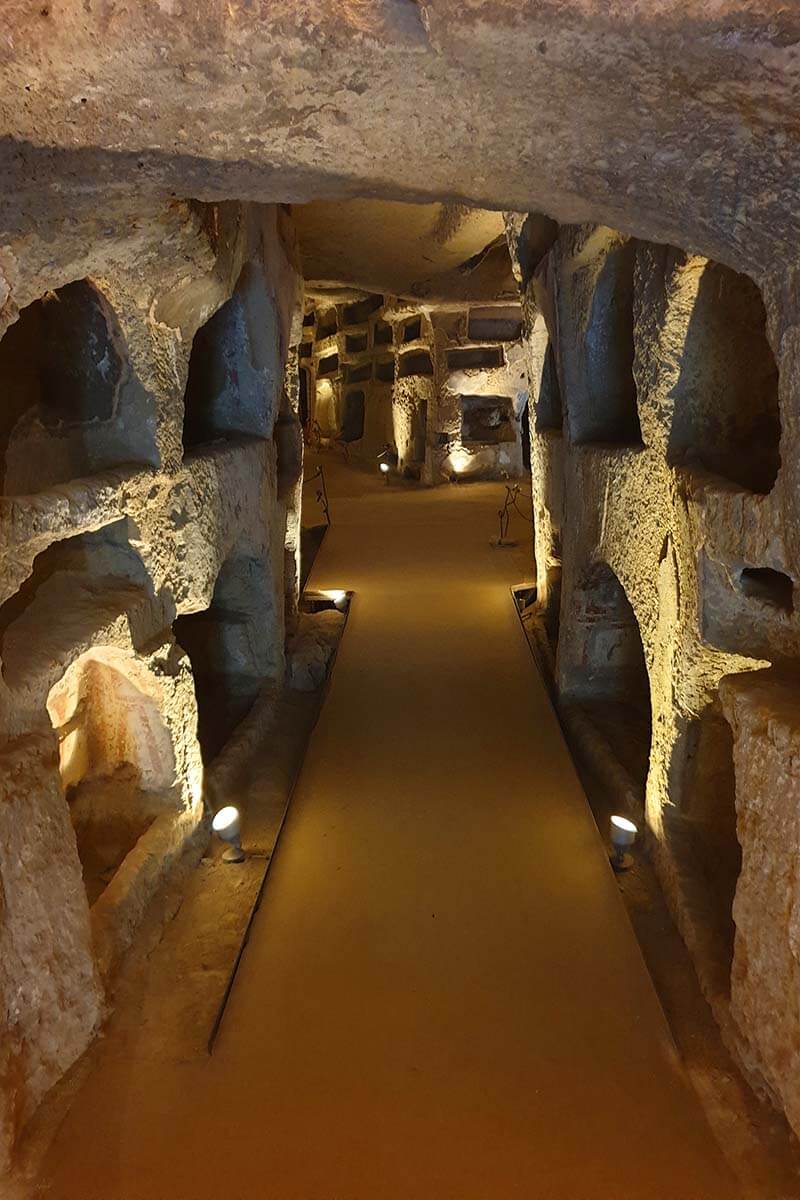 Day 9: Mt Vesuvius & Herculaneum
If you have 10 days in the Naples area, you should definitely try to visit Mt Vesuvius on one of those days. And if you already go in that direction, we highly recommend checking out the archeological site of Herculaneum as well.
The crater of Mt Vesuvius Volcano is absolutely impressive and the views from the top are really nice too. As for the Herculaneum, it's an ancient Roman town that – just like Pompeii – was completely covered by lava and ashes after the eruption. Herculaneum is much smaller than Pompeii but it's very well preserved. We found that it's worth seeing both.
You can easily visit the two places in a day by train + bus, or you can also opt for a guided tour that visits one or both sites.
If you decide to go on your own, take a train from Naples to Ercolano Scavi Station, from where you can take a bus to Mt. Vesuvius. It's best to reserve a bus ticket that already includes the ticket to the crater – it will save you lots of hassle since you can't even buy entry tickets on the spot.
LEARN MORE: How to Visit Mt Vesuvius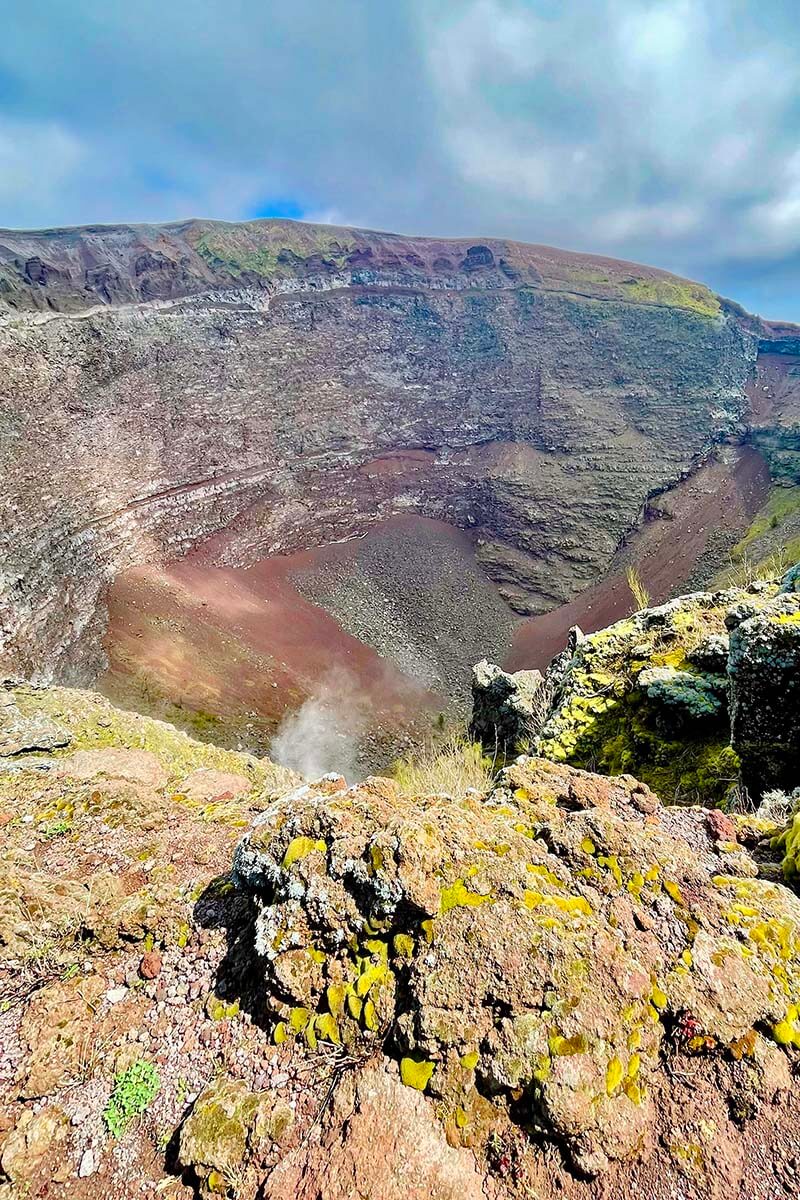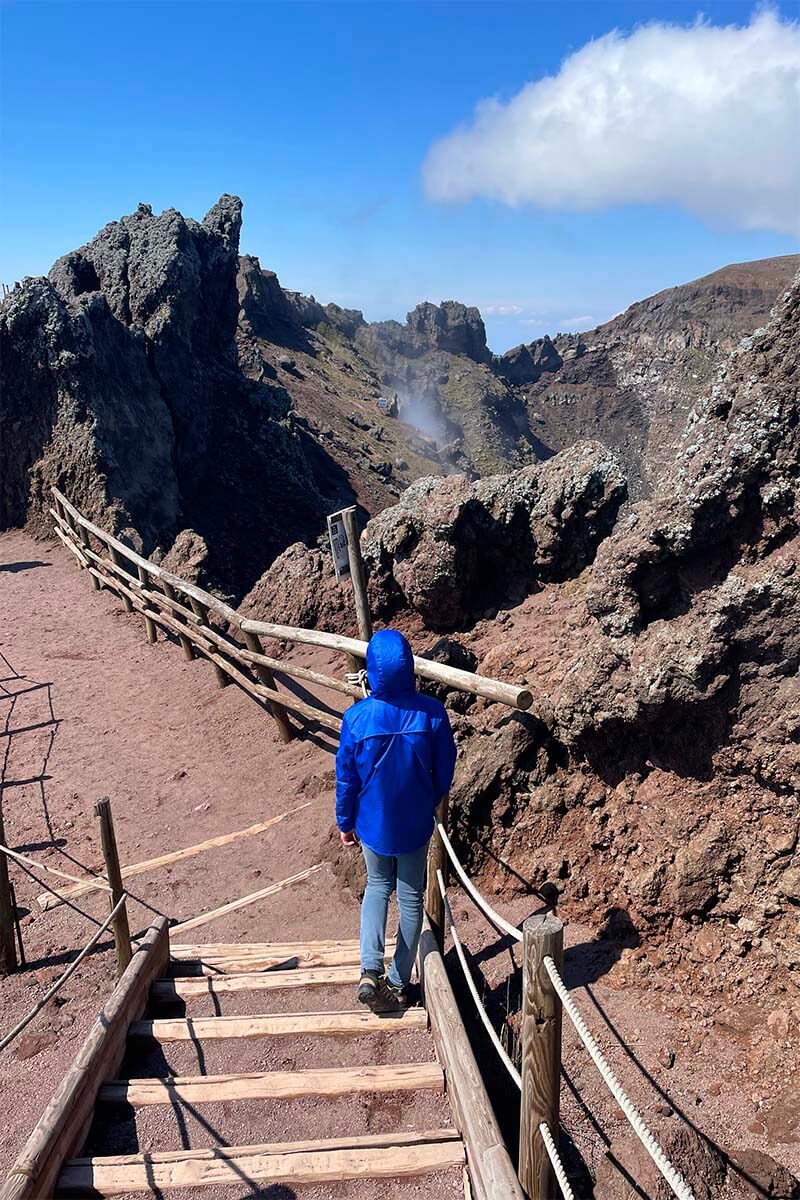 Upon return to Ercolano, have lunch, and then visit the Herculaneum archeological site in the afternoon.
You can just get a ticket (book in advance!) and visit Herculaneum on your own. Or you can opt for a guided tour. Most tours take about 2 hours.
We visited here on our own and while *I think* we covered most of the top sights. But it wasn't always very clear where to go or what we were seeing, so having a guide would be useful here as well.
One thing that we found striking at Herculaneum is how well you can see how the new city was built literally above the old one. It's hard to grasp how an entire town can get buried like that – fascinating to see!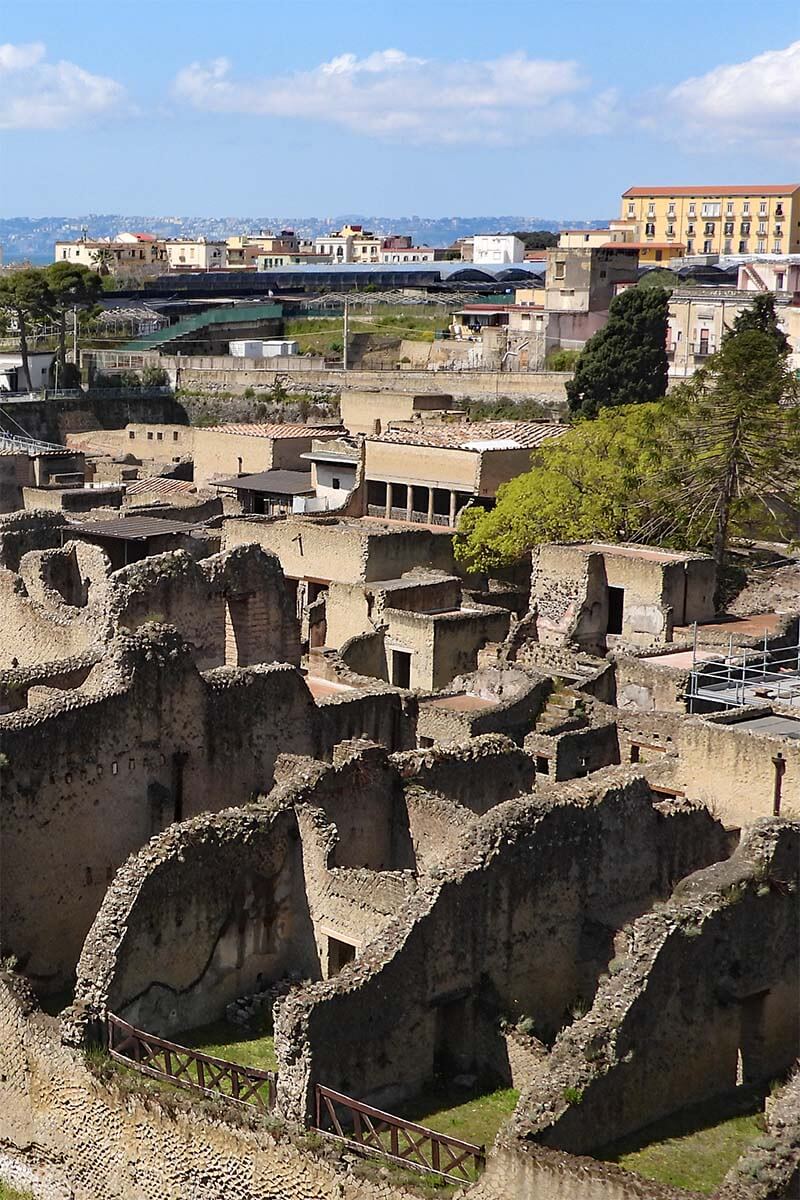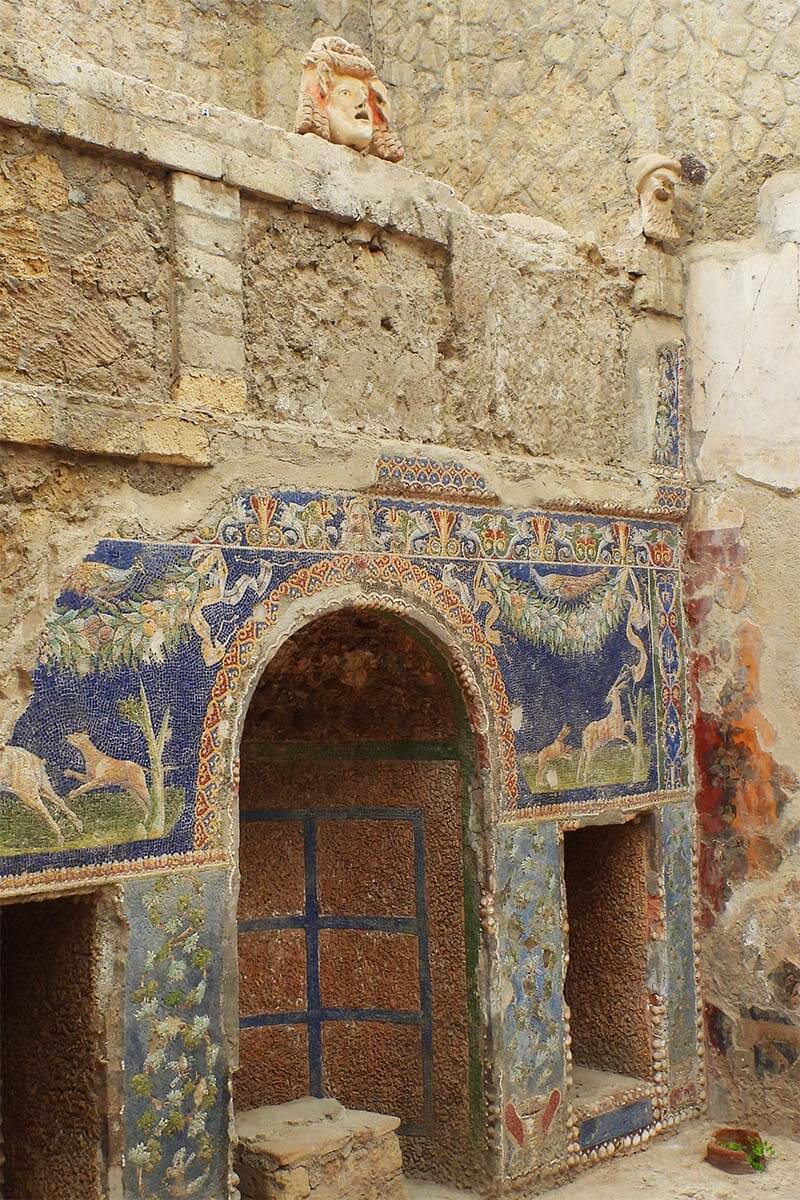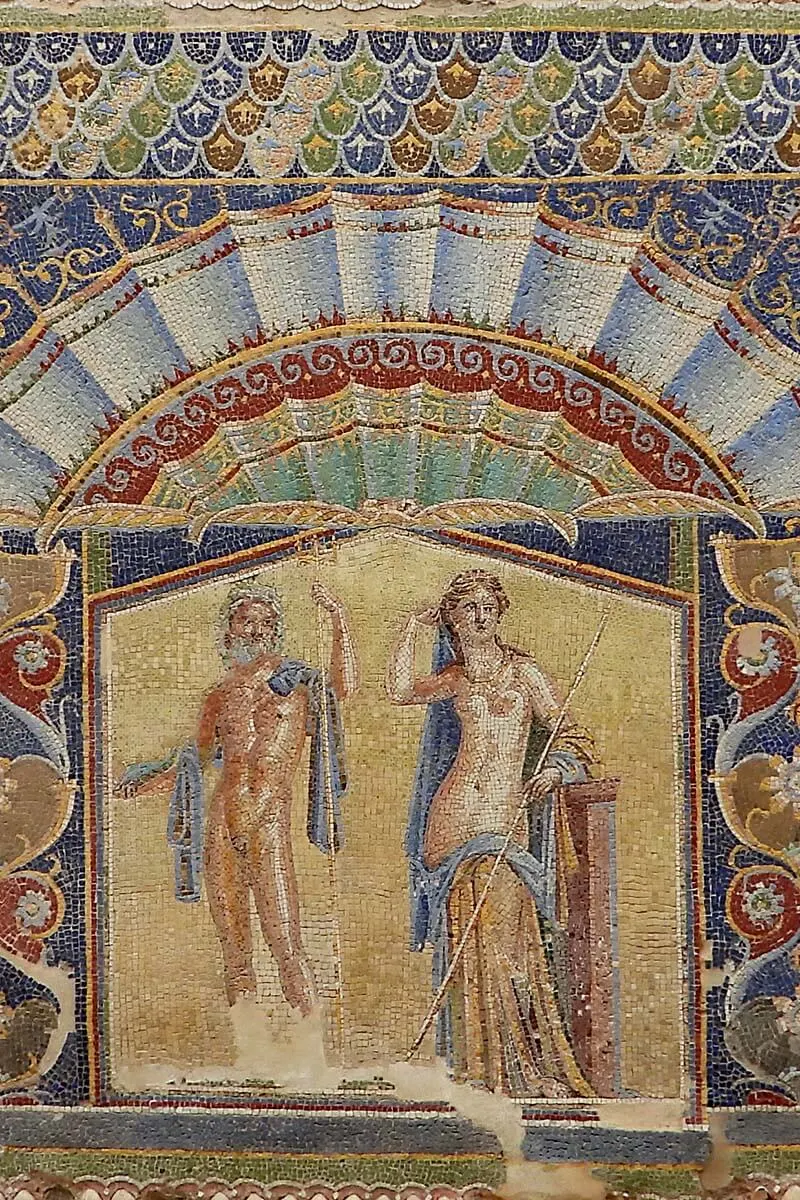 Day 10: Royal Palace of Caserta, Procida, or Ischia
With such a big choice of amazing places to visit near Naples, you will have to be selective on where to go on the last day of your trip (or extend this itinerary by a few days and spend more time)…
Some of the best choices for a day trip include the Royal Palace of Caserta, or the nearby islands Procida or Ischia.
For Caserta, you can just take a train and visit on your own (see here). There are also guided tours available. We took a guided tour of the Palace and found it quite useful. The grounds are big and there's a lot to see. We probably would have missed some of the best parts of the garden without a guide. Alternatively, take an audio guide and take your time to explore the palace and the gardens on your own.
You'll need at least 4 hours for a visit here from Naples. So if you opt for this, you'll have some time to see more of the city after that.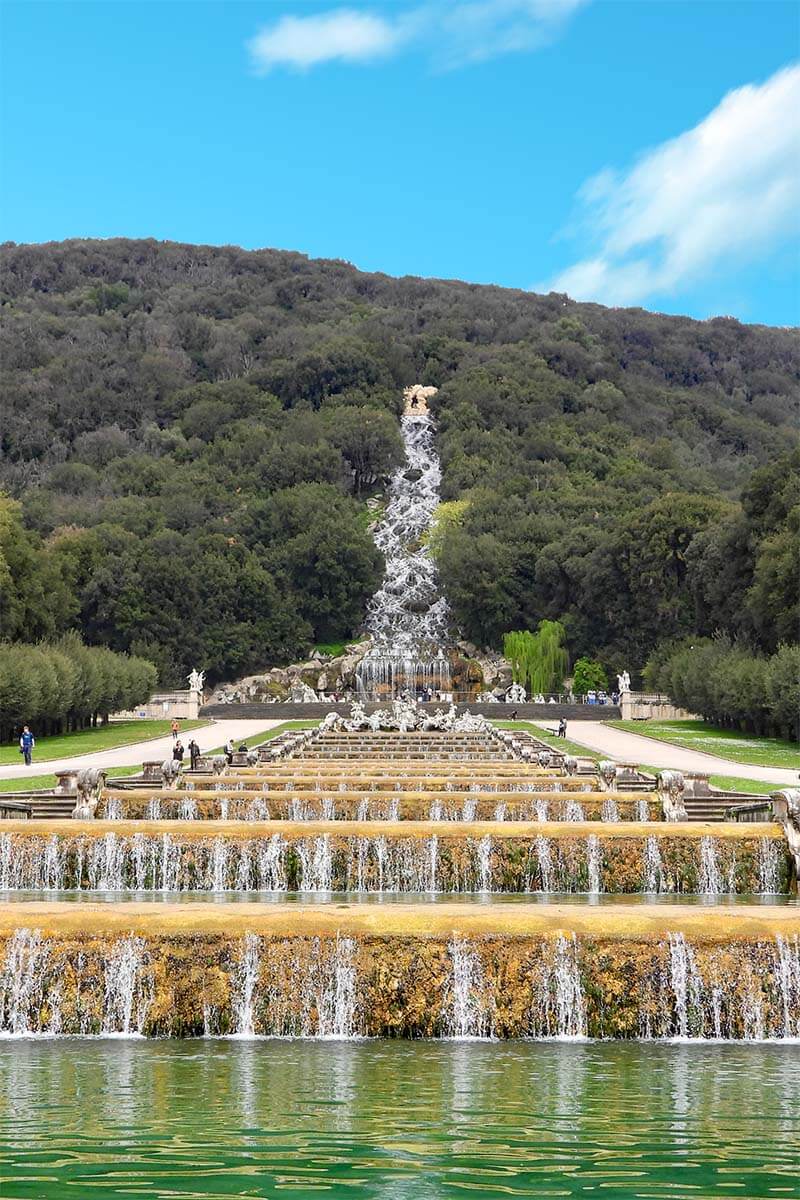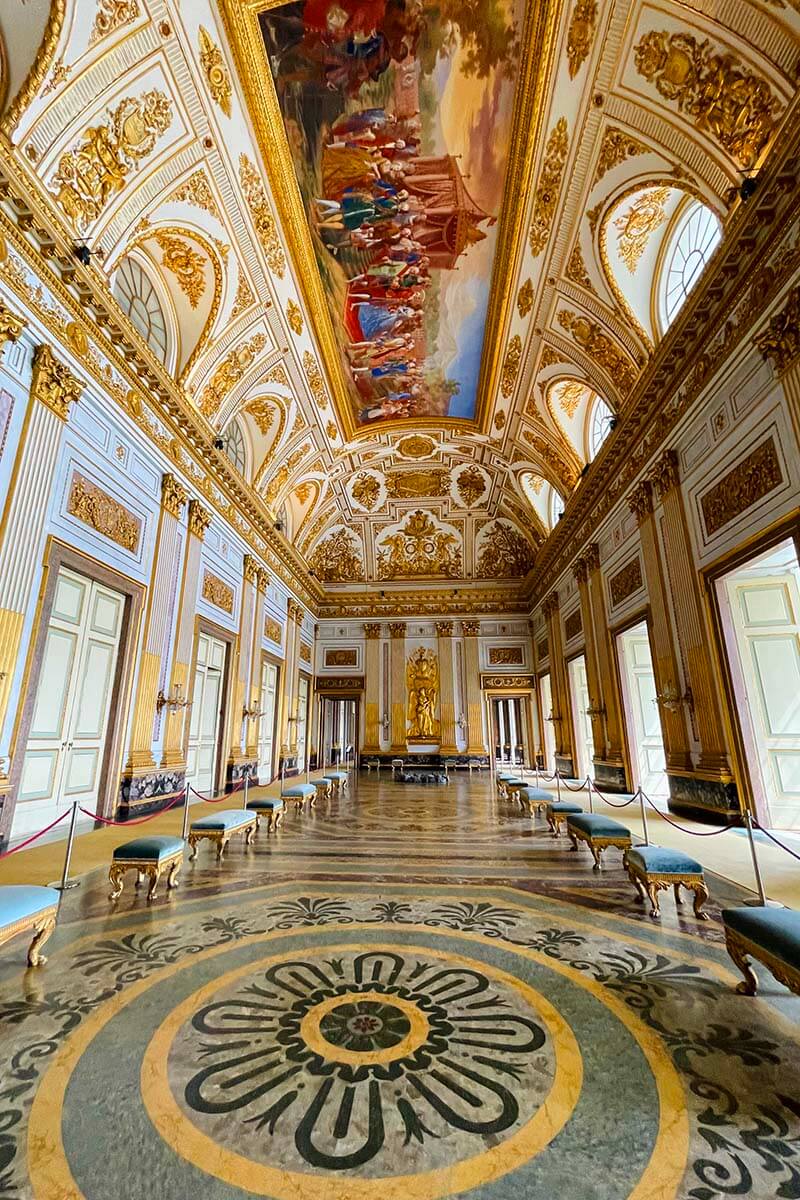 If you rather visit one of the islands, you'll need the whole day for it. You can take a ferry and visit on your own, just be sure to check ferry schedules and keep in mind that it will be much easier to visit in the high season. Many people just go there for the beaches, but there is a lot to see as well.
Procida is a rather small island and is extremely picturesque. It's also a bit closer to Naples, so it might be a more relaxing option. There is also a bus that runs through the island so you can see pretty much all there is to see in a day. If you don't know where to start, you can book this ferry + lunch option, or arrange it all by yourself.
Ischia is a rather big island where you could easily spend several days. If you want to visit it on a day trip from Naples, you can also opt for a ferry + lunch option, or book everything yourself.
READ ALSO: Top Places to Visit on a Day Trip from Naples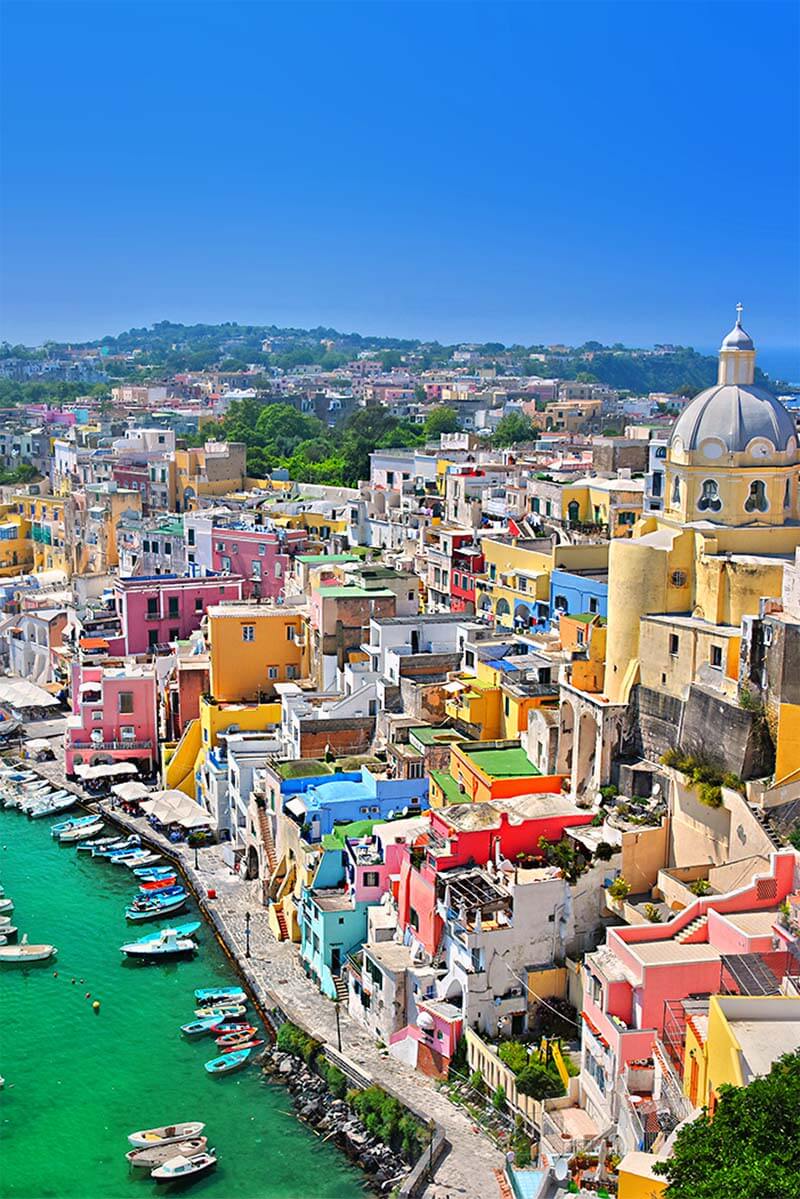 So, this is our suggested itinerary for Naples, Amalfi Coast, Capri, and the surrounding area.
As you can see, there are so many incredible places to visit in this area. And not just any places, but some of the most beautiful places and historical landmarks in the world! So if you have the time, this region is well worth 10 days or even more. Even with this itinerary, you just scratch the surface of what the Naples area has to offer!
As already mentioned, this itinerary is just one of the many possibilities of how you could plan a trip to Naples and Amalfi Coast. So use it as an inspiration of what can be done, adjust it to your personal preferences, and plan a wonderful trip of your own!
Have a great time in southern Italy!
READ ALSO: Tips & Useful Info for Your First Visit to Amalfi Coast
If you found this post useful, don't forget to bookmark it and share it with your friends. Are you on Pinterest? Pin these images!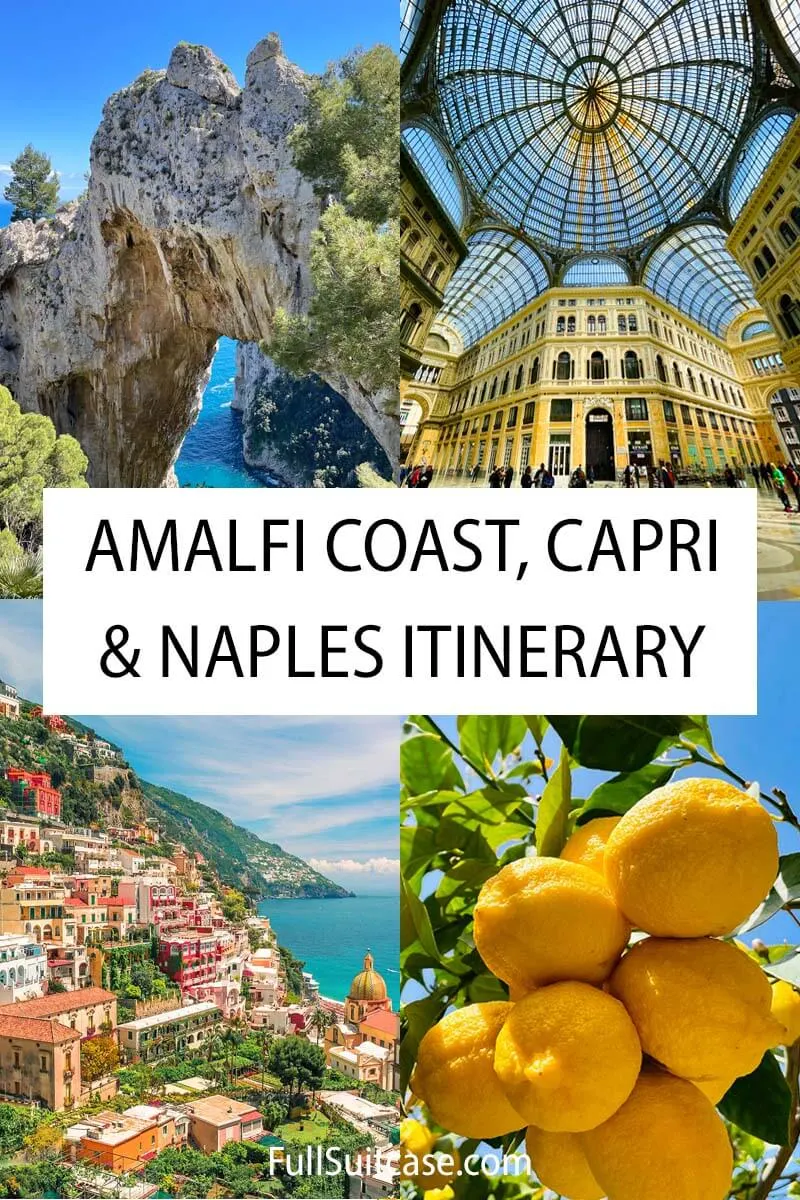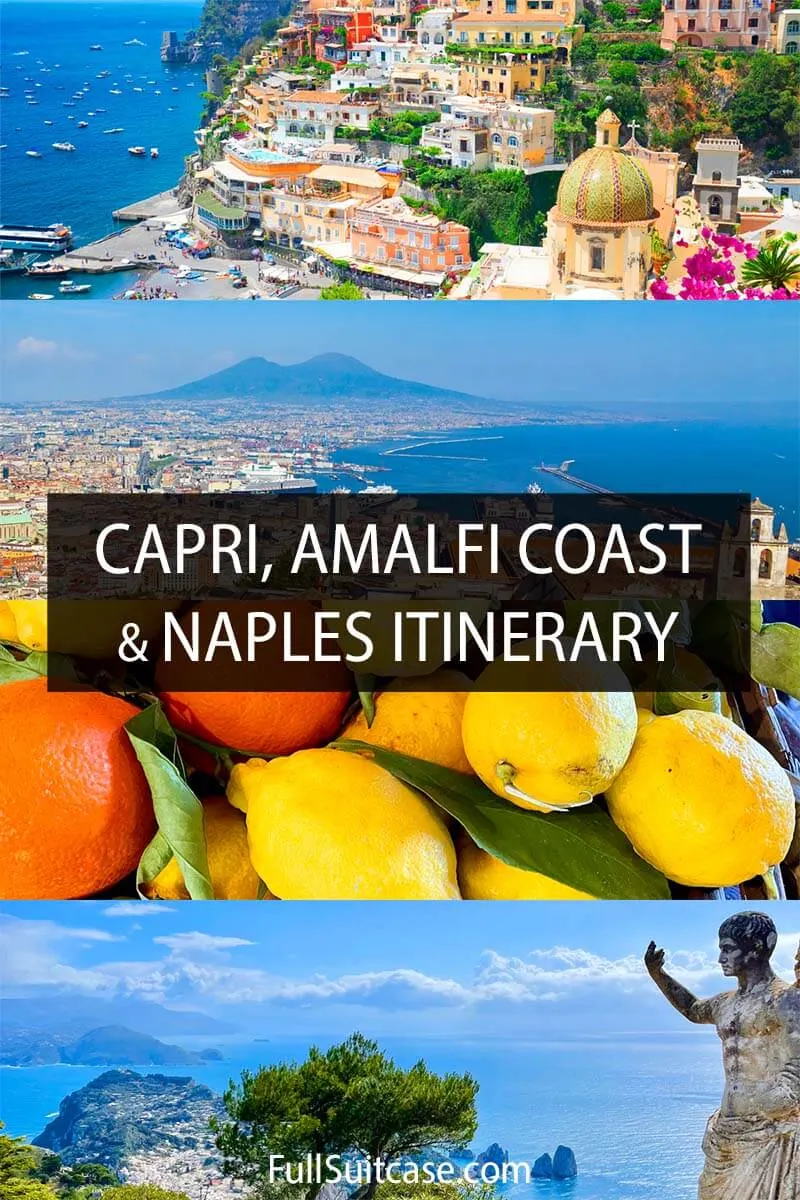 More travel inspiration for some of the nicest places in Italy: