Are you thinking of visiting Naples in Italy and wondering what to expect, what there's to see and do in the city, whether it's actually worth a visit, or how much time you need? In this guide, we cover the main landmarks and highlights of Naples, coupled with our experience-based tips and info for your visit. Find out!
You may already have heard that Napoli is quite unlike any other Italian city. It's a chaotic blend of centuries-old history, incredible architecture, crowded streets, narrow (and often dirty) alleyways, and charming balconies strewn with laundry. Vespas speed through the never-ending crowds, and there are new sights, smells, colors, and sounds in every direction…
The gastronomic scene is a delightful mix of fried street food, fine restaurants serving fresh, local fare, and – of course – pizza! Invented in Naples, pizza was originally a popular food among the city's poor. Nowadays, Neapolitan pizza is made according to strict rules and is truly the best you can get in the world!
There is definitely something very real about Naples and its many contrasts guarantee a very authentic experience. To say that Naples is overwhelming, dazzling, and a one-of-a-kind city is an understatement. You really have to experience this unique city first-hand in order to understand what makes it so special.
Below is our selection of the very best things to do in Naples. It's a mix of must-see places and the best experiences that will give you a good overview of what to expect and what to see in Naples. Find out!
Top Experiences in Naples: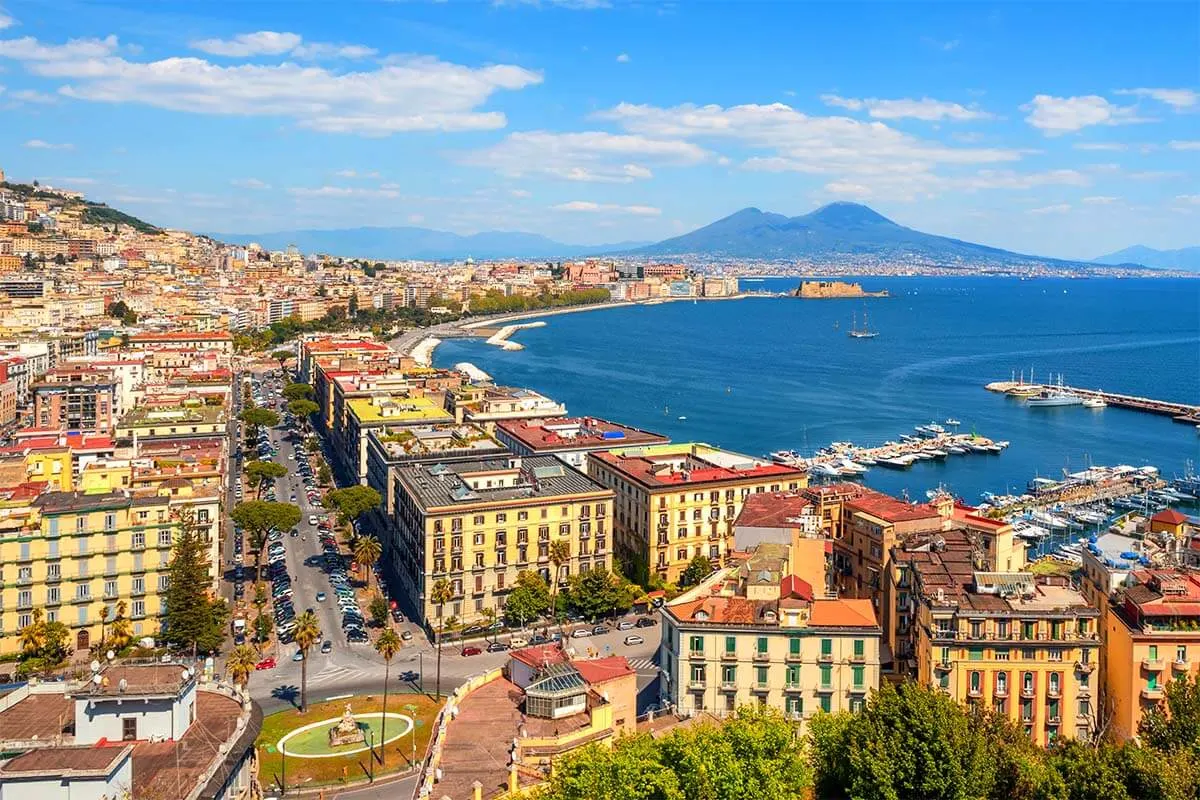 Good to know: To give you a better idea of where everything is located, we also created a map indicating the main sights and tourist attractions in Naples mentioned in this article.
Also, for each place, we include some practical information and useful tips based on our first-hand experience during a recent visit to Naples.
This info should help you plan your trip and avoid disappointment like showing up at the must-see landmark when it's closed or not being able to see something because you didn't book a ticket in advance…
How to use this map: Use your computer mouse (or fingers) to zoom in or out. Click on the icons to get more information about each place. Click the arrow on the top left corner for the index. Click the star next to the map's title to add it to your Google Maps account. To view the saved map on your smartphone or PC, open Google Maps, click the menu and go to 'Your Places'/'Maps'. If you want to print the map or see it in a bigger window, click on 'View larger map' in the top right corner.
Best things to do in Naples:
1. Historic Center of Naples & Spaccanapoli
Designated as a UNESCO World Heritage site, the Historic Center of Naples is a must-see in Napoli. And there's no better place to start your visit than Spaccanapoli, the most famous street in Naples. Except… you won't find it on the map under this name.
Spaccanapoli is actually composed of several connecting streets: Via Pasquale Scura, Via Maddaloni, Via Domenico Capitelli, Piazza Gesu Nuovo, Via Benedetto Croce, Piazzetta Nilo, and Via San Biagio Dei Librai.
The name 'Spaccanapoli' translates to 'Naples Splitter' because it 'divides' the city in half. It extends well outside the old city center, but the must-see part is right in the historic old town.
Everything there is to know about Naples is encapsulated in this area! The atmosphere is filled with the noise of neighbors calling to each other from their balconies, artisans hammering in their tiny workshops and the ubiquitous Italian scooters whizzing past you with inches to spare.
Rough, noisy, and exceptionally crowded, Naples's historic center may not be to everyone's taste, but Spaccanapoli and its wide surroundings remain a must-see in Naples!
The best way to experience the real Naples and its unique atmosphere is by taking a walk here. Just be prepared to have to constantly navigate between the crowds, motorbikes, and countless street vendors. It's part of the fun!
Good to know: There are lots of great places to eat and drink here – often at very reasonable prices. You'll find some of Naples' most famous landmarks in this area too.
TIP: If you want to understand how special Spaccanapoli really is, you have to see the Naples splitter from above! The best place to do this is from the ramparts of Castel Sant'Elmo – you'll find more information about it further below.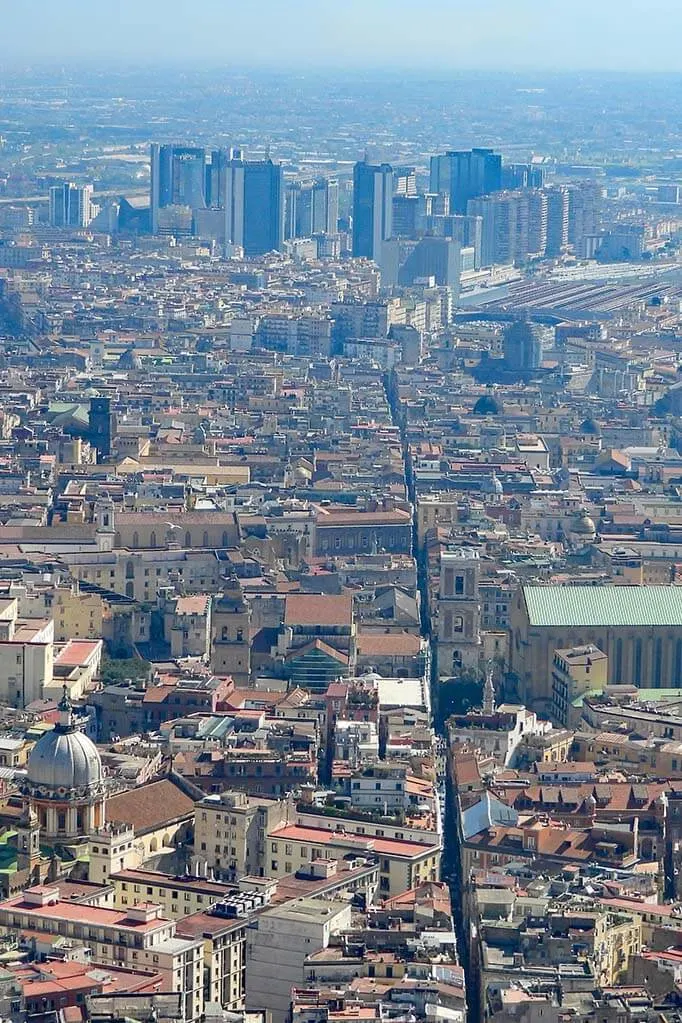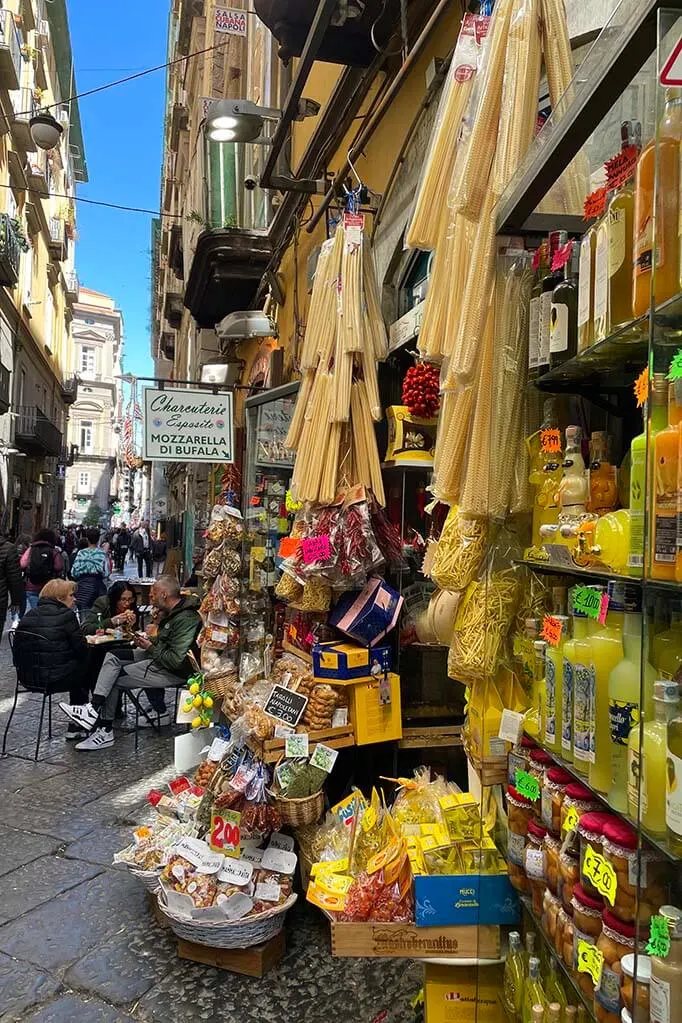 Interesting to know: All over Naples, you'll see red twisted horns that sometimes look a bit like red chili peppers… These are Neapolitan cornicello, or corno – a special talisman that is supposed to protect you from any evil and bring you luck.
Another character that you'll see all over the city is Pulcinella, a sort of clown wearing a traditional Neapolitan half-mask. You'll find these masks for sale at souvenir stores, street artists dancing dressed as Pulcinella, and you can also rub Pulcinella's nose in Naples city center (we indicated the location of this statue on our map).
You'll find these talismans for sale everywhere in Naples and you will also see 'corno' hanging at the entrance of the shops, standing on restaurant counters, and pretty much everywhere. Neapolitans are quite superstitious, indeed. You can even find 'corno' horns with Pulcinella mask on them – just in case one talisman doesn't do the trick.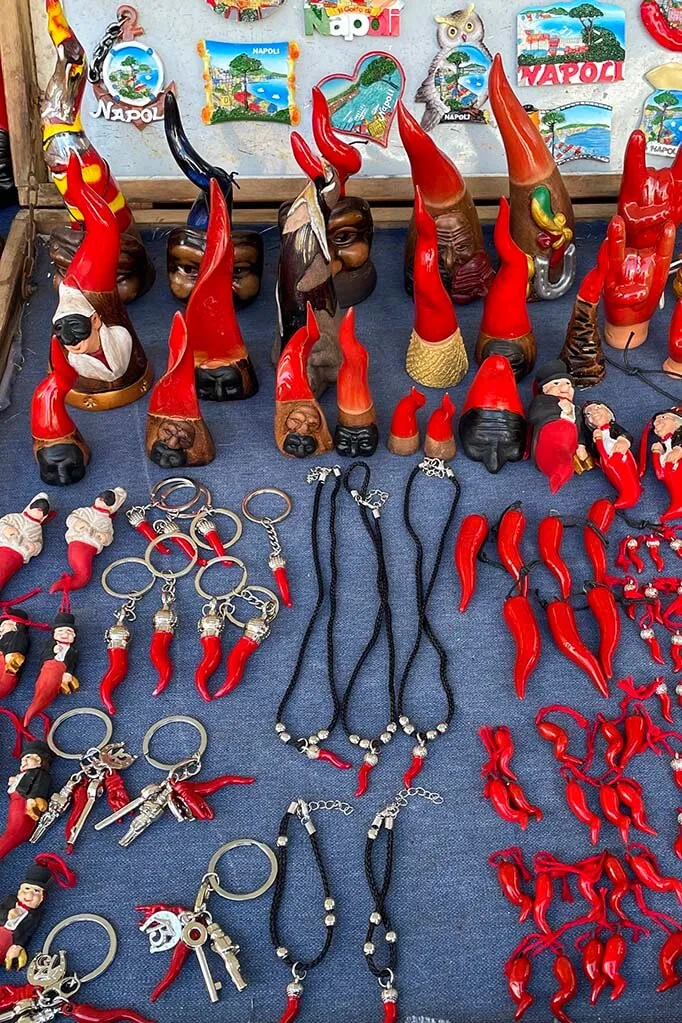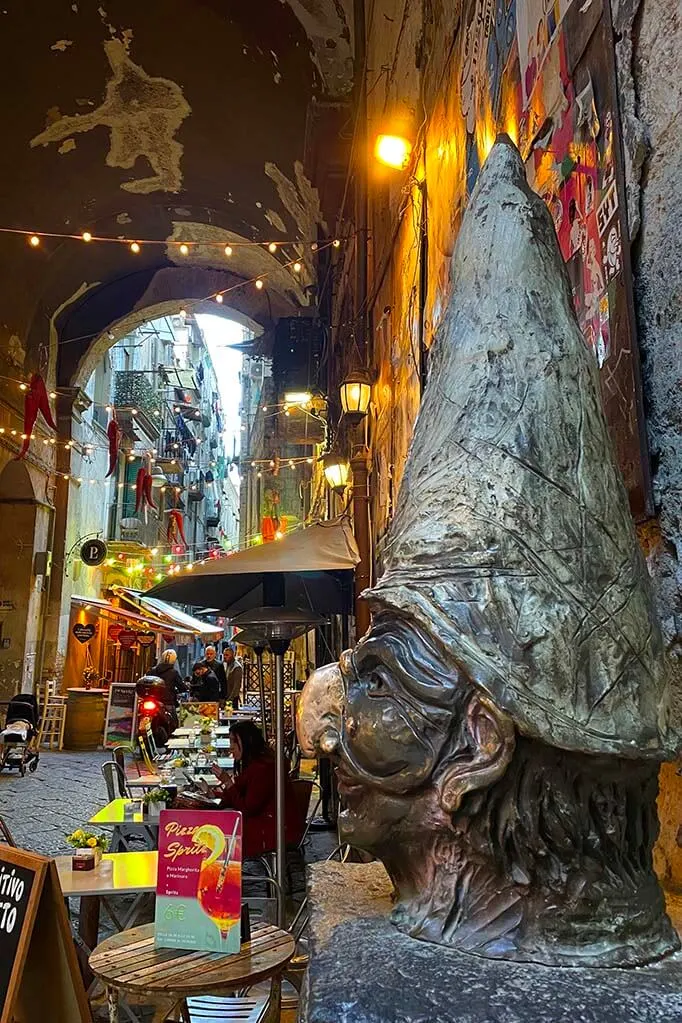 2. Naples National Archaeological Museum
Naples National Archaeological Museum is probably one of the best museums in the whole of Italy. So if you are looking for the very best places to see in Naples, this museum is absolutely not to be missed!
The beautiful 16th-century building housing the Museum was originally a military and cavalry barracks.
Founded as a museum in 1816 by Ferdinand I, King of the Two Sicilies, Naples National Archaeological Museum is now home to an extensive collection of Roman remains. These include artifacts and mosaics excavated from Pompeii and Herculaneum, both of which were devastated by the 79AD eruption of Mount Vesuvius. You can even find a small room displaying a unique collection of erotic Pompeiian art!
The museum also contains a beautiful selection of marble statues portraying mythological scenes. Be sure not to miss the Farnese collections! There are also amazing mosaics and many ancient Egyptian exhibits, too, including death masks and mummified remains.
Good to know: The museum is huge and a visit here can be somewhat overwhelming. We visited on our own, but if you are interested in art and have a few hours to spare, this is one place where it could be really interesting to visit with a guide. The museum also offers an audio guide, but they don't give you any map and so I'm not sure how useful or easy to use it is.
Practical info: Naples National Archaeological Museum is open daily except on Tuesdays. So plan your visit accordingly! You can just get the tickets on the spot and – unless you book a guided tour – there's no need to reserve. For more practical info, see their website.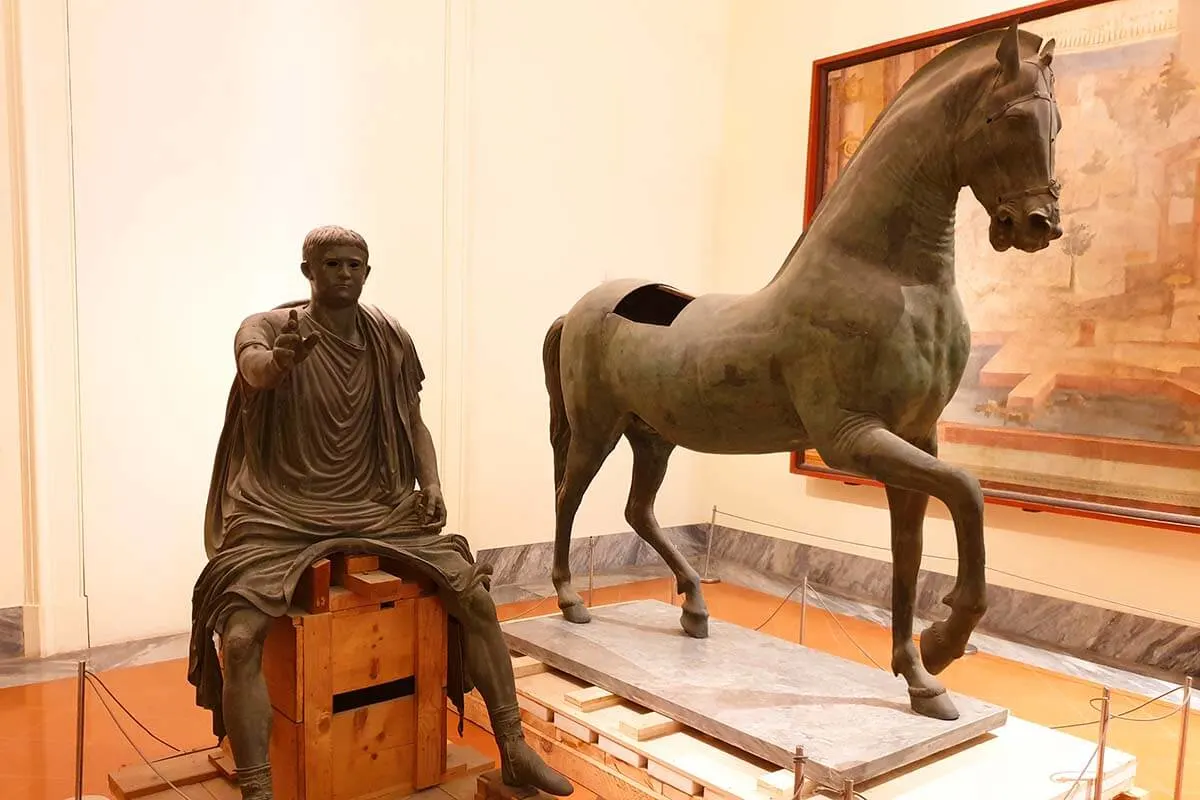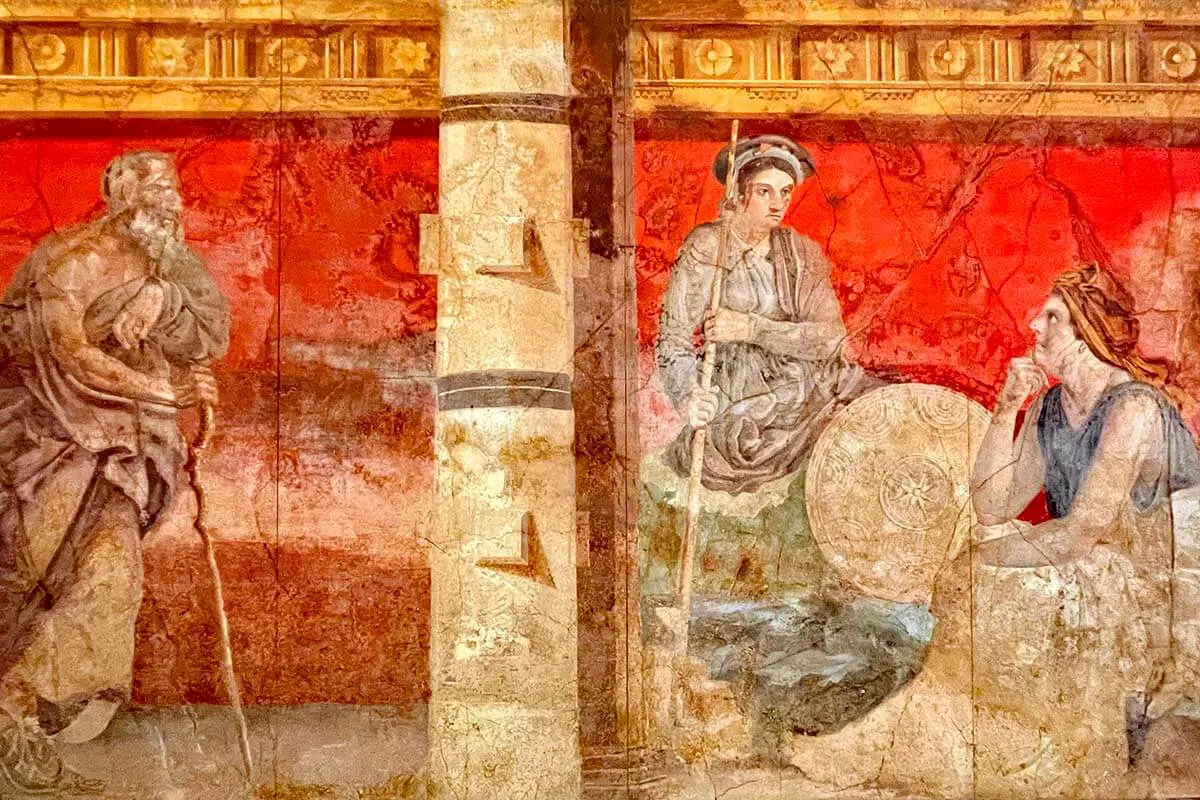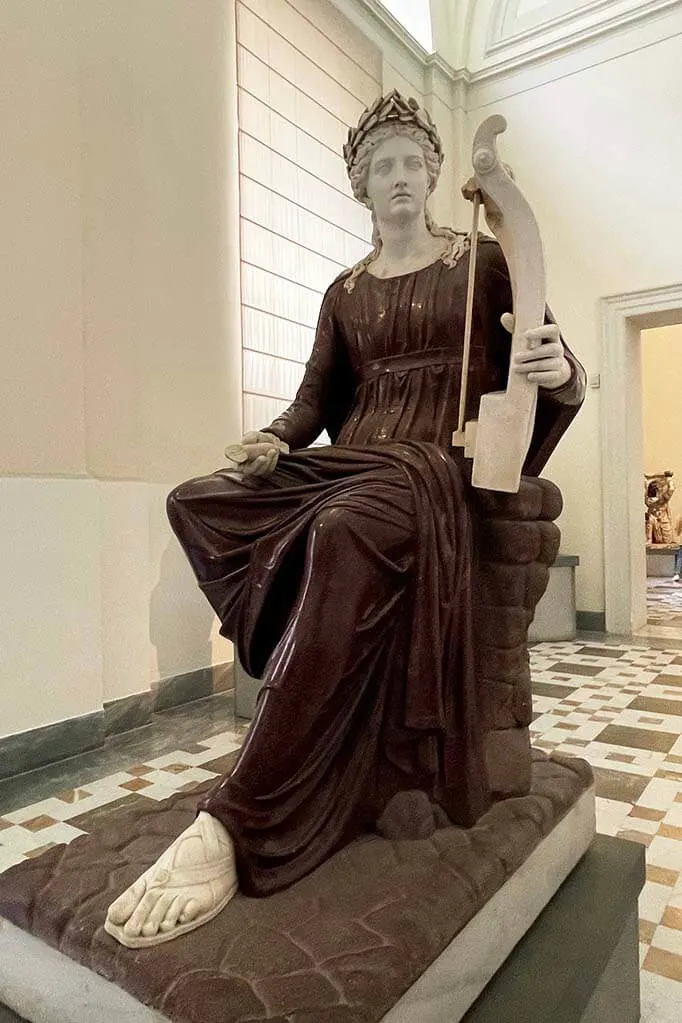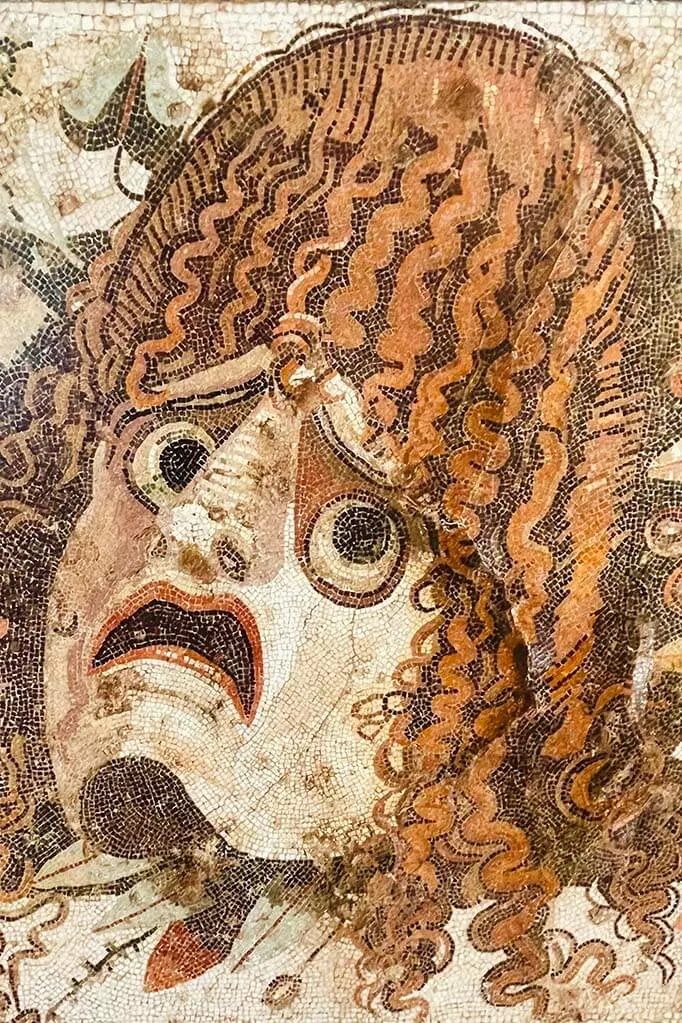 3. Gesù Nuovo Church & Square
Piazza del Gesù Nuovo ('New Jesus') is a large and lively town square along Spacannapoli in the old town. It has the Chiesa del Gesù Nuovo on one side and the Basilica di Santa Chiara (more about it below) on the other side. Once the main western entrance to the city, the area was modified twice in the 16th century and the city walls were moved.
You can see an ornate statue of the Virgin Mary – Guglia dell Immacolata – in the center of the square, and behind it is the rather quirky stone façade of the Gesù Nuovo church. However, don't let the exterior mislead you – this is one of the most beautiful, most impressive, and must-see churches in Naples!
In complete contrast to its exterior, the inside of the Chiesa del Gesù Nuovo is decorated in amazingly opulent Neapolitan Baroque style, with lots of frescoes and colored marble. Our local guide compared it to St. Peter's Basilica in Rome, and while not nearly as big, it's indeed just as ornate.
In one of the chapels, you can also see the bronze statue of Naples' newest saint – Saint Giuseppe Moscati. Beatified in 1987, he was an early 19th-century doctor who devoted himself to helping the poor.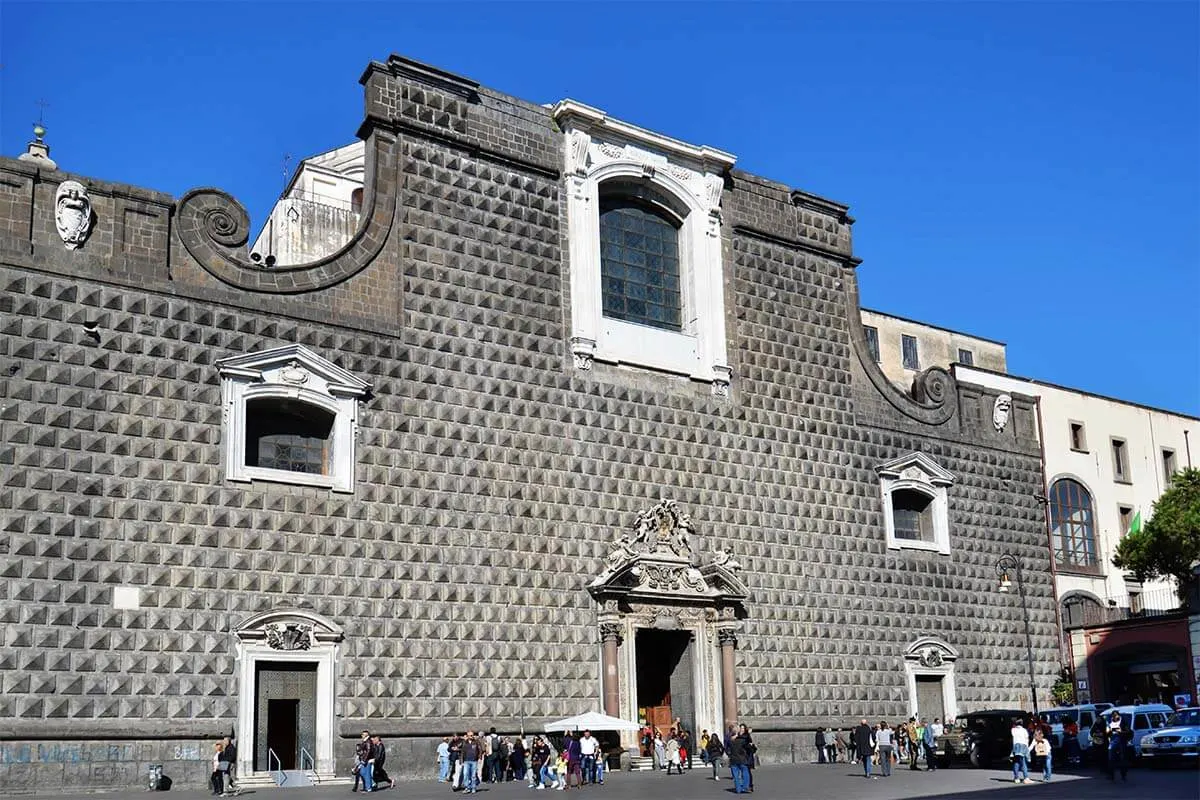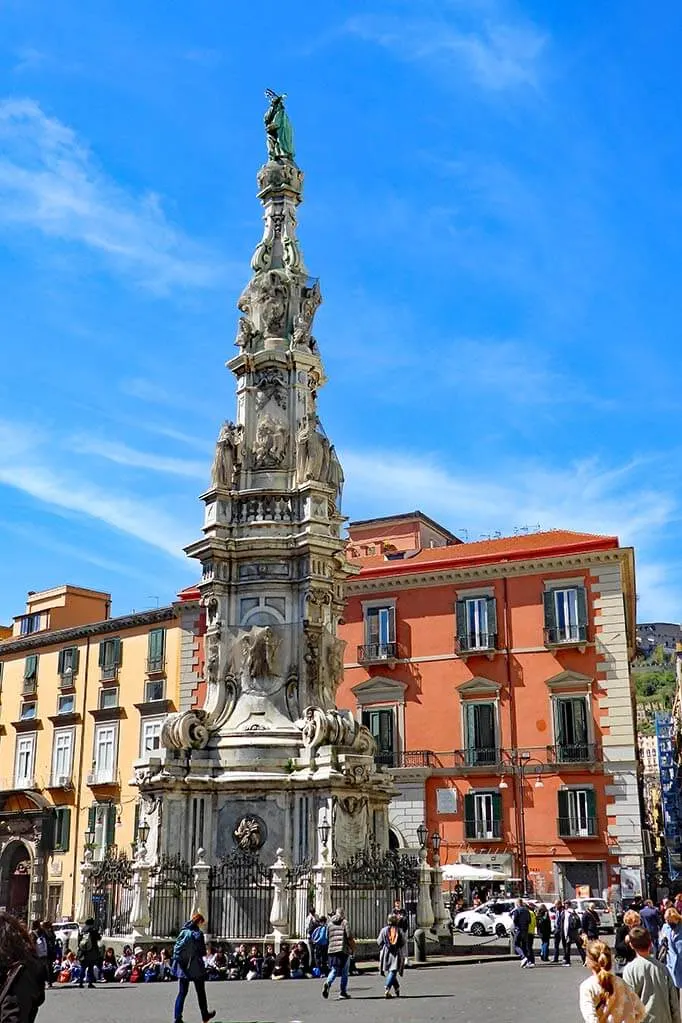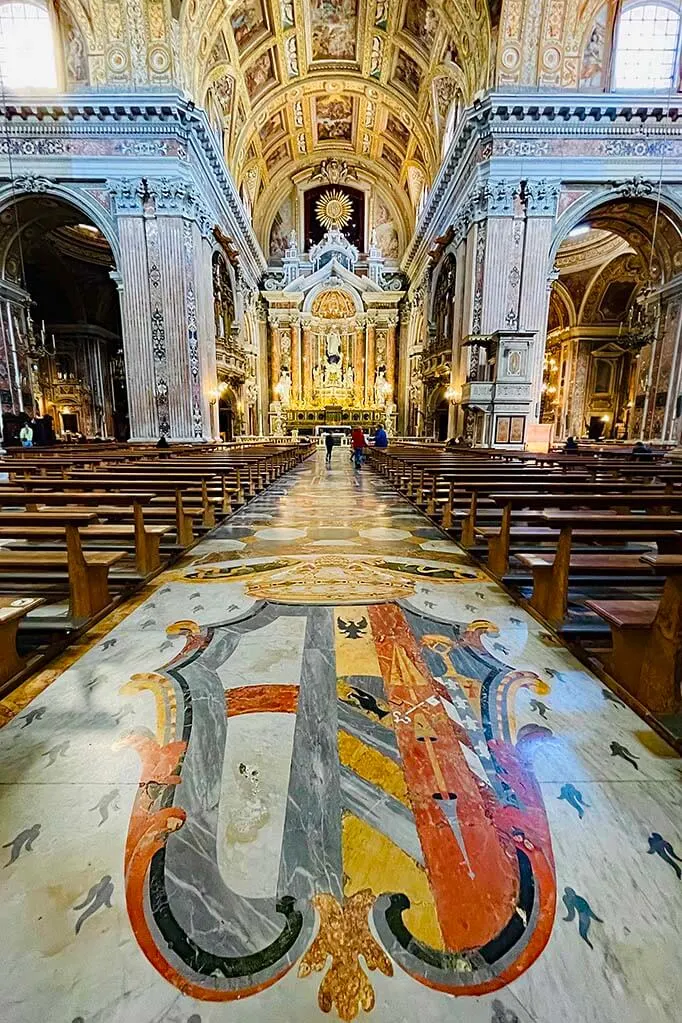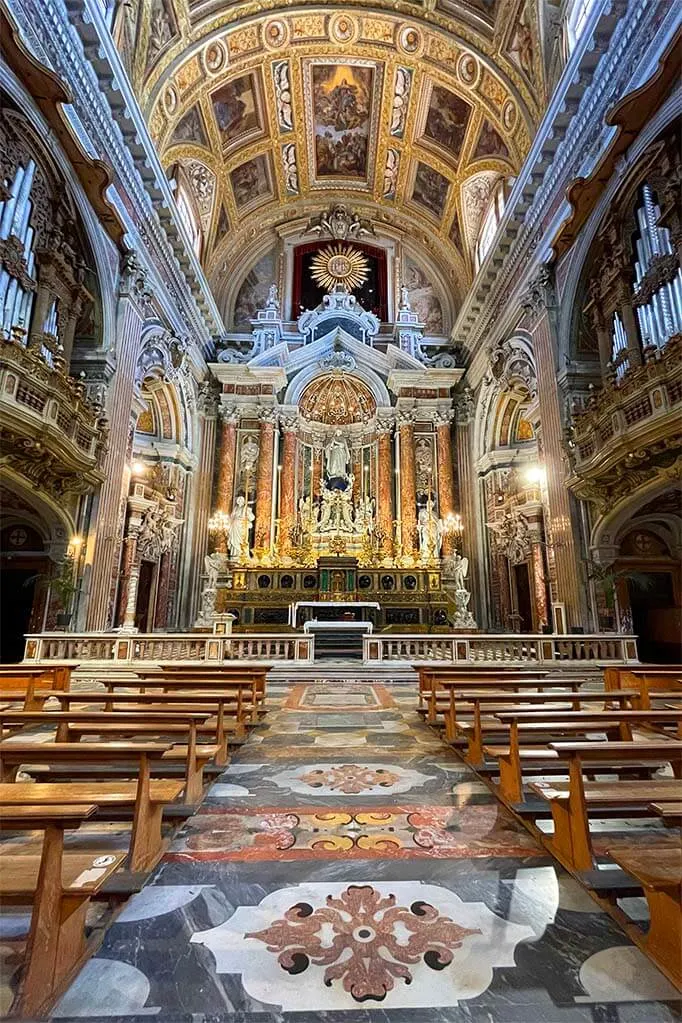 4. Santa Chiara Church & Cloisters
Complesso Monumentale di Santa Chiara is a fascinating network of cloisters, located behind the restored Gothic basilica of the same name. You can visit the cloister, Chiostro di Santa Chiara (which requires a ticket), and the church, Basílica de Santa Clara (entrance is free of charge).
Basílica de Santa Clara is a huge church located just across from the above-mentioned Church of Gesù Nuovo. But the two churches couldn't be more different! While every inch of the interior of the New Jesus Church is decorated, the interior of Santa Clara church is very simple. But it's this simplicity in combination with the gigantic proportions that make it really impressive to see!
But the main highlight here is the exceptionally beautiful Chiostro di Santa Chiara. Despite its central location in the heart of Naples' busiest district, the cloisters are really tranquil and offer a much-needed break from the hustle and bustle of the rest of the city.
Inside, you can see a beautiful garden with blossoming lemon trees and colorful Rococò style tiling on the columns and benches (just don't try to sit on them!). The walkways of the cloisters – lined with frescoes and colorful tiles – are equally impressive too. There's also a small museum and an archeological site where you can see excavations from ancient Roman times.
There's also a short film playing in one of the rooms close to the entrance. It explains the history of the convent and the church – quite interesting.
Good to know: The cloister is open daily and you can get a ticket on the spot. The church (just as most other churches in Naples) closes for a few hours at around lunchtime, so it's best to visit in the morning or in the afternoon.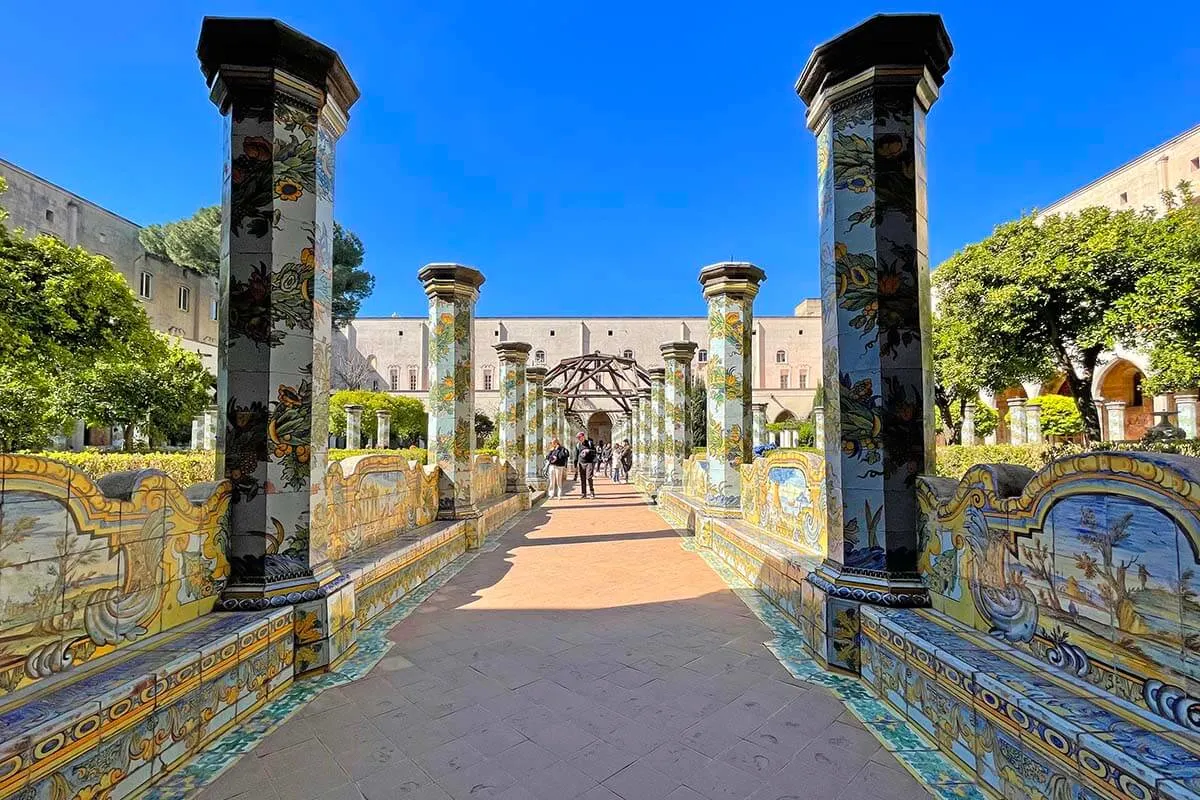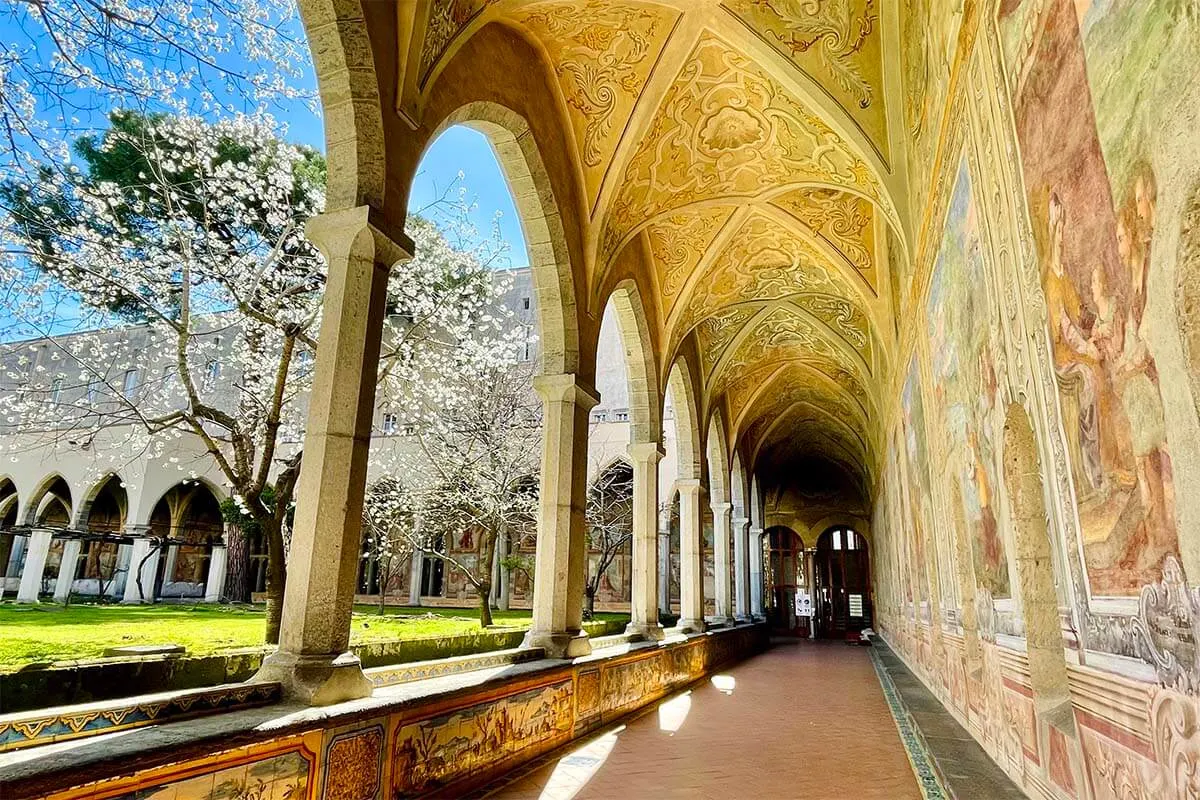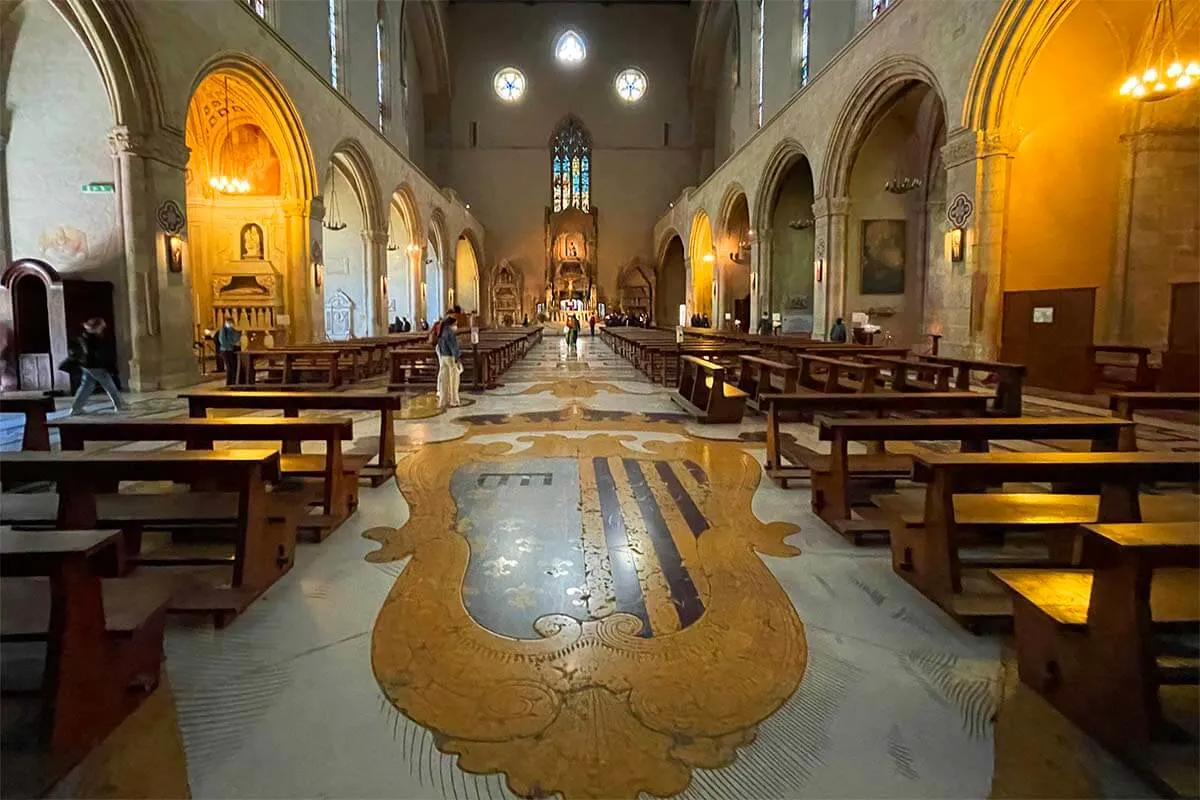 5. Via dei Tribunali
Via dei Tribunali is another of the must-see places in Naples. Dating back to the Ancient Roman times, this street in the old town is also known as Decumanus Maggiore – one of the main east-west roads (Decumani) of the ancient Greek then Roman city of Neapolis.
Via Dei Tribunali runs parallel with the above-mentioned Spaccanapoli. The atmosphere here is very similar – crazy, overwhelming, and so typically Naples. But there's one more reason to come here and that's pizza!
If you are a pizza-lover, a visit to Via dei Tribunali is a must!
Commonly referred to as 'pizza street', Via dei Tribunali is believed to be the best place for pizza in Naples. The highlight is the world-famous Sorbillo pizza restaurant and you'll recognize it from far because of the crowds waiting outside in order to get a table here. Just be sure you have the right one – Gino e Toto Sorbillo – because just nearby, there's another smaller restaurant with 'Sorbillo' in its name that has nothing to do with the original one.
While there are countless other amazing pizza restaurants in this area (and all over Naples), many consider a pizza at Sorbillo an absolute must-do in Naples. So, of course, we had to try it too, and I have to agree – it's absolutely delicious!
TIP: If you don't want to spend hours waiting in line at this restaurant, try to come at least 15-20 minutes before the opening time. We arrived at 11.45 am (at lunch, the restaurant opens at 12) and there were already lots of people waiting at the door. Luckily, the restaurant is quite big and it wasn't a problem to get a table, but people who arrived at 12, ended up waiting for over an hour. Alternatively, simply choose one of the many other pizza restaurants in Naples.
There are lots of souvenir stalls, shops, and bars here too, plus a fun atmosphere that makes the street well worth visiting – even if you aren't here for the pizza!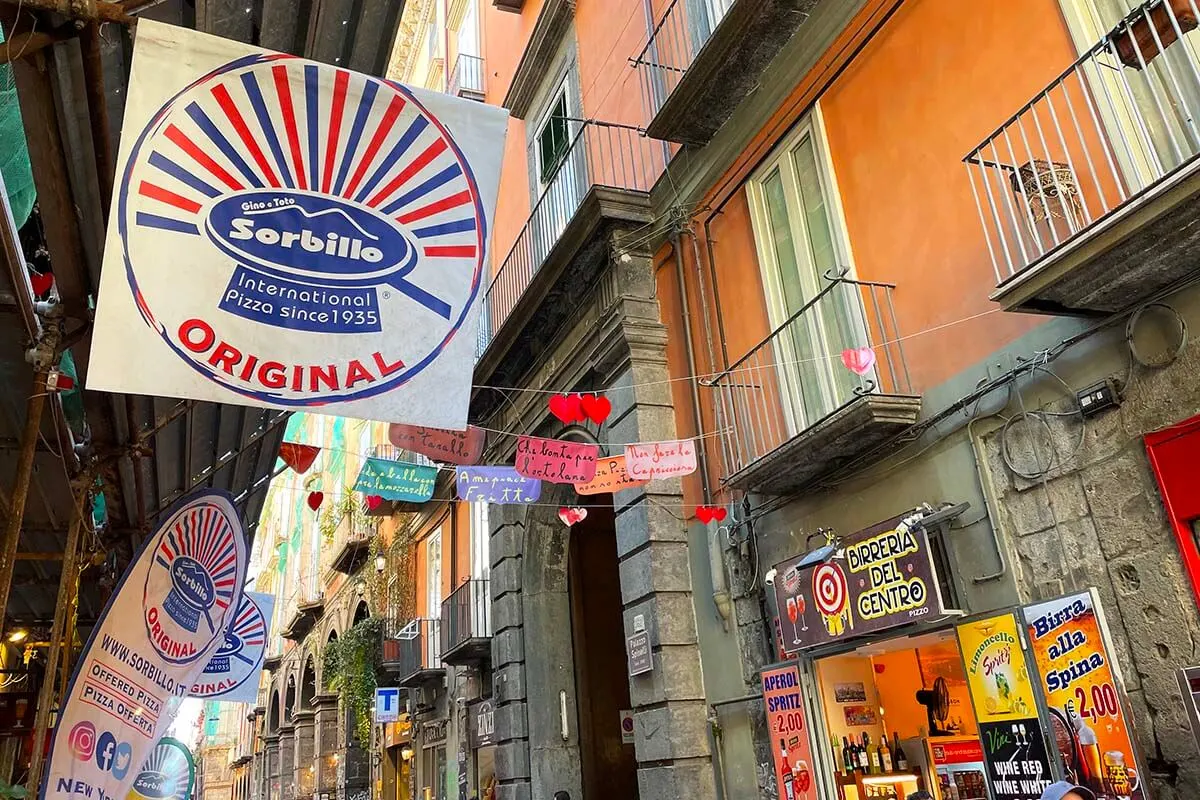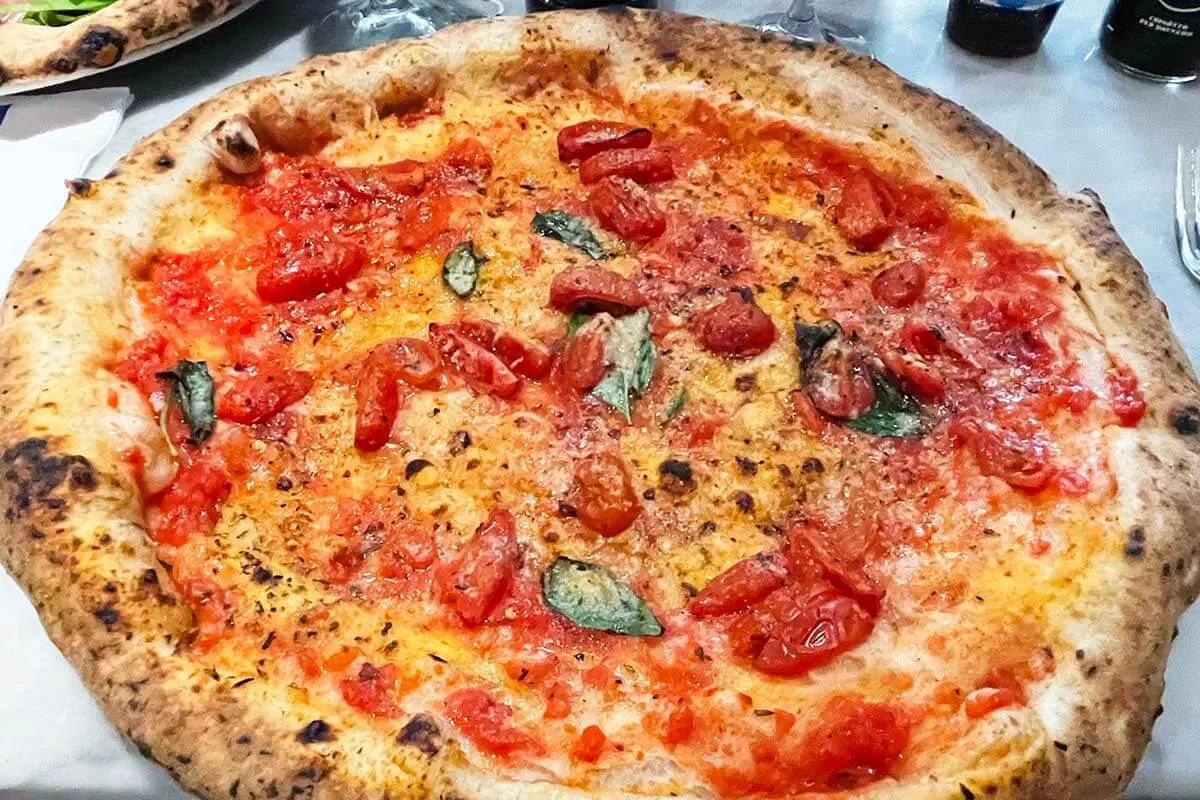 6. Sansevero Chapel
Museo Cappella Sansevero is one of the must-sees in Naples, attracting big crowds.
Located in the heart of the city, this chapel museum was designed by alchemist and inventor John Francesco di Sangro. Although tiny, it is filled with wonderfully symbolic artworks and sculptures, and the ceiling is decorated with a magnificent fresco. It's absolutely breathtaking!
The most famous exhibit here is the marble sculpture 'Veiled Christ' (Il Cristo velato) by Giuseppe Sanmartino made in 1753. It portrays Jesus lying with a veil over his face as he takes his last living breaths. This sculpture is world-famous for the incredible tissue-like quality of the marble and no words can describe how special it is – you really have to see it in person!
Other incredible sculptures not to miss here are the 'Veiled Truth' (Pudicizia) by Antonio Corradini and 'Release from Deception' (Il Disinganno) by Francesco Queirolo. Also, in the basement under the chapel, you'll find two "anatomical machines" – skeletons with "blood vessels" that show how advanced human knowledge was in terms of anatomy back in the 18th century already.
Practical information: Museo Cappella Sansevero is open daily except on Tuesdays. You only need 10-15 minutes for a visit inside. However, this is one of the most popular places to see in Naples and it's advisable to get your tickets in advance, especially if you are traveling in the high season (April – October).
If you didn't book in advance, you may still be able to get tickets on the day itself, but you can't count on that. Also, in the high season, it's best to go as early in the morning as possible in order to get a hold of the last tickets for that day. The entry is timed, so – depending on what's available – you might have to come back a few hours later.
TIP: This popular old town walking tour includes many of the main sights in Naples, a few lesser-visited hidden gems, as well as the entrance to Sansevero Chapel. Going with a tour might also be your chance to visit this chapel if the regular tickets are sold out.
Good to know: Any kind of photography is not allowed inside the chapel. The picture below is of one of the info signs located outside of the building. The other two images are courtesy of Museo Cappella Sansevero.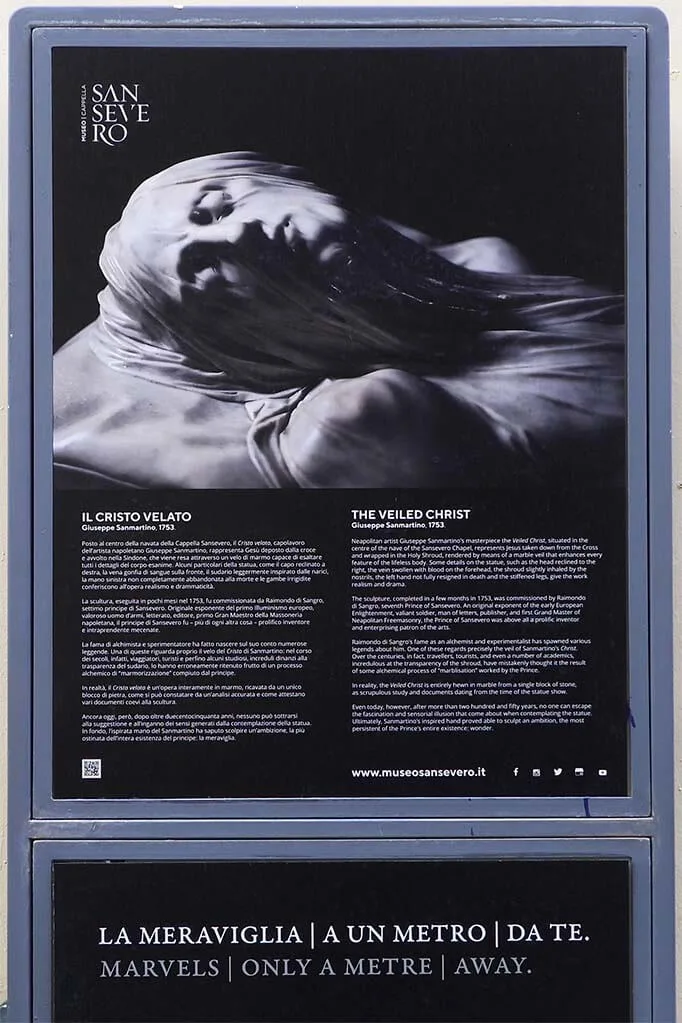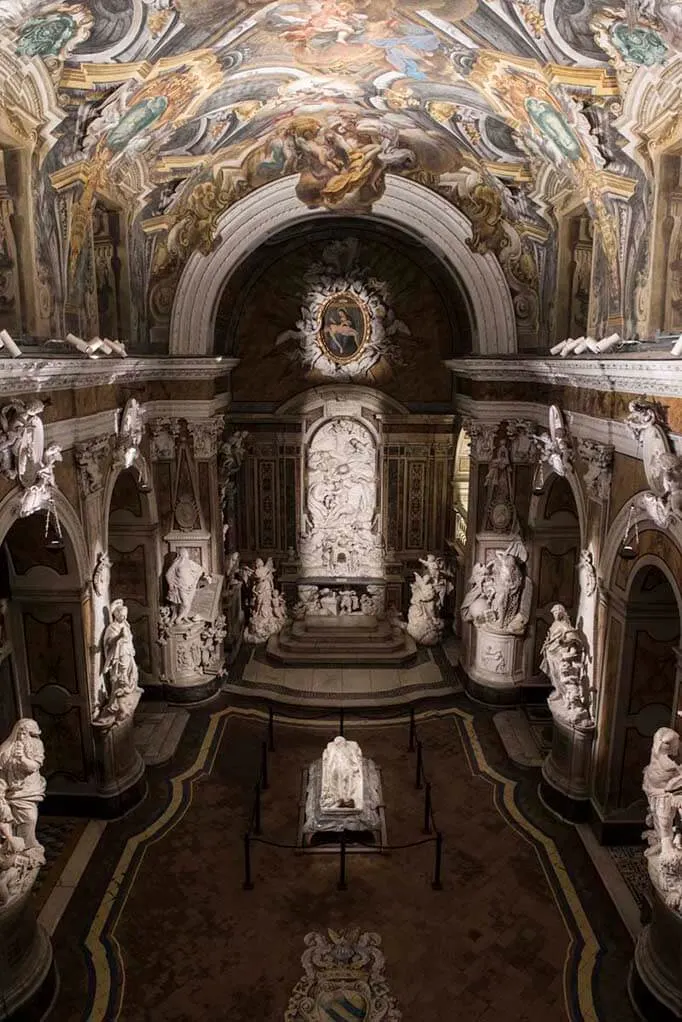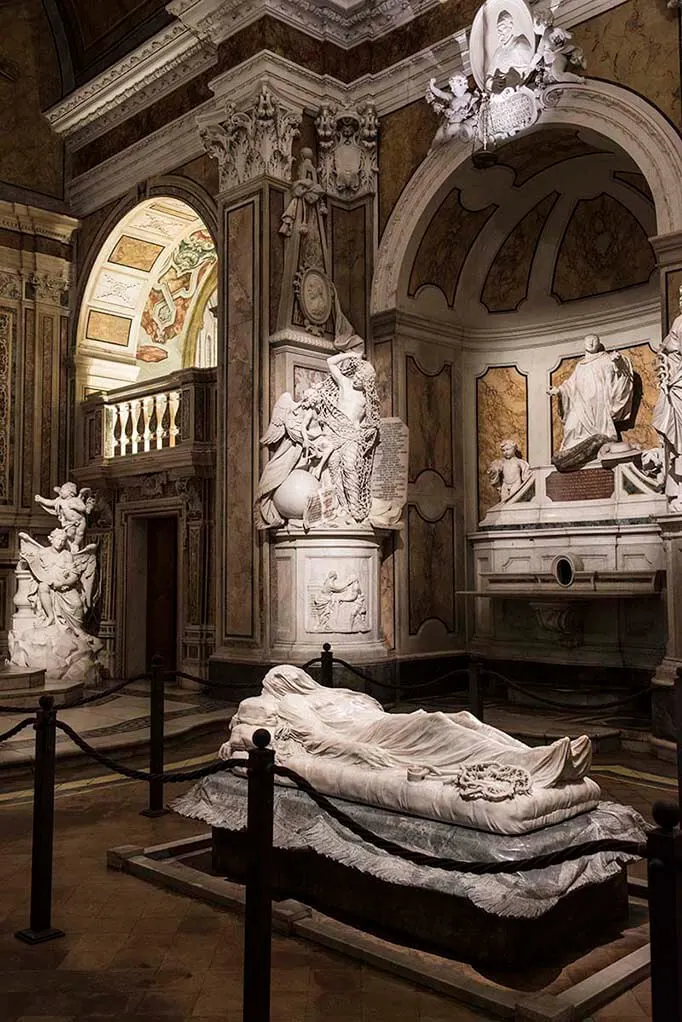 7. Catacombs of Naples
The Catacombs of Naples is one of our personal favorite things to do in Napoli. It's something that could be listed among the must-dos in the city, but also as a hidden gem. If you are looking to get a bit off the beaten path and do something truly unique in Naples, definitely check these out!
The Catacombe di San Gennaro and Catacombe di San Gaudioso are both underground cemeteries, dating to the times of the Roman Empire. While the Catacombs of San Gennaro are considered to be the most important of the two, I highly recommend visiting both of them since they are totally different.
If you have ever visited Rome's underground sites and catacombs, then you may be quite surprised how much more spacious the ones in Naples are! This is because they were excavated from tuff, a rock formed from volcanic ash which is known for its workability and longevity. Also, the Catacombs of Naples are way more impressive than the ones in Rome, the people who run the place and the guides are amazing, and you're also allowed to take pictures inside.
San Gennaro Catacombs are the biggest in southern Italy. A 2nd-century network of tunnels is lined with crypts and graves, some of which are decorated with the most impressive frescoes. The tombs here are spread over two levels and you can visit both of them.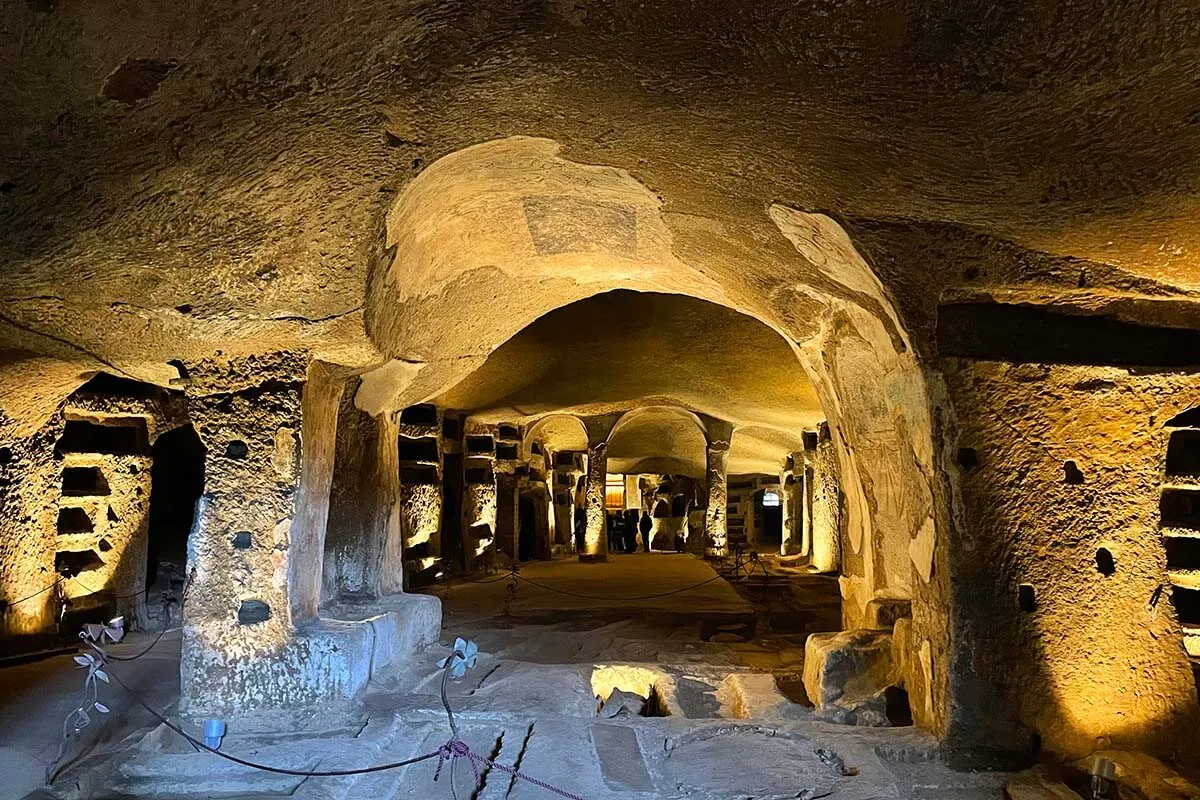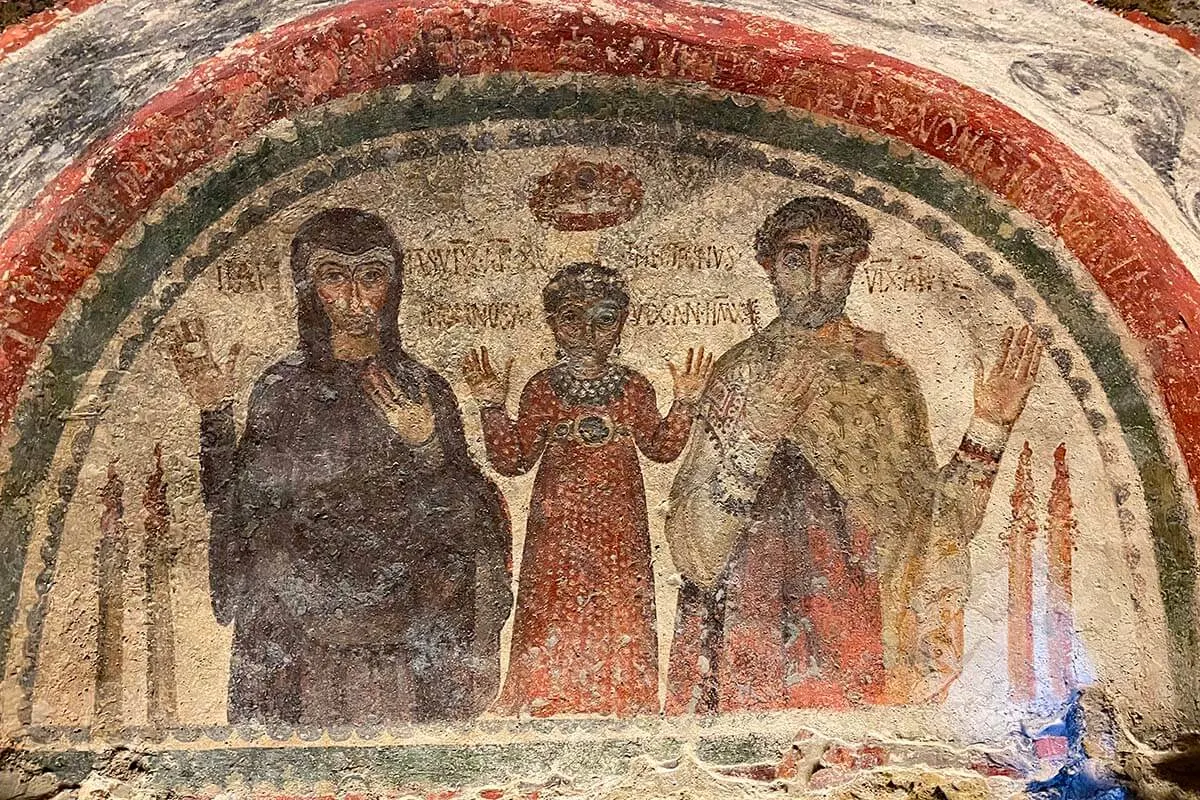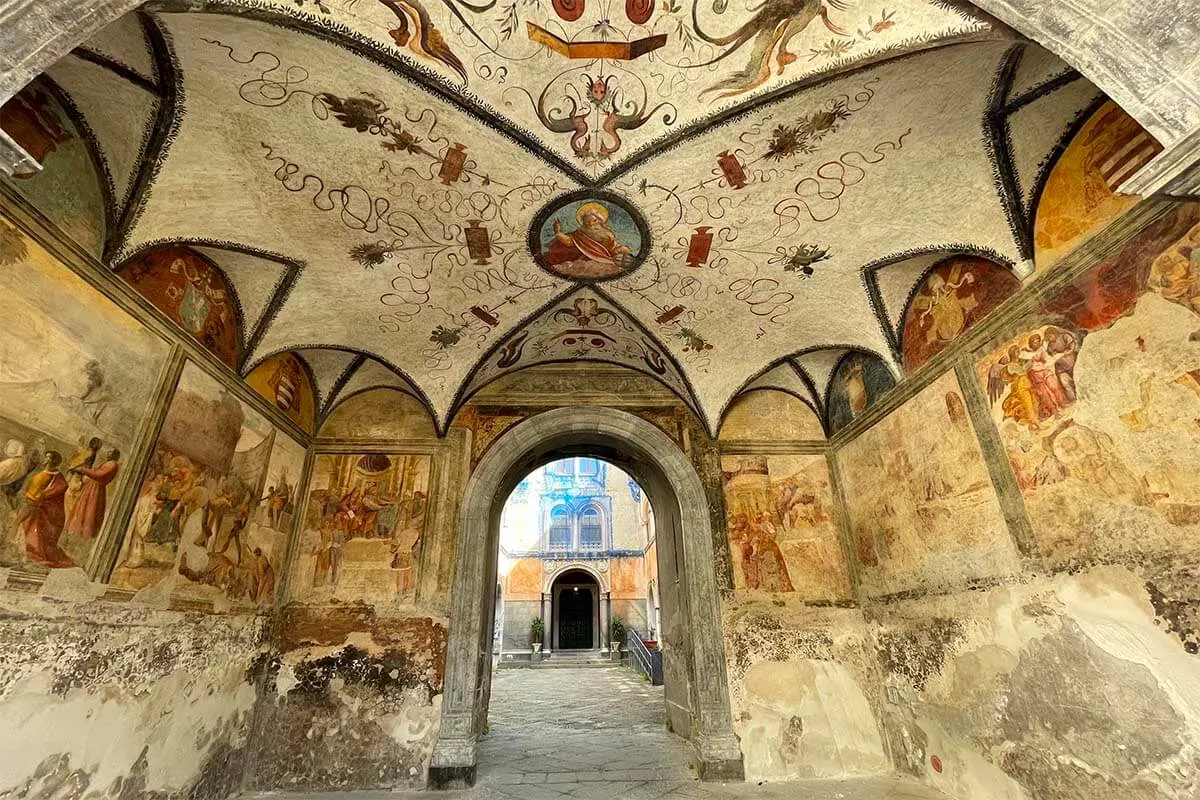 The San Gaudioso Catacombs were built below the Abbey (Badia) of the Basilica di Santa Maria della Sanità. Here, you can see mosaics and frescoes from the 5th century all the way to the 17th century.
Probably the most fascinating here are the rooms of the 'draining ritual' and the 'Gallery of the Nobles', where you can see the quirky skeleton paintings of some prominent citizens of 17th-century Naples. The stories behind these catacombs are fascinating!
Everyone in our family unanimously agreed that the catacombs should be on top of any Naples bucket list! Even our teens were fascinated and impressed (and if you have teenagers you know they're the toughest public when it comes to visiting churches and historical sites).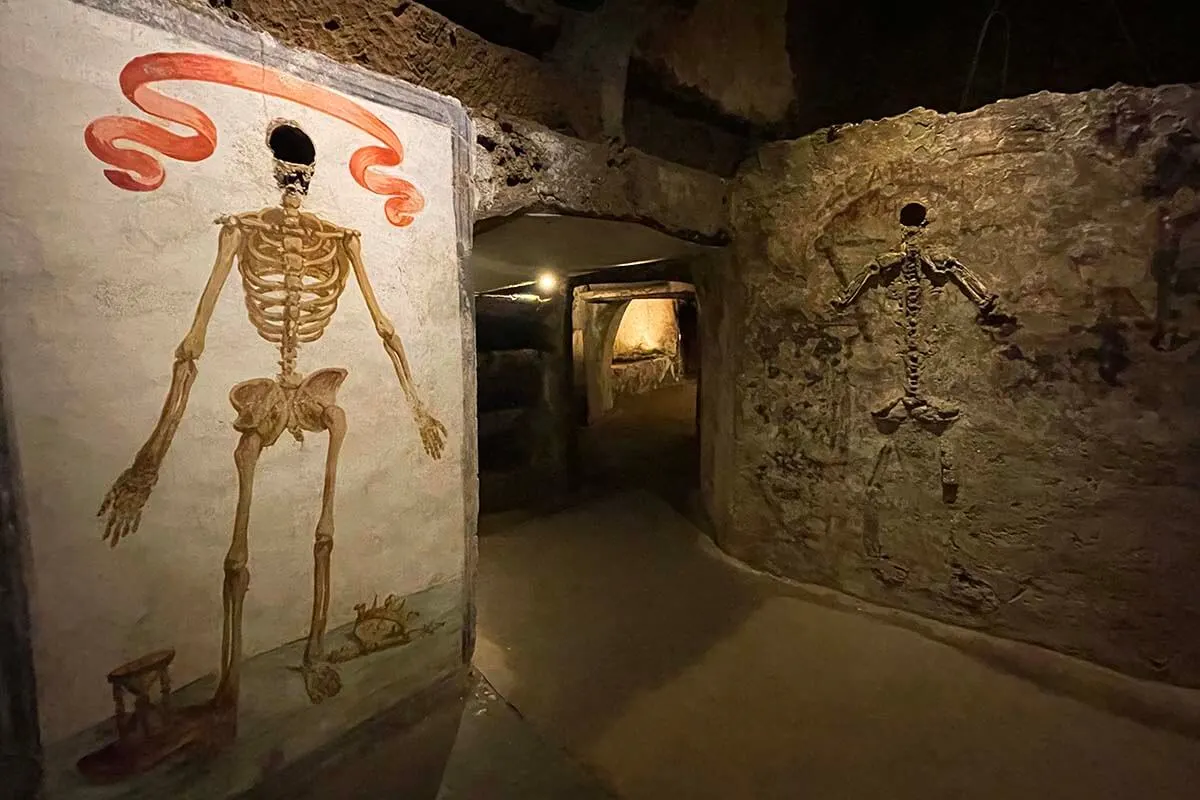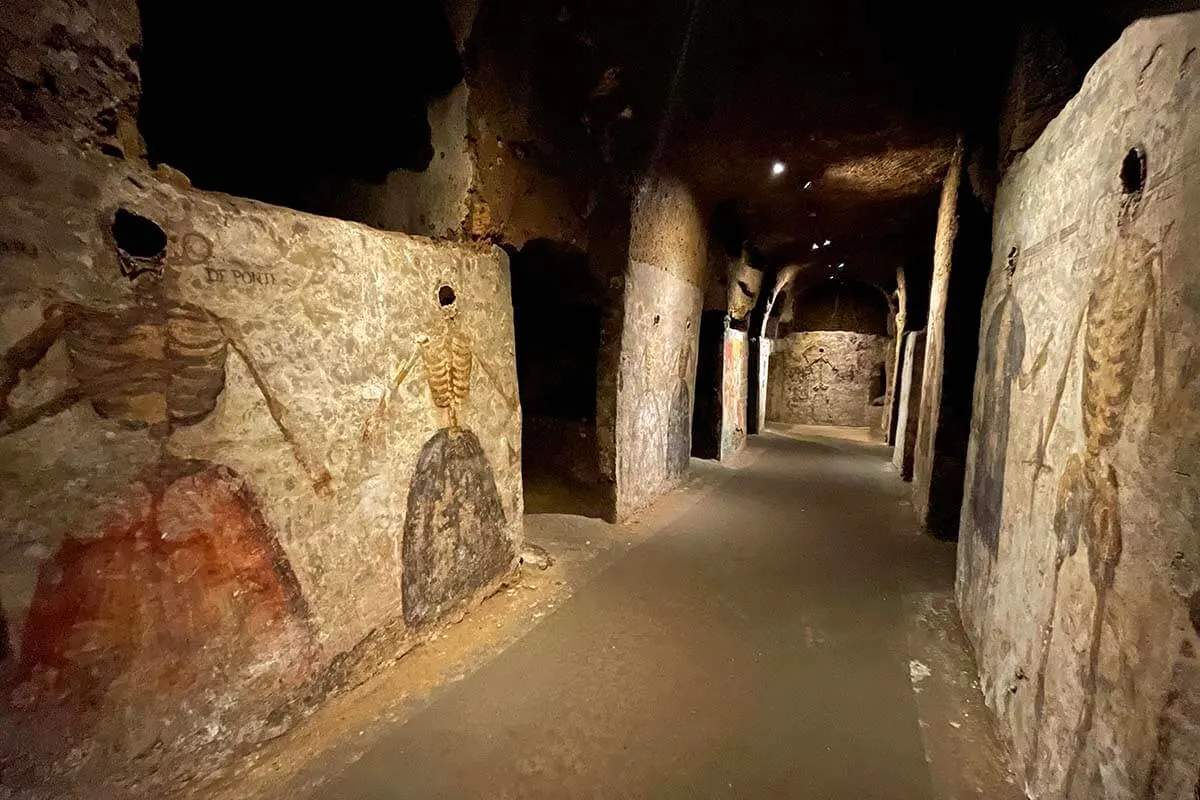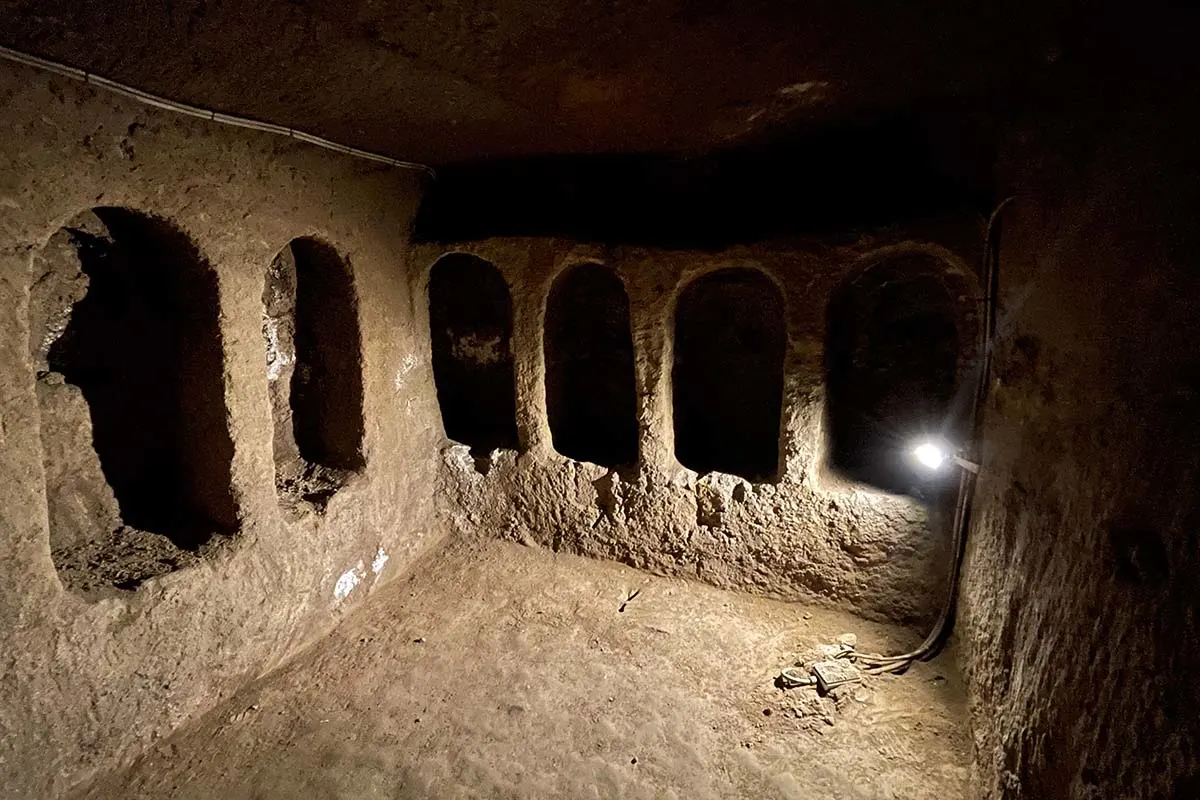 Good to know: Since it was forbidden to bury people inside the city gates, the catacombs are located somewhat outside of the old town, in the northern part of Naples. Still, it's really not that far and you can easily get here by taxi or by public bus. Or you can even walk here from the old town – the Catacombs of San Gaudioso are just a 10-15 min walk from the Naples National Archaeological Museum.
Practical information: The Catacombs are open daily – see their website for more information and visiting times. The ticket includes both catacombs (and also gives a discount on the earlier-mentioned Cloister of Santa Chiara). You don't have to visit both catacombs on the same day as the ticket remains valid for a year. You'll visit the catacombs with a small group accompanied by an official guide.
Tickets: To save you time and confusion about all the ticket options, this ticket is what you need for an English-speaking tour that includes both catacombs. You choose the timed entry to Genaro Catacombs and then visit the Catacombs of San Gaudioso with the same ticket afterward.
TIP: If you have a bit more time, we highly recommend a guided 'Holy Mile' tour. It's by far the best way to see both catacombs, and also some other amazing places in the Rione Sanità district (such as Palazzo San Felice or Palazzo dello Spagnolo). However, at the moment, this tour is only available in Italian. For a tour in English, you have to book a private tour directly via their website.
Or you can simply visit the catacombs and then explore the Sanita neighborhood on your own.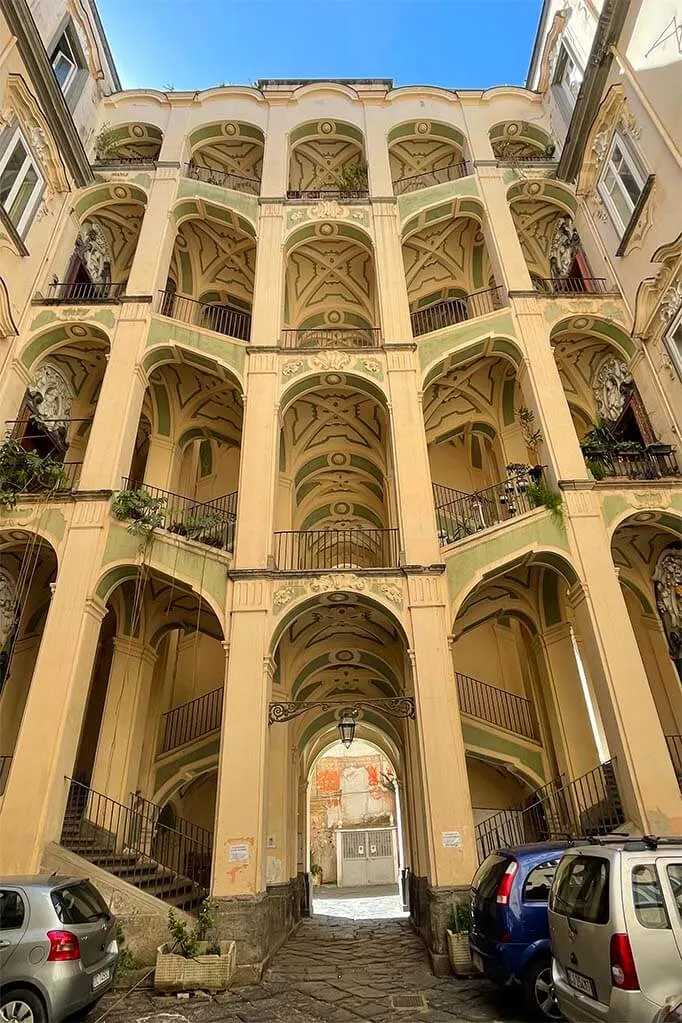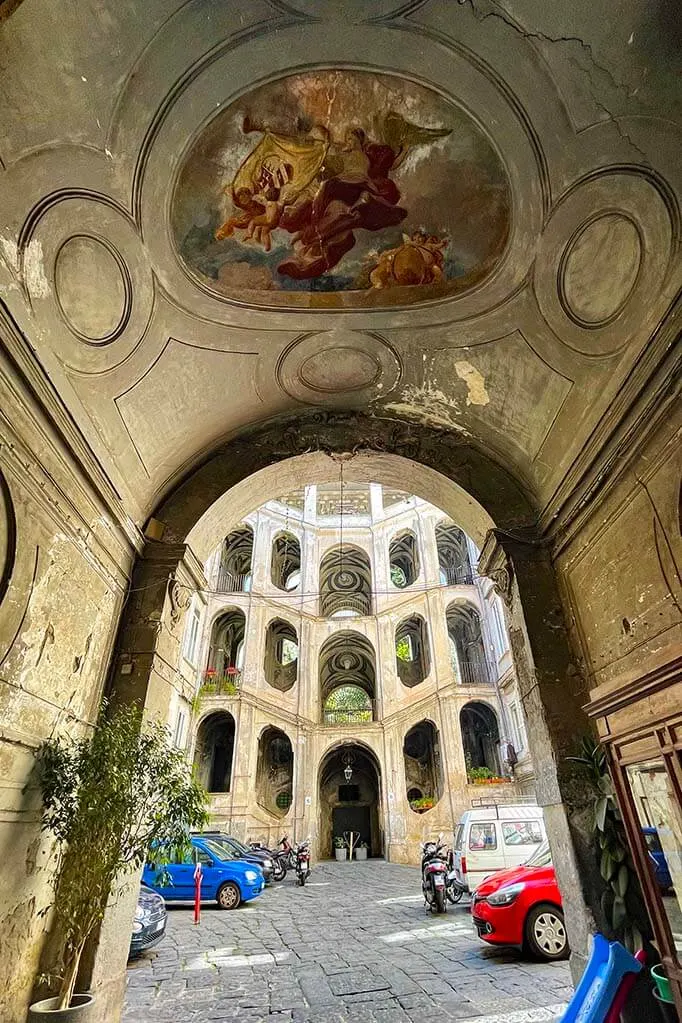 8. Naples Cathedral – Duomo
The main church of southern Italy, Naples Duomo dates back to the 13th century. Although its official name is Cattedrale di Santa Maria Assunta, it is more commonly known as the Cattedrale di San Gennaro (one of the patron saints of the city).
The Cathedral has been restored and added to multiple times throughout its history and the result is a curious mixture of Baroque, Renaissance, and Gothic styles that you see today. Nevertheless, it is very beautiful, particularly the decoration surrounding the main nave.
Of particular importance is the immaculately decorated chapel of San Gennaro, the patron saint of Naples. It is here that the residents of Naples attend three times a year to see if the two vessels of his dried blood liquify. If they don't, it is believed that a terrible event will befall the city, such as the devastating earthquake of 1980.
The building also contains two of the oldest places of worship in Naples – The Capella di Santa Restituta and the Capella di San Giovanni in Fonte. When visiting the latter, you can just about make out some beautiful frescoes in the dome, one of which shows Christ multiplying the fishes.
Good to know: The Cathedral is open daily, but – just as most other churches in Naples – closes for a few hours early in the afternoon (usually from 1 to 3.30 PM). The entrance to the Cathedral is free of charge, but there's a small extra fee if you want to see the most interesting chapels.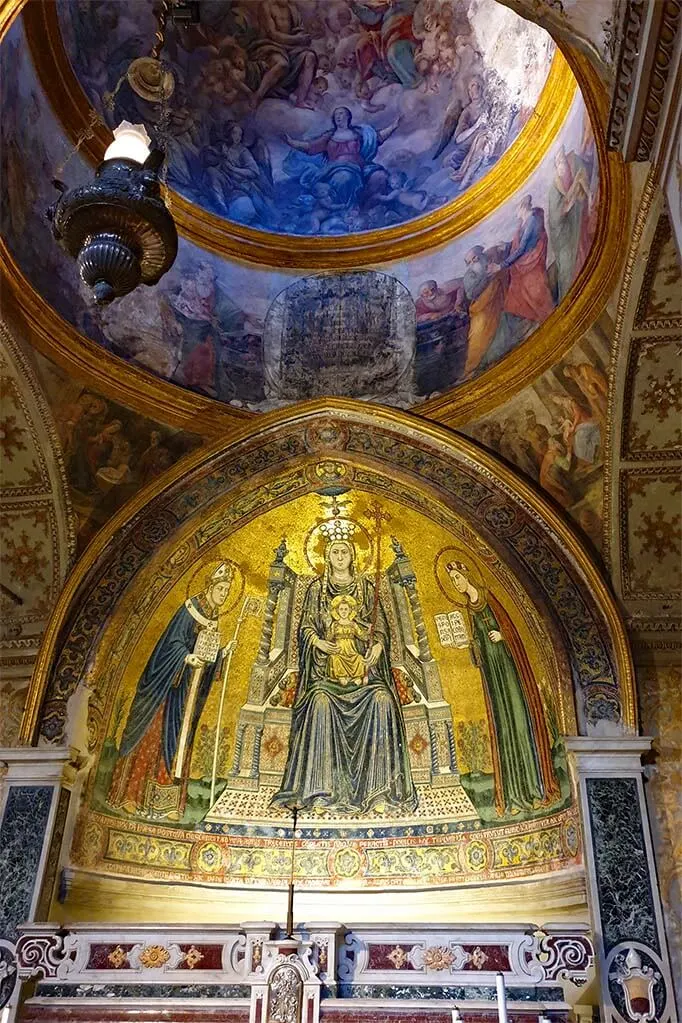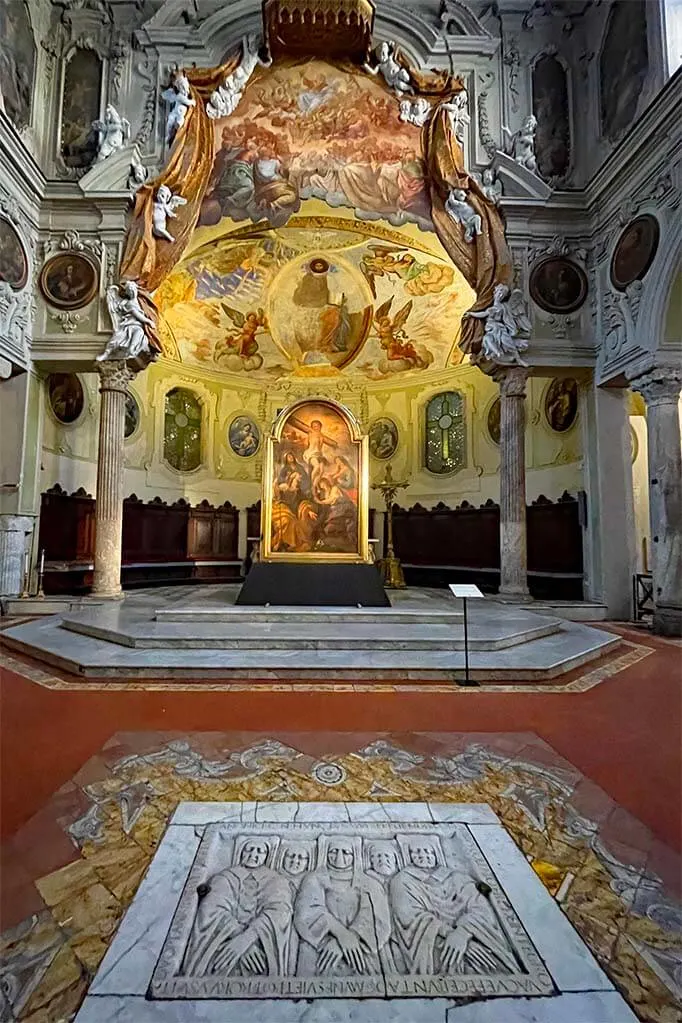 9. Napoli Sotterranea
Napoli Sotterranea is Naples Underground – the intriguing maze of ancient cavities and tunnels that lie 40 meters (120 ft) beneath the modern city. This is one of the most fascinating places to see in Naples, a trip that takes you back in time to the earliest days when the city was first founded.
Originally dating from Greek times (some 2,400 years ago), over a thousand caves were excavated in order to extract stone for the construction of Nea Polis (the 'new town'). During Roman times, the caves were connected with a series of tunnels and used as Naples' cisterns and water supply for over 23 centuries.
More recently, the Naples underground also served as a shelter during WWII. Over 2500 people (mostly women and children) were hiding here for over 1.5 years. It's hard to imagine…
A visit also includes a Roman theater… hidden inside a traditional Neapolitan house.
Good to know: You'll have to negotiate over 100 stairs (down and up again) and some very narrow passages too. The narrowest sections can be skipped if you feel claustrophobic, but those are actually the most special parts and guarantee the most unique experience that you won't quickly forget.
Practical information: Napoli Sotterranea is located on Piazza San Gaetano 68 – do not confuse it with the nearby underground site La Neapolis Sotterrata at San Lorenzo Maggiore (which is not nearly as interesting). It's open daily and a visit takes about 1.5 hours. You can only visit here with a guided tour, and it's best to prebook well in advance. This is one of the most popular tourist attractions in Naples and in the high season, tours in English often sell out a few weeks upfront.
TIP: The easiest way to book a tour is via the Tiqets website, which is much more user-friendly than the official site. Plus, when we visited, it was cheaper to book tickets indirectly (go figure).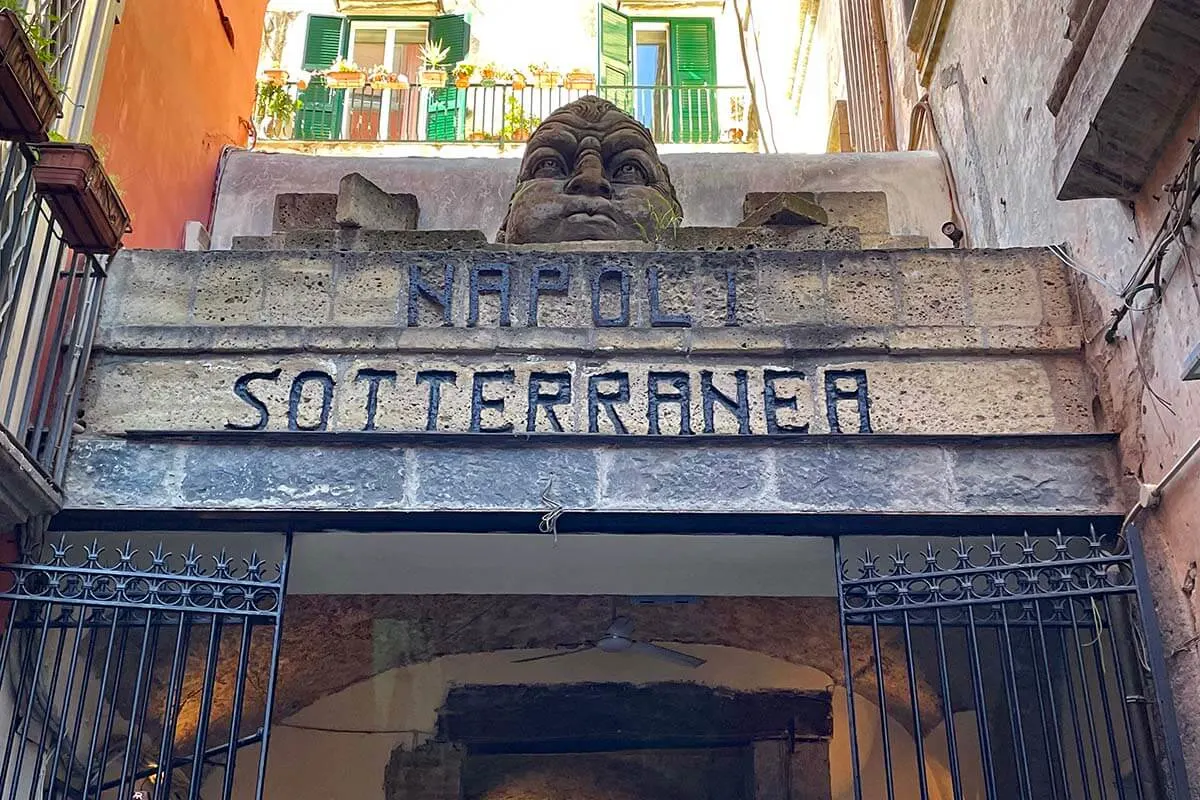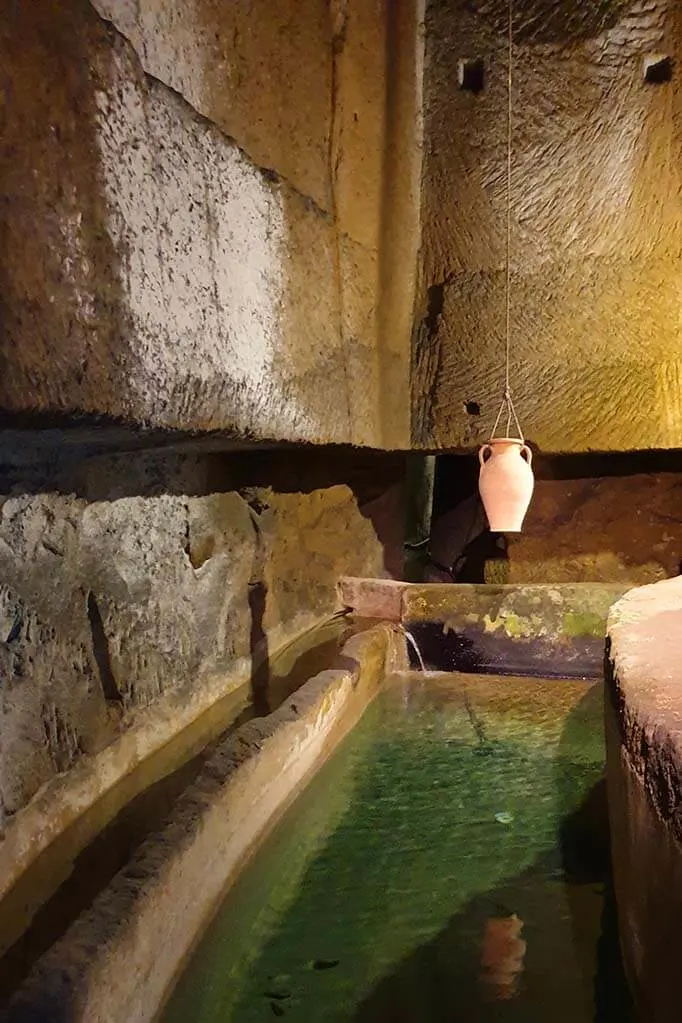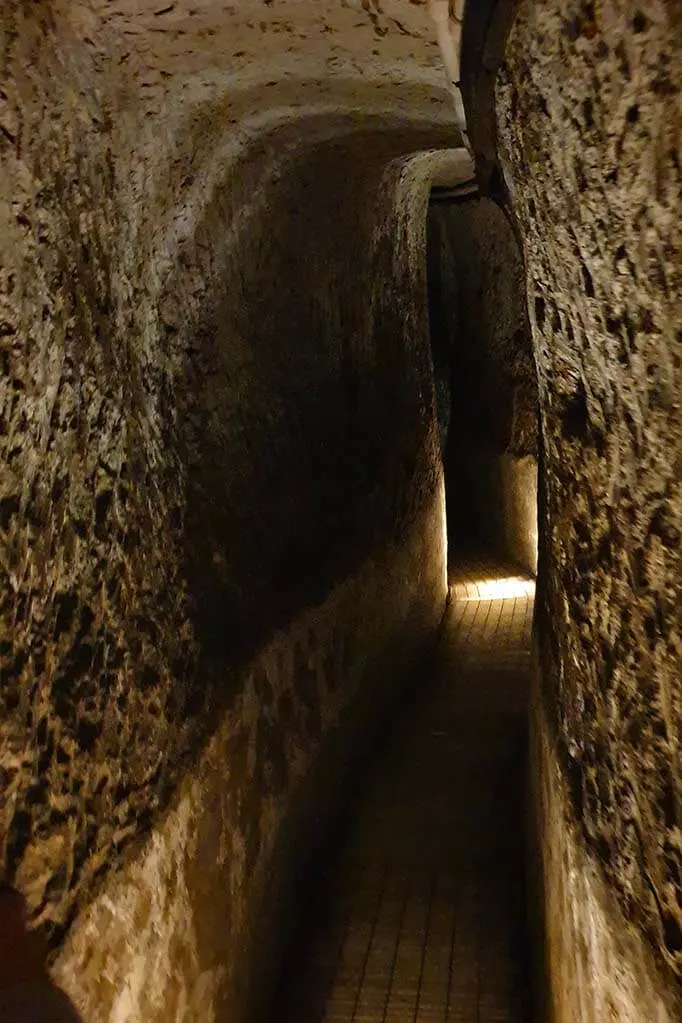 10. Views from Sant'Elmo Castle
Castel Sant'Elmo is a medieval fortress sitting high on the hill in the Vomero district in central Naples. This is where you'll find the very best panoramic views of Naples city and its wide surroundings, with the most amazing backdrop of the Mediterranean on one side and Mount Vesuvius on the other.
Originally a church dedicated to St Erasmus, Castel Sant'Elmo was turned into a castle 400 years later in 1349. It was further fortified in the early 16th century and was also used as a prison.
The site is now also home to the Museo del Novecento. Located in the former prison of the castle, this museum is dedicated to 20th-century Neapolitan art. But the best thing to do here is simply walking around the entire perimeter of the ramparts (the castle is huge!) and enjoy the stunning 360° panorama. The views from here are unparalleled!
TIP: Castel Sant'Elmo is the best place in Naples from where you can see an aerial view of Spaccanapoli – the iconic street that 'splits' Naples in two (mentioned as #1 on our list of top places to see in Naples).
Good to know: Castel Sant'Elmo can be reached by various staircases from the old town, but the easiest way to get here is by taking a funicular. We took the funicular from Montesanto funicular station, and you can also get here from Augusteo funicular station.
Practical information: Castel Sant'Elmo is open daily and you can get the ticket on the spot. For more practical information, see the official website (in Italian).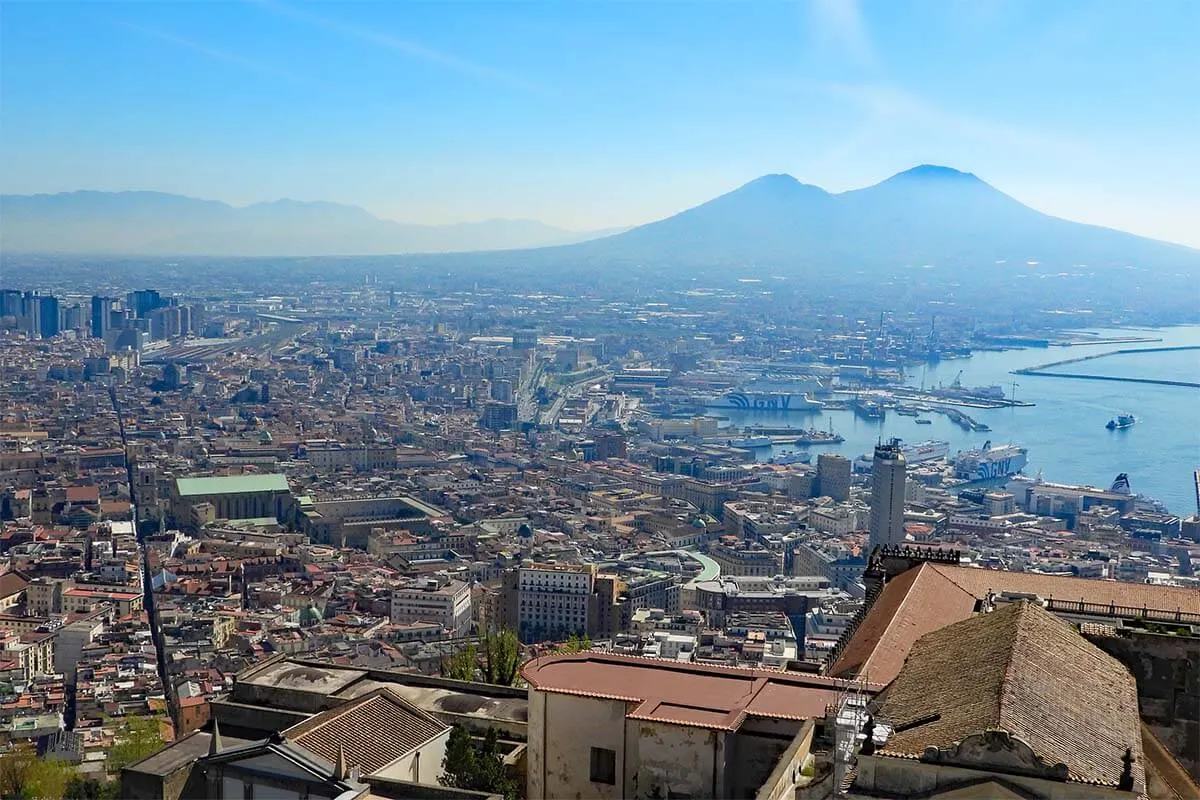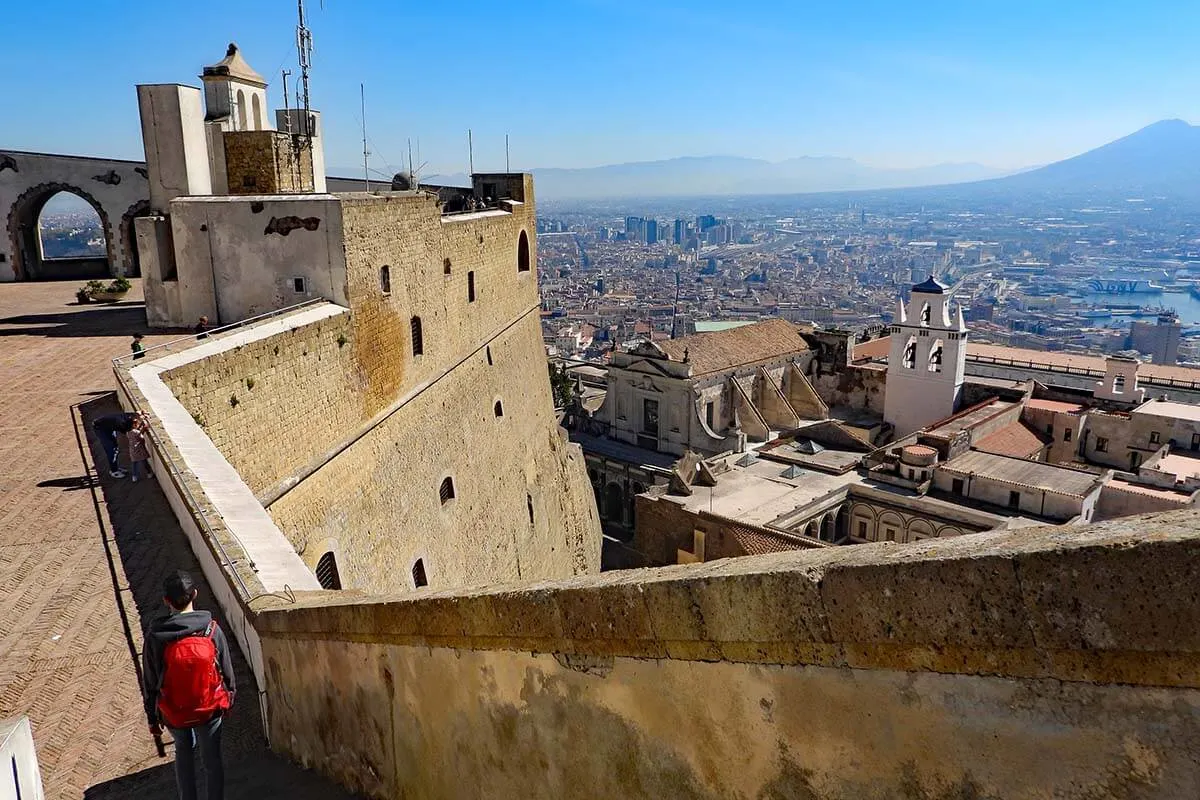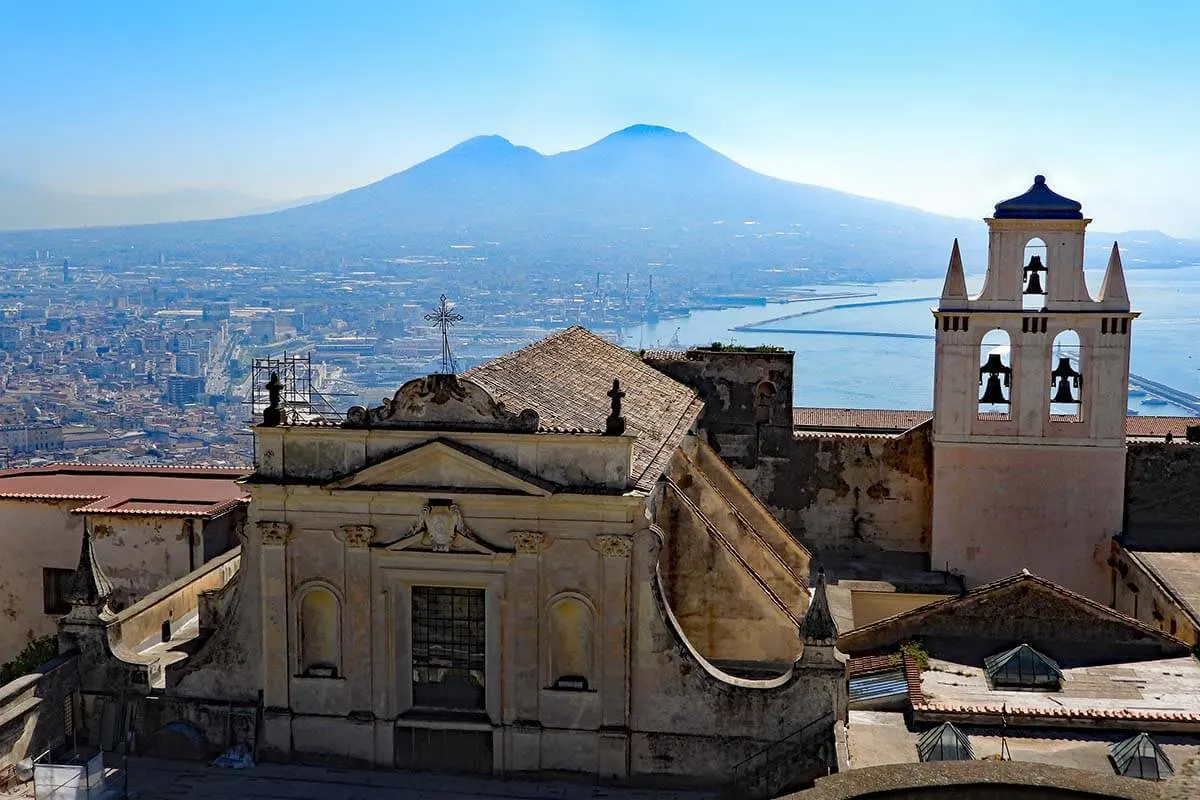 TIP: Combine Sant'Elmo Castle with a visit to San Martino Monastery, just nearby (more info below). Afterwards, take one of the steep staircases back down to the city center – it's a great way to explore a more local side of Naples!
There are stairs – Pedamentina a San Martino – right at the Belvedere San Martino in front of the Monastery, which seem to be quite popular with tourists.
Alternatively, you can walk around the castle to the Salita del Petraio staircase which – we were told – is more impressive and gives better views and a more local experience. We took the latter and indeed, it was a great choice – highly recommended instead of taking the funicular back down.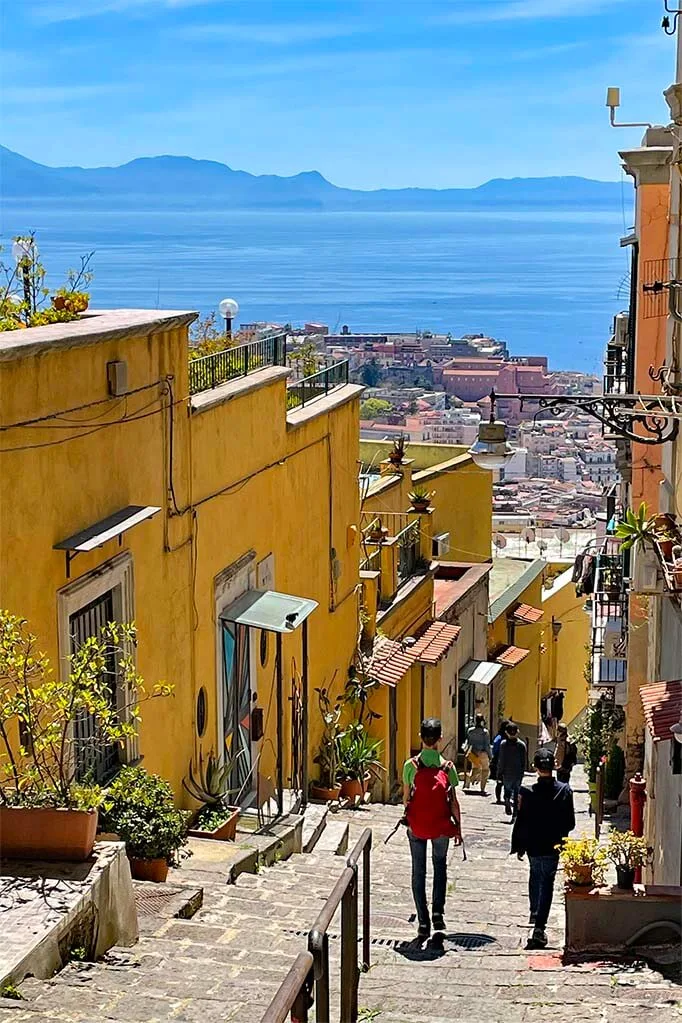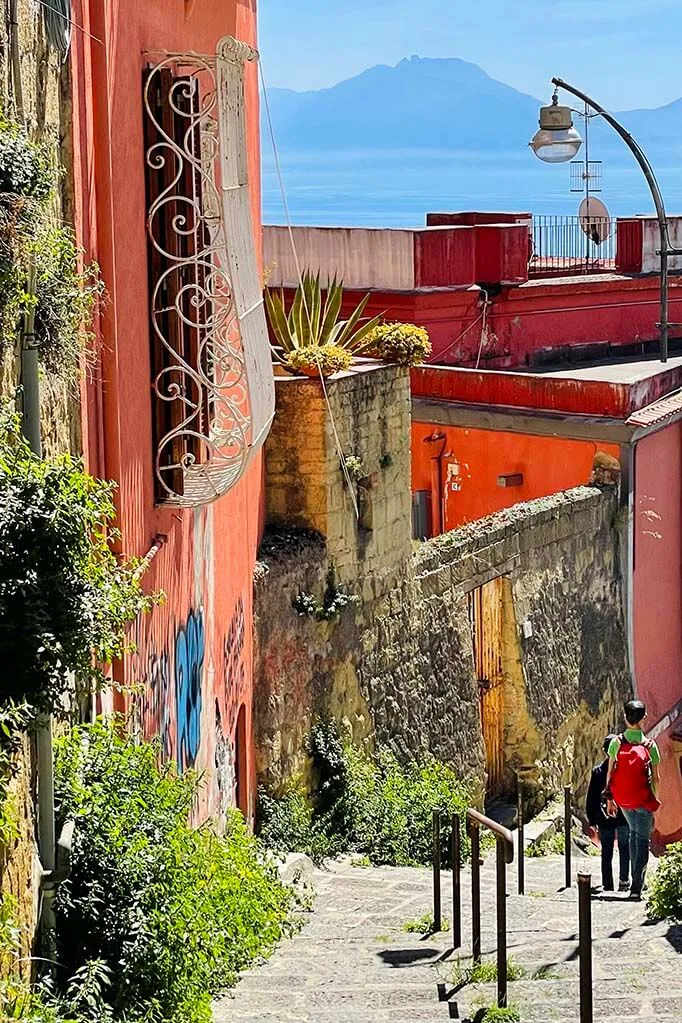 11. San Martino Monastery & Museum
Located right at the foot of Sant'Elmo Castel, high on top of the Vomero hill overlooking Naples bay, you'll find another landmark of Naples – Certosa e Museo di San Martino.
The Charterhouse of St. Martin was built in 1325 and was originally a Carthusian monastery. It has been renovated and altered many times throughout its history by some of Italy's most important sculptors and architects.
Nowadays it is a museum dedicated to Neapolitan and Italian art, with beautifully designed cloisters and elaborate frescoes. You can see works by 17th-century artists such as Battista Caracciolo and Jusepe de Ribera here, and some beautiful inlaid marble work in the nave. You'll also find Lanfranco's ceiling painting of the 'Ascension' and the 'Triumph of Judith' ceiling fresco by Luca Giordano.
The Monastery is huge and there's so much to see that you could easily wander here for several hours. Plus, there are big gardens to explore, offering nice views of Naples and the coast below. But even if you only have an hour to spare, it's well worth a visit – both, for the building itself, the stunning art inside, as well as the views. However, if you are only interested in the views, then go to Sant'Elmo Castle instead.
Good to know: Just as with Sant'Elmo Castle, the best way to get here is by funicular.
Practical information: Certosa e Museo di San Martino is open daily except on Wednesdays. See the official website for more info (in Italian). There's no need to reserve tickets – you can just get them on the spot.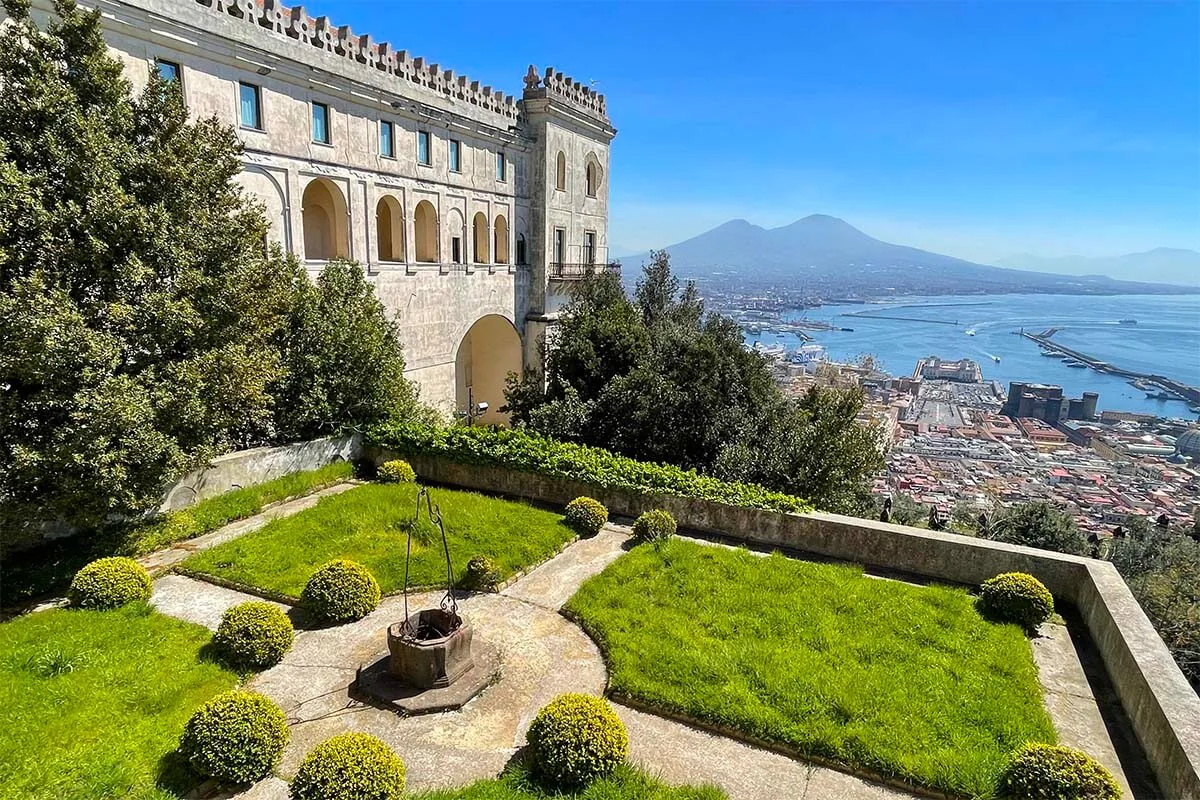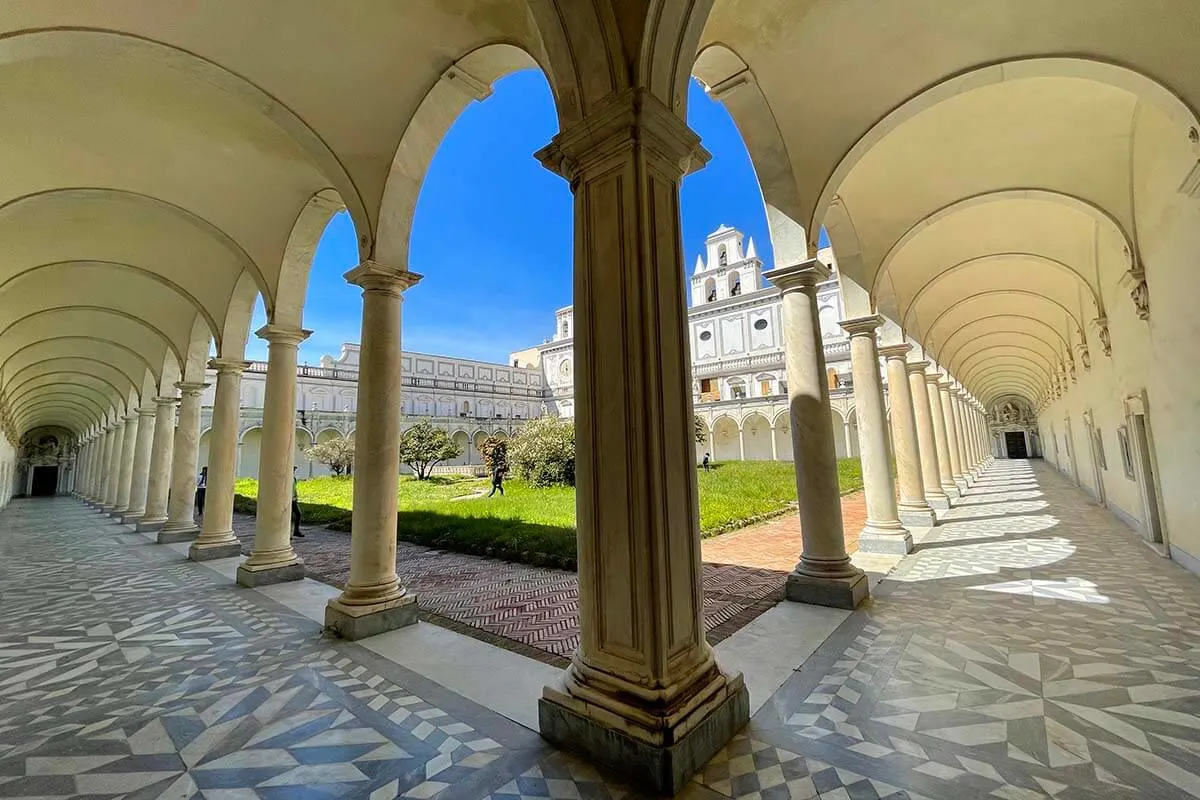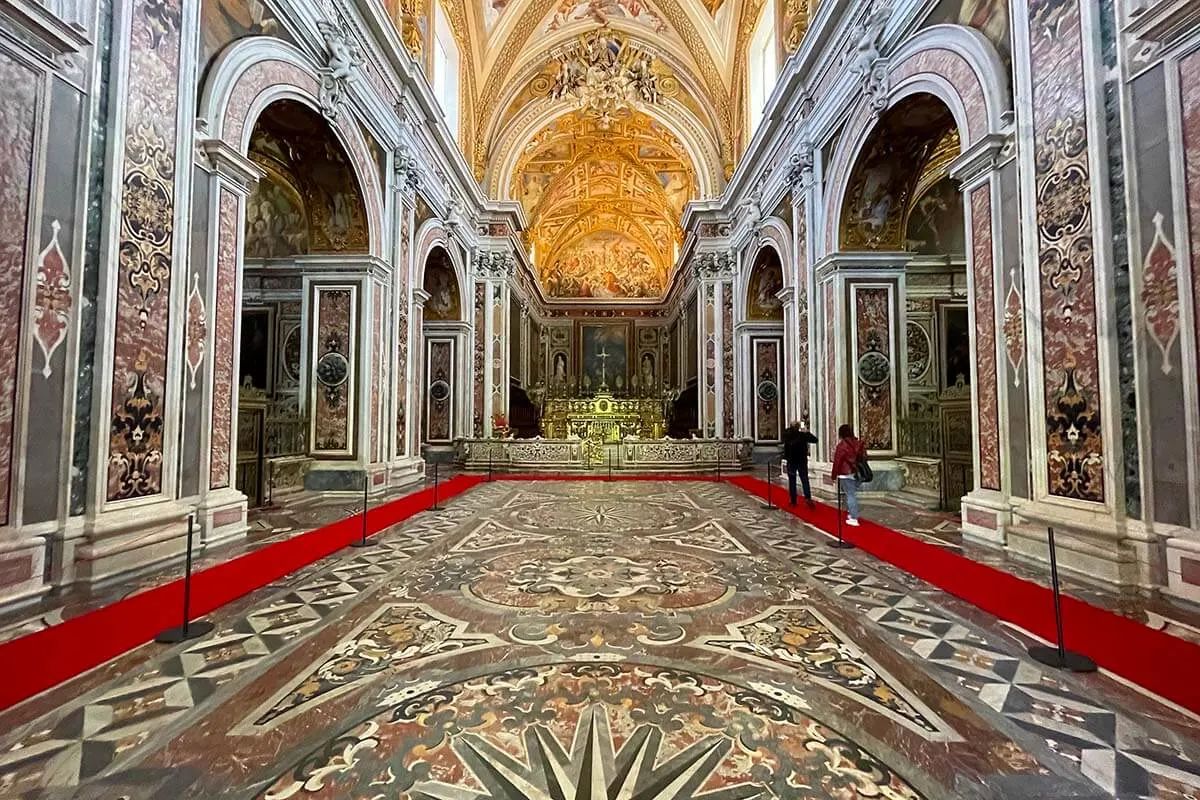 12. Piazza del Plebiscito
With 25,000 square meters, Piazza del Plebiscito is Napoli's main square and one of the largest in Italy. An amazing place to visit in Napoli, the square is framed by the semi-circular colonnades of the San Francesco di Paola Basilica. A minor basilica, it is considered one of the most important examples of Italian Neoclassical architecture.
There are lots of other important buildings to see here too, including the Royal Palace (more info below), the Prefecture Palace (which houses the institutional body that rules the province), and the Palazzo Salerno. You can't miss the two statues in the center either – one of them is dedicated to Spain's Charles III, and the other one – to Ferdinando I.
Totally pedestrianized (giving you a welcome break from the noisy Vespas), this vast open space was once known as Largo di Palazzo and used for bullfights. These days, Piazza del Plebiscito is a popular spot for outdoor concerts and other cultural events.
Fun to do: Whilst there, why not try the popular local game of crossing the square blindfolded or with closed eyes… The game started with the legend of Queen Margherita, who was said to grant salvation to only the prisoners who had accomplished the task.
The idea is to start at the entrance of the Royal Palace (between the two equestrian statues). You then walk for around 170 meters in a straight line, passing through the middle of the square. Apparently, no one ever manages it because of the square's slight (but unnoticeable) slope.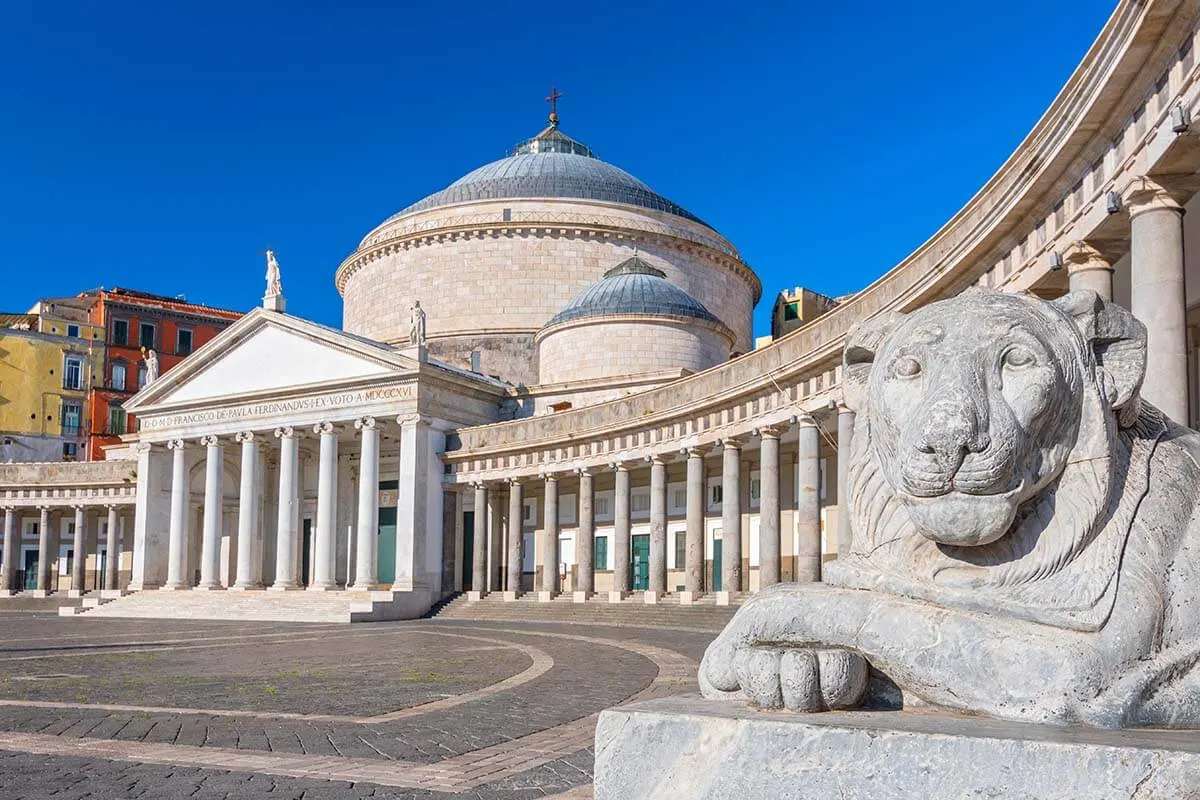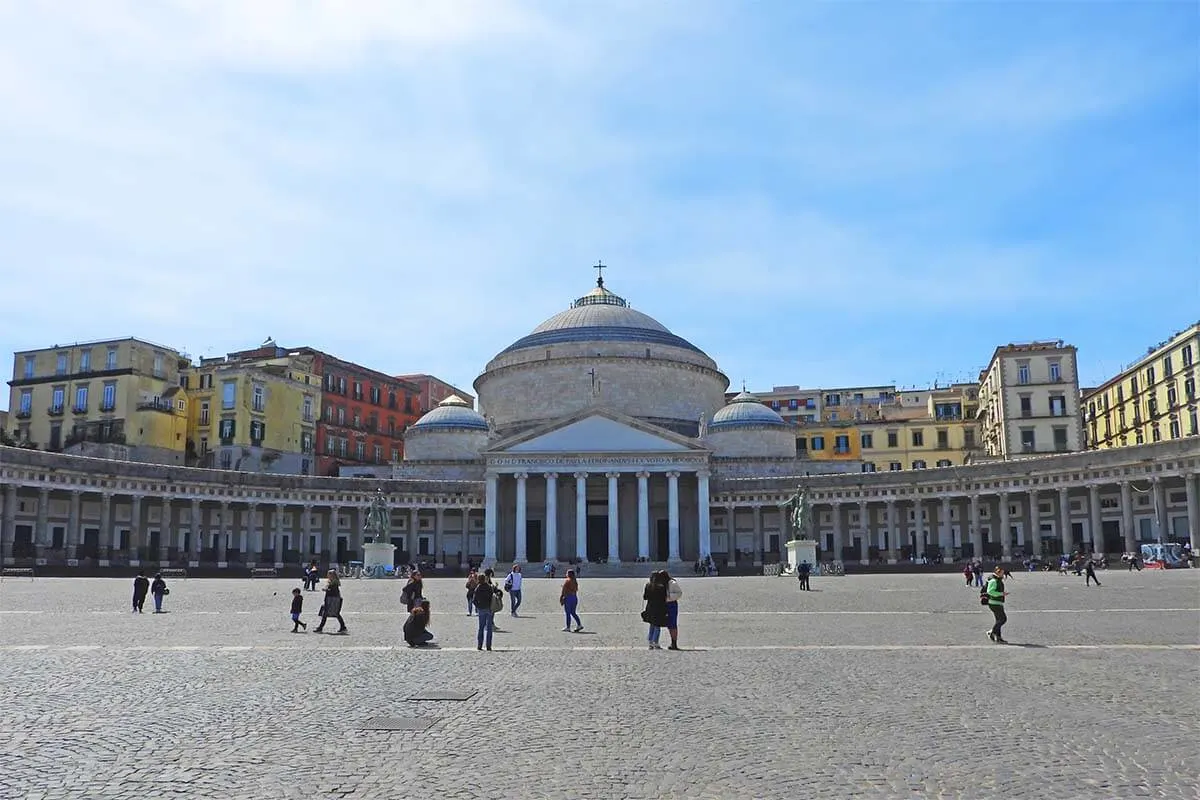 13. Royal Palace of Naples
Located in the Piazza del Plebiscito opposite the Basilica Reale, Palazzo Reale di Napoli is a huge stunning building that was constructed from 1600 onwards. Originally used by the Bourbon Kings as one of their four royal residences in the city, the palace and its grounds are now dedicated to the Teatrino di Corte, the Teatro di San Carlo, and the National Library.
It is worth visiting just to see the building from the outside as it is really impressive, with statues honoring various rulers of Naples from the 12th to 19th centuries.
But the real attraction is the palace's opulent interior – now a museum. The exquisitely preserved rooms filled with elaborate decoration showcase the history of Naples from the 17th to 19th centuries.
The majestic hallway and sweeping staircase are quite breathtaking, and if you stand in the magnificent throne room it is easy to imagine all the kings and queens that must have stood there before you. The lavish theater – Teatrino di Corte – was built for the wedding of Marie-Antoinette to Ferdinand.
Practical information: The Royal Palace of Naples is open daily except on Wednesdays. There's no need to reserve a ticket – you can get it at the entrance. For more practical info, see here.
TIP: If you have more time in Naples, visit the Royal Palace of Caserta which is located outside the city (more info in the 'day trips' section further below). It's even more impressive than the Royal Palace of Naples. But if you don't have the time to travel to Caserta, definitely take a look inside the Royal Palace in Naples city center.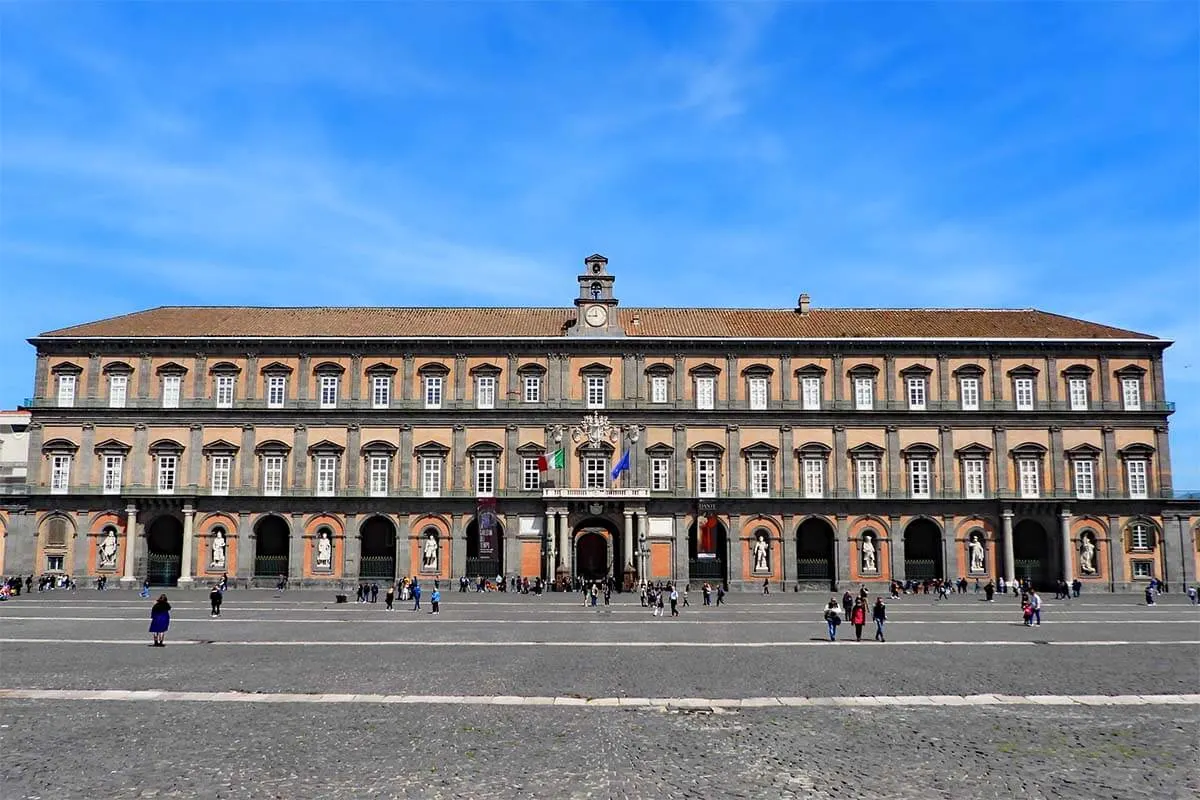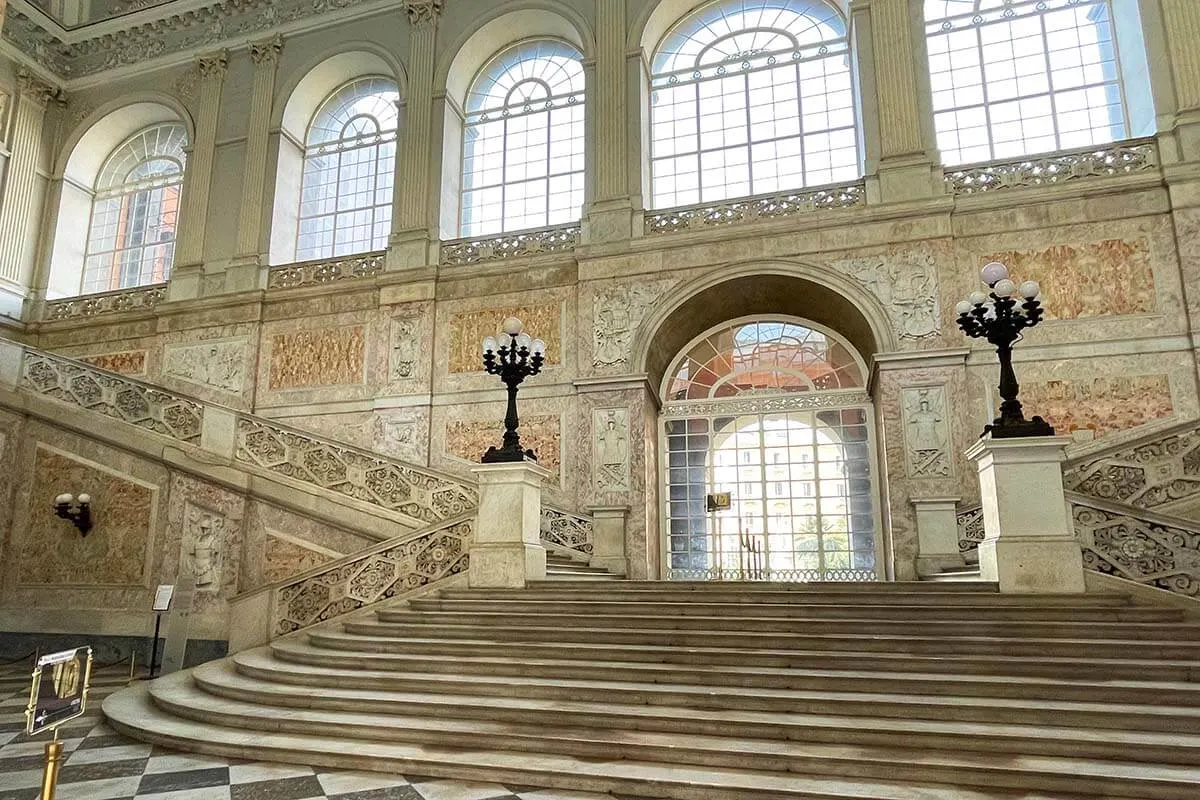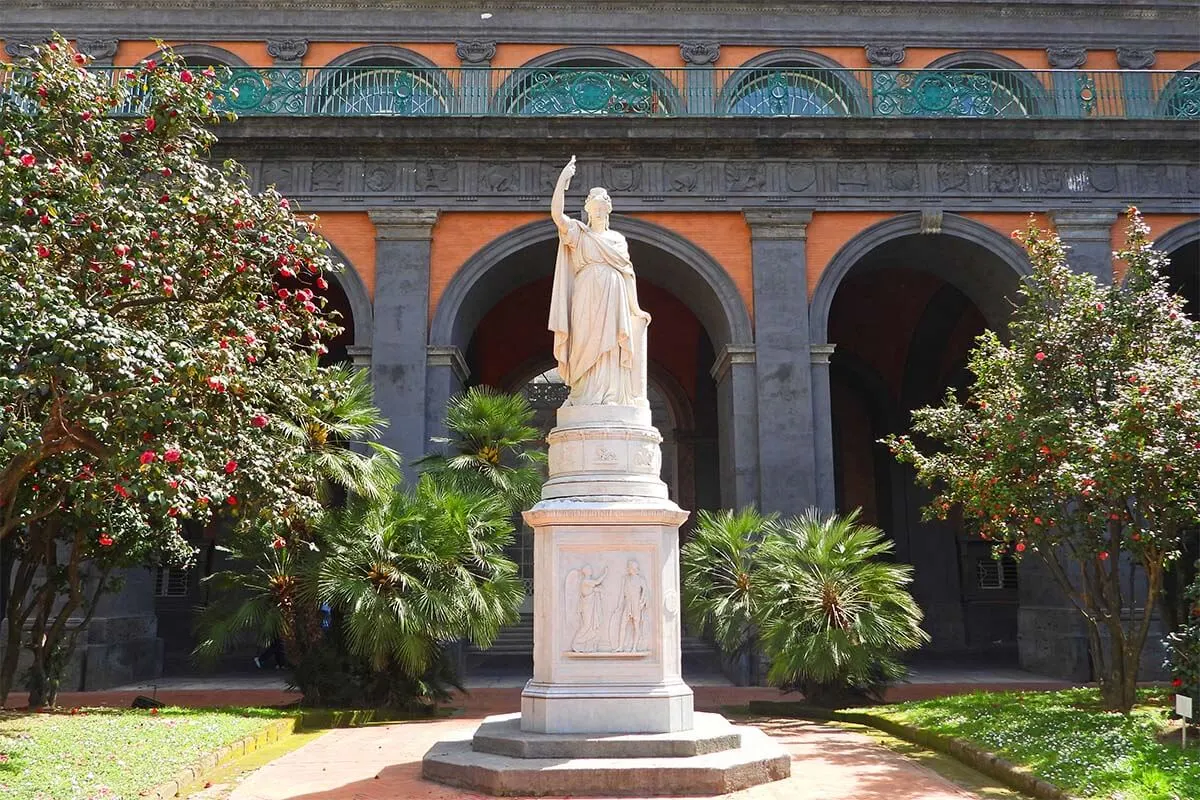 14. Galleria Umberto I
Galleria Umberto I is a public shopping gallery located just a few steps from the Piazza del Plebiscito and the Royal Palace. While not an absolute must, in our opinion, it's one of the most beautiful landmarks in Naples. Furthermore, it only takes a few minutes of your time, so we highly recommend you check it out!
Beautifully designed, its domed steel and glass roof fills the gallery with light. Builts towards the end of the 19th century, it features various sculptures and murals, with shops and eateries on the ground floor and offices upstairs. If you've ever been to Milan, you may just notice how much it resembles the Galleria Emmanuelle II, on which it was modeled. It has a similar, cross-shaped design.
It's hard to imagine that this was once an area that had a bad reputation for fighting, crime, and prostitution! Indeed, the very purpose of this gallery was to make Naples attractive again, providing a safe place for people to walk and shop.
The shops at Galleria Umberto I are a mix of boutiques, high street names, and discount stores. There are also several cafes where you can indulge in a little people-watching and regular visits from street performers.
TIP: The gallery is also home to a 4* luxury hotel – the Hotel Art Resort Galleria Umberto, a nice place to stay for sightseeing in Naples!
READ ALSO: Best Places to Stay in Naples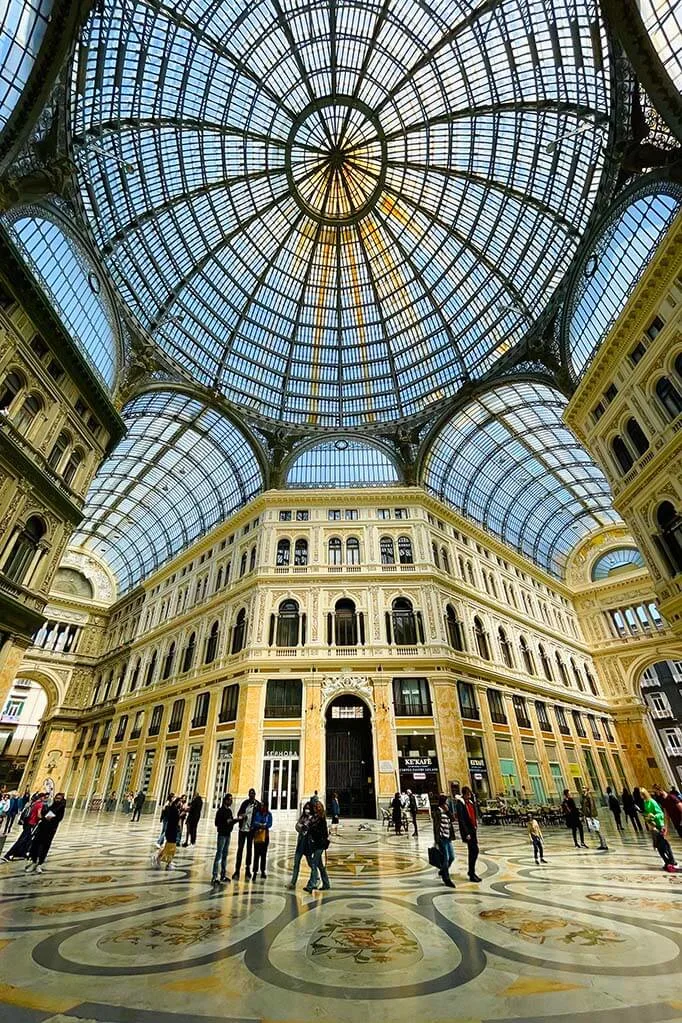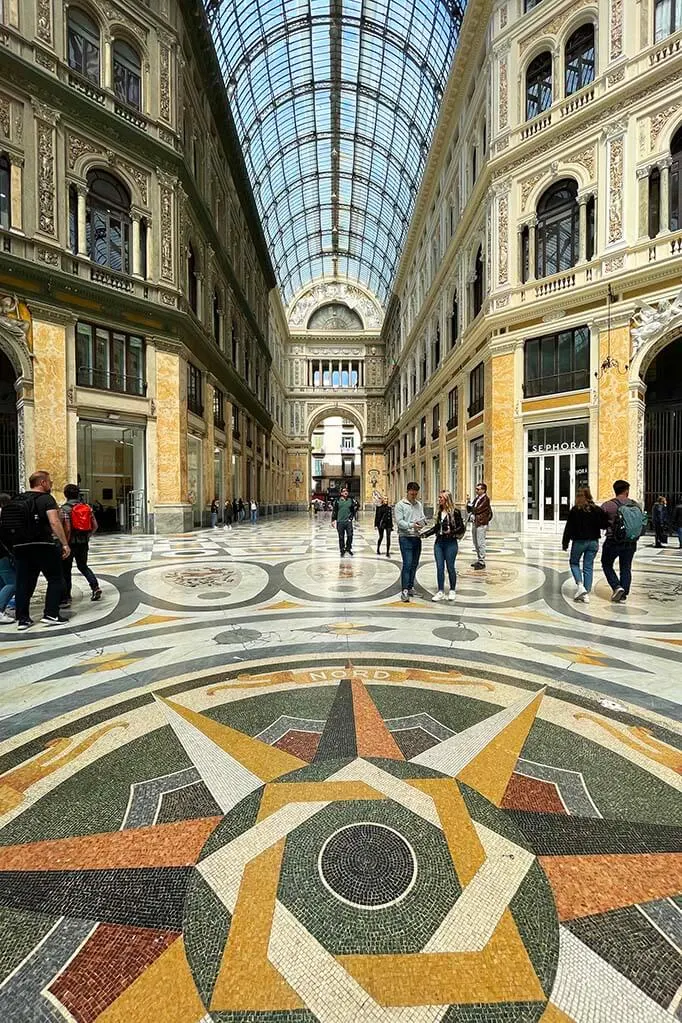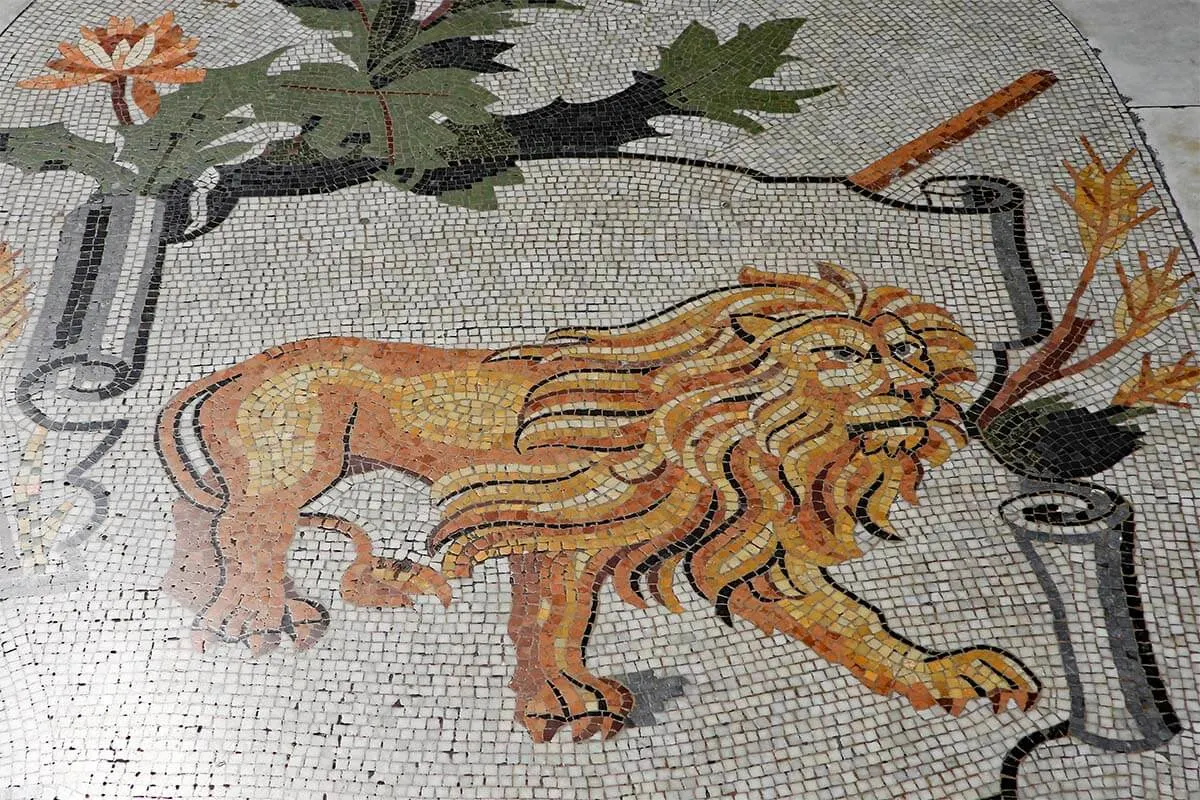 15. San Carlo Theater
Housed in a magnificent Neoclassical building just near the Royal Palace and across the street from Galleria Umberto I, Naples' Teatro di San Carlo is the oldest continuously running public opera venue in the world.
San Carlo Theater was first opened in 1737, commissioned by the Bourbon King Charles III of Naples. Restored following a devastating fire in 1816, the interior is now quite dazzling, with a traditional horseshoe-shaped auditorium and beautiful red and gold furnishings. It's decorated with vibrant frescoes as well.
TIP: If you are lucky to visit when there are performances (and can get tickets), you could attend an opera or a ballet here. The opera season runs from January to May and there are ballet performances from April to June. However, we visited in mid-April and there was nothing on the program during our travel dates… You can check the events calendar on their website.
Alternatively, you can take a guided tour of the auditorium, the royal box, and the foyers. However, the schedule of the guided tours depends on the performances, etc. and it's not straightforward to book it. You can check the general tour schedule online, but the best way to get a tour is by calling the theater a few days in advance. There's usually one tour (in English) in the morning and one in the afternoon.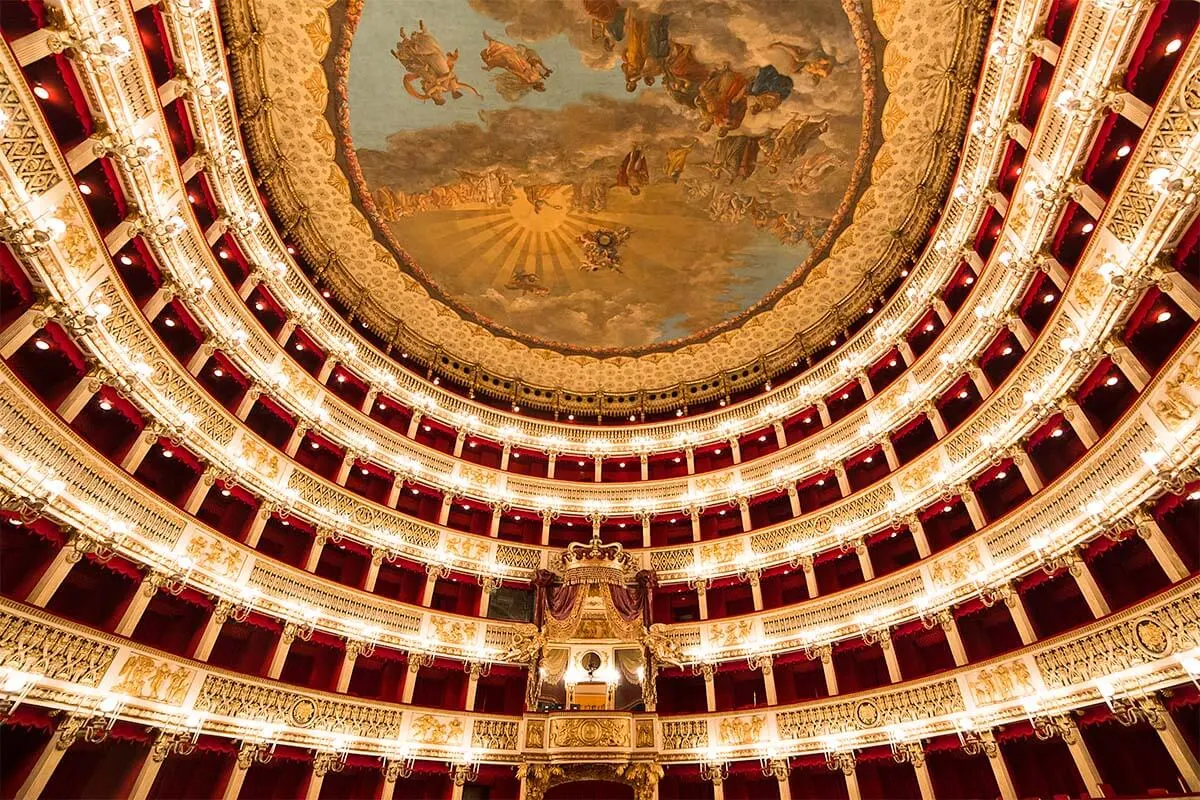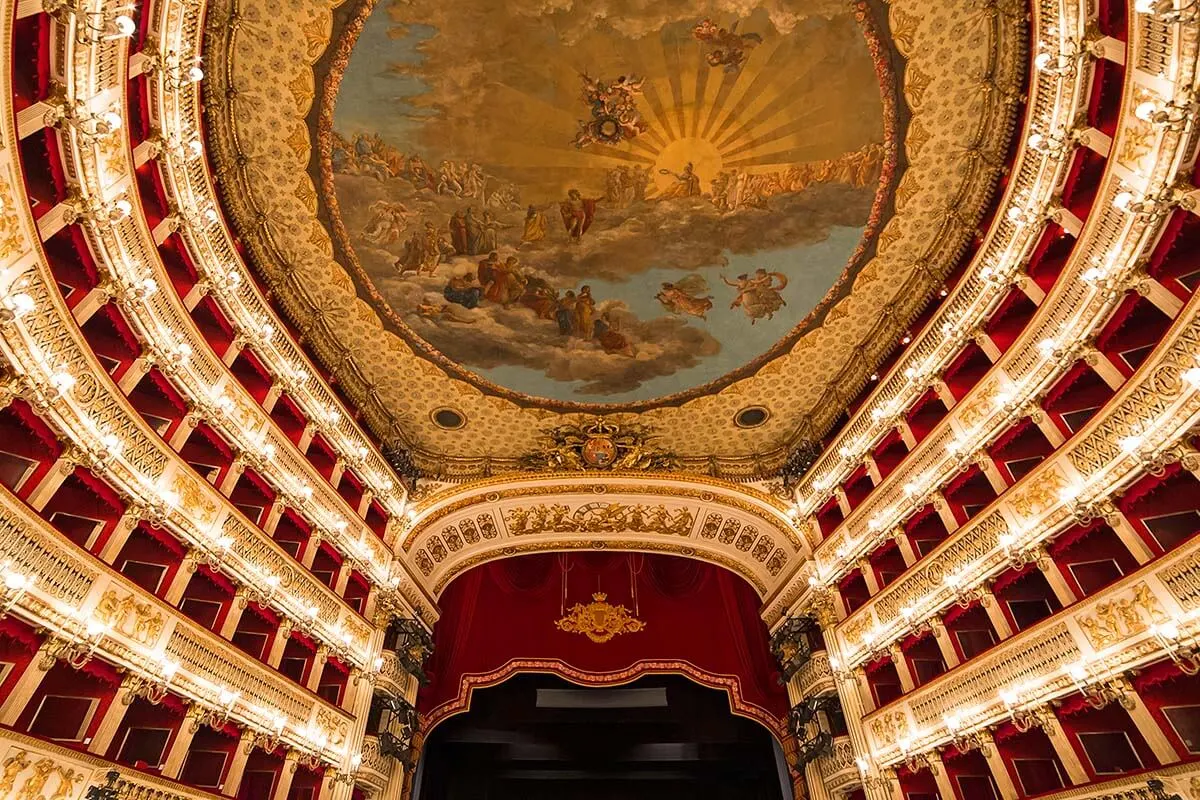 16. Via San Gregorio Armeno
Via San Gregorio Armeno may just be the most famous alleyway in Naples and its purpose is somewhat unique!
Otherwise known as 'Christmas Street', this is where you will find the city's presepe artisans. A presepe (plural presepi) is a Nativity scene and the tradition of creating them goes back for 1000 years. At any point in the year you can visit Via San Gregorio in order to buy the figurines you'll need to create a display of your own!
But even if you don't plan to buy anything, a walk through this street is a must when visiting Naples.
TIP: For the best atmosphere and displays, come here in the morning – early afternoon because some shops close quite early.
Another attraction to visit here is the hidden cloister of the San Gregorio Armeno Church. It has an enclosed 17th-century garden filled with citrus trees and a Baroque marble fountain. Be sure to go in the morning, though – admission is only permitted for a few hours, usually until noon.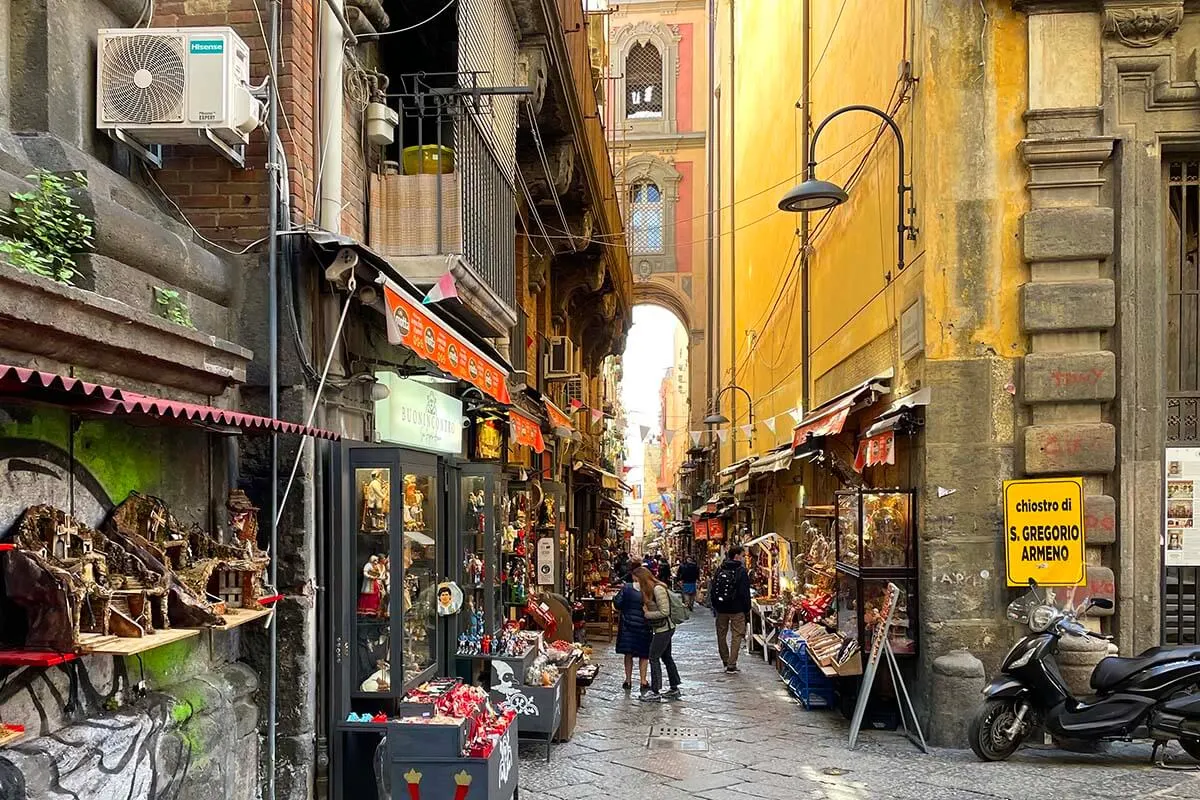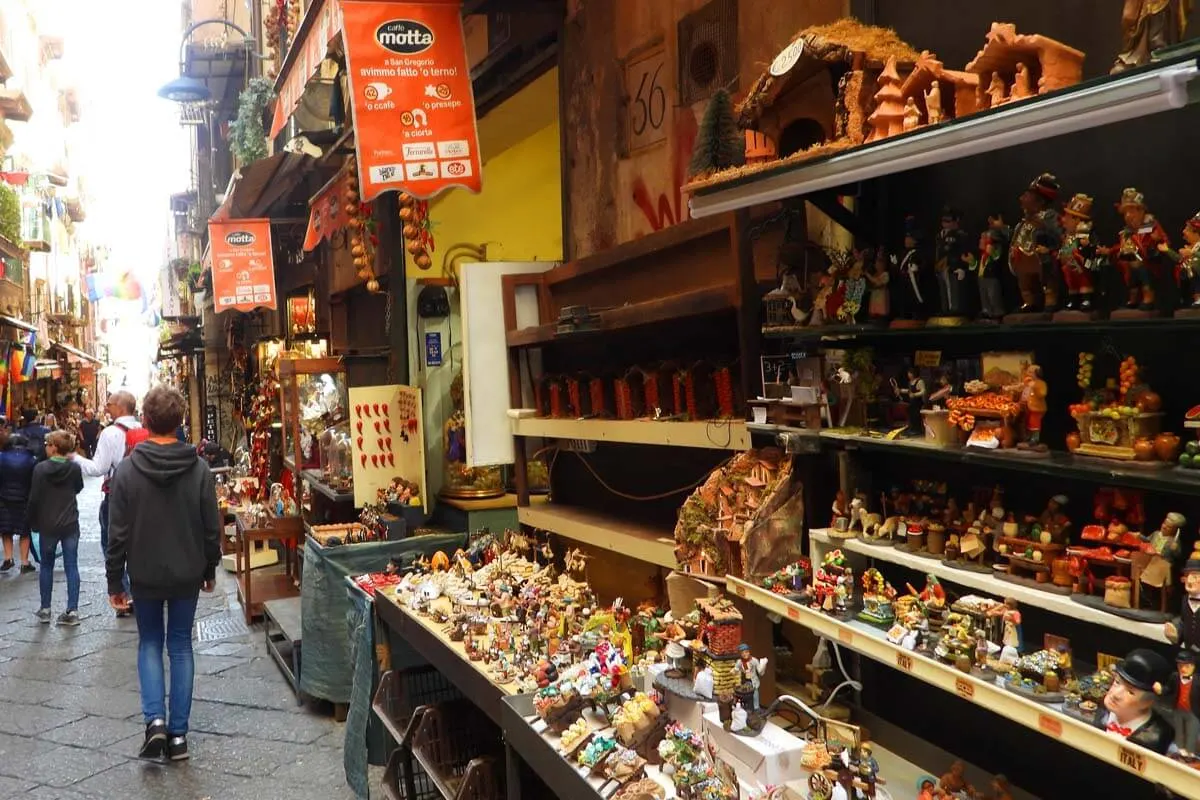 17. Naples Waterfront
A popular thing to do in Naples is to take a stroll along the 2.5 km pedestrianized seafront promenade, aka Naples Waterfront (also called Lungomare di Napoli or Lungomare Santa Lucia).
The views here are lovely, taking in Capri and Mount Vesuvius along with Naples itself. On the other side is the greenery of Naples Villa Comunale Park, making this a real oasis of calm in this crazy busy city.
You'll find a few free beaches along the way, plus boat rentals and numerous kiosks selling lemon granita and snacks. There are also a few places to rent bikes – in fact, some of the restaurants even offer free bike rentals to their diners.
Alternatively, visit towards the end of the day when the sun goes down. Not only will you be able to take some amazing photos, but you'll also find many locals enjoying their traditional evening stroll – the passeggiata.
TIP: Some of the most popular 'grand' hotels in Naples (Eurostars Hotel Excelsior, Hotel Royal Continental, etc.) are located on Via Partenope, a wide boulevard facing the sea.
If you are visiting Naples in summer, this would be one of the nicest areas to stay in – not just for the sea views or waterfront activities, but also – literally – in order to have some air. You can enjoy a nice breeze here whereas the city center with its narrow alleyways can get really hot.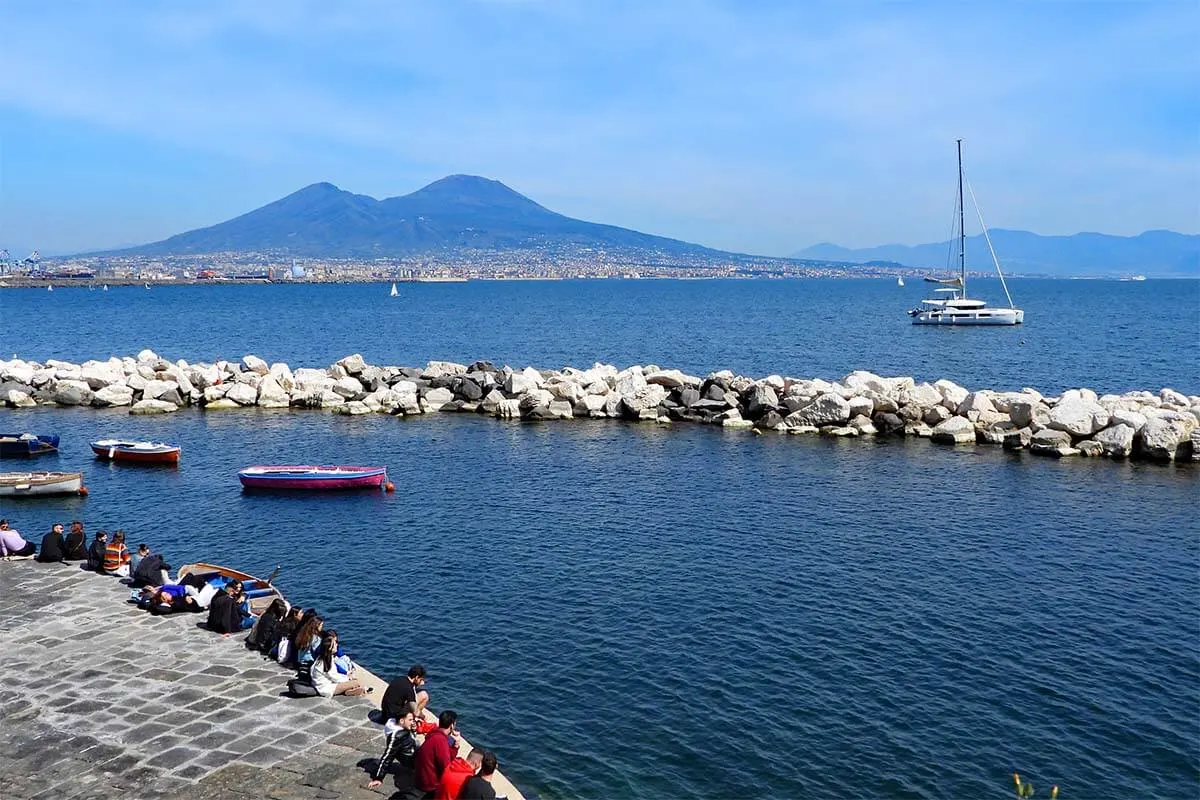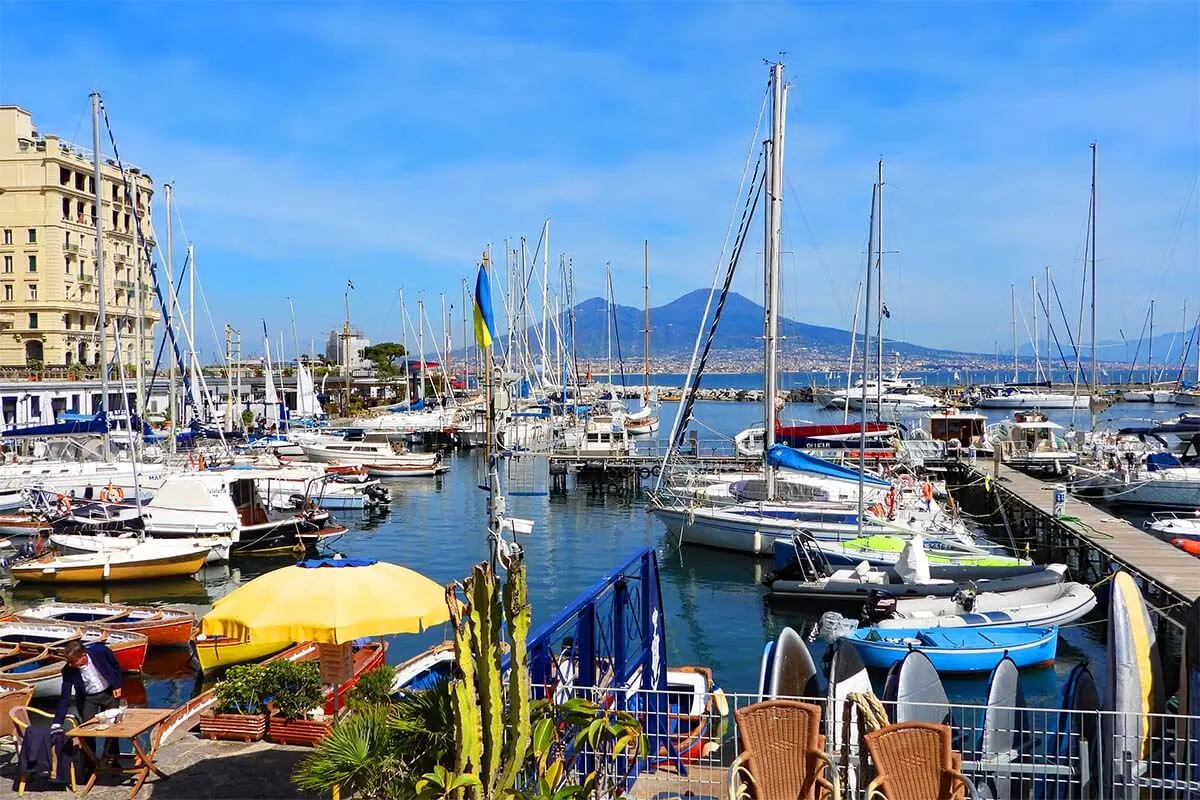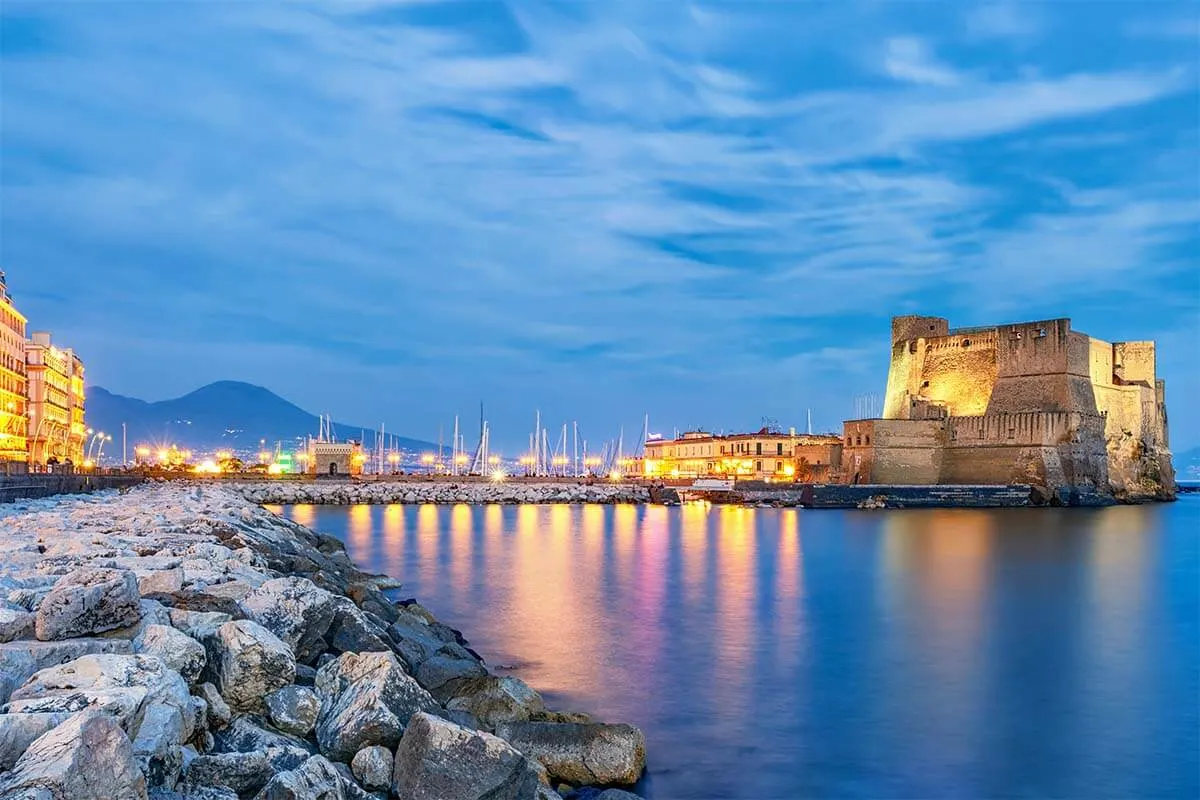 18. Ovo Castle
Visible as soon as you enter the port of Naples, the imposing Castel dell'Ovo (the Egg Castle) is the city's oldest remaining fortification, dating back to the early 6th century BC. Legend has it that the Roman poet Virgil placed a magical egg into its foundation – hence its name. A less compelling version is that the castle was named for its unusual shape.
The castle stands on an island overlooking a small marina, although it is actually connected to the mainland via a footbridge and road. There is not a great deal to see inside except for a few displays explaining its past and – sometimes – temporary exhibitions.
However, walking around its stone walls gives you a real feel for its history and the nice views across the Mediterranean sea make it worth a quick visit. You can also take a stroll around the tiny island on which the castle stands – the Borgo Marinaro. Here, you'll also find some nice (seafood) restaurants.
Good to know: Castel dell'Ovo is open daily and the entrance is free of charge. Many people say this is an amazing place to see a sunset in Naples, but unfortunately, the castle closes too early for that… I guess you could always stay for sunset at the waterfront area – see below.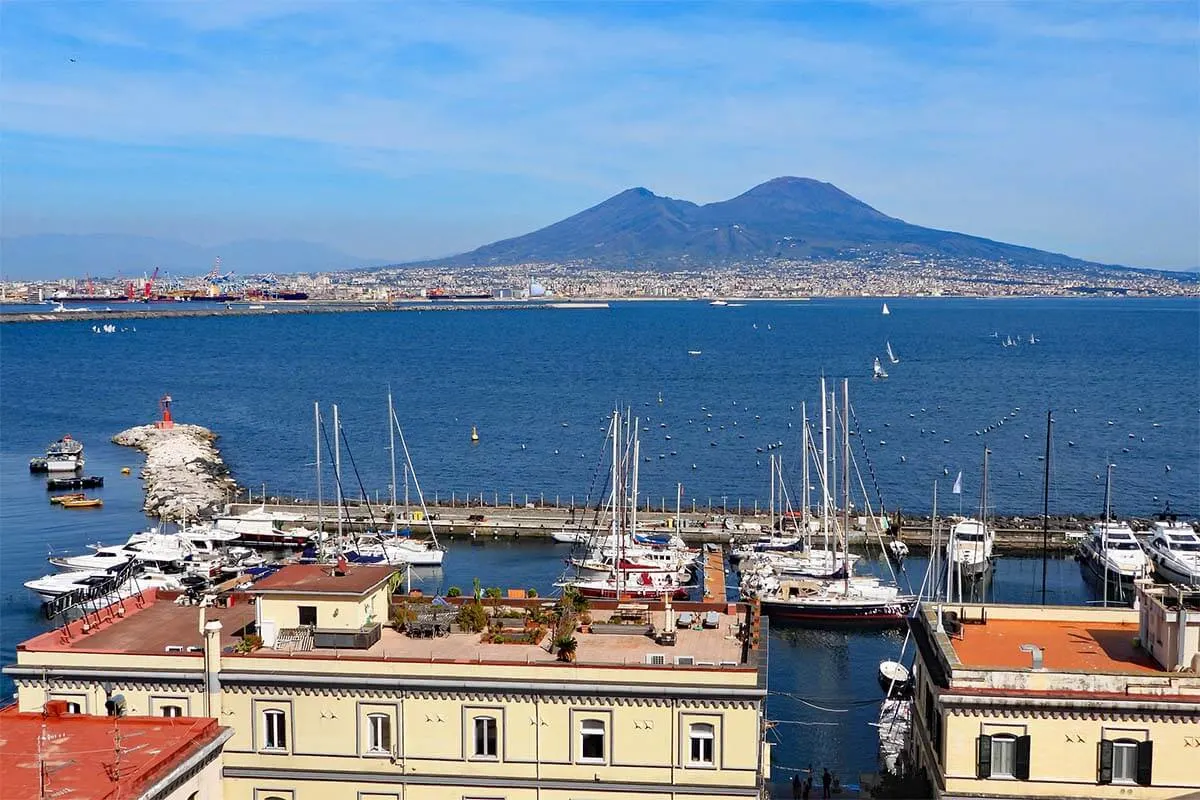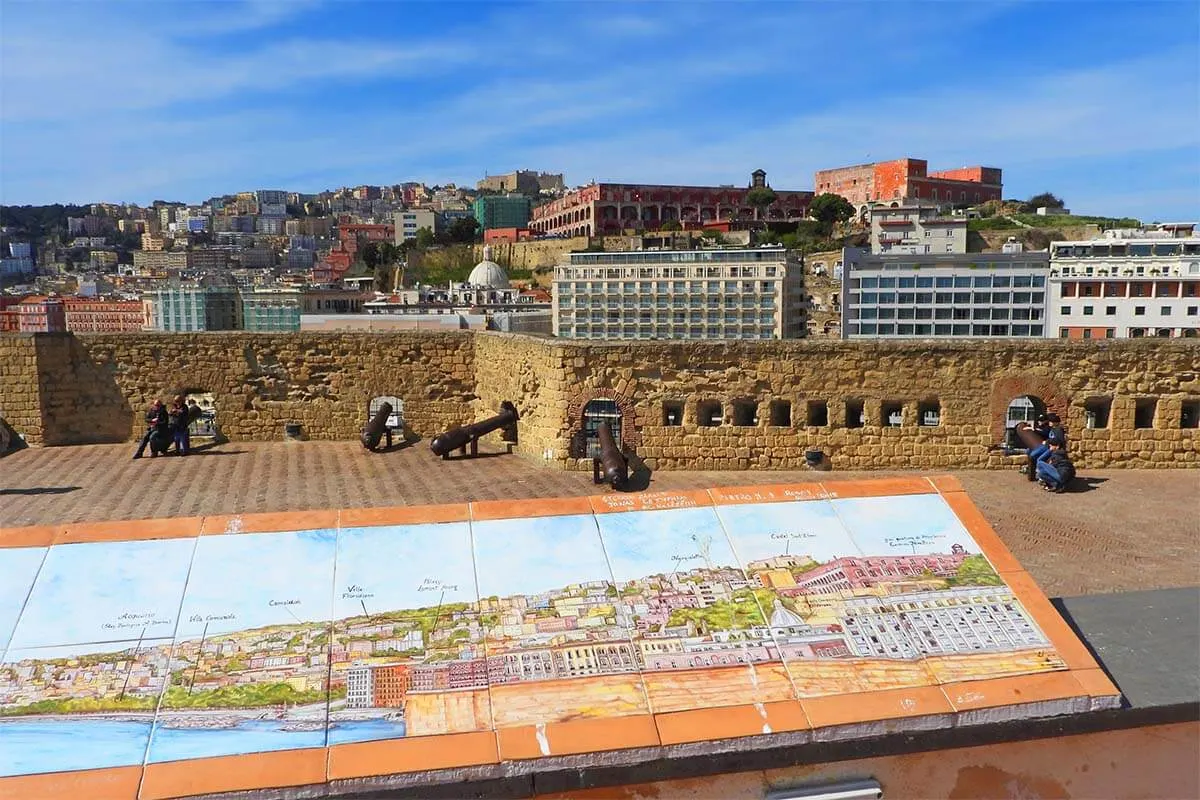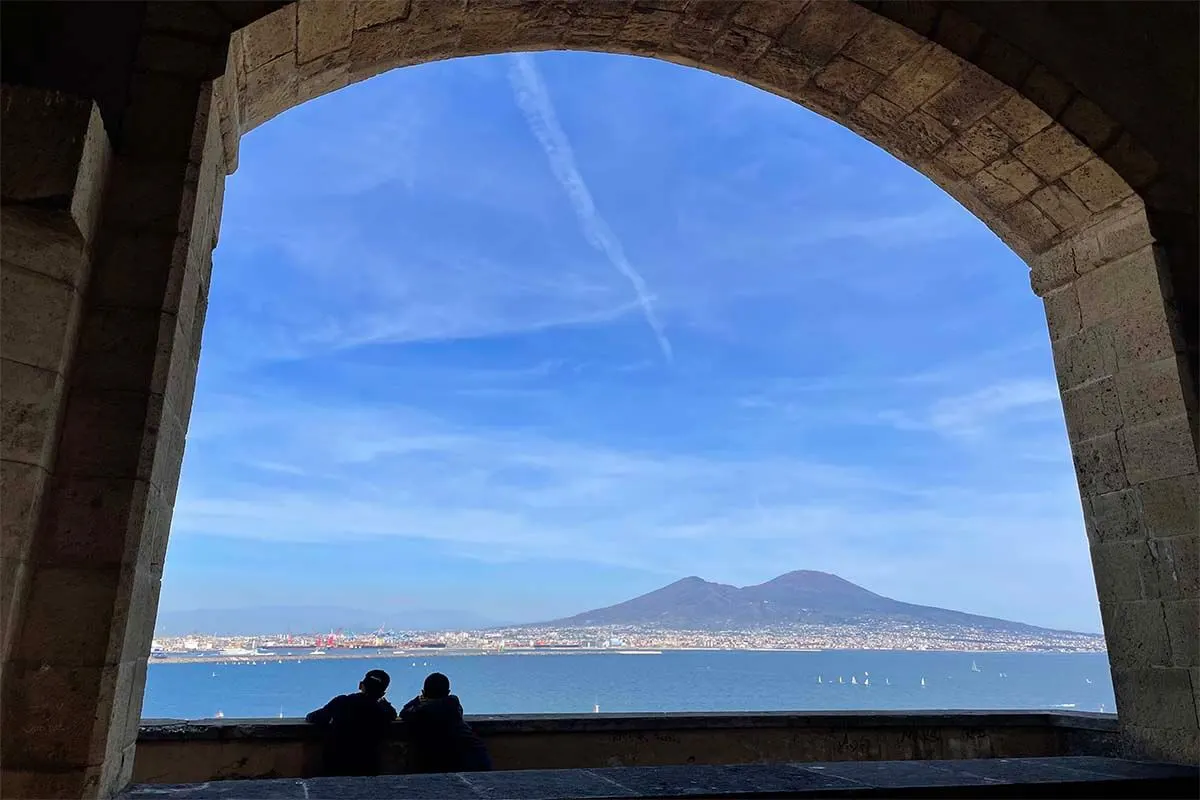 19. Castel Nuovo
A prominent part of the city skyline, the Castel Nuovo is one of the most remarkable buildings in Naples. It was first constructed in 1279 and the name 'New Castle' was given to distinguish it from the other fortresses in the city at the time. It's also known locally as Maschio Angioino (Angevin Keep).
Castel Nuovo is located close to the Piazza del Plebiscito and the harbor. It features 5 circular crenulated towers, plus a later addition of a majestic triumphal arch carved from white marble.
While this castle is more impressive from the outside than it is on the inside, if you have a few hours to spare, you can take a tour to view the interior. Here, you'll see frescoes by Giotto and a collection of 17th to 20th-century artworks by Neapolitan painters. Some of the highlights include the beautifully painted ceiling of the Barons' Hall and the panoramic views across the city and bay from the ramparts.
Practical information: Castel Nuovo is open daily, with some exceptions. You can try to understand a very unclear official website or simply go there and see if it's open. I have to admit that we decided not to visit this castle inside since we heard there's not that much to see compared to the other landmarks in Naples. So I cannot really comment on this one based on personal experience.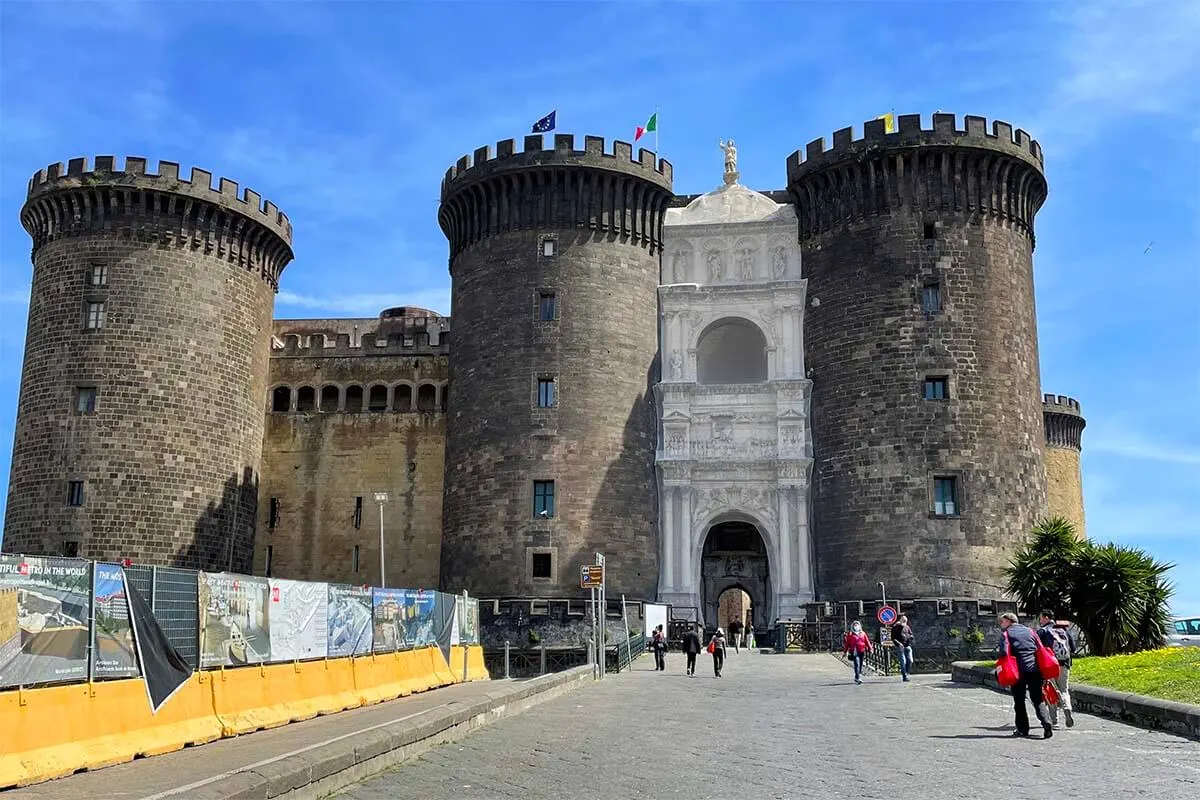 20. Spanish Quarter & Largo Maradona
One more place that's probably worth mentioning among the best places to see in Naples is the Quartieri Spagnoli. This is a small neighborhood in central Naples, west of Via Toledo, one of the main shopping streets in the city.
The Spanish Quarter is crisscrossed by narrow alleyways lined with tall residential buildings. On the ground floor, you'll usually find tiny shops, small cafes, and lots of restaurants – this is one of the nicest areas for lunch or dinner in Naples. This area has a few pizza places too, but it's more a place for seafood, pasta, risotto, and other local dishes.
If you have 15-20 minutes to spare, simply walk around the Spanish Quarter. It's a lively area where you can get a taste of the real day-to-day life of regular residents of Naples. Neighbors chatting to each other, kids playing football, Vespas zooming past you… Colorful street art and cloth lines with laundry spanning the streets just add to the atmosphere.
One of the quirkiest places to see here is the area Largo Maradona with several big murals dedicated to Diego Maradona. This Argentinian football player achieved the peak of his career during the 7-year period between 1984 and 1991 when he played in Napoli.
You could say that Maradona is the adopted son of Naples. Many locals – not jokingly – call him their patron saint. Some Neapolitans regard their 'San Diego' the same way as 'San Gennaro'…
You'll see Maradona and all kinds of memorabilia dedicated to him all over Naples. But if you have a few minutes to spare, check out this 'shrine' to Maradona in the Spanish Quarter. On Via Emanuele de Deo, you'll find a small cafe La Bodega De D10S, several big Maradona murals, and all kinds of Maradona memorablia…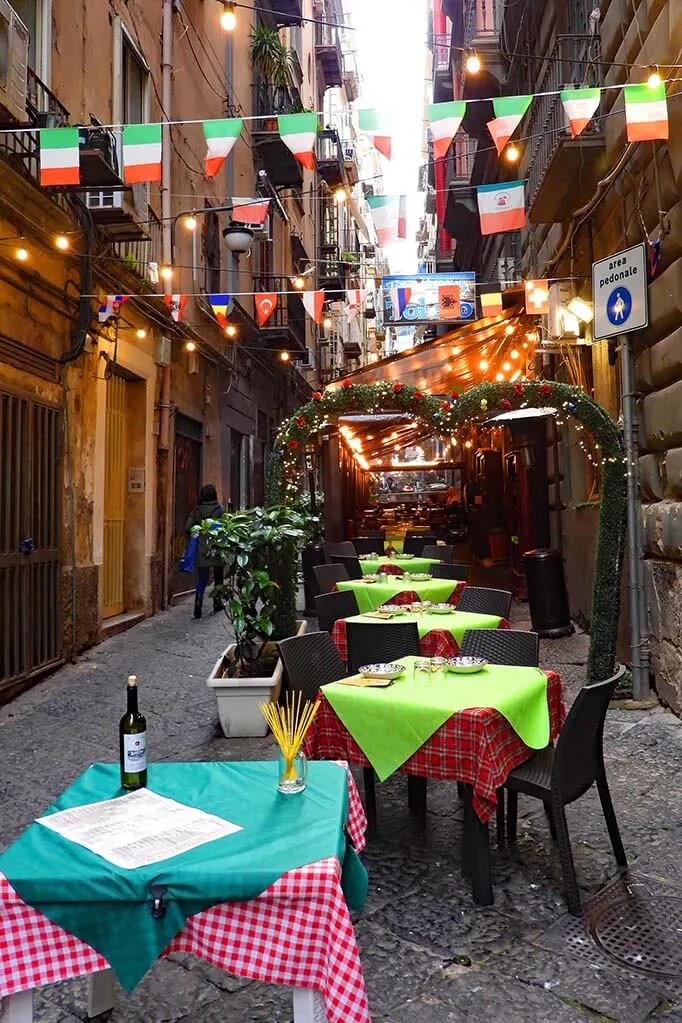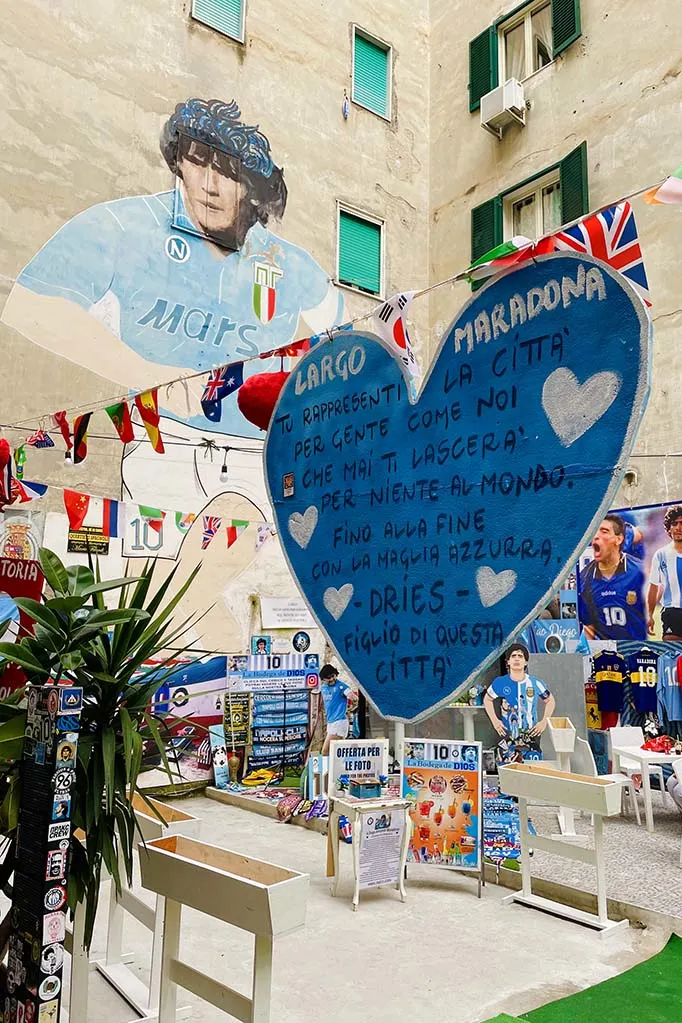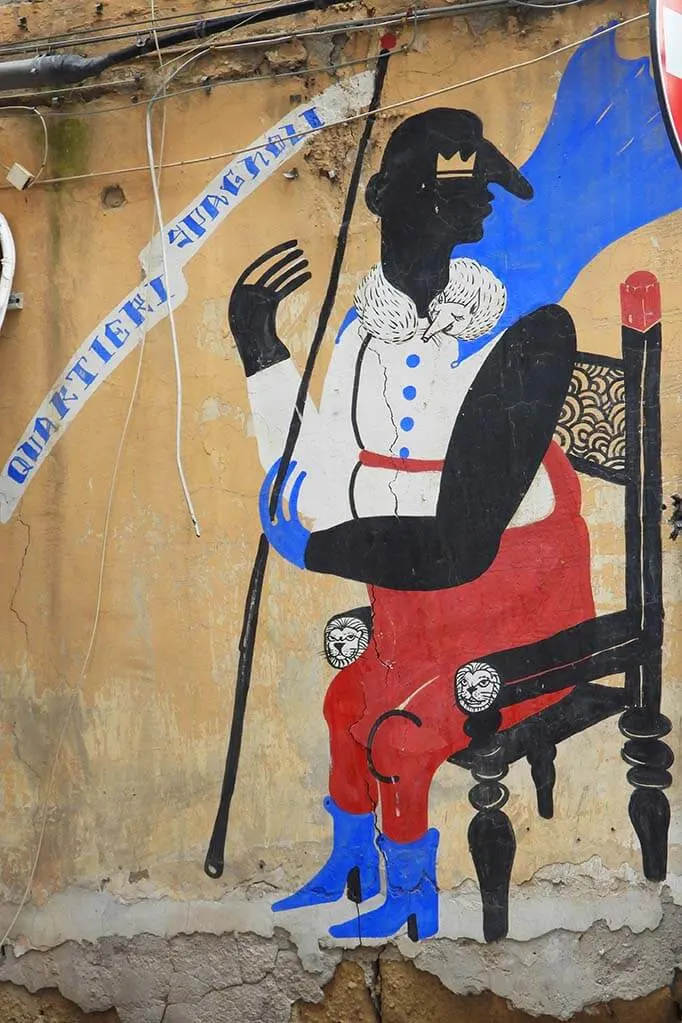 21. Royal Palace of Capodimonte
Museo e Real Bosco di Capodimonte is another interesting place to see in Naples – if you have more time after visiting all the 'musts' in the city center.
This art museum is located inside the 18th-century Bourbonian Royal Palace of Capodimonte. This palace – museum houses an incredible collection of 47,000 artworks. This makes it one of the world's largest collections of medieval, modern, and contemporary art.
In its 126 galleries, you can view works by illustrious artists such as Raphael, Michelangelo, Botticelli, and many, many more. To see these pieces in such a beautiful setting is a fantastic experience.
There is natural beauty to be found here too in the 300 acres of the Royal Park of Capodimonte, which contains more than 400 species of plants. This tranquil green space was once named the most beautiful park in Italy and it feels completely disconnected from the bustling city below.
Good to know: The Royal Palace of Capodimonte is located just 2 km outside of the city center. However, since it's set on a hill, it's easier to take a bus or a taxi rather than walk. Normally, the Naples hop-on hop-off bus stops here too, but the route seems to have been discontinued when we visited. Maybe they'll include it in the itinerary again in the future – be sure to double-check if you plan to visit here…
Practical information: The Museum is open daily except on Wednesdays. You can find more practical information on their website (in Italian). A nice way to visit here is with a private guided tour – especially if you are interested in art and want to learn more about the most important pieces.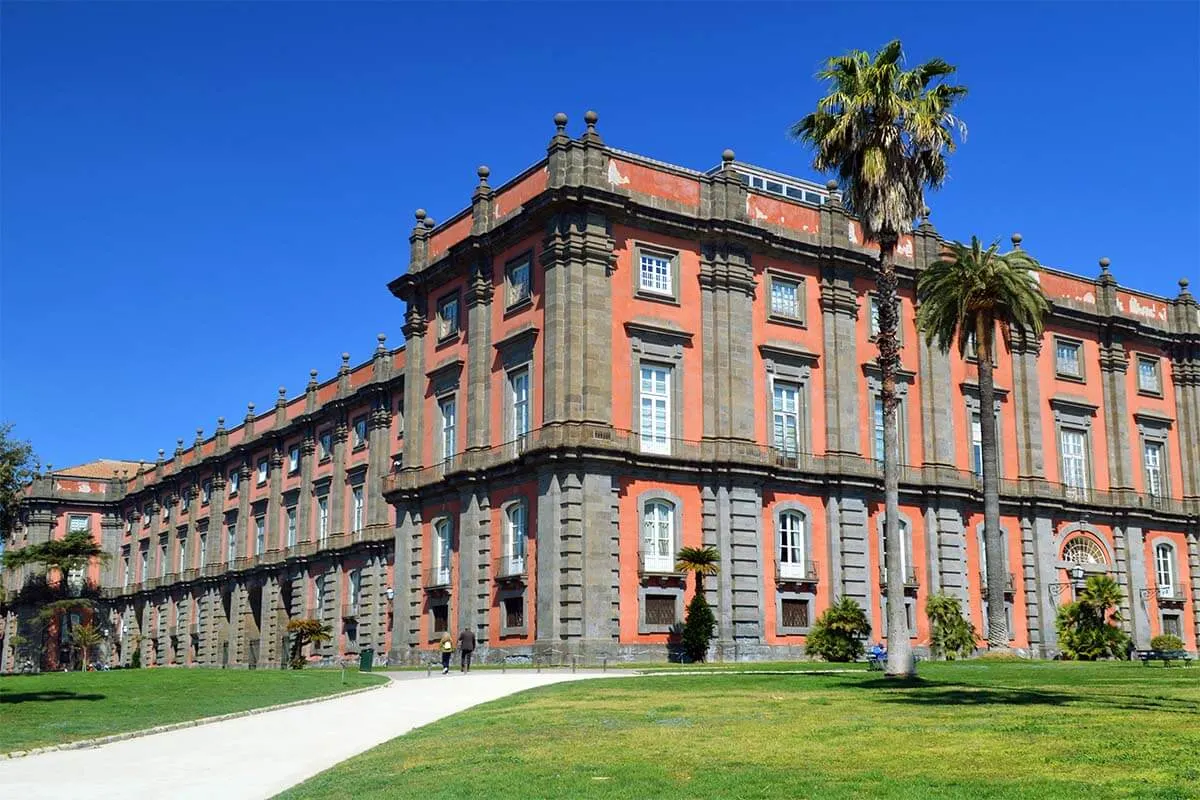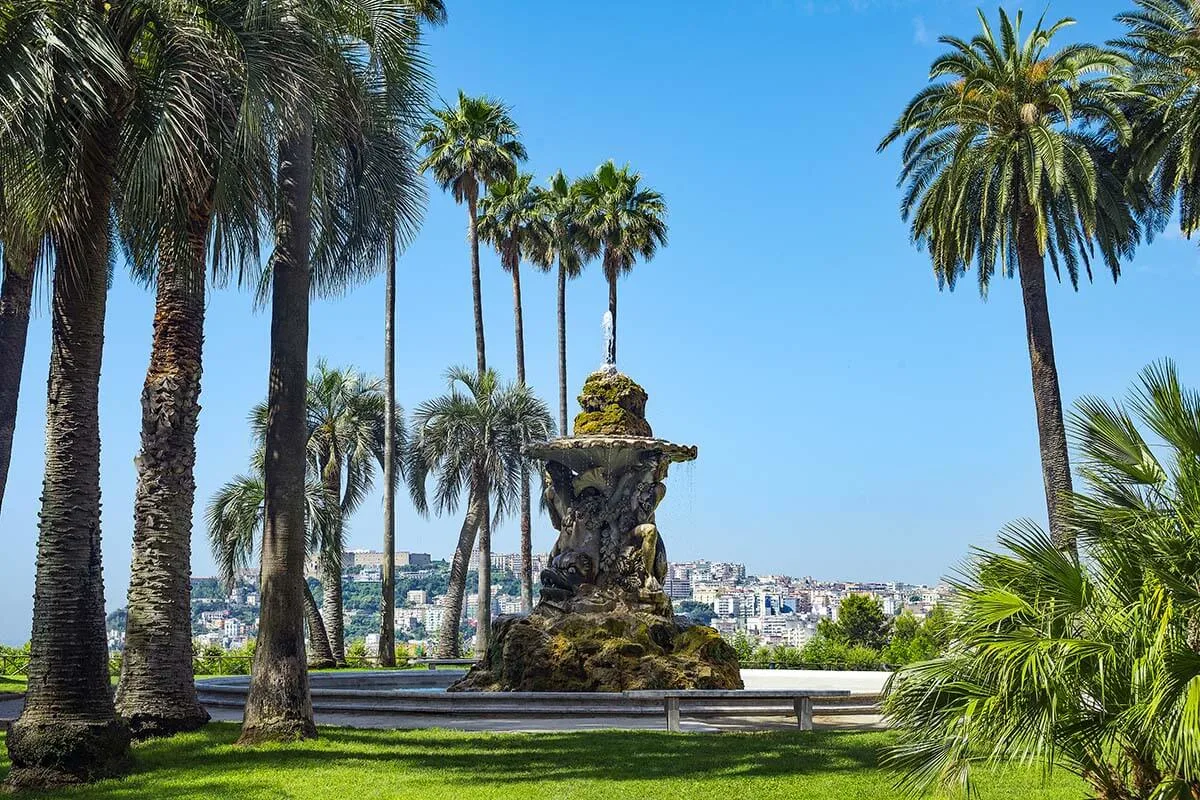 22. Pizza & Food Tours
Of course, one of the VERY BEST things to do in Naples is trying the world-famous Neapolitan pizza, right where it was first created.
As already mentioned before, Via dei Tribunali in the heart of the old town is a great area for pizza, but there are countless amazing pizza restaurants scattered all over the city!
Some of the most popular and best-rated pizza restaurants in Naples center include Sorbillo, L'Antica Pizzeria da Michele, Pizzeria Starita a Materdei, Pizzeria Da Attilio, Antica Trattoria e Pizzeria da Donato, and many – many others. I indicated these and a few other restaurants on our map of Naples sights and attractions – be sure to try the pizza at least at one of them.
In addition to the traditional Neapolitan pizza, Naples is also famous for its folded pizza 'a Portafoglio', and also fried pizza. You'll find many restaurants serving folded and fried pizza in Naples. For some of the best fried pizza in Naples, head to the Isabella De Cham Pizza Fritta restaurant in the Rione Sanità district where the Catacombs are located.
And, of course, there are so many other amazing typical dishes, drinks, and desserts to try in Naples, beyond pizza!
TIP: One of the best ways to get a taste of traditional food in Naples is by joining a food tour. In just a few hours, you get a nice introduction to the regional cuisine and try some local specialties, plus you tour the city center with a local guide so you learn a lot more about the city than just by having a meal at a restaurant.
There are many food tours and pizza-making classes in Naples and I don't think you can go wrong with any of them. We opted for this highly-rated street food tour and had a great evening eating our way through the old town. Our tour included different types of cheeses and small snacks, two types of pizza, traditional pastries, limoncello, gelato, and more. It's something fun to do in Naples for the whole family!
READ ALSO: Traditional Italian Food per Region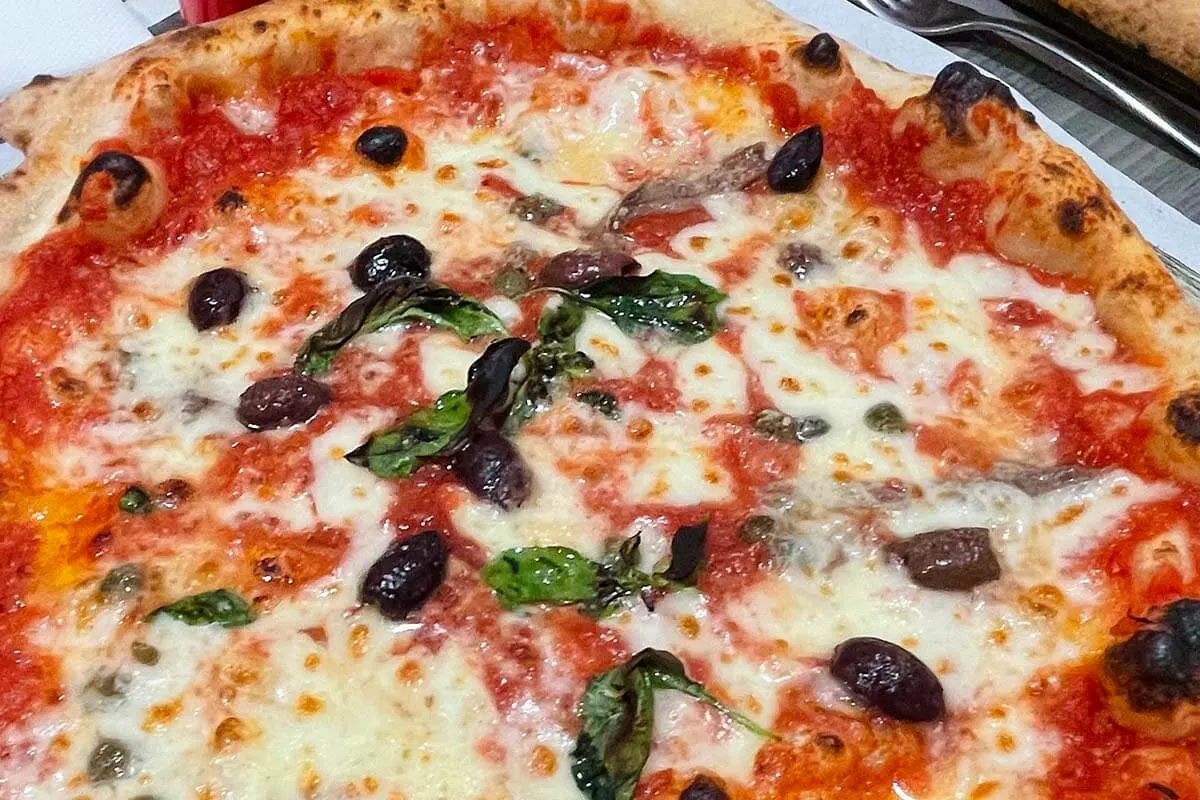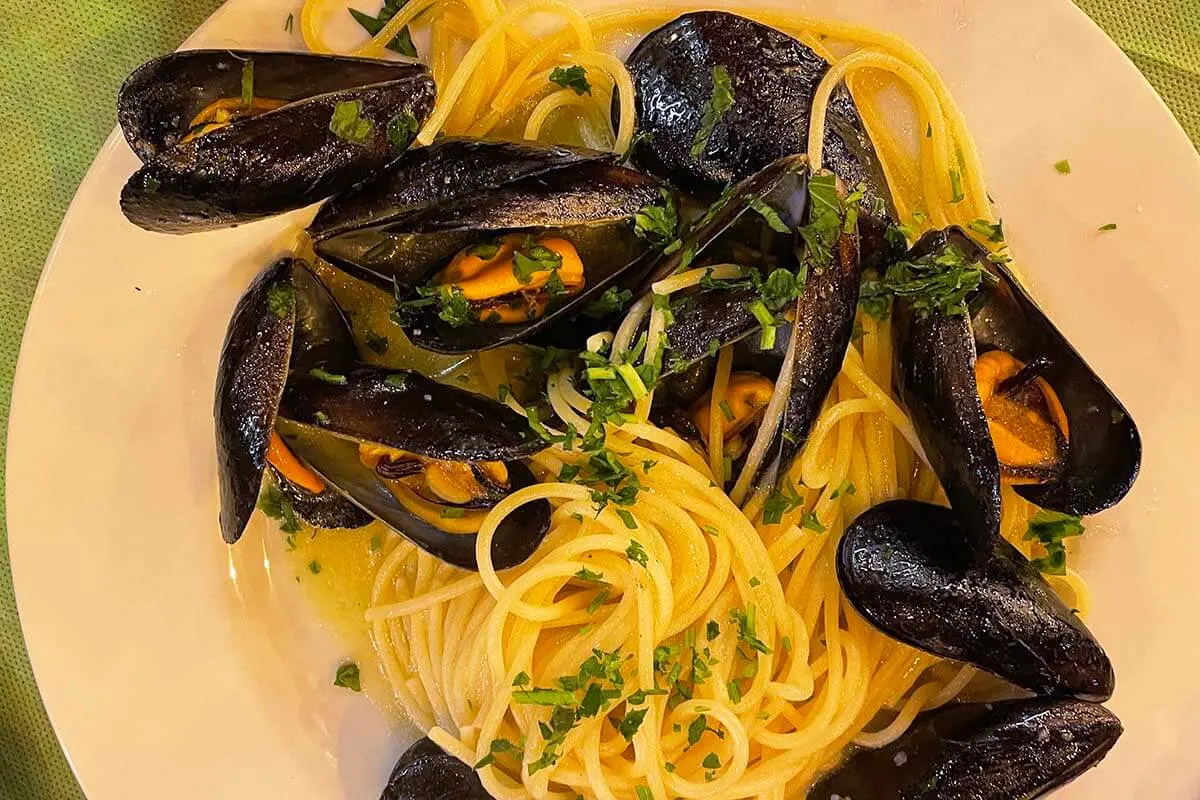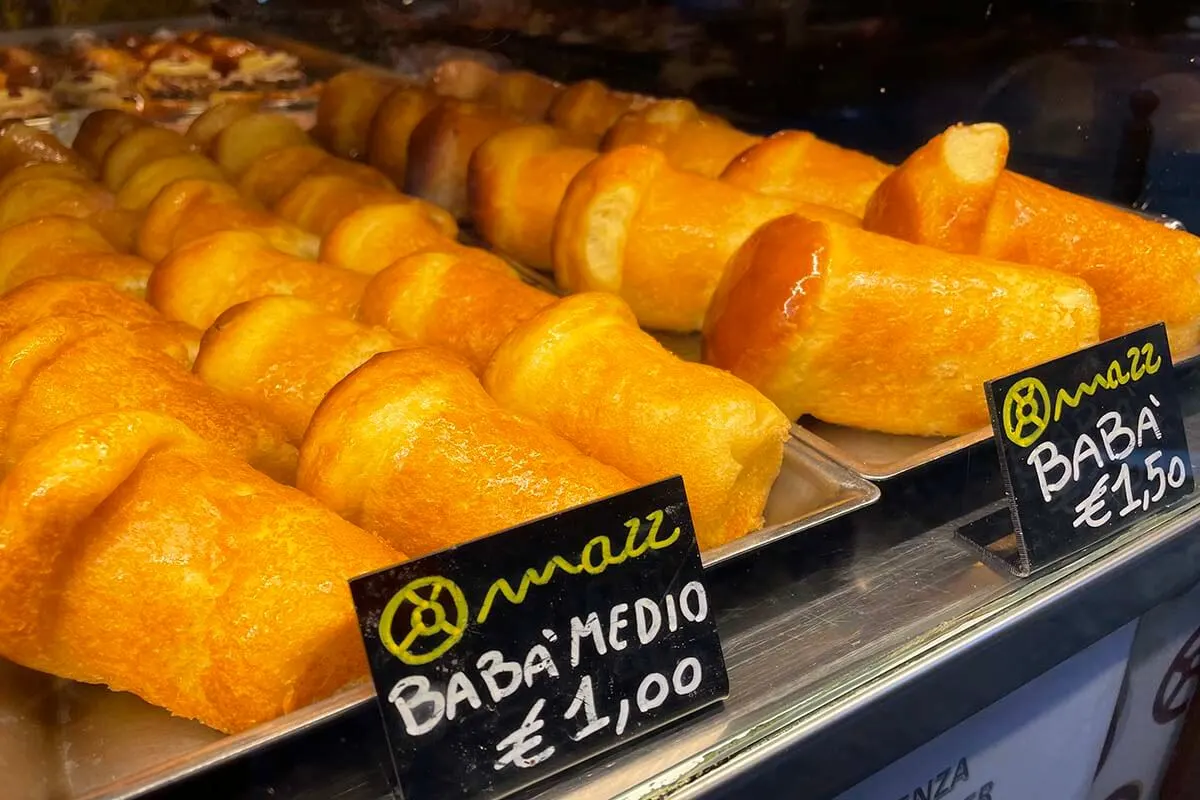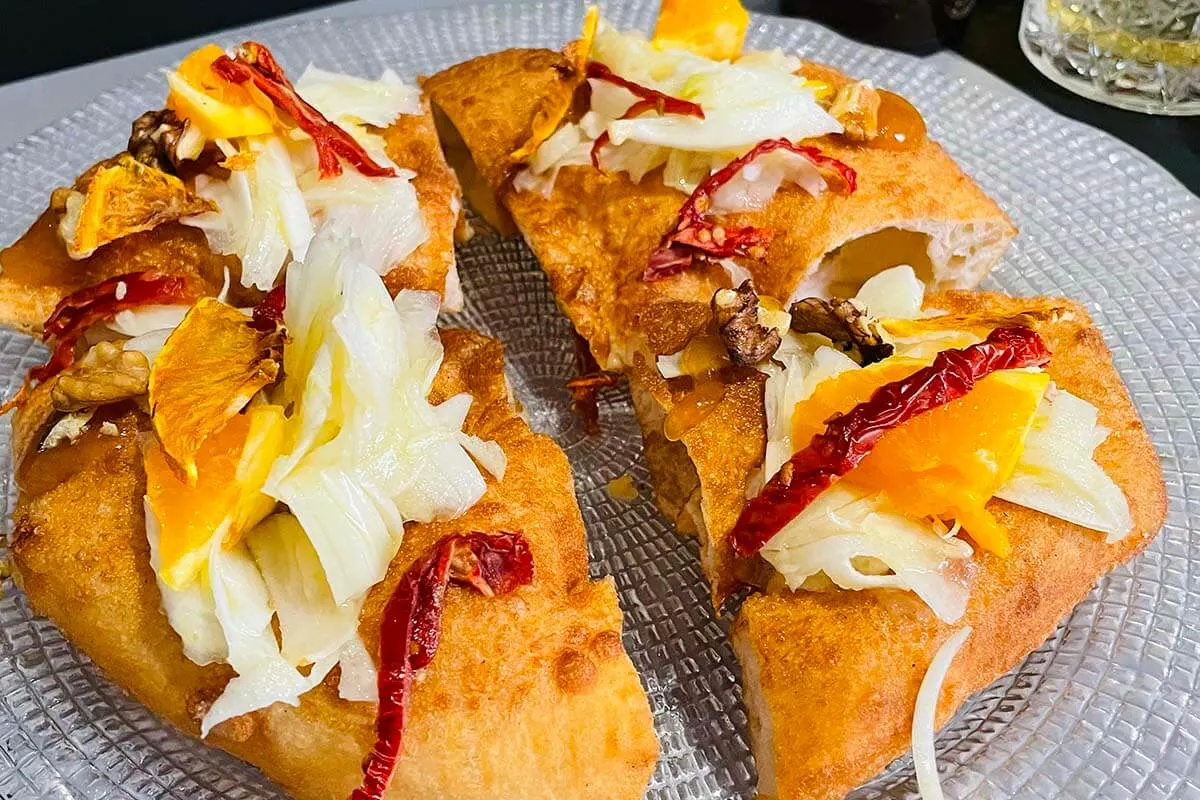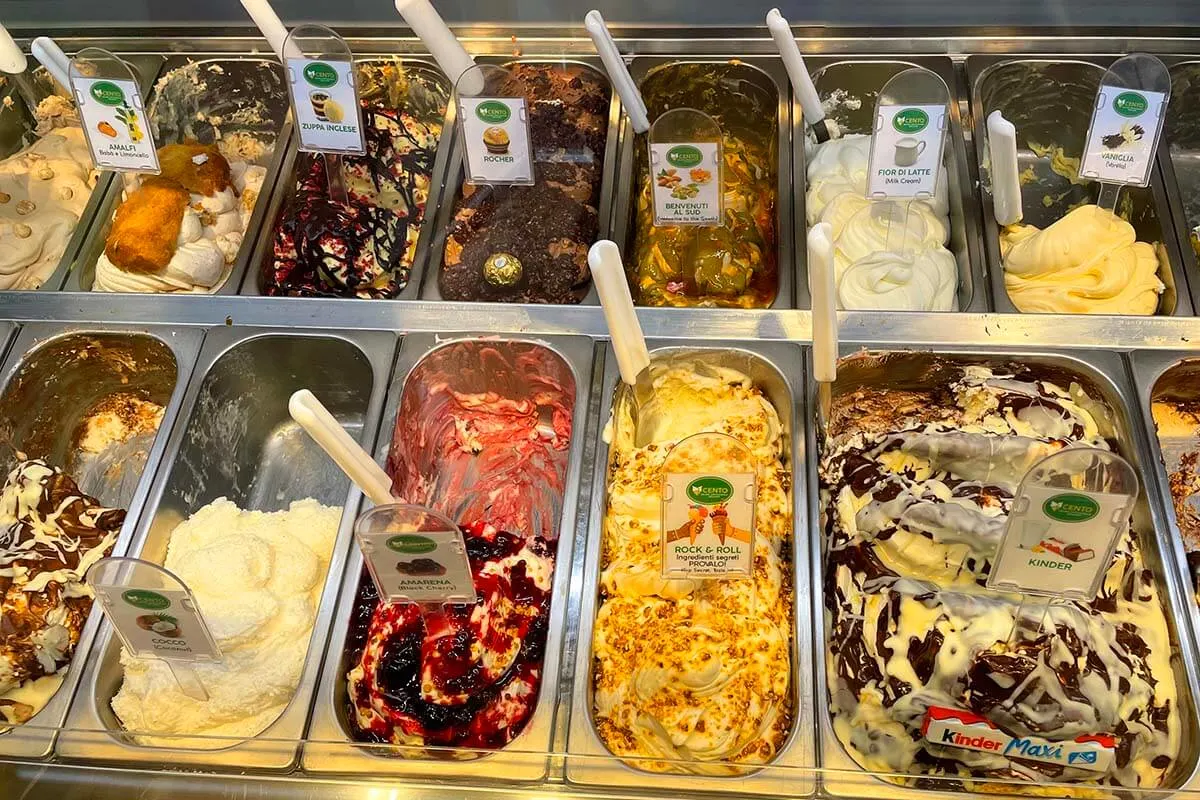 23. Take a day trip outside the city!
No trip to Naples would be complete without visiting at least a few of the most famous places near the city. Pompeii, Herculaneum, the Royal Palace of Caserta, Amalfi Coast, and Capri Island are just some of the most popular options (and each is worth a trip on its own!). So when planning your Naples sightseeing itinerary, be sure to foresee some extra time to spend outside the city as well!
There are many ways to plan a trip to the Naples area and the Amalfi Coast and you can make a longer trip to the area. However, it is possible to see all the best places by taking day trips/ tours from Naples as well.
Here are some of the most popular places nearby that we recommend to see when you visit Naples:
Pompeii. The remains of an incredibly well preserved ancient Roman city that has been destroyed by an eruption of Mount Vesuvius in 79 AD. You can take a train to Pompeii, but without a guide, it's all just ruins and the huge site is overwhelming, so we recommend you book a guided tour! There are many day tours that can bring you there from Naples too, often, in combination with a few other places nearby.
Herculaneum. This ancient city was also destroyed by Mt Vesuvius in 79 AD. It's similar to Pompeii but is smaller and better preserved, however not as famous and therefore less visited by international tourists. If you have the time to see both, it's well worth it. But if you can only visit one – most people opt for Pompeii instead. You can easily get to Ercolano from Naples by train, but it's best to book your entrance ticket so that you don't waste too much time in line. Day tours from Naples are also available, often in combination with Pompeii and or MtVesuvius.
Mount Vesuvius. A visit to the crater of this impressive volcano is one of the most impressive things to do in Naples! If you want to visit on your own, take a train to Ercolano or Pompeii, and from there a bus to Mt Vesuvius (the bus company can usually help you get the entrance tickets too, or you can book them yourself – see some of the best ticket options here and this is the bus from Ercolano). But the easiest way to get to Mt Vesuvius (and make the most of your time) is by taking a tour that visits Pompeii and Mt Vesuvius on the same day. Tours that include Herculaneum are also available.
READ ALSO: How to Visit Mount Vesuvius
Capri. This beautiful island can be reached by ferry from Naples and is a wonderful day trip to consider! You can visit Capri on your own, just be sure to pre-book the ferry tickets, especially in high season. Also, plan well in advance what you want to see when you get there since one day is really just enough for the highlights. Alternatively, you can opt for an organized tour and let them take care of the planning and transportation to and on the island.
Royal Palace of Caserta. This is one of the largest royal residences in the world and one of the most interesting places to see when visiting Naples! In addition to the impressive interior, the Palace also has stunning Versailles-like gardens. Located in Caserta, you can easily get here by train from Naples and there are also organized half-day tours available. A visit here is a wonderful addition to any Naples sightseeing itinerary!
LEARN MORE: Best Excursions & Day Trips from Naples
Below are some frequently asked questions that might help you plan your visit to Naples – take a look!
Naples FAQ
Is Naples worth a trip?
Yes, Naples is well worth a visit! It's one of the most fascinating cities in Italy, with centuries-old history, impressive architecture, and some of the most remarkable ancient art in the world. Furthermore, Naples has a stunning coastal location, an incredible bustling atmosphere, and the best pizza in the world. In addition, the surroundings with sites like Pompeii, Mt Vesuvius, or the Amalfi Coast make Naples more than worth a trip.
How many days do you need in Naples?
We recommend 2-3 days for Naples city, not including the time for any of the day trips nearby. While you can see some of the main landmarks in Naples city in 1 day, you really need at least 2 days to do this city justice. In addition, plan 3-4 extra days for the nearby places such as Pompeii, the Amalfi Coast, Mt. Vesuvius, and Capri.
Is Naples safe?
You may have heard that Naples is dirty and unsafe, and there's definitely some truth in it. However, it's mostly petty crime and Naples isn't any more dangerous than most other major cities in the world. Just be careful with your belongings and cautious of pickpockets in busy areas and when using public transport. We spent several days exploring many different areas in Naples city and never felt unsafe.
How to get around Naples?
Naples is a large city, but most tourist attractions are concentrated rather close to each other and you can explore the majority of the main sights in Naples on foot. For the areas located on the hill, take a funicular, and if you prefer not to walk bigger distances, you can use the metro, public buses, or taxis which are rather cheap. Hop-on hop-off bus is also available and covers most of the tourist attractions in Naples.
Where to stay in Naples?
Depending on what you plan to see and do (in and near Naples), you may want to stay in different parts of the city center. If you plan multiple day trips by train, stay west of the central railway station (e.g. UNAHOTELS Napoli or Hotel San Pietro). For sightseeing and shopping – stay between Via Toledo and the harbor area (e.g. Palazzo Turchini or NapoliMia Hotel). For a more relaxing vacation, stay at the Lungomare waterfront (e.g. Hotel Royal Continental).
So, this is our guide to some of the very best things to do in Naples for first-time visitors. I hope that it helps you plan an unforgettable visit to this fascinating city that I can only describe as a rough diamond. Naples is definitely one of a kind, a captivating city, which has a life very much of its own.
If you have limited time and are wondering how to plan your time in Naples, check out our suggested 1-day Naples itinerary.
TIP: If you are wondering how to plan your visit to the Naples area and don't know where to start, you may want to check out our guide with the Amalfi Coast itinerary suggestions. It gives you an idea of how to visit the 'must-see' places in as little as 5 days (although I recommend much longer if you have the time). If you have more than a day or two for that area, be sure to also check our detailed guide to the best places to stay on the Amalfi Coast, and also our guide to hiking the Path of the Gods.
READ ALSO: Naples – Capri – Amalfi Coast Itinerary (+-10 Days)
More guides to some of the nicest Italian cities:
READ ALSO: Italy itinerary for 2 weeks & How to Plan a Trip to Europe
If you found this post useful, don't forget to bookmark it and share it with your friends. Are you on Pinterest? Pin these images!