With 28 centuries (!) of rich history, the capital city of Italy, Rome hides many secrets and countless hidden places. If you know a bit about the history of the city, it will come as no surprise that some of the most interesting sites in Rome are actually located beneath the surface, under the city.
And while there are countless interesting Rome underground sites, there is, of course, no way to see even a part of them if you only have a few days in town…
So to help you choose where to go, in this guide, we list only the VERY BEST underground sites in Rome that are worth your time the most and that you can EASILY VISIT as a tourist.
We only focus on the most popular and/or easily accessible Rome underground locations and catacombs. Each of these places is unique and truly worth your time. And even if you only see one or two of them, it will make your visit to the Eternal City so much more special!
Good to know: Rome's underground city hides some amazing ancient archeological sites that have to be well protected for future generations. So a lot of these places can only be visited with a tour and/or an official guide. But it's a good thing because going with a local guide, you'll get a much better understanding of what these places are truly about. Otherwise, you can just as well skip most of them because you won't know what you're seeing…
So for each place, we also share information on how to visit and the best Rome underground tours that can bring you there.
To help you plan your trip, we also created a map indicating the 6 best underground sites in Rome mentioned in this guide. They are marked with a red star.
In addition, we also indicated the lesser-known underground places that are worth visiting in Rome if you have more time. They're marked in dark blue on our map. You can find a bit more info about each of them at the bottom of this article as well.
As you can see on the map, many of these archeological sites are located close to the most popular attractions in Rome, so you can easily add at least a few of them to your itinerary.
How to use this map: Use your computer mouse (or fingers) to zoom in or out. Click on the icons to get more information about each place. Click the arrow on the top left corner for the index. Click the star next to the map's title to add it to your Google Maps account. To view the saved map on your smartphone or PC, open Google Maps, click the menu and go to 'Your Places'/'Maps'. If you want to print the map or see it in a bigger window, click on 'View larger map' in the top right corner.
Rome underground – best places to see:
1. Colosseum Underground
The most iconic landmark of Ancient Rome, the Colosseum is a place everyone has to see in Rome. But the regular tickets and the majority of Colosseum tours only visit the arena itself, missing one of the most fascinating places – the Colosseum Underground.
Recently restored and opened to the public, a visit to the Colosseum Underground gives you a great insight into how this ancient arena functioned. You get to walk through the narrow passages in the footsteps of the gladiators, see where the wild animals were kept before the fights, and admire the ancient elevator systems used to bring them up to the arena…
Exploring this underground level and listening to your guide's stories, it's easy to imagine how the atmosphere of the ancient Colosseum must have been like. With the thunderous sound of huge crowds above and roaring animals in the underground cages, the darkness and the smells around you, not to mention the fear people must have felt when standing here…
Epic battles come to life, and you get a totally different picture of what the Colosseum is truly about, beyond its incredible architecture.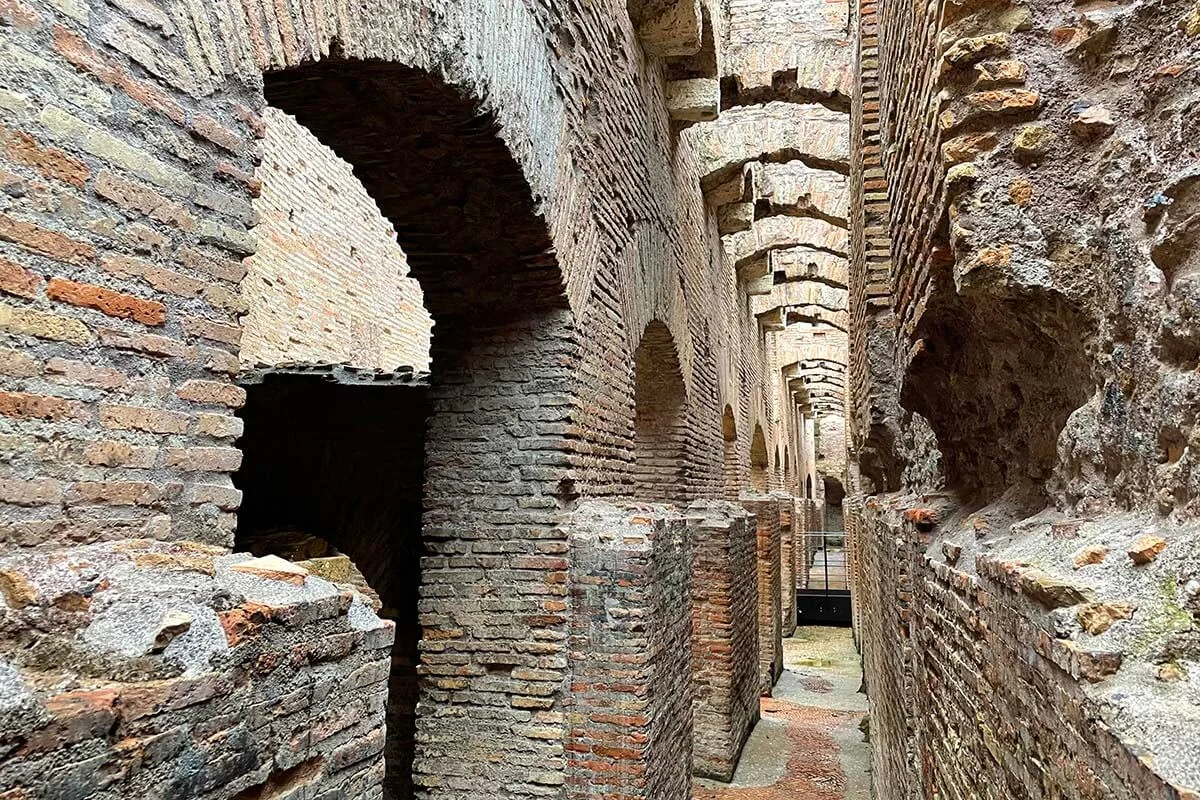 HOW TO VISIT. The Colosseum Underground can only be visited with a guided tour. You cannot explore this level of the Colosseum on your own.
TOURS. Here you can find a selection of tours that visit the Underground.
OUR EXPERIENCE. We chose this tour which includes a visit to the Colosseum Underground and all the other levels including the Arena Floor, as well as a guided visit to the Roman Forum and the Palatine Hill.
It was an excellent tour and we were really happy we visited all these places with a guide. You learn so much (otherwise, often, you don't even know what you're looking at)! Not even to mention that it's great not to have to worry about where exactly to go and to be able to skip most of the lines. The security check is obligatory for everyone, but also there, you have a separate entrance, so it goes much faster.
READ ALSO: Colosseum Tickets & Levels Explained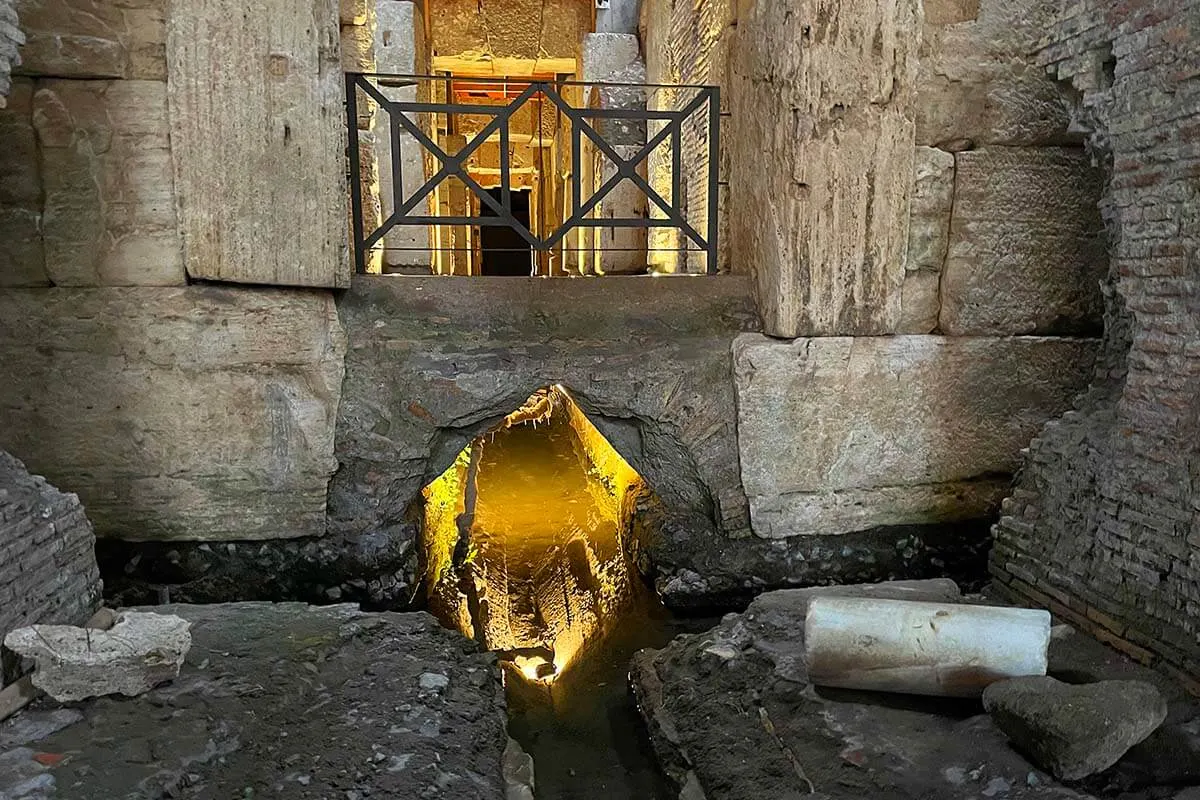 2. Papal Tombs under St. Peter's Basilica (Vatican Grottoes)
Another must-see in Rome – the famous St. Peter's Basilica in the Vatican – houses many secrets as well. One of the most special Rome underground sites – the original Tomb of St. Peter – is located deep under the church at the Vatican Necropolis. However, if you want to visit this underground level, you need to book a tour via the Excavations Office (it's quite limited, with just 250 people allowed per day (when the tours actually run)).
The good news is that you can easily visit the first underground level under St. Peter's Basilica – Vatican Grottoes. This is where the Papal Tombs are located and where you can see the publicly accessible version of St. Peter's Tomb, located under the altar and above the original tomb.
The Papal Tombs is the burial site of many Popes and other members of royalty. The original site in the old St. Peter's Basilica housed tombs dating from the 5th to 16th centuries, but many of them were destroyed when the original basilica was demolished. Some papal tombs were moved to the current St. Peter's Basilica which was completed in the 17th century.
At the moment, there are about 100 tombs under St. Peter's Basilica, and you can visit some of them in the publicly-accessible part of the Vatican Grottoes. It's interesting to see the final resting place of the Popes, historic crypts, and the burial site that's already prepared for the next Pope…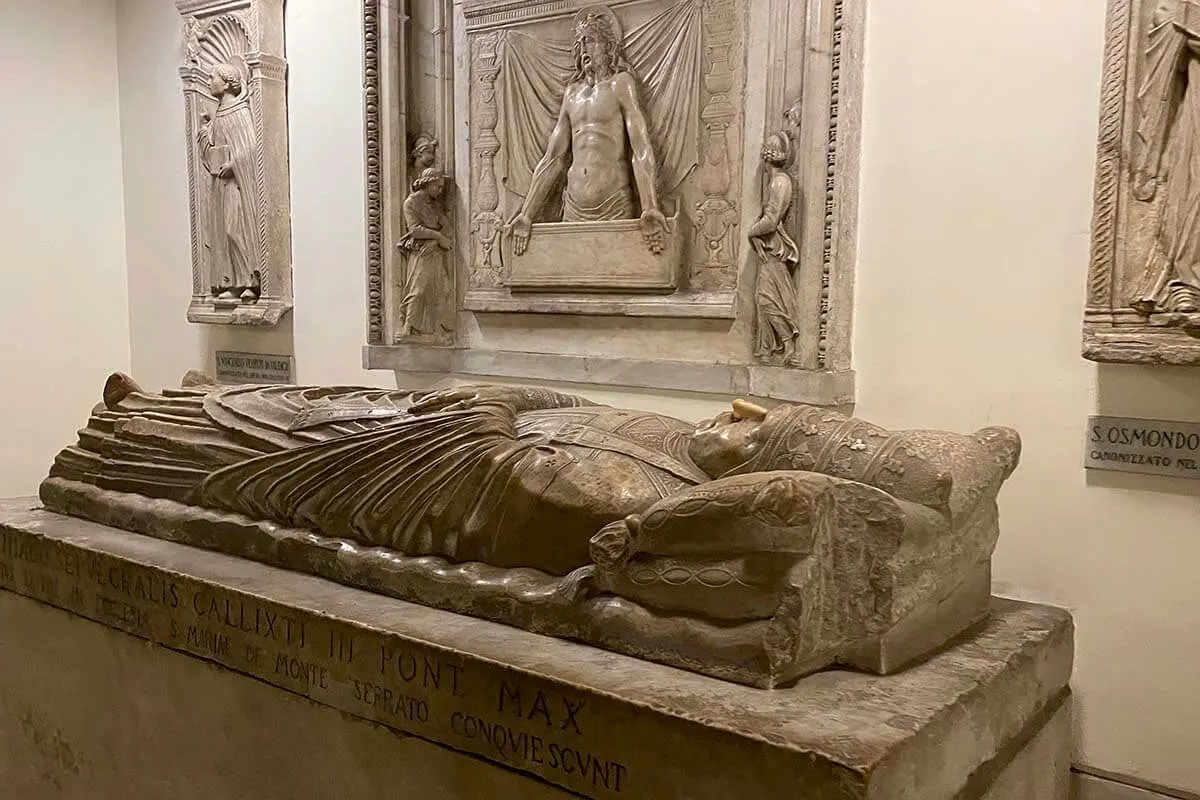 HOW TO VISIT. The entrance to the Vatican Grottoes is located inside St. Peter's Basilica and is free of charge. You do have to pass airport-style security in order to enter the Basilica, and there's usually a long queue. Once inside, there will be another queue at the entrance of the staircase to the Papal Tombs, but it's not as long as the one to enter the church or the one to climb the Dome.
Important! Modest clothing is required (knees and shoulders covered). No sharp objects are allowed and you'll have to pass a security check to enter the Basilica.
TOURS. You can visit the Basilica and the Grottoes on your own. However, going with one of the guided tours will give you a much better understanding of everything you see (do check if they actually include the Papal crypts). St. Peter's Basilica is massive with so much to see, and all the fascinating stories make a visit so much more interesting. As a minimum, get a digital audio guide or buy a good guidebook.
OUR EXPERIENCE. We took this guided tour of the Basilica which also included a visit to the Papal Tombs and the Dome climb. Somehow our guide managed to take us inside the Grottoes without having to queue.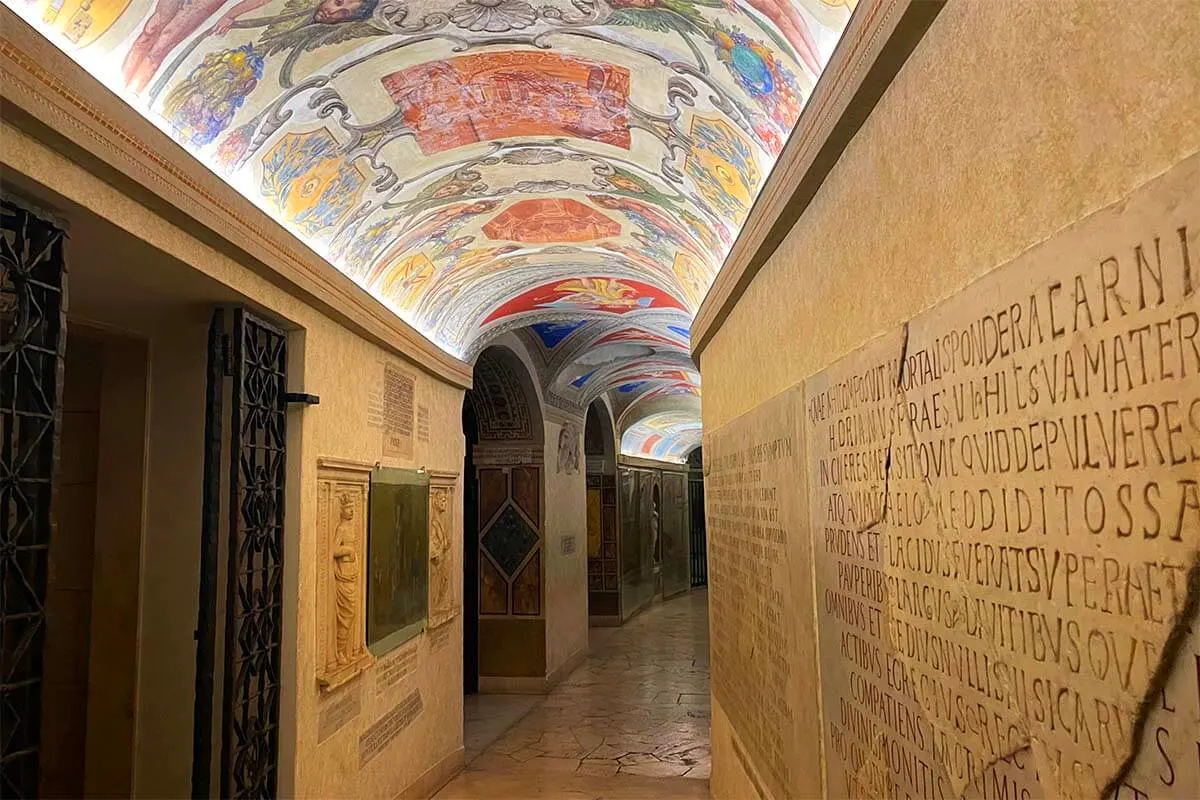 3. Catacombs of St. Callixtus
No list of the best places of Rome's underground would be complete without mentioning some of its most unique sites – the ancient Roman catacombs.
Catacombs are the ancient subterranean burial sites of Rome, mostly dating from around the 2nd – 5th centuries. In the past, it was forbidden to bury people inside the city walls, but they all had to be buried somewhere. For that, underground burial chambers were dug out; and as they filled up, new levels were added, working from up downwards.
There are over 60 known catacombs in Rome, with hundreds of kilometers of underground tunnels, and hundreds of thousands of graves. Some of these catacombs are partially open to the public. If you visit just one of them, make it the Catacombs of St. Callixtus (Catacombe di San Callisto), on the ancient Appian Way.
Also known as the Christian Catacombs of Rome, the Catacombs of St. Callixtus are among the best and most interesting catacombs to visit in Rome. This ancient burial site is huge, with a network of underground galleries that stretches for about 20 km (12 miles), and is over 20 meters (65 ft) deep. According to our guide, it contains about 0.5 million tombs dating from the 2nd-4th centuries.
The catacombs are considered very significant because several Popes were buried here (and you can actually see the crypt of the Popes when you visit). In addition, some early Christian martyrs were buried here as well. The most famous is the crypt of St. Cecilia, which is also accessible to the public.
In addition, you can learn more about Christian symbolism and walk through several underground galleries with hundreds of tombs all around you. The tombs are now empty and – because of vandalism in the past -any remaining bones have been moved to the deeper levels that are not accessible to the public.
HOW TO VISIT. You can make your own way to the catacombs (by car, by bike, or by public transport), but you'll have to join one of the guided tours with their official guide in order to visit them inside. Entrance tickets already include a guided tour (book in advance!).
Important! It's usually quite chilly inside the catacombs, so take a sweater with you. Be sure to wear modest clothing – it's really a must when visiting any of the religious sites in Rome.
TOURS. There are many organized tours that visit the catacombs in Rome (not just St. Callixtus Catacombs, but also several others). Often, these tours include a few of the popular underground sites in Rome or some interesting places nearby.
More interesting catacombs. In the same area as the catacombs of San Callisto, you'll find many other ancient catacombs of Rome. If you want to visit a few more of them, check out the Catacombs of Saint Sebastian (you can get the tickets here) and/or the Catacombs of Domitilla (tickets). In fact, some tours visit one of these sites if the catacombs of St. Callixtus are closed on the day of your visit. The Catacombs of Priscilla are also interesting to see (tickets and info), but they are located on the other side of the city.
OUR EXPERIENCE. We visited St. Callixtus catacombs with this fantastic e-bike tour that includes a visit to the catacombs, as well as the Appian Way, ancient aqueducts, and more. It's one of the best things we did on a recent 4-day trip to Rome!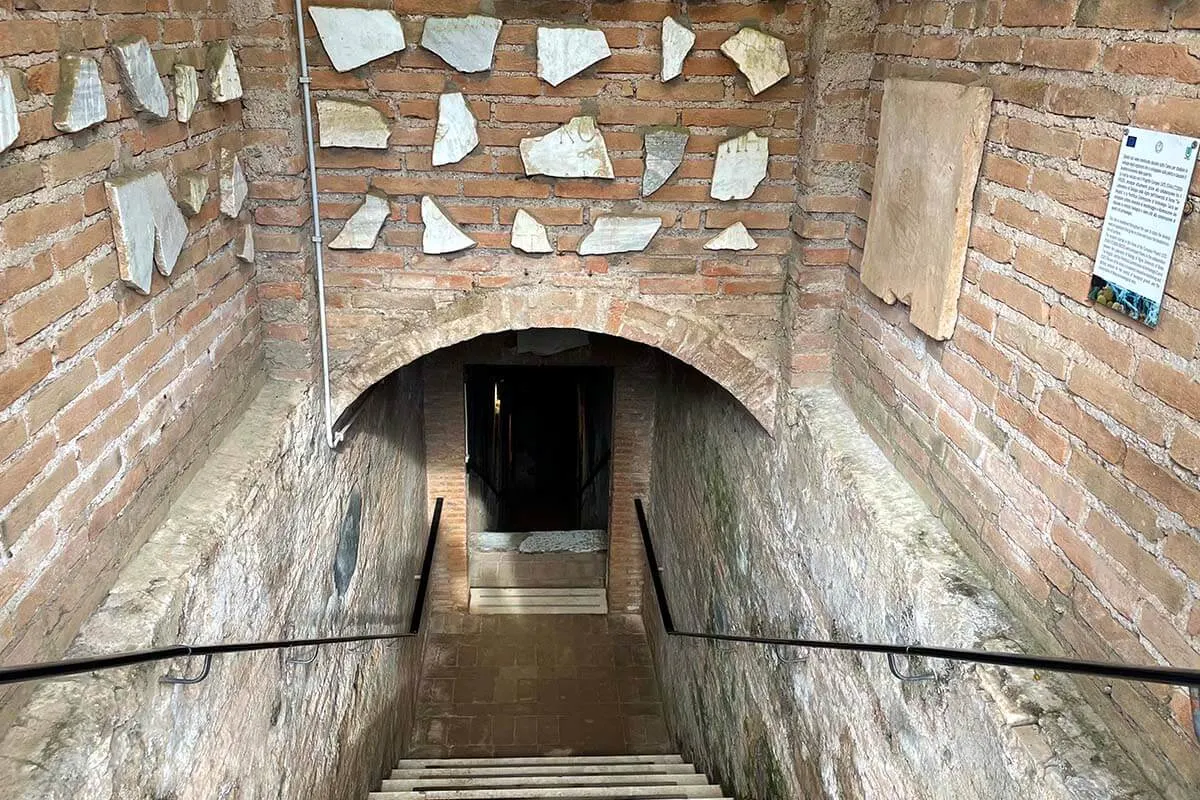 4. Capuchin Crypt
The Capuchin Crypt, aka Capuchin Crypt of Santa Maria della Concezione, is one of the easiest-to-visit underground sites in Rome. And it's a really special one too!
Capuchin monks moved to this site in the 17th century, bringing with them the remains of their deceased brothers, so that all of them could rest in peace in one place. Since burials inside the church were not done under the Capuchin law, they created an underground cemetery.
Instead of burning the bones that they brought with them, they used them to decorate the walls of the underground crypts, creating some really unique artworks. The Capuchin monks would first bury the deceased friars, and then exhume them later in order to make space for new burials. The recovered bones were then added to the existing 'decorations'.
It's believed that the Capuchin Crypt of Rome contains the skeletons of over 3,700 monks. It's also sometimes called the Bone Chapel of Rome.
While it might sound creepy, the bone chapel doesn't really have that feeling at all. It's an interesting place to see, and you can't help but admire these unique crypts.
It was meant as a reminder for the monks that death is inevitable, and one of the chapels has a plaque that says "What you are now, we once were. What we are now, you shall be". It sure makes you contemplate life.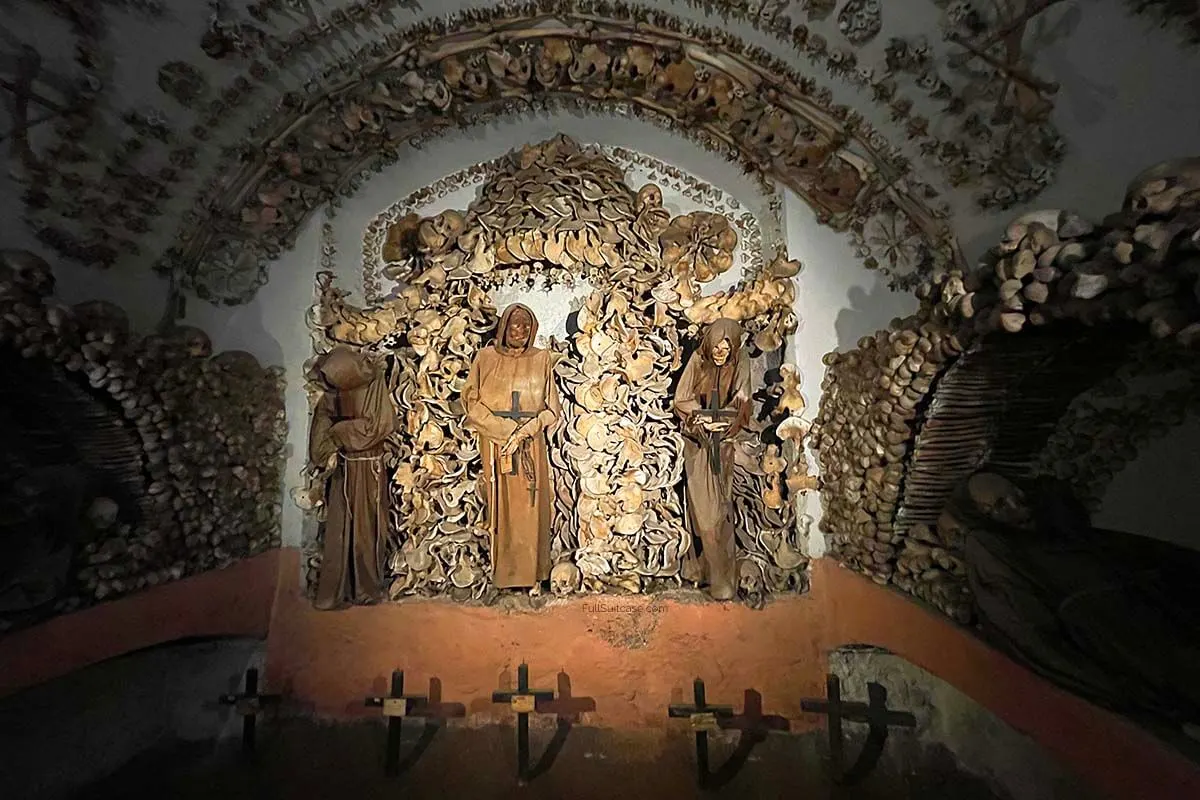 HOW TO VISIT. The Capuchin Crypt is located in Rome's city center, just near Piazza Barberini and about 10 minutes walking distance from the Trevi Fountain. You can simply walk there, get a ticket, and visit the crypt and the museum on your own. Count about half an hour for a visit.
It's open daily, except for some public holidays. See their website for more info. Keep in mind that modest clothing is required and photography is not allowed these days anymore.
TOURS. Various organized tours visit the Capuchin Crypt together with some other crypts and catacombs in Rome. This is the most popular tour that visits the Capuchin Crypt, Catacombs, and several other places.
OUR EXPERIENCE. We visited the Capuchin Crypt without a tour. It was simple, and we just got the tickets upon arrival. Unfortunately, audio guides were not available at that time (due to the rules during the pandemic). Since there's little information inside, we regretted that we didn't have a guide. It would have given us a better understanding of this unique place. If you go on your own, be sure to read about this place in advance and/or ask for an audio guide.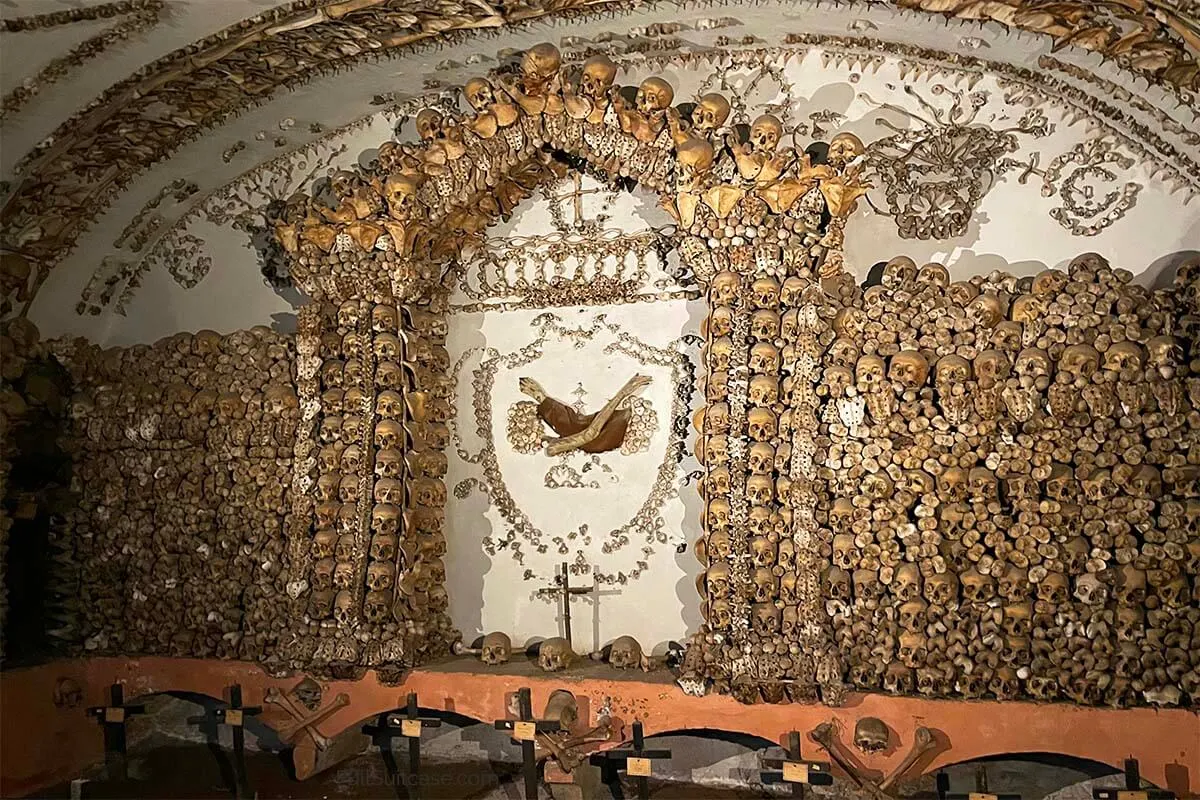 5. Domus Aurea
Domus Aurea, also known as the Golden House of Emperor Nero, is one of Rome's most interesting underground sites. Located right next to the popular Colosseum, it's one of the hidden gems of Rome that most tourists overlook.
Nero ruled in the 1st century. He wasn't really popular, and the story of how his Golden House was built has a lot to do with it. When a big part of the city was destroyed by the Great Fire of Rome in July of 64 AD, Nero seized a lot of the land in order to build a new palace for himself. This even sparked rumors that he might have started the fire in the first place…
Domus Aurea was a huge lavish complex with landscaped gardens, and an extravagant entertainment site designed to impress. In the center, was a golden dome with an oculus, surrounded by fountains, pools, and richly decorated halls. All the best materials were used, including marble, mosaics made of precious stones and ivory, golden leaves, etc. It represented the best of art and engineering of the Roman empire, but also the worst of its excesses.
It's believed that Domus Aurea was never really completed. It became a symbol of decadence and was stripped of its precious materials after Nero's death. While the villa was inhabited by other emperors for a while, the rest of the site was covered by ground and new buildings – including the Baths of Titus and the Colosseum – were built over it. A few other bathhouses were built here later and within a few decades, there was no sign left of the Golden House of Nero…
Covered deep under the ground, Domus Aurea remained very well preserved, until the 15th century when it was rediscovered by a young Roman who fell through the hole and found himself surrounded by frescoes. However, the exposure to the elements and the moisture have ruined a lot of this grand site. And – because there's a large park located on top of it – it's very difficult to preserve what's left without causing a complete collapse.
Nowadays, you can visit just a small part of the original Domus Aurea site: the Nymphaeum, the Golden Vault Room, and the Octagonal Room. There's also a virtual reality experience in the Golden Vault Room that gives you a bit of a glimpse into how this place must have looked in the past.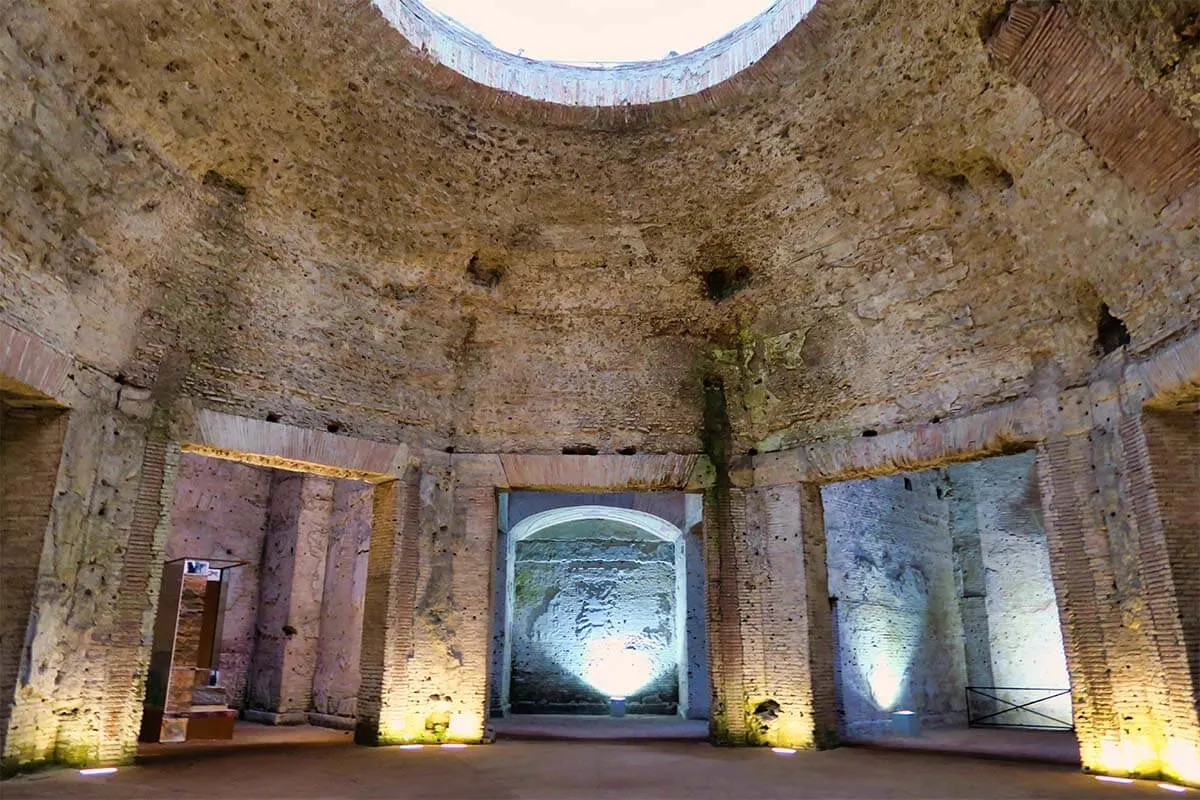 HOW TO VISIT. Domus Aurea is located at Colle Oppio park, just next to the Colosseum. The entrance is on Via della Domus Aurea. You can simply opt for the official guided tour.
TOURS. This is the best-rated guided tour with an English-speaking archeologist.
OUR EXPERIENCE. We wanted to visit Domus Aurea on our most recent trip to Rome, but – due to the pandemic – it had very limited opening times (only open on weekends). Since we were in Rome from Sunday evening until Friday, we couldn't see it. So the Golden House remains on our Rome's hidden secrets bucket list.
It really doesn't matter when you visit Rome – you should try to book everything that you absolutely want to do in advance. Even if all the sites are open as usual, it's usually so busy everywhere that it always pays to book upfront or you risk not being able to visit the most popular sites.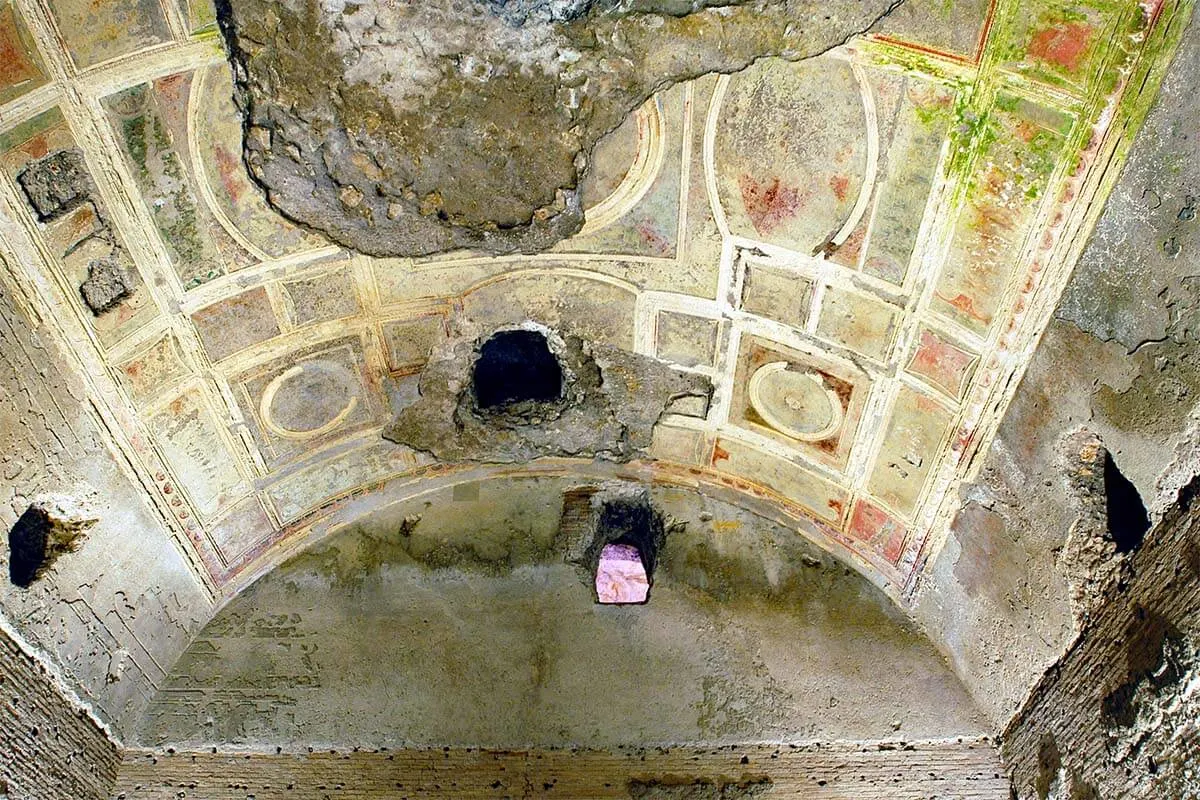 6. Basilica of St. Clement & Archeological Excavations
St. Clement Basilica (Basilica San Clemente) is another unique underground site that's well worth checking out when in Rome. On the outside, it looks like many other churches of Rome, but it hides lots of secrets underneath. This church has 3 layers, two of them under the ground.
The Basilica you see on the street level dates from the 12th century and is really pretty inside, with stunning medieval mosaics. But there's so much more to it than the eye can see! This church has three levels, two of them under the ground.
Right under the Basilica, there's an incredibly well-restored 4th-century church, the original Basilica of St Clement. Here, you can see lots of interesting frescos.
And yet one level deeper, you can visit several 1st-century buildings. One of them has been used by members of the cult of Mithras in the 2nd century. The second building – dating from 67-79 AD – consists of a series of rooms built around a central courtyard. It's associated with a mint of ancient Rome.
As you descend underground, you literally take a trip back in time through the centuries of history of Rome. It's a fascinating place where you can get a glimpse of life in several different eras under one roof and clearly see how the city has changed and grown in 2000 years.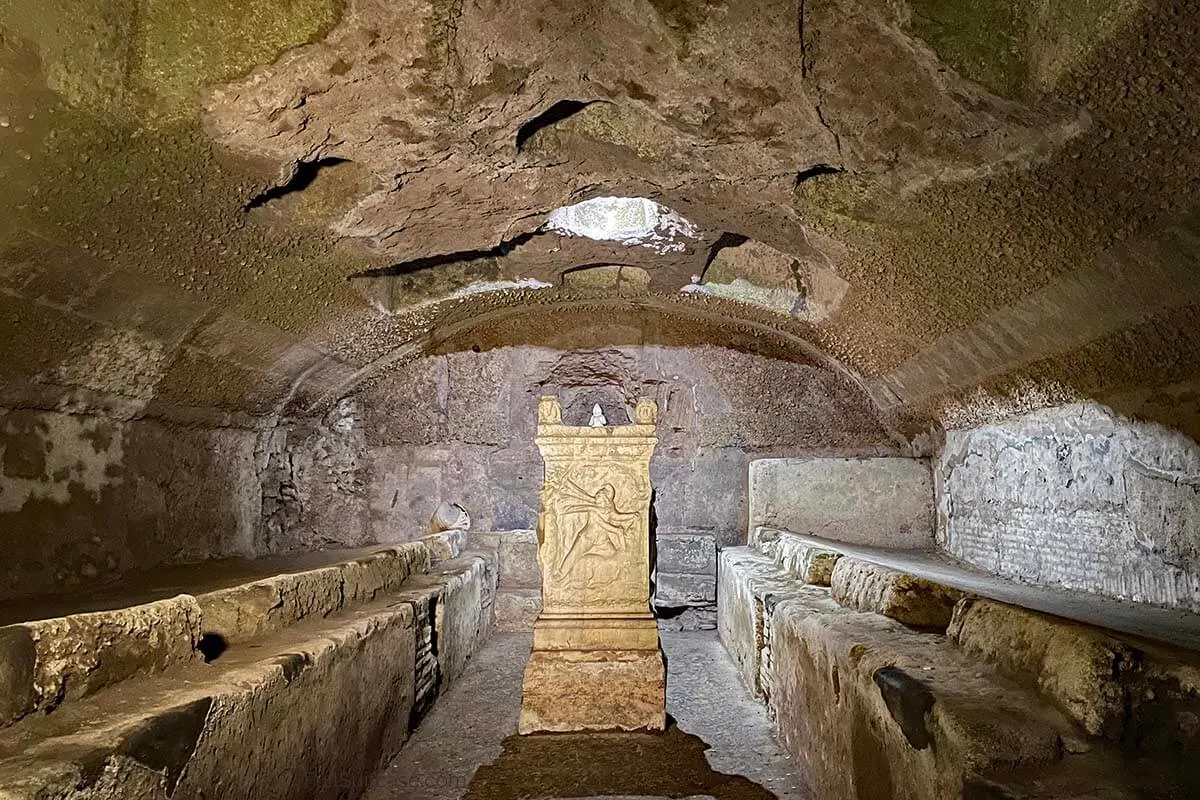 HOW TO VISIT. St. Clement Basilica is located less than 10-minutes walk from the Colosseum, yet, it's not as widely known. The Basilica's Archeological Excavations are open daily except for some public holidays. You can check up-to-date info for the opening times and buy a ticket on their website. But you can also get a ticket at the entrance (a bit more expensive than online). Count about half an hour for a visit.
TOURS. You don't absolutely need a tour in order to visit here. It's pretty self-explanatory and you get a nice guide with more explanation of the entire site. However – as everywhere – you will definitely learn more and highly enhance your experience by going with a local guide. There are some guided tours that visit this basilica, usually in combination with some other interesting sites nearby (and there are many!). Some of them also offer skip-the-line entrance, which can be an advantage in the high season.
OUR EXPERIENCE. We visited St. Clemente on our own, and just got the ticket at the entrance. In the low season (this time, we were in Rome in November), it was very quiet here and we could just walk in without any queues. I'm sure that having a guide would have been better, but we already did so many other tours during that trip that it was getting too difficult to plan it all timing-wise. Either way, it was absolutely worth it. A very interesting archeological site!
In fact, we came here after the earlier-mentioned e-bike tour of the Appian Way and the Catacombs of St. Callixtus. The bike shop where the tour starts and ends is literally just around the corner from this church. So if you are like us and are trying to see as much as possible in a short time, it's a great way to combine several of these underground sites on the same day. And talking about that, Domus Aurea is also just next door. 😉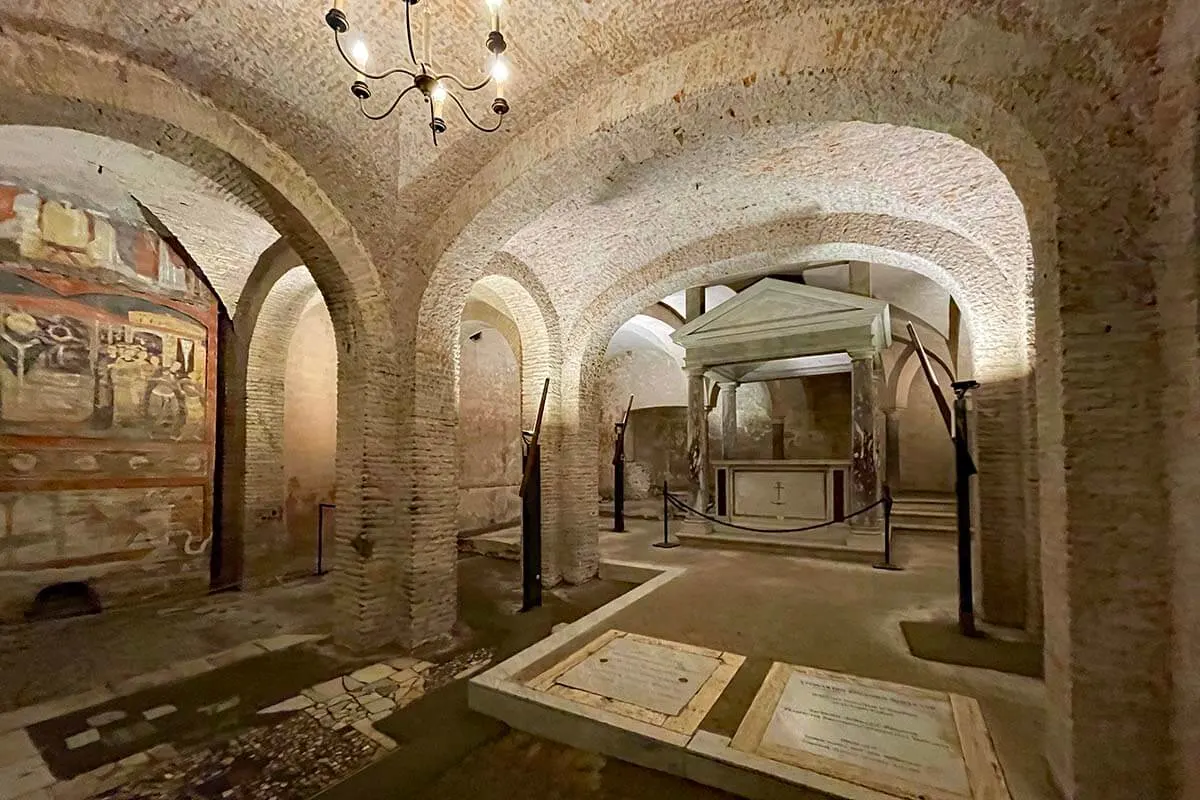 + More interesting underground sites in Rome
As already said, I don't want to overwhelm you with too many Rome underground sites, because it's really impossible to see so many of them unless you have weeks and weeks…
But if you have seen all of the above-mentioned places and are looking for even more ideas, here are several additional suggestions for Rome underground places that are quite easy to visit in the city center (we also indicated these on the map):
Stadium of Domitian, aka Piazza Navona Underground. An old Olympic stadium of the Roman Empire. This amazing 'Welcome to Rome' tour now includes a visit to this underground site in its itinerary (among many other interesting landmarks).
Baths of Caracalla. This is an incredibly interesting site to see, although the majority of it is above the ground, so it's not a place you'd think of when talking about Rome's subterranean sites. However, there's an impressive underground heating system where you can see how these ancient baths were kept warm. The Baths of Caracalla are worth it either way. You don't absolutely need a tour here either – you can just walk over there, get the tickets on the spot, and visit on your own. This site is also included with Roma Pass.
Mamertine Prison. Rome's oldest prison, where – supposedly – St. Paul and St. Peter were kept as well.
Also the following churches have some interesting crypts and underground sites that you can visit. There are many more, too, these are just some of the best ones in the city center:
Basilica Papale di Santa Maria Maggiore (nice to see either way, but an underground tour is well worth it too). This highly-rated tour visits here in combination with the catacombs and a few other interesting places.
Basilica Santa Cecilia in Trastevere and Basilica of Saint Crisogono. This underground Trastevere tour visits both, as well as a few other interesting sights in this beautiful neighborhood.
Santa Maria in Cosmedin. This church is best known for the Mouth of Truth (Bocca della Verità), and most people come here just to stick a hand into its mouth. Underneath, there's also a small crypt built by Pope Hadrian in the 8th century.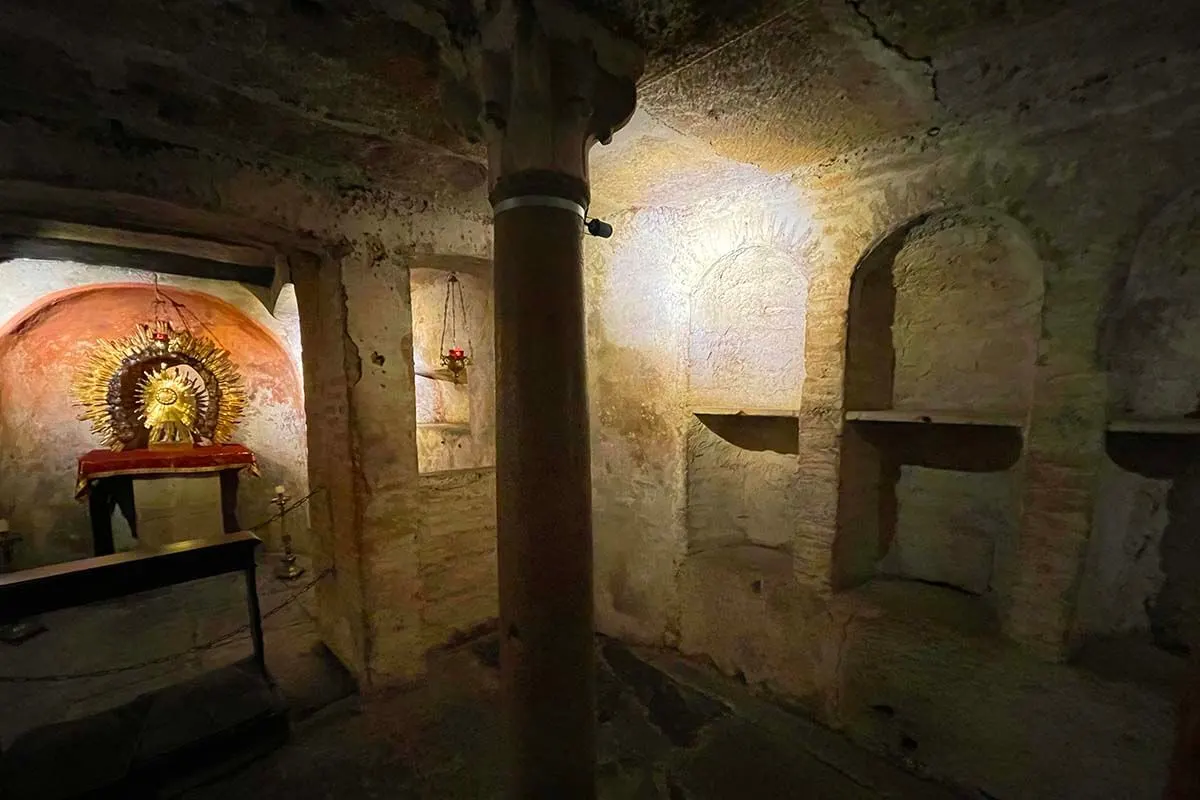 Tips for Visiting Rome Underground Sites
We already mentioned some of this info above, but here are some general tips for visiting the underground archeological sites in Rome.
Book in advance. Most of the underground sites require a visit with a guided tour, and so booking in advance is a must. Also, by booking upfront you can immediately see if the place you want to visit is actually open that day, what time the tours run, and avoid standing in front of a closed door or not be able to visit because it's sold out for that day.
Dress respectively. The majority of underground sites in Rome are religious sites that require that your knees and shoulders are covered. Also, some of the places can be quite cold, so it's a good idea to take a sweater with you if visiting in summer.
Wear comfortable shoes. Descending into Rome's underground city usually means that you'll have to do some stairs, sometimes also walk on uneven surfaces, cobbled stones, etc. Sensible shoes will make your visit more enjoyable.
Don't take big bags with you. If you don't absolutely need it, leave it at your hotel. The less stuff you carry with you, the easier your sightseeing will be. Some places (like the Colosseum, St. Peter's Basilica, and a few others) have an airport-style security check, so be sure you don't have any sharp objects in your bag either.
Accessibility. Some underground sites in Rome are accessible by wheelchair, but the majority is not. So be sure to double-check before you book.
READ ALSO: Tips for Visiting Rome
More travel inspiration and info for visiting Rome:
If you found this post useful, don't forget to bookmark it and share it with your friends. Are you on Pinterest? Pin these images!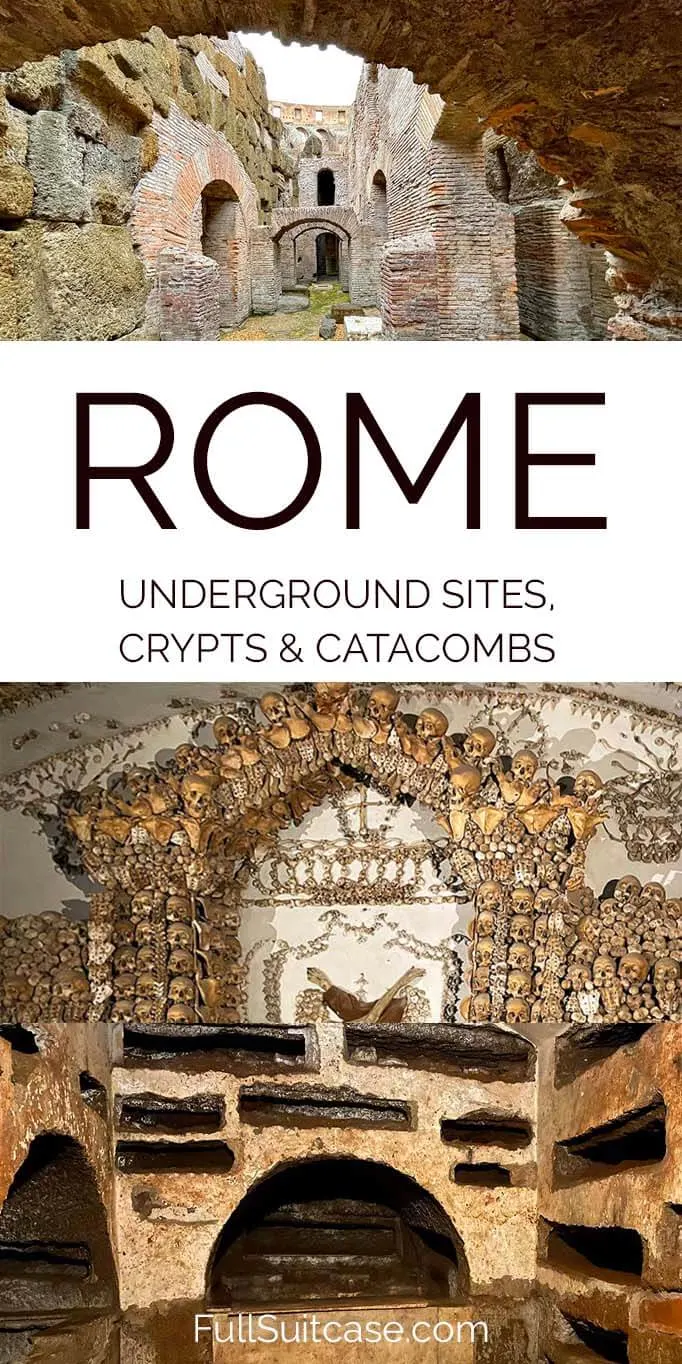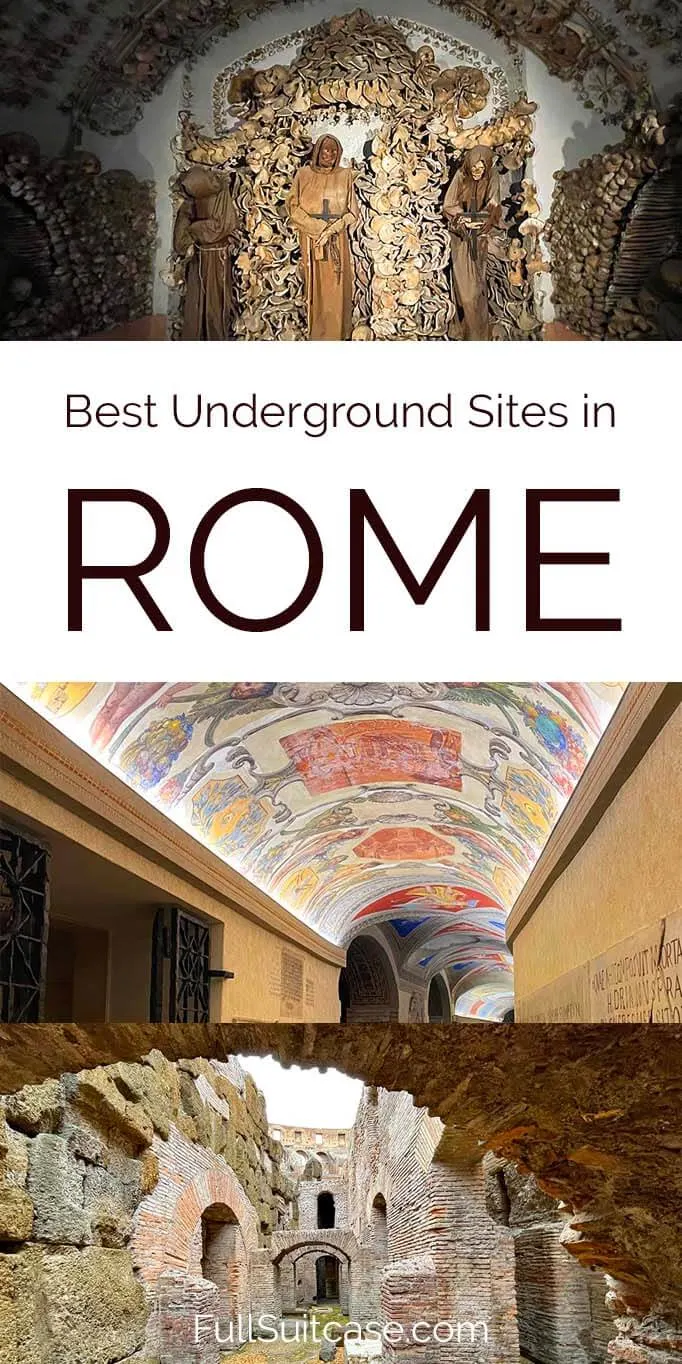 More travel inspiration and tips for visiting Italy: