If you are visiting Rome soon and are looking for the best food tours that give you a good introduction to a simple local cuisine, then we highly recommend joining a Roman street food tour. This article should help you choose the best street food tour in Rome and make your city trip more memorable. Find out!
We have been to Italy countless times and traditional Italian food was always a big part of any visit. However, it took us many visits to Rome to finally discover some of the very best local food that is specific to the city of Rome.
When preparing for a recent trip, we did a lot of research for the best food tours in Rome, and – frankly – the choice was overwhelming. But when we stumbled upon this highly-rated tour with a local, we knew we had to give it a try.
While we haven't tried them all, this could well be the very best street food tour in Rome. It offers a great mix of local food and sightseeing that takes you just a bit beyond the main tourist tracks.
In this guide, you can read about the tour we chose and why we think that it's the best Roman street food tour that you can do in Rome. I also included lots of pictures, so be warned that you will likely get hungry while reading this…
Good to know: If my enthusiasm about this food tour seems a bit exaggerated, it's only because we truly loved it. It made our visit to Rome so much more memorable and I believe that it's an excellent way to get acquainted with a more local side of Rome. And no, this is not a sponsored post and we also share some additional suggestions for Rome street food tours, so that you can make your own choice. Read on!
How to Choose Your Street Food Tour in Rome
There are so many food tours in Rome that the choice looks overwhelming, not even to mention all kinds of cooking classes and other food- and wine-related experiences. Every time I check our favorite tour booking site, I see tens of new food tours… So how do you choose?!
When you look closer, you realize that there is quite some difference in food tours. Some – like cooking classes – are usually focused on one popular dish like pizza or tiramisu. Others combine food with sightseeing and also include a few tastings at small family-run businesses and/or a visit to a local market. Some of the most popular food tours are more gourmet-oriented and simply take you to one or two restaurants where you get to taste a few different dishes and/or wines without having to walk around too much…
What makes street food tours unique is that you walk from one low-key eatery to the other, try some of the most simple dishes that locals eat on a daily basis, plus you also do some sightseeing, and discover a bit more of the city along the way. Most of the time, the places that you visit are small family businesses; many have been run by the same family for several generations.
So when looking for a food tour in Rome, you simply have to see what kind of tour appeals to you the most and decide based on that. Other factors to consider are the starting times and locations, plus the duration of the tour and how it fits your overall itinerary.
Before we continue with the review of the street food tour that we did, here are our hand-picked recommendations for the best street food tours in Rome:
The 2.5-hour tour in one of the historic neighborhoods of your choice. 5 food tastings + wine + beer included. It now has two options that you can choose from – the food tour of the Trastevere neighborhood or the Jewish Quarter. This is the tour that we did, and we opted for the Jewish Quarter. This tour is possible

for lunch or dinner

and because it's rather short, it's really simple to add this experience to pretty much any Rome itinerary.
The 3.5-hour tour in the historic city center. 7 food tastings, gelato, plus at least 2 beverages included. This tour runs in the evenings and you get enough food for a full dinner. If you are looking for the best street food tour in Rome

for dinner

and have more time, then this tour is an excellent option giving you a chance to experience even more local specialties with a local guide. This tour wasn't available when we traveled to Rome, but we did an excellent food tour with this company in Paris, and many other sightseeing tours all over Europe, and they are always absolutely brilliant.
Below, you can read more about the street food tour that we did in Rome and what to expect. At the bottom of this article, you can also find some useful tips that you will want to know when planning to do a food tour in Rome. Read on!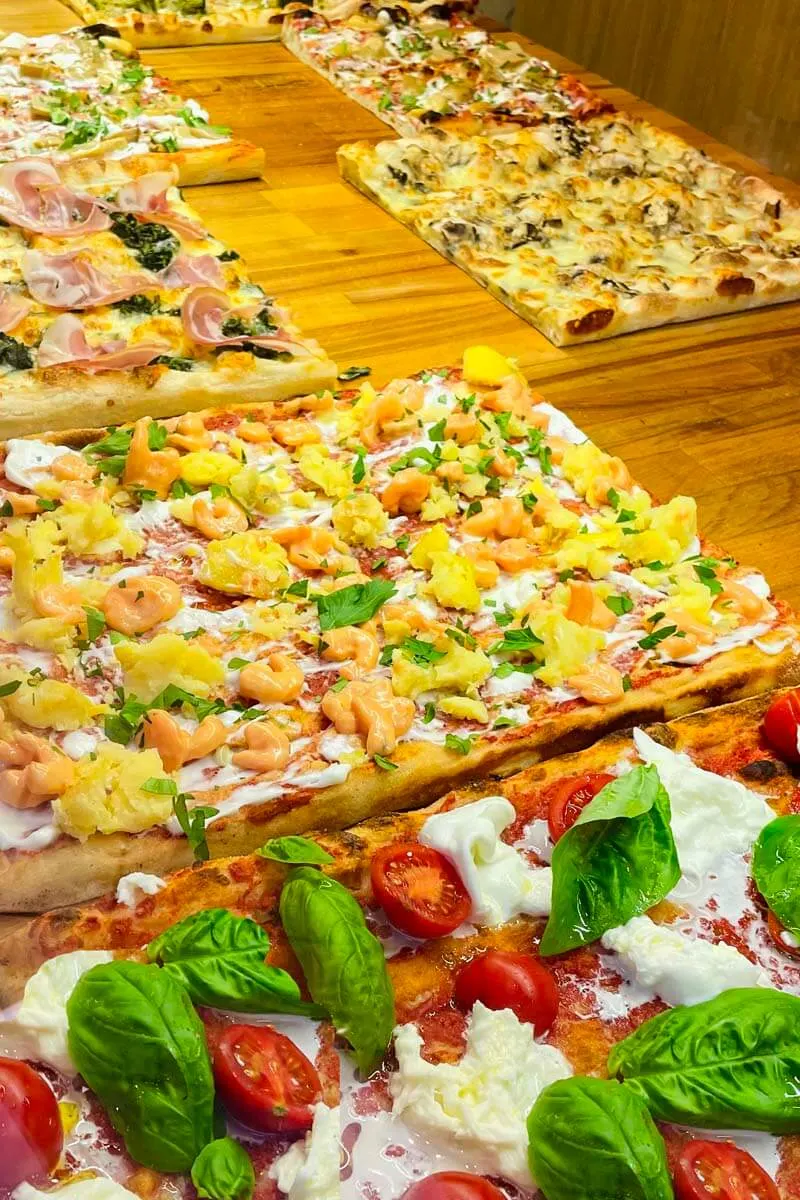 Street Food Tour in Rome: What to Expect
The food tour that we chose is a walking tour that takes about 2.5 hours. It includes a bit of sightseeing and five different food tastings in local establishments in the historic neighborhood in the center of Rome.
Ours was the so-called Jewish Neighborhood street food tour. It started at Campo De'Fiori town square which is known for its open-air food and flower market. This is the heart of the city, just 5 minutes walk from Piazza Navona or 10 minutes from the Pantheon. As already said, this and the fact that the tour is rather short makes it easy to include it in your itinerary. Plus, you can do it for lunch or early dinner.
Our first stop was at a tiny grocery store, a sort of an Italian deli if you like, that's been around since the 19th century. Here, we got to taste all kinds of cured meats and some red wine.
Good to know: Don't worry if you don't drink alcohol, just let the guide know and they'll foresee an alternative. I did this food tour with my son and he got other drinks instead. Oh, and he absolutely loved it! After this experience, we now do food tours at every new place we visit, if we get the chance.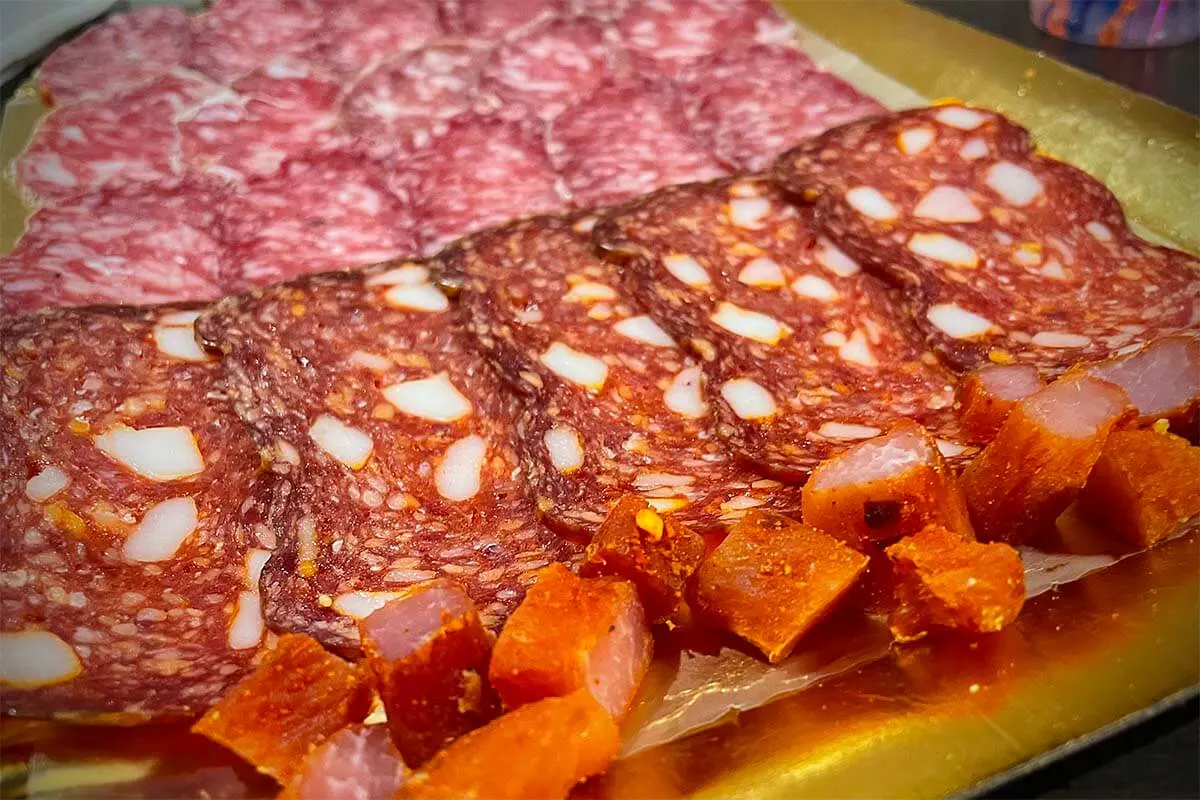 As we walked to the next place, our guide took us through a beautiful little passage that I'd never seen before. I couldn't believe how we never noticed it even though we had been to this part of Rome countless times. She also told us stories about a huge theater that used to be in that location in ancient Roman times, etc.
I don't want to reveal all the details here so that you can enjoy the tour without knowing every little detail of what you can expect.
Just know that in addition to the food, you will also learn more about the city, and get a bit off the beaten path, so it's a really nice experience, beyond familiarizing yourself with some local dishes.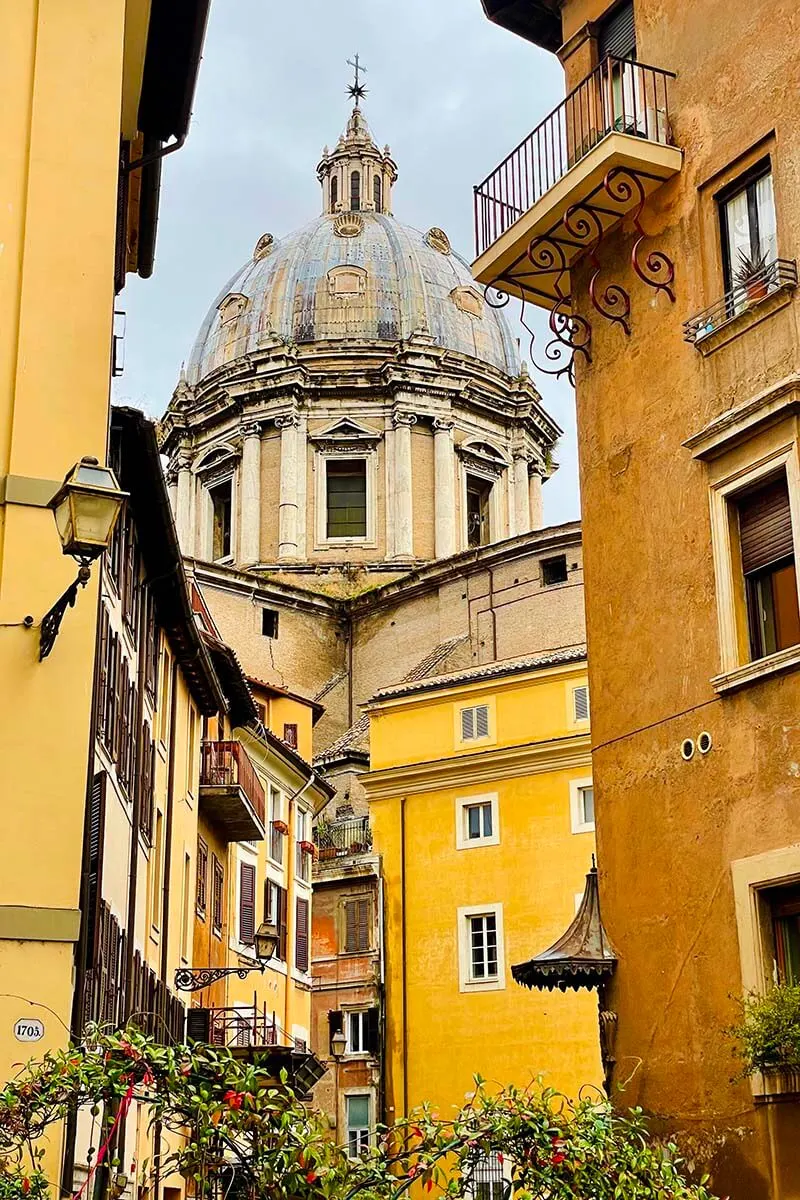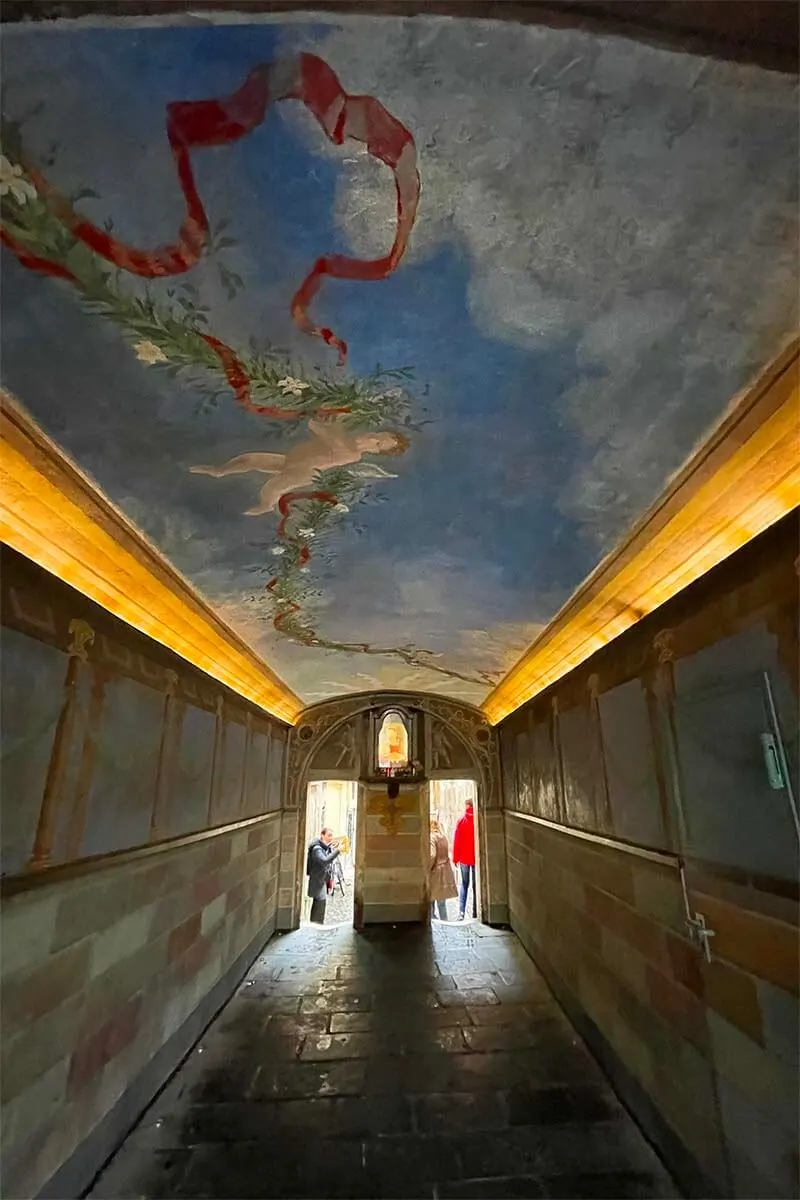 Our next food stop was a traditional salumeria where we tasted two types of traditional Roman pizzas and Italian beer.
As you will see in the pictures below, traditional pizza in Rome is not round but rectangular and it's usually sold by weight.
We were here at lunchtime and the place was crowded with locals patiently queuing to take some pizza with them.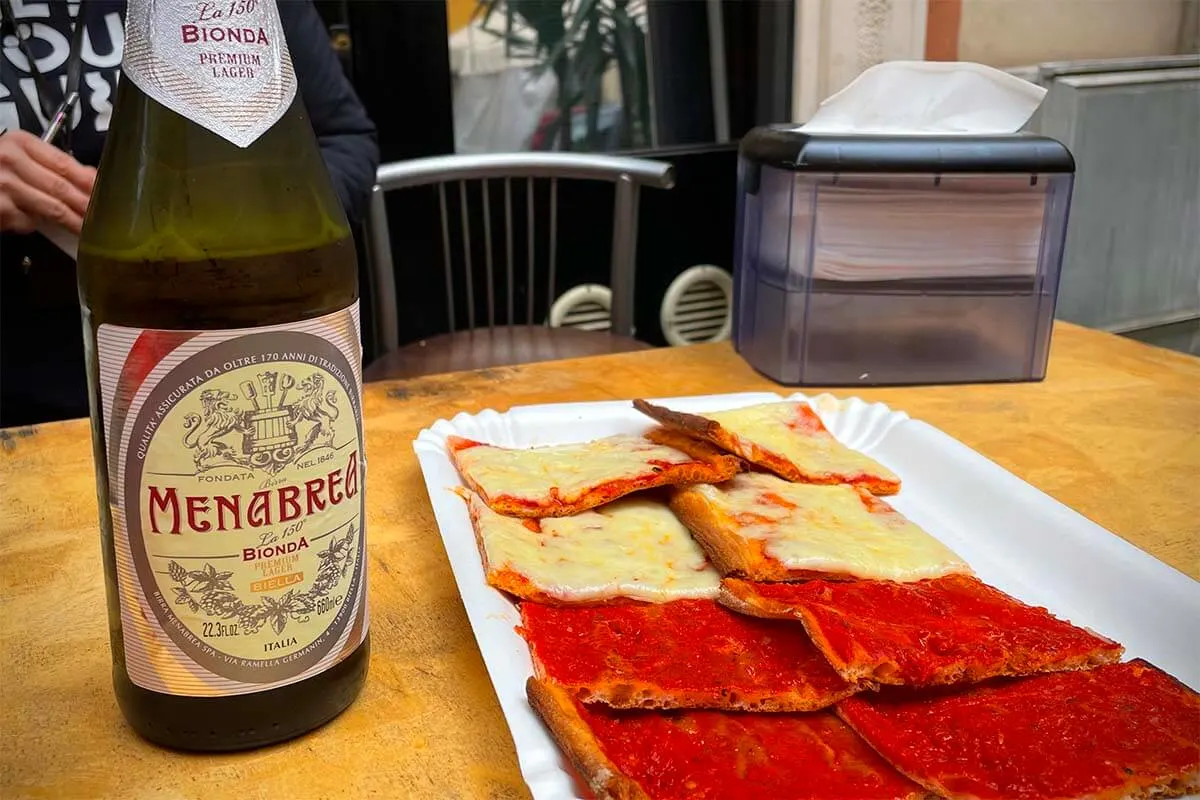 Next, it was time to taste some suppli. Suppli is a deep-fried snack made of rice, mozzarella cheese, and tomato sauce, coated with breadcrumbs. It's probably the most popular street food in Rome, a locals' favorite.
The same place also sold all kinds of different types of Roman pizza. While it wasn't foreseen, our guide treated us to a potato pizza. While it's definitely not my favorite, it was really interesting to give it a try!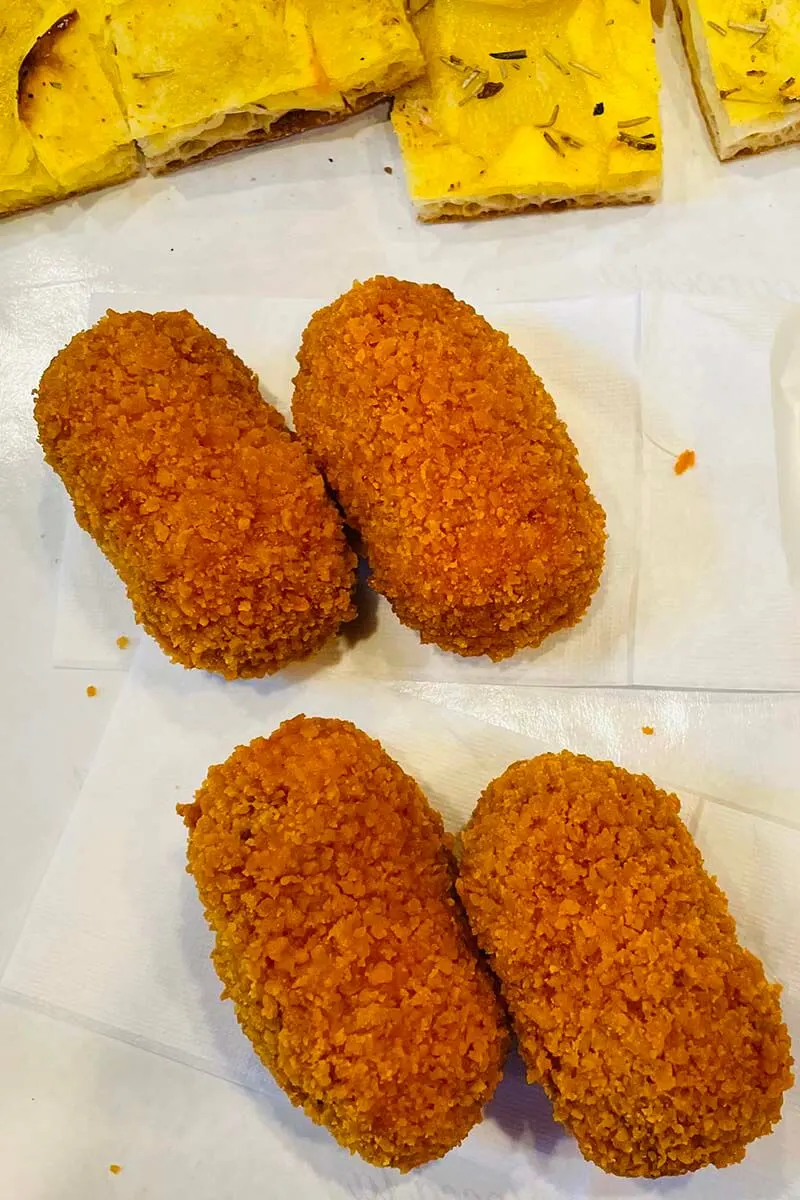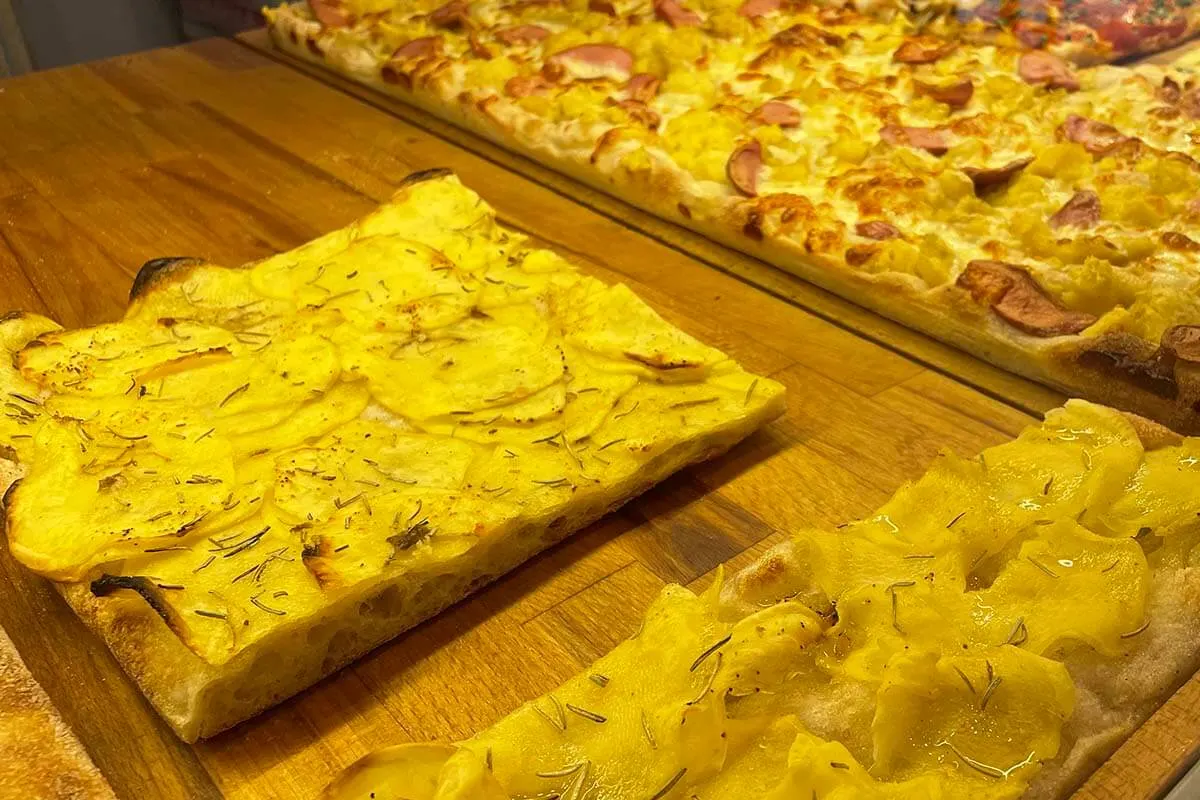 Our food tour continued to the heart of the Jewish neighborhood in Rome. Here, we visited a local bakery where we tasted a delicious cake made with fresh ricotta cheese and berries. It's yummy and absolutely filling.
By this point, we felt stuffed already…
Luckily, we could do some more walking after this. We explored more of the Ghetto and also passed the historic Largo di Torre Argentina square where Julius Caesar was betrayed by the senate and stabbed to death on the Ides of March 44 BC…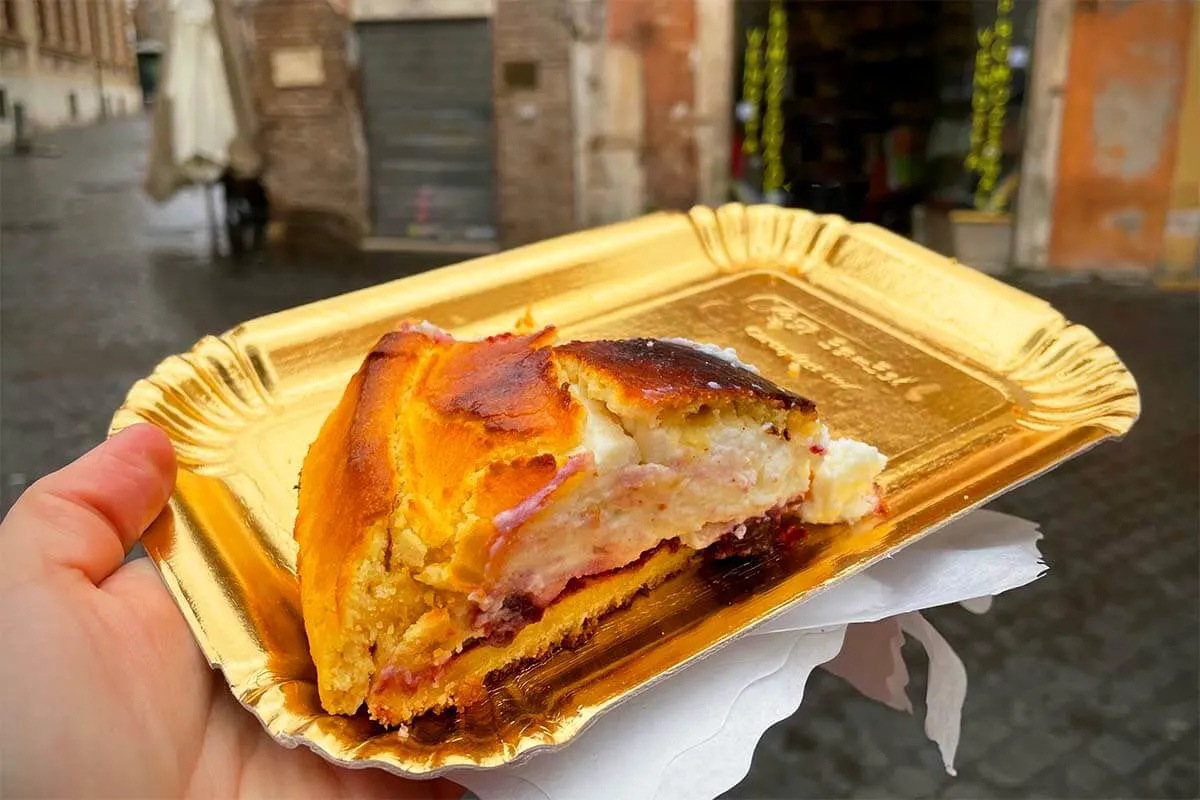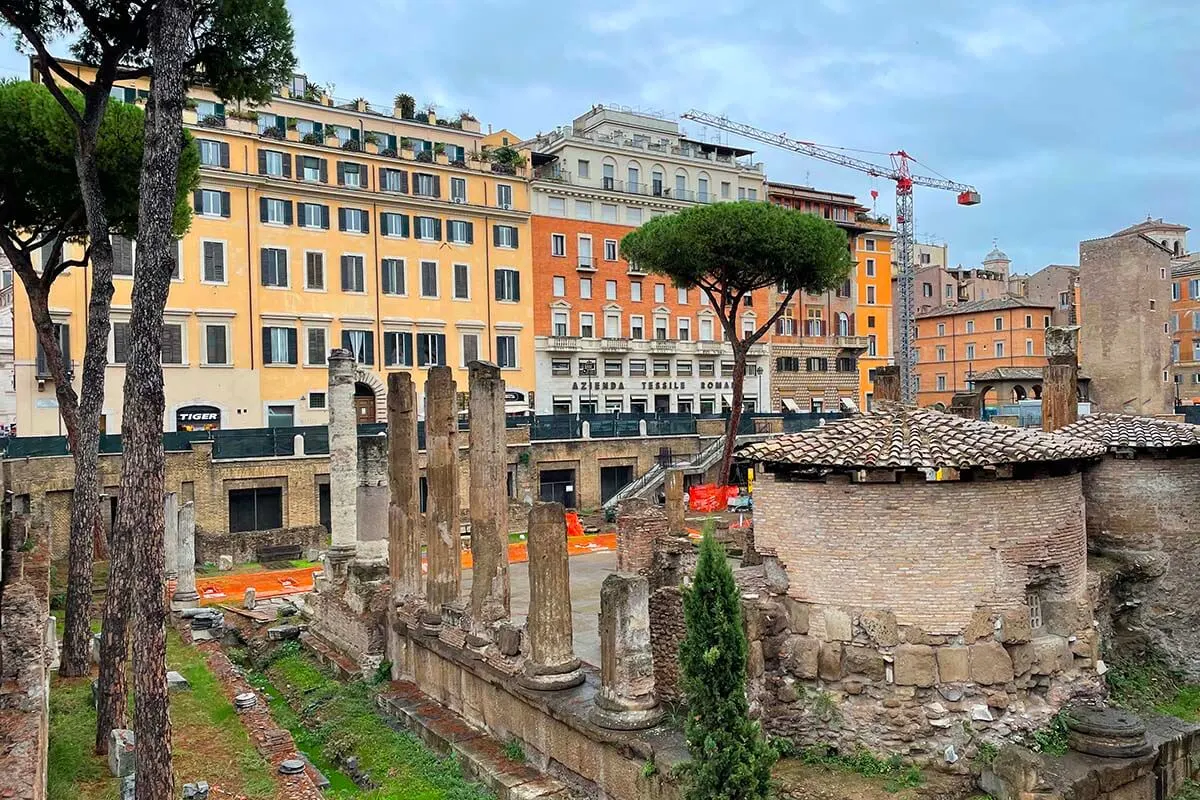 After a bit more exploring, it was time for the last stop of our street food tour. It would be unthinkable to do a food tour in Rome and not try some Italian ice cream, so – surprise surprise – our last tasting was a gelato. And not just any ice cream, but an authentic homemade gelato artigianale Italiano.
We visited a small gelateria a stone's throw from the Pantheon, but it felt like a million miles away from the main tourist routes. The guide gave us some tips on how to recognize a really good ice cream just by the looks of it, and of course, we could try some of it too!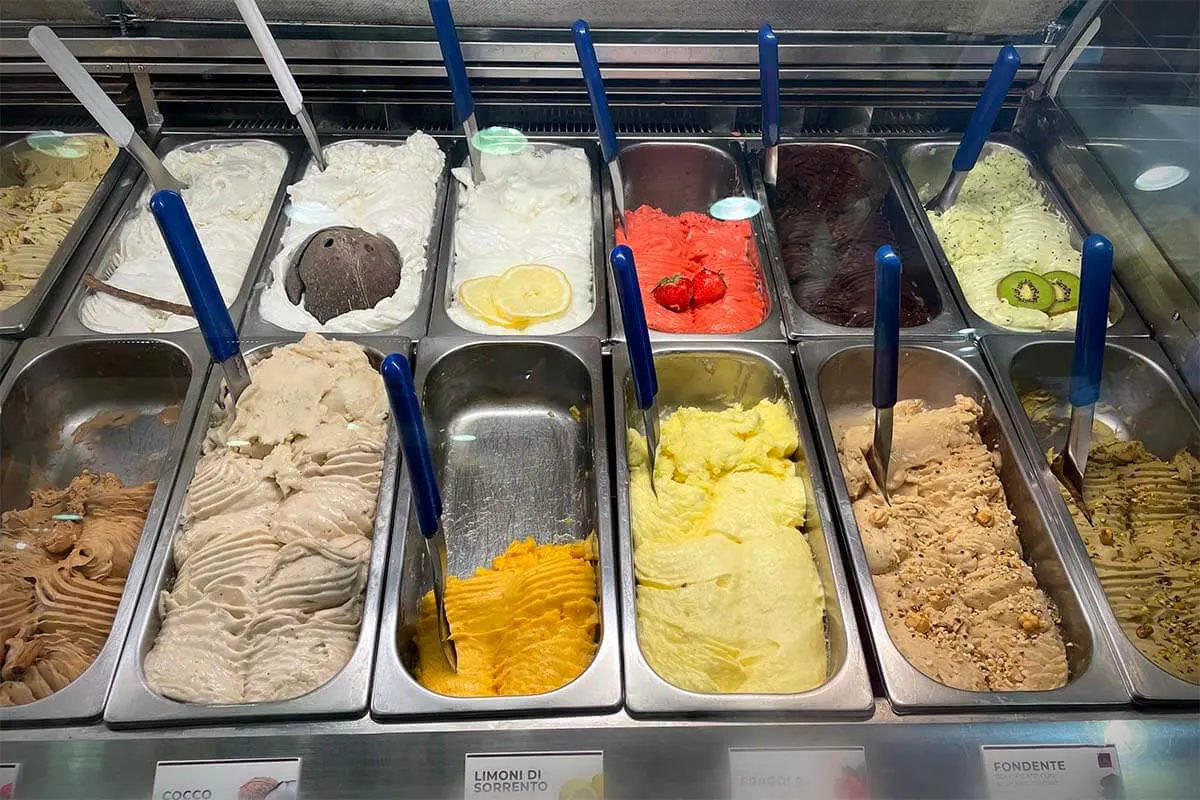 Voila, this is what our street food tour in Rome looked like.
As I said, I don't want to share every single detail, but now you should have a much better idea of what to expect.
Both – my 12-year-old son and I – really enjoyed this tour and we still often talk about it. He is now looking for suppli on the menus every time we visit Italy and tells me we have to go back to Rome for it…
This food tour was one of our top-3 experiences of our recent visit to Rome, together with the Colosseum and this Appian Way & catacombs e-bike tour. And if you know that we visited all the main landmarks and tons of hidden gems on that trip, then it probably says it all.
Before you go, below, we have some practical tips and things you may want to know if you decide to book a food tour in Rome. These tips will apply to most food tours, not just the one that we did.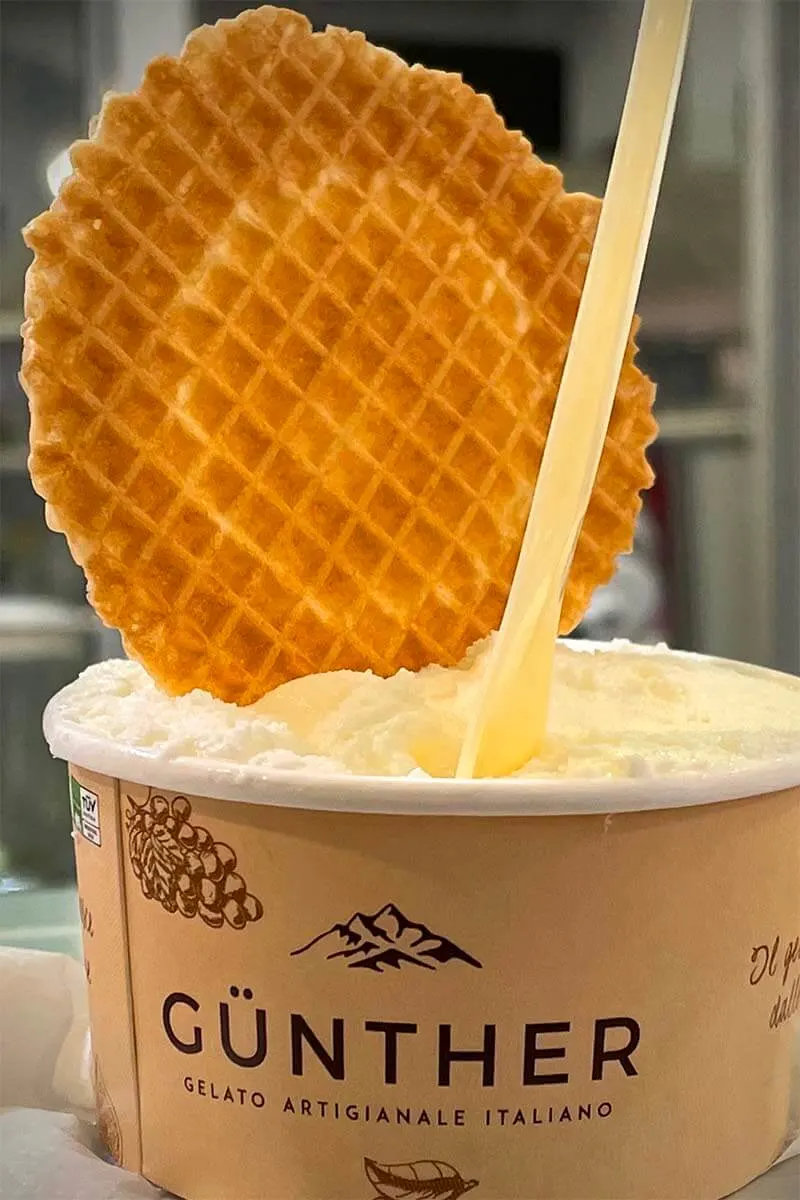 Tips for a Food Tour
Here are some things that you may want to know when doing a food tour, no matter if it's in Rome or anywhere else:
Don't eat too much beforehand! Even if it doesn't look like much, food tours are always filling. Even with 'just' 5 street food tastings on this tour in Rome, we were full. So if you are doing a tour for lunch, just have a very light breakfast that morning. And if you are doing a tour for dinner, make sure that you don't eat too much for lunch.
Dietary requirements. Don't be afraid to take a food tour if you have any specific dietary requirements. Most tours are very accommodating and foresee alternatives. For example, my son got some water and lemonade while we were tasting wine or beer. Someone in our group was vegetarian and the guide found a nice alternative, etc.
Footwear. Be sure to wear comfortable shoes because street food tours involve quite some walking. It's not something to be concerned about, but it's not the same as sitting at a restaurant and trying different dishes without moving the whole evening.
Be on time! Most food tours are not private and you will be in a small group of people. Don't make everyone wait for you. Often, local guides also have arrangements with local businesses to be there at a certain time, etc.
Be open-minded and try the food even if it looks strange to you for one or another reason. That's the whole point of a food tour – to get to know some local specialties that you would likely never taste otherwise.
Do a food tour at the beginning of your trip. With all the tips and recommendations from your local guide, you are almost guaranteed to have a better food experience for the rest of your trip. Be sure to ask your guide for some restaurant recommendations as well (and don't forget to reserve at least a few hours in advance!).
Don't worry about the weather; you can really do a (street) food tour in any season and any weather. We did this tour when we visited Rome in November and it was pouring when we started. It didn't ruin our experience at all. Simply dress appropriately for the season when you visit.
Water!!! I highly recommend taking a bottle of water when going on a street food tour. There is always more food than drinks and you will be really glad to have some water with you. It's best to take a refillable water bottle for sightseeing in Rome anyway. You'll find water fountains all over the city; the water is free and delicious.
READ ALSO: Rome Travel Tips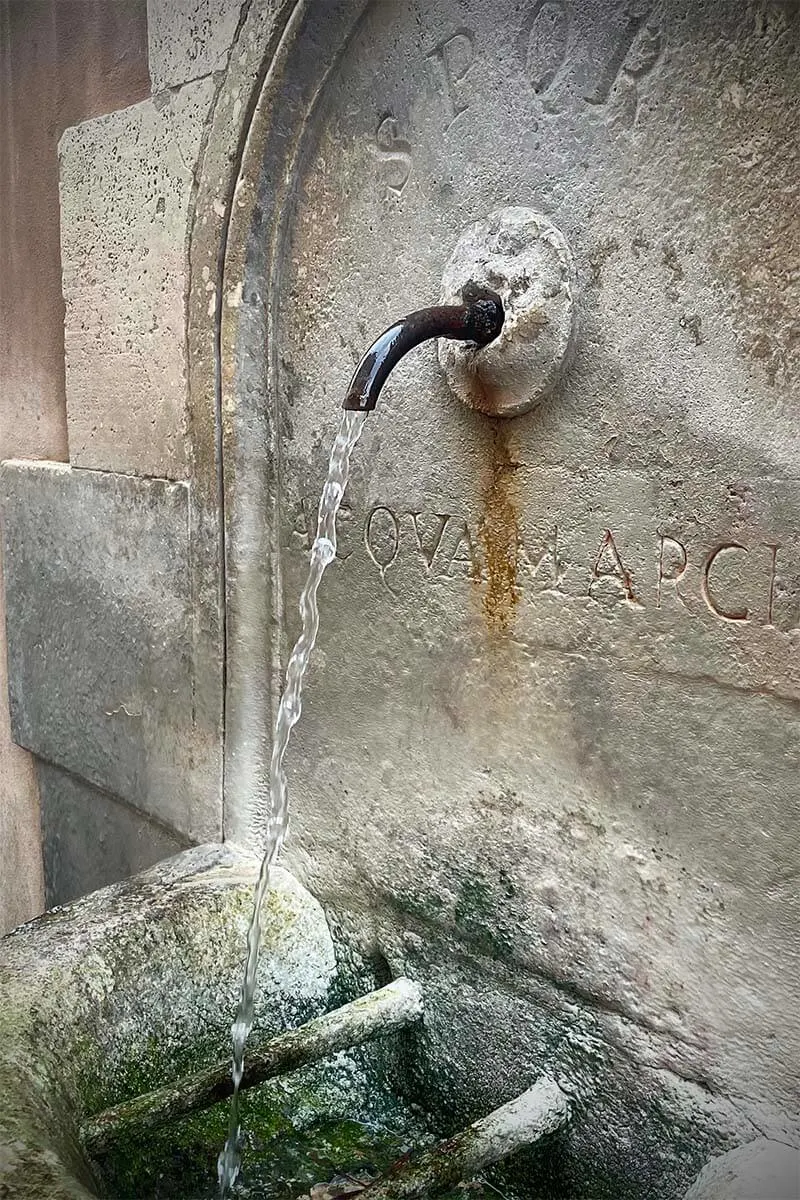 Is Rome Street Food Tour Worth It?
If you are still wondering if a street food tour in Rome is worth it, then I think you can guess my answer – yes, it absolutely is. It's such a great way to get acquainted with Roman street food that you would likely not try otherwise. Plus, local guides know just the best spots. In addition, you also do some sightseeing, and learn more about the city and the neighborhood that you visit.
It truly makes your trip a bit more special, beyond the main landmarks.
Whether you choose a short tour as we did or a longer one with more tastings for dinner, you really can't go wrong with it. Yes, it is a bit more expensive than trying to locate all these shops and taste all these foods on your own, but it's an excellent value taking into account what you get and what you learn.
As for us, we are hooked and now do food tours everywhere we find them. And most of the time, we opt for street food tours because they truly give a more authentic experience.
READ ALSO: Where to Eat in Rome
More travel inspiration for your visit to Rome:
The musts:
Itinerary suggestions:
Nice to see if you have more time:
Where to stay:
If you found this post useful, don't forget to bookmark it and share it with your friends. Are you on Pinterest? Pin these images!