When starting to plan your trip to Rome, Italy, the first question is likely to be 'where should I stay in Rome?'… In this guide, we share our experience-based recommendations for the VERY BEST area to stay in Rome.
Instead of listing all the neighborhoods where you could stay when visiting Rome and the pros and cons of each of them, we simply focus on that one area that is simply the best place to stay for tourists visiting Rome.
Whether you are looking for the best place to stay in Rome for first time visitors, are interested in sightseeing, dining, or shopping, this is the best place to stay in the Eternal City and you don't have to look any further! (Because why settle for second-best…)
In this article, we tell you WHY this is the best area to stay in Rome, what you can expect, and list some of the best-rated hotels in this neighborhood in all price categories.
That way, you can find the best place to stay in Rome that fits your travel style and budget, book your accommodation, and start focusing on the fun part of planning what to actually see and do in Rome. And yes, we have some recommendations for this too, including some sample itineraries.
But first – our no-nonsense guide on where to stay in Rome. Take a look!
TIP: If you have no time to read the entire guide and are simply looking for the best hotels in the best area in Rome, here are our top recommendations: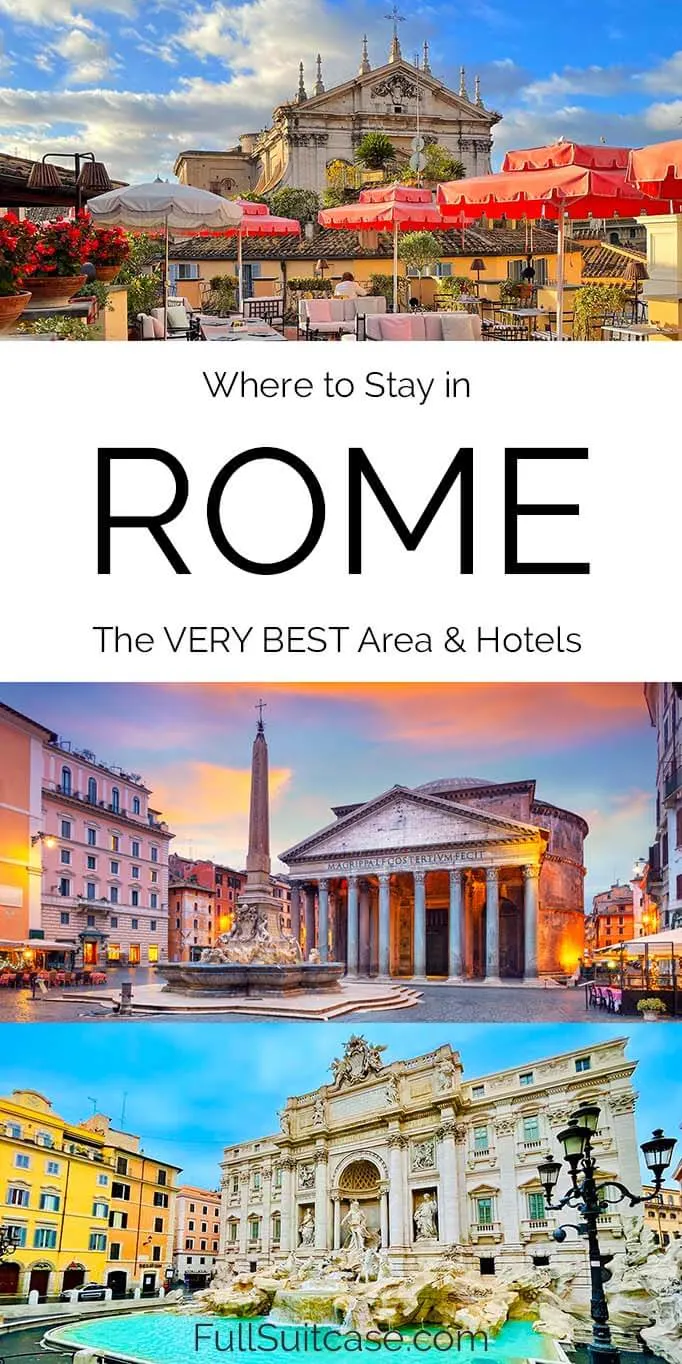 Best place to stay in Rome – OVERVIEW:
Good to know: If you are just starting to plan your trip and haven't decided how many days to stay in Rome, we highly recommend staying in the city for at least 4-5 nights (3-4 days).
So, what is the best place to stay in Rome?
Rome has a big variety of hotels and accommodations scattered all over the city, but if you want to experience the best that Rome has to offer, we recommend staying in the historic city center, close to the Pantheon. You don't have to stay right at the Pantheon, of course, but try to stay within 5-10 minutes walking distance from here.
Hands down, the area around Pantheon (pretty much anywhere between Piazza Navona and the Trevi Fountain) is the best place to stay in Rome.
Our experience: We have been to Rome many times and we ALWAYS stay in the neighborhood around the Pantheon. We have considered other locations in the past, but in the end, we always end up staying here. And when we plan another visit to Rome again, I'm not even looking anywhere else.
There are so many advantages of staying in the heart of the historic city center of Rome that they outweigh any potential disadvantages. It's also a safe area to stay in Rome. We never think twice about walking around here at night, and even if we get lost in some smaller streets, it never feels unsafe. Of course, you have to be vigilant everywhere in big cities, but the center of Rome never felt unsafe to us.
You can find more information about the positive sides and the drawbacks of staying in this area further below. But first – some accommodation recommendations depending on your budget.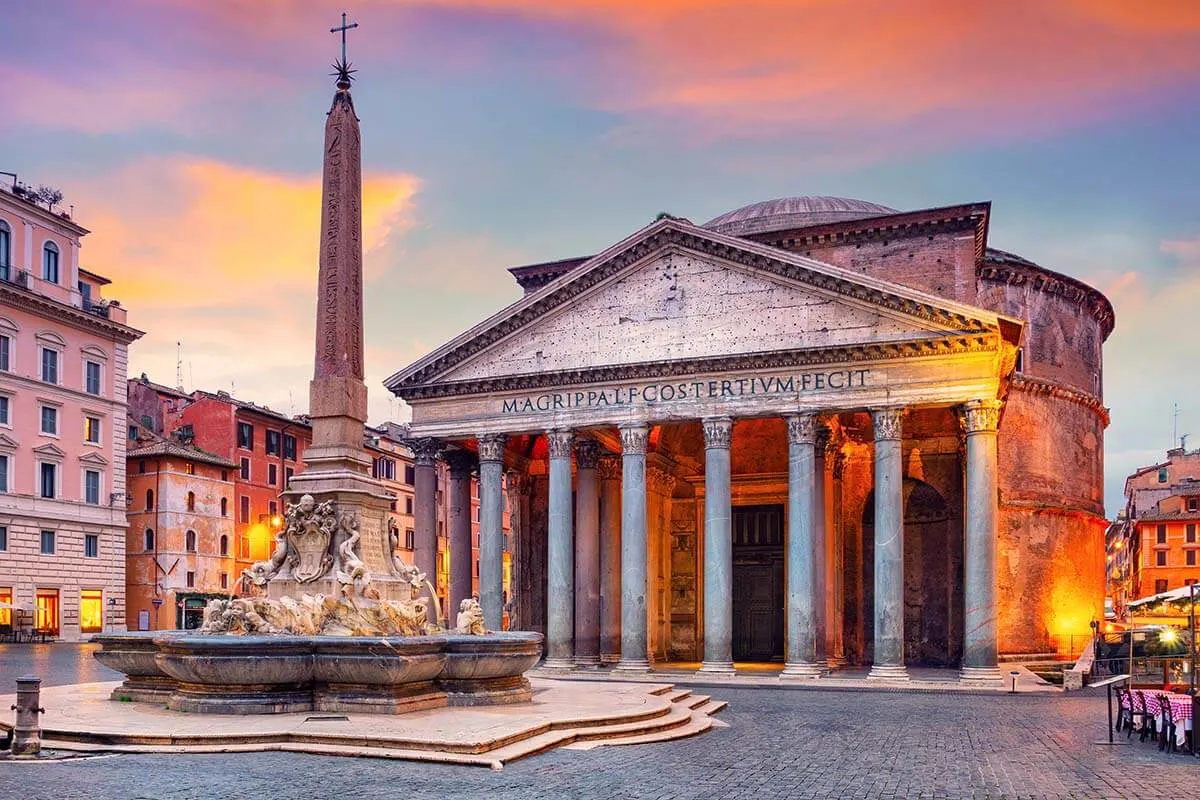 Some of the best-rated hotels in Rome city center for all budgets
Based on the research we did for one of our recent trips, here are some of the best-rated hotels we recommend in the neighborhood around Piazza Navona – the Pantheon for all budgets.
There are, of course, MANY other choices in all price categories. In addition to hotels, there are also lots of privately-rented accommodations including some nice apartments (ideal for bigger families). But for those, it's even more important to double-check that they have AC, especially if you're visiting Rome in the warmer season.
Good to know: Price ranges are just an indication and so much depends on when you travel. Sometimes, you can find a fantastic deal for a 5* hotel, and a month later, you can pay more for a 3* hotel…
Here are some recommended hotels close to the Pantheon:
€€€€ 9HotelCesari – a modern, recently renovated 4* hotel with amazing rooftop restaurant. We stayed here recently and wouldn't hesitate to go back, even if just for another breakfast on that rooftop terrace. Take a look at featured image on top of this article (or the picture below), and you'll see why. And no, we're not getting paid to promote them. 😉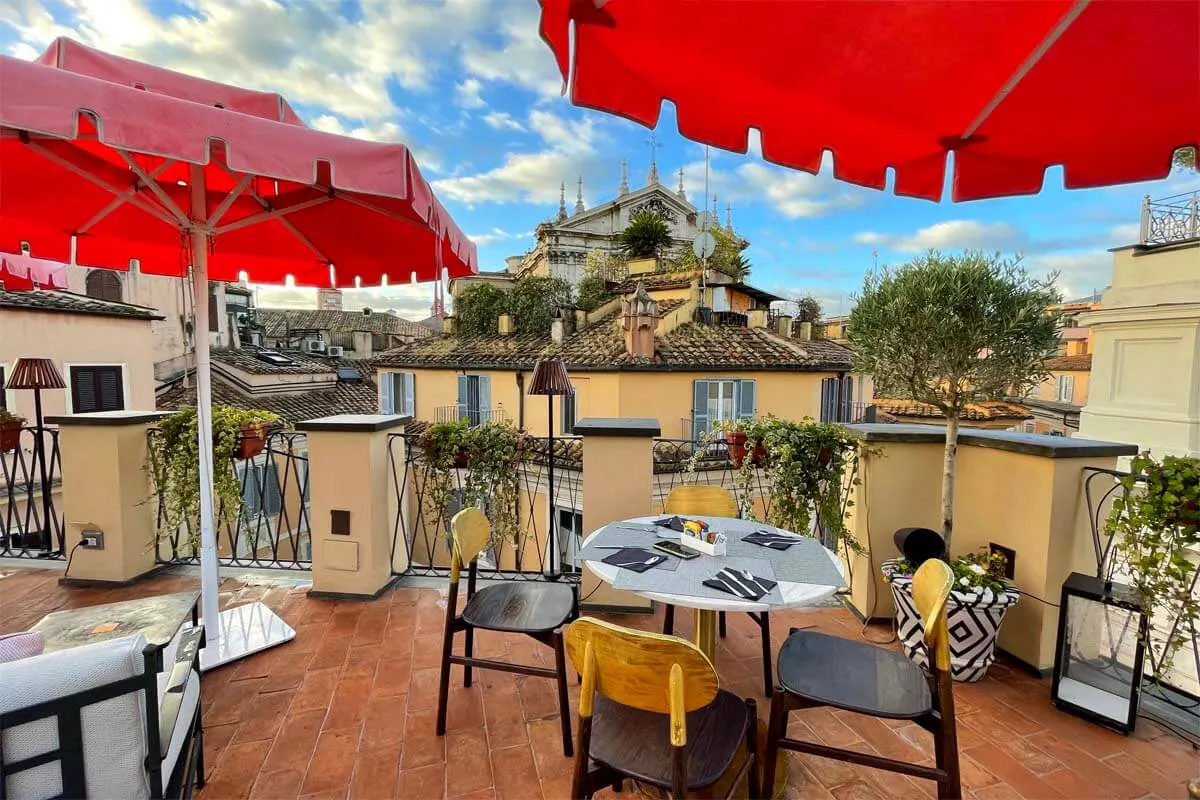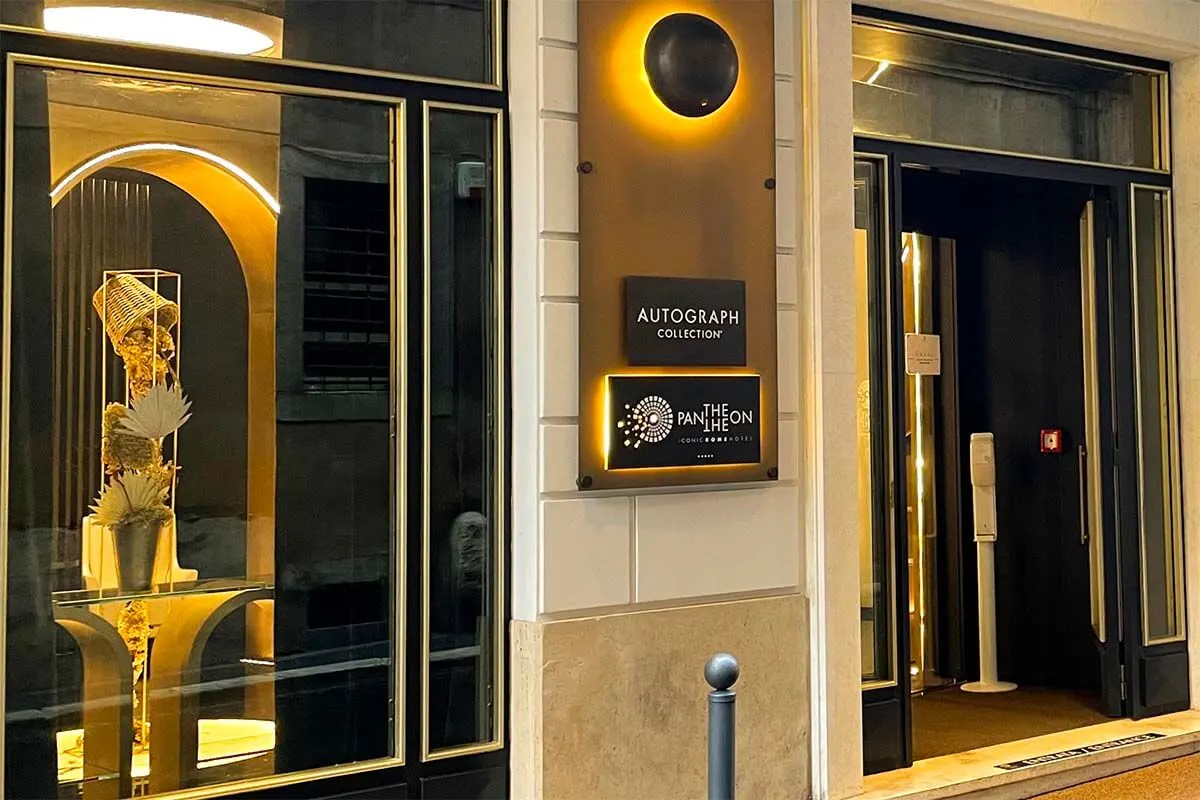 TIP: Using the map below, you can compare hotels, apartments, and private accommodations in the area around the Pantheon.
Simply insert your travel dates and group size, and you'll see the best deals for your stay in Rome. Check it out!
Advantages of staying in the heart of Rome
There are many reasons to stay in the historic heart of Rome. Here are just some of the main advantages of staying in the area around the Pantheon:
You can walk everywhere on foot. Staying close to the Pantheon means that the majority of must-see places in Rome are located within a short walking distance from your hotel. The most famous sights like the Trevi Fountain, Piazza Navona, or the Spanish Steps are just 5-15 minutes walk away. You can also easily walk to the Vatican or to the Colosseum in about 20-30 minutes (with lots of other amazing places to see along your way).
You can beat the crowds at some of the most popular landmarks. Staying in the heart of Rome means that you can walk to some of its iconic landmarks in just a couple of minutes. While the city is always busy during the day, it's usually very quiet early in the morning. So if you make an effort to wake up a bit earlier, you can see the Pantheon, the Trevi Fountain, and other amazing places without too many other people. And after a short morning walk, you can easily walk back to your hotel for a relaxing breakfast before you set off for the day.
You don't have to worry about how public transport works. This neighborhood is so central that you can easily get to all the main sights and attractions on foot. So if you plan well and are prepared to walk, you don't have to try to figure out how public transport in Rome works, where to get the tickets, or how much it costs. Of course, you can still take public transport in order to cover bigger distances in the city in a short time. But if you plan your sightseeing well, it's actually possible to explore everything on foot (not all on the same day, of course :)). In all those times we've been to Rome and stayed close to the Pantheon, we never used public transport. Not once.
There are lots of good restaurants nearby. Staying close to the Pantheon/ Piazza Navona, you really don't have to worry about finding a good place to eat at any time of the day (or late in the evening). There are many restaurants all over this area. And yes, some of them are more tourist-oriented than others, so read the reviews on Google Maps before you go in. But there are plenty of restaurants that offer great food quality and excellent service, even though they're located in the most touristy area. See also our tips on where to eat in Rome and our review of the best street food tour in Rome.
There are lots of amazing gelaterias nearby. If you stay close to the Pantheon, you'll never have to eat a bad gelato in Rome. Some of the best gelaterias in Rome – Giolitti, Della Palma, Venchi, and quite a few others – are located in the heart of the city center.
You can easily come back to your hotel during the day. If for whatever reason you want to get back to your hotel during the day (to rest, change clothes, drop off something you bought, etc.), it's simple to do that if your hotel is really centrally located.
You don't have to waste time (and money) on commute. I guess this is quite self-explanatory. Being able to just walk everywhere is such a big advantage.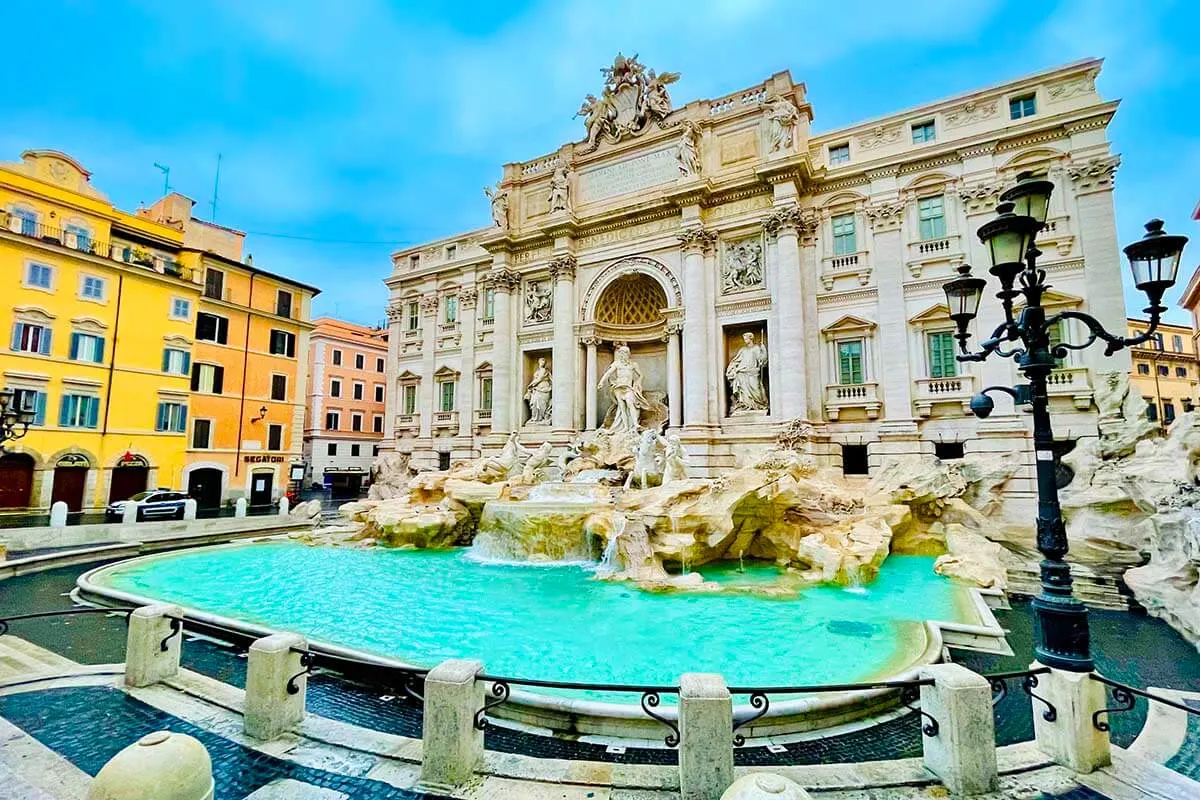 Disadvantages of staying in Rome city center
As already mentioned, I find that the advantages of staying in the heart of Rome outweigh any of the drawbacks. But in case you wonder, there are some disadvantages too, of course:
Potentially higher price. While this is not always the case – and a lot depends on when exactly you travel and the hotel you choose – in general, accommodation prices in this prime location are higher than in the areas further away from the center.
TIP: Book in advance! The earlier you book, the more accommodation options you'll have to choose from, so it will be easier to find something that suits your budget. Or travel in the lower season. We recently visited Rome in November and hotel prices were so good that we had difficulties choosing between some really nice 4-5* hotels in the city center, which all offered very reasonable rates. However, just a few weeks before our trip, I checked if there were any last-minute deals, but the hotel prices had skyrocketed by then. We would have paid over 2 times more for the same hotel if we hadn't booked in advance.
Public transport. If you are planning to take a train or a metro in Rome, you should know that there are no stations in the immediate vicinity of the Pantheon. The main railway station – Roma Termini – is located about 2.5 km (1.55 miles) from the Pantheon, which is a 30-40 minutes walk. The closest metro station is Barberini; about 1.2 km (0.75 miles), 15-20 minutes walk from the Pantheon. In general, it's not a big deal, but it's not something you want to do on foot with all your luggage upon arrival or departure.
TIP: We recommend simply taking a taxi or a private transfer to your hotel from/to the airport. Or – if you want to travel faster and cheaper – book train tickets from the airport to the city. If you don't have too much luggage, you can also walk from the station to your hotel. In that case, you may want to stay closer to the Trevi Fountain, which will make the walk somewhat shorter.
LEARN MORE: Rome Airport Transfers
Noise. It's possible that it will be noisy in the city center, but this is really the case pretty much anywhere you stay in Rome (e.g. I heard the worst complaints about noise in the Trastevere neighborhood from several friends). In the evening, there are people on the streets, and in the morning, you'll have trash collectors and delivery guys. On the other hand, if your hotel has decent isolation, you won't hear any outside noise when the windows are closed.
Our experience: We always stay in the city center in Rome, and indeed in some of the really centrally located hotels – and with the windows open – you can usually hear some street noise. But with the windows closed, it's not a problem at all. For that, it's also really important to double-check that your hotel has air conditioning!
TIP: Read the hotel reviews to see what people are saying about the noise, and to be sure that the hotel you choose has good AC.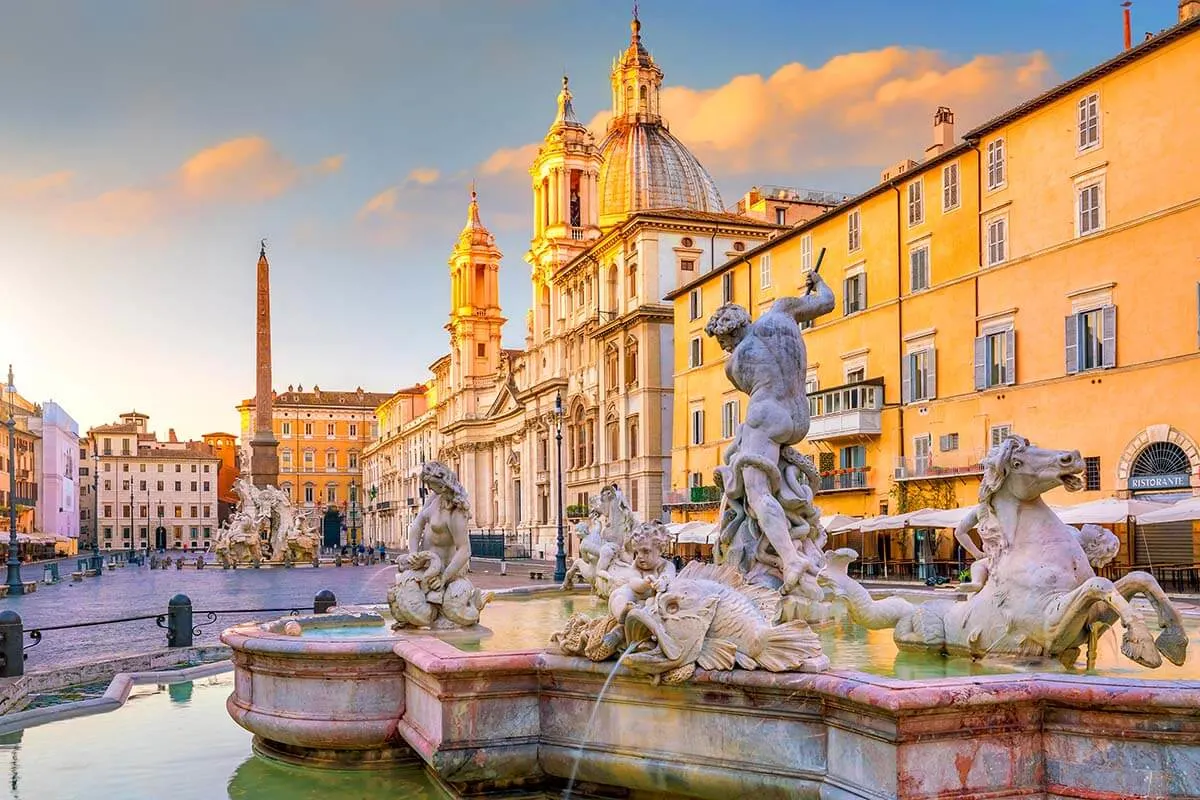 So, these are our recommendations for the very best area to stay in Rome for tourists. Of course, there are many other nice places to stay in Rome, and – depending on the trip you are planning – maybe it makes sense for you to look into other areas…
For example, for a really short stay, maybe you prefer to stay close to the train station. Or maybe you want to stay in a more local neighborhood with lots of good restaurants and don't mind having to walk further for everything else. In that case, look into accommodations in Trastevere.
But if you want to experience the best that Rome has to offer, stay close to the Pantheon, and you'll have a much more memorable trip!
TIP: If you are wondering what to see and do in Rome or how to plan your time, be sure to check our other guides as well:
Must-see:

Colosseum (levels and ticket options explained)

Off the beaten path:
Skylines:
Itineraries:
READ ALSO: Planning a Trip to Rome: Top Tips for First-time Visitors
If you found this post useful, don't forget to bookmark it and share it with your friends. Are you on Pinterest? Pin this image!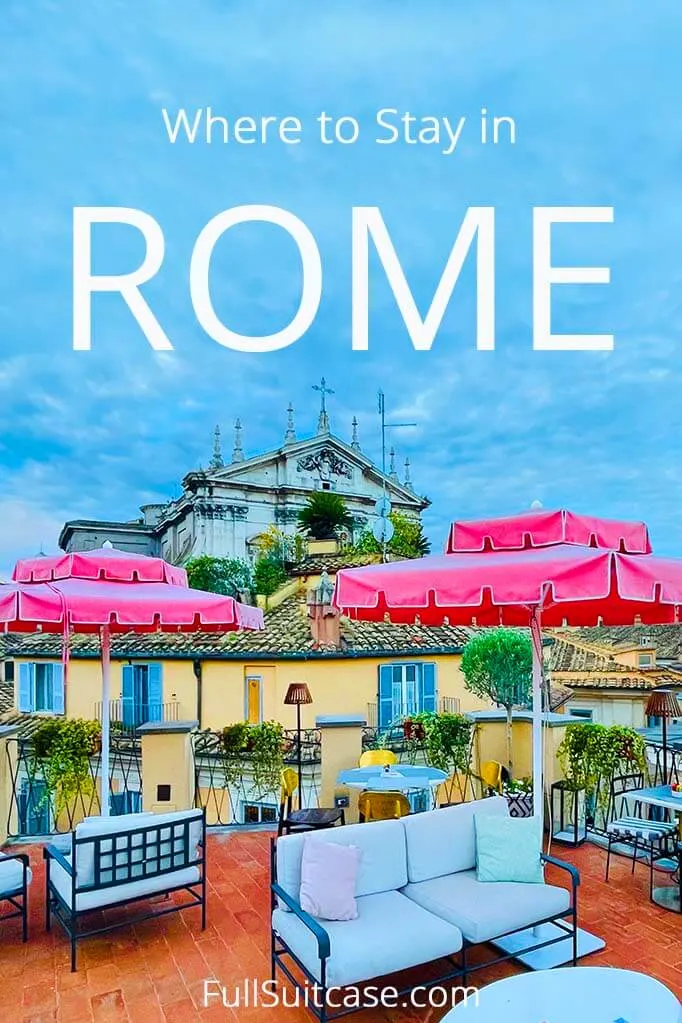 More travel inspiration for your trip to Italy: