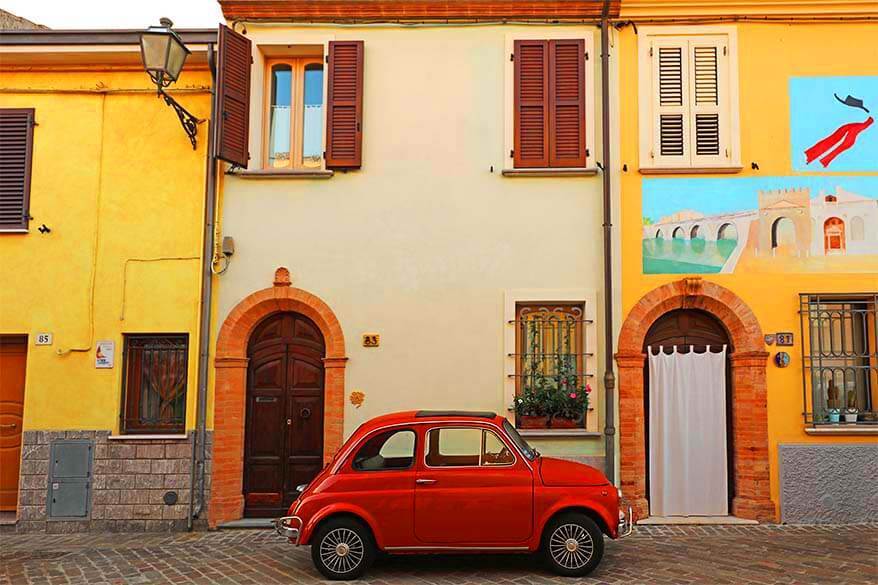 Would you like to visit a more authentic part of Italy that's not yet overrun by tourists, but are not sure where to start? Emilia-Romagna region in Northern Italy might just be what you're looking for!
In this article, you can read about some truly amazing places in Italy that not many tourists know about. We also share a simple 3-day Emilia Romagna itinerary that brings you to some of Italy's amazing hidden gems including places like Rimini, Ravenna, Forlimpopoli, and Santarcangelo di Romagna. Find out!
Disclosure: I visited Emilia Romagna on a press trip with Emilia Romagna Tourism. All opinions and enthusiasm are, of course, my own.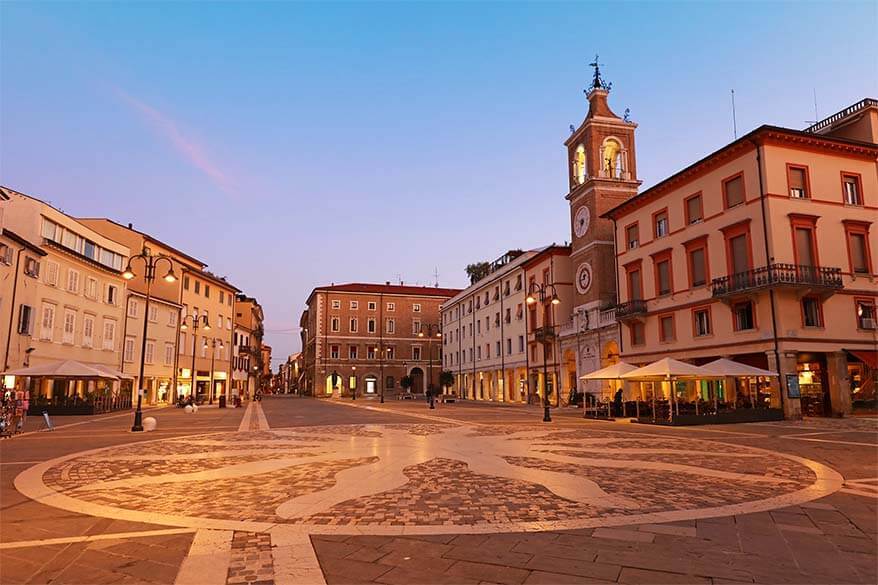 If you follow our blog for a while, you probably already know that Italy is one of our favorite countries in the world. We try to visit at least once a year, picking a new region every time, and traveling slower in order to truly appreciate what Italy has to offer. But no matter how many times we've been there before and no matter where we visit, Italy still wows me every time again.
My most recent visit to the Emilia Romagna region in Italy was no exception. Emilia Romagna is absolutely breathtaking and it truly has it all: thousands of years of history, art, architecture, but also stunning beaches, lively local towns, beautiful landscapes, and some of the very best food in Italy.
I feel like we hardly scratched the surface of this beautiful region. For example, we haven't visited Bologna, probably the most famous town in the region and one of the best cities to visit in Italy... And yes, Bologna is definitely worth a visit, but this trip was all about the most beautiful towns that are still under the radar of most foreign travelers… Places that are more authentic, have more locals than tourists, and will take your breath away!
Further below you can read about some of the best places to see in Emilia Romagna Italy and find a simple Emilia Romagna itinerary that's based on the trip we did. We visited Ravenna, Rimini, and also two smaller towns – Forlimpopoli and Santarcangelo di Romagna. Find out!
Good to know: As always, our itineraries are filled with trip inspiration, but also practical tips and advice. You'll find all the information you need to help you plan a similar trip to the Emilia Romagna region. At the bottom of this post, you can also find a map indicating all the places mentioned in this itinerary.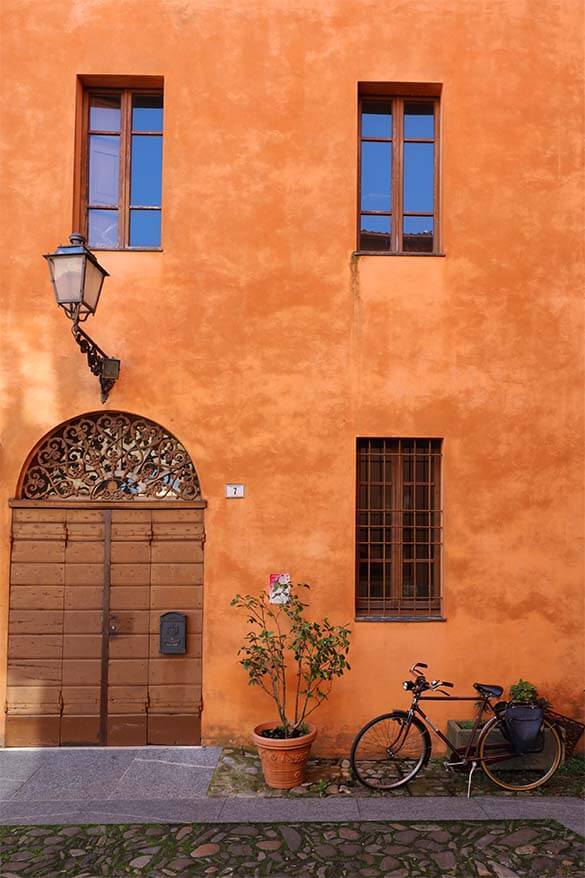 Emilia Romagna Itinerary for 3 Days
There are countless ways to create a trip itinerary for any region in Italy. This is, therefore, in no way a complete itinerary for visiting the Emilia Romagna region (it's much too big and has too much to offer to see it all in just a few days). That being said, this itinerary covers some of the most amazing places in Emilia Romagna.
Most of these places are worth a trip on their own, even if you're coming from the other side of the world. Take a look!
Emilia Romagna Itinerary – OVERVIEW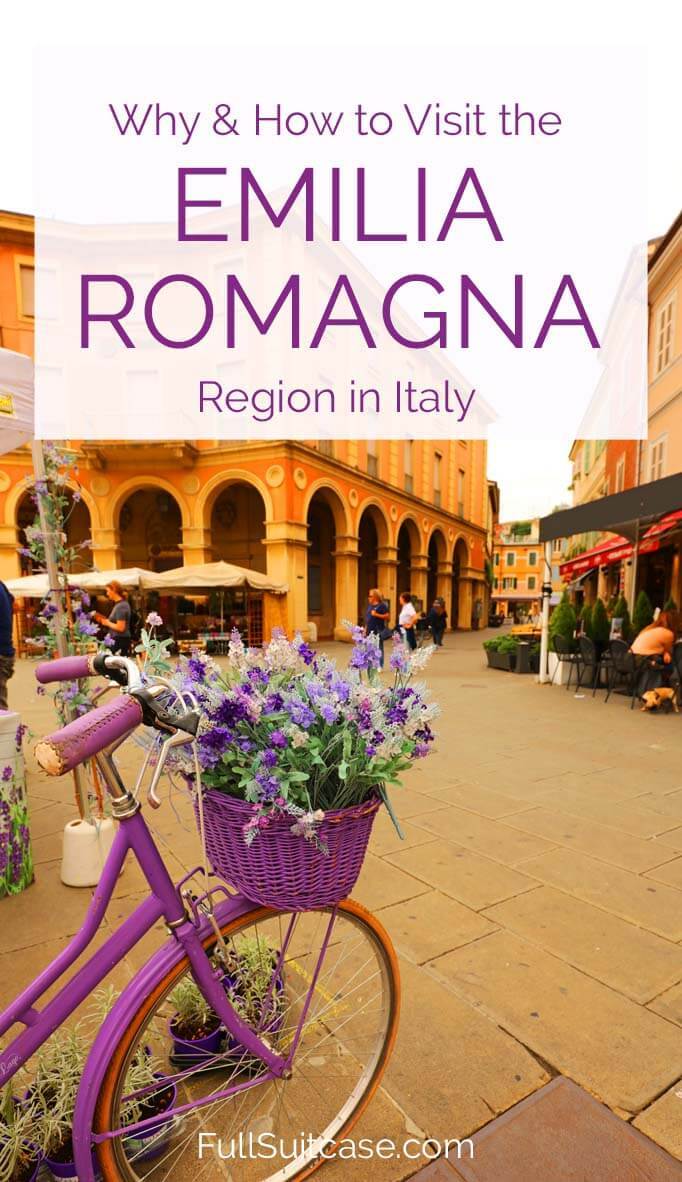 Day 1: Ravenna
Ravenna is a small provincial town in the Emilia Romagna region in Italy. I still cannot believe that I never heard of Ravenna before – it's a true hidden gem of Italy! It's so close to the most popular tourist destinations in Italy, yet somehow overlooked by most tourists, us included… We have been to Italy countless times, but Ravenna was never on our radar…
Ravenna is a place full of centuries-old history that will make you put a lot into a different perspective. Back in the 5th century, Ravenna was a booming town, the capital of the Western Roman Empire. Many of the landmarks and monuments in Ravenna date from that period and are over 1500 years old.
Behind the simple exteriors of Ravenna's oldest buildings, you'll find the most incredible treasures and extraordinary mosaics that will take your breath away.
Below you can find suggestions for the very best things to do in Ravenna. You should be able to see all of these places in a day. If you have more time and are visiting in summer, don't miss the nearby beaches as well. Read on!
What to See in Ravenna
The main reason people come to Ravenna is to see its famous mosaics. Places absolutely not to be missed in Rimini are Basilica di San Vitale and Mausoleo di Galla Placidia. The mosaics here are simply stunning; I have never seen anything comparable before. Take a look!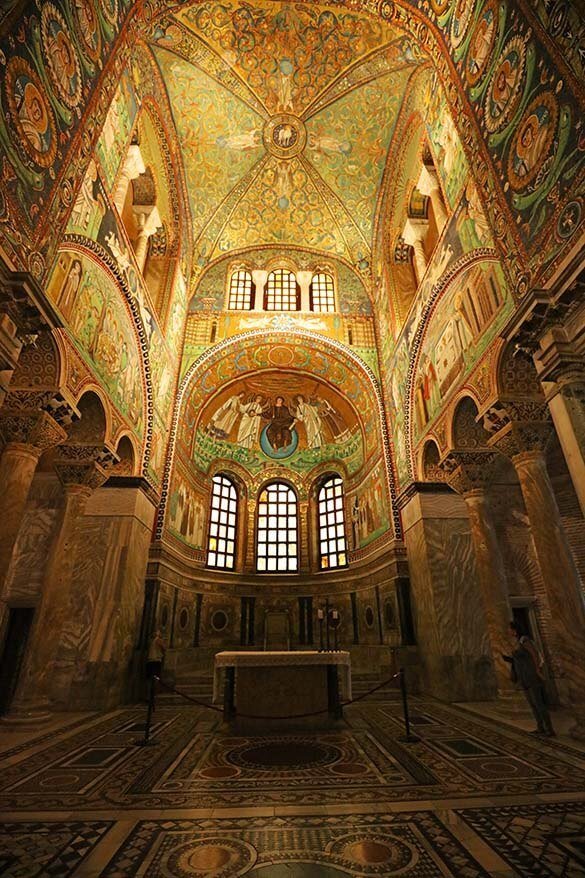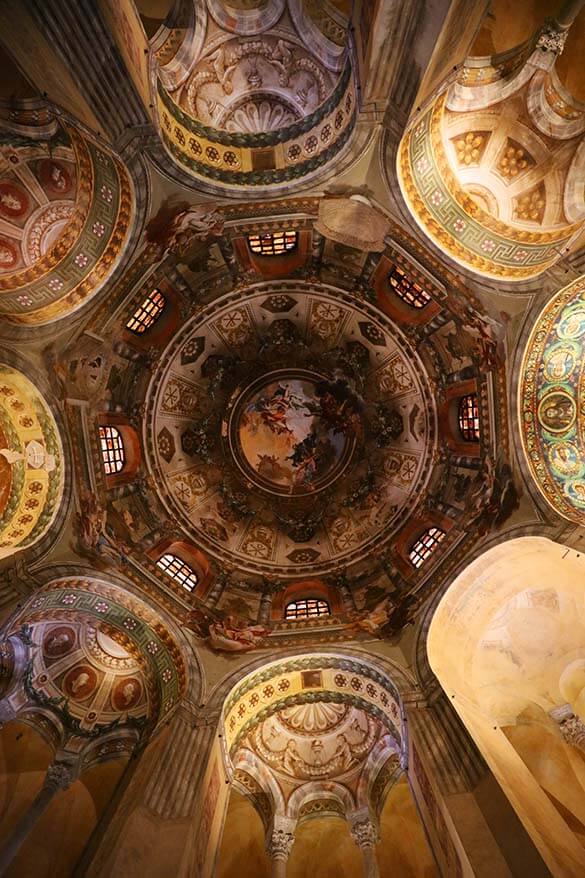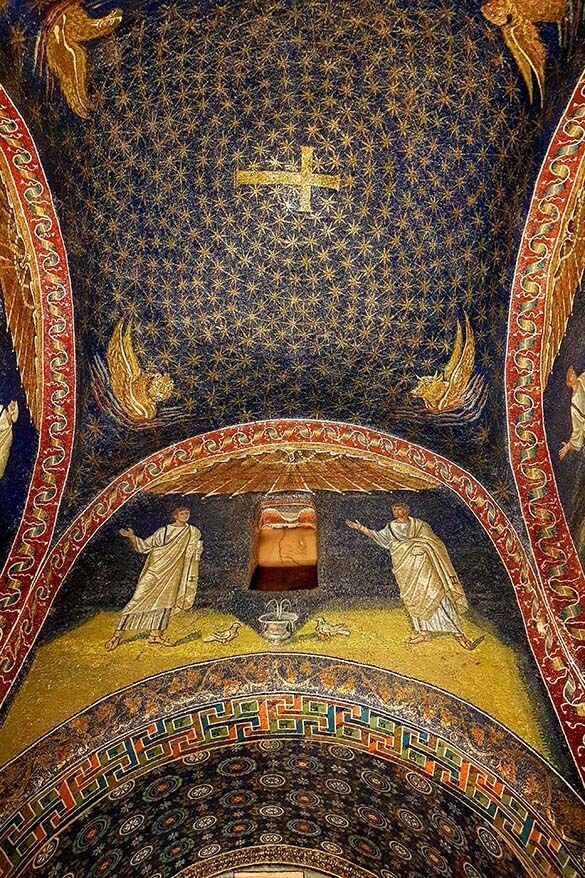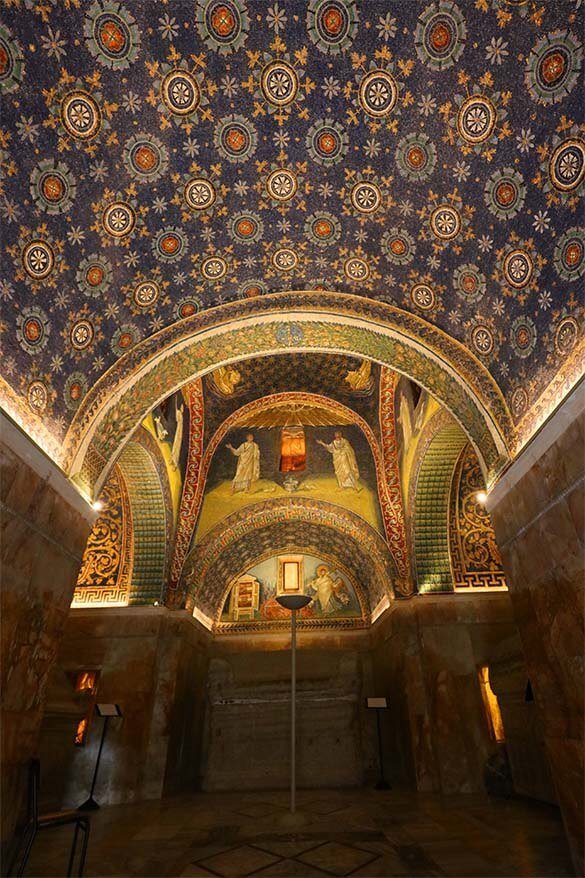 Just next to Basilica di San Vitale, you'll find the National Museum of Ravenna – it's well worth a visit as well! Somewhat lesser-known, but also worth a visit, is the nearby Basilica di Sant'Apollinare Nuovo.
TIP: If you have a car or are willing to take a bus or a taxi, make sure to also visit Basilica di Sant'Apollinare in Classe. It's a bit outside of Ravenna, but this 6th-century church with incredible 6-7th-century mosaics is also one of the must-see landmarks of Ravenna. The church is completely different than Basilica di San Vitale but really impressive in its own way. Near the church, there is another interesting museum – CLASSIS Ravenna.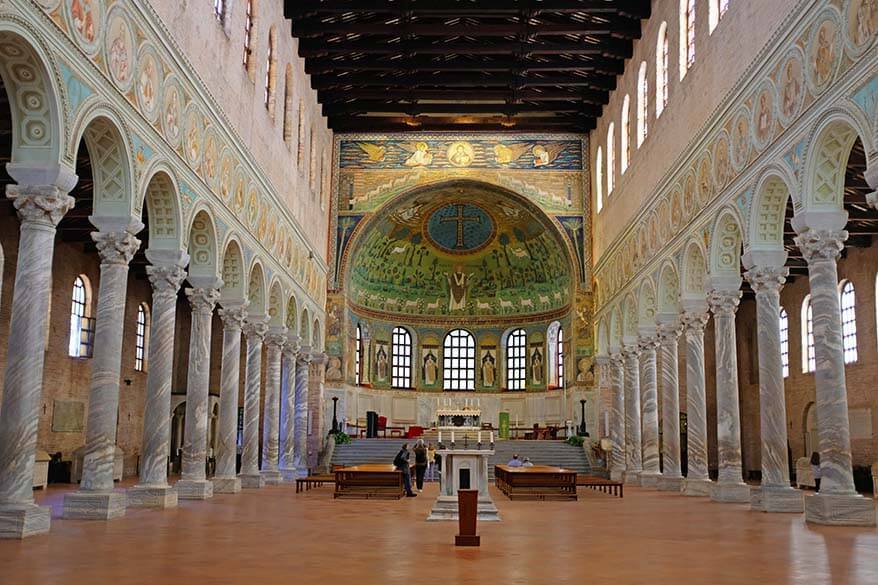 Piazza del Popolo, the main town square, is another place not to be missed when visiting Ravenna. Make sure to stroll around the surrounding small streets – the Old Town is very compact and there are so many really nice places to discover.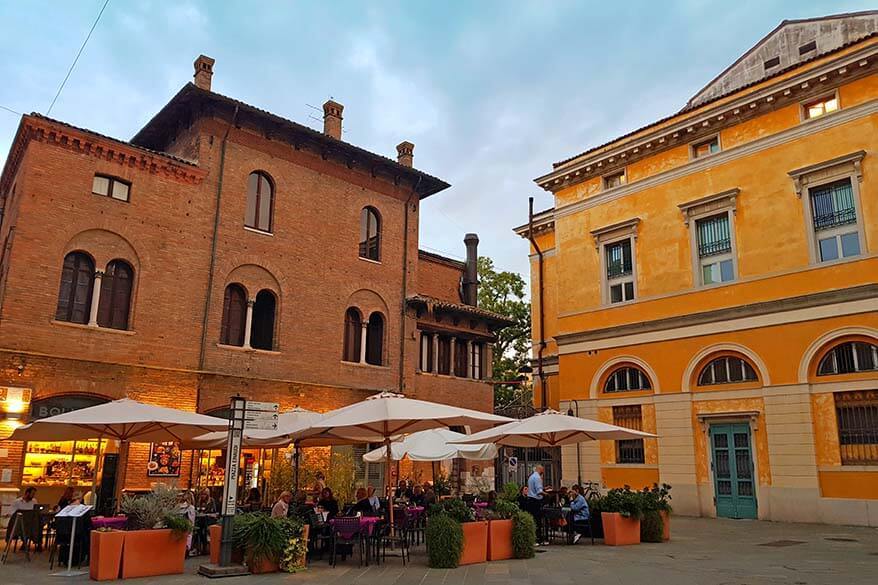 Dante Alighieri, one of the best-known Italian poets, was banned from Florence and died in Ravenna in 1321. Dante's Tomb is another place that is usually listed as one of the places to see in Ravenna. It's not something I'd travel there especially for, but if you are in Ravenna anyway, it's well worth a quick stop.
Just like any Italian town, Ravenna is so much more than the main historic landmarks! Stroll the streets of the Old Town, go shopping, get a gelato or Italian coffee at one of the countless cafés and soak up the atmosphere of this beautiful little town.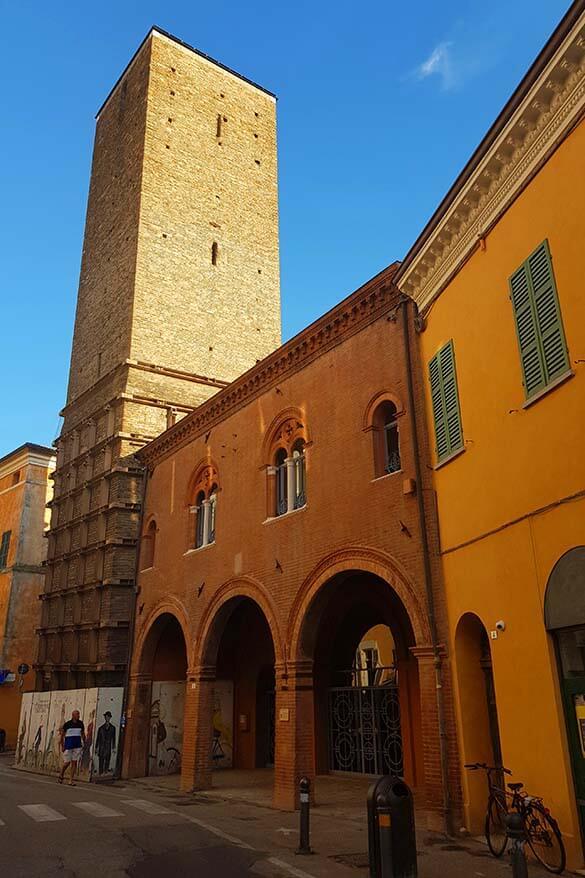 Ravenna has also some really nice beaches. We visited one of the beach bars in the evening and it had such a great atmosphere! If you're visiting in summer, you may want to spend a couple of hours (or days) at the beach too!
TIP: Even though not anywhere as busy as the biggest places in Italy, Ravenna is at its best early in the morning or late in the afternoon, when there aren't too many day tourists around. I, therefore, recommend spending at least one night in Ravenna.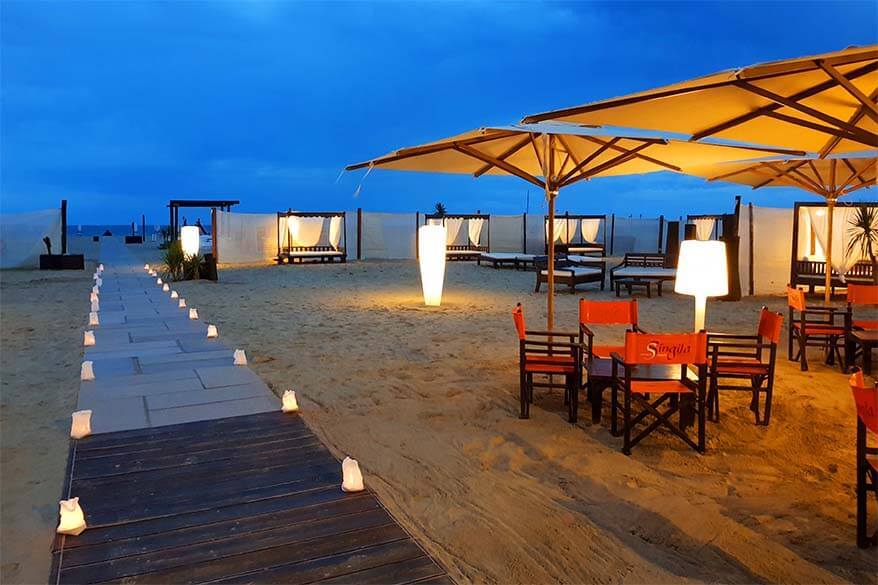 Where to Stay in Ravenna
I stayed at a beautiful little boutique hotel Chez Papa in the Old Town. Another great option in the old town is Palazzo Galletti Abbiosi – a fabulous hotel.
Another nice place for a lower budget is B&B Anastagi. It has an excellent location in Ravenna and great reviews.
If you are traveling by car, you should know that most hotels in the town center don't have car parking. However, there is always public parking available nearby. If you rather stay at a hotel with its own parking, take a look at Hotel Astoria.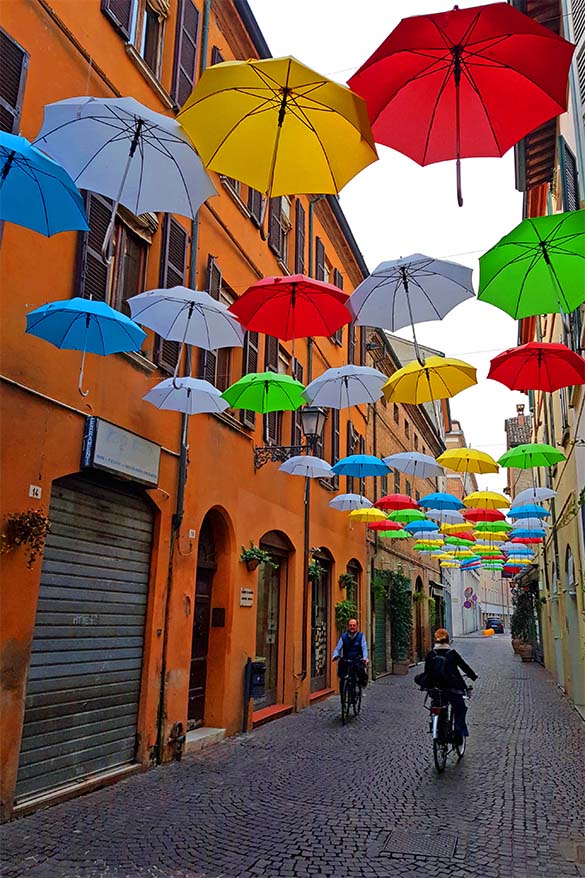 Day 2: Forlimpopoli – Casa Artusi – Rimini
Start your day with an early morning walk in Ravenna. It's a great way to have the town all to yourself and see the main landmarks without the crowds. Then head to Forlimpopoli (45 min drive from Ravenna).
Forlimpopoli
Forlimpopoli is a small town in the Emilia-Romagna region that is so typically Italian!
As we arrived, there was a weekly market taking place in the main town square. A typical local market where you can buy everything from local cheeses and fresh vegetables to hats and shoes and everything in between. On a weekday in September, we were clearly the only tourists in town and it was fun to mingle between the locals.
Forlimpopoli is a small town, but it's definitely worth a visit. Don't miss the town square, Piazza Antonio Fratti, and Rocca Albornoziana (aka Rocca of Forlimpopoli), the impressive 14th-century castle.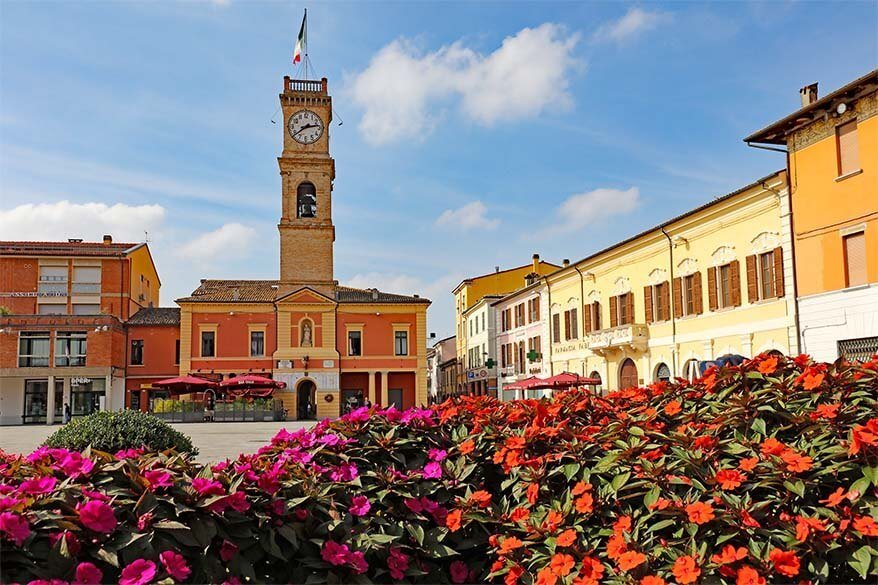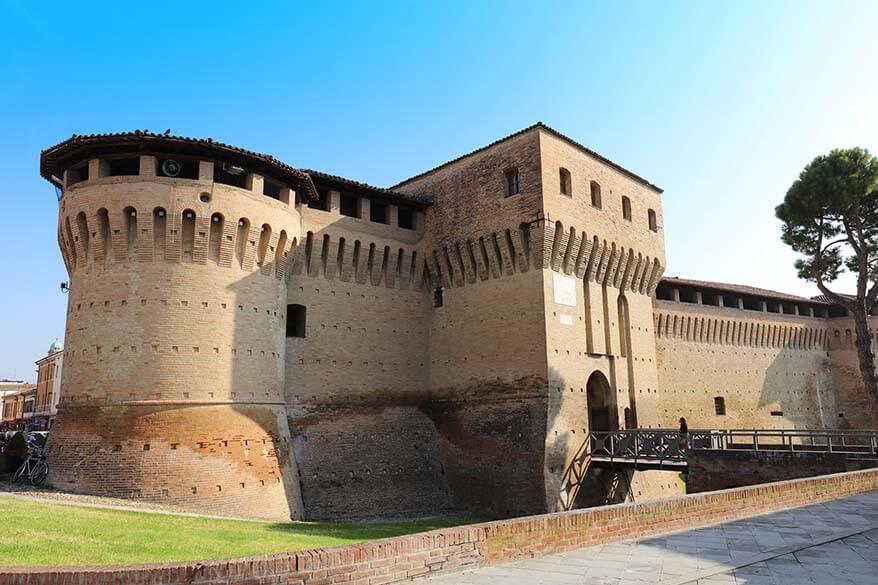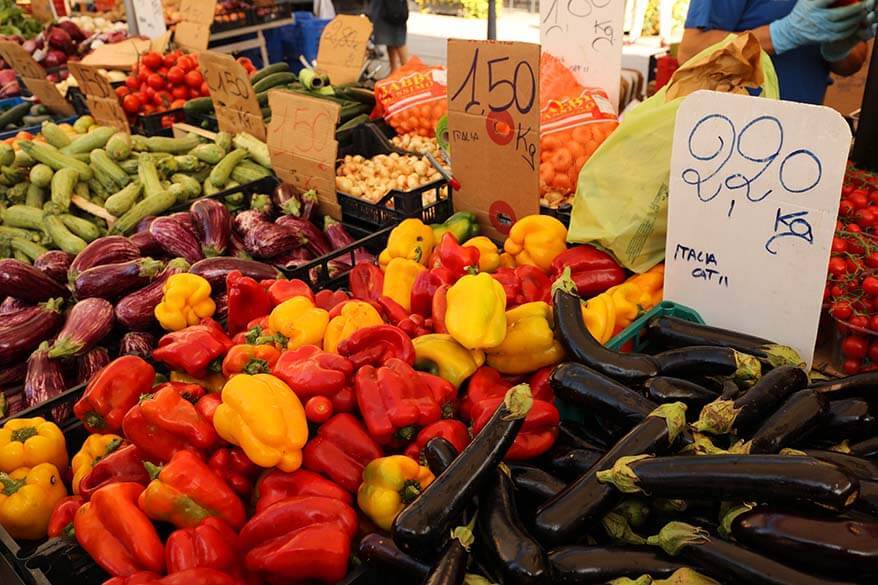 Casa Artusi – Italian Cooking Class
The main reason to come to Forlimpopoli is to visit Casa Artusi. Pellegrino Artusi, the father of Italian gastronomy, was born in Forlimpopoli in 1820. He was a businessman and the 19th-century Italian food blogger. 🙂 During his business trips, he collected hundreds of Italian recipes and in 1891 published Italy's first cookbook. The last edition of 'The Art of Eating Well', published in 1911, contains 790 unique Italian recipes.
At Casa Artusi, you can visit the library and see the original edition of Artusi's cookbook, as well as many later editions. There is also a very good restaurant where you can try some of the best dishes, following the recipes from Artusi's book. And finally, there is also the possibility to attend a cooking class. Which is what we did.
With the help of local volunteers, we made all sorts of Italian pasta. These volunteers are called Marietta, just as Artusi's maid who used to try all the recipes for him. These kind ladies helped us with the pasta and afterwards made some delicious sauces, following Artusi's recipes no. 55 and no. 71.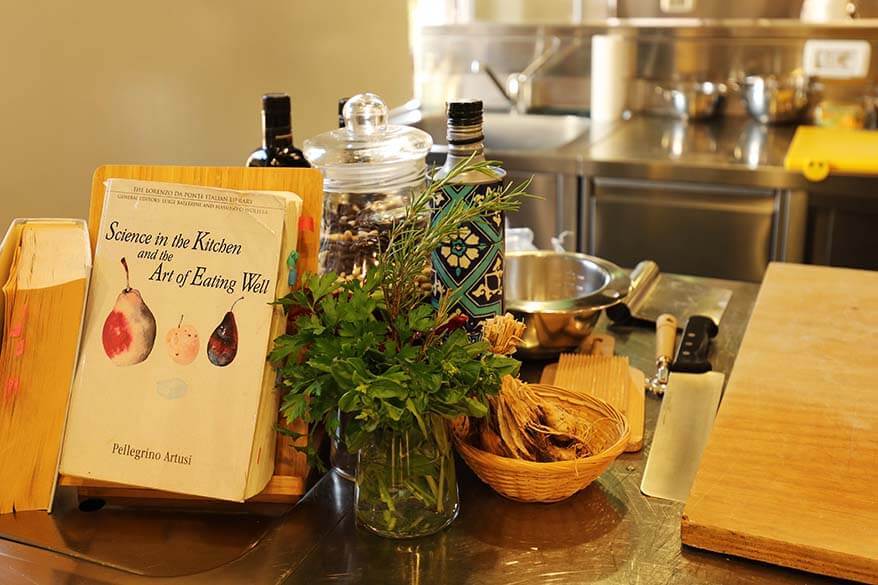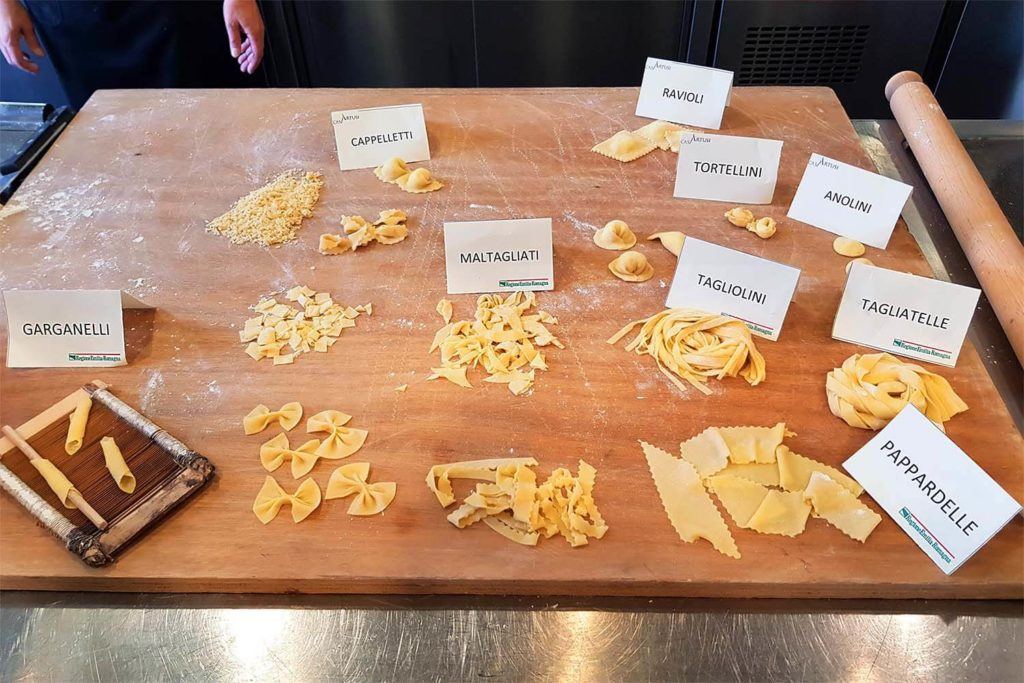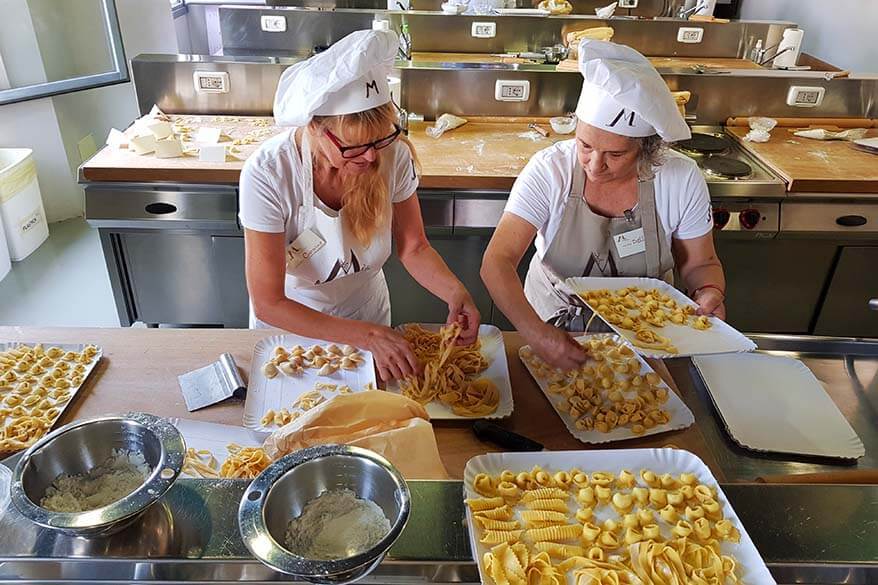 Our cooking class ended with a multiple-course lunch tasting local specialties, our self-made pasta, and local wines and deserts. We didn't want to leave…
TIP: If you would like to attend a cooking lesson at Casa Artusi, it's best to contact them via their website. For English speaking guests, they usually arrange individual cooking lessons, based on your schedule and interests.
READ ALSO: Traditional Food of Emilia-Romagna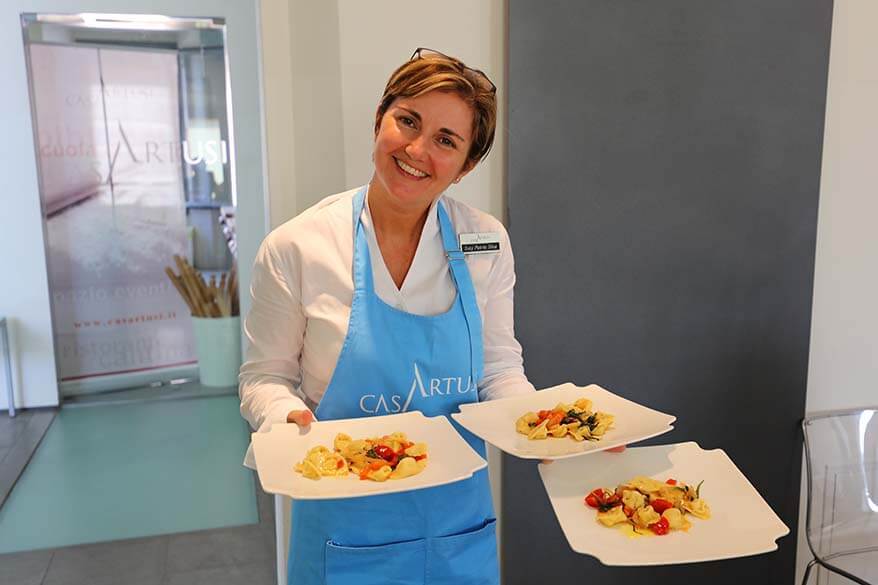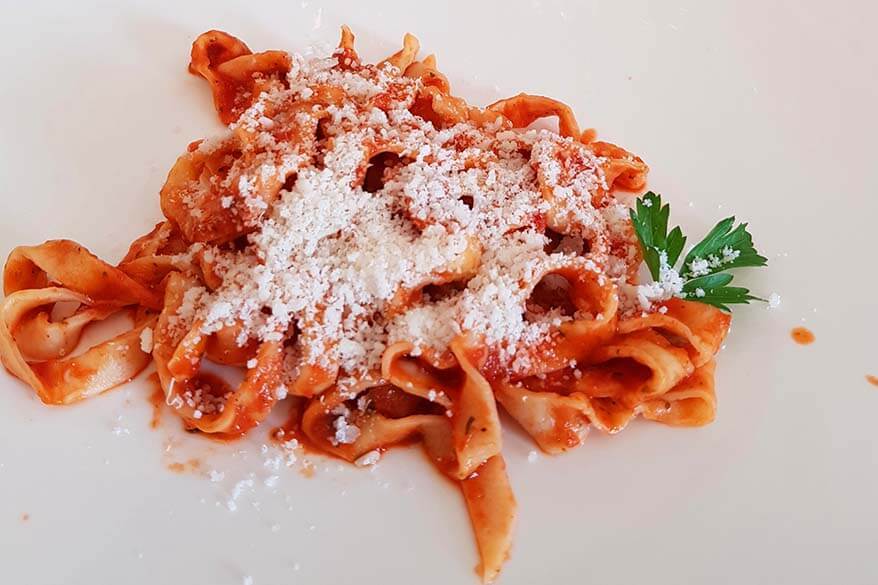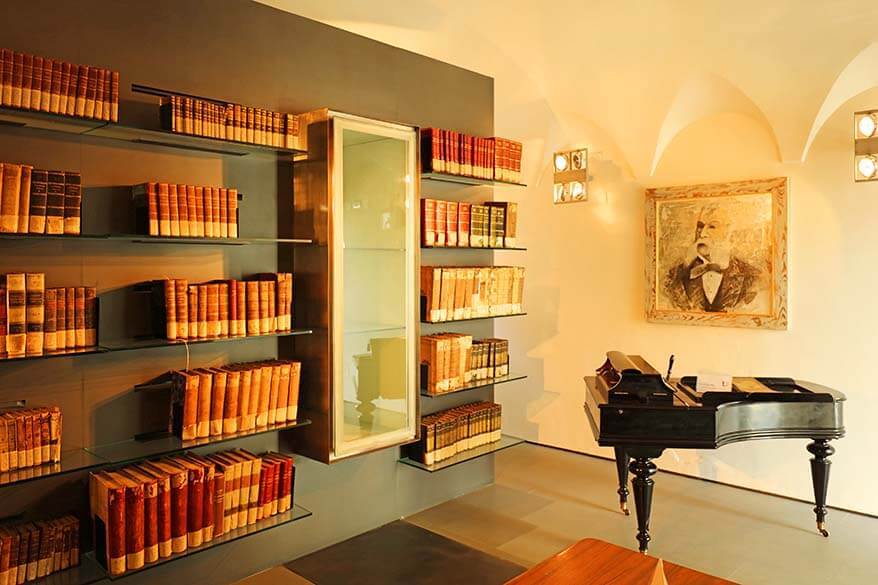 Rimini
Our next stop in Emilia Romagna was Rimini. I have to admit that my expectations for Rimini were minimal. All I knew is that Rimini is a popular beach destination for Italians. Well, it is. But it's also so much more.
If there is one place in Emilia Romagna that surprised me beyond expectations, it's Rimini!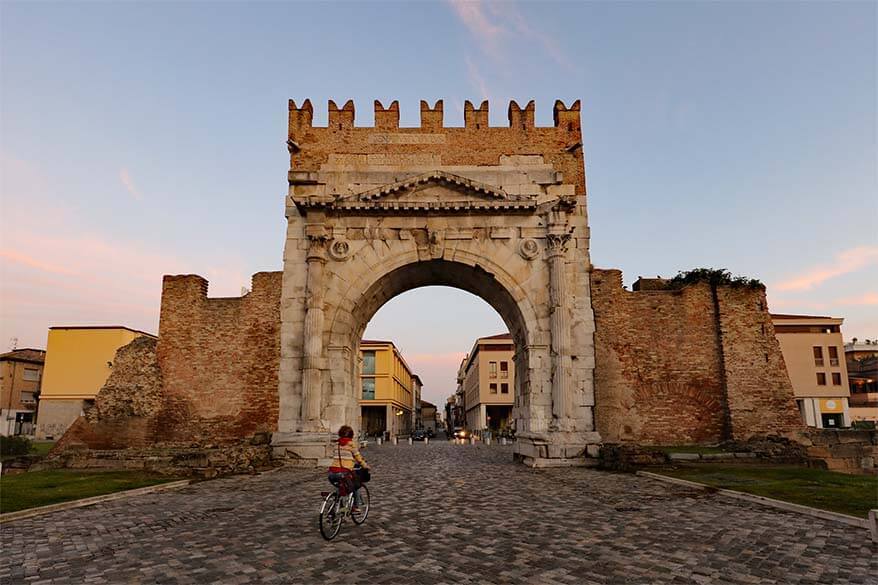 We spent 1,5 days in Rimini. On this first day, I decided to visit Rimini Beach and see the famous Ferris Wheel of Rimini (La Ruota Panoramica).
Good thing is that the 20-min walk from the Old Town to Rimini Beach was really nice (walk next to the canal for the best views!). The beach itself was very quiet in September, but really nice – just the way I like it. My friend even went for a swim and said that the seawater was warmer than the outside temperature…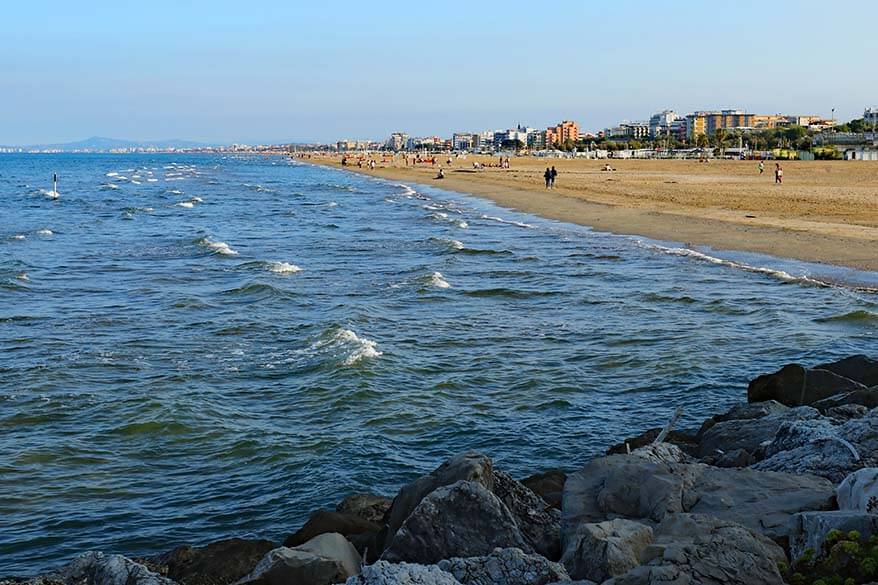 The bad news is that the Ferris Wheel, the symbol of Rimini, wasn't there. We were told by a local that it's been removed and sent to New Zealand for the winter. But it should be back in spring again. So no ride and no amazing Rimini views from above for us, but if you visit Rimini in summer, this is something you really have to do in Rimini!
We ended our first day in Rimini with a walk through the old fishermen's district Borgo San Giuliano. This place is so picturesque that it made me fall in love with the city.
How come nobody ever told me that Rimini is full of such incredible hidden gems?! An Italian friend of ours has a holiday apartment near Rimini and not once did I hear him talk about how amazing Rimini Old Town is… Maybe Italians rather keep it to themselves…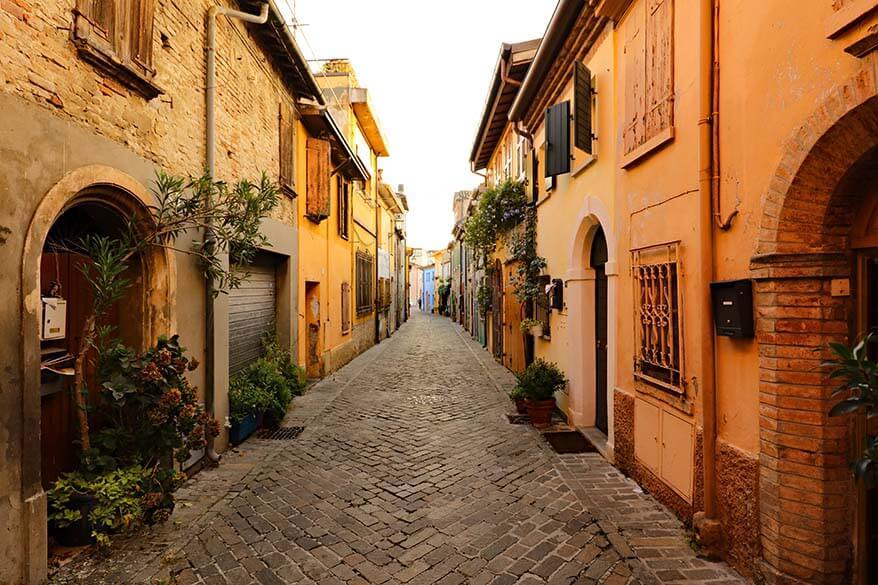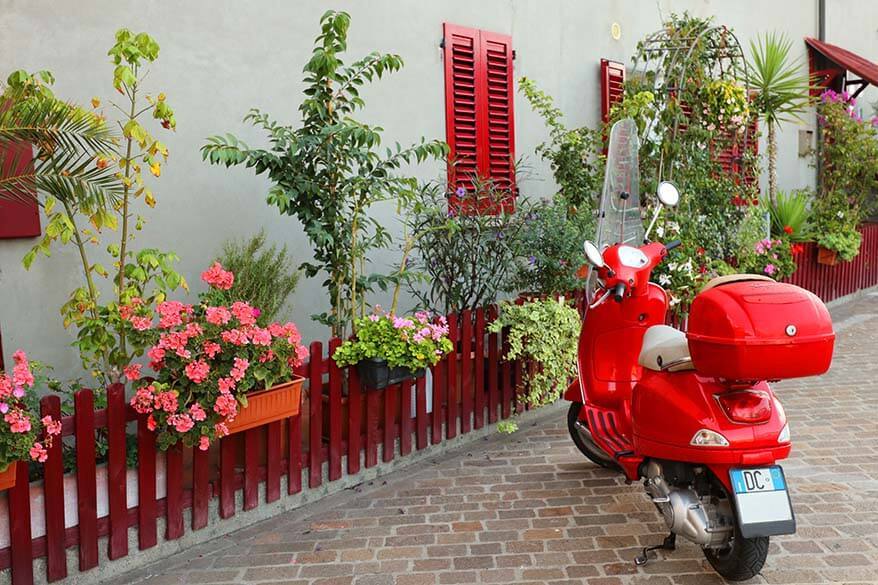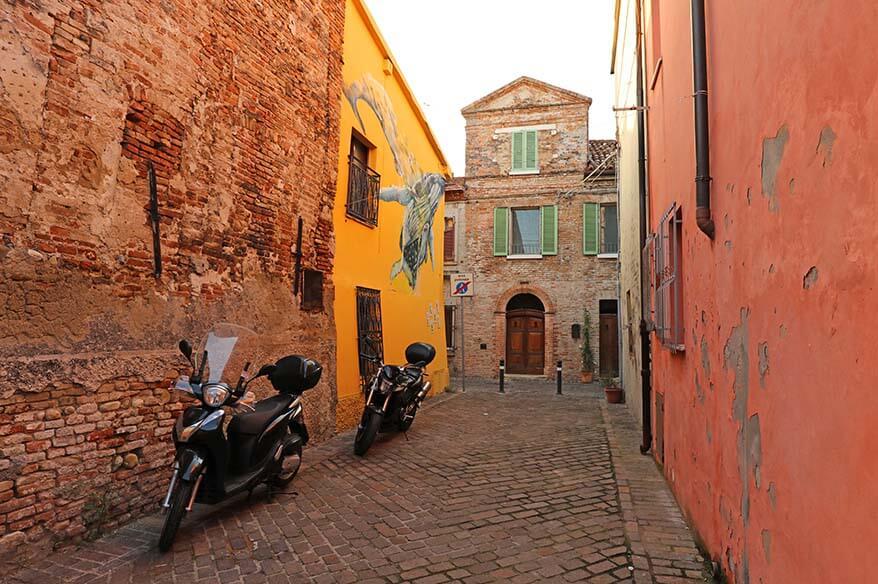 Anyway, I loved this place so much that I decided to come back here with my camera the next morning…
In the meantime, we had dinner at an amazing seafood restaurant La Marianna. If you are looking for a nice restaurant for lunch or dinner in Rimini, La Marianna is a great choice!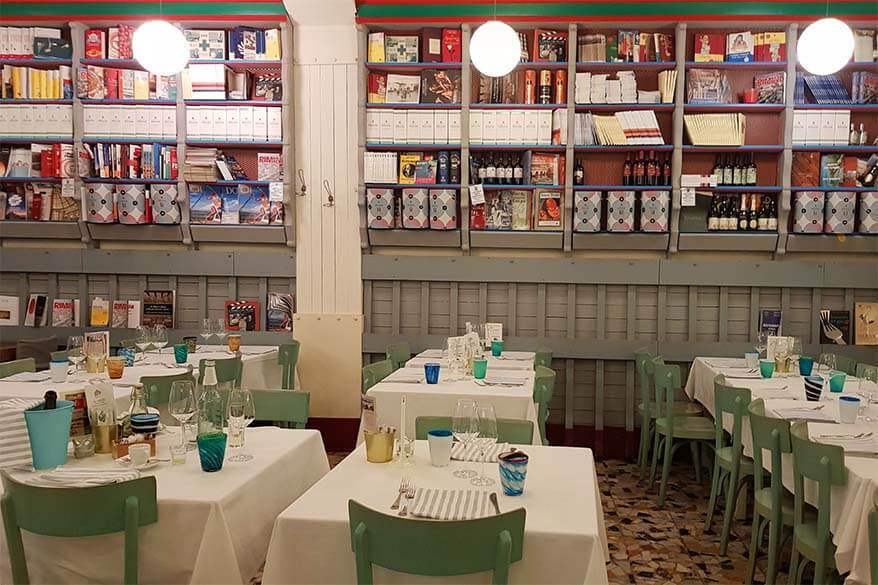 How Long and Where to Stay in Rimini
We stayed in Rimini for 2 nights and it was about the minimum time you need to see the main highlights in town. If you are traveling between May and September and want to spend some time at the beach, then I'd recommend staying in Rimini a bit longer.
Rimini is a big town and it's not hard to find a nice place to stay. Most people who come here on holiday stay close to the beach. If you are more interested in sightseeing, theOld Town is probably a better option, but there are just a few hotels and B&B's in the center.
We stayed at a design hotel DuoMo in the Old Town and the location couldn't be better for sightseeing.
Hotel Kursaal seems to be one of the most popular (more affordable) places by the beach. Other great choices near Rimini Beach include Alisei Palace Hotel, Hotel Villa Rosa Riviera and Mercure Rimini Lungomare. If you like the old charm and luxury, then take a look at the historic Grand Hotel Rimini.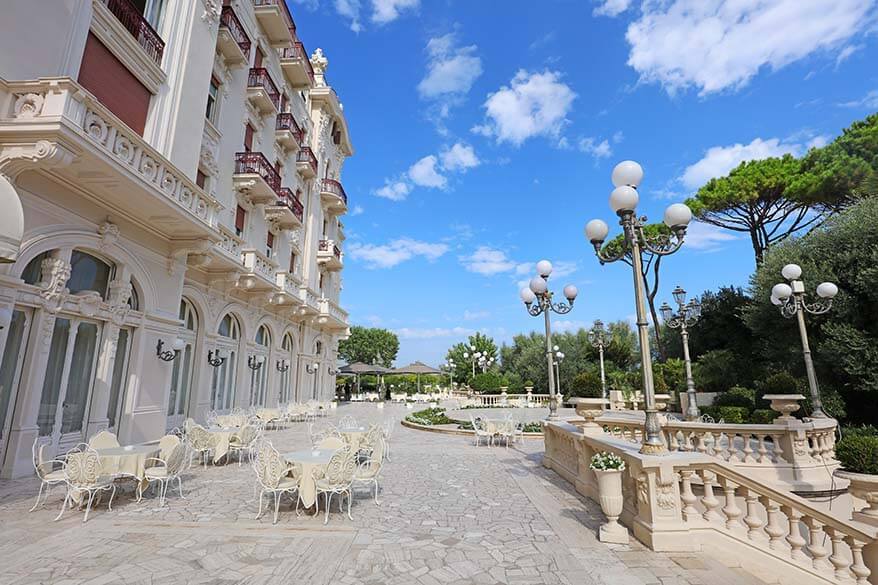 Day 3: Rimini – Santarcangelo di Romagna
There is so much to see and do in Rimini that it's really not a problem to fill a day. In fact, you'll have to choose what you want to do first…
What to See in Rimini Old Town
We started our day with an early walk through the Old Town and the earlier mentioned fishermen's district also called the village of San Giuliano or Borgo San Giuliano. It was so nice to have all the picturesque narrow streets to ourselves and see the town slowly wake up in the morning.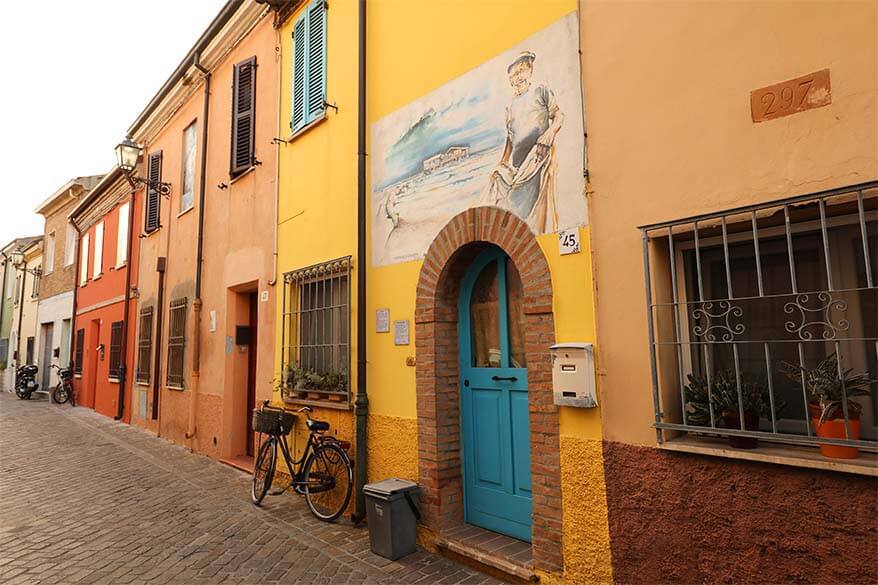 Fishermen's district is located on the other side of the river and you'll have to cross the 1st century Tiberius Bridge to get there. This ancient bridge is one of the most impressive landmarks of Rimini!
Below is a list of some of the main places you have to see in the Old Town of Rimini:
The Arch of Augustus – built in 27 BC and the oldest surviving Roman triumphal archway.
Malatestiano Temple – an unfinished Rimini Cathedral.
Piazza Tre Martiri – a beautiful town square, a forum that dates back to the Roman times.
Piazza Cavour with historical palazzos and a local market on Wednesdays and Saturdays.
Sismondo Castle, where a new Federico Fellini museum will be housed in the near future.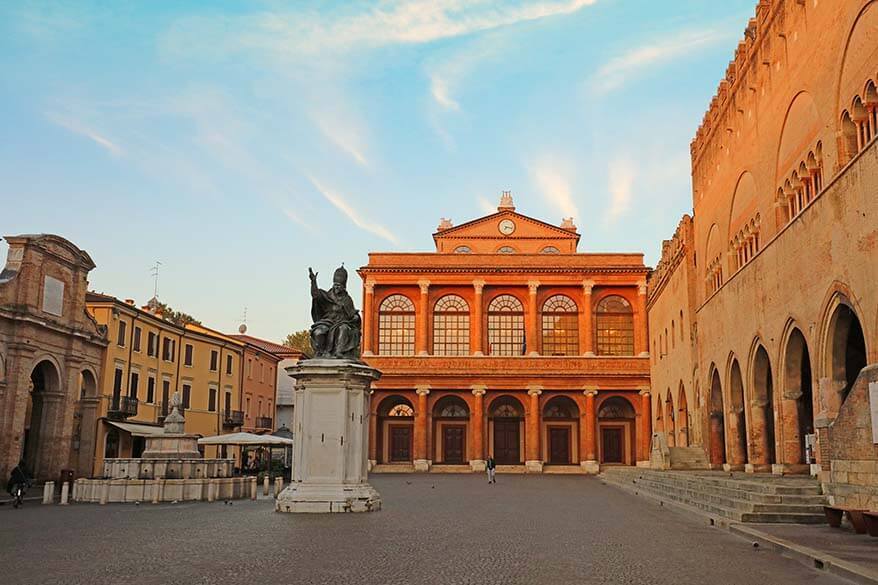 One of my absolute favorite places to visit in Rimini was Teatro Amintore Galli. The building is nice from the outside, but it's simply stunning on the inside. It's one of the most beautiful theaters I've ever been to and can definitely compete with La Scala in Milan.
We visited with a local guide and were told that public visits are also possible, but it's hard to find any information about it in English online. So if you want to take a tour, it's probably best to call them in advance. The easiest way to see the theater from the inside is by attending one of the performances.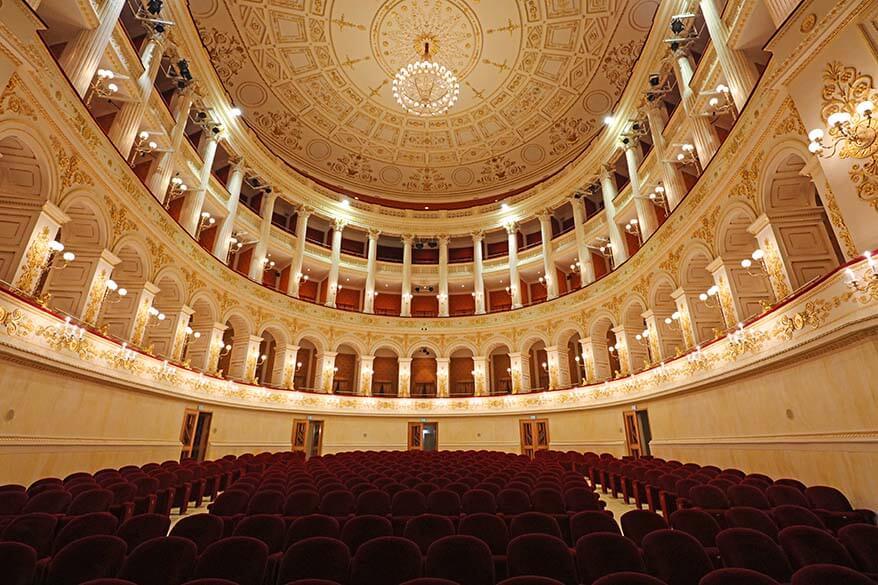 Another place not to be missed in Rimini is Cinema Fulgor. It's here that Italy's most famous film director Federico Fellini saw his first movies as a child. The cinema is so beautifully restored and so special that it's worth a visit just to see the interior. The easiest way to visit is to just go and watch a movie.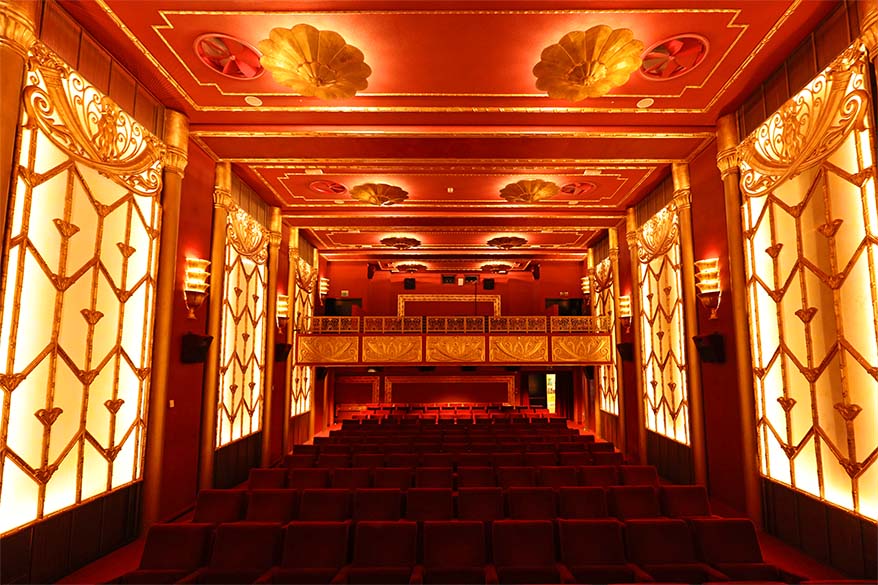 Rimini by Bike
Rimini is a very bike-friendly town and you'll see locals biking everywhere. Because it's also a big town with the beach being relatively far from the Old Town, one of the nicest ways to see more of Rimini in a short time is to rent a bike.
There are lots of bicycle paths in and around the city, which makes exploring Rimini by bike quite easy. We biked through the old town, the village of San Giuliano, and following the canal all the way to the beach. We then had lunch at the historic Grand Hotel Rimini.
Good to know: We rented our bikes and also did the e-bike tour (see further) with Bike Tour Rimini. They are conveniently located next to Rimini beach.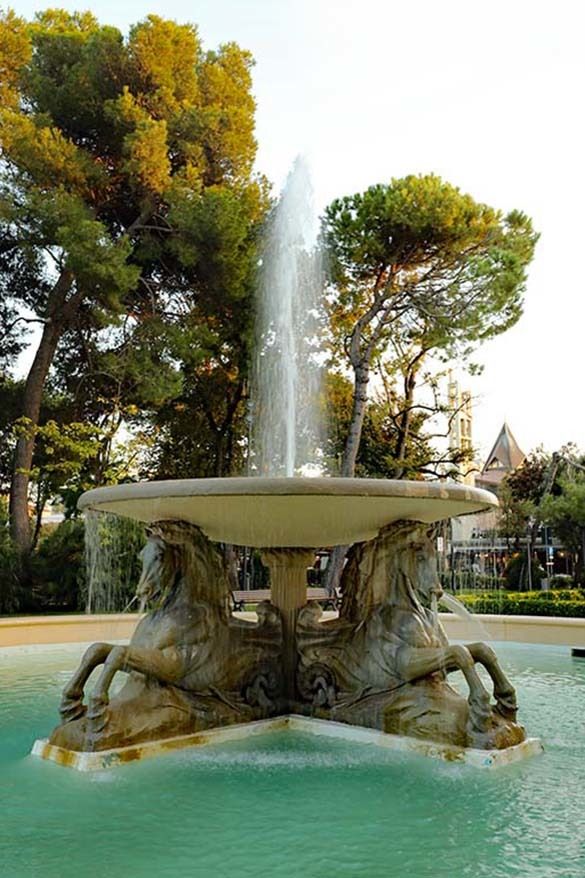 Santarcangelo di Romagna
Santarcangelo di Romagna is a small town close to Rimini. You can drive there by car or with a rented e-bike, as we did. I have to admit that I wouldn't know how to navigate the area – it seemed that there were bicycle paths going in all directions and I didn't see any signs… So if you want to bike outside the city, it's better to book a guided e-bike tour.
The ride through the countryside is quite easy and relatively flat, but having the added power of an e-bike sure helped!
There are several reasons to visit Santarcangelo di Romagna and it appears to be quite a popular tourist destination in Emilia Romagna. Another gem of Emilia Romagna that I never heard about before…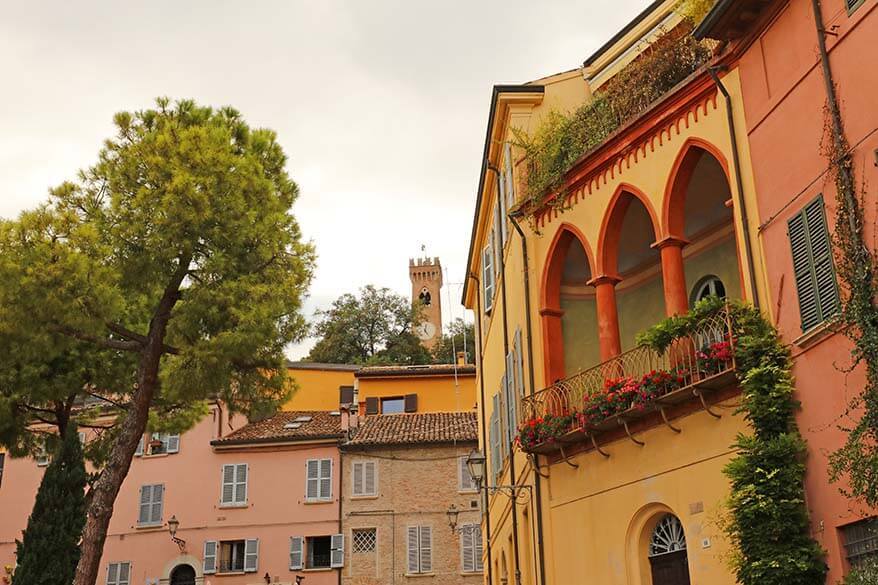 Grotte Tufacee Comunali are a series of 150 underground caves hidden all over (or should I say under) the town of Santarcangelo. Nobody seems to know what the original purpose was, or how old the tunnels are (estimates range from 1000 BC to the 15th century – not exactly precise…).
These tunnels were used as cellars and also as shelters during the war. The local tourist office organizes guided tours to the tunnels several times a day. At the moment, a tour costs 2,5 EUR and is totally worth it!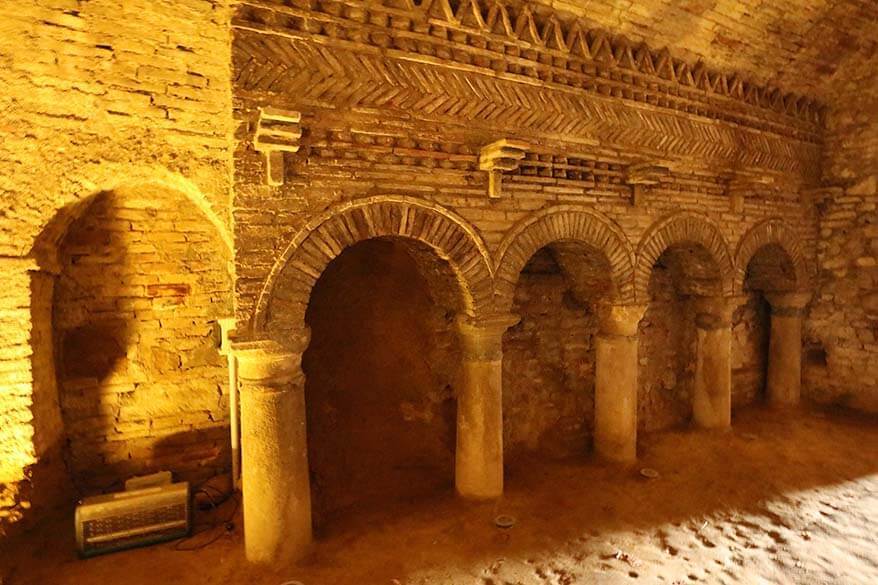 Artisan Printing House Marchi, dating from 1633, is another place you have to see in Santarcangelo di Romagna. Here you can find local souvenirs made using an ancient rust dying technique and Mangano – a giant wheel used to iron the materials.
They offer guided tours (hours depend on the season), but you can also just visit the shop. Very interesting!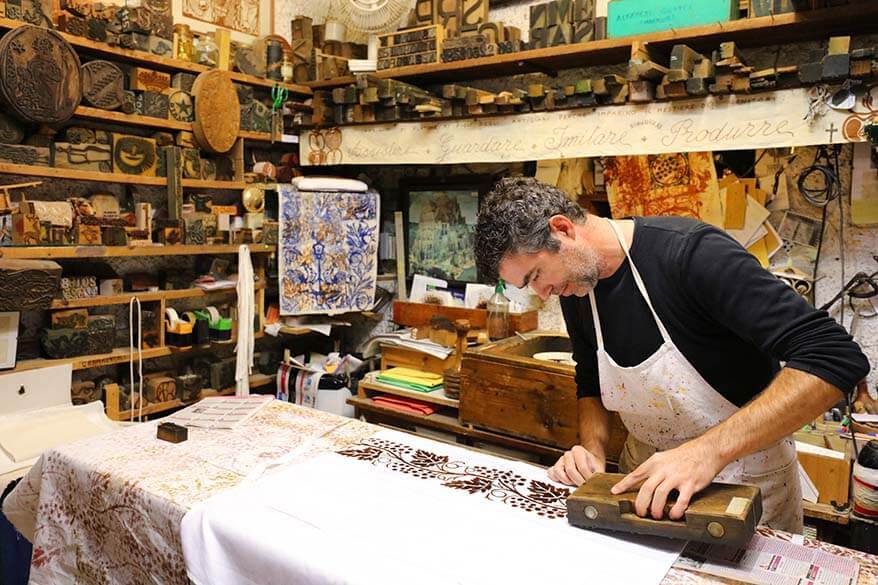 Other points of interest include Piazza Ganganelli and Arco Ganganelli, Rocca Malatestiana, and several museums including the quirky Museum of Buttons.
The historic center of Santarcangelo di Romagna is quite compact and you can easily see most of the highlights in half a day. It's a wonderful place to include in your Emilia Romagna itinerary!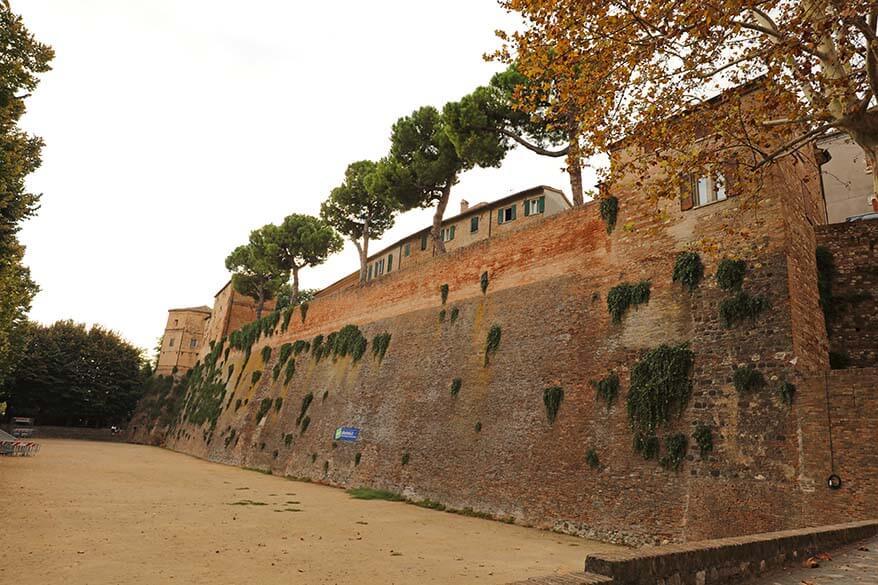 Sailing in Rimini
After visiting Santarcangelo di Romagna we biked back to Rimini. In the evening, we had dinner on a catamaran cruise with East Coast Experience. Unforgettable!
Stay in Rimini (see hotel suggestions above).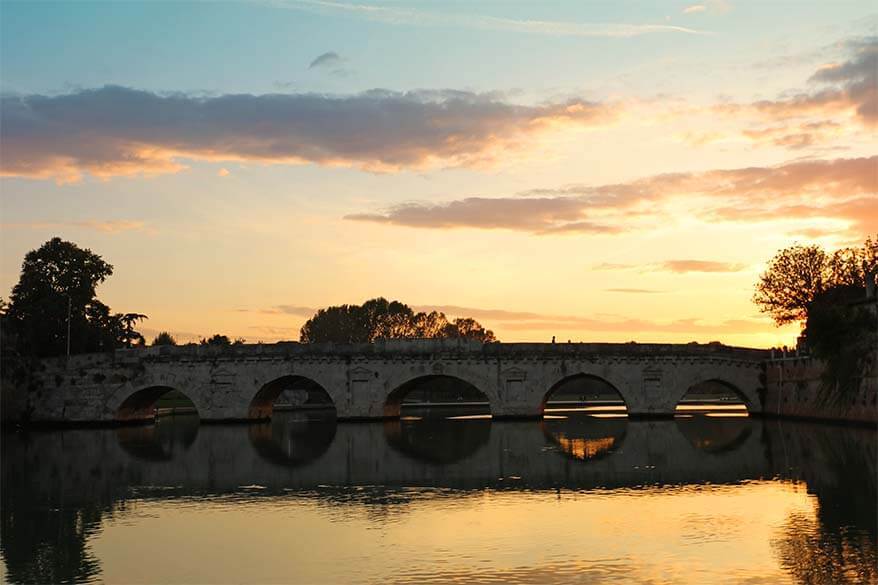 Bonus Tip – Visit San Marino
Above is my suggested itinerary for the lesser-known places in Emilia Romagna. Three amazing days discovering this stunning region that I knew so little about…
After visiting Rimini, we continued our journey and visited the Republic of San Marino. Surrounded by Italy, San Marino is a tiny independent country. It's so close to Rimini that it would be a pity not to visit! Therefore I recommend including San Marino in your Emilia Romagna itinerary!
Via the link below, you can find all our tips for visiting San Marino. Below is also one of my favorite pictures from the famous San Marino Towers.
I strongly recommend visiting San Marino when traveling in this part of Italy. It's absolutely worth a day of your time!
LEARN MORE: Complete Guide for Visiting San Marino & Where to Stay in San Marino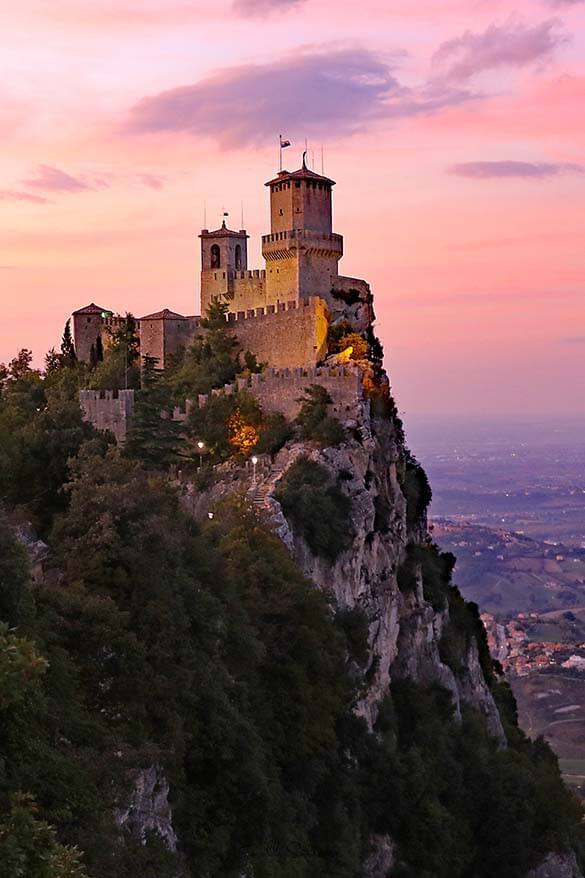 Map of this Emilia Romagna Itinerary
Below is the map that I created for this Emilia Romagna itinerary. All the places mentioned in this article are indicated on the map. It will give you a better idea of where everything is and how to plan your time.
Good to know: Since all these towns are so close to each other, you could potentially just stay in one place and take day trips. This means more driving and not being able to explore the towns without the crowds of day-trippers.
How to Use This Map: Use your computer mouse (or fingers) to zoom in or out. Click on the icons to get more information about each place. Click the arrow on the left top corner for the index. Click the star next to the title of the map to add this map to your Google Maps account. To view the saved map on your smartphone or PC, open Google Maps, click the menu button, and go to 'Your Places'/'Maps'.
So, this is our 3-day itinerary for a trip to the Emilia Romagna region in Italy. I hope that this article inspired you to visit these lesser-known places and discover a more authentic side of Italy.
This is an Italian region that not many foreign visitors see. To give you an idea, more than 80% of tourists in Rimini are Italians. So if you are looking to discover the true Italy beyond the crowded places like Venice, Florence, or Rome, now you know where to find it… Oh, and did I mention that Emilia Romagna is known as Italy's best food region? You're warned – you'll probably have to loosen up your belt after this trip…
If you have any questions or want to share your experience with visiting the Emilia Romagna region in Italy, feel free to leave a reply below.
More tips for your trip to Italy:
READ ALSO: Best Places to See in Italy
If you found this post useful, don't forget to bookmark it and share it with your friends. Are you on Pinterest? Pin this image!