Visiting Venice in Italy and wondering what are the absolute best places to see and things to do in Venice? In this guide, we cover all the musts: the main landmarks, must-see sights, and top tourist attractions in Venice that are worth your time the most.
Built on 118 islands divided by a network of canals and filled with stunning architecture, rich culture, romantic gondolas, and captivating history, Venezia is one of a kind! It's not only one of the most beautiful cities in Italy, but also one of the most remarkable cities in the world!
The entire city is a UNESCO World Heritage Site, and when you'll see it, you'll understand why. With such a rich past, Venice is filled with beautiful places to see and fascinating things to do. Who hasn't heard of the famous St. Mark's Square, Grand Canal, or Rialto Bridge… However, there's more to see and do in Venice than just its most famous landmarks!
At the same time, most visitors only have a day or two in Venice and want to be sure to see all the 'musts'. And the choice of where to go and what to see can get overwhelming… So in this guide, we share the VERY BEST sights, AMAZING experiences, and TOP tourist attractions that Venice has in store for its visitors.
We also created a map indicating all the best things to do in Venice. It will give you a better idea of where everything is and help you plan your visit. For each place, we also indicate how much time you need in order to see it.
READ ALSO: How to See the Best of Venice in One Day & Venice 3-day Itinerary
How to use this map: Use your computer mouse (or fingers) to zoom in or out. Click on the icons to get more information about each place. Click the arrow on the top left corner for the index. Click the star next to the map's title to add it to your Google Maps account. To view the saved map on your smartphone or PC, open Google Maps, click the menu and go to 'Your Places'/'Maps'. If you want to print the map or see it in a bigger window, click on 'View larger map' in the top right corner.
As you can see, the majority of the main attractions in Venice are located quite close to each other. And the city's compact size makes it possible to enjoy most of the sights in just 1-3 days.
Good to know: To help you plan your time in the 'Floating City', we list the most popular Venice attractions first. The top-10 places are absolute must-sees (and can be done in a day). #11-15 are a very nice addition to any Venice itinerary. The rest are all amazing sights that will make your trip even more special than just seeing 'the musts'.
So if you can, foresee 1.5-3 days in the city when planning your Italian trip itinerary. This will allow you to explore a bit deeper and appreciate Venice so much better!
TIP: If you only have a day in Venice and want to get as much out of your visit as possible, take a look at this popular city walking tour. It's one of the most complete tours covering all the must-see places in Venice, plus a gondola ride. All tours we took with this company are always top-notch.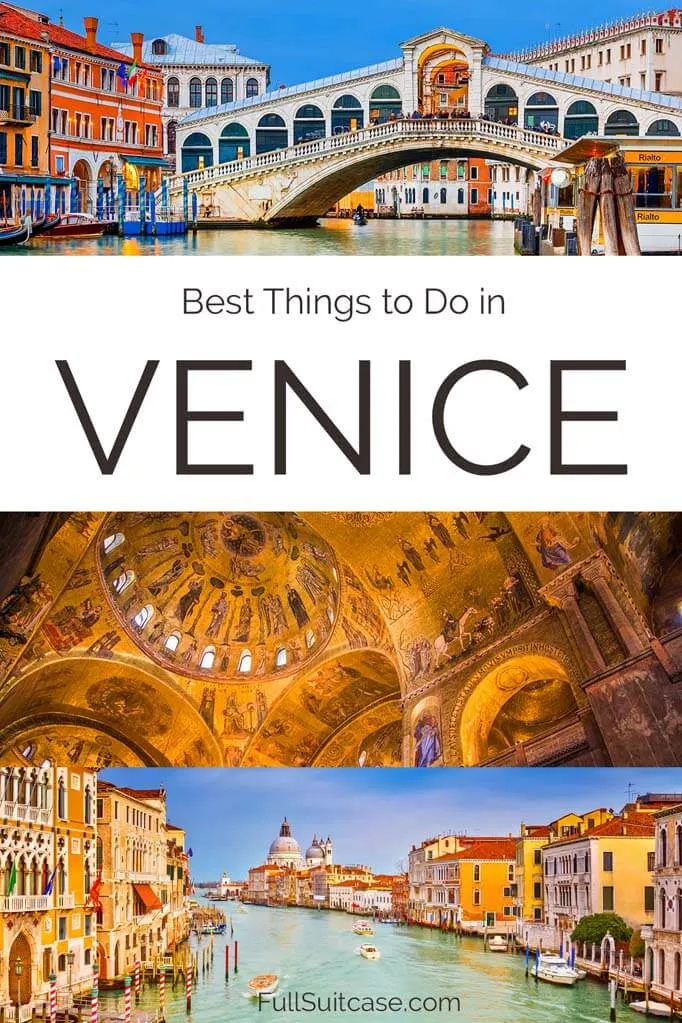 These are the must-see sights and best things to do in Venice:
1. Grand Canal
Venice's largest and most famous canal, the Grand Canal (Canal Grande) is an absolute must-see in Venice! It's here that you can see some of the most beautiful Venetian architecture and truly feel what Venice is all about. Some of the most beautiful Palazzos of Venice can be found here and a trip on the canal feels like traveling back in time!
The atmosphere of the Grand Canal is vibrant, with vaporetti (water buses), gondolas, and water taxis traveling back and forth in every direction. It's a fascinating spectacle to watch!
Canal Grande is the main waterway in Venice and it separates one half of the city from the other. It's almost 4 kilometers (2.5 miles) long, but there are just 4 bridges spanning the Grand Canal and hardly any walkways next to it.
The best way to experience the surroundings of Canal Grande is from the water and you can do so by taking a Vaporetto water bus, a boat tour, or a gondola (keep in mind that gondolas will only bring you to a small part of the canal). The nicest part of the canal that you really shouldn't miss is that southwest of the Rialto Bridge. So if you take a boat between St. Mark's Square and Rialto Bridge, you're sure to see the best of it!
Whilst there is no footpath alongside the entire Grand Canal, there are several sections where you can walk along the canal. The nicest part of the canal that you can explore on foot is the area around the Rialto Bridge. There are wide waterfront promenades here, lined with restaurants and cafes. It's a nice place to get a drink and watch the hustle and bustle on the canal.
Good to know: Line 1 is the best Vaporetto for exploring the Grand Canal. It takes in Ca' d'Oro Palazzo, Gallerie dell'Accademia, the Palazzo Ca'Rezzonico, Santa Maria della Salute, and the popular Rialto Bridge.
TIP: It's best to get a public transport ticket for the entire duration of your visit and hop on and off the boats as much as you like. It costs just a fraction of what gondolas or water taxis cost.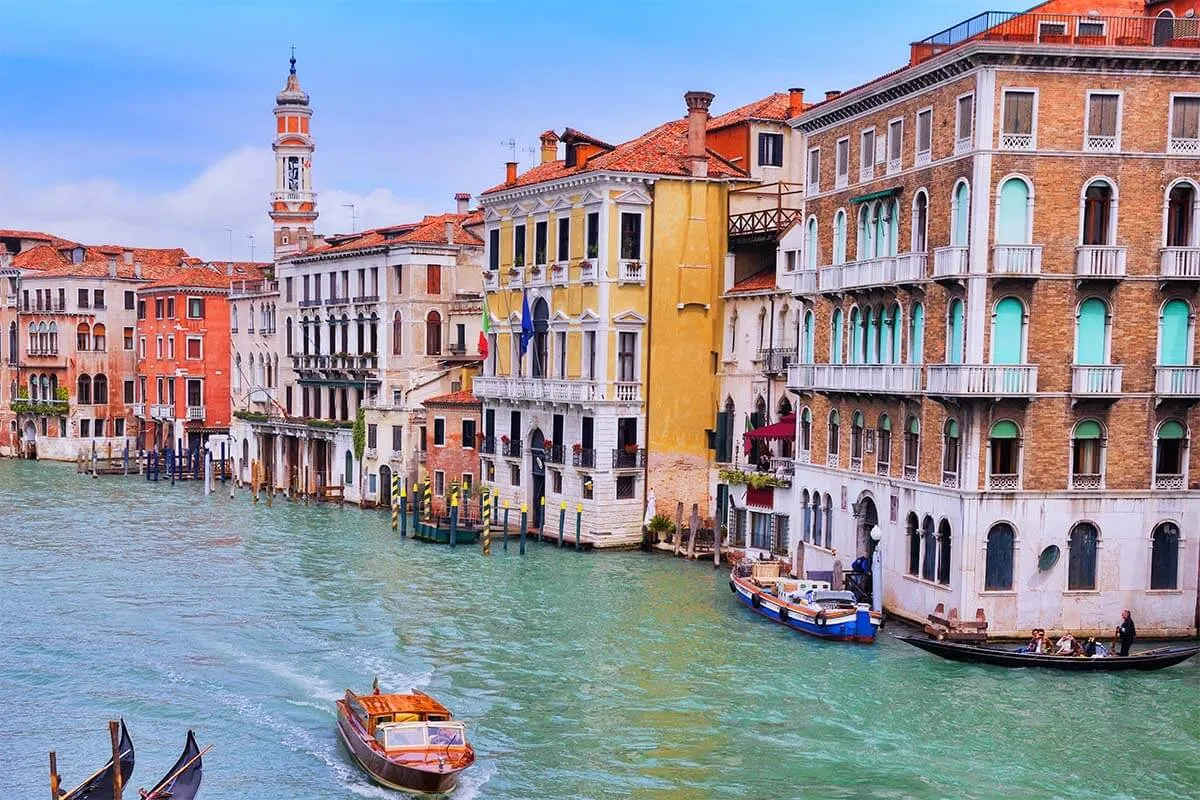 2. St Mark's Square
St Mark's Square (Piazza San Marco) is Venice's largest and most beautiful town square. It should be at the top of any Venice sightseeing list.
It's here that the majority of the city's most important buildings are located. Dating back to the 12th century, the square's main highlights are St Mark's Basilica and Campanile, along with Doge's Palace (you can find more information about all of these further below).
But there are other fascinating buildings to see on St. Mark's Square too, particularly the Clock Tower of Venice (Torre dell Orologio). A marvel of 15th-century engineering, the clock displays the time, the dominant sign of the Zodiac, and the current phase of the moon.
You'll also find some of the city's most popular cafés here. They are located on the ground floors of the Procuraties (the three connected buildings lining the Square's perimeter).
TIP: If it's not too busy and you can find a free table on the square itself, be sure to sit down for a coffee. And yes, it's overpriced and touristy, but having a drink at one of the cafes at St. Mark's Square is one of the Venice bucket list experiences that you should do at least once! Most places here aren't known for great service. The best-rated cafe on St. Mark's Square is Caffè Florian.
Good to know: The Campanile, Basilica, and Doge's Palace are the most popular tourist attractions in Venice and can get extremely busy, with long queues… So aim to visit them as early in the morning as possible, before the majority of the visitors arrive. More info about each of these attractions – below.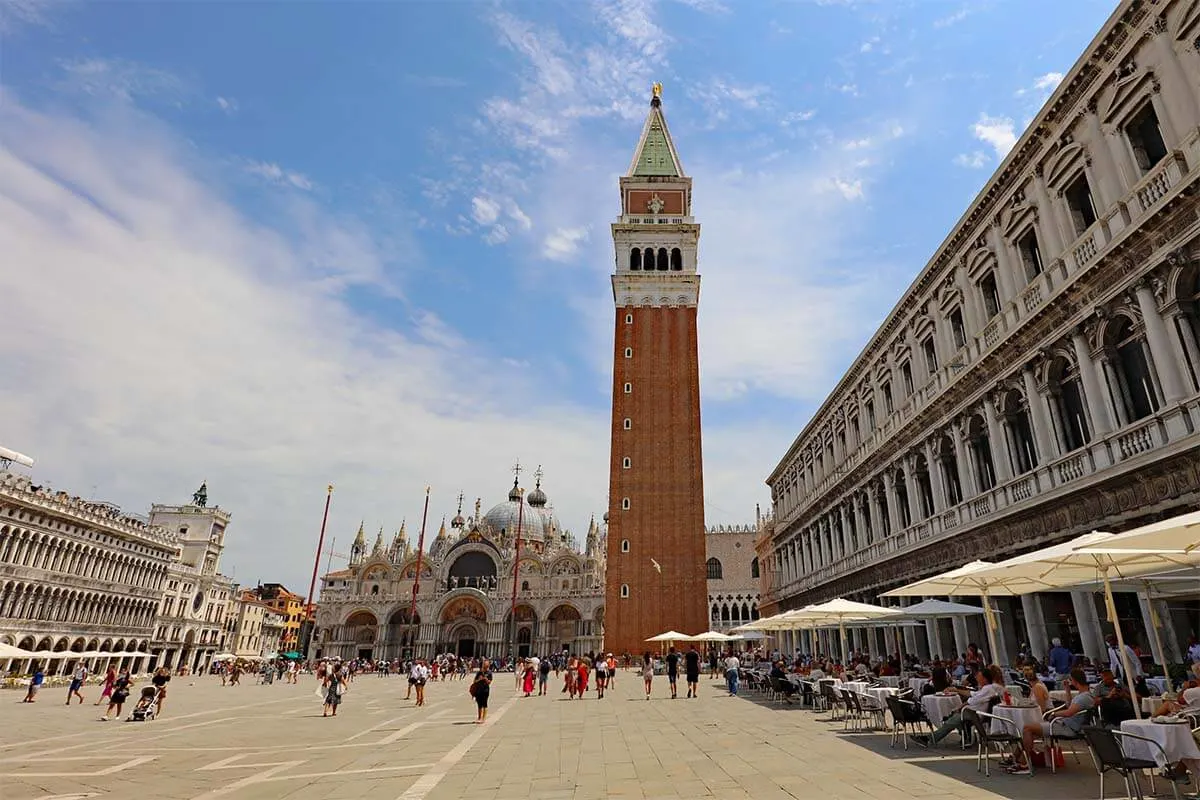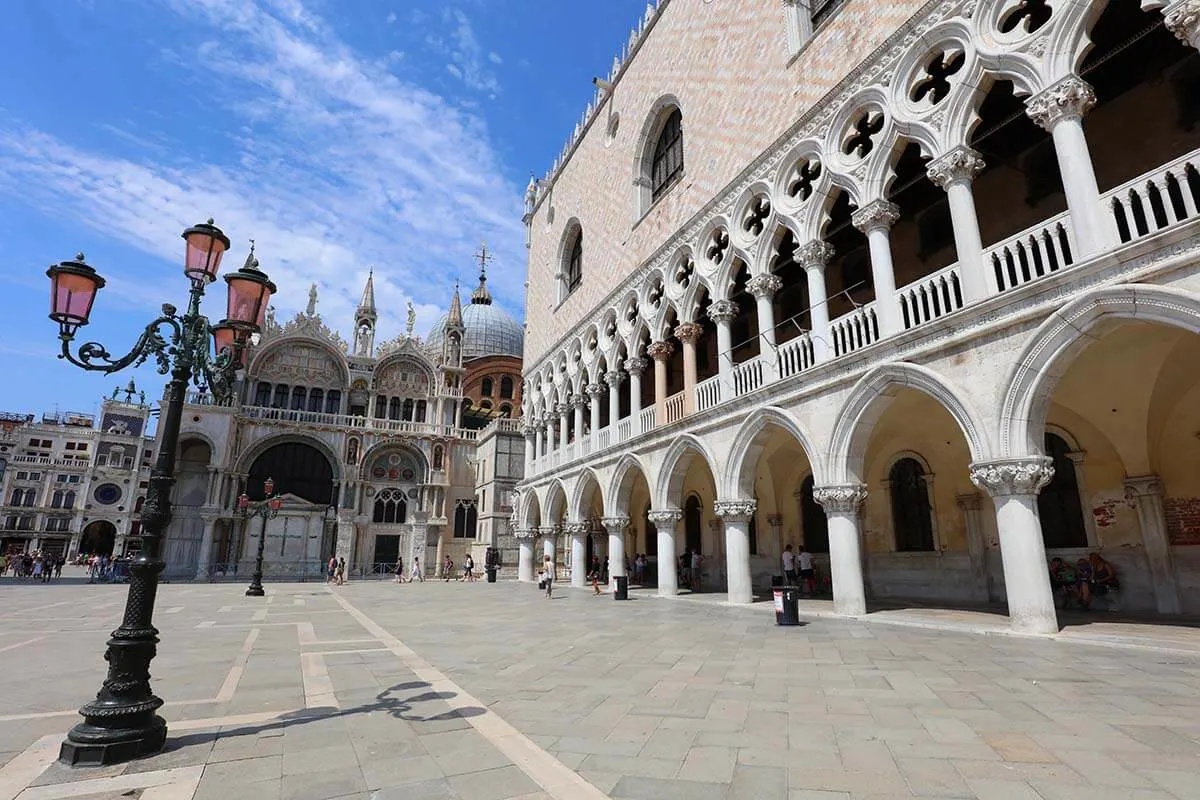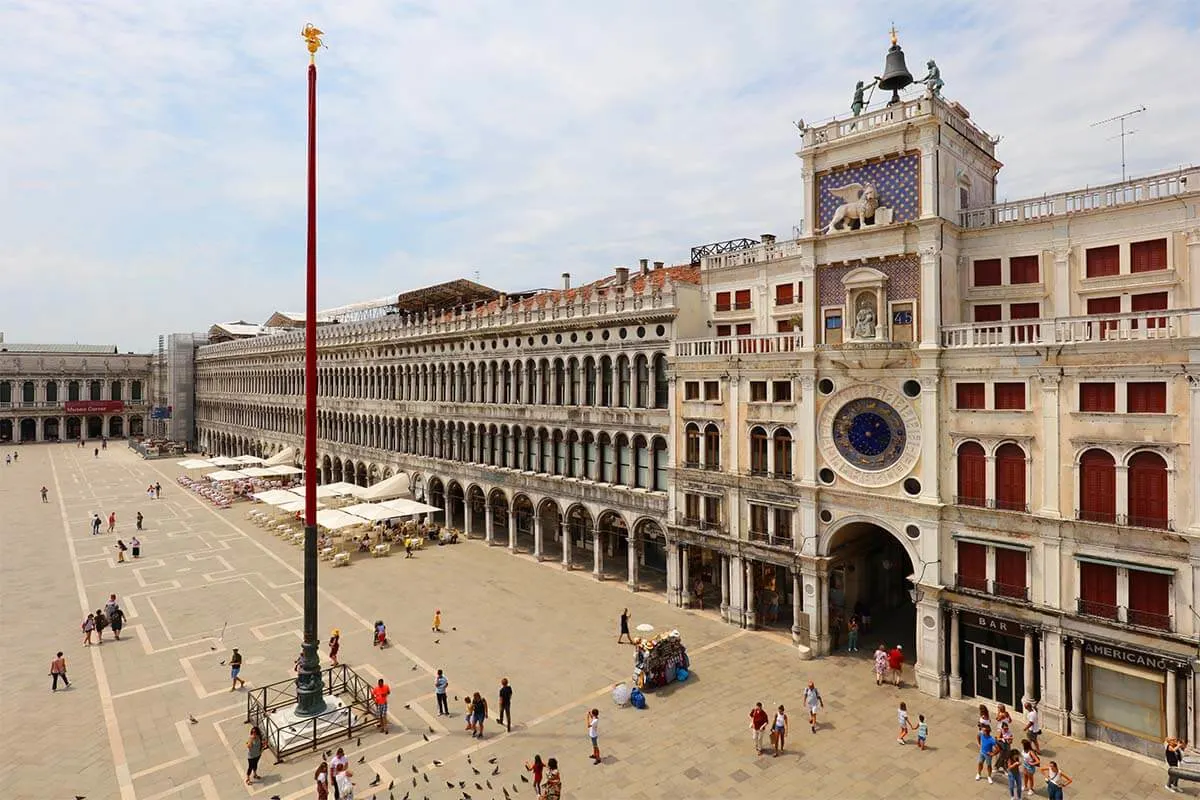 3. Rialto Bridge
Rialto Bridge (Ponte di Rialto) is the oldest and most stunning of the four bridges spanning the Grand Canal. It's also one of the most famous landmarks in Venice. No trip to the city would be complete without walking over this iconic bridge at least once!
Originally built in the late 16th century and marking the gateway to the Rialto Market, this elegant stone bridge has three sets of stairs divided by arcades. The central set is packed with shops and vendors and is usually so busy that you can hardly pass. The stairs on the outer sides of the bridge offer amazing views of the Grand Canal and its passing gondolas.
Because the Bridge itself is so busy, the best place to admire its structure is from below. The Riva del Vin and Riva del Ferro are particularly good spots from which to take photographs!
TIP: For an unforgettable view of The Rialto Bridge, get up early and visit at sunrise. With few tourists, little noise, and better light for photography, you are guaranteed a memorable experience! In addition, visit in the evening when the Bridge is beautifully illuminated and provides a very romantic backdrop.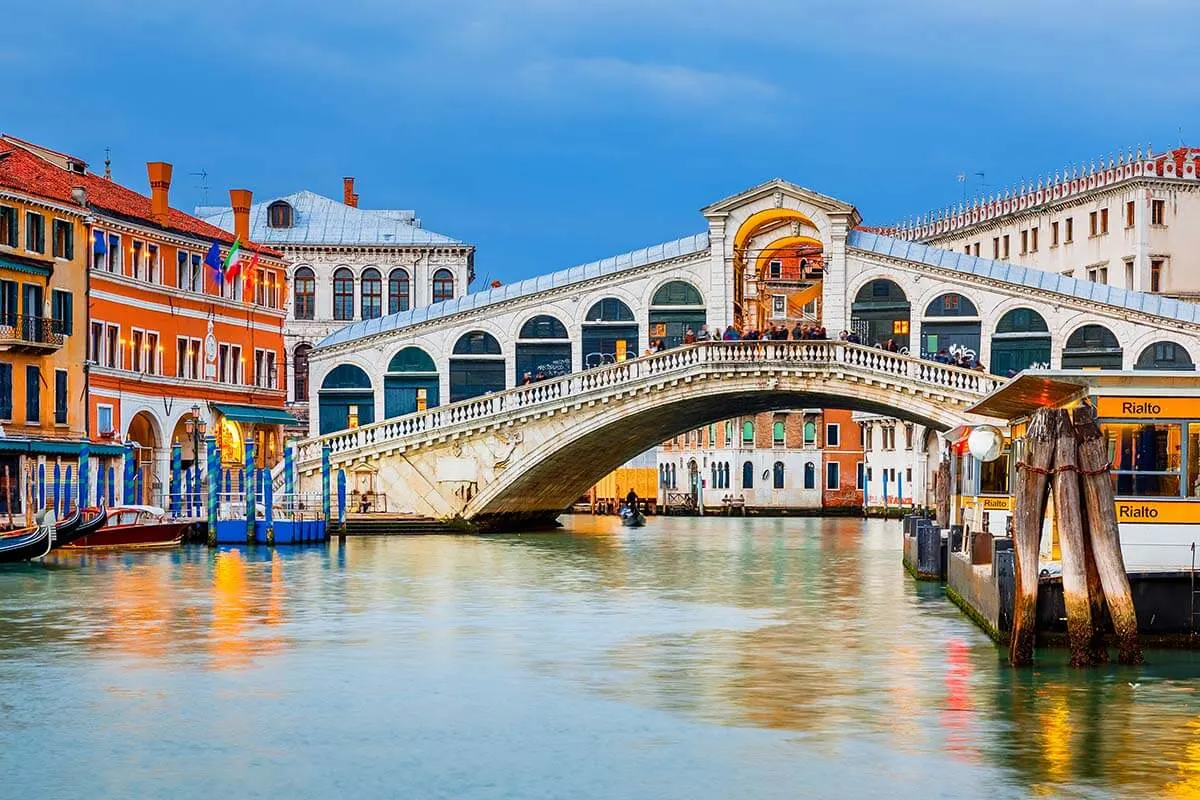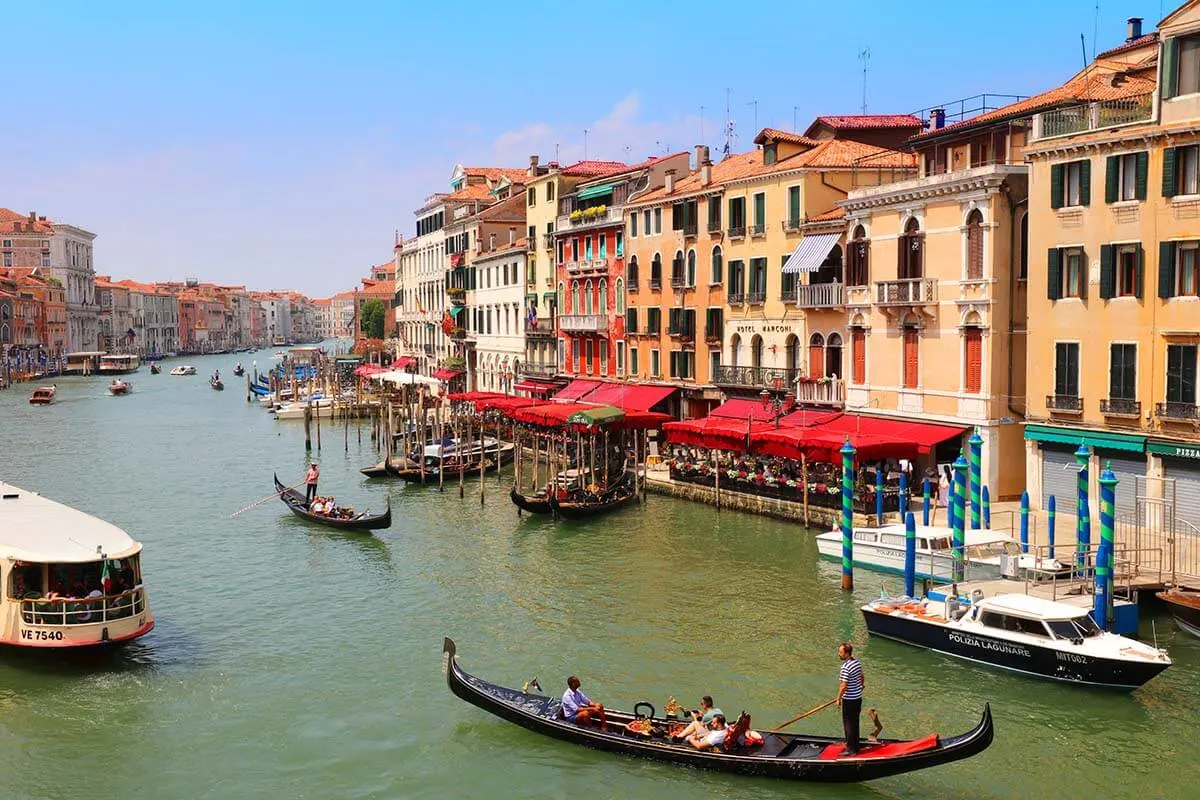 4. Venetian Gondola Ride
If there's one activity that you absolutely must do in Venice, it's the ride on the traditional Venetian gondola!
You'll find gondoliers awaiting you at virtually every bridge in Venice. And – as cliché as it sounds – no visit to the city would be complete without a private ride in a gondola! It's one of those experiences that are so typically Venice and you'll regret it if you don't do it.
In the past, all Venetians used gondolas as their main mode of transport. These days the larger Vaporetti canal boats have taken over that role. This means that the main purpose of the iconic gondolas is now to fulfill visitors' romantic dreams of taking in the sights whilst drifting along the city's waterways.
Good to know: The gondola rides are strictly regulated and they all charge the same prices, but they take different routes depending on where they start. For a more authentic experience, look for routes that will include some of the smaller canals as well. On the other hand, Grand Canal is not to be missed too. So ideally you take a gondola in the vicinity and experience both – the smaller canals as well as the Canal Grande!
TIP: Take the time to chat with your gondolier before climbing aboard. Not only can you ask which route they typically take, but you can also see if they are friendly. The mood of your gondolier can have a big influence on your overall experience! A good gondolier will explain a bit about the sights you pass, take a picture of you enjoying the ride, and maybe will even sing a traditional song.
Do you need to book a gondola? If you are short on time and want to be sure that you can do the gondola ride at a specific time/place, then it's better to book in advance. If you are traveling on your own and don't want to pay the full price of a private gondola, it's also best to book in advance. See here for some of the best options that you can pre-book. Otherwise, you should be able to find a gondola while walking around the city.
For more practical information about gondola rides in Venice and tips for a better experience, see our detailed guide via the link below.
LEARN MORE: Venice Gondola Ride: Info & Tips for a Better Experience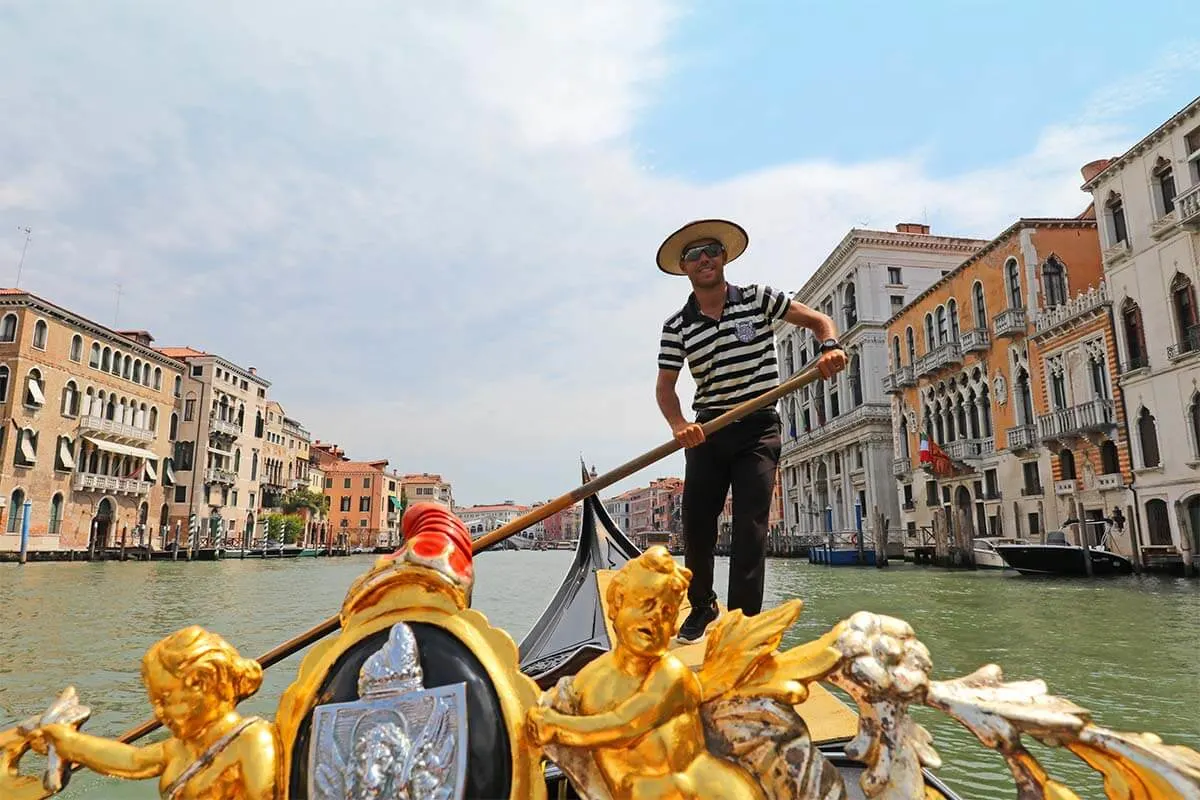 5. St Mark's Basilica
St. Mark's Basilica (Basilica di San Marco) is the city's cathedral and one of the must-see places in Venice. Dating back to the 9th century, it was originally built as a chapel of the Doge's Palace next door. St. Mark's only became the city's cathedral in the early part of the 19th century.
Its Italo-Byzantine architecture is quite beautiful, with arched portals, marble columns, and raised cupolas. Its interior is incredible, boasting more than 85,000 square feet of mosaics which were completed over 8 centuries, mainly in gold. Not to be missed are St. Mark's Tomb, the Transept Chapels, and the stunning Pala d'Oro – a gold Byzantine altar screen studded with hundreds of gems.
If you have the time, be sure to also visit the Saint Mark Museum and its Terrace overlooking St. Mark's Square. There's just something really special about standing on this terrace and seeing the Basilica and the town square from another perspective. For us, a visit to this terrace remains one of the most special experiences in Venice!
Good to know: Immodest dress is not allowed in St. Mark's Basilica, so be sure that your knees and shoulders are covered. They also don't allow backpacks or large bags, knives, scissors, etc.
Tickets: Entry to St. Mark's Basilica is no longer free of charge, so you now need a ticket to visit. Furthermore, the queues can be really lengthy, so we highly recommend booking skip-the-line tickets in advance. Alternatively, you can go with a guided tour (most tours allow you to skip the line too).
TIP: Access to Pala d'Oro has yet an extra fee, just like the St. Mark's Museum with Terraces. If you want to see all these places, be sure to get this all-in ticket. It costs just a few euros more than the standard entry and is totally worth it.
Practical info: St Mark's Basilica is open every day of the year between 9.30 am and 5.15 pm. However, the opening hours can be shorter on Sundays and public holidays, so check before you visit. The Basilica is also not accessible for sightseeing during mass. For more info, see the official website of the Basilica. That's another advantage of booking in advance – you know immediately at what time you can visit.
PRO TIP: If you want to experience St. Mark's Basilica in the most unique way, check out this amazing after-hours tour. It gives you exclusive access to the most impressive areas before or after the official opening times. It's a bucket-list experience in Venice!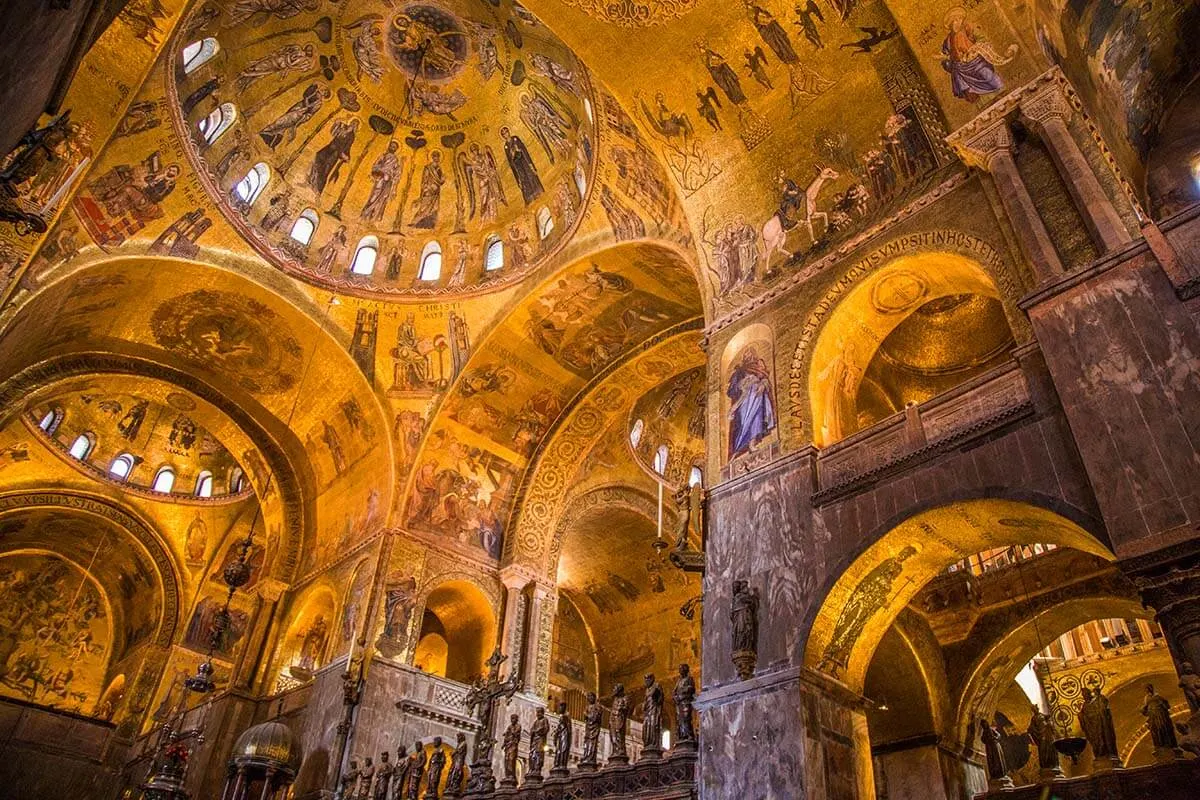 TIP: A guided tour is not just the best way to skip the lines at the most popular attractions in Venice, but it's also a great way to learn more about the Cathedral and its history. You can opt for a tour of the Basilica and/or its Museum, or for tours that combine a visit to St. Mark's Basilica, the terraces, and the nearby Doge's Palace. The combination tours are a better use of your time, especially if you want to see all the musts in just a few hours.
There are so many different tours that your head might start spinning just trying to figure out which one to take. Be sure to read carefully what they include so that you know what to expect!
We did the research for you and selected some of the best options, depending on the time you have and on what exactly you want to see. Whatever you choose, try to go as early in the morning as possible!
Here are some of the best tours that visit St. Mark's:
TIP – a very unique experience: If you are looking for something extraordinary to do in Venice, you may also want to check out this amazing after-hours tour with exclusive access to both – St. Mark's Basilica and Doge's Palace. Not only do you visit two of the most popular landmarks in Venice without the crowds, but you also have the opportunity to visit some areas which are typically not open to the general public.
READ ALSO: Most Beautiful Cathedrals in Italy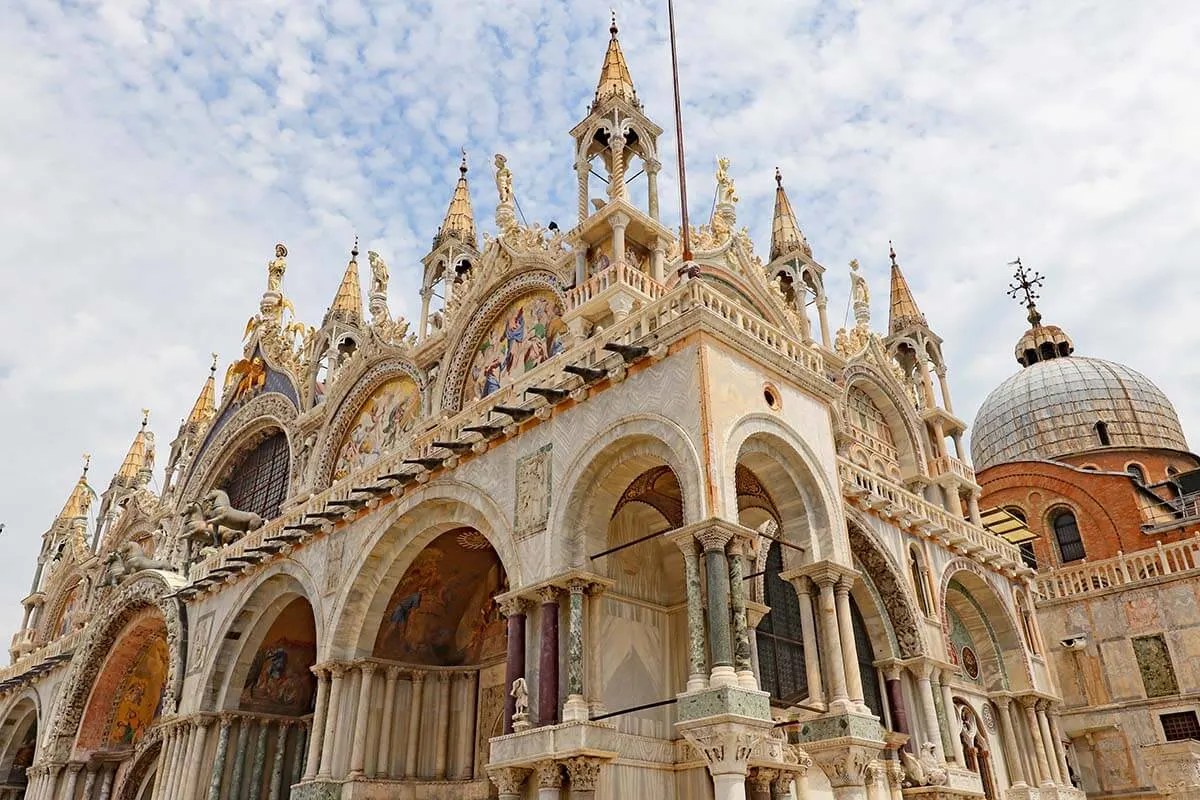 6. Doge's Palace
Doge's Palace (Palazzo Ducale) is another must that deserves a place at the top of any list of things to do in Venice! It's the best place to learn about the history of Venice. A visit here is fascinating and well worth your time.
If you only have time to visit just one Venice attraction inside, make it Doge's Palace!
Whilst Doge's Palace is a museum today – and one of Venice's most famous landmarks – it was originally built between the 10th and 11th centuries as a fort. In the 12th century, it was transformed into a beautiful palace, then added to throughout the years. For nearly 1000 years it was the building from which Venice's chief magistrates (doges) decided Venice's fate. It was also the residence for the doge in power at the time.
There is so much to admire here, from its breathtaking facade featuring gorgeous pink Verona marble to the beautiful stone arches and magnificent sculptures inside. You can also see some of the world's most famous works of art, including pieces by A. Vittoria, Titian, and Veronese.
The Doges' apartments and institutional chambers are exceptionally stunning! And – in a dramatic contrast – you also get to visit the cells of the medieval prison and walk over the famous Bridge of Sighs!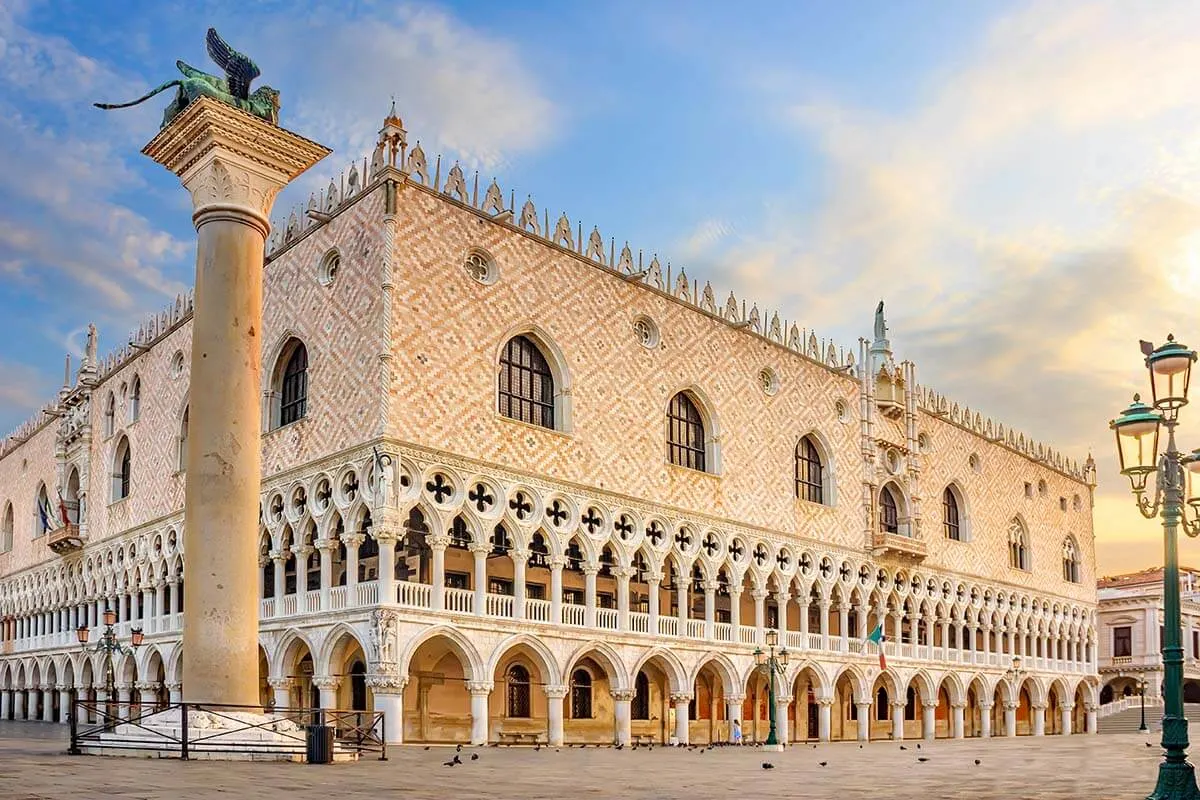 Try to visit Doge's Palace early in the morning. This is one of the most popular attractions in Venice and the lines are longest at midday and during weekends.
TIP: There is so much to see and learn here that it is definitely worth engaging a local guide. Otherwise, a visit here can get overwhelming and you won't know what you're seeing or where to go next. Going with a guide will get you pre-booked priority access too, which is a huge advantage for such a busy attraction. At the very least, get a skip-the-line ticket and an audio guide, or invest in a very good guidebook beforehand.
Here are the best guided tours that visit inside Doge's Palace:
For more information about Doge's Palace and to get a better idea of what to expect, please see our detailed guide via the link below.
LEARN MORE: Doge's Palace: What to Expect & Tips for Your Visit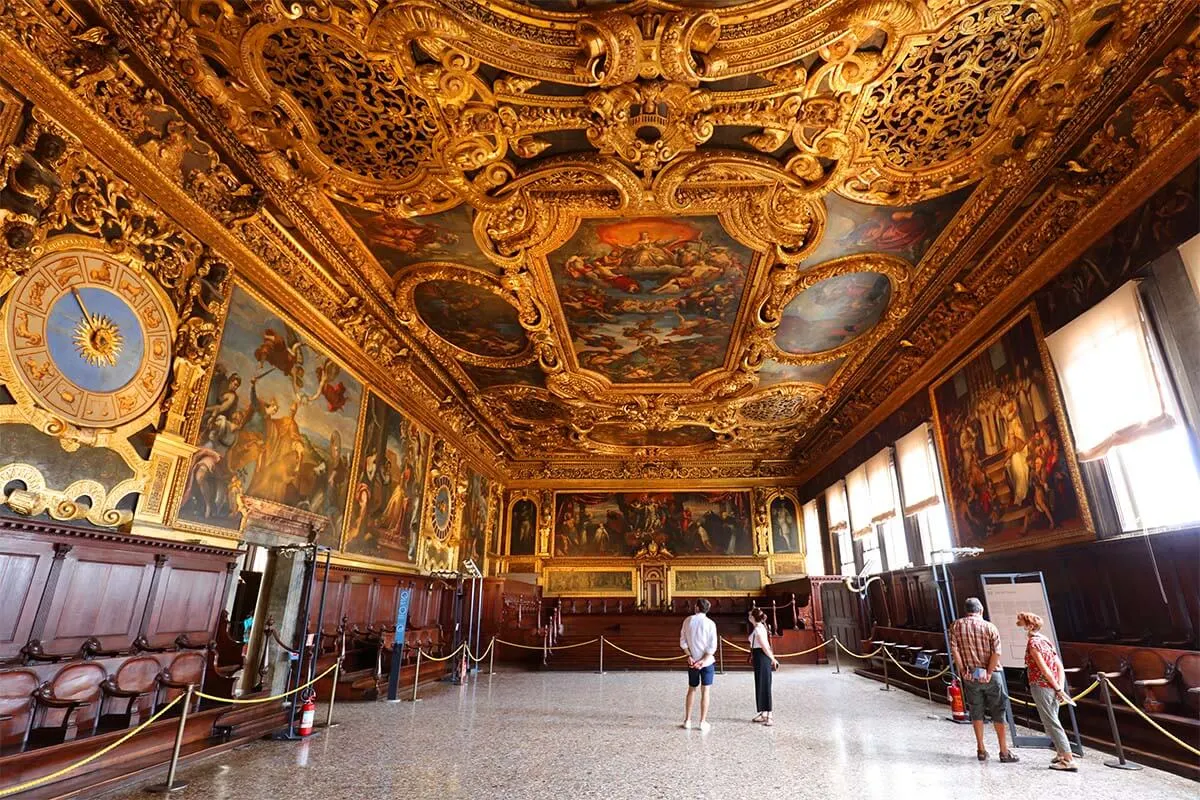 7. St Mark's Campanile
St. Mark's Campanile (Campanile di San Marco) is a historic bell tower of St. Mark's Basilica. It's the tallest building in Venice and an iconic part of the city's skyline. The tower as you see it today is actually a 1912 reconstruction of the original, which dated back to the Middle Ages and collapsed in 1902.
The Campanile was originally a watchtower that was used to give early warning of approaching ships and also help safely guide them into the harbor. Nowadays, it's one of the most popular places to visit in Venice, giving you an opportunity to enjoy the awesome 360° views of the city and the lagoon.
The Campanile stands alone, so you can visit it separately from the Basilica (and the queues are separate too). Fortunately, you don't need to climb all the way to the top. There is an elevator that makes the tower accessible to everyone.
TIP: If you can, visit the campanile in the late afternoon. There are usually fewer people around and the light is particularly beautiful around sunset.
Practical info: The Bell Tower is open daily, with hours varying per season. In the past, you could only get the tickets on the spot (and stand in very long queues, especially in the high season!). However, it is now also possible to reserve a timed entry in advance (this will save you a lot of time and make it easier to plan your day!).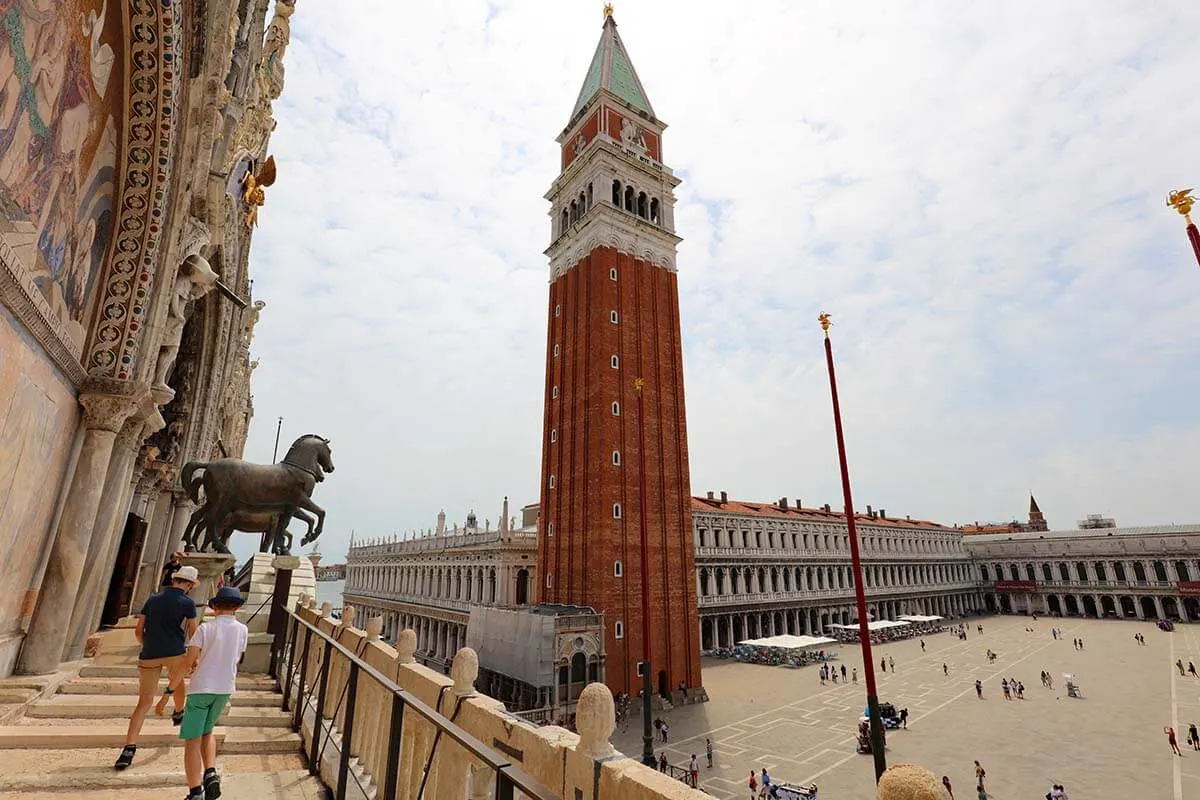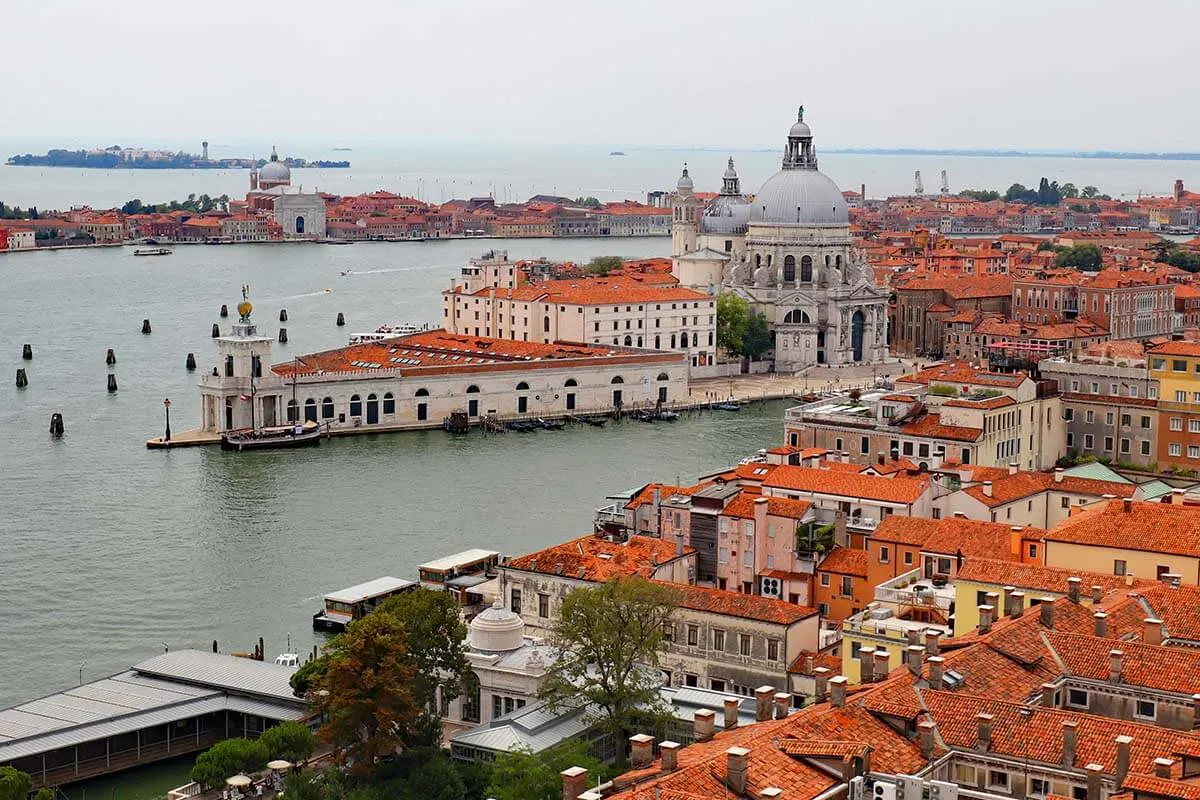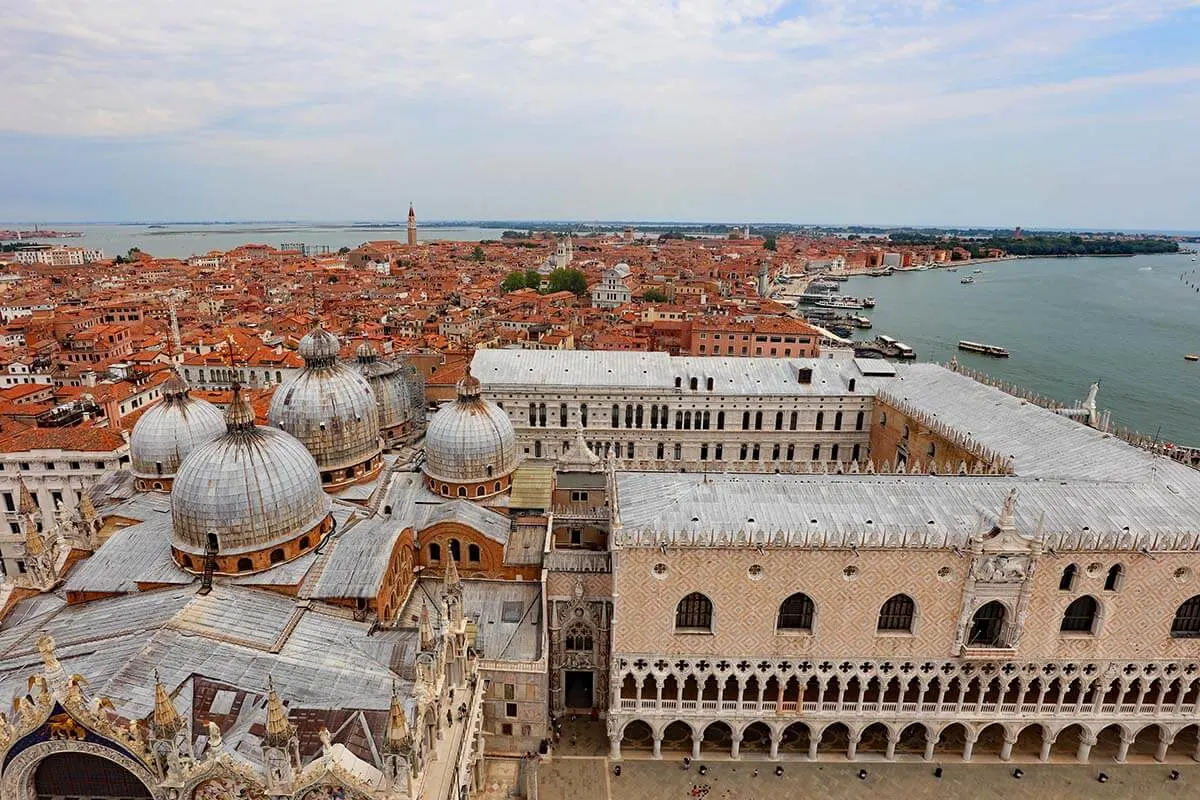 8. Bridge of Sighs
Bridge of Sighs (Ponte dei Sospiri) is another must-see landmark in Venice!
This bridge connects the Doge's Palace to the 'new' prisons. Its name is believed to refer to the sighs of 18th-century prisoners taking their last glimpse of Venice on their way to the prison cells. Its purpose may have originally been grim, but this white limestone bridge is quite beautiful.
There are several ways to see and 'experience' this bridge:
If you want to actually walk over the bridge, feel the shivers that the prisoners felt, and catch a glimpse of the hustle and bustle of the city through the small openings, you can do so when visiting the earlier-mentioned Doge's Palace. You'll need a ticket for that.
The best spot to admire the exterior of the bridge is the Ponte della Paglia, a small bridge at the waterfront promenade Riva degli Schiavoni.
Alternatively, drift beneath it on a gondola with someone special. Legend has it that if you kiss as you pass it, you will experience eternal love!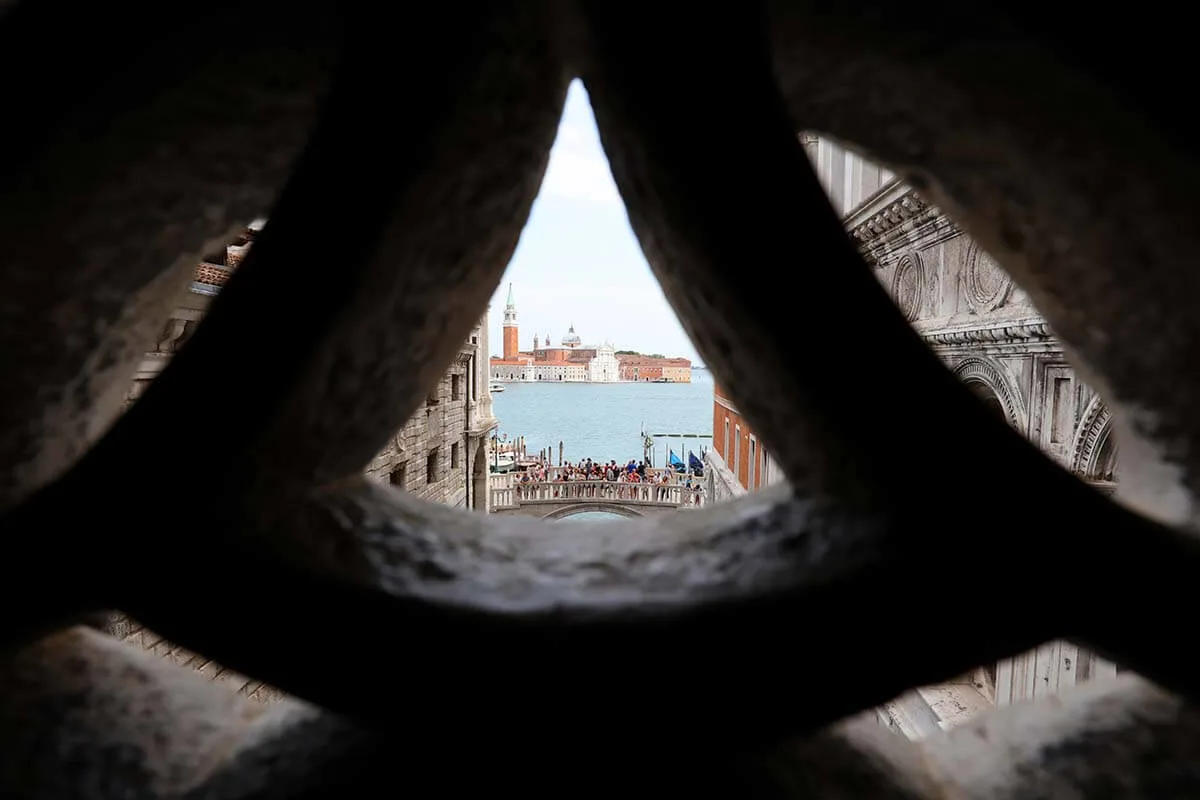 9. Riva degli Schiavoni
Riva degli Schiavoni is a wide pedestrian promenade extending east from Piazza San Marco and past Doge's Palace.
Its name refers to the Dalmatian Slavs who settled in this part of the city in medieval times. This was once the place where vessels from all over the world would dock, with sailors and dignitaries disembarking in Venice.
These days, it's one of the busiest areas in Venice, filled with souvenir stalls and eateries. It's still the main docking point for Venice's various modes of water transport. Whilst this means it has lost much of its historic charm, it is still very picturesque. A walk here gives you a lovely view of the Venetian lagoon and the island of San Giorgio Maggiore in the distance.
Look out for Ca'di Dio at the eastern point of the promenade. This was the 13th-century hospice used by pilgrims making the journey to the Holy Land. It has recently been turned into a beautiful 5* Small Luxury Hotel.
Here, you can also see the Church of Santa Maria della Pietà (or della Visitazionee). It has a statue of composer Antonio Vivaldi who had a special connection to this place. Sometimes, there are also concerts here and you can listen to the Four Seasons by Vivaldi.
TIP: One of the most iconic hotels of Venice – Hotel Danieli – is also located here, on Riva degli Schiavoni. If your budget allows a stay at one of these luxury hotels – it's the ultimate Venice experience!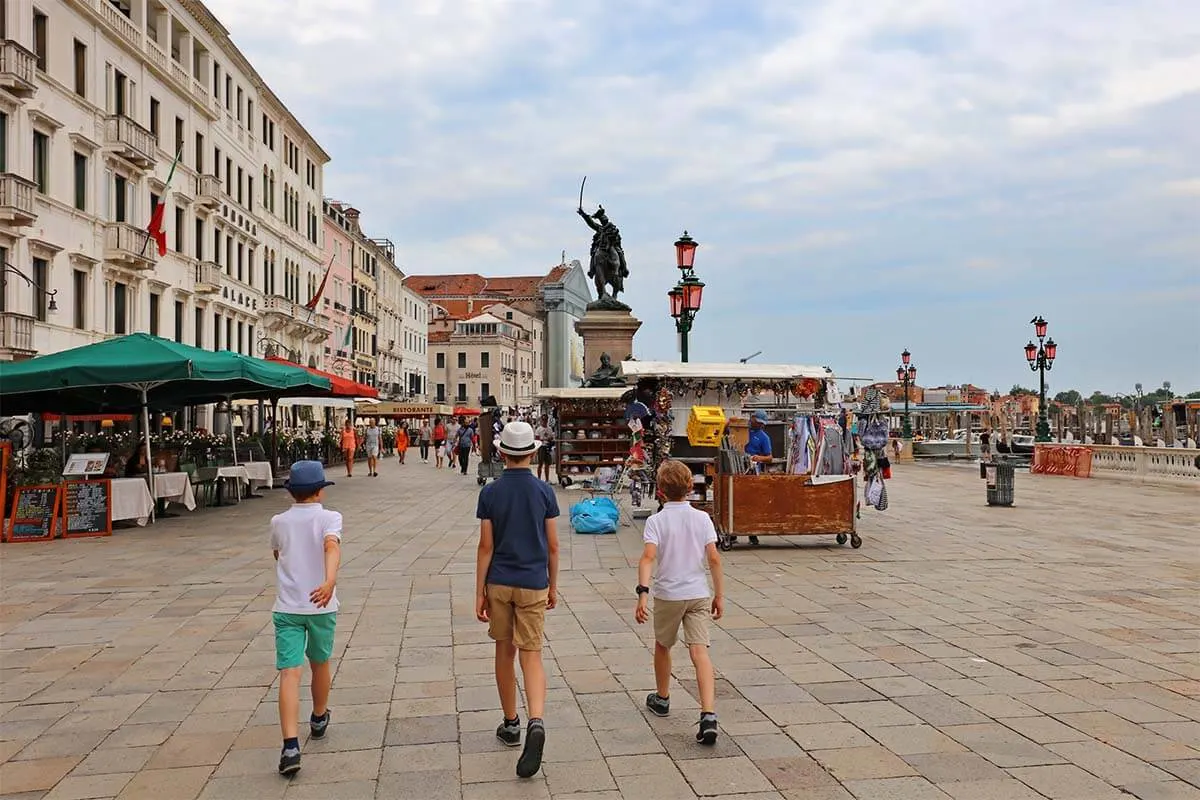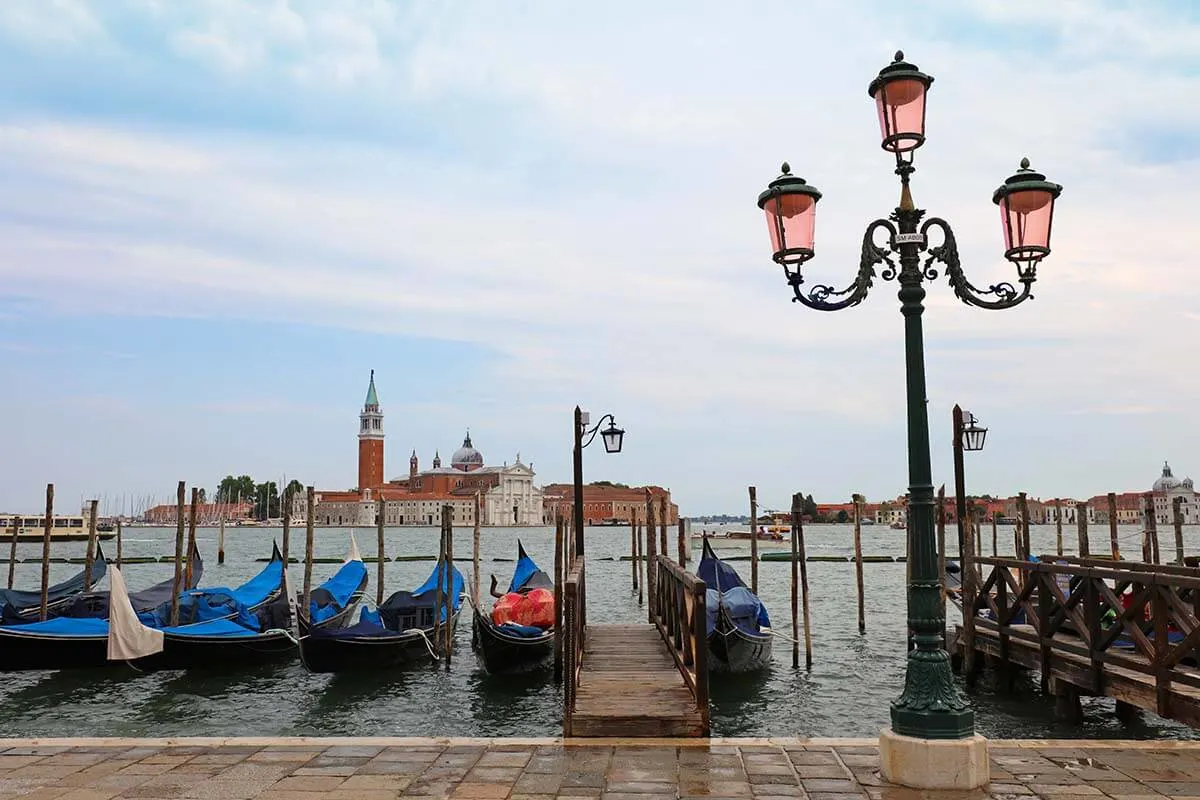 10. Explore Venice's Narrow Streets & Canals on Foot
Another must-do in Venice is simply exploring the city and its canals on foot!
Unless you're on the water itself, all your sightseeing in Venice will be on foot. There are no vehicles at all and the city is a maze of canals and narrow streets. But there is also no better way to soak up the feel of the 'real' Venice than to wander through its very heart, admiring the colorful buildings, watching the gondolas drift by, and spending time surrounded by its people.
You'll definitely get lost when navigating the maze of canals, alleys, and small bridges that make up the city. And that's alright – it's the best way to explore Venice deeper. But while I would certainly recommend allowing yourself to get 'lost' for a while and wandering where your fancy takes you, the time will come when you may actually need to know just where you are… and how to get back to where you started!
While you can get a paper street map of Venice, it's really not easy to use it. The best way to navigate the city is by using one of the GPS apps on your smartphone. We always use Google Maps for sightseeing in Venice. It's surprisingly accurate and has proven a good way to get from point A to B.
Good to know: Venetian etiquette dictates that you should keep to the right to ensure the flow of pedestrians runs smoothly. You should also avoid lingering on bridges – not only will it annoy the locals, but it could land you with a fine.
Also, keep in mind that the biggest part of Venice is not accessible to strollers or wheelchairs. There are lots of bridges that have stairs, and it's really not feasible to navigate the entire city with any kind of wheels. See here our experience of visiting Venice with toddlers.
TIP: If you are looking for an accessible way to explore Venice, head to St. Mark's Square. This is where most of the main landmarks of Venice are located and it's the best area where you can see and do quite a lot even with a stroller or a wheelchair.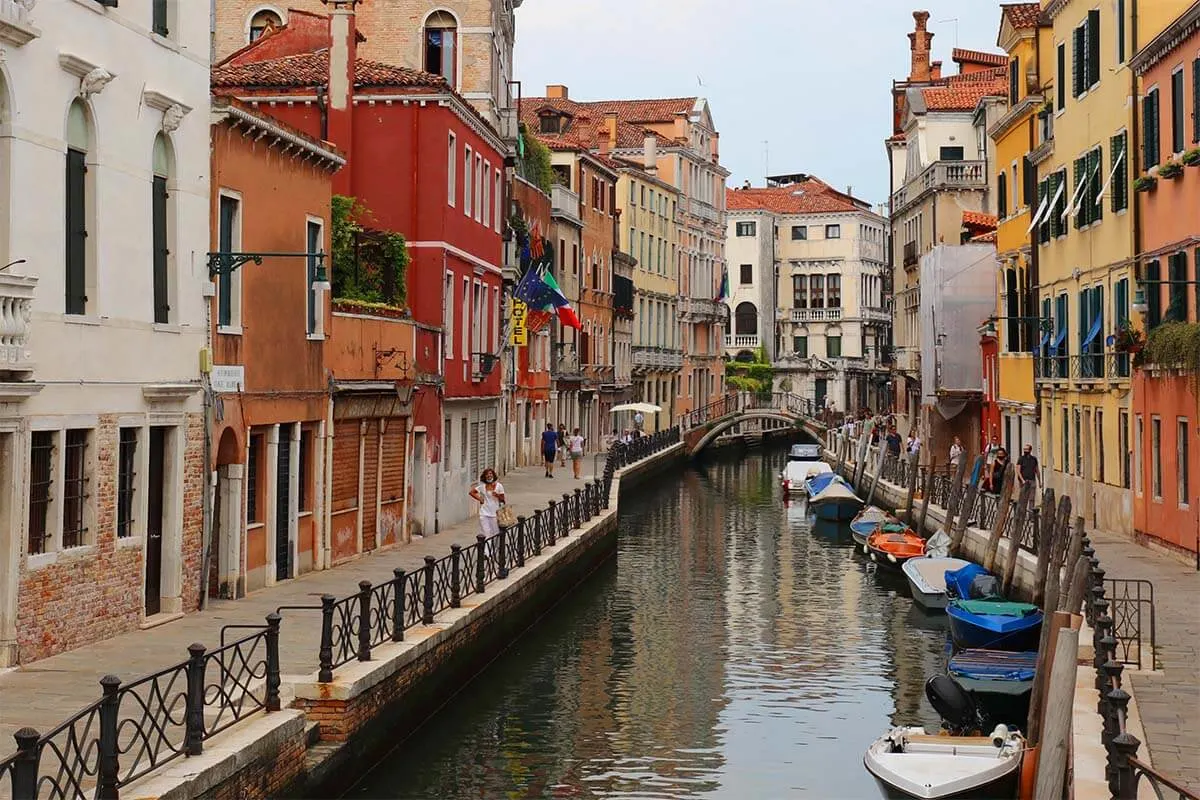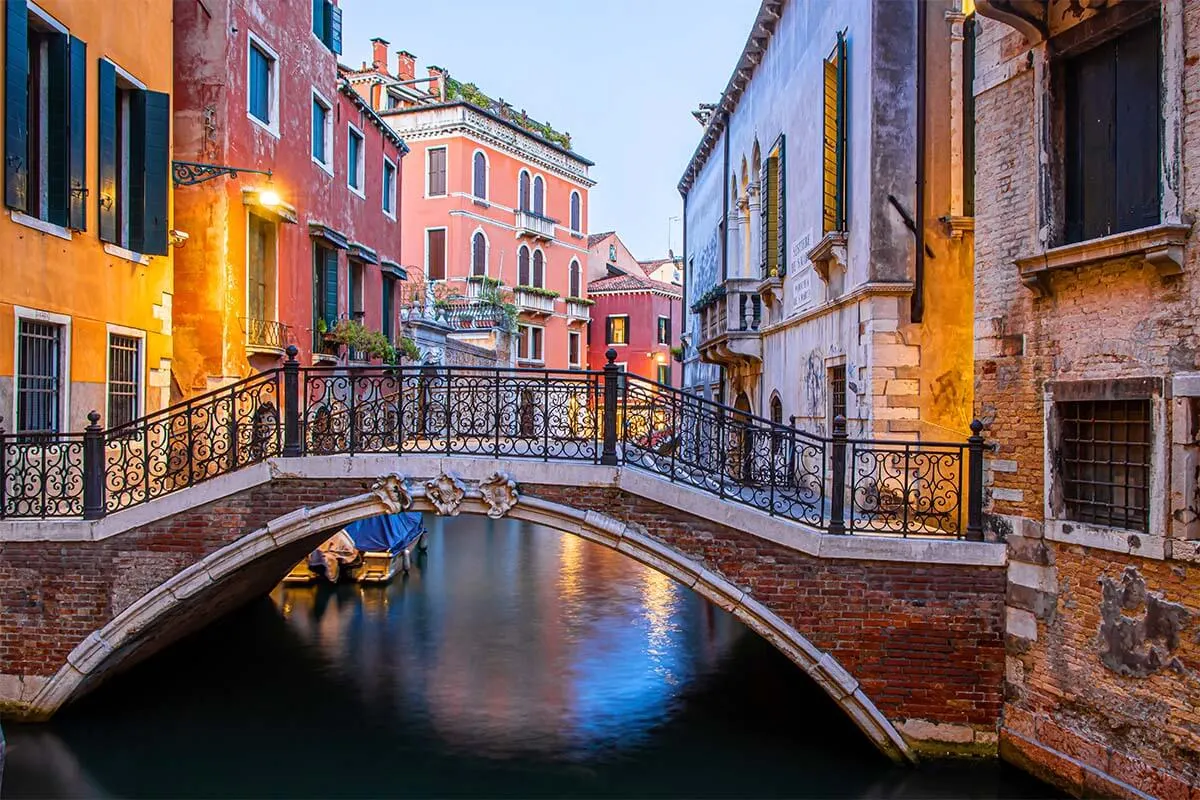 11. Visit Murano, Burano & Torcello Islands
Murano, Burano, and Torcello are the Venetian Lagoon's three most famous islands. Each has its own particular appeal, Murano's being its fabulous glassware and Burano's its colorful houses and beautiful lacework. Torcello is famous for being the site of the Lagoon's first settlement in the 5th century AD.
There are a variety of guided tours that make it easy to explore these lovely little islands. Most will include a visit to a Murano glass factory where you can see the glass blowers in action. In Burano, you have the opportunity to see lace shops and learn how lace is made. In Torcello, you will call into the cathedral of Santa Maria Assunta, one of the most ancient religious buildings in the area and containing its earliest mosaics.
If you have more time available, you can easily visit all the islands on your own. This will allow you to spend as long as you like on each island. To make it more affordable, get the earlier-mentioned public transport ticket, which includes boats in the city and also to the islands.
However, if your time is limited and you want to see the best of Venice and its surroundings in just a day or two, then going on a tour is better. It will be rushed, but you'll see more in a shorter time.
Good to know: You can visit the islands at any time of the year and most tours run daily too.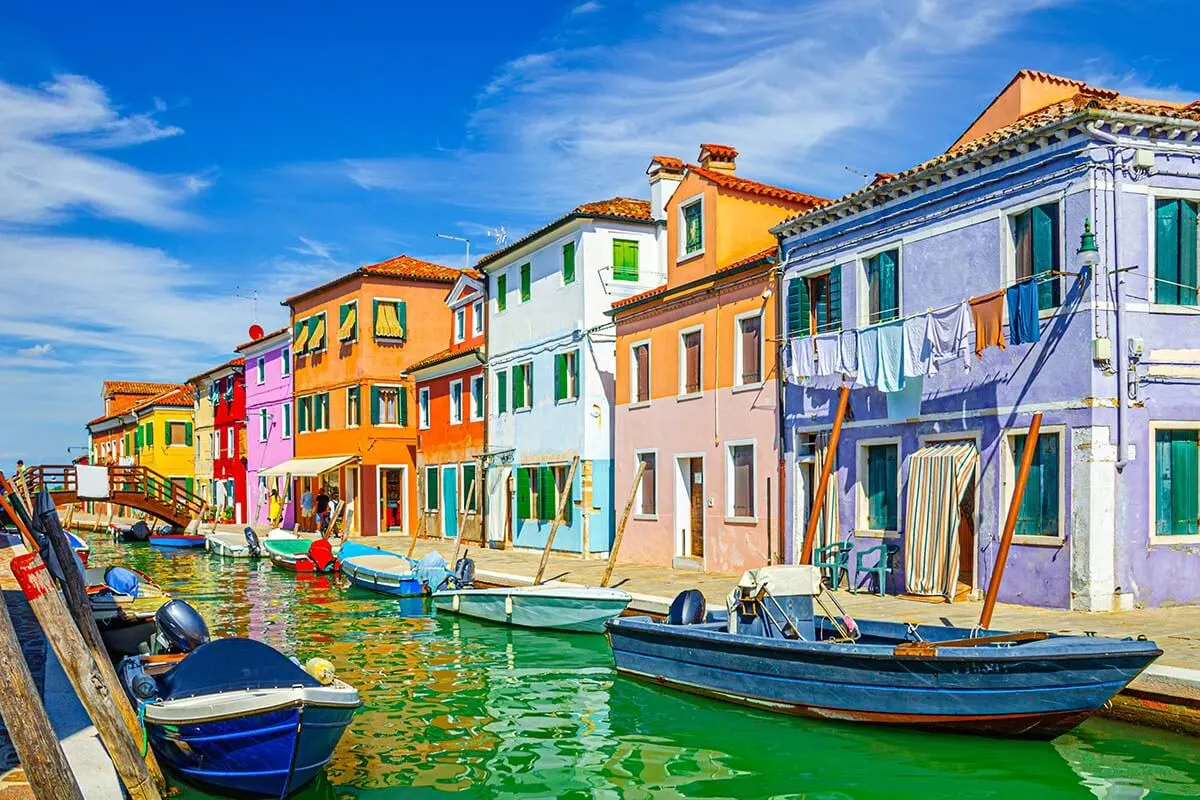 Here are some of the best ways to visit these islands from Venice:
Please note that these aren't guided tours. They include transportation and live commentary on the boat, as well as – depending on the tour – the glass factory and a lace shop visit. For the rest, you're free to explore the islands on your own. Just be sure to be back at the boat in time!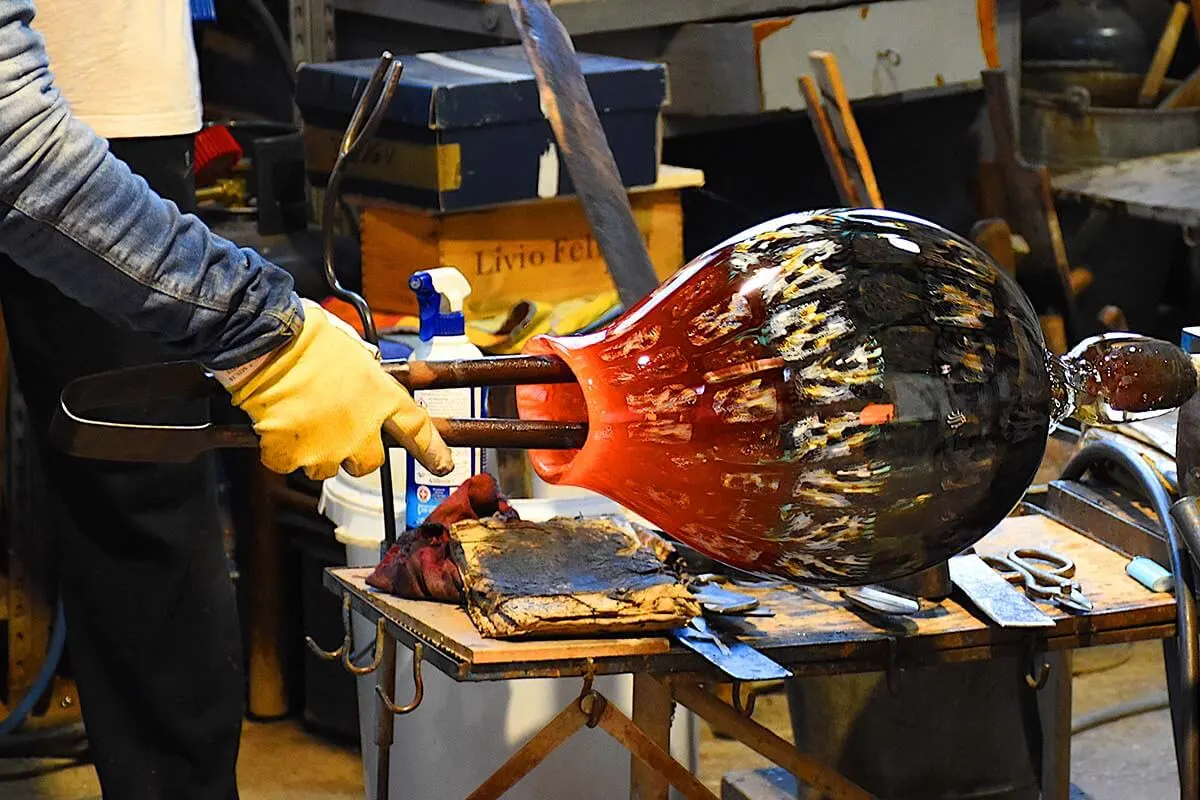 12. Views from Ponte dell'Accademia
The Accademia Bridge (Ponte dell'Accademia) is one of the four bridges spanning the Grand Canal, located at the southern part of the island. It links the San Marco district with the Accademia gallery in Dorsoduro.
This is Venice's only bridge made from timber. But this isn't its only claim to fame!
The views from this bridge are stunning. So good, in fact, that the photos for many Venetian postcards are taken right from this spot. On one side you have the quieter bend that takes the canal towards the Rialto Bridge, and on the other, you can see the dome of Basilica si Santa Maria della Salute.
Good to know: You will sometimes come across vendors selling souvenirs on the bridge. But not only is it illegal for them to trade there, but it is also illegal for you to buy from them. Venice has lots of rather strict rules and you can incur a fine for the strangest things.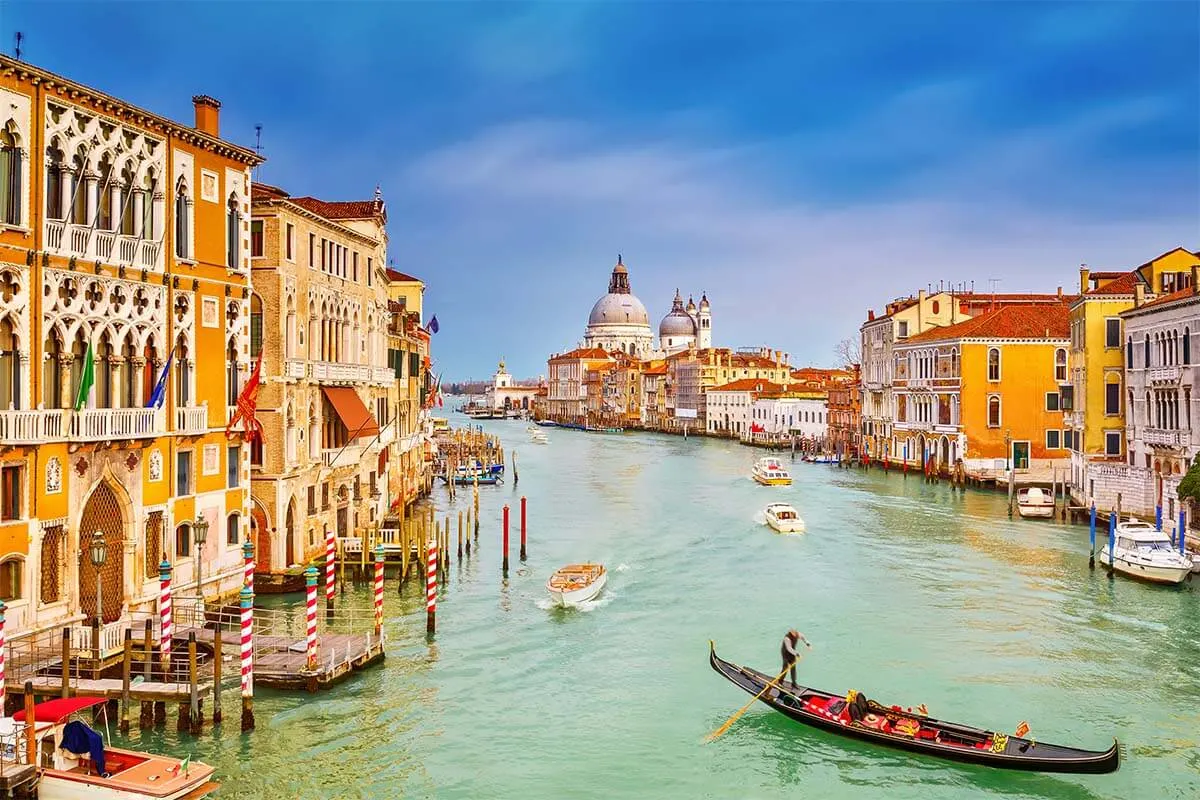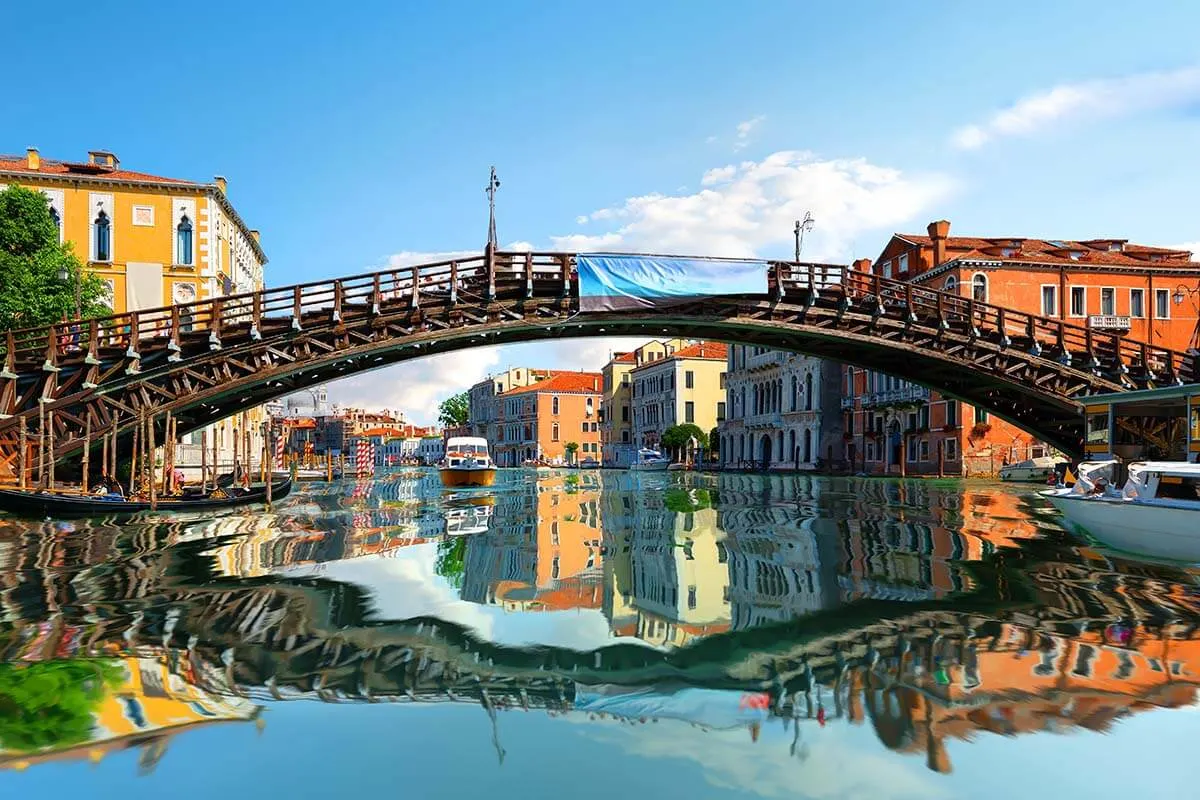 13. Teatro La Fenice
Teatro La Fenice (literal translation – Phoenix Theater) is both the largest and most popular opera house in Venice. Opened in 1792, it's also considered to be one of the most beautiful opera houses in the world. It was here that the premieres of famous Italian composers such as Verdi, Bellini, and Rossini took place.
It's a wonderful place to visit, whether you plan to attend a performance or not. The building's facade is striking, with white marble and columns evocative of customary Italian villa architecture. And the auditorium is just breathtaking, with the eye-catching emperor's box the most gorgeously decorated of the 166 boxes rising on either side.
If you don't plan on attending an opera performance in the evening, then you can just get the tickets for a morning or afternoon entry. This allows you to enter the theatre without queuing and includes an audio guide. This is a self-guided visit that allows you to explore the theater at your own pace.
Good to know: If you decide to attend a performance here, make sure you have the right clothes! At an opera premiere and concert season, men must wear a tuxedo or a dark suit with a black tie. Women are required to wear an evening dress. For other premieres, men will need a suit and tie and women must wear a black dress. The rules are not as strict for afternoon performances, but shorts and T-shirts are not allowed, so think 'smart casual'.
Practical information: Teatro La Fenice is usually open for visits daily, between 9.30 am and 6 pm. You have to choose between the morning entry (9.30 am to 1 pm), or go in the afternoon (1 to 5 pm). Although this can change if there are performances during the day or earlier in the evening. Teatro La Fenice is a popular attraction, so you should always book online ahead. By doing that, you can also immediately see which dates/ times are available.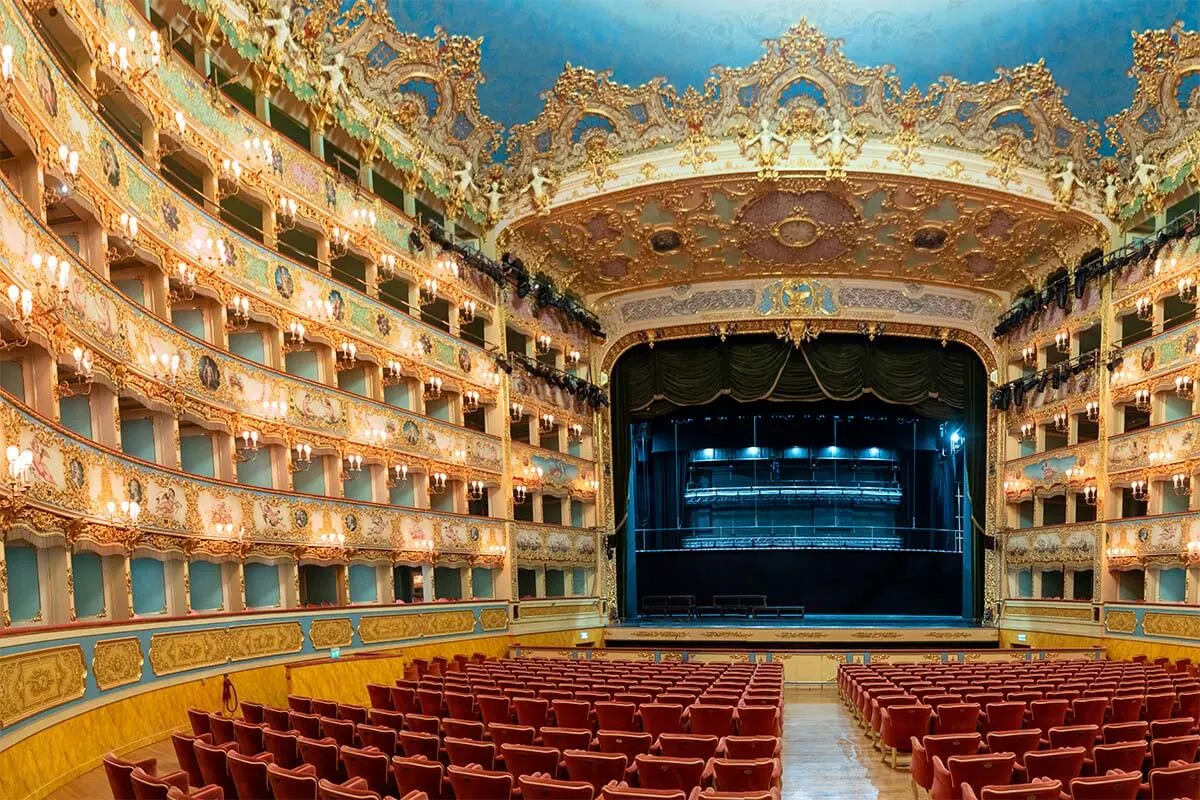 14. Fondaco dei Tedeschi Rooftop Terrace
T Fondaco dei Tedeschi is a luxury multi-level shopping center located just near Rialto Bridge. Beautifully restored, this former merchant's warehouse has quickly made its way into Venice's top attractions because of the stunning views from its rooftop terrace.
While not an absolute must in Venice, it's a great and easy way to see some amazing panoramic views of the city. You can see Rialto Bridge (partially) and the Grand Canal behind it.
Good to know: The rooftop terrace can be visited for free, but it's so popular that you have to reserve a timed entry in advance. For more information and bookings, check their website.
Practical information: The rooftop terrace is open daily from 10.45 am until 7.30 pm (the last entrance at 7.15 pm).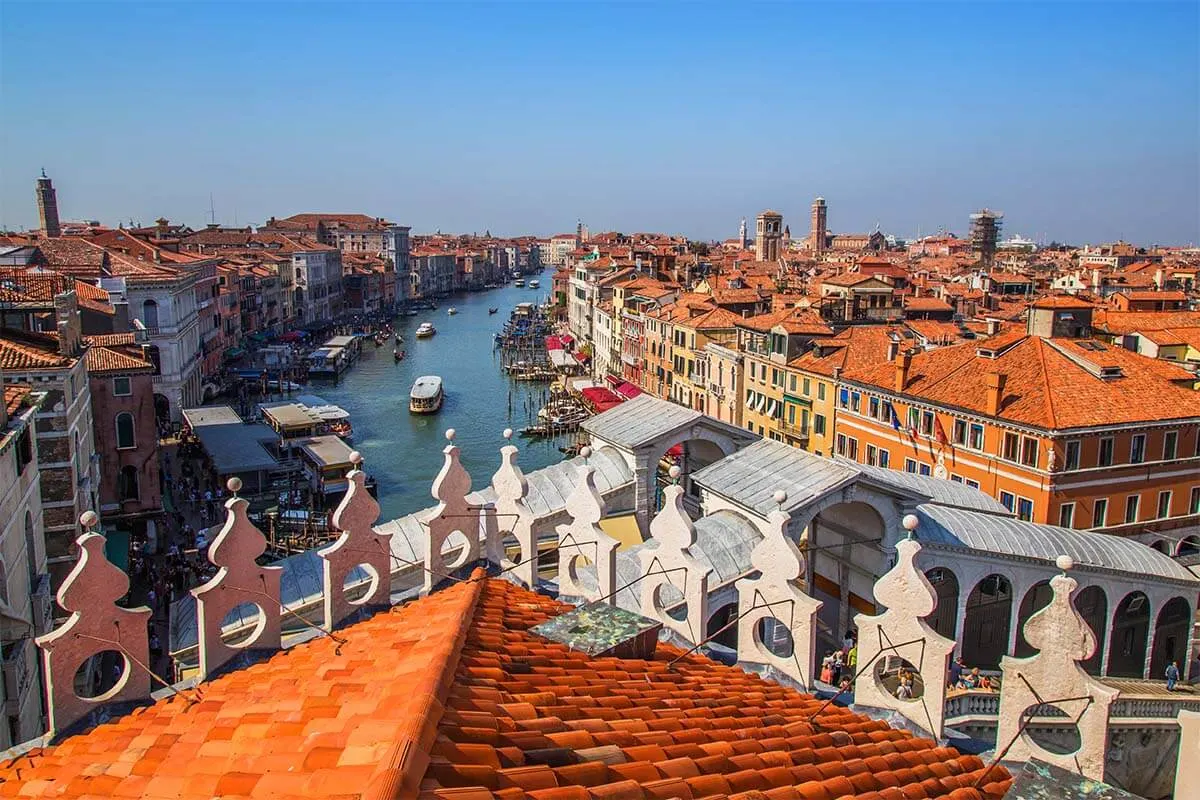 15. Basilica di Santa Maria della Salute
Basilica di Santa Maria della Salute is an iconic landmark towering Venetian skyline. It's probably the most photographed church in Venice, after St. Mark's, of course.
You may recognize the striking dome of this basilica from the postcards on sale throughout the city. Known commonly as 'Salute' it is one of Venice's most important religious buildings. It was constructed to commemorate the end of a plague outbreak in 1630 that killed a large number of the city's population.
Here you can see a 12th-century Cretan icon of the Madonna of Good Health set into an elaborately carved baroque high altar, along with Titian's 'The Descent of the Holy Spirit' from 1546 displayed near the entrance.
Practical information: The church is free to enter and is open every day in the morning and in the afternoon. But you will need to buy tickets to visit the sacristy and all the artwork is contains. Entry is 4 euros for adults and 2 euros for children.
The Basilica is located very close to the main highlights of Venice but on the opposite side of the Grand Canal. Since there's no bridge nearby, the fastest way to get here is by hopping on a boat that takes just 7 minutes from St. Mark's. If you have more time, you can walk here via the above-mentioned Ponte dell'Accademia.
Good to know: If you are visiting Venice in November, don't miss the Feast of the Presentation of the Virgin (Festa della Madonna della Salute) on the 21st. One of the most popular festivals in the city, it remembers Venice's eventual freedom from the plague and involves crossing an improvised bridge over the Grand Canal to the Salute Basilica.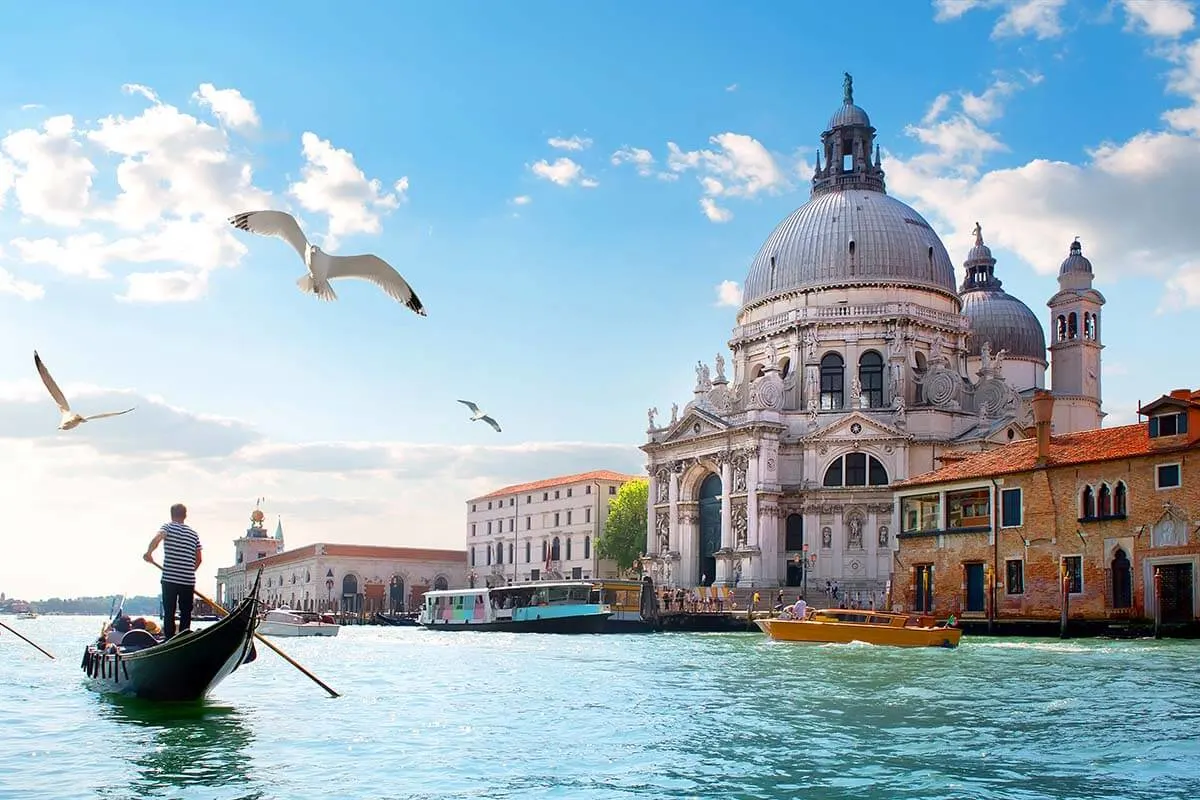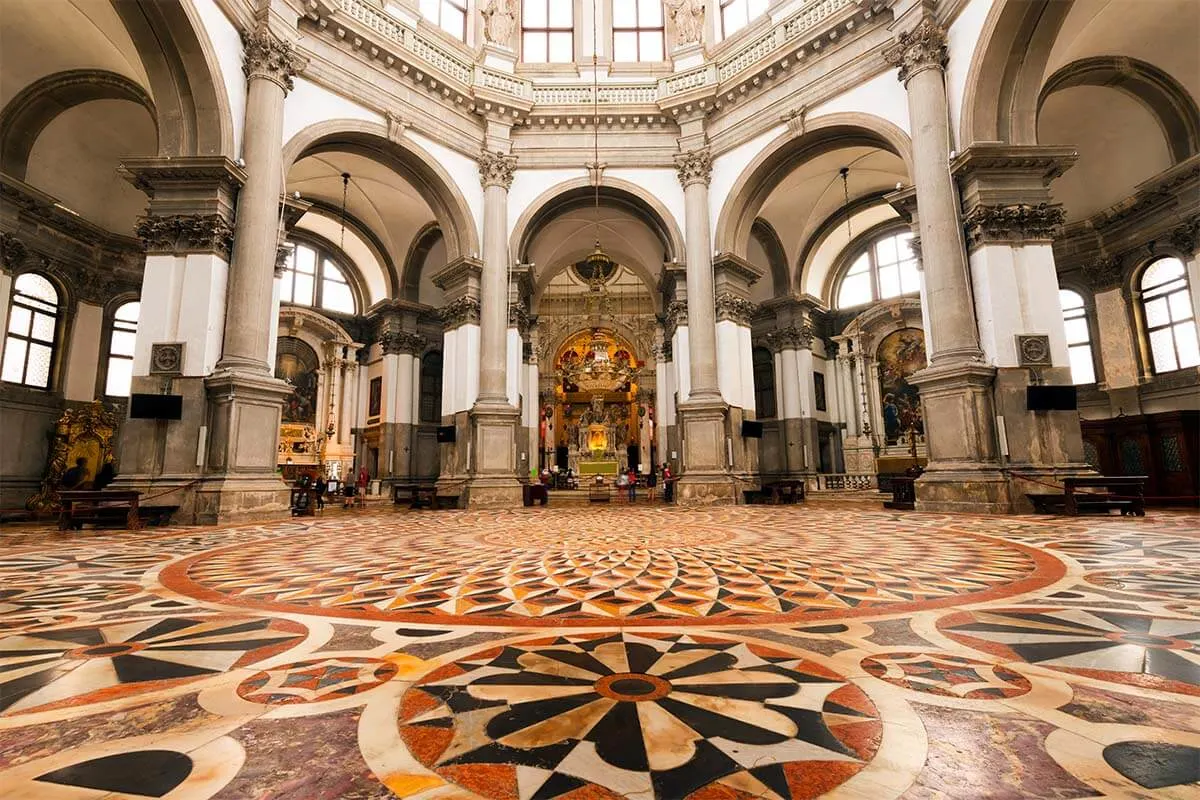 16. San Giorgio Maggiore
San Giorgio Maggiore is a little island that you can see in front of you from the St. Mark's area. It is only accessible by boat, separated from the neighboring island of Giudecca by the Canale delle Grazie.
Its name comes from its church which was built early in the 9th century and dedicated to St George. Between 1566 and 1610 the church was transformed into a Renaissance basilica, which is now an integral part of the Venetian landscape.
This is one of the nicest off-the-beaten-path places to see in Venice that most day tourists never get to. But if you have a few days in Venice, check it out! There are various ways to visit, including some fun tours of the lagoon, etc.
Most visitors come to San Giorgio Maggiore to enjoy the fantastic 360° views from the top of the basilica's bell tower across to the main island. But there is much to see in the church itself, with various works of art by Tintoretto and the 1708 painting Madonna enthroned with Saints by Sebastiano Ricci.
You can also visit the Fondazione Giorgio Cini, which is housed in a restored 10th-century Benedictine monastery. Here you can see the Palladian cloister designed by Andrea Palladio, the garden with the Vatican Chapels and the intricate Borges Labyrinth.
Good to know: You need to book ahead to visit the different parts of the Fondazione Cini. Check out these tickets.
TIP: There is only one place to eat on the island – San Giorgio Café – so see if you can book your table for lunch in advance if you will be visiting at a busy time.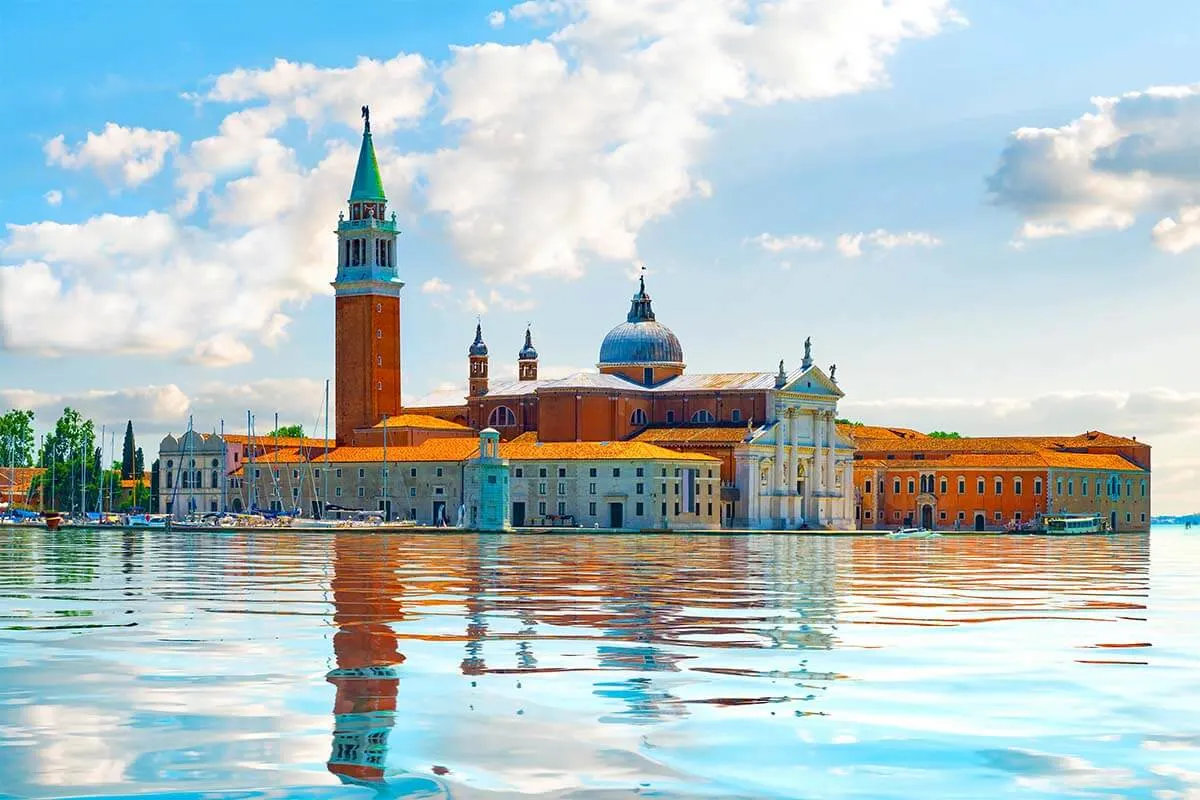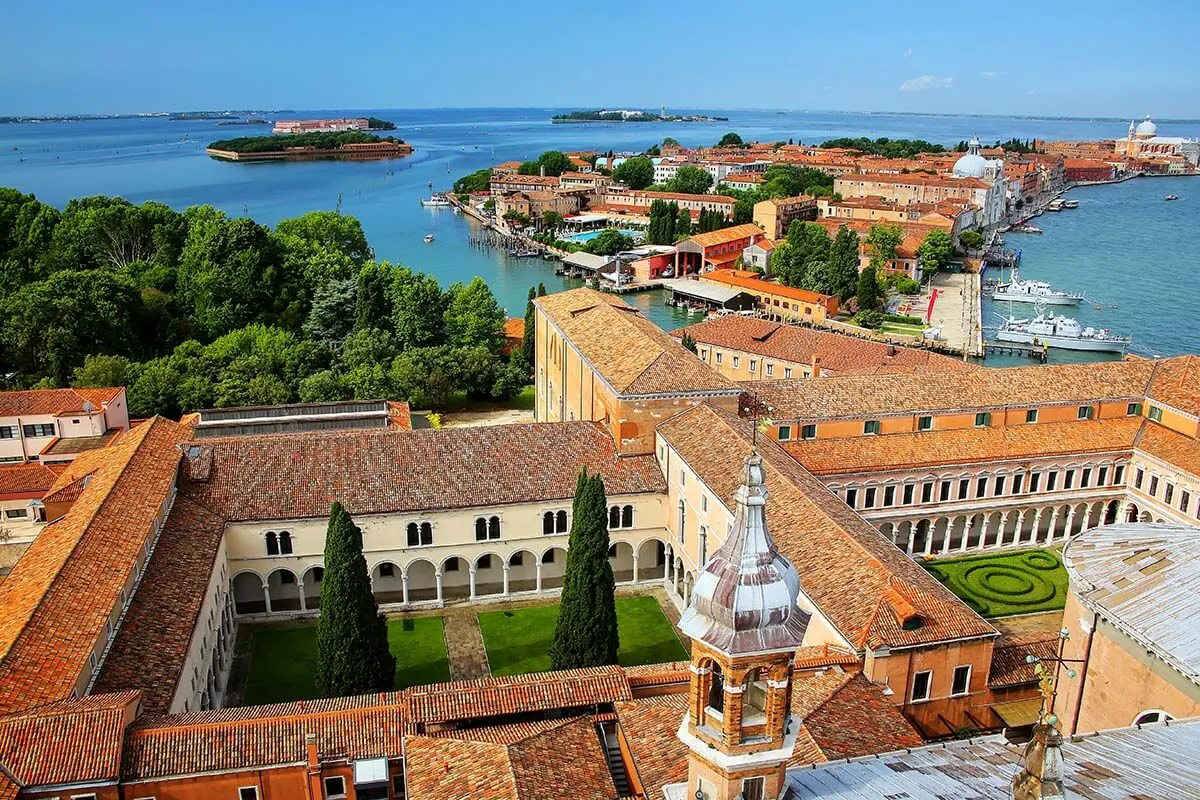 17. Cannaregio and Jewish Quarter
The Venice Jewish Ghetto is located in the Cannaregio district and is divided into the New Ghetto and the Old Ghetto. A Venetian Republic's decree in 1516 stated that Jewish doctors, lenders, and clothing merchants were permitted to deal with the commercial interests of the city during the day, but must be locked within the confines of the gated island of the Ghetto at night.
The Ghetto is a part of Venice that's easily missed, but one that is so interesting and steeped in history that it is very much worth visiting. Even more so if you go with a local guide who can tell you some history and give context to what you are seeing.
Whilst the area now has thriving shops, restaurants, and art galleries, you can visit the ancient synagogues and learn more about just what happened in the region by taking guided tours of the area.
Good to know: Shops and restaurants in the Ghetto are significantly cheaper than in the tourist hotspots, and the entire area is very peaceful in comparison.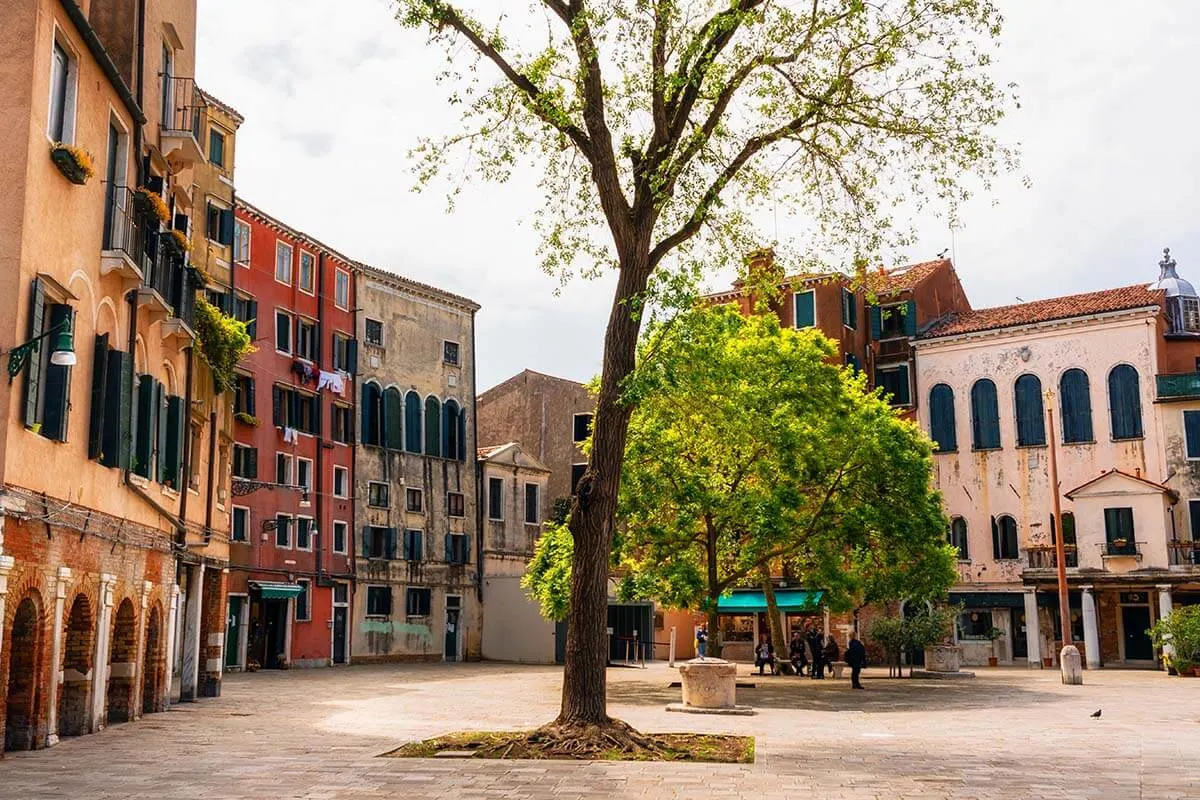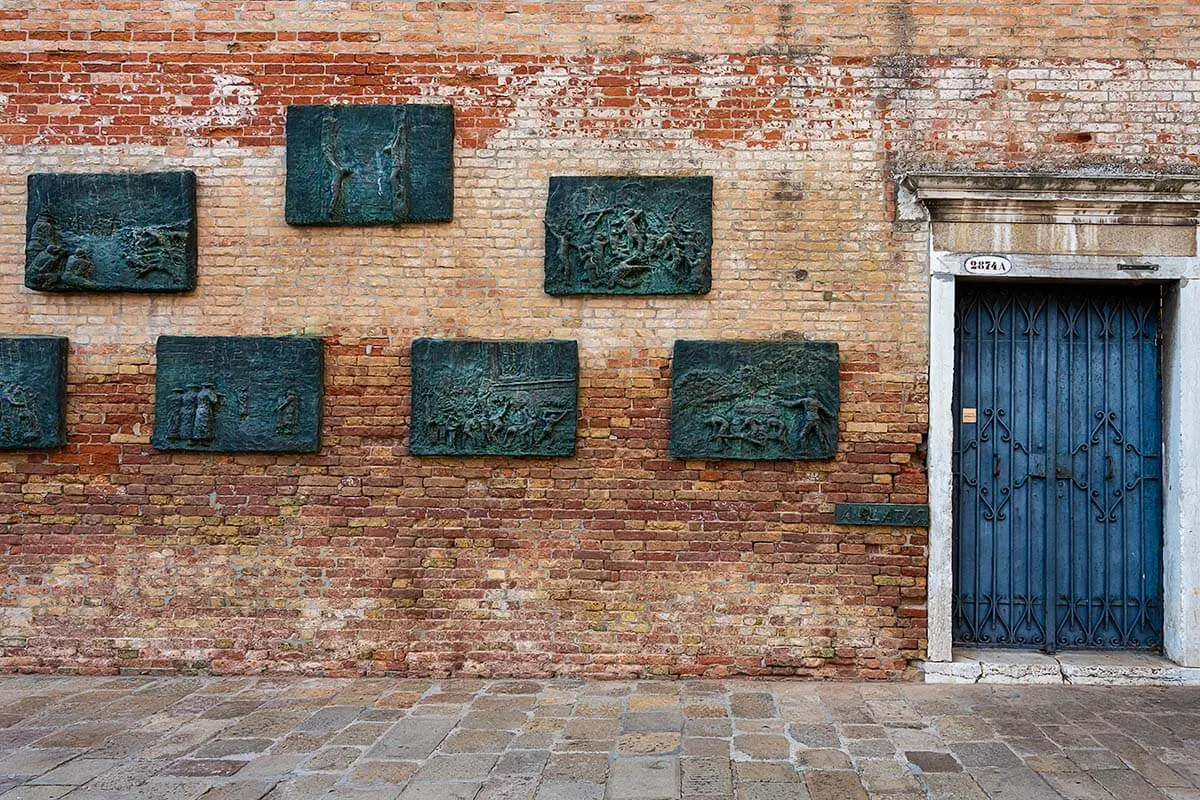 18. Lido di Venezia
Lido di Venezia – commonly referred to simply as 'The Lido' – is a narrow island separating the central part of the Venetian lagoon from the Adriatic Sea. This is Venice's beach, also known as the place where Venice Film Festival is held every year.
Although close in terms of distance, it is miles apart from the city center in its atmosphere. Developed as a seaside resort, Lido has leafy residential streets, vehicles, and pavements – another world compared to Venice.
With its long, sandy beaches Lido di Venezia is a great place to come and relax after a hot summer's morning spent sightseeing on the 'mainland'! If you are visiting Venice in the summer months when it can get very hot in the city, Lido is the place to be!
Practical information: The Lido is just about 20 minutes by water bus from Venice's historic center. The most popular route is No. 1 Vaporetto, which takes you up the Grand Canal and starts from the Piazzale Roma.
Good to know: Hotels on the Lido are usually cheaper than those in the historic center of Venice, yet are still very convenient for seeing all the main sights of Venice. Of course, there are some luxurious resorts here that will be just as pricey as the 5* hotels in the city center…
It might be worth considering staying on the island if you are visiting Venice in the summer or for a longer vacation. It's also a great place to stay if traveling with children and looking for somewhere with room to play and beach access.
TIP: Many of the beaches here require you to pay for sunbeds and can be busy, particularly at peak times. The beaches at either end of the Lido are free and much quieter (although the one to the south at Alberoni is a naturist beach). Alternatively, head to the beach run by Venezia Spiagge along Lungomare D'Annunzio, which offers discounts after 3 pm.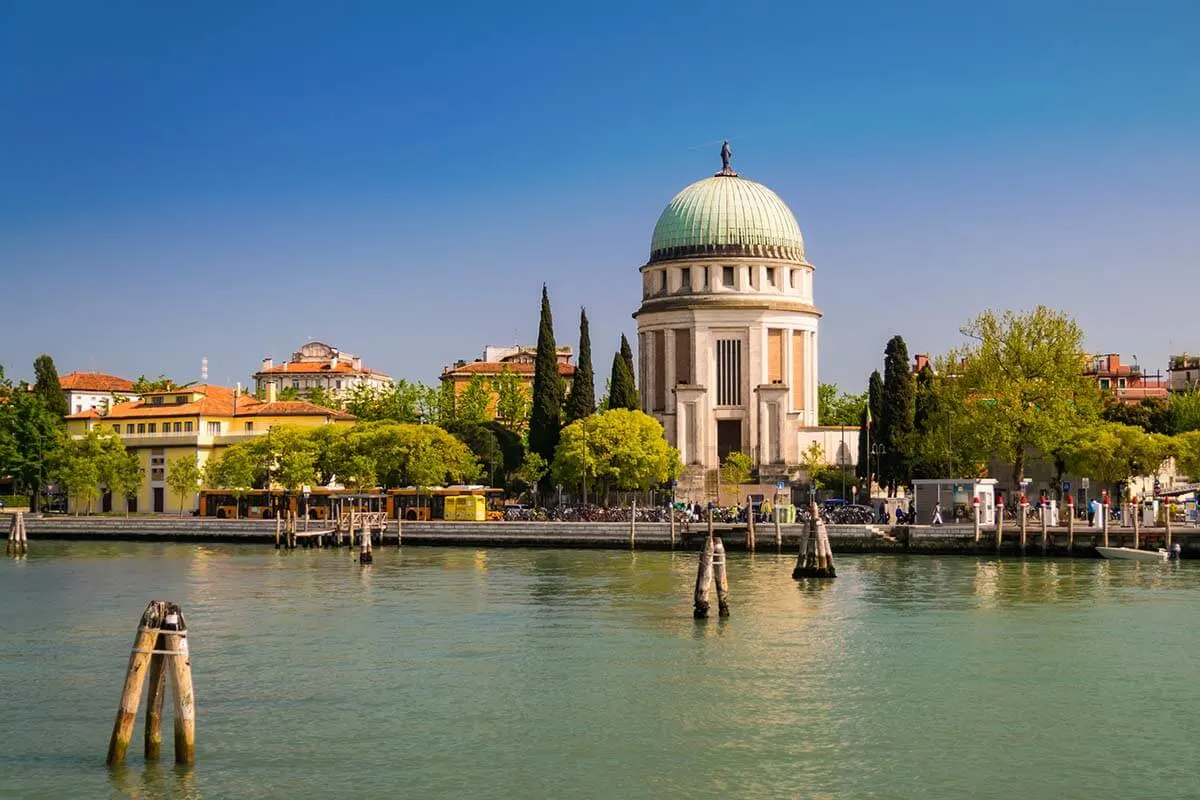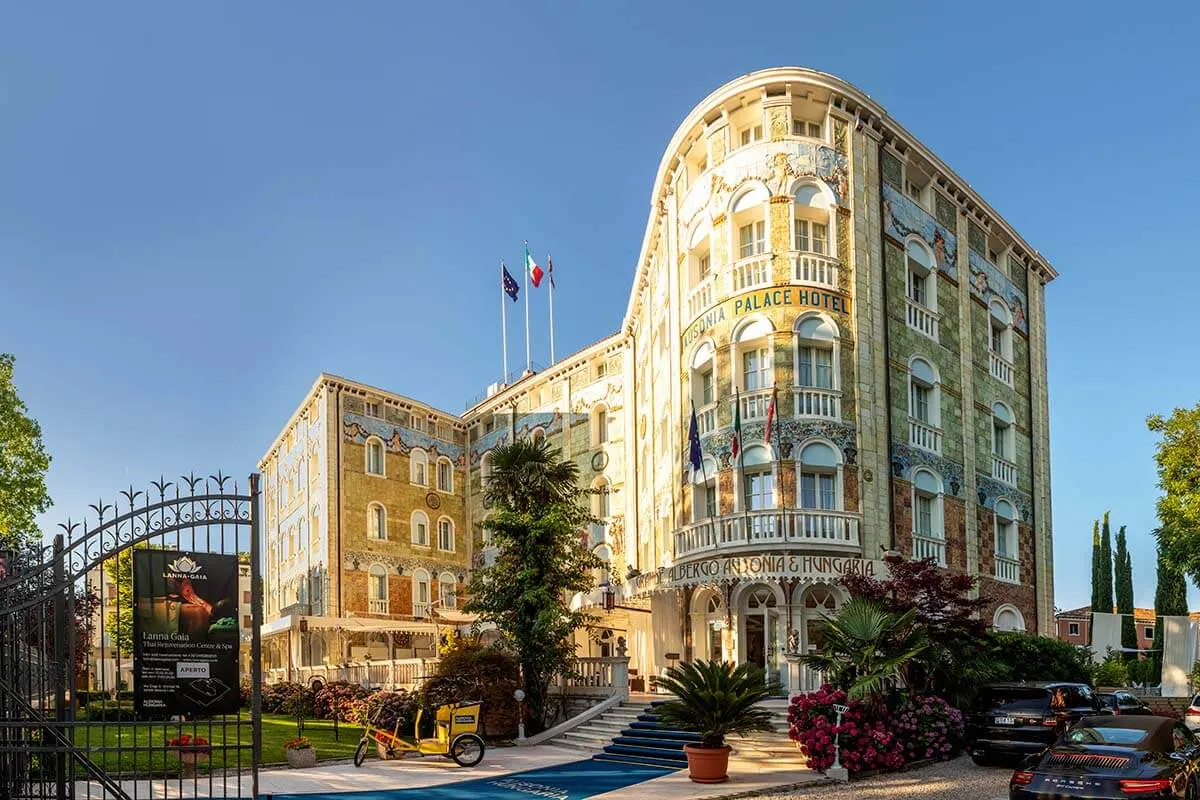 Where to Stay for Sightseeing in Venice
The best area to stay for sightseeing in Venice is between St. Mark's Square and Rialto Bridge.
Here are some hotel recommendations in this area:
If you are visiting Venice by car or arriving by train, you may want to stay close to Piazzale Roma, e.g. Hotel Carlton On The Grand Canal or Hotel Principe.
On a slightly lower budget, Abbazia De Luxe close to the railway station is a very nice choice too.
So, this is our guide to the best of Venice. I hope that it gives you a good idea of what to see and do in Venice, including the top sights, but also a few additional attractions that will make your visit so much more special.
Of course, this is in no way a complete list of all Venice attractions. You could also take a food tour, a cooking class, a dinner cruise on the lagoon, see an opera at one of the palaces of the Grand Canal, and even go kayaking on the canals… But if you cover most of the sights indicated on our list, you can be sure that you have experienced the very best that Venice has to offer!
I hope that this guide to the best things to do in Venice has been useful and that it will help you plan a nice itinerary for a truly memorable visit to one of the most unique cities in the world.
Have a great trip!
MORE INFO & TIPS FOR VISITING VENICE:
⭑ Venice in a day (1-day itinerary with all the musts and a few hidden gems)
⭑ Venice in 3 days (detailed 3-day itinerary with local's tips)
⭑ How to visit Venice by car
⭑ Venice gondola ride
⭑ Doge's Palace in Venice
⭑ Venice with young kids or a baby
READ ALSO: Best Places to Visit in Italy
If you found this post useful, don't forget to bookmark it and share it with your friends. Are you on Pinterest? Pin these images!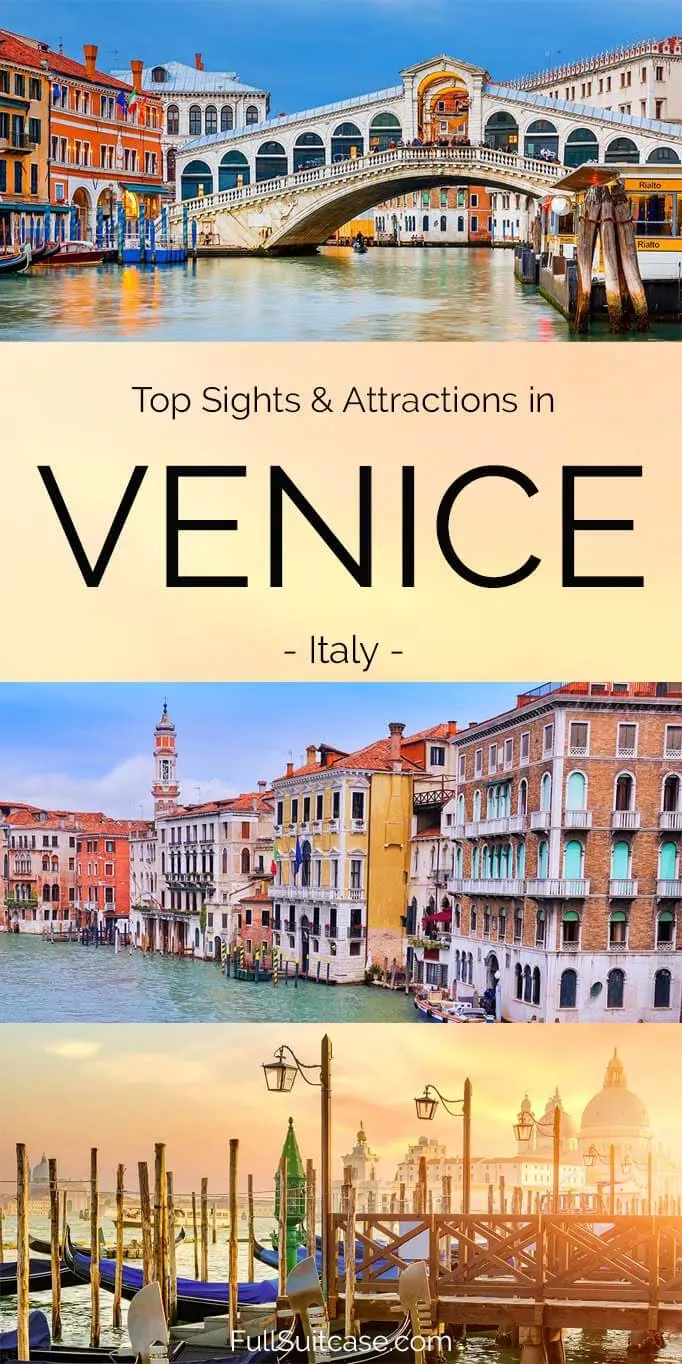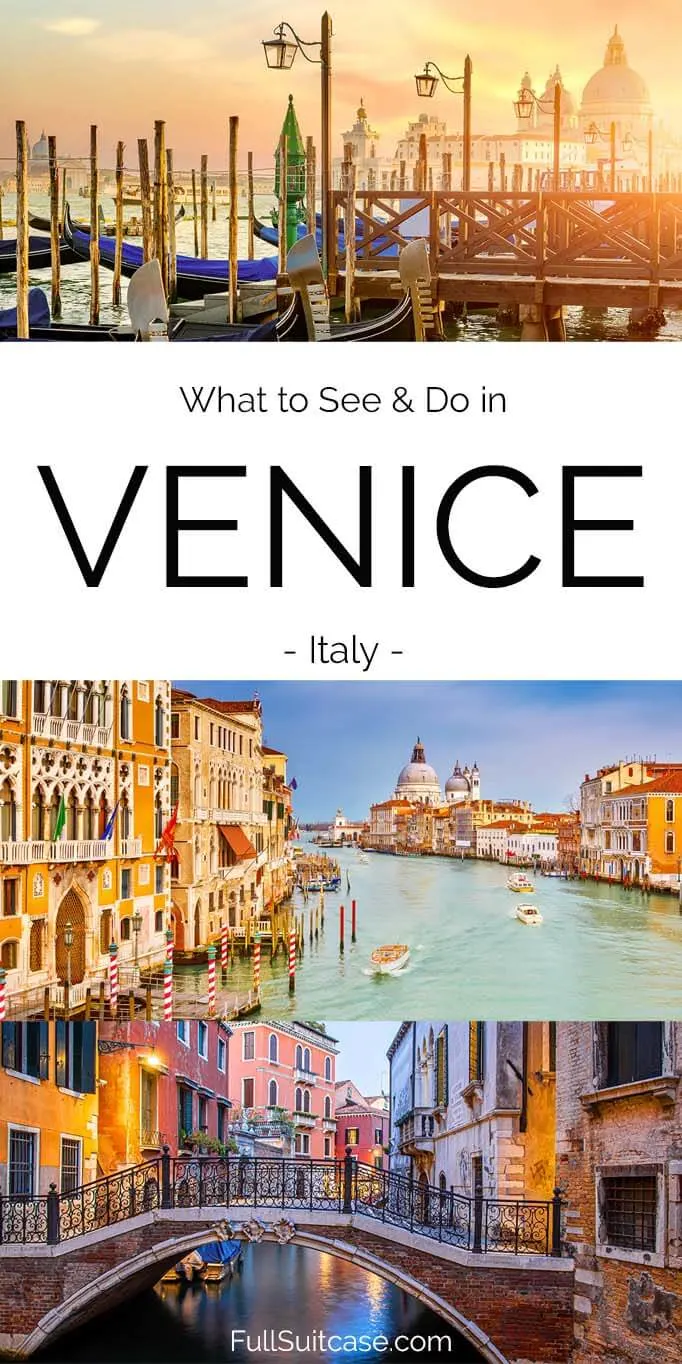 Images: Personal collection & depositphotos.com. La Fenice Theater & Ausonia Hungaria Hotel – Hackman/depositphotos.com.
More tips for your trip to Italy
Italian cities:
Lakes, mountains, and coastal areas: