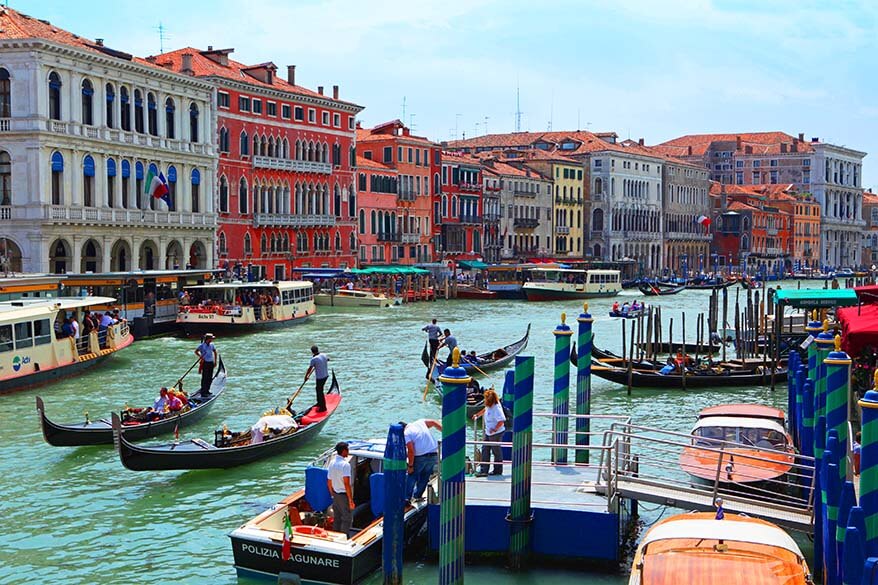 Are you thinking of traveling to Venice with young children and wondering if it's easy or even possible to visit Venice with a baby or with a toddler? In this post, you can read about our experience visiting Venice with our three kids under 4. Take a look!
We actually didn't really plan to visit Venice with toddlers. (If we had, we would have probably done some research and never gone there with three little children). But as it often goes with us, one morning we took a spontaneous decision and just went to Venice by car.
It's actually not as crazy as it sounds – we were vacationing on Lake Garda at that time and even though Venice was not in our plans, it was just too close to resist.
We had been to Venice pre-kids in the past and had some vague recollection of narrow streets and lots of bridges. But somehow you never really pay attention to how accessible (or inaccessible) everything is till you find yourself in a situation where your mobility is limited.
So we didn't even give it a second thought and didn't realize how difficult it actually is to navigate Venice with young kids.
After two hours' drive from our hotel near Lake Garda to Venice, we were glad to be able to stretch our legs at the parking near Santa Lucia train station (this is the last place where you can leave your car before entering the town center).
We were excited to explore this floating city with our three little travelers. What we didn't know is that we would be stretching our legs the whole day.
Can You Take a Stroller to Venice?
Our twins were 21 months, and our big boy was 3 at the time when we visited Lake Garda area and Venice. Of course, we had strollers with us – a double stroller for the twins and a regular one for a 3-year old. It was actually quite easy to explore most towns of Lake Garda with strollers. Not so much in Venice…
We soon found ourselves standing with two strollers at the first bridge over a canal near a railway station in Venice. That's when we realized that Venice is not only full of bridges but that those bridges are also built in such a way that there are stairs everywhere.
We saw people carrying their kids in their strollers over the stairs in Venice. But with three kids, this wasn't an option for us. Furthermore, even if you decide to do that, you should know that there are many bridges in Venice and even more stairs. It's not a matter of doing it once or twice. If you visit Venice with a stroller, you'll be lifting and carrying it the whole day…
So, can you visit Venice with a baby or a toddler in a stroller? It depends. If you have just one child and one stroller and you're prepared to carry the stroller where needed, then yes, it is possible to visit Venice with a stroller. Otherwise, you're better off taking a baby carrier instead. For toddlers – you'll have to let them walk and/or carry them.
Read on to find out how we ended up visiting Venice with our little ones…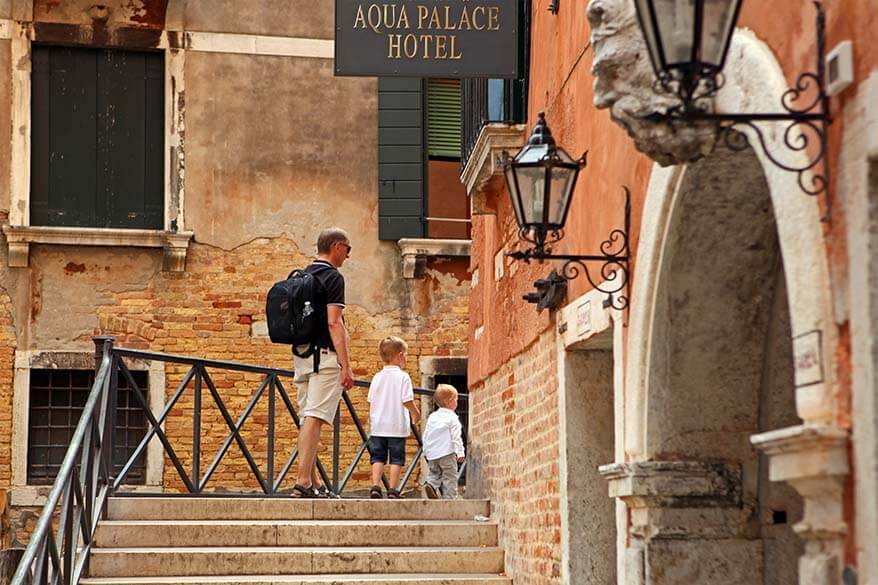 Venice with Toddlers – Our Experience
Since we didn't travel all the way to Venice to then turn around at the first bridge, we decided to give it a try. We brought both strollers back to the car, packed all the stuff the kids might need in a backpack, and set to explore Venice with three toddlers on foot.
Of course, we couldn't see as much of the city as we had hoped that morning, but the kids were doing great. They walked all the way to St. Mark's Square, passing Rialto Bridge, admiring boats and gondolas, and chasing each and every pigeon we came across.
However, by the time we reached St. Mark's Square, all the children were too tired to explore any further. They were even too tired to walk back to the car… Needless to say, we couldn't visit any of the attractions inside with three tired toddlers.
In the end, we took one of those very expensive taxi boats back to the railway station where our car was parked.
Visiting Venice with toddlers became a truly unforgettable experience. Years later, we still talk about that crazy idea we had exploring Venice on foot with such young children…
So, Is It a Good Idea to Visit Venice with Toddlers?
If you are traveling to Italy and are planning on visiting Venice with a baby or a toddler, I'd say go ahead. Venice is such a beautiful city and it would be a shame not to visit it. You will love it!
Just now that you know what to expect, at least you can take an informed decision on how you are going to do that. Based on our experience, here are some suggestions for you:
Venice with a baby. Leave the stroller in your hotel (or your car) and pack a baby carrier instead.
Venice with a toddler. If you have just one (young) child, you could pack a very light stroller and carry it where necessary. We even saw people who took young kids in their strollers for a gondola ride.
Venice with several young children with strollers. You may want to skip the narrow streets and the canals and just take a water bus or a taxi boat to St. Mark's Square and Riva degli Schiavoni. It's quite flat there and you could do quite some sightseeing in that area even with a stroller.
Venice with toddlers without a stroller. You'll have to be prepared to walk a lot and carry your kids when necessary. When they get tired, you can take a gondola ride and rest your legs a bit.
TIP: Based on our experience in Venice with toddlers, I'd say that you shouldn't plan more than one day in Venice with young children. If you take a stroller with you, I also strongly recommend packing a good bicycle lock. That way you can leave your stroller behind for a few minutes when necessary.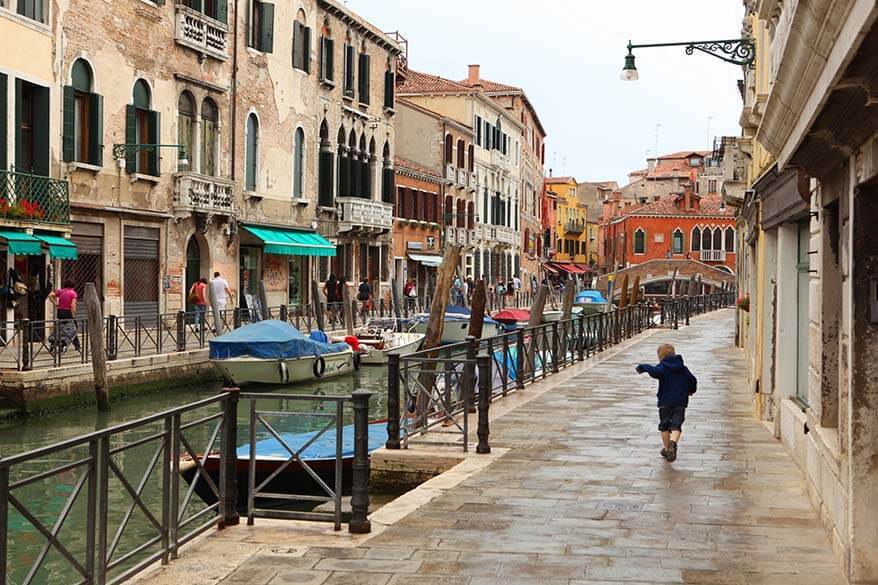 So, this is our short guide to visiting Venice with little children. Have you been to Venice with a baby or a toddler? Feel free to share your experience or any tips below.
Several years later: We visited Venice with kids several years later again. This time, the kids were 9-11 years old and we could explore the city to the fullest. We walked the city streets, took a gondola ride, went on the top of the Campanile Tower, visited St. Mark's Basilica and its balcony, and explored the famous Doges' Palace…
LEARN MORE: Venice in One Day: Things to Do & Itinerary
Needless to say, we could do so much more now that the kids are older. Still, we are happy that we visited Venice with kids when they were very young as well. We have some amazing memories from that day and it was totally worth it taking three toddlers for a walk in Venice.
So if you are hesitant about visiting Venice with a baby or a toddler, do it! You will probably not be able to do everything you want, but hey, it's Venice and you should never miss an opportunity to go! You can always go back later, just as we did, but if you never get a second chance, at least you had this!
More tips for your trip to Italy:
If you found this post useful, don't forget to bookmark it and share it with your friends. Are you on Pinterest? Pin this image!