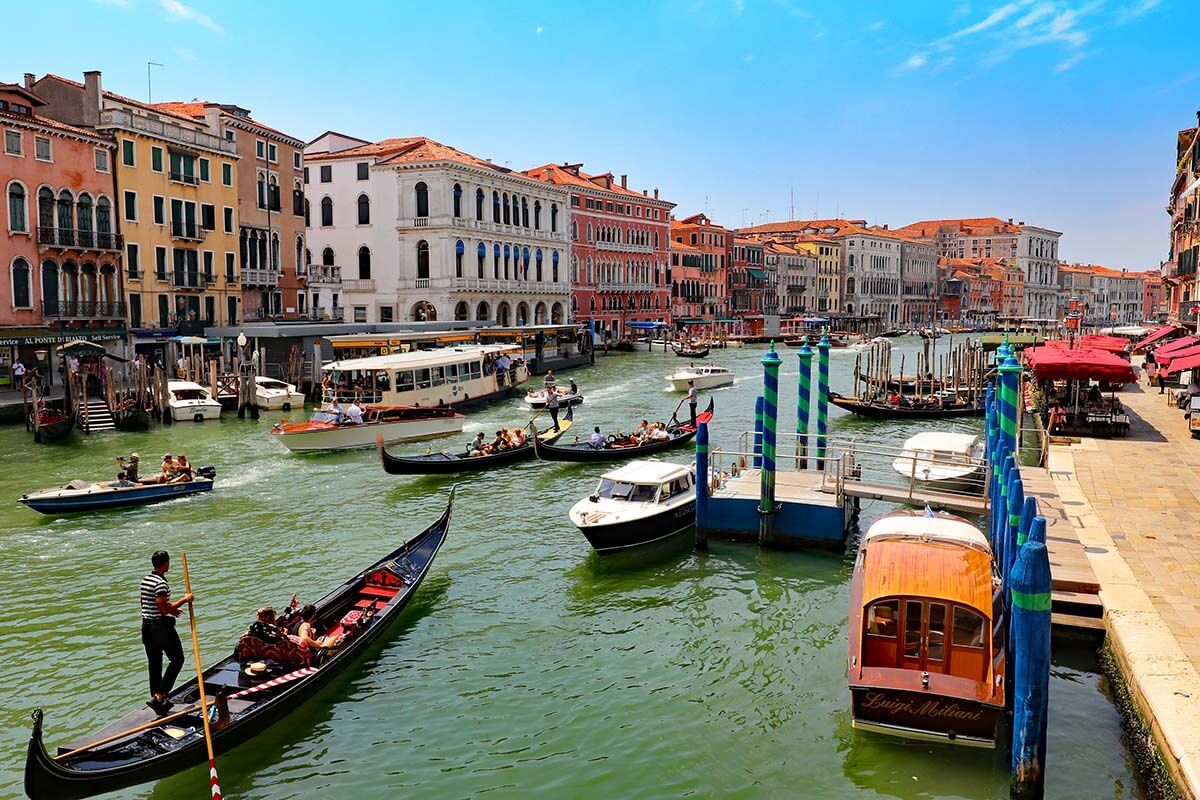 Visiting Venice for the first time and wondering how to make the absolute most of your day in this beautiful city? In this article, we share our best tips on how to see the best of Venice in one day.
You probably dreamt of seeing Venice with your own eyes for years. But now that you start planning your visit, you might find it so overwhelming. Where exactly to go, what to see, and how to make sure that you don't miss anything important?
But let's face it – with just one day in Venice, there is no way to see 'everything'. In this article, you can find our experience-based suggestions with the 1-day Venice itinerary as we did it. It includes all the 'musts' and a few extra's that will make your day even more special.
Obviously, you don't have to do everything in the same order as we did, but this gives you a good idea of what you can see and do in Venice in a day. Find out!
READ ALSO: Best Cities to Visit in Italy
How to see the best of Venice in 1 day – OVERVIEW
These are the best things to do in Venice in one day:
Venice Canals
Taking a walk through the maze of narrow streets and canals is one of the best ways to discover Venice as it really is. It's an eclectic mix of old colorful buildings, narrow canals, even narrower streets, boats, gondolas, shops, restaurants, and people…
Some canals, streets, and town squares are extremely picturesque, while some others are quite run-down. But no matter which street you turn into or which bridge you cross, you'll be enchanted by this fascinating city. Venice is truly one of a kind.
Further below, you'll find a list of all the main Venice landmarks that you absolutely have to see. However, don't limit your visit to just 'the musts'! Try to take some time to get just a bit off the beaten path and simply walk around. Exploring Venice on foot is something you must do in order to get a complete picture of this unique floating city!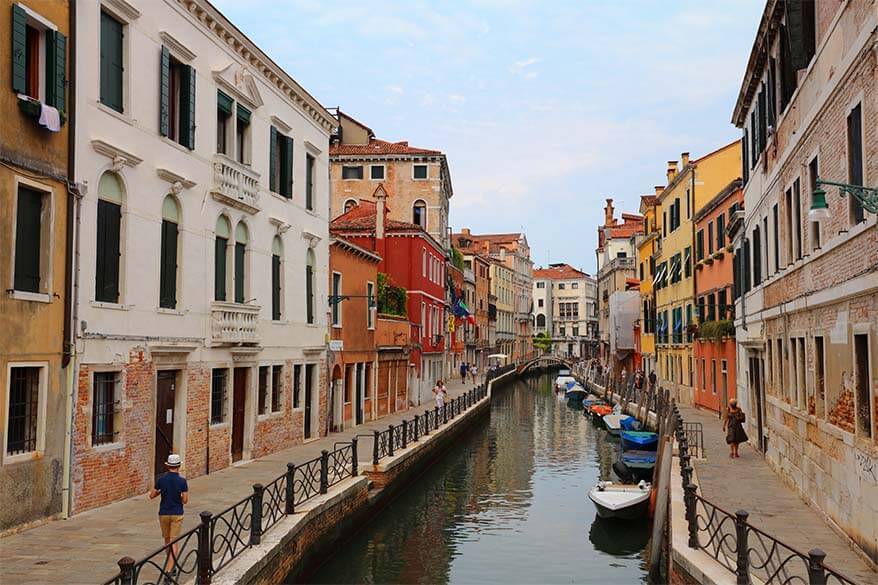 Gondola Ride
As you explore Venice, you'll notice gondoliers almost at every little bridge, inviting you for a gondola ride on the canals. They can be found all over the city center in Venice and offer private gondola rides.
The price for a gondola ride is the same everywhere, the only thing that differs is the route and the gondolier. So also here, no two gondola rides in Venice will be the same.
A traditional gondola ride is such a bucket-list thing to do in Venice (and one you shouldn't miss), but sometimes it just doesn't live up to your expectations. In order to help you have a truly unforgettable gondola ride, I compiled a guide with our top tips and recommendations for a better experience. Check it out via the link below!
LEARN MORE: Venice Gondola Tips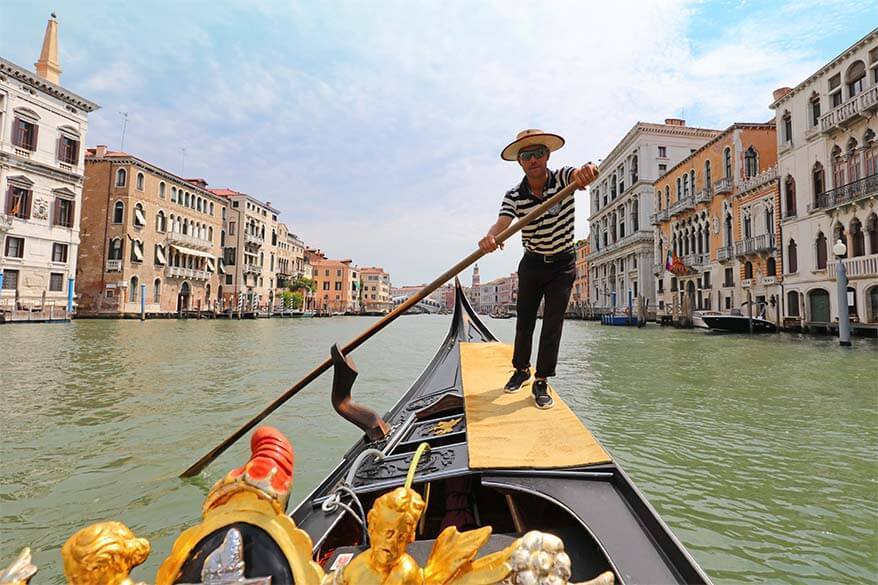 St. Mark's Square
St. Mark's Square (Piazza San Marco) is an iconic landmark that is not to be missed when visiting Venice for a day. Dating back to the 12th century, this is the largest town square in Venice. It's here that you'll find many of the city's most famous buildings and probably spend the biggest part of your day in Venice.
You can't miss the impressive St. Mark's Basilica and Campanile as well as Doges' Palace (more info below). But do take note of the other buildings as well. Don't overlook the 15th-century Clock Tower of Venice (Torre dell'Orologio). It's located on the northern side of the square and has an impressive archway leading to Merceria Street.
Good to know: If you choose to arrive in the city center by water bus, you'll likely start your day at St Mark's Square. In that case, head straight to the Campanile, Basilica, or Doge's Palace before most day tourists arrive. The queues at all these three landmarks can get really long, so be prepared for that.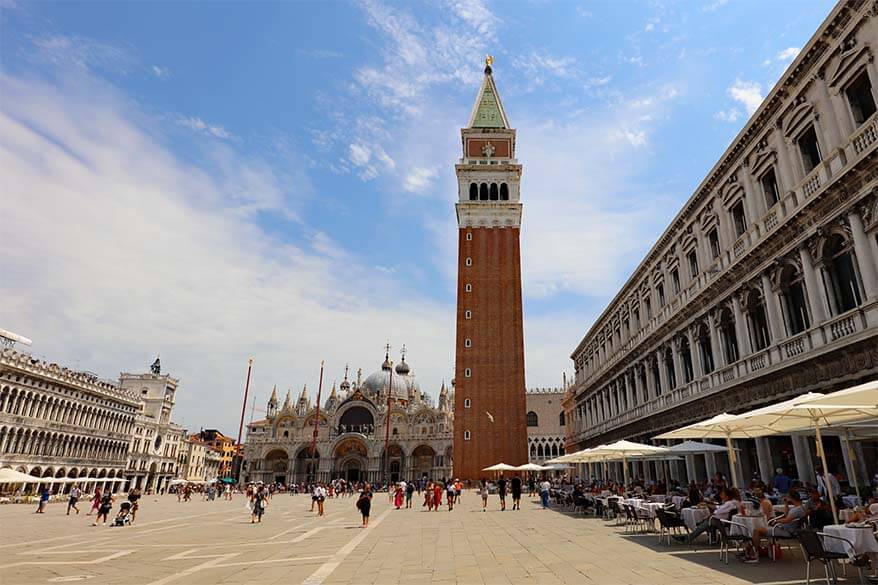 St. Mark's Campanile
St. Mark's Campanile (Campanile di San Marco) is the bell tower of St. Mark's Basilica and the unmistakable symbol of Venice. The historic tower is the tallest building in Venice and its origins date to the middle ages. After the old tower collapsed, Campanile was completely rebuilt in 1912.
The tower is not attached to the cathedral and can be visited separately. From the top, you have the best 360° views over the city center of Venice and the lagoon. The good news is also that there is an elevator that brings you all the way to the top, so everyone can easily enjoy these great views of Venice.
Practical information: The Bell Tower is open daily; hours vary depending on the season. In July and August, the tower is usually open from 9 AM to 9 PM. In spring and autumn – from 9 AM to 7 PM. However, opening times might change and the tower can also get closed in case of very bad weather. For more up-to-date information, please check the website of the St. Mark's Basilica.
Good to know: At the moment of our visit, it wasn't possible to book Campanile tickets online in advance. So you just have to hope that the queues are not too long or be prepared to stand in a long line without any shade.
Is it worth it? With just one day in Venice and the possibility of long queues at its major attractions, you might be wondering if Venice Campanile is worth a visit. We've been on top of Campanile almost every time we visited Venice and we find that it's worth it every time again. The views are stunning! To me, this is one of the absolute best experiences in the city. It's also a great attraction for kids.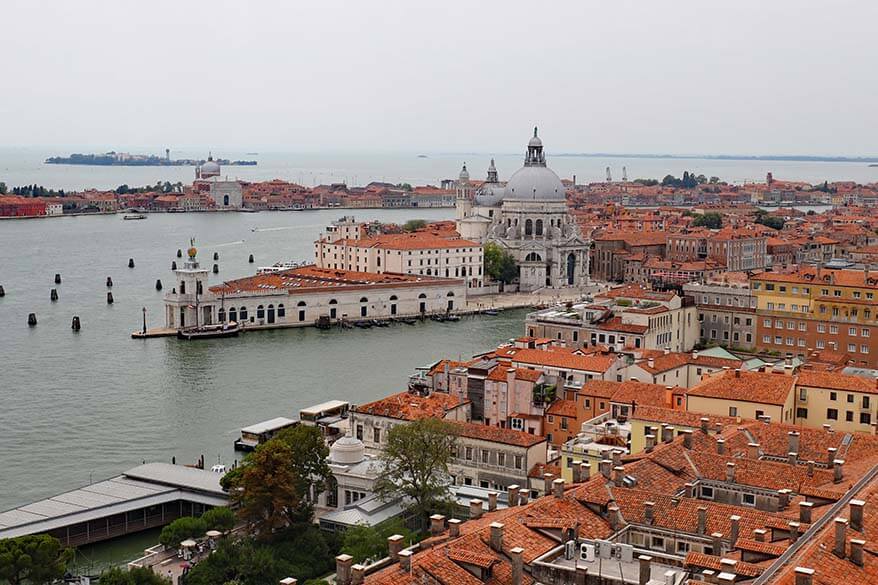 Saint Mark's Basilica
St. Mark's Basilica (Basilica di San Marco) is the cathedral of Venice and one of the must-see landmarks in the city. The original church dates from the 9th century and it was built as a chapel of the adjacent Doge's Palace. Only in the early 19th century St. Mark's became the city's cathedral.
The Italo-Byzantine church is quite impressive from a distance, but you should also take the time to admire its beautiful facade from close-by. The colorful mosaics are absolutely stunning!
The interior of this church is extremely impressive too, but it's very dark and usually so busy that it's difficult to appreciate what you see. If you go inside, don't miss the Pala d'Oro, the Transept Chapels, St. Mark's Tomb, and the impressive domes and marble floor mosaics.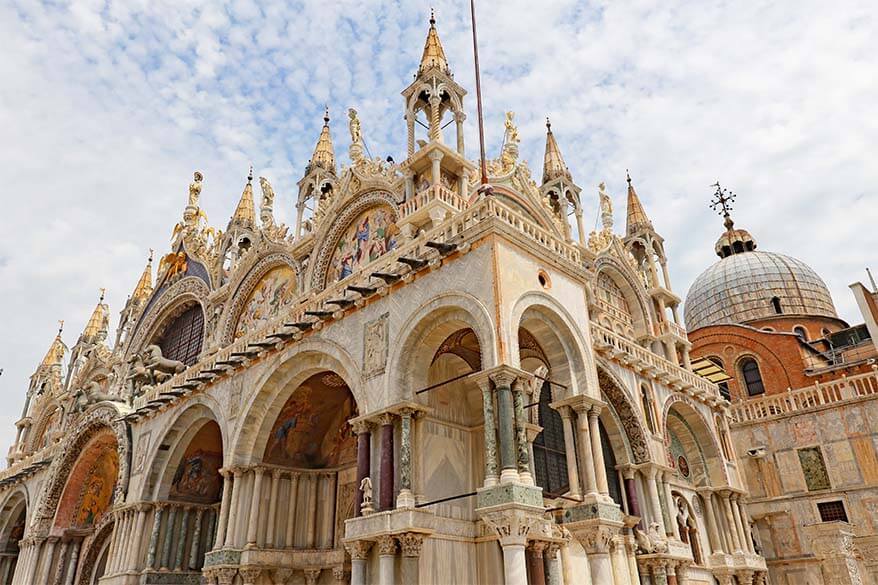 Good to know: A visit to the cathedral itself is normally free of charge, but the queues are immense. If you want to visit the basilica, I strongly recommend booking a guided tour with skip-the-line access. It will not only save you time, but a commentary by a local guide will also allow you to make the most of your short visit.
Instead of visiting the Basilica, you can opt for a visit to St. Mark's Museum and the terraces (small fee). From the museum, you get a good look at the interior of the cathedral and you also get access to the 1st-floor balcony overlooking St. Mark's Square and the Campanile. We found the museum itself quite small and not that interesting (religious art lovers will probably disagree), but it was worth it just for the access to the terraces.
TIP: Also here, you may want to opt for this highly-rated guided tour that includes the Doges' Palace and the terraces at St. Mark's Basilica. With just a day in Venice (and especially if visiting in high season), it's otherwise very difficult to see it all in one day.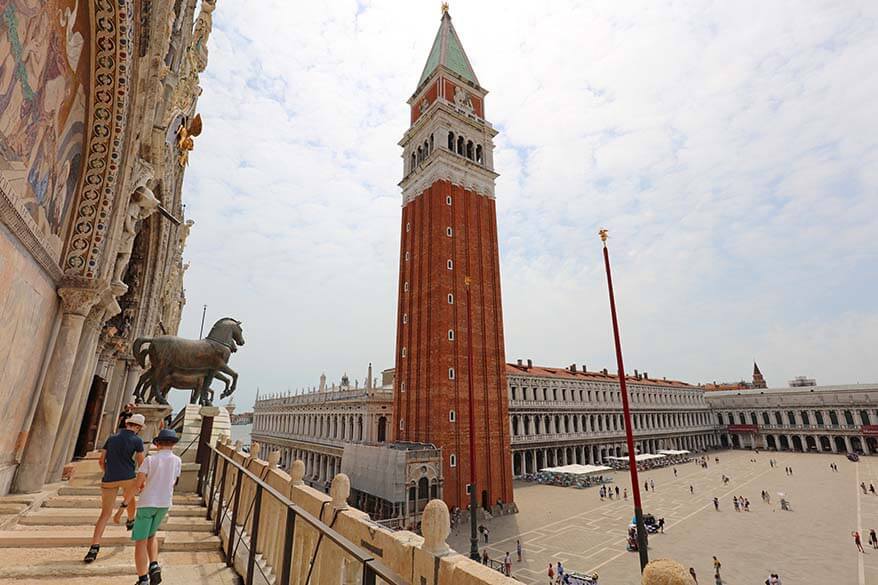 Doge's Palace
Doge's Palace (Palazzo Ducale) is another landmark that you should really try to see, even if you have just 1 day in Venice. This impressive 14th-century palace was the residence of the Doge of Venice, the supreme authority of the former Venetian Republic. It also served as the seat of the Venetian government and part of the building also housed a medieval prison.
Nowadays, Doge's Palace is a museum. It's one of the best places to learn more about the history of the city of Venice and the most glorious period of the Venetian Republic.
We are not really fans of museums and I never expected to be so impressed by Doges' Palace. But I truly was and so were my husband and the kids. The architecture of the building is stunning and the courtyard is very impressive. But the most beautiful are the Doge's apartments and the institutional chambers. This place is so big and one room is more beautiful than the previous one…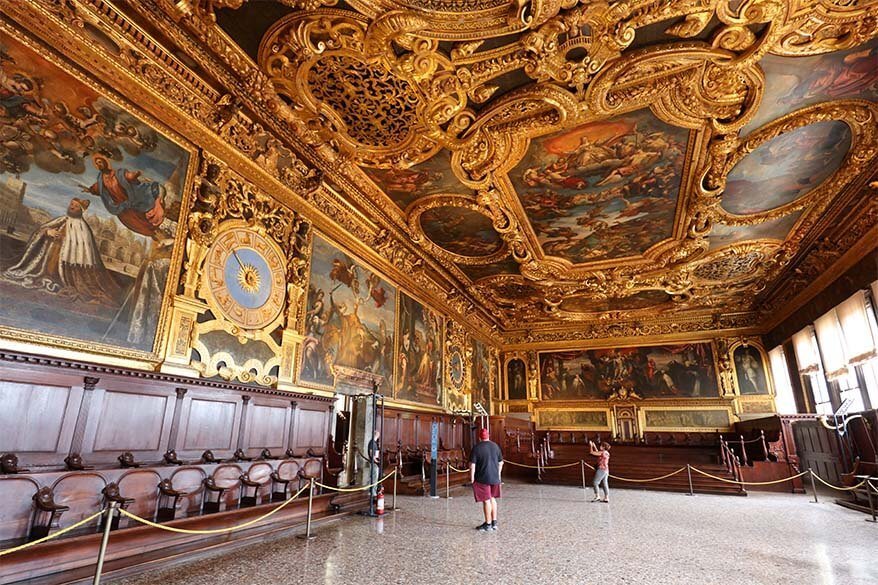 The cells of the medieval prison are also really interesting to see. The contrast between the ornate chambers of the palace and the cold humid underground cells could not be bigger! The famous Bridge of Sighs also lets you access the 'new' 16th-century prison on the other side of the canal.
Good to know: Count at least 1-1.5 hours for a visit to Doge's Palace, not including the queuing time. This is one of the most popular places to see in Venice and it's always busy. So if you are not taking a guided tour, make sure to get priority access tickets!
TIP: If there is one place in Venice that you really should try to visit with a guide, it's here. There's so much history in this place! You can learn so much more by going with a local guide who can tell you all the stories and anecdotes. Furthermore, guided tours usually prebook priority access which saves you lots of time and frustration by not having to figure out all the practicalities by yourself.
I recommend this tour for just Doge's Palace, this tour if you want to visit Doge's Palace and St. Mark's Basilica, or this tour for Doge's Palace and the terraces of St. Mark's Basilica.
LEARN MORE: Complete Guide to Visiting Doge's Palace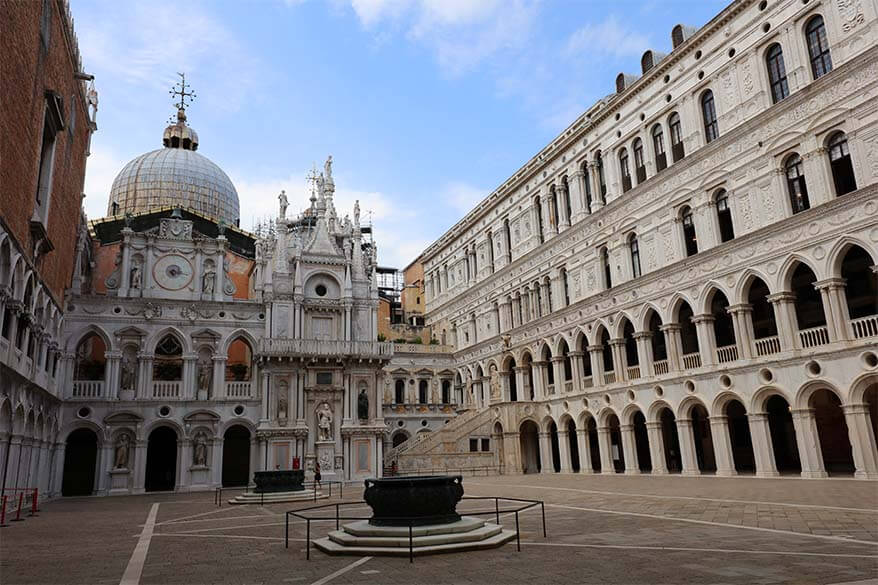 Bridge of Sighs
The Bridge of Sighs (Ponte dei Sospiri) that connects the Doge's Palace to the 'new' prisons (see above) is also impressive from the outside.
You can admire the exterior of this covered bridge from the Ponte della Paglia, a small bridge at the waterfront promenade Riva degli Schiavoni. There is also another bridge a bit further away from where you also get a good view of the Bridge of Sighs.
The name of this iconic bridge dates from around the 18th century. It refers to the sighs of the prisoners who took the last glimpse of the outside world through the tiny openings of this enclosed bridge when being brought to their cells.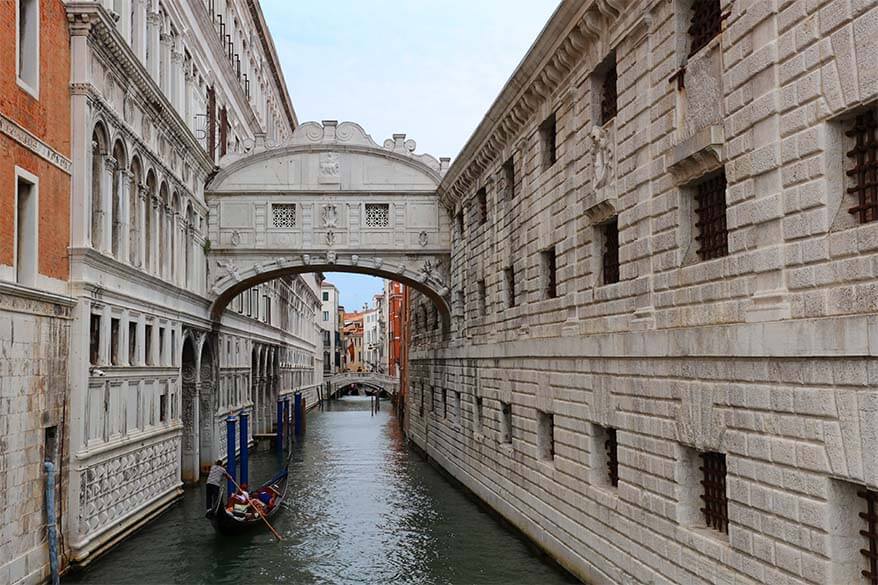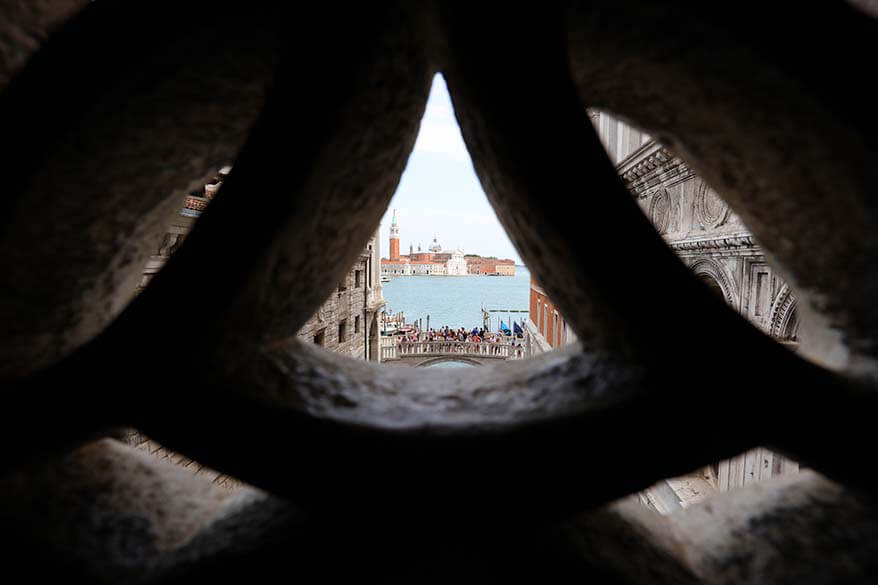 Riva degli Schiavoni
The famous waterfront promenade of Venice, Riva degli Schiavoni is another place you just have to check out when visiting Venice.
It's a wide pedestrian promenade that stretches from Piazza San Marco to the east and is lined with cafes, restaurants, and countless souvenir stands and shops. Boats, water buses, and water taxis dock here and there are several gondola stands here as well.
This is probably the busiest area of Venice and no matter when you visit, it's always very lively. It's also extremely touristy with not much authenticity left. So just stroll a small part of the promenade in order to get an idea of what it's about, but remember that there are better places to spend your time than here.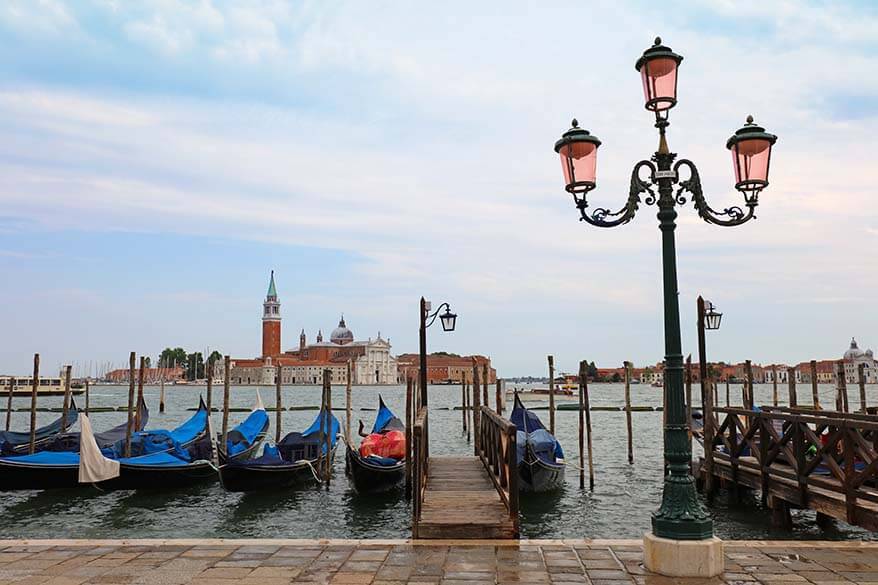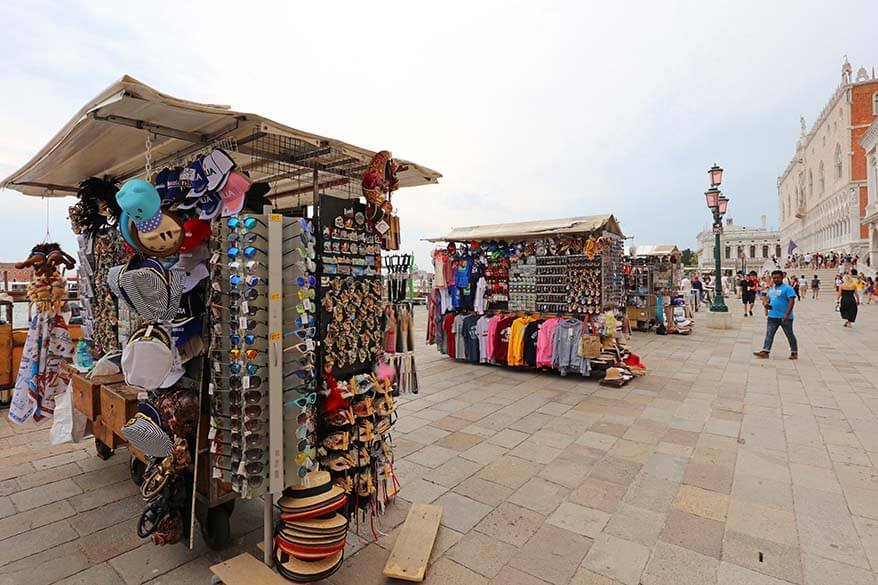 Grand Canal
Grand Canal (Canal Grande (Italian) or Canal Grando (Veneto)) is the major waterway in Venice. World-famous for its stunning palaces, Grand Canal is the best place to see the most beautiful Venetian architecture.
This wide channel divides the city into two parts and there are only 4 bridges connecting both sides. Grand Canal is about 3.8 km (2.4 miles) long and is the bustling heart of Venice. Water buses, water taxis, private boats, and gondolas are buzzing in all directions creating a fascinating chaos.
It's always fun to watch the hive of activity here. So if you have some time to spare, you may want to get some coffee at one of the cafés by the Grand Canal and stay here for a while. Alternatively, head to Rialto Bridge and do some boat-watching from above.
TIP: There are several ways to explore the Grand Canal: taking a water bus, a water taxi, or a gondola. You can also walk along small sections of the canal in the area south of Rialto Bridge and at a few other locations. And, of course, the views from the bridges over the canal are always great.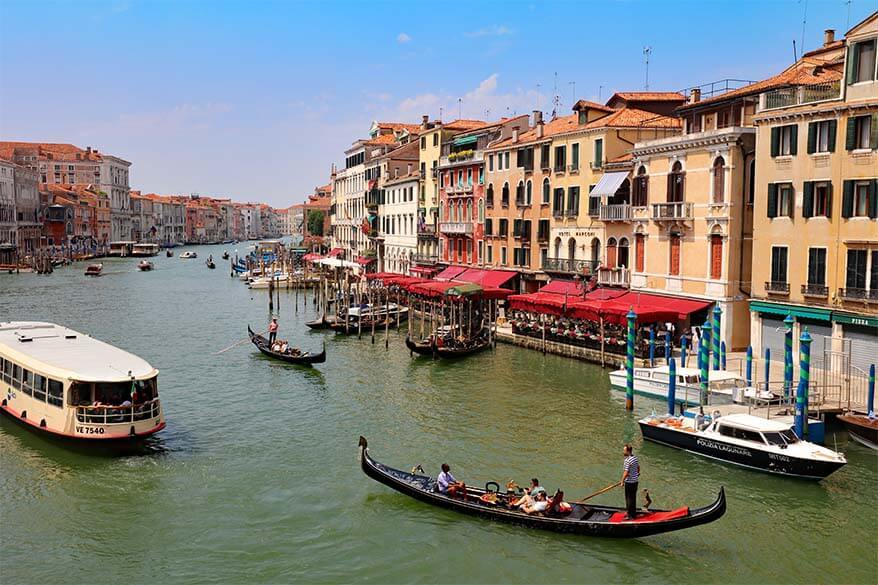 Rialto Bridge
Rialto Bridge (Ponte di Rialto) is one of the most famous landmarks in Venice. So even if you only have a day in the floating city, this bridge is absolutely not to be missed.
Built at the end of the 16th century, Rialto Bridge is the oldest and the most impressive of the four bridges of the Grand Canal. Just as Ponte Vecchio in Florence, Ponte di Rialto is lined with shops and is crowded with tourists.
I find that the bridge is best admired from below and my personal favorite photo spots for photographing Rialto Bridge are from Riva del Vin and Riva del Ferro. Once you are on the bridge itself, it's so busy that it's difficult to admire the structure (and you have to watch out for pickpockets!).
TIP: If you somehow manage to arrive straight at Rialto Bridge (so not via the waterside promenades along the Grand Canal), don't cross it just yet. Some of the best views of the bridge are to be found at Riva del Vin, a waterside promenade on the western side of the Grand Canal. The views from Riva del Ferro on the other side are also not to be missed.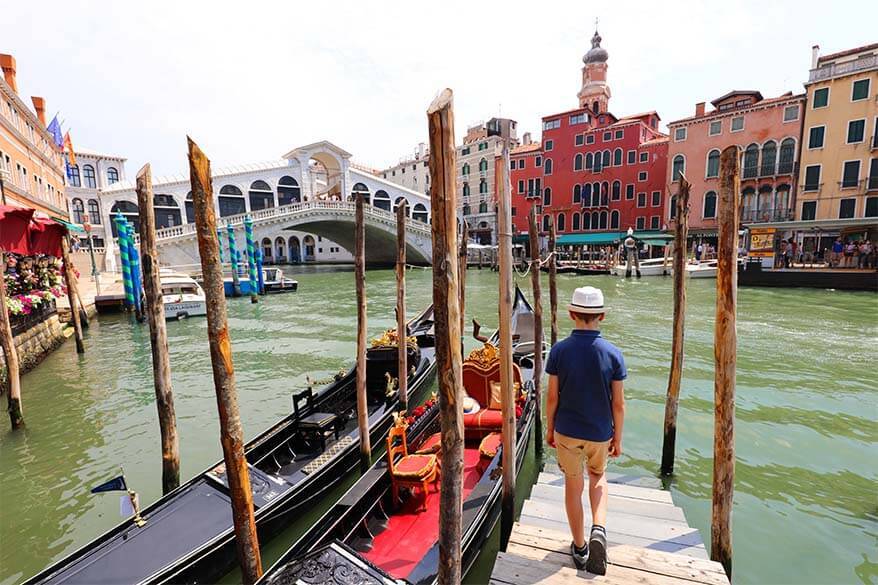 Campo San Polo
If you walk between Rialto Bridge and Piazzale Roma, you're likely to pass Campo San Polo on your way. This is a nice town square with a very local atmosphere.
There are no shops and just two or three restaurants here and a few trees offering highly-needed shade in summer. The highlight of this square is the Rettoriale Church of San Polo. Sometimes, there are also local events taking place in the square. I hear that Campo San Polo is particularly nice in winter when they have an ice skating rink and some places serving mulled wine.
This is not an absolute must-see, however, and with just one day in Venice, don't feel that you have to go out of your way for it. But if you're nearby anyway, Campo San Polo is a nice (and somewhat less-touristy) place to check out.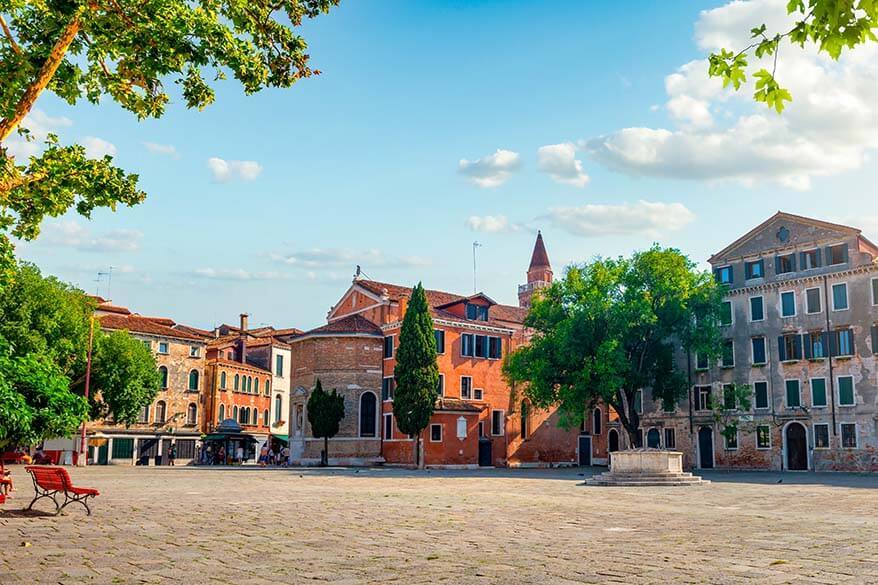 Libreria Acqua Alta
I want to end this guide to one day in Venice with a 'hidden gem' of the city, Libreria Acqua Alta. The name of this unique book shop literally means 'the book store of high water' and it's been designed in such a way that most of its books are protected from potential flooding. Many books are stored in boats and other waterproof containers.
Since the bookstore is extremely picturesque and 'instagrammable', it's no longer a secret of Venice. To give you an idea of how popular it has become… We visited Venice on an exceptionally quiet day and this tiny store looked like the busiest place in town! We even had to wait in line in order to get inside…
Anyway, it's quite a unique place and still worth a visit if you have some time to spare in Venice. The only drawback is that it's a bit outside of the way from any of the main landmarks, but if you don't get lost too much, it's just 15 minutes walk from San Marco Square. In addition, walking here brings you to some lesser-visited parts of Venice and that in itself is always a nice experience.
Practical information: Libreria Acqua Alta is open daily from around 9 AM to 7.45 PM.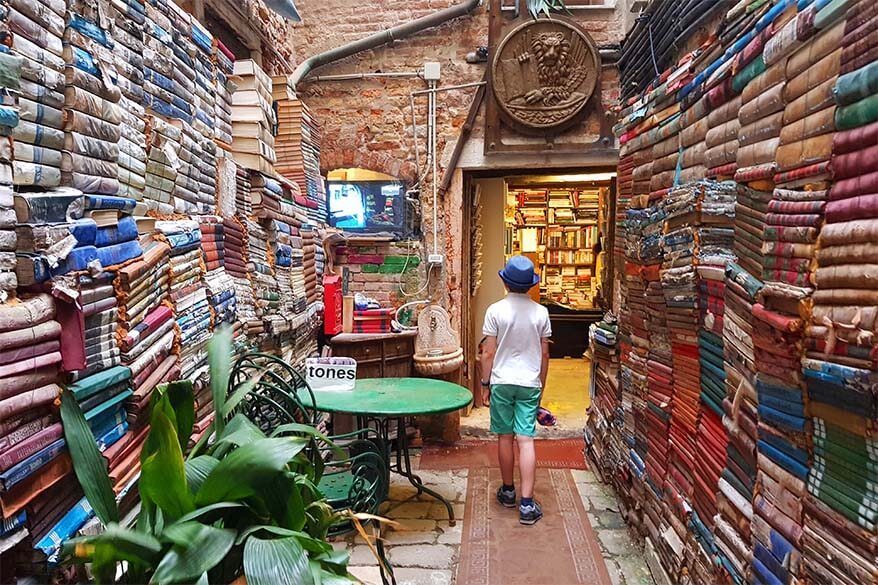 Map & Tips for Exploring Venice
Below, you can see a map with the highlights of Venice that are mentioned in this article. Don't look for a 'walking map' or exact directions on where to go, however. Once you get to Venice, you'll realize that discovering this car-free city with a map would be a very stressful experience… With over 100 little islands, separated by canals and connected by small bridges and a labyrinth of narrow 'streets', Venice is the city to get lost in.
That's also what makes it so unique and no two trips to Venice will ever be the same as you'll never be able to replicate the exact same route you took before… So prepare to get lost in this incredible maze of narrow alleys, picturesque canals, centuries-old houses, and countless little squares that make Venice so special.
Good to know: Don't worry too much about where exactly to go. There are plenty of signs around the city pointing you to the main landmarks such as Rialto Bridge or San Marco Square, and also to Ferrovia (Venice Railway Station) and Piazzale Roma (the main transport hub and parking area). Funny enough, often, signs point to the same place but in two different directions. In the end, you always get where you need to be (albeit with a few detours).
How to Use This Map: Use your computer mouse (or fingers) to zoom in or out. Click on the icons to get more information about each place. Click the arrow on the left top corner for the index. Click the star next to the title of the map to add this map to your Google Maps account. To view the saved map on your smartphone or PC, open Google Maps, click the menu button, and go to 'Your Places'/'Maps'.
Where to Start Upon Arrival
If you are visiting Venice for a day, chances are high that you'll start your tour at Piazzale Roma (if arriving by car or by bus) or Ferrovia (if coming by train). Big cruise ships also dock near this area, at Santa Croce or Tronchetto.
No matter where exactly you arrive, you have two options – take a boat or walk.
If you are in a hurry or have mobility issues, you can take a water bus or a water taxi to the San Marco square/ Riva degli Schiavoni area and head straight to the main landmarks of Venice. Water taxis are quite expensive and a boat ride between Piazzale Roma and San Marco will quickly cost you 50-80 EUR. In comparison, a water bus Vaporetto costs about 7.50 EUR per ride, with 1-day and multi-day passes available.
However, if you are fit and want to explore Venice deeper, I suggest walking instead. That way, you visit the lesser-known areas before reaching the main highlights. This is your chance to explore Venice just a bit deeper and better appreciate what this city is truly about.
TIP: Alternatively, you can take a boat one way and walk back after visiting the main landmarks. Taking the boat right to St Marco Square first thing in the morning might enable you to visit at least one of the landmarks before it gets too busy.
READ ALSO: How to Visit Venice by Car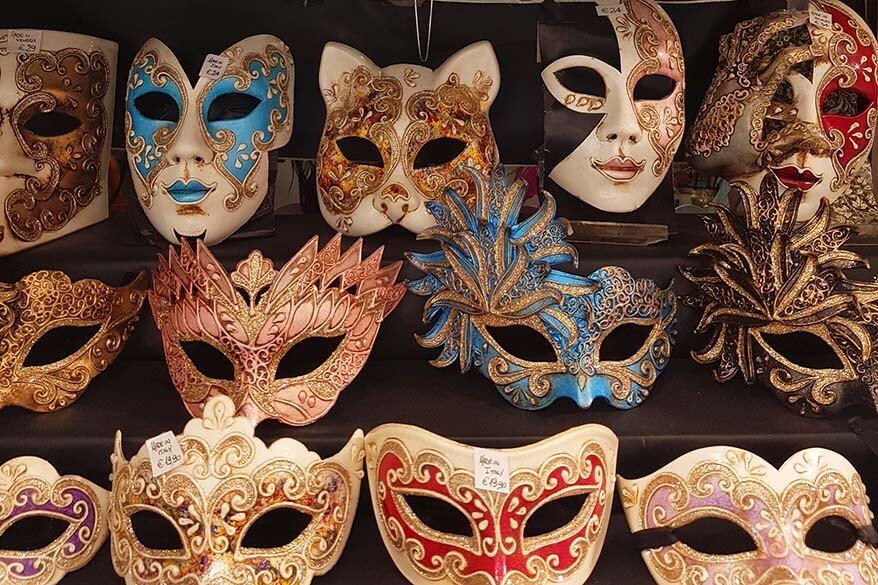 Venice One Day Itinerary
Here is a suggestion on how you could plan to spend your day in Venice:
Start with a morning gondola ride or leave it for the end of the day (see our Venice gondola ride guide for more info).
Head to St. Mark's Square and visit St. Mark's Campanile. Check the opening hours for the season when you are visiting and try to be there a bit before the opening time.
Take a tour of Doge's Palace and St. Mark's Basilica (I recommend this tour). Most of these tours start at around 10-11 AM and take 2-3 hours.
Lunch – see 'where to eat' section below for more info.
Take a stroll on Riva degli Schiavoni.
Walk to Libreria Acqua Alta and discover Venice canals along the way. Skip this if you are short on time or if that much walking is too much for you.
Walk to Grand Canal and Rialto Bridge.
Get gelato at one of the artisanal gelaterias, stroll along the narrow streets, and do some souvenir shopping if that's your thing.
Visit Campo San Polo and explore some local churches, town squares, and streets in this area.
Take a gondola ride if you didn't have the time for it in the morning.
Dinner. If you are staying in Venice for the night, you could consider taking a dinner cruise on the Venetian Lagoon. This is a nice relaxing way to see even more of the city and its surroundings, taste local specialties, and make an absolute-most of your day in Venice.
TIP: If you are not interested in the Basilica and Doge's Palace and are happy to just see the buildings from the outside, you could opt for a tour to the nearby islands of Murano, Burano, and Torcello instead.
However, even the shortest tour requires several hours. The good thing is that there are usually multiple tours every day so it's easy to fit it in your itinerary. This might be a good option for those who want to 'see it all' in just a day.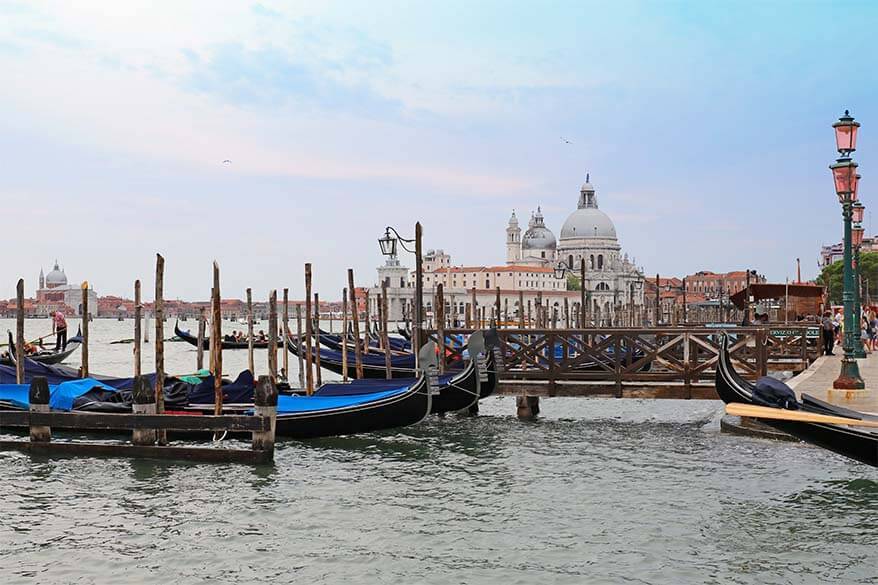 Where to Eat
I didn't include any suggestions on where to eat in Venice simply because I don't think it matters that much if you only have such limited time in the city. Also, it's impossible to plan every minute of your day in advance and so who knows where exactly you'll be when you decide it's time to have lunch or dinner…
If you can, try to avoid the overly-touristy and overpriced restaurants on St. Mark's Square and Riva degli Schiavoni. Even if you walk just a few blocks away from here, you should be able to find some better price/ quality eateries.
As for Italian gelatos, try to look for places that sell artisanal ice cream. So 'gelateria artisanale' instead of just 'gelateria'. Artisanal ice cream tends to be much better!
Our experience: On our most recent trip to Venice, we were near St Marco around noon and simply walked to one of the back streets. I opened Google Maps as we walked and just picked a restaurant that had the best reviews. I indicated the restaurant where we had lunch on our map.
We only had a day in Venice and lunch wasn't a priority for us – we wanted to show all the main landmarks to our kids that day. So we simply chose one of the restaurants that suited our itinerary best and that's it. The food was good and the prices very reasonable and I'm sure there are hundreds of other places in Venice that will serve the purpose just fine.
TIP: If you have a bit more time in Venice and can spare a few hours for a nice lunch or dinner, make sure to try some local specialties. For suggestions on what to eat in Venice, please take a look at our Italian food guide with specialties of the Veneto region.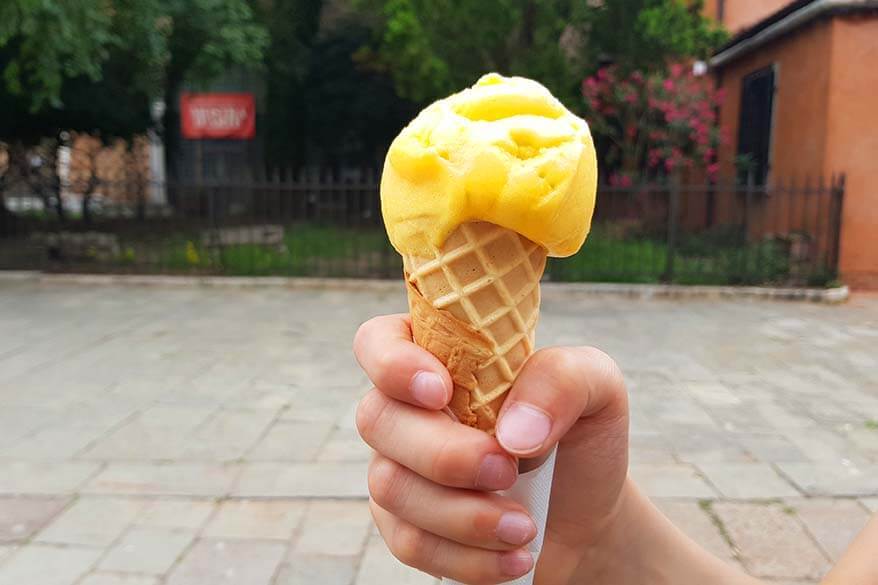 Where to Stay in Venice
Visiting Venice for a day might mean that you are not planning to stay in the city at all. But, depending on your overall itinerary, it's also likely that you'll have to stay in Venice for one or two nights.
I recommend choosing accommodation in the area that has good transport connections. So that you don't have to carry your luggage far or pay for expensive water taxis.
There are many hotels, apartments, and B&Bs in Venice. Below, you can find our suggestions on where to stay depending on how you travel. Take a look!
If you are arriving by train or by bus, you may want to stay close to the train station. In that case, check out Hotel Carlton On The Grand Canal or Hotel Gardena. This area is also more budget-friendly than the San Marco area. Of course, you can just take a water bus to Rialto or San Marco as well – see suggestions below.
So, this is our guide to the very best of Venice in one day. Hope that it helps you plan an unforgettable trip and have a great time in Venice!
If you are traveling around Italy, make sure to check our Italy travel guide. It has an overview of all the destination guides from our multiple trips to Italy. Alternatively, take a look at some of the highlighted articles below.
More travel inspiration and tips for Italy:
If you found this post useful, don't forget to bookmark it and share it with your friends. Are you on Pinterest? Pin these images!